Everyone Needs at least One Good Beater Folding Knife For EDC. These Folding Knives Are Tough And Affordable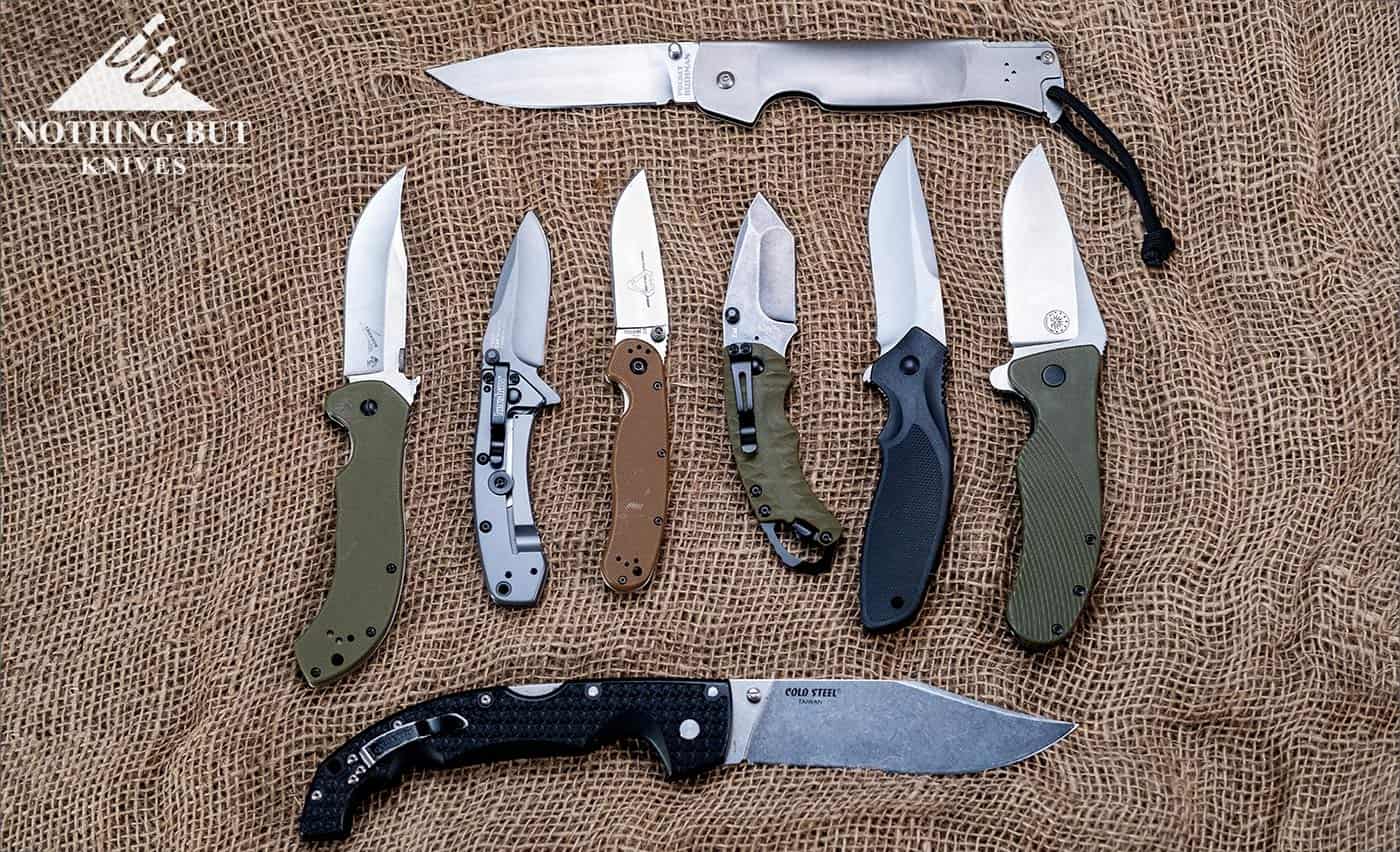 I know it's not cool to actually use your knives these days. Most of mine sit on my desk or in my drawer, only used a half dozen times while I was testing them and then delegated to the decoration section of my workspace until I need them as a point of comparison. I do have a small collection of durable budget knives that I use for EDC regularly, though.
And not just use, I beat them to death. They get run through the dirt, pried between an old rusty screw fused to a washer, stabbed into mud while I'm trying to wrangle a torn up irrigation pipe, or thrown against a tree either because I'm trying to startle the big damn spider sitting in a branch, or because I've just fallen out of the tree and it just feels appropriate in the moment.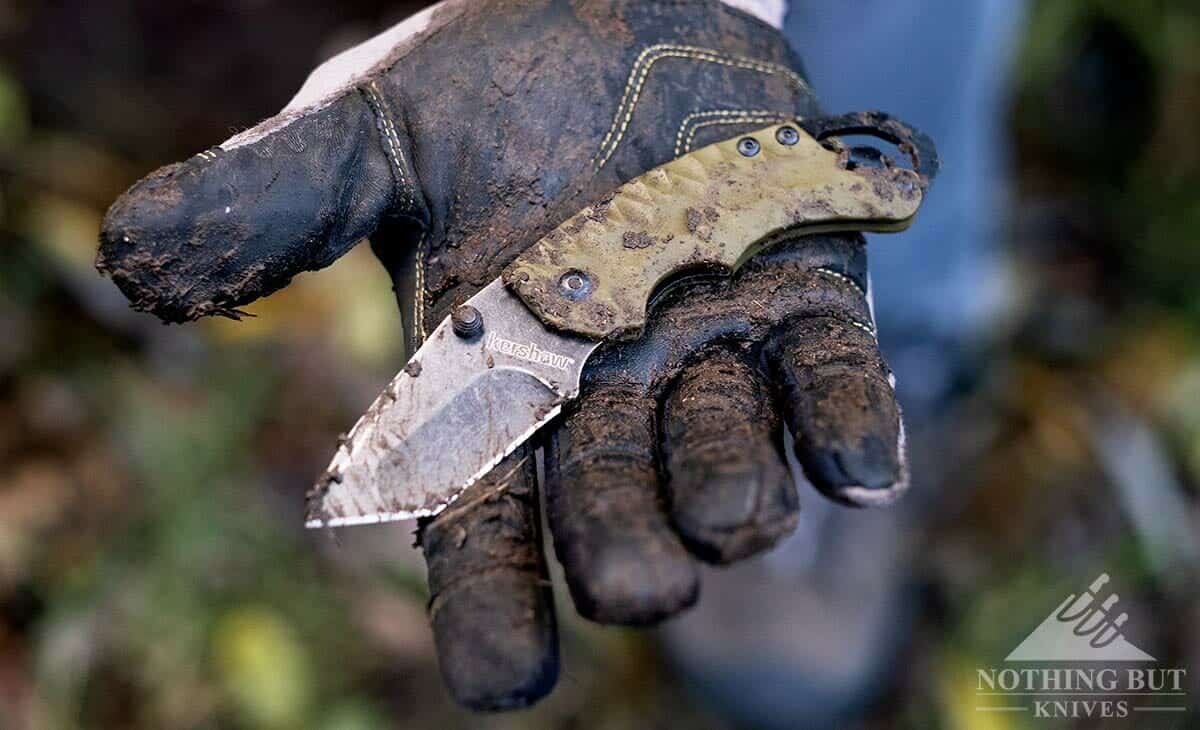 The point is, some knives are made to be used and abused, and it seems like that necessary aspect of knives doesn't really get highlighted that often. So here are some of the best knives I've found for hard use. Either I or my brother have personally used every knife listed in this article. There are also many hard use type knives we tested that we didn't add to this article, because we didn't feel they offered a great value for the price.
Here Are Our Top Picks For The Best Hard Use Pocket Knives Under $50
Cold Steel Finn Wolf
Esee Zancudo
Ontario RAT 2
Kershaw Cro 1555Ti
Kershaw Shuffle
Kershaw Emerson CQC 10K
Gerber Flatiron
CJRB Kicker
CRKT Shenanigan Z
QSP Pangolin
Opinel #9
Cold Steel Pocket Bushman
SOG Terminus XR
Here Are Our Top Picks For The Best Hard Use Pocket Knives Under $100
Buck Sprint Pro
Civivi Crit
Kizer Slicer
Off-Grid Badger
Kizer Sheepdog
Cold Steel Voyager XL
Cold Steel 4-Max Scout
Under 50 Dollars
First the cheaper knives. I prefer this price range for absolute beater knives that I am likely to break or lose. This list started out with smaller blades around the 3-inch mark because I am a tiny man who leans toward tiny knives. But then we got some input from normal sized people and tested out things like the Cold Steel Voyager, so now this features a broad range of sizes going beyond ten inches.
Cold Steel Finn Wolf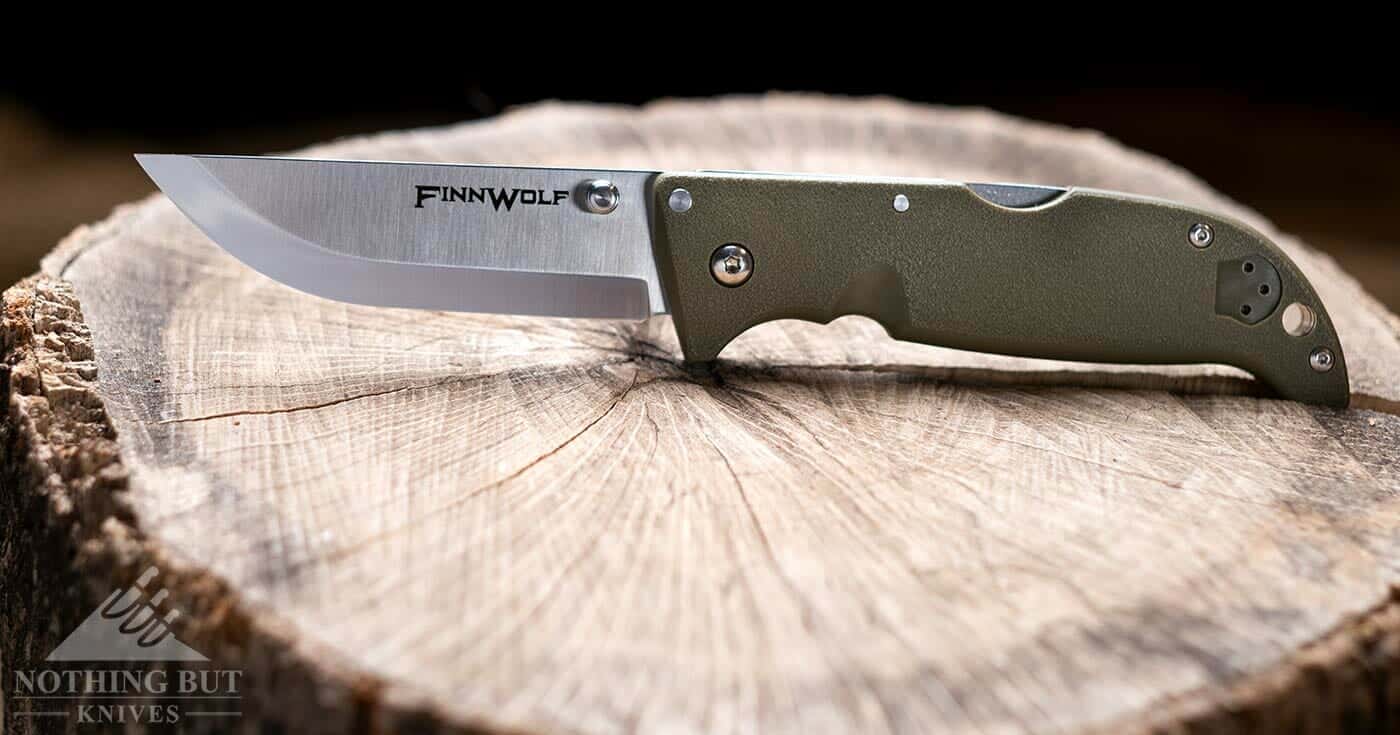 | | |
| --- | --- |
| Overall Length: | 8.25″ |
| Blade Length: | 3.5″ |
| Steel: | AUS-8A |
| Blade Style: | Standard |
| Handle Length: | 4.75″ |
| Handle Material: | Griv-Ex |
| Lock Mechanism: | Lockback |
| Open System: | Thumbstud |
| Grind: | Scandi |
| Carry System: | Tip-up clip |
This is an Andrew Demko design. For anyone who's a fan of Cold Steel that's probably enough information. For the rest, Demko is the mind behind the Cold Steel Bushman, the Spartan, the Espada, the AD-15 and a dozen or so other designs that constitute some of Cold Steel's most efficiently tough knives on offer these days.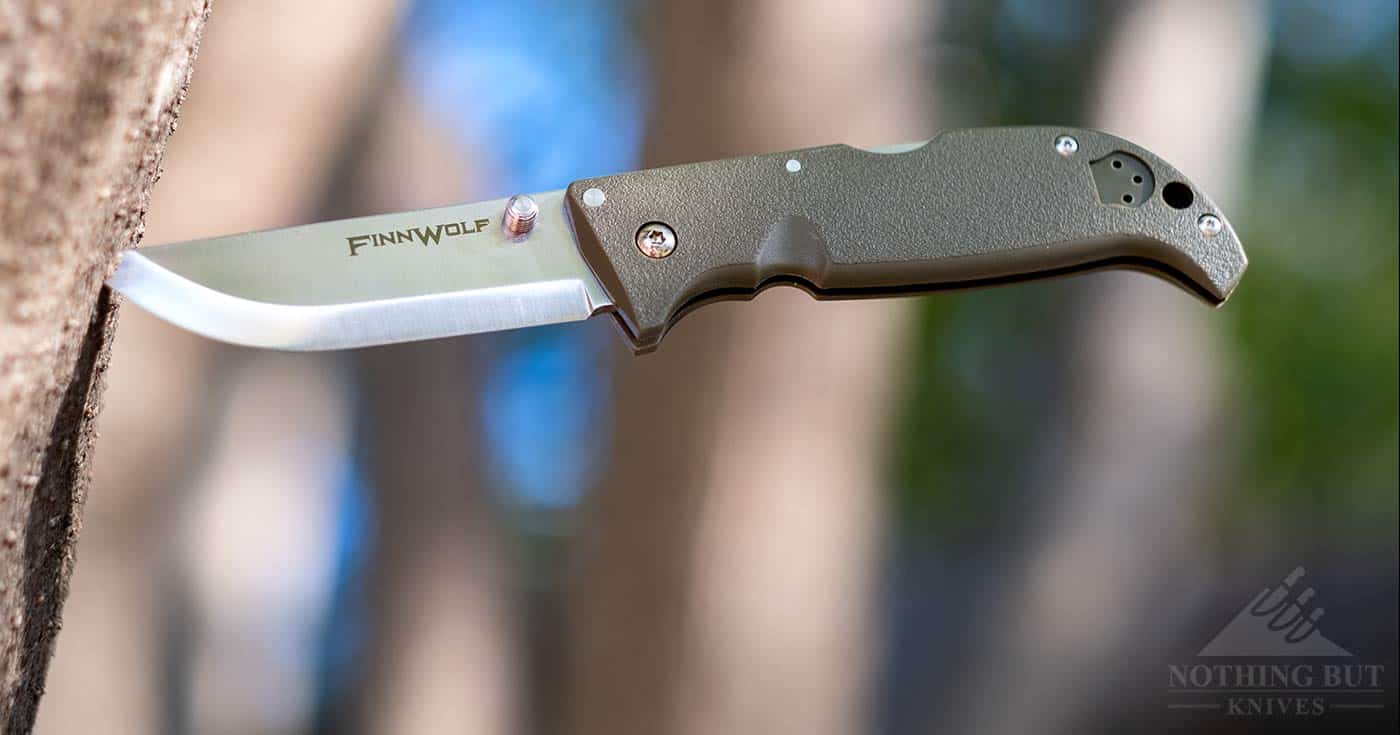 The Finn Wolf has a thick 3 mm slab of Aus-8A steel with a scandi grind, which basically means the edge will roll before it chips, and it's great at a lot of bushcraft tasks. It almost feels like a folding Morakniv knife to me. If the handle felt a little more like rubber, that's basically what it would be.
In fact, that's pretty much my only complaint about the Finn Wolf: the handle scales aren't really aggressive or grippy enough. Outside of that, the edge is fantastically sharp, and feeling that back lock clunk into place every time I open it is possibly one of the most satisfying things I've experienced with a knife.
Esee Zancudo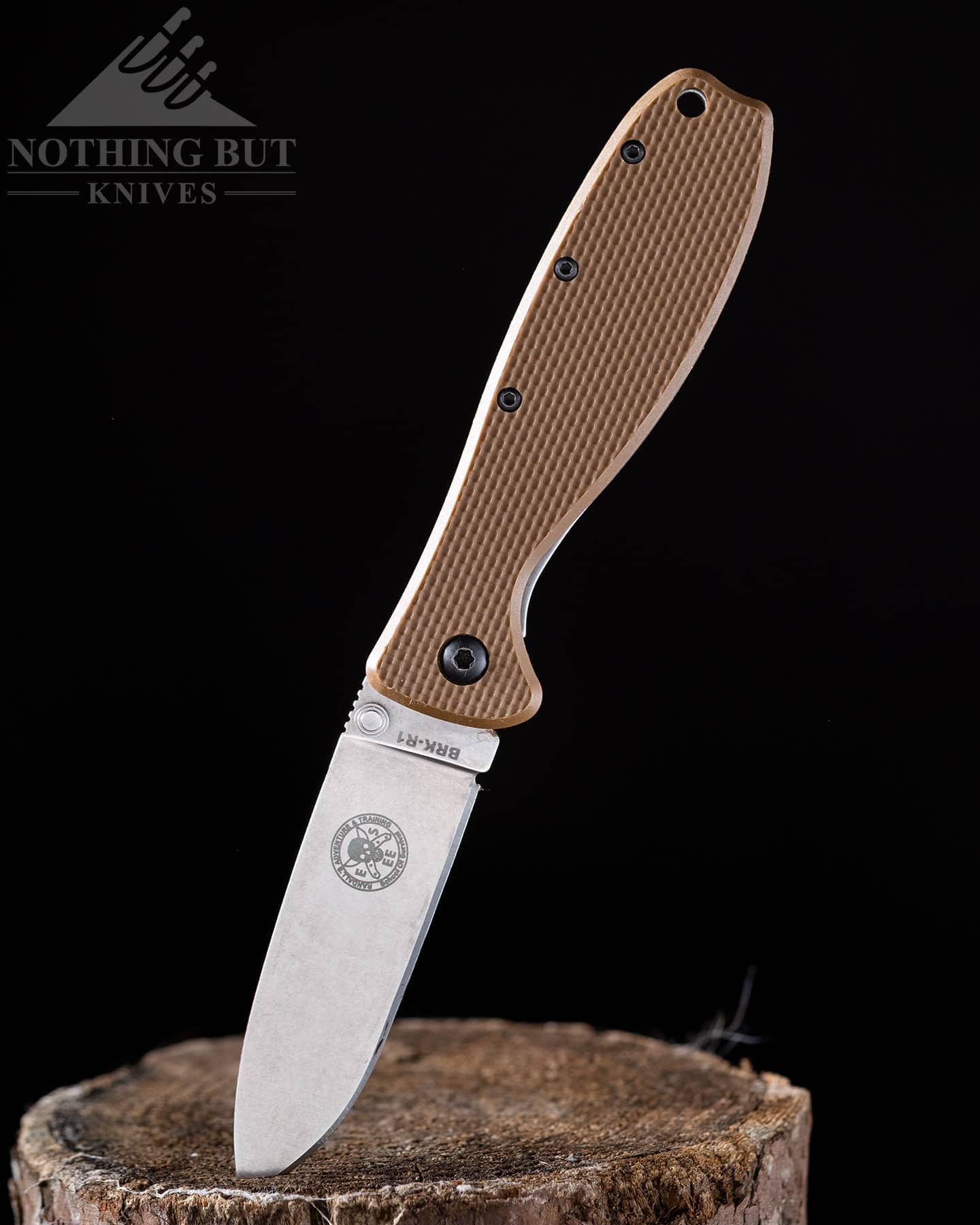 | | |
| --- | --- |
| Overall Length: | 7.0″ |
| Blade Length: | 2.9″ |
| Steel: | AUS-8 |
| Blade Style: | Drop point |
| Handle Length: | 4.0″ |
| Handle Material: | G-10 |
| Lock Mechanism: | Frame |
| Open System: | Thumb stud |
| Grind: | Flat |
| Carry System: | Reversible tip-down clip |
I've abused this knife more than anything I own. It's just the right combination of cheap, tough, and easy to carry to get used in pretty much every dirty job I have to do. It's not necessarily the best knife for any given job; it's just one of those little tools that's always a possible option for helping with any given job.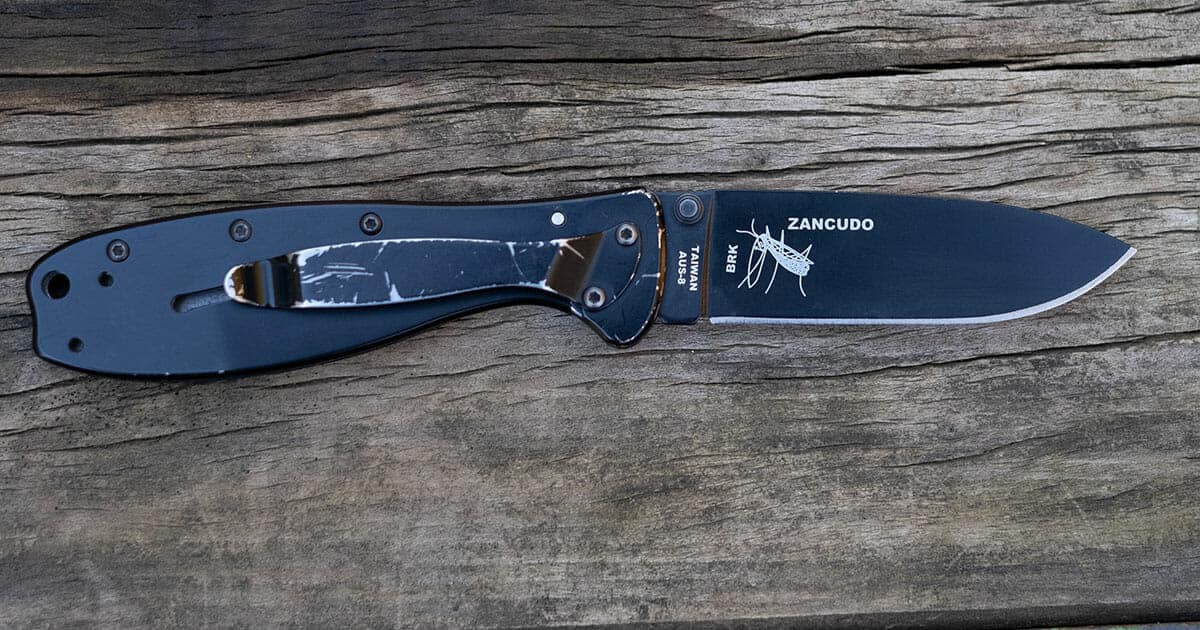 The design itself comes from the folks at Esee, but it's actually manufactured by Blue Ridge knives, who makes most of their stuff in Taiwan. Whatever you think of overseas manufacturing, it's a big part of why this knife is such a reasonable price, and aside from some blade drift (and let's be honest, that's probably at least half my fault), I haven't had any issues with the manufacturing quality.
I personally own the Aus-8 version of this knife, but they also make a D2 steel version that is, by all reports, much better. Those reports are from people who love D2 steel anyway, and I'm someone who loves Aus-8 steel, so we're at an impasse. I have yet to get the D2 version and do any kind of side-by-side comparison.
If that seems cool, take a look at my full review of the Zancudo here.
Ontario RAT 2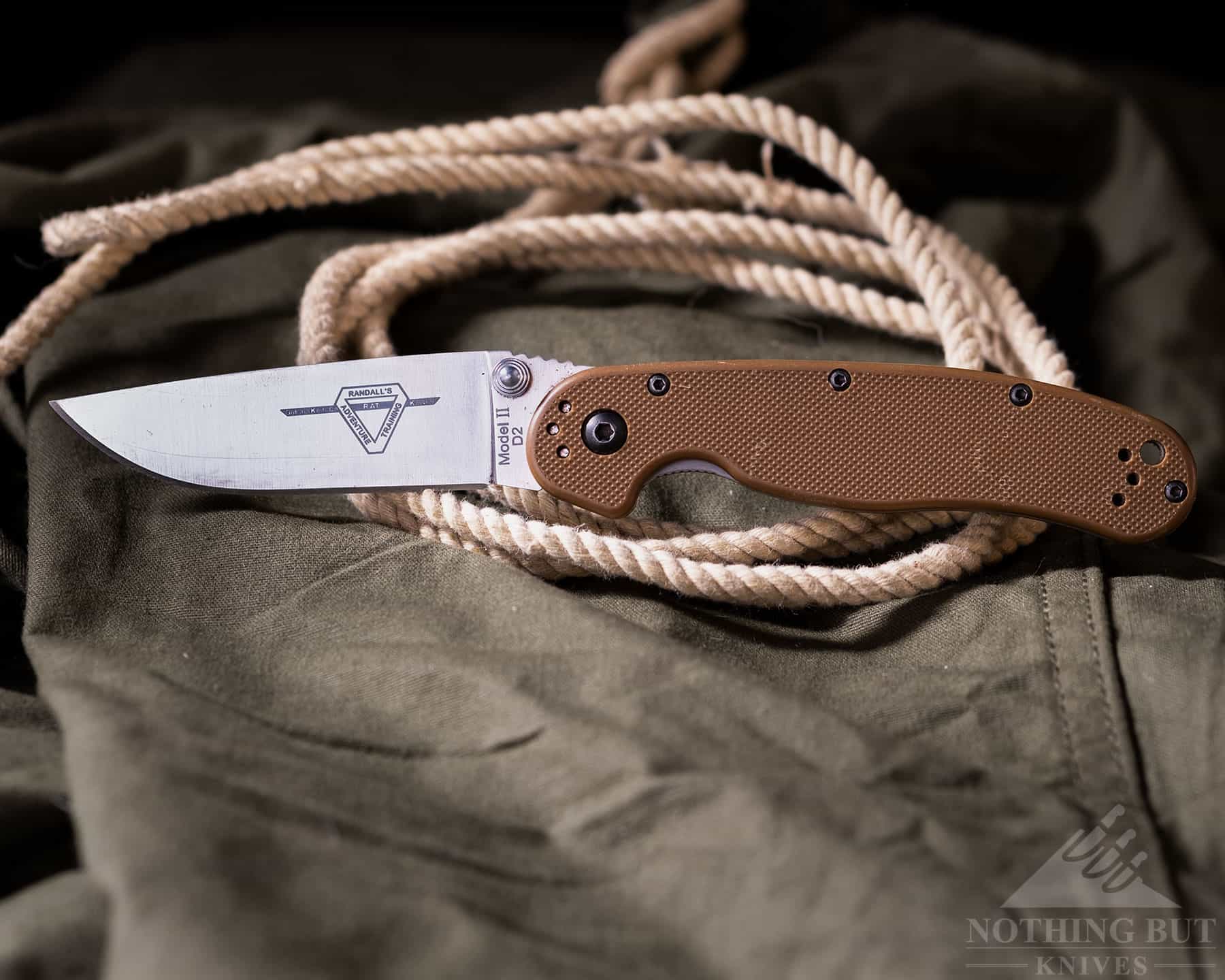 | | |
| --- | --- |
| Overall Length: | 7.0″ |
| Blade Length: | 3.0″ |
| Steel: | AUS-8 or D2 |
| Blade Style: | Drop point |
| Handle Length: | 4.1″ |
| Handle Material: | Nylon |
| Lock Mechanism: | Liner |
| Open System: | Thumb stud |
| Grind: | Flat |
| Carry System: | 4-position pocket clip |
A lot of people would argue this is the best knife on the list, and it would be hard to prove them wrong. The Rat 2 is surprisingly comfortable for its size, and the blade stock is thin enough to make it slicey while the actual blade material is generally tough enough that you aren't risking much more than a rolled edge for most (reasonable) tasks.
It has a similar design to the Zancudo. They're about the same size and both are available in Aus-8 stainless or D2 tool steel. but I'd be crucified by anyone who's used a Rat if I didn't say it's almost certainly better than the Esee Zancudo. I'll only say that the Zancudo is all around tougher than the Rat by virtue of the frame lock and thicker blade, but if we're being honest, you shouldn't be doing things with knives that require that much more toughness.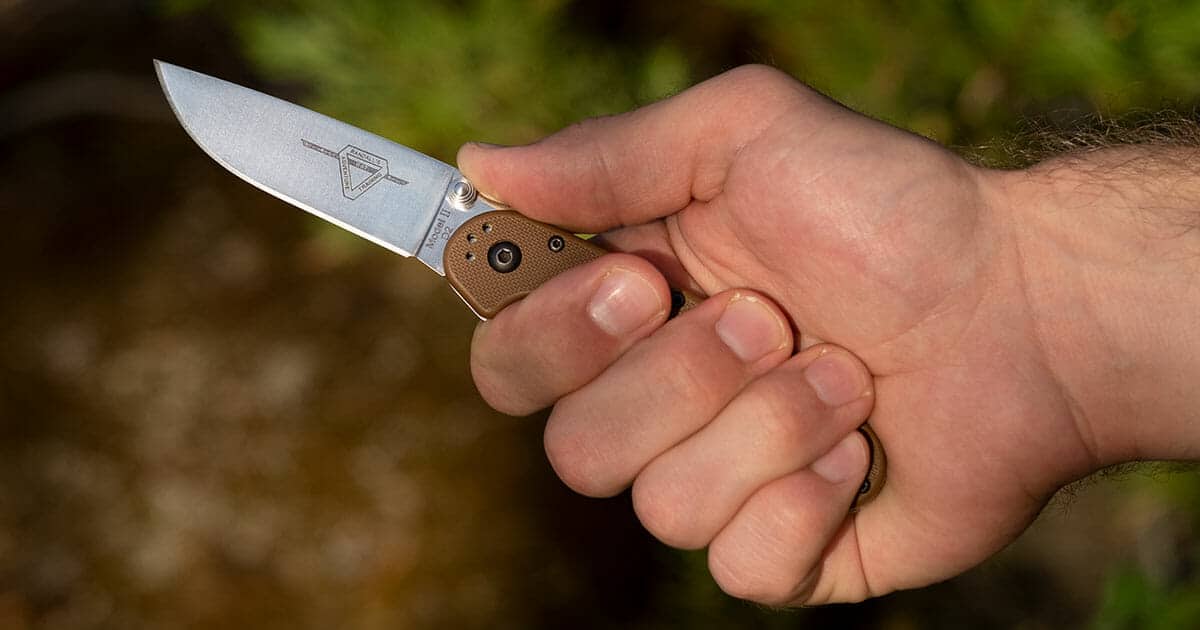 Also, if you're not quite into the exact size of this knife, there's also the Rat 1, which is slightly larger, and the Rat 3, which is much larger and a fixed blade.
This still splits pocket time with the Zancudo in my EDC rotation, but I have to grudgingly admit that the Rat 2 has aged a little better. I've absolutely hammered the action on both of them and had to do several rounds of dissembling maintenance, and each time the Rat 2's action ends up a little cleaner. I'd still argue they're close enough that the choice is more about personal preference than quality differences, but I'm also not sure if $20 – 30 knives are worth this much arguing.
Kershaw Cryo 1555Ti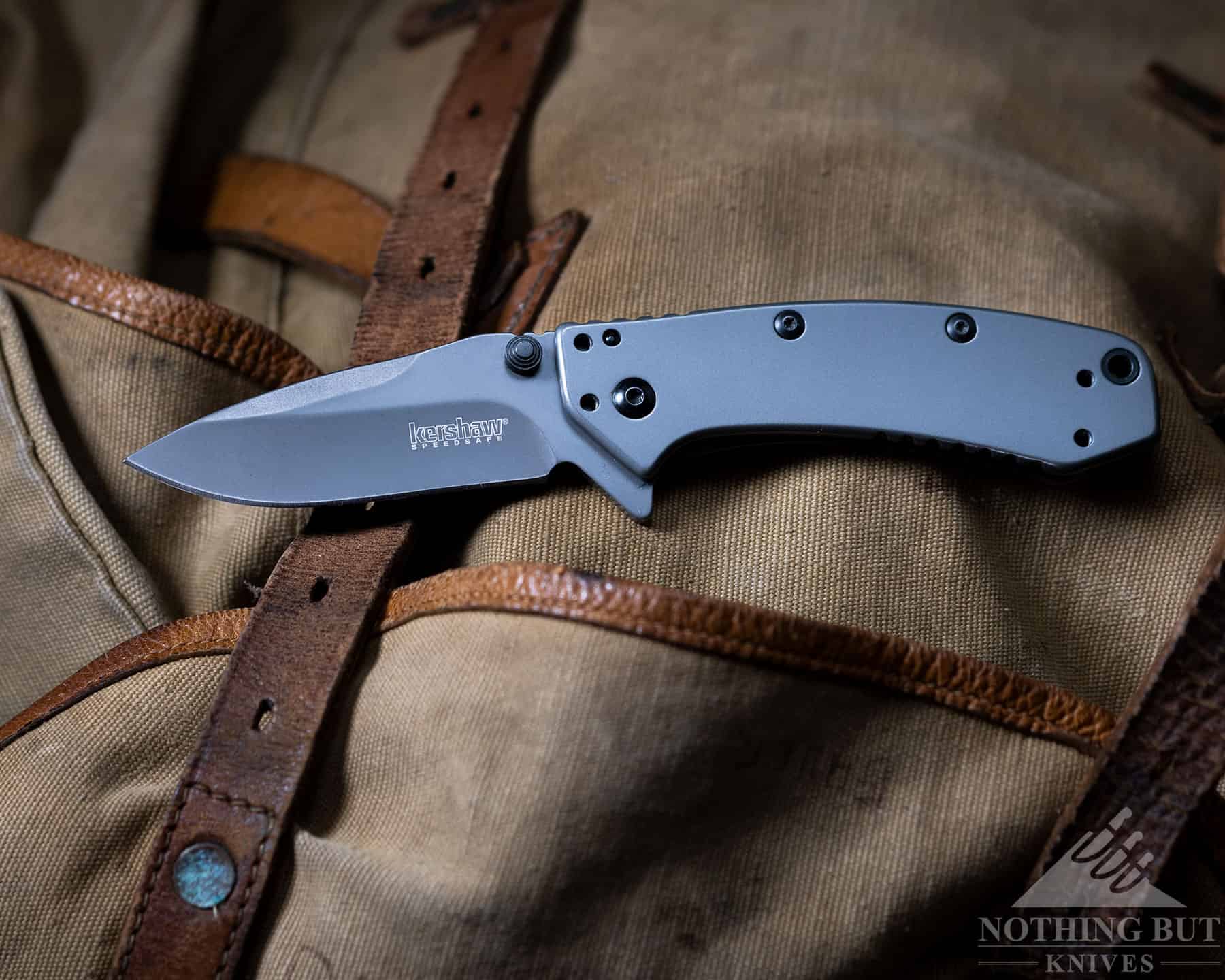 | | |
| --- | --- |
| Overall Length: | 6.5″ |
| Blade Length: | 2.75″ |
| Steel: | 8Cr13MoV |
| Blade Style: | Drop point |
| Handle Length: | 3.8″ |
| Handle Material: | Stainless steel |
| Lock Mechanism: | Frame w/ lockbar stabilizer |
| Open System: | Assisted open flipper |
| Grind: | Hollow |
| Carry System: | 4-position pocket clip |
This is a Rick Hinderer knife, and that's usually a good indication that it's a tough blade. It's also the only reason I'm recommending an assisted open knife. Normally that's a red flag for me, especially after the ambivalent experience I had with the CRKT Ignitor. I have to make an exception for Hinderer stuff, though, as I rarely pick up one of his knives without getting flush with the sudden feeling of capability.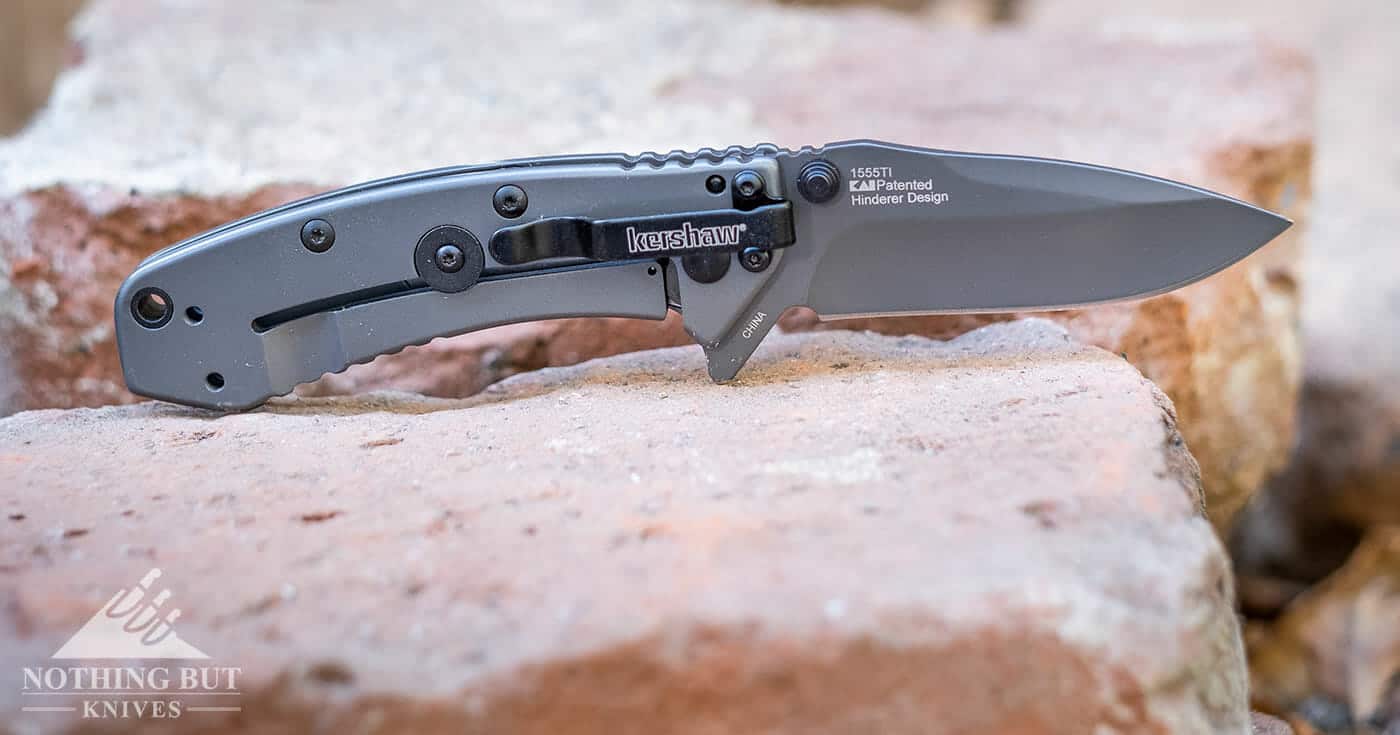 He tends to specialize in easy one-handed open, which is really nice when you're working on something, especially since the Cryo is pretty thin. Bare-handed that's not a problem, but if you're wearing any kind of glove it can get tricky to get a folding knife open one-handed. This thing not only feels incredibly snappy, it feels like something you can smack around in a gloved hand.
Kershaw Shuffle 2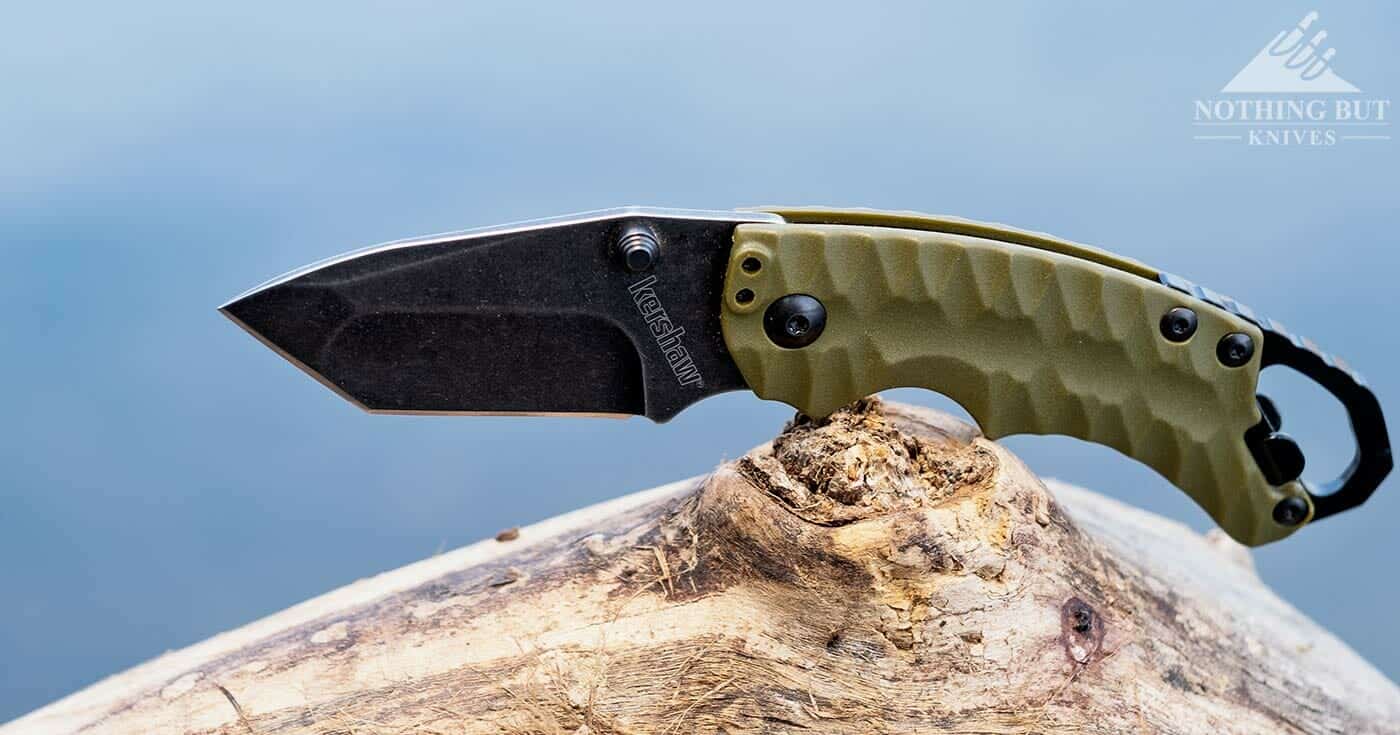 | | |
| --- | --- |
| Overall Length: | 6.25″ |
| Blade Length: | 2.2.5″ |
| Steel: | 8Cr13MoV |
| Blade Style: | Tanto |
| Handle Length: | 4.0″ |
| Handle Material: | GFN |
| Lock Mechanism: | Liner |
| Open System: | Thumb stud |
| Grind: | Hollow |
| Carry System: | Tip-down clip, left or right |
I generally use this knife for two things: breaking down boxes and opening beers. And if I'm being totally honest I mostly got it for the bottle opening function.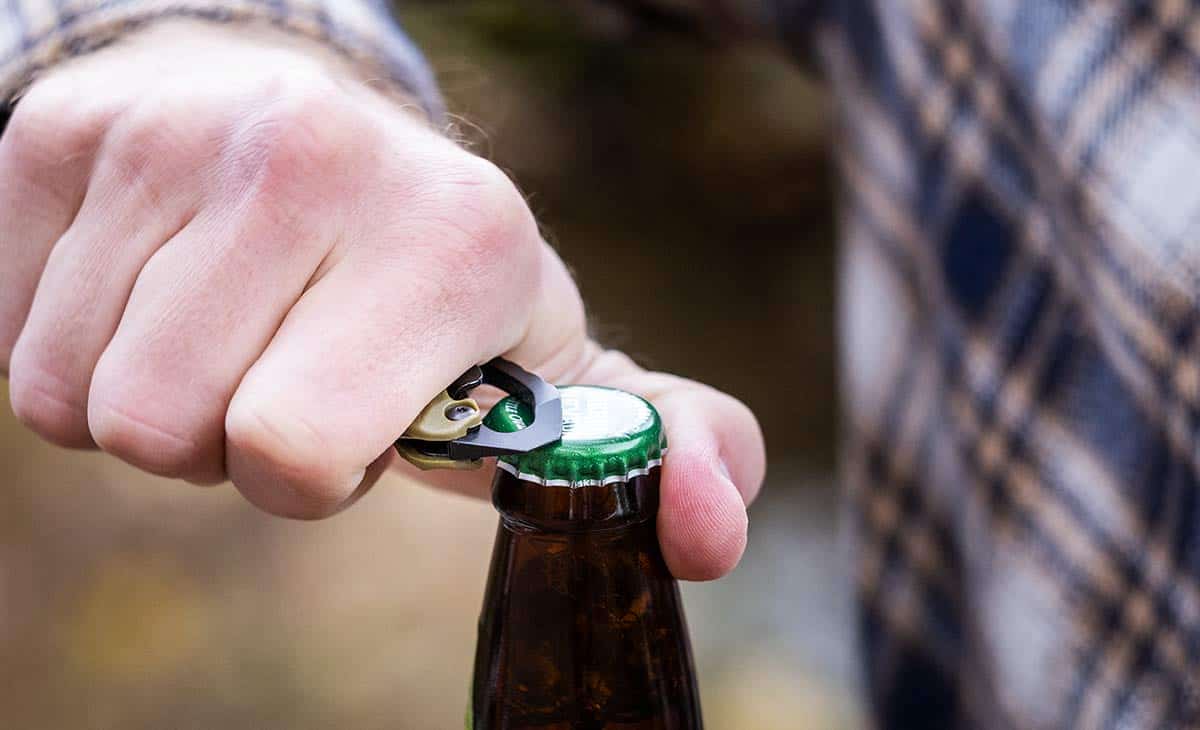 The tanto blade turns out to be a good workhorse, though. It manages to hold up under heavy pressure, and the liner lock is surprisingly sturdy for such a small knife with a GFN handle. It's one of the few knives I don't feel guilty prying with because the steel is soft enough to fix up later, and it's under a price point that makes it pretty painless to replace.
It's one of those small knives that's probably worth having a couple of just because it's small enough to lose, cheap enough to break, and between the bottle opener, tough blade, and the flathead lanyard hole at the bottom you can find a hundred little uses for it throughout the day.
Kershaw Emerson CQC-10K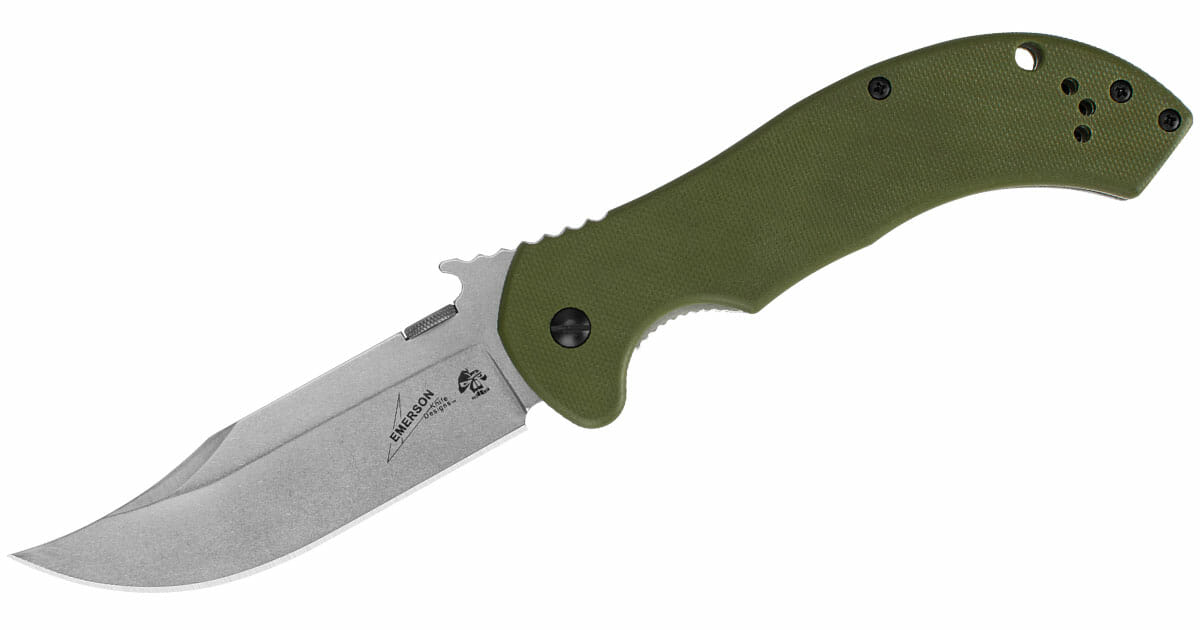 | | |
| --- | --- |
| Overall Length: | 8.5″ |
| Blade Length: | 3.5″ |
| Steel: | 8Cr14MoV |
| Blade Style: | Clip point |
| Handle Length: | 4.5″ |
| Handle Material: | G-10 |
| Lock Mechanism: | Frame |
| Open System: | Thumb disk / Emerson wave |
| Grind: | Hollow |
| Carry System: | Tip-up pocket clip |
It's hard to beat the brutal efficiency of an Ernest Emerson designed knife. He always makes his knives easy to open, but what's probably more useful to someone looking for some kind of beater knife is that the tips of his designs are usually pretty solid. Not because they're stout, he just seems to have some magic understanding of geometry he brings to his designs, so most Emersons tend to have a tougher structure than other knives in the same size.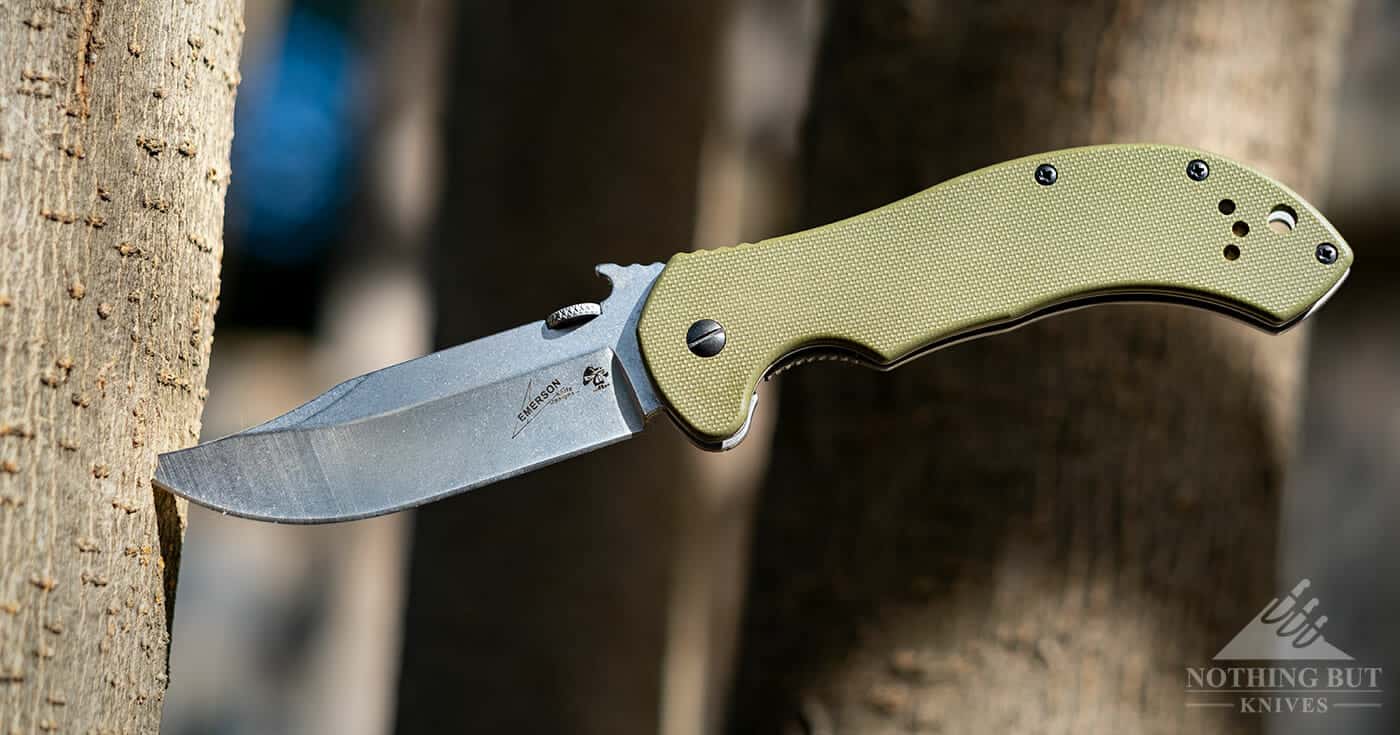 The Kershaw CQC series has a lot of knives that frankly don't seem all that different to me aside from small variations in size and different kinds of steel. I've put up the stats for the CQC 10K because I usually see it running for around $40, but if you've handled one CQC you have a good idea of how the rest feel.
We personally have (and frequently use) an Emerson CQC, but for the life of me I can't figure out or remember which one it is. It's good, and hasn't rusted or snapped yet. That's all I care about.
Gerber Flatiron
| | |
| --- | --- |
| Overall Length: | 8.5″ |
| Blade Length: | 3.6″ |
| Steel: | 7Cr17MoV |
| Blade Style: | Cleaver |
| Handle Length: | 4.875″ |
| Handle Material: | G-10 or aluminum |
| Lock Mechanism: | Frame |
| Open System: | Thumb hole |
| Grind: | Holow |
| Carry System: | Tip-up clip |
If you want a good handle for a good price, the Flatiron is one of the best ways you can go. The cleaver blade limits its usability in some ways, but it's fantastic for detailed shaving work. It has one of the best finger choils of any folding knife I've handled personally so it actually feels comfortable to make a feather stick with it.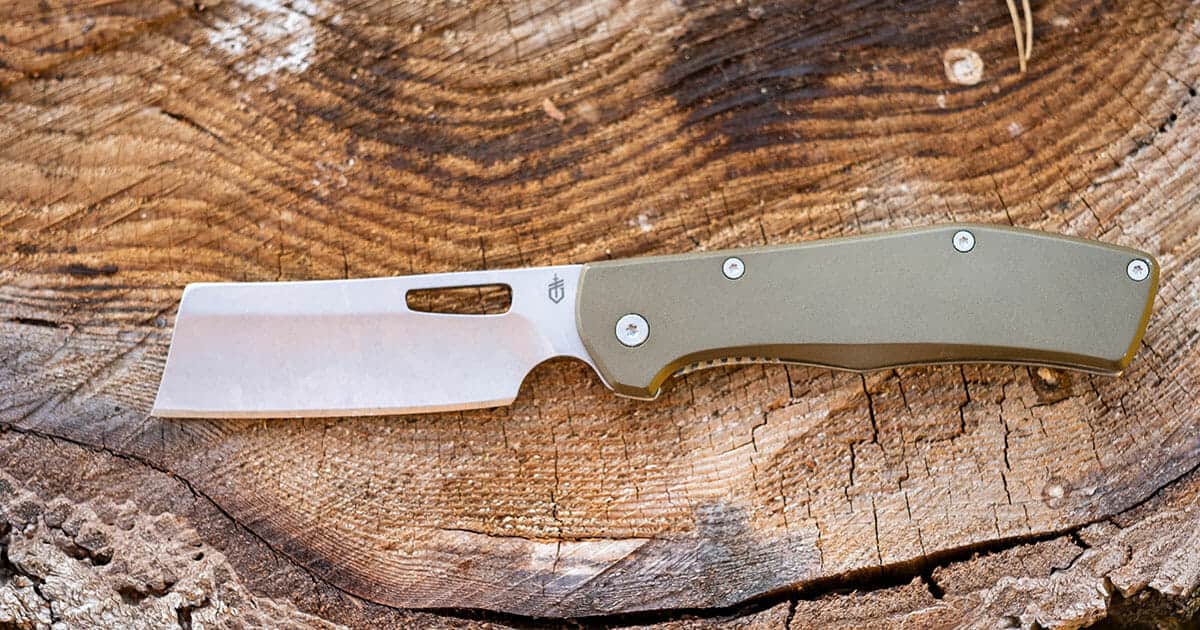 It's actually a bit of a paradox, because the knife is clearly overbuilt for hard use, but the design of it seems geared toward finer work. I see it as something designed to shave and slice in potentially harsh environments like a construction or camp site. Either way, it has a tough frame lock and a ton of space for gloved hands to work with comfortably.
If you'd like to read a little more about check out our full review. Or someone else's. God knows plenty of people have harmed the internet with their own opinions on the Flatiron that you don't need my ramblings to learn something about it.
CJRB Kicker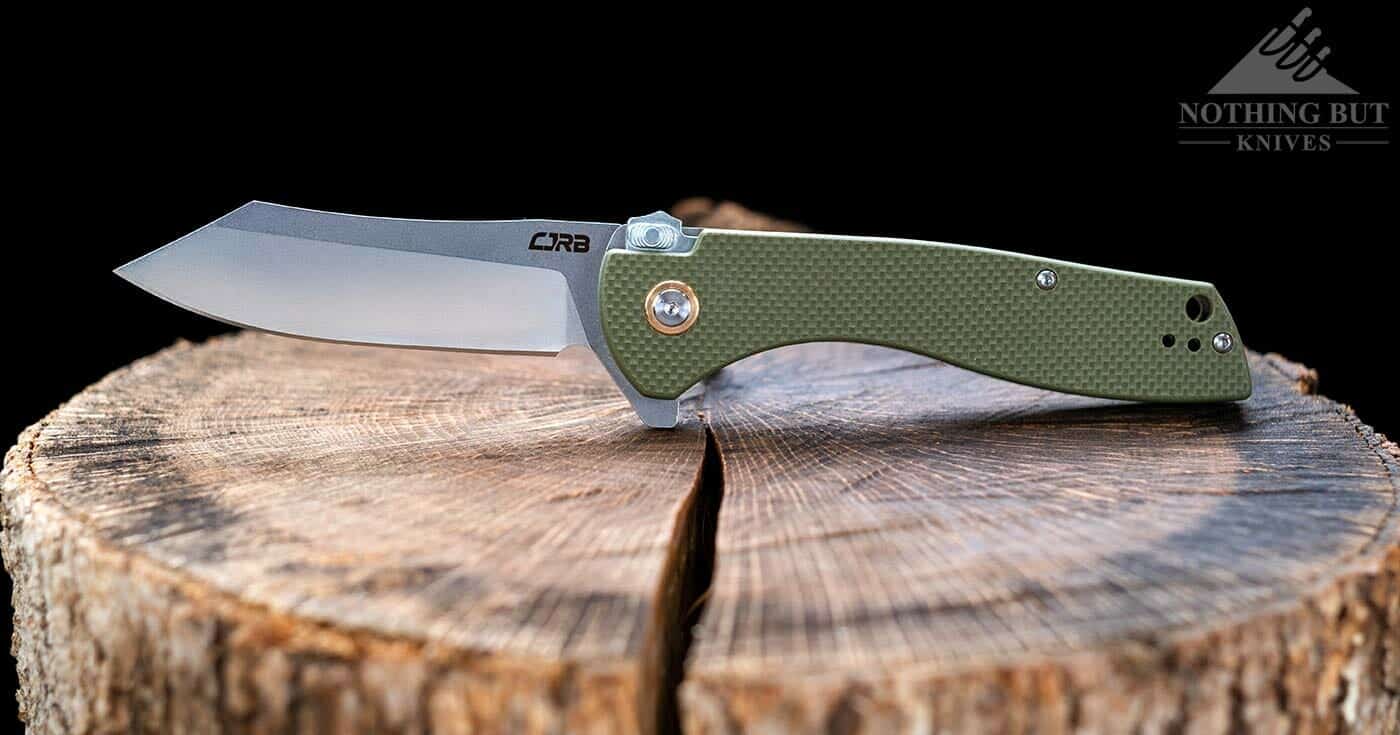 | | |
| --- | --- |
| Overall Length: | 8.25″ |
| Blade Length: | 3.5″ |
| Steel: | D2 |
| Blade Style: | Clip point |
| Handle Length: | 4.75″ |
| Handle Material: | G-10 |
| Lock Mechanism: | Recoil |
| Open System: | Flipper |
| Grind: | Flat |
| Carry System: | Tip-up clip |
The CJRB Kicker has some serious hard use specifications. It boast a D2 steel blade with a 3.3 mm thick spine, G-10 handle scales and CJRB's recoil lock. It's also really versatile thanks to the reversible pocket clip. That in combination with the flipper open and the recoil lock, this knife is a true ambidextrous carry.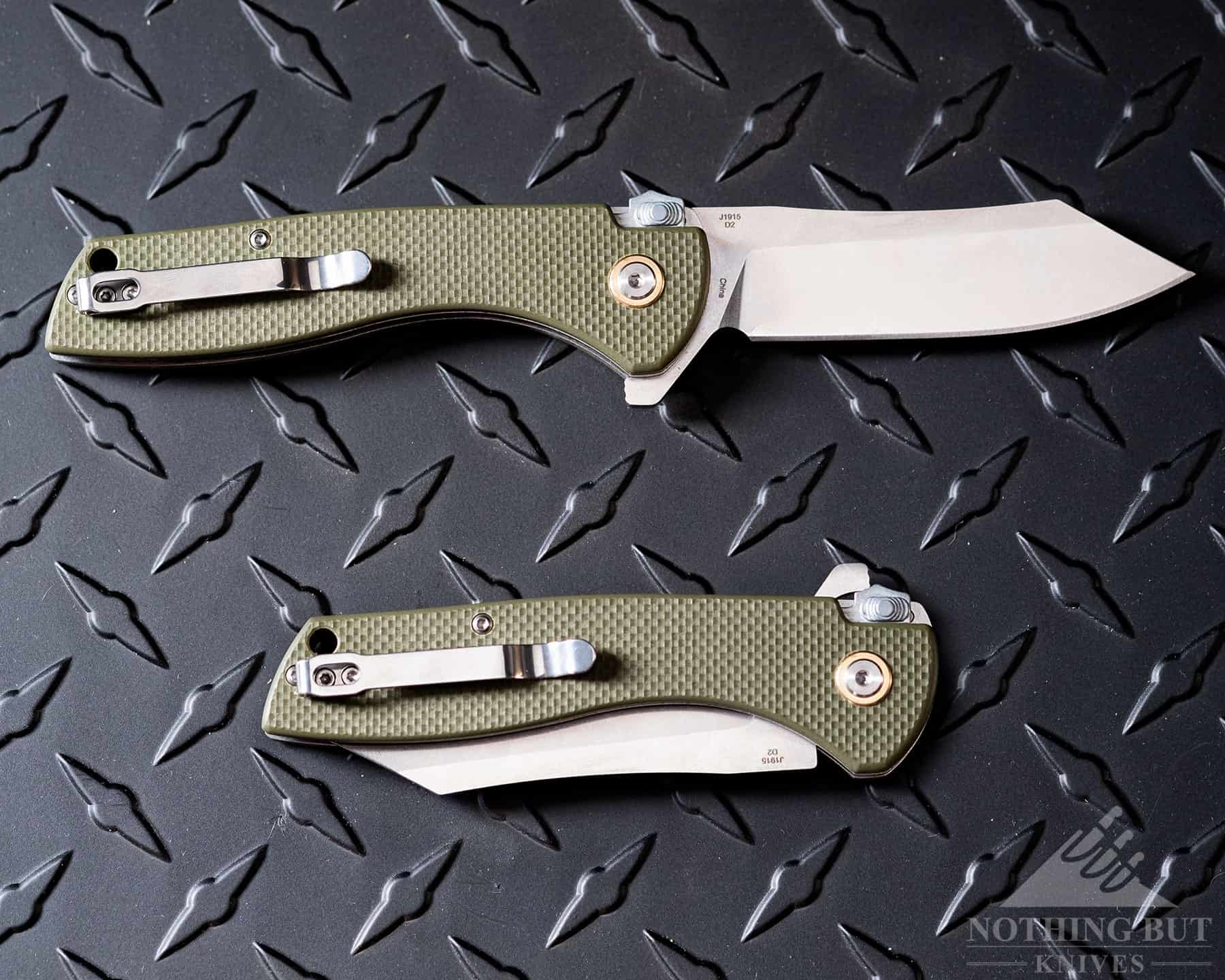 And you can call that blade shape whatever you want: wharnecliffe, or sheepsfoots, or reverse tanto, or a modified cleaver bowie. The important thing here is it's slicey and offers a lot of cutting edge for its size, and the flat grind makes it tough and halfway decent at food prep in the field.
We liked the CJRB Kicker enough to include it in our article on the best D2 steel knives.
CRKT Shenanigan Z
| | |
| --- | --- |
| Overall Length: | 8.25″ |
| Blade Length: | 3.25″ |
| Steel: | AUS-8 |
| Blade Style: | Drop point |
| Handle Length: | 4.875″ |
| Handle Material: | GFN |
| Lock Mechanism: | Liner |
| Open System: | Flipper |
| Grind: | Hollow |
| Carry System: | Tip-down clip |
I gave this knife a hard time in my review because the pocket clip gives it a bad hot spot, and it's clunky in the pocket, but I still carry it occasionally.
It's the blade that really sells this knife. Even when it starts getting a little dull you can get a lot done just with the slight recurve shape of the edge. And it's so wide that you have a lot of material to hit stuff with. I've actually used it as a kind of emergency machete a few times, hacking at brush or straggling branches because I wasn't smart enough to bring something bigger along.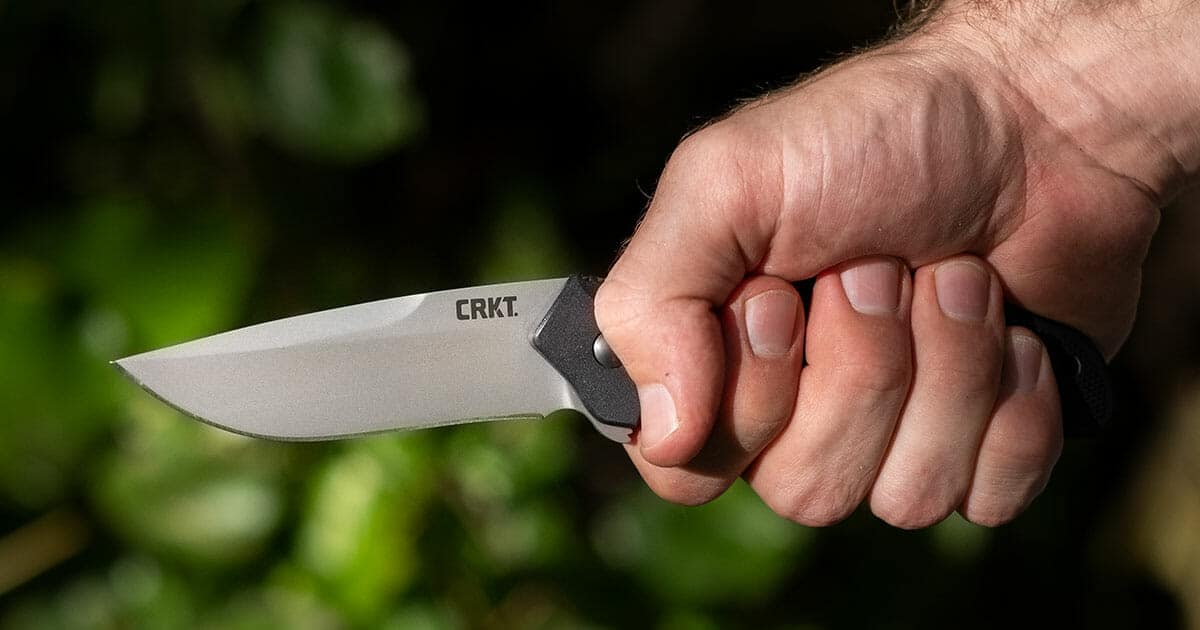 So long as you keep it sharp, though, the real perk of this knife is how it slices. And while the body of it is bulky, that's part of what makes it a working knife (at least, that's what the designer Ken Onion intended). It's bulky but easy to clean, the steel is middle of the road but easier to sharpen, and the general overbuilt design makes it that much easier to grip and manipulate when you're wearing gloves.
CRKT has also updated the Shenanigan with maroon scales and spring assisted action, which is cool if you're into that sort of thing. I'm opposed to AO knives on principle, but the new Shenanigan is still decent value.
Click here to check out my full review of the CRKT Shenanigan.
QSP Pangolin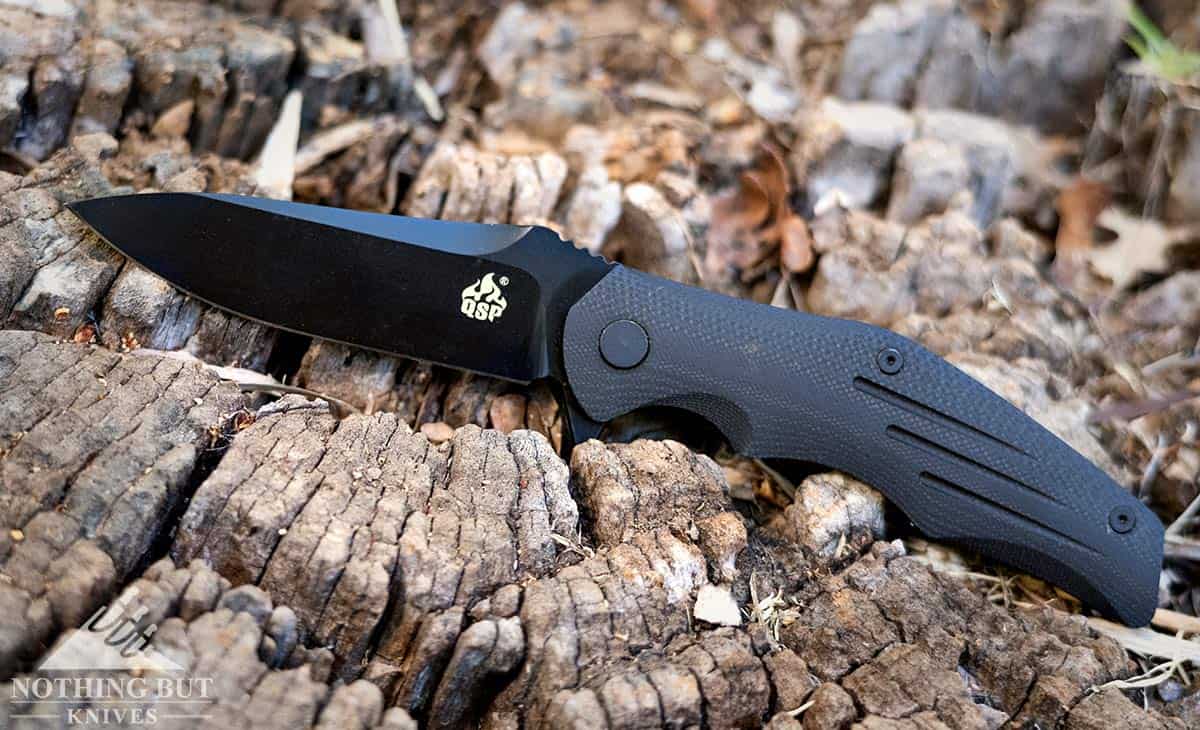 | | |
| --- | --- |
| Overall Length: | 8.5″ |
| Blade Length: | 3.75″ |
| Steel: | D2 |
| Blade Style: | Drop point |
| Handle Length: | 4.75″ |
| Handle Material: | G-10 |
| Lock Mechanism: | Liner |
| Open System: | Flipper |
| Grind: | Flat |
| Carry System: | Tip-up clip |
The QSP Pangolin has been out for a few years, and it has built a solid reputation as a dependable budget flipper. I thought it might be a good addition to this list, so I ordered it to test out. I have been pleasantly surprised at its performance, fit and finish and overall ergonomics.
The D2 steel blade is tough, and the flat grind makes it fairly versatile. The G-10 handle is comfortable and easy to grip even with gloves on. However it is difficult to close with one hand when wearing gloves.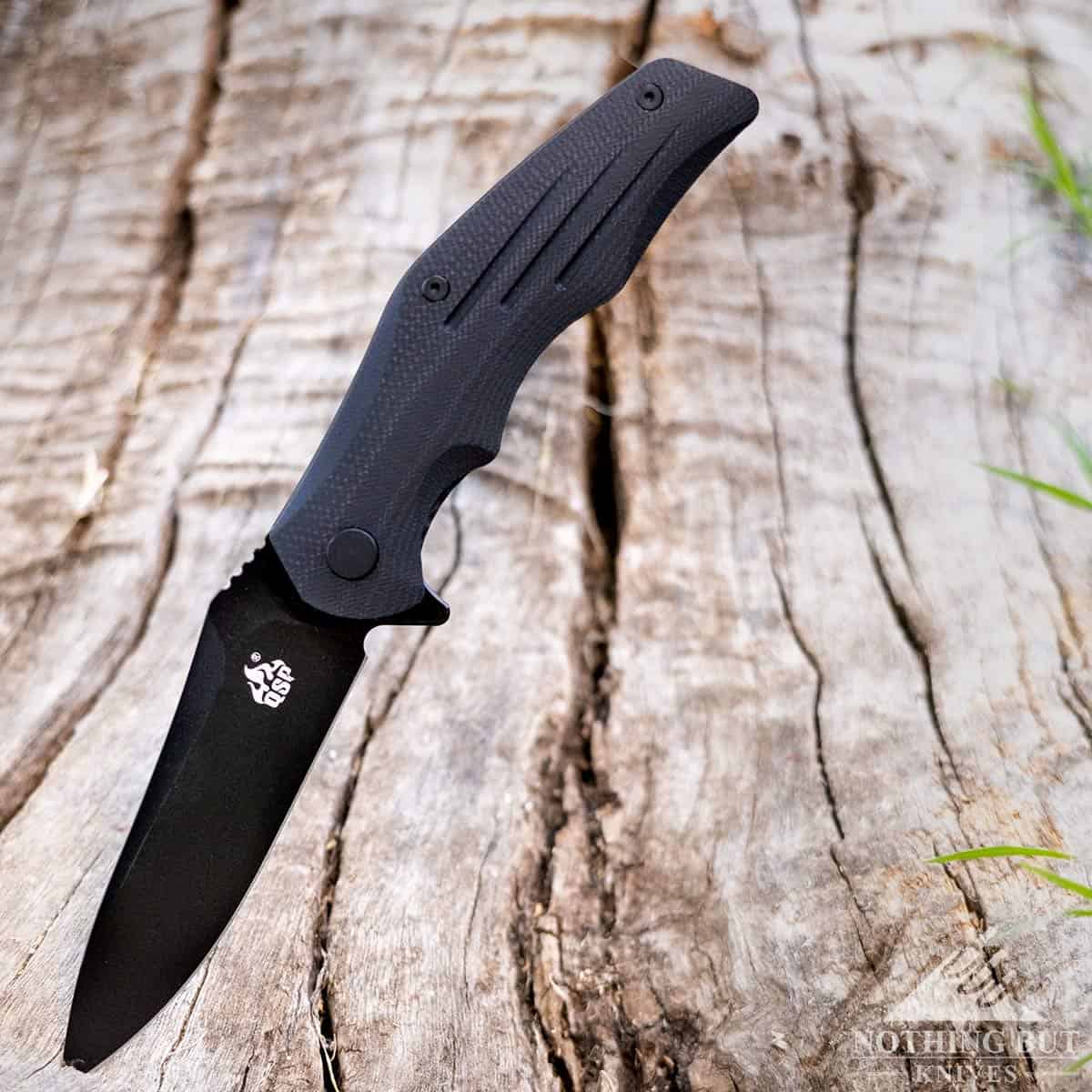 Despite the relatively large size the Pangolin rides comfortably in the pocket. It's not a deep carry knife which is fine with me, because deep carry knives are tough to remove from the pocket when wearing gloves. The pocket clip is snug, but not so tight that it tears up the pocket.
The Pangolin also has a decent action for a budget knife, so if you are a fidget flipper this is a great tool for annoying everyone else in the room.
The blade is centered which was no surprise considering the overall great fit and finish of the Pangolin. This is the first QSP knife we have ever tested out here at Nothing But Knives, and we were mostly impressed.
The Pangolin is not as beefy as the CRKT Ruger 2 Stage that it replaced on this list, but it is more versatile and pocket friendly.
Opinel #9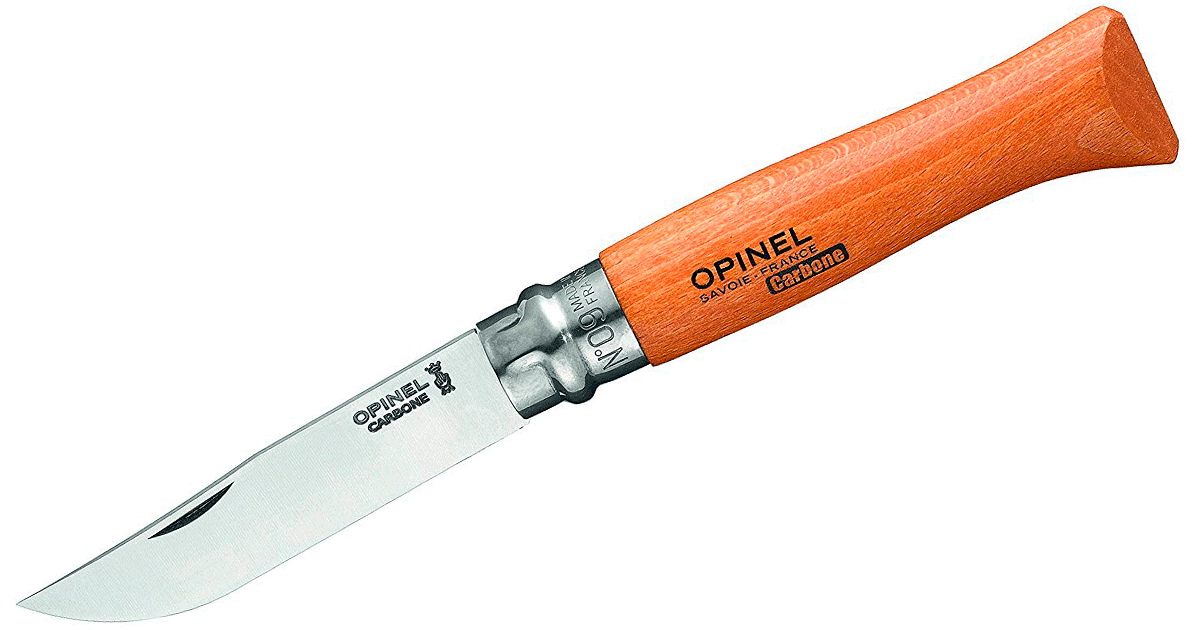 | | |
| --- | --- |
| Overall Length: | 8.15″ |
| Blade Length: | 3.5″ |
| Steel: | High carbon |
| Blade Style: | Clip point |
| Handle Length: | 4.65″ |
| Handle Material: | Beechwood |
| Lock Mechanism: | Virolock |
| Open System: | Nail nick |
| Grind: | Flat |
| Carry System: | Pocket (some leather sheaths available) |
As hesitant as I am to include something that isn't one-handed open, I have to admit the Opinel design is underappreciated as a working knife.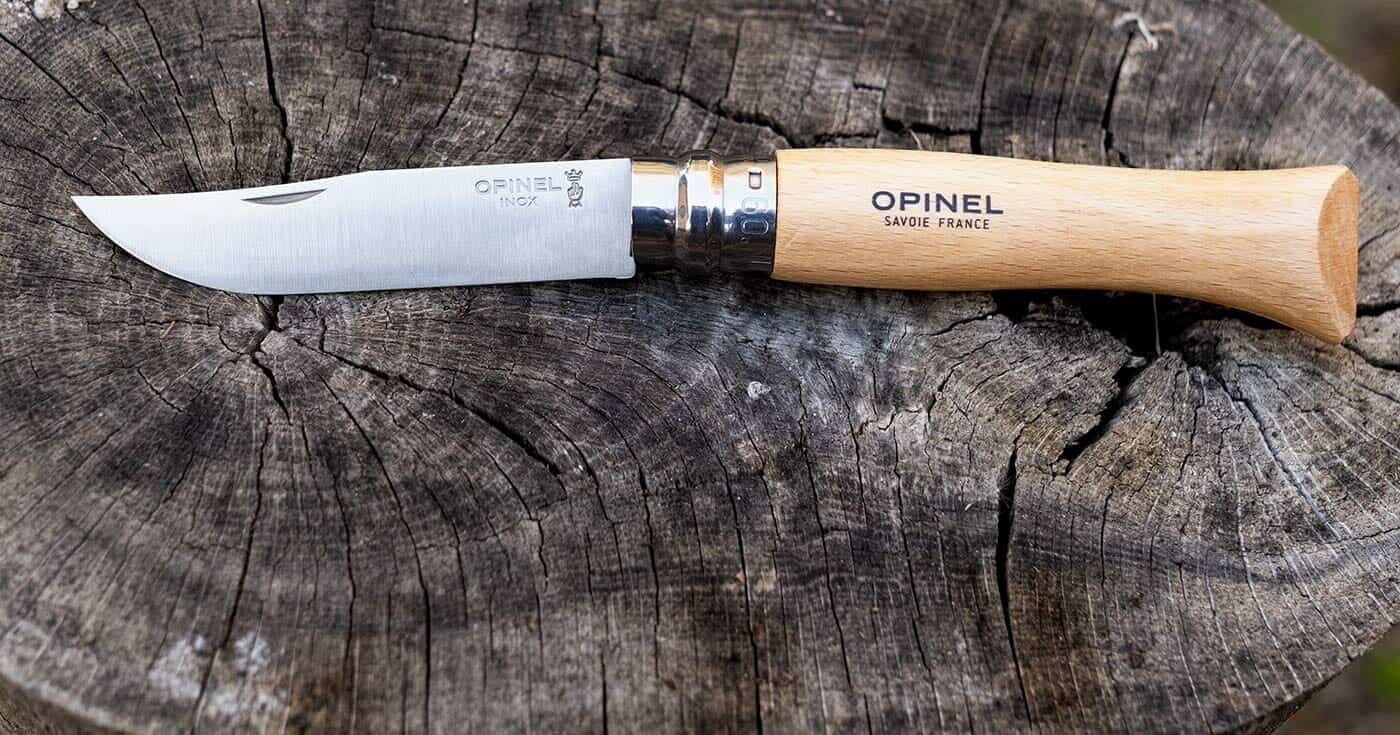 It's nothing fancy, which is what makes it so durable. It would be a nightmare to open with a gloved hand, but once you've got it, the round handle is actually pretty well made for a clunky grip. On top of that, it's really made to get dirty. If I recall, this was originally a design for farmers (like most friction folder designs).
The ring lock isn't flashy, but it's more than enough to keep the blade secure, and the smooth wood handle and straightforward blade design have become classic over time, but when they first appeared on the market they were just the bare bones features for a working knife. There are no weird grooves that might pack up grime, and it has a price that makes it pretty painless to replace should the worst happen.
Another fun fact about the Opinel #9 is that is is a great knife for lifting the cap of a beer bottle.
Cold Steel Pocket Bushman
| | |
| --- | --- |
| Overall Length: | 10.25″ |
| Blade Length: | 4.5″ |
| Steel: | 1.4116 |
| Blade Style: | Clip point |
| Handle Length: | 5.75″ |
| Handle Material: | Stainless steel |
| Lock Mechanism: | Ram Safe |
| Open System: | Thumb stud |
| Grind: | Flat |
| Carry System: | Reversible tip-up clip |
Cold Steel would have a lot more knives on this list but most of the really good stuff I wanted to put in here tops the $70 mark. I almost included the Voyager anyway just because we've used that thing so much, but if let in one $70 hard-use knife I'd have to let a few more gems in here, and then it would just be a different blog.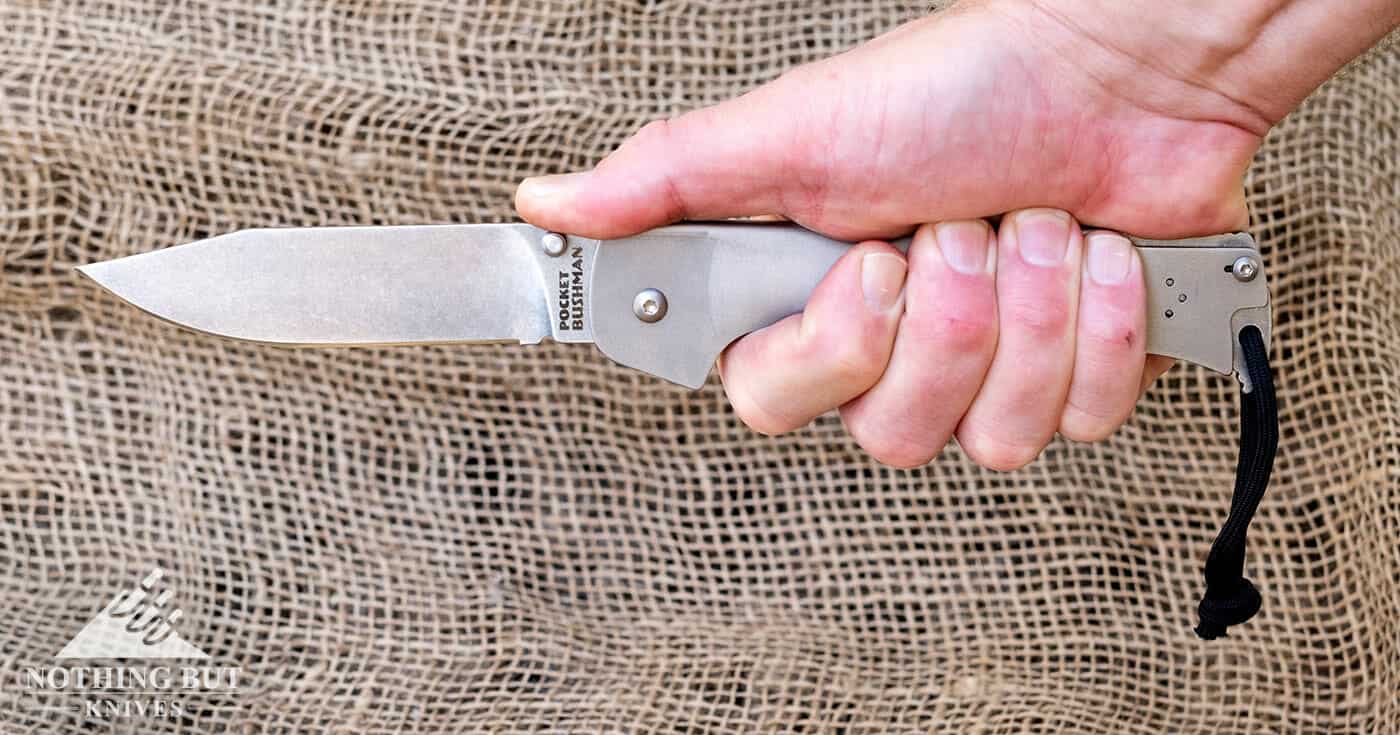 The Pocket Bushman is a surprisingly fancy knife considering the price, though. They've packed a lot of features into this specifically to make it a hard-use knife. The main one of course being the Ram safe lock mechanism. This is essentially a backlock bar on a spring system that is always engaged. You actually have to pull the back bar down from the bottom of the knife for opening and closing the knife.
There were some big problems with this lock system when the Bushman first came out, but those were fixed in later iterations and now it's nearly unbreakable. If there's any real problem with this knife it's the two-handed opening. Some people claim to have methods for one-handed opening this knife, but Cold Steel doesn't recommend doing that. That's probably why they've since moved on to the Tri-ad lock.
But whatever ergonomic issues the Pocket Bushman might have, it's still a massively tough folding knife for a great price.
SOG Terminus XR
| | |
| --- | --- |
| Overall Length: | 7.0″ |
| Blade Length: | 3.0″ |
| Steel: | D2 |
| Blade Style: | Drop point |
| Handle Length: | 4.0″ |
| Handle Material: | G-10 |
| Lock Mechanism: | XR Lock |
| Open System: | Thumb stud and flipper |
| Grind: | Hollow |
| Carry System: | Tip-up clip |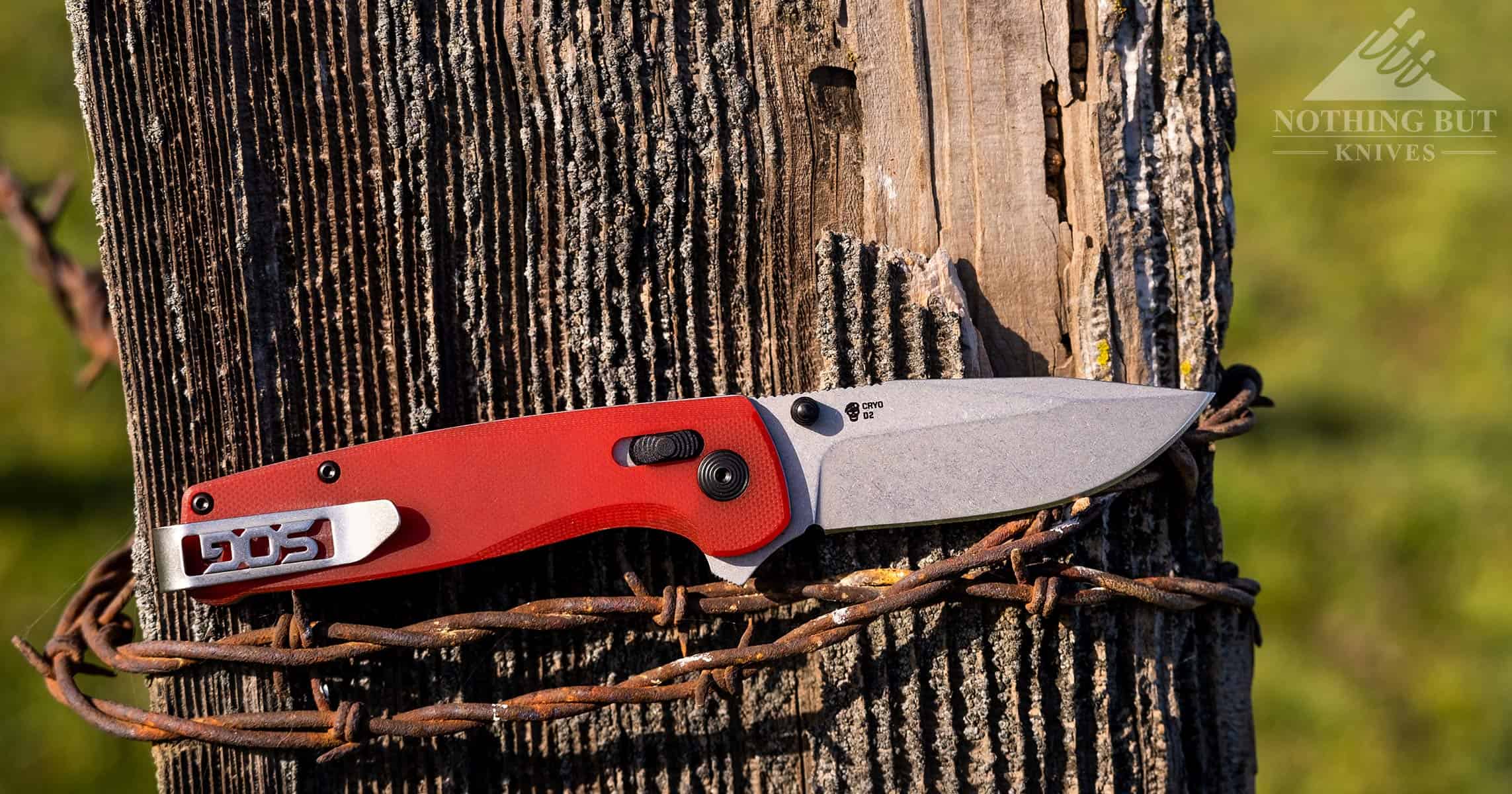 The Terminus is one of SOG's first attempts at a slide lock design, and I would argue their first success with it. It's a step back from their usual high-octane, urban tactical aesthetic and into something that's just a good, sturdy working knife that's easily comparable to the RAT 2.
The D2 version usually goes for around $50 right now, which puts it in that golden category of knives that are both tough and cheap enough to abuse. Plus the hollow grind is fairly shallow, so the geometry should be pretty easy to touch up and maintain.
I'm not sure why SOG thought it was necessary to put both a thumb stud and a flipper tab on this knife. It would have been just fine with only the thumb stud, but the flipper tab isn't intrusive at all so it doesn't hurt to have the extra option.
Knives Under 100 Dollars
It feels weird for most people to drop $80 on a knife that's going to end up in mud puddles and subjected to the saw dust and dirt clouds of a construction zone, but we've found a few knives that are worth the price even if (or especially if) you think you're going to abuse the hell out of it. Usually the price is in the steel, so expect to see hard, premium steels paired with tough, moderately cheap handle materials. Very often, though, the value is in how well that steel has been treated and ground.
If you are willing to spend a little a bit more than $100 for a hard use knife, though, check out our review of the Cold Steel 4MAX Scout. It may well be the ultimate hard use knife, but the price kind of puts it in its own category.
Buck 841 Sprint Pro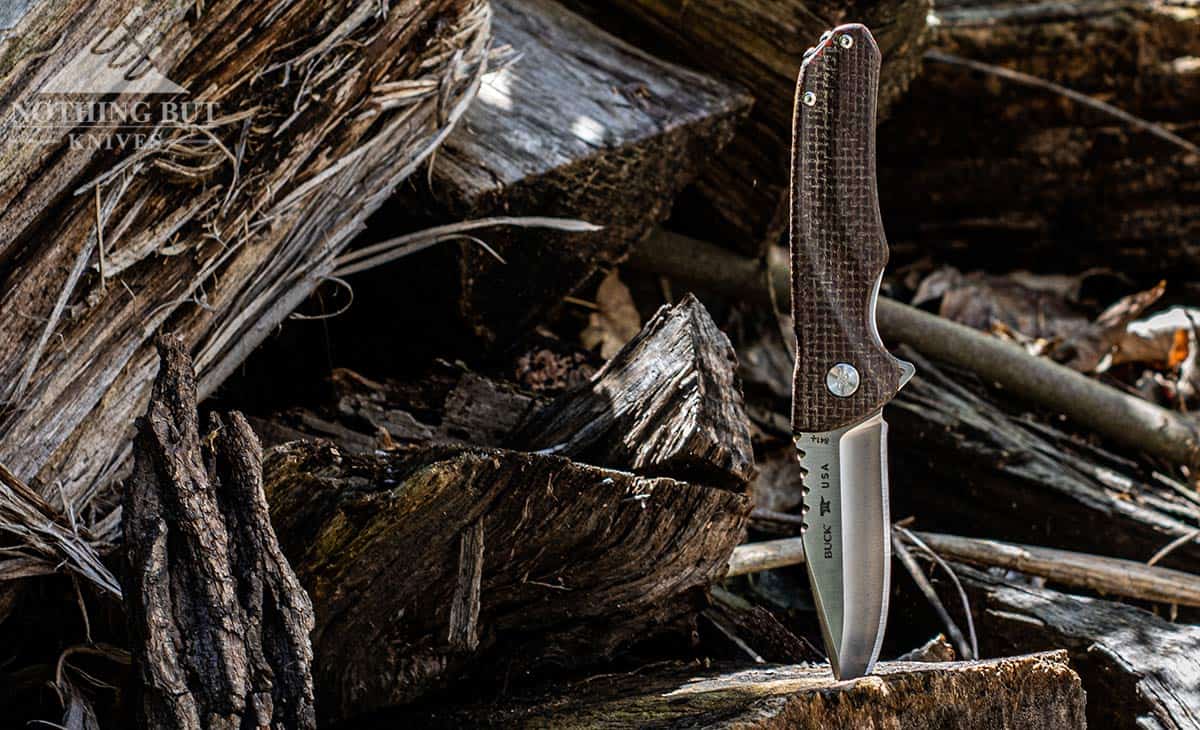 | | |
| --- | --- |
| Overall Length: | 7.5″ |
| Blade Length: | 3.125″ |
| Steel: | S30V |
| Blade Style: | Drop point |
| Handle Length: | 4.375″ |
| Handle Material: | Burlap Micarta |
| Lock Mechanism: | Liner |
| Open System: | Flipper |
| Grind: | Hollow |
| Carry System: | Tip-up clip |
We are a little tentative about recommending knives with S30V steel as hard use knives. S30V is an excellent steel with good edge retention and great corrosion resistance, but if it's heat treated to a point that it's extremely hard it tends to chip easier than softer steel. Fortunately the Paul Bos heat treatment seems to have transitioned well on the Sprint Pro. It retains decent edge and still handle tough tasks with out chipping easily.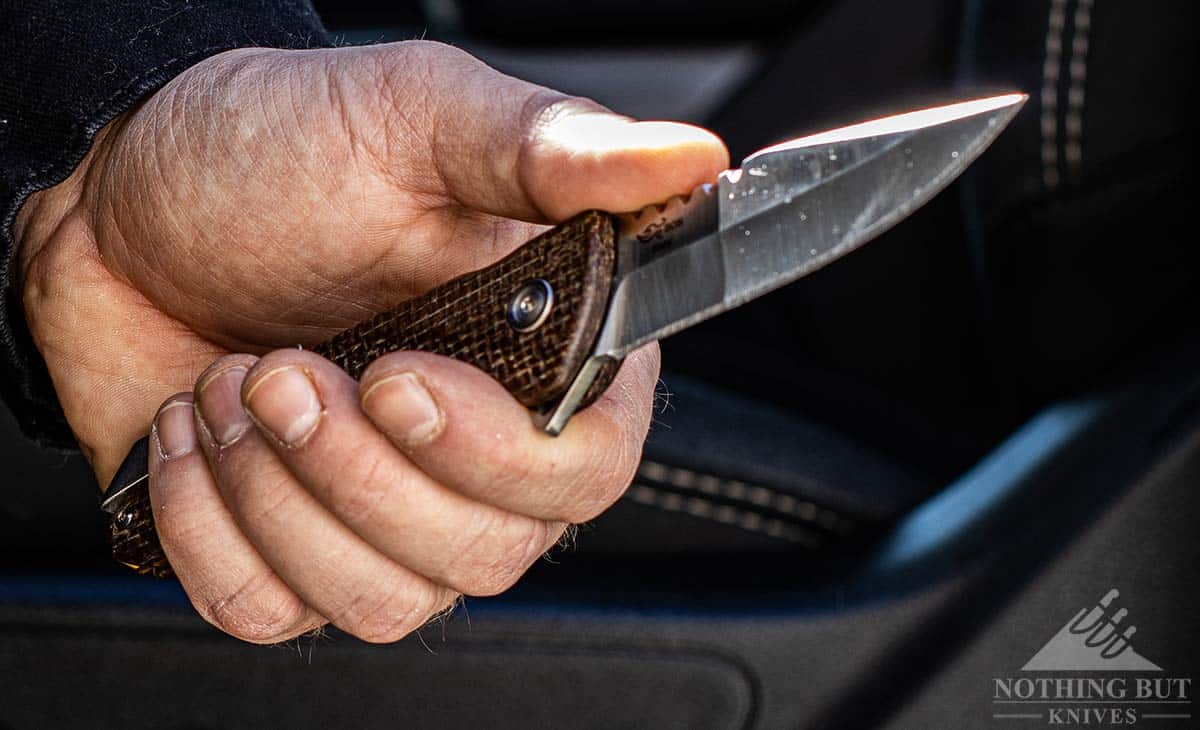 The super grippy burlap Micarta handle is another feature that makes this knife a good choice for hard use. It has a comfortable shape that makes it a nice handle for a variety hand sizes. It is also easy to grip when wearing work gloves.
Check out our Buck Knives 841 Sprint Pro review to find out out more about this knife or to just look at more cool photos.
Civivi Crit Multitool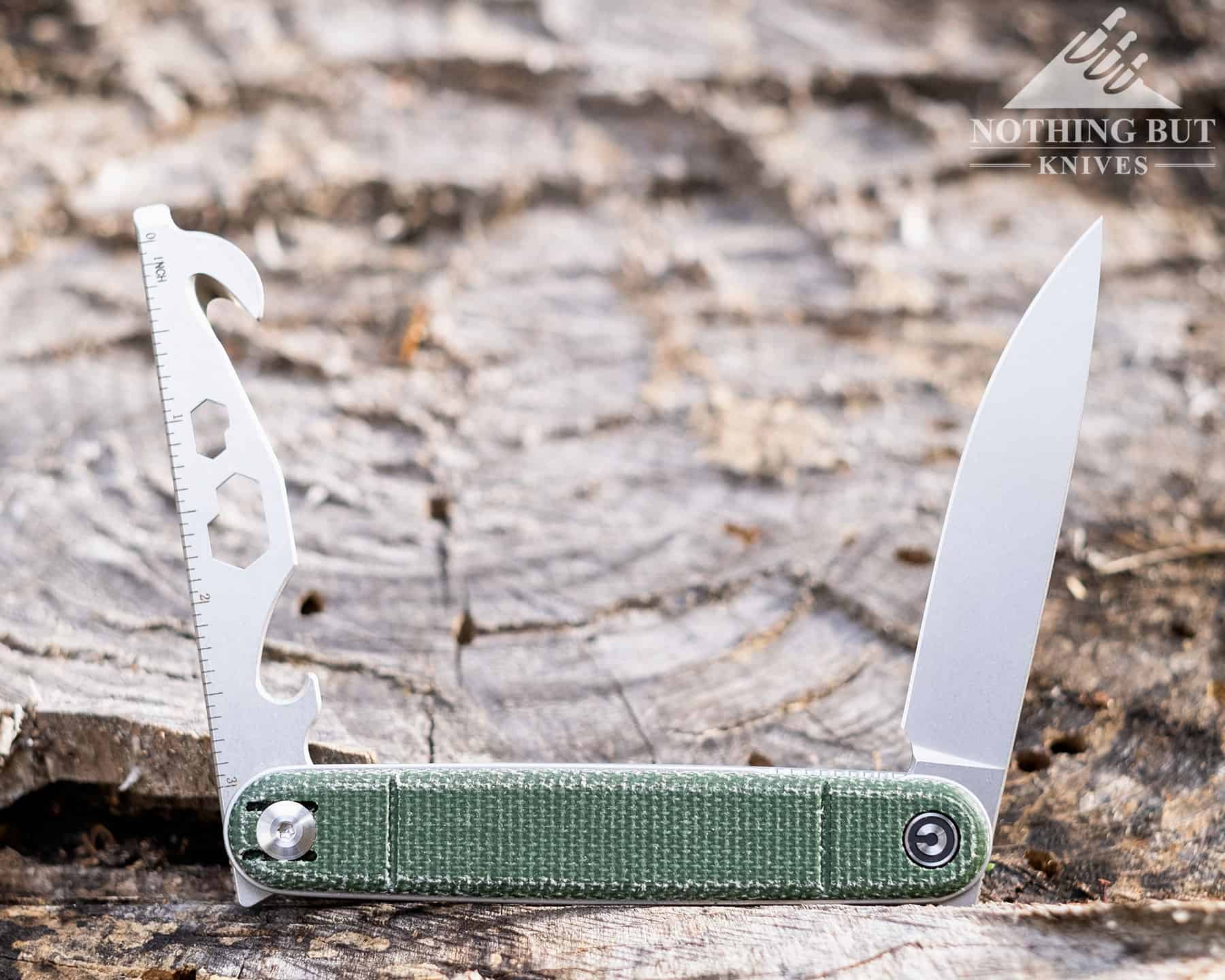 | | |
| --- | --- |
| Overall Length: | 10.5″ |
| Blade Length: | 3.18″ |
| Steel: | Nitro-V |
| Blade Style: | Drop point |
| Blade Hardness: | 59 – 61 HRC |
| Tool Bar Length: | 3.11″ |
| Tool Bar Steel: | 9Cr18MoV |
| Tool Bar Components: | 4 hex drivers, flathead screwdriver, bottle opener, strap cutter |
| Handle Length: | 4.0″ |
| Handle Material: | Linen Micarta |
| Lock Mechanism: | Liner |
| Open System: | Front flipper |
| Grind: | Flat |
| Carry System: | Wire clip (tip up or down) |
It's dangerous to recommend this knife as a hard use option because the blade is hard and thin. That makes it a great slicer, and currently one my favorite edges in my current rotation, but it also makes it a liability in the hands of people who like to treat blades like prybars and screwdrivers.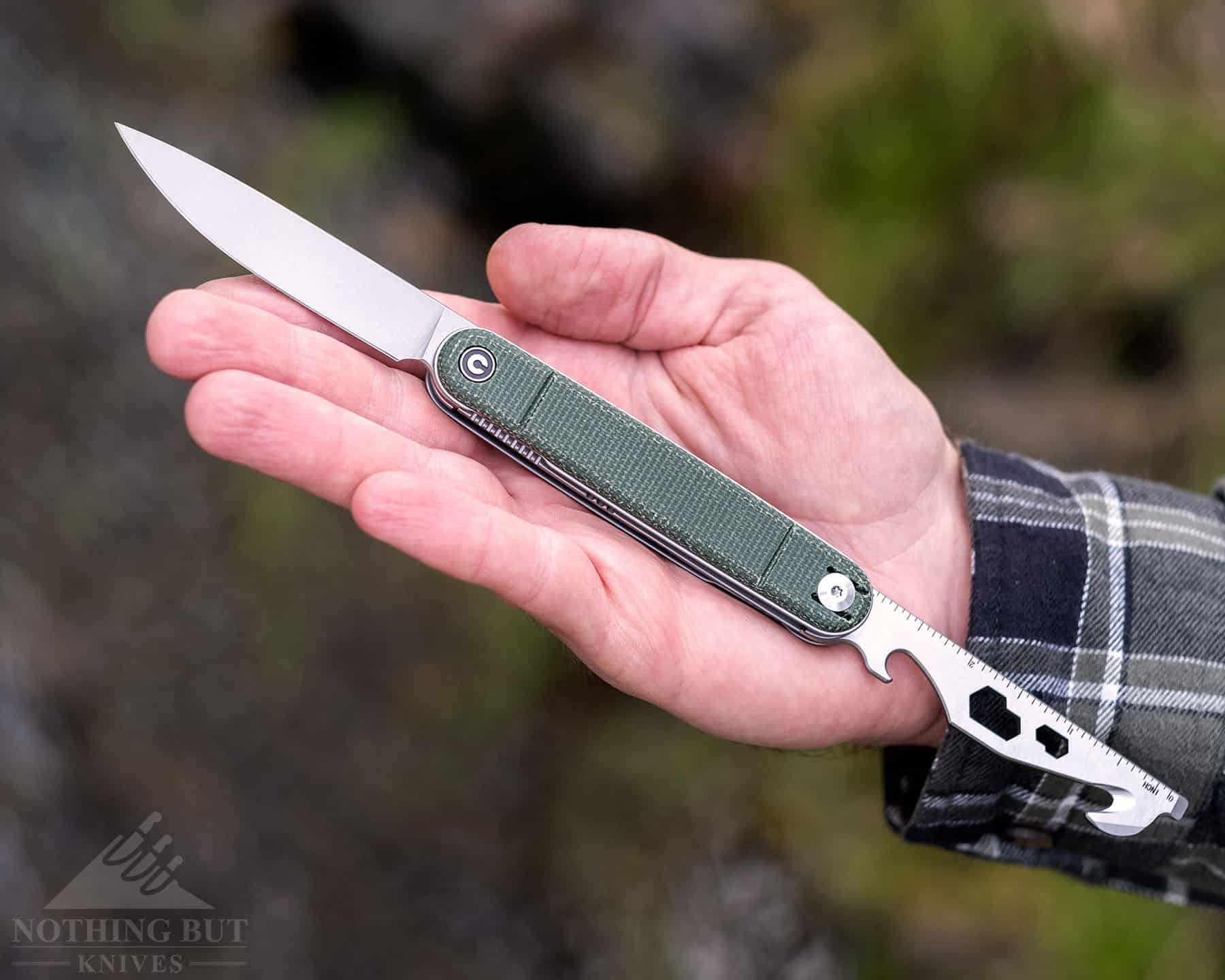 Fortunately this knife has a screwdriver that can be used like a prybar on the tool bar that flips out the other end of the handle. That side is made with a reasonably tough 9Cr18MoV steel that can get all hell beat out of it all day. Both the strap cutter and the screwdriver on this are the kinds of things that I find a lot of different uses for throughout the day, and thanks to the nice wire clip and smooth action, it's a lot easier and faster to pull this thing out than my Leatherman.
I don't think this kind of knife should necessarily replace your Swiss Army Knife or anything, but there have been a lot of occasions where I was working on something and only had one free hand to grab a tool. That's where this knife really shines.
You can check out our full review of the Crit here.
Kizer Slicer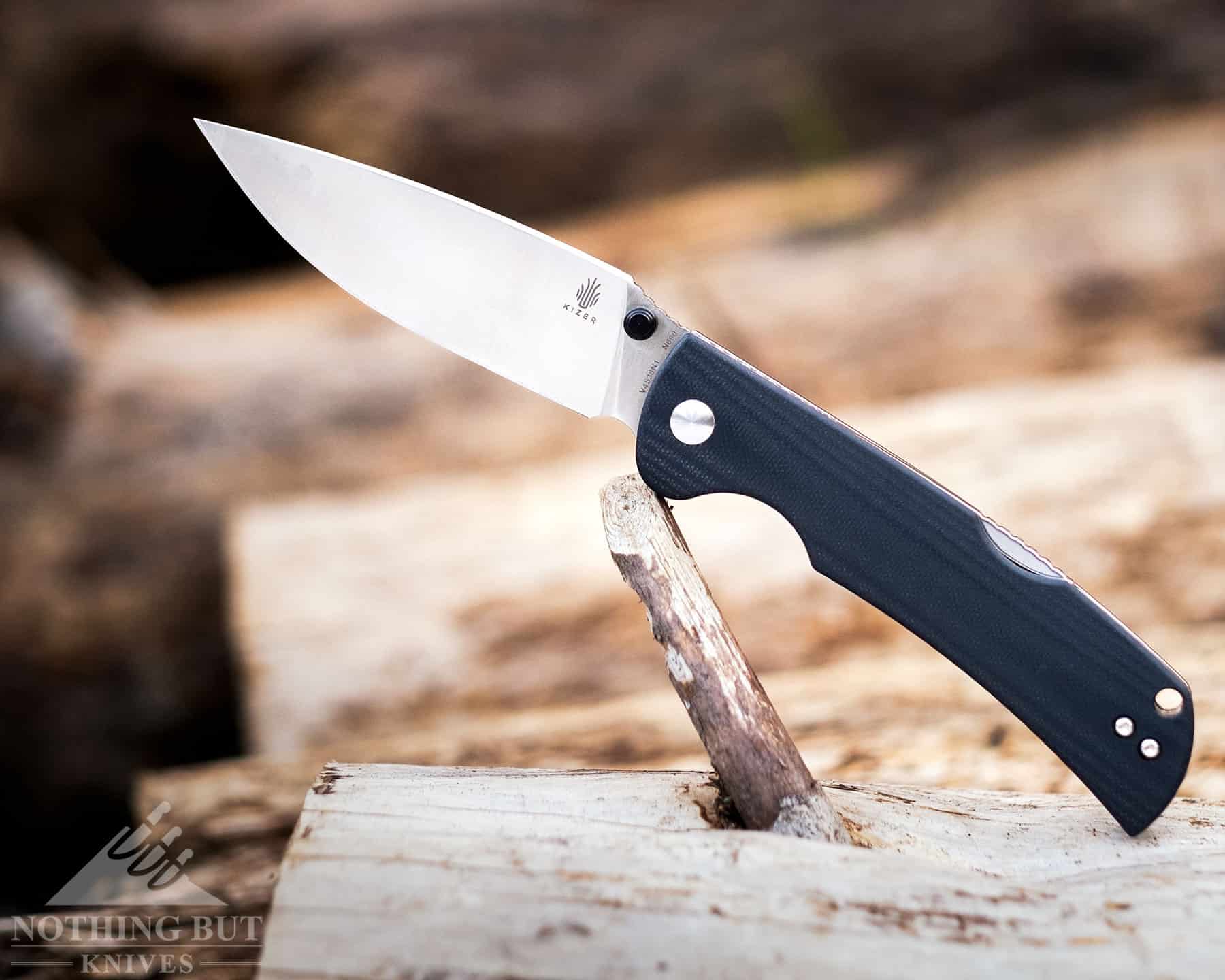 | | |
| --- | --- |
| Overall Length: | 8.46" |
| Blade Length: | 3.78" |
| Steel: | Bohler N690 |
| Blade Style: | Drop point |
| Handle Length: | 4.67" |
| Handle Material: | G-10 |
| Lock Mechanism: | Slide |
| Open System: | Thumb stud |
| Grind: | Flat |
| Carry System: | Tip-up clip, partial ambi |
The Slicer is one of the best all-around hard use pocket knives we've tested at any price. The fact that this can be found for less than $100 seems wrong because it feels like a much more expensive knife. Knife designer, Michael Galovic is responsible for this well designed tough lockback that was a very welcome companion at the camp site, and really made me wish it had come out a couple years ago when I was still landscaping.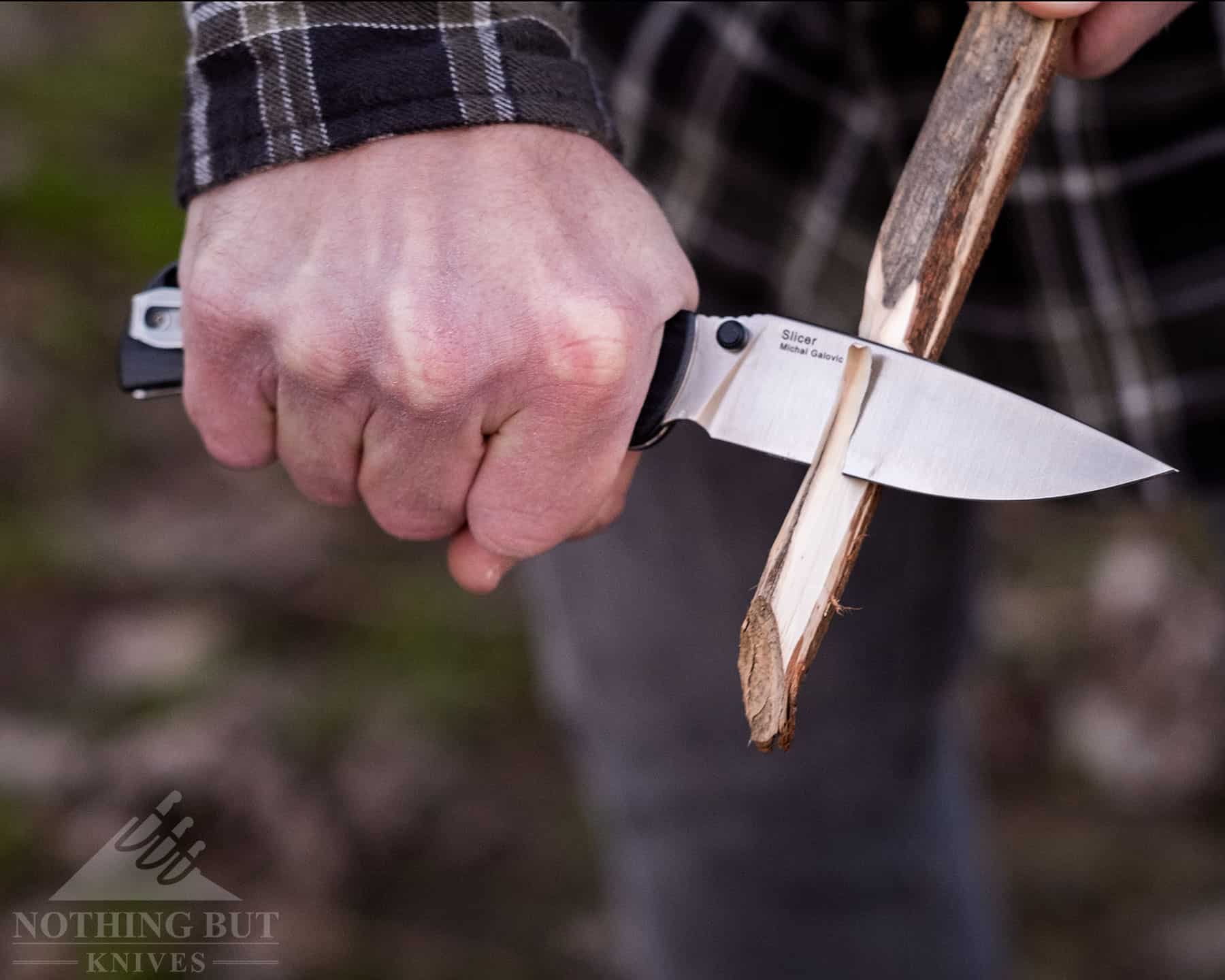 Lockback knives are generally considered one of the most trusted types of folding knives for hard-use tasks. The Kizer Slicer did its part to maintain that reputation. The Slicer handled everything we threw at it over our three week testing period without a hint of lock failure, and we were not gentle.
We did manage to knock the thumbstud loose, so you may want to hit that with some locktite if you decide to pull the trigger on this knife. That's been the only thing to signal that the Slicer might not be made to the same standards as the Buck 110, but it's close enough to be a worthy alternative.
Check out our full review of the Kizer Slicer if you want to see some more shots of this lockback in action.
Off-Grid Badger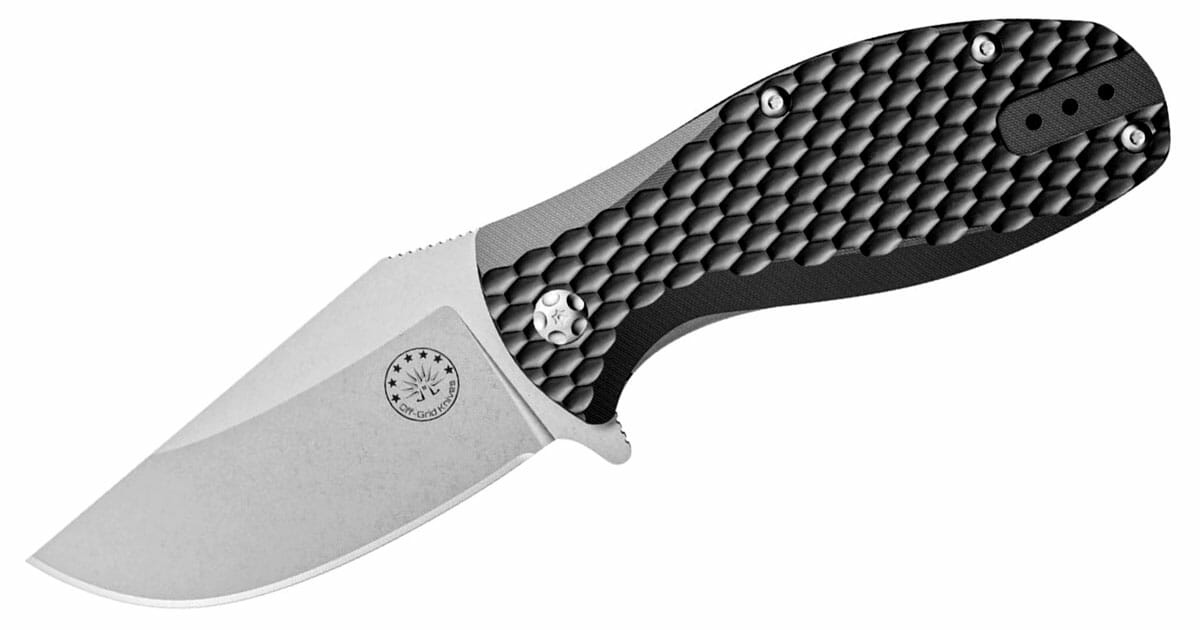 | | |
| --- | --- |
| Overall Length: | 6.9″ |
| Blade Length: | 3.0″ |
| Steel: | D2 |
| Blade Style: | Drop point |
| Handle Length: | 3.9″ |
| Handle Material: | FRN or G10 |
| Lock Mechanism: | Liner w/ Grid Lock |
| Open System: | Flipper |
| Grind: | Flat |
| Carry System: | Tip-up clip, left or right |
Off Grid makes most of their knives with hard use in mind, but this is one of the few that uses their Grid Lock system. It's a simple system that keeps the liner lock from accidentally disengaging, which is a comfort to have for idiots like me who often find themselves hacking and prying with knives in gloved hands, and can't always feels when the lock is getting pushed away.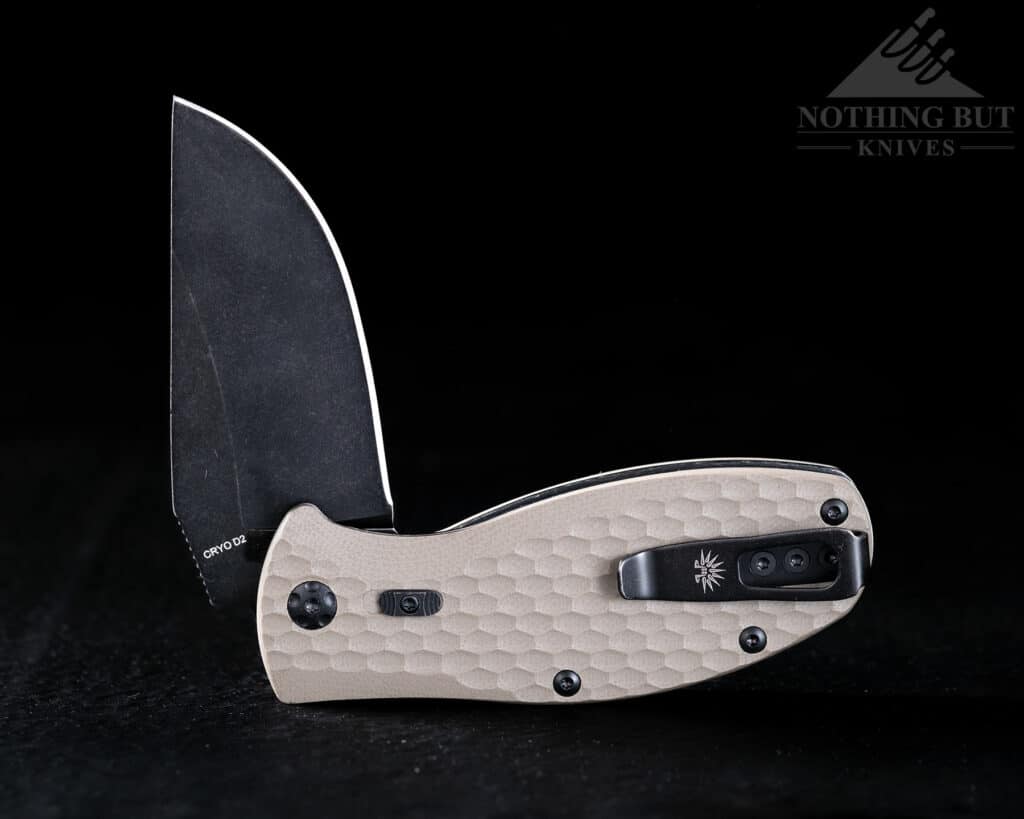 With D2 steel and the FRN scales, it's pretty hard to hurt this knife. I've put it through a lot of abuse, and even after hammering it into a tree, the only problem it came out with was needing to be tightened up more often. Thankfully Off Grid made this easy to take apart and maintain.
Personally I prefer the ergonomics of its big brother, the Rhino, but that's still running in $70 range, and you can still get a lot done with this fat little thing.
Read our full review of the Badger if you want to read more about how I abused it.
Kizer Vanguard Sheepdog
| | |
| --- | --- |
| Overall Length: | 7.75″ |
| Blade Length: | 3.125″ |
| Steel: | CTS-BD1N |
| Blade Style: | Sheepsfoot |
| Handle Length: | 3.9″ |
| Handle Material: | Micarta or G-10 |
| Lock Mechanism: | Liner |
| Open System: | Flipper |
| Grind: | Flat |
| Carry System: | TIp-up clip |
The Kizer Sheepdog is one of the most popular hard use knives on the market for several reasons. The first reason is that it is an extremely tough and well designed knife. The other reason is that Kizer offers the Sheepdog in three different sizes, two different handle options and several different color options. It is kinda like buying a custom knife without having to pay a custom knife price.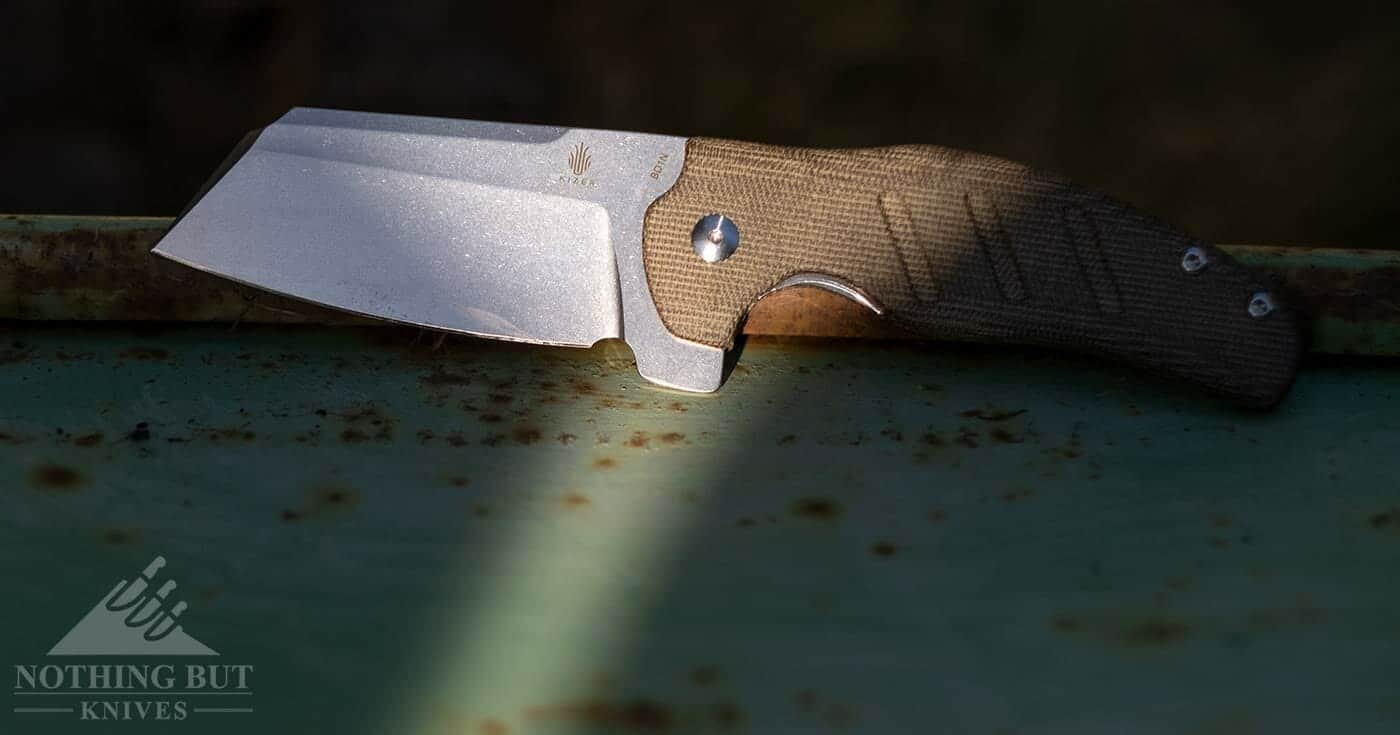 Considering its sub $100 price tag it's impressive that the Sheepdog comes with CTS-BD1N steel. That is a steel that offers great edge retention, but is usually only found on more expensive knives like the Spyderco ParaMilitary 2.
Check out out full review of the Kizer Sheepdog if you feel like hearing us talk it up even more.
Cold Steel Voyager XL
| | |
| --- | --- |
| Overall Length: | 12.25″ |
| Blade Length: | 5.50″ |
| Steel: | AUS-10A |
| Blade Style: | Drop point (and several others) |
| Handle Length: | 6.75″ |
| Handle Material: | Griv-Ex |
| Lock Mechanism: | Tri Ad Lock |
| Open System: | Thumb stud |
| Grind: | Flat or Hollow (depending on blade style) |
| Carry System: | Tip-up clip, left or right |
The Voyager XL from Cold Steel is a big pocket knife. Really big. However, it is more comfortable to carry than I expected it to be when I first ordered it. That said, if you prefer smaller knives this beast is probably not what you're looking for.
The Voyager has been around for a while, and it has gone through a lot of changes in both the design and the steel. The end result of this evolution is a durable and surprisingly practical folding knife that thinks it's a fixed blade.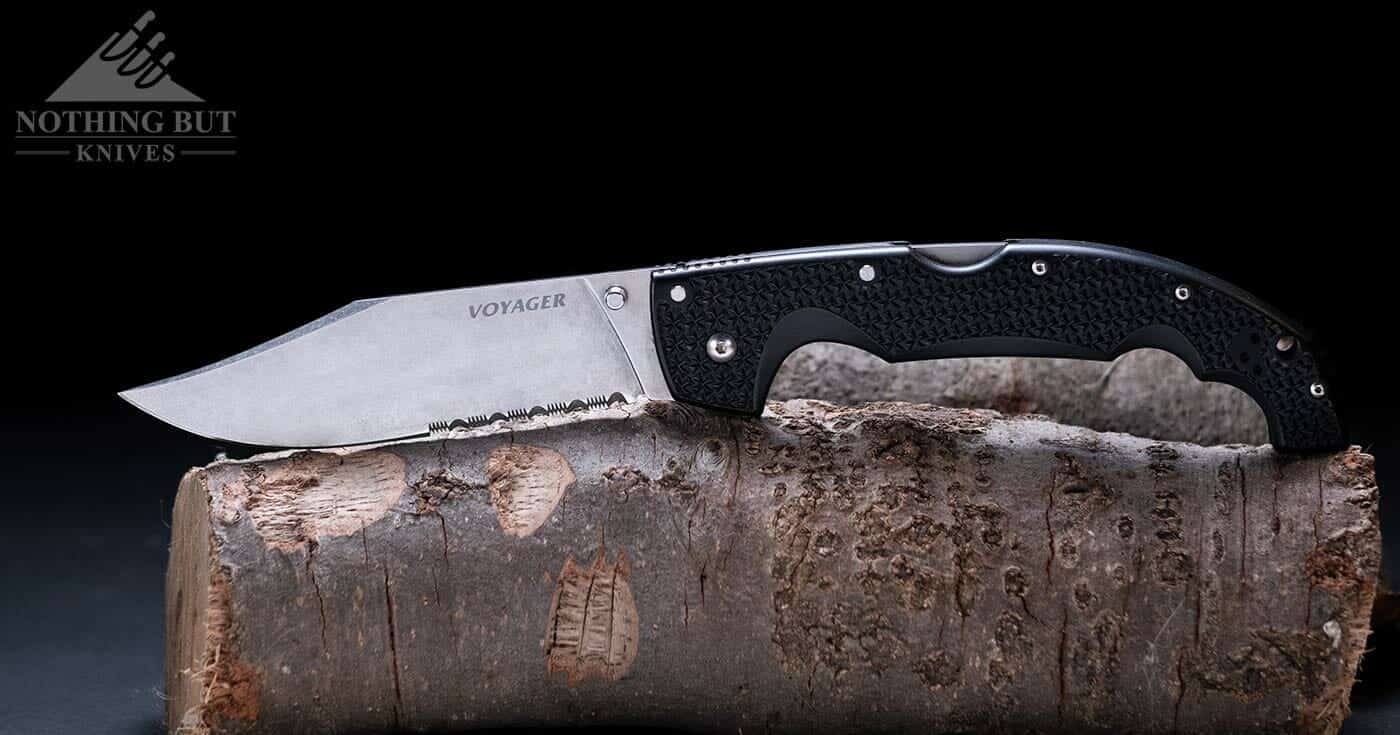 The newest design of the Voyager XL features AUS10 steel which is a great hard use steel. In fact I think it's the best steel for hard use knives other than Niolox, but AUS10 is a more budget friendly option. The version pictured above is Cold Steel's previous model with AUS-8 steel. There are still a few of those around online at resellers that sell used knives.
The Voyager XL can be purchased with a drop point, tanto or vaquero blade, and there are smaller versions of the Voyager as well. We did a review of the Cold Steel Voyager XL a while back. Check it out if want to see more photos or see what we thought of it.
Cold Steel 4-Max Scout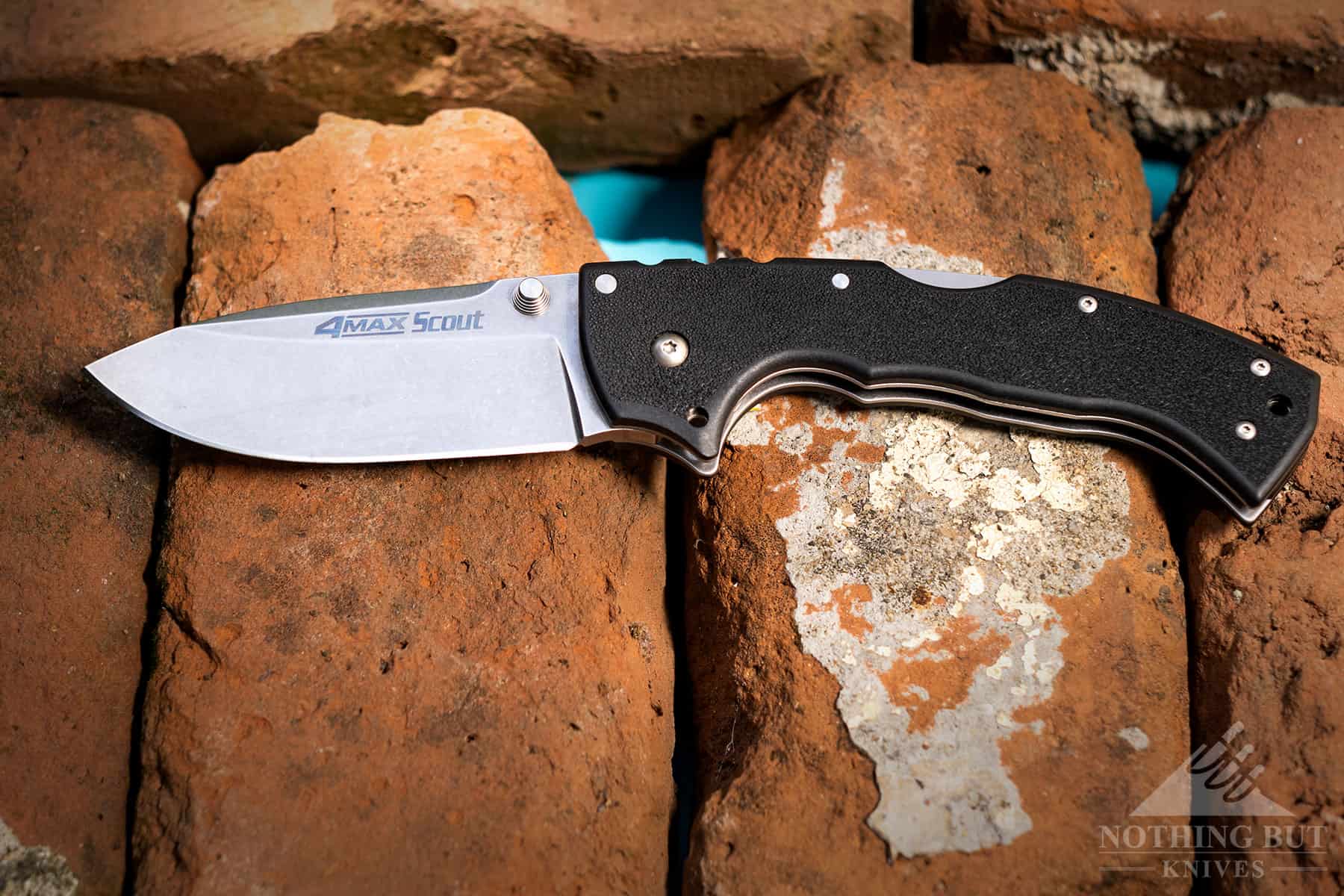 | | |
| --- | --- |
| Overall Length: | 10″ |
| Blade Length: | 4″ |
| Steel: | AUS10 |
| Blade Style: | Drop Point |
| Handle Length: | 6″ |
| Handle Material: | Griv-Ex |
| Lock Mechanism: | Tri-Ad |
| Open System: | Thumb Stud |
| Grind: | Flat |
| Carry System: | Tip-up clip |
The Cold Steel 4-MAX Scout is an incredibly tough knife. It has a thick blade, a bomb proof Tri-Ad lock and a large handle that is easy to grip when wearing work gloves. This knife is probably our most recommended knife to anyone who wants a super tough work knife that can take a beating. The downside of the 4-MAX Scout is that it is fairly heavy, and it takes up more than a little pocket space. This is a price many working folks are willing to pay for a folding knife that thinks it is a fixed blade.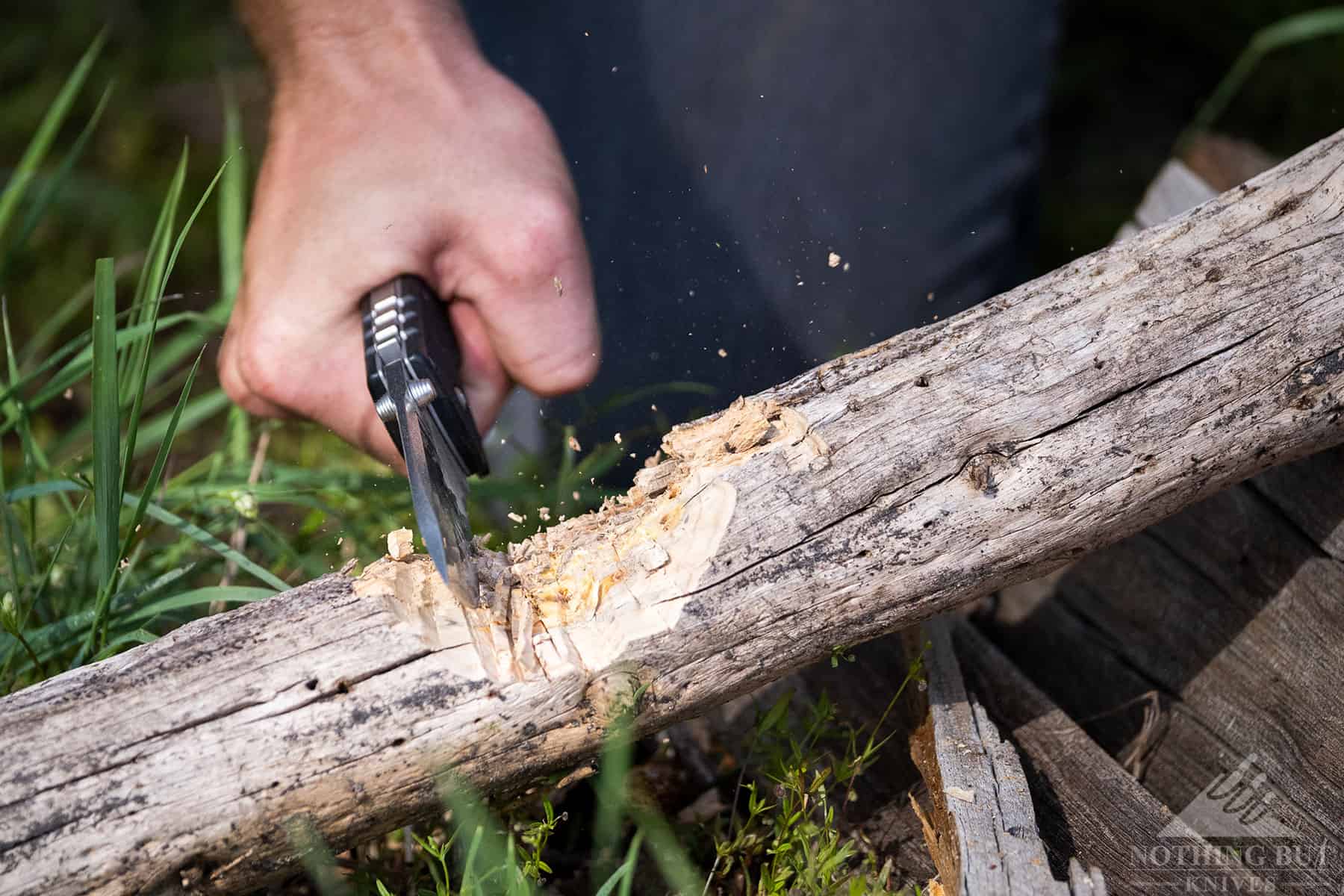 The 4-MAX Scout is not the fastest or easiest knife to open due to it's size, but it wasn't designed to be a fast opening tactical knife. One handed opening is fairly fast and easy with a little practice, but it won't win any speed awards. This knife is hard use above all else, and it doesn't sacrifice anything from a design standpoint that would make it more versatile at the cost of toughness.
Check out our in-depth Cold Steel 4 MAX Scout Review to learn more about this knife.
What is a Hard Use Design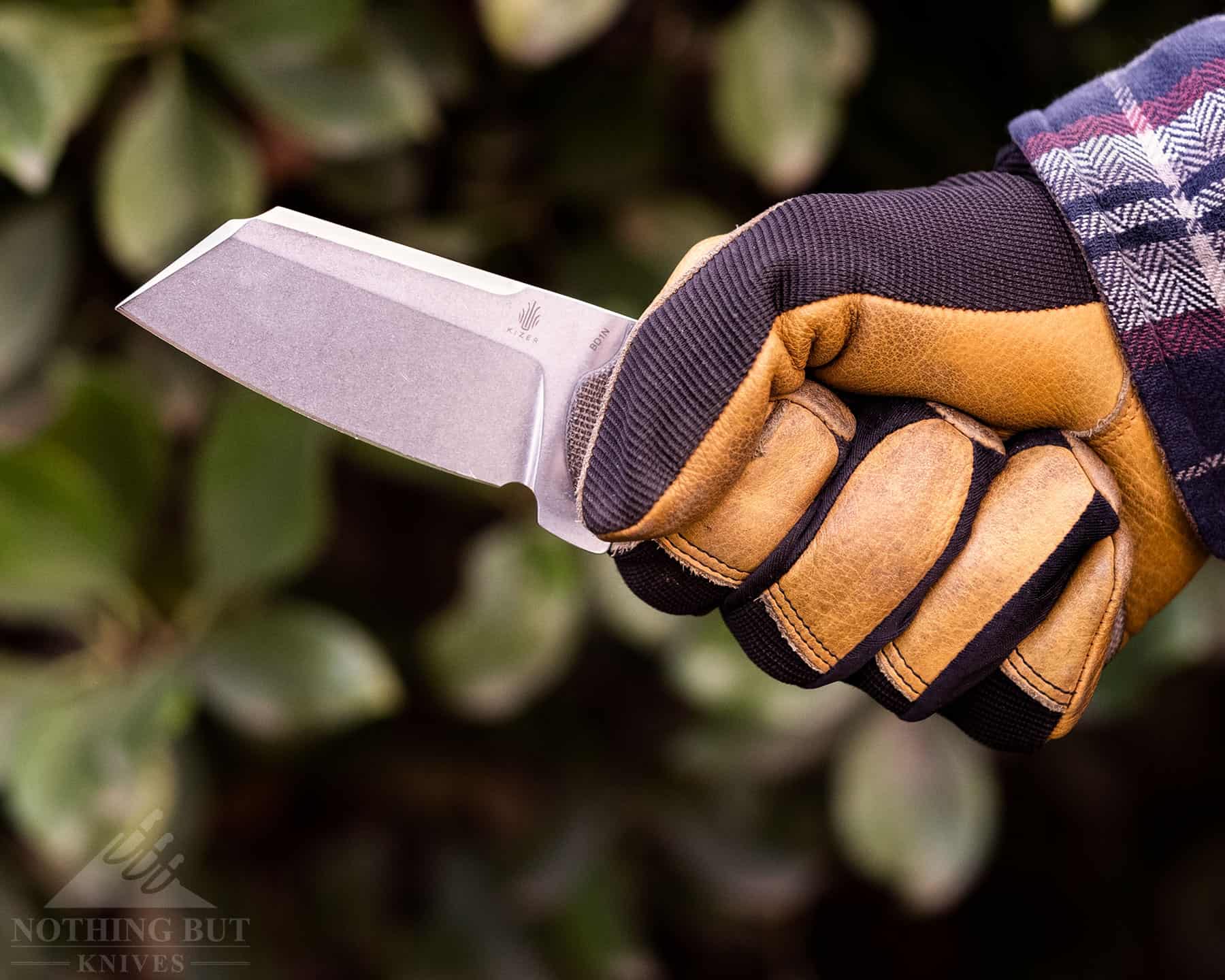 Dirt and impact are what I most expect a knife to handle well in order to count as "hard use". I should be able to drop it out of a tree, get it covered in mud, and easily deploy and use it with gloves on, then clean it up at the end of the day with no chips in the edge. That comes down to something with a simple design and tough construction that's easy to clean and maintain.
A "tough construction" can mean a lot of different things, and doesn't always mean the design is simple (just see the Cold Steel 4-MAX Scout). My rule of thumb has always been that the more mechanics there are on a knife the more things that can go wrong with it, which is why I typically avoid assisted-open designs. But it really all comes down to how well the elements of a knife have been chosen and handled.
What's the Best Steel, Handle, and Grind for a Hard Use Knife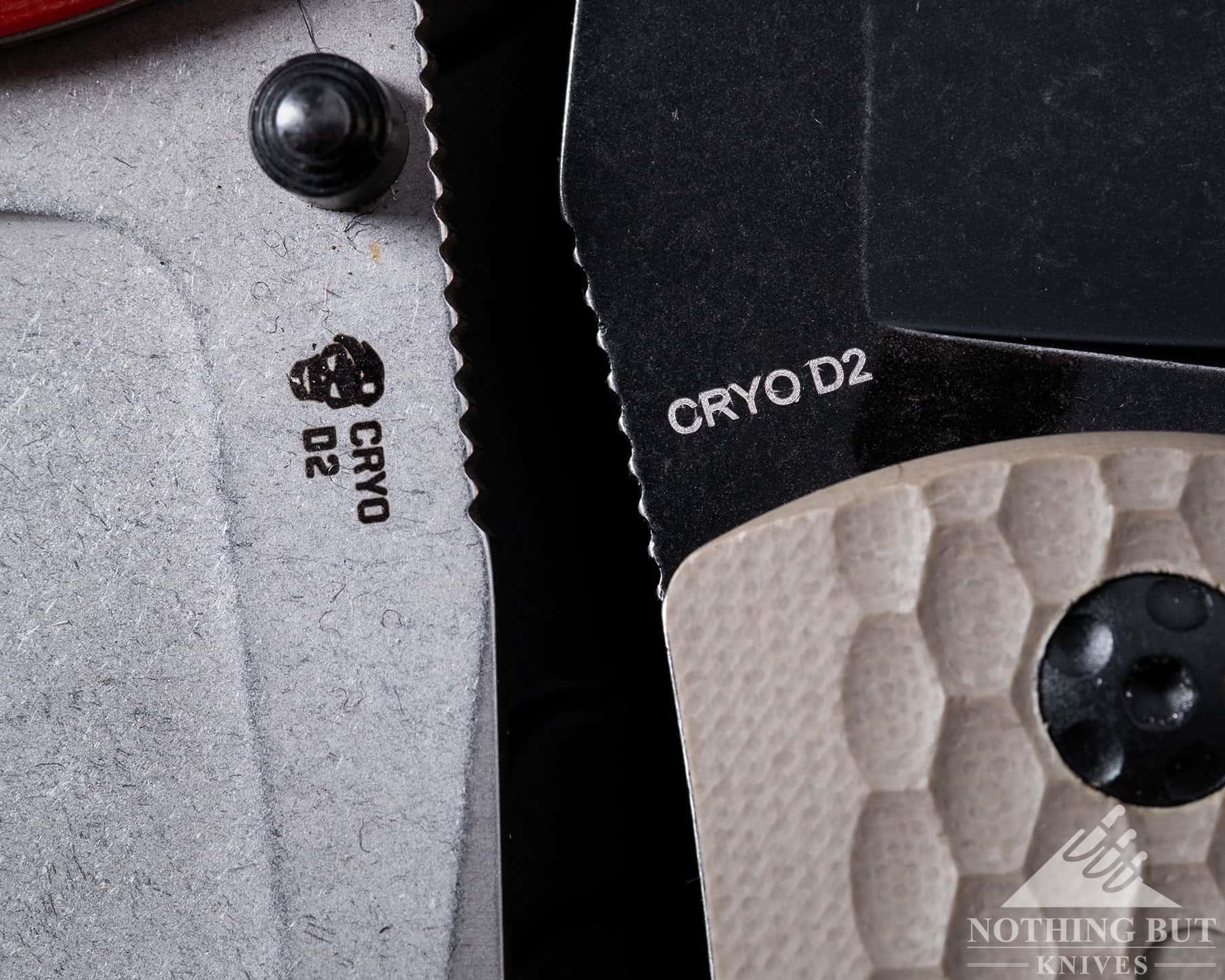 In every case, "best" is going to be a little different, and sometimes it doesn't matter what the materials and structure are if the designers and makers have done their jobs well. But there is a tier of importance when we're talking about knives that are going to see a lot of dirt and impact:
Tough Knife Priorities:
Soft steel
Simple design
G-10, FRN, or Micarta scales w/ aggressive texture
Flat grind over convex grind
Convex grind over hollow grind
Frame lock over liner lock
Washers over ball bearings
Also, just as an aside, edge retention is not quite as important as your ability to sharpen a knife, and corrosion resistance shouldn't be a problem if you always clean your knife after using it.
Grind and Steel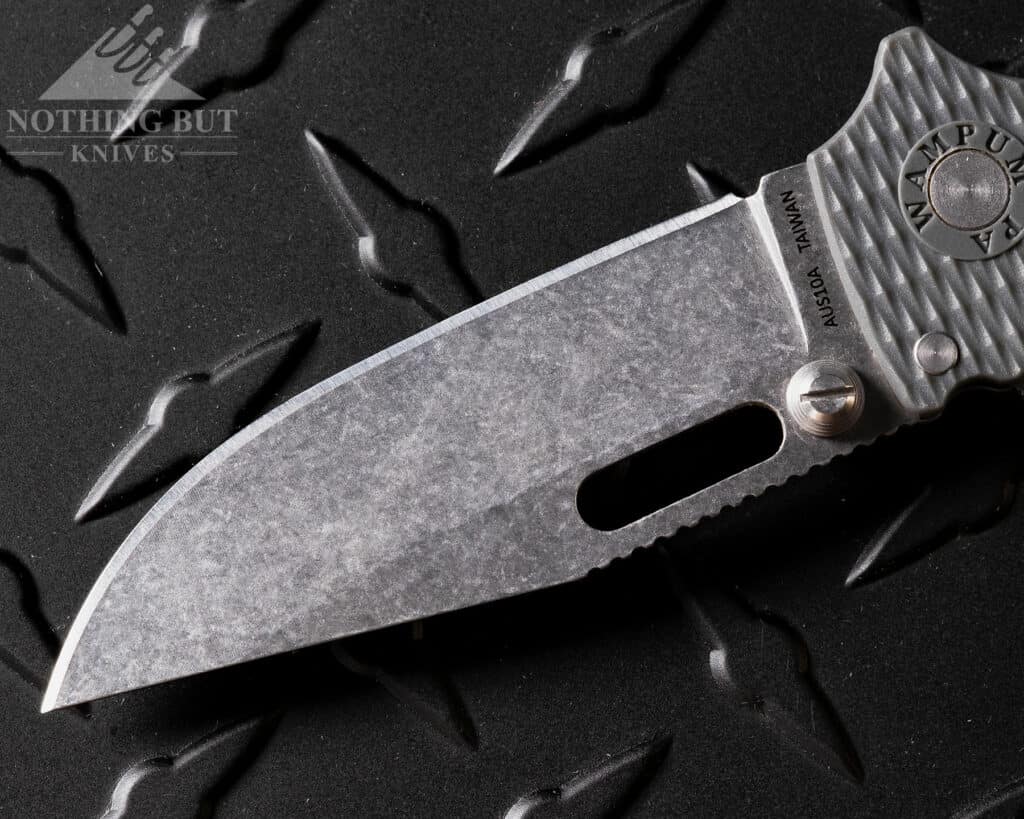 All those characteristics can be expanded into a ton of different materials and blade shapes. As I see it, the characteristic to look for is a blade with good edge stability, which can be attained through a lot of different factors including the heat treatment of the steel and the angle that steel is ground to (as usual, look to Knife Steel Nerds for a thorough discussion on his kind of thing).
As a shortcut, though, these are a few combinations that I've found the most useful in my own experiences of doing a lot of dirty work and sometimes using knives on stuff they really shouldn't be used for:
14C28N steel in a flat or convex grind
D2 steel w/ a flat grind
Aus-10 w/ a convex grind
Aus-8 steel w/ a flat grind
8Cr13MoV w/ a hollow grind
The last one was easily the worst knife I've worked with consistently, but the steel was soft enough that the grind didn't get damaged too badly if I dropped it or accidentally hit rock or metal when I was cutting (it was also a pretty cheap knife that I didn't mind breaking). Normally you really want to avoid blades with a hollow grind because it just makes the edge too thin to be out in the rough, but good design or execution can always make exceptions.
But The Maker is More Important than the Materials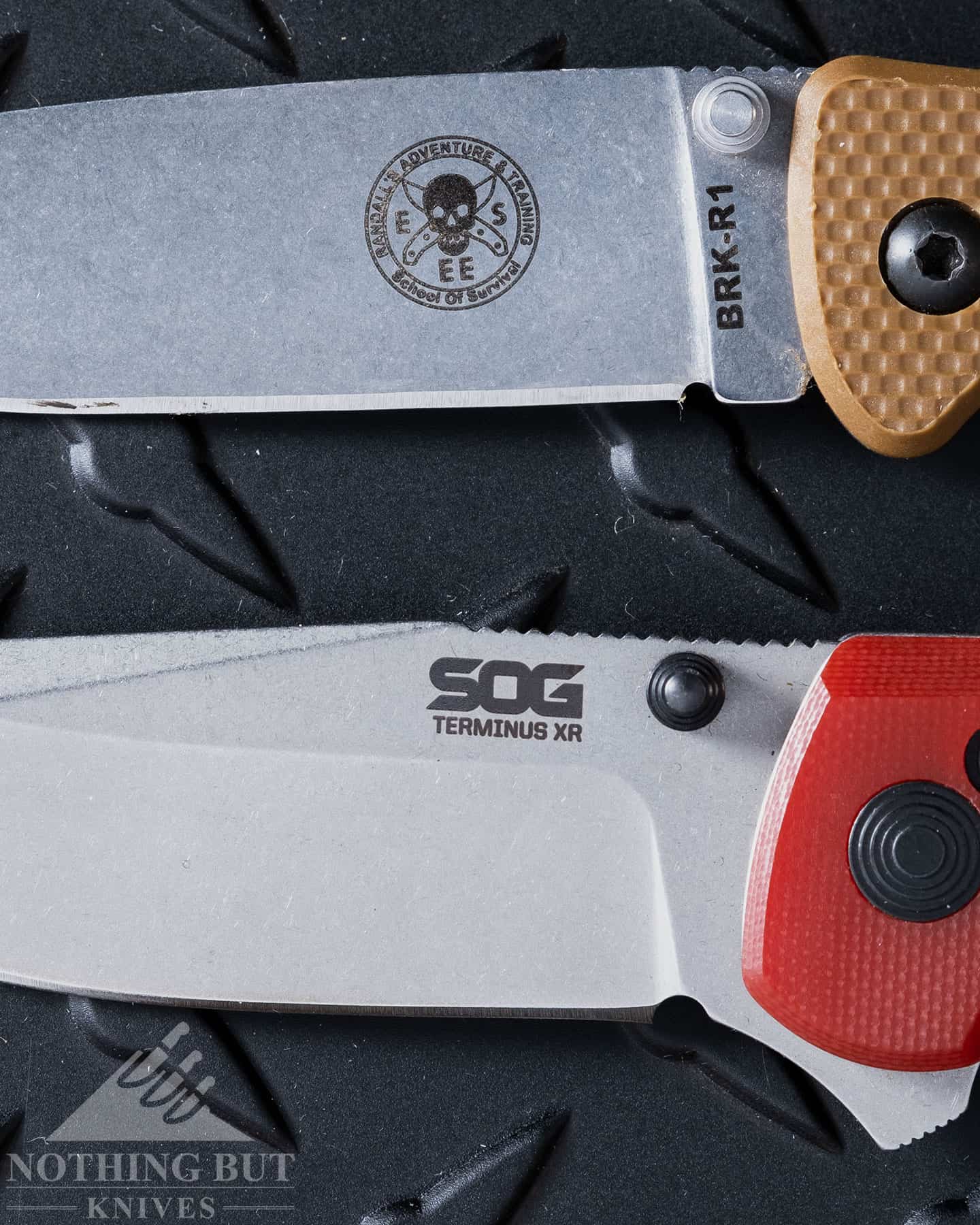 A good heat treatment with a good grind will do more for toughness and edge retention than any combination of chromium, vanadium, and carbon, and that's the kind of thing that can really only be achieved by someone who knows what they're doing.
At the end of the day, all the features and materials of a knife are secondary to the skill of the people who worked on it. That's why Buck's 420HC BOS steel is so highly regarded. In the hands of most other companies, 420HC is a pretty limp material, but in the hands of a master like Paul Bos it's easily one of the best hard-use steels in terms of performance vs. price point. And most of the major companies like Kershaw, Cold Steel, Gerber Spyderco, and Boker know their way around steels like this.
Cold Steel, for example, can do some pretty amazing things with Aus-8, and Gerber has reached a point where their 420HC is easily comparable to Buck's. And while 8Cr13MoV gets a lot of noses turned up at it for being soft Chinese steel, it still comes out pretty formidable on the Kershaw CQC series. That's largely because Emerson is damn good at designing a tough knife, and the Kershaw factories (which are also the Zero Tolerance factories and the Shun knife factories) are efficient works of art in their own right.
If you want steel recommendations, I would first point you (again) to the knife steel ranking article by Larrin Thomas. That's a pretty thorough overview of the edge retention, corrosion resistance, and toughness of most of the steels being used in the knife production world right now.
The problem with looking at all the steels rated against each other is that most of the budget steels (like D2, 1.4116, and VG-10) fall very low on most of Thomas's graphs and tables, which can leave the impression that none of the cheap knives available are using decent steels beyond their corrosion resistance. But even Thomas points out that edge geometry and heat treatment are more important than the steel choice. It's all about who's making the knife.
With that in mind, here are some especially good examples of steel being taken close to the limit of its potential that I've personally encountered.
Off Grid's cryo-treated D2 is amazingly hard and I have yet to chip one of their knives.
Buck's 420HC has amazing stability
Cold Steel's AUS-10 steel seems tougher than it has any right to be, with decent edge retention (around an average 154CM steel, I'd say)
Kershaw's 8Cr13MoV is incredibly tough, and probably about as good as anyone is going to bother making it
14C28N from almost any company seems to be the best option for toughness (edge retention is often the biggest issue with it).
Handle Material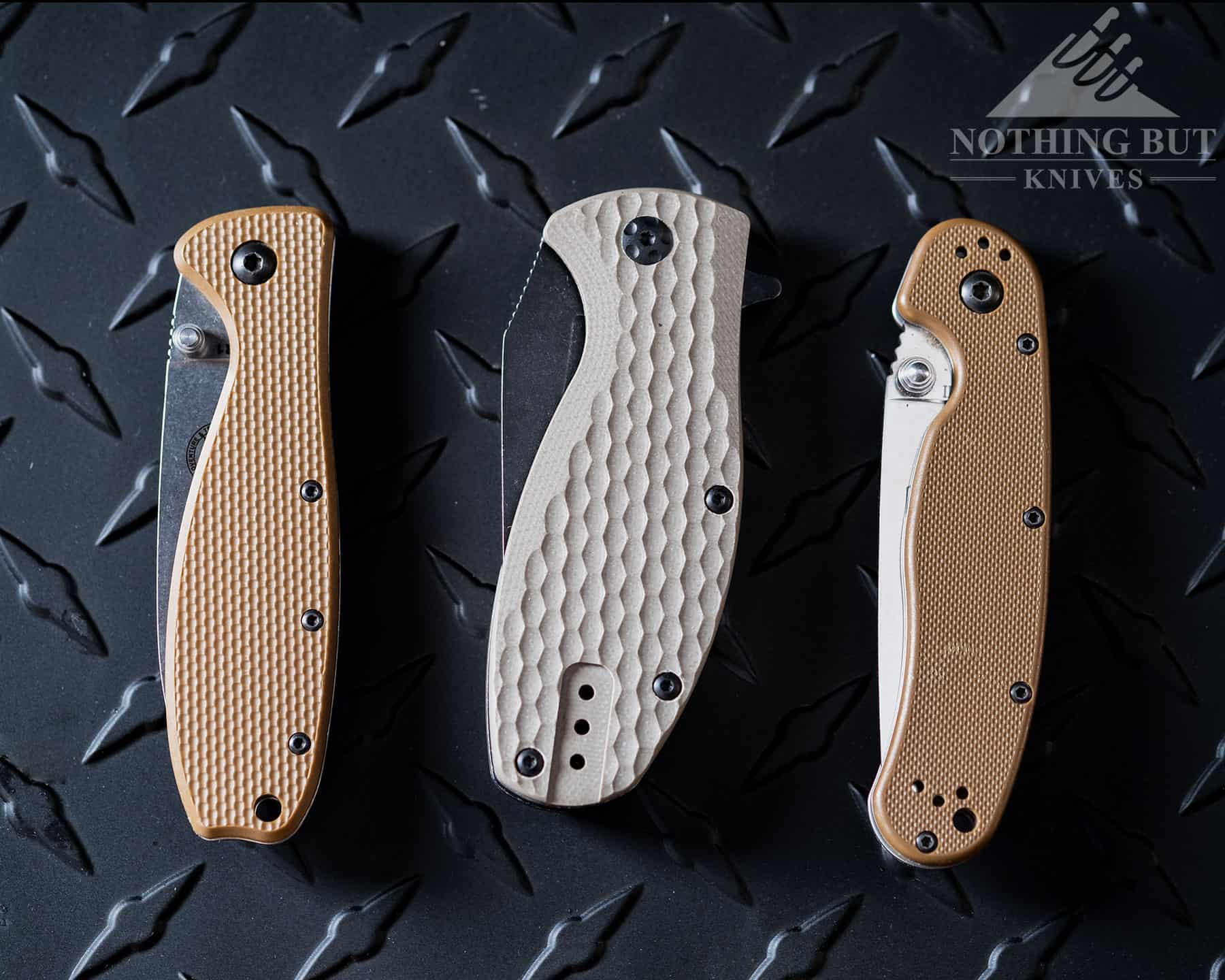 Here's the TL;DR: Just get something in G-10 scales with good texturing.
My assumption is that most people are holding hard-use knives with gloves on. That makes G-10 scales with an aggressive texture the most common ideal. Both the Rat 2 and the ESEE Zancudo are pretty good examples of this. Even with gloves on I can usually feel a sort of "stickiness" between the handles and the glove material.
It really doesn't take a lot of texturing to make even FRN scales effective as well, though. My Boker Plus Patriot is nothing if not glove friendly, but it's definitely not fun to hold bare handed. Meanwhile the Micarta on the knives like the Kizer Sheepdog is dry enough that it has excellent grippiness in bare and gloved hands. The only problem is that all the dirt, water, and oil will stain it pretty bad.
Just avoid knives with handles that have been smoothed and polished too much, sort of like the Micarta on the Buck Selkirk.
Liner Locks vs Frame Locks VS Some Other Stuff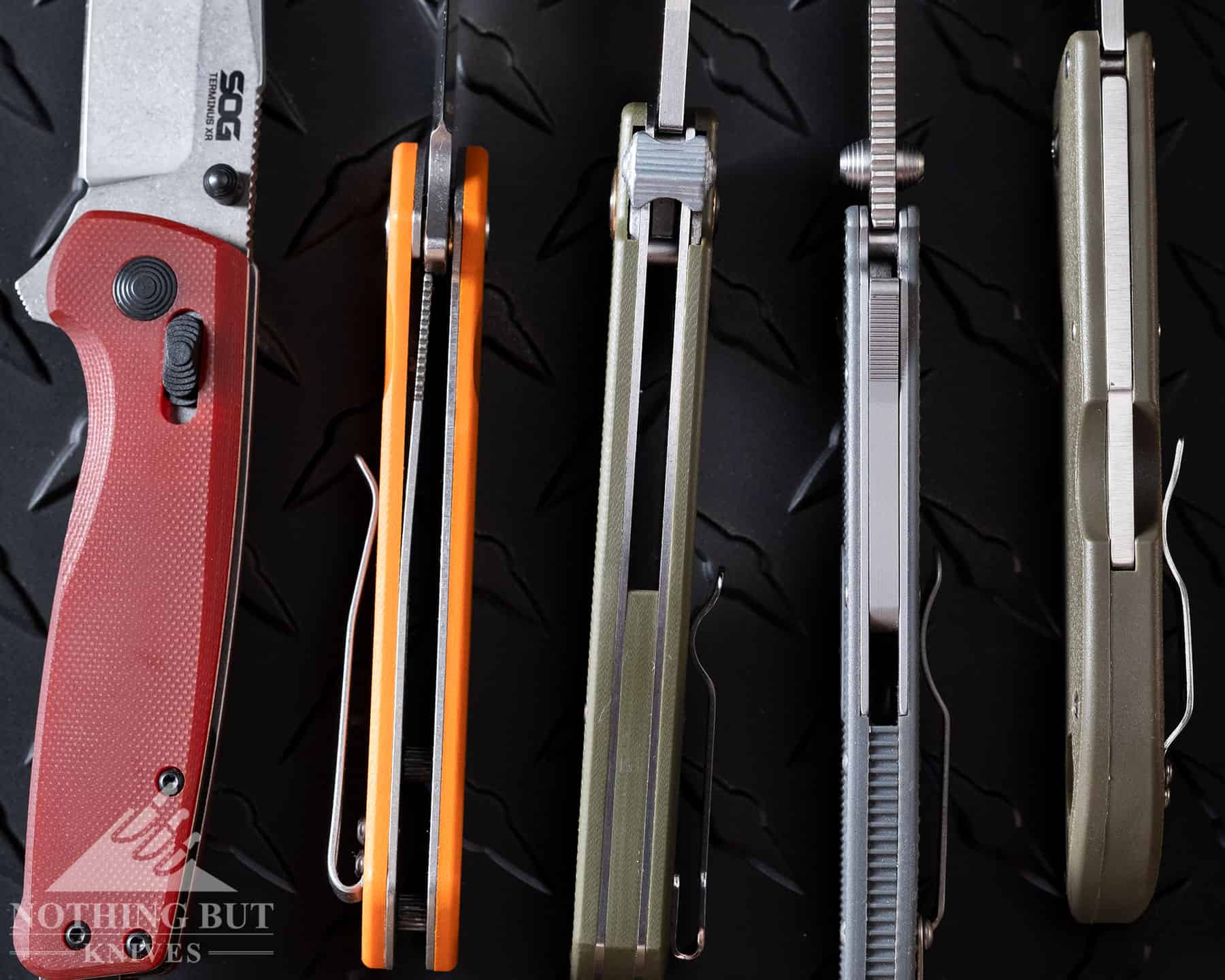 The rule of thumb is that frame locks are stronger than liner locks, but, again, this is an issue of skilled craftsmanship, and most back locks are stronger than both.
The Rat 2 is a liner lock, but I've abused the hell out of it and never had an issue with the lock weakening or the scales coming loose. Conversely, the ESEE Zancudo is a tiny brick that could probably survive a tank blast. I can't imagine a situation where it would need to, though.
There are a lot of lock innovators out there right now coming out with great new stuff all the time. I've had great experiences with Demko's Shark Lock, for example. I'm less confident in SOG's XR lock, and I have next to no experience with Benchmade's AXIS lock, although enough other people have tested it over the years that it's probably safe enough to recommend.
Here's our own little ranking of the best locks for hard use knives, based mostly on my own experiences and preferences.
Frame lock
Liner lock
Cold Steel's tri-ad lock (basically a form of back lock)
Normal back lock
Demko's Shark Lock
Basically any slide lock (eg. AXIS lock, XR lock, etc.)
I prefer the simplicity of liners and frames, because I can see and clean those. All these slide locks add little pieces for dirt to get packed up against and have springs that can wear out. Even back locks have milled notches often placed inside the handle where it's hard if not impossible to get into and clean or fix up.
Bronze Washers Over Ball Bearings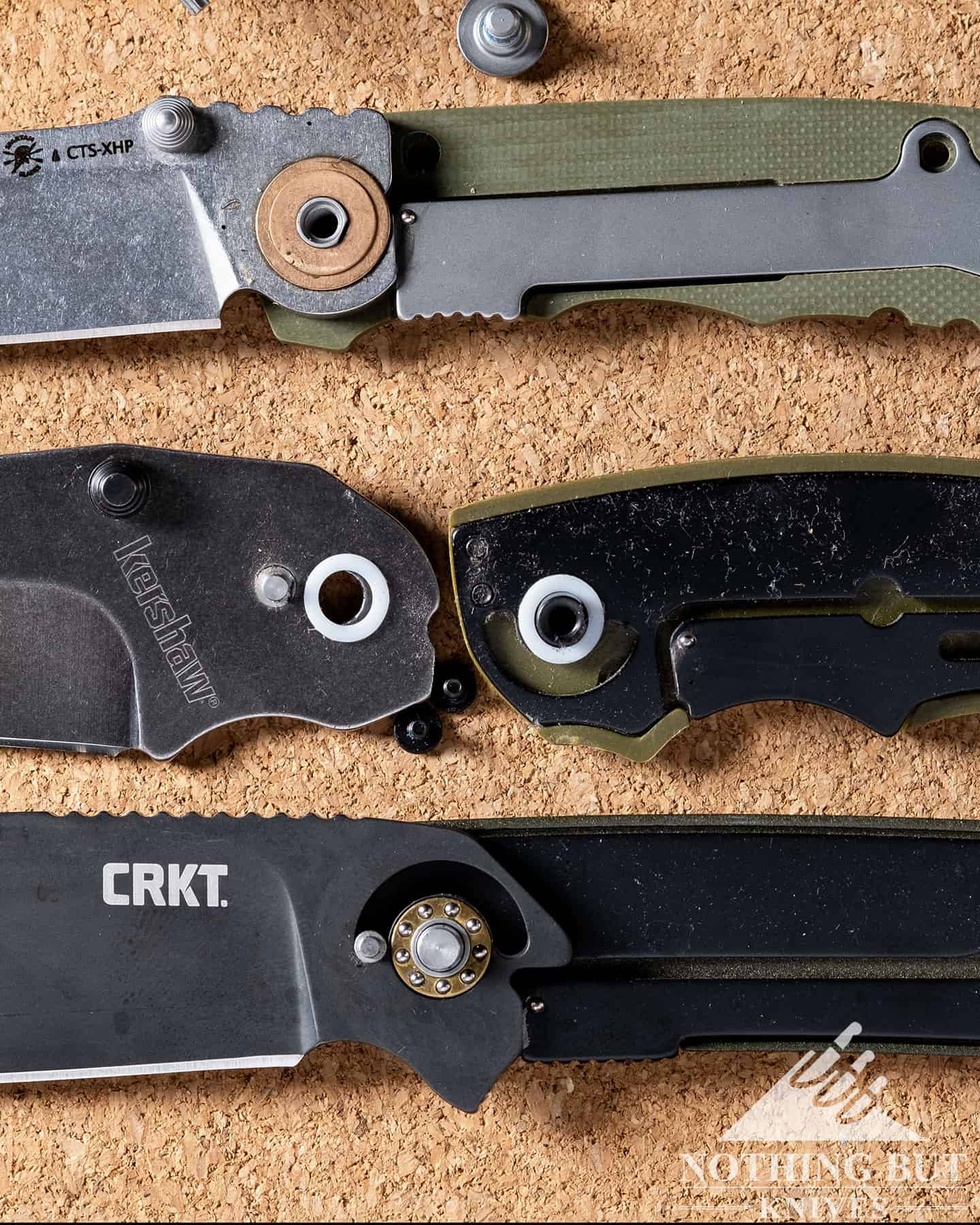 Anyone who has taken their folding knife apart will be familiar with this little piece of hardware. For those who haven't, most folding knives have two little pieces of metal on either side of the blade around the pivot pin (with some exceptions like the Cold Steel Finn Wolf or Boker Patriot, which have no washers at all). Those little pieces of metal are the main thing affecting the action of a folding knife, and by extension how easily you'll be able to open it.
Generally, knives with ball bearing pivots feel incredibly smooth to open but they pose a much higher risk of getting gummed up, bent or cracked. A little dirt can make a very expensive knife suddenly feel a lot cheaper, and it's a lot harder to clean that kind of thing out of a little disc encasing tiny metal balls.
Meanwhile, the bronze washers often seen in cheaper knives can take a lot of abuse and dirt, and are a lot easier to fix up or replace because it's just a simple, flat piece of metal with a hole in the middle. Knives with bronze washers rarely open as smoothly, but for hard-use tasks they are easily the better option.
At the End of the Day, Comfort is King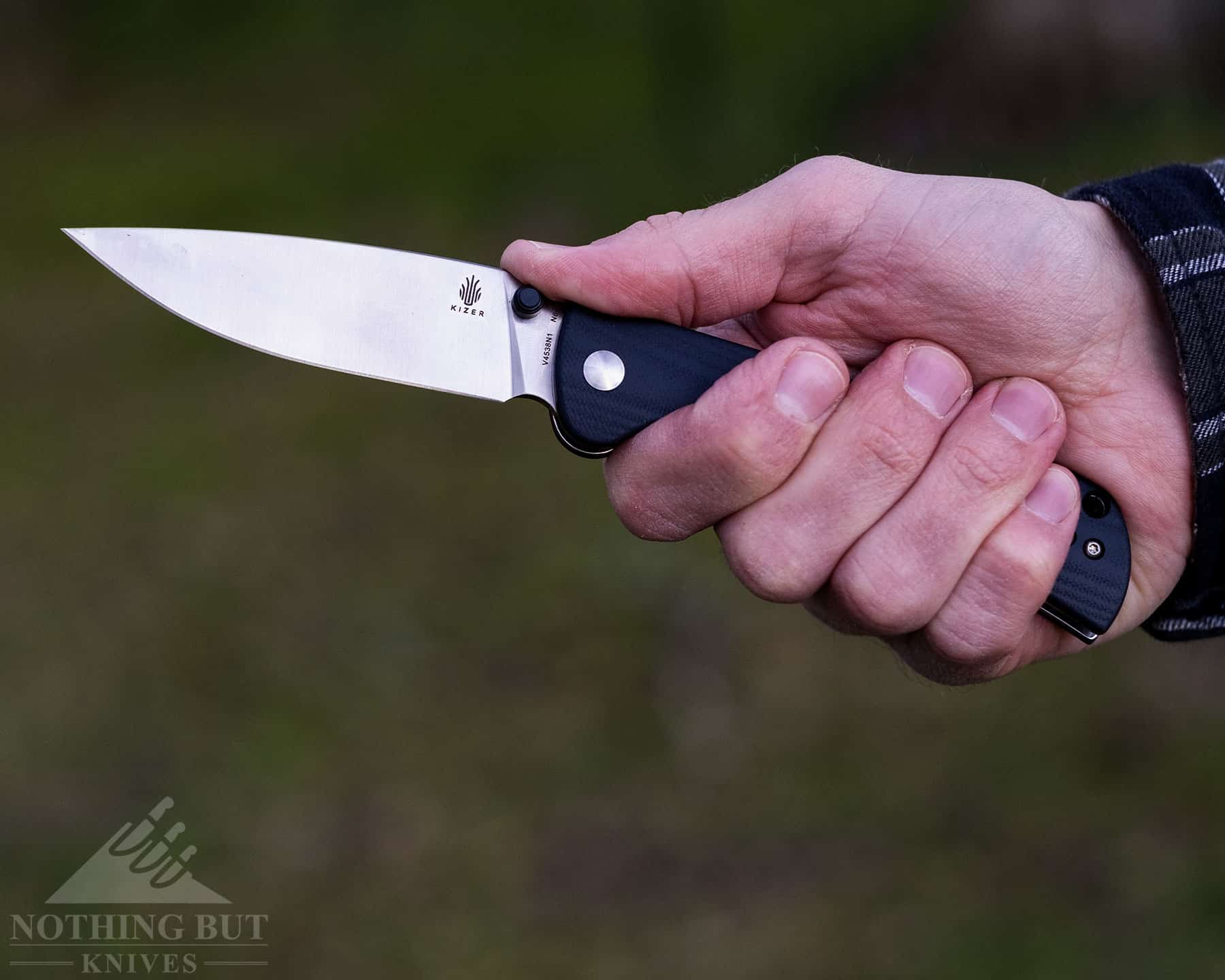 After saying all that, though, what's really most important about any feature of a knife is that you like using it. A knife is a knife. If it has an edge, it'll cut what you need eventually. And frankly it doesn't matter how well built the knife is if something about it just doesn't agree with your hand. I've picked up plenty of high-priced knives that were technically good in every way, but I just didn't like it. Half the time I came up on a task that a blade could have handled easily enough, I'd go grab scissors or garden shears instead.
With that in mind, go with your own comfort. If you're more comfortable with a $20 Kershaw with a pink handle and 8Cr steel, that's fine as long as you're getting work done. And if you're okay with taking a $400 knife with a Rex 121 blade out onto a construction zone, well, that's cool too.
But maybe take a cheap back up just in case.