Knife Designers Should Take Notes on This Pocket Knife's Handle
Gerber has managed to do something that I see a lot of companies struggling with on the budget end of knives: they designed a large pocket knife cleaver with a comfortable handle that also rides easy in the pocket, and has a strong set of clear uses. At the $40 price range, this is not something you typically get in a folder.
The Gerber Flatiron hits a lot of important points ergonomically:
It has a thin handle but it's deep so it still fills the hand comfortably,
The end of the handle has an aggressive curve that helps the grip and the way it rides in the pocket,
The wide and short design of the pocket clip avoids any danger of creating a hot spot,
The aluminum scales look sleek but the slipperiness isn't an issue thanks to the handle shape,
And it has a large finger choil that you can actually use to choke up the blade comfortably.
And it's tough at the end of it all. It has a solid frame lock and an open-faced design that makes it really easy to clean and oil. It's a whole lot of things I just don't see enough in big affordable folding knives.
I should be clear; this isn't exactly a review. I'm not recommending the Flatiron, because everyone who saw this thing at the 2018 SHOT and Blade shows jumped on the bandwagon and put their hairy fingers all over it.
It's a good knife, but the point I want to make is really about handles on folding knives. I'm behind the trend, but I did notice that all the reviews say the same very important thing about this knife: It's comfortable. When I finally handled the knife myself I had to agree, and then I had to wonder why more knives aren't designed like this one.
Just so we all know what we're talking about here, though, here are the Flatiron specifications.
Specifications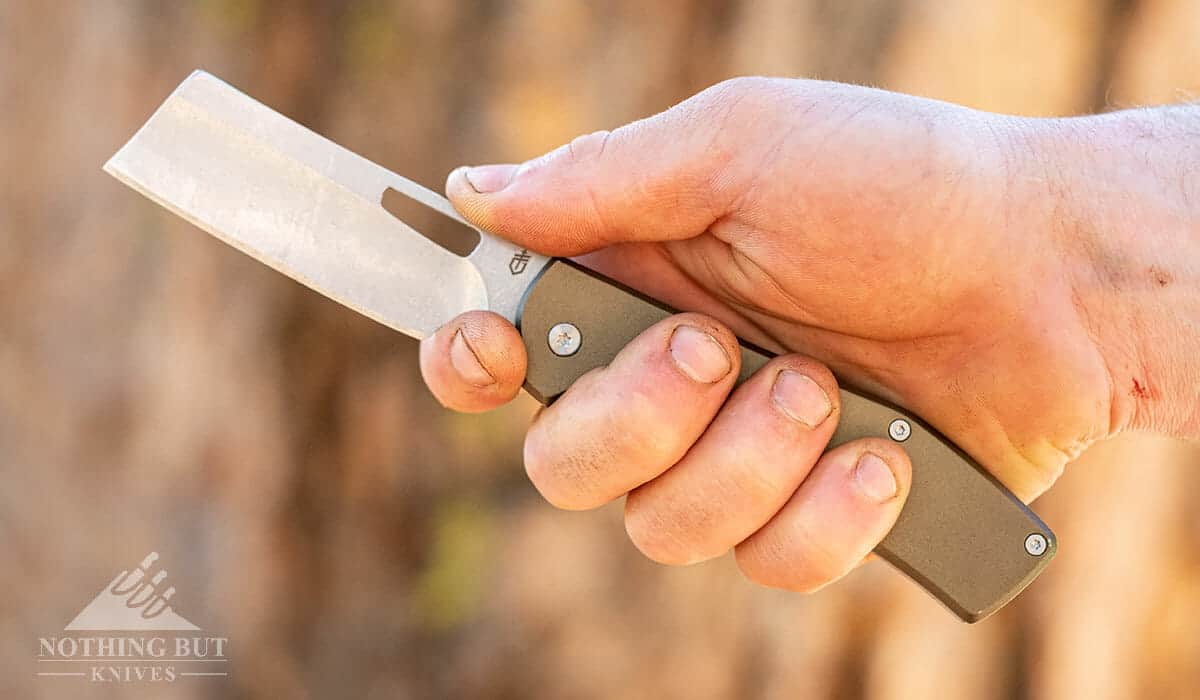 | | |
| --- | --- |
| Overall Length: | 8.5″ |
| Blade Length: | 3.6″ |
| Handle Length: | 4.8″ |
| Blade Thickness: | 0.15″ |
| Blade Steel: | 7Cr17MoV or D2 |
| Blade Shape: | Cleaver |
| Blade Grind: | Hollow |
| Handle Material: | G10 or Aluminum |
| Weight: | 5.41 oz (G10) or 5.61 oz (Aluminum) |
| Manufacture Location: | China |
The Problem with Large Folding Knives
It's one of those frustrating compromises I don't like having to make in life.
I want a large pocket knife, either for heavy work and camping stuff, or because I need a long blade in my pocket. The problem is if I want a tough work knife it's almost guaranteed that the handle will be too bulky to ride well in the pocket like the Shenanigan Z or the CRKT Ignitor, or it will be too slim to be comfortable in the hand or just not tough enough to hold up to what I need to do with it.
There's a wider range of possibilities once the price for a knife gets above the $100 mark, but if I don't want to (or just can't) spend triple digits on a pocket knife, there are very few good options.
The Kizer Begleiter was one of the closest I'd come to a good compromise in a large folding knife. That has a nice long blade and a simple handle that isn't too intrusive most of the time. The handle is still a little too boxy to be ideal though, and it's too much of a gentleman carry for me to pack it along for some dirty yard work.
The Buck HiLine is probably the best folding cleaver alternative. It offers imprssive hard-use credentials at a decent price.
The other good option is the Ruger CRKT 2-Stage Compact which is such a massive chunk of steel you can throw it against anything, but it just doesn't have much in the way of slicing ability, and it's so bulky that it can take up a lot of pocket space and has a lot of small hot spots all along the handle.
The Gerber Flatiron is the example I think budget lines need to follow to make a decent big handle.
Here's What It's Doing Really Well
The Flatiron handles its heft and size incredibly well. For something this big you would expect it to feel bulky in the hand and the pocket. It's surprisingly streamlined, though.
The aluminum scales make it look sleek, and the frame lock makes a nice scrape and click sound when you open it that just feels satisfying. Everything from the frame lock and thick steel stock packed into the metal scales make the knife just all around nice to hold and use. Most of the benefits of this knife come from just a couple specific features, though:
The short and wide pocket clip
The thinness and depth of the handle
The milled angle at the bottom
The large finger choil.
Feels Great in the Pocket
The most surprising thing about the Flatiron is how well it rides in the pocket. The pocket clip is very snug (a little too much, actually), and the handle is angled just right so it hugs tight to the back of the pocket. I was hiking, jumping, squatting, climbing, and a bunch of other non-recommended activities with this and it was like a ghost. I never felt a tug on the clip or that slow slip up the leg when a knife is working its way out of the pocket.
No Major Hot spots
Since the pocket clip is short enough to stay away from the hand, and the handle itself doesn't feature any finger grooves, there's really nothing the create a bad hot spot. They didn't over-stylize the handle. They just milled it to be solid and wide enough to fill the hand. You do get a little heat from the corners, but there's nothing that aggressively pokes into your hand.
Choking Up
The finger choil is what I like most about the knife. I rarely see a finger choil on a folder that's big enough to actually use as a finger choil, or if there is one, it's either not very comfortable or it interferes with the overall integrity of the blade.
The Flatiron provides a lot of space and grip around the finger choil. So much, in fact, that I think it's better for detailed shaving work like feather sticking or carving than anything else you could use it for. That might make its size and toughened lockup seem a little like overbuilding, but all the space and length is part of what makes this knife so nice to use. You need a little space to keep your hand from cramping, especially if you're wearing gloves.
What it Doesn't Do Quite as Well
The Flatiron design isn't perfect by any means. The pocket clip is strong, but it's a little too tight at first and can't be reversed or switched to the other side. That's a pretty common problem, though.
One of the worst issues is maybe how hard the corners of the handle are. On the all-aluminum version it can feel a little uncomfortable in a full grip. It's not disastrous, but it's something Gerber could probably have avoided if they'd taken a cue from Kizer and milled the angles into a gradual step so you had a lot of really small corners that you don't feel as much instead of one big hard corner that starts digging into your fingers after a while.
The other issue is the thumb hole, which is more like a thumb gap. It works well enough once you get used to it, but it doesn't lend itself to quick opening like with a Spyderco thumb-hole. It's a little better after you oil it a bit, but even then the gap just isn't big enough for snappy one-handed open.
That's where the point of this knife gets driven home, though. It wasn't made to be a snappy knife. It was made to be a working knife.
Because it's a Purpose-Driven Design
Part of the reason the Flatiron ended up so comfortable is because the designer seems to have had a clear purpose for it. It was made to do fine-tuned work in an extreme environment. The video on Gerber's page shows it doing a lot of food prep work and sharpening a carpenter pencil. They made it as a utility knife for precision carving with a bit of toughness added for chopping (although the more I think about possible applications, the less I think it should be used for the kind of chopping I typically do).
This is the kind of mentality that more designers need to approach new knives with. We don't need another knife made for the sake of the knife itself. That's how we end up with awkward handling and questionable utility in knives like the CRKT Provoke. We need purpose-driven knives made with updated materials. That's how you end up with a good handle like the Flatiron's.