A Fun Budget Bowie Knife With A Comfortable Handle
There are a lot of rules concerning what it takes to rightly call a knife a Bowie knife. Rules are a fun tool to use when you want to make yourself sound smart online (editor's note: or like a tool), but in the wilderness it is really only important for a knife to get the job done.
I have chosen to avoid untangling the mass of rules digital cutlery experts hurl at the makers and users of unworthy Bowie knives. I have neither the inclination or the patience to ensure that a self described Bowie knife is actually worthy of the moniker. If a company want to call their knife a Bowie knife, I am not going to argue.
You are welcome to comment below in an attempt to educate me as to why this is not an actual Bowie knife, but your efforts will be wasted, because I don't care. If Frost Cutlery wants to call their large Quicksilver knife a, "Bowie" I am cool with it, but only because it is both fun and occasionally practical. If this knife had a better sheath and high quality steel, I might even give it the title of "best budget Bowie knife." Unfortunately that is not the case, but I will get into that more a little later.
Knife Specifications
| | |
| --- | --- |
| Overall Length: | 15.0″ |
| Blade Length: | 10.0″ |
| Handle Length: | 5.0″ |
| Weight: | 22.24 oz |
| Blade Style: | Drop point |
| Blade Thickness: | 0.188″ |
| Blade Steel: | 3CR13 Stainless Steel |
| Handle Material: | Rubber |
| Blade Finish: | Black satin |
| Made in: | China |
| Sheath: | 1680D Nylon |
Pros
Great Value
Very Comfortable Handle
Brass Lanyard Hole
Nice Balance for a Budget Knife
Cons
Hand Guard Wiggles Slightly
The Coating Scrapes Off Quickly
Overall Design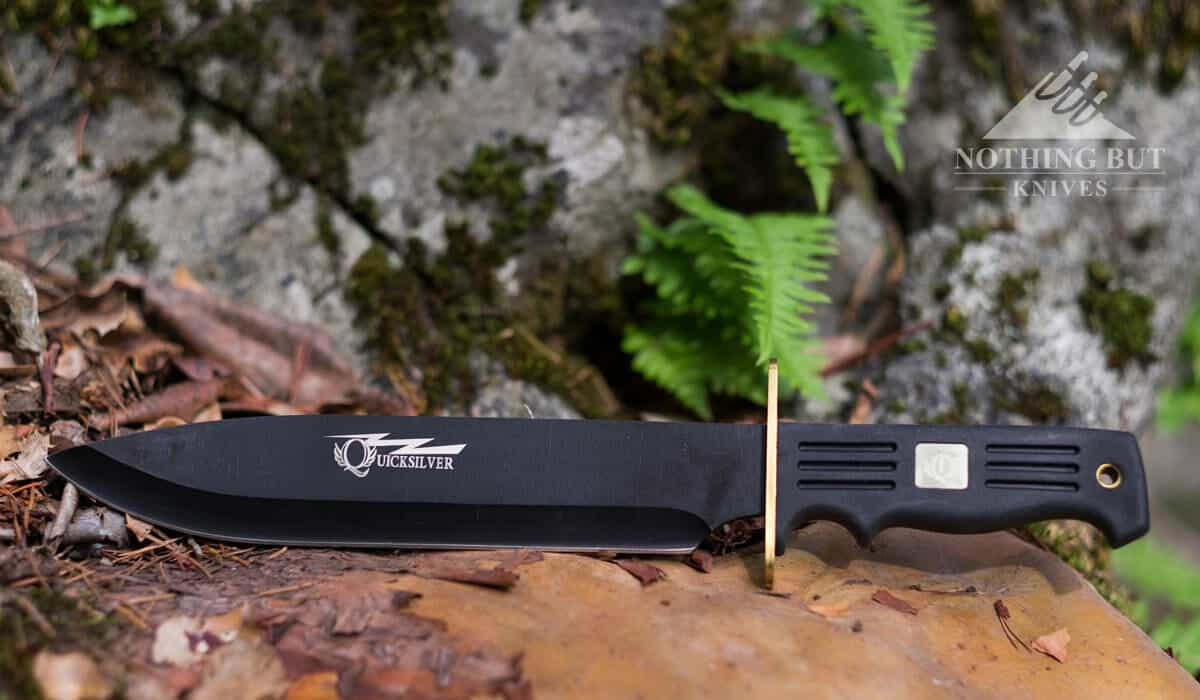 There is a lot to like about the design of the Frost Cutlery Bowie. It has a comfortable handle and a good balance for a budget Bowie. The spear point of the blade initially seemed weird, but after a few days of use in the woods it kinda made sense.
If I was looking for a large Bowie for tactical purposes I would prefer a drop point, but the spearpoint is great for outdoor use because it is harder to break. The generous choil at the base of the blade is large enough to be useful, and I found myself utilizing it for detail work like food prep and making wood shavings.
Handle Ergonomics and Durability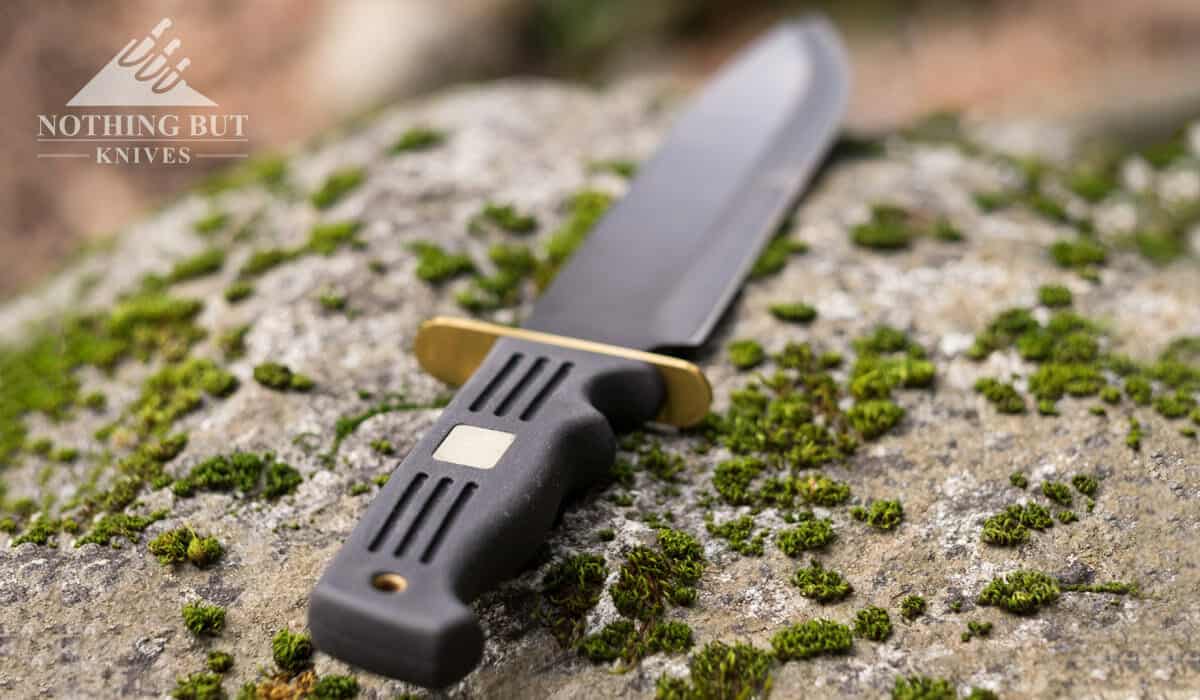 This is where the Quicksilver Bowie really shines. This may be the most comfortable handle I have ever used on a budget Bowie knife. It is not at all uncommon to experience a bit of discomfort and soreness when using large knives for repetitive tasks over an extended period of time. However, the handle of the Quicksilver Bowie is so well designed and comfortable that it really does add to its overall value and field performance.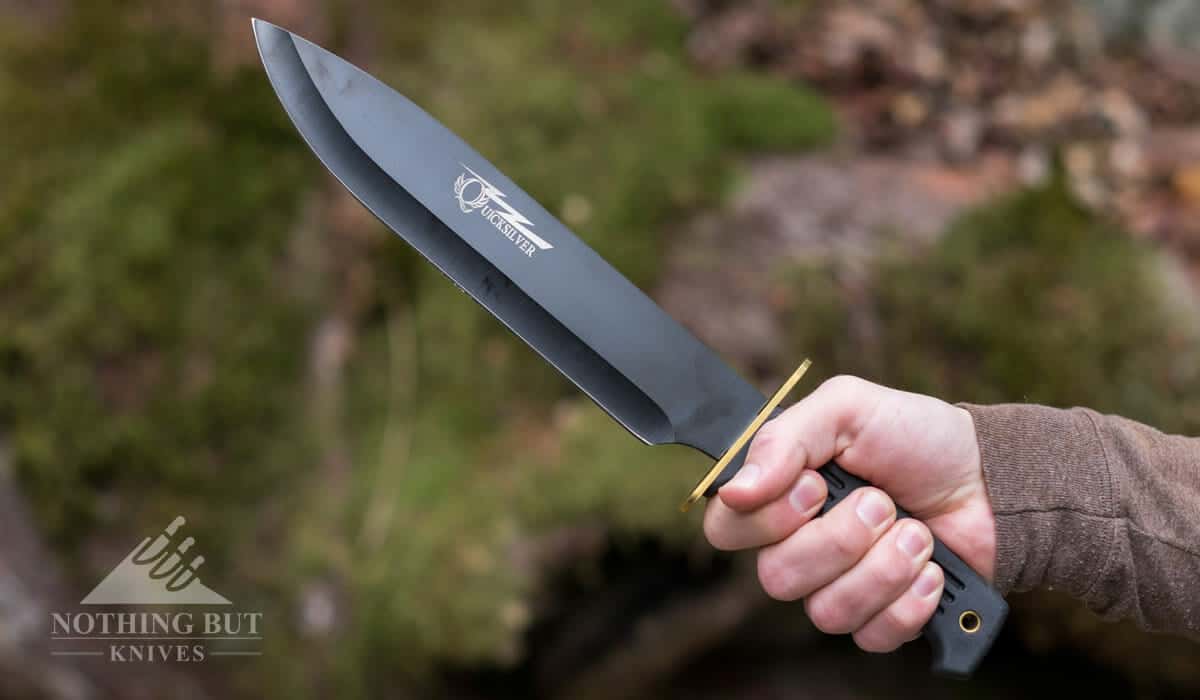 If you have huge hands the Quicksilver Bowie handle may be slightly on the small side. As you can see in the photo above there is a little extra space for those with small-to-average sized hands, but there is not a lot of extra space for those of you with basketball player hands. (Editor's note: Written suspiciously like someone whose hands are never in the photos.)
Nylon Sheath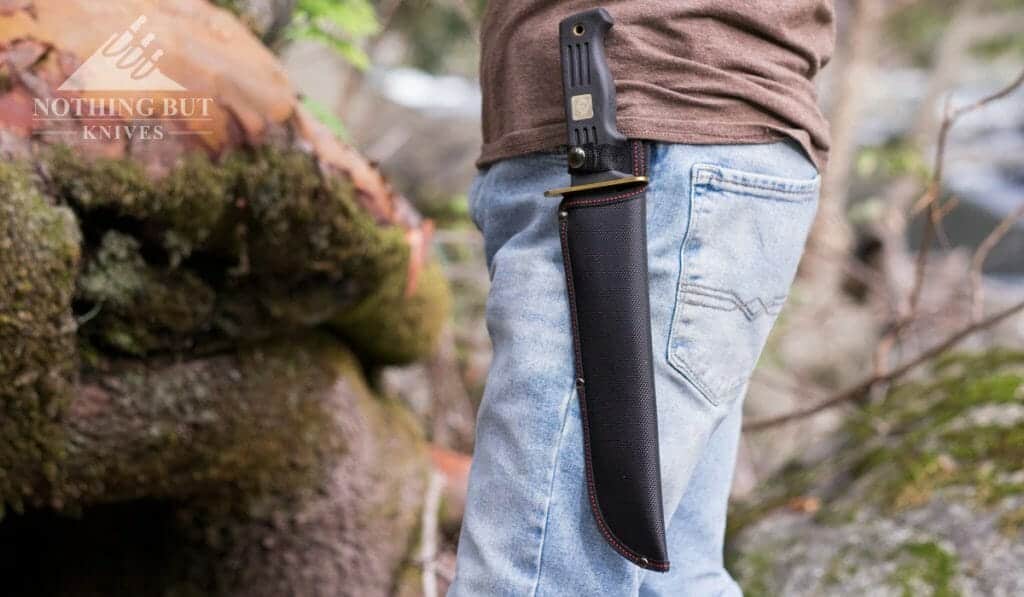 There is not much to say about the nylon sheath. It is below average at best and will most likely not last as long as the knife it carries. It is about what you would expect from a budget Bowie knife priced below 25 bucks. The triple rivets along the seam of the sheath are a nice touch that should add to it's overall durability, but I would be willing to pay more if it shipped with a budget leather sheath, and I am guessing I am not alone.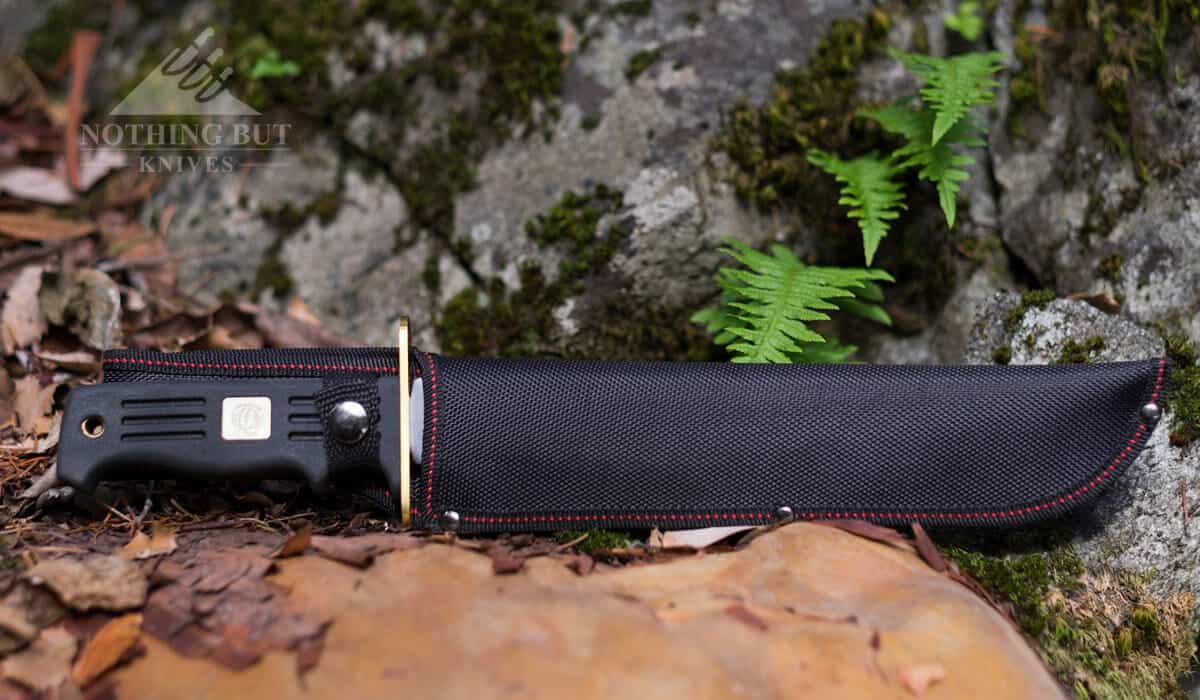 As you can see above there is no leg tie down hole on the bottom of the sheath which means it flops around and is super annoying when hiking or moving much at all. It seems like a lot of thought and a fair amount of creativity was spent designing the handle, and very little effort was spent on the sheath.
Field Performance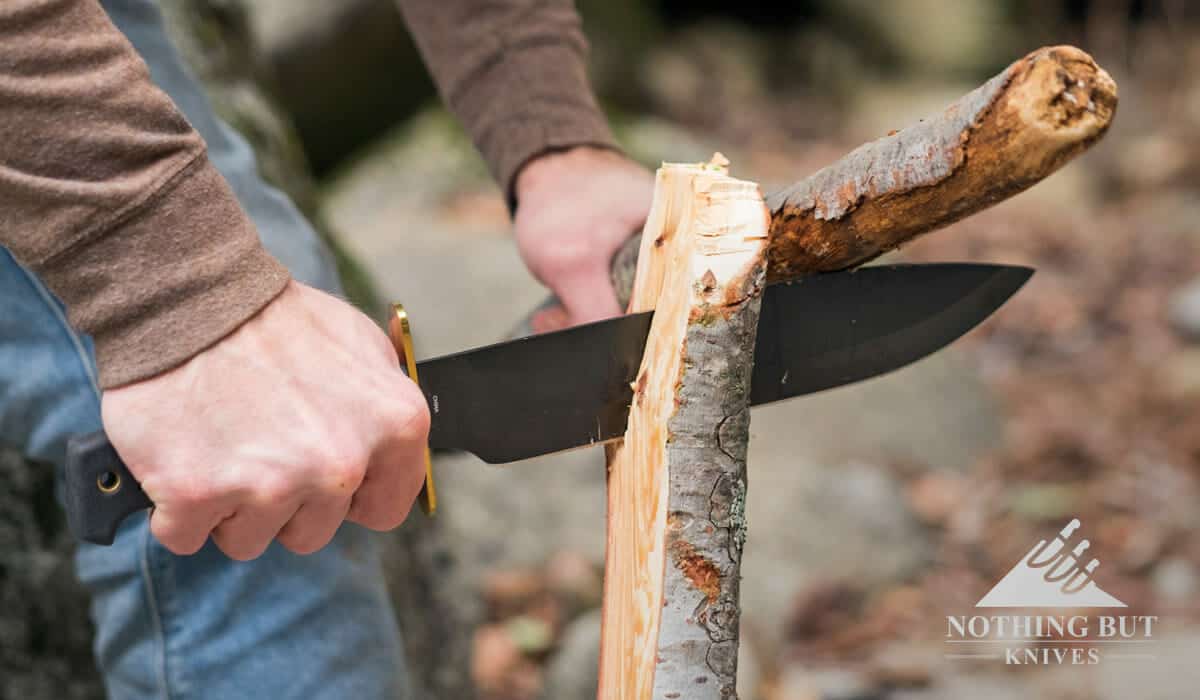 I have mixed feelings about the Quicksilver Bowie's performance when used as an actual work or camp tool. I don't think the designers had batoning in mind when they drew this knife up, but I was curious to see how the blade held up to fairly extreme use. We managed to split a fair number of small logs without breaking.
The plain edge of the Qucksilver Bowie did not perform as well as it would have if it had a flat or scandi grind, but it managed the task marginally well considering it really wasn't designed for it. The relatively thick spine and long length of the blade made batoning possible, but we certainly didn't tackle thick logs the way I would when testing a large knife that was actually designed for bushcraft such as the Schrade SCHF 52.
The 3CR13 stainless steel blade did chip slightly and lose it's edge a bit after we finished batoning. That is to be expected with a sub par budget steel. I wish that Frost Cutlery had chose a higher quality budget steel like Aus-8 or 8CrMoV, because it really would have made this knife more practical and worth a higher price tag.
The black satin finish held up surprisingly well to the copious amounts of abuse we heaped on this knife. It did start to wear a bit, but not as much as I expected. Too bad the finish is not bonded to a higher quality steel that could hold a decent edge.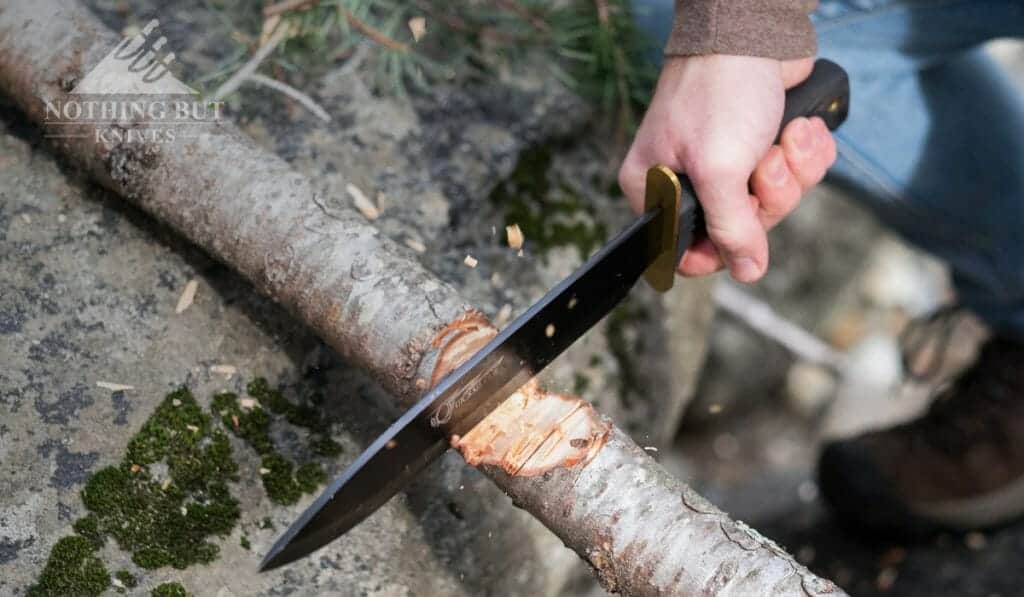 Chopping branches and clearing foliage on the trail is where the Quicksilver Bowie performs well. It has a decent balance and a good weight for chopping. It doesn't handle these tasks as well as the Browning Black Label Battle Bowie, but the handle is certainly more comfortable and easier to grip than the Battle Bowie.
The ridiculous hand guard was a bit annoying when using the Quicksilver Bowie outdoors because it was noisy and always seemed to get in the way. Mine was loose right out of the box, so it rattled around and made an uneasy noise anytime the knife came into contact with something hard. If I end up using this knife regularly I will cut off the finger guard.
Conclusion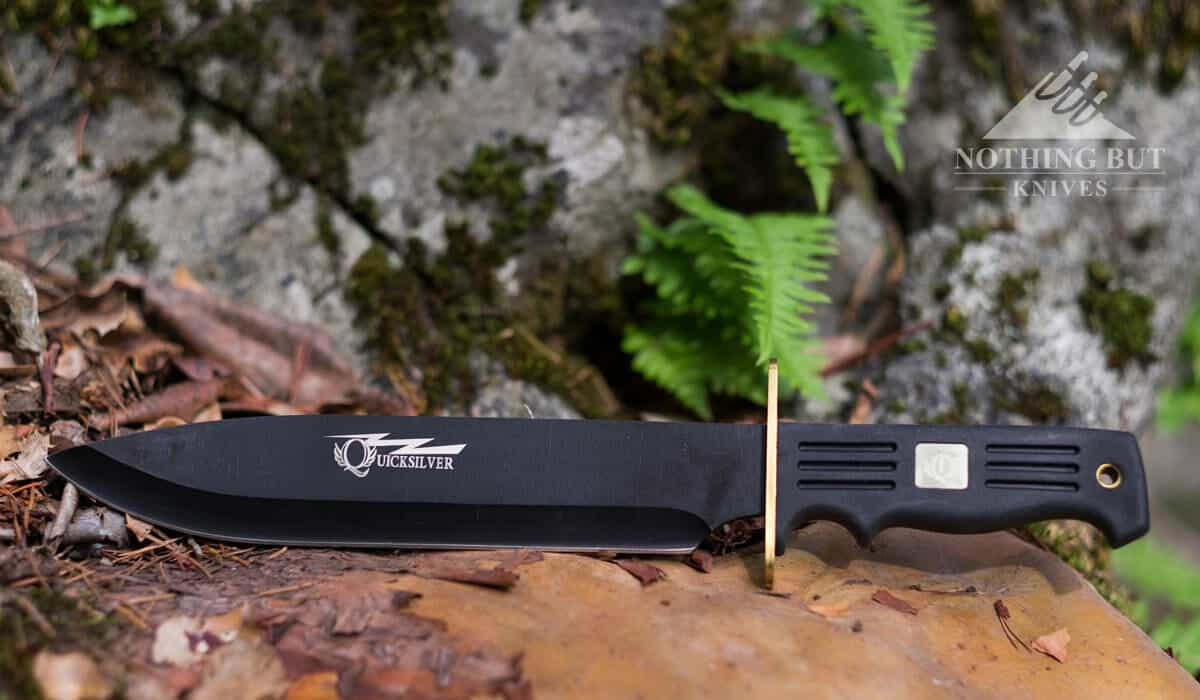 In spite of its shortcomings I do not have any buyers remorse regarding the Frost Cutlery Quicksilver Bowie. It is fairly unique and fun to use. The handle alone was was worth the price of admission, but only because that price was really low. I like it better than most other budget Bowie knives I have tried.
It performed better at most outdoor tasks than the Elk Ridge 14 inch Bowie, and it was more versatile than the Cold Steel Black Bear Bowie. However it fell short in almost every way when compared to the Browning Battle Bowie. That is to be expected I suppose, because it is almost half the price.
If you are looking for a really cheap large Bowie knife you could do a lot worse than the Frost Cutlery Quicksilver, but you could also do better for just a little more money. If Frost Cutlery would remove the finger guard, upgrade the steel, and improve the sheath then this knife would definitely be worth twice it's current price. Hopefully that happens. If it does I will update this post with my thoughts on the new and improved version.
There are a few different versions of this knife. They include a serrated version of the satin finished one pictured in this post, a polished model with no finish, and a Kukri model that looks interesting.