The Assisted Open Knife that Almost Changed my Opinion
I don't like CRKT much. They've never exactly been high quality, and most of their designs don't hold my attention (although that's clearly not true of all CRKT designers). It's not that they make bad knives, they just rarely make something that makes me look away from other knives. Since getting the Ignitor, my opinion of them has been slightly improved.
The fact that I ended up with the Ignitor is not exactly a sign of me softening my position with CRKT, so much as a limp attempt on my part to try new things. They say that's the key to a happy life: openness. My experience with the Ignitor suggests it's more like the path to a life of half-hearted respect. I like the knife far more than I thought I would.
I walked into the knife shop looking for something serrated, and the shop owner showed me this little beast touting some crazy gimmick called "veff serration." Internally I thought it looked stupid, but the owner of the shop I haunt could probably sell me on a pile of sharp rocks if he wanted to, so five minutes later I walked out the door with a CRKT knife for the first time in my life.
Knife Specifications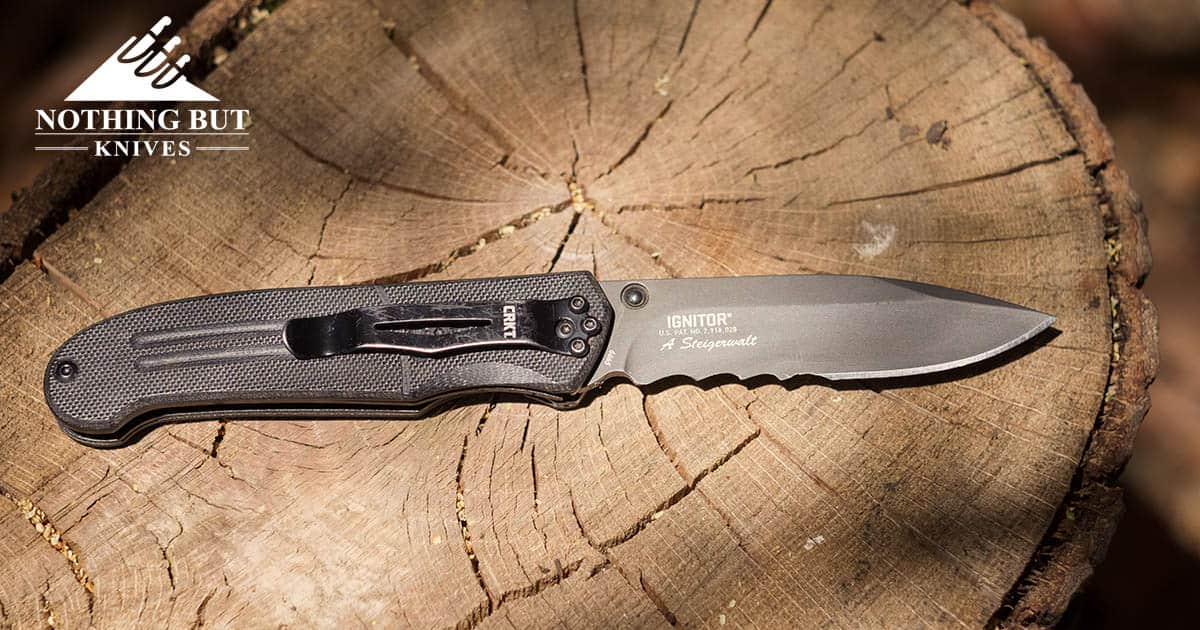 | | |
| --- | --- |
| Overall Length: | 7.63″ |
| Blade Length: | 3.38″ |
| Handle Length: | 4.25″ |
| Blade Steel: | 8Cr14MoV |
| Blade Thickness: | 0.11″ |
| Pocket Clip: | Tip-down |
| Handle Material: | G-10 |
| Blade Finish: | Black |
| Weight: | 3.5 oz |
| Manufacture Location: | China |
Pros
Comfy grip
Heavy duty
Fire Safe Safety is super safe
Outburst Assisted Opening
Steigerwalt design
Veff Serration makes blade an effective workhorse
Cons
Questionable price tag
Loses edge after a few months
Strictly right-handed
Veff Serration is a fiendish bastard waiting to destroy your hand the second you look away
Comfy Grip, Bulky Design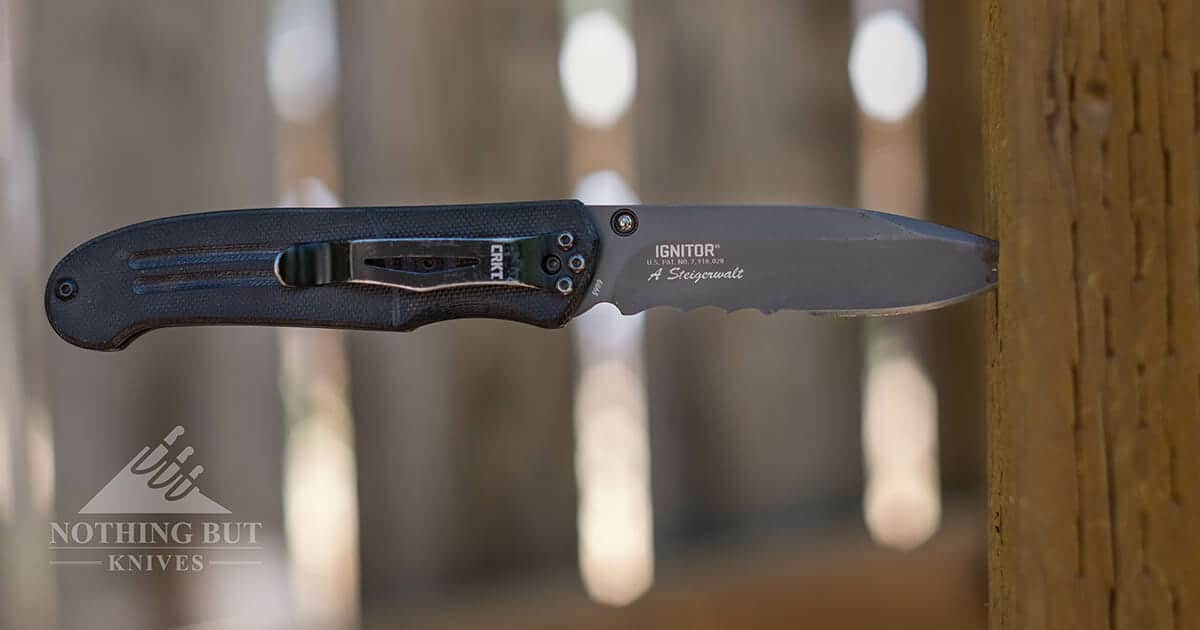 For all the fancy features on this knife, the overall feel of it is one of my favorite things. It's a (kind of) small pocket knife that actually fits my hand. It has a thick handle I can grip comfortably, which is a big deal for someone like me who has fat hands but almost exclusively uses pocket folders. I just don't find a comfy handle on a 3 inch blade that often.
That thickness holds a lot of different machinery, though, and that makes it a pretty hefty knife for its size. That's not bad thing in itself, but the weight and handle design tend to make this thing a little bulky. It's comfy to hold, but to actually use it makes you feel a little slow.
The Assisted Open: Like a Switchblade but Safer, Kind of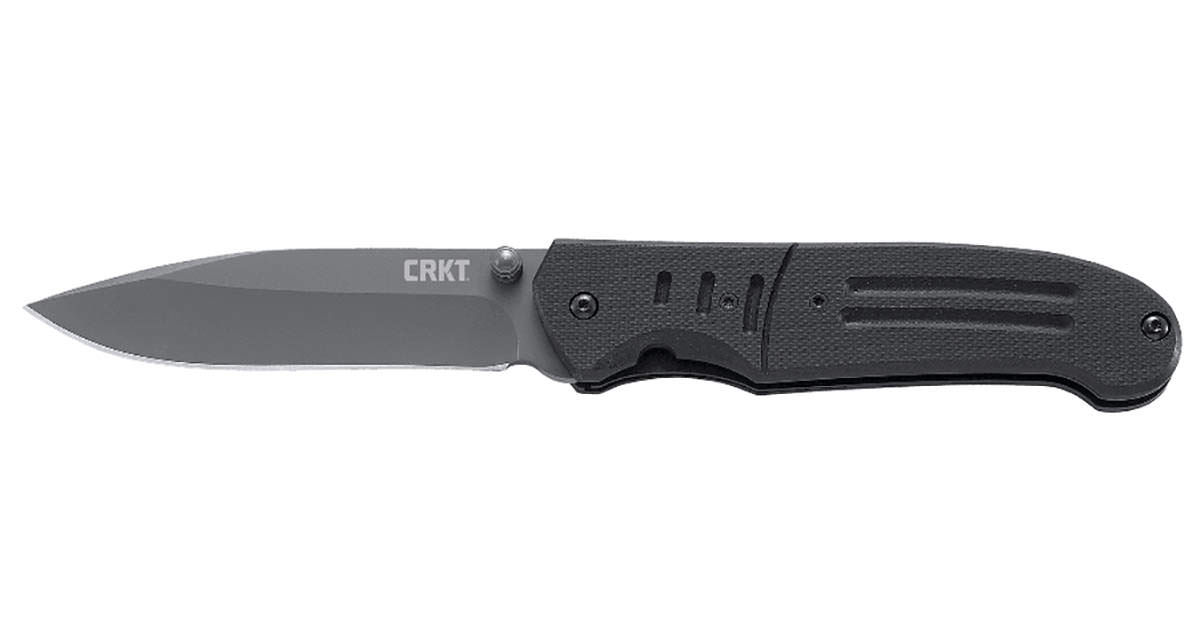 The Ignitor has nearly changed my feelings towards the whole assisted open movement.
Assisted open has always felt like cheating to me, sort of like those handicap sticks you put pool cues on, or the warp tunnels on Super Mario Brothers. If you're too lazy to play ALL the worlds why are you even playing in the first place?
Even more problematic than cheating, though, is that after a while they wear out and don't always stay closed in your pocket. I really don't like the idea of the blade slipping out a couple centimeters before I jam my hand thoughtlessly into my pockets and impale myself on the tip. So I approached this knife with the kind of caution you approach a lazy cat: with interest, but always with the suspicion that it will tear your hand apart at any moment.
Fortunately, CRKT's combined innovations, the Outburst design and their Fire Safe safety pin, answered both my issues with assisted open.
Safety first. The blade on this has never come out when I didn't want it to. It's locked in there tight until you push the the button on the thumb stud, and that's not an easy button to push.
That makes opening it a little rough before you get the hang of the motion, but it also means you're not going to pop it open accidentally. Maybe it's weird to be excited about a safety feature, but I really like not accidentally stabbing myself in the leg through my pocket.
As for the Outburst assisted open itself… It's fun. I got addicted to opening this knife. I played with it while I watched TV, I started absent mindedly opening and closing it while I read, and I had to consciously stop myself from taking it out anytime I was waiting in a line. You know why you use the warp tunnels in Mario Bros? Because sometimes it's fun to go faster, damn it. I get it now.
Veff Serration: Is it Worth It?
CRKT touts Veff serration as a better design for cutting ropes, nets, vegetation, and other similarly line-shaped objects connecting one thing to another thing. I appreciate the concept because usually when I use a knife it's to cut some kind of rope or string or vegetation. That's one of the features that sold me on this knife.
So does it actually work?
Kind of.
The curved shape of the serrations make it more convenient to cut stuff like small tubing or rope because it hooks them in place and basically gouges them open. Once a rope gets onto the blade you really only need to pull until something gives, but I didn't find that it was actually better than regular serration at cutting rope.
Oddly enough, I've put this design to some widespread and strenuous use working on residential irrigation systems. What that meant specifically for the Ignitor was cutting up yards upon yards of polythylene tubing, and it did that pretty well. In fact I think I have to admit that, somewhere in the angry summer sun, a wild sprinkler pelting the left side of my face while I wrangled a hose out of the dirt so I can cut the drip line off and put on a new one,
I even started to like the knife a little. It's not a tool of precision, but when you're frustrated and blinded by streaming water and sunlight, it'll hack through most anything you put in its path.
Here's the caveat: This thing is dangerous. I mean, knives are dangerous. That's half the point of them. But these serrations are pointed down toward your hand, and for months I've lived in constant fear of the knife slipping down into my fingers.
There have only been a couple times it caught my thumb because I just gummed up closing it one-handed, but it took a chunk with it each time. Maybe you aren't as clumsy as me, but that fear still runs deep within me, so I feel the need to caution any potential buyers: this blade would love nothing more that tear your hand right the hell up.
The Blade
The Ignitor came out of the box razor sharp. Mine was made with 8Cr14MoV steel, which is sort of comparable to AUS-8, although it tends to be softer, depending on heat treatment. It's usually easier to sharpen, but not head of the class on edge retention.
I was cutting through netting like butter the day after I set it in my pocket. Then when I went home I put it through the paper test, which it did pretty well. Since then I've used it to pry things open, cut down two-inch thick weeds pretending to be trees, and work through small branches.
The blade is a workhorse, and that's due in no small part to the 3" length and Veff serration. But the edge does not stand the test of time. Mostly I'm okay with this. I don't mind an edge getting dull quickly so long as the blade itself is tough because that's the feature I need more than anything in a knife that was clearly built for toughness.
For the most part, the Ignitor's blade looks to be pretty tough. I mean, lesser knives would have chipped and possibly rusted by now under my care. I tried to break into my car with this thing, and even though it didn't work, the fact that nothing on the knife snapped under the pressure of prying my door open is a testament to its structure. So far the worst things I've noticed in this blade are a few dings in the edge and one of the serrated points has actually bent a little (that probably happened in my car door).
So, short version is the blade is tough, and it's definitely sharp but it won't keep an edge longer than a couple months if you're actually using it. That kind of makes the Veff serrations a complicating factor because they rely partially on the sharpness in the curve, but anyone who's getting a serrated knife should be prepared for complicated sharpening anyway.
A $60 Knife Makes a Modest "But"
2019 price update: The price for this knife has dropped into the $30 – 40 range, depending on where you get it.
I have to admit this is a good knife, or at the very least it's good enough. This thing has come in handy several times over the four month period I used it as my EDC. I even have to admit that at a few points the longer blade was nicer to have than my ESEE Zancudo, but then that should be a given when there's a $40 price gap between the two, and that's where my real issue with this knife comes in. It's just worth the price tag.
The Ignitor ran me $60. I'm all about paying for quality, but there are plenty of high quality knives out there in the $20-30 range that could have worked just as well. If I were to put it up against other knives in the $60 range like my brother's Cold Steel Voyager, it would be vastly outclassed in size, comfort steel, and general hacking power.
The Outburst open and the Fire Safe feature make it a fun knife, but since starting this review I've switched back to my Zancudo, and I don't miss the Ignitor at all. Last I checked, it had gone down in price in a few places, so you can probably find it for around $40-50. But frankly, for me it would be tough to buy it again for more than $30.
2019 comparison update: I've picked up the Shenanigan Z since I first wrote this review, and I have to say that if $30 is your budget and you're not married to getting an assistant open knife, the Shenanigan is a lot better both in slicing ability and overall simplicity of maintenance. Between the two, I don't trust the Ignitor to hold up to a decade of use like I do the the Shenanigan.
A Good EDC if You're Not Like Me
At the end of the day, the Ignitor is fun and mostly useful, but for me it's kind of forgettable. Maybe it's just not my thing. I'm old fashioned. I still believe assisted open is a modern trend for lazy people. It's comfortable but I like almost nothing about the way the knife looks.
If someone were to ask me to recommend an assisted open knife, I would probably mention the Ignitor, because it's clearly been made well, it uses a practical steel, and it has a thicker handle than most folders I encounter. But I started out saying CRKT never makes a knife that pulls my attention away from other knives.
This one caught my attention long enough to buy it, but I couldn't help thinking what other knives I'd like to try after I was done with this one. There's definitely a kind of person who would love this knife. I'm just not one of them.