What Happens When German Knives become American
Boker Plus made its USA factory debut with the Boker Plus Patriot, which is the main reason I got it. The idea of a German-born knife company building a factory in America and making a knife called the "Patriot" sounds like a really good joke I haven't gotten the punchline to yet.
And just to add to the layers of oddity, the knife was designed by a typographist. Not to disparage graphic designers. Raimund Lhotak has done some great work. I just can't decide if it's ironic or indicative of the massive gravitational pull of the American knife market.
All that to say, I wasn't actually looking to get a "good" knife when I picked the Patriot up; I just wanted to see what we could expect from the shiny new American Boker Plus factory. I have since learned that Boker doesn't really have a US-based factory. It looks like they made a deal with Fox Cutlery to pump out a few designs on US soil, which isn't a bad thing. That's a great manufacturer, but it does add an interesting layer to this internationally involved design.
Honestly, the Patriot didn't look promising to begin with. The FRN handle is not exactly a 10 on looks and feel, and the curved handle design has never been my favorite. But the 154CM steel is fantastic and well amde, and even with all the other oddities I just wanted to know what it was like.
Sort of like when someone tells you to put tabasco sauce on eggs. It doesn't look that good, but you can see the potential, and at some point you just have to try it to get your friend to shut the hell up. So $80 later I did end up with a good knife, but not without a few hang ups.
Final Update: There's a new Boker Patriot in town and this quirky folder has been discontinued. It's a little sad, because I liked this design even though I stopped carrying it. I would have liked to see Boker play around with it, but on the bright side, the new fixed blade taking up the name looks a pretty cool fixed blade adaptation of the Manly Comrade Folder. I just might pick it up for a review one of these days.
Knife Specifications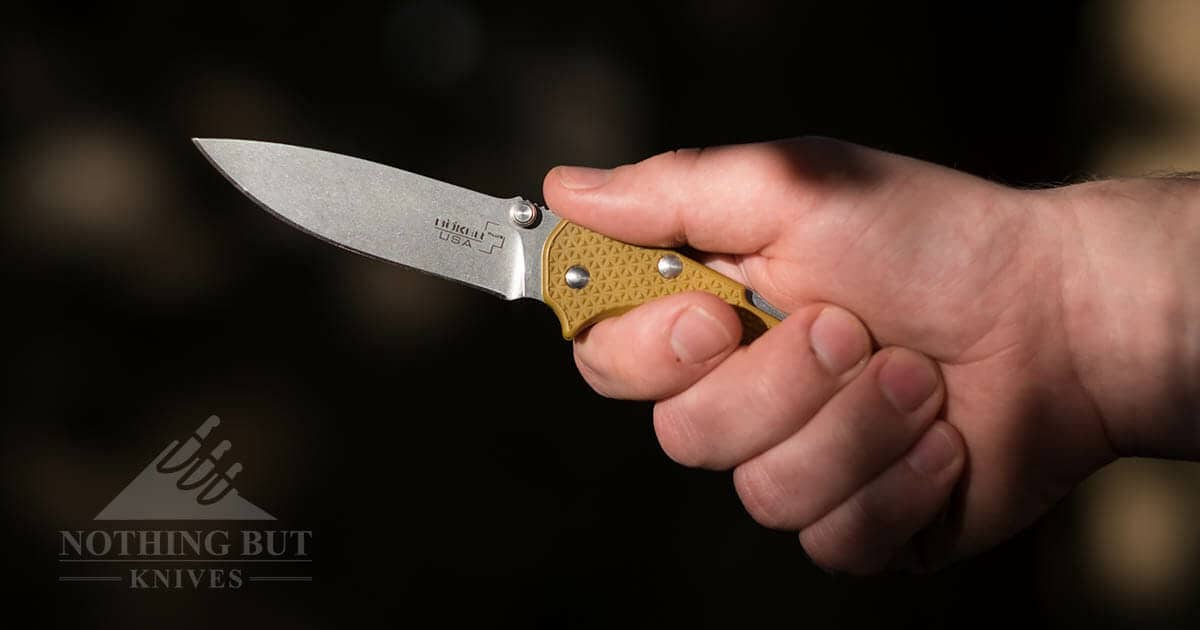 | | |
| --- | --- |
| Overall Length: | 7.5″ |
| Blade Length: | 3.4″ |
| Handle Length: | 4.1″ |
| Blade Steel: | 154CM |
| Blade Thickness: | 0.12″ |
| Handle Material: | FRN |
| Weight: | 2.1 oz |
| Lock Type: | Lockback |
Pros
Excellent for cutting
Cost effective for high-grade steel
Lightweight with a firm grip
Adaptable for right or left hand carry
Cons
Harsh scales
Difficult to open one-handed
Awkward handle design
Pocket clip loosens up easily
Masochistic Handling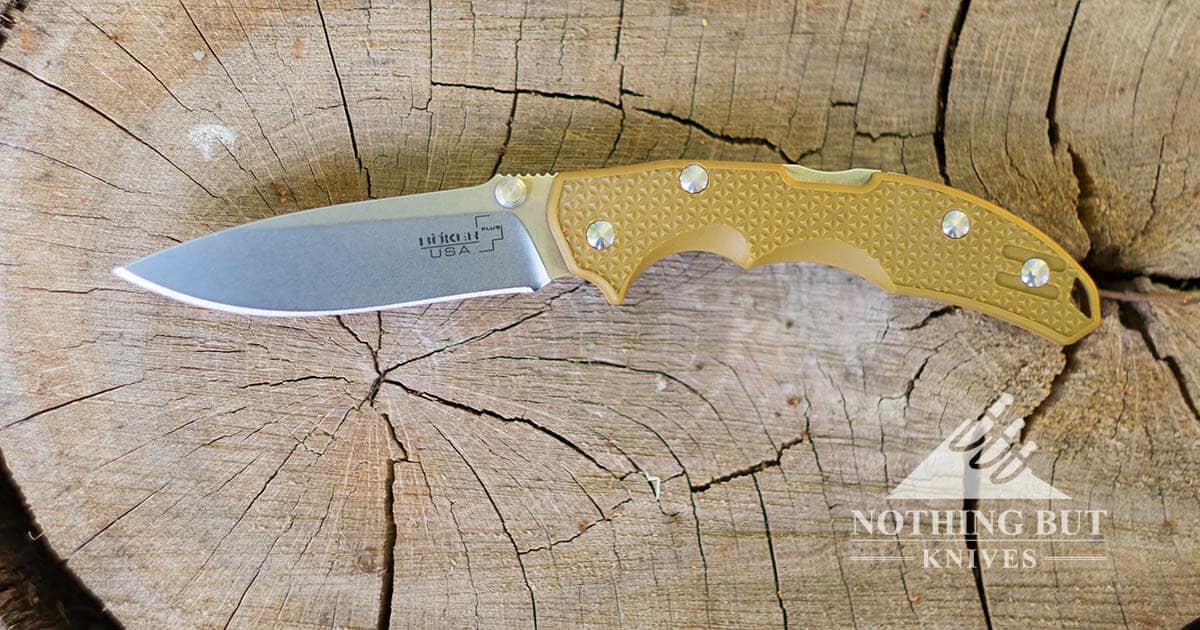 This is the biggest issue with the knife. When you're barehanded, the handle really digs into you. The triangle pattern of the scales make for a firm grip, but in kind of the same way that a porcupine would be easy to hold so long as you can get as far as letting the quills pierce through all three layers of skin.
Once you get used to the feeling of your skin being constantly torn apart, you can cut through most anything you would want to cut with a knife, and the jimping is aggressive enough that it actually provides good leverage for your thumb. If you mostly use this knife while wearing gloves, though, it's fantastic. That angry texture on the handle turns into spider legs, and the thumbstud that normally takes a hardline at my finger bones suddenly becomes my best friend when opening the blade in one gloved hand. Keep that in mind when I whine about one-handed opening on this knife later.
The curved shape of the handle is another issue. It had me worried a little that anything other than a standard grip would be awkward on this knife, but the aggressive texture and lightness of the handle actually do a lot to keep the thing in your hand. That being said, I'm still not sure I like this style of handle. I know it's supposed to be more ergonomic, and others who held this knife seemed to love it, but sometimes it just feels like it's bunching my fingers together.
As to the handle material, it actually surprised me in a pleasant way. The FRN handle feels cheap, but it makes the knife light. Considering the thickness of the premium steel blade, this was probably a wise decision on Boker's part.
A wood or even a G10 handle would make this a pretty hefty (and expensive) knife, and turn it into something that I don't think Boker intended it to be. It's a hardy, functional knife. While it was still a little pricey, the more cost effective FRN handle makes it easier for me to get this knife dirty (which I do a lot) without guilt.
[6 Month Update] Remember to Tighten the Pocket Clip
Keep your eye on this pocket clip. I'm not sure if it's something about the FRN handle not holding screws in well or something about how I carry the Patriot, but the clip likes to loosen up a little quicker than usual. Also, the way the metal bends up at the end makes it a perfect catch for roving backpack straps and that kind of thing.
This knife was ripped out of my pocket two or three times before I finally got off my lazy ass and tightened it. After that, it stayed pretty snug, but it's only a matter of time before that screw loosens again and the knife gets rabbit in its blood.
I've rotated back to mostly using my Zancudo, but I move around a lot when I carry, so it might not be an issue for you.
One Handed Open: Some Assembly Required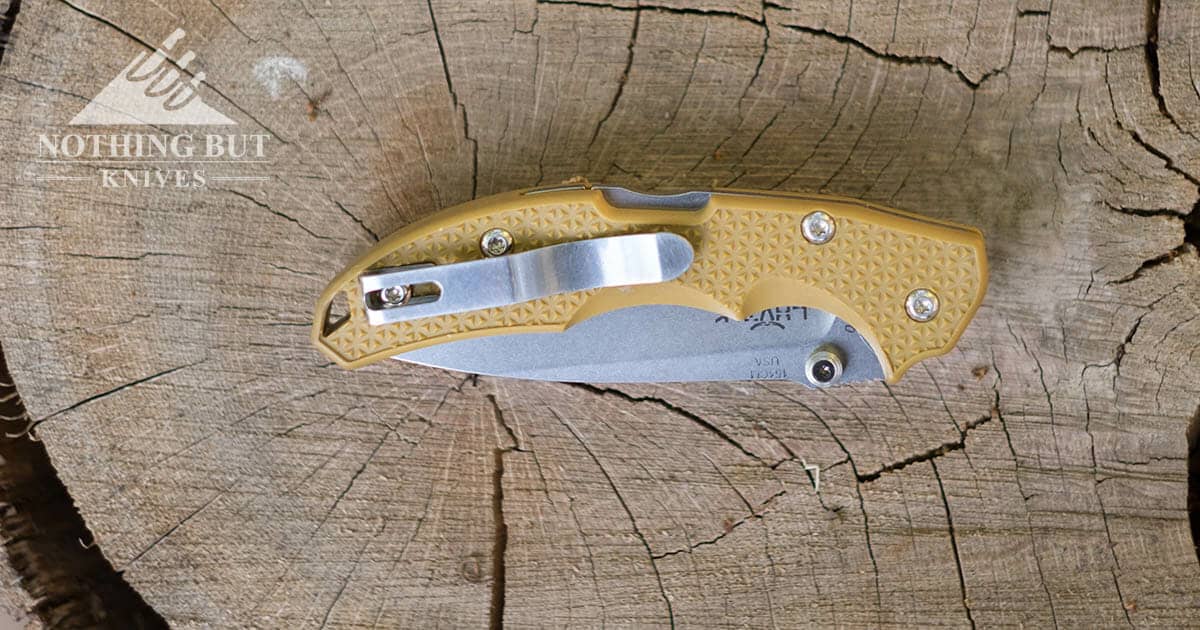 How the hell are all these YouTubers flipping this thing open? I'm on the edge of grabbing a crowbar to get the Patriot open. Maybe if the thumb studs weren't designed as some kind of homage to Chinese torture methods I could wear out the handle's vice-like grip, but at some point I just have to admit it's not worth tearing my thumb out from under the nail and open the damn thing with two hands.
A couple people recommended applying a little oil to it, so I did. Then I applied a lot of oil to it and entered into a half hour long battle opening and closing it to try wearing it into submission. In the end I managed to start opening it one-handed, but I don't think I'll ever get it to flip out the way I prefer.
Like I said before, it feels great when I'm working with gloves on, but around the house, or freezing up in the mountains, this thing argues with my hand. Maybe I just need to build a few more calluses on my sissy writer thumbs.
Thick Blade, Great Steel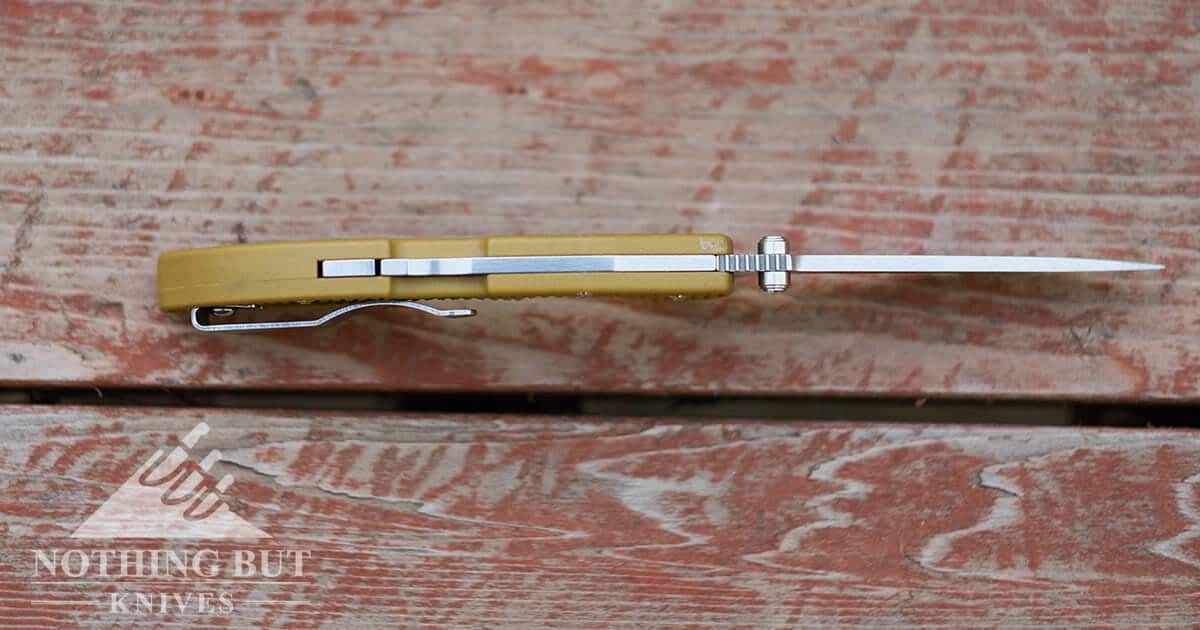 Holy crap this blade is nice. I forget almost everything I don't like about his knife when I'm cutting with it. First thing I did on getting the Patriot home was take a whack at a few cardboard boxes and it honestly was close to cutting butter. Boker Plus is really known for their steels, so this was the area I had high expectations of. I was not disappointed
154CM steel is not universally considered a premium steel anymore, but it's the best steel I've ever owned. It holds a great edge, but it doesn't have the same grudge-match hardness of S30V that laughs at the sharpening attempts of mere mortals. This is a great steel to go with when you want a nice upgrade from AUS-8 but still want to be able to sharpen your knife like a normal person.
It has a nice long blade with a good thickness, which, combined with a razor sharp edge, can power through a wide variety of colorful materials. I've gone through wood and various forms of rubber with this knife, and it cut like a champ. I was put off by how extreme the point of it is. I mostly slice and cut with my knives, so the point is mostly another thing to get chipped off, but I don't think there's much danger of that happening with the Patriot, considering the relative toughness of 154CM and the thickness of the blade.
More importantly I started loving the whole shape of the blade, spear point included, when I had to cut fabric with it, and again when I needed to actually work the blade into something with the point so I could make a decent cut. The Patriot has a few faults for me, but the blade more than makes up for them.
Comparable to the Spyderco Delica 4
I've come across a few people comparing the Boker Plus Patriot to Spyderco's Delica 4. After looking at the specs I can see why someone would put the knives side by side: They both have FRN handles, are roughly the same size with fairly high-grade steels and lock-back mechanisms and are (sort of) in the same price range. Just putting the respective steels head to head is interesting. What's the better knife steel? VG-10, which is widely used in Japanese kitchen cutlery, or 154CM which was adapted from a metal used to make plane turbines?
I've never owned a Delica 4, but it looks like the handle is a lot more comfortable, if a little smaller. And as much as I like the Patriot's cutting power, the handle could very well tip me in the direction of the Delica. In the meantime, the Patriot has actually turned out to be a handy EDC. It's by no means the most comfortable knife I've ever owned, but it's much better at cutting than what I usually walk around with. It's slowly working it's way into my rotation as my primary carry, and it's definitely made me curious about what we'll see from Boker Plus next.