A Folding EDC for People Who Actually Use Knives
The Zancudo is a folder with a 2.9 inch AUS 8 steel blade, a tough frame lock, a plain face, and I'm going to marry it someday.
I've been a big fan of ESEE Knives for a while now, but I rarely need fixed-blade knives so it's hard for me to justify dropping the hypothetical hundred dollars I have lying around to get the ones I want. That doesn't stop me from strolling around the internet drooling over pictures of the ESEE 3 though, so you could say I've had a long distance relationship with them. Albeit a one sided, long distance relationship. So really more like a stalking relationship.
An ESEE folder seemed like only a theoretical possibility to me for a while, sort of like unicorns or dark matter or people who use their blinkers. So when I wandered into my local knife shop and saw a shelf of Zancudos you can imagine the warm glow turning up on my face to the sound of string music. Up until that point I hadn't known ESEE made small folding knives.
They still don't, technically, but I'll explain that later. For now I'll get into the important stuff.
Knife Specifications
| | |
| --- | --- |
| Overall Length: | 7.0″ |
| Blade Length: | 2.9″ |
| Handle Length: | 4.0″ |
| Blade Steel: | AUS-8 |
| Blade Style: | Drop point |
| Blade Grind: | Flat |
| Blade Thickness: | 0.09″ |
| Handle Materials: | Steel w/ G-10 scales |
| Carry: | Tip-down clip |
| Weight: | 3.1 oz |
| Lock Type: | Frame |
Pros
Tough work knife
Long life for a small price
Easy pocket carry
Cons
Thin handle
Made in Taiwan
Not the prettiest at the party
AUS 8 Steel Blade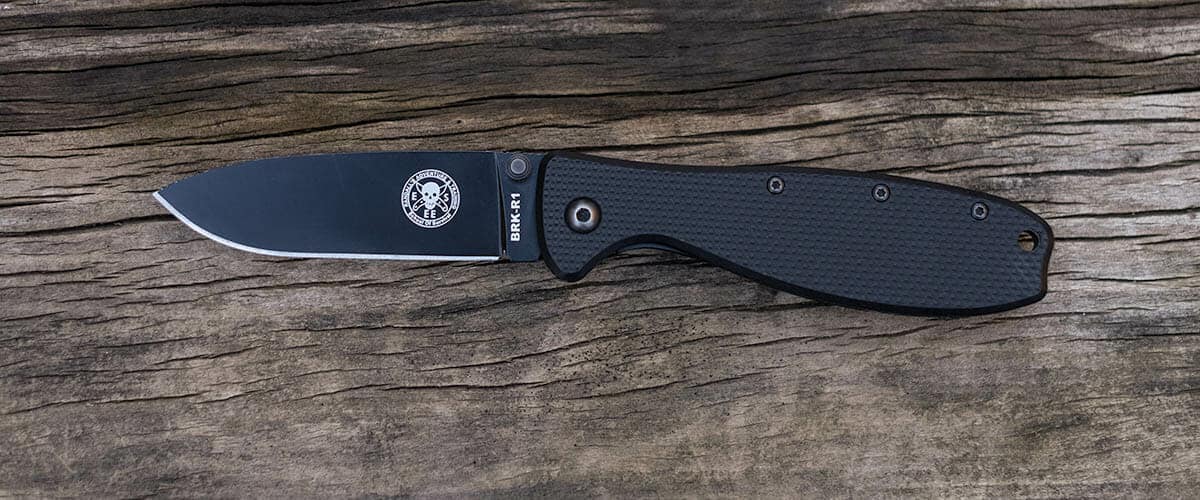 I'm not shy about expressing my love for AUS 8 steel. It's cost-effective, easy to maintain, and pretty tough for a stainless steel. It would have to be to survive being owned by me, because I'm a bad person and I don't always clean my knives very well after I get them dirty.
After half a year I can tell you with a fair amount of certainty that this thing does not rust easily, and I have yet to need to sharpen it. The blade didn't exactly come razor sharp when I bought it new but that's really for the best since AUS 8 is a little more likely to chip than softer metals like 420HC. The toughest things I've had to cut with it are weedeater string, and one time a manzanita branch because I forgot to take my clippers outside and didn't feel like walking all the way back to get them.
Some things take a little work or finesse to cut with this thing, but the real quality of this blade is more in its strong back than in its sharpness. If you're patient enough to sharpen it yourself it will hold an edge pretty well. I haven't been to concerned about that because I have pretty much only used this as a beater knife.
Not the Best Handle for Big Hands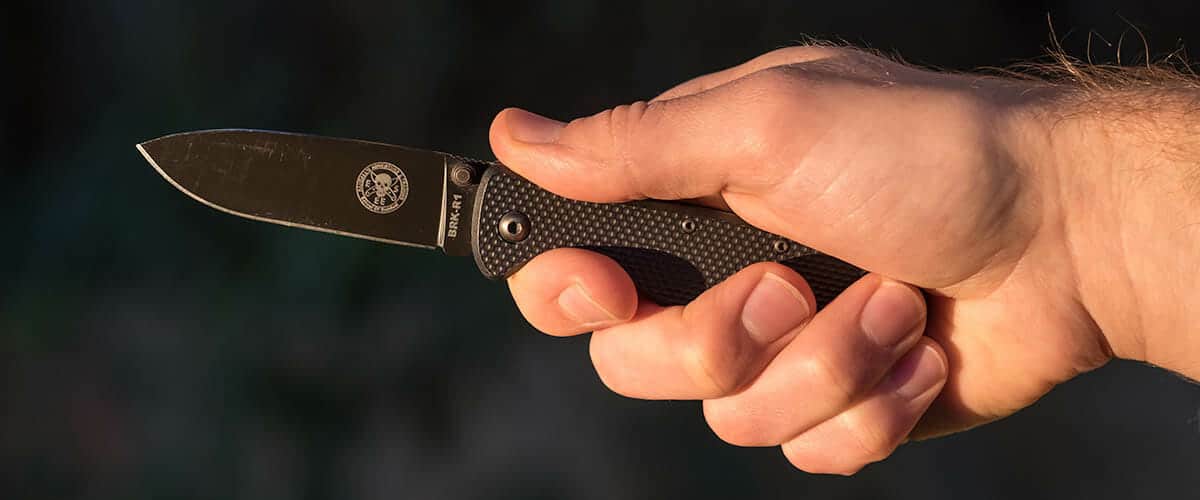 This is the only aspect of the knife I have any real problem with. The handle is thin, and the one-sided G10 handle just isn't enough to make it feel great. But I have dumb, fat hands, so this is a problem I have with most small to medium sized folders. The good thing about the Zancudo is that it doesn't feel intrusive in my hand.
Nothing gets in my way, it's just that if I end up using it for too long, the strain of gripping tires my hand out. If you have hands like a normal person this knife should feel okay. It won't exactly feel like a feather pillow, but it'll be okay and that's the best I can say for it.
Stiff One-Handed Open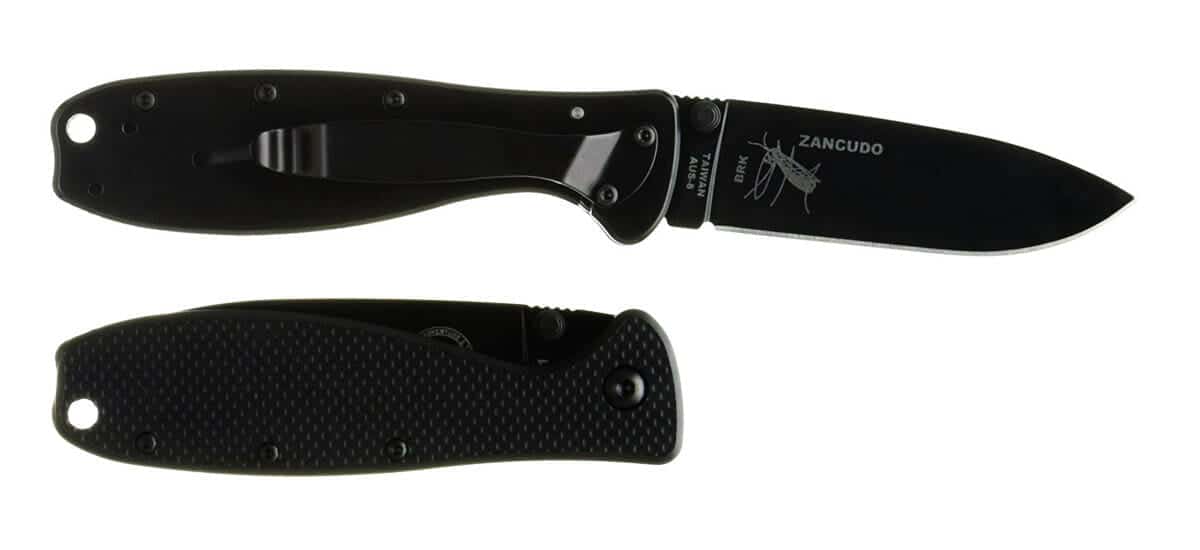 The Zancudo features a generously sized stud on both sides of the blade, and you need every centimeter of it when it's new. This thing was pretty stiff when I first got it. It took maybe an hour of playing with it before I could easily flip it out one handed. Now I can open it in pretty much any condition.
There have been more than a few times that I've had to pop it out while wearing gloves and wrestle a snagged weedeater in my other hand. What happens after that wouldn't be a very impressive story, but the knife is always easy enough to get out when I need it. The frame lock has stayed pretty stiff, which makes putting it away one-handed difficult. I don't see this as a downside, though. I'd much rather have a good, strong frame lock than an loose close.
[One year Update] Basically Assisted Open at this Point
It's in part because I've gotten used to the feel of the knife and have the technique down, but I'm still really impressed with how well the pivot has aged on this knife. It flips out like silk now (so long as I keep it clean), but still maintains a strong grip on the blade, both closed and open, which means that detent is still going strong after a year and a half of aggressive opening in grimy conditions and harsh weather. This is looking to be a fantastic, long-lasting budget knife.
American Design, but Not American Made
While Mike Perrin designed the Zancudo, and the blade wears the ESEE badge, it's not exactly an ESEE blade. He designed it for Blue Ridge Knives, which uses a factory in Taiwan. I was a little disappointed about this at first. I'm not really a stickler about buying exclusively American made products, but I've always appreciated that ESEE makes all their stuff here.
Honestly, it's a superficial thing. I've dropped it out of trees and ran it through dirt, mud, and rain. It has a few scratches in the finish but it's about as smooth and sturdy as the day I bought it. If being made in Taiwan helps keep this thing at a $30 price tag, I'll let it slide.
It's a Work Knife, not Show Knife
I shouldn't mislead you. The Zancudo folding knife is 7 inches of mediocre usefulness. By that I don't mean it's not a great knife. It cuts everything I need it to, it's like a ghost in my pocket, and it's stood up to a good six months of me abusing the hell out of it (Just a little update: It's been two years and it's still in my EDC rotation).
What I mean by mediocre is that it's not a flashy knife. It's not the product of tireless scientific research on handle ergonomics and made out of star metal. It's just a good design that works, which pretty much summarizes the scope of ESEE's line. I probably love this knife for the same reason I generally end up talking to whoever is filling the chip bowl at a party. Because regardless of if they're pretty or not, they are always useful. I appreciate that person because I need chips just as much as I need a cheap, sturdy knife.