It's Hard to Find a Good Assisted Opening Pocket Knife in a Small Size
The invention of the spring assisted knife brought a wave of relief to thumbs across America. They give knife owners an easy way to open their tools up with the twitch of a finger. But some people are still concerned with the legality of the device (and yes, assisted opening knives are legal), or they just want an quick-open knife that rides easy in the pocket, so they try to find something small. Now the issue is finding a knife that's assisted opening AND small AND still good lasting quality. If that's your situation, here are 7 assisted opening knives with blades under 3 inches that are worth trying out.
If you're not clear on the assisted open concept, go ahead and skip down to the bottom for a run down on the mechanics of the thing.
Assisted Opening Knives
Kershaw Chive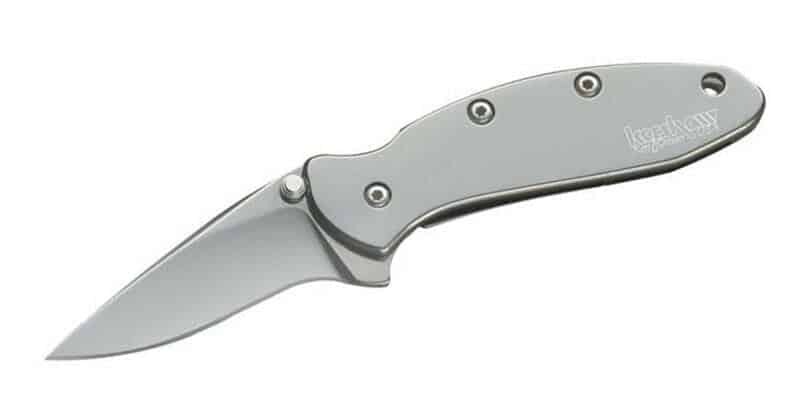 | | |
| --- | --- |
| Blade Length: | 1.9″ |
| Overall Length: | 4.8″ |
| Steel: | 420HC |
| Blade Style: | Clip point |
| Grind: | Hollow |
| Handle Material: | Stainless steel |
| Lock Type: | Frame |
| Carry: | Tip-down |
This is a little knife with a big punch designed by Ken Onion. The Kershaw Chive is an odd piece. This is one of the smallest knives on this list, but the design is very efficient with a hollow grind edge in a recurve shape.
The blade is just under 2 inches, making the whole thing ride under the 5 inch mark, so it's pretty non-threatening if you're looking for something to carry at the office. It's small enough to put on your keychain, which is another way of saying it's easy to lose, but if you can keep your hands on it there's a lot of utility in this little thing. (It also comes in rainbow, if you're into that kind of thing.)
Kershaw Scallion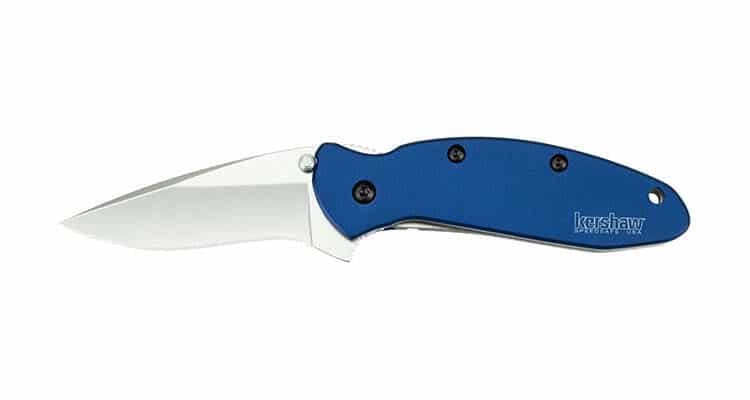 | | |
| --- | --- |
| Blade Length: | 2.49″ |
| Overall Length: | 5.75″ |
| Steel: | 420HC |
| Blade Style: | Drop point |
| Grind: | Hollow |
| Handle Material: | Aluminum |
| Lock Type: | Liner |
| Carry: | Tip-down |
The Scallion is more or less the same design as the Chive, but a lot of people have praised the Chive while wishing Kershaw made a slightly bigger model. Well, this is the bigger model. Everything is pretty much the same with some slight adjusts beyond the extended 2.5 inch blade.
For the one, the handle is polymer (although I believe you can find models with stainless steel handles now), and along with those plastic-y scales comes the necessity of a liner lock. This seems like the more comfortable alternative to the Chive, but maybe that extra inch of blade just seems excessive to you for some reason.
Gerber Fullback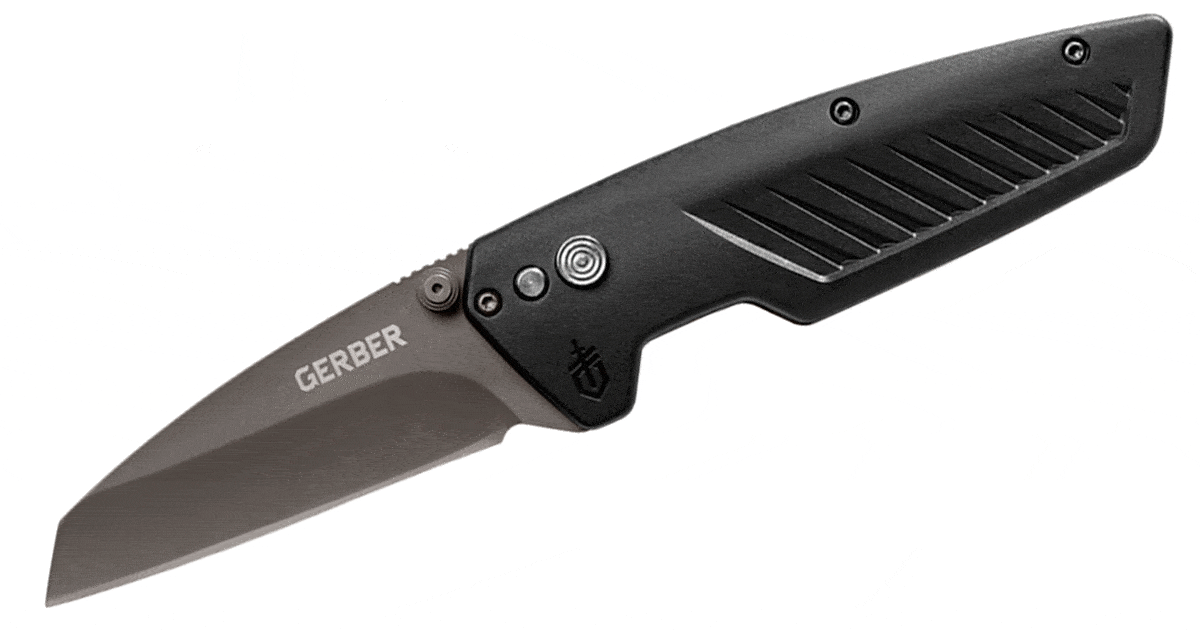 | | |
| --- | --- |
| Blade Length: | 2.8″ |
| Overall Length: | 7.0″ |
| Steel: | 7Cr17MoV |
| Blade Style: | Wharncliffe |
| Grind: | Hollow |
| Handle Material: | GFN |
| Lock Type: | Plunge lock |
| Carry: | Tip-down |
Tiny and tough was Gerbers intention with the Fullback. The Chinese steel it's sporting is a good choice for that when you want to keep it low cost, and the blade stock is pretty thick considering the overall size of the knife.
Of all the knives on this list right now, this might be the most comfortable since the handle is a little thicker than usual. It's definitely something you can take outside and rough up. I might even go so far as to call it a decent camping knife. Personally I would like the Fullback a lot better as a working knife if it weren't AO, but here we are.
SOG Twitch 2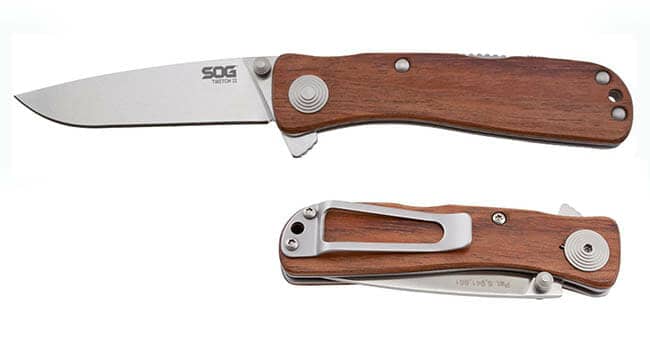 | | |
| --- | --- |
| Blade Length: | 2.65″ |
| Overall Length: | 6.2″ |
| Steel: | AUS-8 |
| Blade Style: | Drop point |
| Grind: | Flat |
| Handle Material: | Rosewood |
| Lock Type: | Lockback |
| Carry: | Tip-up |
SOG took a rare step toward a very classic, traditional look with the Twitch 2. It's a simple handle design with a blade just a few hairs over 2.5 inches and a straight edge drop point. Unless you have large hands it'll be pretty comfortable to hold (that's the benefit of these more conservatively designed handles).
It also uses a lockback mechanism, which feels like an odd thing to put on an assisted open. Not because of any practical issues, it just somehow feels like putting tires from a 40's jalopy on a Prius. There's another version of this that comes with an anodized aluminum handle, which is great and all, but personally I prefer the look and feel of wood.
CRKT Krein Gungho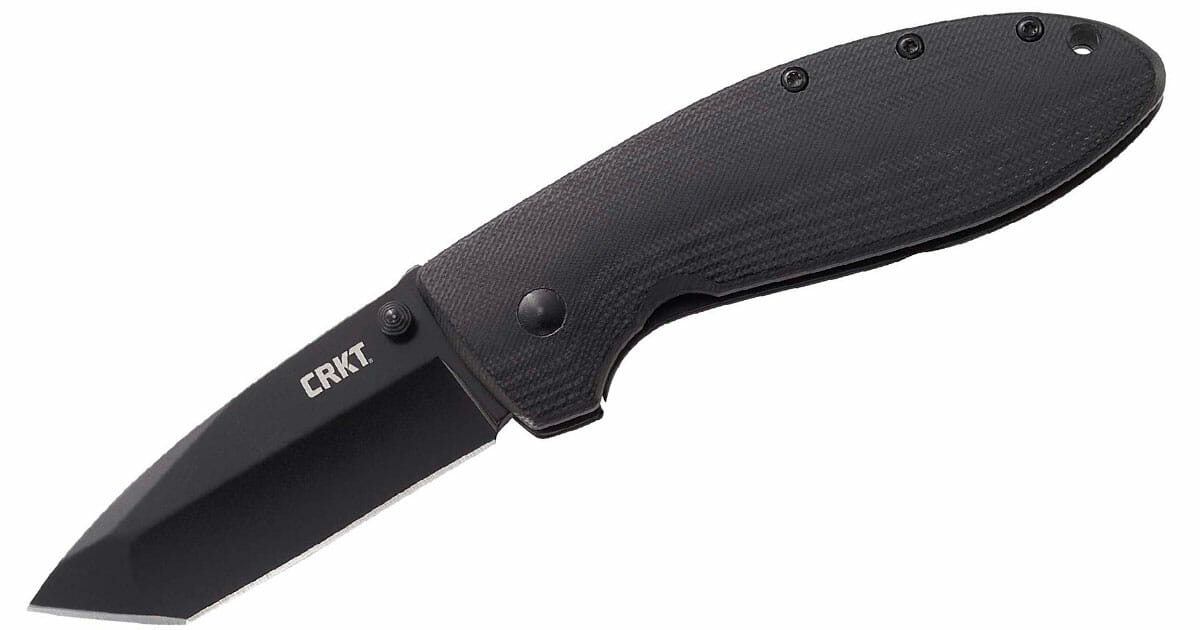 | | |
| --- | --- |
| Blade Length: | 2.78″ |
| Overall Length: | 7.0″ |
| Steel: | 8Cr13MoV |
| Blade Style: | Tanto |
| Grind: | G-10 |
| Handle Material: | G-10 |
| Lock Type: | Frame |
| Carry: | Pocket clip (all 4 positions) |
This is one of those refreshing designs from CRKT that they've opted to keep simple. These more uncomplicated folders are generally a safe bet from them, featuring tough, cost-effective materials and no weird technological additions that get in the way of a knife being a knife.
It's just a strong blade style with a soft steel and ambidextrous assisted open. It's made to come out quick and ride easy, plus the frame lock adds an extra but of ruggedness to the knife over all. The tanto blade might look a little more threatening than some of the other stuff on this list, but on the bright side, tanto blades really excel in shorter blades like this one.
Buck Quickfire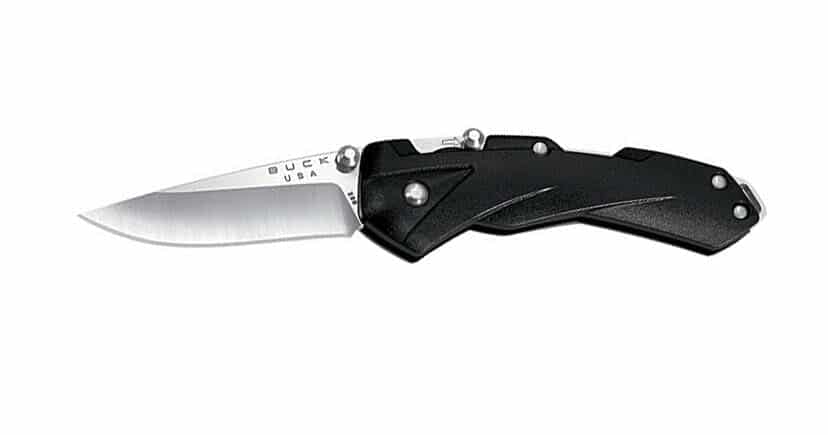 | | |
| --- | --- |
| Blade Length: | 2.75″ |
| Overall Length: | 7.0″ |
| Steel: | 420HC |
| Blade Style: | Drop point |
| Grind: | Hollow |
| Handle Material: | Polymer |
| Lock Type: | Lockback |
| Carry: | Tip-down |
The Quickfire is made in Buck's American factory, so even though it has a plastic polymer handle, its overall quality is pretty top notch. And honestly, polymer handles can be a fantastic low-cost material for a knife when their made right, as Buck has with this one. They also gave it a pretty tough steel that holds a decent edge.
It's a hollow grind though, so you might find it a little tricky to sharpen. Aside from that, you'll find this is a great knife for left handed people as they've put a thumb stud on both sides of the blade. Although it look like you'll have to take that pocket clip off entirely. I don't think it switches over to the left handed position.
Benchmade Mini Barrage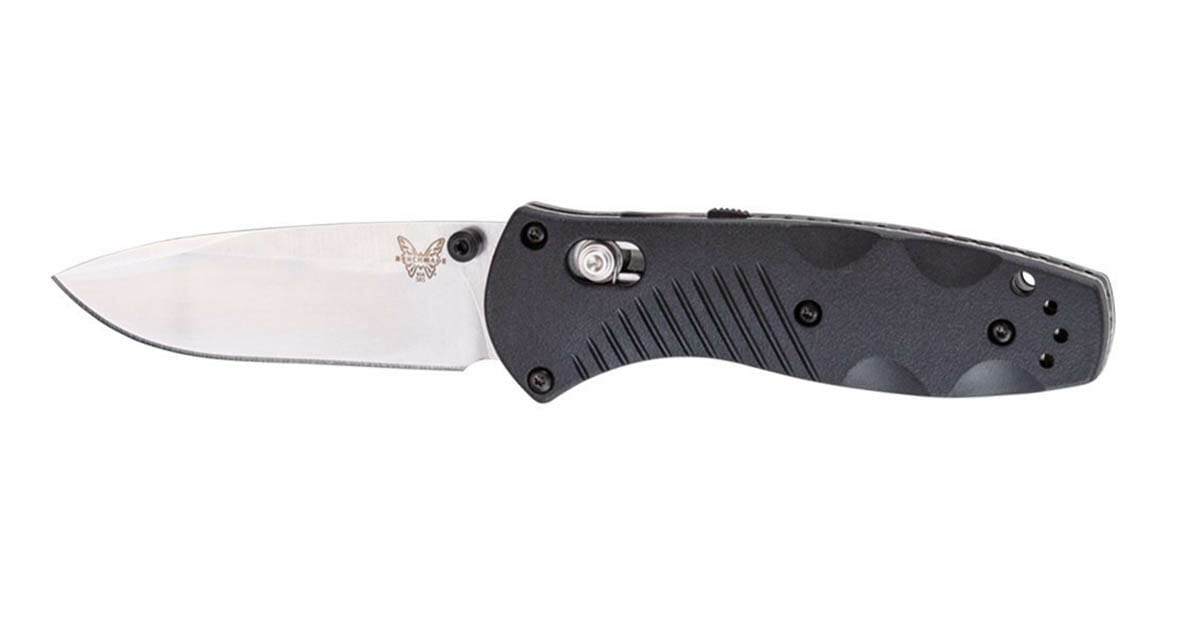 | | |
| --- | --- |
| Blade Length: | 2.91″ |
| Overall Length: | 6.91″ |
| Steel: | CPM-S30V |
| Blade Style: | Drop point |
| Handle Material: | G-10 |
| Lock Type: | Axis |
| Carry: | Tip-up |
The Mini Barrage is the most obvious recommendation we could give. Anyone who knows anything about knives will probably tell you to get the Mini Barrage when you say you're looking for an assisted open knife with a blade under 3 inches.
In terms of quality, it's (arguably) hard to beat the S30V steel, and, Benchmade being Benchmade, it's going to come sharp and you damn well better believe it's going to stay sharp. There might be better handle materials than the milled G-10 on the Barrage, but whatever it is, you don't need it. It's tough stuff, and it helps keep the knife price down, which is something often sorely needed with Benchmade Knives.
How Assisted Open Works
An assisted open knife is one that pushes the blade into deployment after you open it part way. An AO knife will have some kind of tension mechanism that's actually pushing the blade back into the handle until you start deploying and that mechanism gets to the other side of the blade so that tension pushes it the other way.
There are two different methods for doing that: the torsion bar, and the coil spring. You'll see different knife companies patenting variations on these two methods, but they all work from the same concept. Here's a quick rundown on the two types of assisted open and what companies generally use which one:
Kershaw: "Speedsafe" – Torsion bar
CRKT: "Outburst" – Torsion bar
Benchmade: "Axis" – Coil Spring
SOG: N/A – Coil spring
Gerber: N/A – Torsion Bar
Torsion Bar Assisted Open
A torsion bar is a curved metal piece that either runs up a thin plate inside a knife's liners or just back near the spine of the knife, then pokes down into a small hole at the bottom of the blade (I guess you could call it the tang area). The torsion bar is always pushing up on the blade from that hole until it's fully open.
When it's completely closed, that hole is enough over to one side that the pushing forces the blade to stay inside the handle. But as you open it, you move that hole down and over, which coils the torsion bar until it pops back on the other side and forces the blade out of the handle and into the open position.
Coil Spring Assisted Open
In this there's a spring coiled around the area of the pivot screw. It's actually the same thing usually used in automatic knives, except the coil is housed differently so it's not locked by a button, but by the tension in the coil housing itself. In this system, you're winding up the spring when you close the knife.
Once it's all the way closed though, that tension shifts from the blade to the spring housing, and doesn't push on the blade again until you open it to a point where the spring tab engages with a slot in the base of the blade. There will also be a second mechanism, either a spring and tab or a horizontal bar, to secure the blade when it's closed and open, so you'll almost always see some kind of switch or button in the handle of a coil spring AO knife.