This Pocket Nessmuk Excels at Food Prep and Camping Tasks, but Struggles to Remove Splinters.
I spend a lot of time in the woods. Over the years I've developed some strong opinions about what makes an ideal camping knife—and there are few folders that would make the cut. The Revo Knives Ness is one I'm happy to add to the list—it is large enough for heavy work, nimble enough for food prep, and priced right for a pocketknife you'll put through hell.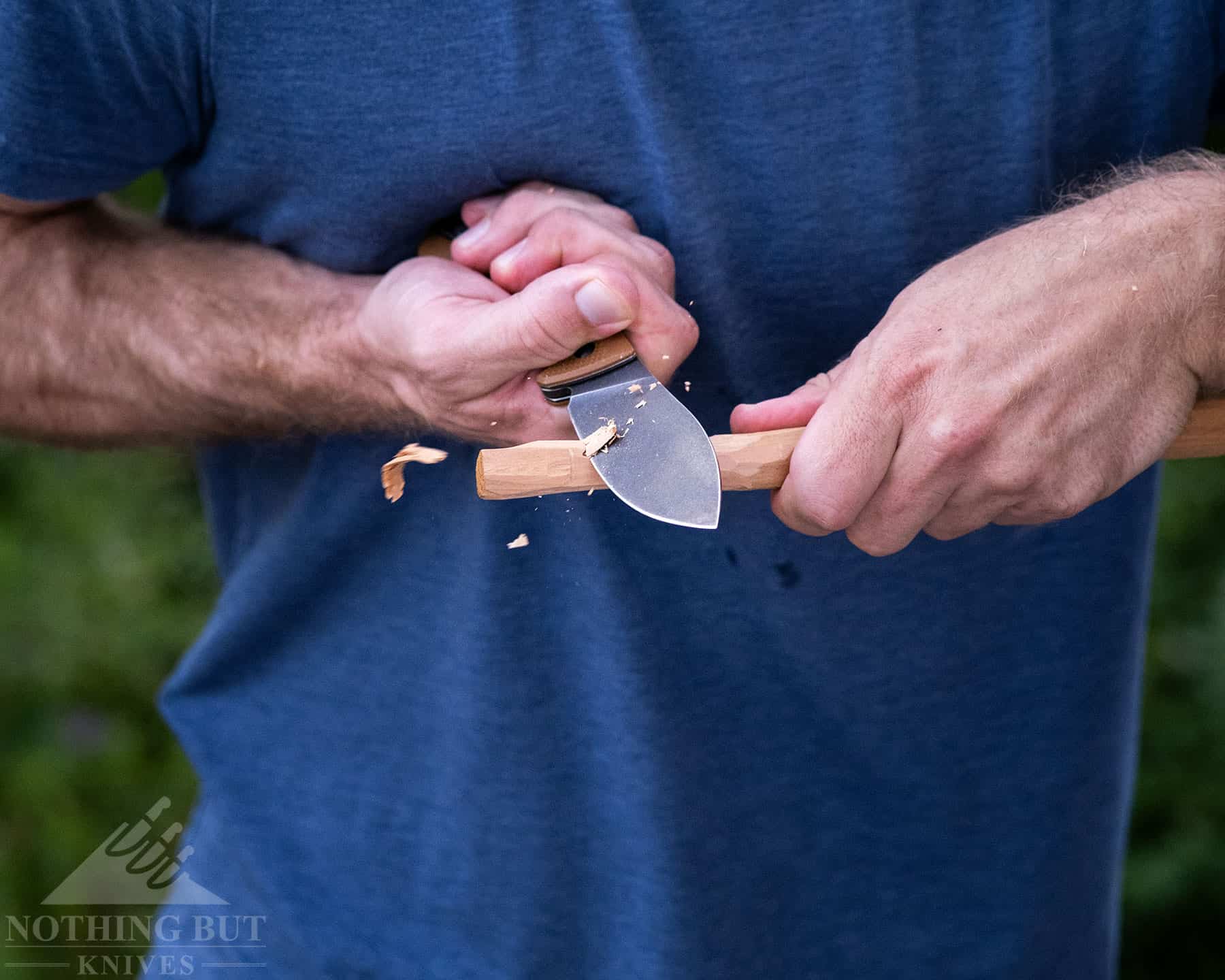 Specifications
| | |
| --- | --- |
| Overall Length: | 8" |
| Blade Length: | 3.375" |
| Blade Material: | D2 |
| Handle Length: | 4.625″ |
| Pivot System: | Bearing |
| Weight: | 4.96 oz |
| Handle Material: | G10 / Stainless Steel Liners |
| Clip Material: | Stainless Steel |
| Country of Origin: | China |
Pros
Exceptional value
D2 blade steel, stainless liners, and G10 scales…
Handle shape makes it perfect for camp cooking
Cons
Could have a sharper edge on the spine
It is still a liner-lock, so it isn't bombproof.
How does it do for camp chores?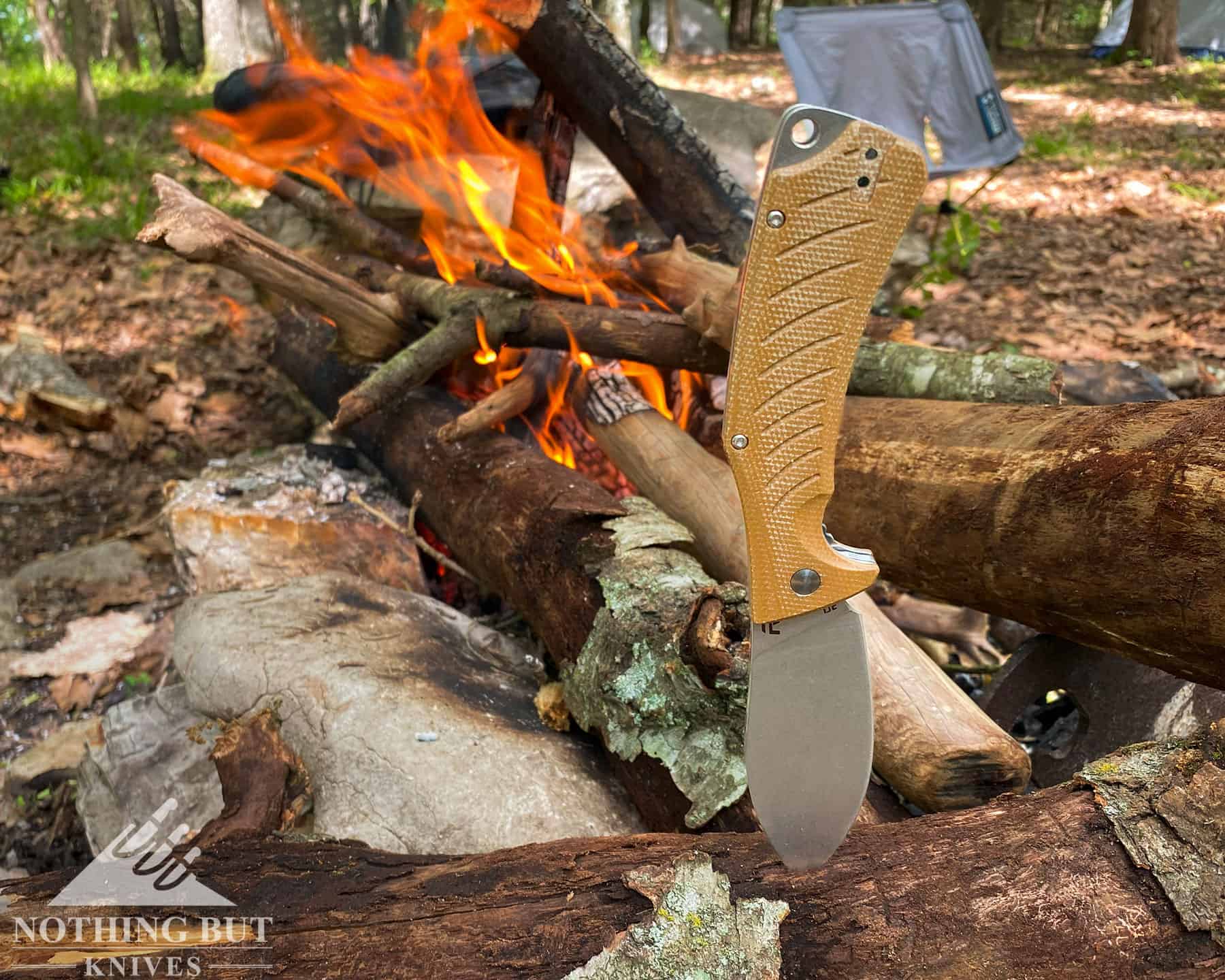 The wide leaf-shaped blade would be a solid edition to a hunting camp. It is sharp, thin, has an ample belly—all things that would make this a good choice for processing game in that whitetail size range. It would be useful for skinning and for disarticulation.
I put it to the test on a recent float trip. There were 10 of us on the float, and we'd brought with us staples that store well without refrigeration: peppers, onions, and potatoes, mostly. And the Ness was, by far, the best knife on the trip for food prep.
The secret here is in the combination of blade shape and handle shape. As this is a Nessmuk inspired folder, that wide blade has to have a deep pocket in the handle. As such, the handle curves sharply up, allowing a finger to get in directly behind the cutting edge of the blade, which is a design that's common in kitchen knives.
The Ness makes good contact with a cutting board without having to rely only on the tip of the blade. Your knuckles, though they may touch the board, are higher. If you were worried about unclean hands, the Ness would allow you to cut without any contact with the cutting board at all.
How does it clean up?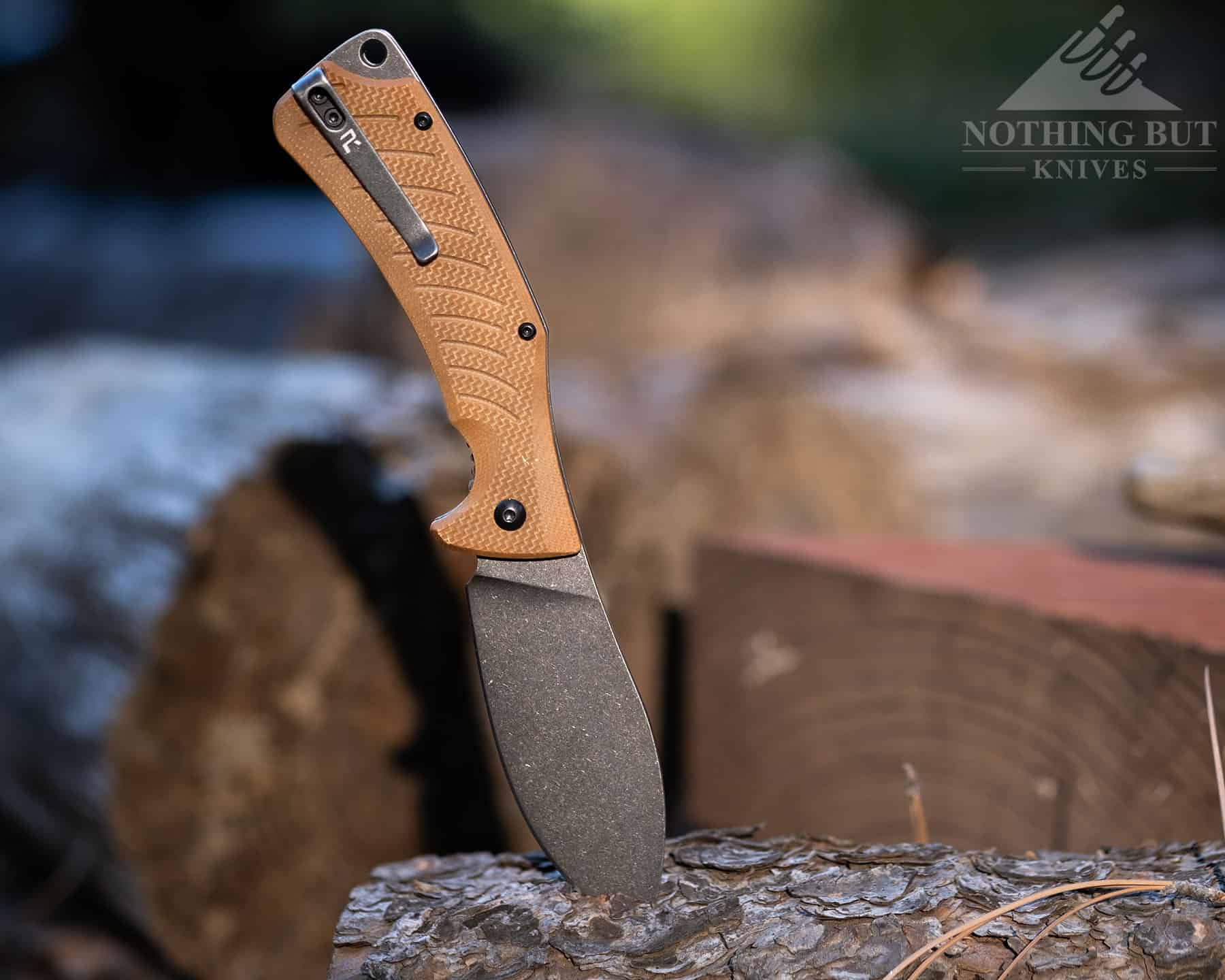 After cutting peppers, I'll fold up a knife and call it good. Maybe that's a fault. But onions, and potatoes tend to leave a lingering reminder of the meal that doesn't do your knife, or your pocket, any good. And I used the flat edge of the Ness to skin some roasted Anaheim peppers, too, which was a royal mess.
When we washed up, I ran the Ness through the same CampSuds and near boiling water rinse that I always use. When I got home, I opened it halfway, stuck it in the dishwasher, and finished it off. The knife came out working as well as it did out of the box.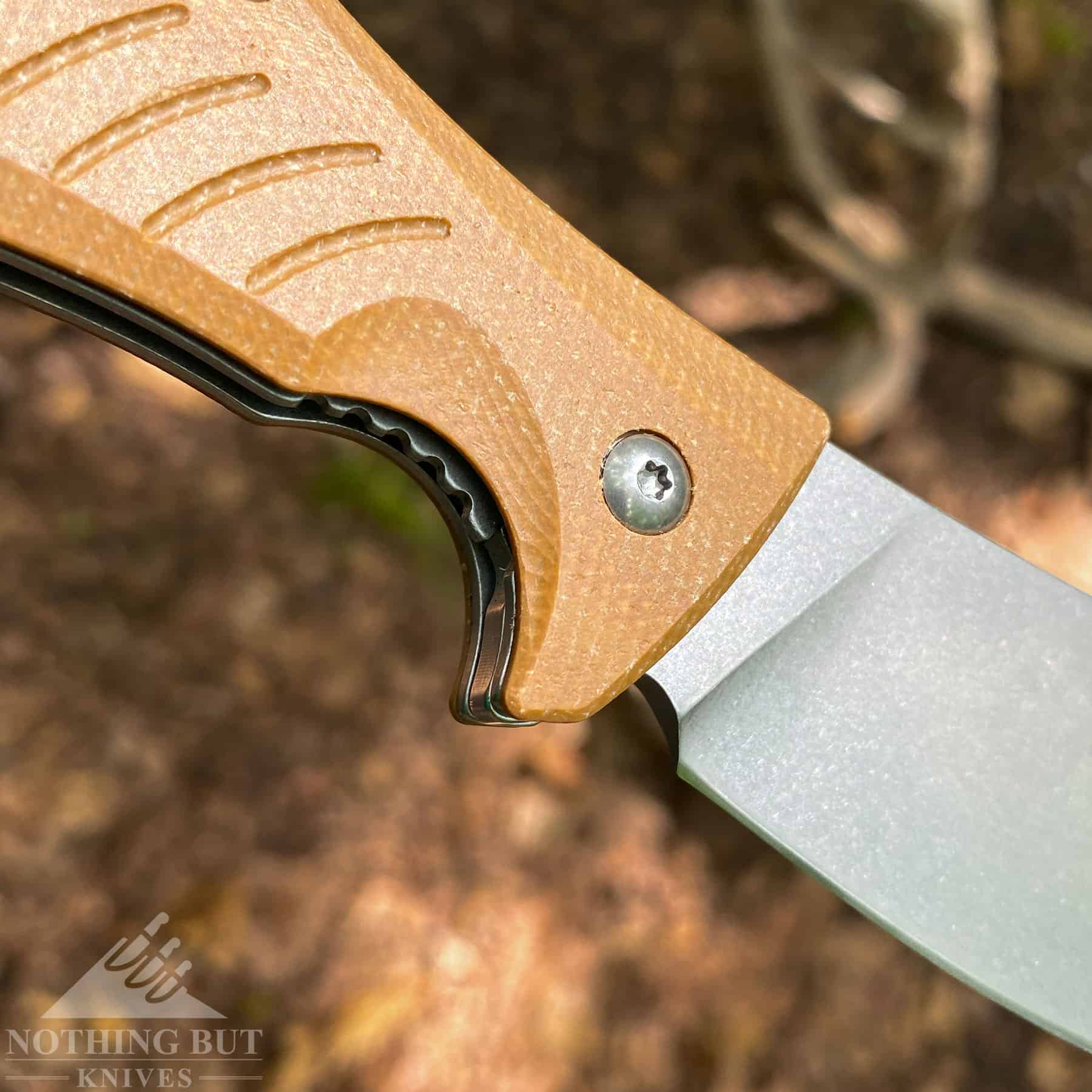 Sometimes, after a run through really hot water, I will need to grease or oil a joint. Not with the Ness. With the mix of stainless and D2, this knife is taking the abuse like a champ, and the pivot—which wasn't like lightning to begin with—is still smooth and solid.
Don't let the lines fool you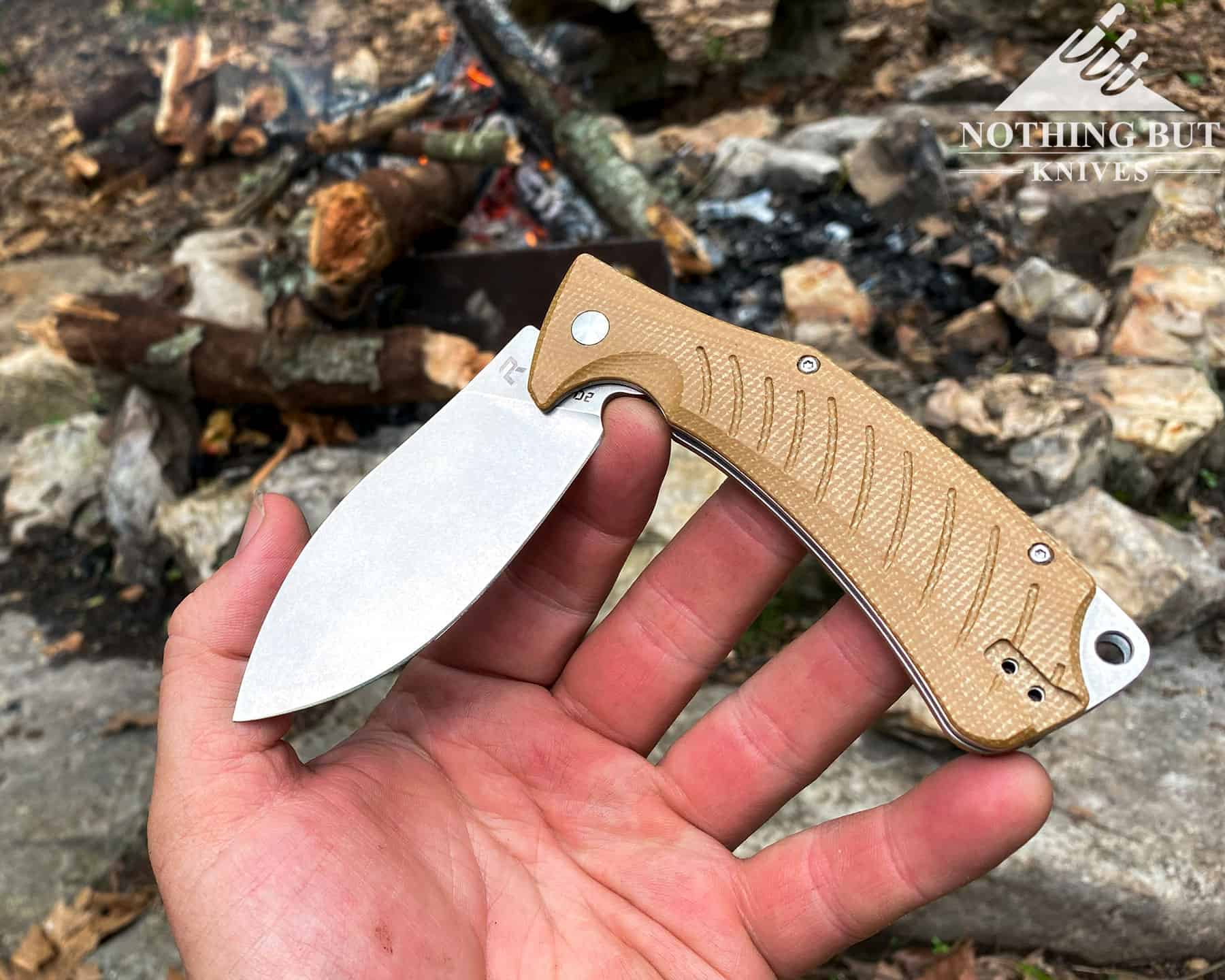 While I've been waxing on about utility, there's more to the Ness. As a camp-inspired pocketknife, the only thing I can't do well with the Ness is pull splinters. I had occasion to try on that float trip, and the tip on the Ness just isn't pointy enough to open a channel behind a small splinter. But that's why I'd always encourage—just like George Sears a century before me—that you have a second knife when you're in the woods.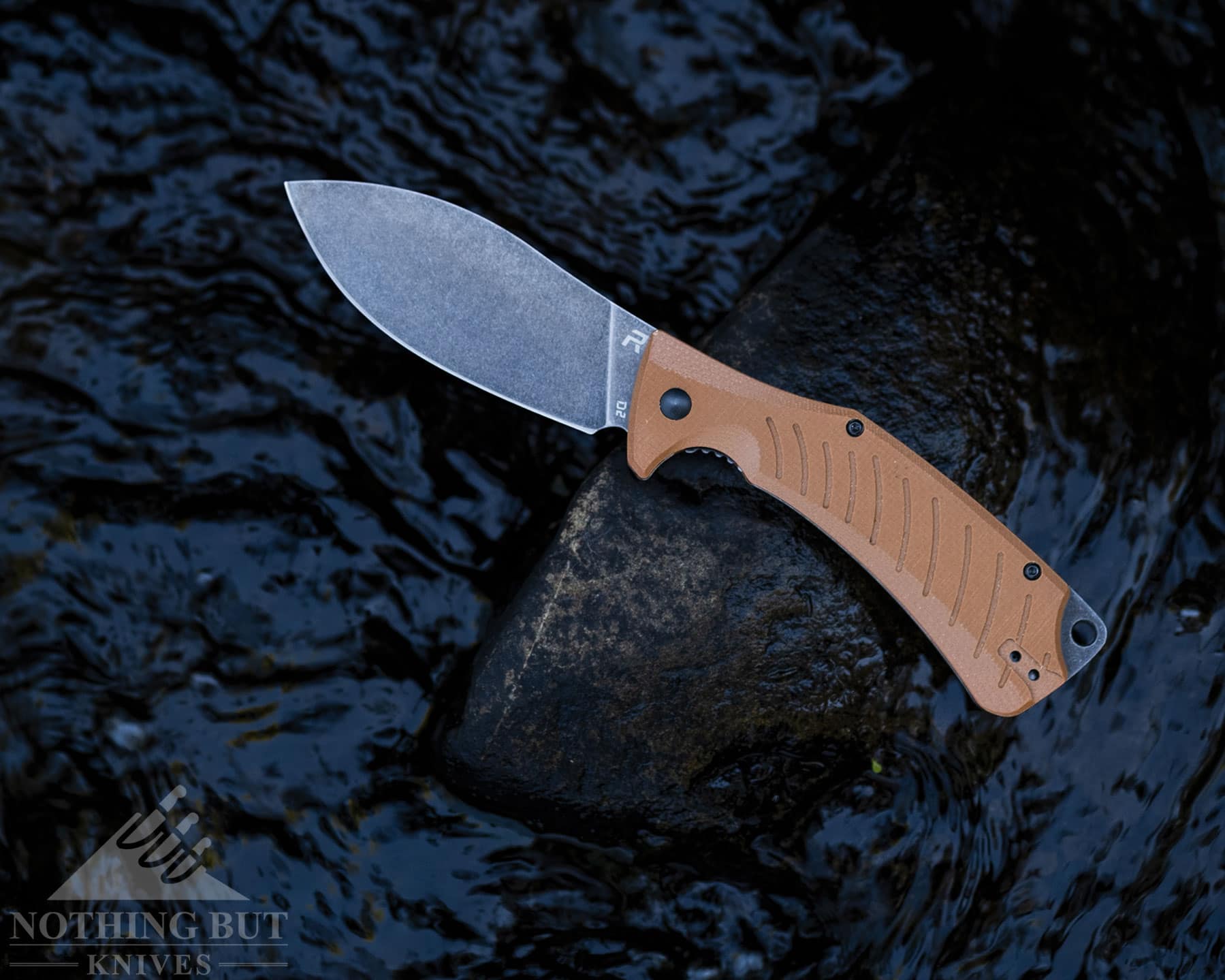 But for me there's something more, and that something is how others respond to the knife you're carrying. Let's say you're in an office, not the woods, and someone needs a package opened. No one will jump back in horror when you whip out the Ness.
I was visiting a professor friend, once, who was teaching a ceramics class. He was having trouble opening a thick paper sack of dried clay, so I snapped open a Ka-Bar Dozier Thorn—a dagger shaped folder—and the look on his face said it all. The speed and first impression had scared him, even though I thought nothing of it.
The Ness is graceful, far less "tactical" looking, yet the potential is there. This would be a great option for EDC and self-defense. The one-handed deployment is easy and reliable. The lock-up is as solid as any of the liner-locks I've worked with, and the handle is shaped well for any orientation of the blade.
The material ergonomics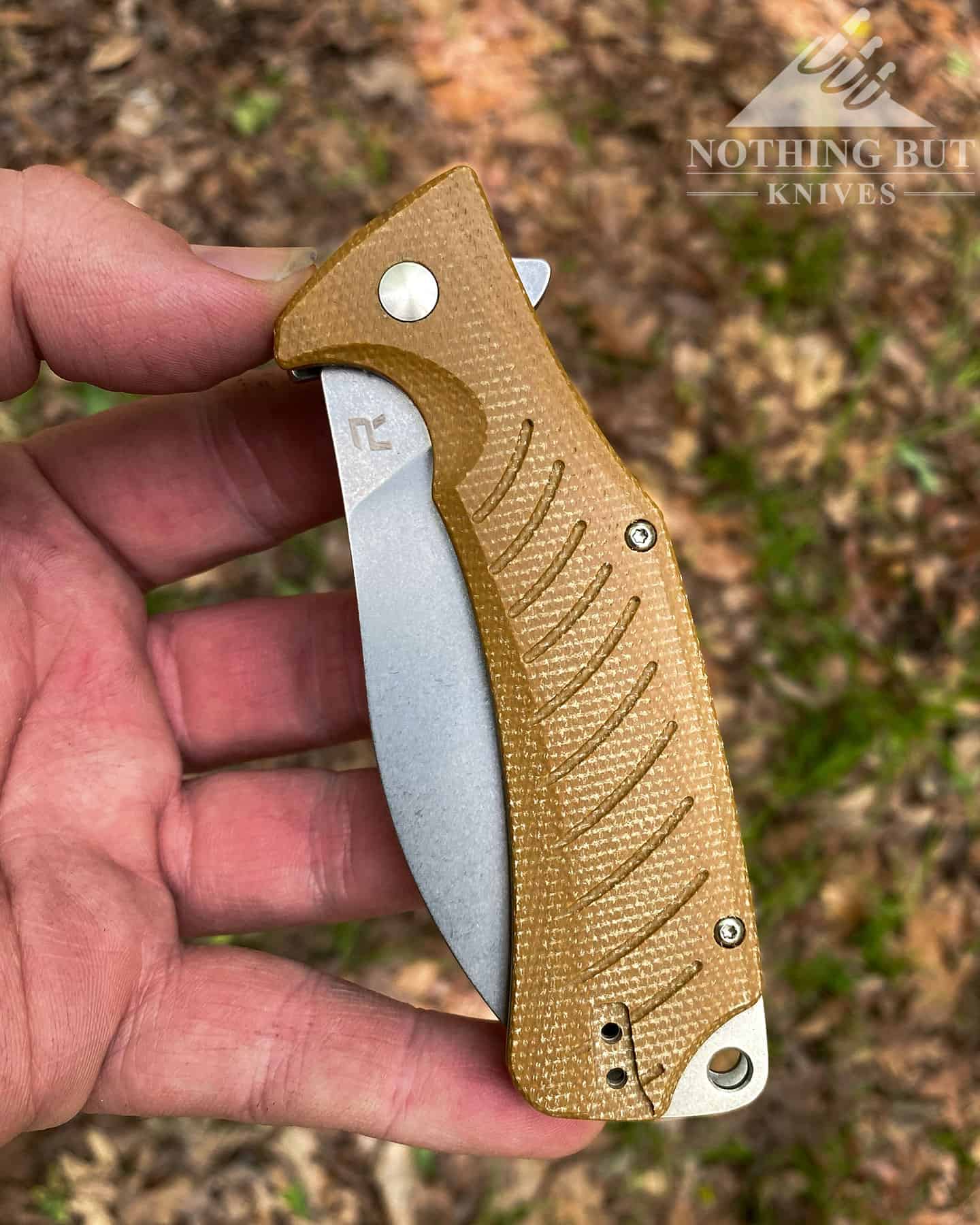 The last element here in the potential of this design comes from the shape of the handle, but also from the handle materials. Most knives in this price point will have straight-up plastic handles. Companies cut costs by going with FRN, and injection molding saves money.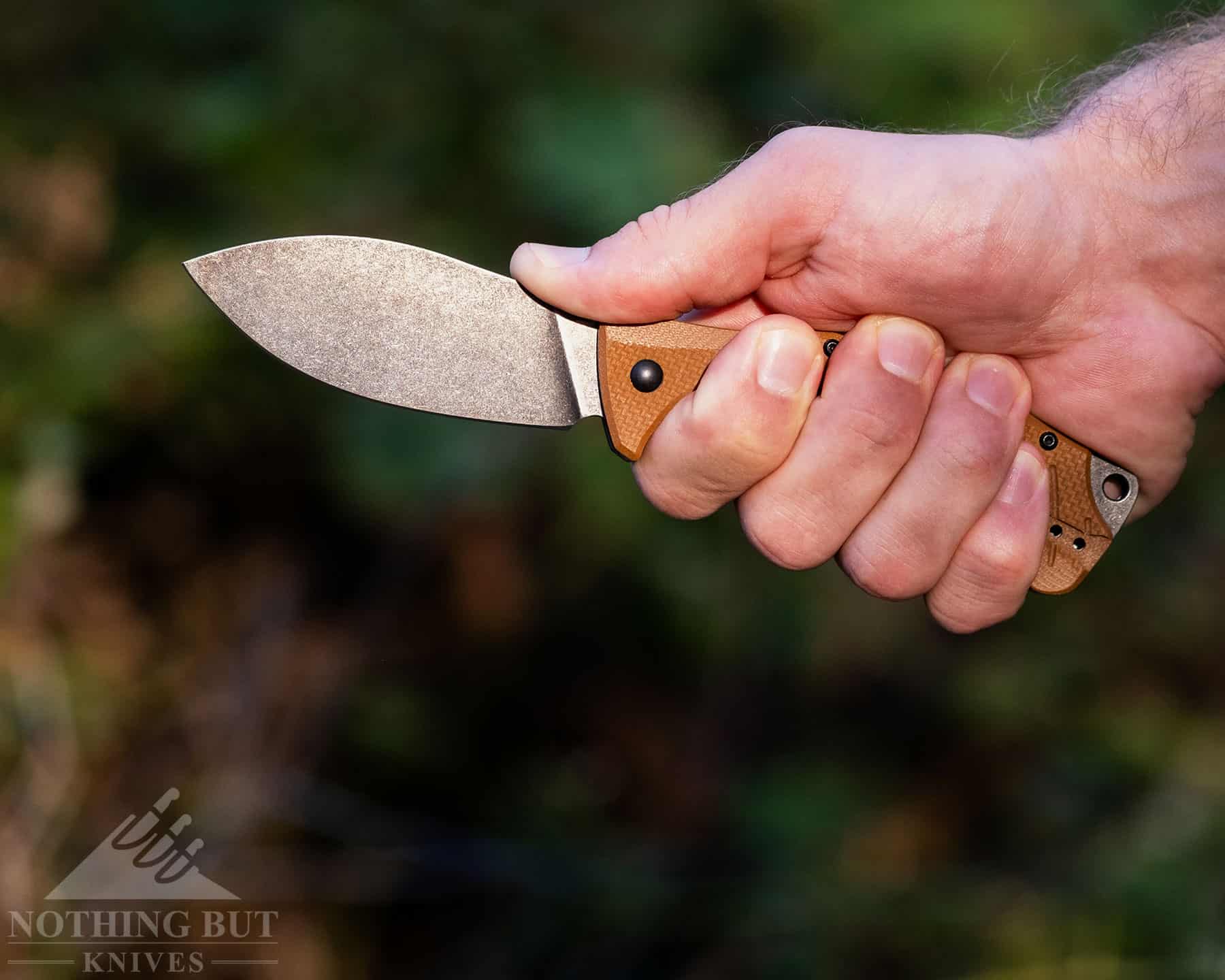 Revo, though, is milling G10. This is an expense on-top of a very serious material upgrade. The scales are thin, but wide, and have some milled grooves on the flats. The edges are slightly radiused, but the pinch point and the approach to the liner-lock are both profiled well.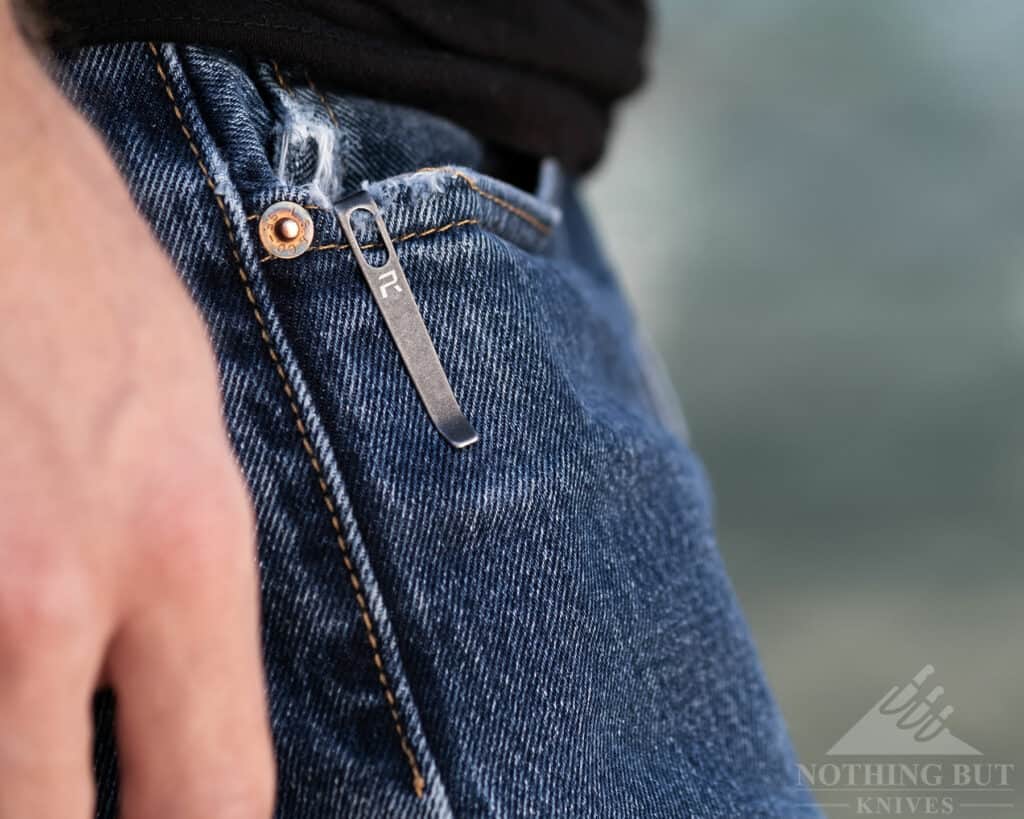 The result is a handle that sits well in the pocket but still feels substantial in the hand. This is especially true for those using it in their right hand. The clip provides that anchor that allows for even more comfort and control. Maybe not so much for the southpaws.
Final thoughts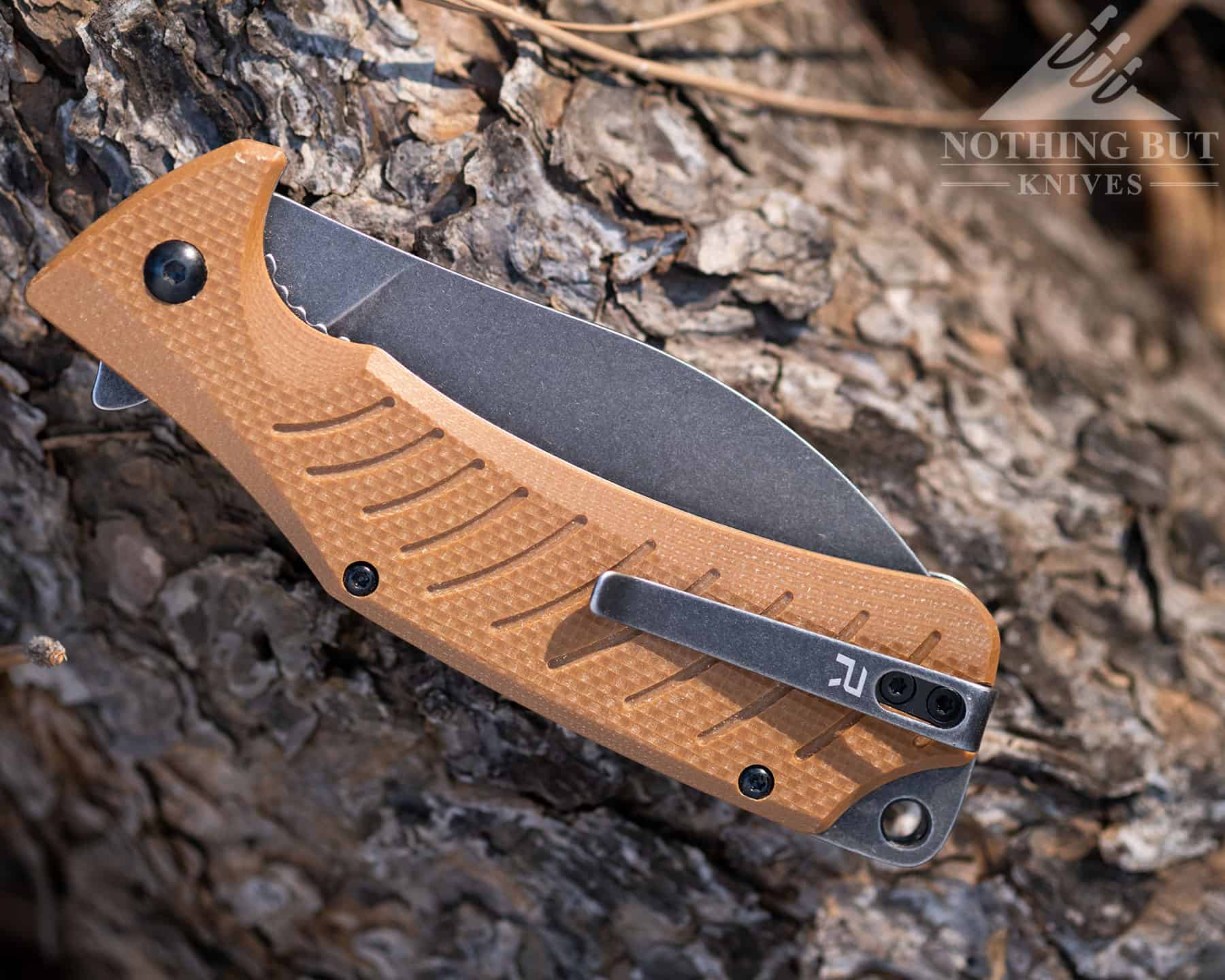 Revo is killing it. As a company, they're making solid knives. These knives refuse to be pigeon-holed into a single style or aesthetic. If you're looking at the Ness and it isn't for you, I'd highly suggest you look at the rest of their line, as nothing else looks like the Ness. And the build quality they are known for is exceptional for knives that are affordable enough to use.
And for me, that's key. I know too many knife dudes who spend down their kids' inheritance buying knives too precious to use. That's not Revo, and that's not the Ness. If I had gone over on this float trip and lost the Ness—something that I've done before—, I'd get another without blinking.