This is as Close to Custom Knife Performance as US Production Will Bring You
That was company founder David Olkovetsky's mission when he started designing this knife: create something that had a custom maker's level of attention to detail without the $1,000 price tag.
It had to be comfortable. The transitions had to be smooth, the corners rounded, and it needed to hold an edge for a really long time. This chef's knife hits all those points square on the nose, and it hits them with personal touches that really do make it feel like getting a custom knife.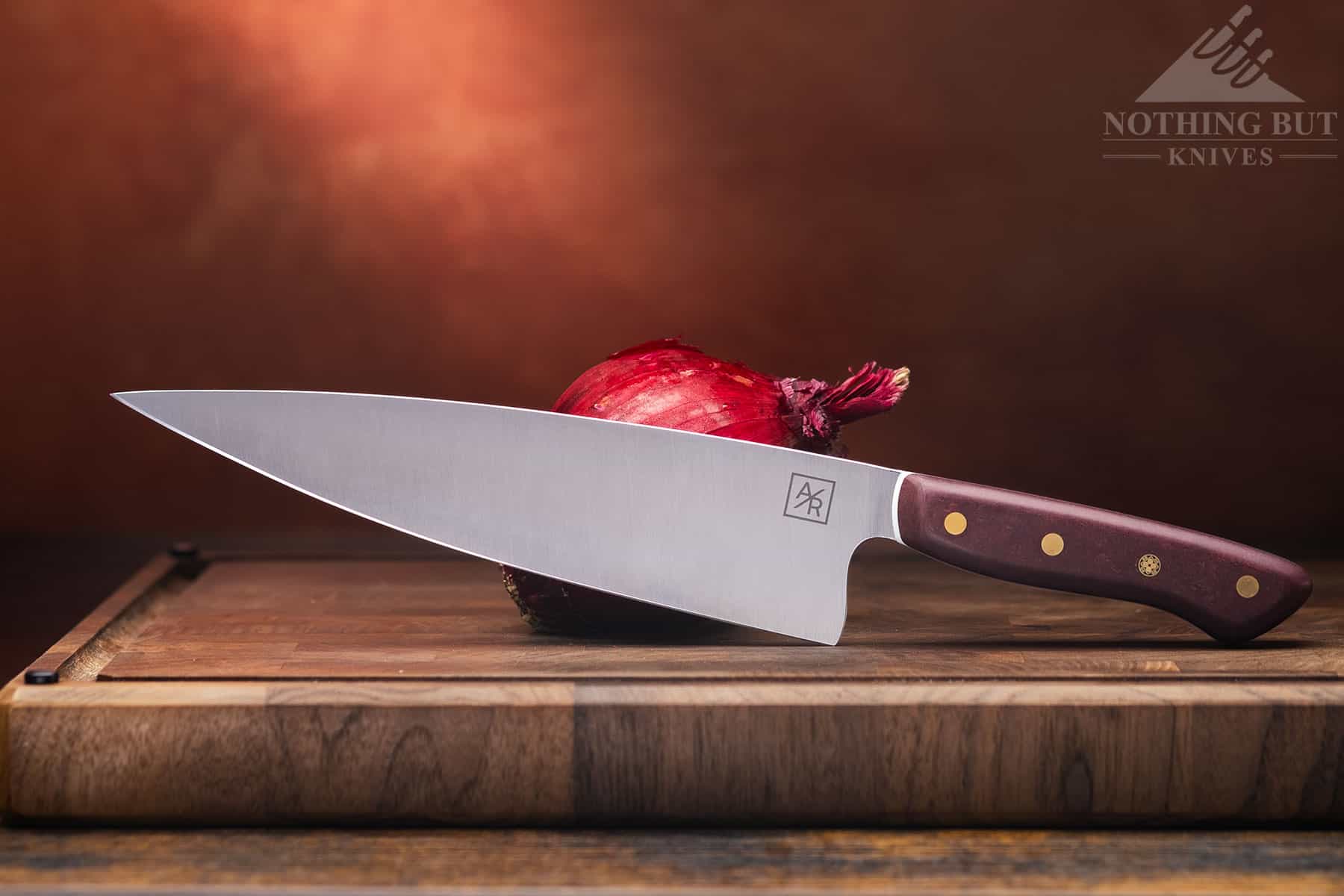 It's not a Bob Kramer or a Maumasi knife. It's not three hundred layers of Damascus steel painstakingly and mathematically calculated to a vivid pattern, but when you get this knife you know where it comes from. There's a face to it and a clear sense of the path it took, from the source of the steel to the spot it was put together, to get to your door.
And, most importantly, it is a smooth operater in the kitchen.
Specifications
| | |
| --- | --- |
| Overall Length: | 13.6" |
| Blade Length: | 8.6" |
| Blade Steel: | Elmax |
| Hardness: | 60 – 61 HRC |
| Blade Thickness: | 0.09" (about 2.2 mm) |
| Blade Shape: | Western style |
| Blade Grind: | Full flat w/ 12° edge |
| Handle Length: | 5.0" |
| Handle Material: | Wood Richlite |
| Handle Type: | Western |
| Weight: | 175 g |
| Designer: | David Olkovetsky |
| Made in: | USA |
Pros
Very clean cutting performance
Super lightweight
Comfortable handles with a great look
Crowned spines feel great in a pinch grip
Cons
Elmax steel is a hard business
High quality comes at a high price
Storage-wise, you're better off with a magnetic strip
Who Is Artisan Revere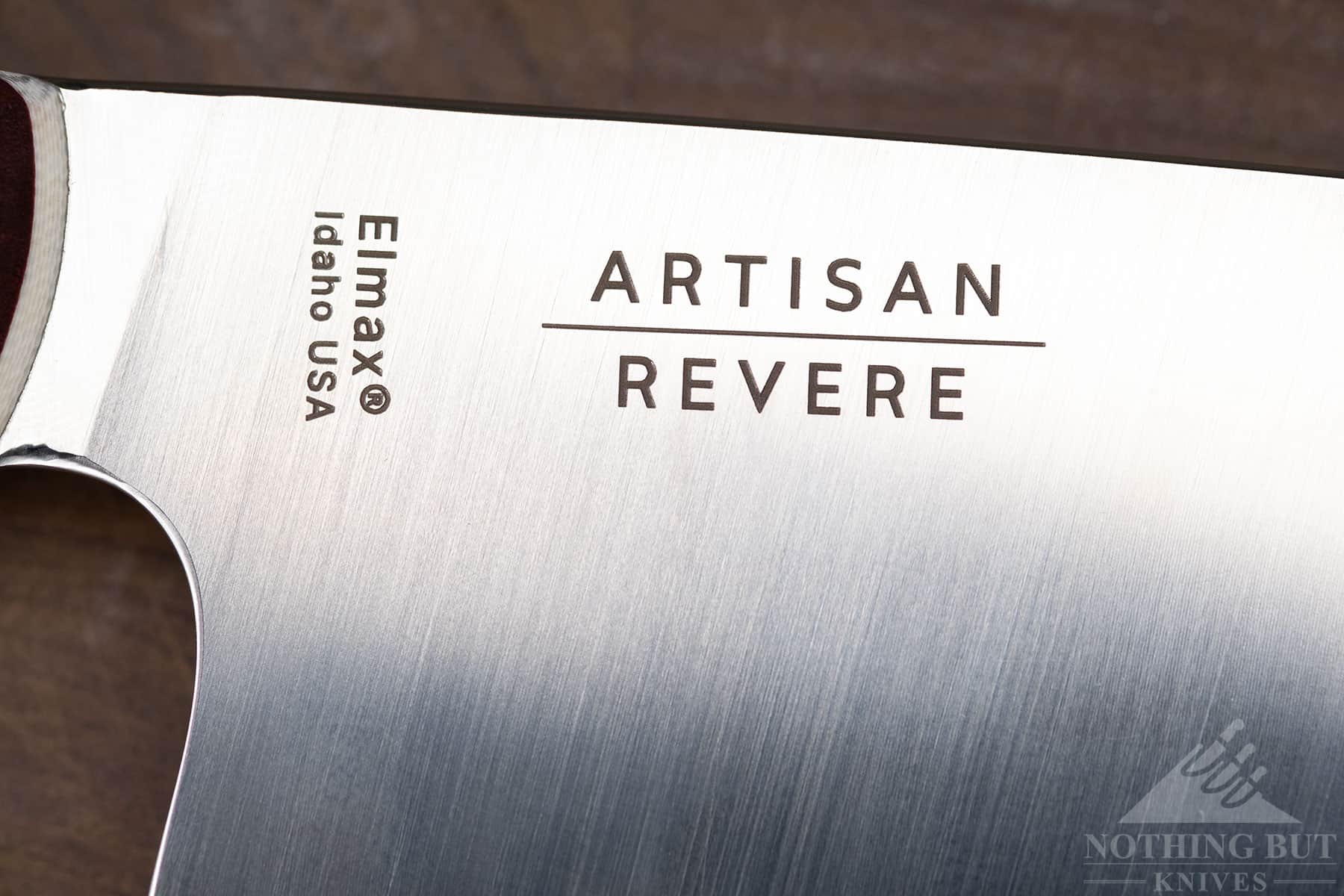 David Olkovetsky started Artisan Revere with a Kickstarter back in 2019, and quickly showed up in Gear Junkie and the New York Times. He hit the scene with a classy looking chef's knife and a lot of bold claims about its performance and longevity.
Now, I read a lot of promotional material about knives, so I'm used to seeing all kinds of vague or dubious adspeak about the performance of the steel in a knife or the "traditional artisans" involved in the manufacturing, especially in the world of kitchen cutlery. But I had an odd moment reading through their old Kickstarter campaign where I thought "okay sure, buddy. The thin geometry makes it cut longer, and the powder metallurgy steel with vanadium carbides makes it harder so the… wait this is actually true."
After some minimal digging I found David has a pretty interesting history in the steel industry as a "mining and metal investor" for an asset managing company. Hyper-white collar as that may sound, this man is not new to the finer points of steel composition.
As it turns out, that path was a stepping stone toward manufacturing. He always wanted to make something; he wasn't sure what exactly, but he was the son of a jeweler and he had metal on the mind, so he focused on the steel industry. Then the typical knifemaker origin story happened: he needed a new knife, couldn't quite find what he wanted, so he made it himself.
So Artisan Revere makes a lot of wild claims about their knives: They cut longer than western knives, they're more durable than Japanese knives and cut about as well, and they're more comfortable than just about any other option readily available. David even has a genuine approach to producing knives as environmentally friendly as possible. It's the kind of thing that can only exist when someone is willing to put an enormous amount of time and resources into making it exist, and it turns out David Olkovetsky was uniquely trained and positioned to do that.
Style and Use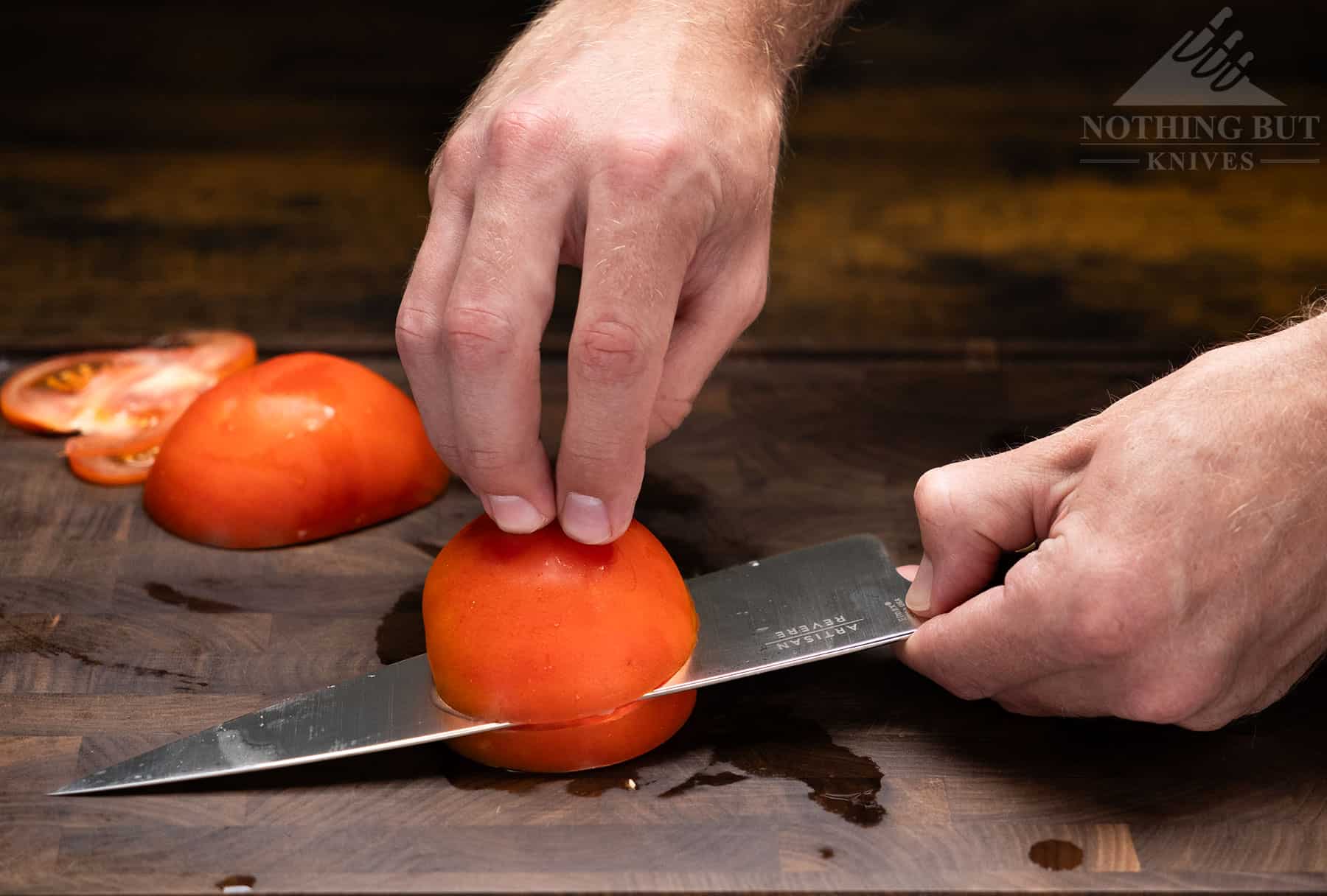 This is a French-style chef's knife, so it's meant to be thin with a delicate tip that can make exact insertions and cuts. And this knife in particular is using powder Elmax steel with a high-polish edge, which basically means it's primed for very clean cuts.
If I were a little more up on French cooking, I could give you some examples of what those cuts might produce, but I live a life filled to the brim with Mexican cuisine. As such, I have used the delicate shape of this knife to slice and deseed serrano peppers, portion out pork ribs, and dice many many pounds of tomatoes and onions.
The real point here is that a knife of this style isn't meant for quite the same range of tasks as German chef's knives (which is the kind of western knife I'm more used to reviewing). It's good for rock chopping and it can handle bone up to a point, but it doesn't have the same kind of weight in the handle to help you force your way through bone and cartilage. All the work is always meant to be done with the edge.
Which, of course, makes it very important that the edge of this knife be very good.
Fit, Finish, and Handle Ergoniomics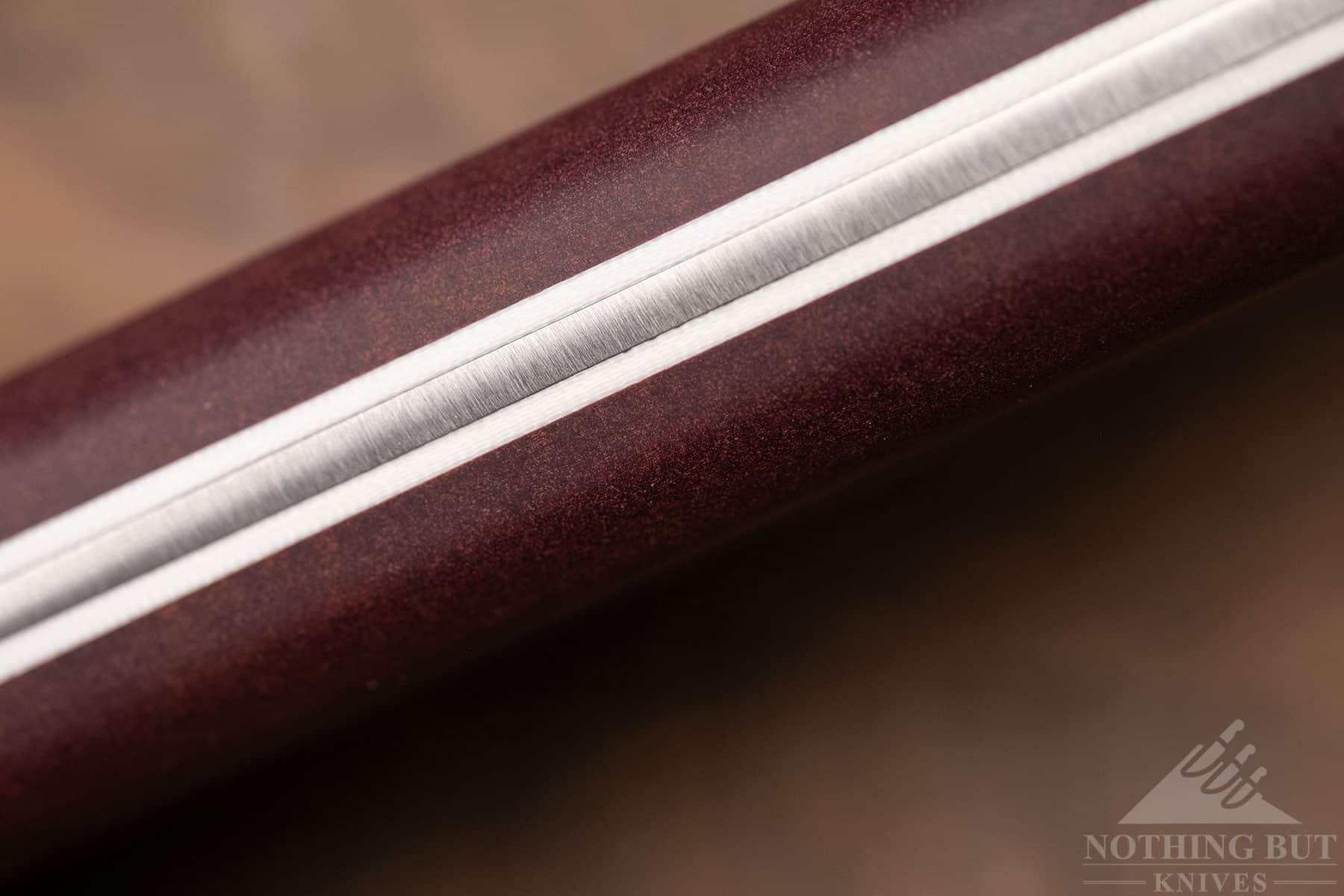 The lines, grooves, and transitions on this knife are so far above reproach I almost didn't bother making this its own section. Everything is rounded where it should be, and it has a nice, neutral balance that makes it feel natural to go from rock chopping to draw or push cuts.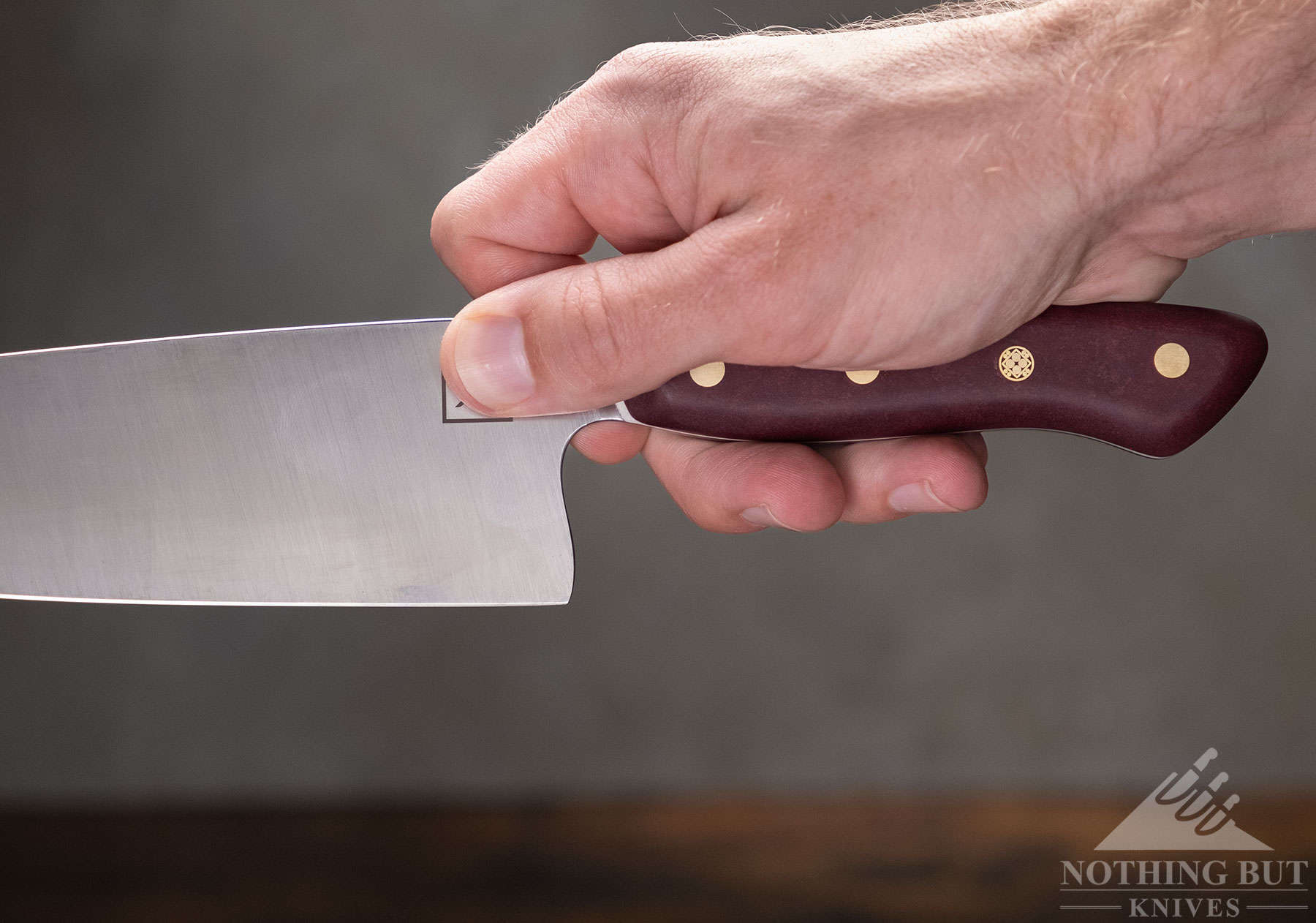 The only time I felt any kind of discomfort was when I pressed hard into a cut in a pinch grip and my hand dug into the spine. That discomfort mostly came from the thinness of the blade stock and my own caveman technique to cooking. The rest of the time, that crowned spine is doing exactly what it's supposed to.
Packaging and Personality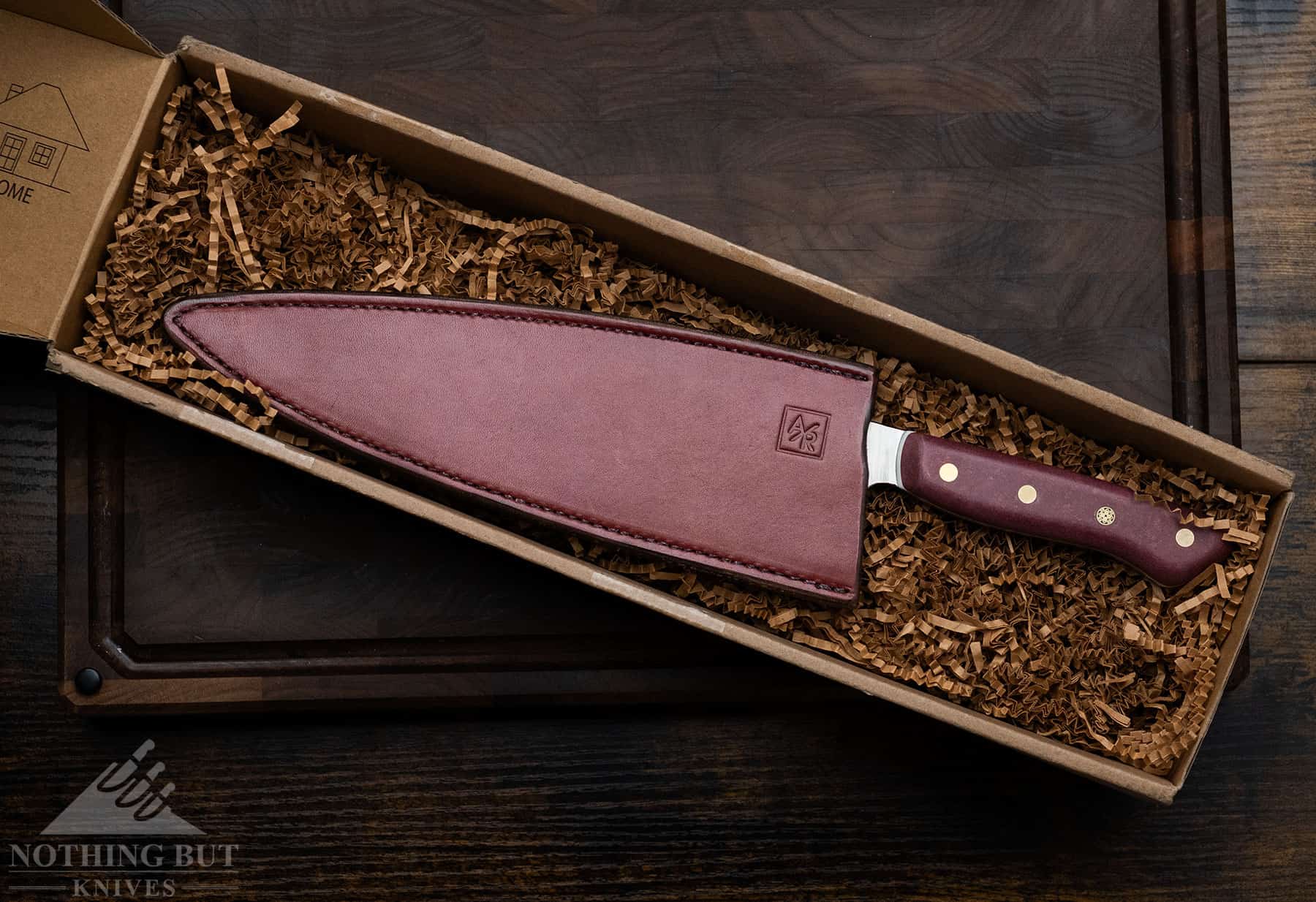 There are a lot of personal touches to this knife. Getting an Artisan Revere knife feels a little like joining a private club. You get a personalized note, and David will even send you a video of him checking the transitions and grind of the knife for imperfections before slicing up some paper to check the edge before he sends it to you.
The inside of the box even has a simplified illustration of all the places a knife goes through in the manufacturing process – the design in California (actually New York, now, I think), the steel comes from Sweden, the blade profile is cut in New York, it's heat treated in Pennsylvania, the bevel grinding is down in Michigan, the leather sheaths and handle finishing are done in Idaho – before it's ready to ship to your home.
The box does leave out the step where the knives are sent to the Artisan Revere HQ where David checks your knife one final time and sends it off, but at some point you just have to give the graphic designer a break.
The point is that in a world staring ever harder down the barrel of an AI-driven future, these little touches feel increasingly valuable.
Edge Retention and Toughness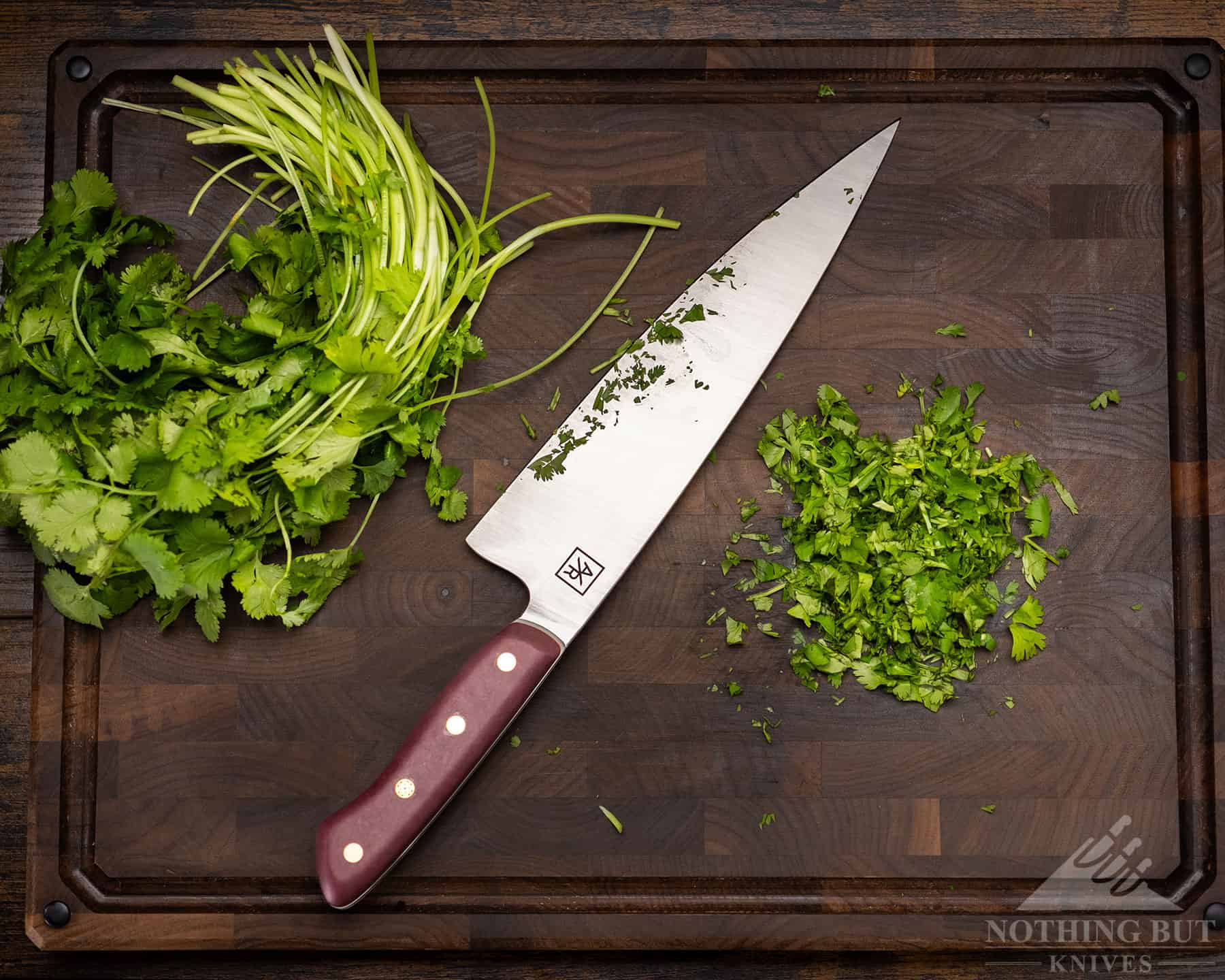 Artisan Revere makes a lot of claims about what this knife can handle, but it's hard to take their word for that once it's in hand because it's so light and thin, it feels like a soft breeze would chip the edge. But it's held up great so far.
David said he chopped 2x4s to test prototypes, which is farther than I'm willing to go. But my own Artisan Revere knife has survived a couple mishaps: one was some serious contact with a glass bowl, and the other was the knife dropping on a section of floor that was half carpet and half tile. I couldn't find any chips in the edge after either of those events (although that last might have been a case of more luck than I deserved).
As for the edge retention, it's good but it creates an interesting effect with raised expectations. I knew this knife was going to have excellent edge holding, so I was checking it on a paper towel after basically every meal (which is a much harder test than I normally subject knives to, but this thing another level). I was aware of a drop in performance after the first couple onions and tomatoes, and every day I needed to slice just a little more to get a cut started. After about a week of serious cooking without touching the edge up I had to switch to testing it on regular paper, so I'd say this chef's knife meets the requirements to be a high-functioning workhorse.
The company recommendation is that you hone this knife every day with a ceramic rod. I personally ran it over ceramic once every couple of days and it felt just fine.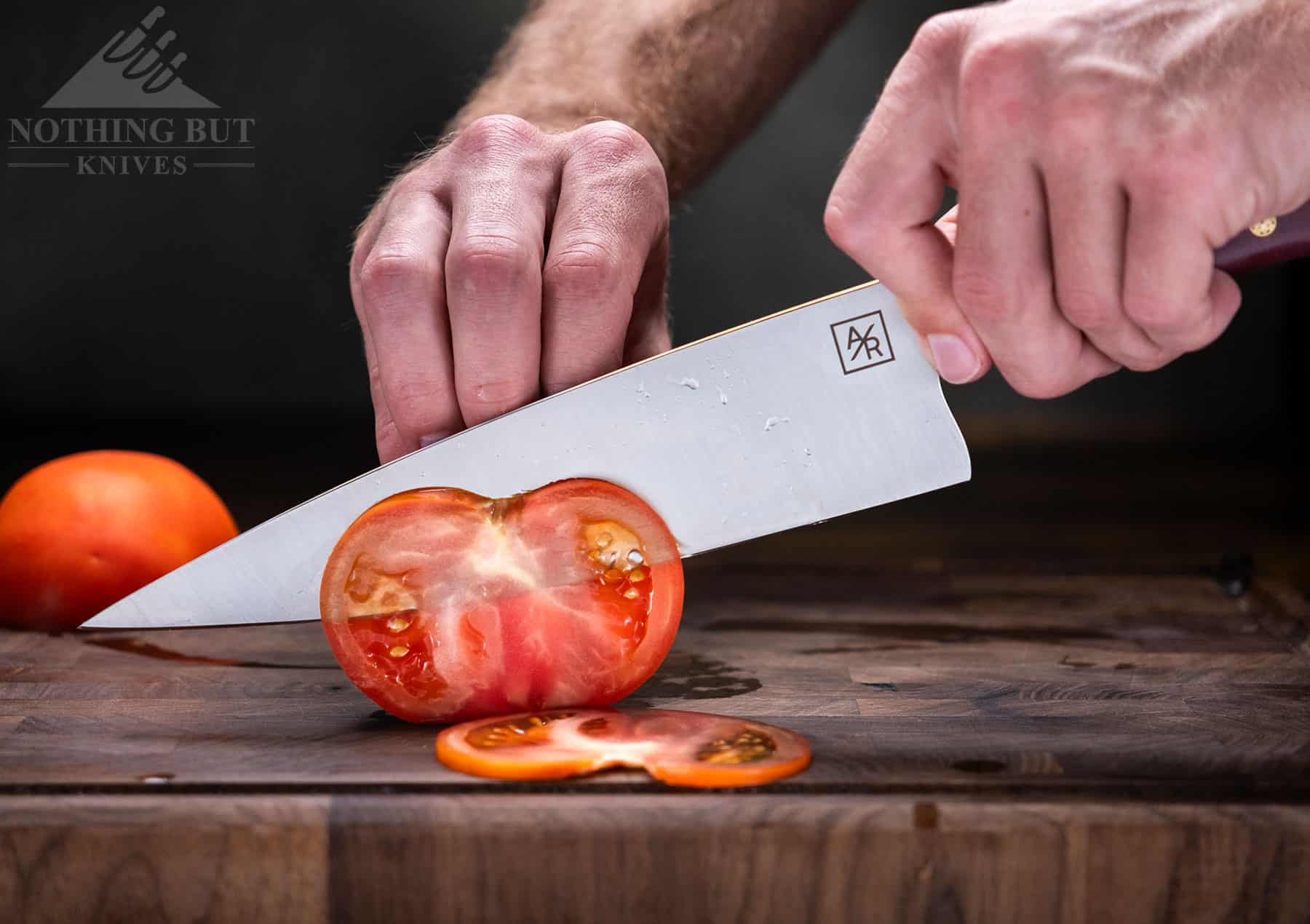 If I were really good at my job I would use this knife to spatchcock a turkey and filet some fish, but I don't like most kinds of fish, and I don't need to feed enough people to justify a whole turkey. But my month of making salsas and stirfries has left me pretty confident telling you a couple of certain things:
You won't need to sharpen this knife for at least a year (and probably longer but it depends on how you're using it),
The edge will survive contact with bone (but it cuts well enough that contact probably won't happen unless you intend it to),
It is definitely worth keeping a ceramic honing rod around as the edge will roll a bit after a day's use. It won't roll a lot (unless you're using it professionally) but you will notice a little more crispness to the cutting action after a quick session on ceramic before you start cooking for the day.
Food Performance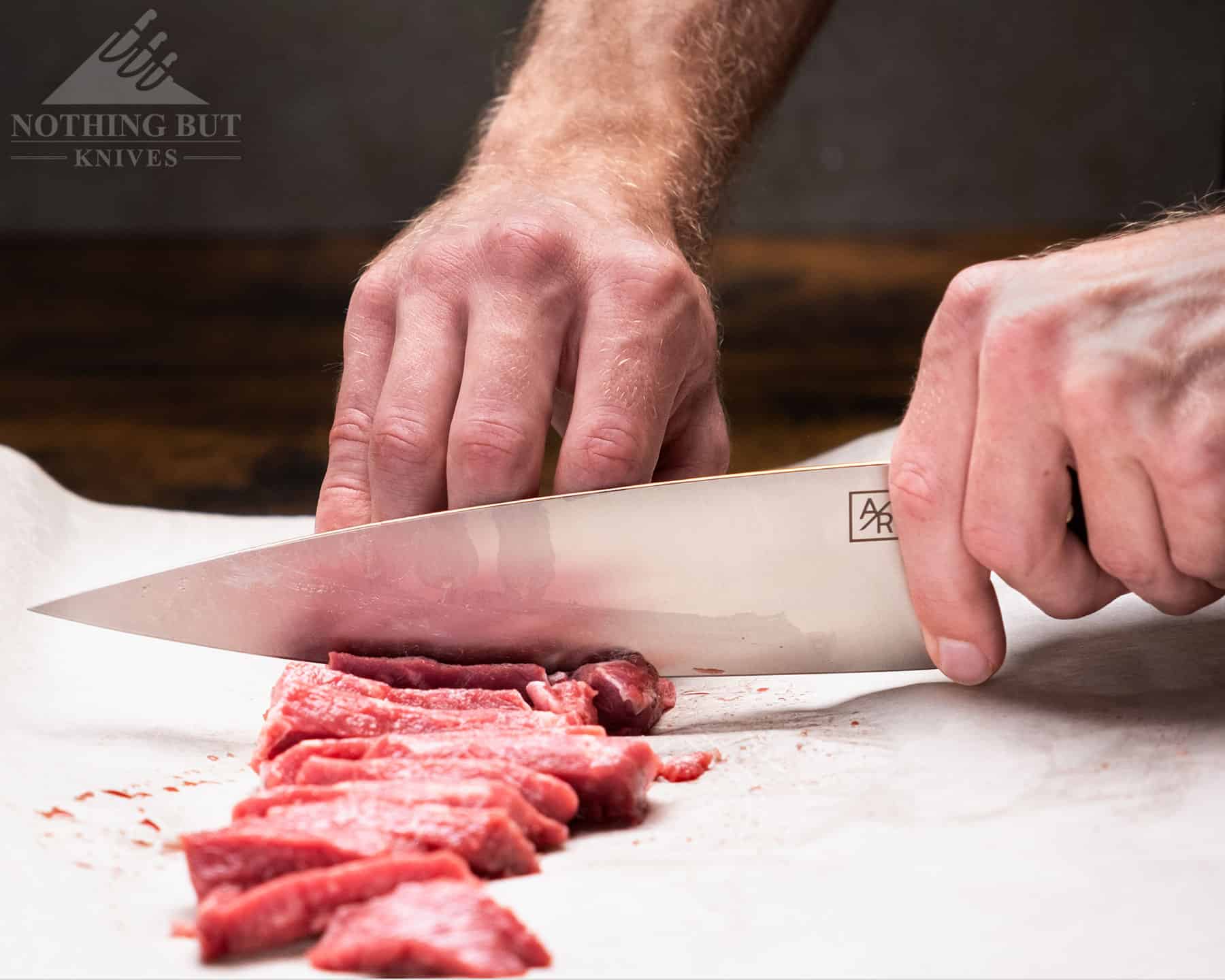 The edge on this blade is highly polished (instead of toothy; you can read a little about the difference here), and polished edges can be weird, because they feel dull sometimes when you first try cutting into something. This is definitely a sharp knife, though. It could cut on its own weight if it were heavier, but the bite isn't as aggressive as one might expect from the thinness. The cuts with this knife always felt really clean and smooth, but sometimes I had to run the edge a little to get that initial cut started. The edge really seems to like softer or porous textures, but there can be a little bit of pushback on foods with skins that are especially smooth like tomatoes, onions, and bell peppers.
Tomatoes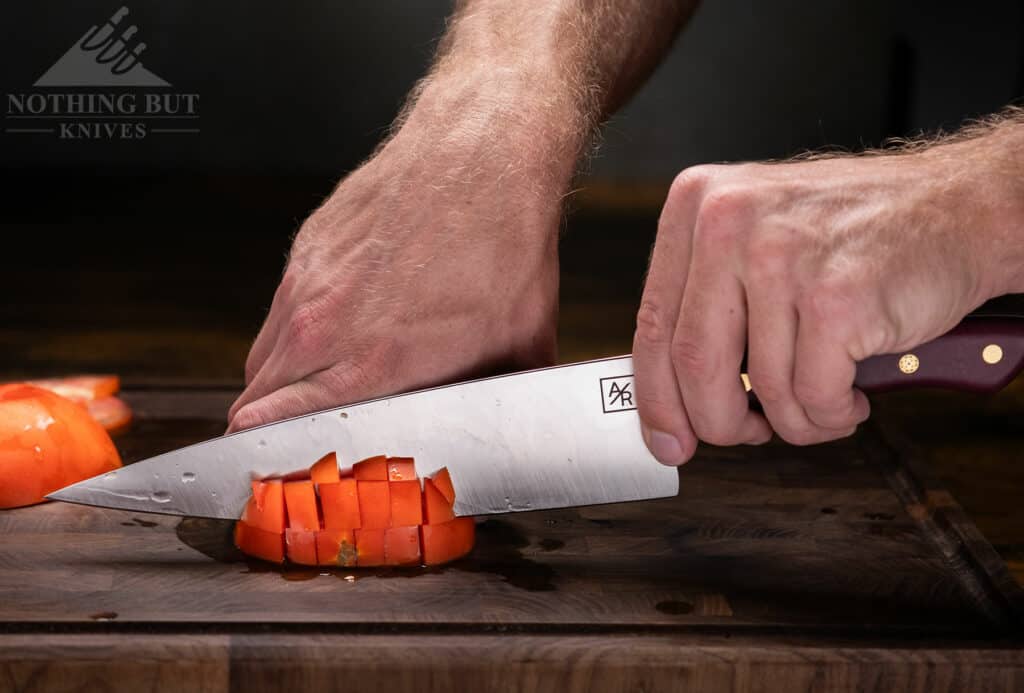 The first tomato I cut with this was just on the edge of going bad, but the edge sank in pretty easily, and it's so thin that the blade started sinking down almost on its own weight. I know this won't be the most pleasant-sounding praise of this knife, but you could, if you wanted, cut some thin slices off a rotten tomato with it.
That said, the edge skated a little on tomato skins that were slightly unripe and really smooth. With those I just poked the skin with the heel of the blade and sliced from there, and everything went smoothly.
Carrots
Cutting a julienne with the Artisan Revere chef's knife felt more secure than almost anything I've used up to this point. With a lot of knives, even toothy-edged ones, cutting thin slices lengthwise off a carrot can feel stiff and jerky, but I can sink this knife in pretty easily to the point that most hard root vegetables I've cut with it have felt soft.
Onions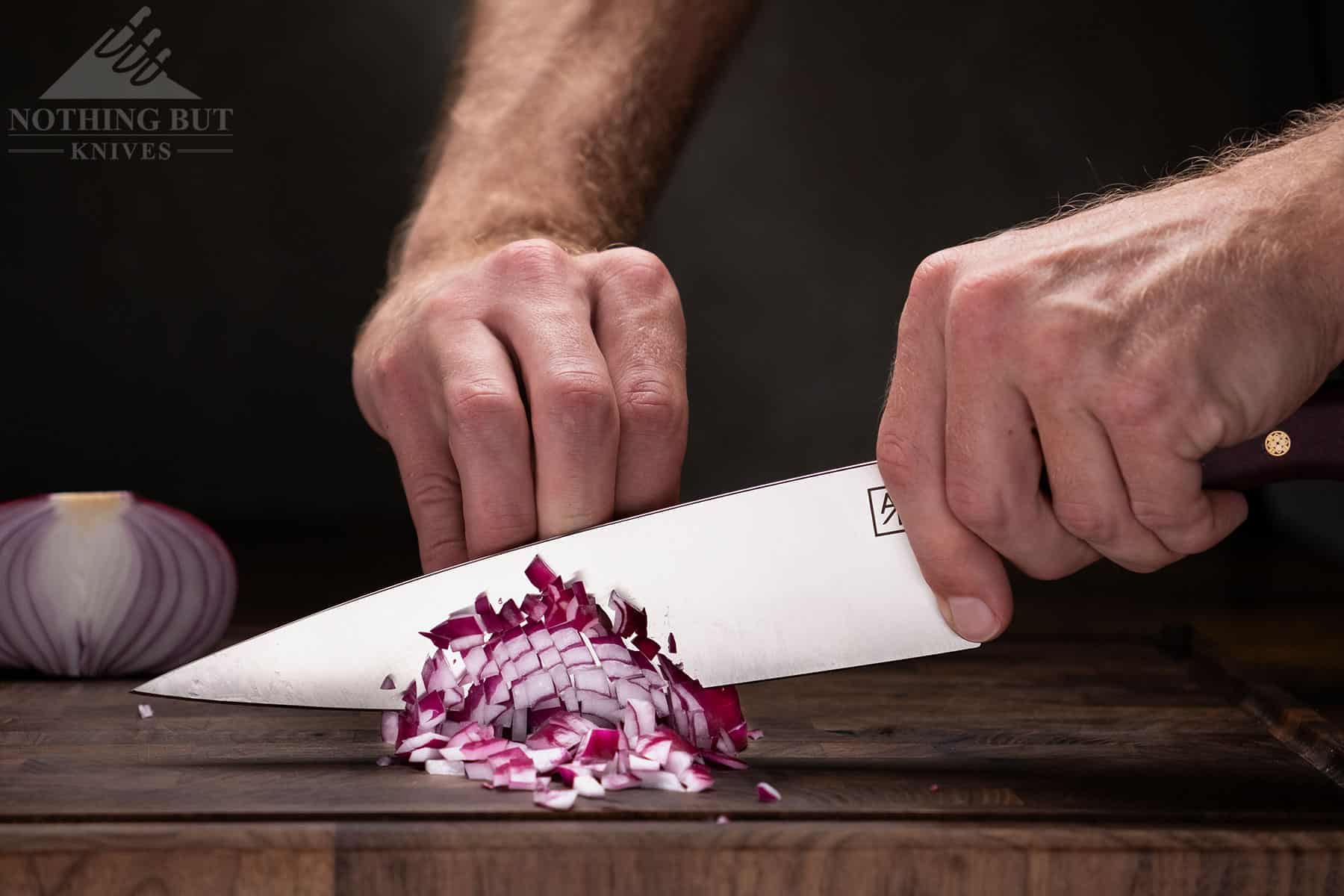 The high-polish edge can feel like a bit of a handicap again here if you want to dice. There's just the hint of an odd resistance when I first try to cut through the skin, but that is mostly caused by my own poor technique. Past that, the thin blade is incredible for dicing onions. There's barely any resistance after I get past the skin, and the thin blade makes it really easy to get really fine with my dicing.
Potatoes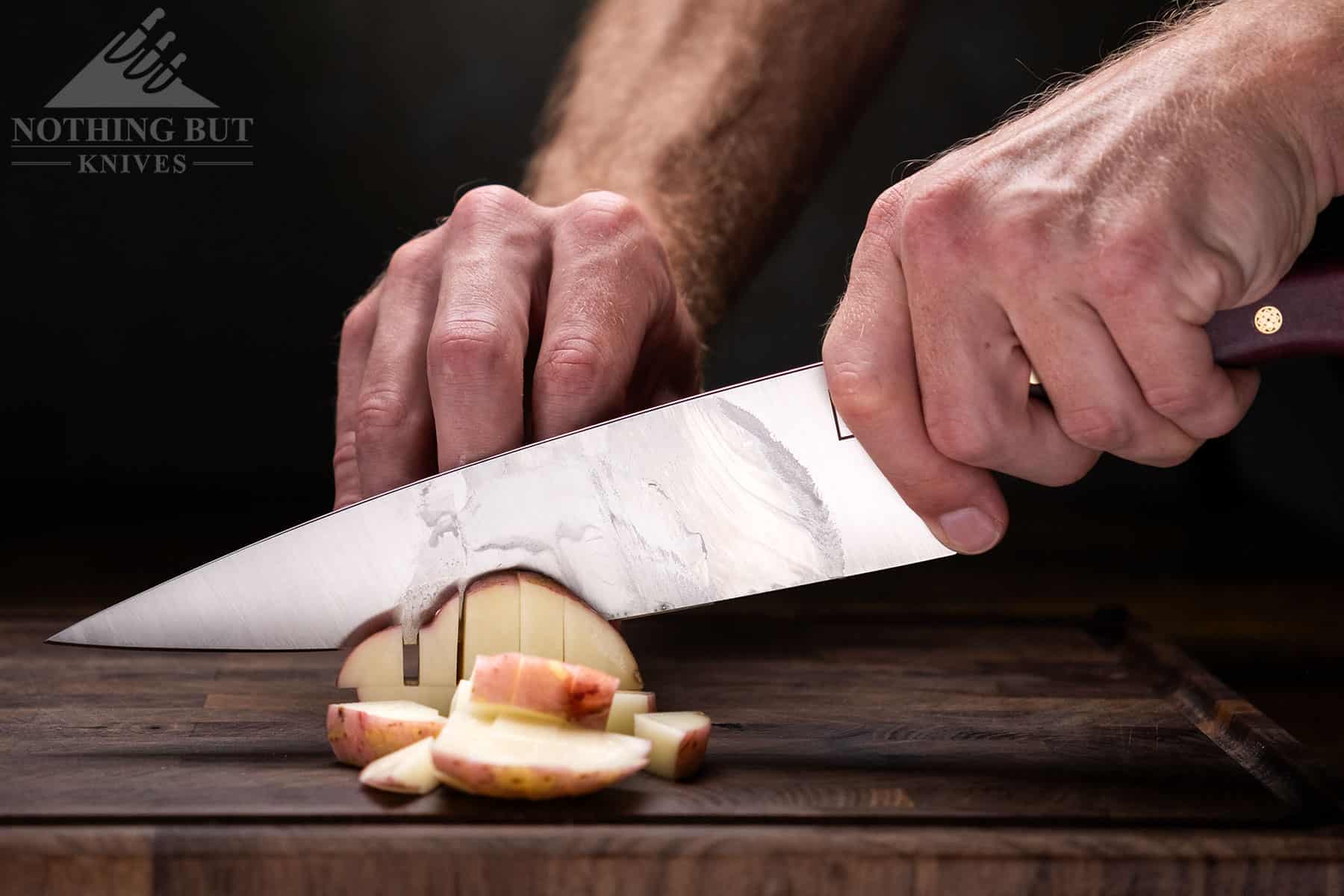 Give me a field of potatoes and I will happily get you a barrel of small starchy squares by the end of the day. The fine edge and primary grind really shine through here. The cuts feel perfectly crisp. The edge sinks in with only the slight feeling of friction from the sides of the blade. In fact the only thing keeping my speed down is the food stick, which, admittedly, is bad, but not at all unusual.
Green Onions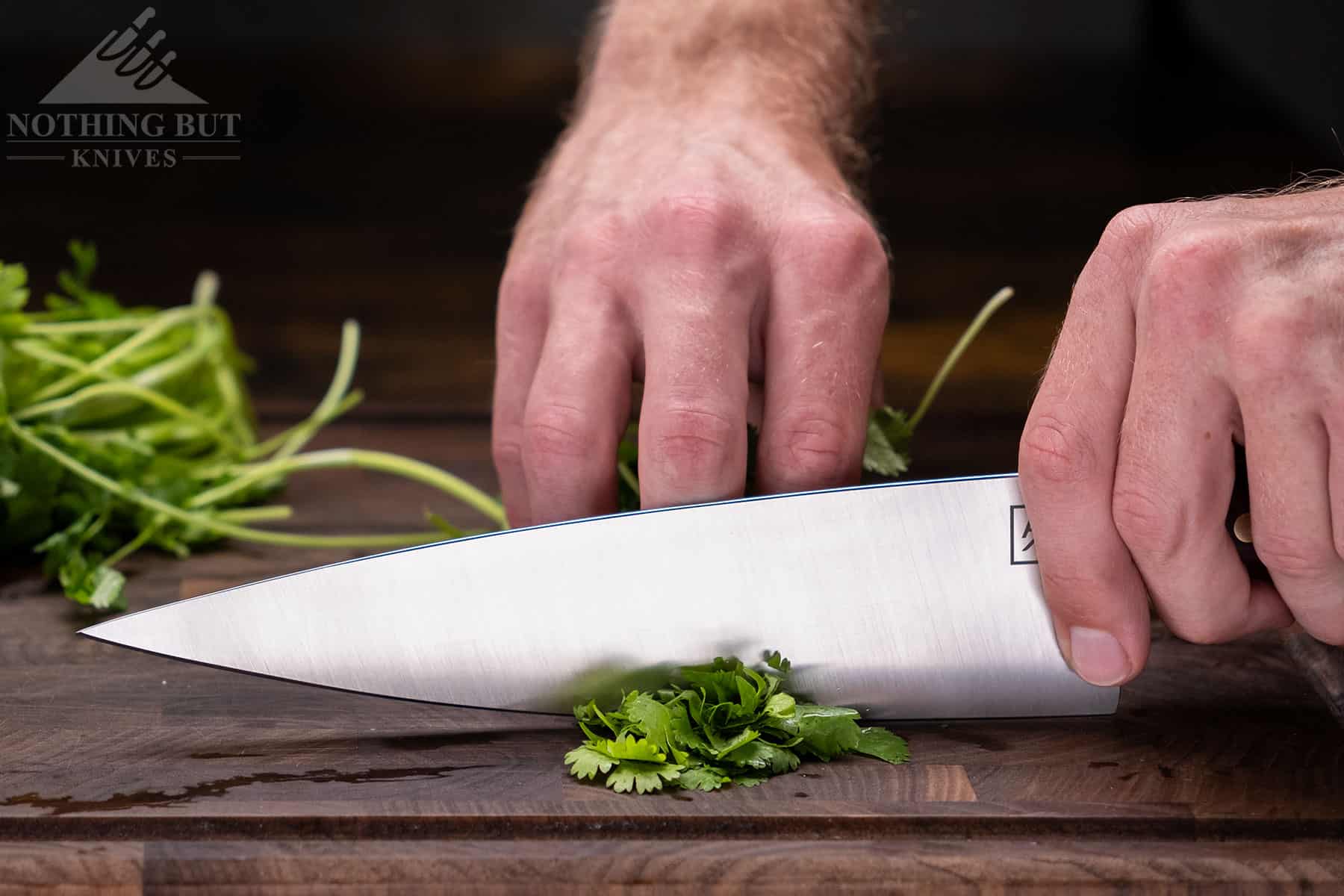 This is the food that showed me the Artisan Revere chef's knife has a very long sweet spot. Usually on knives with a curve like this I have to make sure I make contact with the board somewhere below the midway point of the edge toward the heel, but I actually had trouble finding a spot on this edge that didn't feel easy to complete a cut with. I rarely ended up with an accordion cut, and when I did, it was usually because I was getting a little too experimental trying to find the limits of the edge.
Garlic and Herbs
This was great at mincing, trimming, slicing, chiffonading (in so far as a chiffonade ever easy for me to do), and chopping anything that was small and light: basically everything that western-style knives are usually not very good at. I had an easier time mincing garlic gloves and cilantro with the Artisan Revere chef's knife than pretty much any other knife I've tested, with the possible exception of the Shun Premiere.
Comparison and Alternatives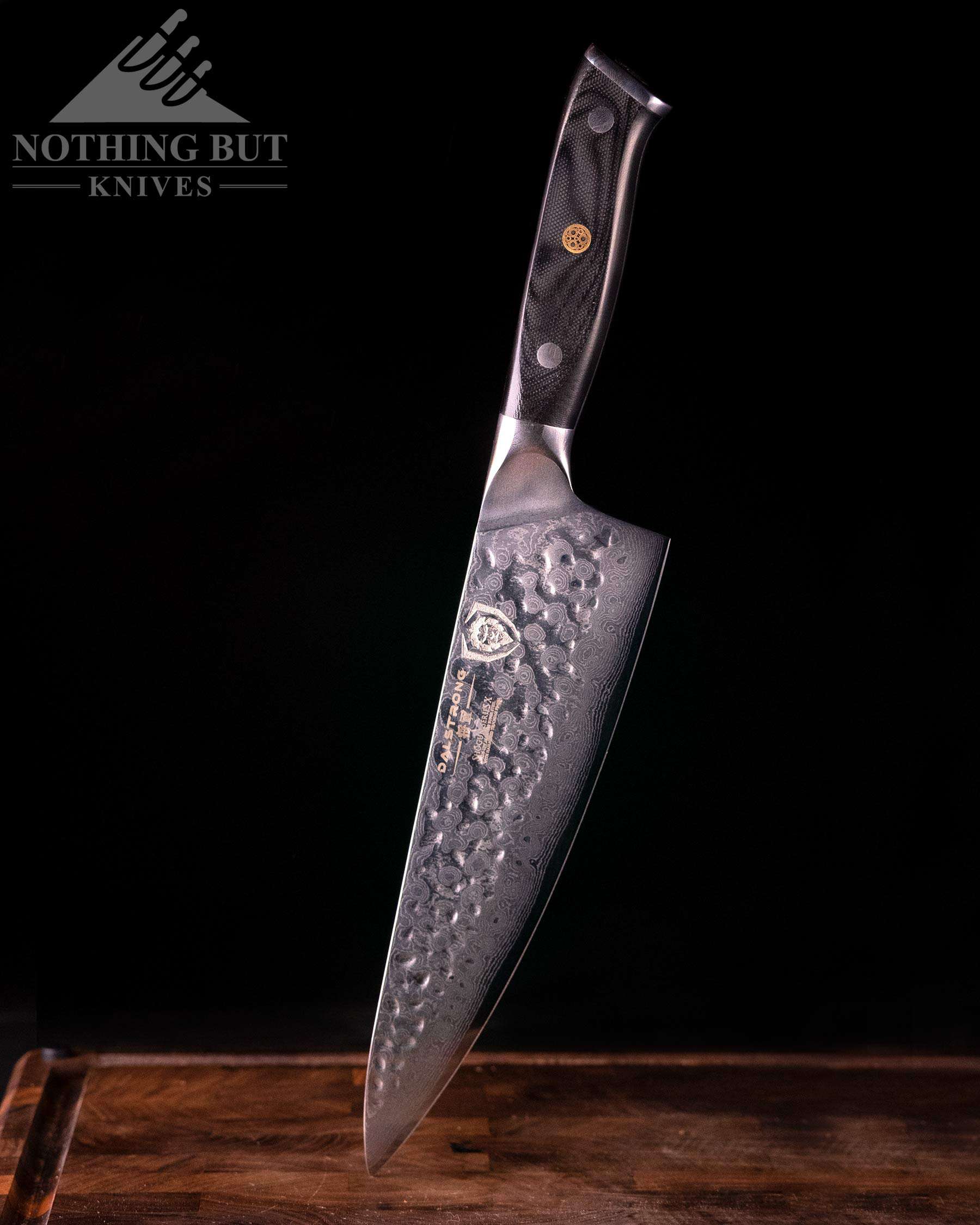 Their Kickstarter directly compares the chef's knife to the Shun Classic, the Global, G-2, the Wusthof Classic, and the Dalstrong Shogun saying their knife stays sharper longer than all of them. I own and have tested every single one of those knives, and can pretty confidently back that claim up (although putting the Dalstrong Shogun in that mix feels a little like saying you can box better than a clown).
I'll go farther and say that this knife is lighter, more comfortable, and all around easier to use than pretty much any mainstream production knife out there. From a strictly performance standpoint, there aren't many reasons not to get the Artisan Revere knife over anything else, but there are some ergonomic and blade shape alternatives out there, and, of course, we have to take the price into consideration:
For the same kind of thin and light feeling, you could go with the Global G-2. It has a hard steel, and decent convex edge that will keep cutting for a while. The blade is chippier, and the all-steel handle is nowhere near as comfortable, but it's a lot easier on the wallet and still carries a certain feeling of premium performance.
If you want to go really cheap, and don't mind a Chinese-sourced manufacturer, the Bavarian Knifeworks Dreamcut knives perform exceptionally well for the price. It's still soft German steel, and even though the blades are fairly thin, you won't get anywhere near the same edge retention as the Artisan Revere knives, but the entry fee to the particular kind of higher-level-cut feeling of those knives is a lot lower.
Finally, there's the Zwilling's Kramer Euroline, which is heavier and almost as expensive, but it has a taller blade which, in short terms, makes scooping up food easier, and keeps the edge thinner over many many years of sharpening. It also has a much thicker handle, which is something I've learned is really nice for people with arthritis or just general trouble with gripping. For straight performance and fit and finish, I think the Artisan Revere chef's knife comes out ahead. But if you really want a thicker, heavier knife on the premium side, the Kramer Euroline is still pretty dang good.
Conclusion
This knife is fantastic. It's light and comfortable with a great edge that just keeps cutting.
But at least half of talking about knives in this price range is addressing whether it justifies the price, and as always the answer depends on what you want out of it.
There are definitely cheaper knives worth having that perform just fine, but you would have a hard time finding a knife this well made with this kind of attention to detail on a production level in the US without going to a custom maker. That gets at the core of what David Olkovetsky was trying to do with Artisan Revere: make that next-level feeling in knives – the one that most people don't know exists because they'd have to DM a knifemaker on Instagram just to get on a waiting list – more accessible.
In that regard, this knife is a fully successful attempt. If you really don't like sharpening, and you want a taste of that custom-maker-level of attention to detail, this is the place to go.