This Scrappy Button Folder Has Some Nice Claws
Vosteed had a strong year of efficient, collectible, and fidgety folders in 2022. The Raccoon feels like the first one that was made to be tough. Not that their other designs aren't tough (God knows the compound grinds of the Thunderbird can handle their share of work), but the feel and shaping of the Raccoon make it look and feel a little more no-nonsense.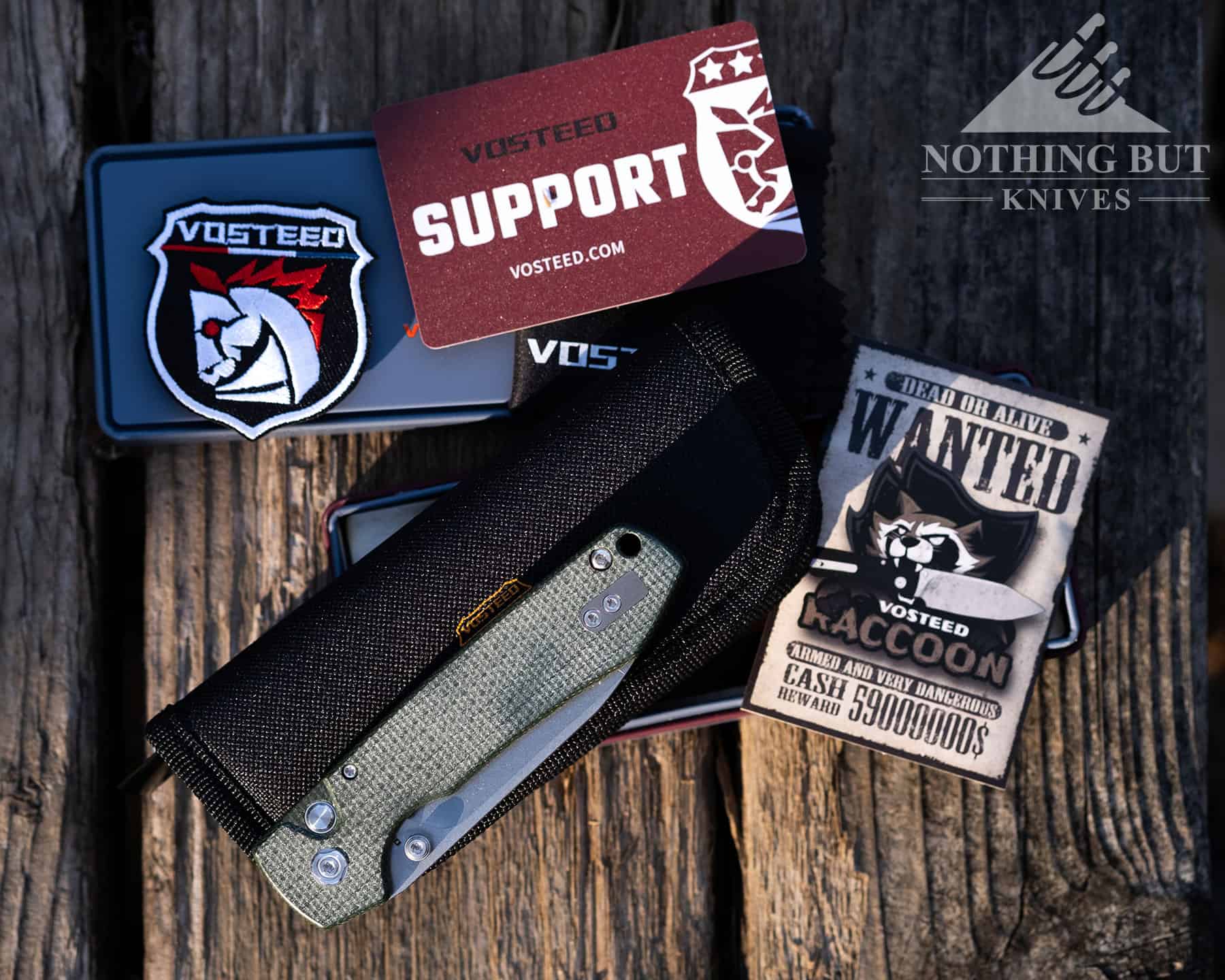 The Sandvik steel is plenty tough for most outdoor jobs I've ever done, the grip is solid, and the pocket clip holds onto the pocket with a grudge. The only things that hold it back for me are some ergonomic complications with the button lock and not wanting to get the Micarta dirty.
Specifications
| | |
| --- | --- |
| Overall Length: | 7.6" |
| Blade Length: | 3.25" |
| Blade Steel: | Sandvik 14C28N |
| Hardness: | 60 HRC |
| Open System: | Dual thumb stud |
| Blade Thickness: | 3.1 mm (0.12") |
| Blade Shape: | Drop point |
| Blade Grind: | Flat |
| Handle Length: | 4.36" |
| Handle Material: | Micarta |
| Lock Type: | Button |
| Carry System: | Deep carry pocket clip |
| Weight: | 3.39 oz |
| Designer: | Yue Dong |
| Made in: | China |
Pros
Great, grippy ergos for a small knife
Snug pocket clip that doesn't create hotspots
Nice edge with surprising retention (for the steel)
Properly ambidextrous
Cons
Button lock placement is a little precarious
The pocket clip is too tight for thicker pants
The Hard Working Edge with Smooth Geometry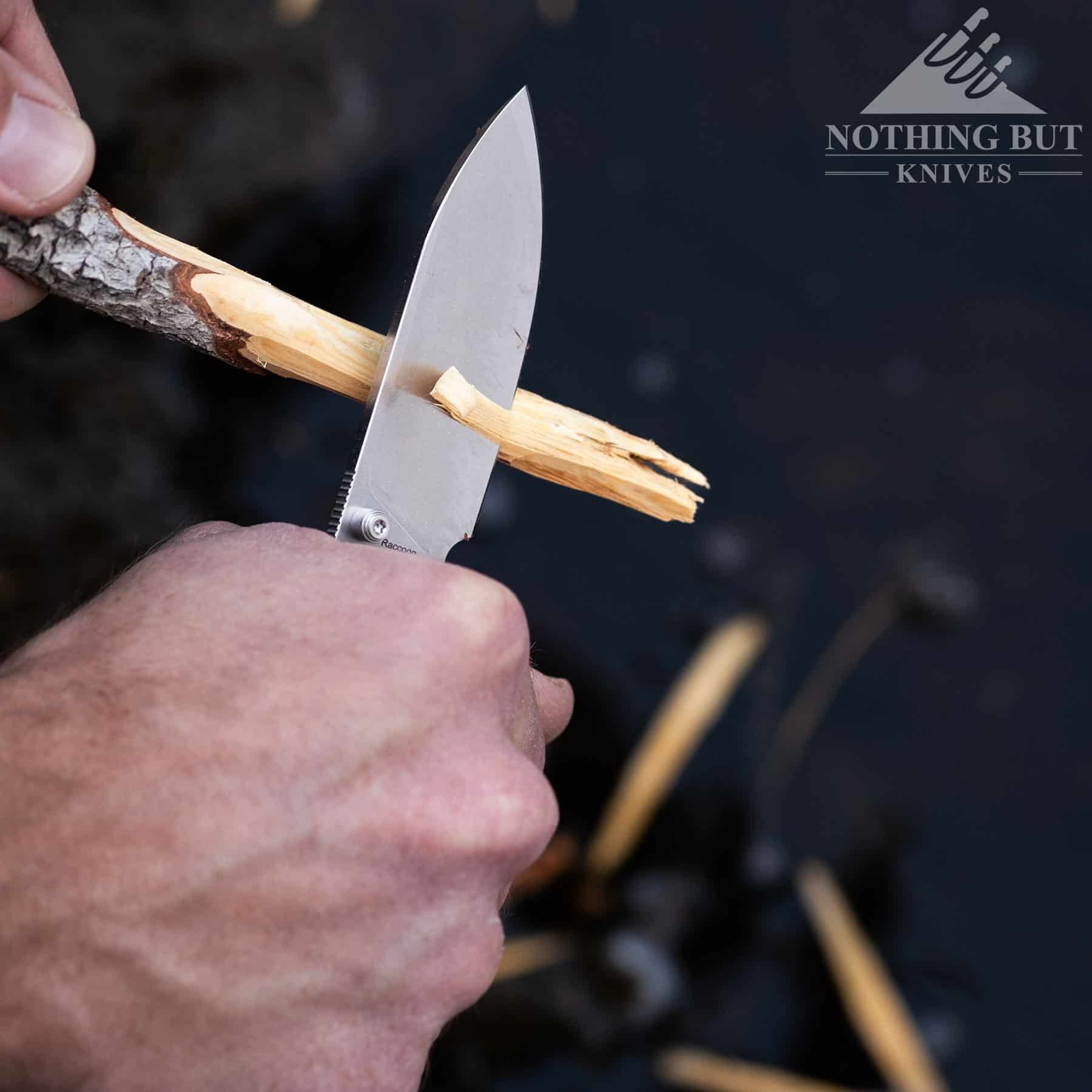 The blade is officially listed as a drop point, but the spine has such a dramatic curve that it borders on a spear point, and, if I'm honest, made me think of a sheepsfoot the first time I saw it. Whatever the shape is, though, it's a marvelous slicer.
The blade spans about an inch from spine to edge at the heel, which is pretty tall for a blade in this size category. That's always nice for facilitating a smooth-cutting grind. That width gives it a little more weight than you might expect from just looking. I can definitely feel it when I flip it out, but that adds to the fidgety nature that's becoming integral to the Vosteed feel.
Performance and Edge Stability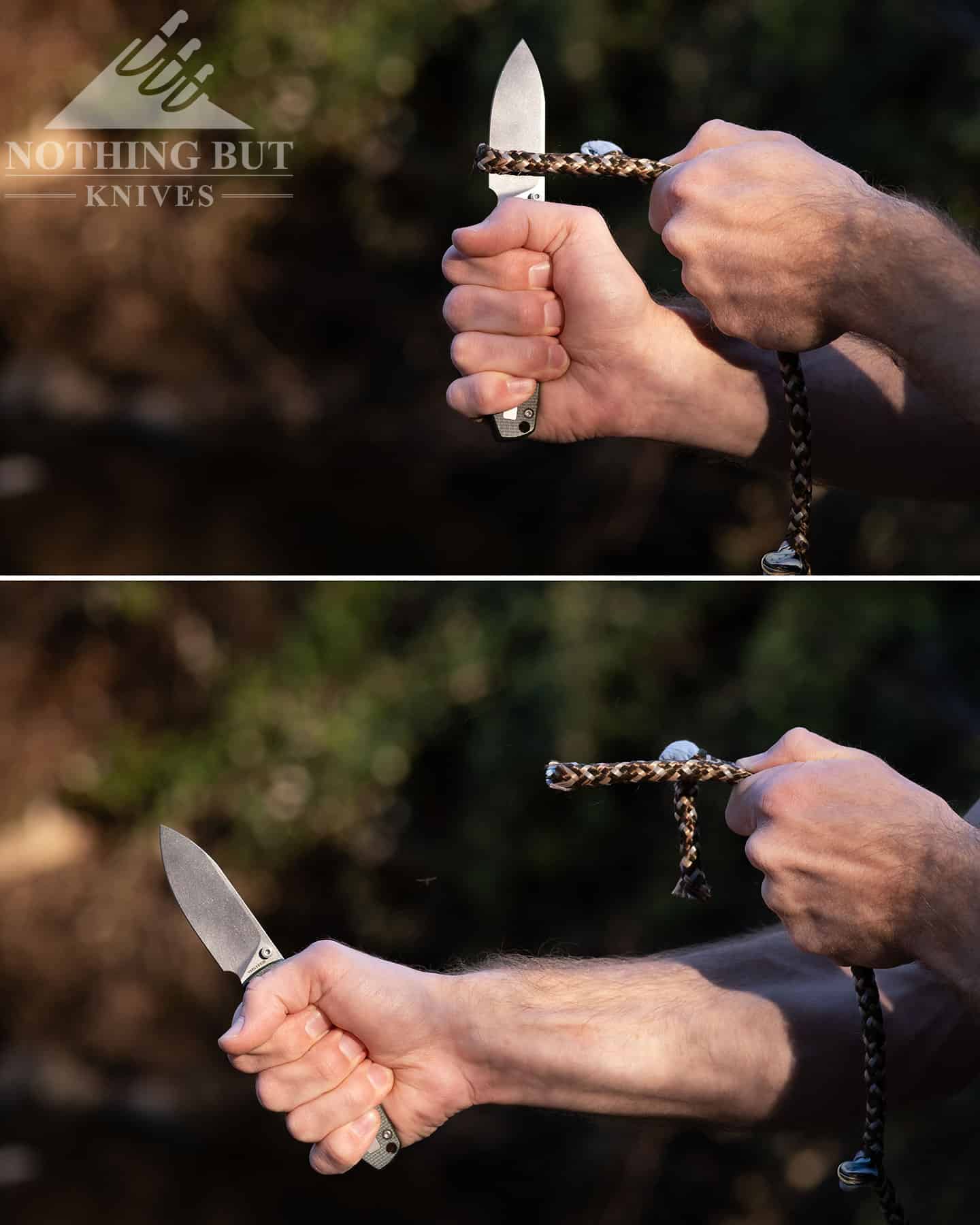 Considering the thickness and the steel, I was pleasantly surprised at how well the blade kept an edge. I broke down five or six boxes before I started to feel hiccups in the paper test. I figured this was because of the high flat grind (and it is definitely because of that in part), but then I noticed that Vosteed has it listed with a Rockwell Hardness of 60 +/-2, which is the upper range of what's recommended for 14C28N steel.
I think this would have concerned me if I knew it before I started using the Raccoon. As far as I know, I've never used this steel at that high of a hardness, but after cutting up boxes and carving a few sticks and ropes a few times it still seems more prone to roll than chip, so I'm plenty comfortable putting this blade to hard use tasks. Even if it was prone to chipping, though, it has plenty of meat to grind out chips and nicks. And at the end of the day, it's nice to have a little more edge retention than your typical Morakniv.
The Ease of Maintenance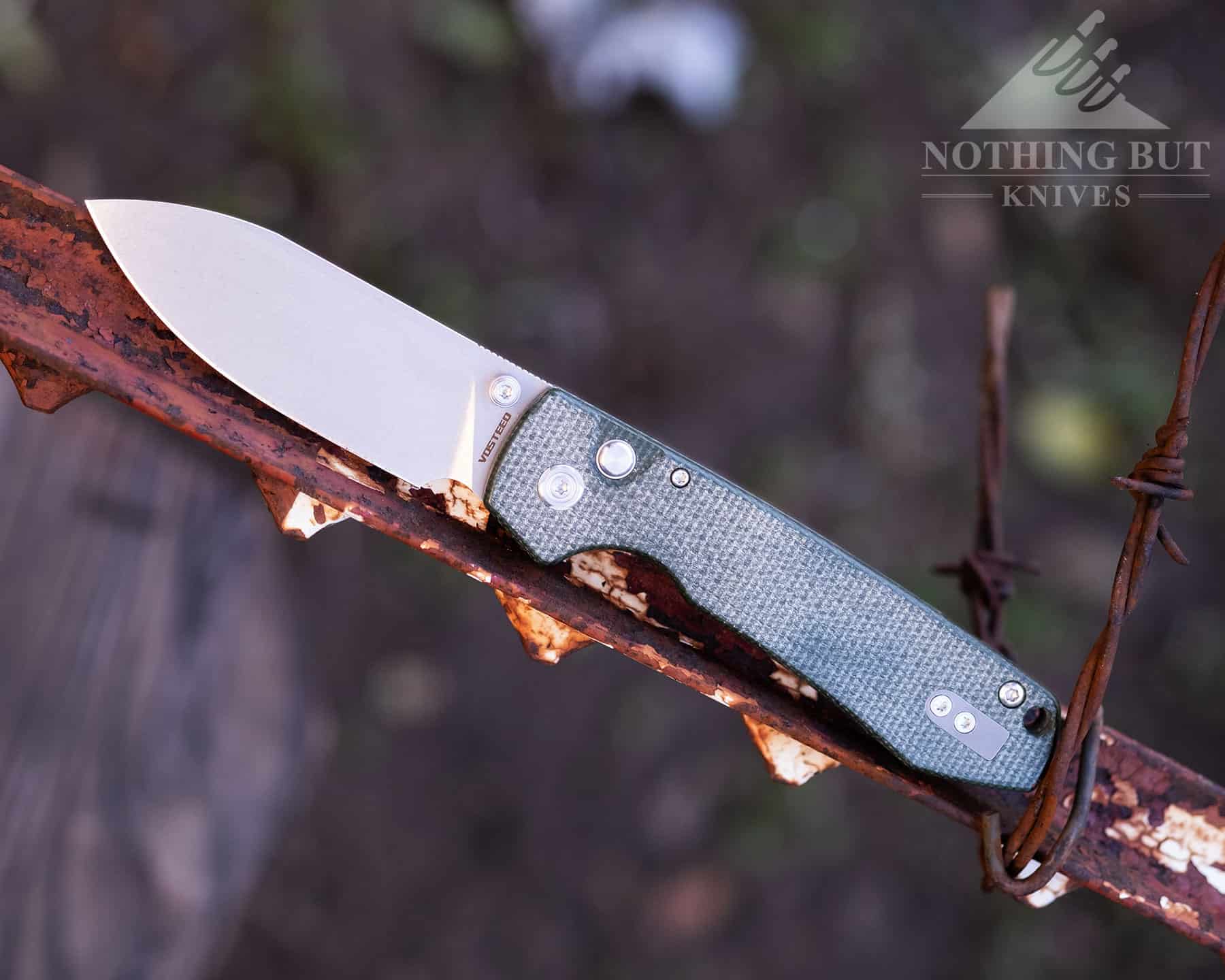 The Raccoon's blade also still possesses my favorite characteristic of most Sandvik steels. The edge is incredibly easy to touch up.
After I was done breaking down boxes I wanted to do another paper test but the blade was piled up with tape gunk that was just too thick for the ol' shirt rub to take care of. So I ran it across my pant leg a few times until most of the bulk was gone and polished it off with a microfiber cloth. Then I did the paper test again, and I'll be damned if it didn't feel like I had run the blade over a proper strop.
It doesn't take a whole lot to get this blade into hair popping sharpness when I put it to a real strop, and I don't really foresee a time that I'll put it to a stone (barring serious damage, of course).
The Comfortable Handle with an Achilles Button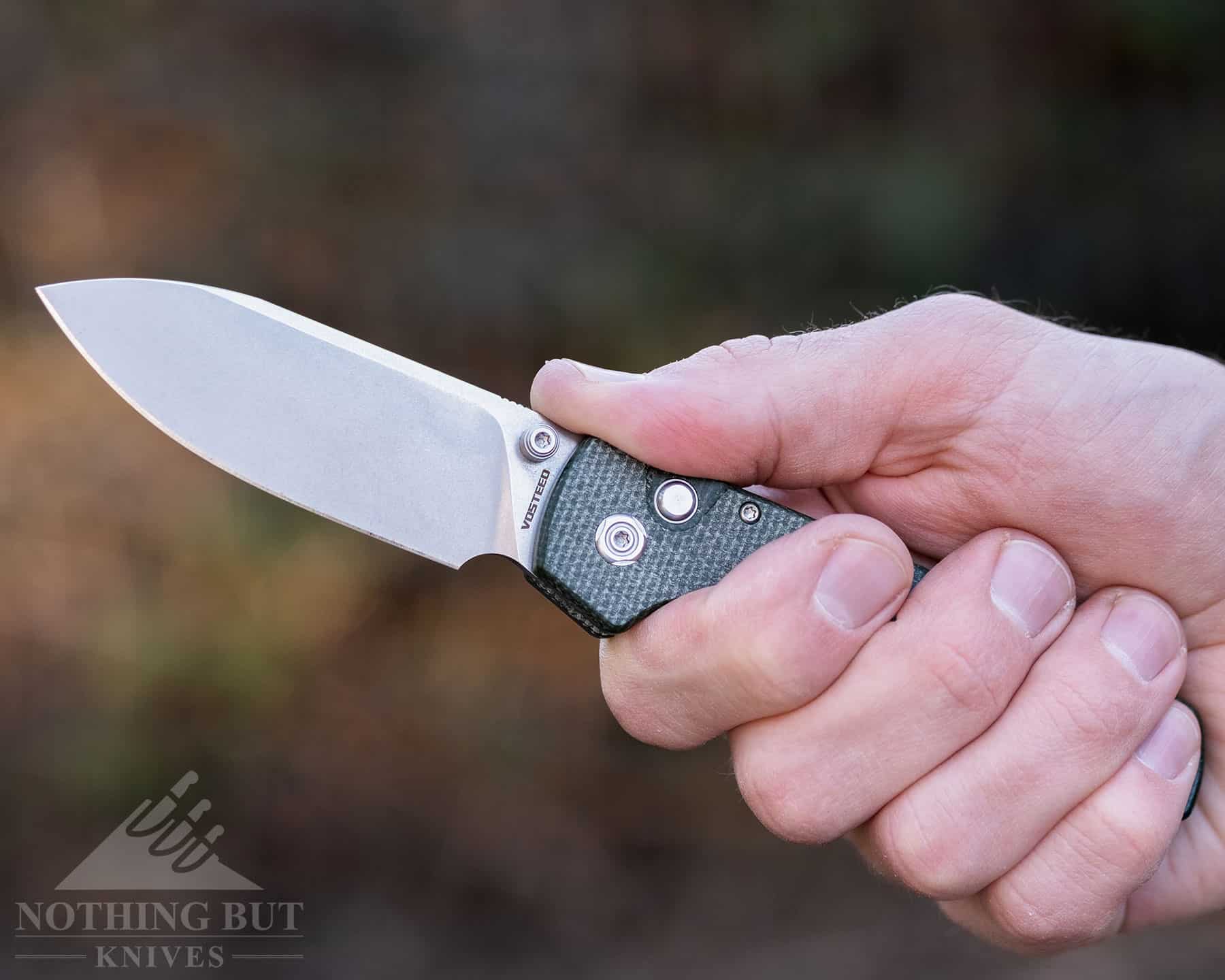 For a small knife, this sure does fit my fat hand well. It has a sort of half-coffin shape that manages to feel angular in a way that adds grip without poking aggressively into the hand.
Normally I'd say the finger groove is too deep, but for the shape and size it actually works. It helps the hand take advantage of every inch of Micarta on here. The inward curve does feel a little odd for me in a full grip, but I don't use it with a gorilla grip too often.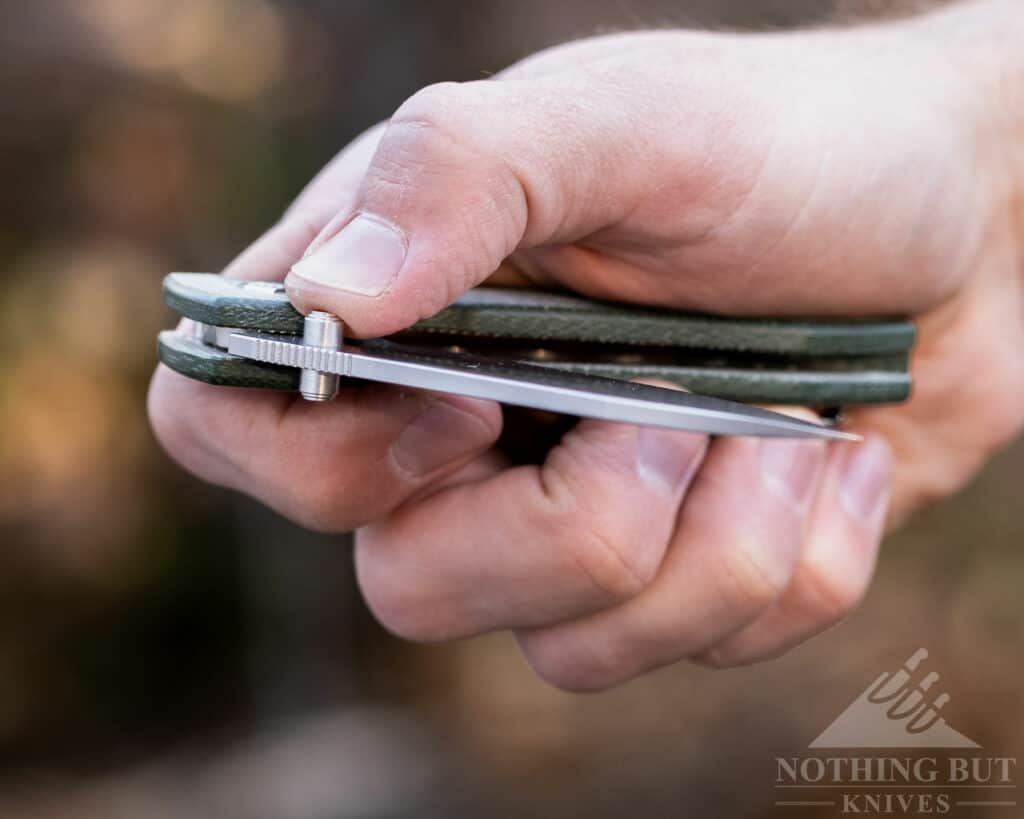 The Racoon isn't fidgety the way a lot of other Vosteed knives are since it's a thumbstud opener instead of a flipper. That's not to say I haven't snapped this thing open and closed a million times already. It has smooth action, a blade-heavy balance, and a button lock so it's still fun to wrist flick this thing out and snap it back closed. It just doesn't have quite the same fluid action or gripping options that make flippers Vosteed's Nightshade or Thunderbird such addictive clicky toys.
One Hotspot and the Button Lock
While the knife as a whole is comfortable, the pivot screw is very pronounced, and doesn't have much in the way of chamfering or sloping. I'll feel a slight metal edge run across my fingers as I'm using the knife and shifting grips. It's not so much uncomfortable as it is surprising to feel on a knife that otherwise feels so comfortable and neatly put together.
The larger issue for me is the button lock, which might not so much be a complaint particular to this knife as to button locks in general.
The button lock feels like it carries a bit of risk of accidentally disengaging because my thumb sits precariously close to it in a gorilla grip. I think this is partly because the button is sort of in line with the finger well at the top of the handle, placing both the index finger and the thumb right around it in most grips.
I only had one instance of it disengaging the blade accidentally. It happened while I was breaking down boxes. I just noticed the feeling of sharp edge on my thumb after pulling away from a cut before catastrophe happened, so no blood was drawn but it does highlight a problem with the placement of button locks that I hope more designers will be aware of moving forward.
It does look like Vosteed took pains to keep this kind of thing from happening. The button sits in its own groove so it doesn't rise far enough above the plain of the scales to disengage in a casual grip. The problem is when the grip becomes… uncasual. My hands often end up in weird positions when I'm working on different tasks, so for me it really just feels like a matter of time before I find the not-so-sweet spot for that button lock.
The Raccoon Sits Snug and Deep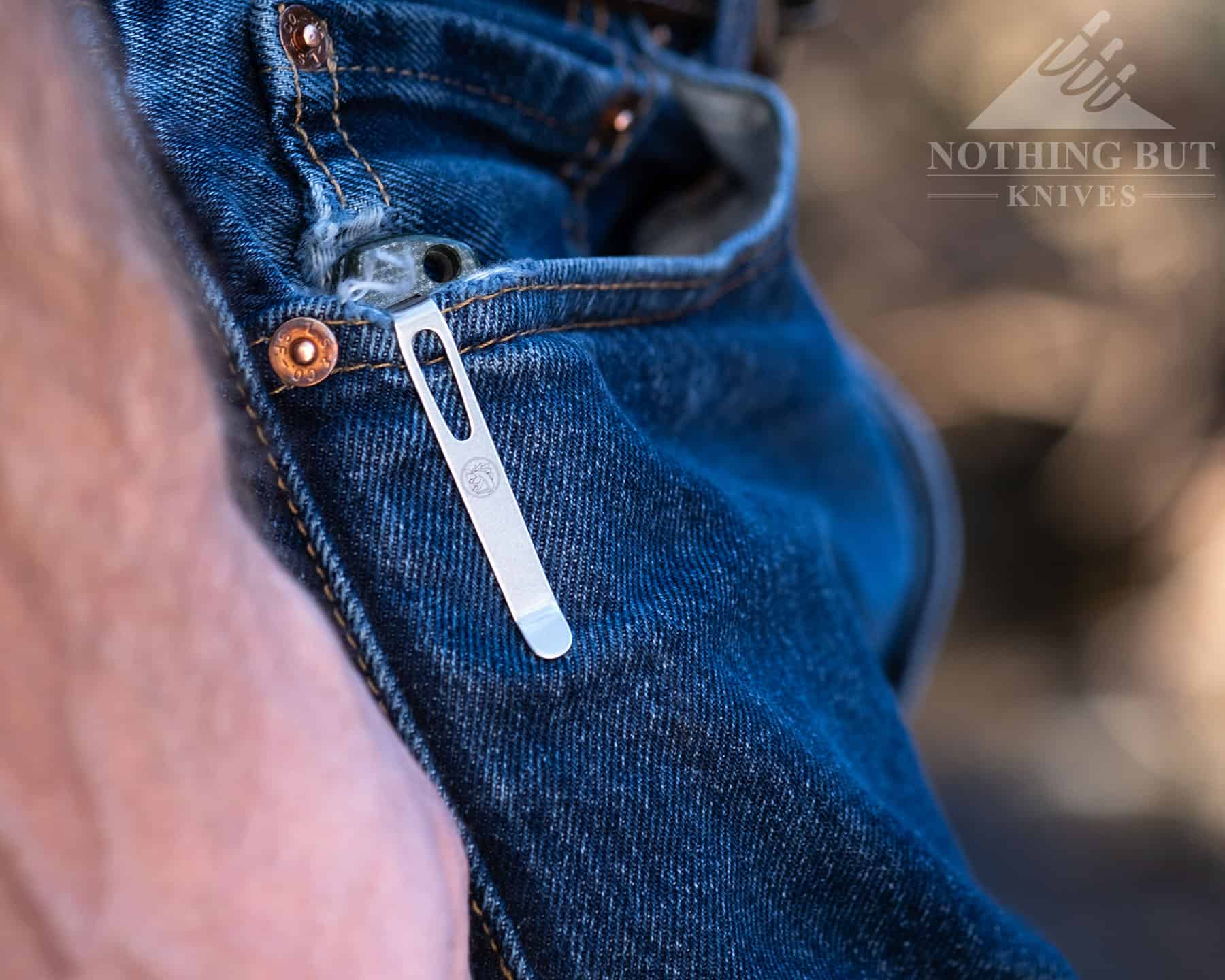 This is a deep-carry knife, but it's by no means a hidden carry. A good half inch sticks out over the pocket, which I actually like. Partly because I like the way the Micarta looks, but also because this clip hugs itself to the pocket very tightly. I need that bit of grippy handle sticking out to be able to draw the knife reliably.
I could probably fix that snugness issue by putting a coin under the pocket clip for a while, but I've stopped doing that on my knives because I have a bad track record of bumping into doorways and getting caught in cords and rope and bending pocket clips out of all usability. I'm willing to let this otherwise perfect clip stay a little too tight.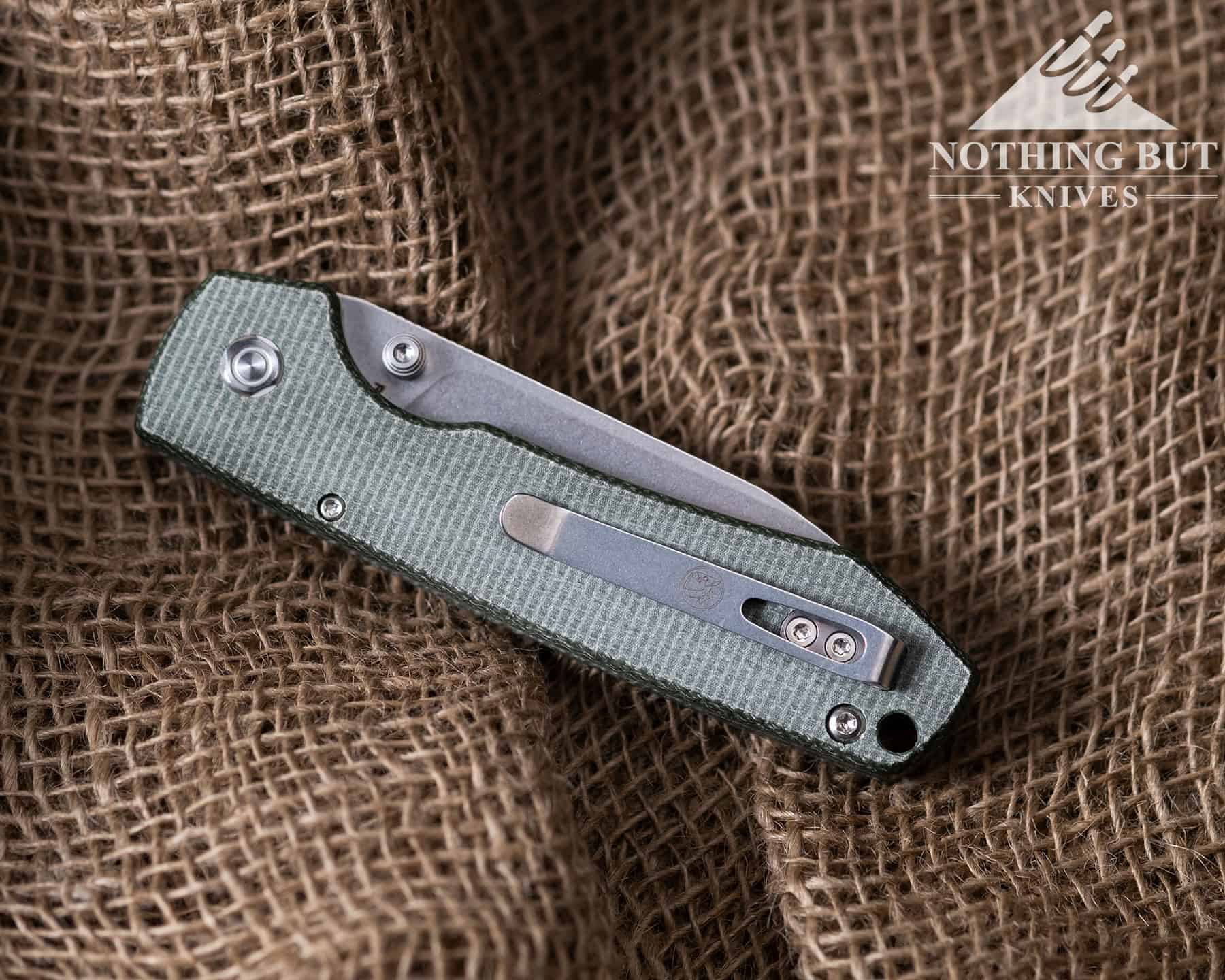 The only time I don't really like that snugness is when I put on thicker pants for working outside (enter the Carharts). Then I really need to pull hard and carefully to get the Raccoon out without my hand slipping off or flinging the whole knife out of the pocket when it finally breaks free. Point being, the Raccoon's clip is really specialized for regular pairs of pants.
It's otherwise an impeccable design. The clip sits so low against the handle that I barely feel it when I'm using the knife, it doesn't catch on cords very easily, and it even looks nice. They've milled inserts for the clip on both sides of the scale and made a nice filler that screws into the empty side, so this whole knife always feels like a very neat package.
Comparison and Alternatives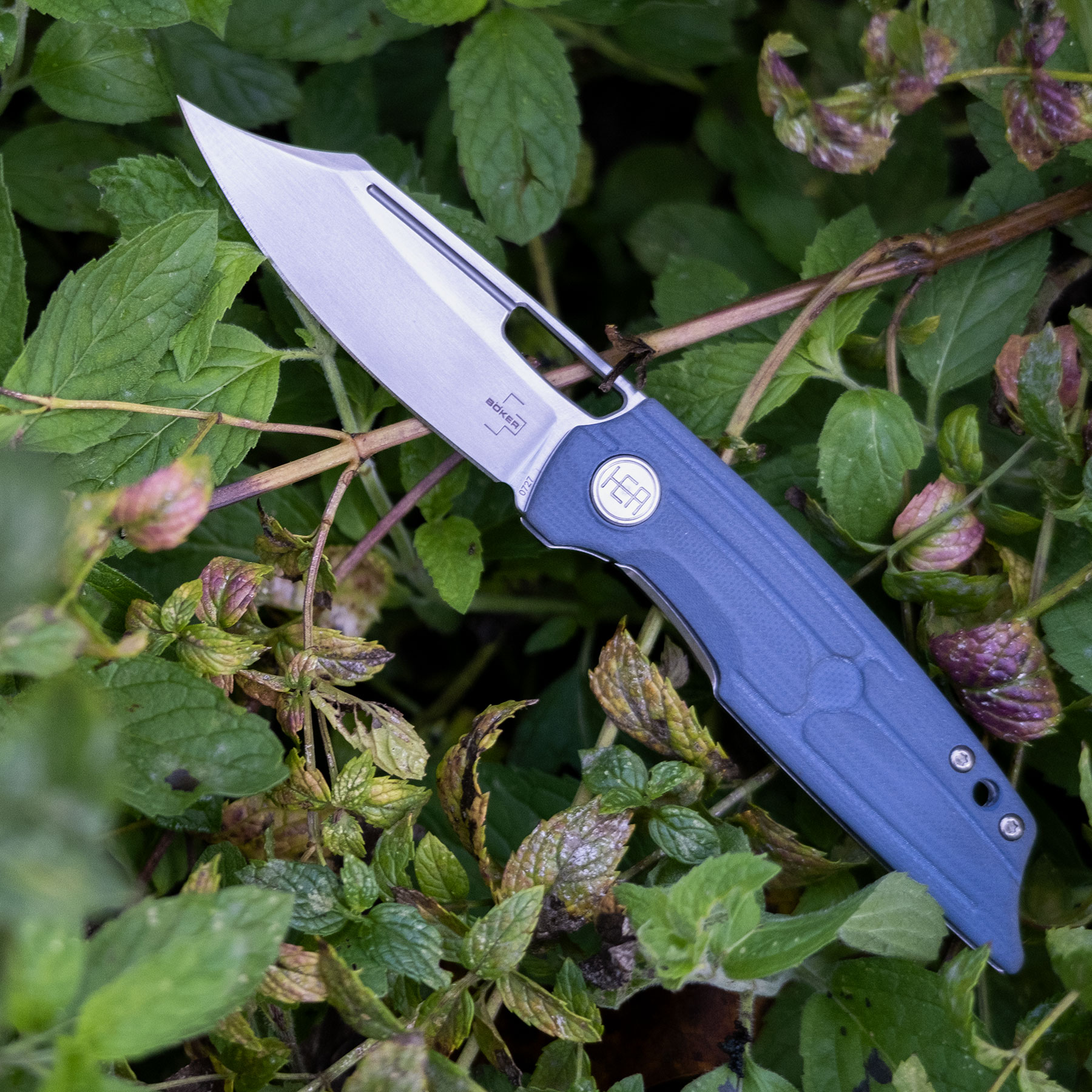 The HEA Hunter comes close in size and function to the Racoon, although the feel of it is very different. The action is a lot smoother, but overall it's less comfortable because of the frame lock and angular design. The D2 steel is also a lot harder to sharpen (of course that also means the edge retention is better). As a choice between gentleman's carry knives, though, The HEA Hunter seems better suited to me.
I also feel compelled to point out the Kizer Sheepdog. The blade is very different in practice, and the knife overall is much heavier and generally less comfortable in the pocket, but the length is about the same, and something about the Raccoon feels very similar to the Sheepdog, sort of in spirit, for lack of a better word. I gave mine away a long time ago or I would do a proper side-by-side comparison. I'll just leave this at saying that if you like the Raccoon but want something a little thicker, the Sheepdog is worth a look.
Conclusion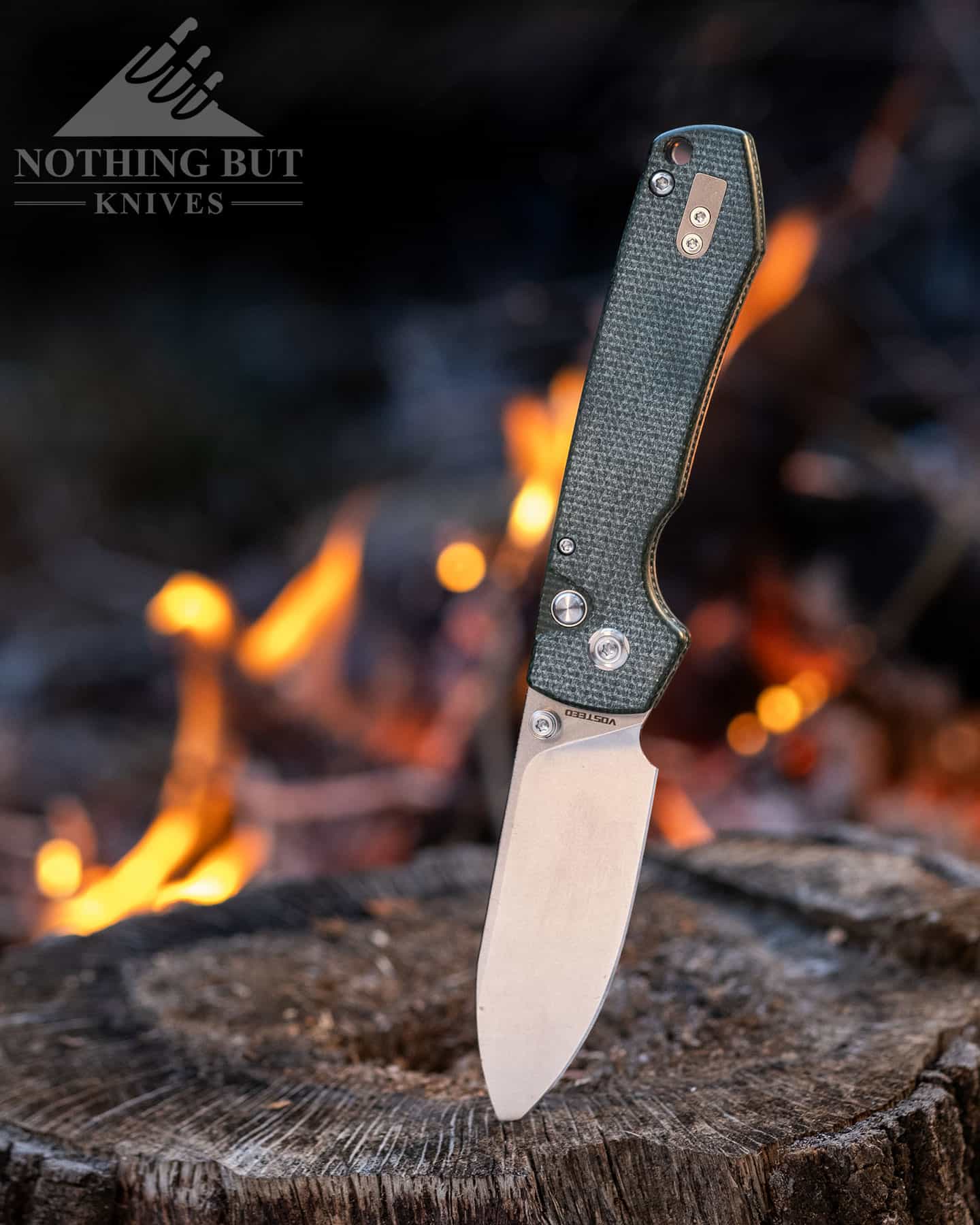 The Racoon is a great little folder that works as well out in a rough, dirty job in the yard as it would in the office. The only thing holding it back is the placement of the button lock, and dealing with that is really just a matter of learning how to hold the knife. It's not great, and if I'm honest, I'd rather this particular design were just a plain old liner or backlock, but the knife is worth a little adaptation.
It's comfortable in a lot of different grips in spite of the size, it's slicey and easy to maintain and I really like the way it looks. It has that odd element of looking small, feeling mid-sized, but cutting far beyond its weight class. Which, actually, is a pretty decent parallel to an animal that seems small until it gets into your house and starts cutting up all your chips and garbage bags.