A Work Horse of an EDC with Big Pocket Energy
The updated version of the Sheepdog is a good example of the nice-knife paradox: it's a great hard-use design that has come in handy on a lot of dirty jobs, but I like the knife enough that I don't want to use it on dirty, hard-use jobs.
Between the thick BD1N steel blade and the wide pocket clip, I have yet to worry about seriously damaging or losing this knife. The problem is that I love the handle. I love the way it looks and the way it feels, and I really don't want to see it subjected to the inevitable oil drips, gas splashes, mud crawling, and blood drawing that is bound to happen if I consistently carry it for serious work.
Also as someone who grew up mostly around border collies trained for herding, the Sheepdog knife hits close to a nostalgic center of my brain that almost immediately became unreasonably attached to this knife regardless of any problems it might have. If I have any complaint about this knife besides not wanting to get it dirty, it's the overall size, but even that element comes into its own in the right conditions.
Specifications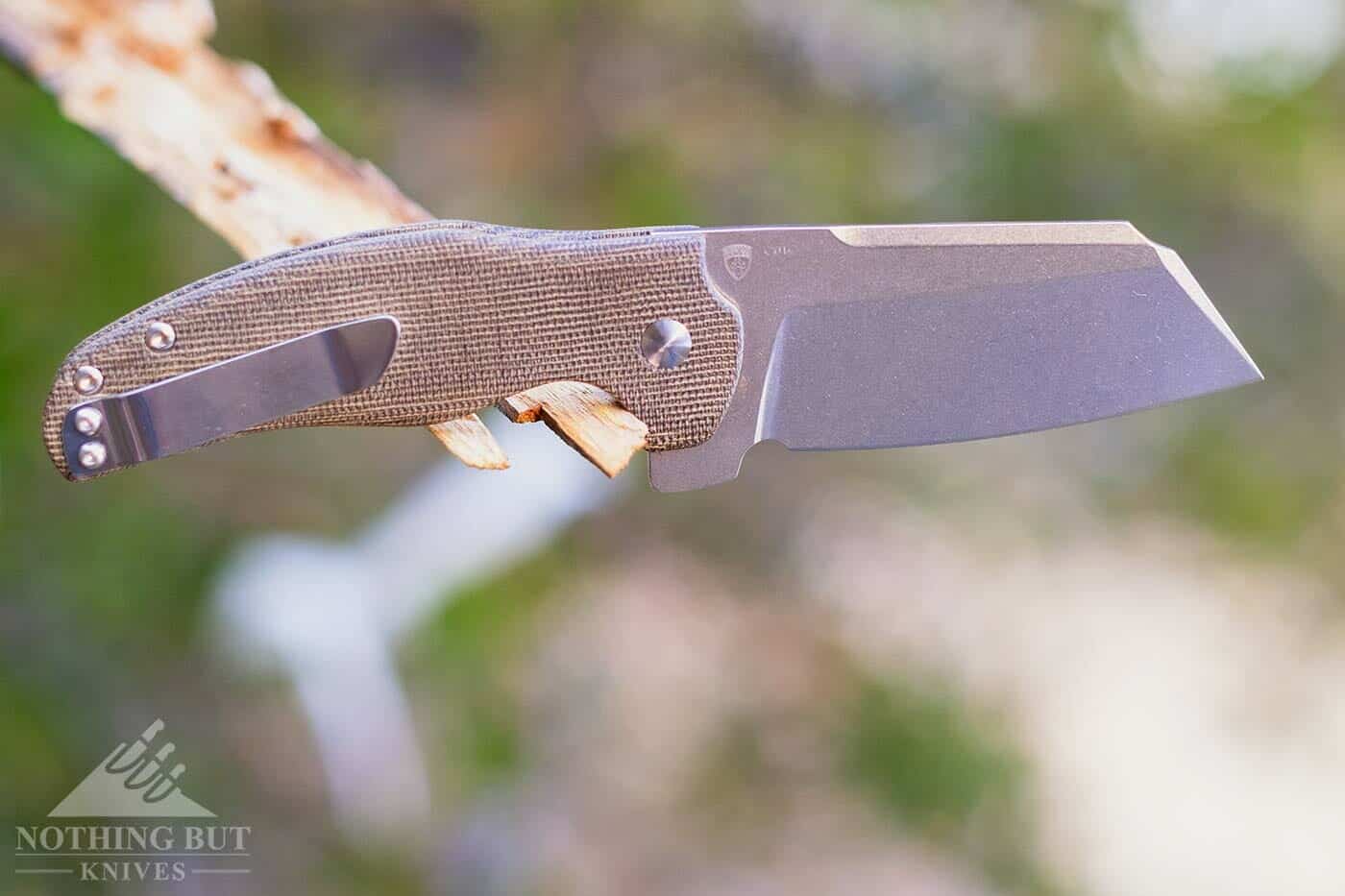 | | |
| --- | --- |
| Overall Length: | 7.75″ |
| Blade Length: | 3.25″ |
| Blade Width: | 0.13″ |
| Blade Steel: | CTS-BD1N |
| Handle Length: | 4.375″ |
| Blade Shape: | Sheepsfoot |
| Blade Grind: | Flat |
| Handle Material: | Canvas Micarta |
| Lock Type: | Liner |
| Weight: | 4.5 oz |
Pros
Tough design with great materials
Great fit and finish with a clean action
Good ergonomics with grippy Micarta
Good utility edge for push cuts
Cons
Huge in the pocket
Damn heavy blade
Right-hand-only pocket clip
The Blade's Too Damn Big Unless You're Wearing Gloves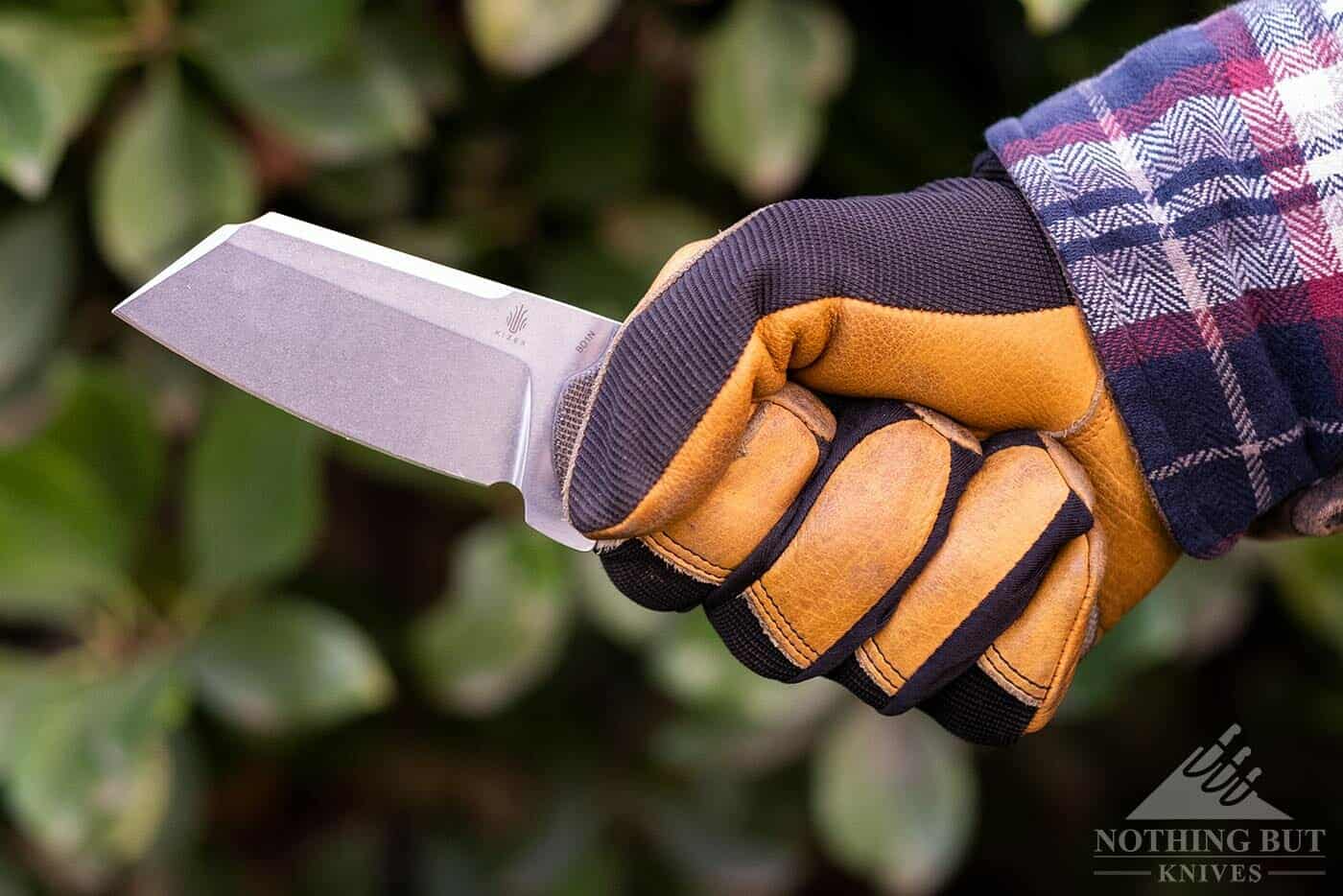 For the first few days I carried this knife I was really regretting not getting the Mini Sheepdog. In bare hands it's just a little too heavy and awkward for a pocket folder. The flipper tab feels like such a massive chunk of steel that opening the knife is like doing a tiny pull up with your finger.
It's fun in the sense that snapping this knife open feels like slamming a big oak door shut, but it gets awkward when I try to close the tab, because the size and bulk leaves a small window for my thumb to move out of the way after disengaging the lock before it smashes down on my finger.
The blade creates so much momentum when it opens that it actually flew out of my hand once early on. It was partly my fault, to be fair. I'd just switched from carrying a much smaller knife and thought I could hang on with a light two finger grip, and now there's a small stab wound in my wood floor from where the Sheepdog landed, and stuck, point down. Which is both a testament to the weight of the blade and the strange balance of the knife overall, because 9 times out of 10 a sheepsfoot blade just isn't going to do that.
So I was starting to get nervous about this knife… until I used it with gloves on. All the sudden all the clunkiness of the knife became useful. The grip becomes near perfect because I can still feel the shape of the whole thing through leather. More importantly the flipper tab starts making sense because it proves a lot of real estate for a gloved hand to find and leverage. I've tried to open a lot of different knives while wearing thick gloves, and the Sheepdog is probably the easiest by a long shot.
I still think they could have slimmed the knife down just a little overall, but I don't think it's fair to say outright that the size and weight are a problem. It just depends on where you're using it.
Great Utility Blade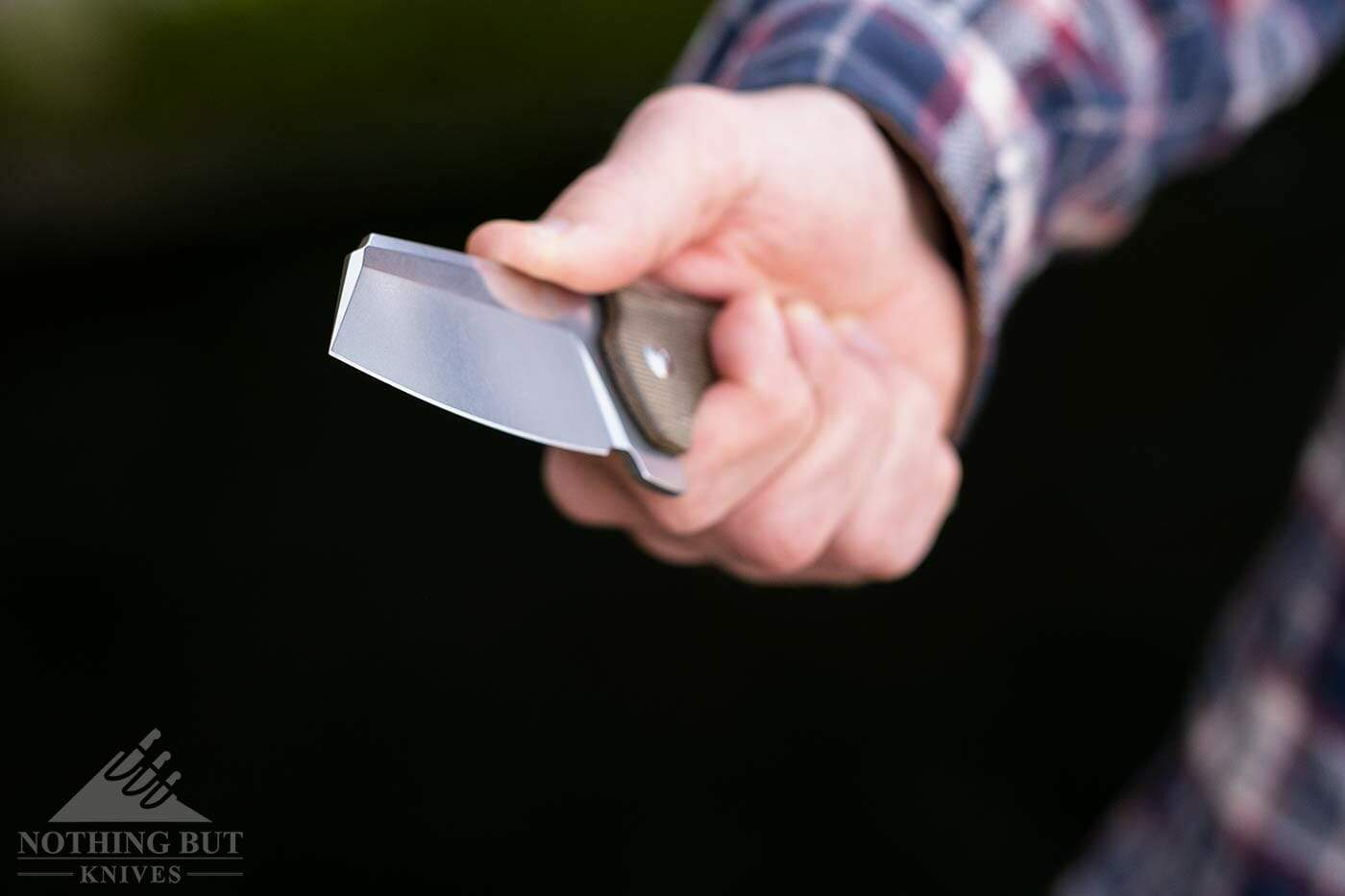 All my confused bitching about the size and weight of the blade beg the question of whether the blade is actually worth a damn, and, yeah, it very much is.
Obviously it's great for the kind of utility tasks most people use sheepsfoot blades on like breaking down cardboard and showing it off to people who don't care. But more than anything I've relied on this knife for cutting hard plastics like zip ties and weed eater string. It's fantastic on the push cut in the sense that if you push long enough it will cut through most things pretty cleanly.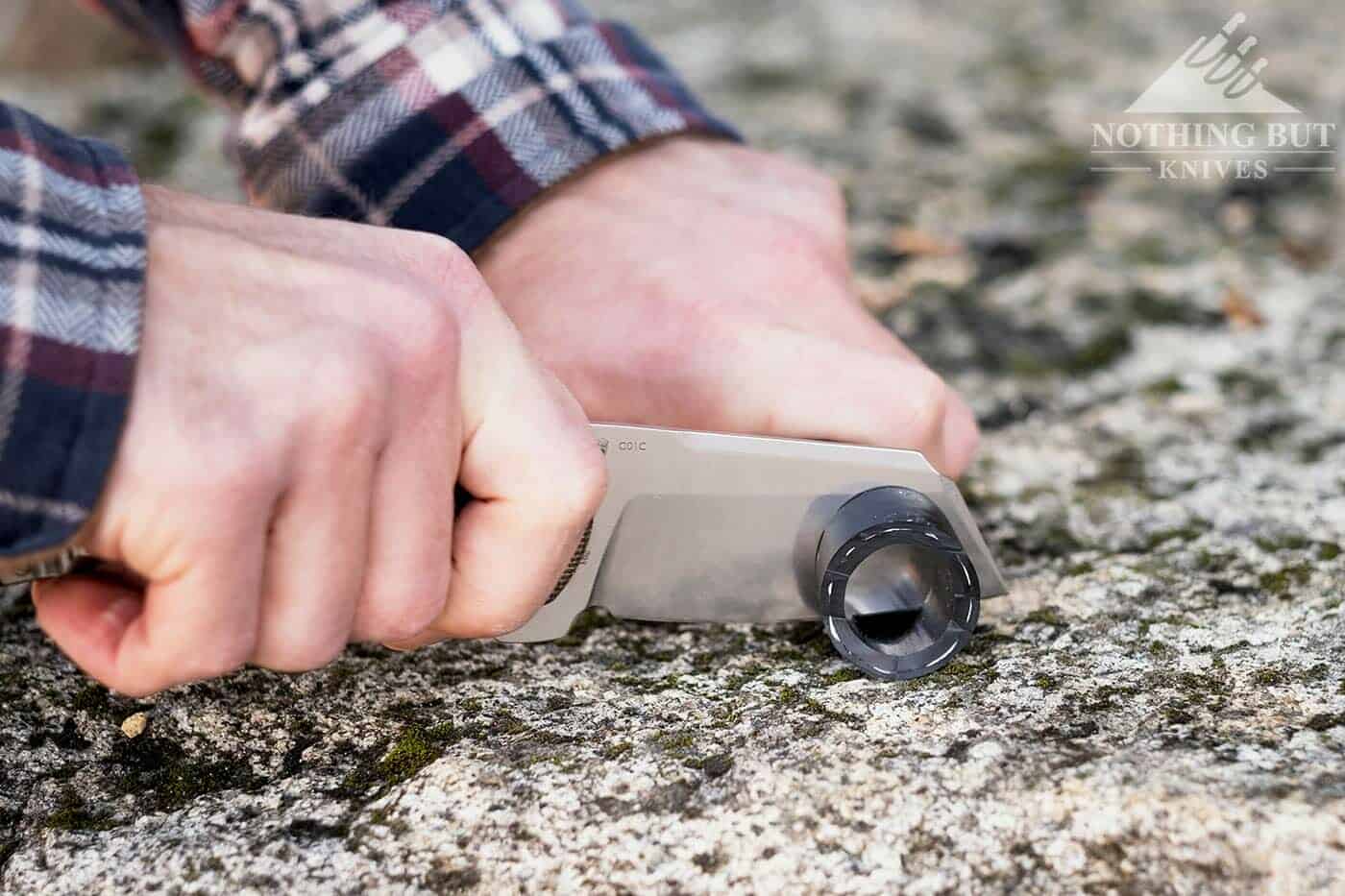 I really started to appreciate the thickness of the blade in combination with the flat grind when I found myself needing to cut half-inch-thick zip ties in a narrow setting. Basically I had to get the tip in between the bars of a metal fence and a wooden trellis to cut one away from the other, which in some cases meant working through the material with about half an inch of blade.
That's slow work with any knife, and a huge danger to the tip with thinner blades, but I was able to push the Sheepdog through fairly easily with just a little back and forth.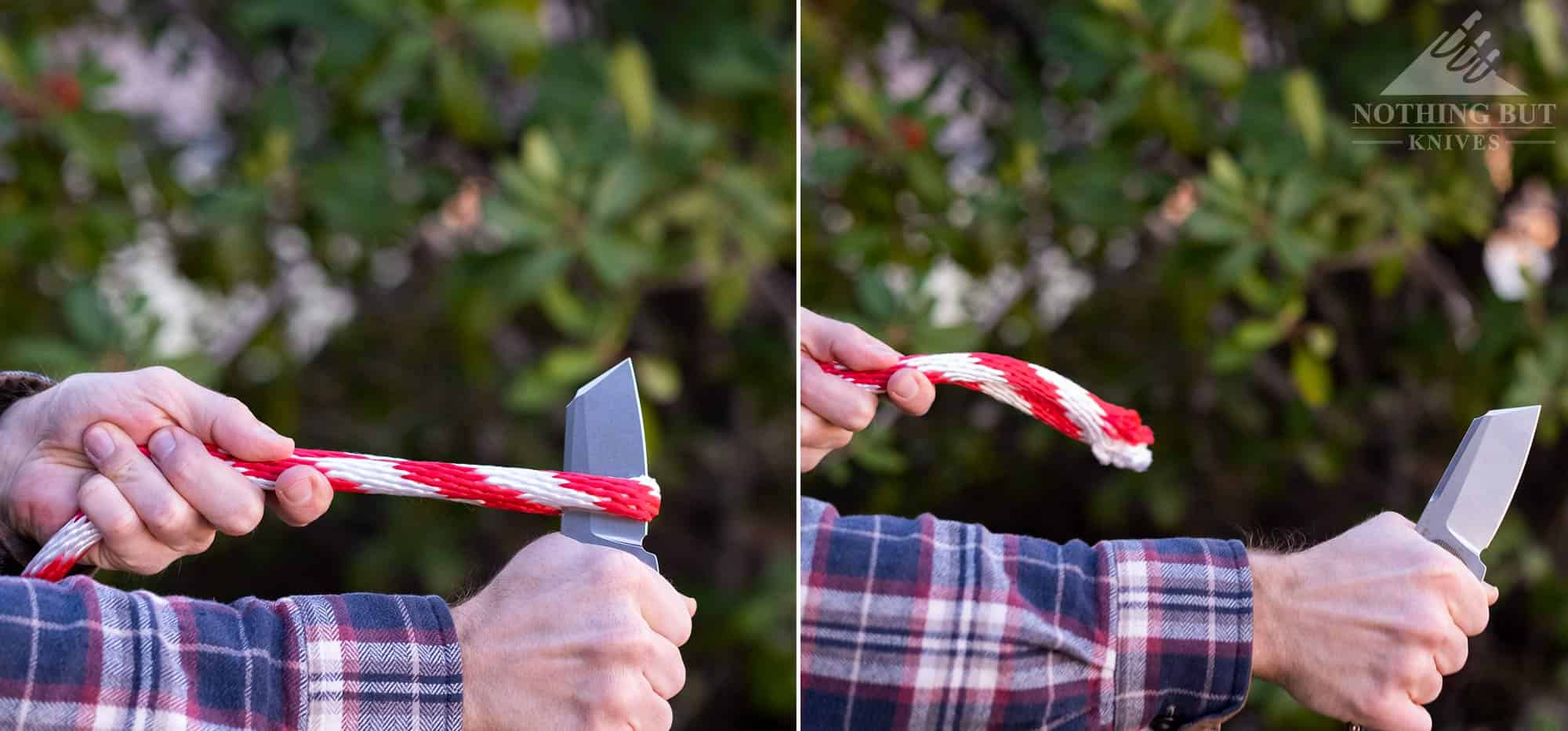 That's a long way of saying the Sheepdog is not a slicey knife, but it is a sharp one and the blade is tough and reliable. And there have been several times I've used the tall blade to hold the knife in a pinch grip and opened up a whole other range of tasks when I realized that was comfortable. This is a knife for easing through things. When it doesn't slice right through something, it will push through them.
Nice in the Hand; Greedy in the Pocket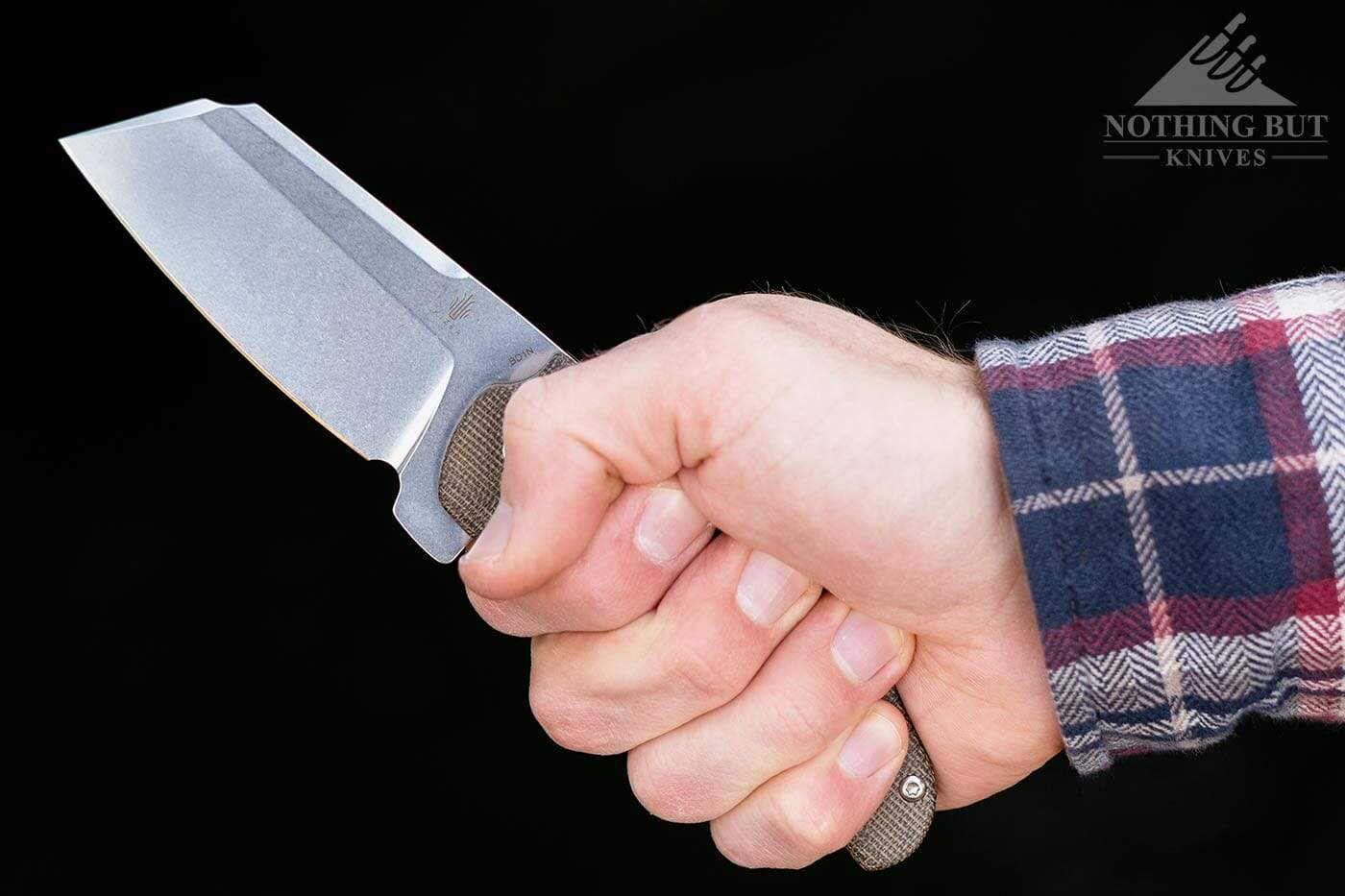 Blade out, this knife feels really nice to use. When the blade is in and the knife is in your pocket, though, it's really clunky.
The Handle, the Pocket Clip, and my Pinky
This knife is on my slowly-growing list of knives that have gotten Micarta right. The resin is minimal so you can really feel the texture of the Micarta, there's a good swell in the middle that creates a really nice full finger grip, and the pocket clip is prominent without creating major hotspots with one exception.
The rise of the pocket clip right at the butt of the handle rides right against the edge. I can just barely feel the metal against my pinky in a full grip without cutting anything, but if I push the blade into something that doesn't cut easy, the clip really starts to dig into my finger. Factor that in with the fact a lot of the Sheepdog's usability for me comes from push cutting and you get a fairly deep impression on the base of my pinky from the pocket clip, and maybe the start of a bruise if I use this knife on tough cuts a lot in one day.
I'm not sure what they could have done to fix this. There's no room in the design to move the clip over and still have the much needed canted angle that makes the knife even remotely possibly to carry in the pocket. Besides that, though, they've done a great job making this pocket clip wide, flat, and just contoured enough to fit the hand.
Pocket Tyrant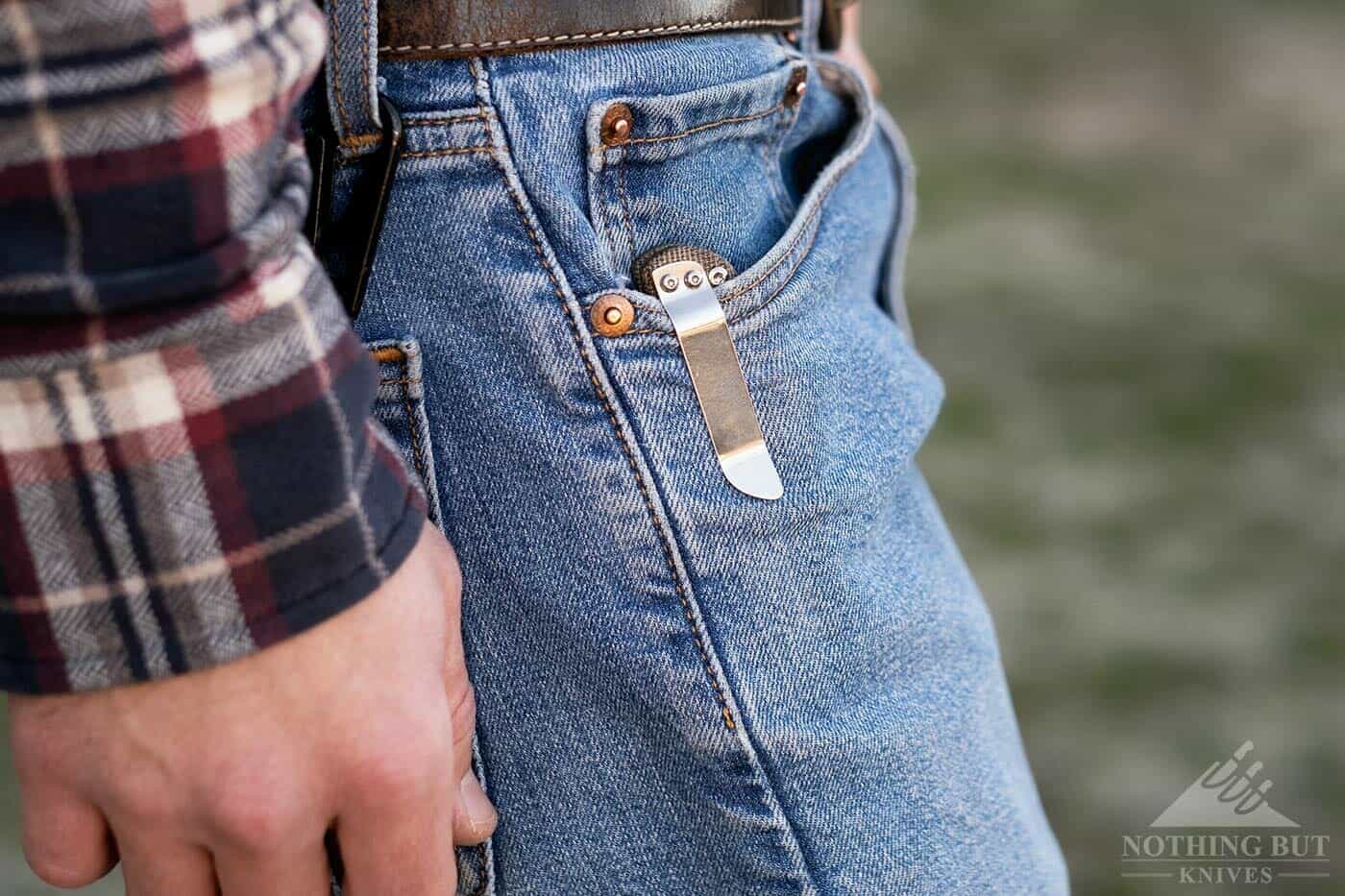 This thing will dominate the pocket of regular-sized mortals. I'm fortunate enough to have a few pants with wide pockets despite walking around at 5' 6", but even my most generously sized pants had my phone and the Sheepdog fighting for space.
Thankfully Kizer did a great job on the pocket clip (aside from the pinky poke), so I can actually clip this to a few different places like an inside coat pocket or the lower pockets of my Carhartt pants (both places where I have lost many knives with lesser pocket clips) and not worry about the Sheepdog springing out.
Comparison and Alternatives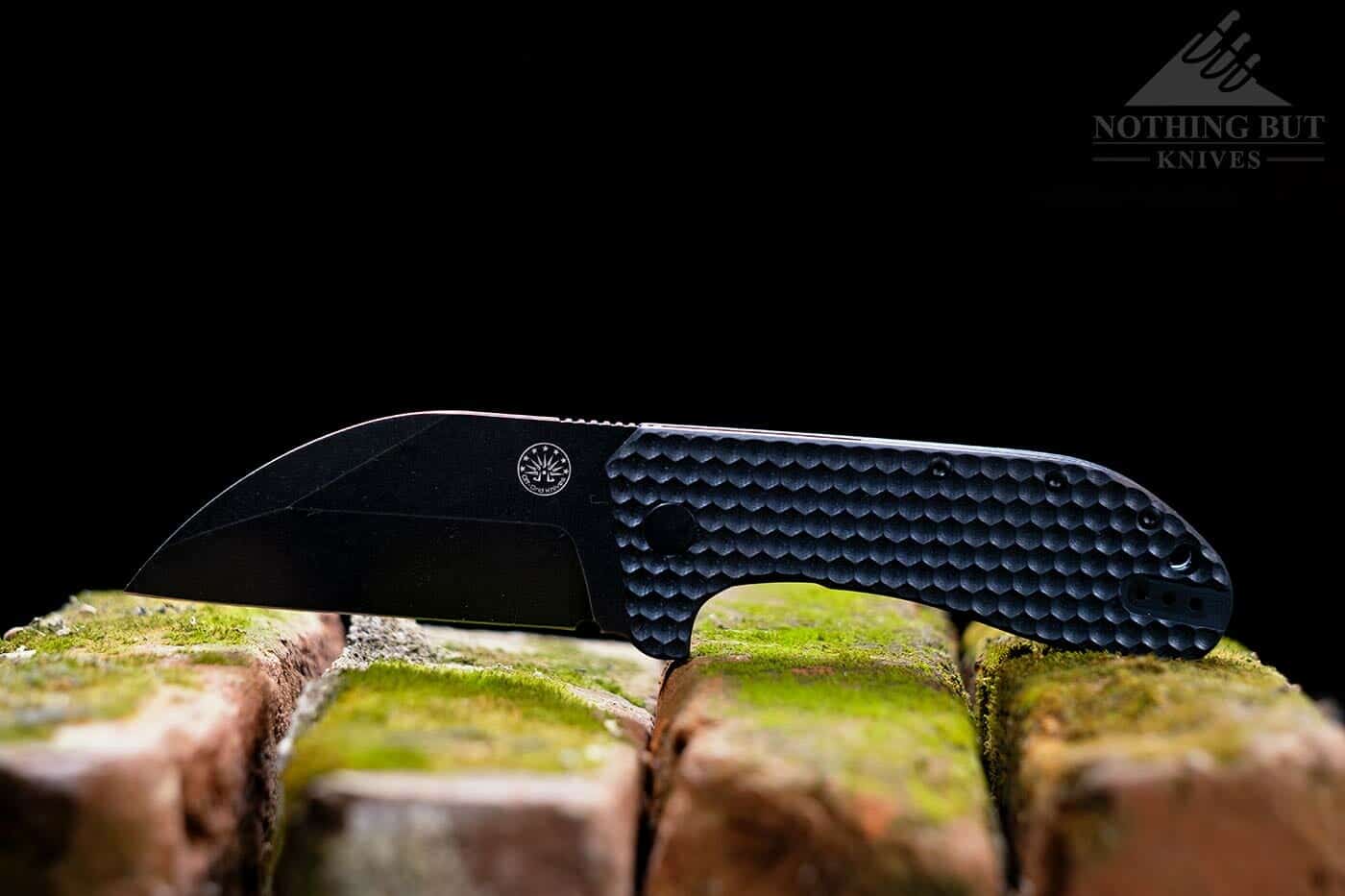 There's a growing number of sheepsfoot and wharncliffe options out there, or even just straight-edge folders, if that's your only requirement. The Sheepdog stands out as being great for the price, which is really Kizer's thing, so I would have no qualms about recommending this knife over most other flat-edged designs out there. It's also worth pointing out that the Sheepdog is available in about a million different variations of size, blade, and handle material from titanium and S30V in size XL to the Mini with G-10 and 154CM.
But I spent a fair amount of time testing the Sheepdog next to the Off Grid Black Stallion because the design and overall bulk of both these knives is pretty similar.
There's typically a $30-ish difference between the two knives (obviously depending on what version of Sheepdog you want), and it honestly feels like there's about a $30 worth of performance difference between the two. The Black Stallion is thinner behind the edge, but has a little more trouble with tougher materials like rubber and thick rope. But it's also lighter and it has a certain sleek aesthetic to the whole black scales and finish look that you just can't find on any version of the Sheepdog.
So I'd say if you're looking in the $50 range, the Black Stallion is great for the money. I think the Sheepdog is worth moving up a price category, but it's also not going to give you the urban tactical feel of the Black Stallion.
The Vosteed Racoon is a smaller and cheaper alternative to the Sheepdog. It also has a button lock for those who like that sort of thing.
Conclusion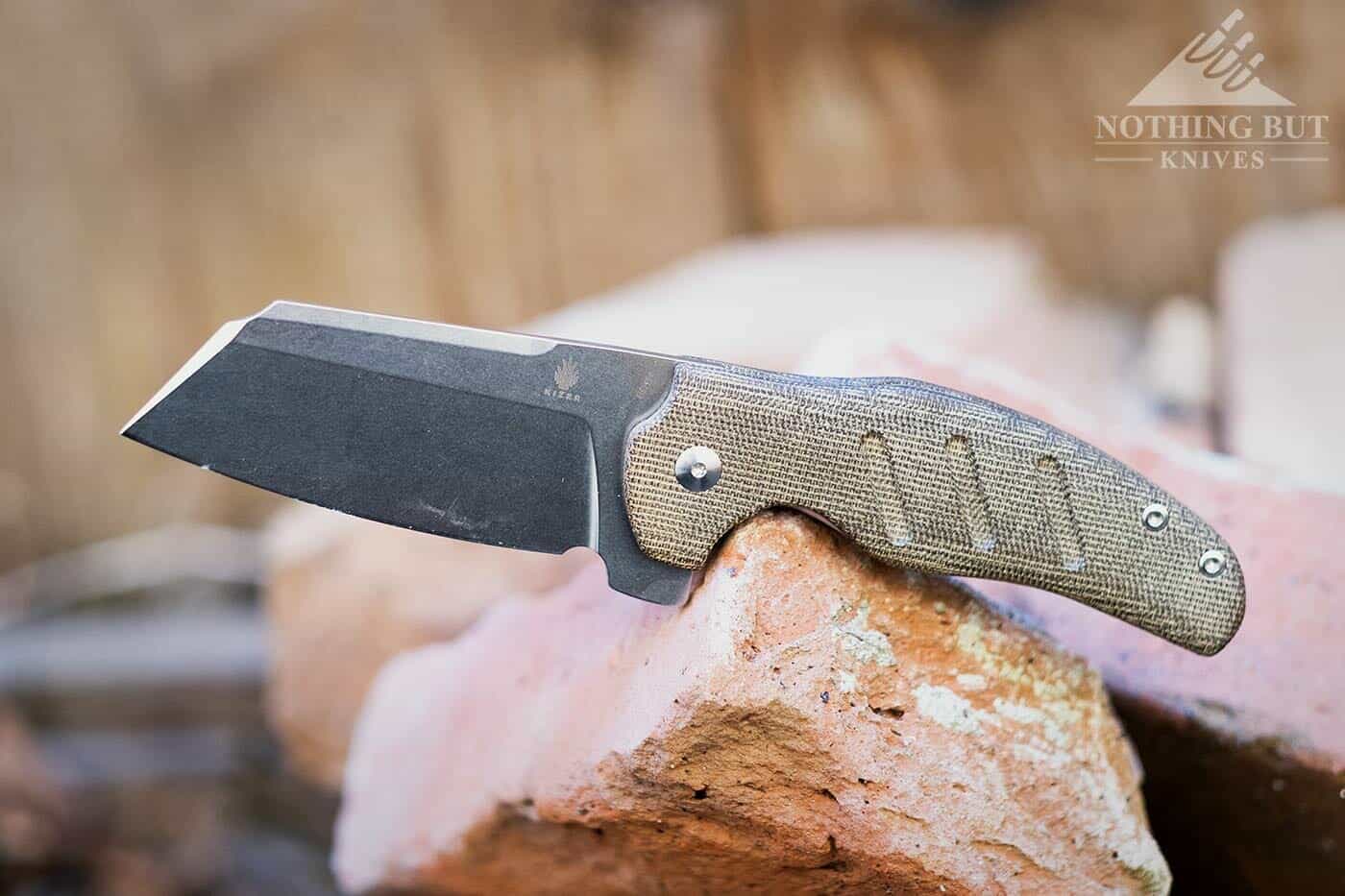 For me the blade is just too much for regular EDC, but everything else is as much as I could hope for in a folder.
If you put emotions aside, this is a great hard-use knife. It could possibly be a good EDC knife for the gorilla-handed giants of the world. I think the Mini Sheepdog would be a better choice for the regular-sized people who mainly use their knives bare handed. And if I'm being honest, the Mini is what I wish I had right now.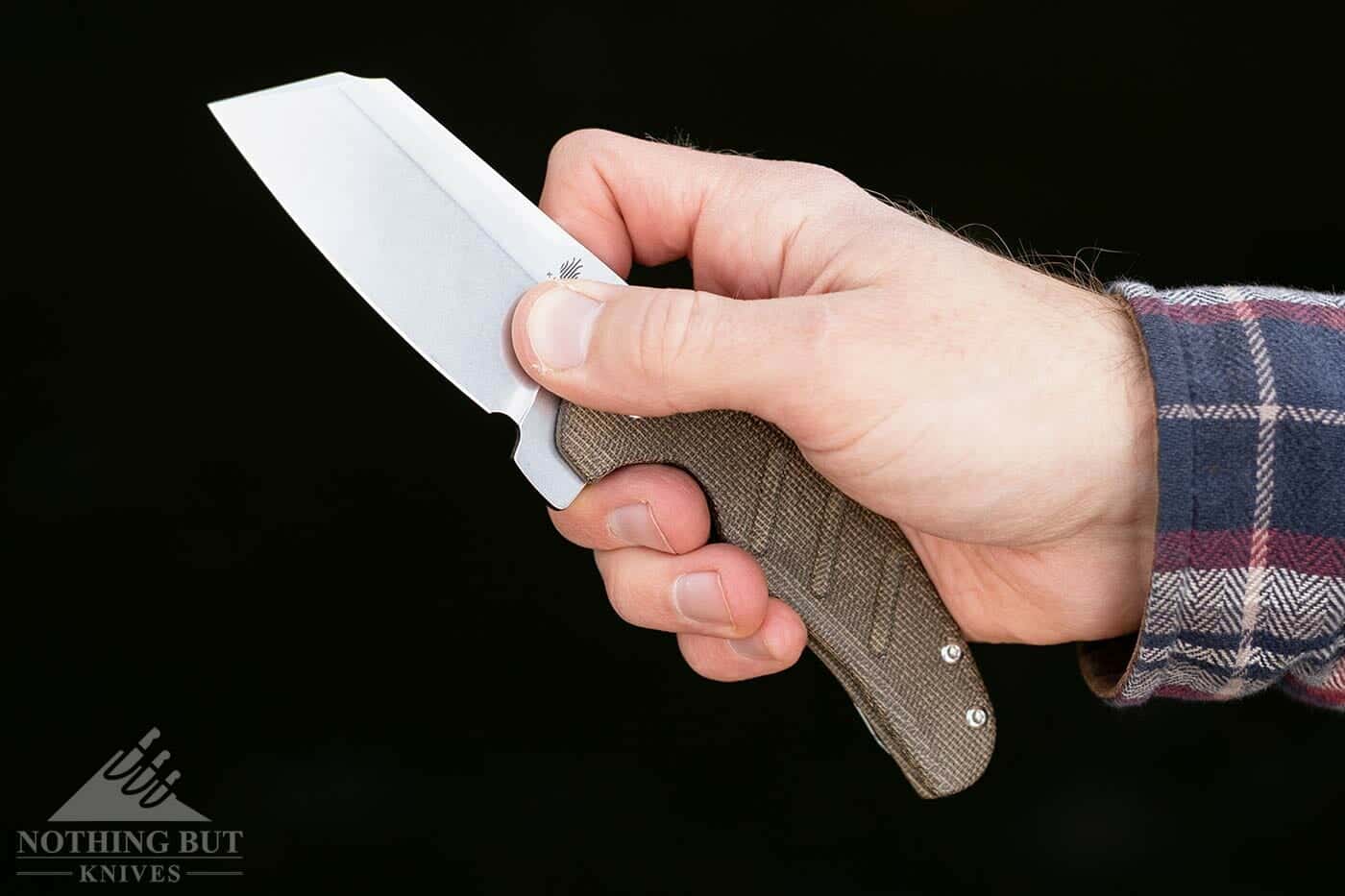 That said, the Sheepdog has come in handy several times because of its size (and sometimes in spite of it), and the tough edge has been endlessly useful. I still wish they had slimmed it down just a little to take up less room in the pocket, but I'll be damned if I'm not going to keep using the hell out of this knife for tough jobs around the house and in the yard.