A Tough Alternative To Shun Classic
The 8 inch Mon chef knife is a pretty knife that's comfortable and cuts well in that order. It's not a high performance chef knife, but it is a durable knife that requires a minimal amount of maintenance compared to other kitchen knives in the same price range. And it fills that role with enough style that even if you can't really cook, owning it almost makes it look like you know what you're doing.
There are a couple things that make Yaxell knives stand out. It was the Micarta handles that drew my attention in the first place because it isn't something I'm used to seeing in the kitchen cutlery world. It turns out there are a few other companies using it, but Yaxell uses it in a very aesthetically pleasing way, and they put a lot of resources into shaping those handles into what they see as optimum comfort. Yaxell does a lot of neat things with their designs and especially their steel. But I think it's pretty clear they prioritize handle shape and weight in their factory.
The other thing is their blades, which are never just simple steel. The majority of their cutlery is VG-10 folded with something softer and tougher. Common sense says this is to make the blades stronger, but I think if we're all being honest, the real attraction of their steel folding is the neat wave patterns it makes on the blade.
I've come to like this knife, especially as an alternate recommendation to anything in the Shun knives line up. For those who want a Japanese-style knife, but don't want to brave the Shun price tag, the Yaxell Mon serves well enough as a reliable tool, even though the way it cuts and handles is a little different from what most would call traditional Japanese.
Specifications
| | |
| --- | --- |
| Overall Length | 13.25″ |
| Blade Length | 8″ |
| Style | Gyuto Chef |
| Handle Length | 5.25″ |
| Blade Steel | Clad VG-10 |
| Blade Grind | Flat |
| Handle Material | Micarta |
| HRC Rating | 61 |
| Weight | 7.37oz (209g) |
Pros
Great looking knife with good fit and finish
Comfortable handle
Nice steel with great heat treatment
Tough steel and edge (for a chef knife)
Cons
A little too thick behind the edge
Handle heavy weight distribution
Tough steel and edge (for a chef knife)
Handle, Weight, and Ergos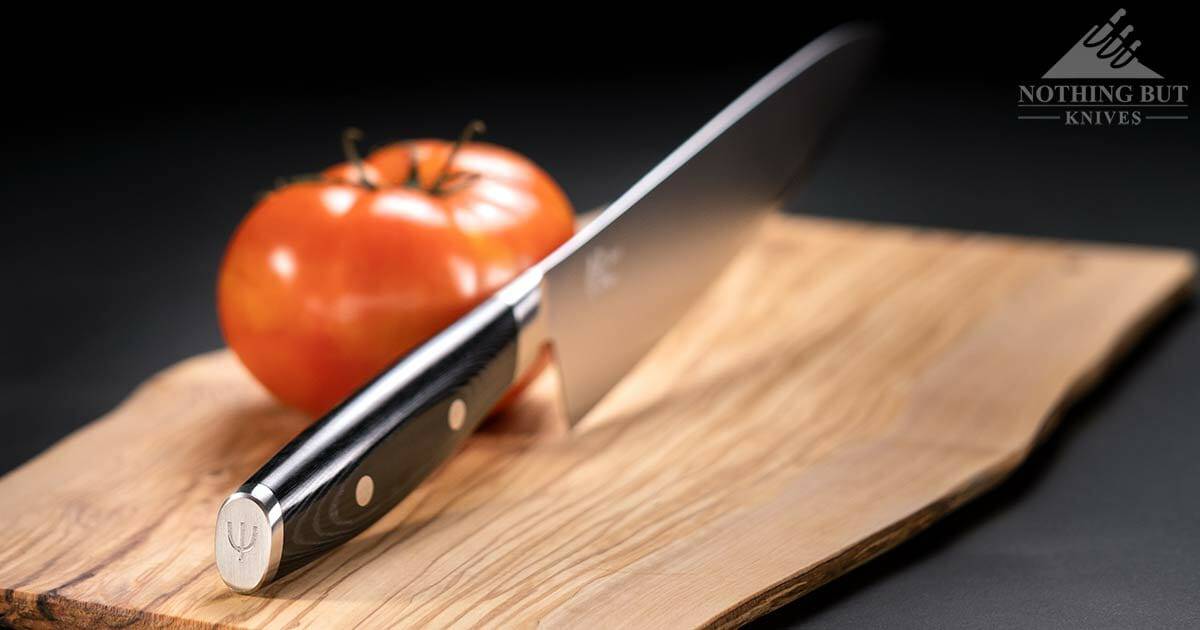 I like the feeling of the handle, but I had to work with it a bit. I'm more used to western-style handles like what's on the Tojiro DP series, so the oval hybrid on the Mon took me a couple cooking sessions to get used to.
The weight distribution is a little weird. It leans more toward the handle. Not a lot, but enough to throw off anyone who's used to the way more traditional Japanese kitchen knives feel. Although I'm guessing the weight will balance the other way on longer knives like the 10-inch Mon chef knife since they have identical handles.
Oddly enough, though, the 8-inch Mon isn't as heavy as I thought it would be. Knowing Yaxell makes all their knives full tang I was expecting something heavier like a Wusthoff, but at 200 g (around 7 oz), the 8-inch Mon comes out pretty much right in the middle between the Wusthoff Classic Ikon chef knife and the Shun Classic chef knife.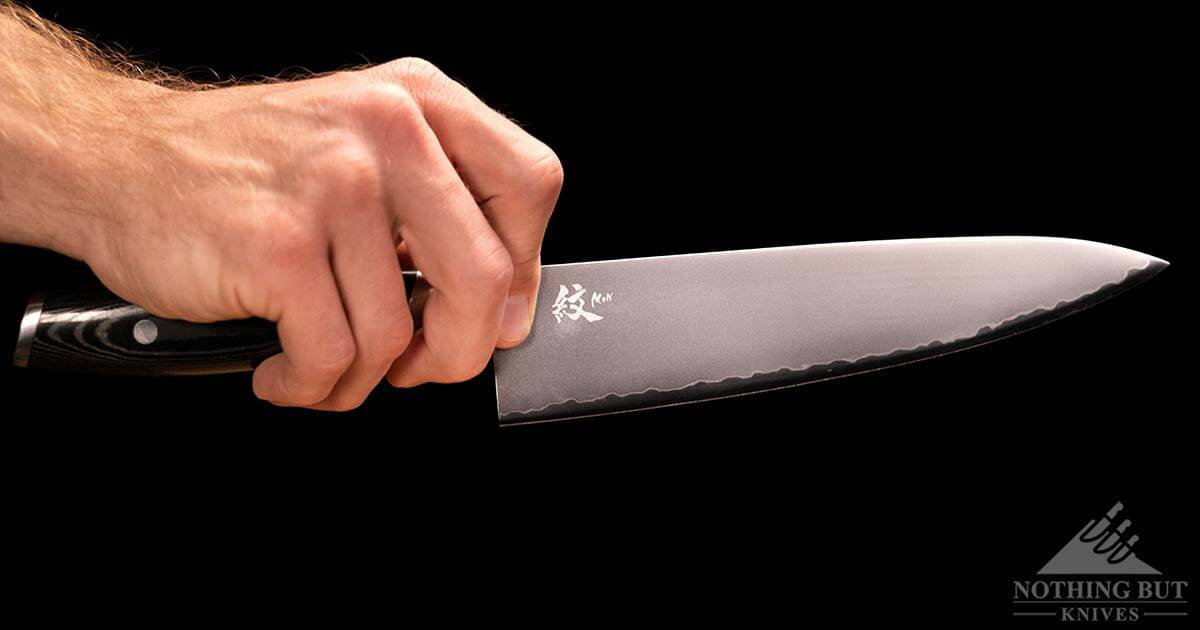 It works well in a pinch grip, but I've noticed the more I use it the less I use a proper pinch grip. Because of the weight in the handle I tend to keep more of my hand back, which can make cuts a little weird.
Bear in mind, these are only slight differences to how I hold other knives. Visually, it's probably not that different, but I've noticed I start standing a little differently so I can put a little more force into push cuts every now and then.
Fit and Finish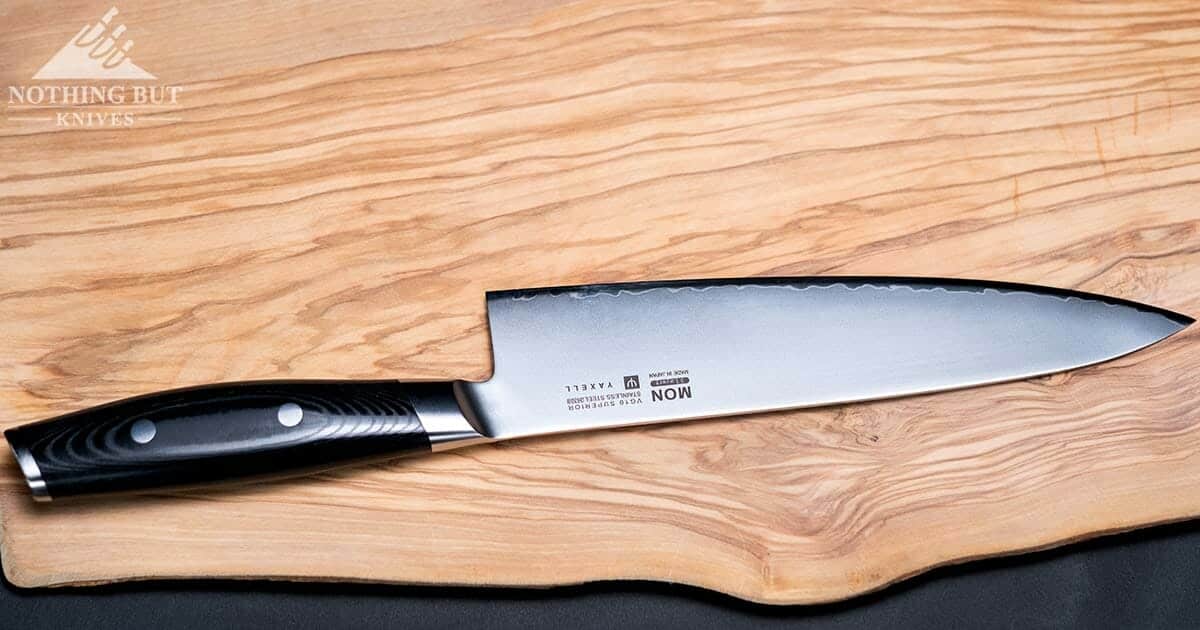 This knife is pretty smooth all around. The transition from the steel bolster to the Micarta isn't perfectly seamless, but it's pretty close, and the steel pins only feel like a very slight bump to the finger.
I've read a few complaints about Yaxell knives coming with chips in the handles and the blade scratching easily. I haven't noticed any of these things personally. The handle is in top shape. I've only noticed a couple spots where the Micarta has worn and reacted a little where I tend to hold it and apply the most pressure.
And I actually love the finish on the blade (and so does my brother after finally getting to take pictures of a knife that didn't double as a mirror). I have yet to show this knife to someone new without getting that raised-eyebrow "wow" reaction that I assume is craved by everyone who tries to compensate for their bad cooking by using knives that look cool.
So if your priorities are more in line with desperately trying to make yourself look cool and put together, the Mon series is a great start in that direction.
Cutting and Edge Geometry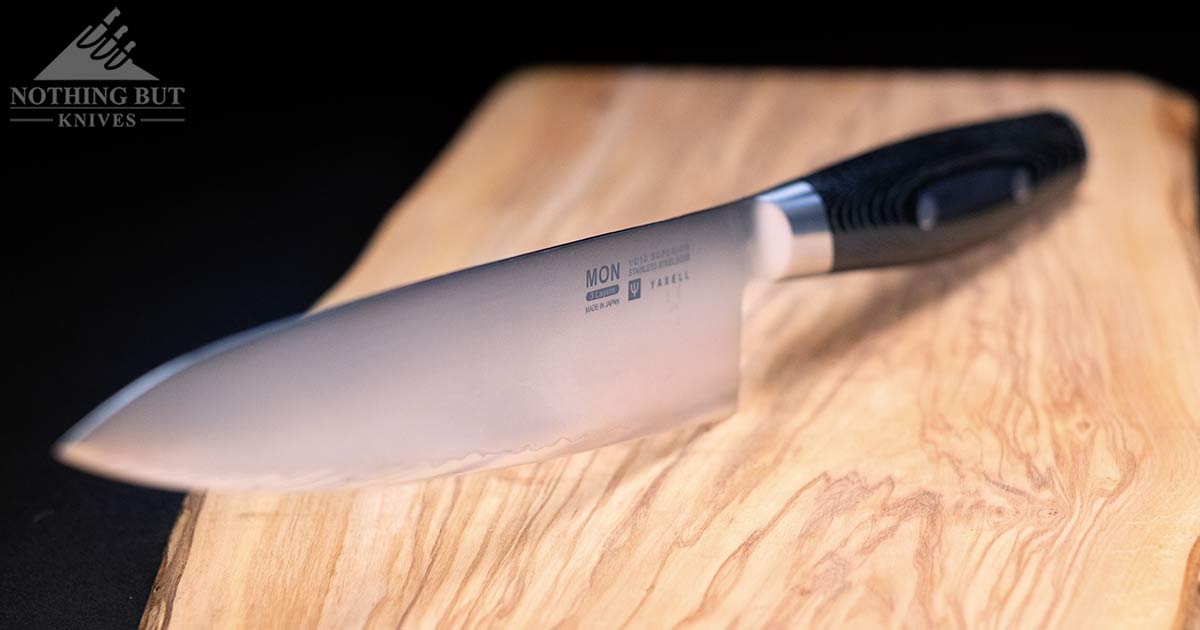 The Yaxell Mon cuts well, just not in every case. I think it's a compromise between tough edge geometry and really fine-tuned cutting. This is not a thin slicing knife compared to high-end knives, but it's still a fine example of good steel put to hard work.
The Steel
The Mon series has VG-10 sandwiched between layers of a softer steel. That's why you see a wave pattern running behind the edge. This isn't unheard of in the kitchen knife world. Shun does it quite a bit, and there are a few other high end cutlery companies that do it without making a big deal about it.
In this case, the steel layering is mostly increasing tensile strength and edge toughness, which seems like a great combination of features if you're getting a chef knife for a chaotic home.
Good for Slicing, but Not so much Dicing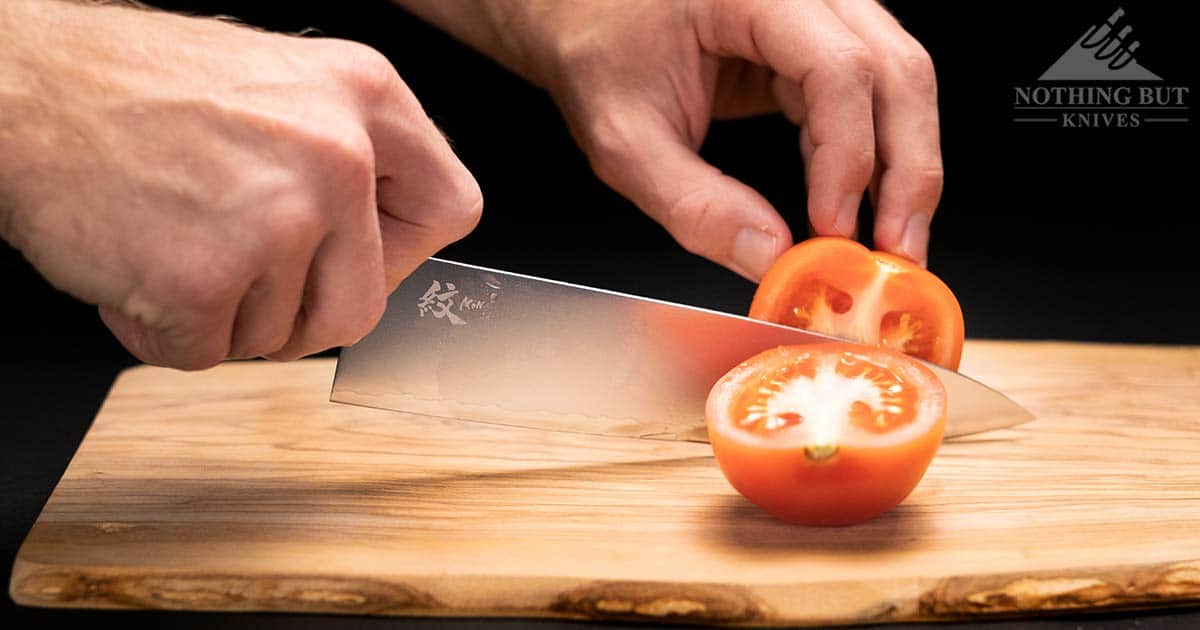 This is fantastic for cutting anything with a stiff skin. Potatoes were easily the most pleasant thing to cut with the Mon, with tomatoes being a close second.
I've heard professional cooks complain that Yaxell tends to grind their knives a little too wide behind the edge. After going through a few tomatoes with this, I think I know what they mean by "wedging", but I can still do a hand-free cut on a tomato half.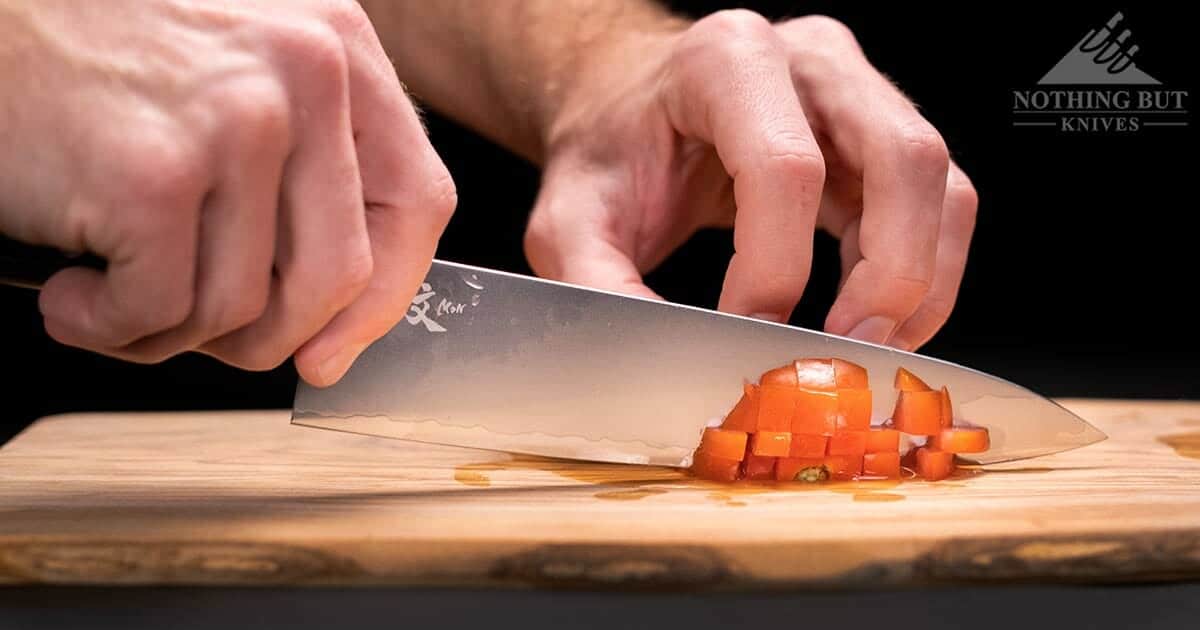 It has just a little bit of trouble if a tomato is on the other side of ripe. It seems to have a little trouble with the initial cut through the skin when it gets too soft, and even after that it's not prone to cutting extremely thin slices. You can definitely cut them thin enough for whatever you'd want to eat them in, but it was harder to get those useless, transparent, paper-thin cuts everyone does to show off their super knife edges.
It also has a little trouble with lighter things like herbs. I noticed quite a few incomplete cuts after a round of rock chopping on some cilantro. It also has a massive problem with food sticking to the sides, but that was no surprise. I could tell just by looking at this thing that the sides would hold a death grip on a slice of potato.
I really started to notice the thickness of this knife when I diced an onion. It spread the layers pretty badly when I tried cutting smaller until it got to the point that I stopped trying to dice with the stem attached and basically just rock chopped the whole mess until it was all roughly the size I wanted. In the end, I got the job done, but it definitely didn't look as pretty as it would with a thinner knife.
It's All for a Long Lasting Edge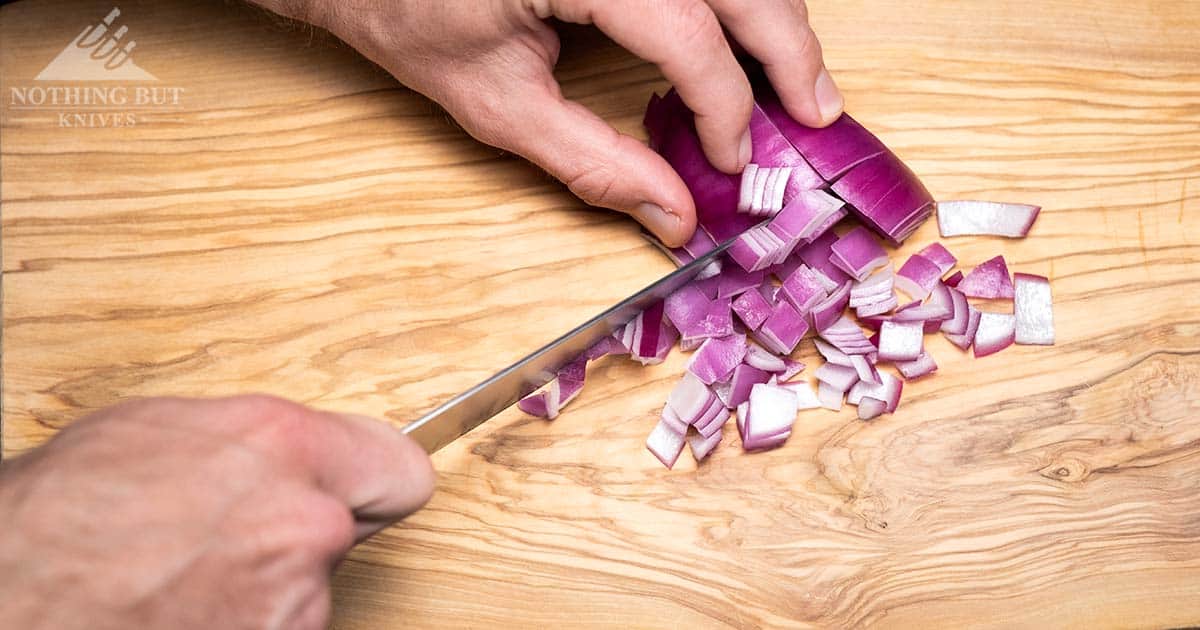 I suspect that Yaxell is prioritizing edge retention over edge performance, and that honestly doesn't seem like a bad thing so long as you understand what you're getting into.
For most foods, the wedging doesn't become that big of an issue, although it's probably the most glaring flaw of this knife. The edge is sharp enough that it just takes a small adjustment to keep a cut going clean. And while I don't think that's ideal in an eighty dollar knife, it does mean that the Mon is a lot less prone to chipping, and I don't think it will need to be sharpened as often.
If you want a really clean biting cut you can go with Tojiro or Shun, or even grind the blade down yourself. Otherwise, Yaxell has made a comparatively sturdy tool with mostly comfortable ergonomics and stellar looks for the home kitchen.
The Yaxell Mon, the Tojiro DP, or the Shun Sora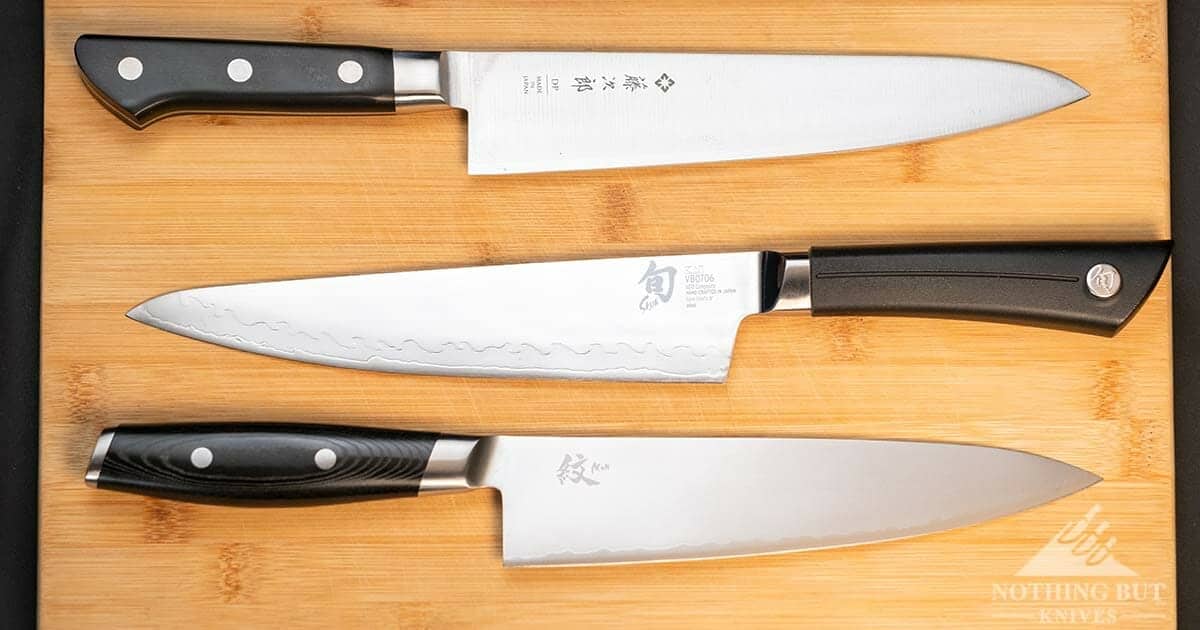 These three knives are all usually in the same price range within about $10-20 of each other, and even though they're all Gyuto blades, they'll different in pretty much every possible way other than blade shape.
Shun Sora
The Shun Sora is a nice choice if you want something very light and very thin. If you don't mind the cheap-ish feeling of the thermoplastic handle, the ergonomics and texture of it are great. It feels good in a pinch grip and the handle never really gets slippery. But like all Shun knives, the blade and edge are incredibly thin, and that comes with a lore more fragility than both the Tojiro DP and the Yaxell Mon
Tojiro DP
The Tojiro DP tends to cut cleaner than the Mon without having Shun's fragility, and the weight feels nice. The western-style handle doesn't require much adjustment to get used to, although the weight distribution does make it a little less nimble in a pinch grip. Overall, the DP has a good ratio of cutting ability, edge retention, and comfort to make it the safest option of the bunch. It doesn't look as striking as either of the Mon or the Sora. Tojiro on the whole doesn't put a lot of effort into the styling of their knives or packaging. They seem content to keep their attention focused on the performance of their knives.
Check out our Tojiro DP chef knife review to learn more about this knife.
Considering Availability
It's also worth mentioning that you are a lot more likely to find the Shun and Yaxell knives in stock. Tojiro sets never seem to be reliably available until the end of the year. If you want to get a chef knife with the intention of building out a block, it might take a while longer with Tojiro than it would with Yaxel or Shunl, who both seem to have their production lines figured out well enough to have full sets available.
Conclusion
This knife grew on me, and I'd be lying if I said it had nothing to do with how it looks. Yaxell is not putting out top-tier specialized cutting equipment; not even for the price. But they are making something nice. The Yaxell Mon cuts well, feels incredibly comfortable, and it looks impressive. If we're just talking about a $70-80 chef knife that works as a serviceable alternative to a Shun Classic, the Mon is just fine. It'll perform pretty well for a long time.
If we're talking about it in context with other options like the Tojiro DP or the Shun Sora it's mainly the tougher option with an oval handle. At the end of the day I prefer the way the Tojiro DP chef knife cuts, but they are different enough in style and close enough in performance that the choice between the two could come down to handle preference.
I would mainly recommend Yaxell knives as more affordable options if you really want an oval handle and layered steel with the cool wavy line along the edge. There's no judgement if you want to get a knife for looks, because the Yaxell Mon still cuts fine even if it tends to be a little bit beauty over function.