We Cover The Difference Between All The Yaxell Knife Series Including: Mon, Gou, Dragon, Ran And More
Of all the kitchen knives coming out of Seki right now, Yaxell might be making some of the most approachable stuff, with the possible exception of Tojiro. They tend to make knives that are a little tougher and heavier, and in some ways have ergonomics closer to western kitchen knives than traditional Japanese.
Comfort Over Sharpness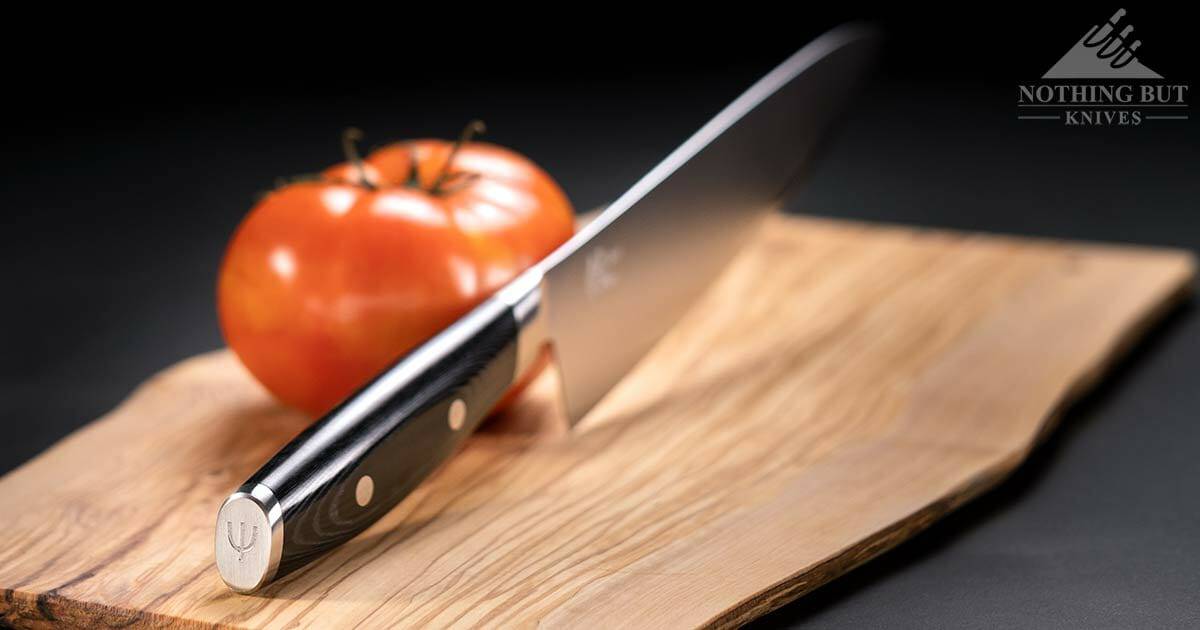 The handles on most of the knives out of the Yaxell factory go through half a dozen stages of grinding and refining on the Micarta handles alone before they even get to sharpening the blades. They also employ two master sharpeners who finalize the edge of every knife, and all the etched lettering you see on any blade is done by hand, so they don't push other details to the side. But at the end of the day, it really feels like comfort is on the forefront of their company philosophy.
A few cooks who use Yaxell or Enso knives every day have said that the grind is a little too thick behind the edge, and some of them actually work their knives on a stone to thin them out before using them again. That's generally the kind of thing you only notice when you're cooking eight hours a day though. The factory edge of these knives should feel great for most home cooks.
Yaxell Makes Japanese Knives that Lean a Little West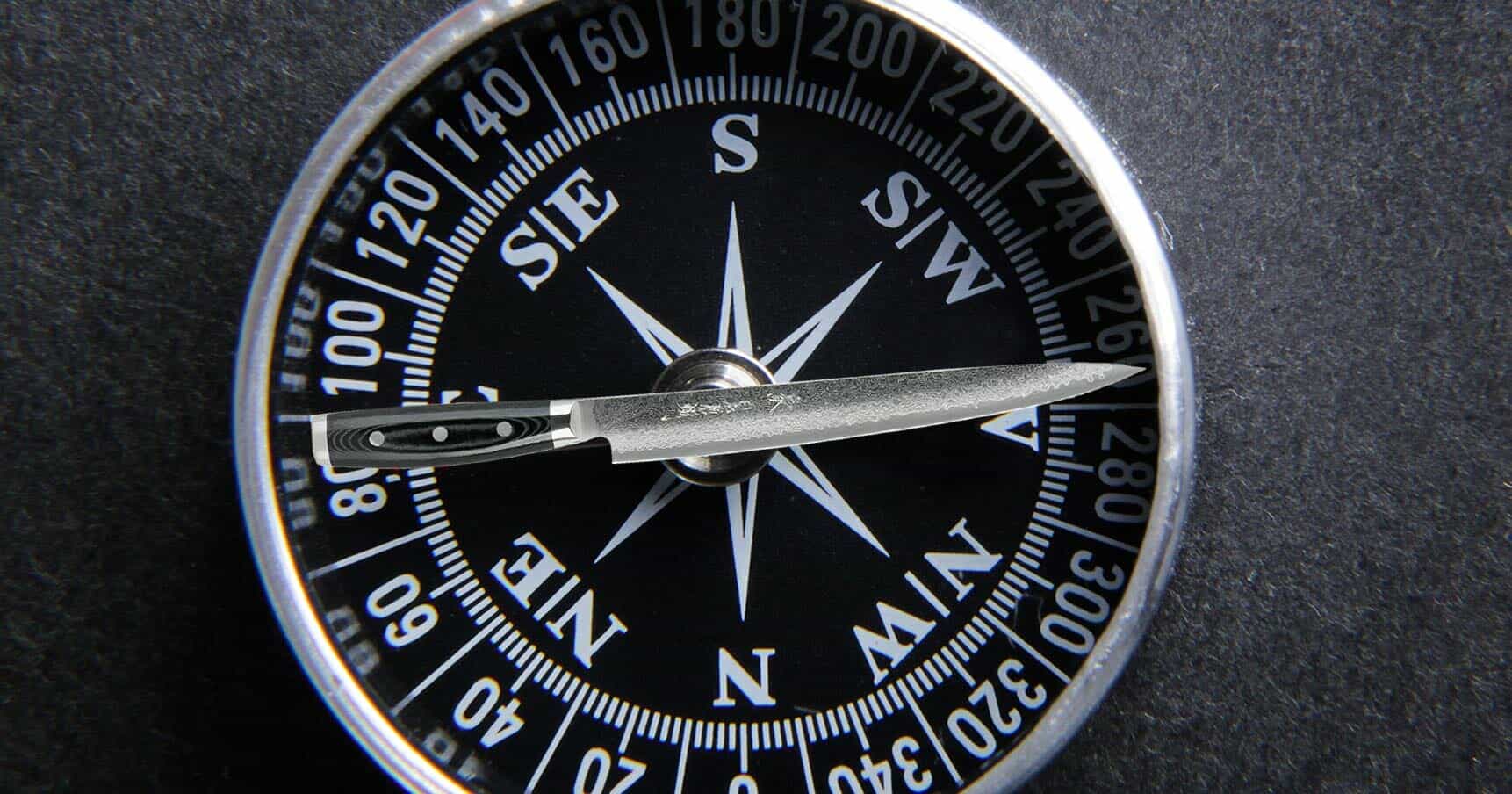 Most of their knives are considered partial hybrids between Japanese and Western styles. The minimalist handles and blade designs like the gyuto and nakiri along with the multi-layered steel fall pretty comfortably in Japanese tradition. But the slight contouring in the handles and the full tang construction make the weight and ergonomics closer to a Western balance.
Yaxell Kitchen Knife Series
Some of these knives are hard to find on the western market, so I've tried to organize them by how easy they are to actually get a hold of. The stuff at the top should be pretty easy, while a lot of the stuff at the bottom is near impossible to find from a reliable vendor. Availability is constantly changing, though, so
Outside price and availability, though, the number of folded steel layers and the angle of the bolster is often the most marked difference from one series to another. Generally the more layers a knife has the more expensive it will be. That bolster-to-blade heel relationship is probably the most relevant to actually using these knives, so I'd recommend paying special attention to that area as you go through this list.
Mon
| | |
| --- | --- |
| Core Steel: | VG10 |
| Layers: | 3 |
| Average HRC Hardness: | 61 |
| Handle Material: | Micarta |
This might be the popular series that Yaxell makes. Either that, or it's just the easiest one to find. It's also one of their most populated series: they offer at least 15 different kinds of knife styles under the Mon name.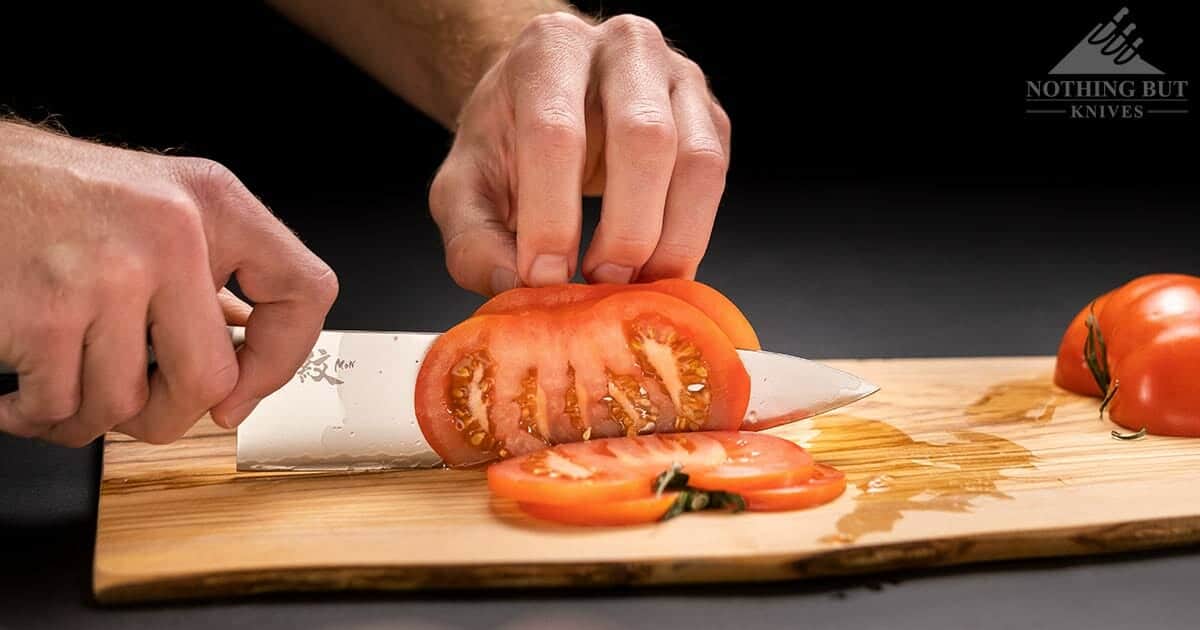 The Mon series is the more reasonably priced line of what Yaxell puts out. You can usually pick up the 8-inch chef knife for around $80, and the 6-piece set runs around $350. Between the clad VG-10 steel and Micarta handles, that's a pretty good deal for your typical household kitchen. It certainly presents rough competition for companies like Shun.
This is also one of the only series where you'll see the handles at a bit of an angle, which might make a pinch grip a little more comfortable, depending on your style and preferred ergonomics. The only other Yaxell series you'll see with similar handles is the Tsuchimon series, which we'll get into next.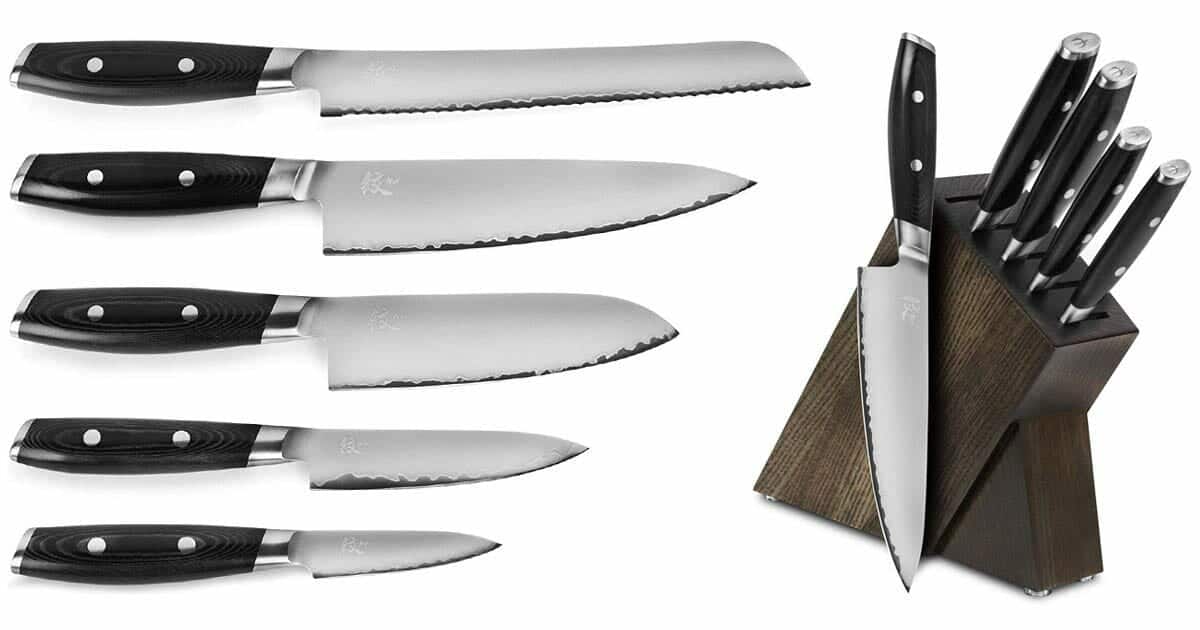 Yaxell doesn't offer a lot of sets, but they do sell the six piece Mon knife set pictures above. From a straight quality and performance for the money standpoint this knife set is hard to beat. We included it in our Best Japanese Knife Set article, because we think it offers an excellent value.
Tsuchimon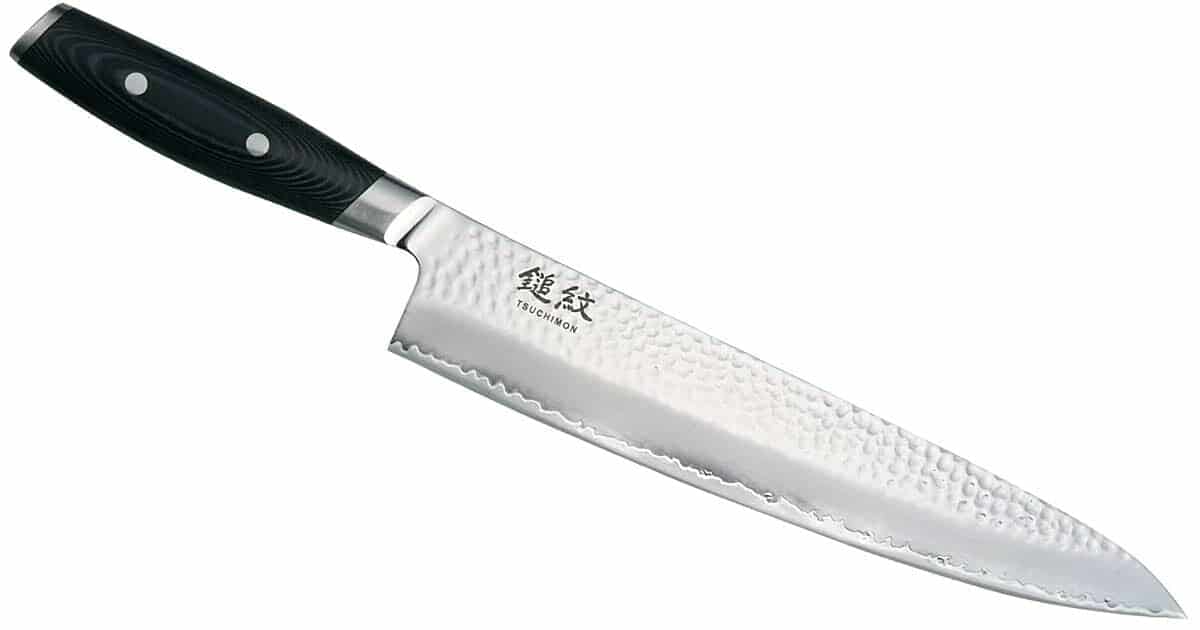 | | |
| --- | --- |
| Core Steel: | VG-10 |
| Layers: | 3 |
| Average HRC Hardness: | 61 |
| Handle Material: | Black Canvass Micarta |
There might be more important differences, but you can think of the Tsuchimon series as the Mon knives with a hammered finish. It's even in the name: Tsuchime is the Japanese term for the hammer finish, so Tsuchime + Mon = Tsuchimon (in case you were curious. The steel and layers are the same. So are the materials and basic formation of the handles.
The series is a little bigger, though. For some reason, Yaxell decided to make a Panini knife in the Tsuchimon style. I have no idea what the thinking is behind that decision is, but I guess it's cool for whoever uses Panini knives.
The other important difference is price, though. Tsuchimons run pricier. Not by a lot. The price usually doesn't vary more than $40 or so, but it's worth bringing into question how much you want that hammer finish.
Ran Series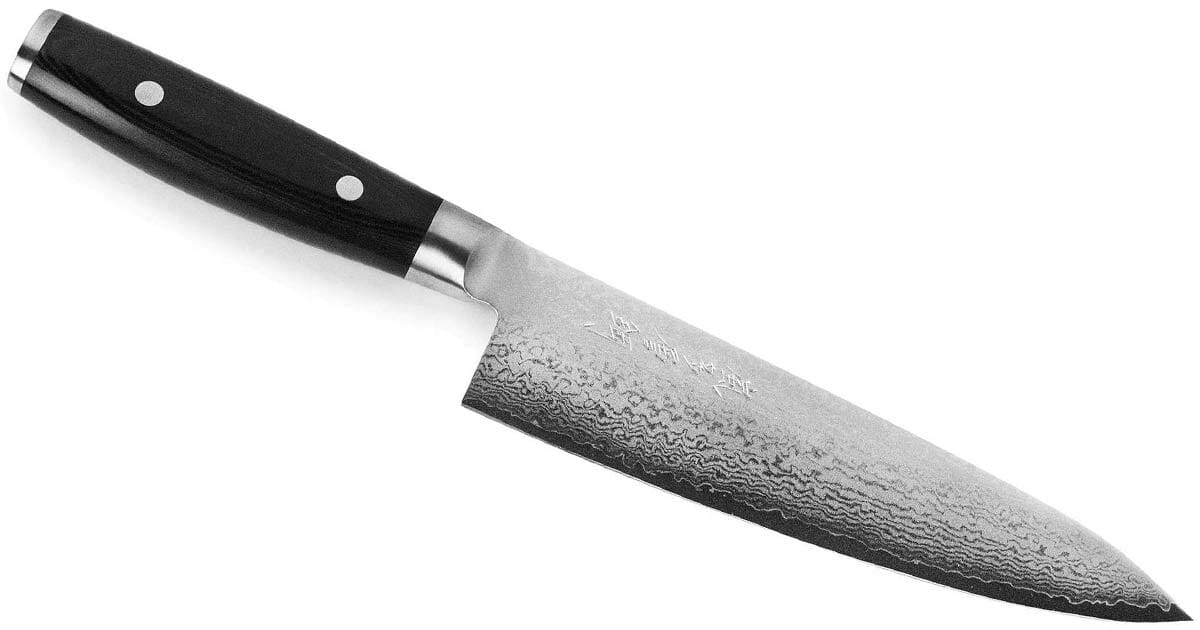 | | |
| --- | --- |
| Core Steel: | VG-10 Damascus |
| Layers: | 69 |
| Average HRC Hardness: | 61 |
| Handle Material: | Black Canvas Micarta |
In terms of cost, the Ran series is the lowest tier of Damascus steel options from Yaxell. That doesn't mean it's low quality. It just might not be on par with the crazy premium knives we talk about farther down.
Aside from the Damascus blades, you're not seeing anything super new with the Ran knives (although you should note the straight bolsters). Obviously the 69 layers make them stand out. You could generally expect these to have stronger blades than the Zen series knives even though their Rockwell hardness is about the same.
The more interesting things about this series is it's one of the few that has a carving knife and a boning knife in its line up, and they're comparatively plain next to Ran knives as a whole.
Ran Plus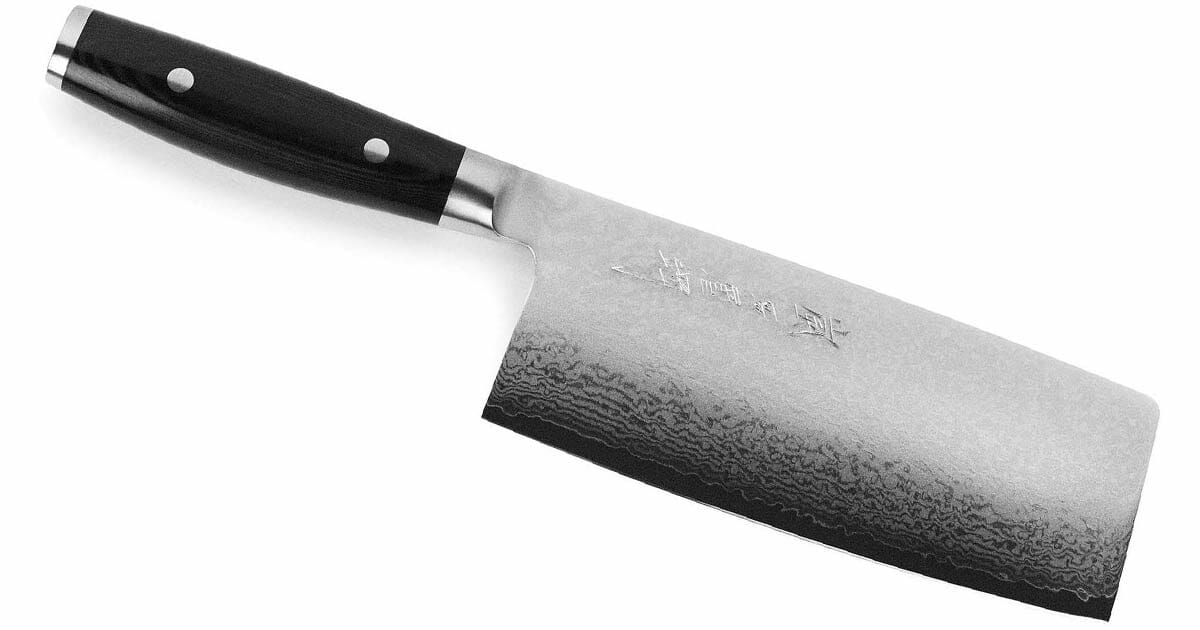 The Plus series seems to be the same thing but with Japanese name of the series etched into the blade. For some reason these tend to be easier to find. Because of it's hard to gauge exactly what the price jump is with the Plus versions, but it tends to be around the same as the Dragon Fire or Tsuchimon knives.
Yo-u Series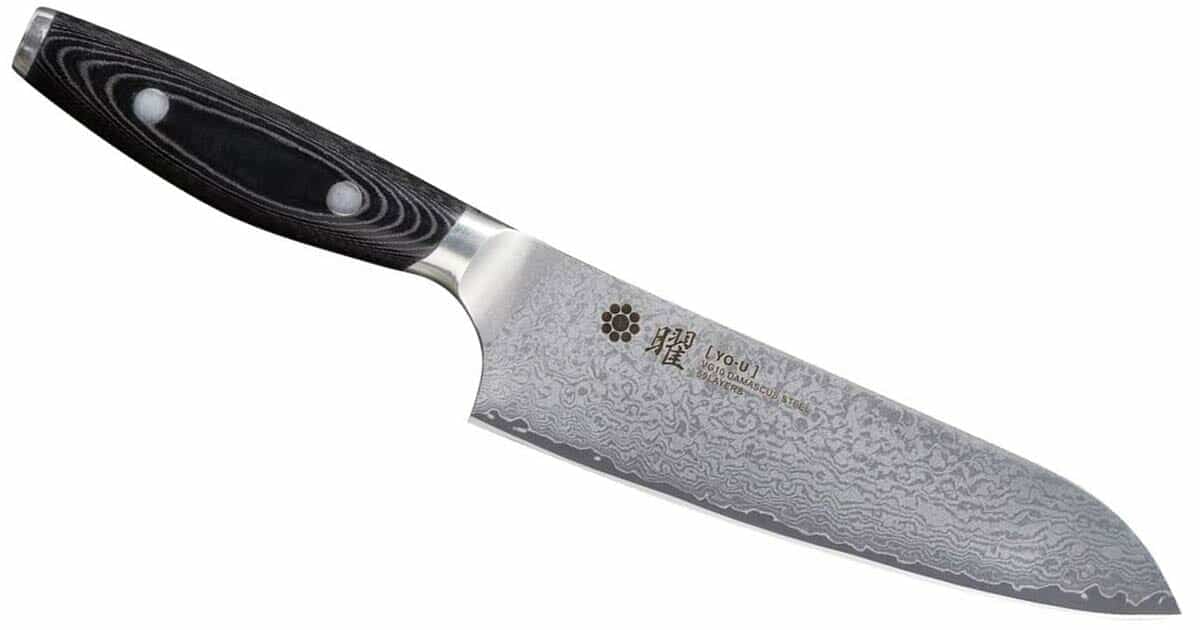 If you look around at Yaxell knives long enough you might come across this name. My understanding is that "Yo-u" is the term used for Yaxell knives sold exclusively on the Japanese market where (supposedly) they demand a higher quality control. Lately this name has gotten a lot more common to see in western vendors. I think people caught wind of a Yaxell series that was inexplicably better and started asking about it.
The knife we're showing here is basically the Ran knife equivalent. Just about everything is the same except for the bolster that's at a slight angle. But there's a Yo-u version of most of the Yaxell's designs. They just aren't all easily available here. I'll try to put together a proper list of available Yo-u knives soon to update this guide.
Gou Series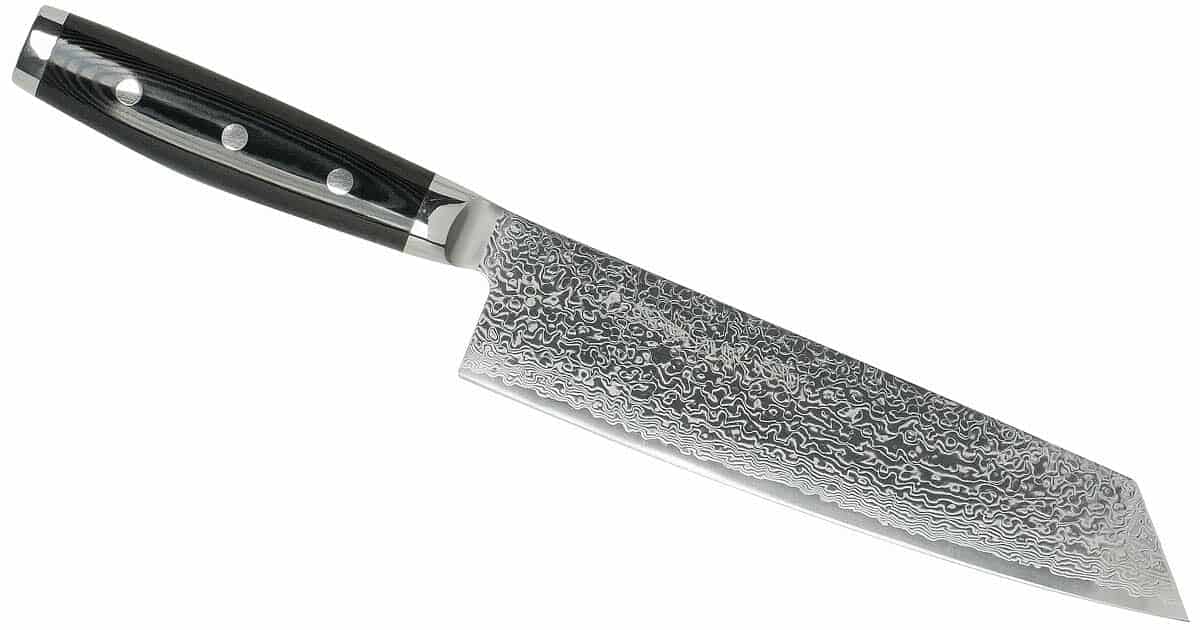 | | |
| --- | --- |
| Core Steel: | SG2 |
| Number of Steel Layers: | 101 |
| Average HRC Hardness: | 63 |
| Handle Material | Black Canvas Micarta |
Now we're in hundred layer territory, which also means we're two-hundred-dollars-for-one-knife territory. This big jump in Yaxell knives comes with an upgrade to SG2 steel. You'll see this steel used a bit by some custom knife makers, but you'll also see it in Shun knives, and Zwilling likes to use it in their higher end Japanese designs. You might see it listed as R2 steel instead. Without getting too complicated about it, the big takeaway from this stuff is that it's a powder steel with a much higher working hardness than the VG-10 you see being used on Yaxell's other knives.
So what you have here is a very hard steel, folded several times with softer steels to improve toughness and edge retention to make an incredibly strong blade overall. By all reports, though, the real attraction of Gou knives is the ergonomics. The balance is pretty even on the index finger, and the handle does a good job of utilizing that weight.
Super Gou Series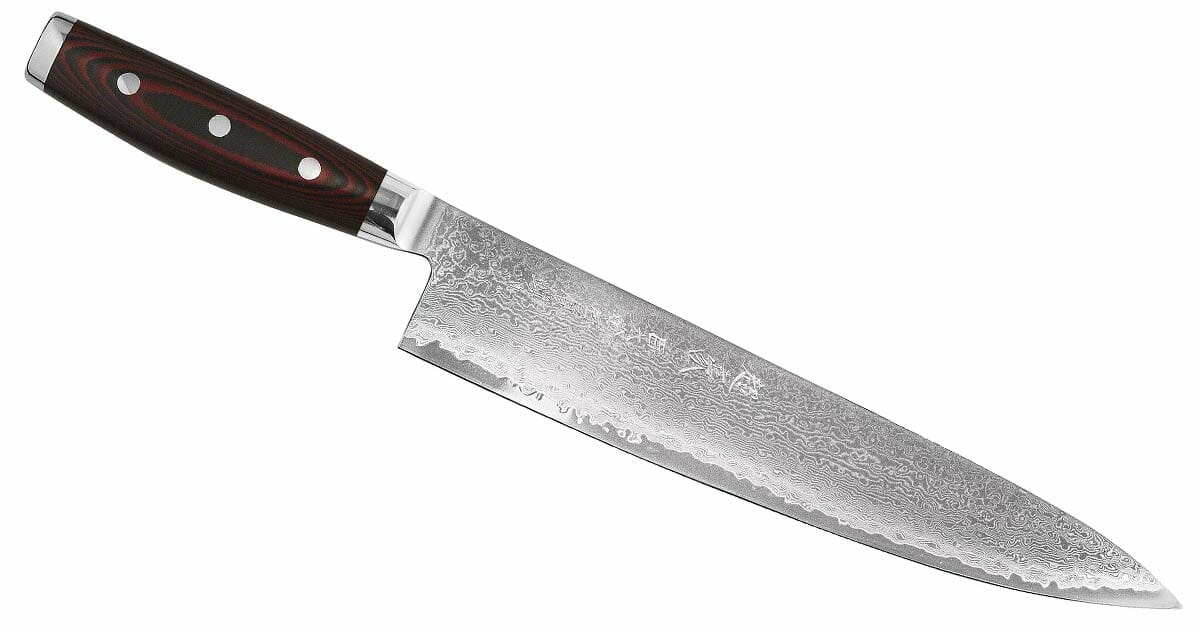 | | |
| --- | --- |
| Core Steel: | SG2 |
| Layers: | 161 |
| Average Hardness: | 63 |
| Handle Material: | Red Micarta |
Here you have the same set up as the base Gou knives, only with half again as many layers and red Micarta instead of black for the handles. Outside of that there shouldn't be too much of a difference in performance between the two series. The slightly higher price tag is basically paying for a more complex blade finish and a red handle.
The hardness is the same, and you get the same range of selection with the types of knives and block sets. Super Gou knives might have a slightly better tensile strength thanks to the extra laying in the steel, but I wouldn't want to test how big the difference is.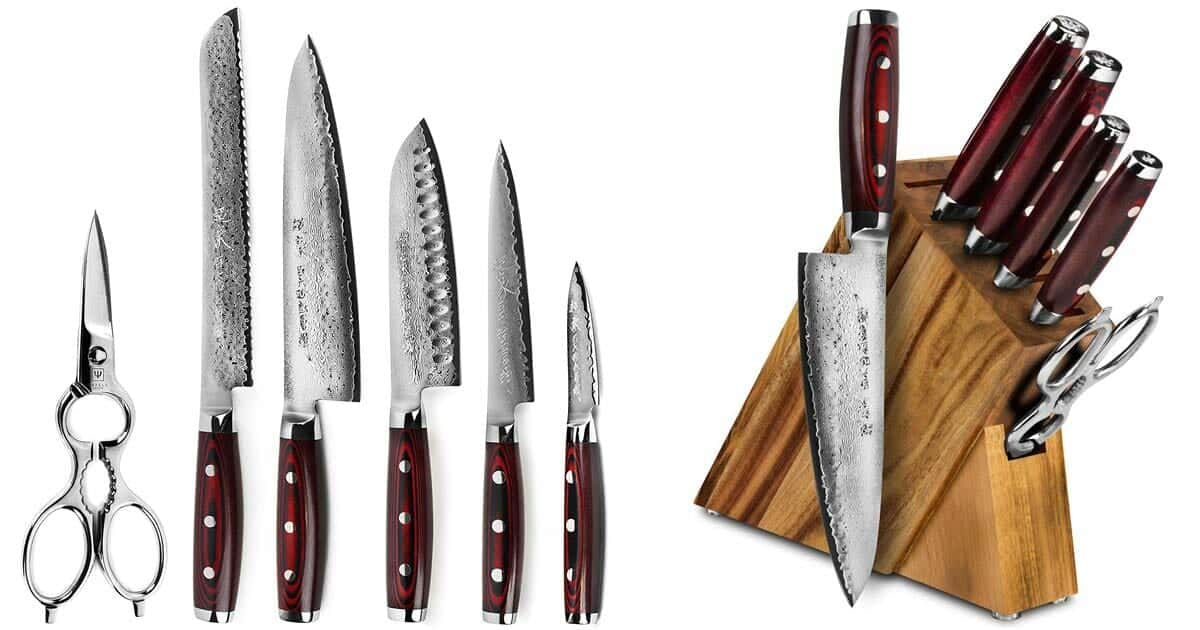 Fortunately Yaxell makes a great set of the Super Gou series of knives. This set includes the most popular knives from the series and ships with a great looking storage block.
Super Gou Ypsilon Series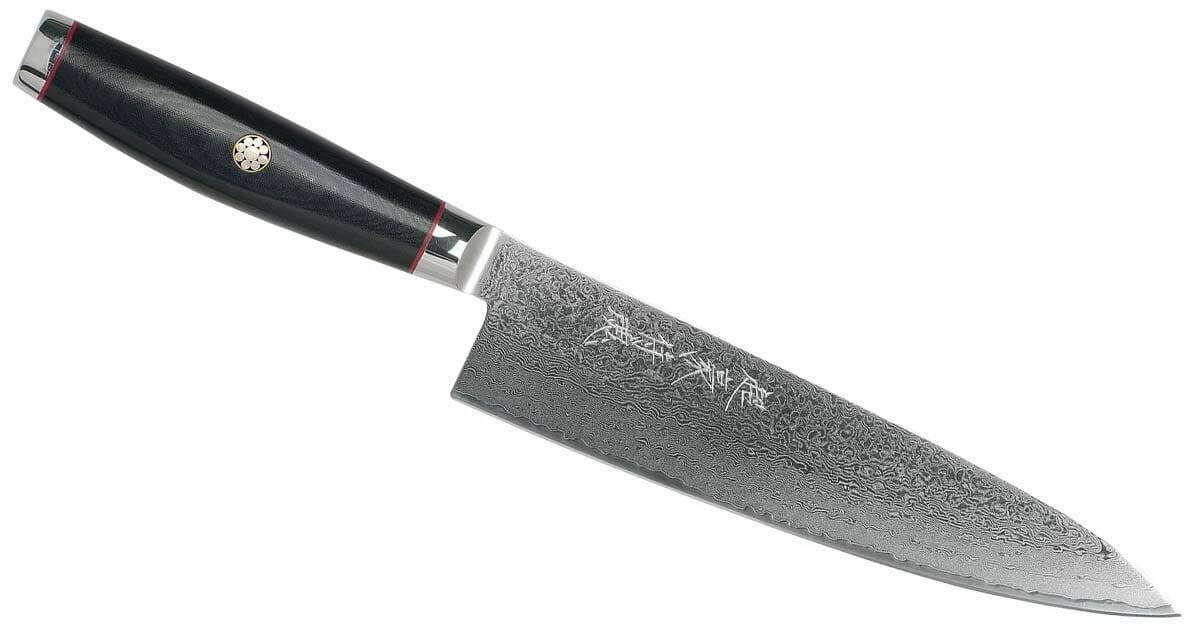 | | |
| --- | --- |
| Core Steel: | SG2 |
| Layers: | 193 |
| Average Hardness: | 63 |
| Handle Material: | Black Canvas Micarta |
Usually when you see a picture of a Yaxell knife in the wild, it's of this knife. Not because it's the one everyone has; it's just the one everyone takes pictures of.
As of this writing, this is the top tier from Yaxell's kitchen cutlery, both in looks and performance. The core steel is the same stuff you see in the Gou and Super Gou knives, but with nearly two hundred layers of another softer steel layered on either side.
The selection of knives isn't as wide in the Ypsilon series. They currently only make a chef knife, santoku, utility, and kiritsuke with the 193 layer construction and the handle with a family crest. But these really aren't the kinds of knives you buy in bulk. These are more show pieces that you get so people know how much you're willing to invest in your kitchen. Or Instagram feed, depending on who you are.
Dragon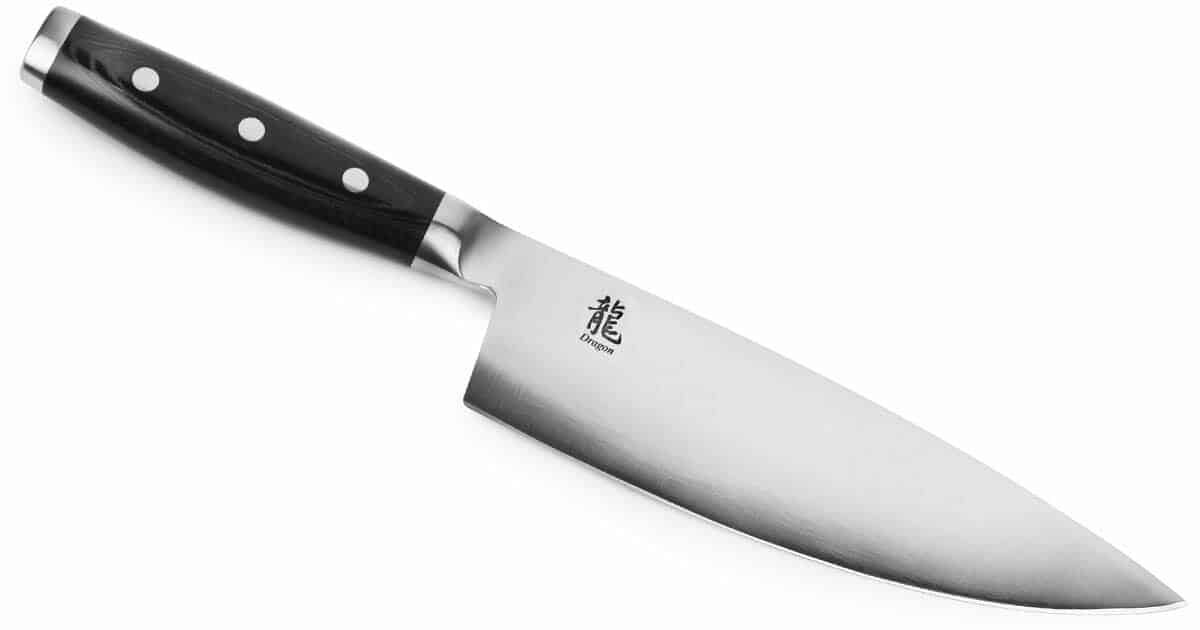 | | |
| --- | --- |
| Steel: | BD1N |
| Average HRC Hardness: | 63 |
| Handle Material: | Micarta |
2021 Update: The Dragon kitchen knives are no longer made by Yaxell or even in Japan. As has been kindly pointed out to me by better informed people, the Dragon series of knives are actually the brain product of a company called Apogee Culinary Designs which had been partnered with Yaxell for a while. As of 2019, the two companies parted ways and now all Apogee Dragon knives are made in China. It's still possible to get a Yaxell-stamped (and therefore Japanese-made) Dragon knife, but they're increasingly hard to find. The most reliable vendor is Cutlery and More, but we're not an affiliate of them and I'll be damned if I go through all the trouble of linking to it here (definitely go check it out if you're really into the design, though, because someday the Japanese-made Dragons will disappear).
The Dragon line is the only one on here made with American steel. BD1N is a Carpenter steel with a shot of nitrogen to give it a higher working hardness. In practice it's similar enough to VG-10 for comparison. It takes a good edge within pretty thin margins and it has good corrosion resistance.
Beyond that, the handles are the same Micarta used in most Yaxell knives, and the handle shape is basically what you get with the Ran and Gou series. You should be getting roughly the same balance, although the Dragons are explicitly described as being full tang, so you might expect them to be heavier than most other Yaxell knives with the possible exception of the Sayaka knives.
There are three variations (that I can find) in the Dragon series:
The basic Dragon knives, which have the slightly contoured handles with black Micarta.
The Dragon Fire knives, which are the same thing but with red Micarta.
And then there's the Dragon Storm knives. These are harder to find (I'm not even sure if Yaxell is still making them), but the handles with a slight curve at the butt make the ergonomics quite a bit different. The steel and handle materials are all the same though.
Zen Series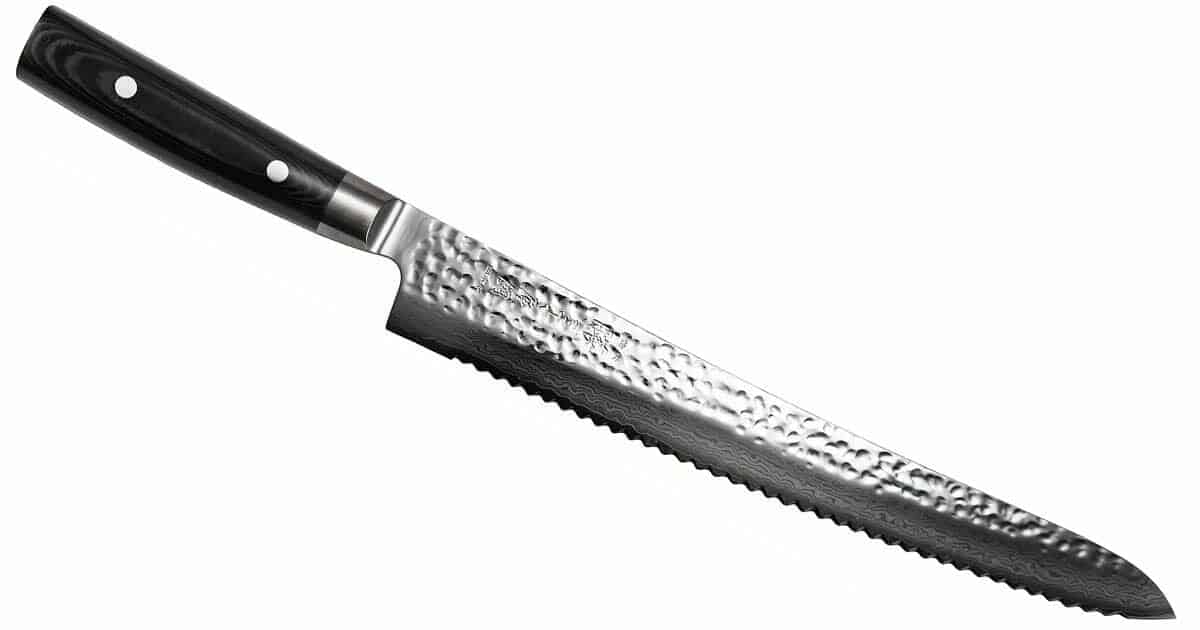 | | |
| --- | --- |
| Core Steel: | VG-10 Damascus |
| Layers: | 37 |
| Average HRC Hardness: | 61 |
| Handle Material: | Canvas Micarta |
The Zen series might be the closest to being "traditional" Japanese knives because the oval handles have the least amount of contouring. You've still got pins going well past the halfway mark on the handle, though, so Yaxell Zen knives will still be more handle-heavy than is really traditional.
Tradition aside, VG-10 steel folding between 36 layers of another steel with a hammer finish is still a pretty remarkable thing to have. It's also the only hammer finish series that's folded this much before you get into Enso knives. The equivalent with Enso is the HD series which is mostly the same thing except for the end cap and three pin instead of two on the handle.
This is also one of their larger series. They offer a pretty good selection of different kitchen knives if you want to stay within this aesthetic. The only problem is it's hard to find them in a set larger than three pieces.
Sayaka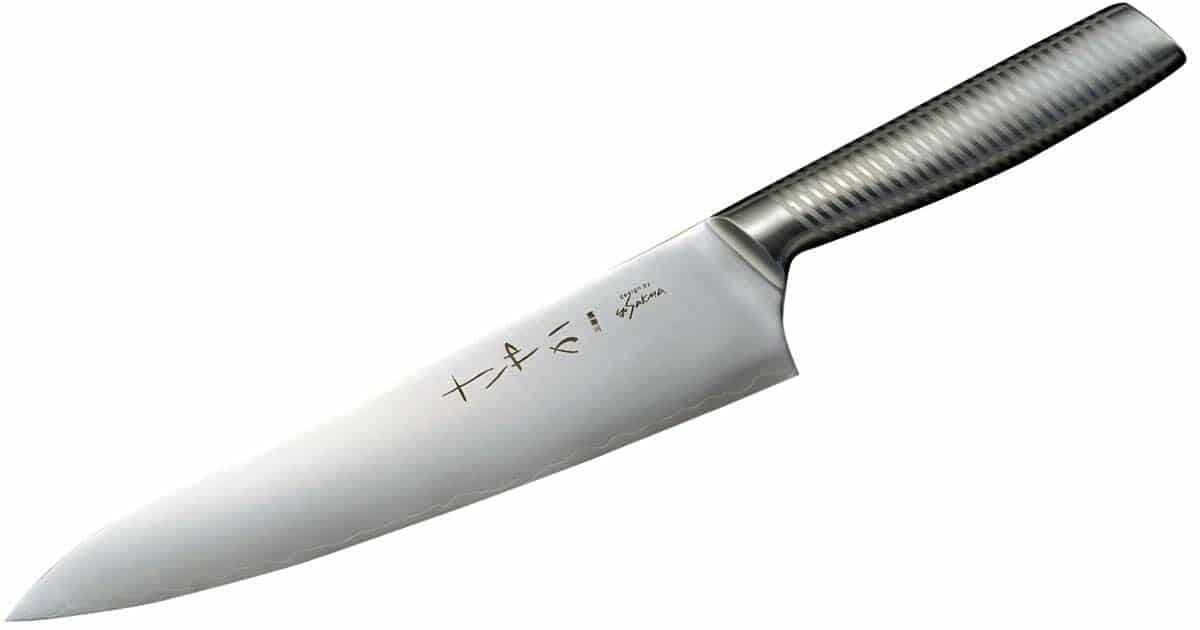 | | |
| --- | --- |
| Core Steel: | VG-10 |
| Layers: | 3 |
| Average HRC Hardness: | 58 |
| Handle Material | 18/10 Stainless Steel |
This is the all-steel series in Yaxell. If you don't want to bother with all that Micarta or G-10 business (or you just have a metallic theme going in your kitchen), the Sayala series presents a pretty interesting option.
It's also one of Yaxell's less involved knives with only a slab of VG-10 steel clad in a single layer of another steel on either side. The blade should still be plenty sharp and durable, but the knife as a whole is going to have something like the weight balance of a Western knife with the weight leaning heavy toward the handle thanks to it just being a big chunk of steel.
Either this is a new-ish series from Yaxell or they just aren't interested in pushing it very hard. Either way, it's tough to find the Sayaka series as a set or even the individual knives from most of the well known vendors.
Yukari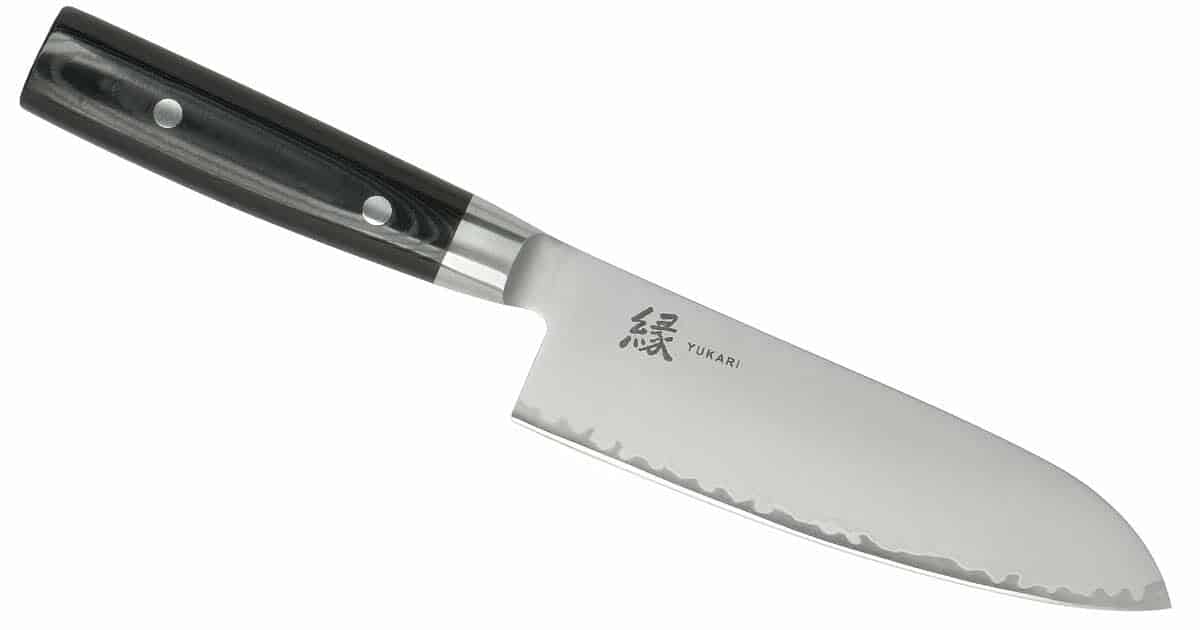 | | |
| --- | --- |
| Core Steel: | MOVAX |
| Layers: | 3 |
| Average HRC Hardness: | 58 |
| Handle Material: | Black Canvas Micarta |
Like the Sayaka series, Yaxell doesn't seem too interested in making the Yukari series too widespread at the moment. It's also similar in that it only has three layers of steel to each knife.
Where it starts getting different is in the kind of steel. For those unfamiliar with steels in general, you'll feel better to know that even most knife nuts aren't generally certain about what "Movax" steel is. It's likely that it's just an alternative name for AUS-10 steel, which is pretty common to see in the knife world. These knife are softer than your average, high-quality kitchen cutlery, but they took a good edge, and it's easy enough to work out burs for those who know their way around a sharpening stone.