Things Get Cool but Clunky When the Germans Make a Gyuto
The Mizu is a pretty knife first, and a pretty good Japanese chef's knife second.
I want to be very clear about the cutting ability of this thing, because it looks like something that's going to turn your kitchen into the setting for a daytime cooking special. The Myiabi Mizu cuts well, but it doesn't cut quite as well as a lot of other high-end gyutos. It's technically comfortable, but it's weighted completely different from traditional gyutos, and that affects the way I end up cutting with it.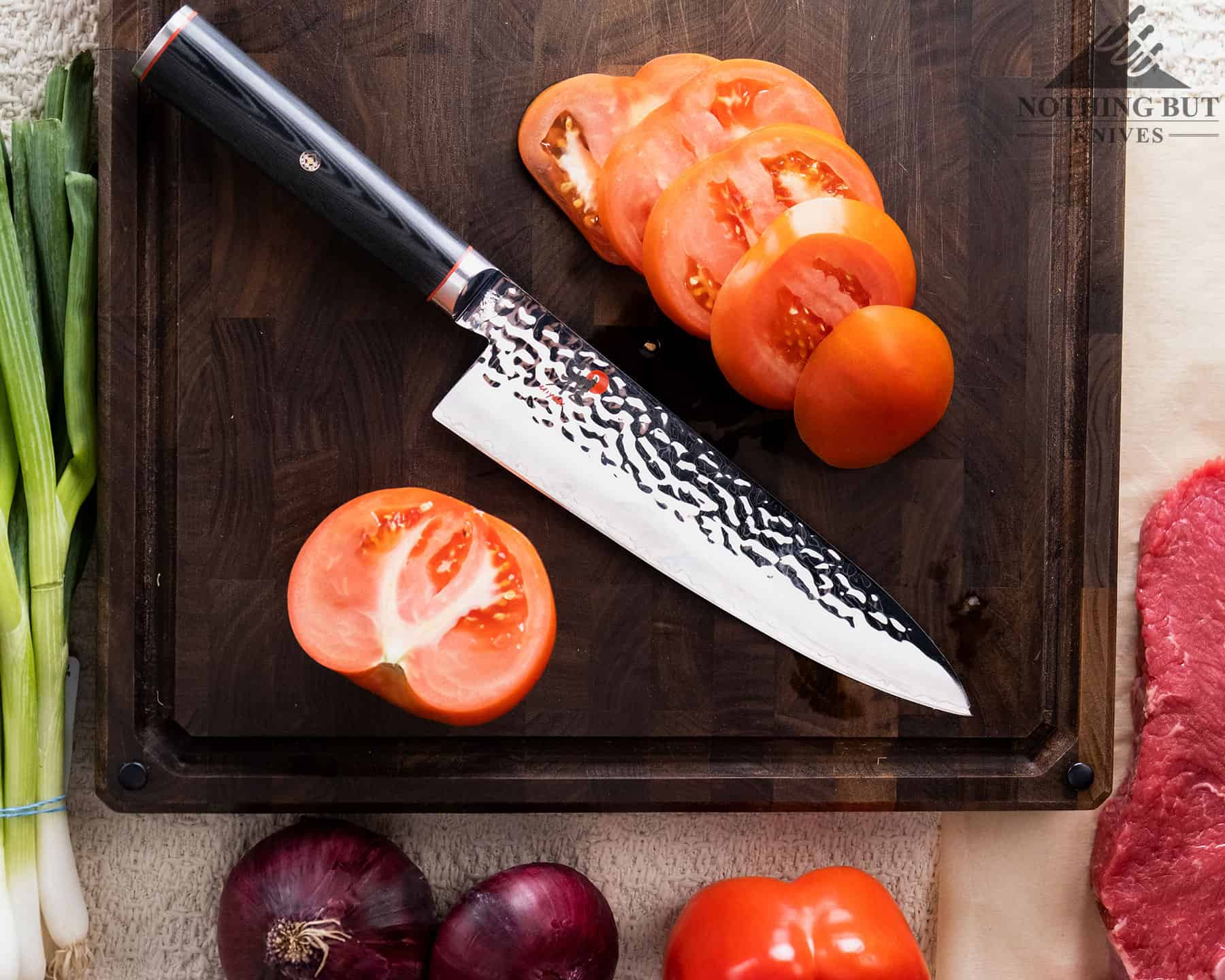 It's a good knife. But I want to be sure to temper any expectations about the nature of this thing. It looks like a cool Japanese knife, but it's a Japanese knife made by a German company, and it definitely feels like it. It cuts incredibly well, it's made from a fantastic steel, and besides the balance, it's a very comfortable knife.
It's just that in this price range, it really needs to be nitpicked.
Specifications
| | |
| --- | --- |
| Overall Length: | 13.5" |
| Blade Length: | 8.0" (8.5" from bolster) |
| Blade Steel: | San Mai w/ SG2 (MC63) core |
| Hardness: | 63 HRc |
| Blade Thickness: | 1.9 mm |
| Blade Shape: | Gyuto |
| Blade Grind: | Flat w/ 9 – 12° edge each side |
| Handle Length: | 5.0" |
| Handle Material: | Micarta |
| Handle Type: | D-Shaped |
| Weight: | 7.4oz (210 g) |
| Made in: | Seki, Japan |
Pros
High end powder steel with great edge stability
Oddly good for cutting harder root vegetables
Super thin edge that's great for mincing
Good looking Micarta handle with some texture
Cons
Spine can create a hotspot in spite of crowning
Handle-heavy weight feels weird on a gyuto
A little thick behind the edge for a Japanese knife
Fit, Finish, and Cool Looking Stuff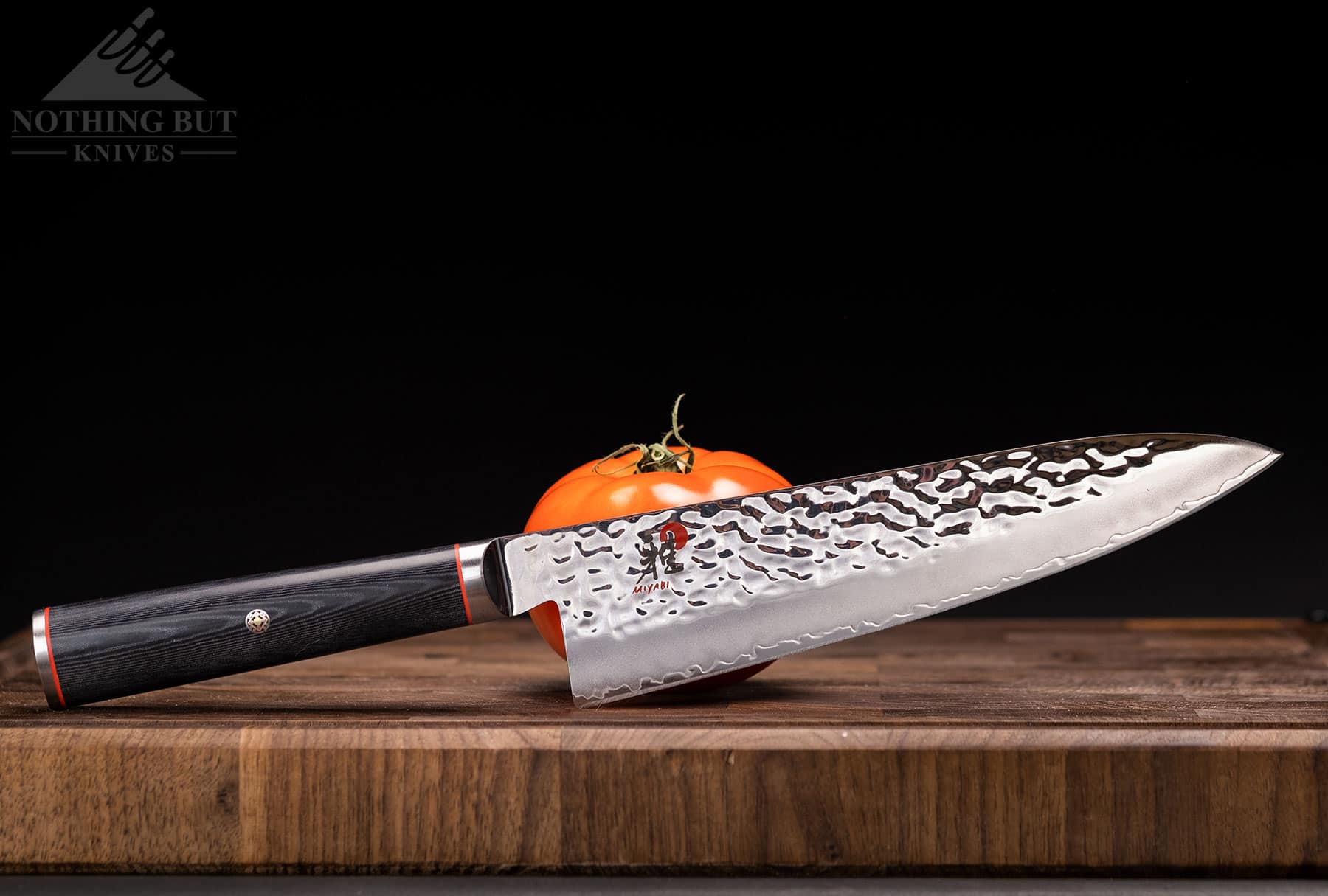 There's a lot of good to be said of this thing right out of the box. Everything seems to be perfectly rounded and pieced together. It's a little heavy, but as far as the execution of the design, there's very little to criticize.
The blade is perfectly straight with kind of a crazy set of different things going on with it. The finish is really well done on this blade. All three of them. The spine has a satin polish, the side is mostly a mirror polish with a hammer finish that fades into something like a sand blasted stonewash finish farther down the blade before ending in the line from the cladding right behind the edge.
So there's a lot going on with the blade, and even though I don't personally like bright polishes that much, I have to admit that Miyabi has really pulled all the visual elements of the blade together into something that looks really nice.
The handle is no slouch either. It's almost completely seamless. Even at the joint of the bolster to the handle I can just barely feel the separation in material. The red spacers feel like they're part of the main handle piece, and I can't feel any separation at all between the Micarta and the end cap. Plus the mosaic pin is impressively complex without looking too busy.
Whatever else might be said about his knife, it is a pretty thing that shows a ton of attention to detail.
I've heard from other people that Miyabi can have some QC issues and occasionally sends out knives with blades that are a little bent. I don't know if that's still popping up for people, but it's definitely not the case with the one I got.
A Thin Blade that Feels Thick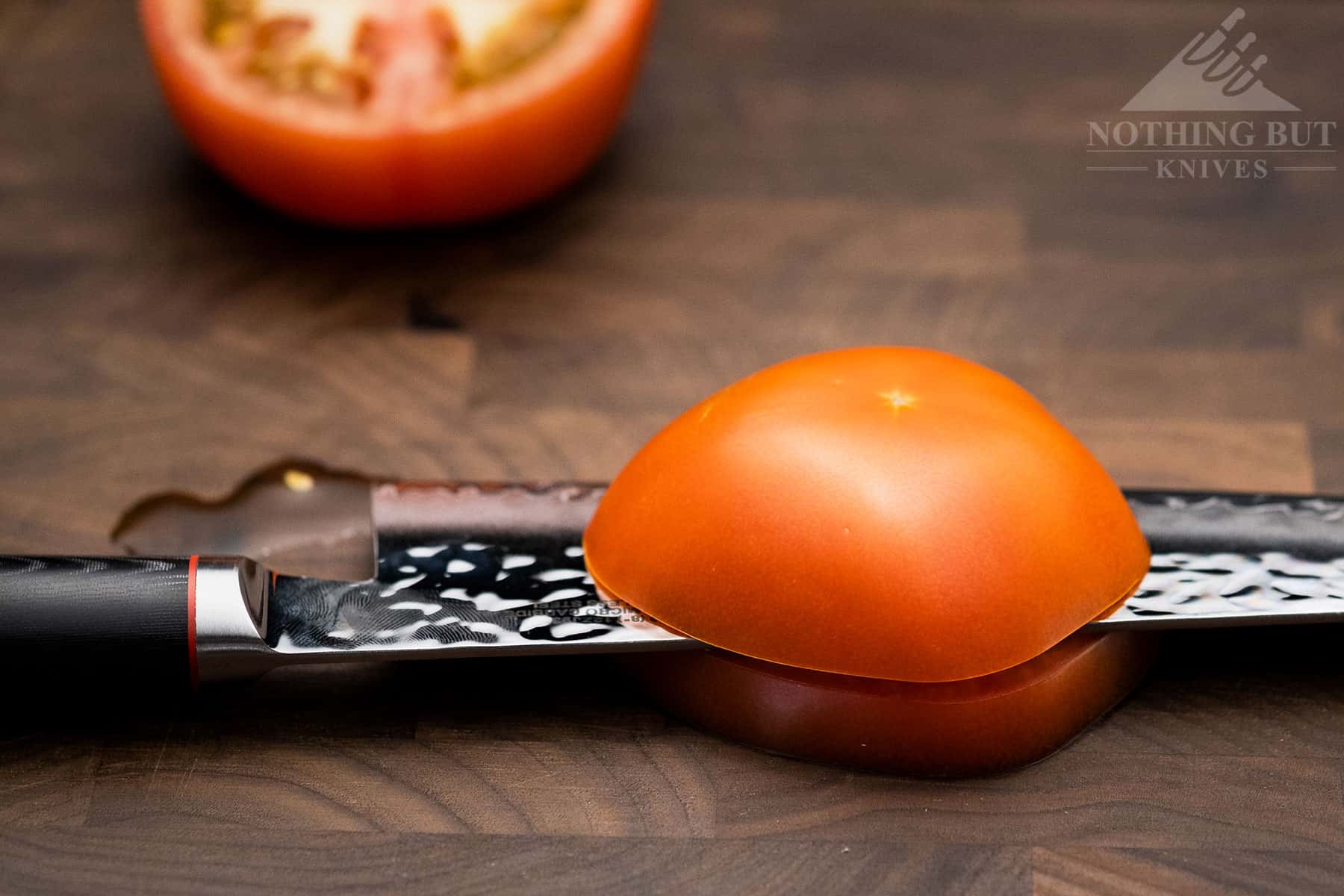 The edge has a good, aggressive bite. It breaks skin and sinks into all manner of fruit, vegetable, and meat without an issue.
It gets a little weird with the thickness and the profile of the blade overall, though. It makes sense that a German company would still make a Japanese knife a little thick behind the edge, so by all rights I shouldn't judge the Mizu for this. At the end of the day it gets a lot of work done.
I mean, they ground the cutting edge to 9 to 12° on both sides, so it's fantastically sharp. It cuts better than a lot of things in my kitchen, but it doesn't feel quite as smooth as other knives in similar price categories.
The Profile and Cutting Ergos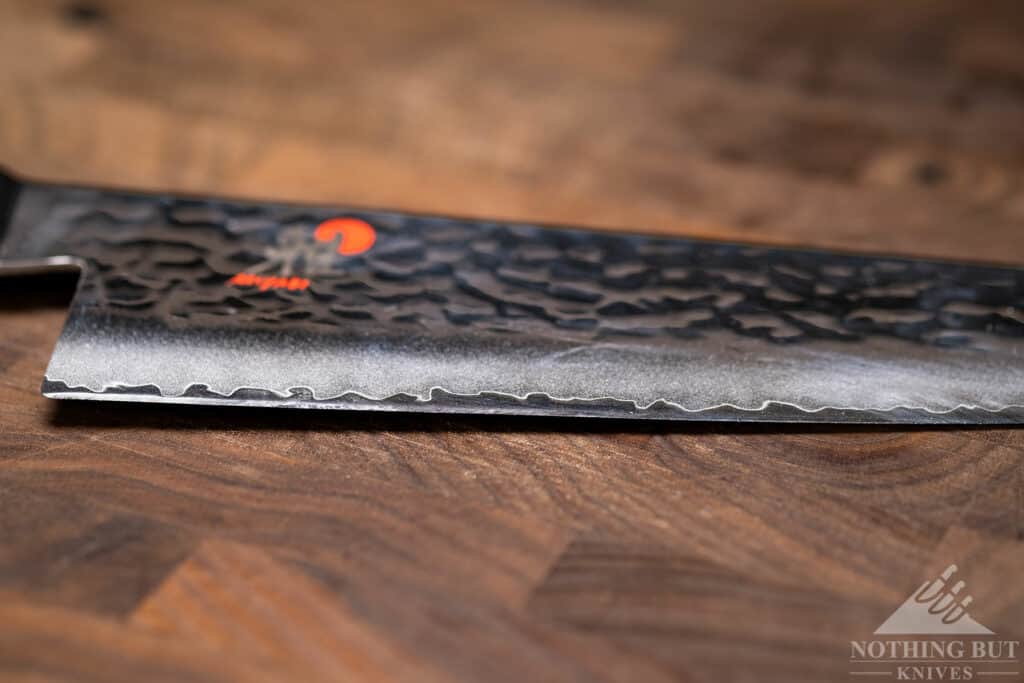 One big thing that started throwing me off about this knife was how far back the edge curves. It feels a lot more extreme than most other gyutos I've tested.
There's nothing wrong with it, exactly. But in combination with the balance of the knife it makes it harder for me to follow the curve on a push cut, and it just felt like it was pushing back too much. Pull cuts became the standard motion for me.
That might also have more to do with the edge geometry. I've noticed that in order to get a really smooth, fast cut, I need to pull a little more laterally than usual. The main culprit to that is the thickness behind the edge. For a blade with a spine just a hair under 2 mm, it widens out pretty quickly. It still has a really smooth cutting motion just by virtue of the overall thickness, and the actual cutting edge is still ground to 9 to 12° on each side, so this thing is crazy sharp. It just doesn't cut as cleanly as the Shun Premiere. Actually it almost feels like a very refined upgrade from the Vosteed Morgan, or (by extension) the Yaxell Mon.
The Spine Hotspot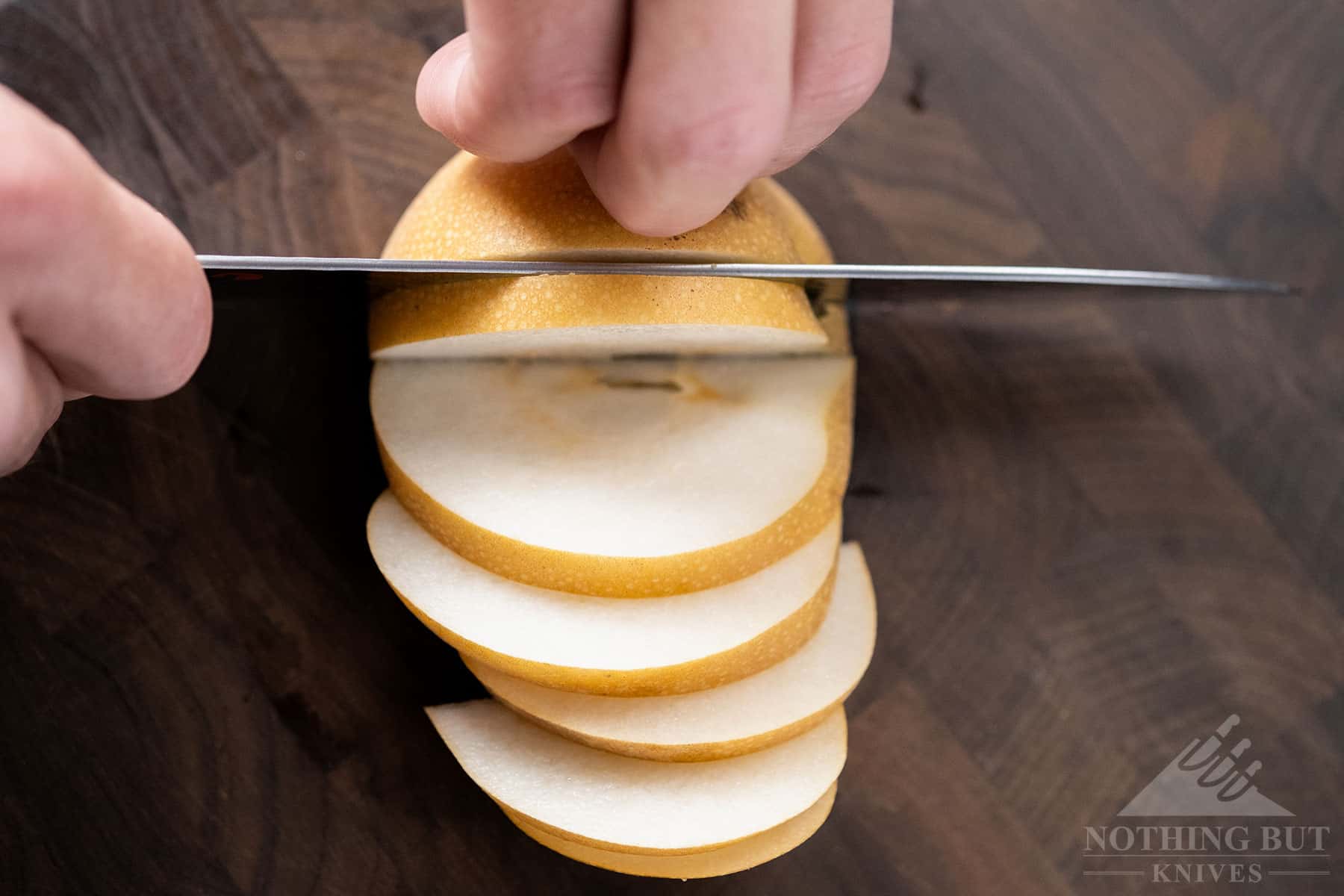 After I've been cutting with this for longer than ten minutes, I start to notice the spine of the blade biting into the side of my index finger.
That surprised me because the spine is rounded. In fact, Miyabi has clearly spent a lot of time rounding and refining every inch of this knife to make sure it feels seamless and comfortable, so I have to think this has more to do with the weird way I hold knives. Either Miyabi needs to round out the spine just a little more or I'm still holding this knife too tightly.
Mincing and Durability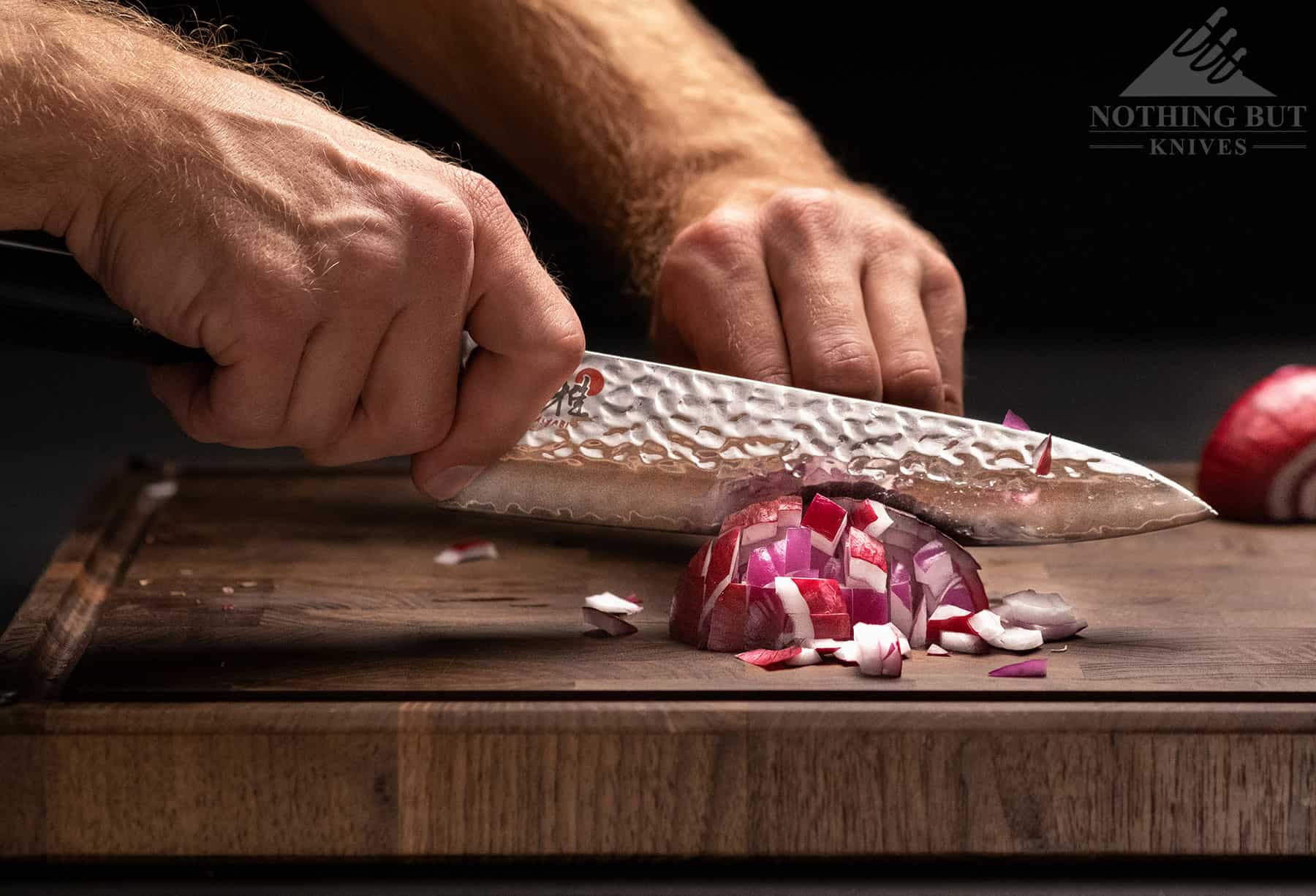 Oddly, I like this knife for rock chopping smaller vegetables and herbs. Mincing is pretty easy with this, especially for lighter things like herbs and roughly diced onions, because that kind of work doesn't deal with any thickness behind the edge. That's when the fine grinding of the microbevel really gets to shine on its own.
It's also worth pointing out here that I cut like an absolute jack ass with this thing. You're not supposed to twist while cutting with Japanese knives. They are thin beasts, no matter how well made they are, and twisting usually means chipping.
But, like I said, I'm a jack ass, and in the process of mincing and rock chopping and cutting lots of tiny foods I twisted and scraped with this knife without thinking, and it took my mild, mindless abuse like a champ.
I'm pretty sure its survival is thanks in large part to the kind of steel Miyabi has slapped on this thing.
Miyabi's Super Steel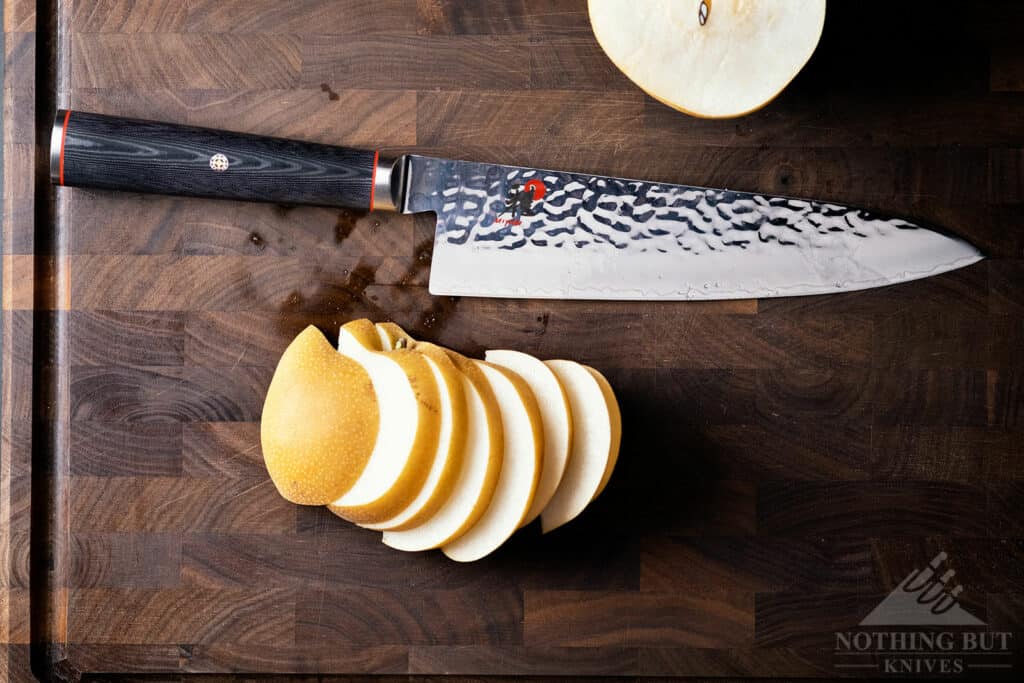 Miyabi calls this steel SG2, but it goes by the name R2 in other circles (or MC63, if you're playing Henkels knives). It's a stainless powder steel that has a very high working hardness, so it fits in well with Japanese cutlery.
It's actually because of this steel that I might recommend the Mizu over a lot of other knives that might technically cut better. SG2, if handled well, can get a very thin and very stable edge.
It takes a little bit more pressure to sharpen, especially hardened to 63 HRc, so if you're coming to this knife from softer steels there's going to be a bit of a learning curve to maintain, and you'll definitely want to get a ceramic honing rod if you don't have one already. But once you get an edge you really like on this knife it will hold a hell of a lot longer than VG-10, which is what you'll typically see in most other stainless steel kitchen knives.
A Fat D Handle with some Nice Texture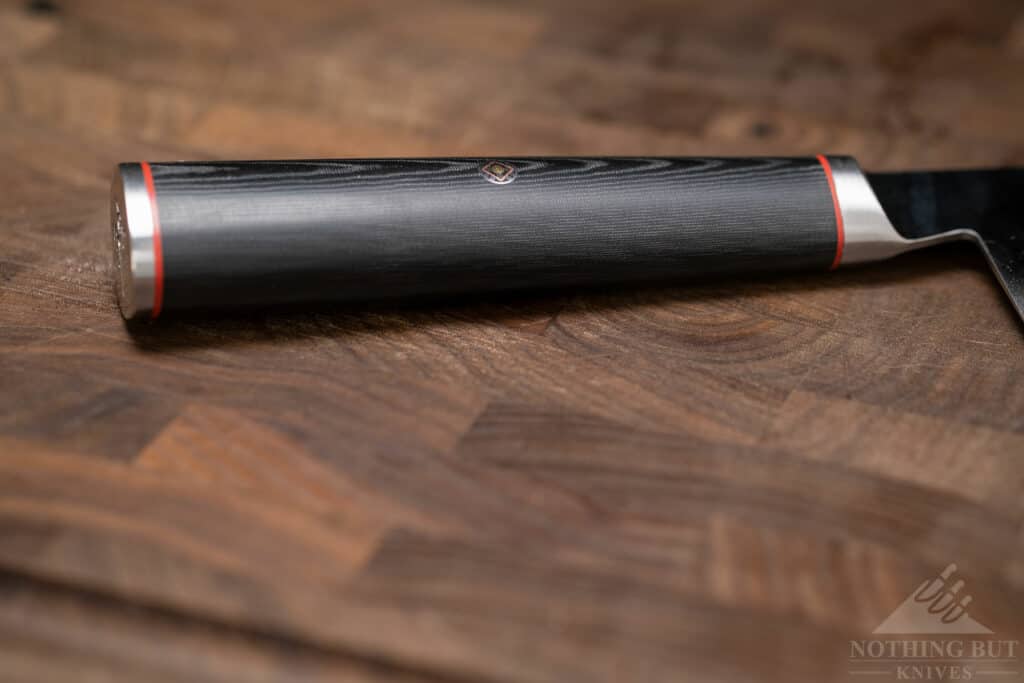 This is a really nice looking handle, but it feels bulky and the end cap makes it pretty heavy. I like it well enough overall, but this might be more comfortable in a bigger hand with a taller person.
The D shape of this handle is pretty subtle, but I still feel it butting into my hand sometimes because the handle itself is pretty thick. It doesn't happen a lot, but it's more of an issue with this knife than I've experienced before.
The end cap gives it a handle-heavy balance that feels pretty nice to me for the most part. It makes the blade feel nimble while still providing a good sense of control, but it also leads to me doing more pull cuts than usual, because that balance (along with blade profile and edge geometry) just makes push cuts feel weird.
I really like the tactile feeling of the Micarta, though. There's clearly a lot of resin packed into the Micarta handle but not so much that it feels glossy or slippery. I can actually feel a little bit of the linen texture, but it's still easy to wash. Miyabi has hit a really good compromise here between safeguarding the core handle material from moisture but still giving the handle a good tactile feeling.
Overall Food Performance and Ergonomics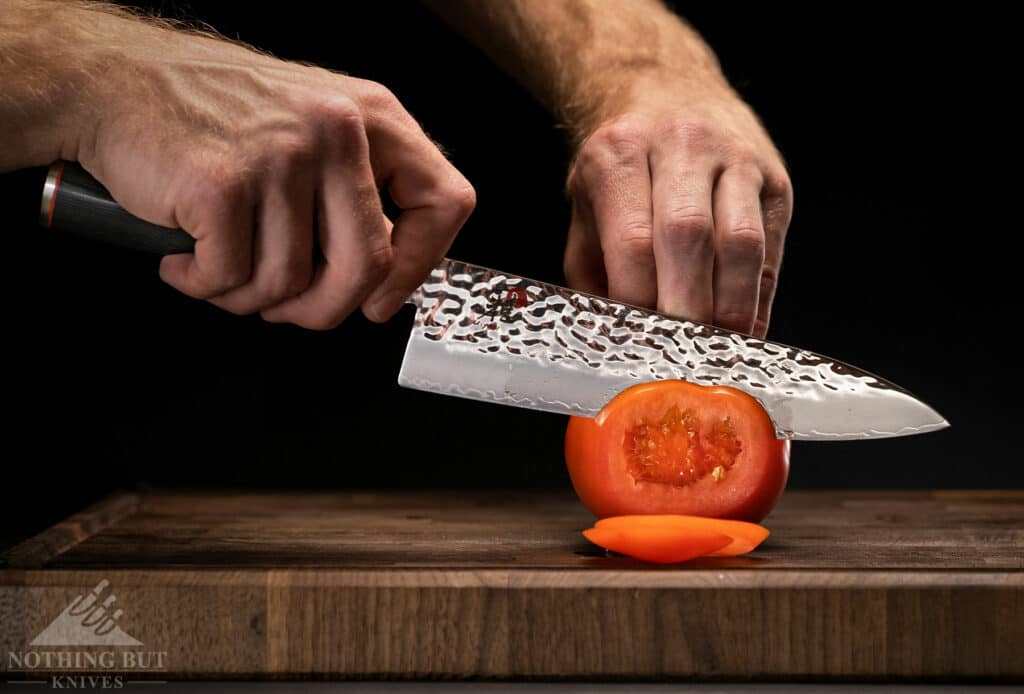 After all that talk about this being comparatively thick behind the edge, and being handle heavy, the Mizu was pretty damn nice to have around in the kitchen. The handle might be kind of big and feel weird, but it's easy to hang onto, and aside from the hotspot from the spine (that's probably my own fault, if I'm being honest) this is an incredibly comfortable knife that's easy to make adjustments with as you're cutting, and that's really the most important thing.
Carrots
I can feel this knife wedging a little bit on carrots, but weirdly I like the way the edge cuts into root vegetables. It bites then sinks in slowly, so I feel like I have a lot of control over the cut. This might be the preference of someone who just isn't all that proficient at cutting food, but I appreciate that feeling immensely when cutting hard round foods.
Onions
I felt very little resistance while dicing onions, although horizontal cuts were a little tricky (but those are also tricky for me). When I get up to speed, this blade snaps through an onion half no problem. Overall, it was really nice for dicing.
Tomatoes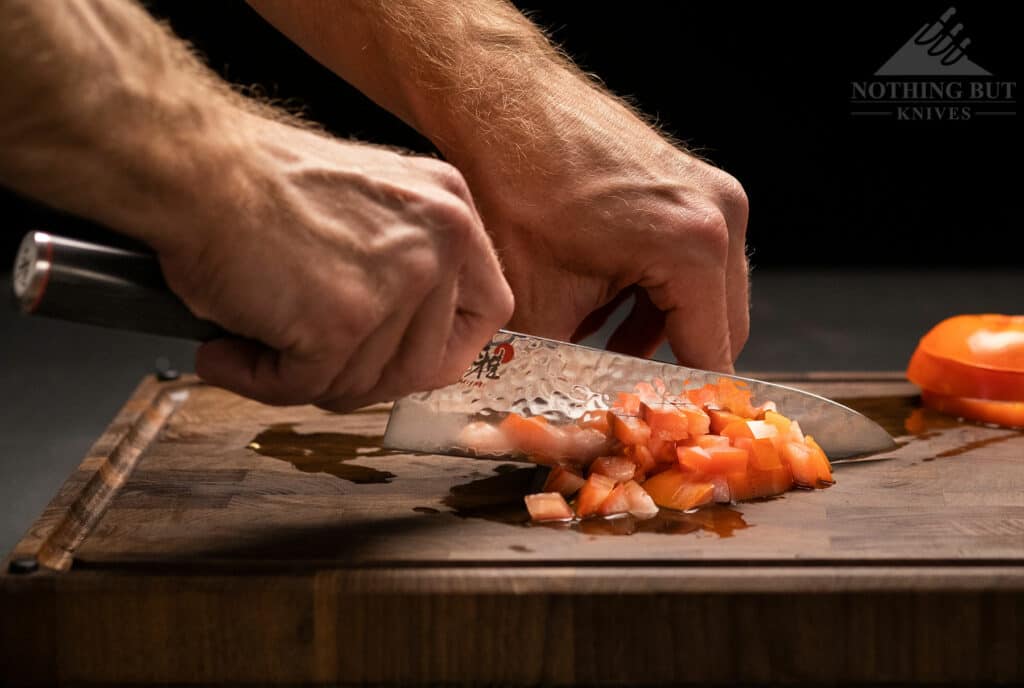 The Mizu does a great job of breaking the skin on tomatoes. There's a slight feeling of wedging once I get into the meat of the fruit, but it's the kind of thing you're more likely to notice when you're looking for it and testing the knife against something like the Shun Premiere (which I was).
Herbs
This is great for mincing. The edge is super sharp, and the curvature of the edge makes it easy to rock back and forth across leafy piles. My go to is always cilantro, and I had a more pleasant time chopping that up than I've had with just about any other knife I've tested.
Mushrooms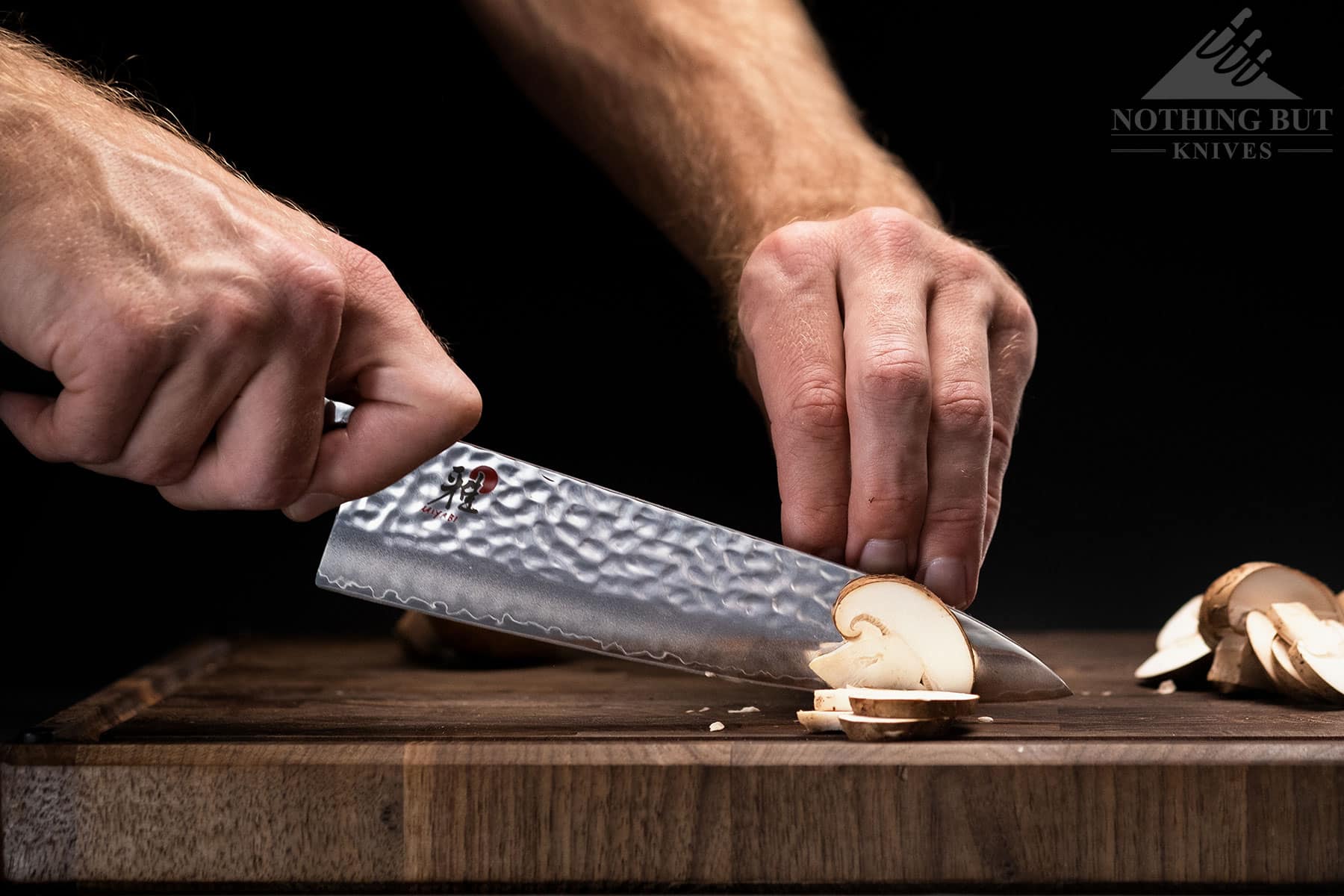 It does great with these for the most part, but I did notice that if I didn't maintain a good drawing motion it would sometimes tear rather than cut. This is where that moderate thickness behind the edge can become a little bit of a problem, because mushrooms can be kind of delicate and stick to the side of a knife really easily. The Mizu definitely cuts them, but it tries to grab onto them at the same time.
Alternatives and Comparison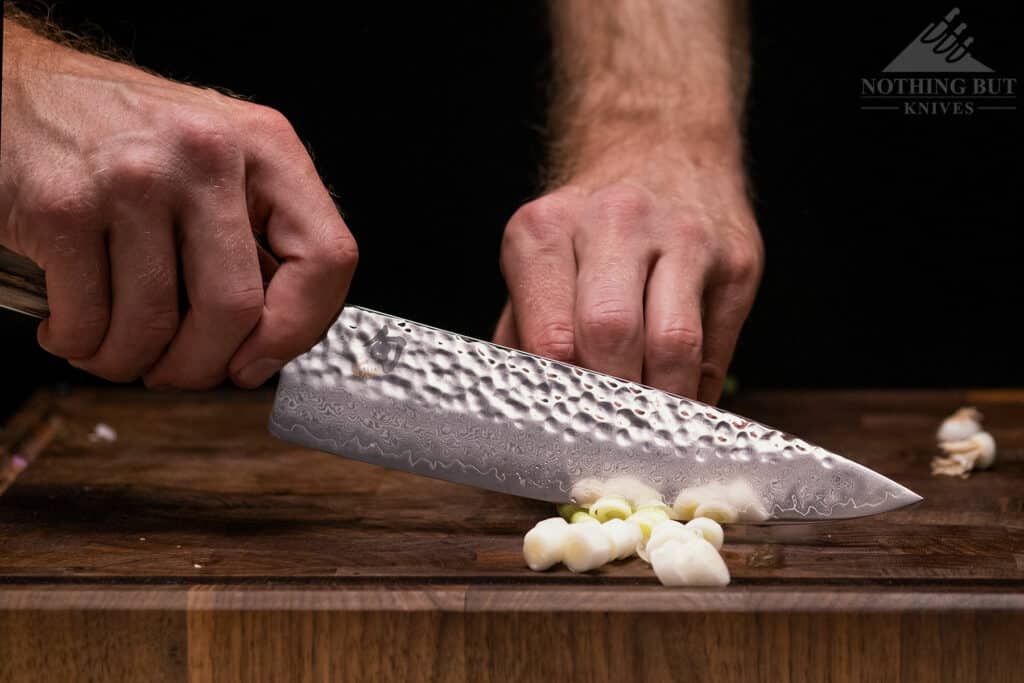 The Miyabi Mizu is heavy and priced high, so it's actually kind of easy to make alternative recommendations for it.
If you want a D shaped handle on a knife that's "properly" weighted toward the blade, the Shun Classic is a good option (I've only reviewed their santoku, but the edge and weight will be basically the same). The blade profile is similar, and it's quite a bit less (usually under $200 these days).
The Shun Premiere is a good option if you prefer a more western blade profile but still want that hammer finish and super thin Japanese edge. I actually worked the Premiere alongside the Mizu for most of my tests and it pretty consistently cut better and felt more comfortable for everything. It's also a bit more expensive, but you definitely feel the performance in the price.
If you like the balance of the Mizu, though, there are two other knives to consider:
On the flashy side is the Dalstrong Shogun X, which is absurd, and a little overpriced but kind of a blast to own and use if you're the kind of person who clicks with Dalstrong's over-the-top styling.
The other tried and true recommendation is the Tojiro DP gyuto. It's weighted in a similar way to the Mizu thanks to a full tang Western-style handle, but it's still lighter overall, and has a pretty impressive edge for being under the $100 mark most of the time.
It's also worth pointing out that Miyabi also makes the Birchwood SG2 line of knives, which are basically the same design but with birchwood handles and Damascus steel rather than cladded SG2. I haven't handled the Birchwood gyuto personally, but I hear it's much lighter and even cuts a bit better. It's just also much, much more expensive.
Conclusion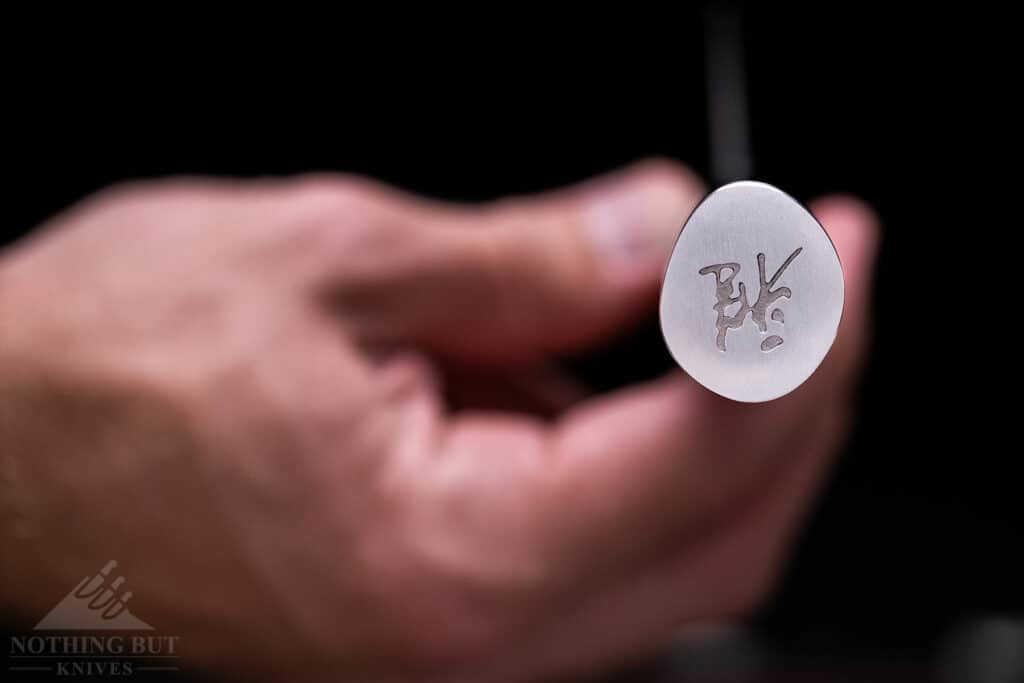 This is just a nice knife. It looks great, it cuts well, and the kind of materials and attention to detail put into it make it a pretty sure thing this knife could last many years of heavy use (assuming you care for it properly).
This might not be the most impressive performer for anyone who's familiar with Japanese knives. It was built more to last and look pretty than anything. That's not to say that it doesn't cut well. When I say the edge is wide, and there's a little bit of wedging, I mean compared to other high-end Japanese knives that feel like they melt through food.
To the uninitiated, the Miyabi Mizu will feel like a dream. And if this is the closest you ever come to owning a Japanese knife, honestly, you could probably die happy on top of a pile of cleanly cut vegetables.