A Traditional Japanese Gyuto with Some Color
This isn't just a Japanese knife, though. It's about half Japanese and half English, and the combination has resulted in something that you don't really find in either Japanese or English cutlery very often. Or American, for that matter.
The Sakai Kyuba gyuto has a blade made by a blacksmith in Sakai, Japan, and a handle made from trees in Britain and finished by British makers with a few different options of color swirls. You can get this knife with a blue, brown, or green handle, with the same bog oak collar setting it off.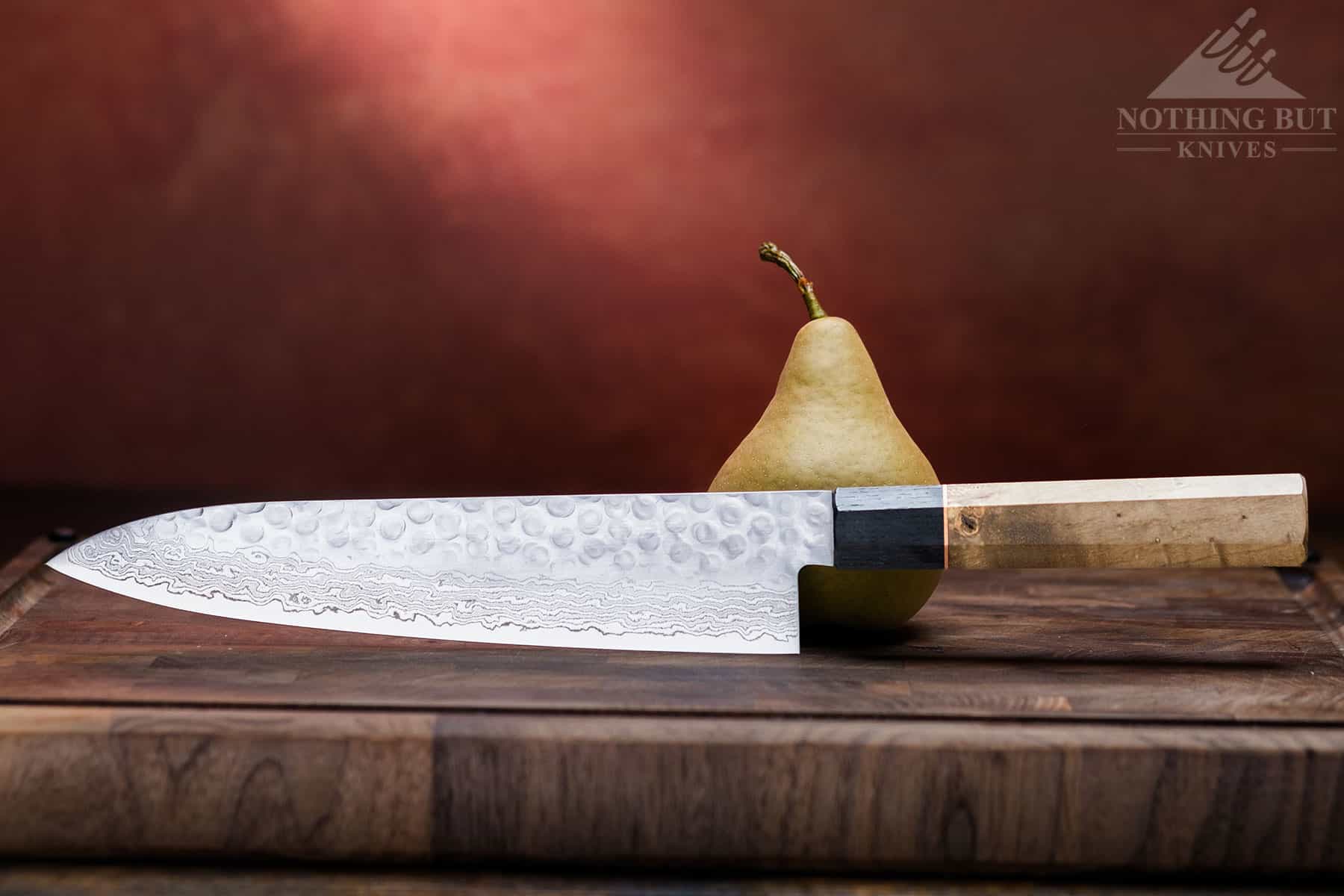 If we talk about Sakai Kyuba simply as a tool in the kitchen it's a decent performer with a blade-forward balance. Better than a lot of the mainstream choices, and more readily available than some of the lesser known options, and all around lighter than anything else I've used in this size.
But if we talk about it as something that's going to be out and visible in your kitchen, it becomes highly functional decoration in a way that not many high-end cutlery companies attempt.
Specifications
| | |
| --- | --- |
| Overall Length: | 355 mm (14") |
| Blade Length: | 210 mm (8.2") |
| Blade Steel: | VG-10 in 46 layer Damascus |
| Hardness: | 62 HRC |
| Blade Thickness: | 2 mm |
| Blade Shape: | Gyuto |
| Blade Grind: | Flat w/ hammer finish |
| Handle Length: | 5.1" |
| Handle Material: | Maple burl w/ bog oak collar |
| Handle Type: | Octagon |
| Weight: | 160.8 g (5.67 oz) |
| Made in: | Sakai, Japan |
Pros
Excellent performer with a semi-polished edge
Handle is downright pretty
Great for cutting onions and shallots
Works really smoothly on softer foods like tomatoes
Cons
The spine feels harsh
The price is more about looks than performance
The Handle is the Reason for Being Here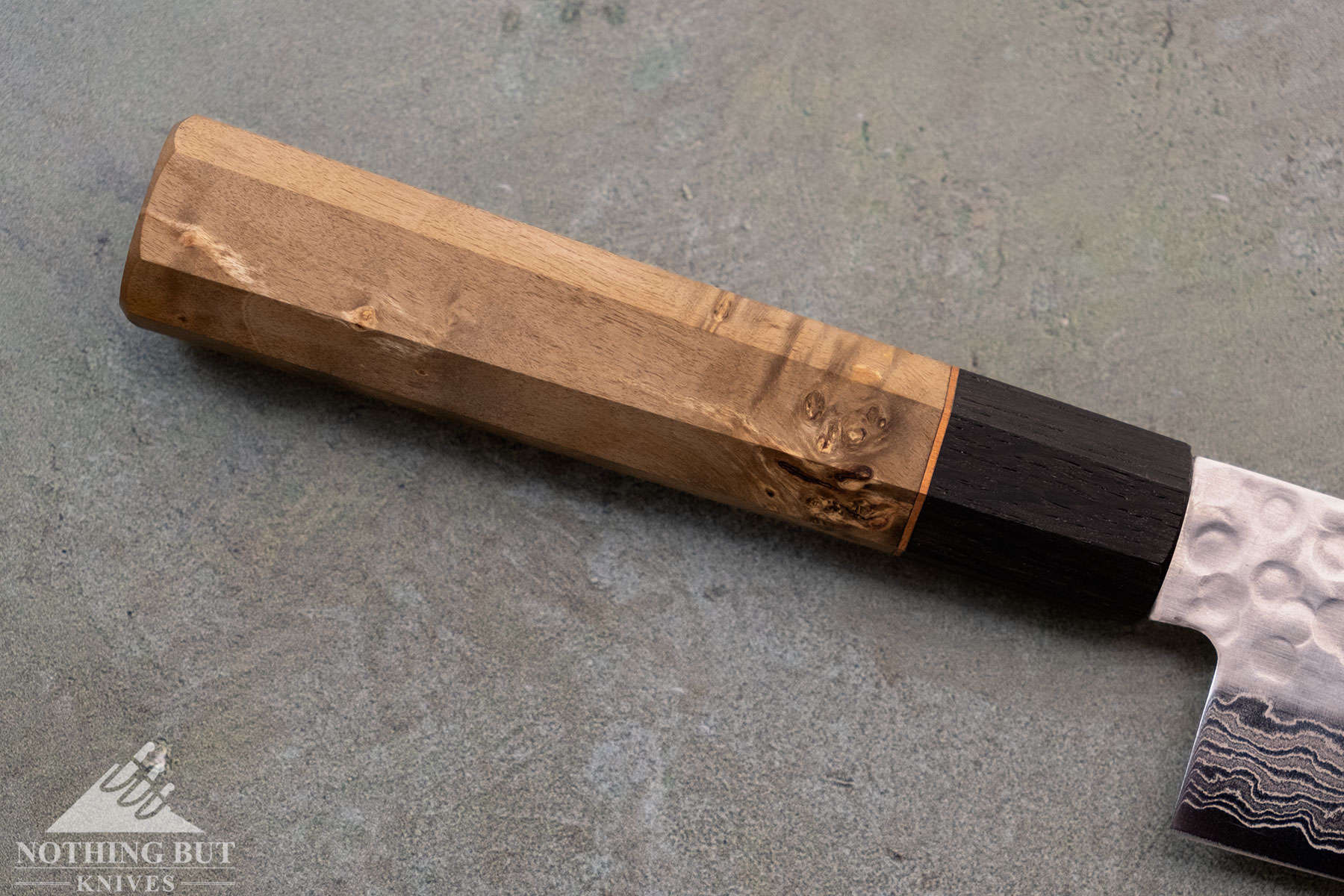 The handle is what makes this knife stand out, and is possibly the main culprit behind the high price. It's a combination of premium woods. The main handle is made from European maple burl, and the collar is 2,000 year old bog oak. Both materials are separated by a copper ring. The visual effect is pretty striking, especially if you can get ahold of the more vibrant colors they offer this knife in.
They've also done well in shaping the octagonal handle. It's just wide enough that my hand can tighten up easily on the ridges for a little more control when I need it, and both wood pieces have been finished to a smooth surface so it doesn't grate against the skin after a long chopping session.
The Weight Difference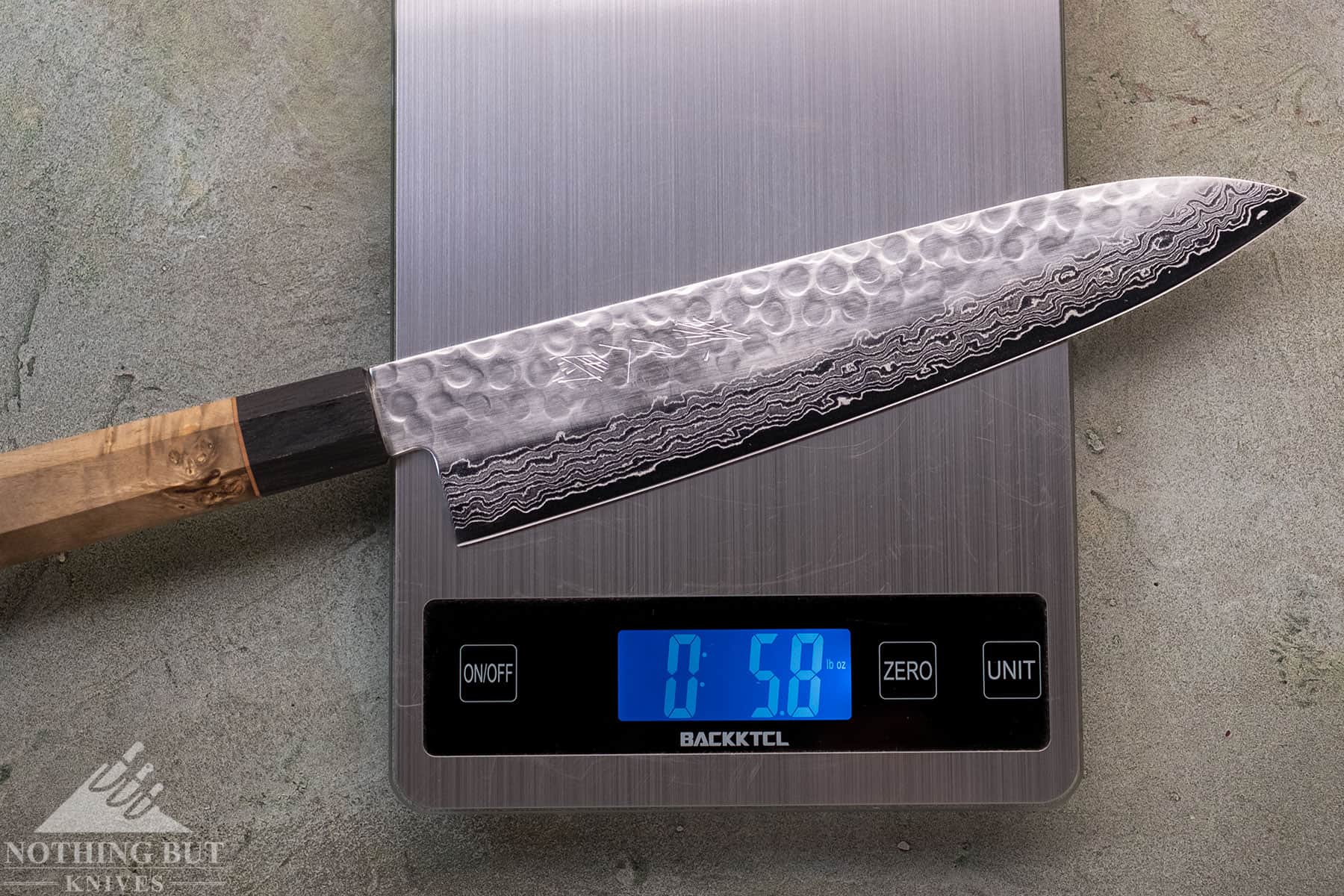 This is a lot lighter than the Miyabi Mizu, the Shun Premiere and the Global G-2 by around 2 ounces despite the fact that it's about an inch longer than all of them. That difference is mostly in the handle. The Oishya's handle feels nearly weightless compared to the other knives in my line up. That creates a very blade-heave balance, which is great if you like doing push cuts.
Fit and Finish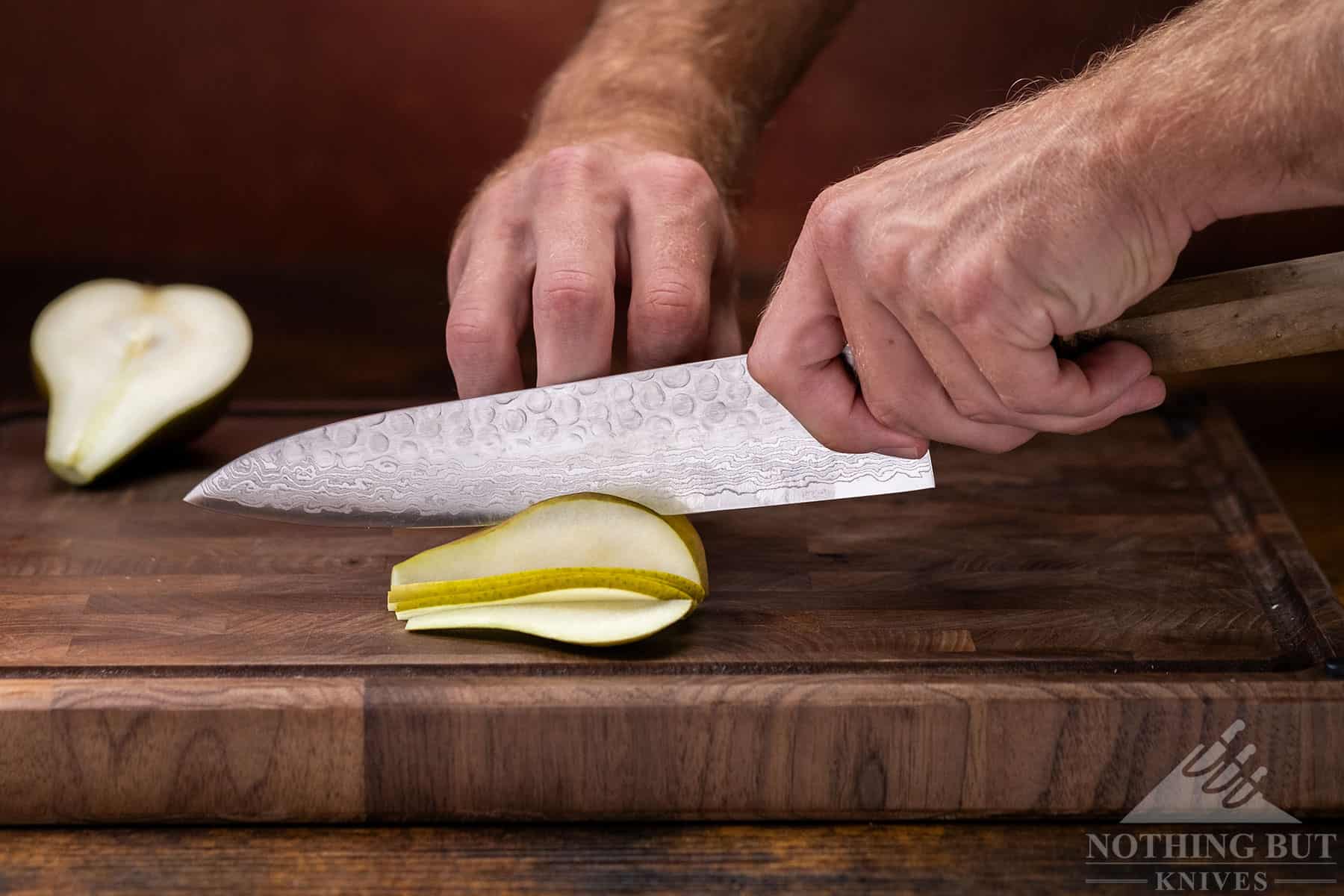 Fit and finish looks great. The blade is straight, and the edge was perfectly even out of the box. The maple burl section of the handle is nicely finished. The bolster feels a little rougher than the maple burl, but only to the point of being a slight textural difference. You could also say it feels "rustic", though. It's one of those things that's really nice if you want a knife that feels traditional and lived in.
More importantly, the transition between the three materials in the handle feels nearly seamless. I can feel a little bit of a line when I run my finger up the handle, but there are no gaps, and it's kept that fit well even through multiple hand washings.
Blade, Style, and Use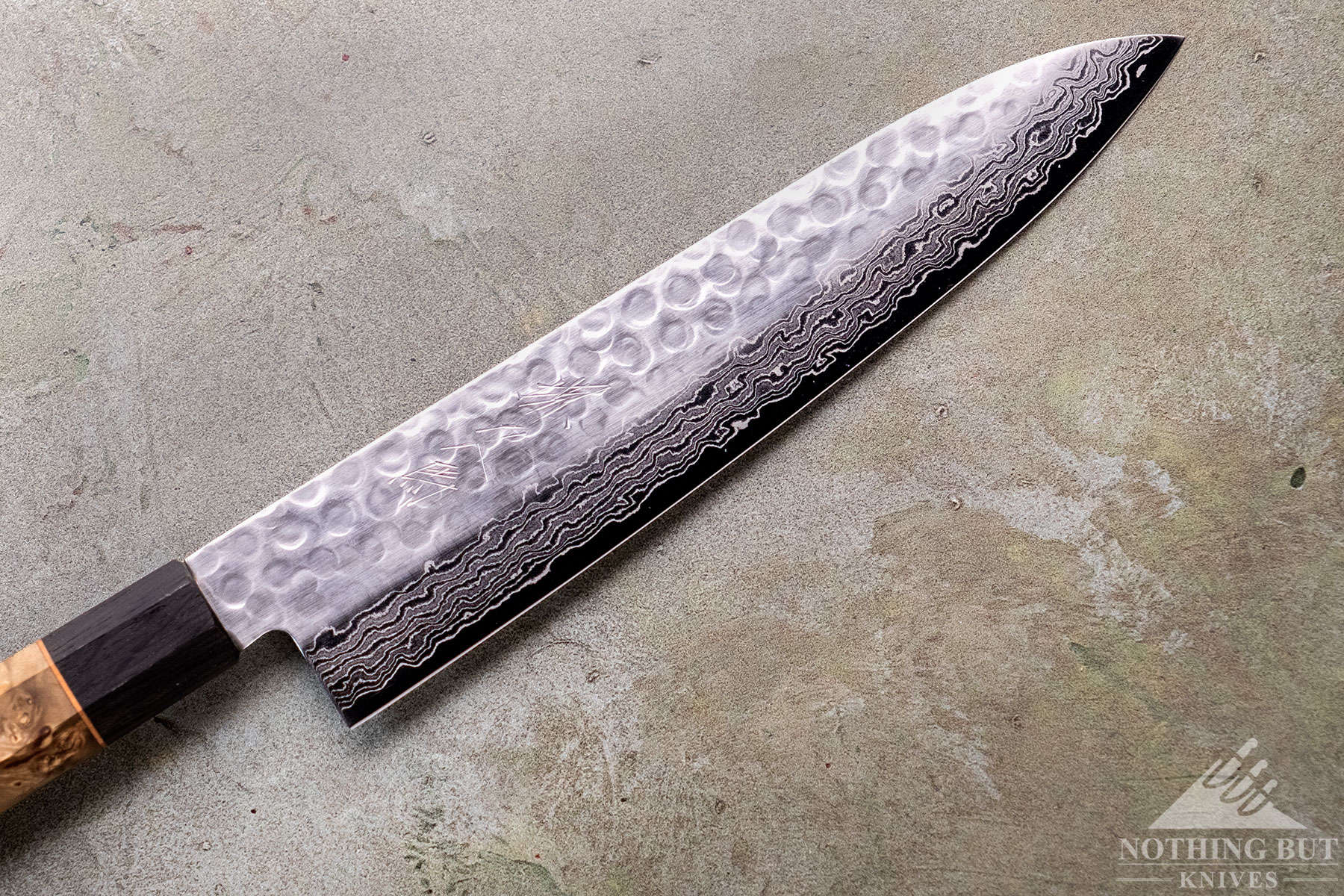 The blade has a nice semi-polished edge with a bite that's aggressive enough to break the skin of most foods with very little pressure, and a nice behind-the-edge geometry that feels smooth on the follow through, and has a nice long sweet spot just at the bottom third of the blade for finishing a cut. I didn't feel any wedging at all, so they've done a good job on primary grind all the way up to the spine.
Steel and Edge Retention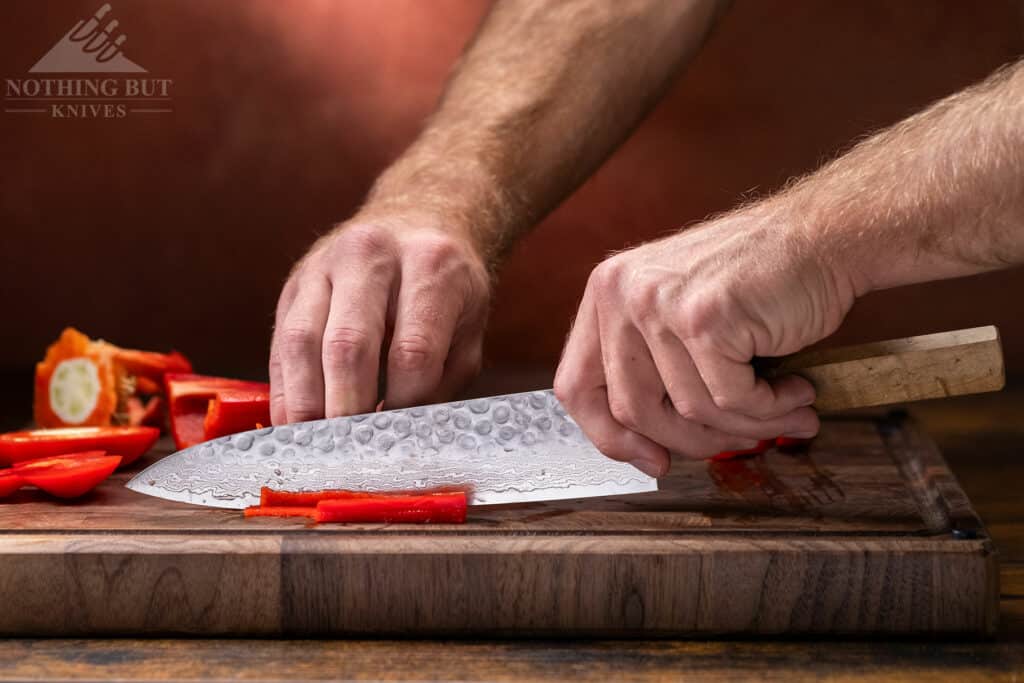 The VG-10 Damascus of this blade isn't all that exciting to anyone who's already familiar with Japanese kitchen cutlery. It's a decent stainless steel that does well at high hardness, and is pretty much the standard material for stainless Japanese knives.
But performance is always about the maker more than the materials, and this steel seemed to have been treated well. I used this probably three days in a row without honing the edge before I started feeling hiccups in the cut, which is pretty good considering I wasn't cutting on an end grain board. Even after a month of regular use the cuts still feel great, so the edge retention on this is excellent.
It still needs to be honed every now and then like any knife, and at 62 HRC you'll want a ceramic rod to do it, but I was getting along just fine doing ten to twenty passes on either side of the blade every couple of days or so.
The Sharp Spine
At first I was surprised at how little the spine bothered me, but the blade is thin enough that I didn't really need to tighten my grip that much. That said, when I did need to push hard into a cut for especially thick or hard vegetables it was not pleasant.
That emphasizes the fact that this knife is really best for cutting lighter foods: onions, herbs, fish, and leafy green-type things. It would probably be good for cabbage and whole heads of lettuce too, but the particular phase of eating I was in at the time didn't include that amount of leaves. It was a stir fry kind of time, so I minced half the kitchen with this knife, and on the whole I had a pleasant time doing it.
Food Performance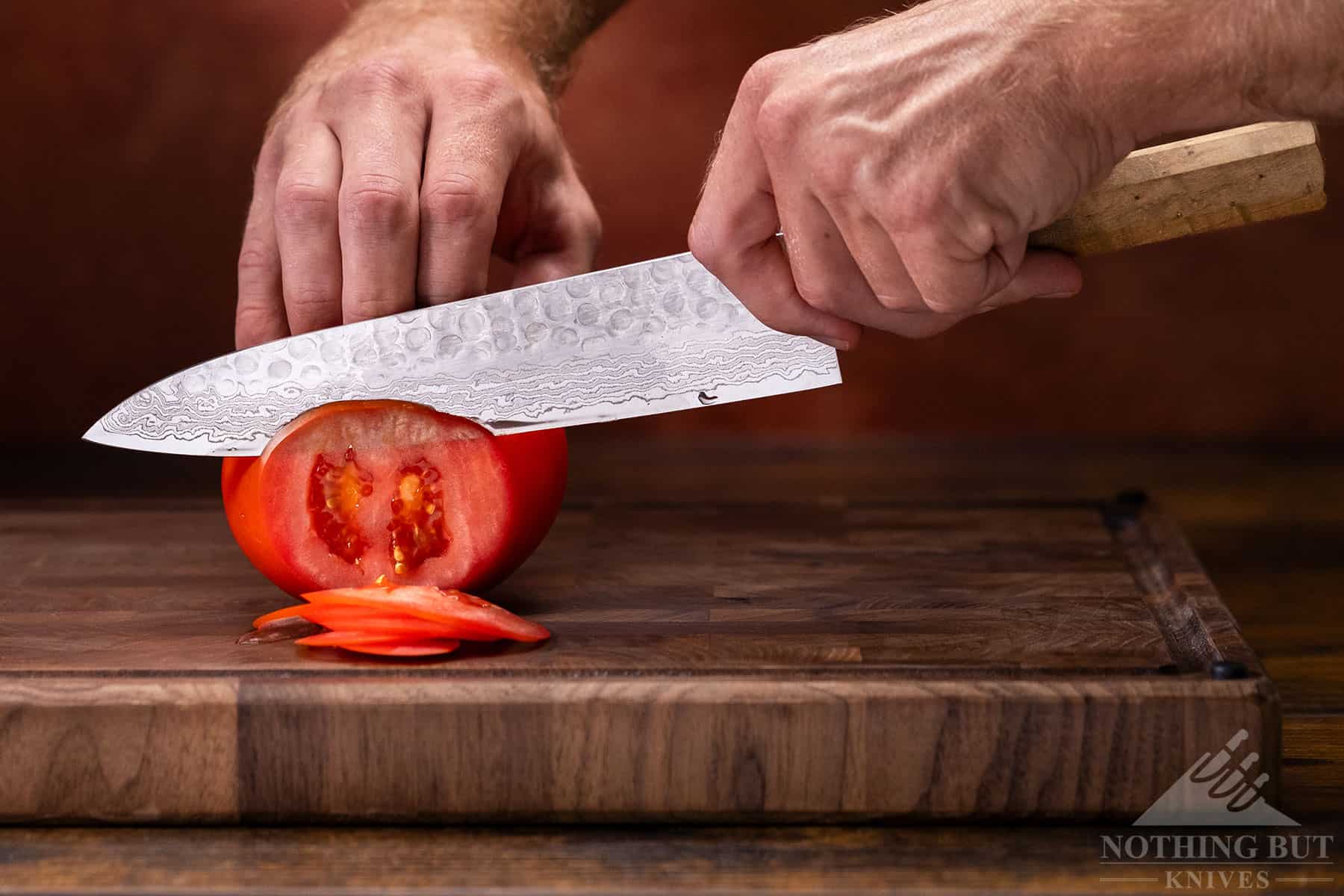 I made some pretty decent guacamole with this knife. There were hiccups on some foods, but overall this was great for getting a lot of different fruits and vegetables minced down into consistent sizes.
Onions
One of my favorite knives for onions so far. It has enough of a toothy edge to bite through those first, smooth outer layers, and thin enough to sail through the rest of the dicing process with wedging. The spine did bite me a little when I cut into an onion that was especially large, but overall the edge could do most of the work so long as my technique stayed on point.
Herbs and Light Stuff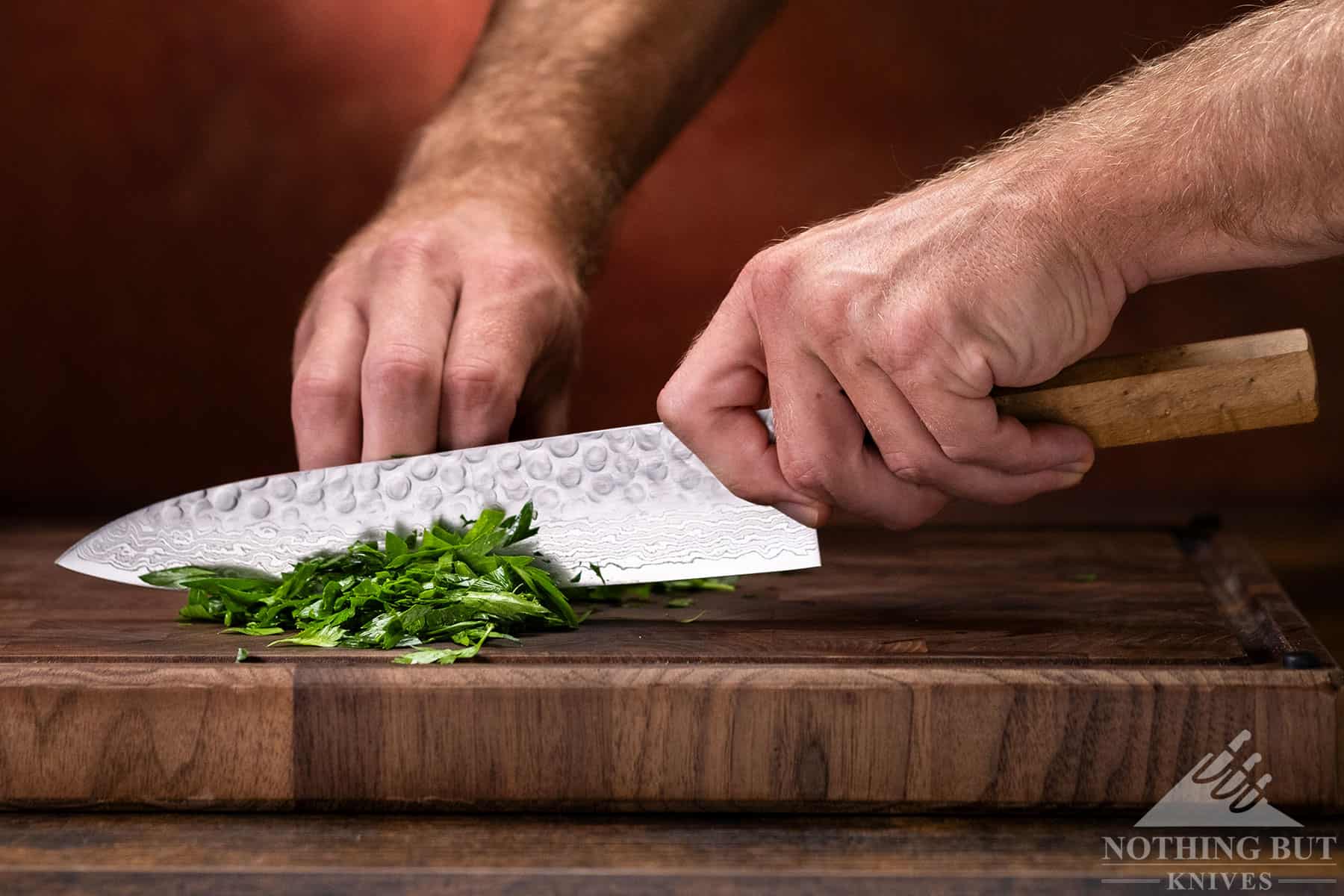 I like this a lot on small leafy things because I can feel the separation from the bite of the edge, so I know when I've actually completed a cut. That said, the edge doesn't always quite get there. I ended up with just a couple of accordion cuts when I chopped up green onions and cilantro. It got the job done just fine, but I did have to keep an eye out for those incomplete cuts to keep my salsas and stirfries consistent.
Peppers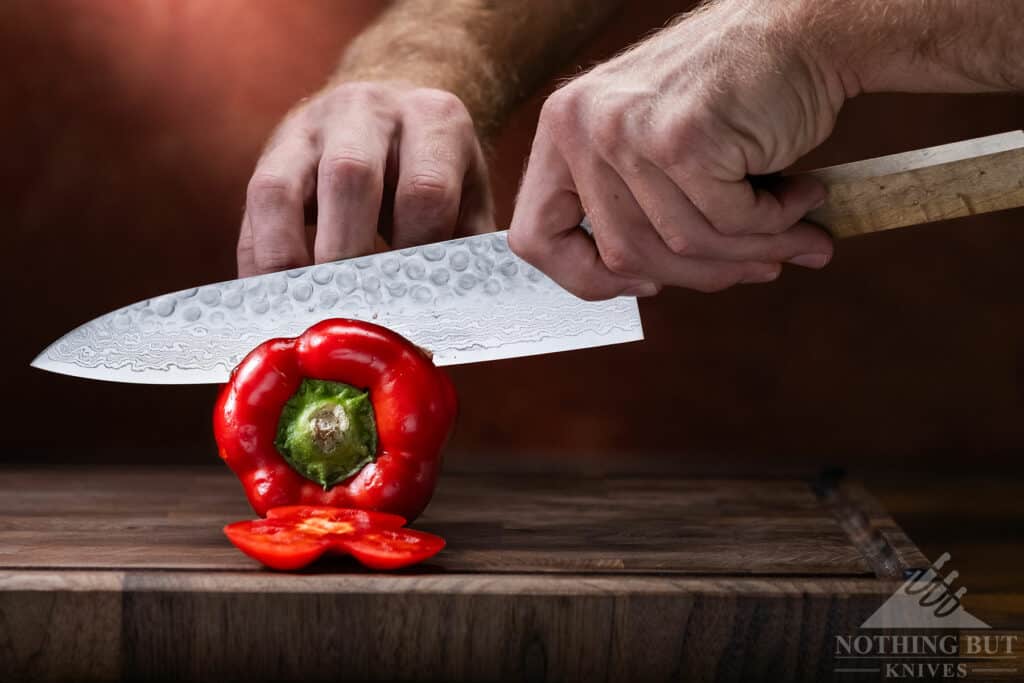 It fought me a little on pepper exteriors, so I had to cut closer to the heel of the blade to get a consistent motion down. I'm guessing the polished edge is partly to blame. Smooth surfaces will often push back at a high-polish edge, but so long as I cut peppers from the inside (which is how I usually do it anyway) the cuts felt great.
Carrots
I felt a little bit of resistance on carrots, but the bite felt good, which is always my main concern with carrots. I was always able to start a lengthwise cut without worrying too much that I would roll the carrot. This was the food where I felt the spine biting into my hand the most, though. When I cut anything too thick and dense that angle really started punishing my index finger in a pinch grip. Still, I was able to get some nice julienne cuts that were as consistent as my limited ability allowed.
Meat
The blade felt pretty good taking apart a cooked chicken. The edge is sharp enough to cut into ligament areas without having to saw (I didn't cut too close to bone, though). It did a decent enough job cutting raw bacon slices as well, although food stick was a little bit of a problem there. The edge bites into meat pretty readily, so if you have a steady hand, the tip of the knife can get a lot done.
Comparison and Alternatives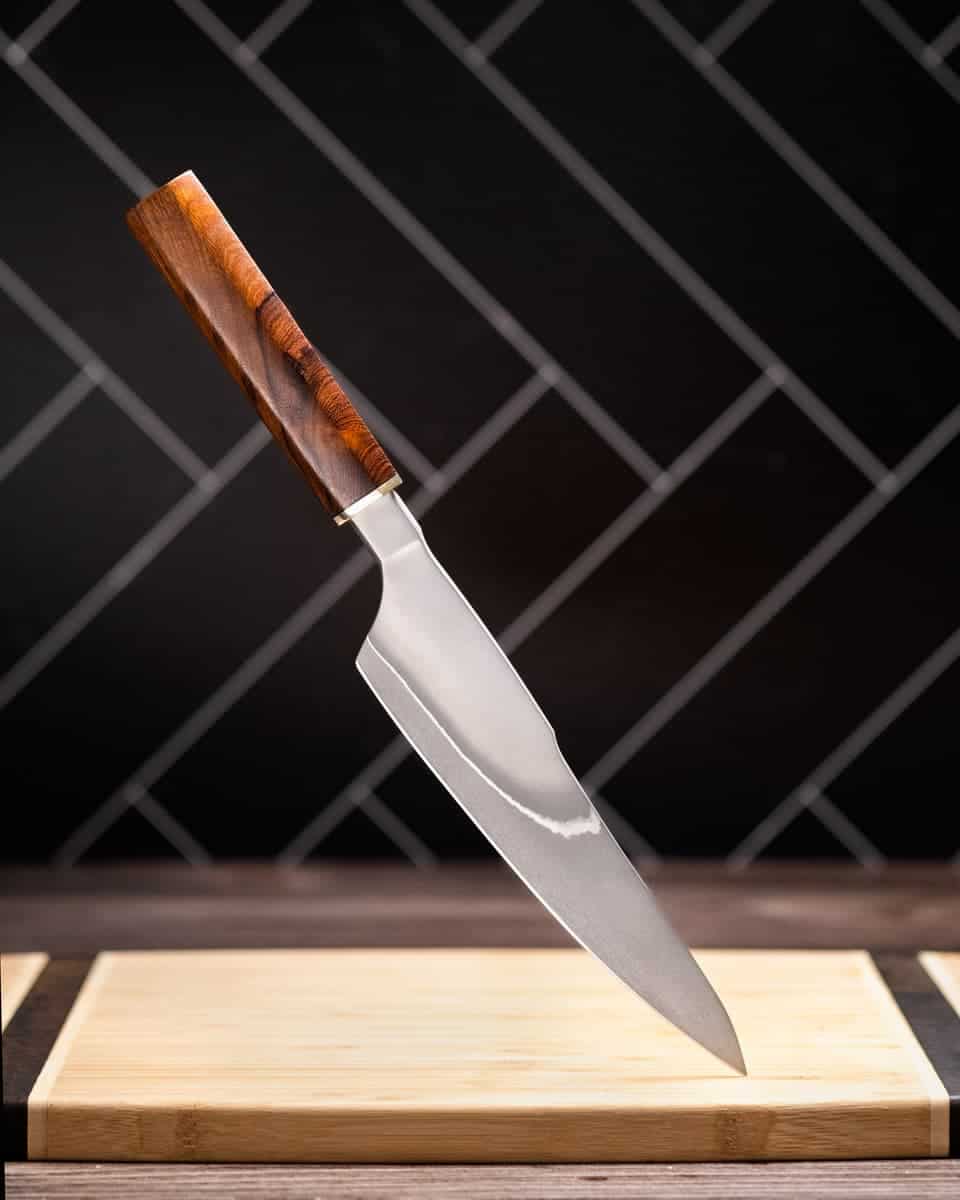 The only other knife I've reviewed that's as light as this one is the Bradford chef's knife, which has a pretty incredible edge and a nice looking G wood handle, but the cutting edge is about half an inch shorter, and the spine is actually harsher on the hand.
In terms of style similarities, I think the closest I've used personally is the Xin Cutlery Xincraft knife, which, again, has less cutting edge, but the spine is crowned so the ergos feel much softer. The steel is softer too, though, so even though you can pick the Xincraft up for about half the price, you might pay for the difference in time spent sharpening.
If you don't care too much for the wood and mirror finish look, or just want a cheap workhouse, the Vosteed Morgan chef's knife will get you plenty of cuts for less than $100, and still give you some of that fine-tuned Japanese-like cutting action, although its steel is as soft as the Xincraft, so you'll spend a little more time on blade maintenance, especially since the Morgan has an asymmetrical grind. It has a really smooth cut thanks to that, but it can take a minute to learn how to hone and sharpen the edge.
On a similar premium-looking, hammer-finish level, the Miyabi Mizu SG2 is worth a look. It's a lot heavier, but it performs well and it has more of a black-tie look. The SG2 is also arguably quite a bit better for edge retention and overall edge stability thanks to being a powder steel, but I personally don't like the Miyabi's handle-heavy balance as much, and the cuts feel a little less refined.
The Oishya Sakai Kyuba knife series is also available in a set which we liked enough to include in our article on the Best Japanese Knife Sets.
Conclusion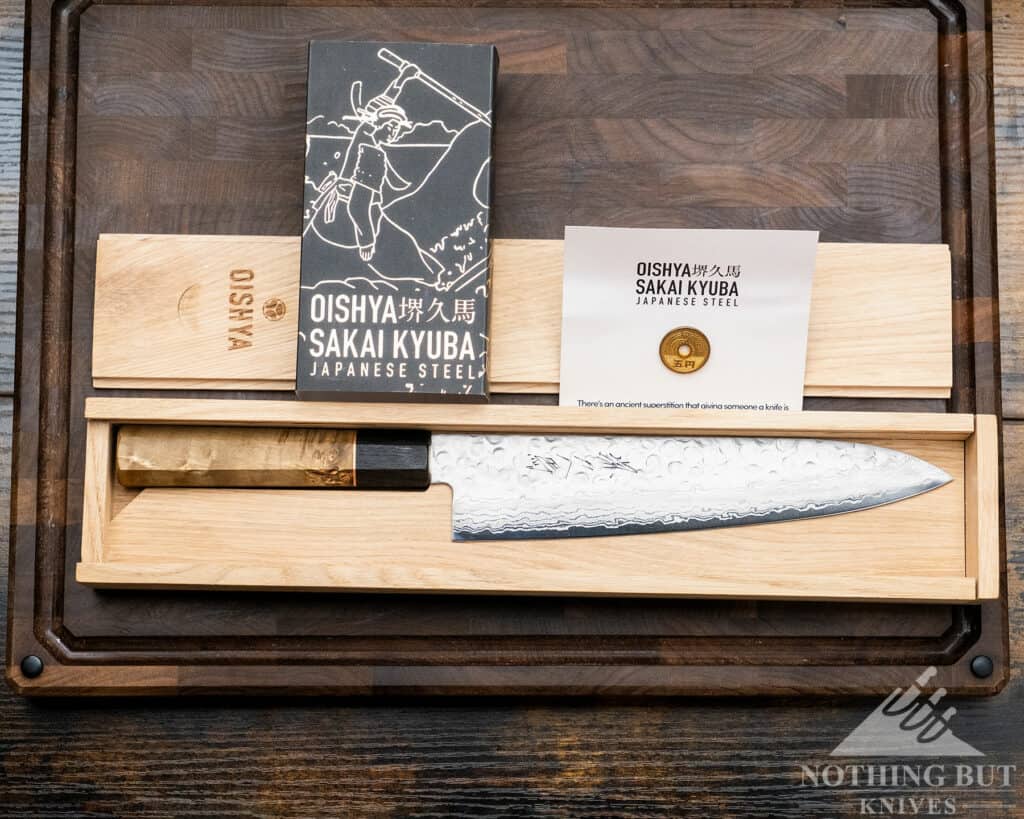 It's expensive and I wish the spine was smoothed out a little, but I love the way it looks, and the performance runs right alongside most Shun knives, if not a little better. But where Oishya knives really shine out is in presentation and customer service.
I know that sounds like diplomatic phrasing, but the truth is they're having their knives made by a very traditional Japanese blacksmith. The blade performance probably won't be anything new to aficionados with a couple magnetic strips already full of gyutos and debas. But it can be hard to get a hold of proper Japanese cutlery in the US, and you definitely won't find many options out there with the kind of handle color options that Oishya offers, which is really the highlight here.
There are plenty of cheaper options that might work as well. There are even some with nice wood handles, but there's not much out there that can boast the level of fit, finish, style, and performance all at the same time like the Sakai Kyuba gyuto.