When an American Outdoor Knife Company Goes Japanese Hybrid
The Bradford chef's knife is technically a gyuto. The blade certainly cuts like one. You could work it next to the Tojiro DP and watch it perform in roughly the same way. It's very thin behind the edge and the edge has a subtle curvature that makes it great for push cutting. The main hallmarks of a good Japanese knife are here.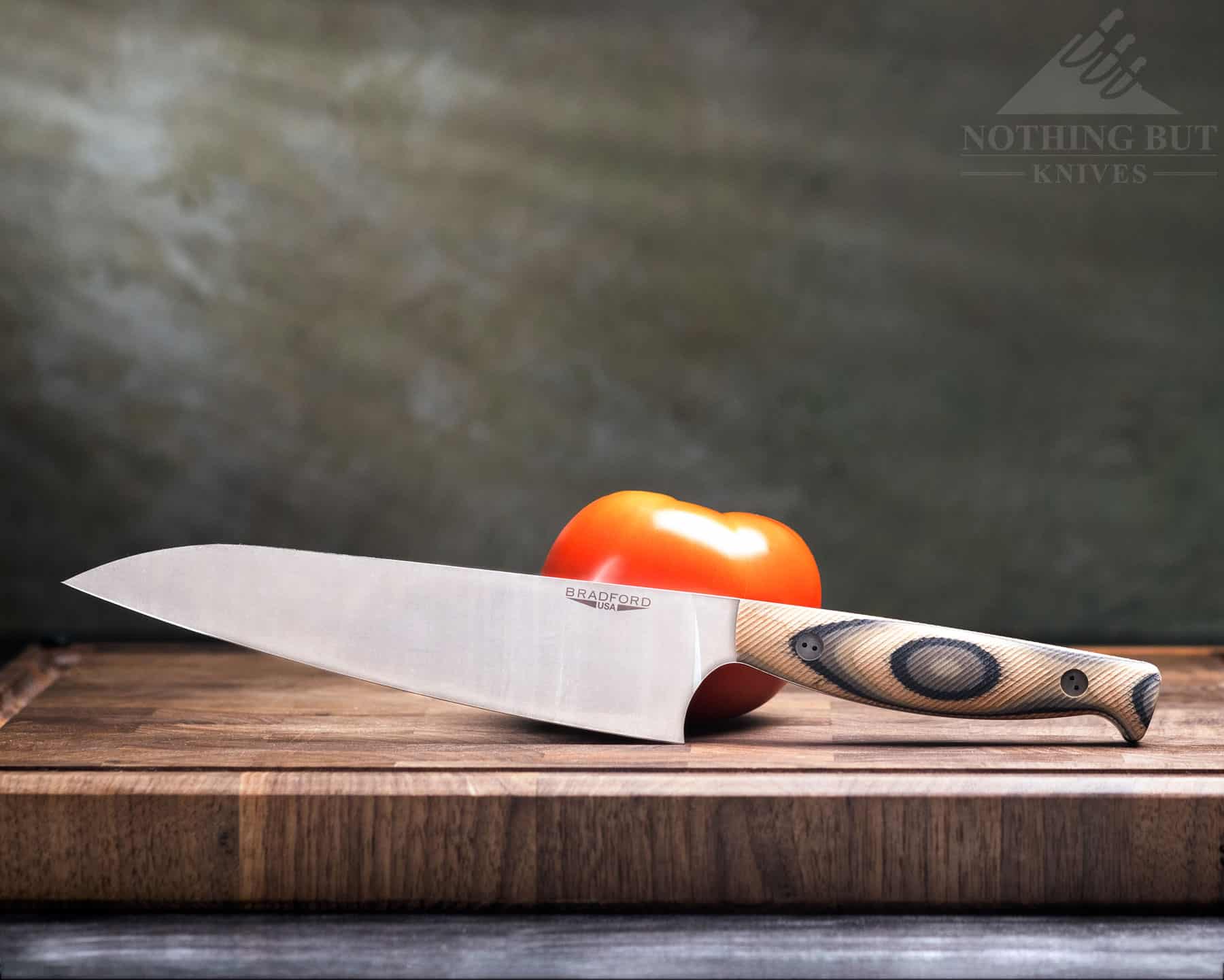 But looking at this knife does not give the same impression as a fully traditional Japanese gyuto. It doesn't even have the same vibe as other Japanese hybrids like the Mac Pro. It's not streamlined in the same way. It has a weird, curvy, composite handle that's wood and G10. The blade has a stonewash finish and hard lines. It's dressed up like an outdoors knife, but it has a very utilitarian feel that borders on harsh. It looks nice, but once it's in hand, it's clear it was meant to get your kitchen work done quickly.
Specifications
| | |
| --- | --- |
| Overall Length: | 12.375" |
| Blade Length: | 7.5" |
| Blade Steel: | AEB-L |
| Hardness: | 61 HRC |
| Blade Thickness: | 0.9" (about 2.3 mm) |
| Blade Shape: | Gyuto |
| Blade Grind: | Flat |
| Handle Length: | 4.875" |
| Handle Material: | G-Wood |
| Handle Type: | Modified western |
| Weight: | 5.12 oz |
| Designer: | Brad Larkin |
| Made in: | USA |
Pros
Super thin, smooth cutter
Good steel with excellent edge geometry
Very lightweight
Decently tough for being so thin
Cons
A lot of hotspots
Food stickage along side of the blade
The Larkin Kitchen Knife Journey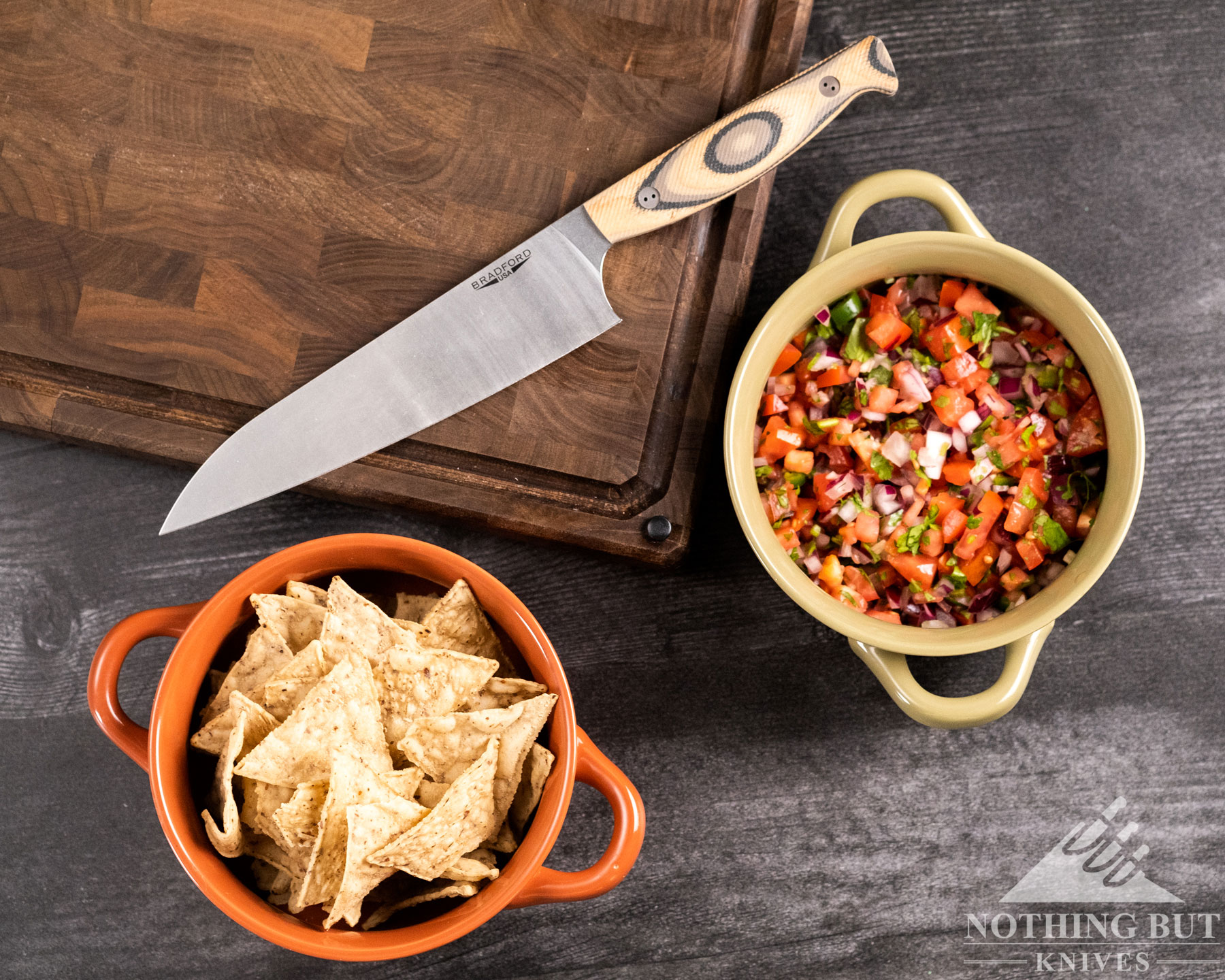 While Bradford USA is probably better known for the Guardian 3 (a fantastic little fixed blade EDC that has converted many a casual knife user into full blown collectors), Bradford founder Brad Larkin actually got started in the knife making business with a steak knife called the Gatsby.
Back then, his goal was to simply make the best steak knife he could, but the Gatsby sold out and he kept hearing from customers that they were using it for a whole range of outdoor tasks like gardening and cutting vegetables. With that in mind, he moved forward into making knives geared for outdoor work, and eventually came out with the Guardian 3.
A few years later, with Bradford USA pumping out a solid range of beloved outdoor fixed blades, Larkin's wife looked around the kitchen and asked why all the knives in their kitchen are terrible when he's a knife maker.
Enter the Bradford Chef's Knife, here to bring Brad Larkin's journey full circle back into the kitchen.
Fit, FInish, and Industrial Vibes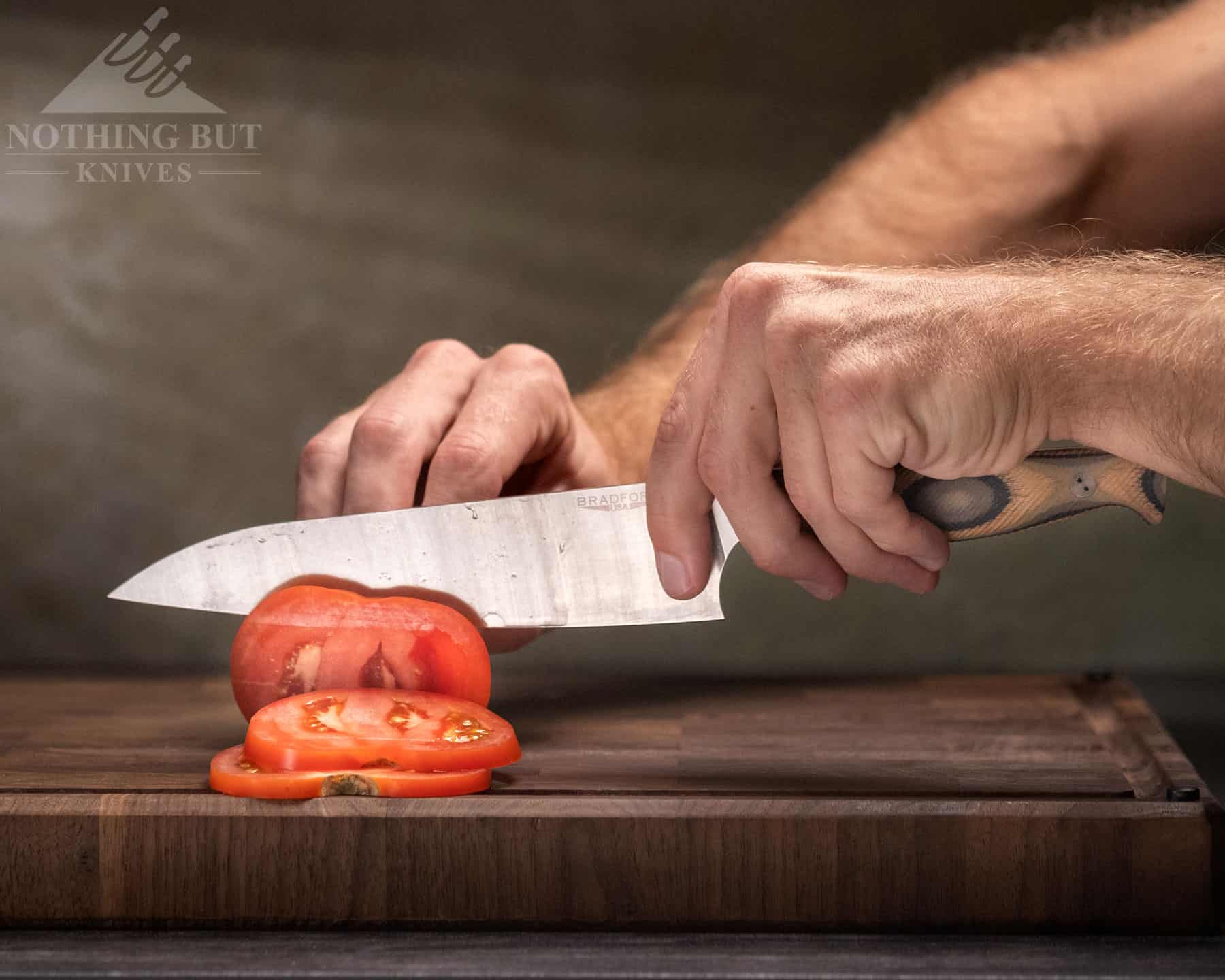 With that story in mind, it makes sense that this knife feels streamlined for function. It's easy to be distracted by the wood patterning of the handle and say it's a solid, rustic piece, but when you get up close on the finish, you can see rigid grind lines in the blade, and you feel a lot of harsh angles when you pick it up.
It borders on feeling industrial. The spine isn't crowned or even softened at all. It has fully 90 degree edges. You could use this knife with a ferro rod and get a fire going in short order. The fit and finish is otherwise perfect. The actual manufacturing and grinding on this knife has been done incredibly well, so it's doubly confusing that they've left so many harsh corners on it.
The G10 and Wood Composite Handle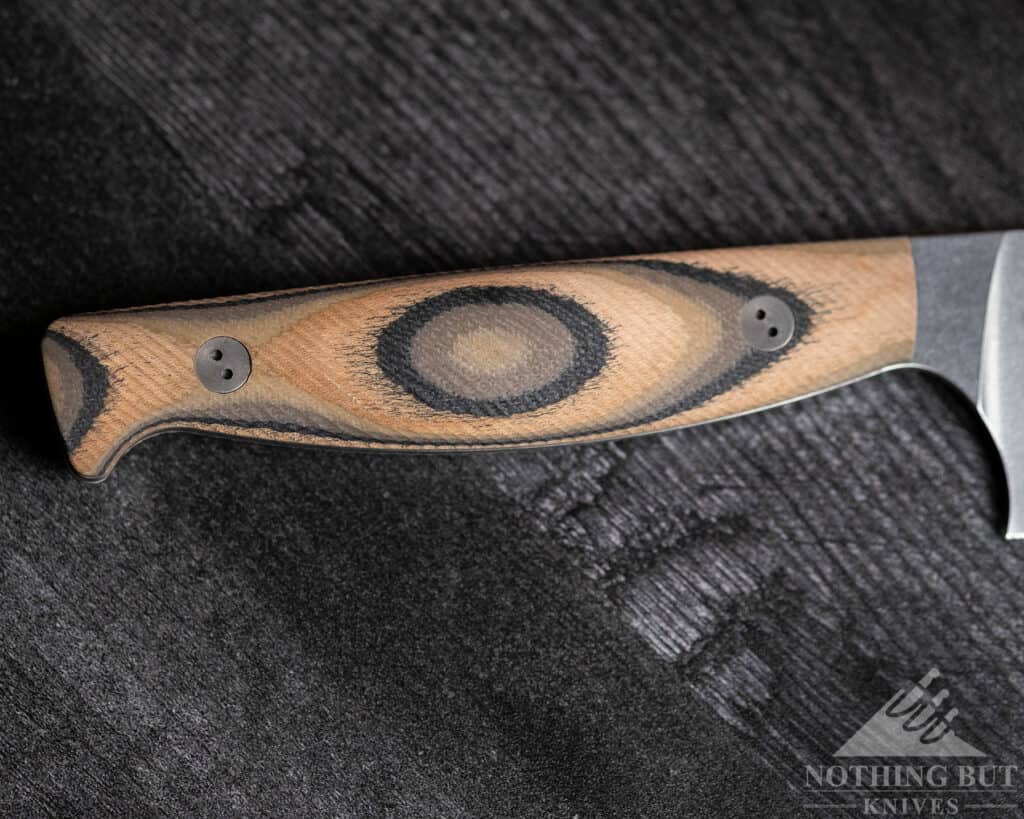 The handle is nice, though. This G-Wood material looks and feels like a productive mixture of natural and synthetic material.
It has a little bit of a plasticy feel, but it also has enough of that wood texture that it sticks to the hand a little bit. And the shaping of it makes a nice well for the bottom half of my hand when I'm holding it in a pinch grip, while the curvature gives me a little leverage and stability without making my hand feel cramped.
This knife feels very easy to hold steady and to cut straight with, which isn't normally something I do all that well. So the ergonomics have been done very well here, and it would be perfect if they had just crowned the spine and chamfered the corners of the handle a little.
It's nice for home use, but I wouldn't recommend it for long hours in a professional kitchen.
The Tough, Thin Blade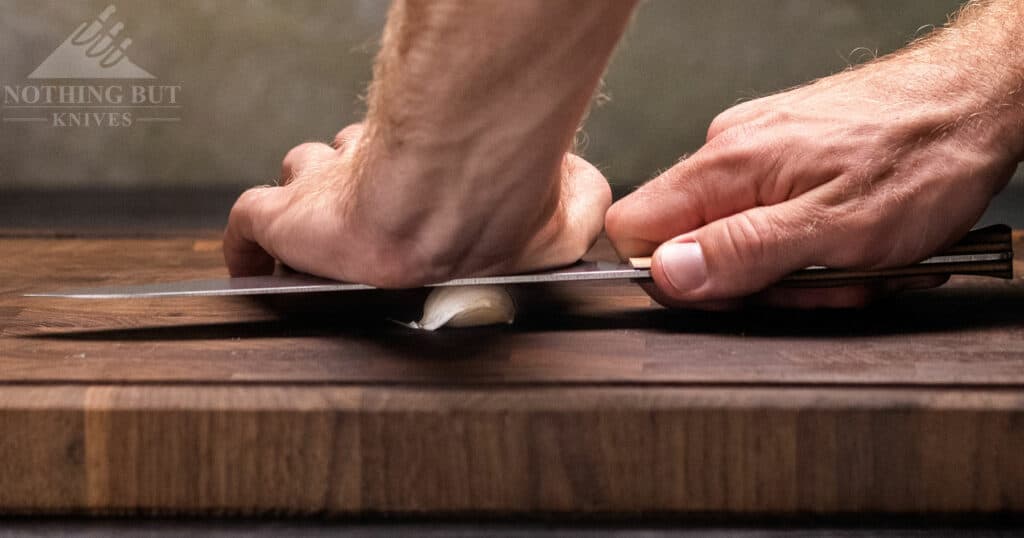 This is a super smooth cutter, which shouldn't be surprising. The blade is so thin it's almost two dimensional. The spine is just a little over 2 mm at its thickest, so it's not the thinnest knife I've ever used, but they've kept it thin enough behind the edge so it performs as well as most thinner knives, and a little grind work would turn this into an absolute laser.
Food Stick and Cut Adjustments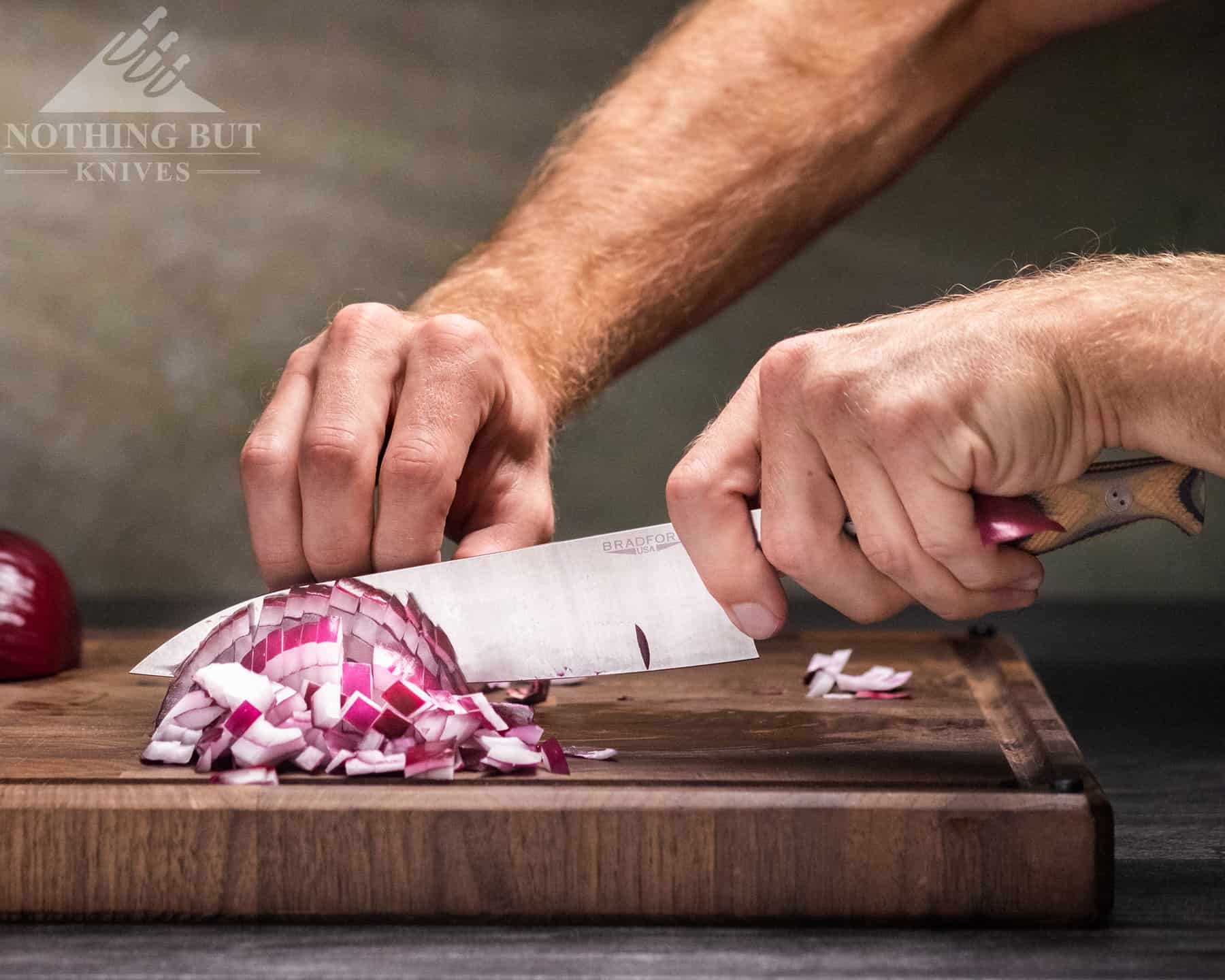 It was a little tricky for me to finish cuts at first because I had just finished reviewing a couple different western style blades, and the sweet spot on this Bradford is well above the halfway point on the edge. The belly is also a little more pronounced than it looks, so straight push cuts won't quite cut it on medium to larger sized foods. I had to learn to follow the edge to finish cuts up perfectly, but once I adjusted to the shape, it felt like a dream.
There's a lot of friction at play with this though. I only notice it when I'm cutting semi-soft foods like mushrooms, especially if they're a bit wet. They tend to stick to the sides of the blade so much that it starts to tear before the edge can finish the cut.
I can't really offer a good explanation for this, but it must have something to do with a combination of the grind cutting things so close that the food never has a chance to fall away from the blade, and the actual finish of the blade which seems to have a penchant for food stick. I managed to work around this by switching to more of a draw-cut motion with the higher part of the blade.
The Good Steel Compromise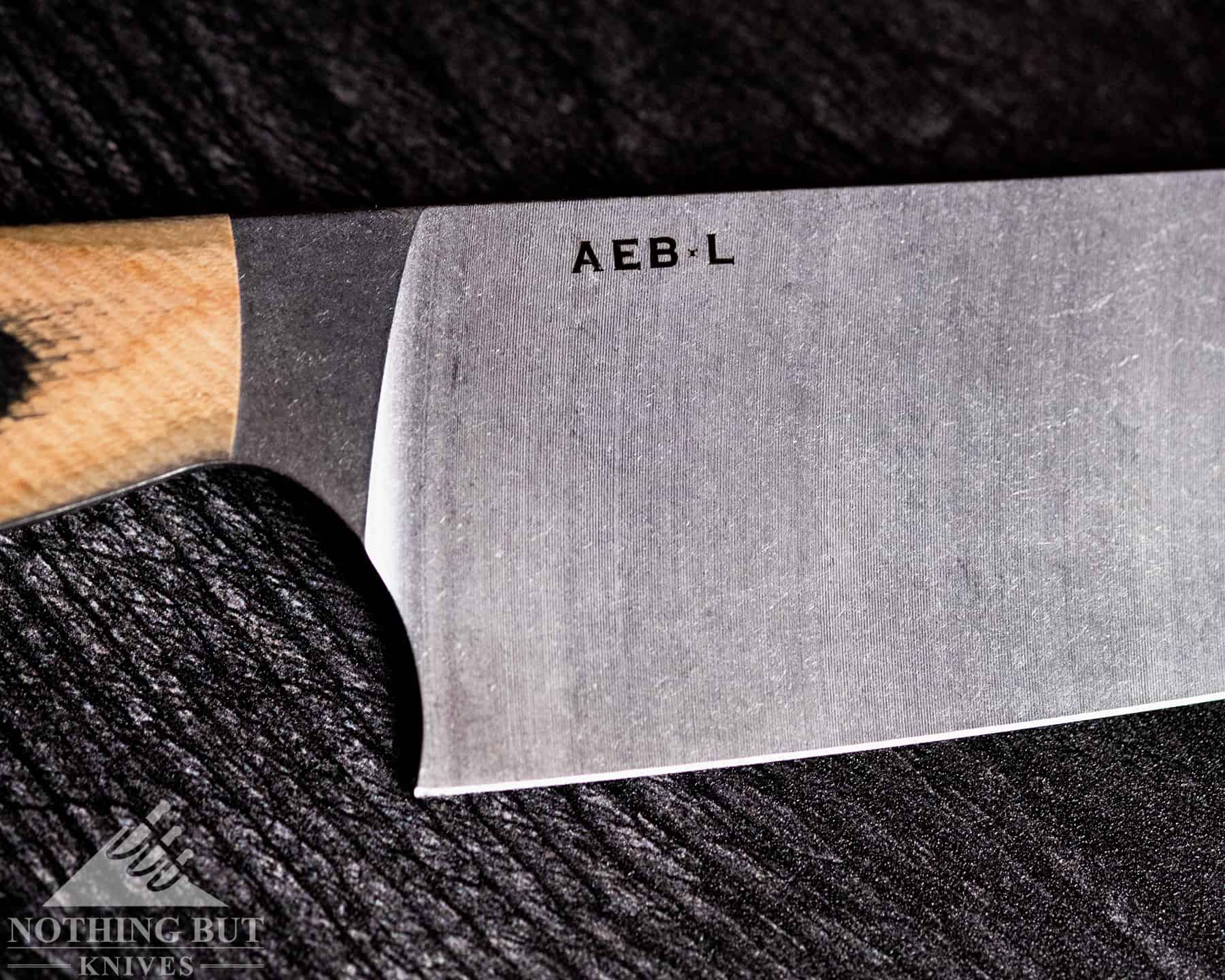 I'm a big fan of AEB-L steel, especially for a blade this thin. It has great stability for a non-powder steel and can take a very thin edge. It stays tougher at higher hardnesses than most other stainless steels, and Bradford has been working with it for a long time, so they know they're way around heat treating and grinding it.
It's a fairly low carbon steel. In fact, going by its make up alone it's really more of a low alloy than a full stainless. As a result, it technically has lower edge retention than the steels you'll find in most other Japanese style blades. Super thin blades in Blue #1 or even VG-10 would probably end up beating the Bradford Chef's knife in a side by side test. But AEB-L also retains a surprisingly good toughness even into high hardnesses, and it's generally easier to work with on stones and honing rods because the carbides are so small and aren't so densely packed.
Obviously it poses some danger of chipping at 61 HRC and being this thin, but the edge survived a few weeks with me, and I barely felt any drop in performance. I haven't put it into a direct test against the Tojiro DP or  Shun Classic, but at the end of the day, I know the edge retention is better than any Western knife in my kitchen just thanks to the hardness and edge geometry, and it'll be easier to maintain the edge over time thanks to the natural properties of the steel structure.
Food Performance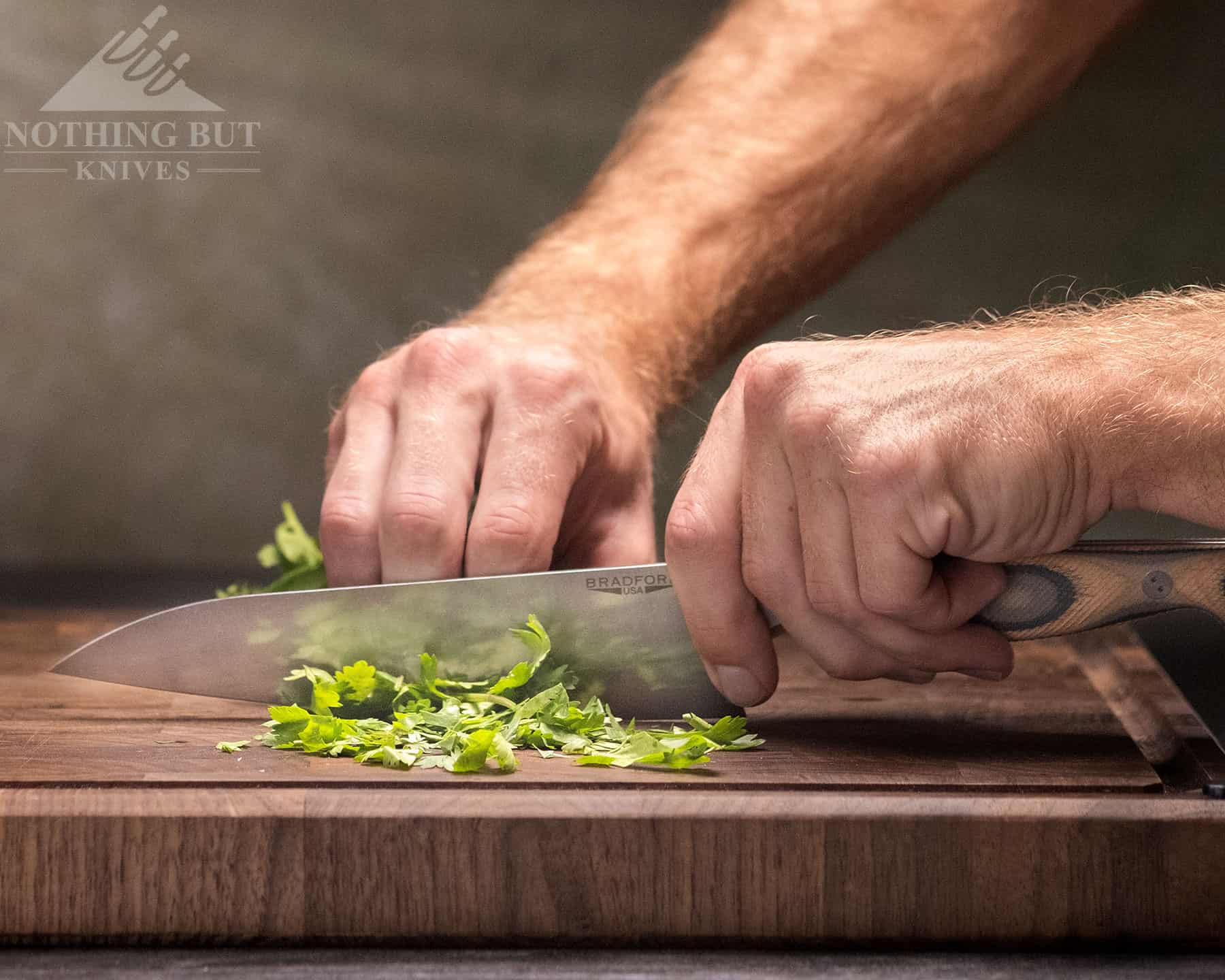 Whatever the long term ergonomic issues might be with this knife, I loved the way it handled most foods, with the odd exception of softer things like mushrooms that I mentioned before. There was a bit of tearing involved there, but otherwise the Bradford chef's knife is a clean cutter.
Onions
You bet this thing can dice an onion. I won't say it was effortless, because I'm not good enough for any kind of cooking to be effortless, but this knife has a good crisp action. It bites into the skin with very little pressure, and the follow through into the meat of the onion has a very light feeling. I never had to push hard. I can just let the edge to all the work.
Tomatoes
I had no trouble here. Like with onions, it bites into the skin easily even on soft tomatoes. After that it glides. It could almost cut through the meat on its own weight.
Carrots
The aggressive bite comes in handy with carrots, but I have to be careful that my hands are placed correctly because this knife snaps through them quickly.
Mushrooms
This is where I encountered the tearing issue the most. The knife can finish cuts just fine, and biting into mushrooms initially isn't a problem, but something about the blade finish likes to catch onto that fleshy texture and tear. It wasn't a terrible issue, but I did have to slow down a little to make sure I came away with whole pieces.
Comparison and Alternatives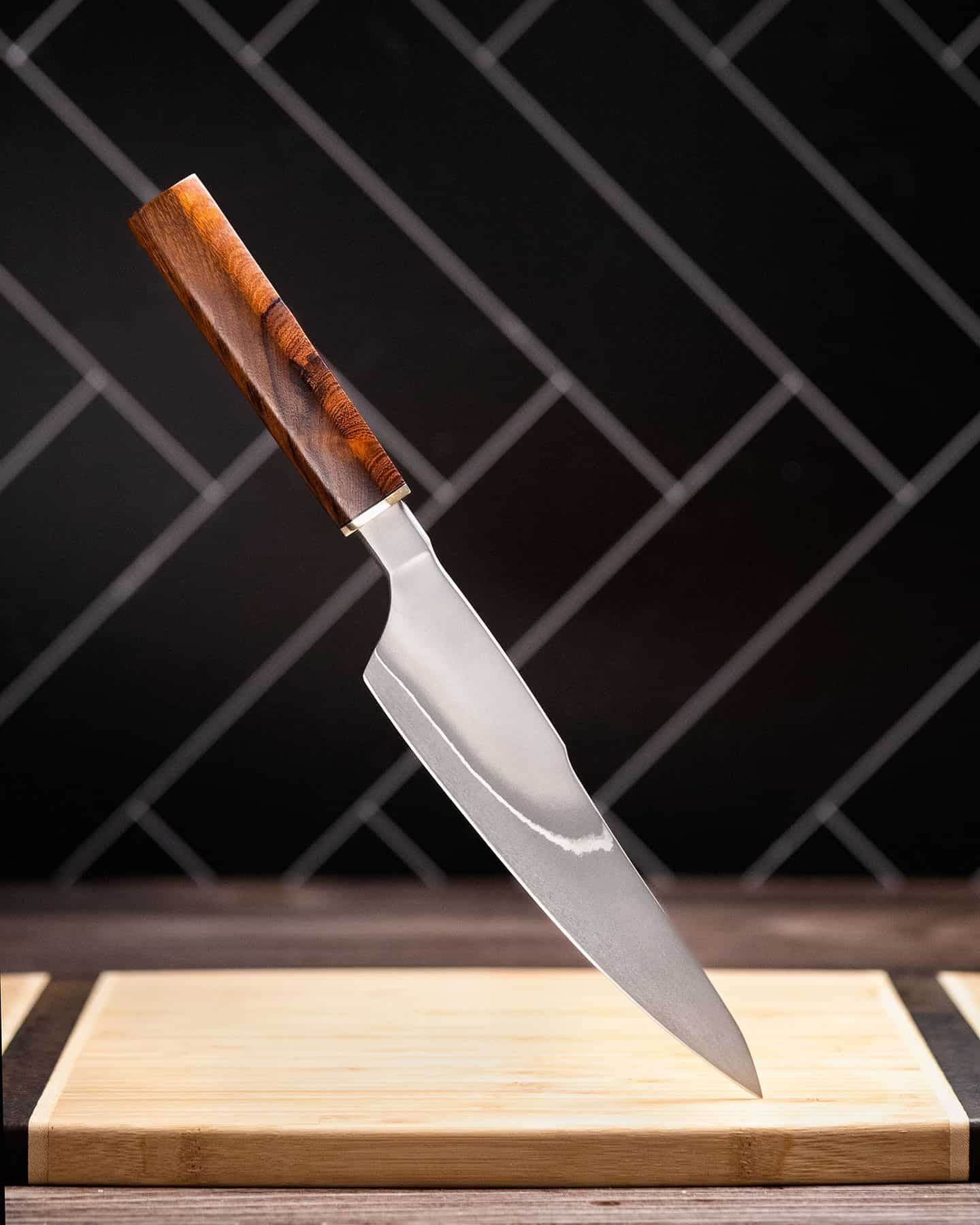 A lot more outdoor and EDC knife companies are dipping their toes into the kitchen cutlery world these days, so I've tried to pull my recommendations mostly from that category.
If you want to go a lot cheaper, the Vosteed Morgan was a pleasant surprise for me. The Bradford Chef's Knife definitely cuts smoother, has better edge retention, and might even be a little lighter, but the Morgan is a lot more comfortable, and the edge holds up okay under moderate use.
It's a similar compromise with the XinCraft Chef's Knife. It's a lot more comfortable and has decent blade performance considering the somewhat wide grind and soft steel. It still underperforms against the Bradford, but I like the feel of it, and the shorter blade is nice in a small kitchen.
If you don't mind the price and want something that's more strictly Japanese, Spyderco's Murray Carter knives are pretty well established as decent pick ups. I haven't had the chance to test one, but I do know the blade is about the same thickness. Murray Carter is no slouch when it comes to blade design and Spyderco can grind a mean edge. Plus octagonal handles have always been nice in my experience.
Conclusion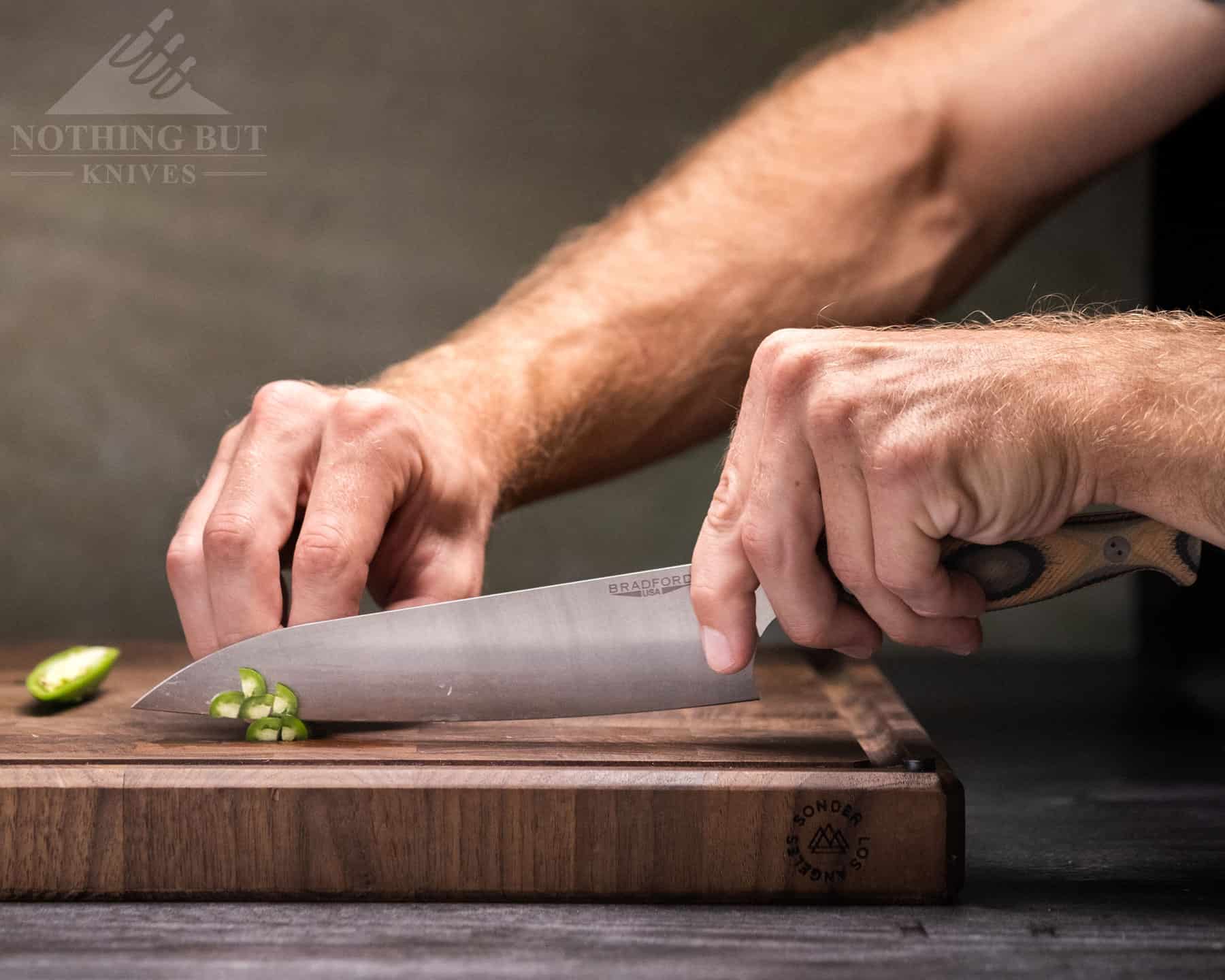 The Bradford Chef's Knife has the feeling of a design that set out to get the job done. They weren't interested in frills or shiny blade finishes. They wanted a good knife that would cut well, and they got it.
I like this knife, and I still use it because I rarely have to cut longer than ten to twenty minutes at a time. That's not really long enough for the hard angles in the spine and the handle to start biting into my hand, so it's nothing but a good time for me. With that in mind, I'd recommend this for home use. It performs beautifully. It's one of the best tools in my kitchen for dicing onions, but it's going to be a rough companion for someone looking at anything for much more than an hour of cutting.