Kitchen Knives And Sets By Companies Like Buck, Kershaw, Spyderco, TOPS and More
There's an odd, little-known trend among the EDC knife makers of the world: A lot of tactical, hunting and gentleman's folder pocket knife companies like Buck, Case, Boker, and Cold Steel make kitchen knives. Every now and then you'll catch a company at Blade Show whipping out a new chef knife or paring knife design, often with no discernible reason beyond they were bored with folders and wanted to try something new. That got me wondering how many have actually done this, so I went about compiling a list.
The results of these experiments might be hit or miss, but it's interesting to see how all these different companies approach the kitchen. If you've ever stopped and wondered what a full knife set and block would be like if Boker made it, you'll be happy to know that they have and it looks pretty much exactly how you'd think it would.
I've organized this blog by company rather than knife type or price, because this is really about how these companies make kitchen cutlery. As such, I've also included sets that are discontinued. If you're just looking for some tips on a good steak knife set or kitchen knife, we have other blogs for that.
Buck
Buck definitely makes the most complete selection of kitchen cutlery on here. They have a full range of kitchen knives plus three different sizes of blocks ranging from 4 piece to 13 piece. At first glance it looks like they make three different kinds of kitchen knife lines, but really they're all the same designs with different handle materials: two of Buck's patent composite materials, Dymalux Rosewood and Paperstone, and elk bone.
13 Piece Buck Kitchen Knife Set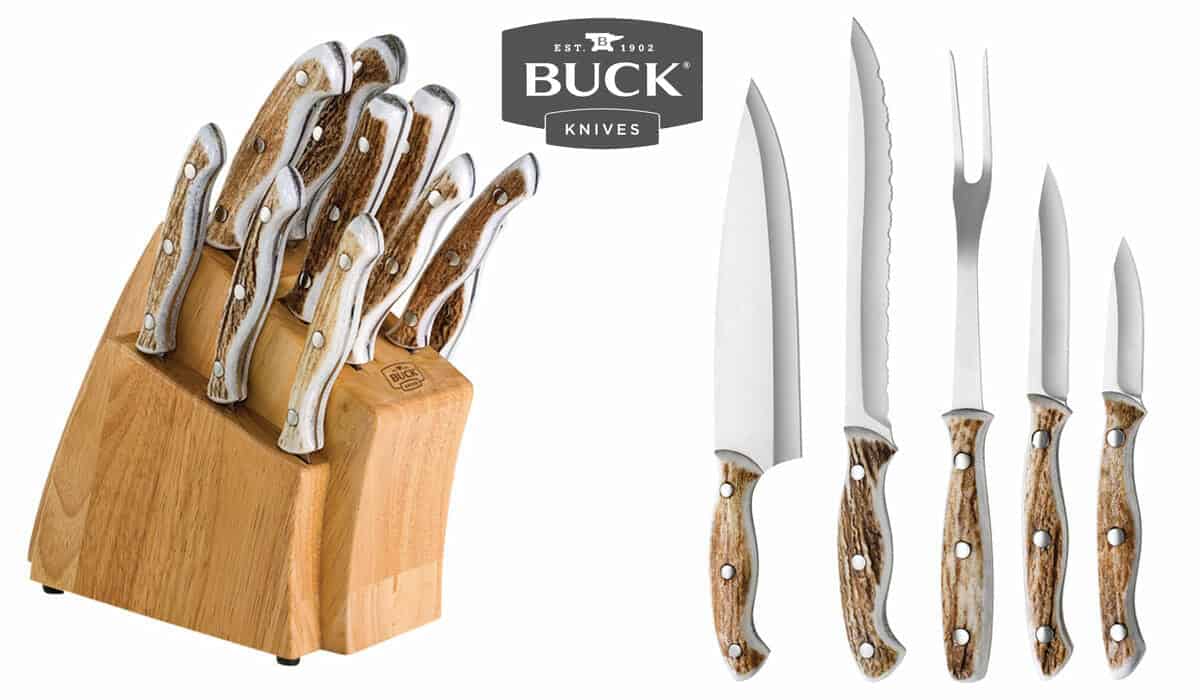 | | |
| --- | --- |
| Steel: | 420HC |
| Handle Material: | Elk Bone |
| Storage Block: | Wood |
Set Includes: 8" Chef knife, 8" Slicer, 2.75" Paring knife, 4" Paring knife, 4.875" Paring knife, Fork, Steak knives (6)
Buck has you covered for pretty much any hearty meal. The set is laden with slabs of Buck's 420HC steel on mostly comfortable handles, and nice edges. There's a wealth of steak knives and a good fork so there's definitely some barbecued meat in mind with this set up. You might also notice the spreader knife is serrated. That's so you can cut bread and spread butter on it with the same tool, which is possibly the most genius thing Buck has done since slapping a pocket clip on the 110.
If I had a gripe about the set as a whole it's that they did too much shaping with the handles. Those bigger curves are never as comfortable on a kitchen knife as you think they're going to be. They'd have been better off modeling their kitchen knife handles after one of their survival designs like the Vanguard or the Selkirk.
7 Piece Buck Kitchen Knife Set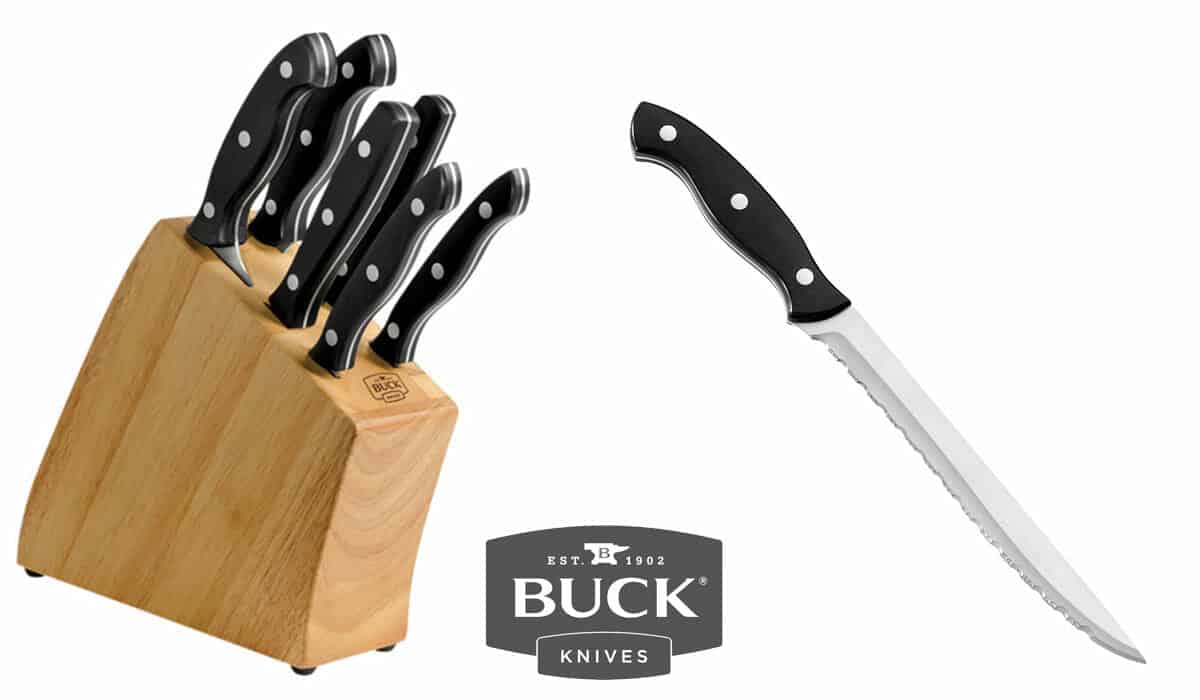 | | |
| --- | --- |
| Steel: | 420HC |
| Handle Material: | Paperstone or Dymalux |
| Block: | Wood |
Set Includes: 8" Chef knife, 8" Slicer, 2.75" Paring knife, 4" Paring knife, 4.875" Spreader, and Fork.
Same stuff here, just without the steak knives. I would say this is a good option if you're working with less counter space, but even Buck's full kitchen set is pretty economic with space. So really the only choice here is about price. Sans steak knives, this set is in the $150 range as opposed the $500 tag on the full set.
And, you know, maybe you want a different set of steak knives.
Boker
Boker makes quite a few knives for the kitchen, but they're tough to find in sets. They're a great company for getting a single chef knife or utility knife. They make a few different designs that are worth checking out. The problem is the company has so many branches and doesn't do a very good job of pushing the various kitchen knives they make as distinct styles or compiling them in clear-cut set. Sorting all this out could almost be its own blog, but here's the run down on Boker kitchen cutlery.
Boker Solingen Knife Sets
The bulk of their cutlery looks to be under the Manufaktur Solingen branch. There are lot's of free-floating pieces with names that suggest their in a set, but with no complete set in site. Here's the best run down I can do in a coherent way.
Boker Vox Saga Knives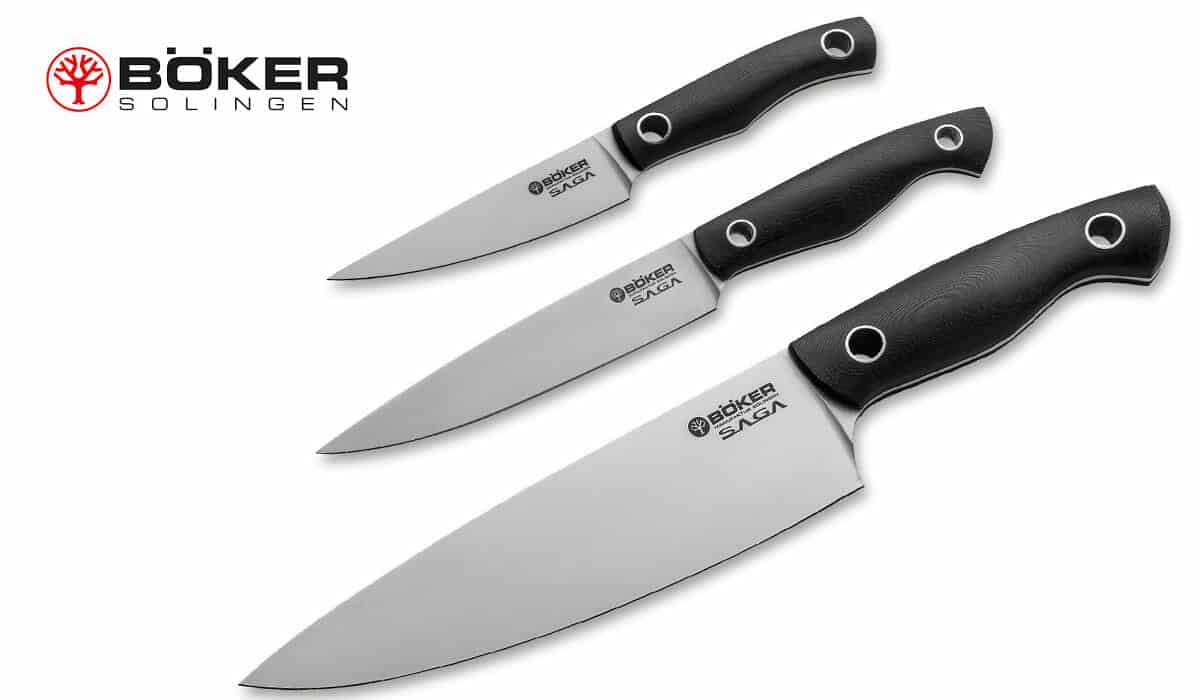 | | |
| --- | --- |
| Steel: | 440C |
| Handle Material: | G-10 |
| Block: | None |
This is the kind of thing I was hoping to find in researching for this blog. The Saga series is a vaguely bushcraft knife-inspired cutlery set with G10 scales and big bolt holes that look like something you're supposed to run paracord through. I've seen this sold as a three piece set with a chef knife with a utility knife and paring knife, and as a 5-piece with a Santoku and a block added. Plus there's a version with wood scales, but good luck finding that one.
Boker Core Knives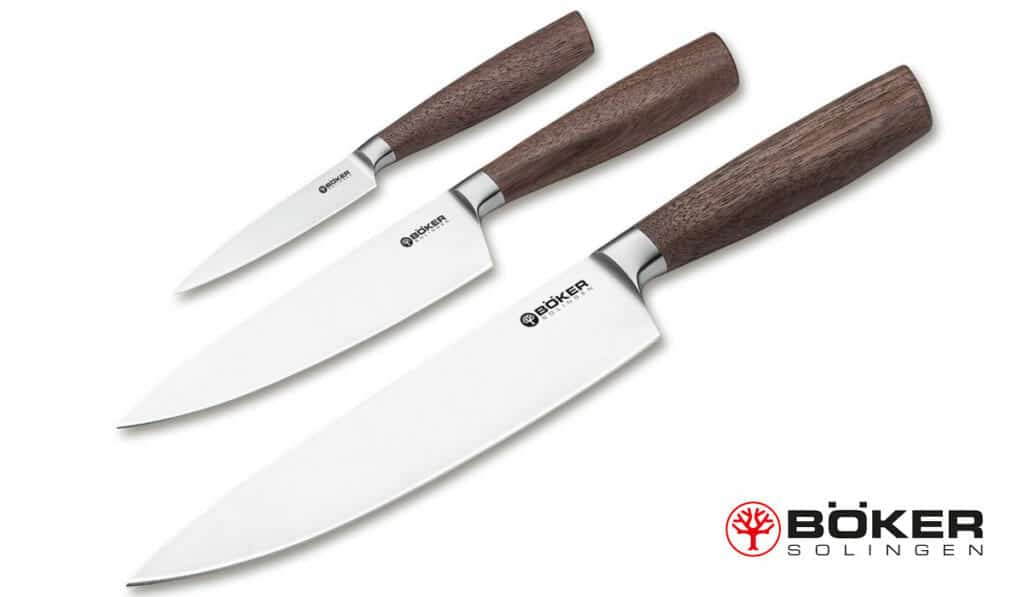 | | |
| --- | --- |
| Steel: | X50CrMoV15 |
| Handle Material: | Walnut |
| Storage Block: | Wood |
These knives look to be softer than your typical kitchen knives. The rounded walnut handles are a great step in classic, comfortable kitchen knife territory, though. Comfort seems to be the focus of this series. But if Bokey actually nailed that aspect of it, this set seems like a pretty good deal. It looks great and the grind looks decent so the easily-honed edge offers quite a bit of cutting performance with a bit of maintenance.
I've seen it sold in at least four different sets: the 3-piece sold on the Boker set, a 6-piece with a block and a honing rod, and two 5-piece sets with different kinds of blocks.
Damascus Olive Set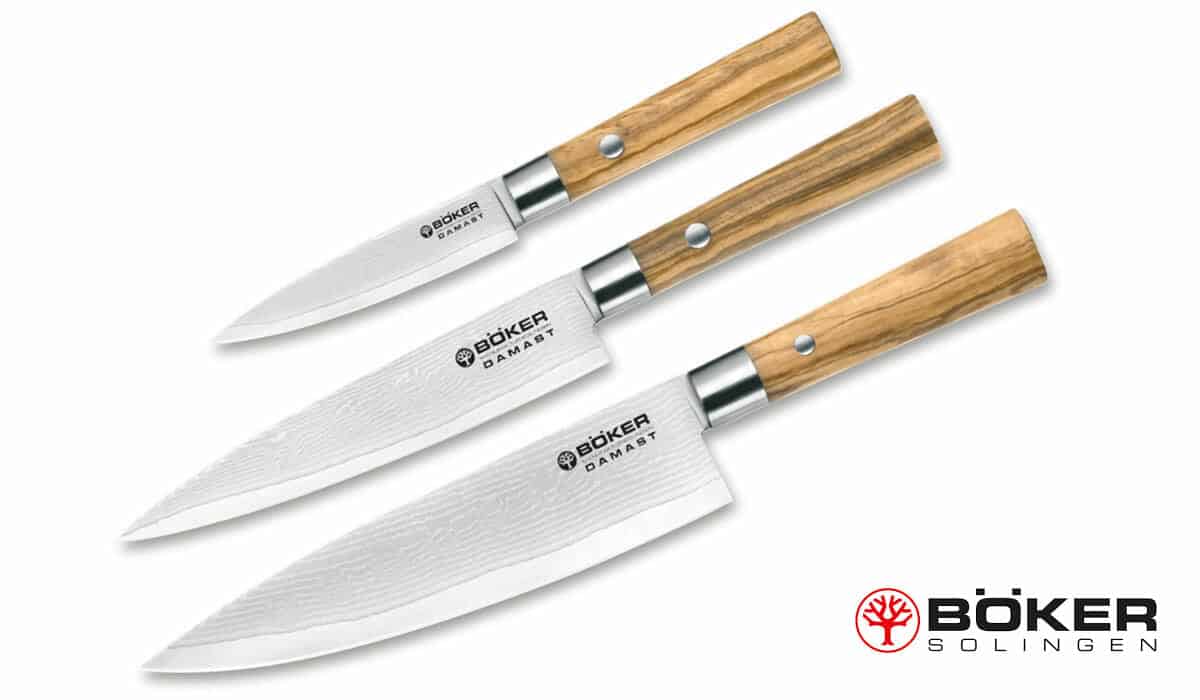 | | |
| --- | --- |
| Steel: | VG-10 |
| Handle Material: | Olive Wood |
| Storage Block: | Olive Wood |
These are a little easier to find as a set, thankfully, though you should expect to pay a high price. The 6-inch chef knife is $200 by itself, and their full 8-piece set typically runs in the $1,000 range.
These are cool, though. The olive wood handles look really nice and the layered VG-10 steel not only creates a really nice Damscus steel design on the blades, but it seems to genuinely cut and hold an edge well. It looks like Boker is using a similar technique here to a lot of Shun knives like the Dual Core series that folds VG-MAX steel with a carbon steel.
Boker Damascus Kitchen Knife block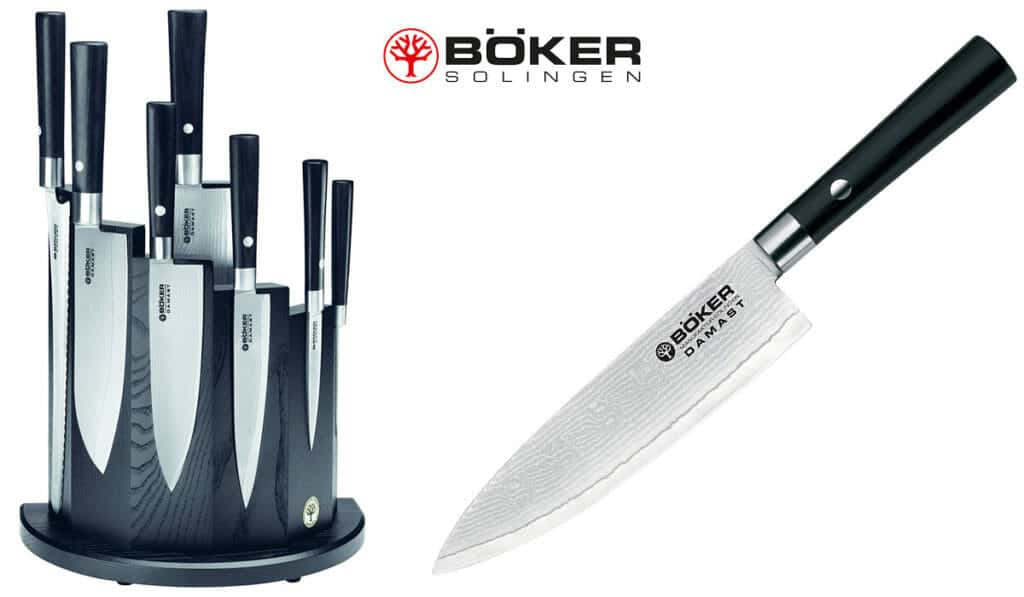 | | |
| --- | --- |
| Steel: | VG-10 |
| Handle Material: | G-10 |
| Storage Black: | Wood (magnetic) |
Same deal with the Damascus Olive series, just without the Olive wood. Instead, Boker slapped some Pakkawood handles on these things, changing to a distinctly darker color scheme and bringing it that much closer to your typical Japanese knife set.
Boker Forged Kitchen Knife set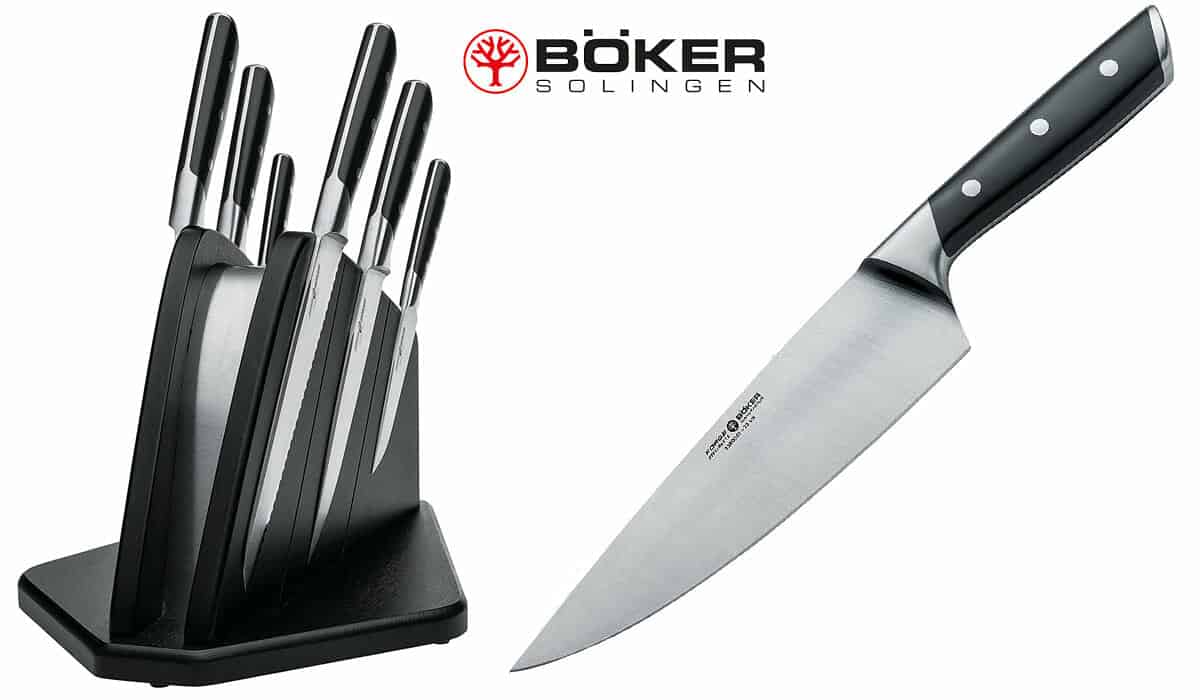 | | |
| --- | --- |
| Steel: | X50xCrMoV15 |
| Handle Material: | Plastic or Laminated Maple Wood |
| Storage Block: | Stand-alone Magnetic |
This is one of the first sets you're likely to find in any search for Boker kitchen knife sets. It also looks to be the most reasonably priced set of the bunch, so that's a plus.
Of course that's because they're using cheaper materials here. The word used for the handles on the black version is "special plastic" so we apparently aren't even working with G10. But the knives do you look nice, if not exactly interesting in the way their Saga or Damascus series do. They're certainly a lot more accessible than the bulk of Boker's kitchen cutlery.
They also make a Maple wood version, which looks a lot nicer, but I'm not sure if it's true wood or some kind of composite material.
Boker Arbolito Kitchen Knives
The Argentina-based branch of Arbolito holds a lot of potential for interesting kitchen cutlery. Though one could argue that many of their survival knife designs could function well enough as kitchen knives. So far there aren't a ton of dedicated kitchen knives coming from this branch of the company.
Boker Arbolito Classic Knives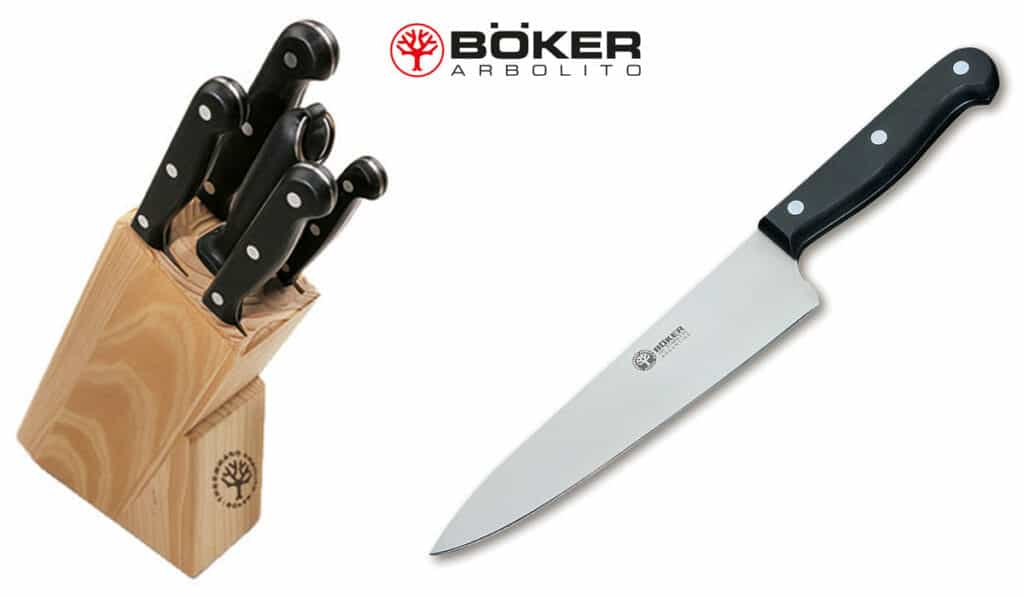 | | |
| --- | --- |
| Steel: | 440A |
| Handle Material: | G-10 |
| Storage Block: | Wood |
These knives are strangely plain to be coming out of a factory that pumps out designs like El Gigante. You've got black G10 scales in a bit of a wavy shape kinda like the Buck set, and 440A steel blades with nothing special about beyond the fact that they work. The most extraordinary thing about the series is that the 6-piece block set only runs a little over $100. It's a good value set, but it really doesn't feel like it speaks up for itself much.
Boker Plus Kitchen Knives
This is the budget side of Boker, so the knives get a little more creative and generally cheaper. The manufacturing also moves out of Germany and into one of their factories in China or Taiwan.
ChefYouGo Knives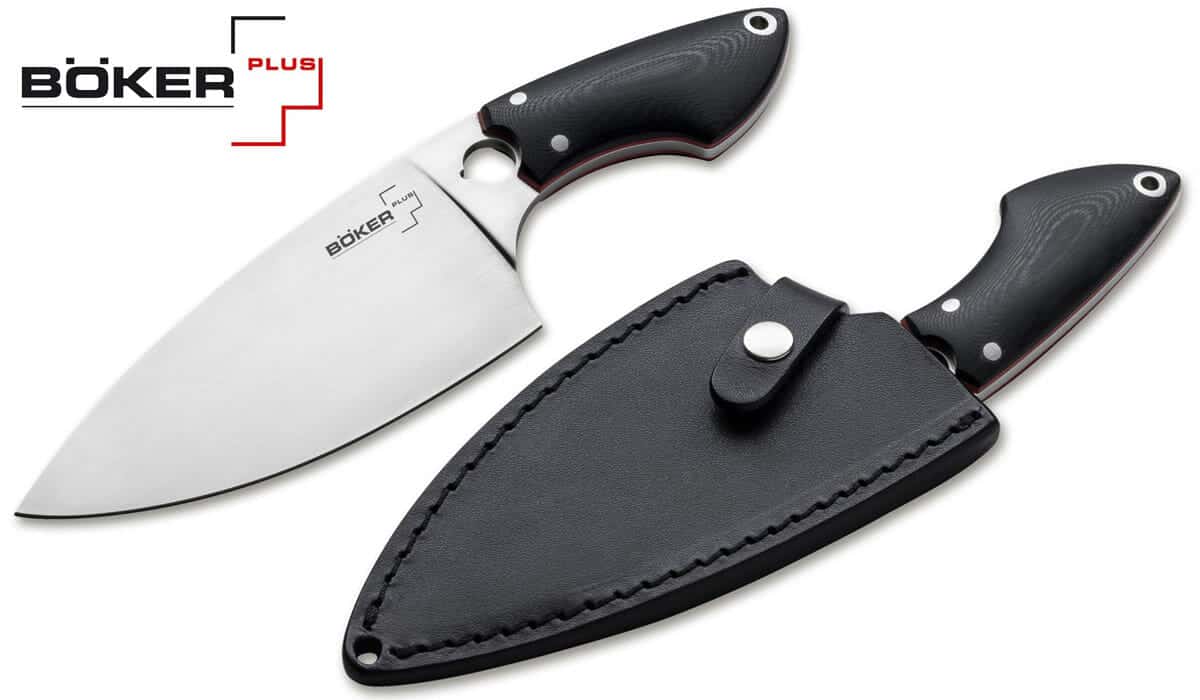 | | |
| --- | --- |
| Steel: | 440C or 12C27 |
| Handle Material: | G-10 |
| Sheath Material: | Leather |
Again, this is exactly the kind of thing I was hoping to see. The ChefYouGo knives look exactly like something a folding knife or bushcraft company would make.
They just took a chef knife and a santoku knife, made them smaller and put them in cool leather sheaths. The concept seems more fun than useful to me, though. They shortened the handles so much you can only grip them with a few fingers. That would also make them easy to pack on a hike, though, so these might just be crazy enough for me to try one day.
Case Cutlery
Plenty of good, honest wood-handled knives to be had with Case Cutlery. They don't make a ton of kitchen knives, but they do have a full block set, and the rustic look is well in keeping with the kind of knives fans of Case Cutlery generally expect from them.
Case Cutlery Household Kitchen Block w/ Wood Handles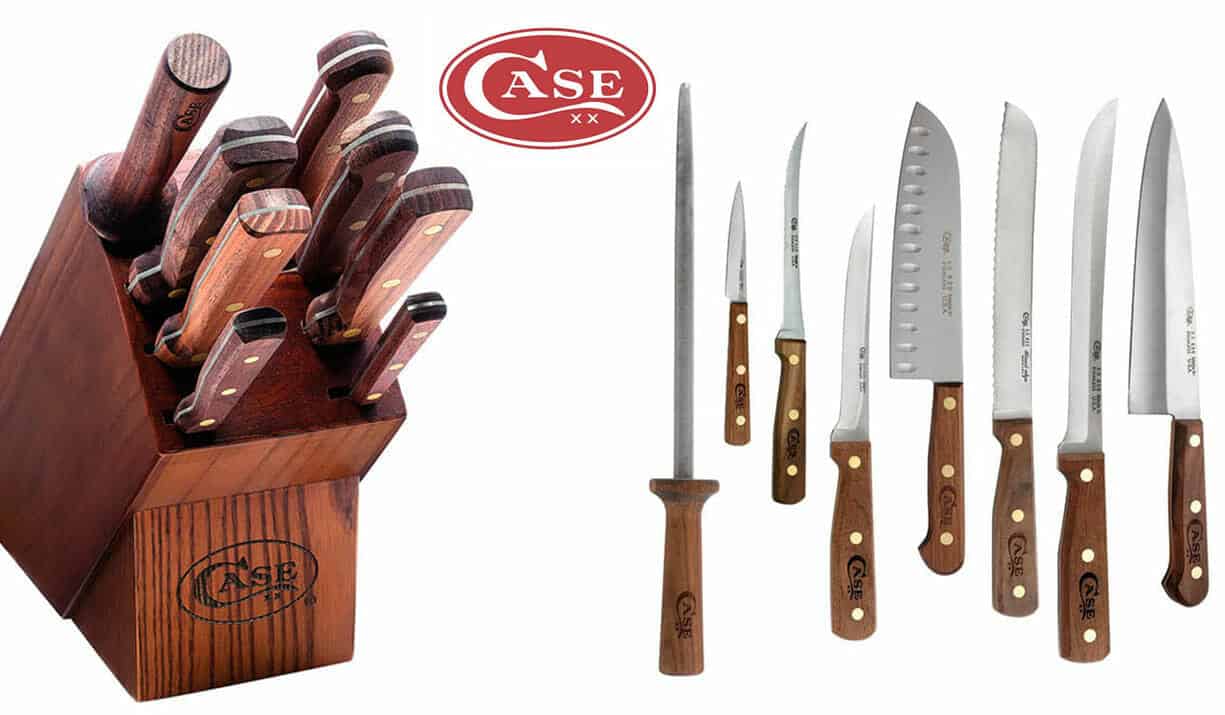 | | |
| --- | --- |
| Steel: | Tru-Sharp Surgical Steel |
| Handle Material: | Walnut |
| Storage Block: | Walnut |
| Made In: | USA |
Set Includes: 8" chef knife, 9" slicing knife, 8" bread knife, 6" boning knife, 3" paring knife, 10" honing rod.
They sell this set with either walnut or polymer handles. You're generally looking at as much as a $200 difference between those two, so you better be sure about how much you want those hardwood handles. Outside the handle option these knives are great if you're the hunting type. Case seems to have geared the set and the design of the knives around butchering and dressing game.
The steel sounds questionable to me. I see it listed as either Tru-Sharp surgical steel or Miracle-Edge steel. Case calls Tru-Sharp a high carbon steel with "extraordenary strength and corrosion resistance" on their site. From what I can gather, it's actually 420HC steel with some kind of finish or extra dose of something to make it more corrosive resistant. By all accounts it makes these knives pretty tough and really easy to clean, you just need to get used to sharpening them.
Case Cutlery Steak Knife Set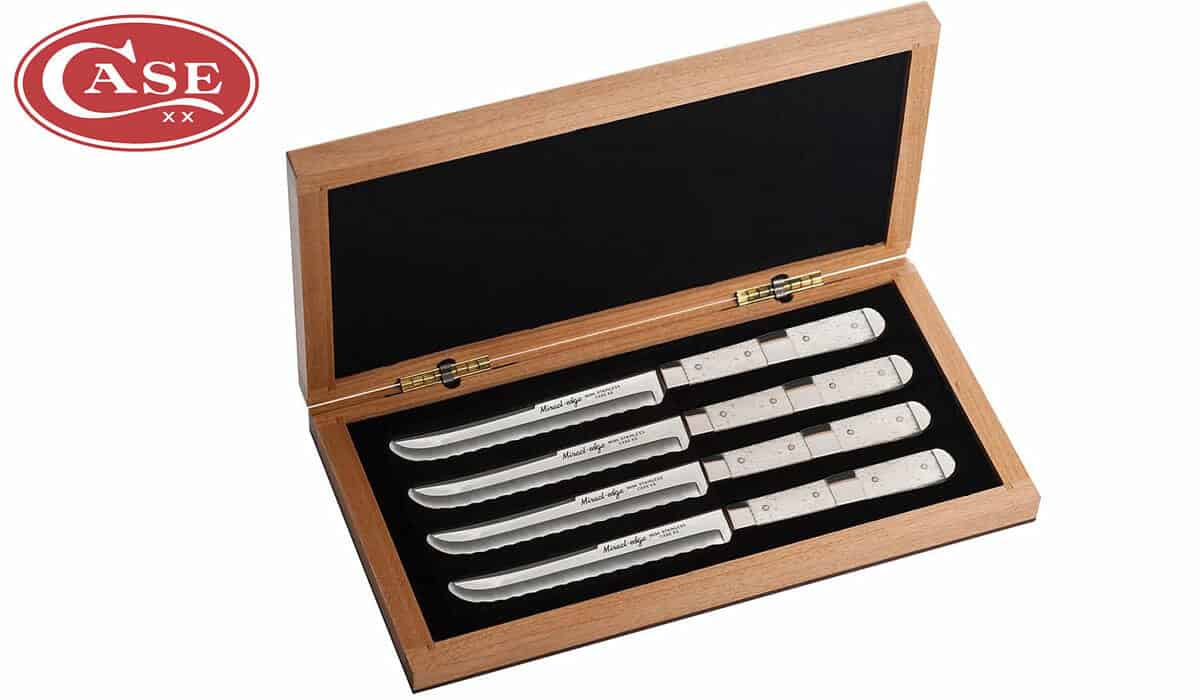 | | |
| --- | --- |
| Steel: | Tru-Sharp Surgical Steel |
| Handle Material: | Ebony Wood or Natural Bone |
| Storage Box: | Wood |
| Made In: | USA |
Set Includes: 5" serrated steak knives (4)
Same steel here as the rest of their kitchen cutlery, but Case went with a selection of ebony wood and bone for these. In terms of presentation, their steak knives are a lot more impressive to look at. They were designed to make good gifts, but you should get the same kind of performance as their other cutlery.
Cold Steel
It looks like Cold Steel makes two different sets: the Classics kitchen knives and the Commercial kitchen knives. Only the Classics knives (clearly made for regular ol' home use) are sold in a knife block, but apparently you can order the Commercial knives as a free-floating set. I guess they just expect you get a roll to go with it or something. It's not unusual for these EDC companies to forgo bulk storage, though, as you'll see if you're the kind of idiot who reads these kinds of blogs all the way through.
Cold Steel Classics Set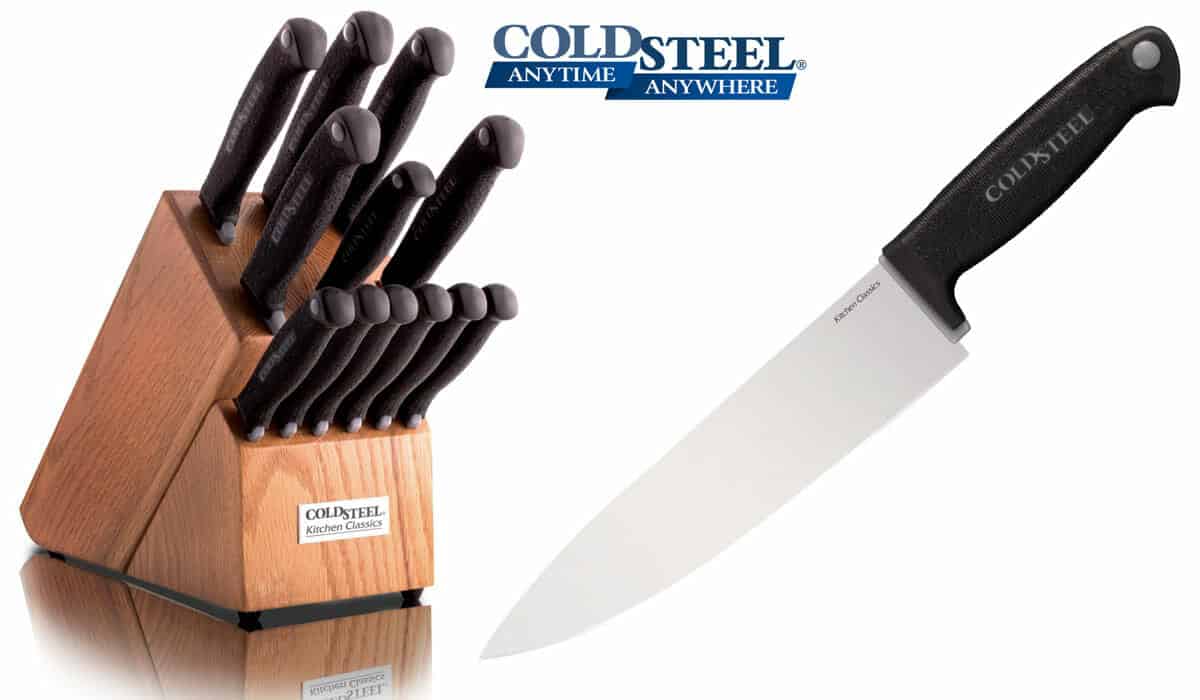 | | |
| --- | --- |
| Steel: | 4116 |
| Handle Material: | Kray-Ex |
| Storage Block: | Oak |
Set Includes: 8" chef knife, 6" utility knife, 6" boning knife, 3" paring knife, 9" bread knife, 9" slicer, 4.75" steak knives (6).
I'm pretty sure they use the same handle material for these knives that's on a lot of their tactical knives like the SRK and the Recon. With those as reference, it's safe to say the Classics blades are going to be some grippy kitchen knives. I'm not sure if that much is technically a good thing on a chef knife since it might make chopping in a pinch grip a little more difficult, but at the very least you'll know these are durable and comfortable.
The 4116 steel is not very exciting. It's a German steel but my understanding is that 400 series steels are soft, so if you're running with the the Classic set you should definitely have a honing rod handy. It's also not the last time you'll see 4116 steel on here.
Cold Steel Commercial Series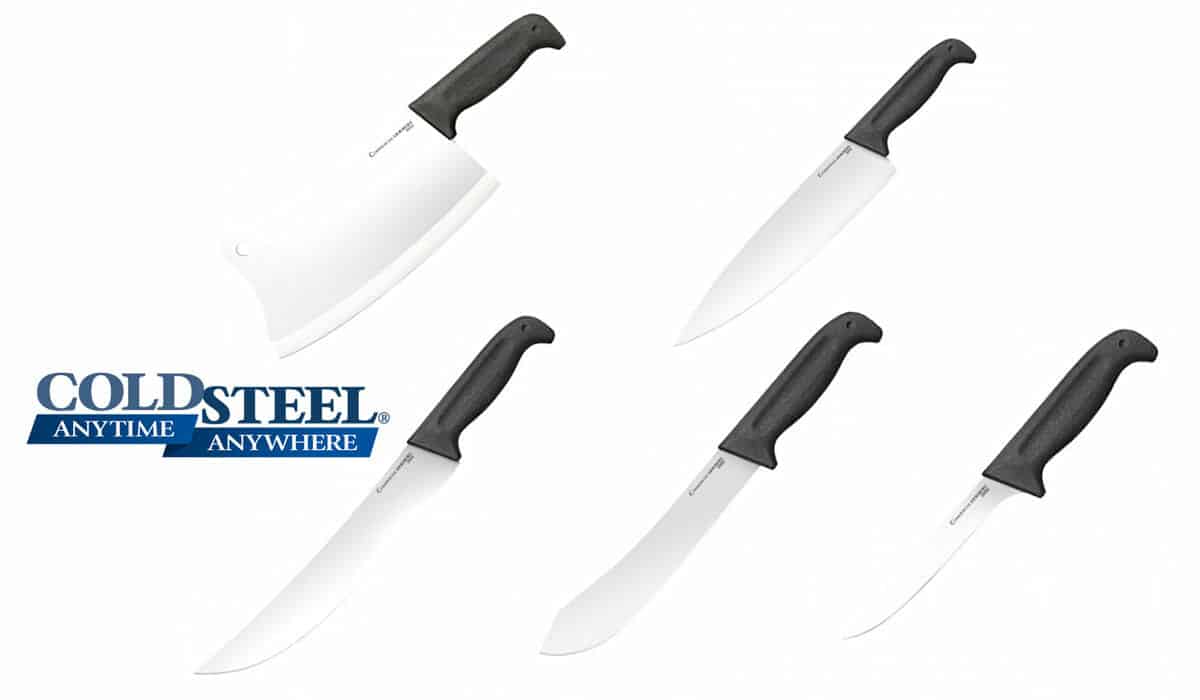 | | |
| --- | --- |
| Steel: | 4116 |
| Handle Material: | Kray-Ex |
| Block: | None |
Set Includes: 10" chef knife, 8" butcher knife, slicer, 9" cleaver, 6" stiff boning knife.
Like I said before, Cold Steel doesn't seem to offer this series with any kind of storage option. The Commercial knives look like they're very much butcher oriented. All the handle and steel materials are the same, so it's not some kind of professional upgrade from the Classic as the name might suggest. These knives actually remind me a lot of the Victorinox Fibrox Pro butcher set or a polymer version of the OKC Old Hickory set.
Cold Steel Steak Knife Set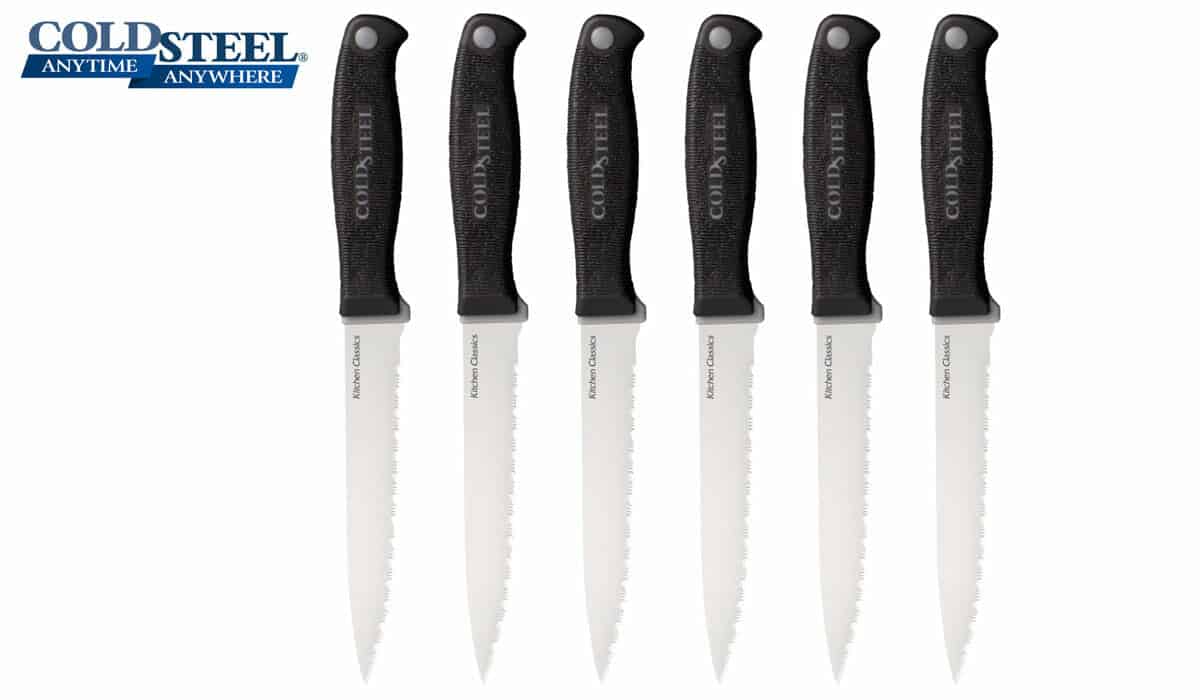 | | |
| --- | --- |
| Steel: | 4116 |
| Handle Material: | Kray-Ex |
| Storage Block: | None |
Set Includes: 4.75" Steak knives (6)
These are included in the Classic series, but I will always point out a steak knife set standing on its own when I can. As with all of Cold Steel's food-oriented cutlery, we're working with budget materials, but the handles are comfortable and the price is under $50. These would make a good set for a Cold Steel fan or just someone who likes meat but doesn't like fancy things.
Kershaw
Kershaw actually operates under the umbrella of a pretty well known kitchen cutlery company, so it would be redundant to talk about Kershaw kitchen knives as long as we have a whole blog about Shun. Under that umbrella there's also Kai Cutlery, which seems to make pretty decent budget knives for the kitchen, but they're strictly a kitchen company. So it would seem there's nothing to talk about under with the Kershaw name.
Except that Emerson designed some kitchen knives.
Emerson 3-Piece Cook's Set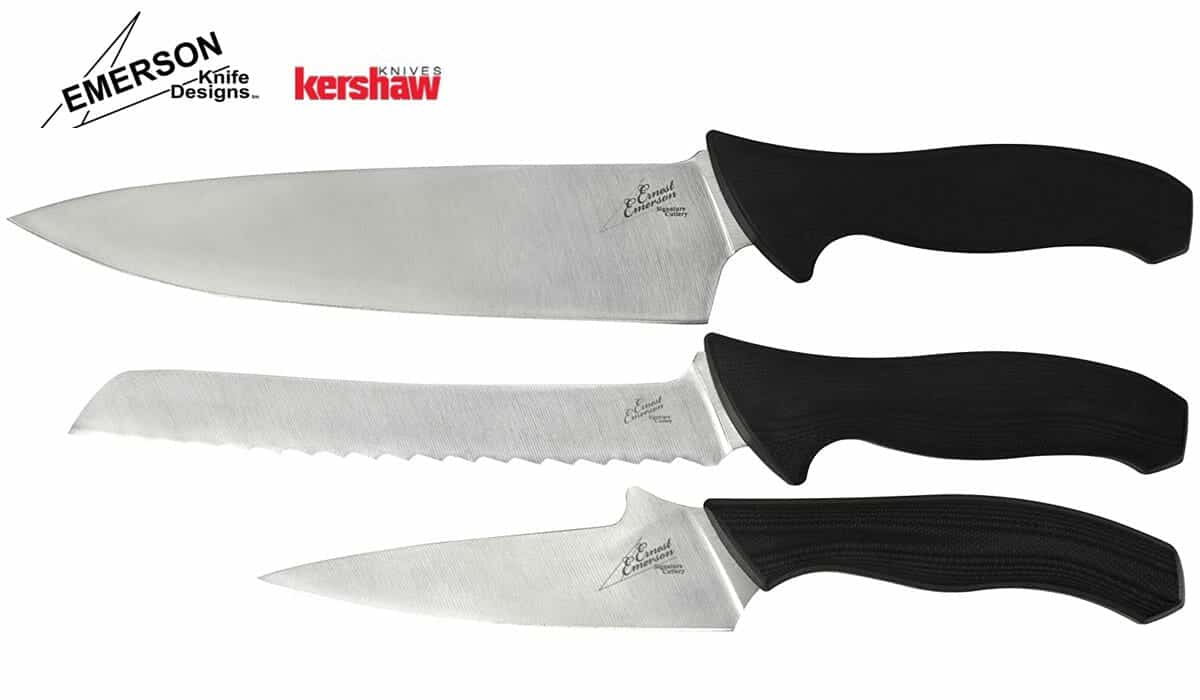 | | |
| --- | --- |
| Steel: | DIN 1.4116 |
| Handle Material: | Synthetic Polymer |
| Storage Block: | None (ships with plastic blade sheaths) |
Set Includes: 7.75" Chef knife, 4.25" paring knife, 7.25" bread knife
Putting Emerson ergonomics on a kitchen knife is not an idea I ever would have had, but whoever did have it is a genius. These knives are comfortable and durable and cheap. You could easily pack them in a roll for a hunting trip or shove them in a drawer in your kitchen and they'll be fine. Plus at $30 you're getting a pretty fantastic value. There's nothing exactly "premium" about the materials of these knives besides the overall design, but there's a fair guarantee that you will get a lot of use out of these things.
I see them tagged as discontinued a lot, and the set is nowhere to be found on Kershaw's site, but somehow vendors keep getting a hold of them. So, if you like the look, pick it up while you can.
Ontario Knife Company
This company sits pretty comfortably in the budget outdoor category. Most of the EDC and survival knives they make are cost effective and sturdy and look pretty sweet. They're clearly fans of old school high carbon steels and simple handle designs, and that translates into some cool designs for food prep.
Ontario Knife Company Old Hickory Knife Set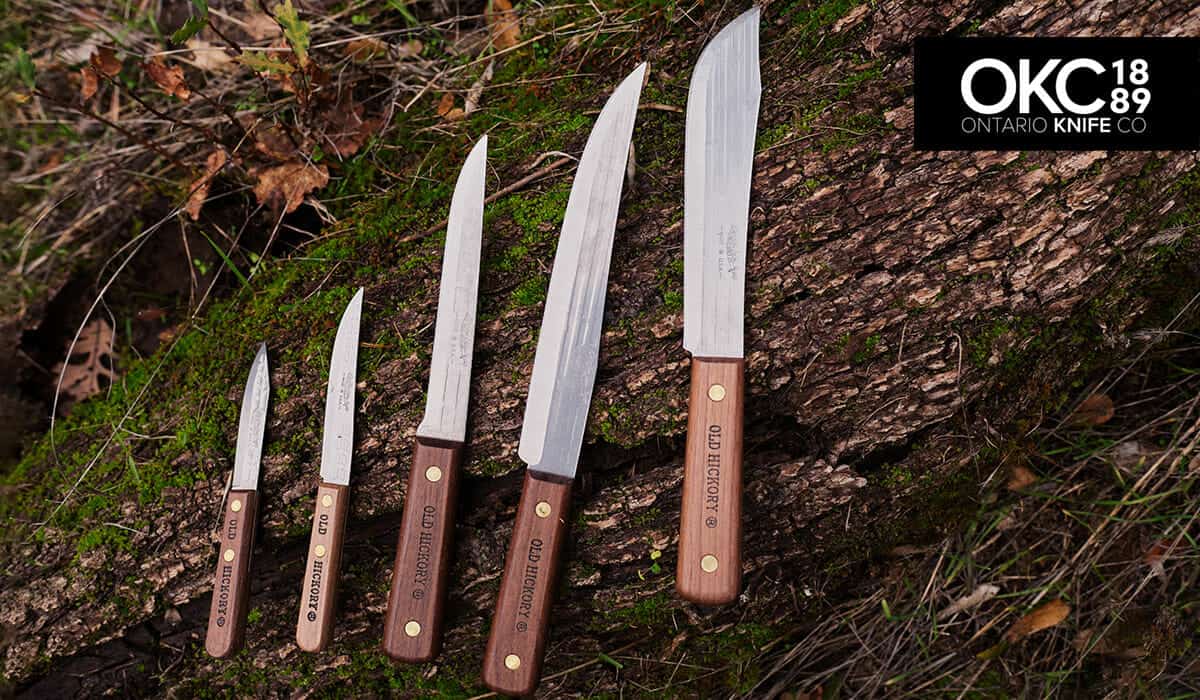 | | |
| --- | --- |
| Steel: | 1095 High Carbon |
| Handle Material: | Hard Wood |
| Storage Block: | None |
Set Includes: 8" slicing knife, 7" butcher knife, 6" boning knife, 4" paring knife, 3.25" paring knife.
Strictly speaking this isn't a kitchen knife set, but it's close and I love it and I want you to love it too. So in goes OKC.
I wouldn't even say these knives are "high performance", although the paring knives do work pretty well. They aren't especially sharp out of the box, and the wood handles won't be comfortable for everyone, but there's a massive amount of potential in these knives for people who like to modify their tools. There's so much raw material involved here: the straight blacks of wood scales and the thick 1095 steel were made to be shaped to your preference. You can sand down the handles to fit your grip better and there's plenty of steel there that you can put a finer edge on it, and possibly even change the grind altogether.
It's a bit like the Emerson kitchen knives in that this doesn't cost much, and you could potentially do a lot with them. The Old Hickory set was just made to get the hell beat out of it.
Check out our full review of it here.
Spyderco
Weirdly (or maybe not so weirdly since we're talking about Spyderco) they make a lot of kitchen knives. They don't sell them in a block or even as a set, though, and this fact annoys me more than I would have expected it to. For one, it makes organizing this blog difficult. I'm just not going to list every single knife and tell you about it. They do seem to have distinct categories though, so we'll just stick to that.
Spyderco Kitchen Classics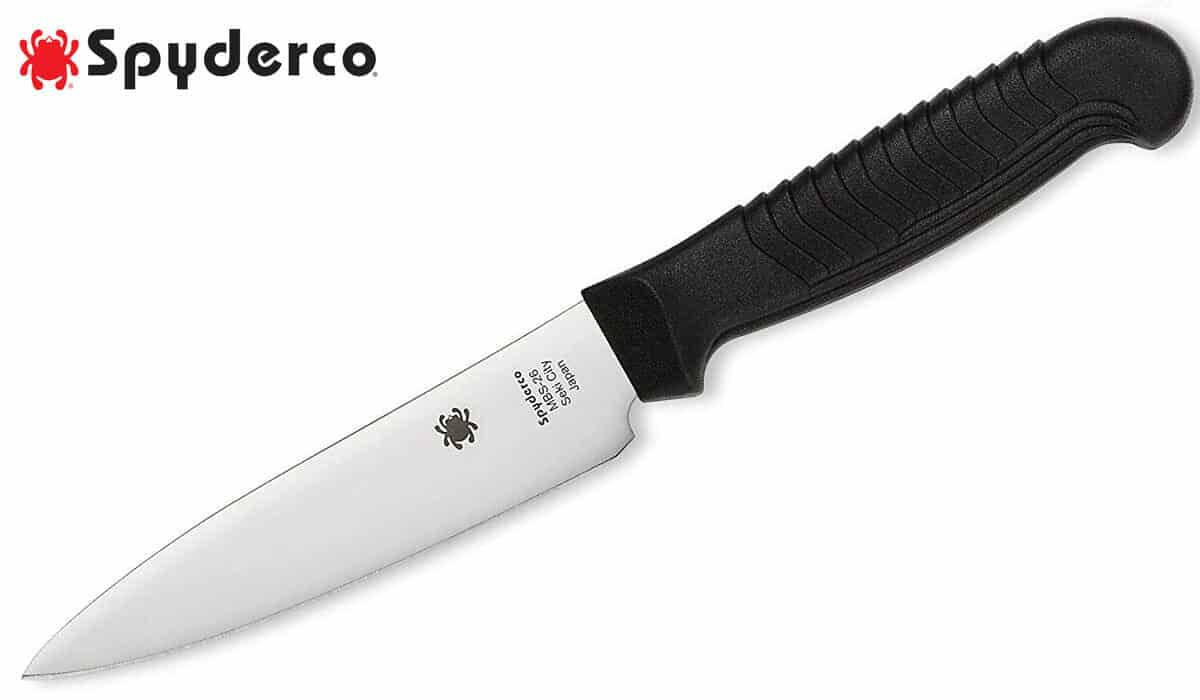 This is where the majority of their cutlery designs lie. Most of the designs use something called MBS-26 steel, which I hadn't heard of before running across their line. It seems to be similar to VG-10 only softer. So, in general, these should have slightly better edge performance but worse edge retention.
Most of the chef knives look to be Japanese style cutlery, so they're not a great source for Western style cutlery. But they make a pretty varied range of paring and utility knives at mostly reasonable prices. I don't think any individual knife in this category goes over $100, and the average seems to be about $50.
Spydero Murray Carter Collection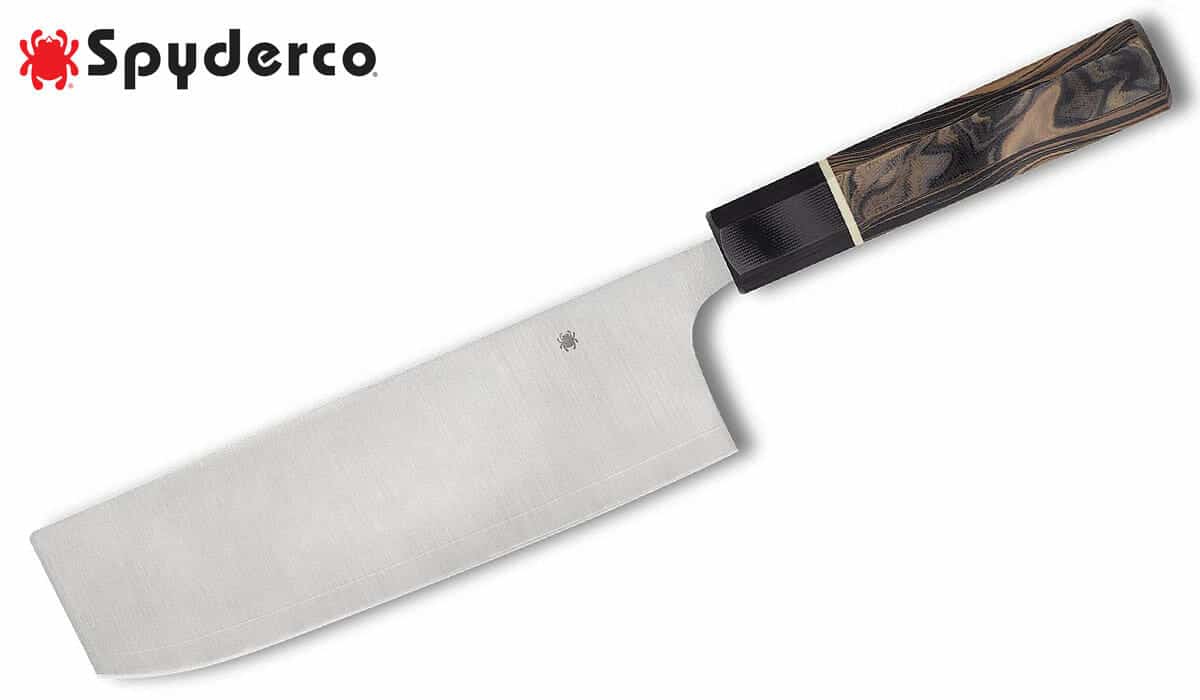 This is Spyderco's premium kitchen cutlery. The collaboration with master bladesmith Murray Carter did not result in cheap knives, but it did bring some pretty cool knives into the western market.
There's not a huge variety of selection in this category. It basically runs all the traditional Japanese chef knives and cleavers (Nakiri, Gyuto, Funayuki, etc.), and a paring knife. And all knives are made with SUS410 steel and G-10 scales. The materials alone might seem underwhelming at first. G-10 is a pretty common handle for something that costs $400 and SUS410 steel is notoriously soft and prone to scratching (although it has good corrosion resistance). Mostly what you're paying for is the design and craftsmanship. These knives have the kind of perfect balance, performance, and attention to detail that you just have to feel to understand.
Spyderco Z-Cut Knives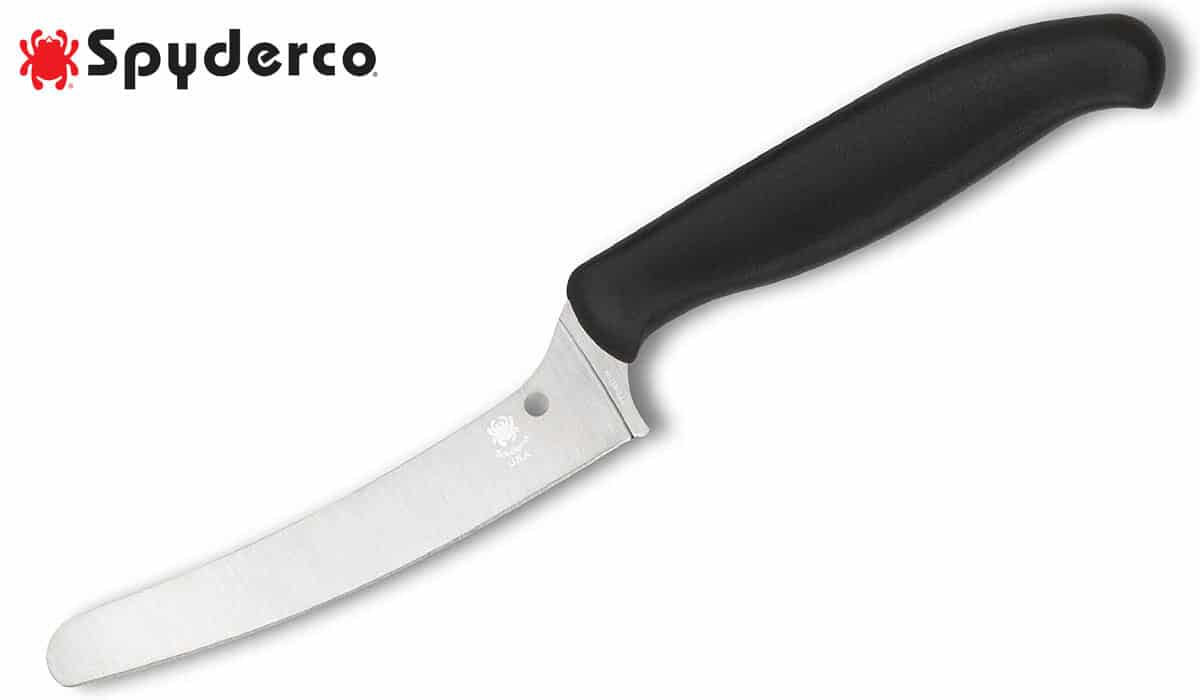 I think these are technically under the Spyderco Classic Cutlery category, but seem to be popular enough that Spydero sets them apart on their site. The Z-Cut is a pretty simple concept, but it's effective: it's a serrated blade offset from the handle. There's nothing fancy, although the steel is pretty nice. It has a polymer handle with room to grip, and options for a pointed or blunted tip. I don't know what it was made for specifically, but you could definitely mess up some tomatoes, steak, or a loaf of bread with these.
TOPS Knives
They don't make kitchen set so much as pairings, but TOPS is also one of those companies that has a hair trigger habit of coming out with new stuff in a variety of styles. I haven't heard anything about it, but I wouldn't be surprised to see them making more kitchen knives within the next few years just because of the way they go about getting designs for knives.
TOPS Knives Dicer Series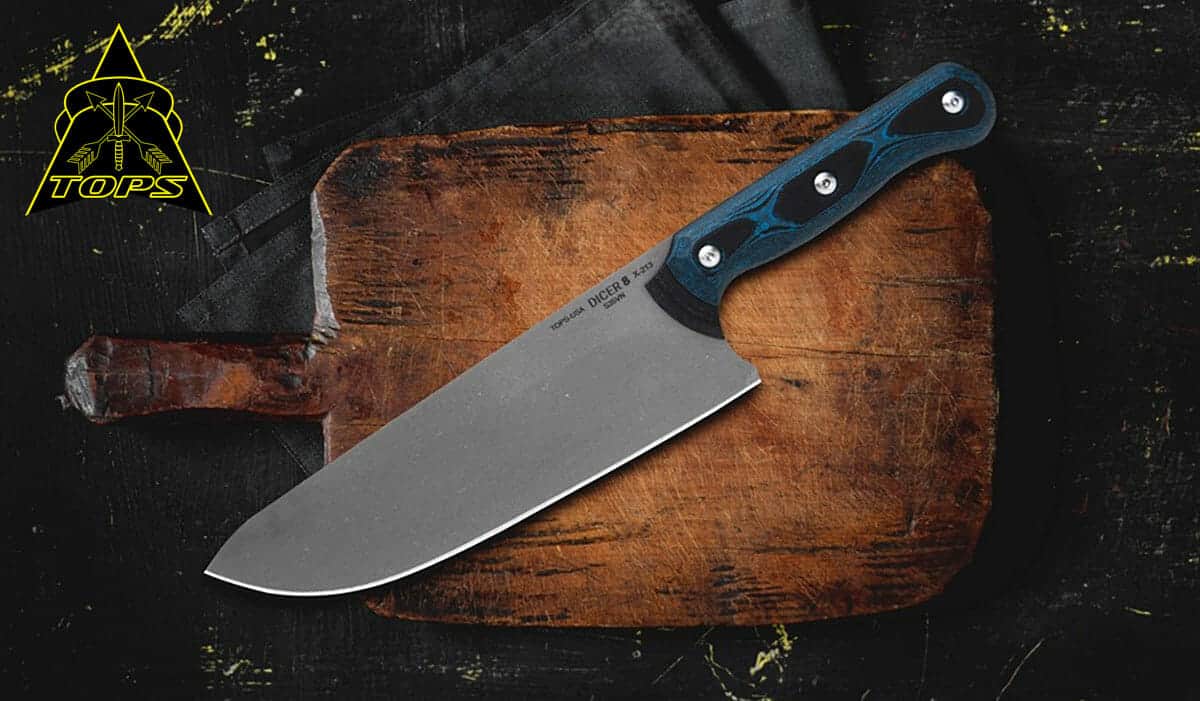 | | |
| --- | --- |
| Steel: | CPM35VN |
| Handle Material: | Micarta & G-10 |
| Storage Block: | None (Both knives ship with kydex sheaths.) |
Set Includes: 7.75" Chef knife, 3.5" Paring knife
The Dicer chef knife came out of their yearly tradition of having an open employee design competition. The Dicer chef knife was designed by the TOPS Knives graphic's manager, Jesus Arellano, in 2017. TOPS Knives apparently liked the design enough that they made a paring knife to go with it, and now you can get the two as a set.
At least, you can if you can find it. They tend to go out of stock pretty quick.
This is almost the most unique set on here though (the Most Unique award goes to the next set). Not only does Tops send the knives off in Kydex sheaths (which basically beg you to slap on a Tek Lok and pack into the woods), but the handles are canvas Micarta between G-10 scales. I've never seen something like that done before, but it apparently results in a big, tough, comfortable handle. I haven't handled either of these personally, but they look to be made for large hands, and TOPS has always leaned heavy toward outdoor activity, so you should expect something that could fit in along side your regular hunting knife.
TOPS Knives Frog Market Special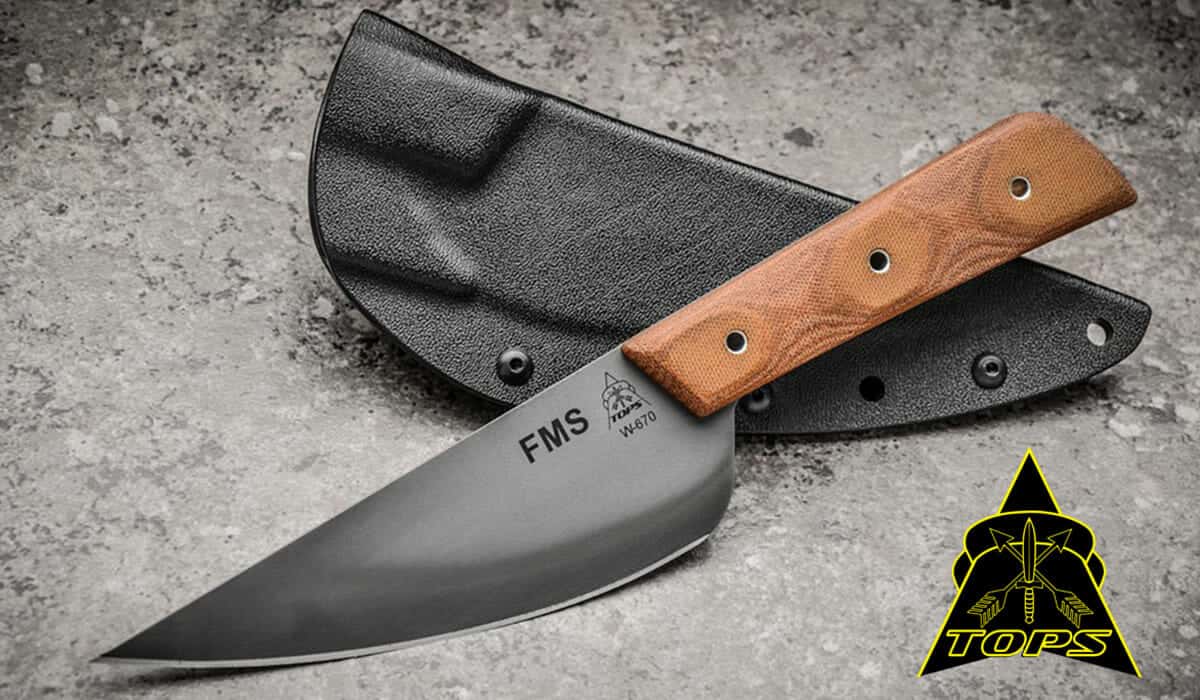 | | |
| --- | --- |
| Steel: | 1095 |
| Handle Material: | Canvas Micarta |
| Storage Block: | None (Ships with a kydex sheath.) |
Set Includes: 7.5" knife, 4.875" knife
The inspiration for these knives came from the people at TOPS Knives hanging out with butchers in Vietnam. Apparently the Frog Market Specials are slight adaptations of what they saw professionals handling food with over there. The combination of a big belly and a thin blade result in some incredibly clean cuts, and allows some flexibility to the blade than makes it possible to use as a boning knife or even a fillet knife.
Neither of the knives in this set are strictly a chef knife, a butcher knife, a fillet knife, or a paring knife. Each one is kind of all those knives in one. And since TOPS Knives makes these with Kydex sheath that can adapt to horizontal carry, what you're actually looking at is an incredibly versatile hunting knife.