Buck Knives 863 Selkirk Is A Camping / Bushcraft Fixed Blade Knife That Is Well Designed And Versatile.
Buck decided to jump into the Bushcraft game a few years back when they announced the Selkirk. For the sake of better performing traditional bushcraft tasks they gave the Selkirk a full flat grind rather than their standard hollow grind.
They also gave it a sheath that can be carried in both vertical or horizontal styles which sets it apart from most other bushcraft knives at this price point. In this review I will compare and contrast the Selkirk with the Mora Bushcraft Black and the Condor Swamp Romper, because they are the main competitors at the Selkirk's price point. Overall the Selkirk is a good bushcraft knife and a great camp knife.
Specifications
| | |
| --- | --- |
| Overall Length: | 9.5″ |
| Blade Length: | 4 5/8″ |
| Weight: | 7.6 oz |
| Blade Steel: | 420HC |
| Blade Style: | Drop point |
| Blade Grind: | Flat |
| Handle Material: | Micarta |
| Sheath: | Pastic |
| Made in: | China |
| Accessories: | Sheath w/ ferro rod & whistle |
Pros
Very versatile Sheath
Full tang
Steel pommel
Easy to sharpen
Comfortable round handle
Sharp out of the box
Durable
Cons
A little heavier than similarly sized bushcraft knives
Blade doesn't hold it's edge quite as well as the high the carbon steel blades of other bushcraft knives
Made in China
Blade Construction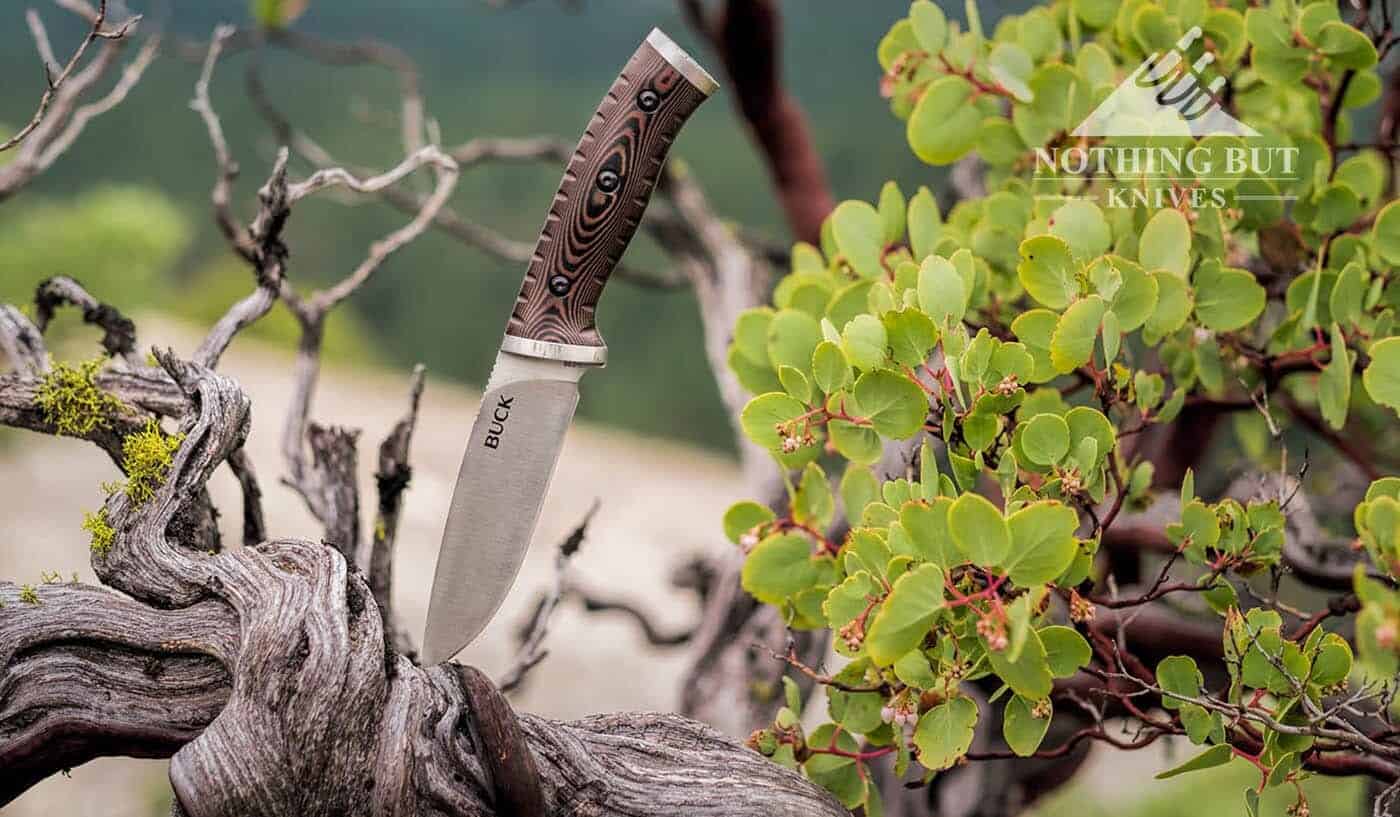 Buck decided to use their 420HC steel for the Selkirk which is a little surprising, because most bushcraft style knives use a higher carbon steel for the sake of edge retention. I am a big fan of Buck's 420HC steel, because I think it offers decent edge retention, great corrosion resistance and it is easy to sharpen. That being said this might have been a good knife to offer in something other than it's 420HC, because high carbon steels are a bit better at surviving the beating that bushcraft knives are often subjected to.
After several months of use I am content with the 420HC steel even though it does not hold its edge quite as well as my Mora Bushcraft knife. Fortunately Buck was generous with the steel when they made this knife, so the extra sharpening and/or honing required is not a huge deal unless you really hate sharpening and honing.
Buck also separated itself from other bushcraft knife manufacturers by using a flat grind rather than the scandi grind that is popular with knife makers like Condor, Mora and Marttiini. I am not going to waste words anymore than I already have by jumping into the flat grind vs scandi grind debate. I will only say that I have knives that I really like with both types of grinds, and the blade of the Selkirk handled everything I threw at it. I did manage to roll it a bit, but I will talk more about that in the field performance section of this review.
Handle Ergonomics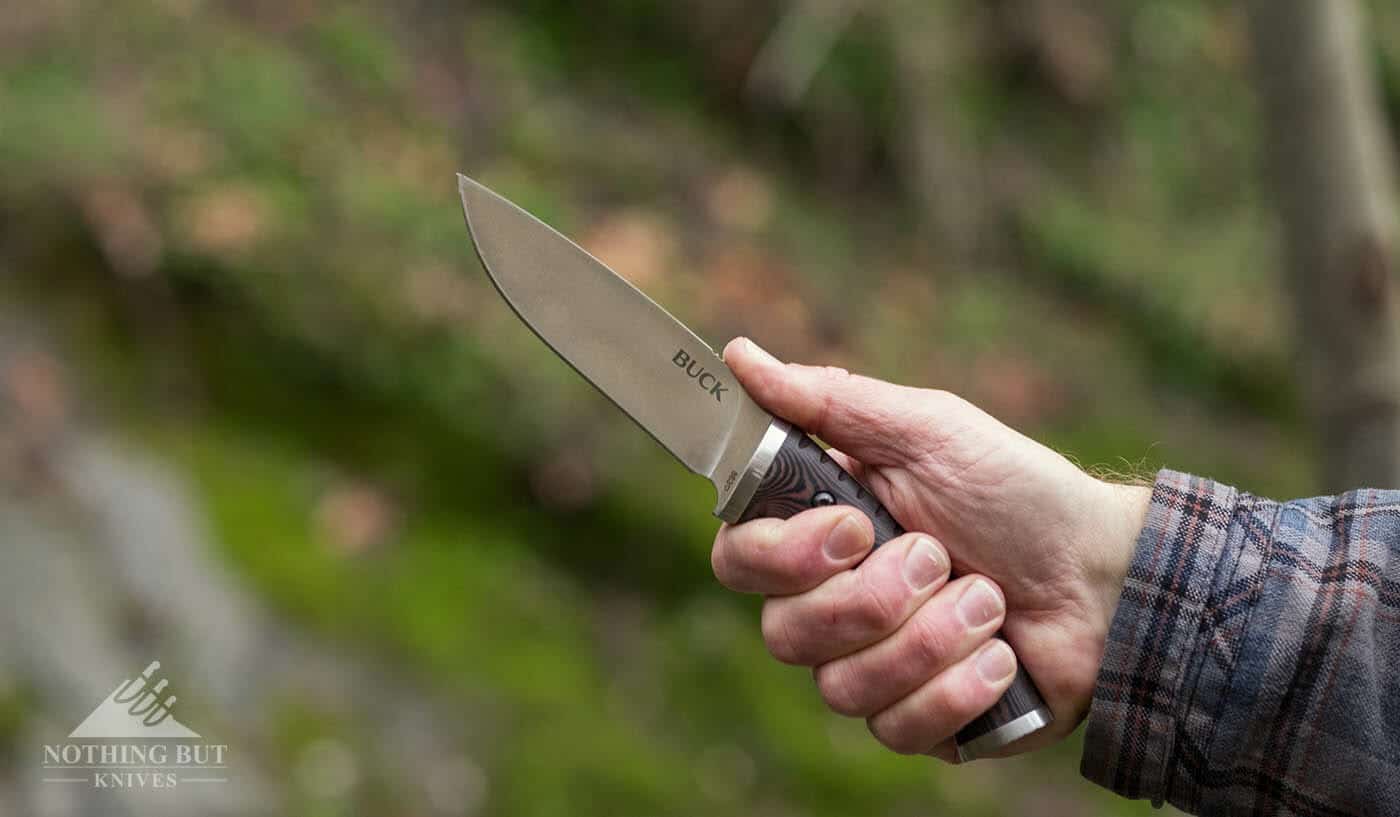 If it were not for the fact that the Buck Selkirk handle looked slippery and difficult to hold in many of the online pictures I viewed when it was announced, I probably would have ordered one a long time ago. When I did finally order a Selkirk I quickly learned that my initial trepidation was unwarranted. While it certainly does not have a handle on the same level as the Mora Bushcraft from a grippy standpoint, it definitely was easier to hold even when wet than you may expect if you were to judge it on photos alone.
The length of the handle was almost exactly the same as the Mora Bushcraft and Condor Swamp Romper which I think means Buck nailed it. It is just long enough to accommodate large hands without seeming too large to those with small hands. The slight curvature of the handle makes it easy grip when chopping which is one of the things the Selkirk is really good at doing.
The full tang blade of the Selkirk runs the length of the handle and turns into a hammer pommel. This is a handy feature for tasks like hammering in tent stakes and cracking open walnuts, but it does make the knife a bit unbalanced.
Sheath Functionality and Versatility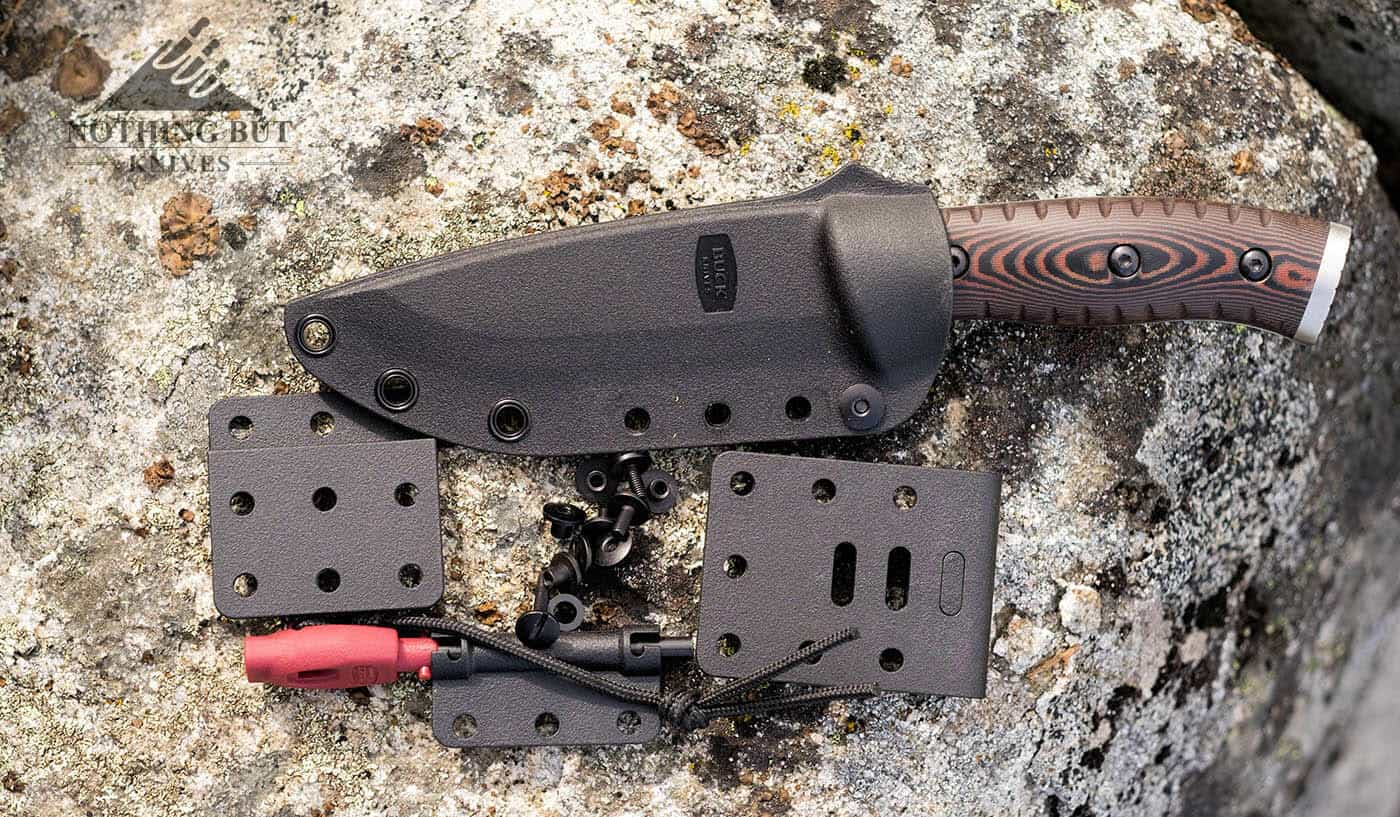 The sheath of the Selkirk is really versatile… and a bit complicated. It is impressive that Buck released a knife that can be carried in a number of different ways, but the amount of work required to transition the sheath from vertical to horizontal carry is a bit much, especially in the field.
Still, the fact that it is possible to change the knife from horizontal to vertical carry or something in between sets the Selkirk apart from every other knife at this price point.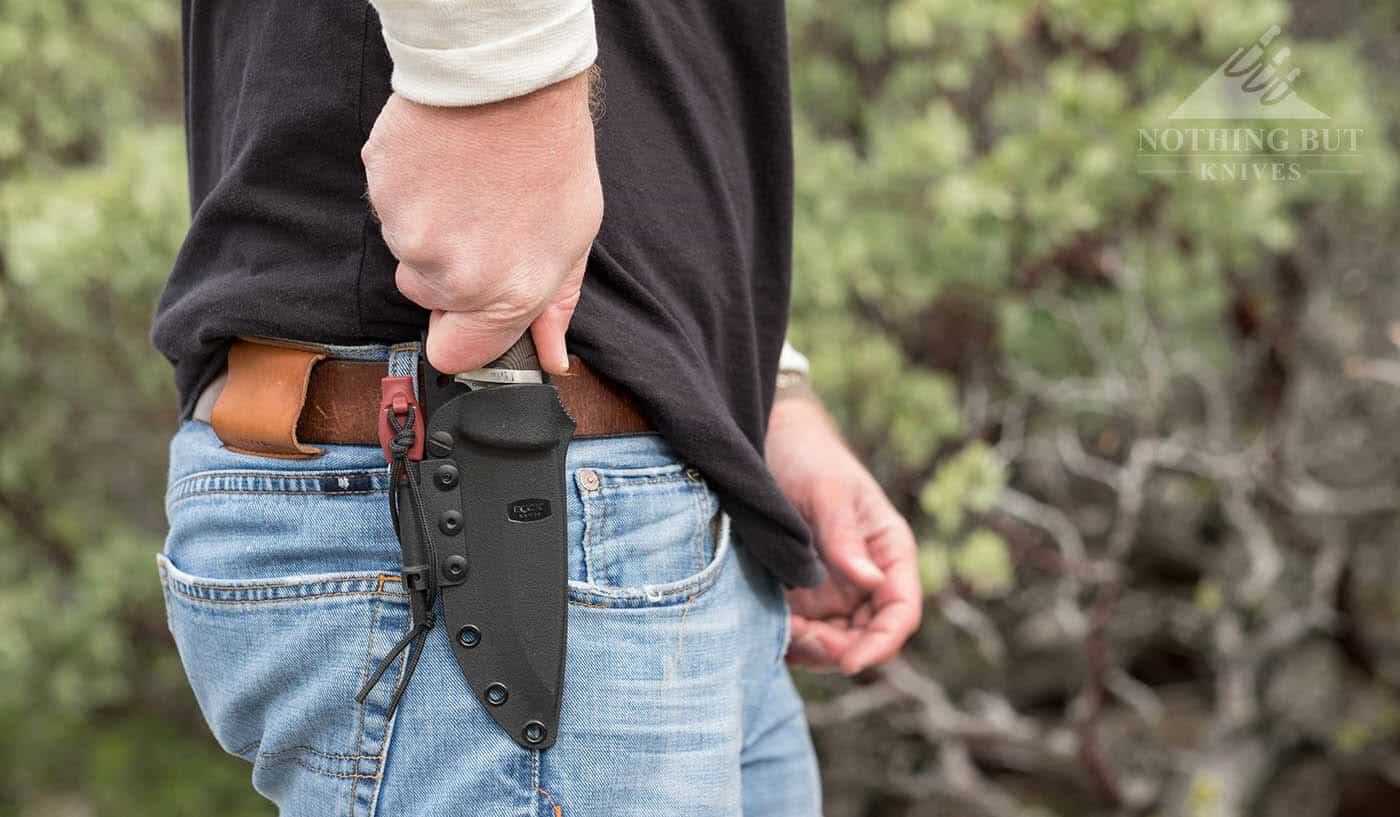 When carried in the conventional vertical style the Selkirk was easy to draw quickly, but I have never been a big fan of carrying a knife like this, because it just tends to get in the way. Obviously this makes me an aberration, otherwise there would not be so many fixed blade knives shipping with vertical carry sheaths.
The Selkirk sheath can be lowered or raised according to the carriers preference by moving the screws on the sheath, but this is a procedure that should be carried out indoors under great lighting before heading into the field, because if you drop a couple of screws or nuts they can be difficult to find in tall grass or leaves, and you may have to fish a metal detector out of your truck to track the screws down just to make the sheath adjustment.
If you don't have a metal detector you may just be screwed (pun intended), because the screws are black and hard to find.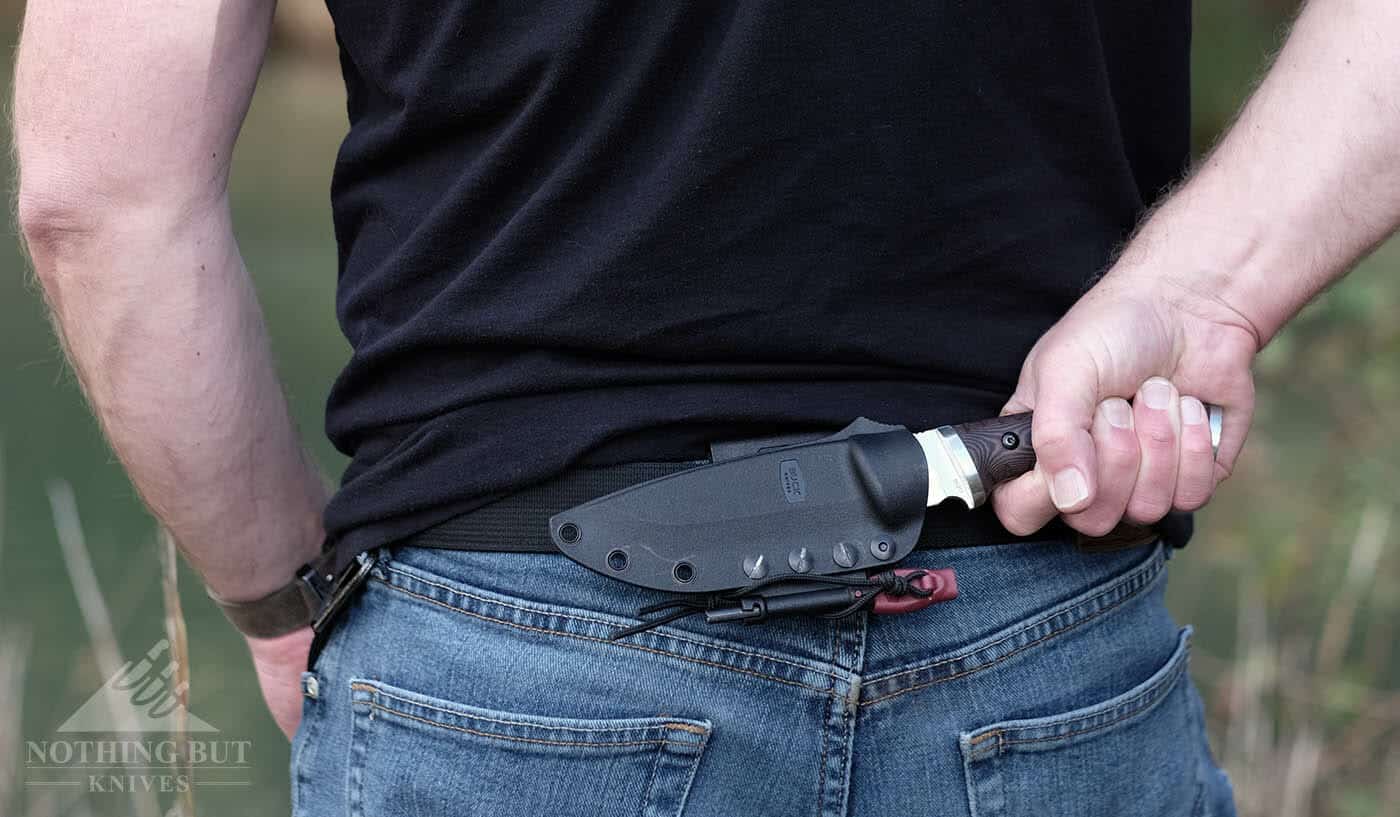 However, the fact that this knife shipped with a sheath that could be converted to horizontal or scout carry ended up being a huge reason I have continued to carry it even after I finished the review. It really is nice to have the option of converting the sheath to multiple carry styles even if it is a little more complicated than I would prefer.
Field Performance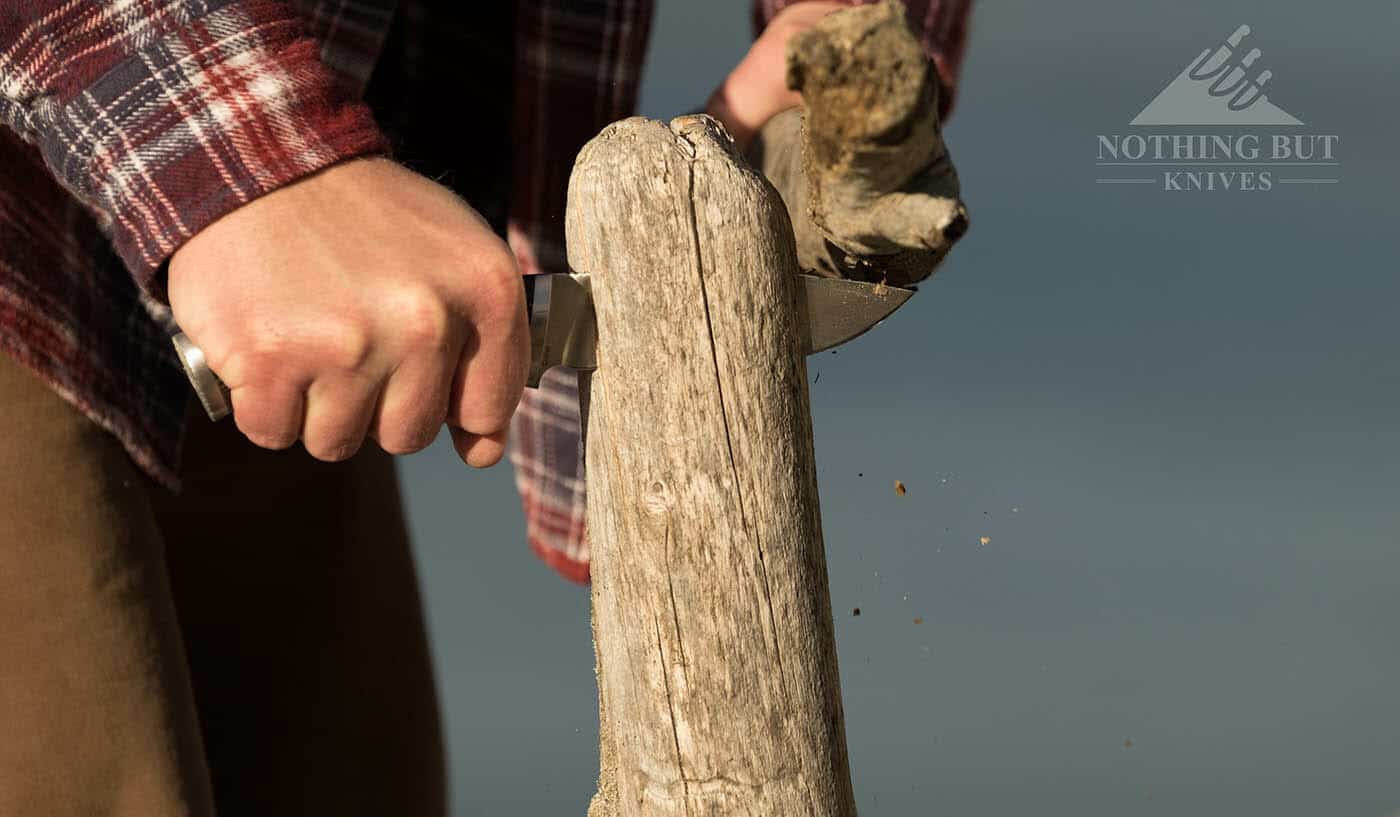 In spite of the fact that I spend a good deal of time in the wilderness alone, I am probably not the best person to run an actual bushcraft test on a knife, because I rarely use a knife to start fires, and I hate batoning. That being said I managed to accomplish both tasks rather easily with the Buck Selkirk.
I batoned a variety of wood types over the course of a few months. I never used the pretty, symmetrical suburban yard logs that are popular in many bushcraft YouTube videos. I actually batoned a variety of branches and driftwood for the sake of building a crouch fire to keep me warm while I shot time-lapses and landscape photos in the mountains, because knife review blogs barely make enough to pay for the knives in the reviews. (By the way, a crouch fire is what I call a fire built in a small portable survival stove that I use to warm myself while taking photos on the tops of freezing cold mountains to make a few bucks.)
I didn't do a lot of feathering with the Selkirk, but I did do a fair amount of chopping long branches into short sticks, so they could fit in my small portable crouch fire stove, and this knife handled that task really well. At some point I managed to roll the blade of the Selkirk a bit. It was easy to fix with a honing rod and a leather strop, but I couldn't help but wonder if it would have happened if Buck had used a high carbon steel instead of 420HC on the blade of the Selkirk.
I hate starting fires with a Ferro rod, and I kinda suck at it, but I did manage to do it in less than three minutes (barely) with the Buck Selkirk. Buck put a small notch on the base of the blade where the choil should be specifically for lighting a ferro rod. However I found that to be less practical than using the flat spine of the blade, which means I couldn't start a fire at all in the way this knife was designed to, but it was pretty easy when using the spine of the knife.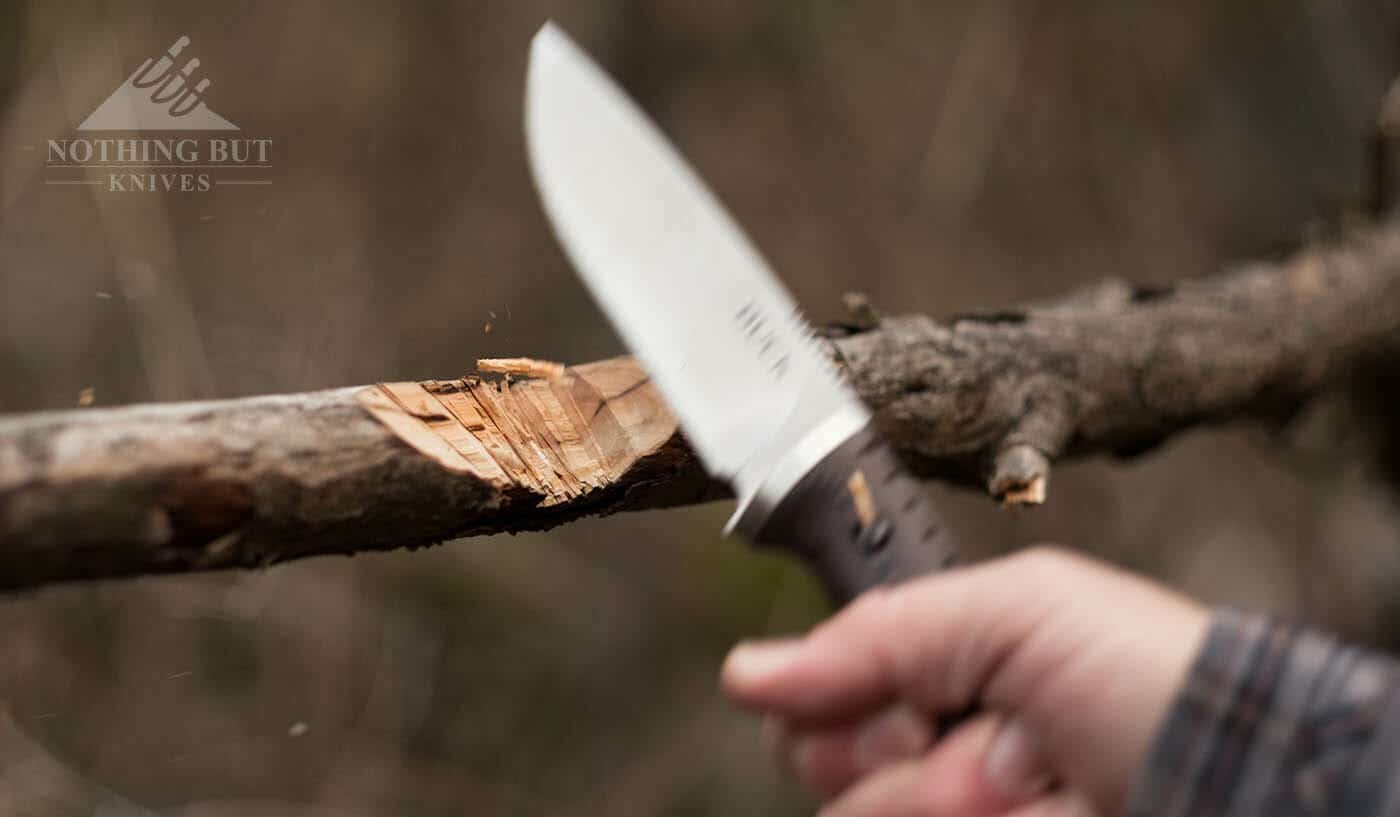 The Selkirk is good at chopping limbs in half and amazing at clearing small branches off of a large branch for the sake of making a hot dog stick. Something about the shape of the handle and the geometry of the blade made the Selkirk a branch clearing machine which makes it a great candidate for best camping knife under $100, because making hot dog sticks quickly at a camp site is really important, especially if you have kids.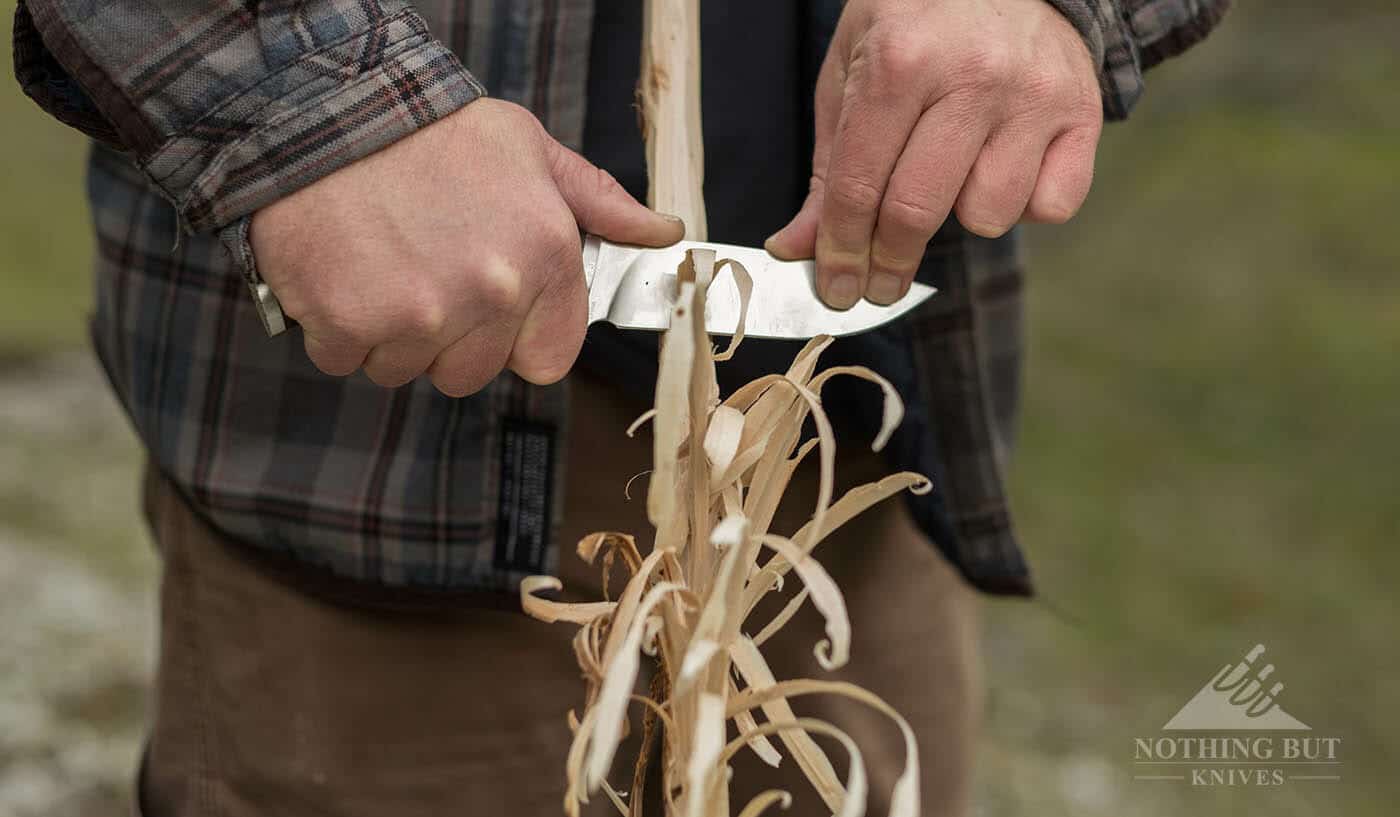 Ok, so as you can see in the above photo, I am not great at making pretty feathering sticks, but the Selkirk is good at feathering. I was able to get better results with the Selkirk than I get with the Mora Bushcraft, which is remarkable considering my lack of feathering skills and the Mora Bushcraft's all around awesomeness.
In spite of my feather sticks aesthetic and practical shortcomings I was able to burn the hell out of it. The Selkirk's impressive feathering capability is is due mainly to it's full flat grind, wide spine and comfortable handle.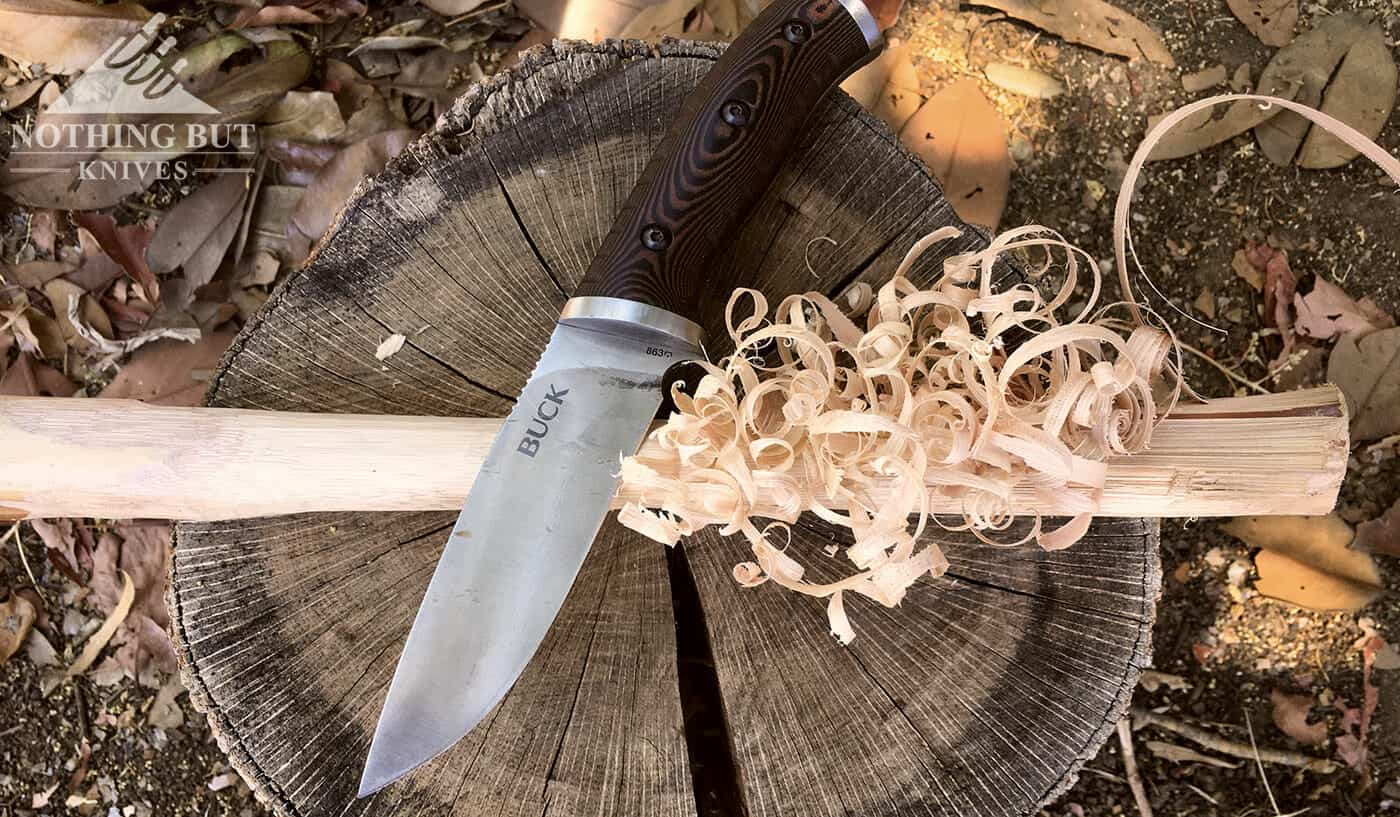 The picture above is a more recent shot after my feather sticking skills had improved. It has been a few years since my initial review of the Selkirk but it remains one of the best feather sticking knives I own. The Off Grid Tracker X is maybe a little better, but it is terrible at throwing spark with a ferro rod. The Selkirk feathersticks like a beast, and throws a decent amount of spark.
The Selkirk Vs The Condor Swamp Romper and Morakniv Bushcraft Black
So this is the section most readers probably skipped to, because if you are seriously shopping for a bushcraft knife under $100 these three knives are on your radar. In spite of the fact that I really like all three of these knives, and I have used them a lot over the last few months I can not say with any certainty that one is better than the others for all around bushcraft use. Each one has it's own strengths and weaknesses.
Category
Buck
Selkirk
Mora
Bushcraft
Condor
Swamp Romper
Full Review
Picture
Batoning
X
Feathering
X
Carving
X
Fish Cleaning
X
Hammering
X
Branch Clearing
X
Chopping
X
Corrosion Resistance
X
Edge Retentions
X
Meal Prep
X
Durability
X
I prefer the Mora when it is raining, because that handle is so grippy, but the Swamp Romper seems to be better at batoning. The Selirk is by far the best at chopping and the best option of the three for horizontal carry which is why I have used it more than the other two.
I am sure I will get emails from people who disagree with the above table, but those are just my opinions based on my use of all three. Results could certainly vary based on the user's technique, preferences and needs.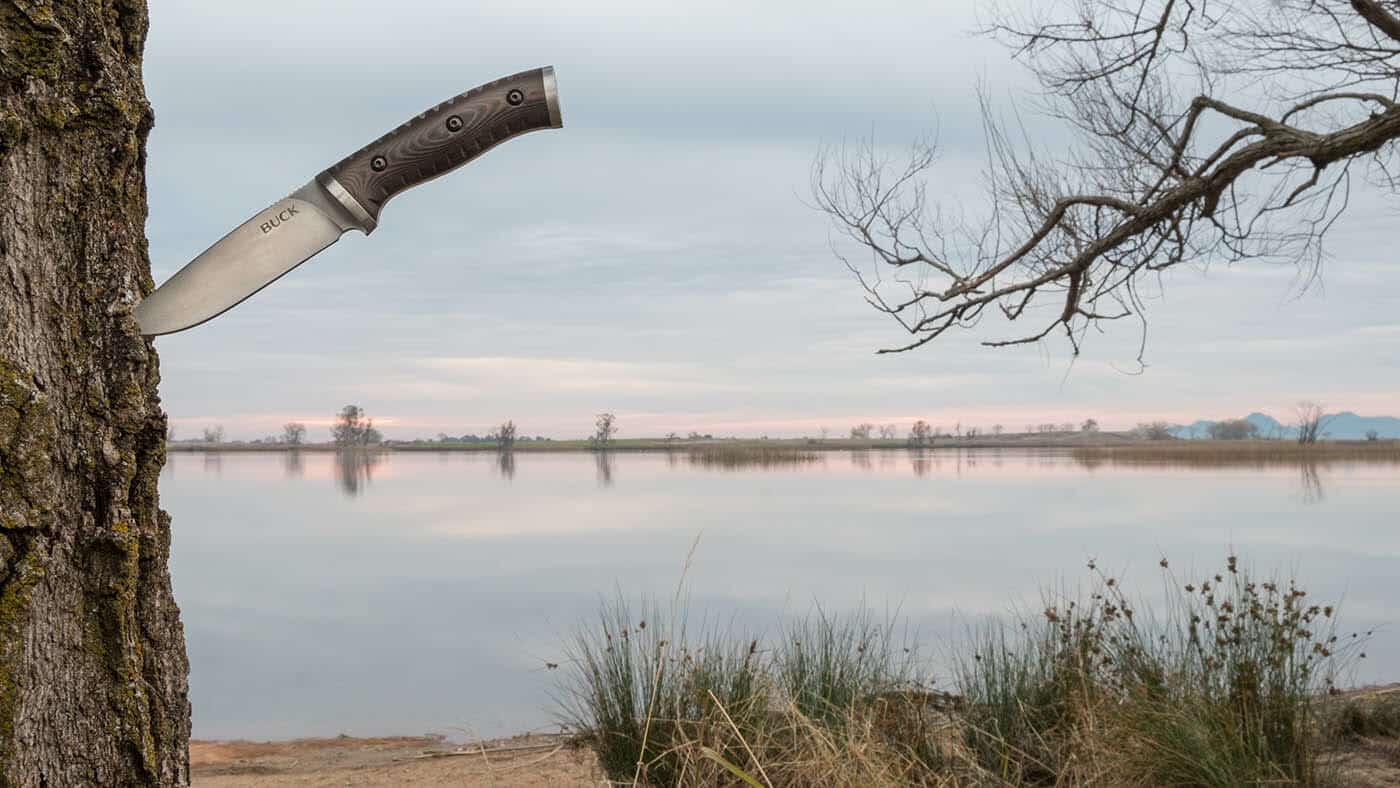 Overall, the Selkirk is a good bushcraft knife and a great camp knife. I hope Buck will eventually offer it with multiple blade and handle options like they do with the Buck 119, because it would be great to get a version with a higher carbon blade and maybe an easier-to-grip micarta handle similar to the Mesa.
What would really be great is if Buck would move the manufacturing of the Selkirk from China to the States. In spite of it's drawbacks, the Selkirk is an excellent fixed blade knife that is a great option on any camping trip or wilderness excursion.