The Best Butcher Knives For Hunters From Budget To High End
We've talked before about good knife sets for processing game in the field. But what about when you're home, nice and snug in the butcher shop you probably have, and it's time to turn that kill into a freezer full of venison? What do you need to start butchering meat at home or in the garage, and what's the best full set of butcher knives you can have in that situation?
Here are some good sets of knives from budget to high-end to have in your kitchen or garage butcher shop for when it's time turn some dead bodies into edible portions of meat.
Also I guess I should mention this list assumes those dead bodies will be, like, deer or turkey or something. But I'm not here to tell you how to live your life.
Here are the best butcher knives and sets for hunters
Butcher Knife Sets
I've tried to include a wide range in terms of price, which means that not all these sets are top notch quality, but they're all good enough to take good care of your game.
Victorinox 7 Piece Field Dressing Butcher Knife Set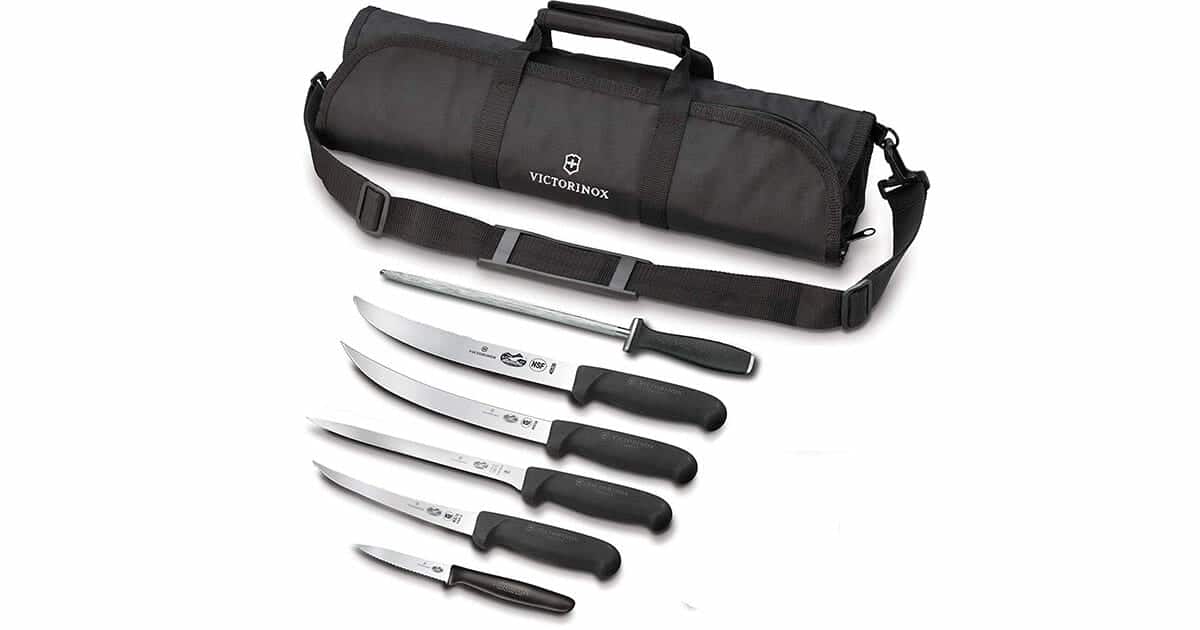 Set Includes:
6″ Boning Knife (Narrow)
6″ Boning Knife (Flexible)
8″ Breaking Knife
10″ Cimeter Butcher Knife
Honing Rod
X50 CrMOV15 Steel
Storage: Portable Soft Case
It's hard to go wrong with anything made by Victorinox, but they're usually in the high-price range. They get a lot of attention from professional cooks, not just people butchering stuff for fun. This set features two variations of boning knives so you'll have a pretty broad range of ability in terms of what kind of game you're processing. Also that cimeter style butcher knife is fantastic for slicing up sections. This would also make a pretty good hunting set, despite the clean-cut look. Between the roll-up case and the high carbon steel, this is a sturdy, portable set if you're planning a long camping trip and have a nice spot to set up.
Victorinox Ultimate 8-Piece Competition BBQ Set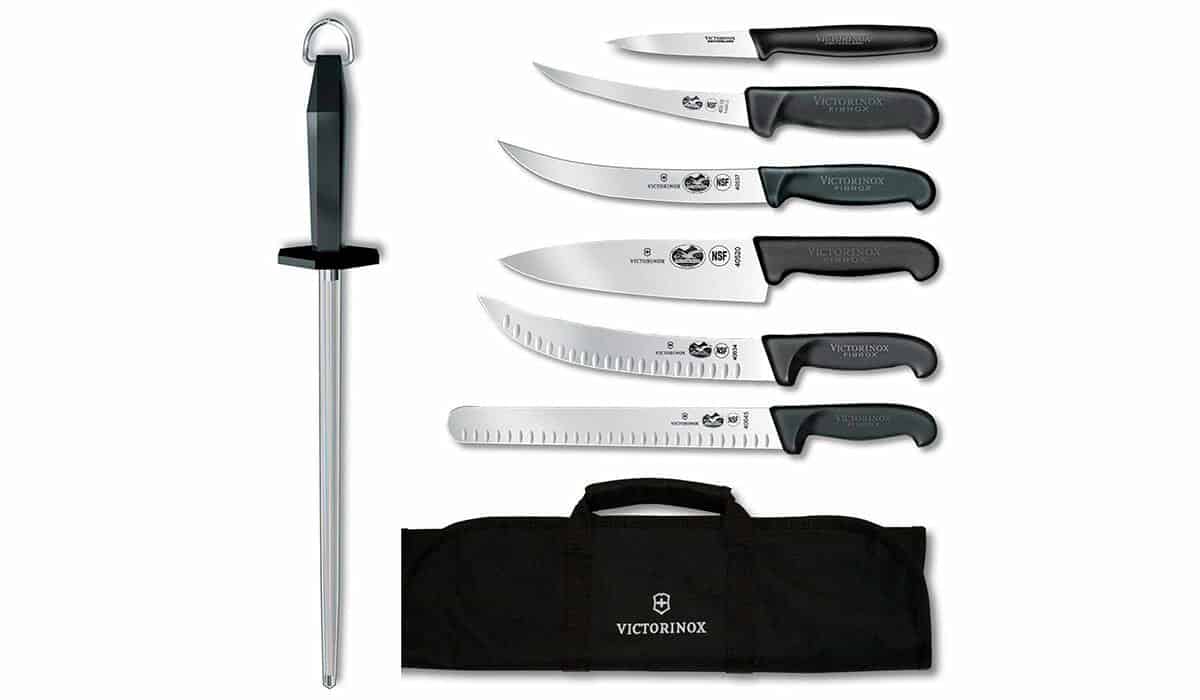 Set Includes:
Standard Paring Knife
Boning Knife
Carving Knife
Slaughter Knife
10″ Cimeter w/Graton Blade
12″ Wide Slicer w/Graton Blade
9″ Sharpening Steel
8-Piece Knife Roll
Where the Field Dressing Kit is technically made for wild game in the field, this is more for the butcher and cook at home. The Competition BBQ series is the Victorinox answer to every problem where slicing and cooking meat is concerned. The 8-pieces set is (for now) their largest set in the Fibrox Competition series and it provides you with everything you'll need from the initial butchering to cutting grilled meat up for sandwiches.
All this cutlery might be a bit much for someone just looking to butcher. The granton-edge blades aren't exactly a necessary inclusion, but they're nice to have. For those looking to go smaller, you can get this set without the granton-edge knives and still get the nice knife roll and cimeter. Or if you want to go really big, there's actually a 24-piece Fibrox set that will equip your entire kitchen for the remainder of its existence.
Victorinox Swiss Army Field Dress Kit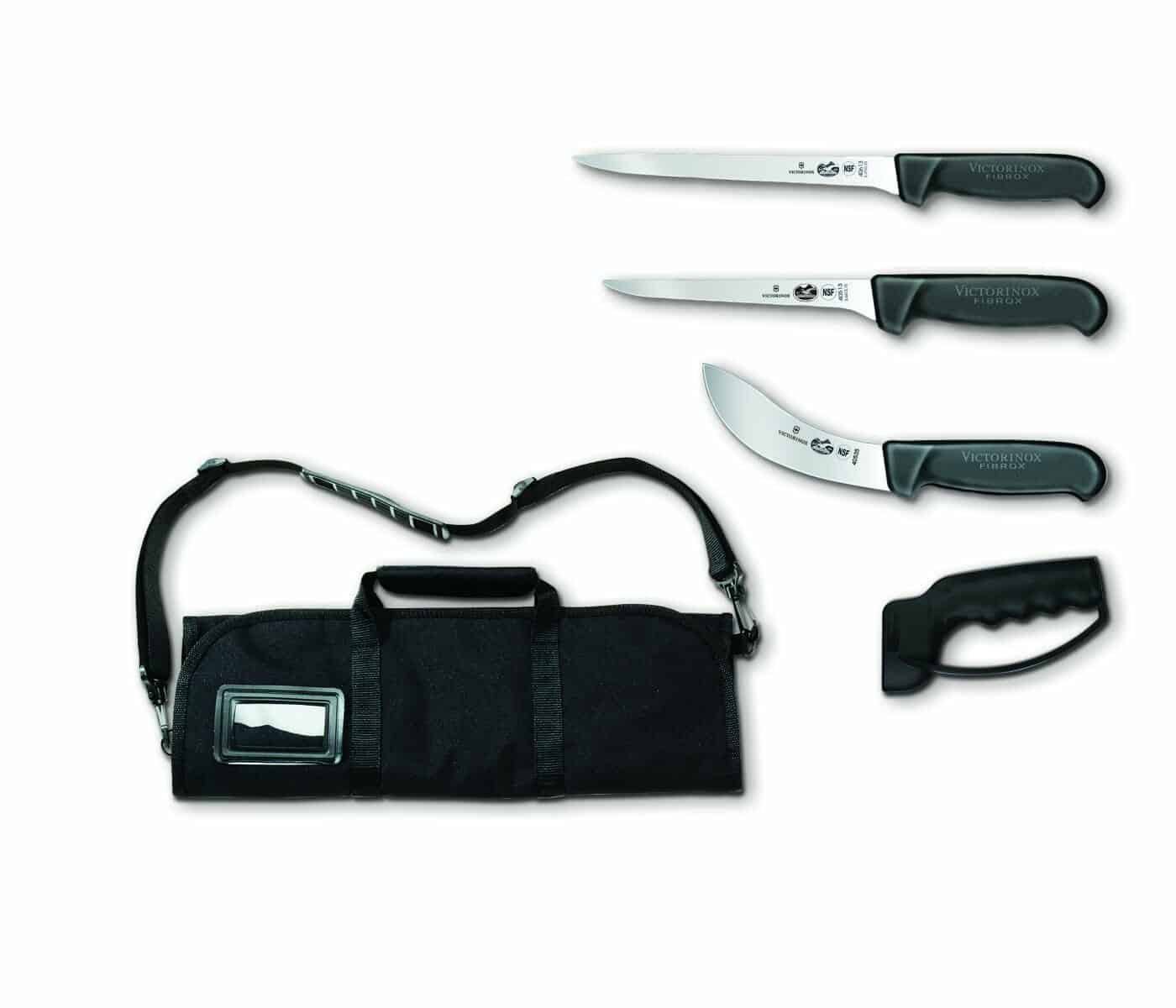 Set Includes:
10″ Cimeter
8″ Breaking Knife
6″ Inch Boning Knife
6″ Fillet Knife
3.25″ Paring Knife
Honing Steel
X50CrMoV15 Steel
This is essentially the small version of the set we mentioned earlier, but sometimes you just want a smaller set. This is me saying it's out there.
Victorinox is considered one of the most reliable brands when it comes to… well any kind of knife, really. But their chef knives are particularly solid. They've always been good at making sturdy equipment through their crafting ingenuity rather than by adding mass, and the fact that they used X50CrMo15 steel is an added bonus.
These knives age well thanks mostly to the construction of the blades. Considering they also make some of the better chef knives and kitchen cutlery, it's safe to say Victorinox knows their way around food in general. I'm pretty sure they intended this set for larger game like reindeer, but, as always, a well-made set can serve for most any kind of meat you put your mind to. It's interesting that they threw in a paring knife, but considering that's the most used type of knife in the kitchen after the chef knife, there's no doubt it can come in handy for butchering too.
Ontario Knife Co. 5 Piece Old Hickory Knife Set 705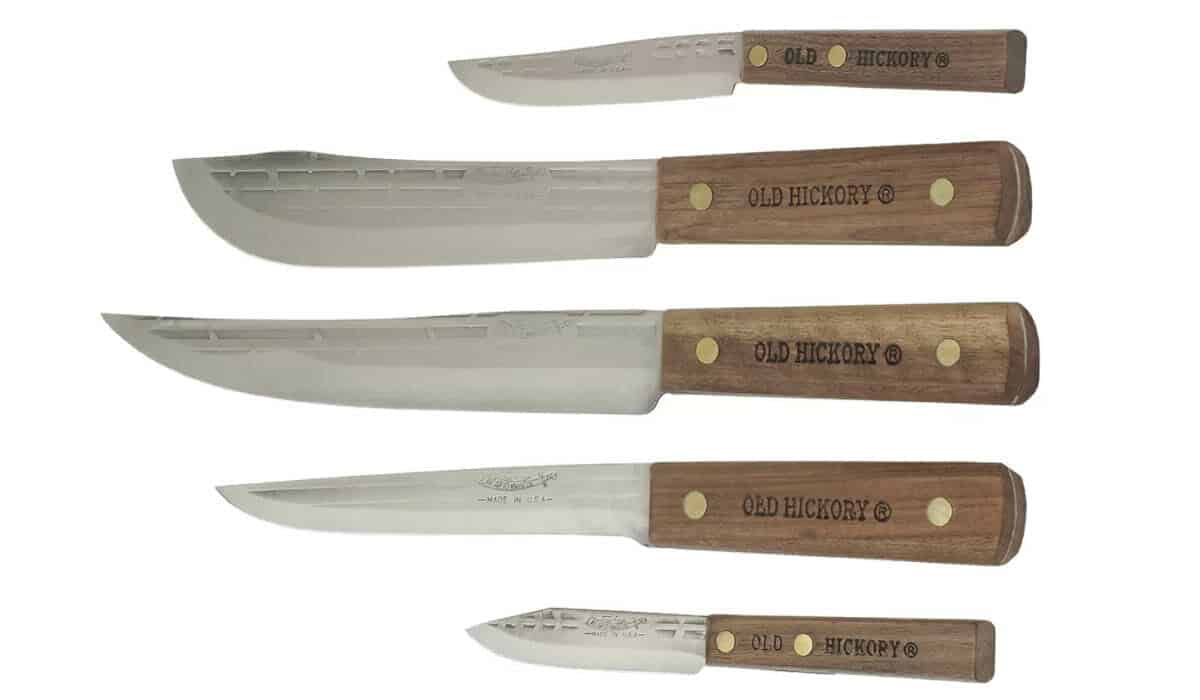 Includes:
8″ Slicing Knife
3.25″ Paring Knife
4″ Paring Knife
7″ Butchers Knife
6″ Boning Knife
1095 High Carbon Steel
This is probably my favorite set on this list if for no other reason than that it looks the best.
It's also crazy good though. Ontario Knife Co. know what they're doing where hunters are concerned. They made this set with their typical 1095 high carbon steel with wood handles and compression rivets. It's not the kind of thing you'll see professional chefs using most of the time, because wood tends to harbor bacteria a lot easier, and that high carbon steel is harder to maintain over a 40 hour work week, but this is definitely good enough for any hunters who come home with a healthy load of deer or boar. Just make sure you clean everything properly when you're done with them, because these are definitely more prone to rust than everything else on this list.
Click here to read our in depth review of the Old Hickory Butcher Knife Set.
P3 Mad Cow Cutlery Jero Brand Commercial Grade Butcher Knife Set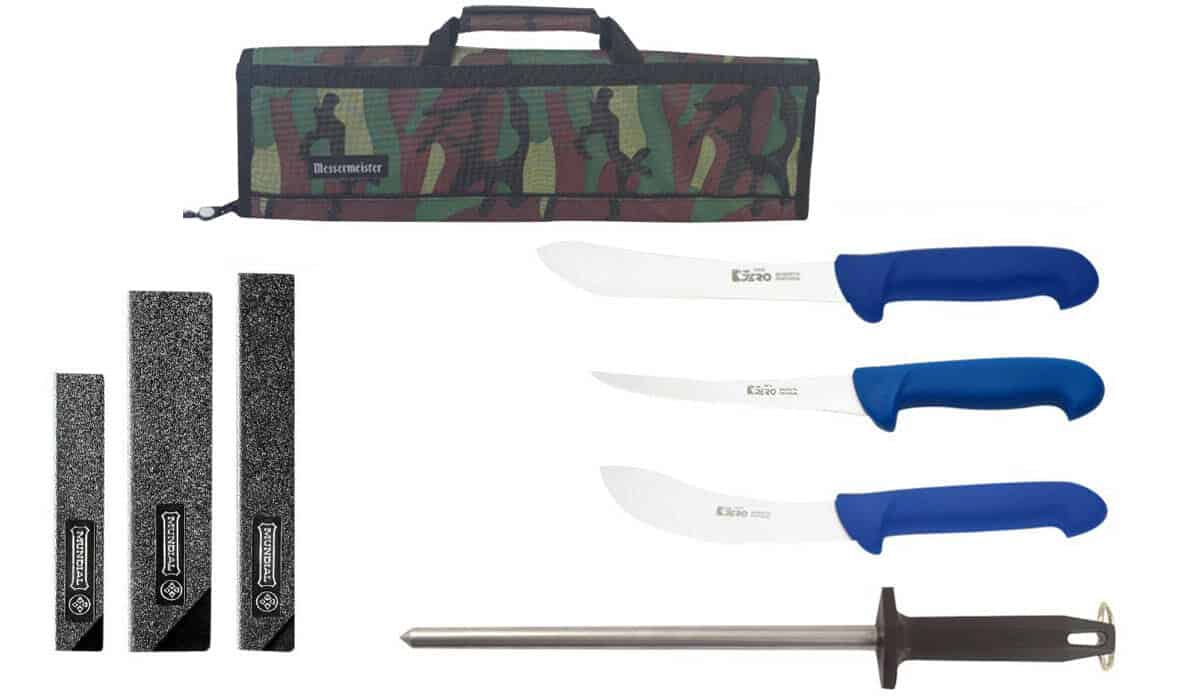 Set Includes:
6″ Skinner
7″ Butcher
6″ Boning
Honing Steel
This kit from Mad Cow Cutlery looks like a bare bones set in comparison to the other stuff on this list, but I think they were going for economy of space here.
The three types of knives they included in the set are all designed to work for a broad range of uses when you're dressing game. The product description makes kind of a big deal about these "blade guards" that the set comes with, but most of the stuff I've read indicates these guards are pretty much useless. The knives are endlessly useful though. This is a great way to get your butcher set started or just keep things simple. And of course the carrying case is a nice touch for anyone who like to dress game in the field.
High Desert 5 Piece Big Game Butcher Hunting Set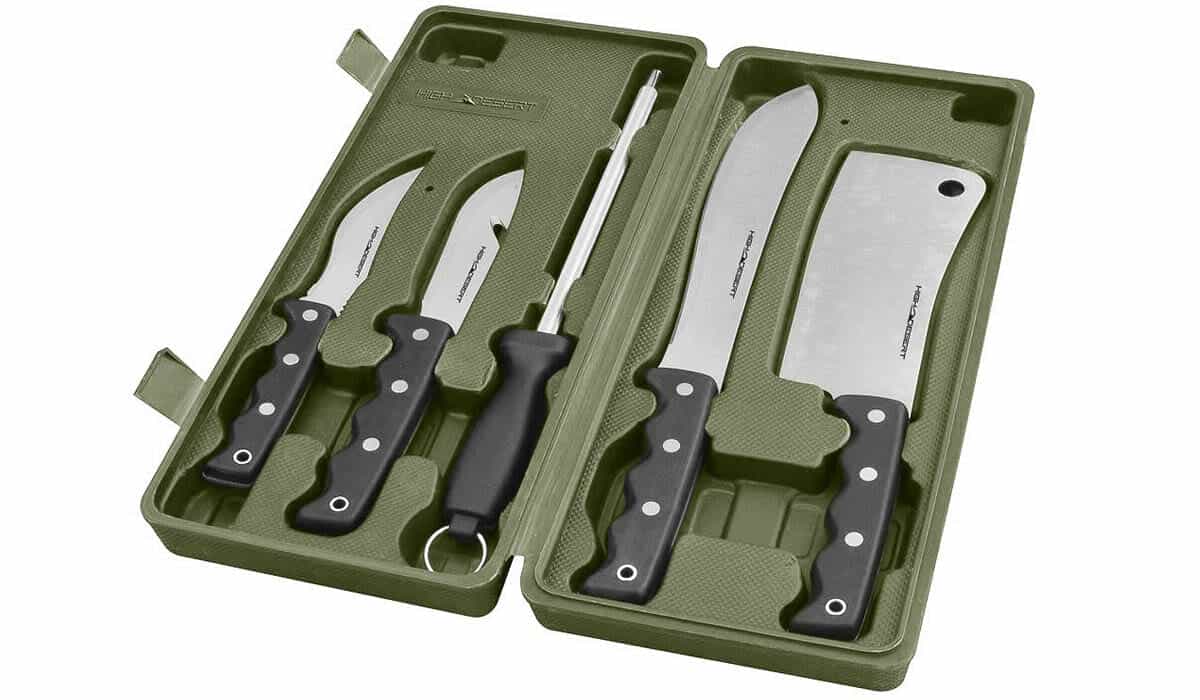 Set Includes:
8″ Butcher Knife
4.25″ Boning Knife
4″ Skinning Knife
Cleaver
Honing Rod
420HC Steel
Ships With A Portable Hard Case
This set is actually a bit of a gamble, but it's also the cheapest option you'll find here. I mean, you can't really expect to get a great butcher set for under $20 without some complications, but hear me out.
High desert claims this is 420HC steel. I'm inclined to believe them, but their heat treatment isn't the most consistent. Odds are you'll have to do some sharpening when this set arrives, and then again after each time you use it. The construction isn't the best either, but the important fact is these knives will work. You can still get the job done, and if you're on a tight budget, and know how to treat your knives properly, that's really all you need. It's also helped quite a bit by the portable hard case, which makes it a viable field kit for a reasonable price.
Dexter Russell 3 piece Butcher Chef Set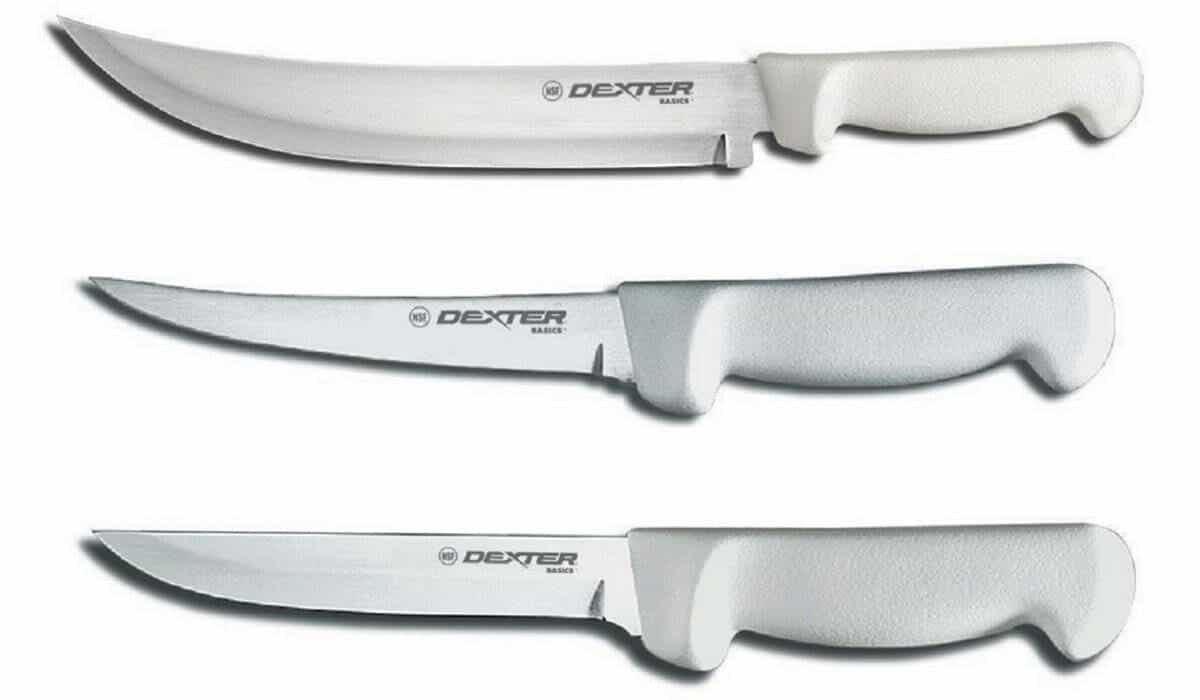 Includes:
6″ Boning Knife (Flexible)
6″ Trimming Knife
10″Steak Knife
No Storage Case
Let's start light. This 3-piece set is probably best for small game like fowl or rabbit. Either that, or supplementing whatever butcher set you already have. The thing is, Dexter and Russell makes really solid stuff. They're not top of the line by any means, but certainly good enough for a lot of professionals. I like these in particular for butchering because of the textured handle material that should make these easier to grip as things get messier. And since it's some kind of synthetic plastic, rubbery material it's less absorbent and easier to clean.
Granted, most of their knives are designed for professionals in the kitchen rather than the meat locker. The point is they have a good portfolio. These knives are a good place to start either building a full butchering set or replacing knives that are either too cheap or too worn to keep using.
Anatomy of a Butcher Knife Set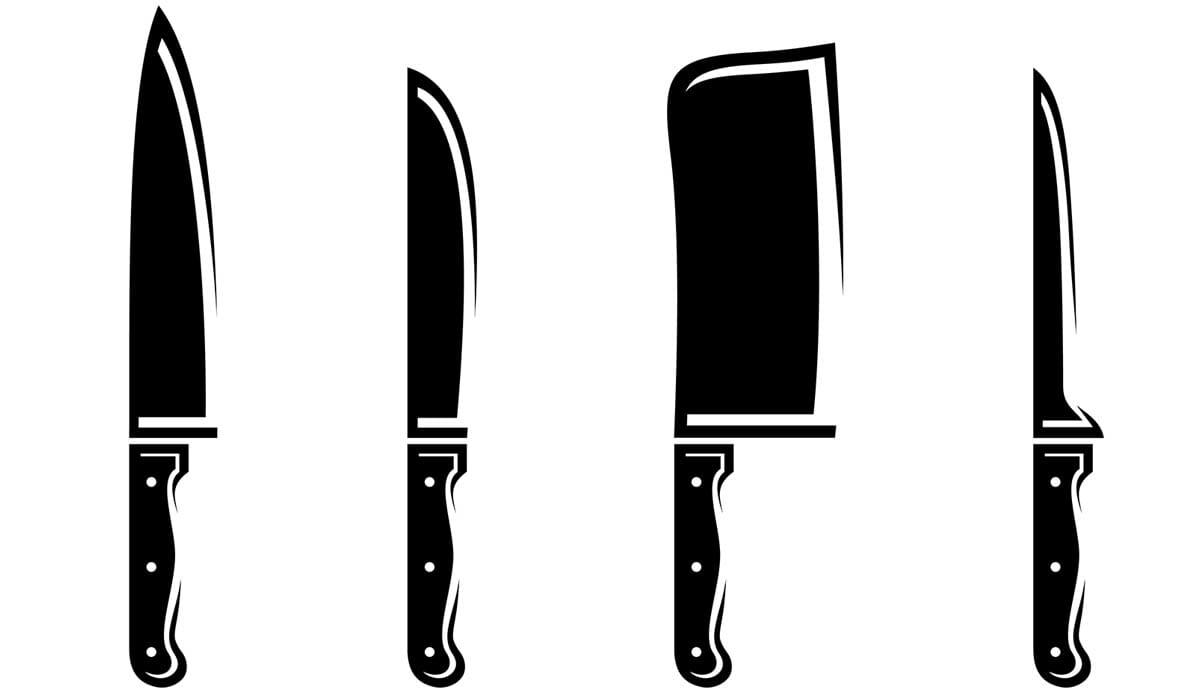 If you're new to butchering, all the different kinds of knives might seem over the top. I've talked to people who go through most of the process only using a boning knife and a slicer, or just the butcher knife or the breaker. But a lot of these different types of knives are made to make each step of butchering easier, which is a big deal if you're going to be butchering a lot. Also if you use the right tools for everything you have a better chance of ending up with prime cuts when you're done and waste less meat overall in the process.
Cleavers
These are meant for heavy chopping. You want a big heavy blade made out of tough steel, and preferably a convex grind to reduce the chances of chipping. You use a cleaver for cutting big chunks of meat, sometimes containing bone, in one quick motion.
Butcher Knives
A long blade with a big belly and usually a clip point. It's the first of many kinds of knives made to section your meat. If you're starting with a whole carcass, this is one of the first knives you'll be reaching for.
Cimeter
You'll see this variation of the butcher knife in a lot of butcher sets these days. Cimeter butcher knives are severely curved for better slicing. People who get the technique down seem to prefer this style. These are great for cutting up pieces into steaks and trimming fat.
Breaking knives
This is sort of a subset of butcher knife. Basically you'll be using this to break down larger pieces of meat into smaller pieces of meat, for example, this is what you might want to use cut out the pork loin or the tri tip.
Boning knives
You can use this for a lot of things, but its stated purpose is separating and cutting bone out of the animal. There are different types of boning knives based on their flexibility, ranging from flexible, semi-flexible, to stiff. If you're butchering something smaller and delicate, generally you'll want a flexible boning knife, and for things like beef you'll want a stiffer blade.
Slicer
This is that weird long knife that kind of looks like a bread knife but with a rounded tip. It's very thin, and very sharp, and hopefully has a granton edge. You're gonna use this for slicing thin pieces of cooked meat. This is essentially your lunch meat maker.
Butcher Saw
This has a lot of uses, but most often it comes into play when separating parts at very thick joints like at the hip our shoulder. Do not use a regular hacksaw or wood saw for this stuff. Butcher saws have a certain shape of teeth that are meant to cut bone and avoid getting clogged up with fat and sinew. Also, they'll cut meat up more evenly, which will be a big deal when you start cooking.
A Quick Note About Butchering Saws in Sets
There must be some kind of phobia about including a decent saw in a butcher knife set, because for the life of me I can't find one. There are a lot of great butcher sets out there, but if they have a saw (and the majority of them don't), it's usually the weak link of the set. So I'm giving up on it.
If you need a saw in your butcher shop, get something like the Weston Butcher Saw. It's fairly low cost and reliable. Or if you need to save room, go for this Bahco saw. Some chefs and butchers don't even use saws, though, and we have a larger purpose with this blog, so let's get on with it.