These are just Rugged Bushcraft Knives Disguised as a Butcher Knife Set
The Old Hickory butcher set from Ontario Knife Company is a case of toughness over function, and age turned into beauty. It's an asset in the kitchen but better suited for outdoor food prep on a camping trip, and clearly designed for butchering on a hunting trip. It's not coincidence that the butcher knife is the star of the show here, even though butchering isn't how I intend to use it from now on, but I'll dig into that later.
The most important thing you should know about this set (if you're too lazy to read anything else here) is that the Old Hickory set works fine for butchering, cooking, and general survival tasks, but it will take some sharpening and honing on your part to get most of these knives to perform well. Their factory performance isn't their appeal, though.
Don't just get these knives for the rustic look, because their real value is in how conducive they are to personal modification, and how quickly they can go from being a mediocre set of kitchen and butcher knives to high-impact survival blades.
Specifications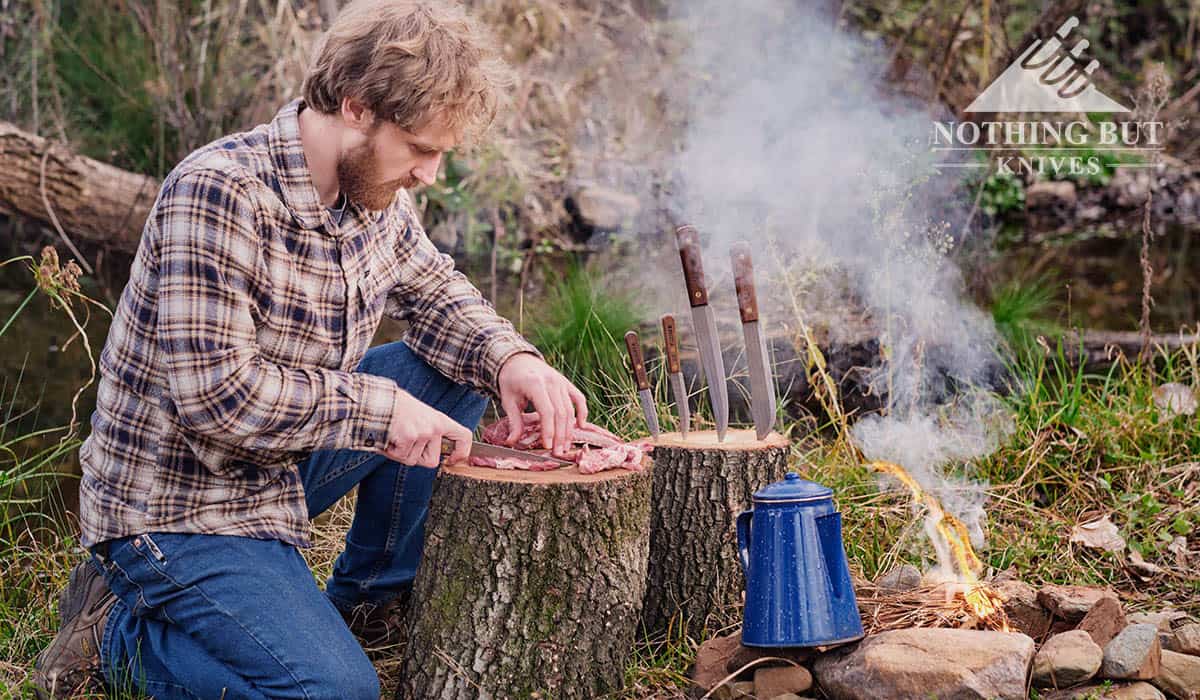 Talking about the set as a whole tends to leave a couple blades on the wayside. Everyone has their favorite 1 or 2 knives in a set and this one is no exception. Especially when it's packing the Old Hickory butcher knife. So before I launch into what is mostly a review on two knives out of five, let's take a quick look at what exactly is in this set and what they're made out of.
Materials
| | |
| --- | --- |
| Steel: | 1095 |
| Handle Material: | Hardwood |
Knives Included
8" Slicing knife – Has a nice long edge so you have a lot of area to slice with. Nice tool, but possibly the dullest out of the box.
7" Butcher knife – A tall curved blade that happens to be great for a lot of bushcraft tasks, and is probably the reason you're looking at Old Hickory knives in the first place.
6" Boning knife – Thicker than most boning knives on the market, but it has a decent edge on it, and actually seems to work pretty well for boning despite the thick blade stock.
4" Paring knife – Clever blade design that makes cutting deeper into meat a little easier.
3.25" Paring knife – Surprisingly handy little blade that slices well and has comparable uses to more versatile EDC pocket knives.
Food Prep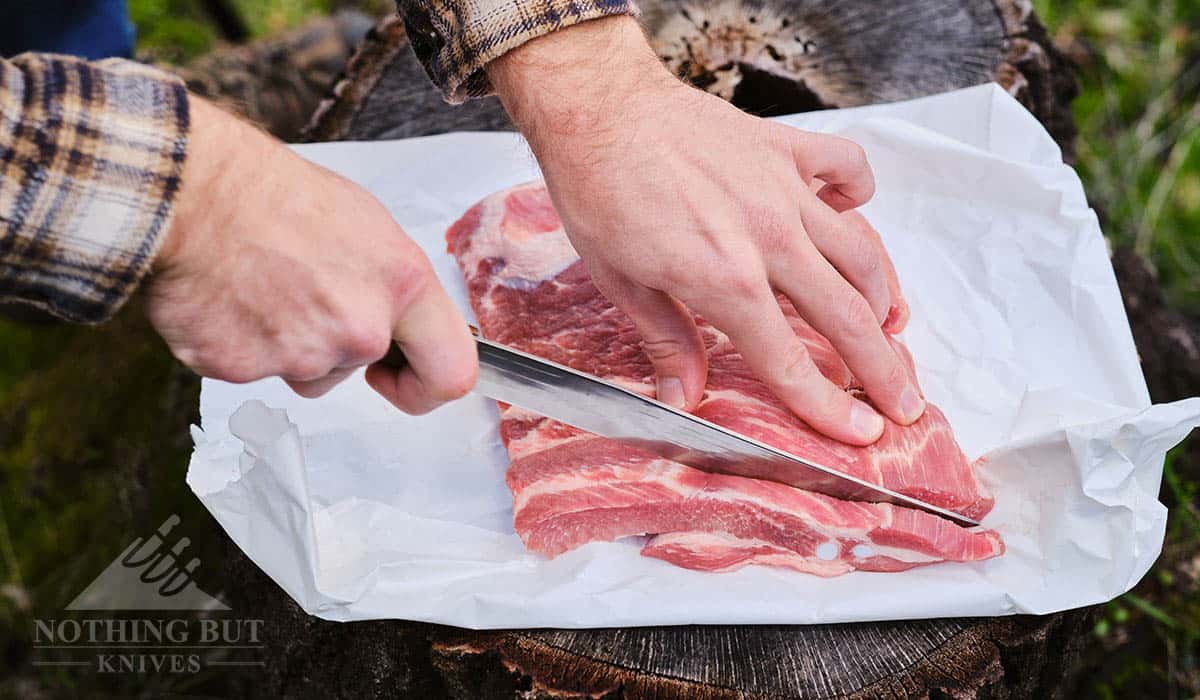 The factory edge is not exceptional when it comes to cutting meat, but they all handle pretty well. The wood handles feel nice and the shape of the blade lend a lot of utility to cutting and stabbing motions, but sharpness does not seem to be a priority for these knives in the factory.
The boning knife and paring knives definitely have the finest edges, managing to slice paper and ligaments on par with what I'd expect from a new knife. And among those three, the 3.25-inch paring knife outperformed the others slightly, but even these are just sharp enough to do basic cuts easily.
The Paring Knives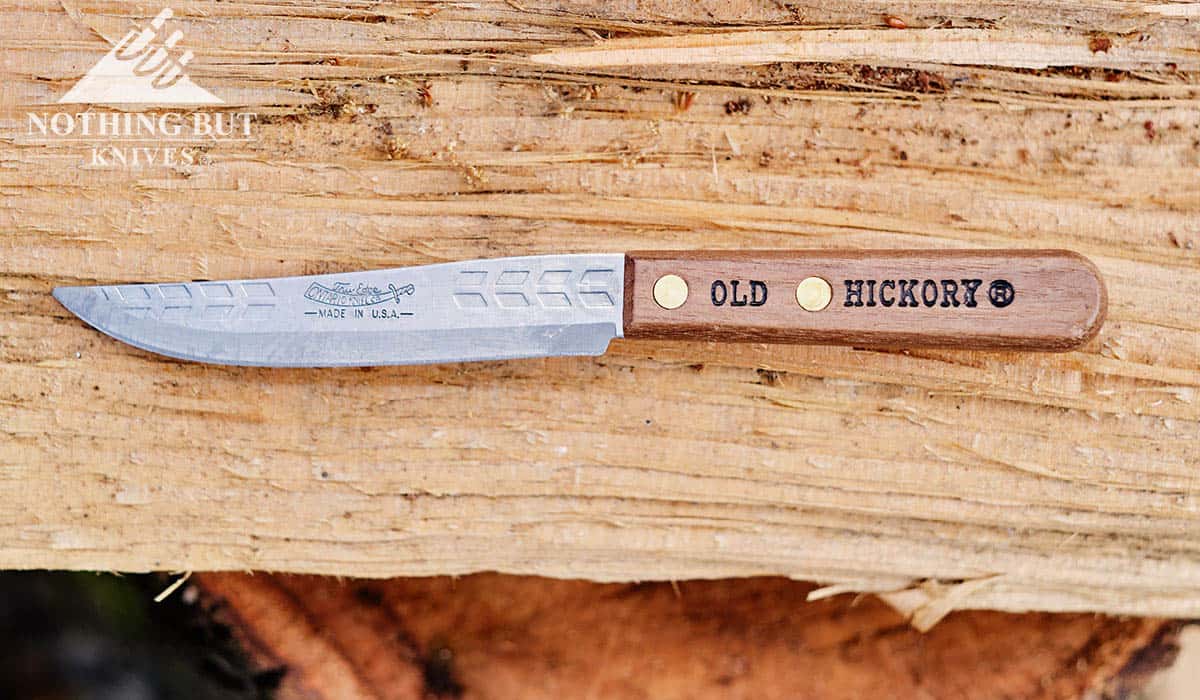 I tried a few different tasks with the paring knives: peelings carrots and potatoes, coring apples, slicing vegetables. While the sharpness results in, at most, an acceptable performance, their relative blade shapes are very helpful. At first I thought it was weird that there are two paring knives included in the set, but having the leaf-shaped drop point of one and the slight trailing point of the other has turned out to be very useful as I switch between tasks.
The Slicing Knife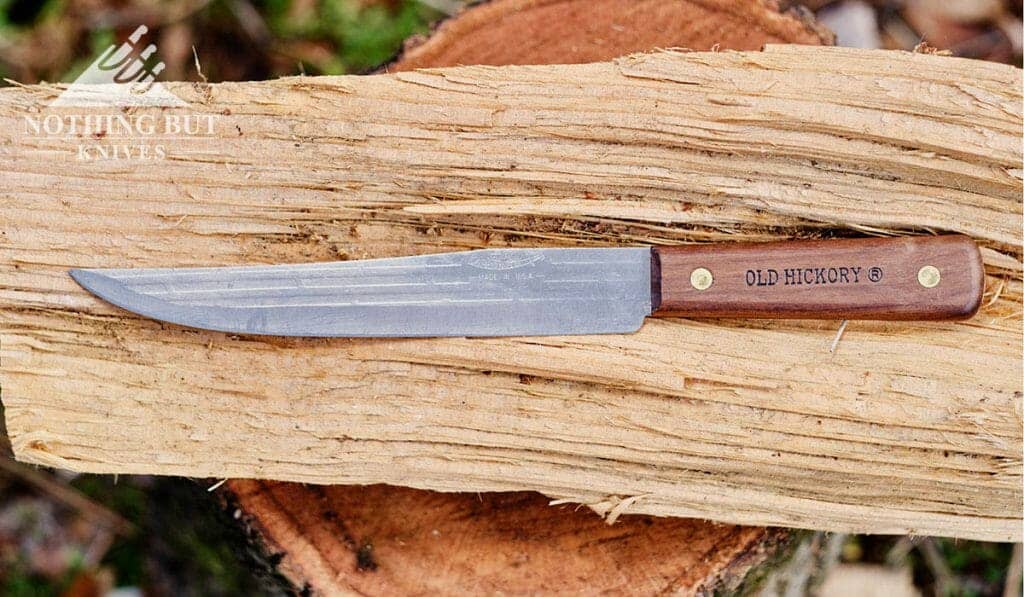 The 8-inch "slicing" knife (As OKC bills it) cut into the meat with a little more sawing and extra pressure than I like to see, but it was great for forcing through joints and ligaments.
I think you could probably crack a pelvic bone with both the slicer and the butcher blade if you only have this set on hand, which is what makes this set stand out from others: It is genuinely tough, to the point that you can reliably use any of the knives in this set for any job you would use any of your other knives.
The Boning Knife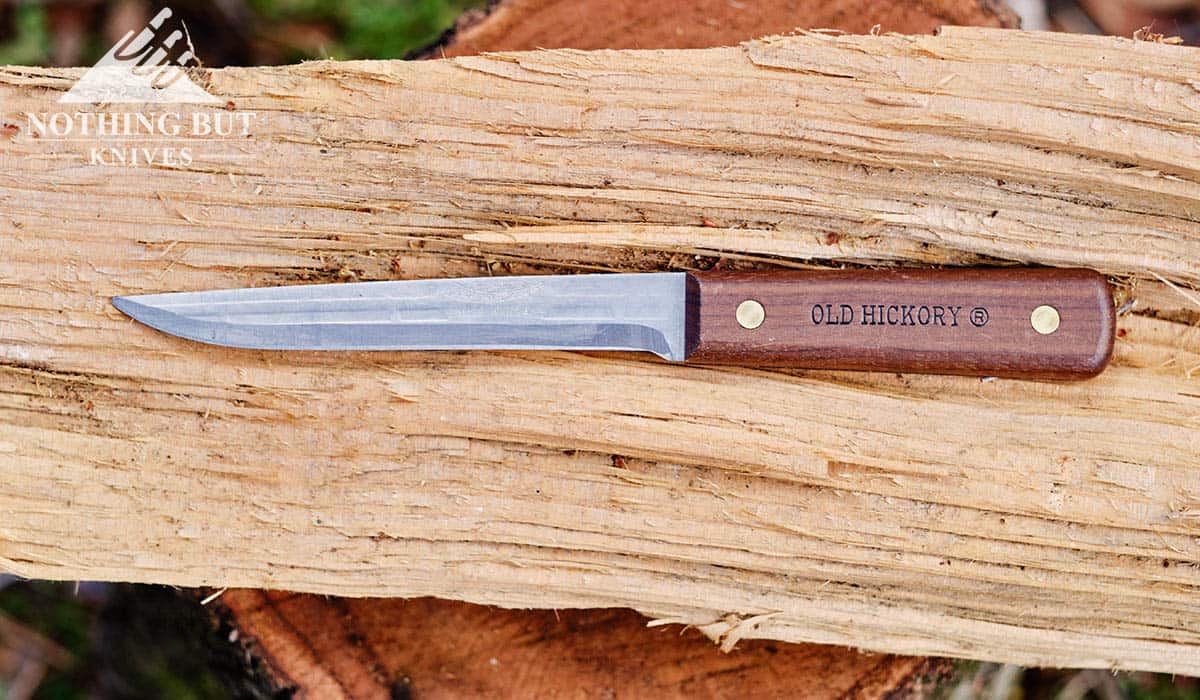 This might be the least attractive knife of the bunch, but it definitely has one of the best edges, especially near the tip. That's the kind of thing you want to see in a boning knife. The only problem is that being the sharpest knife in this bunch only means it's about as sharp as any other run-of-the-mill blade you could pick up for $30.
It has a good, stiff structure, though. So once you get the edge to a place you like this knife will be great for dressing big game like deer or boar.
The Butcher Knife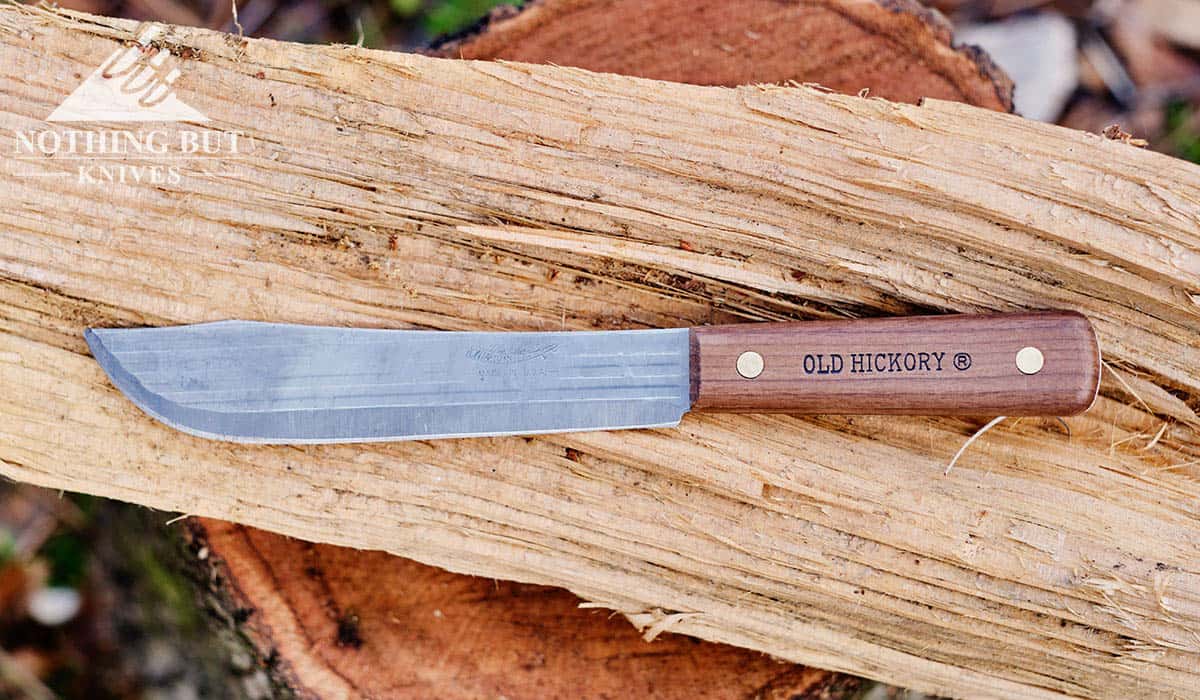 This has a slightly finer edge on it, and that big curve helps for slicing and chopping quite a bit. I'll be honest, though. Food was not at all the first thing on my mind when I saw this knife.
I cut up some meat and vegetables with it. It did okay. Like the rest of the set it will do better with a little home improvement. Once a better edge is on this thing it'll be a rockstar for skinning big game.
I have more important matters to discuss concerning this knife, though.
Butcher Knives as Hard-Use Survival Knives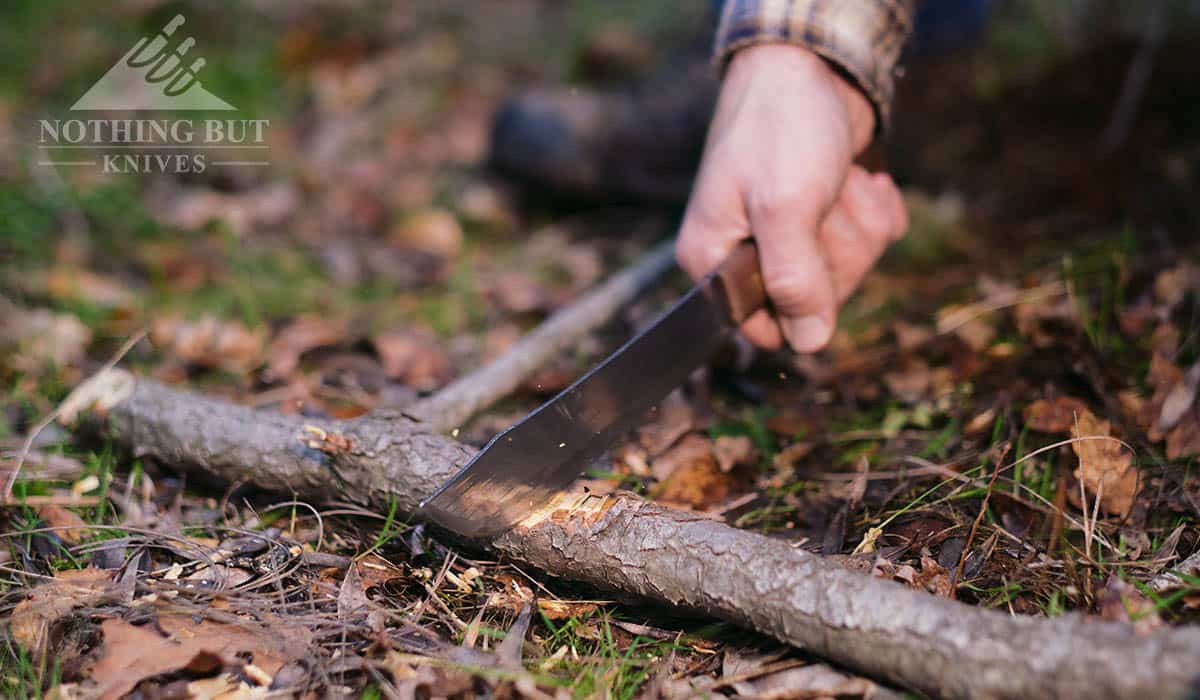 It's not a point in Old Hickory's favor that if you want to skin or butcher with their knives with any reasonable success you have to do some serious honing of your own. But the core strength in all these knives is so tough that the possibilities after some half-decent sharpening are endless.
The butcher blade and the 3.25-inch paring knife in particular call up a lot of hard-use and survival knife comparisons to mind.
The Butcher Blade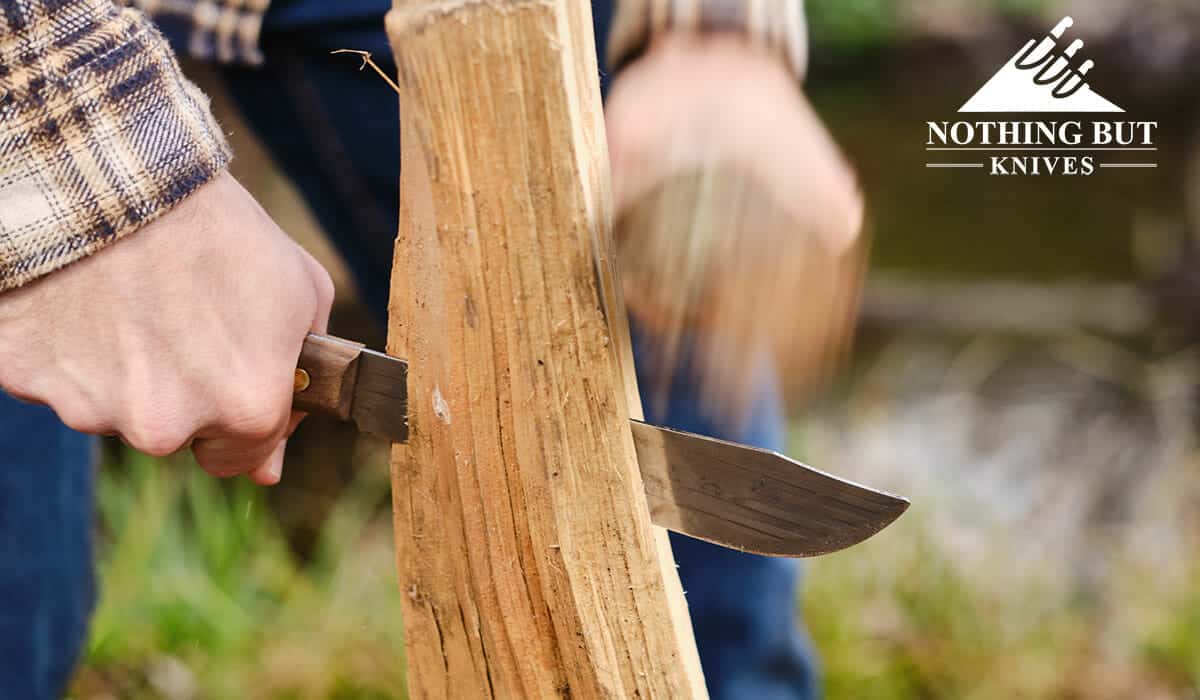 I said at the beginning that the butcher blade is the star of this show. Odds are if you were familiar with Old Hickory before reading this blog, it was because of the 5.5-inch butcher blade. It's popular enough that OKC started selling it separately with it's own dedicated sheath in 2019. And even before that, people carried it (or models exactly like it) in their own custom sheaths for years. For some, this knife is almost worth the price of the entire set.
I'm inclined to agree, now that I've personally gotten to hack through a few logs and branches with it.
I batoned the butcher blade halfway down into the heart of a log where the pressure from the wood was tight enough to actually bend the blade. It took me a good ten minutes of hammering to get the knife free, and the whole time I thought we'd have to bend the steel back into place to keep testing it. But it came out just as straight as before.
What's more is I couldn't really see evidence that I'd smacked the spine with a big piece of wood a good hundred times. The texture and finish of the steel just doesn't get marked up that easily.
The way this knife chops actually reminds me of a much lighter Condor Stratos. The weight and blade shape are obviously much different, but the grind seems to function exactly the same when you're chopping: It doesn't bite into the wood, and you'll be tired of swinging before you're done, but it gets the job done and good luck trying to chip that edge while you're at it.
The Smaller EDC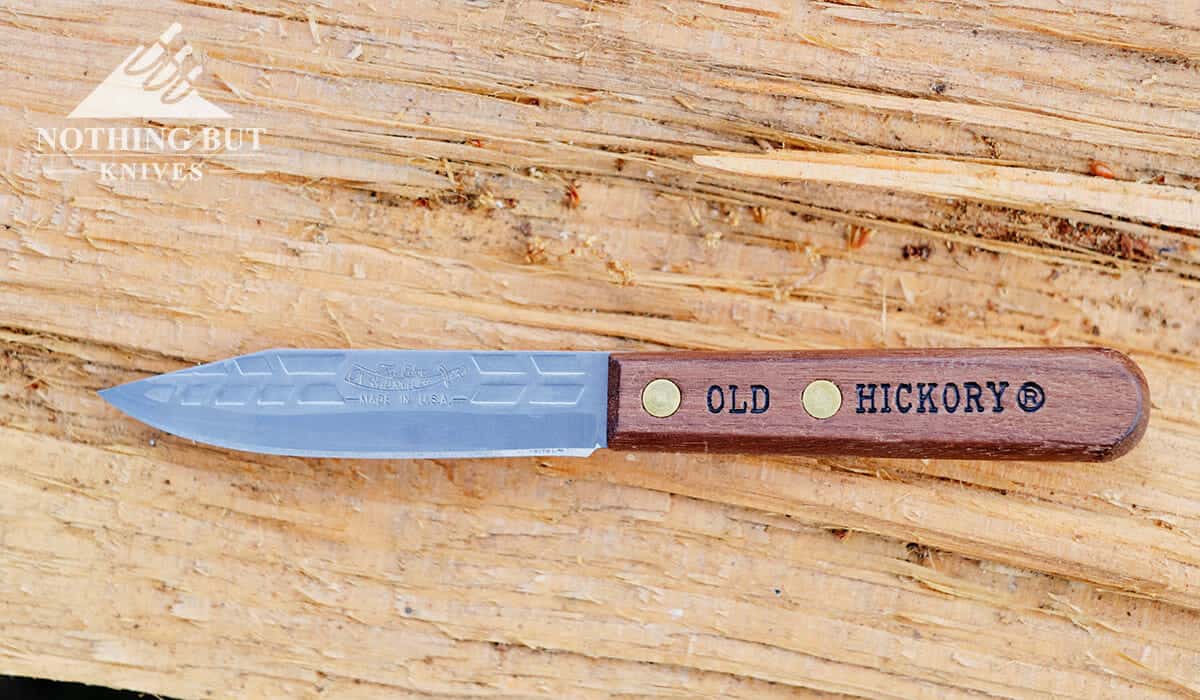 My personal favorite in this bunch is the 3.25-inch paring knife. I like it better than the others for food prep, but I like it a lot better as a potential small, fixed-place EDC. The size and shape makes it kind of like a fixed-blade version of the KaBar Dozier or the Esee Zancudo. And while there doesn't seem to be much of a market for a fixed-blade version of either of those models, I like the spectrum of usability this little thing covers.
While it's officially for more delicate kitchen work, the blade shape and steel type make it a really handy outdoor EDC. The drop point has the kind of wide-based structure that makes the tip tougher than usual, so you can risk working this blade under and into things to pry something loose or clean things out and not have to worry about snapping the tip off.
If you can rig a way to carry the thing with whatever leather or kydex scraps you have lying around I think it would make a great neck knife or boot blade.
The Look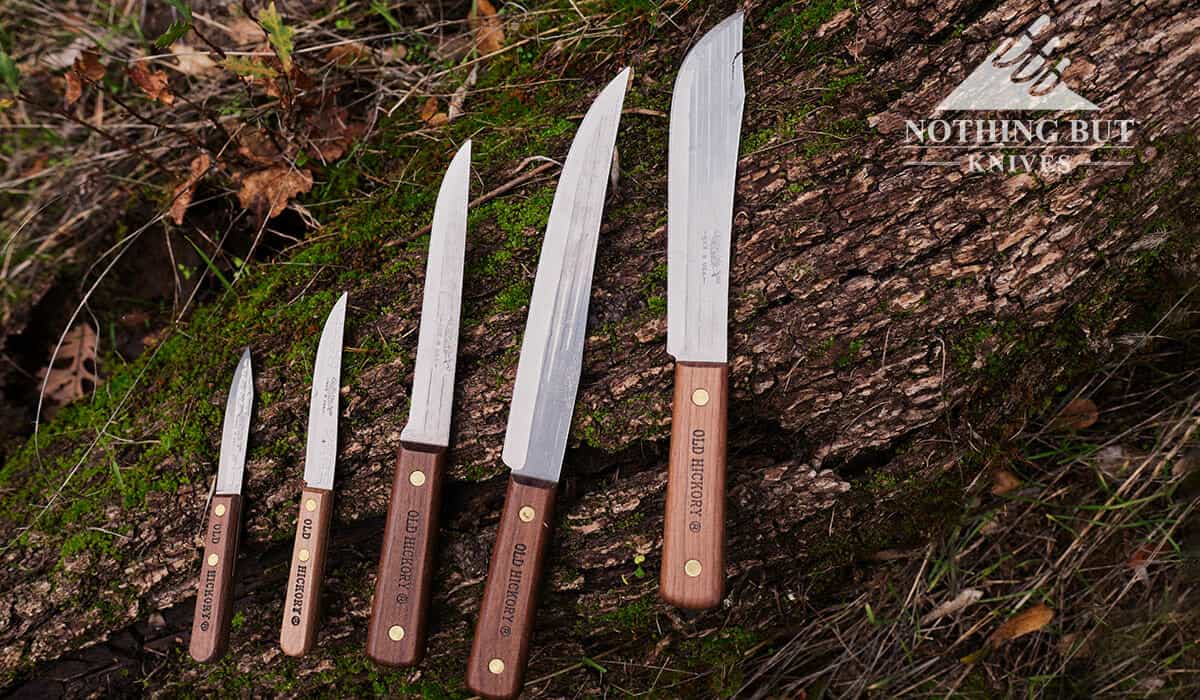 If we're being honest, the styling of the Old Hickory set is the reason people are buying it.
They're rustic and woodsy in a simple way that appeals to idiots like me who see themselves as rustic, woodsy people.
This quickly becomes a problem for anyone who's just buying these knives for looks, though. The materials that create that genuine, rustic look are the kind of thing mainly sought after by people who are used to putting a certain amount of care into their knives. You have to be vigilant about maintenance.
For some this is nothing new, but the combination of high carbon steel and hardwood handles is a perfect combination for incubating rust and bacteria. This is what the majority of negative reviews on these knives revolve around. Stainless steel has created such a high standard for anti-oxidation capabilities that we're quick to feel cheated when a blade starts showing spots after a couple damp days.
The true aesthetic value of Old Hickory knives is reserved for those who know how to put the work into them: no matter how messed up these things get, they can always be brought back.
Let them rust, let the edge get chipped, let the handles get stained or scarred; there's almost no amount of grinding, buffing, or replacing you could do to them that would upset the integrity of the design as a whole. You will almost always end up with a useful, cool-looking knife.
Storage Options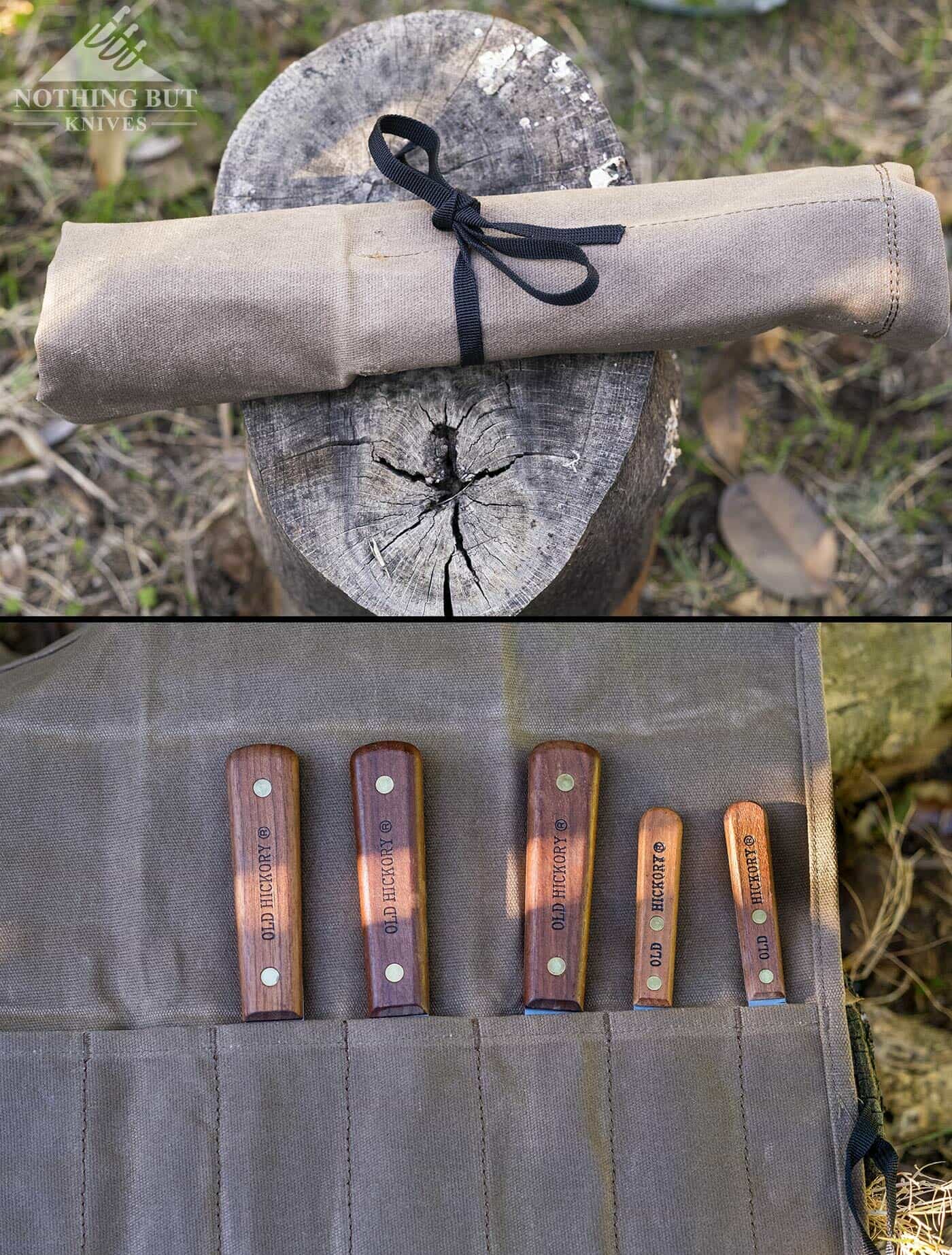 This set is a little awkward at first because it doesn't come with it's own roll case. There are are a couple solutions to that awkwardness:
The one we went with was to just get a roll case for them. There are plenty of nice canvas or leather cases out there in the $20 – 30 range, and a lot of them have enough slots for the whole Old Hickory set plus a couple extra if you want to pack a honing rod and extra blade.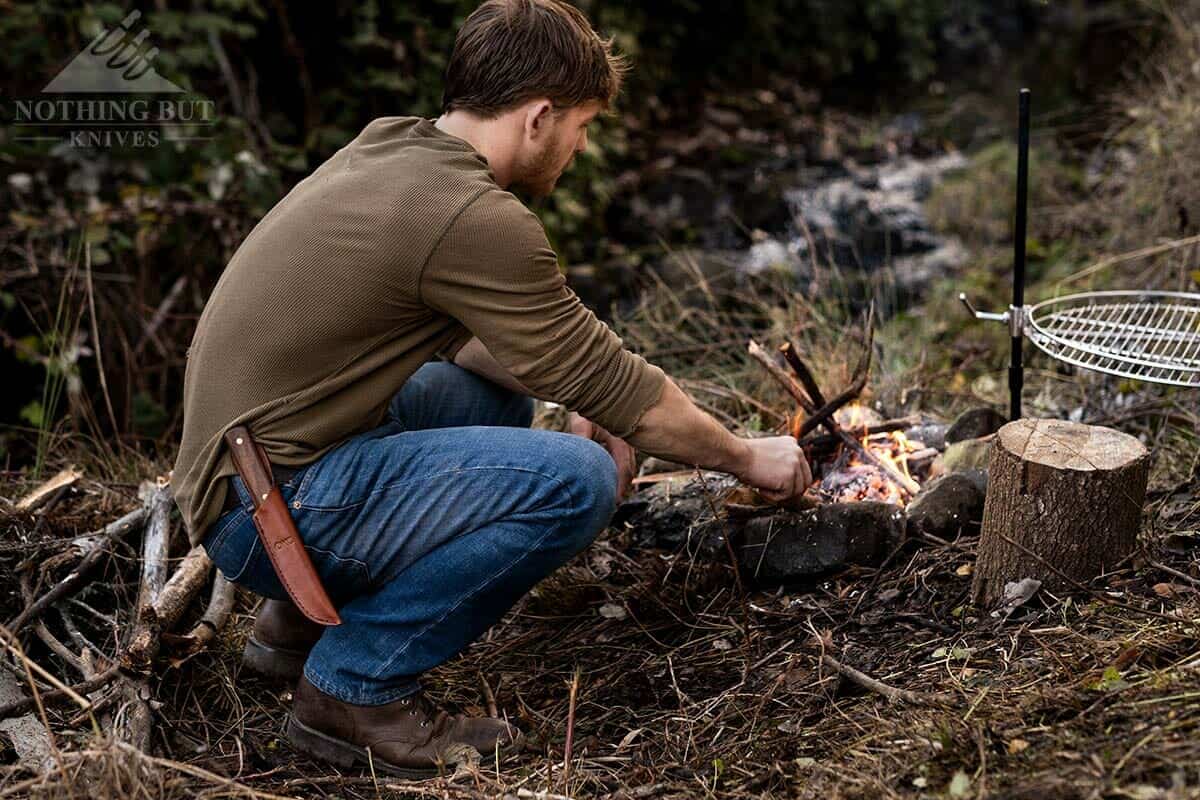 On the other side, OKC actually sells most of these knives individually with leather sheaths. So if there are just one or two in here that you really like and wouldn't mind packing on a belt, you can usually pick it up for around twenty dollars. If you're going that route it might also be worth looking at the Old Hickory Hunting Knife. I haven't used it personally, but it looks like it's close enough to the butcher blade in this set for me to guess that it's a tough blade that will need a little sharpening before you take it out.
Conclusion: It's the Best Value Butcher Set, but Not for the Lazy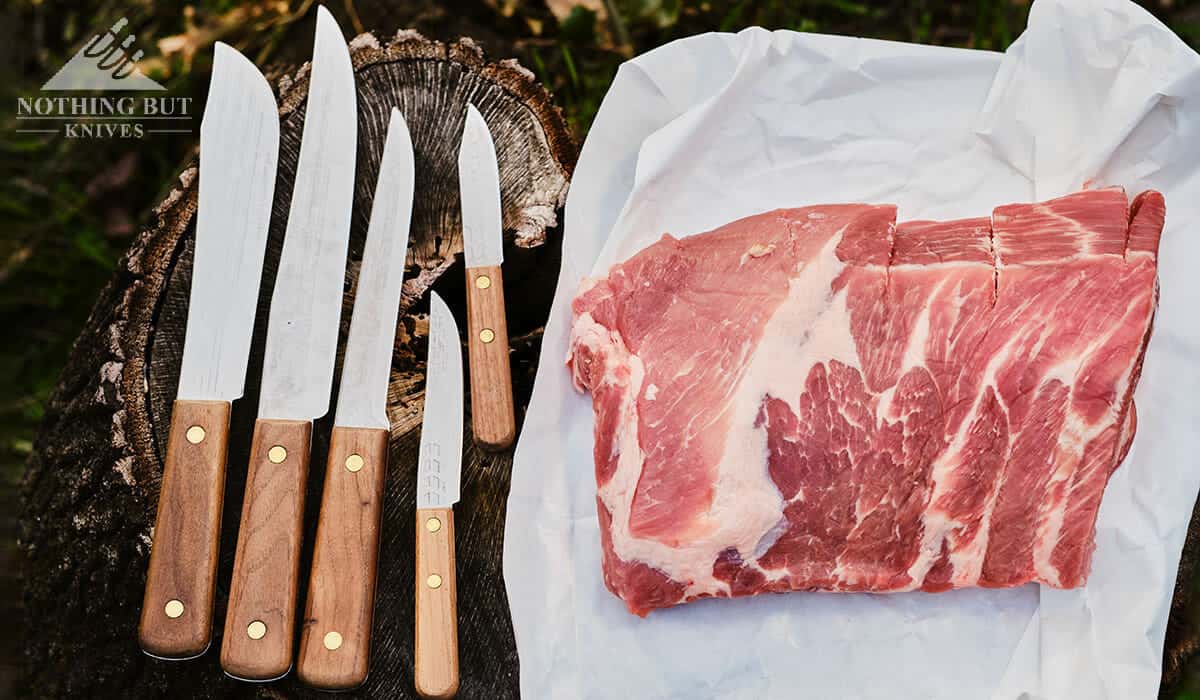 If you just want a set of knives that you can take out of the box and start slicing meat and vegetables with, you should look for something more modernized. The Dexter-Russel set or one of the Victorinox sets we mentioned in our Butcher Set Guide would be quicker and easier approaches, but those options highlight the price benefit of the Old Hickory line.
You get more knives (and tougher knives) for around $50 with the Old Hickory knives. That's a good $25-50 cheaper than something like the Victorinox Field Dress kit, which comes with its own carrying case and only three knives. Those three knives do have a much sharper factory edge, but they don't have quite the same long-term versatility of Old Hickory.
So the Old Hickory butcher set is technically good if you're someone who likes to play with knives. The design is simple, the steel is tough, and the stock is thick enough (and tempered well enough) that you can modify Old Hickory knives to be anything you could possibly want them to be. And they're a lot more knife for the money than you get with any other company out there. They just take a little more work on your part.