What Happens When You Turn a Lumberjack into a Fixed-Blade Bushcraft Knife
Awhile back I played around with my brother's Condor Swamp Romper, which is a great bushcraft knife, but pretty light in the blade. I mentioned to him how much better it would be at chopping if the blade had a thicker spine and was a little heavier.
A few days later he drops the Stratos on my desk. Apparently Condor thought the same thing and took the idea to an extreme.
The Condor Stratos was made to chop. Pure and simple: heavy blade with a thick spine and an edge shaped like a cleaver, built with a full tang into a long handle. I'm not sure why the designer, Joe Flowers, named it the Stratos. A lot of things come to mind when you start breaking trees apart with this, but a dead Greek city is not one of them. The Condor Stratos is like the big, dumb friend in a cartoon kept around to break down all the doors and make fart jokes.
I immediately loved this knife when I picked it up. And then I immediately wondered how many things I could justify using it for. I'm not much of a hunter, and the majority of my camping and household needs can be pretty well taken care of with my trusty folders. But this is the kind of knife you invent needs for, if they aren't present. It's turned out to be more a form of stress relief for me than a daily tool. It's maybe a little too big for its own good, but it's been useful in pretty much every task by virtue of raw strength and obscene durability.
Knife Specifications
| | |
| --- | --- |
| Overall Length: | 10.5″ |
| Blade Length: | 5.0″ |
| Blade Steel: | 1075 w/ satin finish |
| Blade Grind: | Scandi |
| Blade Style: | Clip point |
| Blade Thickness: | 4.5 mm |
| Handle Length: | 5.5″ |
| Handle Material: | Walnut Hardwood |
| Weight: | 10.2 oz |
| Sheath: | Welted leather |
| Designer: | Joe Flowers |
Pros
Great for chopping and batoning
Well-balanced and easy to handle
Tough knife all around
Nice sheath
Cons
Awkward carry due to length
Not much for slicing or fine cutting
Great for most tasks, but not excellent at all bushcraft tasks
The Leather Sheath and Carry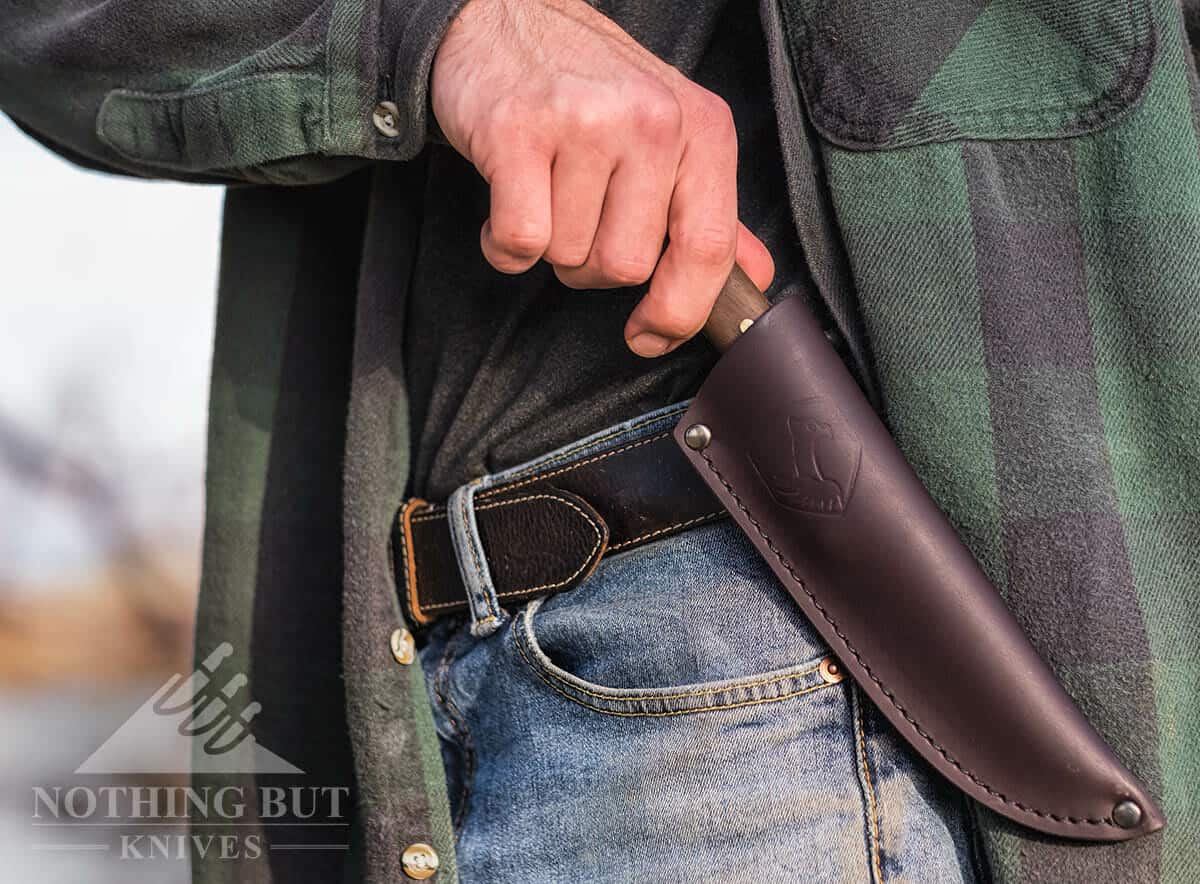 The first thing you'll always notice about any Condor knife is the sheath. Condor knives are one of the few that come with a legitimately good sheath. Being handmade, they come a little different with their different knife designs, and some are easier to work with than others. For example, the Condor Swamp Romper can only be pulled out of its sheath by the true king of England, but the sheaths are consistently hardy and well-made. I would buy a Condor sheath for all my fixed blades if I could.
For the Stratos, the leather is grippy and tight enough to be held upside down without losing the knife, but you can still get the knife out with a little tug. They cut incredibly thick pieces for it, so it's sturdy and stiff, and the two big bolts holding the folded piece together make me feel pretty certain it won't come apart in my lifetime.
My only real concern about the integrity is the stitching. I haven't seen the thread fray at all yet, but it's only single stitching, and it just looks like too much leather for that amount of thread. But that's the initial impression of someone who tries to fix all the holes in his pants with duct tape.
Tough Carry for Short People
Actually carrying the Stratos is where it gets tricky. I'm fairly short, and barely half leg, so there are only so many places around my waist I can set this ten inch beast without it feeling awkward. The belt loop isn't quite as snug as I'd like, particularly if I were going hiking in extreme terrain.
I like that it doesn't hang on a loose loop, but there's still a lot of play to it. The weight of the knife keeps it still for the most part when I'm just walking around, but if were to take a steep hill or climb a tree I know this thing would bounce around and end up getting caught on my clothes or a branch.
The Blade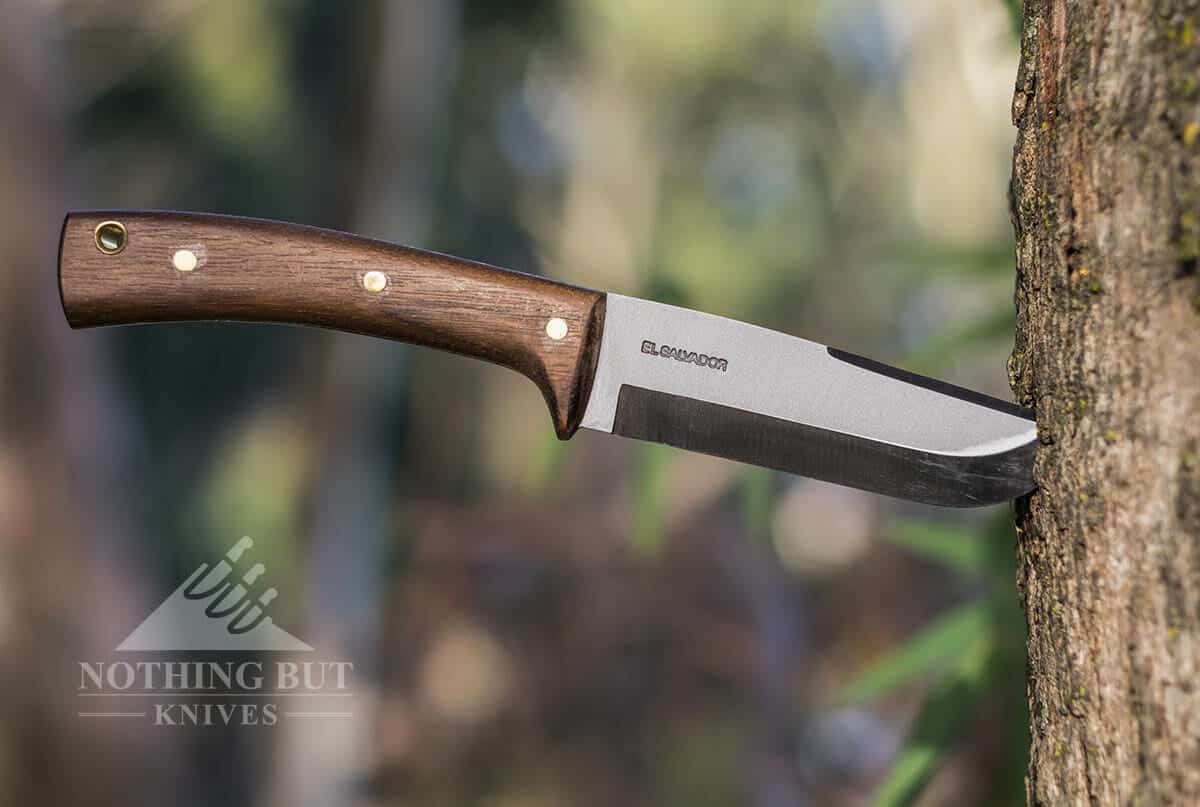 A cleaver was the first thing I thought of when I picked the Stratos up. It has a big belly and big spine, which is great for toughness but it also means they run that spine all the way down the handle to keep the whole knife balanced, which means this knife is heavy.
That's exactly what you want in this thing, though, since its sole purpose on this earth is to chop everything apart. You might also notice the Stratos has no thumb rise and the choil doesn't quite fit a finger. This is not the kind of knife you choke up.
The Edge
It did not come out of the box very sharp, but I wouldn't want it to be that sharp. It's not a paper cutter. The beauty of 1075 high carbon steel, though, is that it's not hard to make it sharp. With an edge this long and simple, it only takes some novice-level sharpening to get a razor edge.
I actually did a little bit of feathering with the Stratos without sharpening and it worked okay. Not great, but it did it. A round of sharpening would have it feathering sticks just fine, although maybe not as well as a thinner knife, and certainly not as well as the Swamp Romper.
The Clip Point
The tip of the blade would be almost non-existent if it wasn't for the slight clip point. You're not likely to get much use out of the tip outside of working the knife into something to pry. You certainly won't get far stabbing with it, but the other certainty is that it will never break off since it's so stout (that and 1075 carbon isn't known for chipping). Remember, this is a survival knife, not a tactical one.
I'm not sure what to do with the false edge running along the clipped part of the blade (I know it's called a "swedge", but I will never willingly say that word). I hear these have a wide variety of uses, but I've never explored them.
According to designer Joe Flowers it's so you don't smash up your hammering stick when you baton, but I don't think I would worry about a flat spine hurting my stick. Its more useful feature is that it adds a little more severity to the tip, but honestly, I think it was a decorative decision. It does make the blade look neat, so who am I to complain.
Beauty Attrition
The steel looks fine enough out of the box, but if you're ever actually going to use it how you're supposed to, it will get gritty fast. Don't expect it to look clean ever again. I oiled and scrubbed it pretty good after going on a wood chopping spree, and I've just accepted that some of those wood stains are only coming out with time.
Handle Design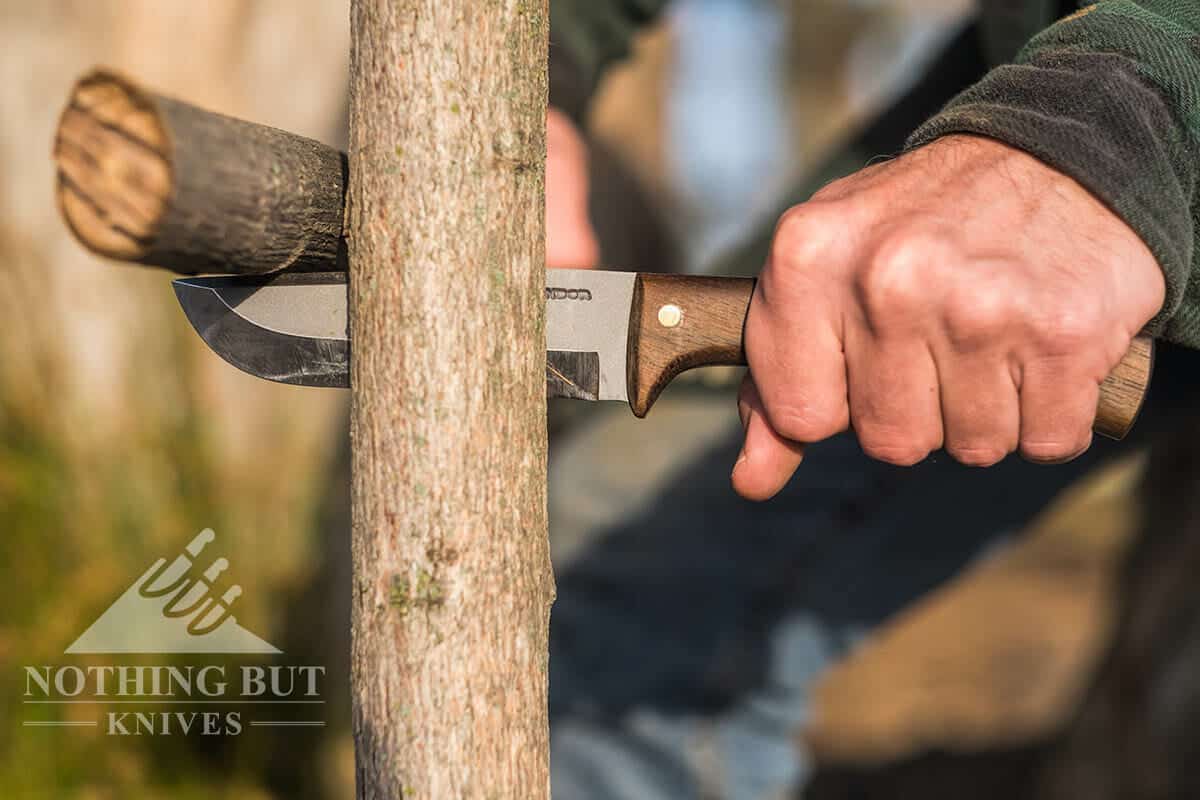 You can smell this knife coming out of the package. The walnut handle is no joke. That's real polished wood, and it feels great. It has a good thickness, there's plenty of length to play with the grip, and the curvature is just subtle enough to actually make the grip more comfortable and secure.
One of my main worries with the handle, since it's polished so smooth, was that it would get too slippery if my hand got a little sweaty, and if you've ever tried chopping through a branch, you know it doesn't take long for that to happen if you're serious about it.
Roomy Grip
The grip stayed pretty secure thanks to the girth and curve. I did notice a little slipping halfway through a stray log of birch, but I never felt like it was going to fly out of my hand. I also really liked that the length allowed me to hold onto the bottom and get a little more power to my swings.
You could comfortably use the Stratos with a gloved hand, too, making it a great cold weather knife. I have no desire to test it in cold weather anytime soon, but sometimes I end up in weird places with weird temperatures whether I want to or not. If that happens while I have the Stratos I'll be sure to update this blog with details on how it fared.
Overall Design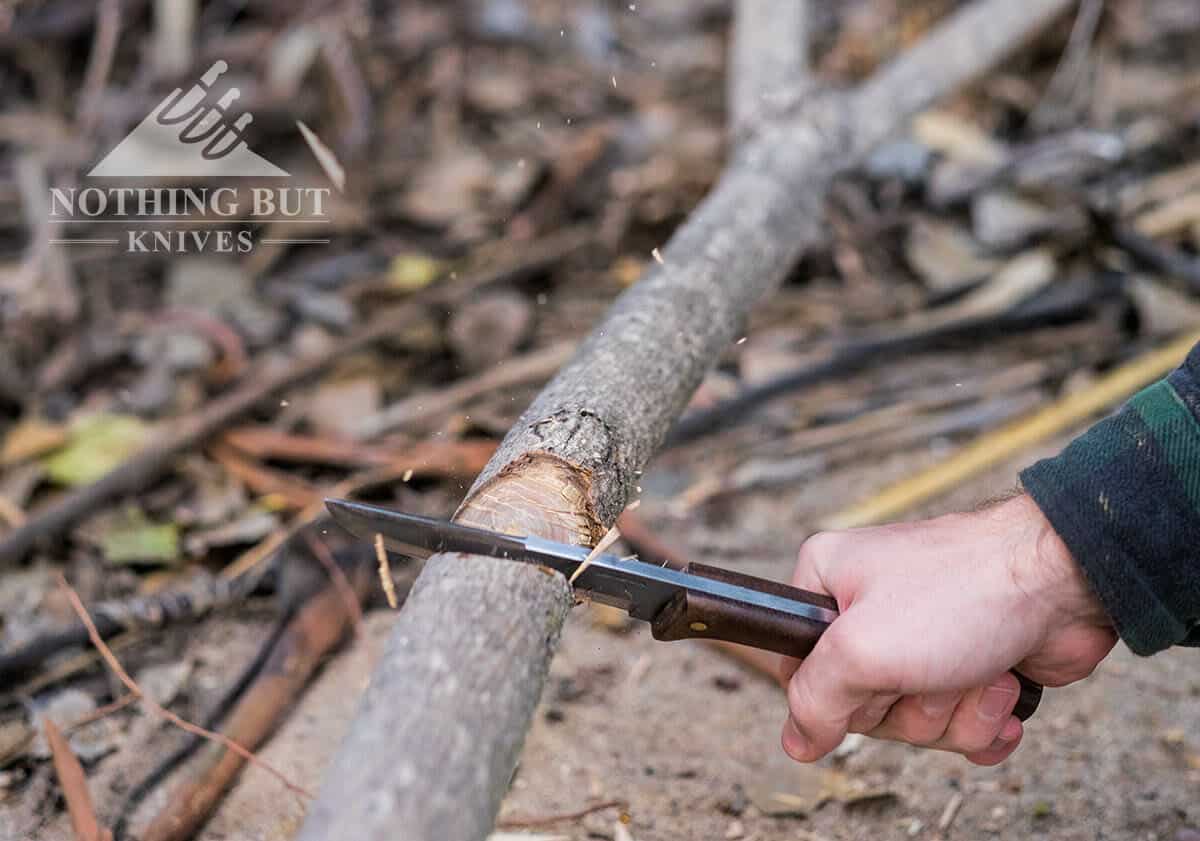 I could say a few derogatory things about inefficiency of design with an over-indulgent size; some might even say an over compensating size. Those uppity Swedes have proven pretty soundly that you don't need ten inches and full tang to baton a branch. This knife handles its size incredibly well, though. I am still surprised at its great balance when I pick it up. In spite of the mammoth thickness of the blade, I can balance it on my finger right at the finger guard and don't feel much pull from the blade when I'm holding it.
What really impressed me though was how cleanly it chopped through wood. It's a bit like a mini hatchet. Even though I had to chop pretty wide wedges in the branches I cut apart, the ends of those branches after I got through them were pretty clean, which is nice if you have some ambitious bushcrafting in mind. Although you might want to get out a knife with a finer edge if you want to get really fancy.
I will also never worry about damaging this knife. There's so much material in every piece of it, I'm not sure what would be capable of damaging it aside from rocks (and rust, obviously). I wouldn't even be that concerned if I chipped the blade (which, again, not likely to happen with 1075 carbon), because I could just grind it out and still have plenty of blade left.
A Little Too Much Knife
The same thing that makes the Stratos so great at what it does, and so much fun, is the same thing that stops me from getting too attached to it. It's big. It's ten and a half inches all told, and I just don't have the height to carry this thing around with me too much.
The weight isn't such a problem since it's so well balanced, but it could stand to be a little shorter. If they just shaved a little off the handle and shortened the blade to keep the balance and get a reasonable nine inches, it would be more practical for me personally to carry around, but it may be the perfect size for those who are tall enough to get on all the rides at Disneyland.
If I could get past the awkward size, though, there's one thing that could make this knife a star.
The Backpacking Knife Option
I've had some pretty long, rough hikes in my time, but I've never been stupid enough to participate in any kind of multi-day torture that bearded wanderers with football-calves would call "backpacking". That being said, the Stratos presents a pretty interesting weight-saving option for those of you who really enjoy scrambling up trails with big packs for days on end since it covers the uses of both a survival knife and a hatchet.
This knife lets you leave all that hatchet weight at home with your bed and the withering remains of your happiness. It wouldn't be ideal, but the Stratos can definitely cover anything you would use a hatchet for out in the sticks like cutting firewood or supports for shelter, while still possessing the utility to pry, cut, and skin.
The Stratos might be middle of the road in the heart of civilization where you have access to all your other tools, but it could easily function as the indispensable multi-tool when it's the only large blade you have. In fact, I would say backpacking makes the Stratos worth buying over most any other survival knife. The toughness and versatility of it would certainly make it my first choice for the trail among the knives I have, assuming I hated myself enough to do such a thing.
If you are looking for a knife that excels at chopping, and has more versatile carry options, check out the Gerber Doubledown.
A Great Knife for the Woods, Just Not the Best One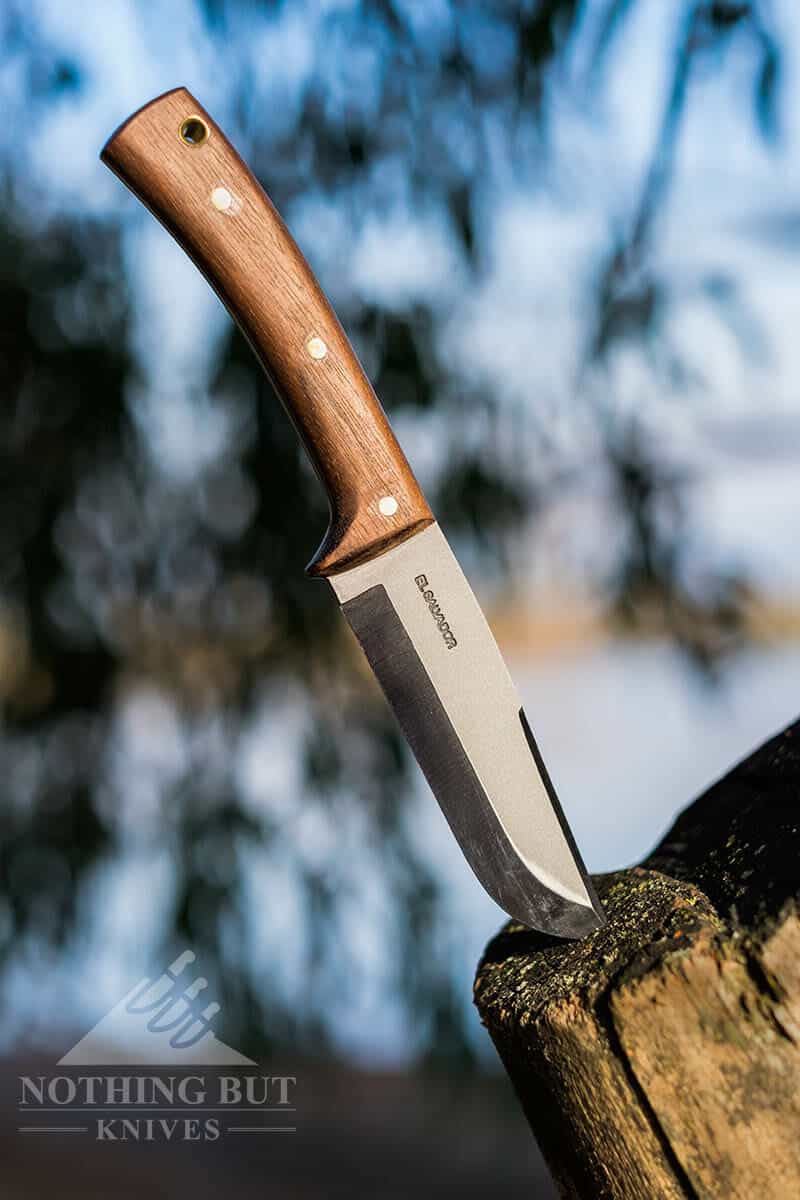 I love using this knife the way I love drinking coffee out of a stein. I don't need to drink coffee out of a stein. No one needs to do that. There are plenty of other reasonably sized mugs that will work just fine, but something about the generosity of space and hand-filling material makes the experience more satisfying. If you've been waiting for a dick joke this whole time, by the way, that was it.
The Stratos beats most other bushcraft in its raw power. If you need to build shelter it will significantly reduce your time spent chopping and shaping the pieces against other knives. If someone told me to cut down a tree with a knife, I'd go for the Stratos, and it would probably be handy if you're doing some kitchen work out in the boonies.
I haven't tried it yet, but I suspect you could make the Stratos work for anything from cutting meat and vegetables to using it as a spatula, and I promise if I ever attempt this I'll take pictures.
The point is, you can make this knife work for most anything. The only task it will beat other knives at, though, is breaking and chopping the hell out of something. If I ever find myself without a hatchet, this is the next best thing I have for cutting firewood. In everything else, it becomes a matter of "making it work."
At the end of the day I have to say the Stratos is just too big. There's no doubt it's fun, and a taller person could probably wear it more comfortably than me. But backpacking aside, I'm more likely to strap a Mora to my belt than this thing for day to day bushcraft and hiking . I'd even go for the Condor Swamp Romper over the Stratos as long as I'm in a responsible mood.
I definitely think it's worth the money. At fifty bucks (as of this writing) you're getting a lot of knife that's likely to outlive you. It's a high quality (and possibly more durable) but significantly cheaper alternative to the ESEE 5, which is a little heavier and pointier. But even though the Stratos has a widespread utility, it's not going to outperform the ESEE 5 in most areas (besides chopping). I have to justify using it. Most days it sits on my desk looking scary and waiting for me to decide I want to clear cut a forest. I'll definitely put the Stratos in my car the next time I go camping, I just won't put it on my belt.