The Condor Bowie MN17 is a Lightweight, Budget Friendly Fixed Blade That Makes a Great Camping Buddy
Knife Specifications
| | |
| --- | --- |
| Overall Length: | 9.5″ |
| Blade Length: | 4.5″ |
| Handle Length: | 4.75″ |
| Weight: | 3.52 oz |
| Blade Style: | Clip point |
| Blade Grind: | Scandi |
| Construction: | 3/4 tang |
| Blade Steel: | 420 |
| Blade Thickness: | 2.03 mm |
| Handle Material: | Kraton w/ nickel bolster |
| Blade Finish: | Satin |
| Made in: | Finland |
Pros
| | |
| --- | --- |
| Excellent Value For The Price | |
| Very Comfortable Handle For Small To Average Size Hands | |
| Very Lightweight for it's size | |
| Crazy Sharp Right Out of The Box | |
| Easy To Sharpen | |
| Great Combination of Classic Finnish and American Knife Design | |
Cons
It Is Not Full Tang
Doesn't Hold It's Edge Quite As Well As Some Competitors
The Handle May Be A Bit Cramped For People With Large Hands
A Well Designed, Light Weight Scandinavian Fixed Blade Knife With A Few Drawbacks
---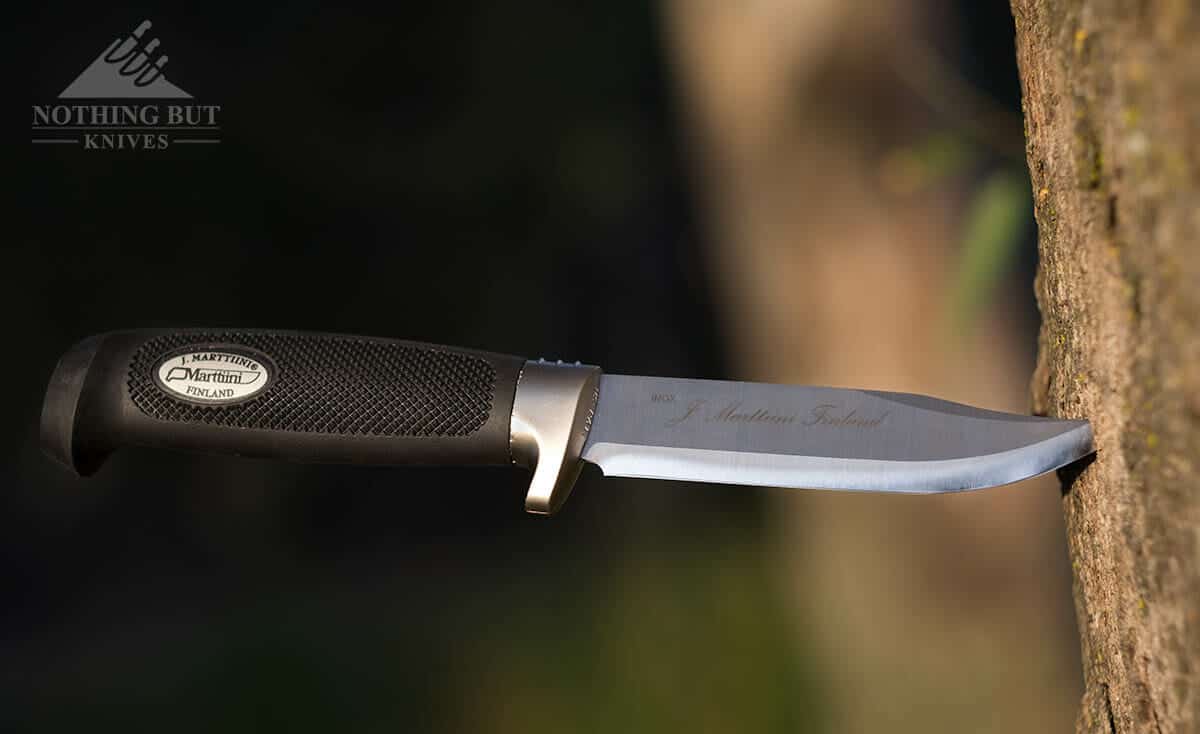 Originally I purchased this knife to use as a fishing knife. I wanted a lightweight, fixed blade knife for hiking up small mountain creeks that was cheap enough that I wouldn't cry if I lost it in the water. The Marttiini Condor seemed to fit the bill perfectly, so I pulled the trigger and bought the knife.
I have had it now for several weeks , and I have used it for everything but fishing. In spite of it's obvious drawbacks like the fact that it isn't full tang and the steel is slightly softer than other similarly priced blades I find myself grabbing it on the way out the door anytime I head for the hills just because I love the design, and it is fun to use.
The combination of a Bowie style blade with a Scandi grind attached to a handle that is also a creative hybrid of American and Scandinavian design has resulted is a knife that is just plain practical and fun to use unless you have really big hands. If you have huge hands this handle may be a bit cramped.
Blade Construction
---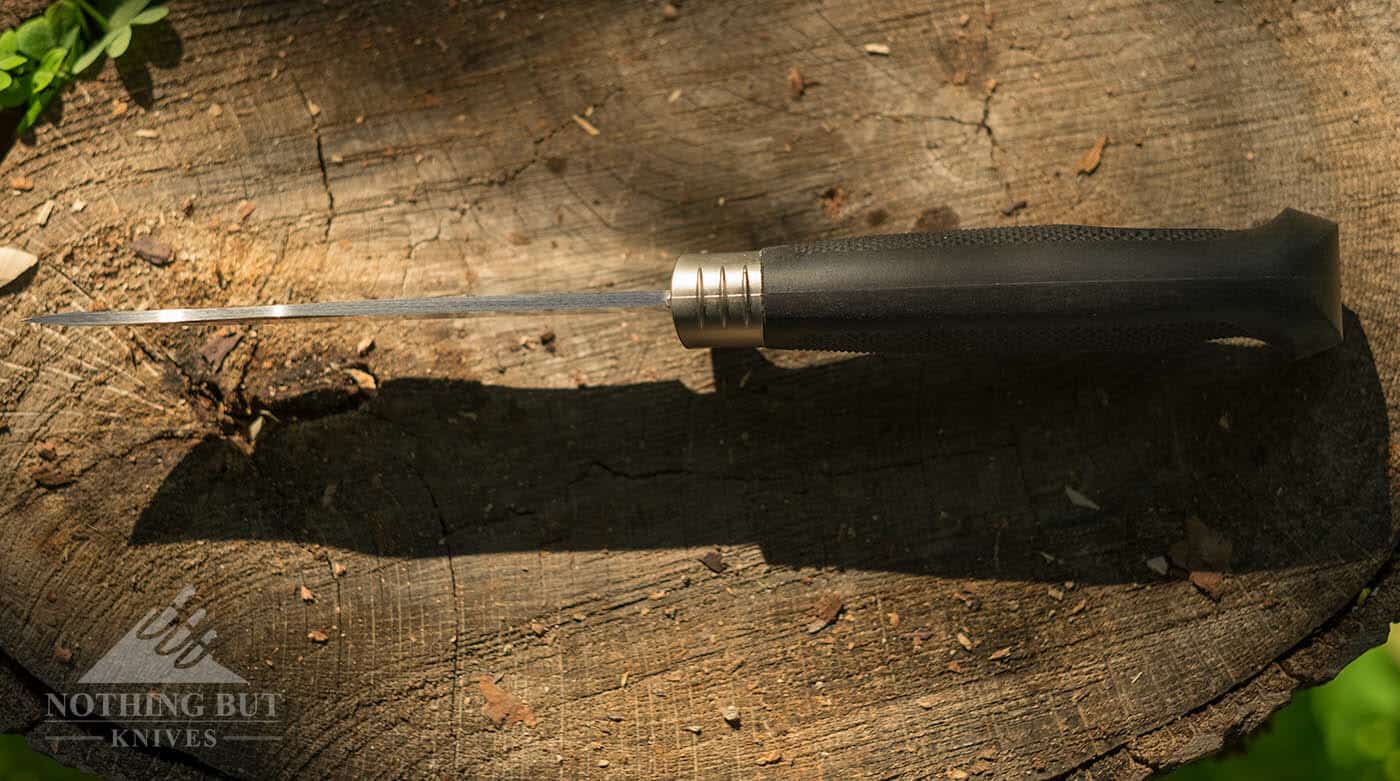 As I mentioned above I really like the combination of the Scandi grind on a Bowie style blade. So much so that I would love to see a version of the iconic Buck 119 with a Scandi grind. That will probably never happen, but I figure I would mention it just in case some designer from Buck happens to reach such a low point in his or her life that they found themselves reading this blog.
The blade of the Marttiini Condor Bowie is made of 420 stainless steel and is rated at around 54 to 56 HRC, and I have found this rating to be pretty accurate, because the Marrttini Condor Bowie seems to hold it's edge almost as long as the Buck 119, but not quite. The Buck 119 is rated at 58 HRC, and the edge retention of the Buck 119 seems to be a bit better than 2 points above the Marttiini Condor, but now I am just splitting hairs. (Figuratively of course, I haven't shaved with this knife yet.)
It is a bit tough to find a lot of information on the steel used to make this blade, but I feel pretty confident in saying that is is just slightly softer than Buck 's 420HC steel. I am sure that SV30 stainless steel zealots will be quick to call this knife an impostor and accuse me of steel treason for saying anything positive about it, but this is a budget knife, and there really is something to be said for good design and great blade geometry.
I live in the Sierra Nevada's of Northern California, so I wish this knife had a high carbon steel blade that held it's edge longer, because knives just don't rust very easily here, but I understand that other regions of the world are different and a high carbon steel blade just isn't practical everywhere. It is also true that this knife will require more sharpening than a Mora.
The shape of the blade is really similar to the Buck 119 except it has a Scandi grind rather than a hollow grind, so if you like that Bowie/hunter style blade for skinning or cleaning fish you will like this blade. The tapered tip and aggressive clip point make the Marrttiini Condor a bit more susceptible to blade tip breakage than a Mora or other thick bladed, drop point bushcraft knives, but Marttiini seems to be pushing this more as a hunting/fishing knife than a bushcraft knife which explains their decision to use a Bowie styled blade on the Condor.
Handle Ergonomics
---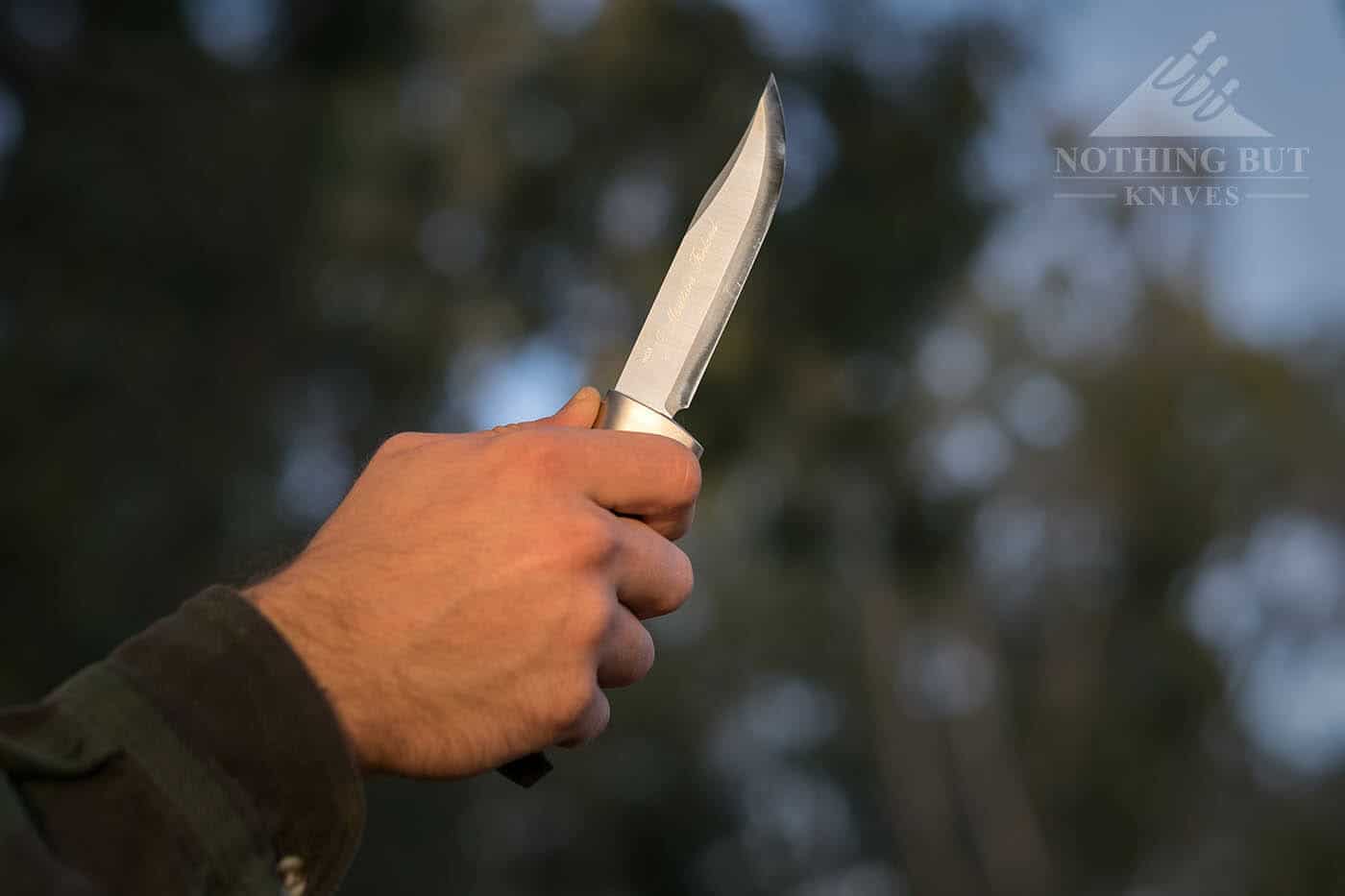 The handle of the Marttiini Condor Bowie is really where it sets itself apart. It is without a doubt one of the most comfortable and easy to grip knife handles I have ever held. However this is a lightweight, budget knife, so there are bound to be some drawbacks.
The nickel silver bolster feel a bit cheap, and they show burr marks around the edges, but the jimping on top of the front bolster was comfortable and helped with thumb grip. The size of the handle is a great fit for small to average sized hands, but is a bit on the small size for those with large hands. In spite of the drawbacks the the handle ergonomics of this knife help make it a lot of fun to use and one of the best options for cold or rainy weather.
Performance In The Field
---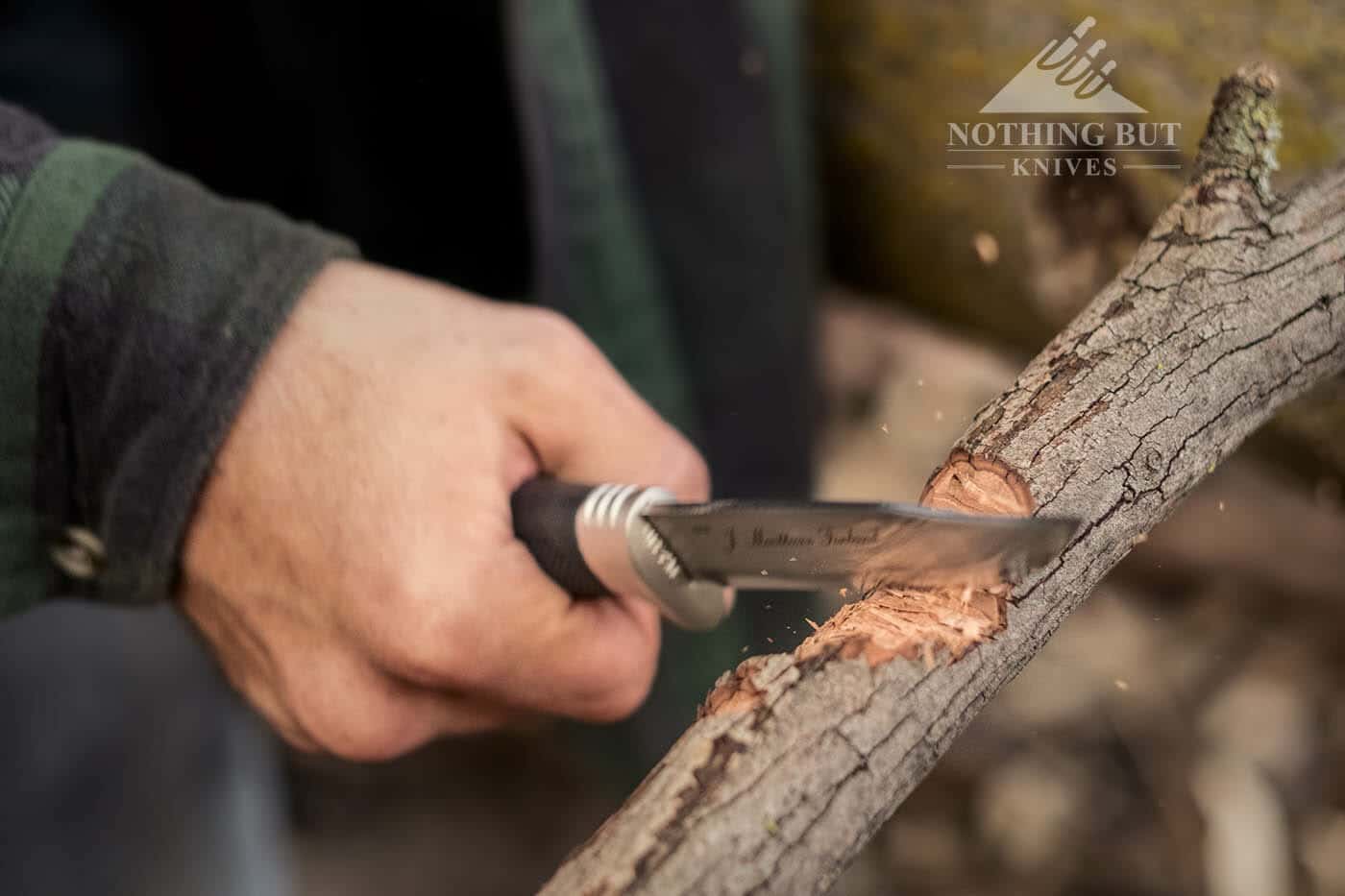 When I first pulled the Marttiini Condor Bowie out of it's shipping box I was really surprised by the lightweight, and it initially made me skeptical about it's durability when used on a regular basis. I have been using it pretty regularly now for about two months, and I have to say that it has held up well. Obviously that is not enough time to to make a super accurate estimate about it's overall durability, but so far it has handled everything I threw at it really well.
This knife was not designed to be a great chopper like the Condor Stratos, but that was not really what the Marttini Condor Bowie was designed for. However, but I decided to see how it performed right out of the box by chopping several branches in half that were about 2 to 3 inches in diameter.
The blade did not roll or chip during the chopping exercise and it was still sharp enough to cut through some nylon rope and some 1.5″ webbing quite easily. The Marrttini Condor's lightweight made the chopping process rather long, but the scandi grind helped bight better than similar knives with hollow grinds.
---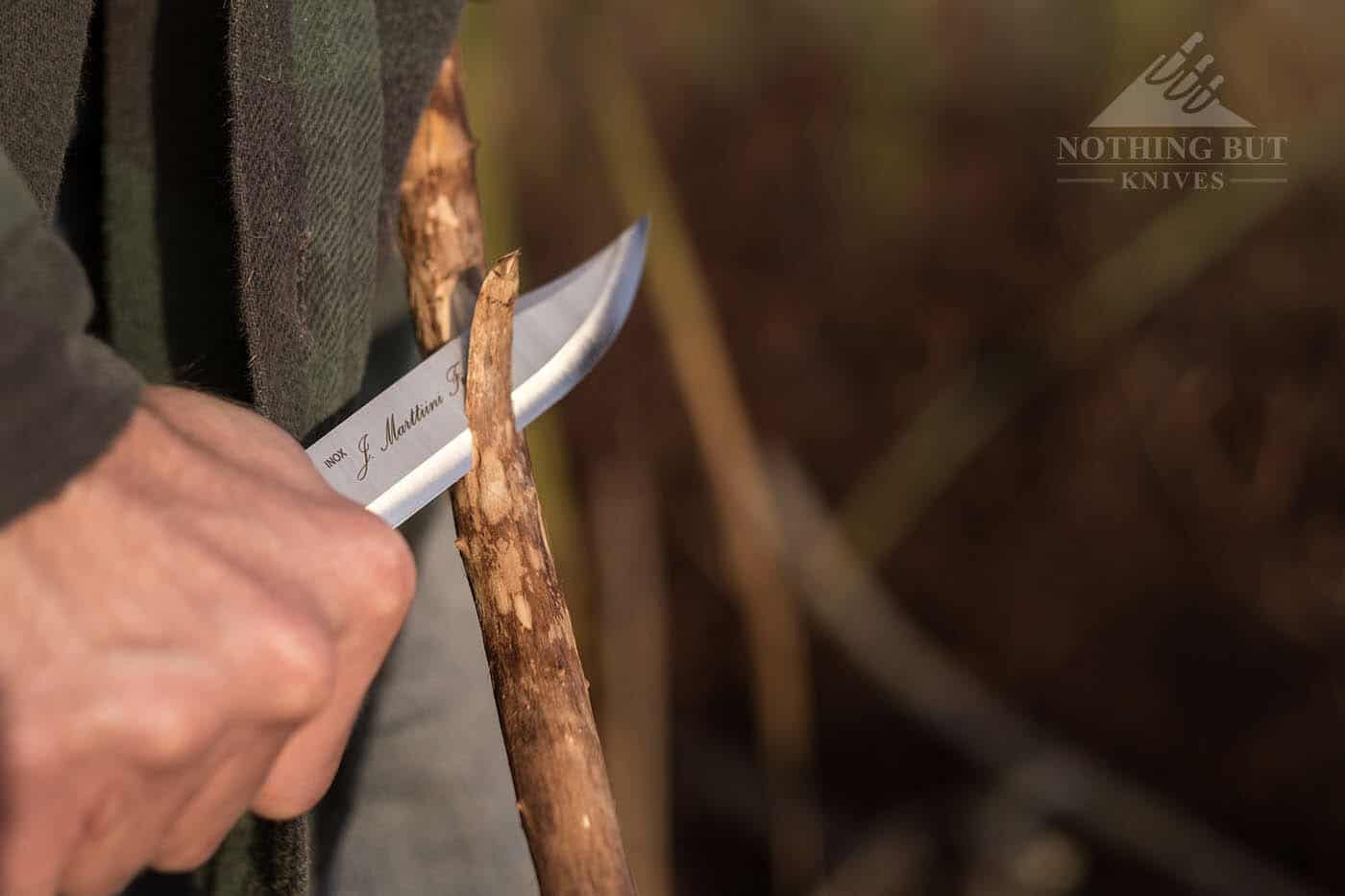 I have primarily used this knife as a lightweight backpacking/camping knife and it has handled this role well. It creates feather sticks with ease, is great for camp food prep, carving tent stakes or utensils I forgot to bring, and I have no doubts about it's ability to clean and prepare a trout in a couple months when I start fishing again.
Where this knife falls a bit short it's ability to hold it's edge as well as I would like it too. I am not surprised that it doesn't hold it's edge as well as a Mora, because the Marttiini Condor does not have a high carbon blade. This may be preferably for many people if they plan to use it as a fishing knife, because it won't rust easily. All this considered the Marrttini Condor has handled itself really well especially considering it is a budget knife.
I did manage to break the tip off when I was grinding a hole in a small log, but I was purposely pushing this knife to see what it could take. If I were not doing this review, i would not have pushed it so hard. The tip was easy enough to reshape, and I will continue to use this knife as my primary fixed blade when backpacking.
Leather Sheath
---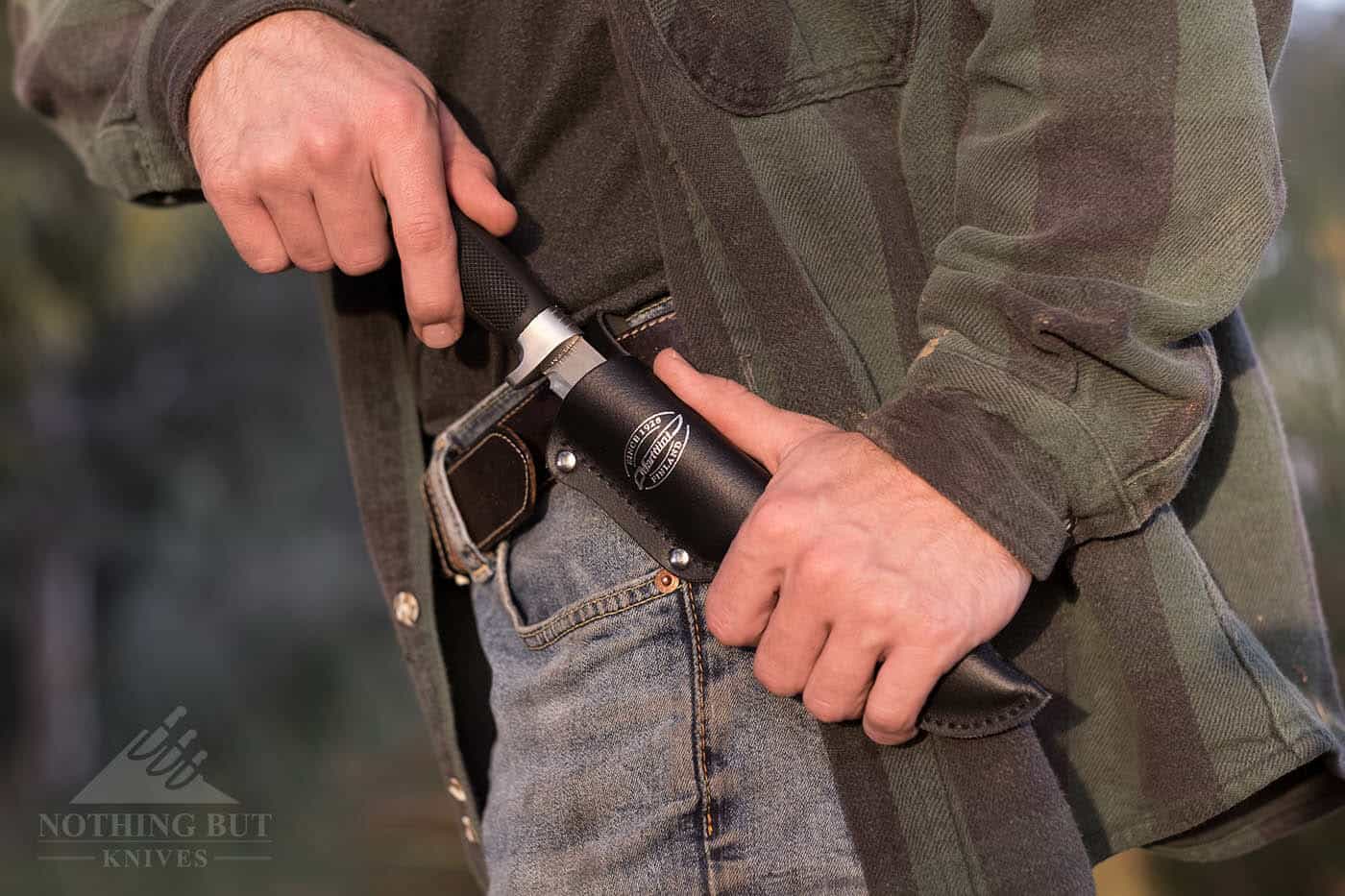 The leather sheath that ships with the Marttiini Condor Bowie is  serviceable and practical. It is certainly not on the same level as the the leather sheaths that ship with mid range knives from Buck and Condor like the 119 and the Swamp Romper, but it feels durable enough to withstand a few years of heavy use. It is different from Western style knives in that almost the entire knife including the handle is encased in leather.
There is just enough knife handle showing for you to get a finger around the back of the knife to draw it from the sheath. While this makes a quick draw a bit more difficult it also diminishes the chances of catching the knife on a branch while hiking through the woods.
Conclusion
---
This knife can generally be found for a little over $20 which puts it in the budget fixed blade knife category, and for the price I think it is a great knife, but it would not be my first choice if I could only choose one budget knife to use for the rest of my life, because the Morakniv Companion is a little cheaper and more durable.
However depending on your personal preference the Marttiini Condor Bowie may be a better option as a hunting and fishing knife due to it's superior corrosion resistance and Bowie style blade. It is definitely not better than the Mora Companion as a bushcraft knife, but as I mentioned before I don't think Marttiini markets this as a bushcraft knife. For a general use hunting, fishing and camping knife the Marttiini is tough to beat at this price point.
---