The Condor Tool and Knife Swamp Romper is a Tough, Versatile Knife With a Great Sheath
This is one of those knives that can do a little bit of everything. It cuts fine, it chops pretty well, it carries light on the hip, and the handle is super comfortable.
It generally feels nice to use, even if it doesn't excel at all the tasks you want it to. The biggest thing holding it back is the factory edge, which isn't terrible. Plus, 1075 steel usually strops and sharpens easily enough. This knife was designed for long term use in caustic environments like jungles and damp forests, so above anything, you can expect this knife to survive with the right amount of maintenance.
Knife Specifications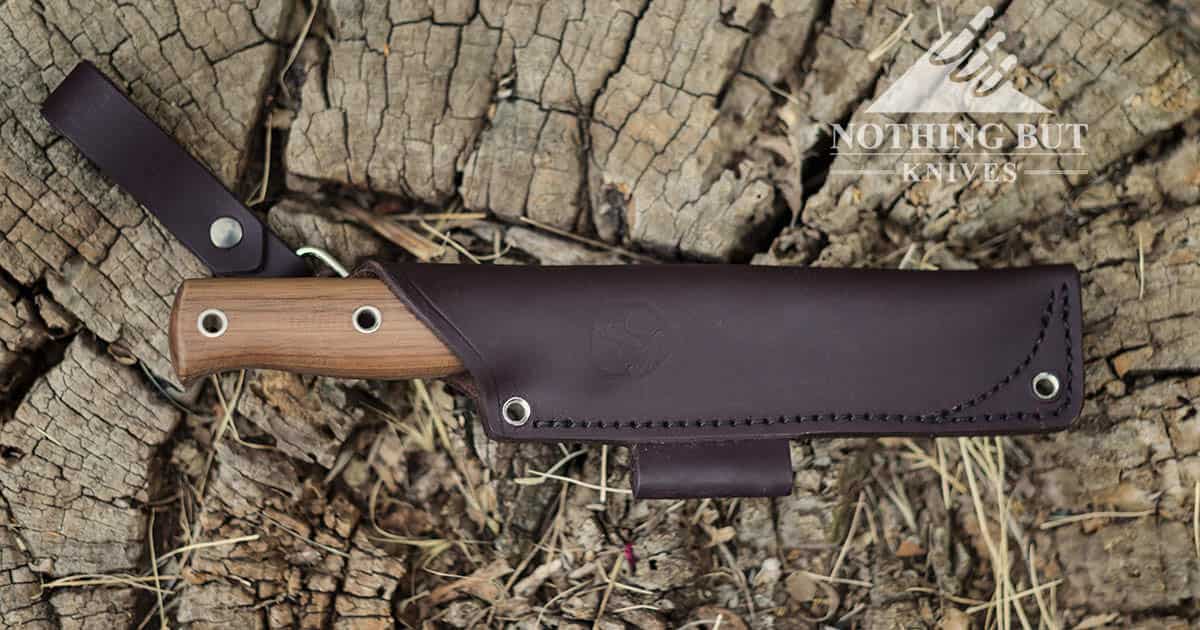 | | |
| --- | --- |
| Overall Length: | 9.5″ |
| Blade Length: | 4.5″ |
| Blade Steel: | 1075 high carbon |
| Blade Thickness: | 3 mm |
| Sheath: | Leather |
| Handle Material: | Walnut |
| Blade Finish: | Polished |
| Weight: | 1.25 lbs |
| Manufacture Location: | El Salvador |
Pros
Full Tang
Great Look
High Quality Leather Sheath
Very Versatile
Easy To Sharpen
Cons
The blade is not super sharp right out of the box
The sheath takes some time to break in
There were some quality control issues in the early models, but those issues seem to have been dealt with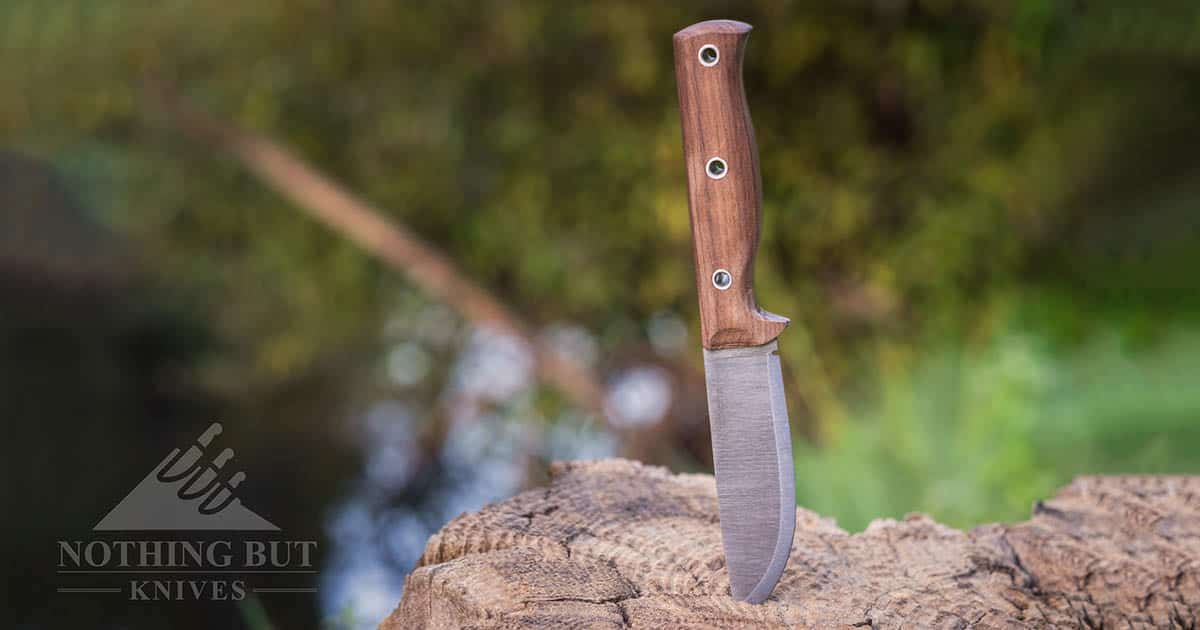 the Swamp Romper Fixed Blade Knife from Condor is a rugged, versatile bushcraft knife designed by Joe Flowers. From a quality and functionality standpoint it is pretty tough to beat the condor in the sub $55 price range. I think the 1075 HC steel is a great choice for bushcraft knives, because it doesn't chip as easy as some of the hard steels, it holds it's edge well and it is relatively easy to sharpen.
There have been some complaints about the tightness of the sheath when it is new, but that is ideal in a leather sheath, because otherwise they become too loose when broken in. Overall the handcrafted leather sheath is one of the most the most appealing features of this knife. You usually don't see this level of craftsmanship on a knife sheath at this price point.
Handle Ergonomics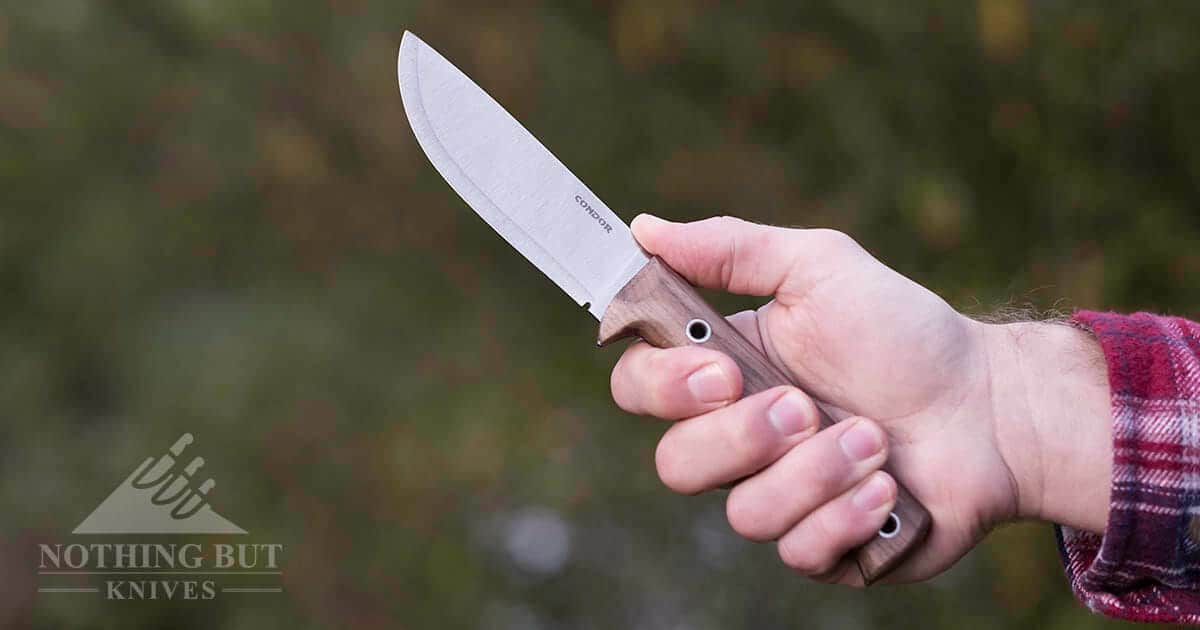 The walnut handle of the Swamp Romper is is very comfortable even when used for extended periods of time. The shape and size of the handle make is a good fir for a variety of hand sizes. We had several different people of varying hand sizes weigh in on this subject, and the consensus was almost unanimous.
While the walnut handle may not be quite as grippy as some of the more popular, rubber handled bushcraft knives it was really easy to hold even when chopping, and I never had a problem with dropping it even in wet weather. The side grooves were a nice design feature that makes the Swamp Romper easier to grip in a variety of hand holds, and they are especially nice when doing more detailed oriented bushcraft tasks like carving tent stakes.
Leather Sheath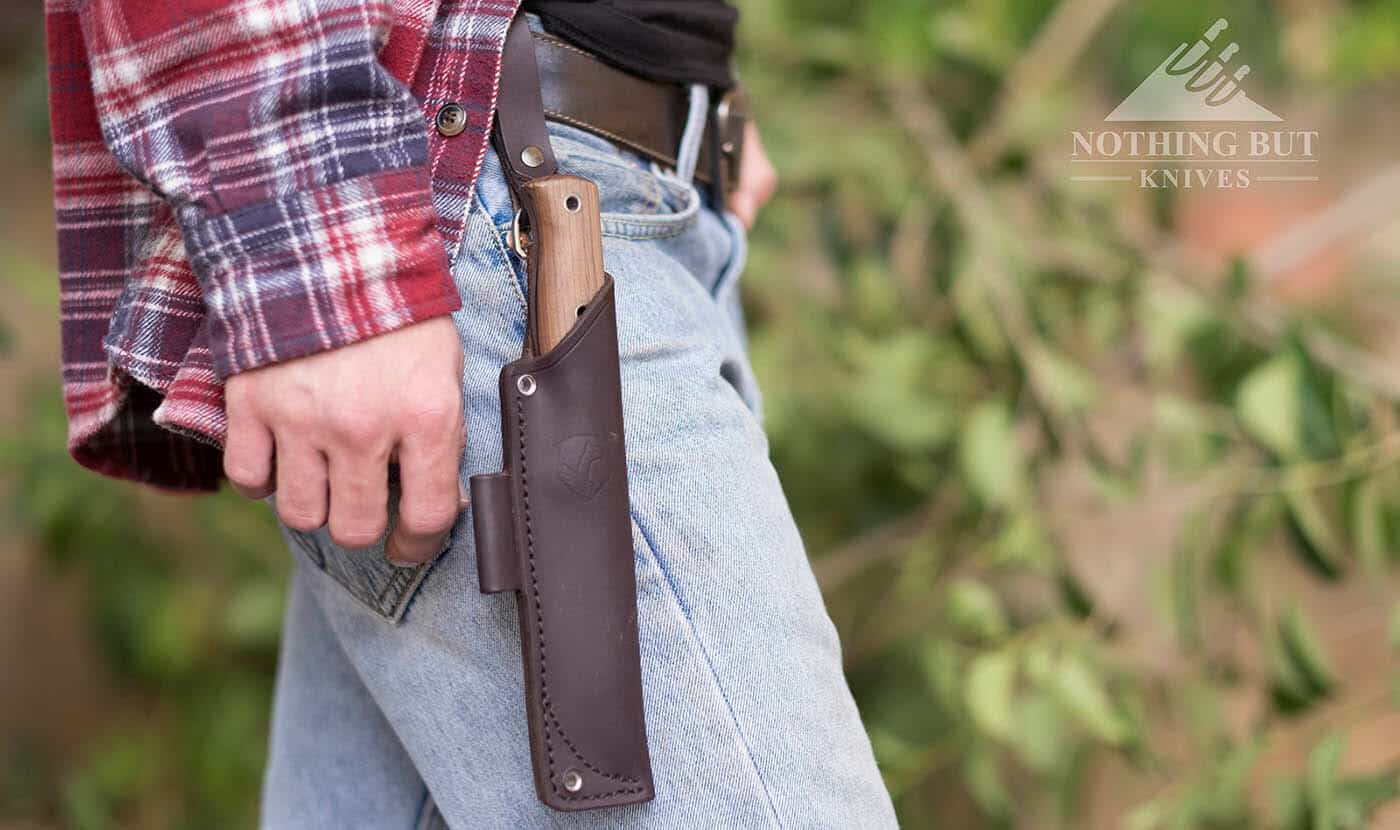 The leather sheath that ships with the Swamp Romper is undoubtedly one of it's best features. It is made of a thick leather and attached with a heavy duty thread.
Initially the sheath was very tight and the knife was a bit difficult to remove, but after a few days of use the sheath was broken in, and the knife was much easier to withdraw, but was still held tight enough that there was no danger of the knife falling out when the sheath was turned upside down. I have done several hikes over the course of the last few months with this knife and spent a fair amount of time in the rain, and the sheath has still held up really well.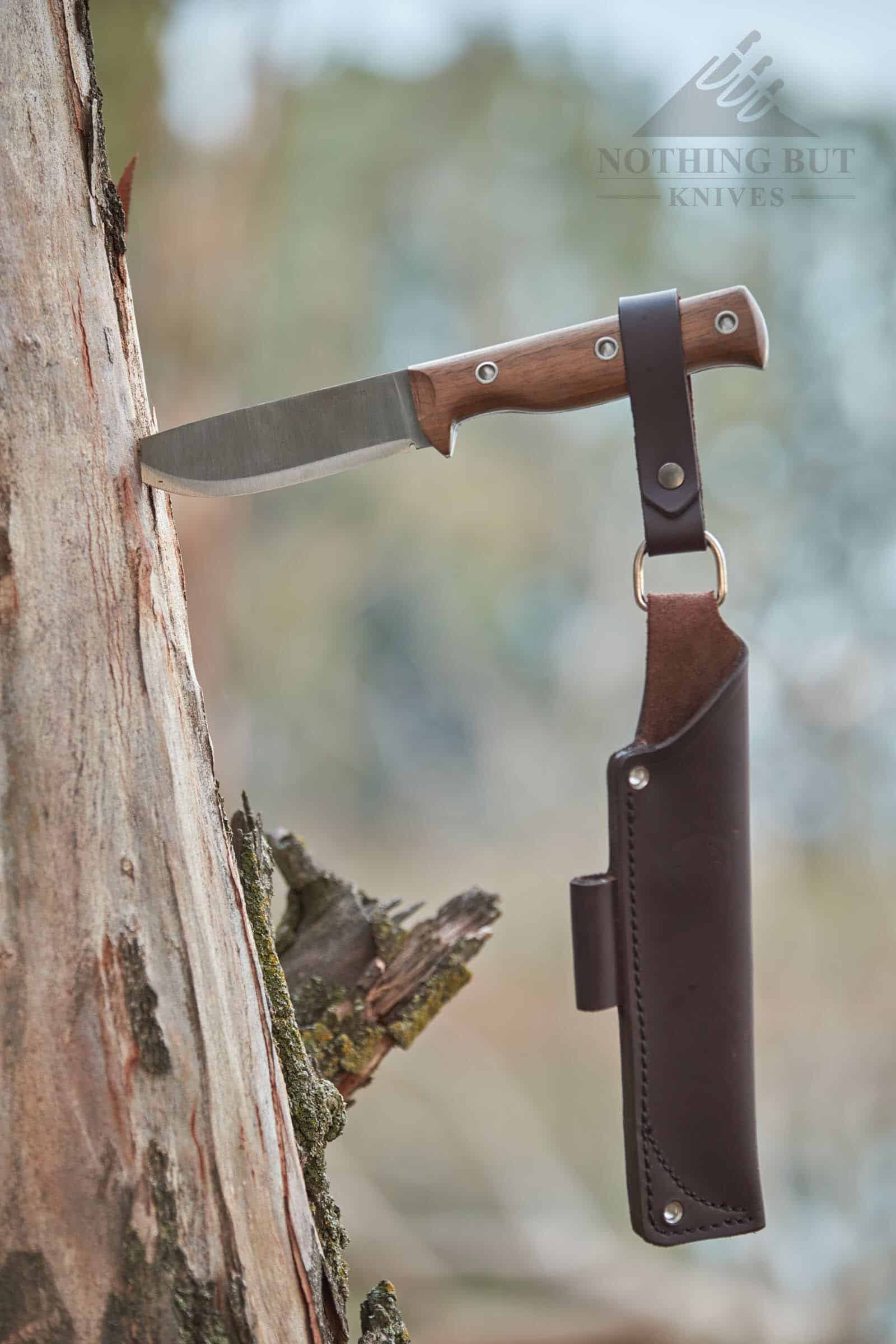 This is a dongle style sheath which is not my favorite, because the constant movement drives me crazy, but a lot of people really like this, and it is a nice feature if you get in and out of a vehicle a lot while wearing a knife, because it is easy to adjust or move when you sit down. However, I normally carry a knife on my backpack straps, and I like to be able to draw with one hand, so I removed the top dongle, and I have been pretty happy using the belt loop on the main section of the sheath.
Unfortunately this is a permanent adjustment, Ideally Condor would have made it possible to remove and reattach the top dongle as the users needs changes. I am sure that at some point I will be in a situation where wish I could reattach the top dongle and that will not be an option.
The Blade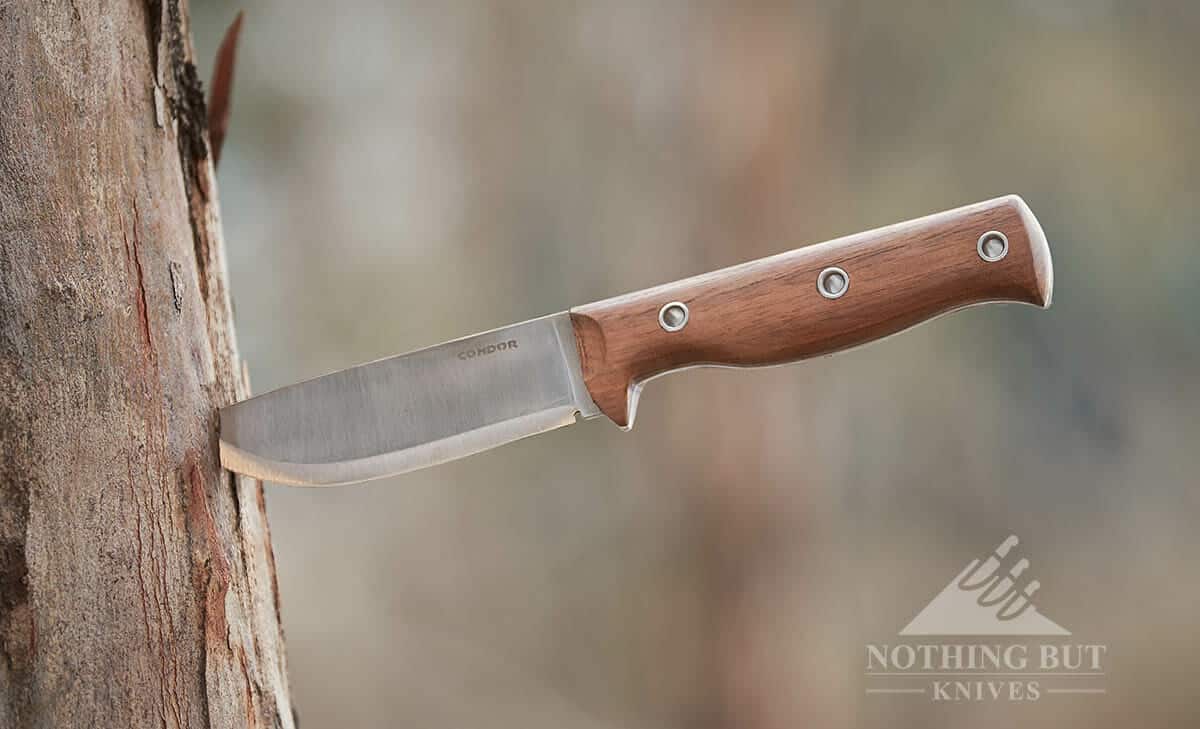 The 4.5″ blade of the Condor Swamp Romper is made of 1075 high carbon steel which is heat treated and annealed to about 50-55 Rockwell hardness. 50 to 55 is a pretty big generalization, and I am hoping Condor dials this in to a more specific number. Until they do I will just let you know my findings which are certainly subjective and open to criticism due to my occasionally inebriated state and always questionable judgment.
The Swamp Romper does not hold it edge quite as well as it's highly touted but unnamed competitor (The Morakniv Survival Black), but it is incredibly easy to sharpen in the field. The aggressive scandi grind is really easy to angle correctly on a sharpening stone even in dim light, and the 1075 high carbon steel certainly holds it's edge better than almost all stainless steel knives.
I don't feel really qualified to comment on the Swamp Romper's ability to stand up to oxidation, because I primarily use this knife in the Sierra Nevada Mountains of Northern California which is a fairly rust free environment due o it's low humidity and distance from the ocean.
I have used this knife in the rain and carried it in a sheath through a few storms and there has never been a hint of rust, but I do keep it oiled and dry it off whenever I set up camp. Since it comes from a company based in El Savador I am guessing that it does fairly well in humid environments, but the blade does contain a lot of carbon, so oxidation is certainly something that has to be dealt with in certain environments.
Conclusion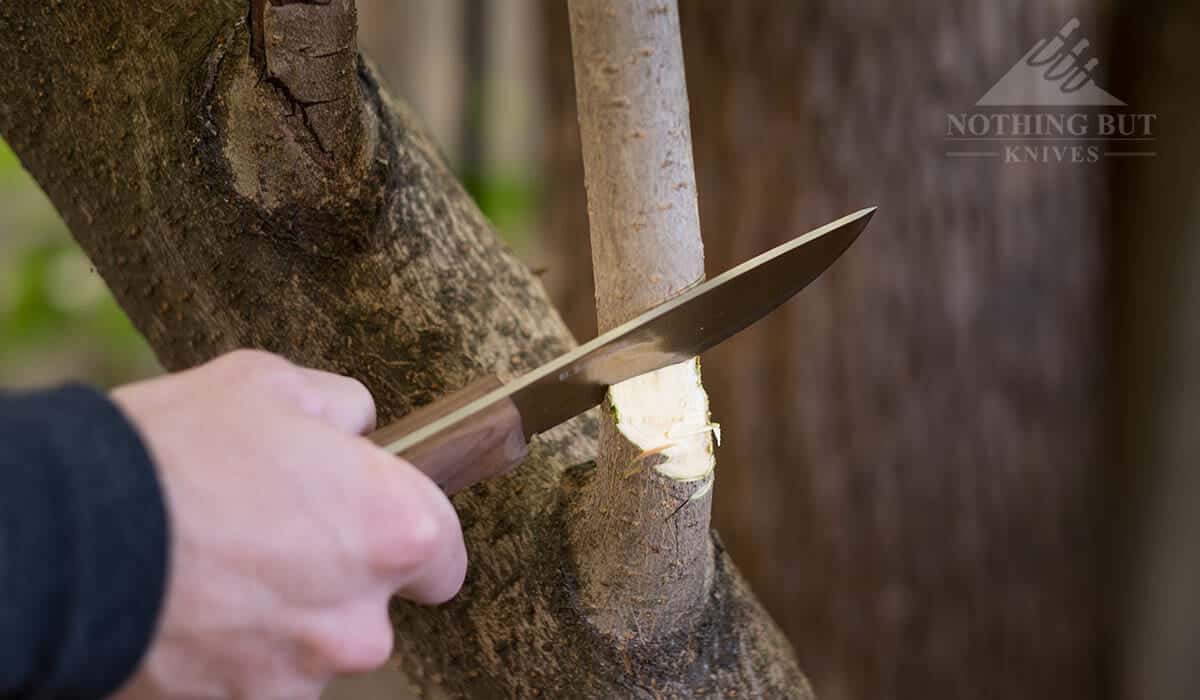 The Condor Swamp Romper is a very versatile knife. It is not as good for chopping as the Condor Stratos, but it is lighter and easier to carry. It is not as good at skinning small game as the Mora Bushcraft Black, but it is full tang and it's tall blade make it better for camp food prep. It's blade is not as long as the Esee Knives 6, but it is cheaper, lighter and easier to sharpen.
In short the Condor Swamp Romper may not be the best bushcraft knife at any one task, but it is really good at almost all the bushcraft tasks, and it ships with an awesome sheath at a great price. If you are looking for a well priced, bushcraft knife that gets the job done and will last for years if it is well cared for, checkout the Swamp Romper.