This May Be The Best Chef Knife Under $100 That Few People Know About
Tojiro does not seem to spend a lot of money on marketing or a lot of time and effort on the packaging of there knives. There is nothing flashy about this company which sets them a part from all of the average quality cutlery companies with lots of advertising and fancy packaging that seem to be popping up on a monthly basis. Tojiro just makes quality good performing knives at good prices, and they seem to mostly depend on word of mouth as there chief marketing tool. The DP Gyutou F808 Chef's Knife is a perfect example of this philosophy. The packaging is simple, the product description is short and vague, but the performance in on the level of a much more expensive chef knife.
The blade profile of the F808 is slightly curved, but it is not curved to the same degree as a full Western style chef knife like the Wusthof Classic. This means it will not be as good at rock chopping as most Western style chef knives, but it will be a better at push cutting. I think the F808 does a great job of marrying the Western and Japanese styles together in a way that allows the knife to be good at multiple tasks even if it doesn't totally excel at any one type of cutting task.
Knife Specifications
| | |
| --- | --- |
| Overall Length: | 13.2″ |
| Blade Length: | 8.2″ |
| Blade Steel: | VG-10 |
| Spine Thickness: | 1.9mm |
| Handle Material: | Reinforced Laminated Material |
| Blade Finish: | Polished |
| Weight: | 5.6oz |
| Manufacture Location: | Japan |
Pros
Full Tang
Hi Quality VG-10 Steel
Low Maintenance
Very Sharp
Excellent value
Great Edge Retention
Cons
Handle is not as high quality as the blade
Slightly heavier than high end Japanese Knives
Aesthetics not on par with quality
Great Option For Anyone Just Switching To Japanese Style Cutlery
This may be the best chef's knife under $100 on the market. It is a great entry level Japanese kitchen knife if you are thinking of making the transition to Japanese cutlery, because it is a little heavier than most other high end Japanese chef's knives, so switching from the heavier German or American knives is a little more seamless. While the DP Gyutou F808 is certainly a good looking knife, what really sets it apart is it's versatility and overall performance.
Handle Ergonomics and Durability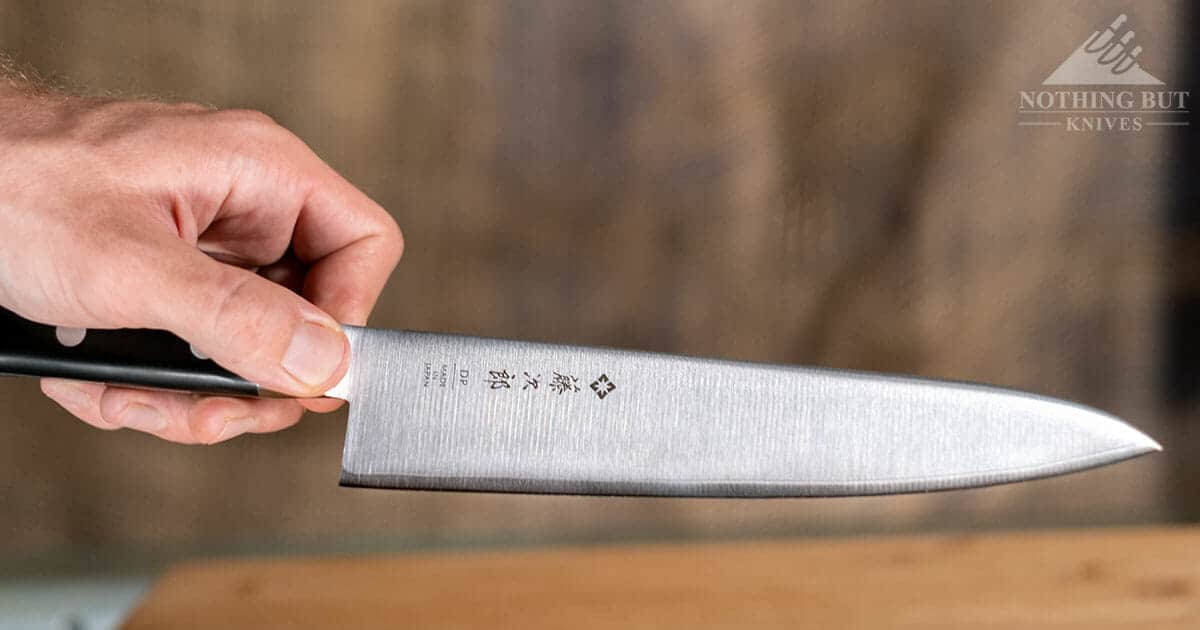 Upon first glance when taking this knife out of the box there is nothing about the handle that looks special, but as soon as you wrap your hand a round it and begin cutting, slicing or chopping it begins to feel very special. This is especially true if you are used to consumer level Chef knives that ship with low to mid level knife sets. Much of this chef's knife performance is due to it's incredible balance and excellent blade geometry, but the mix of a Western style handle with a Japanese style blade is a winning combo for those of us that are not used to the round style Japanese handles found on most Japanese chef knives.
The black handles are made from something Tojiro refers to as Reinforced Laminated Material. It feels similar to the POM (polyoxymethylene) handles found on many types Wusthof knives.   Is a bit of a disappointment from an aesthetic standpoint. It certainly doesn't look as nice as the Pakkawood handles found on similarly priced chef knives, but the utilitarian look is fitting for a knife that was designed to be an efficient work horse that will give it's owner years of use. Many of the online stores carrying this knife claim that the handles are micarta, but I don't think this is correct.
My one complaint about the DP series is that it lacks handle options. Considering the popularity of the line, it seems like Tojiro would offer handle material or at least color options the way Wusthof does with their Classic Ikon knives or Bradford does with their 8 in chef knife.
Blade Construction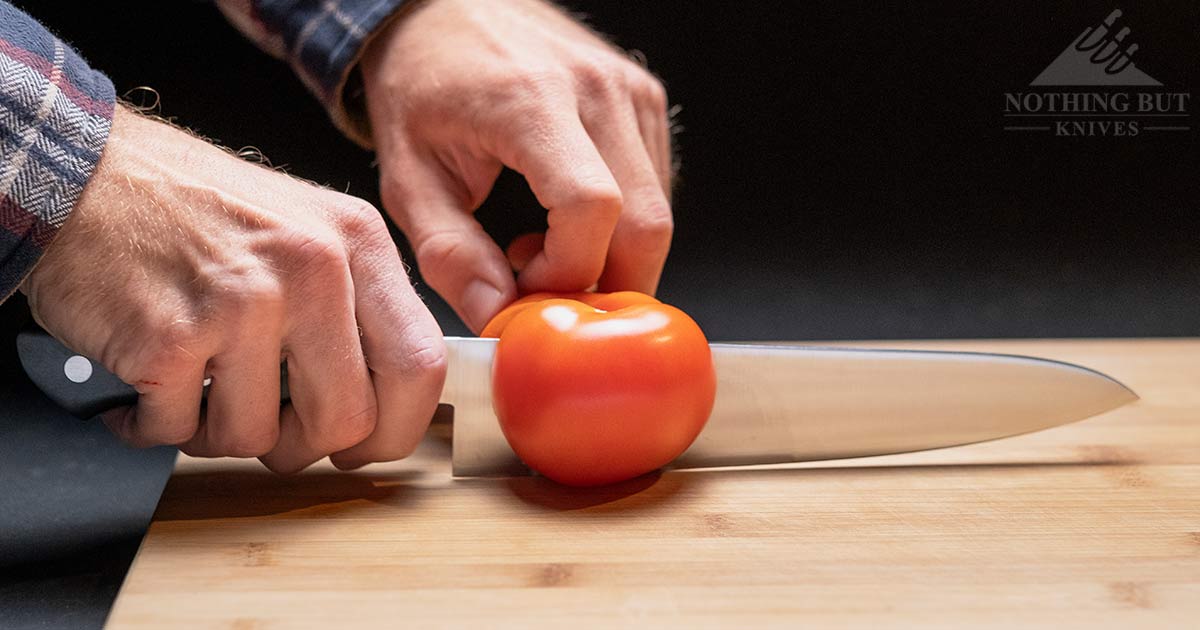 The DP Gyutou F808 ships really sharp, but it you have a ceramic rod sharpener you can get it even sharper than it ships from the factory. The high quality VG-10 steel blade of the DP Gyutou is is forged rather than stamped which sets it apart from many other chef's knife in this price range. With a Rockwell rating of 60 this knife is tough enough to withstand serious use. The blade is incredibly sharp and it holds it's edge really well.
Good edge retention is to be expected from a blade made of VG-10 steel, but the Tojiro DP Gyutou 808 seems to hold it's edge better than many of the other VG-10 steel knives I own. This is most likely do to a superior heat treatment.
Conclusion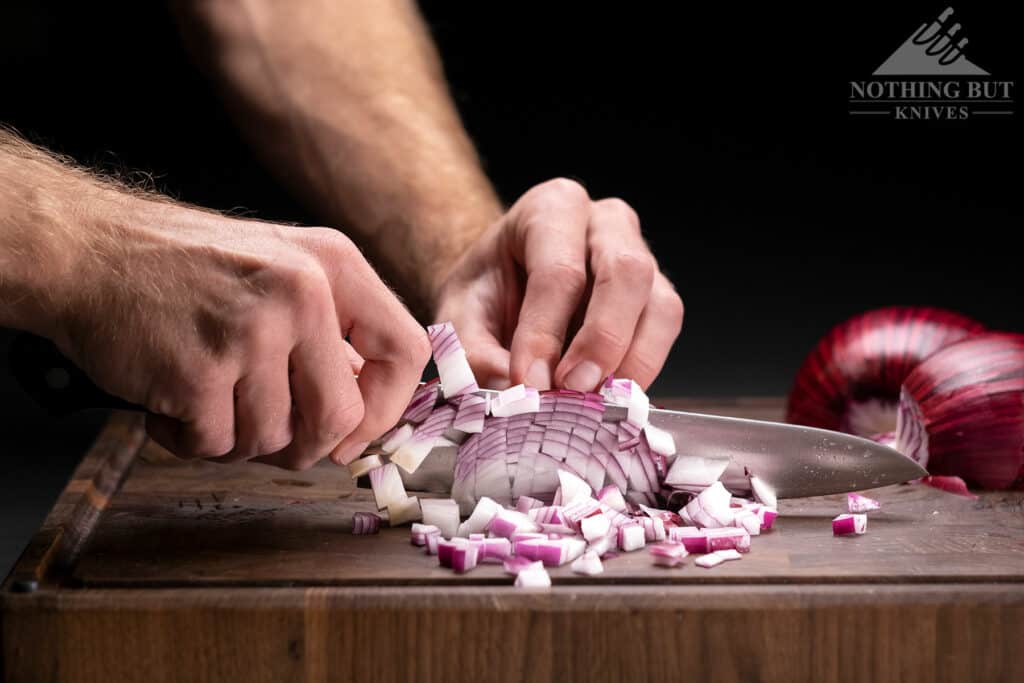 Tojiro is not a really well known brand, but it is well respected by professional chefs and serious home cooks. The DP 808 chef knife is probably the most popular knife Tojiro makes. While it is not the best chef knife Tojiro sells, it offers the most bang for the buck of any of their chef knives especially considering it is usually only around $100. I personally like the entire Tojiro DP knife series which is why I included the 8-Piece DP set in our article, "The Best Japanese Knife Sets".
Overall this may be the best value of all the chef's knives on the market. There are better chef's knives out there, but they usually cost 2 to 3 times as much money. In fact the only other kitchen knife on the market that may match the DP Gyutou for value is the Tojiro F-737 Bread Knife.
This review was for the 8.2 inch version, but if you need a longer blade there is also a 10.5 inch version available.