Knife Specifications
| | |
| --- | --- |
| Blade Length: | 9.3 inches |
| Overall Length: | 14.8 inches |
| Blade Steel: | Stainless Steel |
| Handle Material: | Wood |
| Blade Finish: | Polished |
| Weight: | 5.4 ounces |
| Manufacture Location:  | Japan |
Pros
Excellent Value
Full Tang
Very Sharp
Comfortable Handle
Versatile
Durable
Cons
Single Sided Serration
Slight Blade Bow With Heavier Breads.
This $22 Bread Knife May Be The Best Bargain In The Cutlery World

It seems strange to use the word "fun" when describing the experience of using a bread knife, but that really is the word that most accurately describes the experience of slicing through a loaf of bread with the amazing Tojiro bread slicer 235mm f-737. I had been curious about this knife for a while, because the Amazon reviews from people who have bought it were full of complimentary words that are not usually used in reference to something as mundane as a bread knife. However, I had a hard time finding much information on this knife outside of Amazon reviews, so I decided to order myself to see what all the buzz was about.
Warning – This Knife Will Make Want to Cut the Entire Loaf of Bread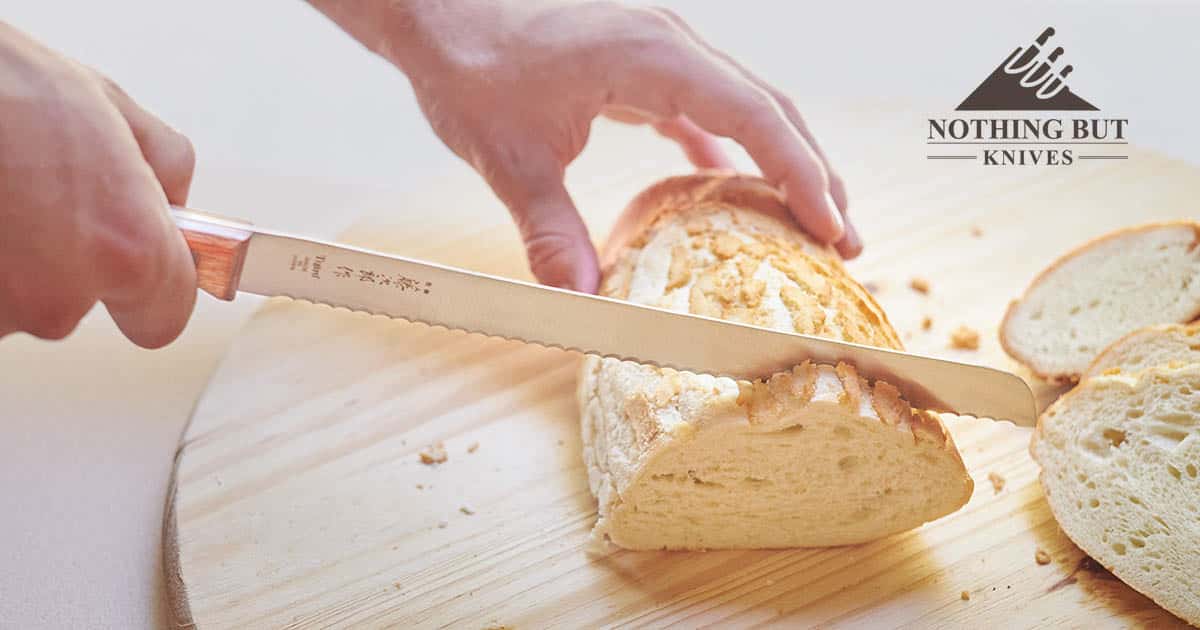 It was easy for me to justify slicing an entire loaf of bread when I first received this knife, because I wanted to write this review, but if I am being honest I would have cut the entire loaf anyway, because it was so fun and effortless to slice off perfectly straight segments of bread with little or no crumbling or breaking. I was able to cut unbelievably thin slices off a loaf of warm Dutch Crust French Bread, and began looking around for more bread to cut as soon as the first loaf was sliced.