A Bushcraft Folding Knife That is Tough Enough for the Wilderness.
At SHOT Show in 2020, when I got my first look at what would be the Gerber Doubledown, I was a bit giddy. This was, I thought, a 15 inch butterfly knife. Someone had finally seen the potential I've seen since I was 13—a giant butterfly knife.
Sadly, no. While the Doubledown looks like the knife 13-year-old-me would have built if he owned a knife company, it is not a giant butterfly knife. Instead, Gerber has built a wild folding machete.
And this beast of a folder is almost as fun. I'm as thrilled with the design now as I would have been at 13.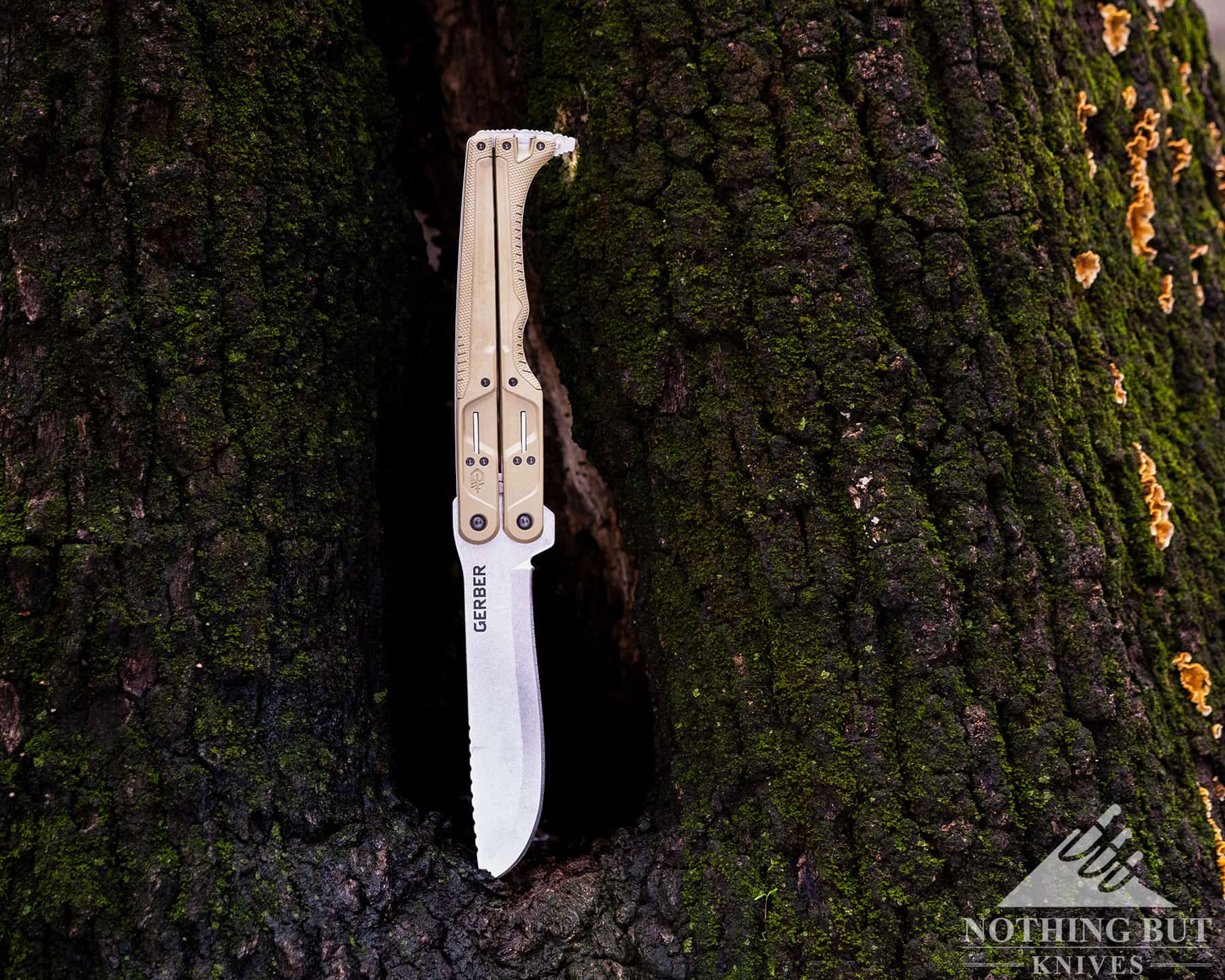 Specifications
420HC recurve blade
QuadLock locking system
Two handling positions
Baton jimping
Stability bar
Overstrike guard
MOLLE or belt-carry sheath
Limited lifetime warranty
Open Length 15.1 inches
Blade Length 6.75 inches
Weight 18 oz
Pros
It works like a big fixed blade
It works like a machete
It works like a hatchet
Cons
This isn't a flippy butterfly knife.
How does the Doubledown work?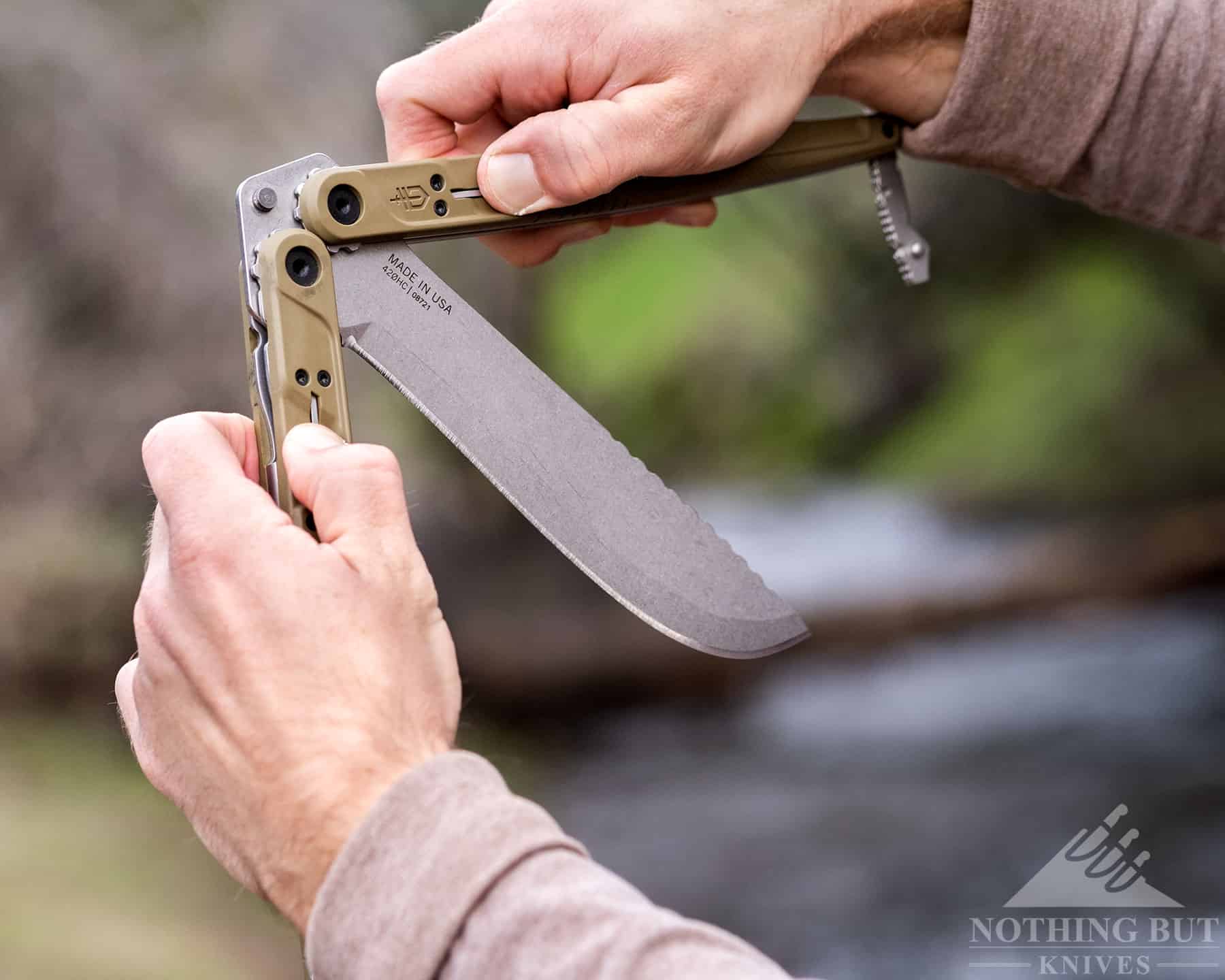 While most balisongs flop freely around dual handle pivots, the Doubledown's dual handles are on geared tracks. This provides a good stability to the opening, but also keeps both of the handles in sync as the knife is opened or closed. Gerber calls this the Butterfly Opening Mechanism, but keep your adolescent expectations in check.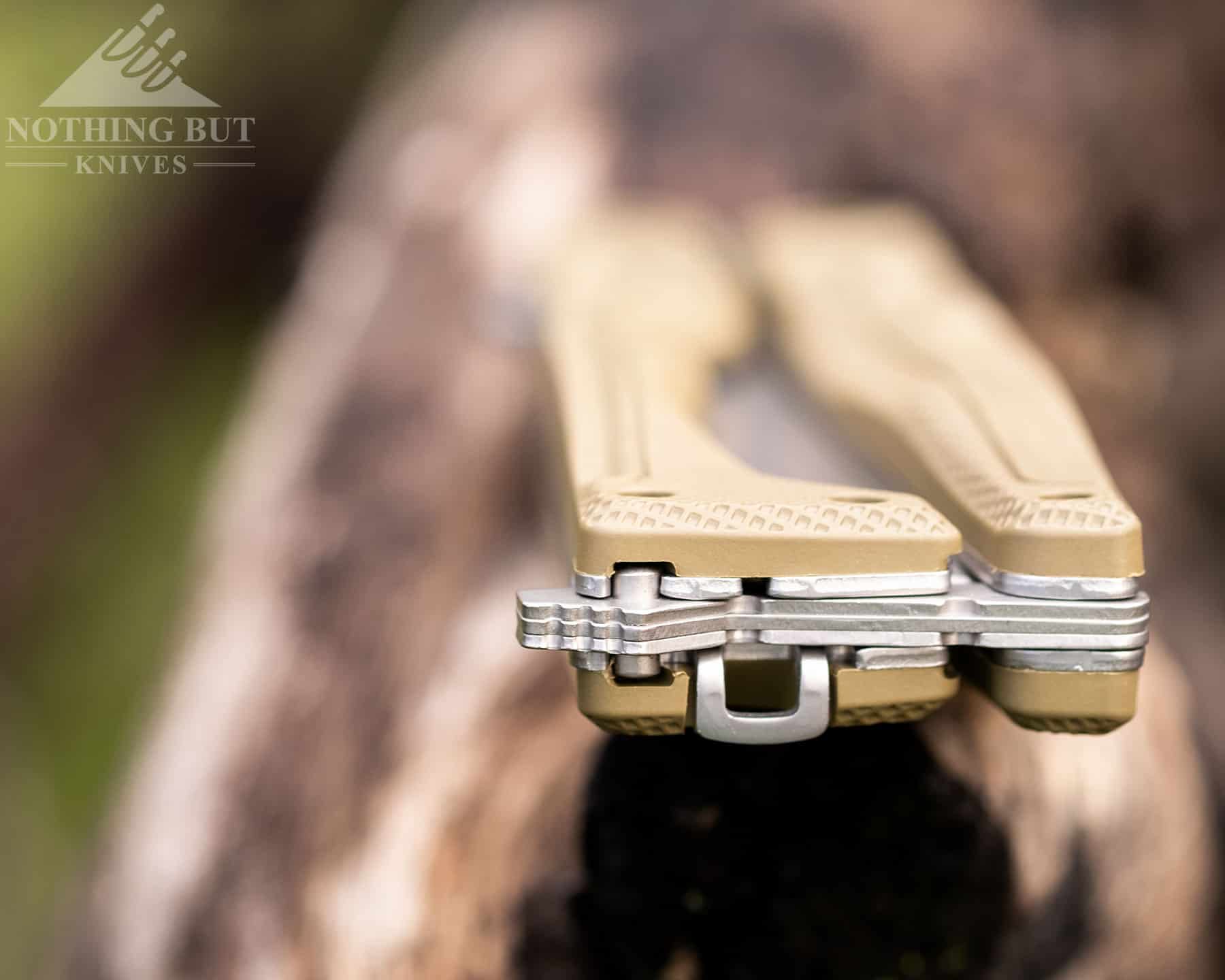 Locks on both handles have to be disengaged in order to open or close the blade. This ensures that both hands will be out of the way of the blade as the movements of opening or closing occur. Think of how a half-stop works on a traditional slip joint, and you'll have a reasonable reference for the purpose of these locks.
The Quadlock system is really effective—especially when closing. The handles move from the open position, but lock before reaching the fully closed position in a way that keeps any fingers left in the way of the blade safe. The extra step is a really well thought out safety mechanism.
So what is the Doubledown for?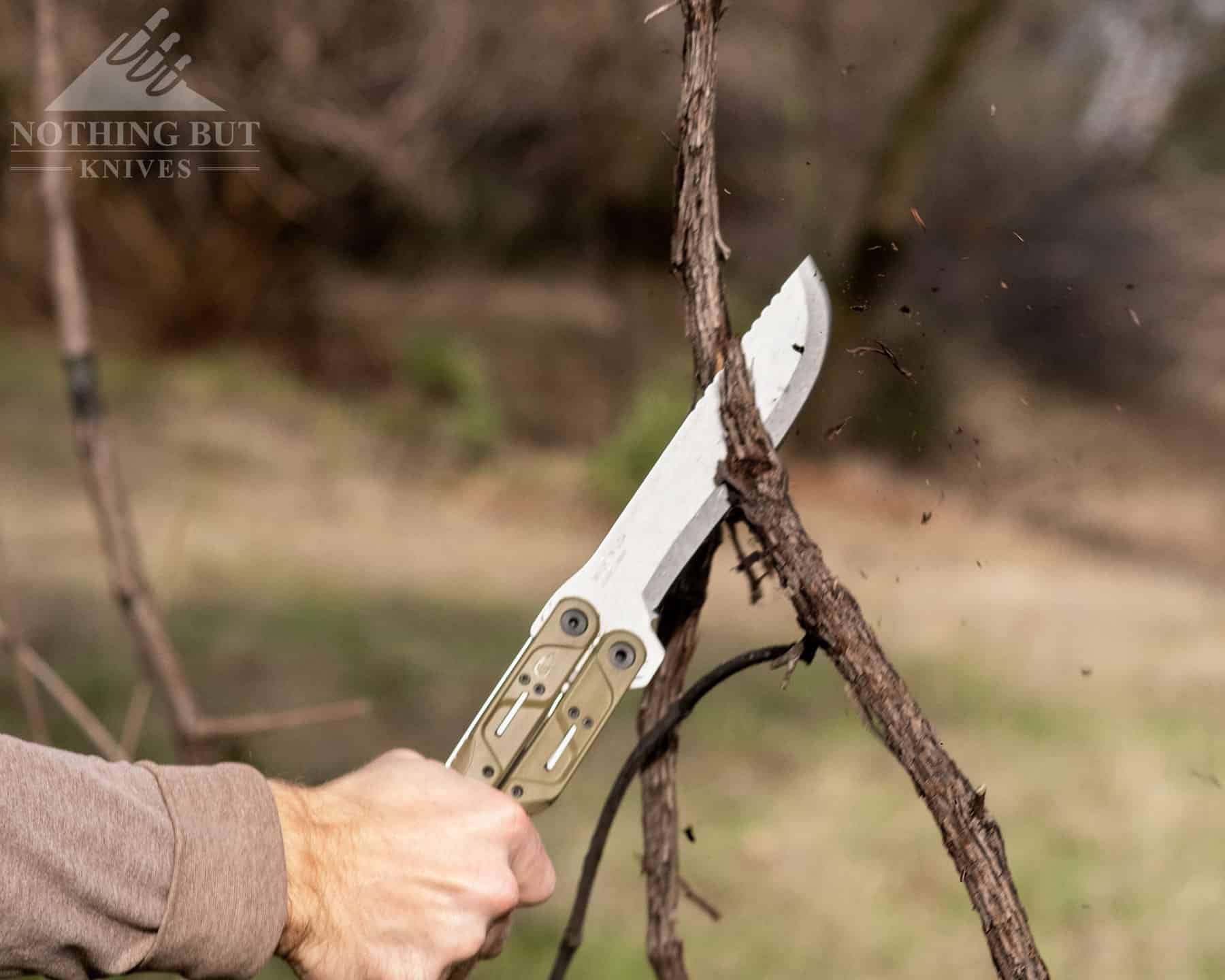 As soon as I stopped pouting about the gears and safety stops that kept me from amputating my own fingers on the SHOT Show floor, I began to see the Doubledown for what it is. Gerber calls this a machete—not because it has a thin flexible blade like most traditional South American designs, but because this is a cutting tool designed to do almost anything you might need while out in the woods.
Gerber says "The Doubledown is designed for 3 essential functions: chopping, splitting, and core knife work." This is a really bold claim for a folder—even one as robust as the Doubledown.
Core knife work is a catchall term for just about any regular cutting task you might call on the knife to do. The 420HC stainless blade is a standard for working knives, and easy to maintain. This won't likely be a blade that anyone keeps razor sharp—though it is certainly possible—but machetes are typically more about slashing than the delicate work done by some fixed blades and folders.
More aggressive cuts with the Doubledown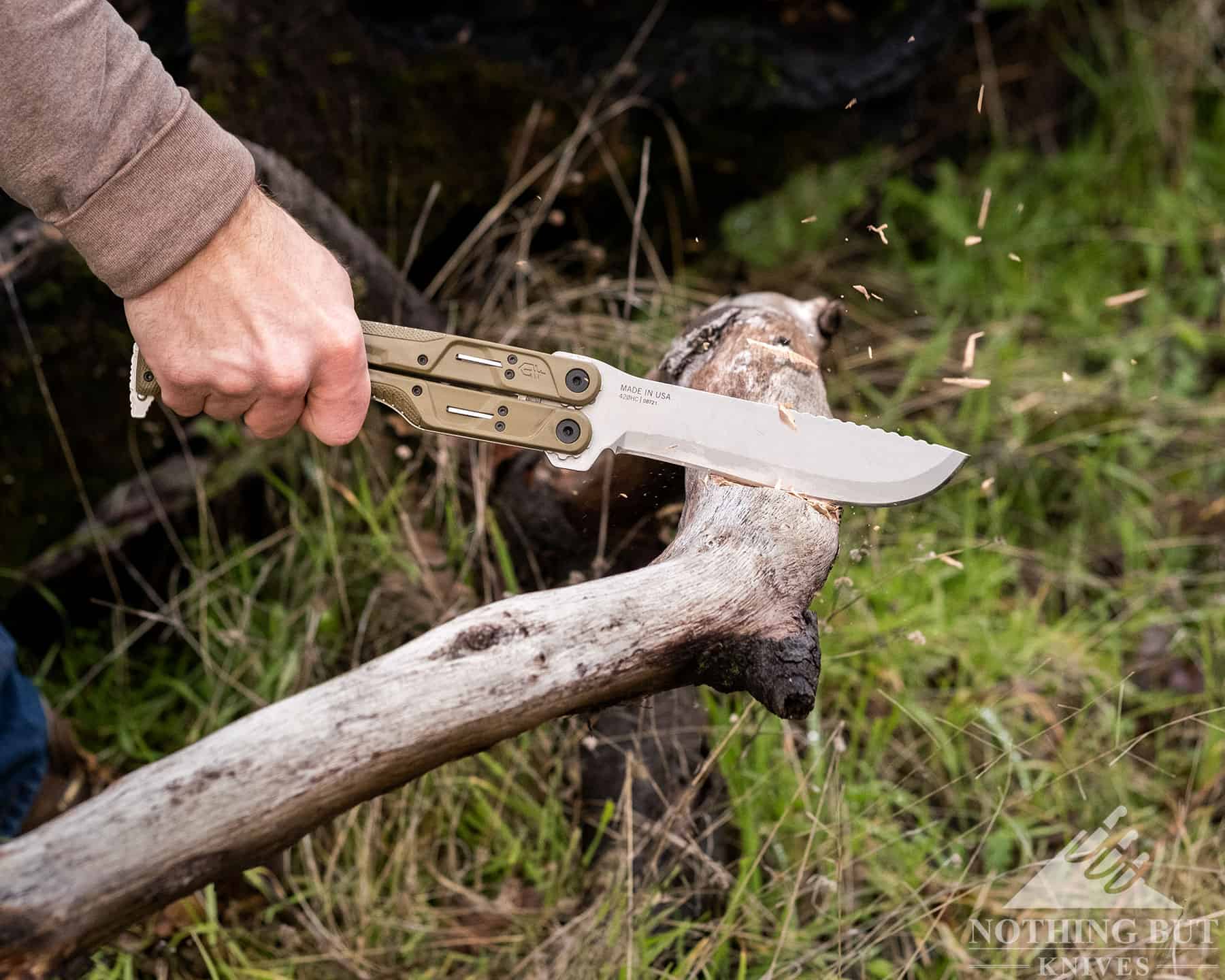 A wider grind angle on a 420HC blade is ideal for chopping and will hold up to abuse. Chopping is hell on a blade. It is the easiest way to chip out the cutting edge of a super hard cutting edge.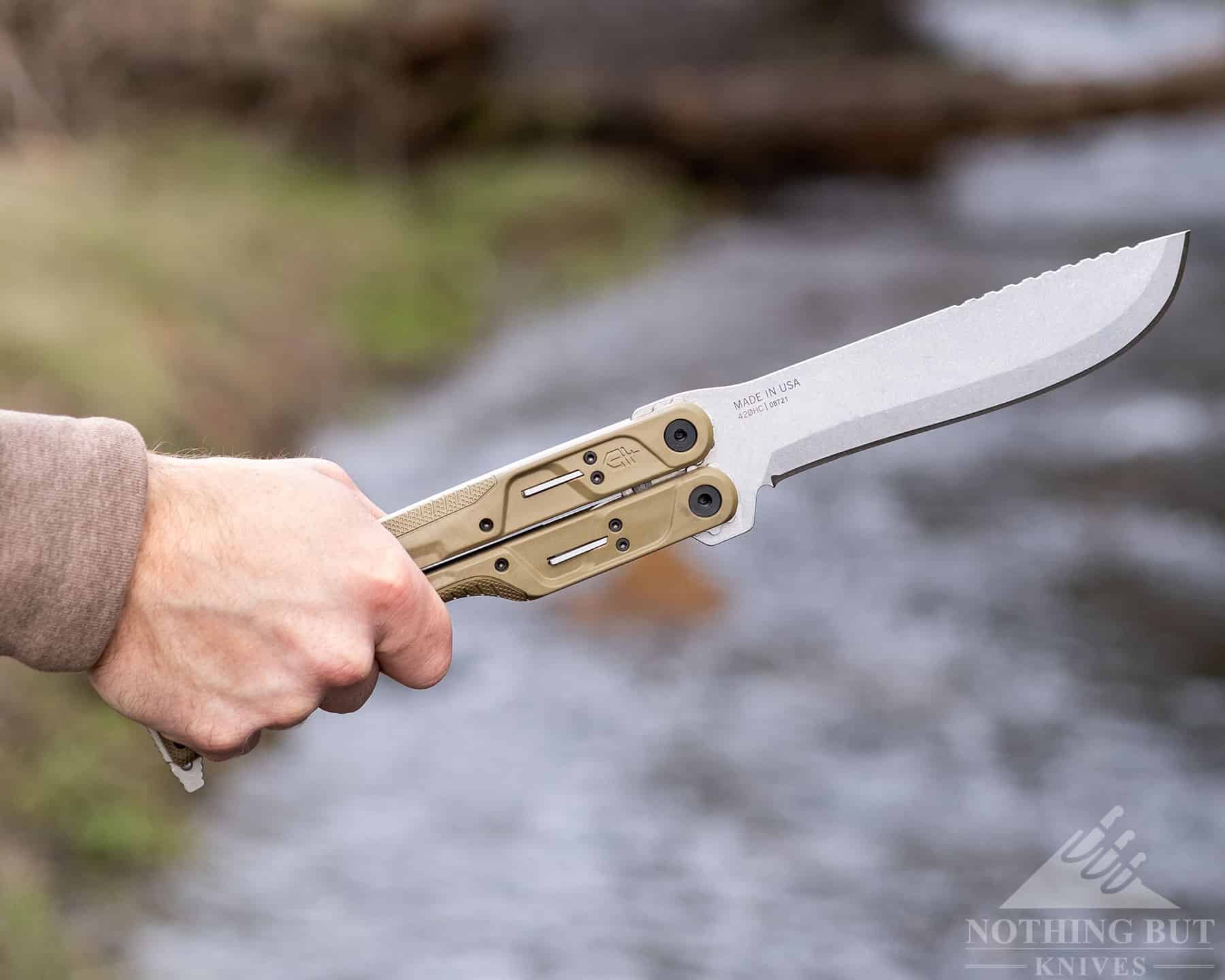 Part of what makes the Doubledown worthy of the machete designation, though, is the ability to grip the handle way back near the end. This extra leverage turns this 15 inch knife into a very powerful slashing blade. Very few fixed blades can make that transition, and most of the ones that can are far heavier than this dynamic design.
But splitting—even for a solid fixed blade—is high impact (literally). Splitting, for those of us who build fires, usually combines two tools, one as a wedge and one as a hammer, to get the force necessary to split wood. It isn't a job for a folder as the striking force may cause the lock to fail.
The Doubledown's handle, though, is held together differently—like the giant butterfly knife we mentioned earlier—and this means it can't fail the way a traditional folder can fail.
Batoning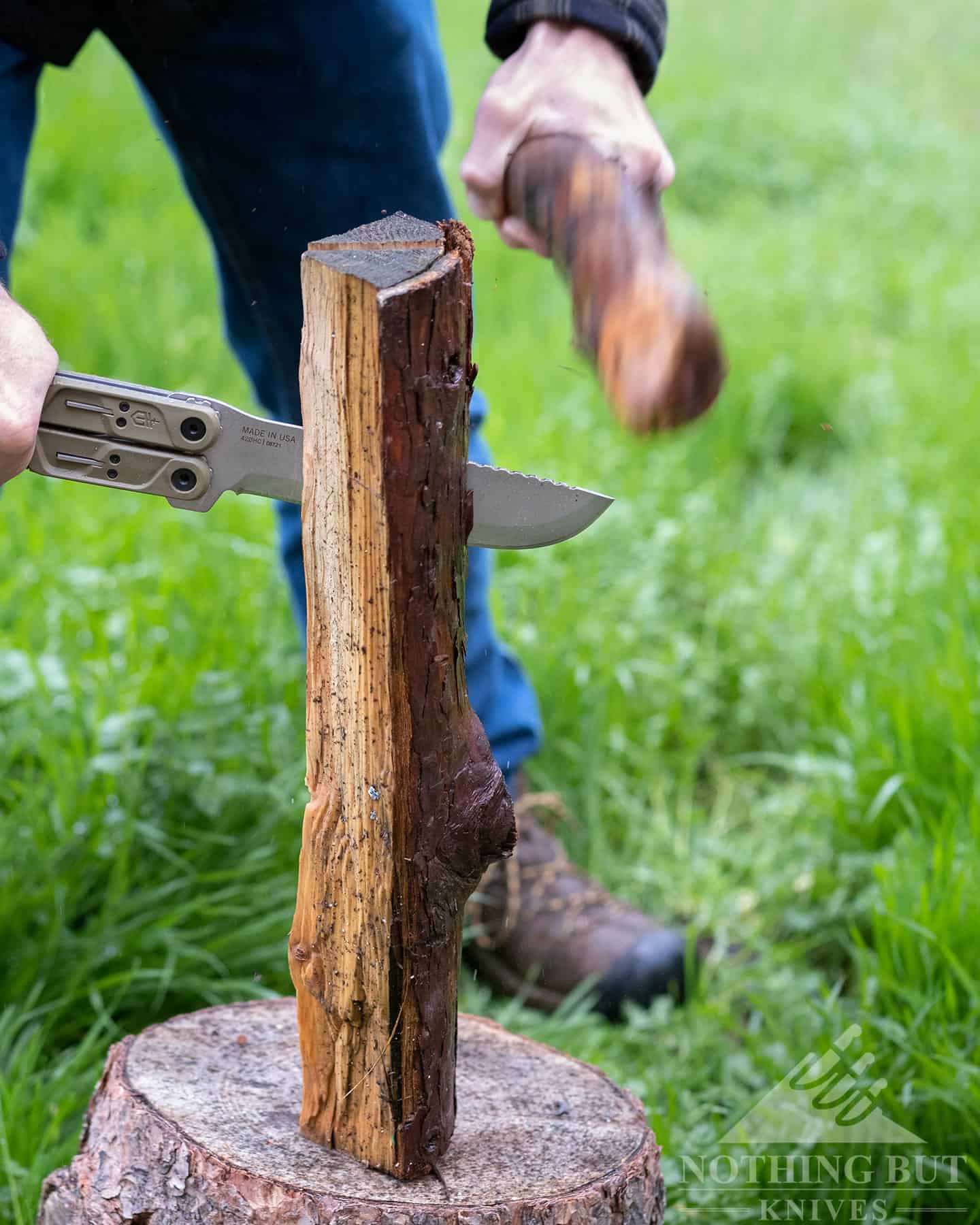 Most knife companies will straight up advise against batoning. Not Gerber. They even list this ability in the marketing materials and have added jimping way out near the point of the blade—they call it "Baton Jimping."
"For splitting tasks," Gerber's product team writes, "we added jimping to the spine of the blade so that when batoning, maximum energy is transferred straight into the wood."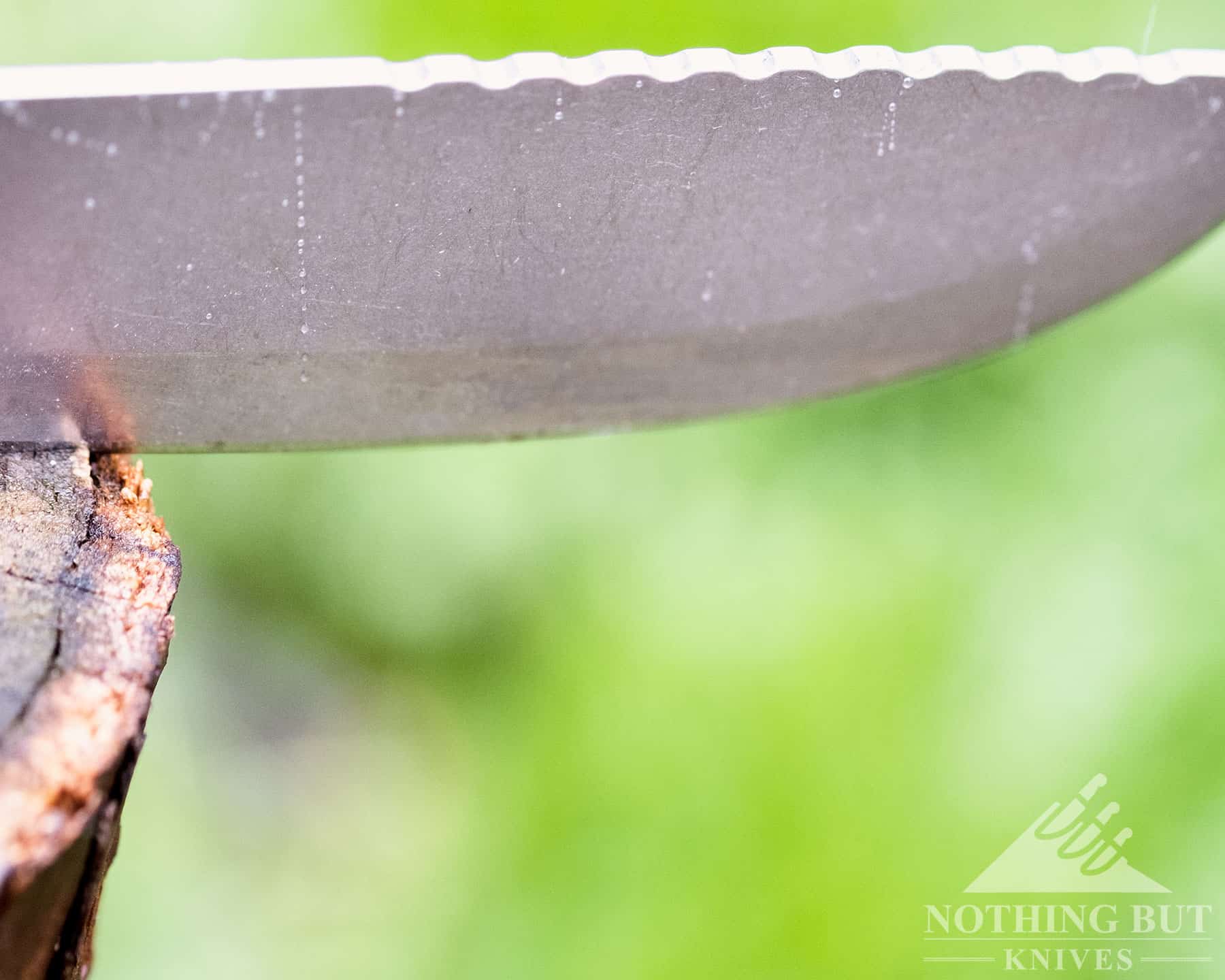 I've never encountered Baton Jimping before, but the concept needs to be unpacked. Jimping is all about stability. Jimping is the set of dull serrations, typically along the back of the spine, that you might rest your thumb on when making powerful cuts, or a finger for fine, delicate cuts. Jimping adds texture for your hand.
The Doubledown jimping, way out on the end of the blade, isn't for your fingers.
The best I can make of Baton Jimping is this; as you strike the spine of the Doubledown with another stick, the jimping prevents that stick from slipping forward or backward as it might on a smooth spine. The jimping, in effect, catches the stick applying the striking force so that energy is directed straight into the blade.
The real purpose behind the design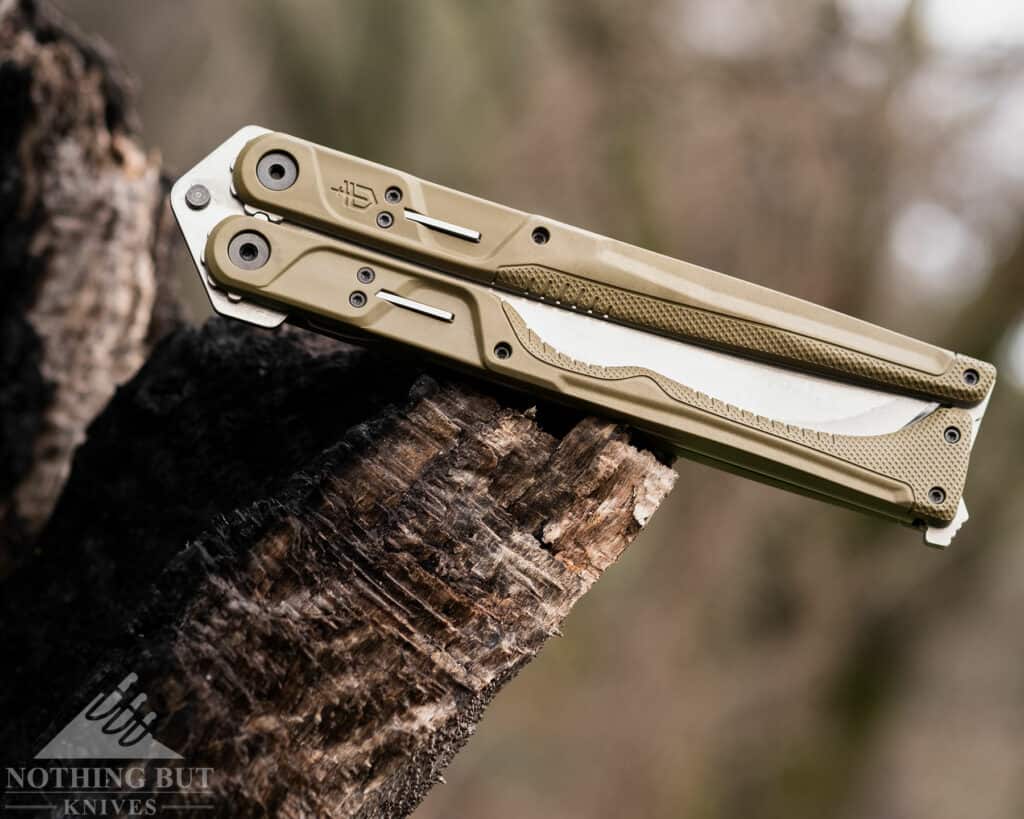 I've been musing about marketing, though, and the uses for the Doubledown when it is open. That may miss the point. Yes, this is a reasonably long knife that is built to do some cutting tasks that no other folder can do—tasks normally reserved for big folders or true machetes. But it is still a folder.
The Doubledown folds up so exceptionally well that it can go just about anywhere. The Quadlock keeps it closed, too, making this a safe design for carrying in or on a pack. This is a modern bushcrafter's dream.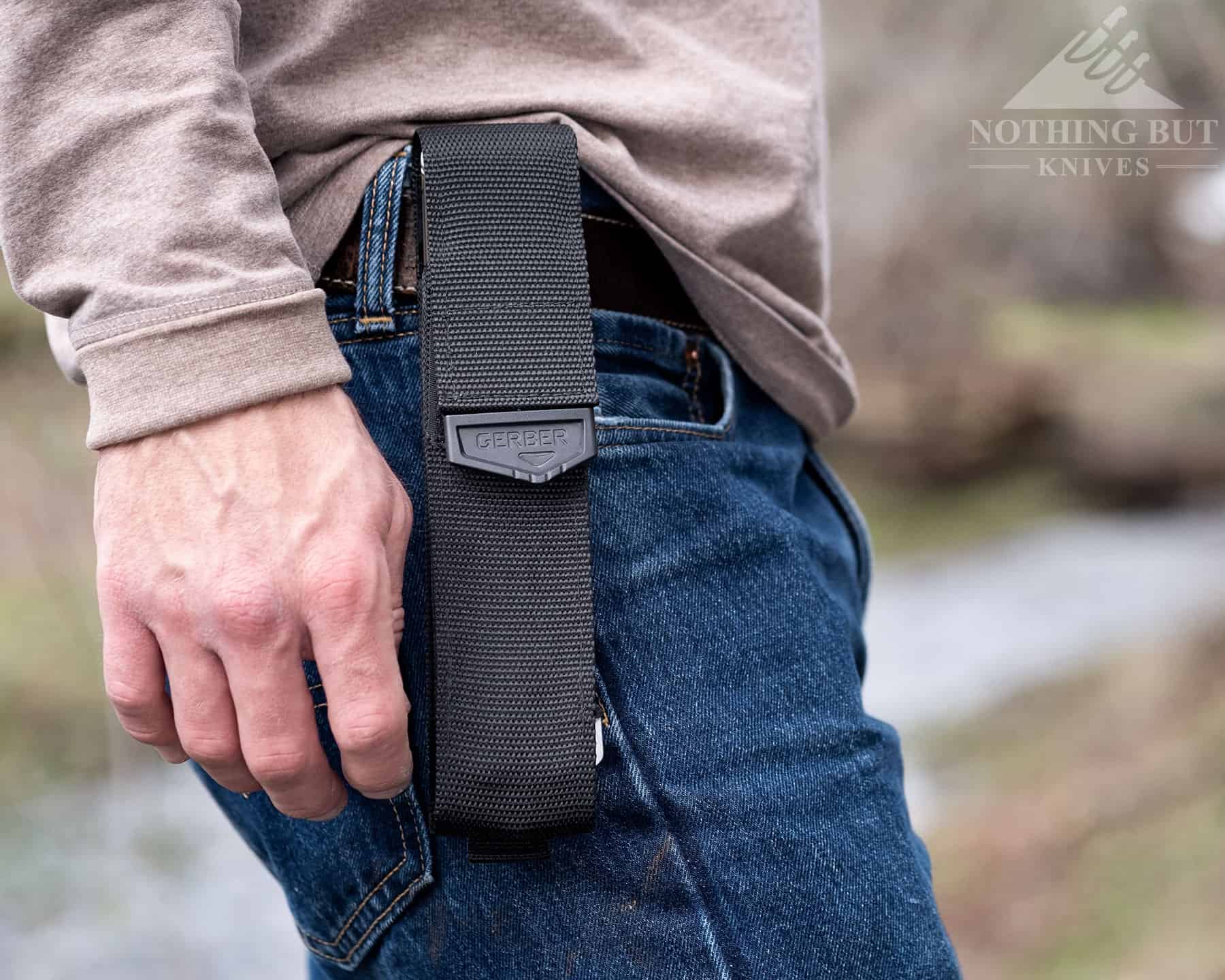 When I hike, which I do frequently, I typically carry both a fixed blade and a folder. I am hardly a dedicated ultralight hiker, but I run lean, and my fixed blade is small. I've been trying out several hatchets, recently, that come in around that one pound mark, but this design could easily be the fix I hadn't considered.
As is, it is a fantastic tool for hunters. This is an ideal blade for processing whitetail or other medium sized game, and could be that survival tool that makes a difference if you get lost following a blood trail.
In short, this design allows you to move from a decently sized fixed blade to a much larger machete to anything you might ask of a hatchet (except pounding in tent pegs), and the design is legitimately fun.
The price on the Doubledown depends on the blade finish. The prices start at $160 for the stonewashed blades. Add about $10 for a black finish on the steel.