Joe Flowers Brings the Dagger to the Bush
The Wreckhart is an oddly satisfying amalgamation of knife design philosophy. I'm not sure it's the most effective amalgamation, but it's fun, and ultimately useful.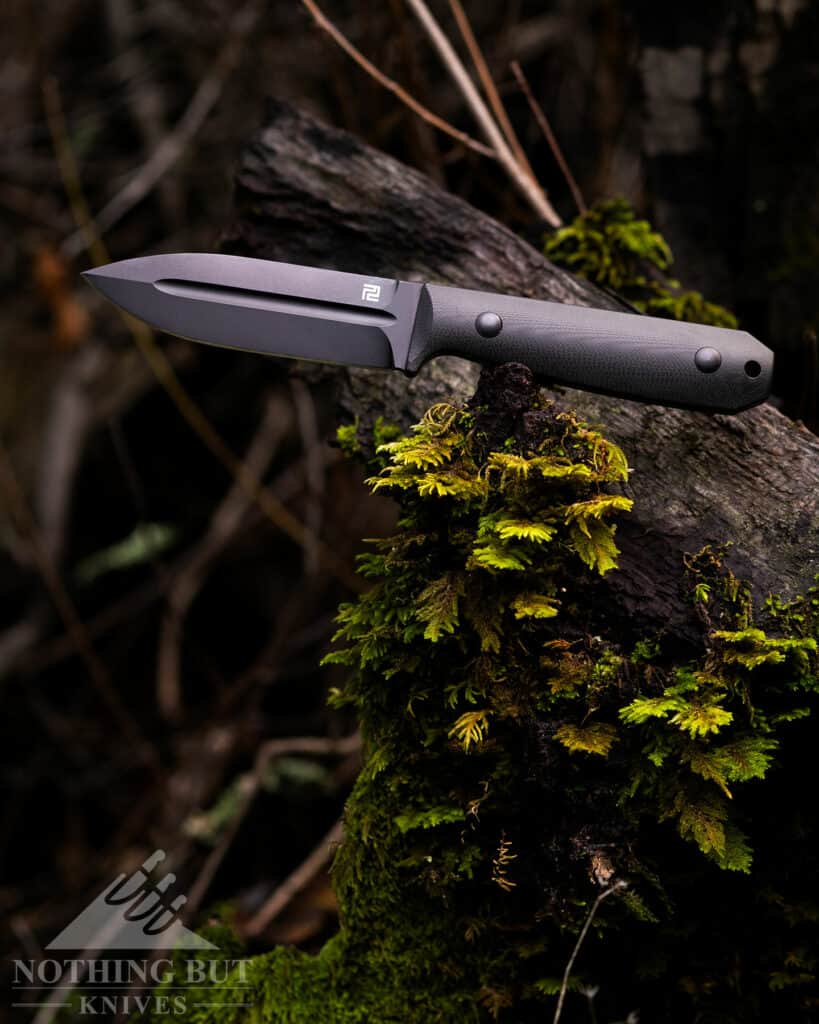 This knife is meant to be the result of a hypothetical meeting between Horace Kephart (the professional camper who wrote Camping and Woodcraft and made the Kephart knife) and Rex Applegate (the man who wrote Kill or Get Killed and was responsible for the Applegate side of the Applegate-Fairbairn dagger). And then there's Joe Flowers, the mad-hat jungle guide and knife designer who decided to make their knives become friends.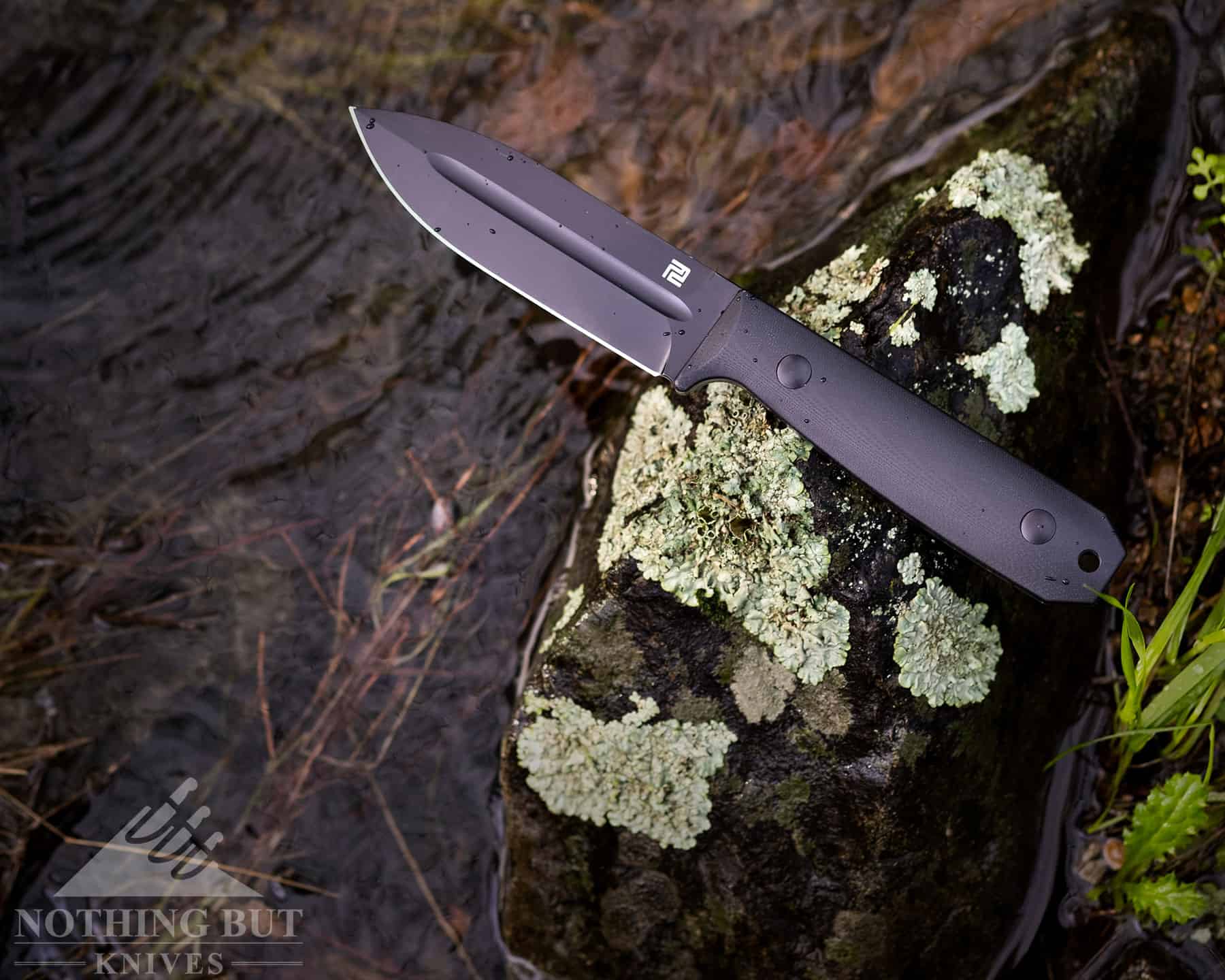 With those two names smashed beautifully together into the word "Wreckhart", it's fair to think it's meant to be a survival / fighting knife, and it definitely possesses elements of both. But in practice it feels more like a knife enthusiast's indulgent fixed-blade EDC option. It's a cool general purpose tool with enormous potential thanks to the neutral handle and thick powder steel blade, and only held back a bit by some quirks with the sheath.
Specifications
| | |
| --- | --- |
| Overall Length: | 9.26" |
| Blade Length: | 4.41" |
| Blade Steel: | AR-RPM9 |
| Hardness: | 59 – 61 HRC |
| Blade Thickness: | 3.2 mm (0.12" |
| Blade Shape: | Dagger |
| Blade Grind: | Flat |
| Handle Length: | 4.85" |
| Handle Material: | G10 |
| Build: | Full tang |
| Weight: | 8.5 oz |
| Designer: | Joe Flowers |
| Made in: | China |
Pros
Versatile blade design
Tough, corrosion resistant powder steel
Sheath allows for multiple carry styles
Cons
Sheath retention is too tight
Not quite a purpose-built design
Horace Kephart and Rex Applegate Walk into a Bar; Joe Flowers Starts Whittling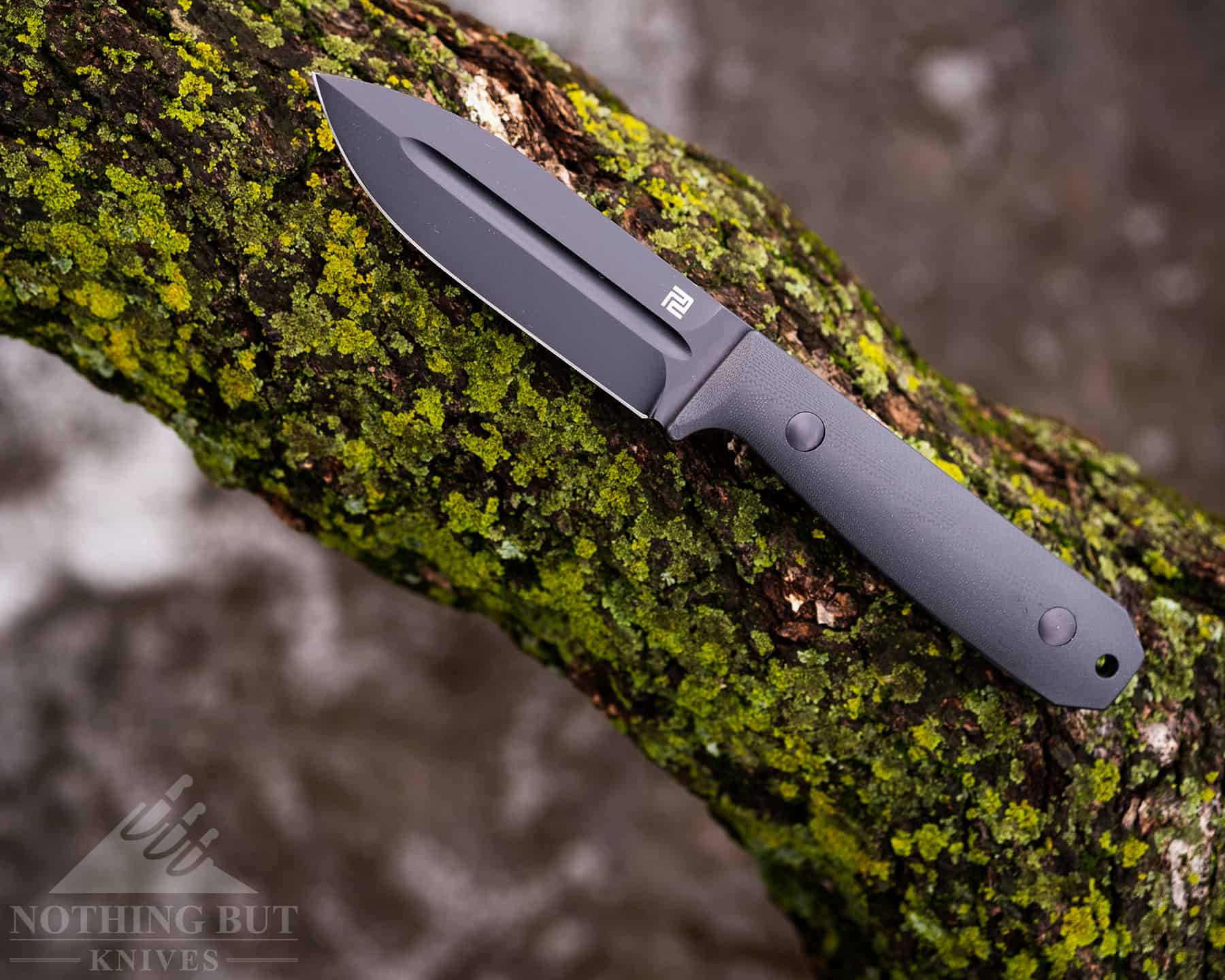 The intent of the designs are very different, but when I look at pictures of the Kephart and the Applegate-Fairbairn side by side, I get why someone would want to play around with fusing them together. They're both spear point blades, the contouring of the handles is minimal to the point that they look deceptively like rounded rectangles, and they were both designed by people who were completely dedicated to the tasks the knives were made for.
The Wreckhart seems a lot more Kephart than Applegate, but I love the story of it anyway. It's the kind of creative evolution that keeps this industry lively. He also added a nice touch of a coffin-handle shape to the butt, which is a little call out to old Bowie designs. So there's a lot of history getting modernized in this design. But it is still, at heart, a wood carving knife, which is a very Joe-Flowers thing to make.
A Handle for Choking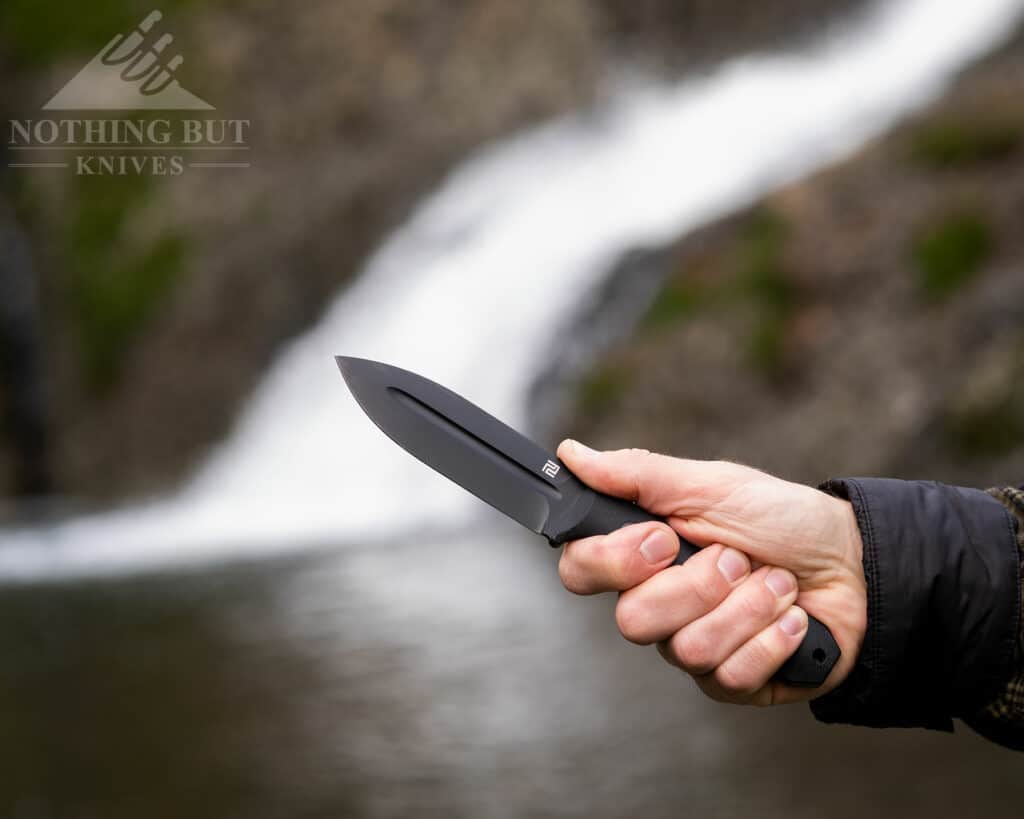 The main thing that stands out from either of this knife's parent designs is the deepened finger choil that puts the index finger deeper in line with the edge of the blade, and the bit of scalloping work at the top of the handle. All of that makes the Wreckhart really comfortable to choke up the blade and do a bit of fine carving work.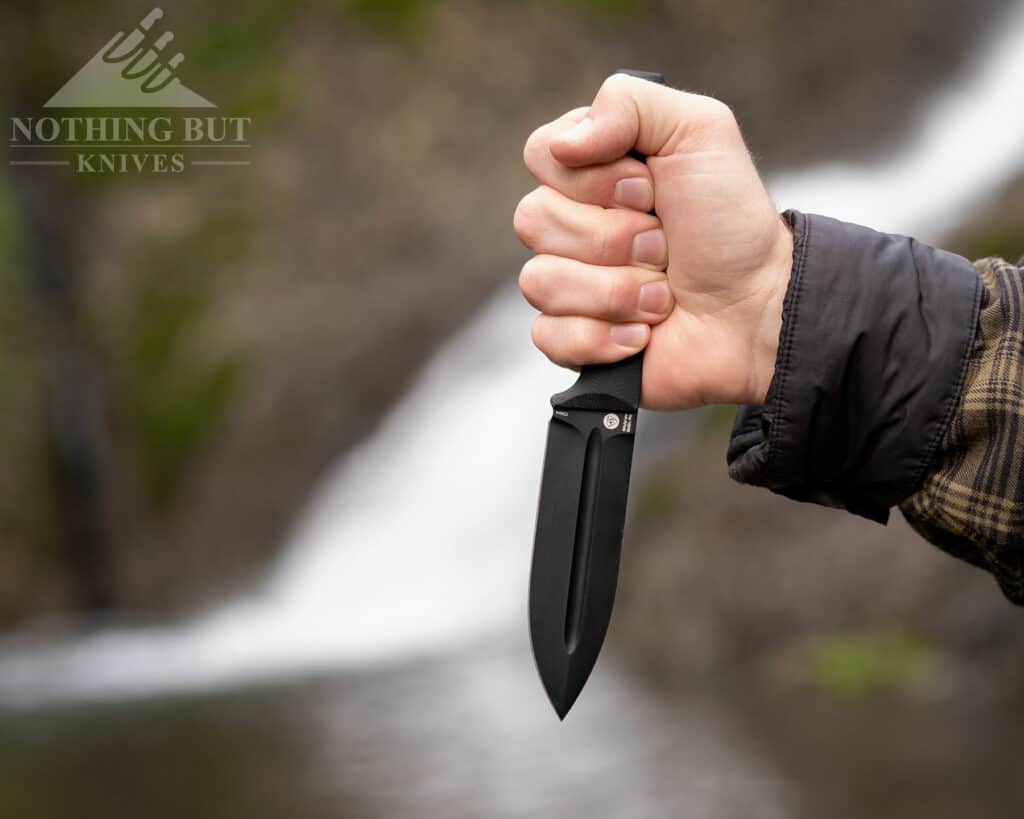 The blade itself leans into that as well, obviously, but I am always pleasantly surprised at just how much control I can get with this knife. I only wish the scales were either textured more aggressively or were made of something with a little more natural grip to it, because I do often find my hand slipping when I'm shifting grips or trying to draw the knife.
The overall shape is great, though. It's neutral enough for a lot of different grips, but it's shaped just enough to lock the hand in when you want to sit and do some detail work in the woods.
The Sheath is Clever but Clingy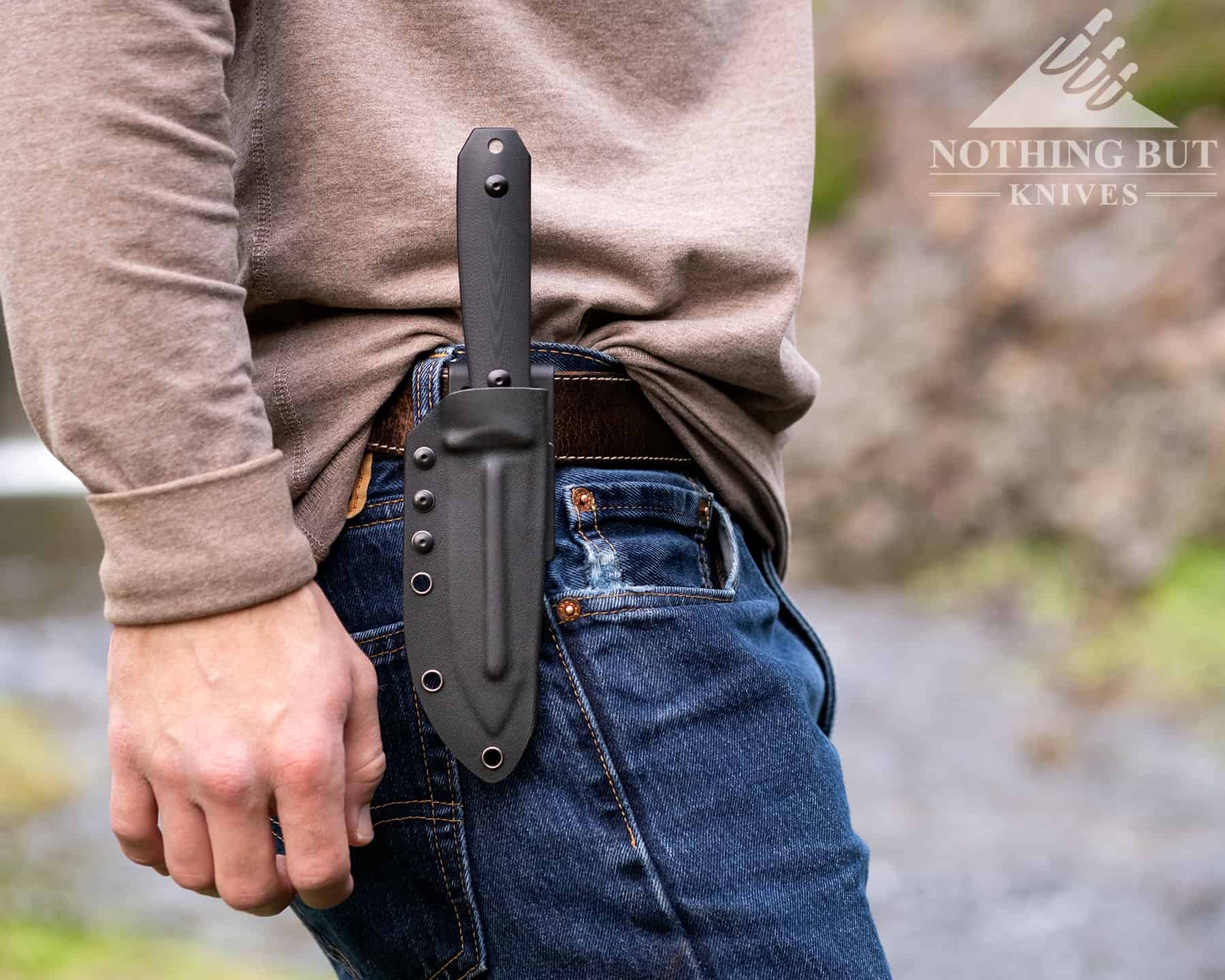 There are a couple of neat details about the sheath design, but I have issues with the execution.
The sheath gives the Wreckhart some Excalibur qualities, because you really have to prove yourself to get the knife out. The first day of packing this thing around I tugged on it six different ways before I got it out.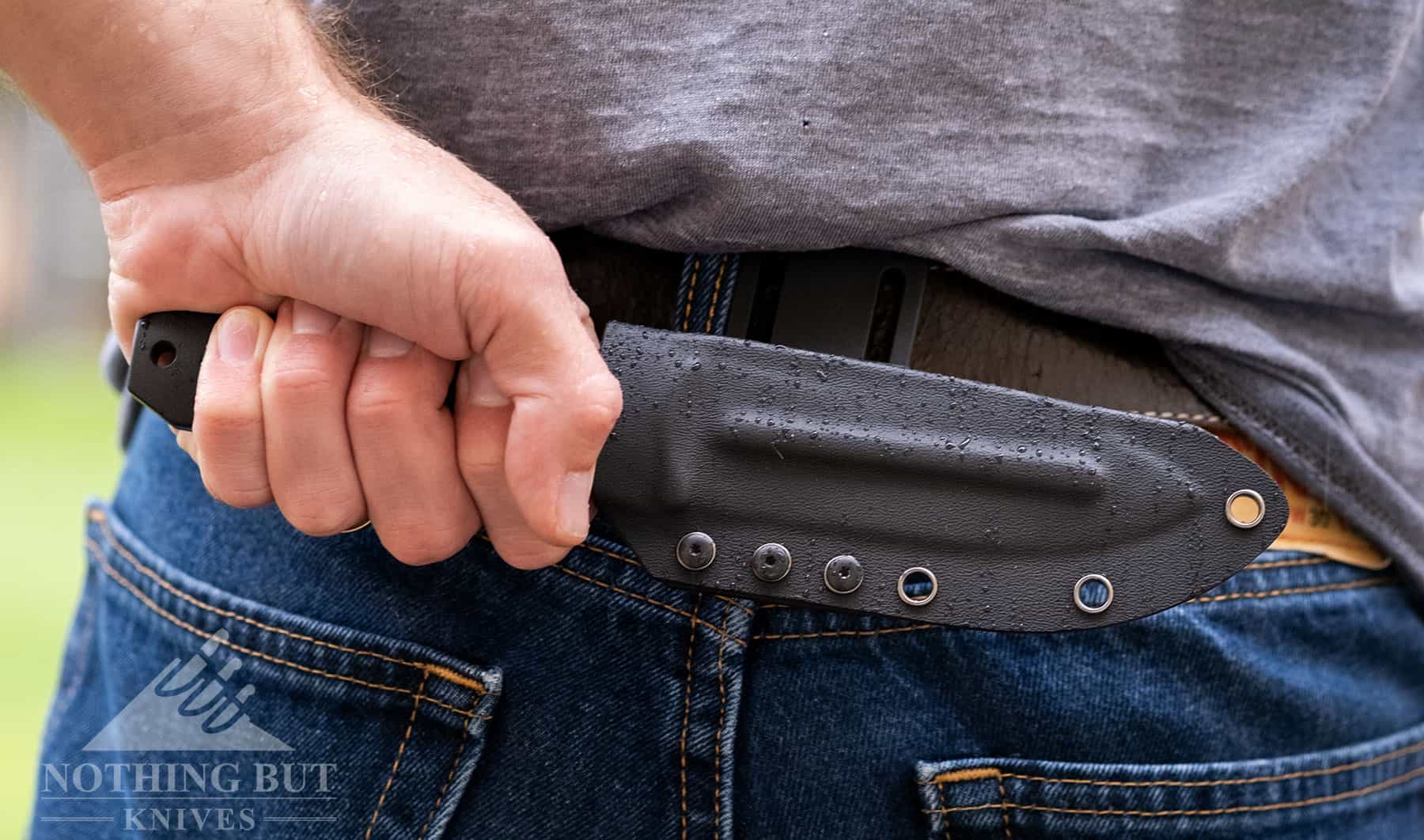 There's just nothing about the sheath that helps you draw the knife. They've left a generous lip for the thumb to push off of, but it doesn't feel like the angle helps much and the scales don't give you a lot of traction. Even if they did, though, I don't think it would be enough to draw the knife smoothly because they shaped the mouth of the sheath too aggressively around the guard.
Further Trouble with an Almost Perfect Belt Carry System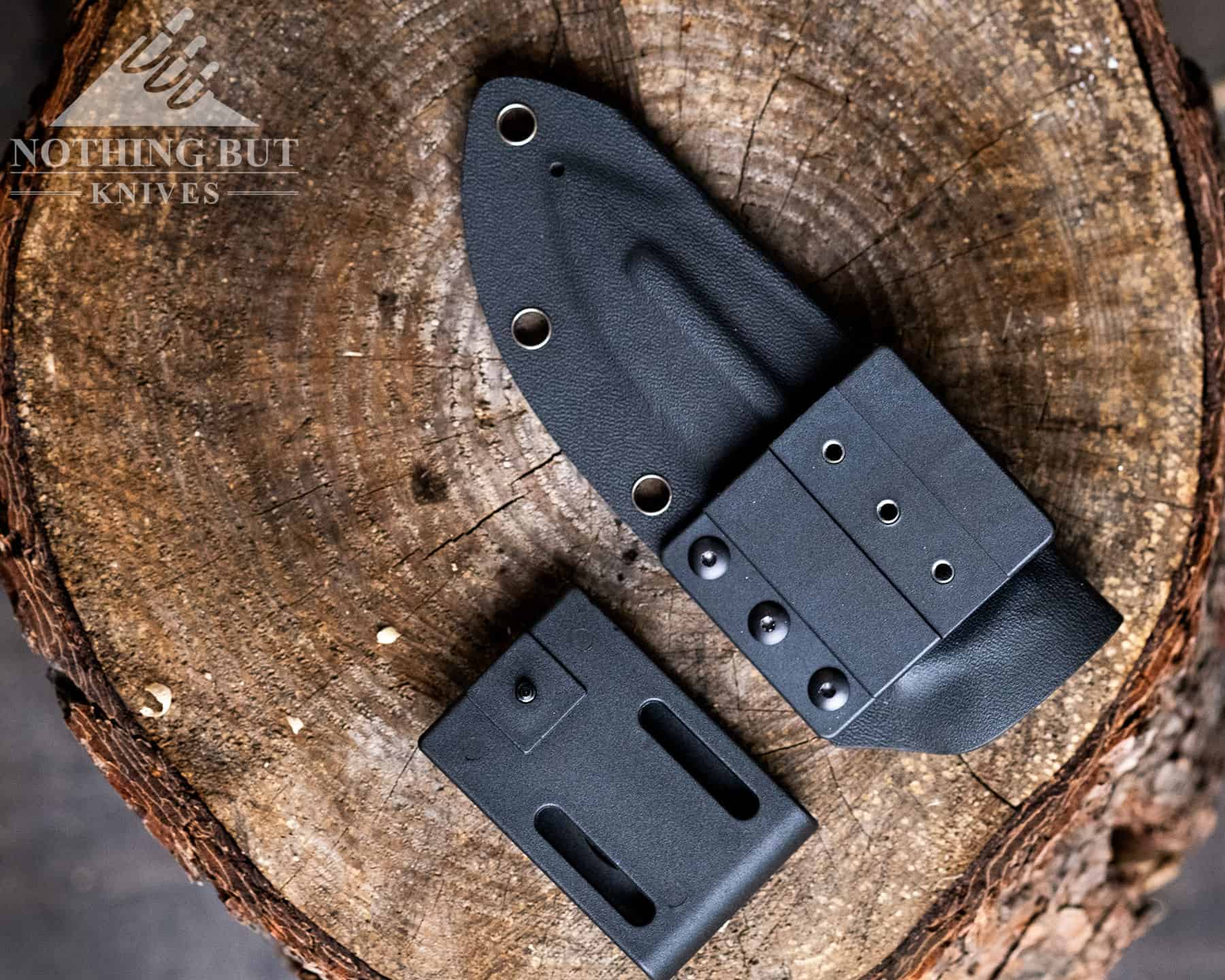 The difficulty in drawing feeds into an issue with the sheath attachment, which would otherwise be a really cool design.
There are two plastic pieces that make up the carry solution. One is the belt loop, the other is the back which the loop piece fits into with a single screw. The really cool thing is that the back has three different holes for the loop to screw into, and it fits in with a simple square protrusion so the loop can be placed vertically or horizontally. So there are effectively six different configurations you can put this knife in before you even strap it to your belt, and it's really easy to switch around. All you need is a T8 torx driver.
The problem is that the square protrusion that seats into the back piece is made of fairly soft plastic. Either that or I'm a stupid monkey man who isn't grown up enough for a sheath with three different parts. Either way, all my tagging at the knife trying to draw the thing and all my fiddling around with the belt loop piece to test different configurations eventually dented that little plastic square so now the knife has a tendency to rotate on the screw when I fit it for horizontal carry and try to draw.
It doesn't look like Artisan cutlery sells replacement parts for this sheath, so this is becoming an increasingly awkward problem for me, and makes the Wreckhart an excellent candidate for some aftermarket sheath makers. In the meantime, I've been carrying this thing vertically and slowly trying to loosen up the retention by bending the Kydex every now and then.
The Wood Carving Blade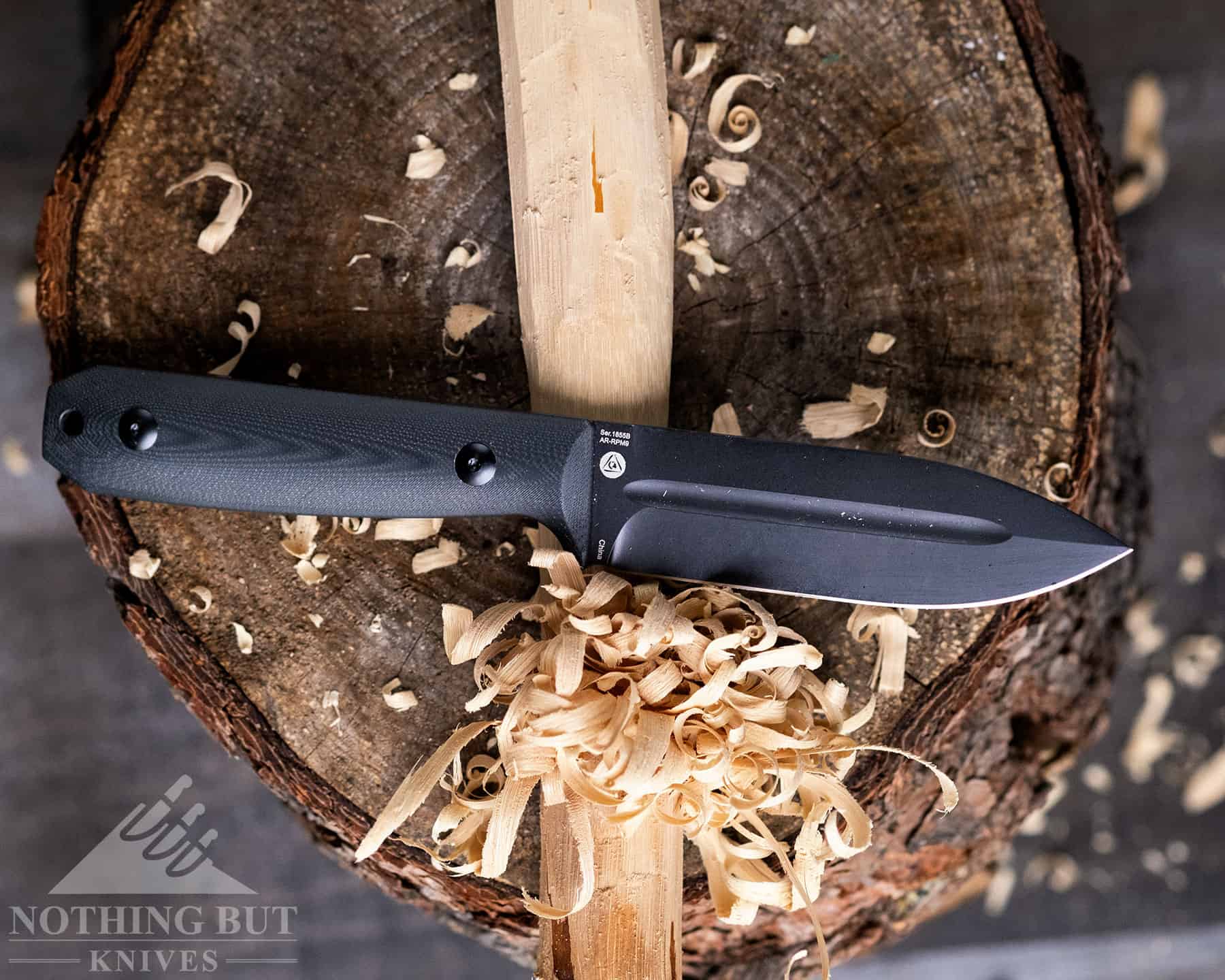 The Wreckhart is a good example of the difference between a bushcraft and a survival knife. I love the way it carves, but it's not something you want to chop or start a fire with.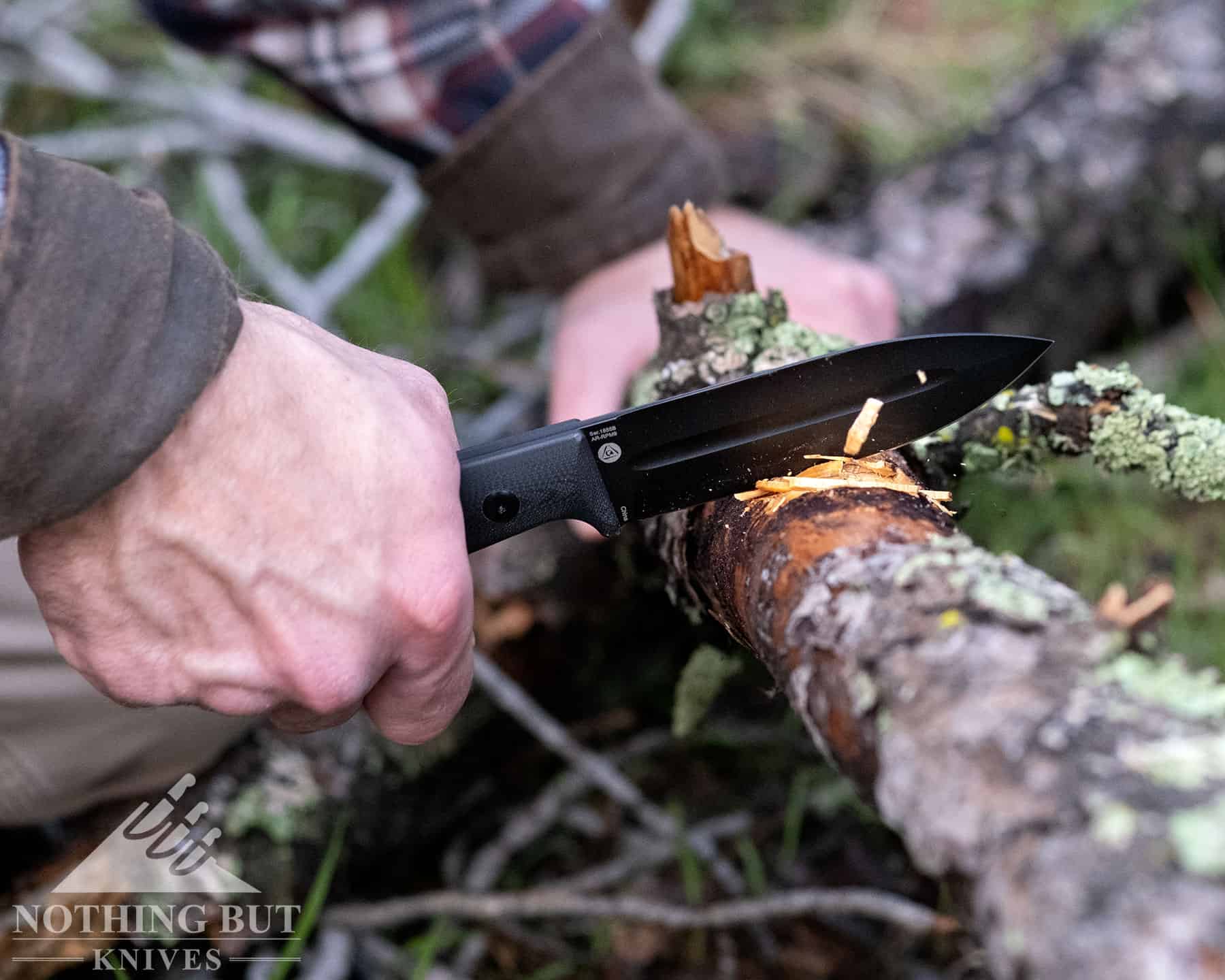 It just doesn't have the weight in the blade or the bite in the edge to do fast shelter work. And I would definitely want to tighten up the edge before I got into processing game. It does a decent job of feather sticking. It's not great, but I worked on a piece of oak for a while and was surprised at how easy it was to get some decent thin curls. It's not great at it, because you do have to press in pretty hard to get it to bite enough if you want to make larger curls, and that wears the hand out pretty quick.
But I could happily spend a day making notches and basic utensils in a campground. The edge doesn't really like to bind into the wood, is the thing, but once you find the right angle it can carve some pretty fine pieces off even really hard woods. It's also plenty tough enough to handle some batoning, so you can use it to pare down smaller logs into a workable block.
The Budget Powder Steel and Expectations of Daggers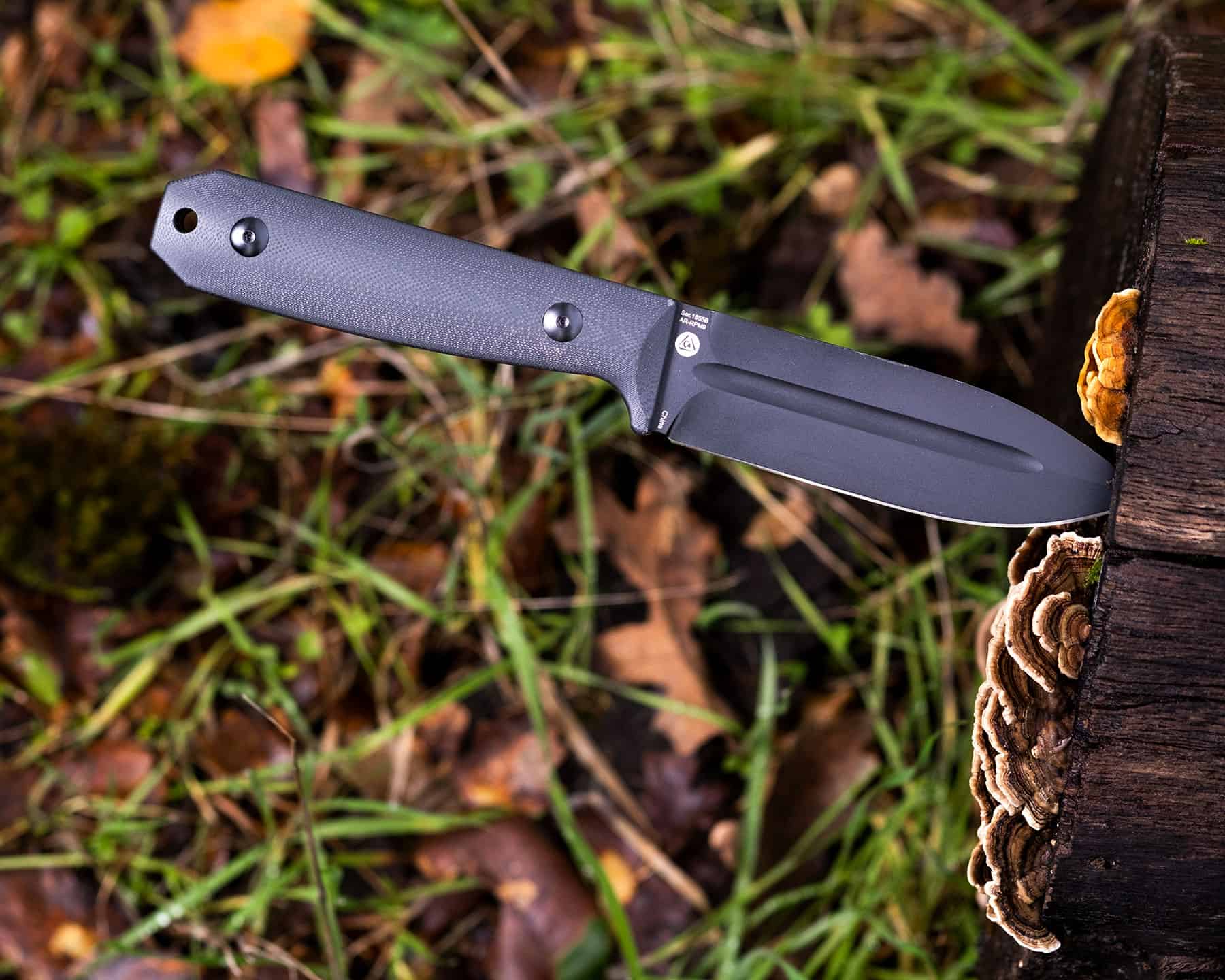 The big highlight of the knife is the steel, because AR-RPM9 turns out to be very stroppable. In fact, the first time I touched up the edge, I didn't even have a strop on hand. I just had my belt, but I managed to get a little bit more life out of the edge just with that.
From what I've read, this steel likes to take a polished edge, which partly explains why the factory edge doesn't feel like it has much of a bite. At first I had trouble getting a clean cut on paper without a pretty aggressive slicing motion. That's not exactly a bad thing for a camping knife. The important thing is that it can carve wood and cut rope, which it does just fine. And it's important to remember that dagger shapes aren't optimized for cutting through materials because the thickest part of the blade is a lot closer behind the cutting edge. It's never going to feel smooth like a flat grind on an ordinary drop point blade.
The good thing is that Artisan's proprietary powder steel is very easy to work with. I think the Wreckhart was intentionally made with a very wide edge, but it doesn't take too long with a Sharpmaker to change the way that edge feels.
Comparison and Alternatives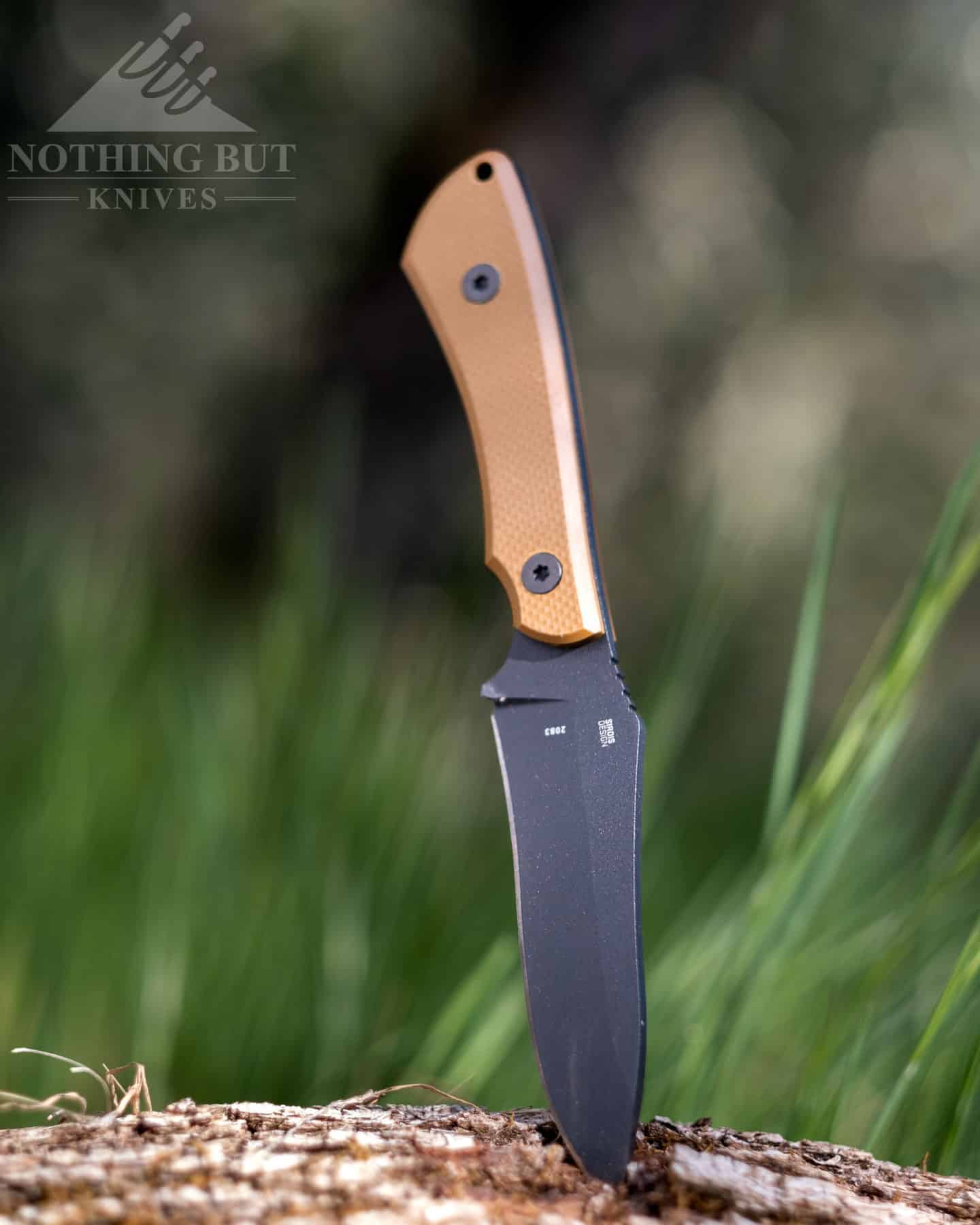 I like the CRKT Ramadi as an alternative to the Wreckhart because it sits in the same price range and it's really similar with the tactical / survival looks and design. Even the factory edge feels similar to me, although the Ramadi is quite a bit thicker at the spine. Most importantly, though, the Ramadi's sheath is a lot easier to deal with. It's still one of the fastest drawing setups I've used.
The Ka Bar Ek Commando Short is another good in the genre of classics updated into modern use for more EDC-centric work. The price breaks into three digits, but Ka Bar's US manufacturing was pretty on point with this one, and it has a much slicer edge geometry than both the Ramadi and the Wreckhart.
Conclusion
I think it's fair to say there isn't another knife out there quite like this. Obviously there's the Becker Kephart knife and the Boker Applegate-Fairbarin dagger, but Flowers really did make something special in combining the two with a little bit of his own flair.
More than anything, it's a fun knife to have. I like playing with it. I create excuses to use it, because it's neat. It also happens to be comfortable and pretty decent at carving. I think the only technical issue with the knife itself is that it doesn't quite have a specialization. Combining a bushcraft design with a tactical design has created something of a bastard. It doesn't quite fit in either world, but it can be used in either with enough effort. Fortunately, bastards are cool in these modern times.
The real hiccup of this knife is the sheath. I would pay a lot more for a set up with some hardware that can handle my stupid fidgeting, and that actually lets me draw the knife without an arm wrestling match.
The Artisan Cutlery Wreckhart is a 2022 Drunken Hillbilly Knife Award Winner and one of our picks the Best Survival Knives in 2023.