These Are the Official Favorite Folders, Fixed Blades, and Kitchen Knives Our Groping Hands Could Find in 2022
Well, no one told us to stop since last year, so I guess we're still doing this. Here to tell you which knives from last year performed the best in all the categories you don't care about is the official selection of the Drunken Hillbilly Knife Awards for 2022. We were supposed to publish this like two weeks ago, but that was right before Shot Show 2023, and the thing about awards given entirely in a drunken context is that you don't generally stay on a tight schedule.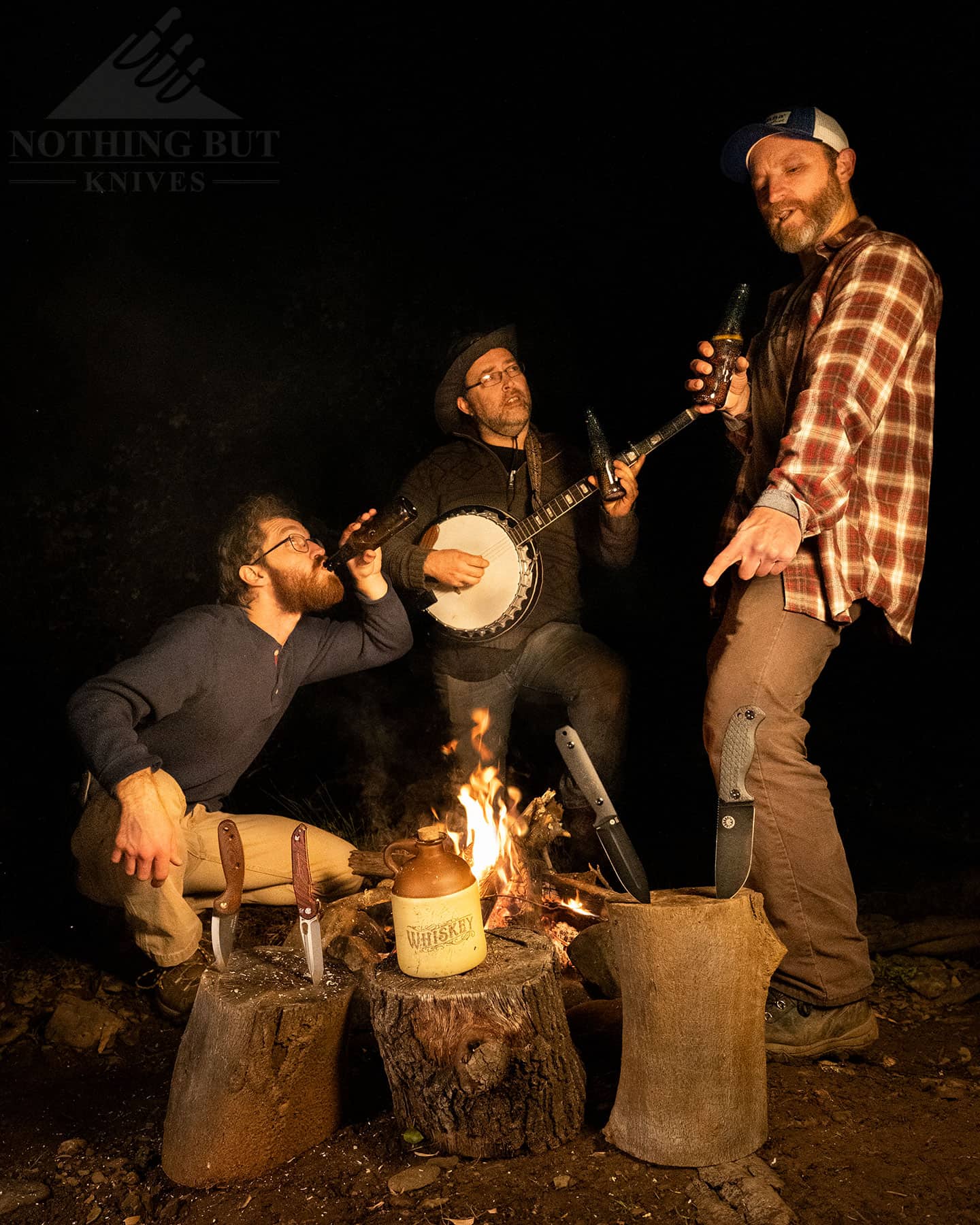 Our selection process hasn't changed since last year. At least, not in any way we can remember. There was a genuine attempt to establish a clear set of criteria. That much we do remember. Unfortunately, even sober we have roughly the same organizational skills as squirrels in that we tend to stuff everything in a hole somewhere then go run through the woods. We did manage to add some very important categories, though. Readers will be happy to know what we think is the most fidgety knife from 2022.
You can check out our 2021 Drunken Hillbilly selections here if you want, or you could just wait for the lists from more legitimate sources like Blade Magazine or KnifeCenter or the last pair of talking hands over a rubber mat in your YouTube history.
Most Photogenic Knife – Sencut Waxahachie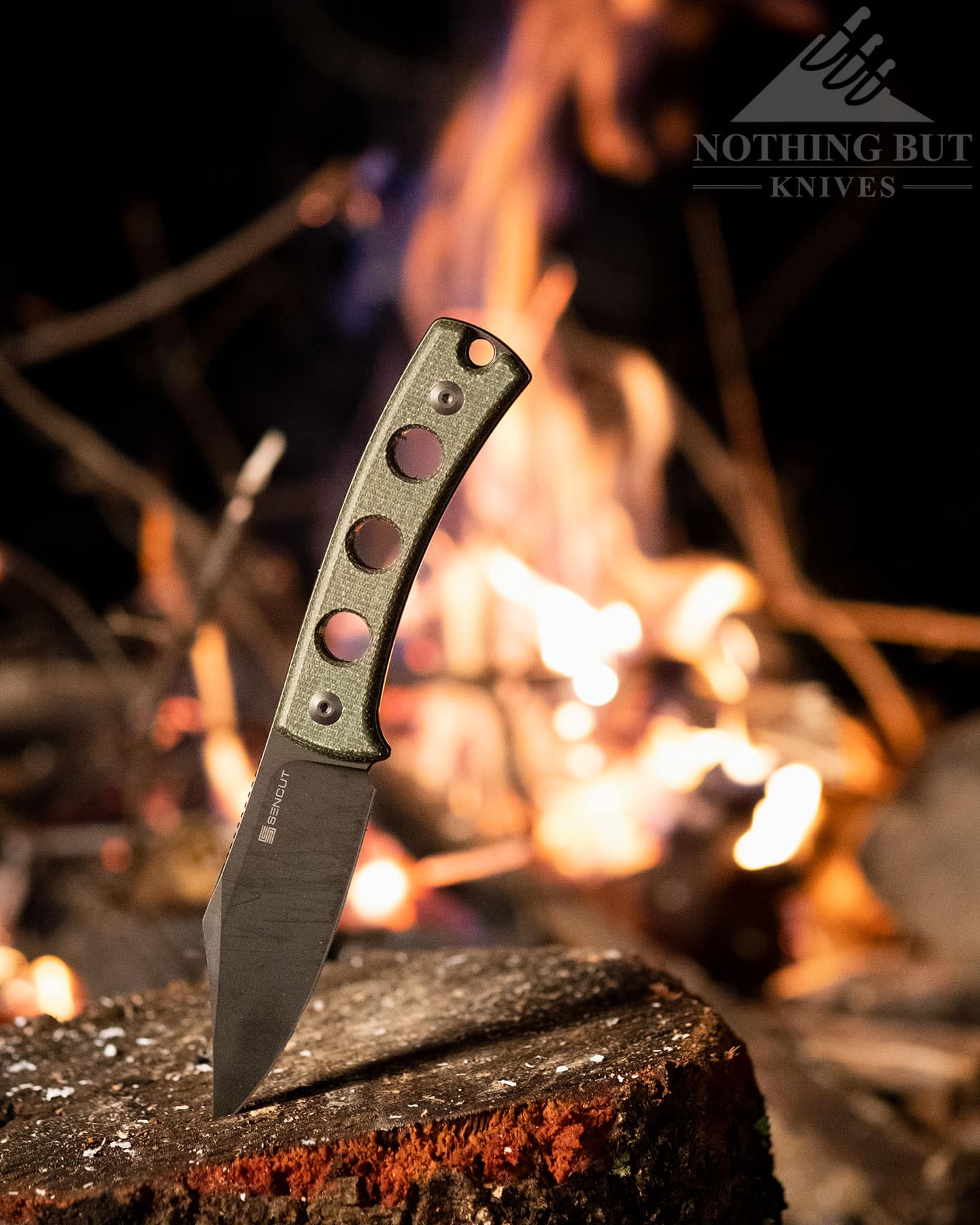 | | |
| --- | --- |
| Knife Type: | Survival |
| What's it Made Of: | 9Cr18MoV / Micarta |
| How Big's the Blade: | 3.7" |
| Designer: | In house |
All you poor bastards who still subject yourselves to our drivel will never know what kind of cursing goes on when we're taking pictures of knives. You'd think we would learn to stop ordering knives with mirror polish blades and gray-green handles that blend into every God damned thing in natural creation, but if we were the types to learn lessons, we wouldn't be talking to you about how much we drink.
This knife didn't win this category because it looks good (it's got a fine personality), but because it took less than three swear words to shoot most of the pictures for it. The Waxahachie has the unique benefit of a black finish and a green Micarta handle that stands out in front of a tree. If we could hug every designer who plans a knife out in colors like this we would be ankle deep in harassment lawsuits from, like, at least three different people.
You can check out some pretty sweet pictures of this knife in our Sencut Waxahachie Photo Tour.
Clickiest Knife – Vosteed Thunderbird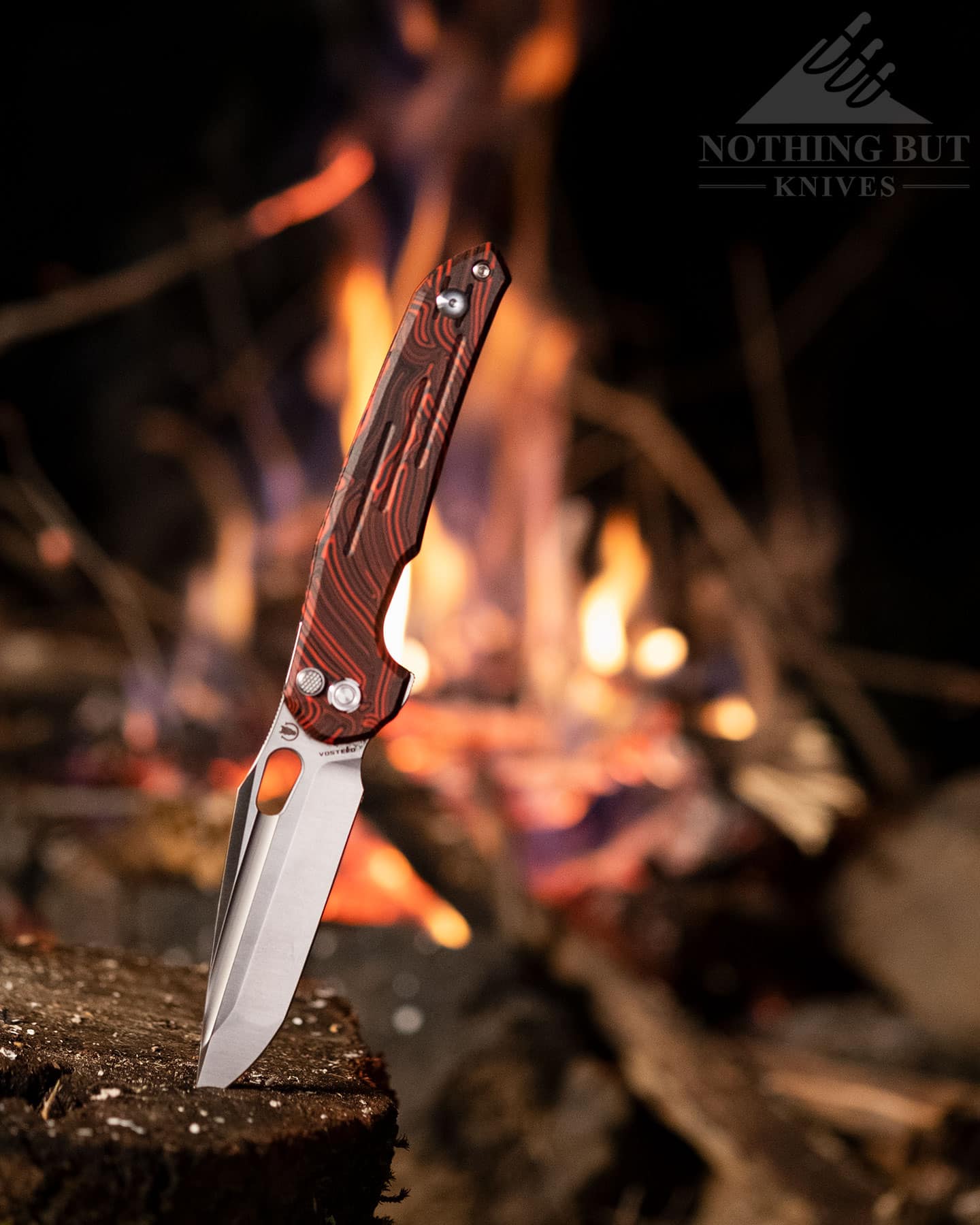 | | |
| --- | --- |
| Knife Type: | EDC |
| What's it Made Of: | CPM S35VN |
| How Big's the Blade: | 3.5" |
| Designer: | Dr. EDC |
Having a knife this fidgety is really asking for trouble. Most of the trouble is from everyone else around us anytime we carried the Thunderbird, because 90% of the time we sounded like the Bushmen sent their most obnoxious tribe members to tell the world about how cool button-lock flippers and S35VN steel are.
It's possible the knife would be good if we ever stopped slapping the blade back and forth long enough to actually use it, but if Yue Dong wanted the Thunderbird to be used like a knife he shouldn't have given us four different ways of making a shiny thing fly around in our hand. This thing has a flipper tab, a front flipper tab, a thumb hole, and the quick wristed use the button lock to flick the blade out. We can barely get past the decision paralysis in time to remember what we needed the knife out for in the first place.
Best Knife for Feuding with the Family in the Next Holler – Work Tuff Gear Apex
| | |
| --- | --- |
| Knife Type: | Survival / Pissing Contest |
| What's it Made Of: | SK85 / G10 |
| How Big's the Blade: | 12.1" |
| Designer: | Julio Diez |
What's that phrase the kids use these days? Passing the vibe check? Well, check the vibe on this angry slab. It says Pa heard Lafe mucking things up in the rickhouse last night, and now they better hammer up the windows and button their overalls because twelve inches of high carbon steel with a 6 millimeter spine says Granny Fay's tree is coming down.
If you want that made more clear, you can read our full review of the Work Tuff Gear Apex.
Best Springy Knife – CRKT Taco Viper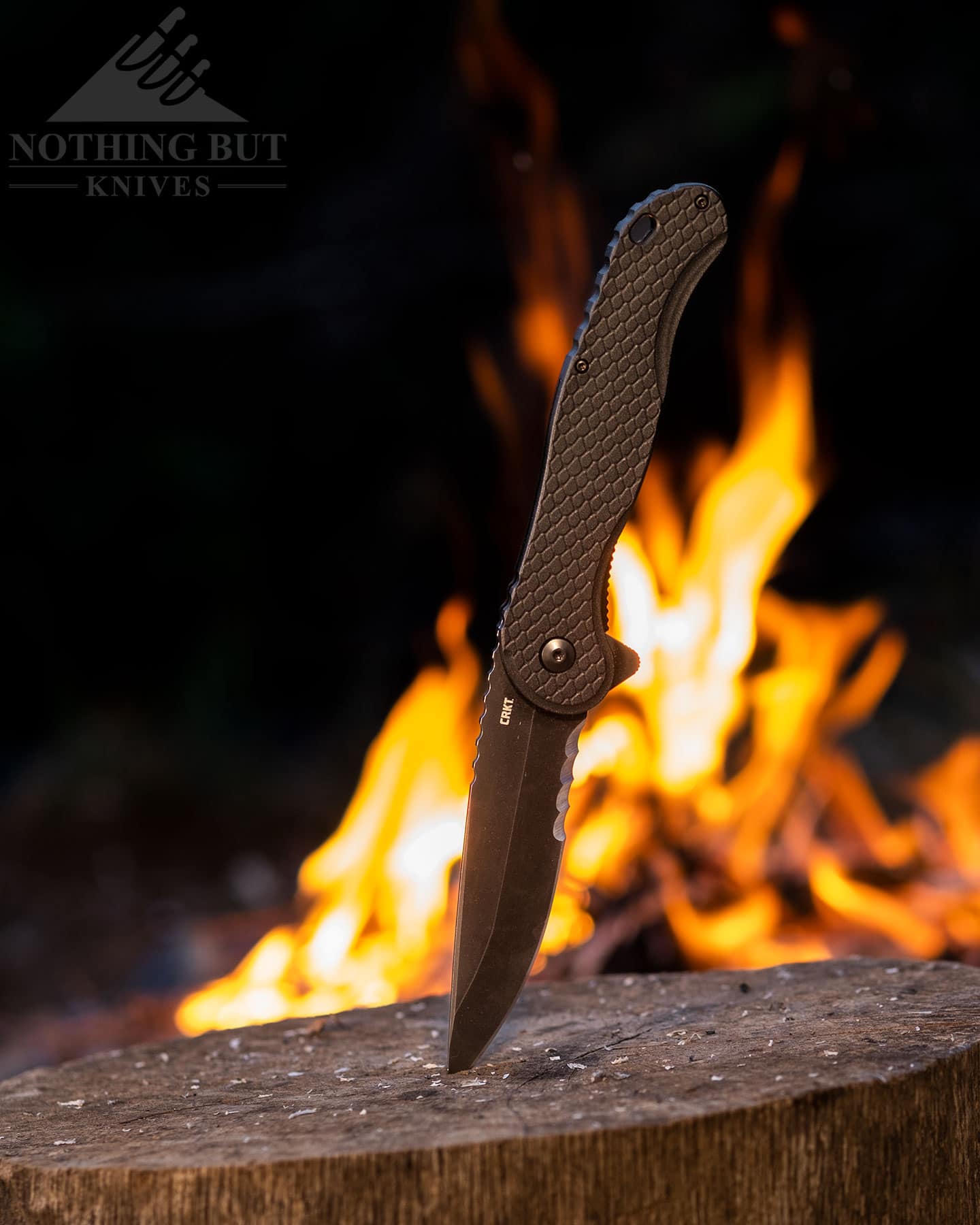 | | |
| --- | --- |
| Knife Type: | Tactical/ EDC |
| What's it Made Of: | 1.4116 / GRN |
| How Big's the Blade: | 4.22″ |
| Designer: | Antonio Rodriguez |
You had us at Taco Viper, Antonio. In the interest of transparency, we were fans of this knife and the cool story behind it before we ever actually got our hands on one. After spending a few weeks running around the woods cutting and chopping unsuspecting brush we realized we were going to have to overlook the fact that the Taco Viper was an assisted open knife and make up a Drunken Hillbilly award for it.
The slim Taco Viper is pocket friendly in spite of its length. The Veff serrations are effective, and they look a little cooler than other knife serrations. The long semi contoured handle has plenty of hand real-estate, and it's comfortable even when cutting hard or whittling. This knife is tough enough for the woods, but classy enough for a barn dance.
Best Camp Cooker – Messermeister Overland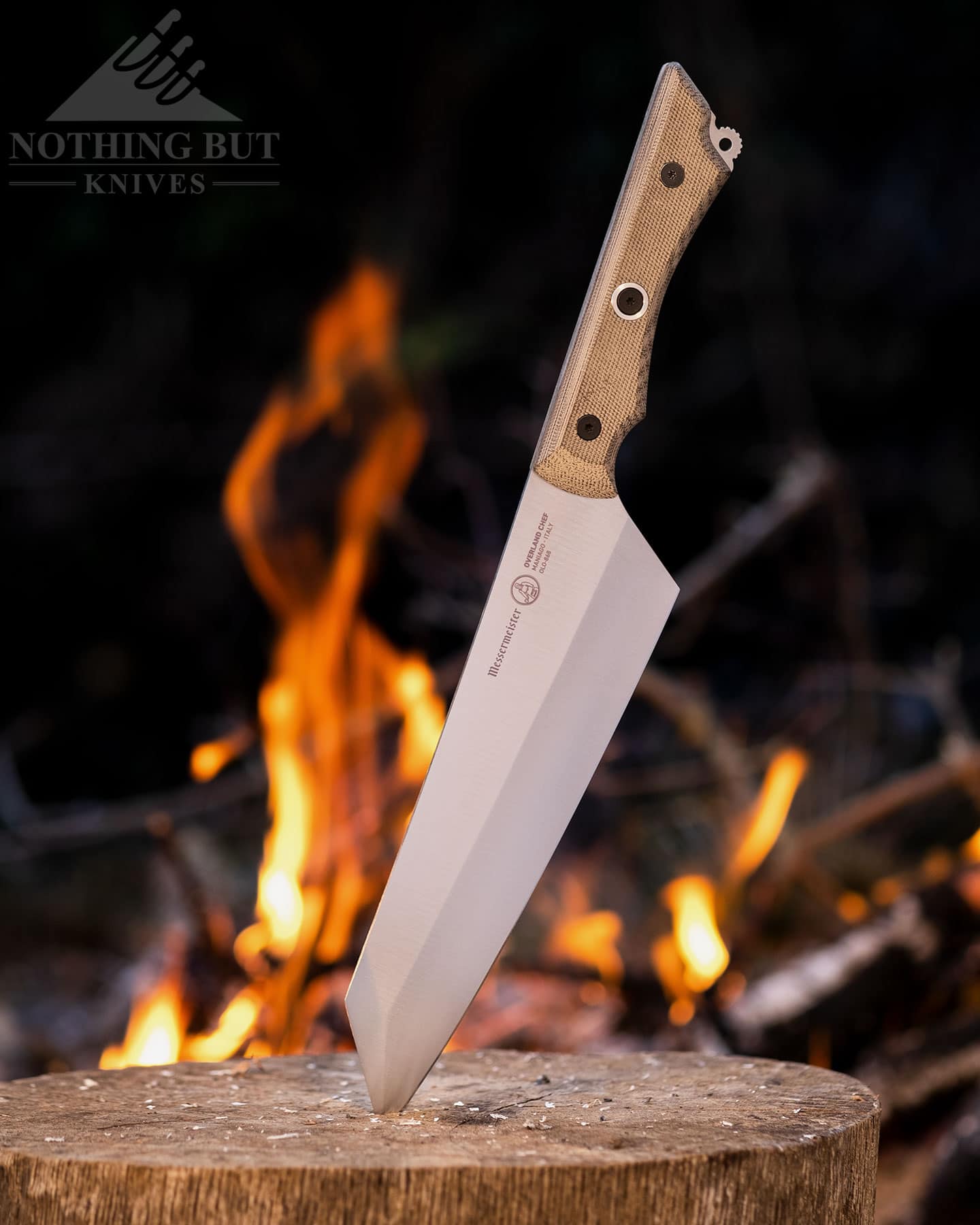 | | |
| --- | --- |
| Knife Type: | Kitchen |
| What's it Made Of: | Nitro-B / Micarta |
| How Big's the Blade: | 8.0" |
| Designer: | Jason Nicosia |
The Overland has some outlandish words attached to it like Nitro-B, and asymmetric grind, and "kitchen knife" that we don't claim to completely understand. All we know is that when we cut up a piece of raw chuck steak fireside we started panicking to find any accurate comparison to the way it felt that was less cliche than "like butter".
What's another soft thing people cut? Tofu? Is that soft? I mean you shouldn't cut tofu with the Overland, because that would be like shooting a rabbit with a Barrett M107. You can. It would work. It's just that if you own that kind of tool you should question the sequence of events that brought you to using that tool in this particular fashion.
Meatloaf. That's another soft food. It cuts chuck steak like meatloaf.
Best Multitool with a Pocket Clip – Revo Duo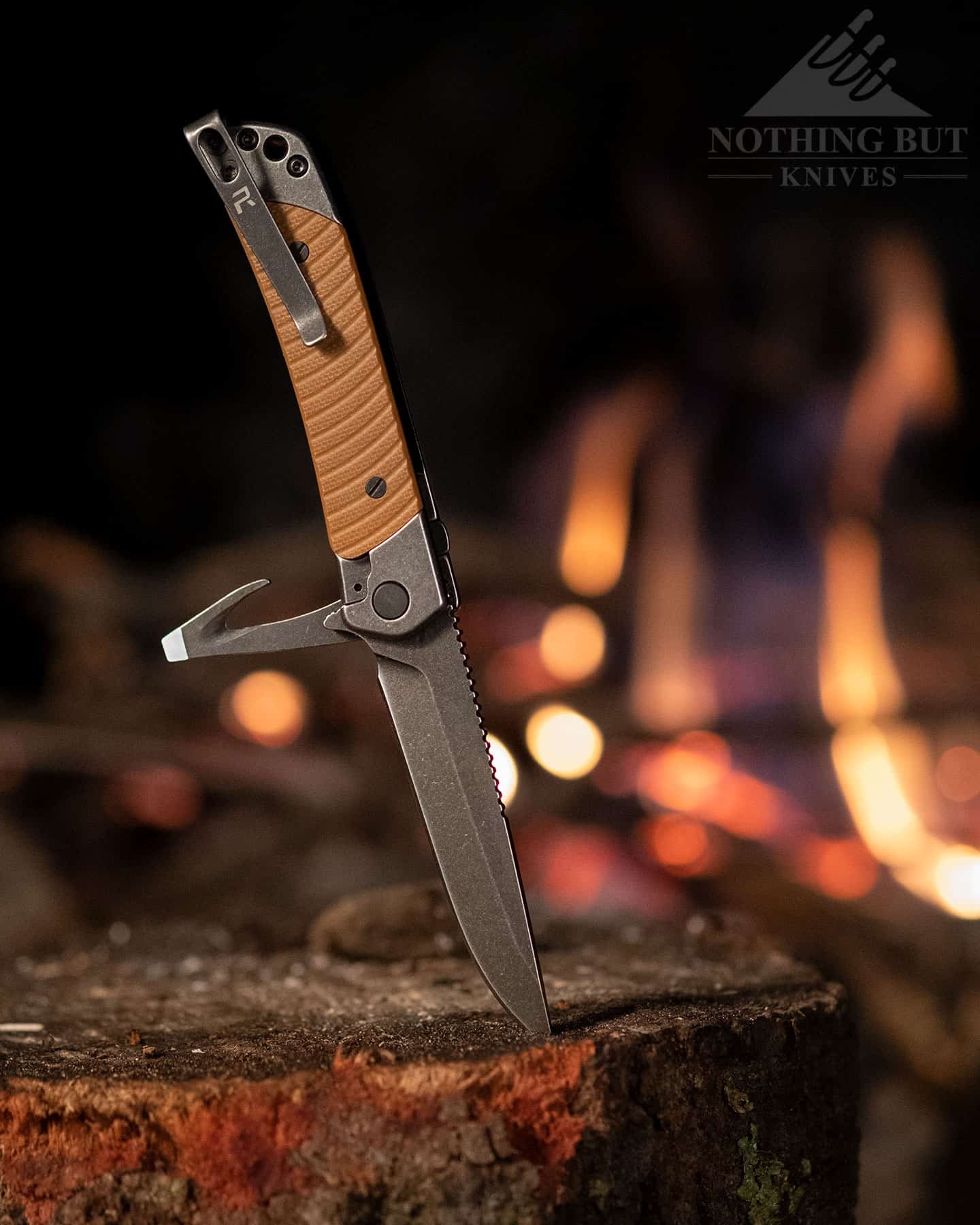 | | |
| --- | --- |
| Knife Type: | Multitool |
| What's it Made Of: | Stainless steel / G10 |
| How Big's the Blade: | 3.12" |
| Designer: | Thomas Ward |
We went out of our way a while back to talk about our favorite knives with bottle openers, and the Duo kinda made us feel like Revo saw it and said "You think that's good, I'll show you a good drinking knife. Hold my beer, and this knife. Now pull that little hook thing out. It's next to the blade. Hold on… no there's a little tab in the… just let me see it".
Best Knife You Can't Buy – Schenk Pika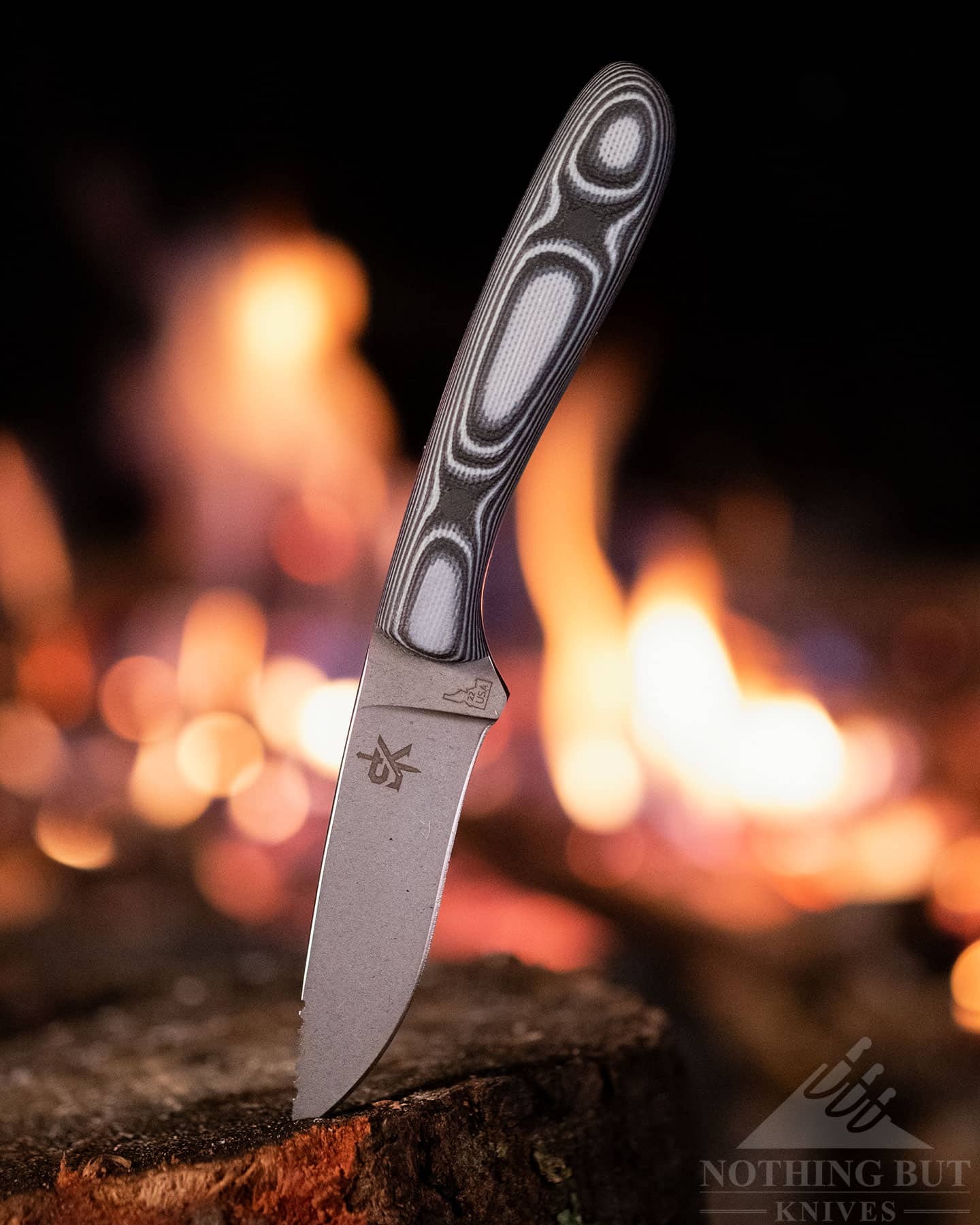 | | |
| --- | --- |
| Knife Type: | Hunting / EDC |
| What's it Made Of: | Elmax / G10 |
| How Big's the Blade: | 3.0" |
| Designer: | In house |
I don't know who Schenk Knives think they're fooling calling this knife the Pika. We might be backwater rednecks with a loose idea of what constitutes a pop culture reference, but we've seen that crazy mess of magic animals caught in some kid's ball shaped zoo emporium. I don't know what they're trying to say naming a knife made for processing small game like this. It's either a quaint call back to childhood memories, or a very dark joke about those same memories.
Either way, we approve, and regardless, this knife is never in stock because it's coming out of their custom shop, and it's awesome so jackasses like us scoop up their stock the minute it hits the table at Blade Show.
Best Knife Design to Carry on a Spaceship – CJRB Caldera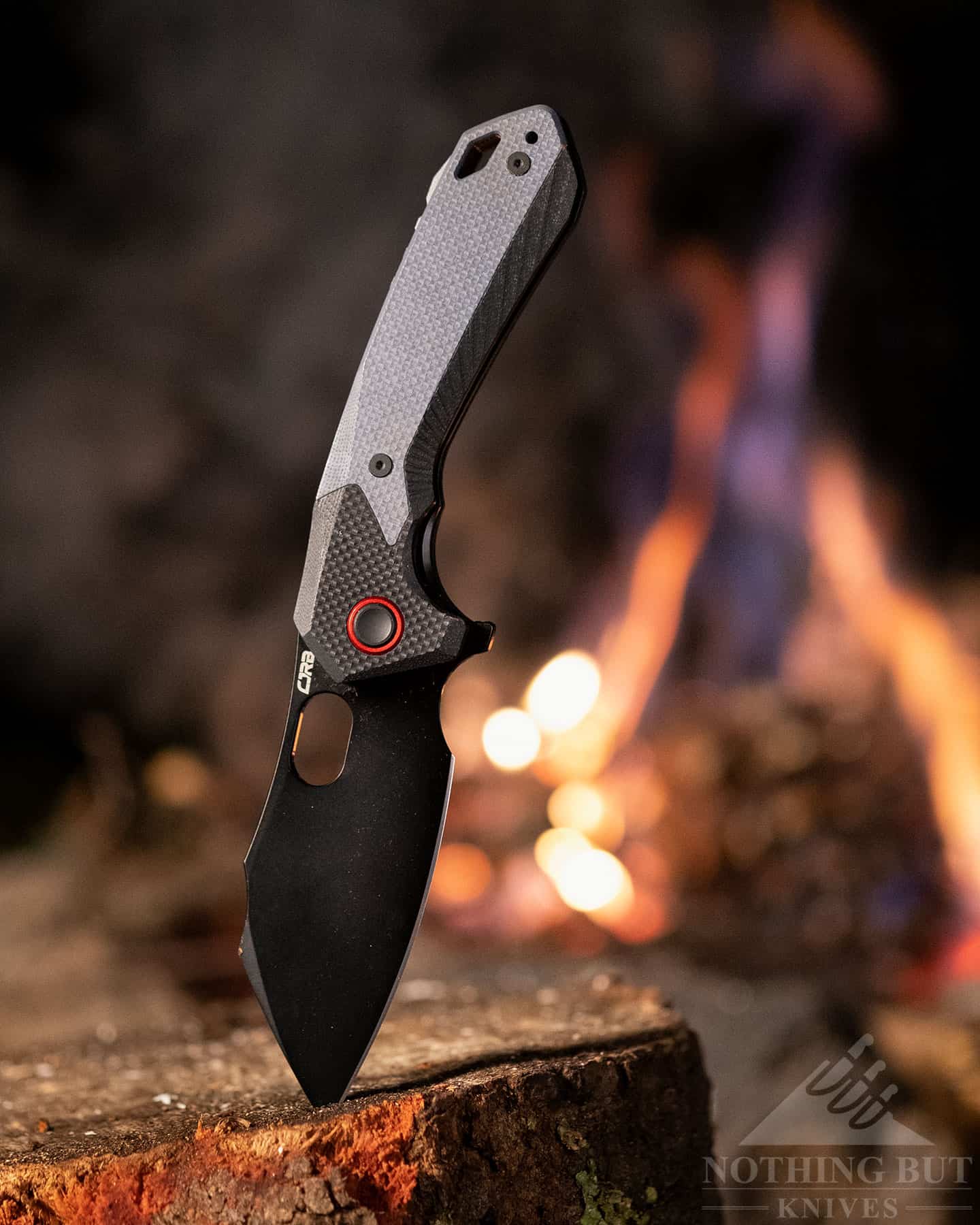 | | |
| --- | --- |
| Knife Type: | EDC flipper |
| What's it Made Of: | AR-RPM9 / G10 |
| How Big's the Blade: | 3.5" |
| Designer: | In house |
We spent a long time trying to figure out where to take pictures of this thing. It never quite looked right in our checkmarked woods that are either too muddy to stand up straight in or burned apocalypse black because apparently California is still under a curse that sets another five hundred acres on fire every time a middle aged man uses the word "dude".
We like it, though, and we wanted to feature it here, and it's the only one on the shelf that looks weird enough for some nerd to make a joke about Mass Effect.
The Best Knife You'll Lose in a Backpack – Benchmade Weekender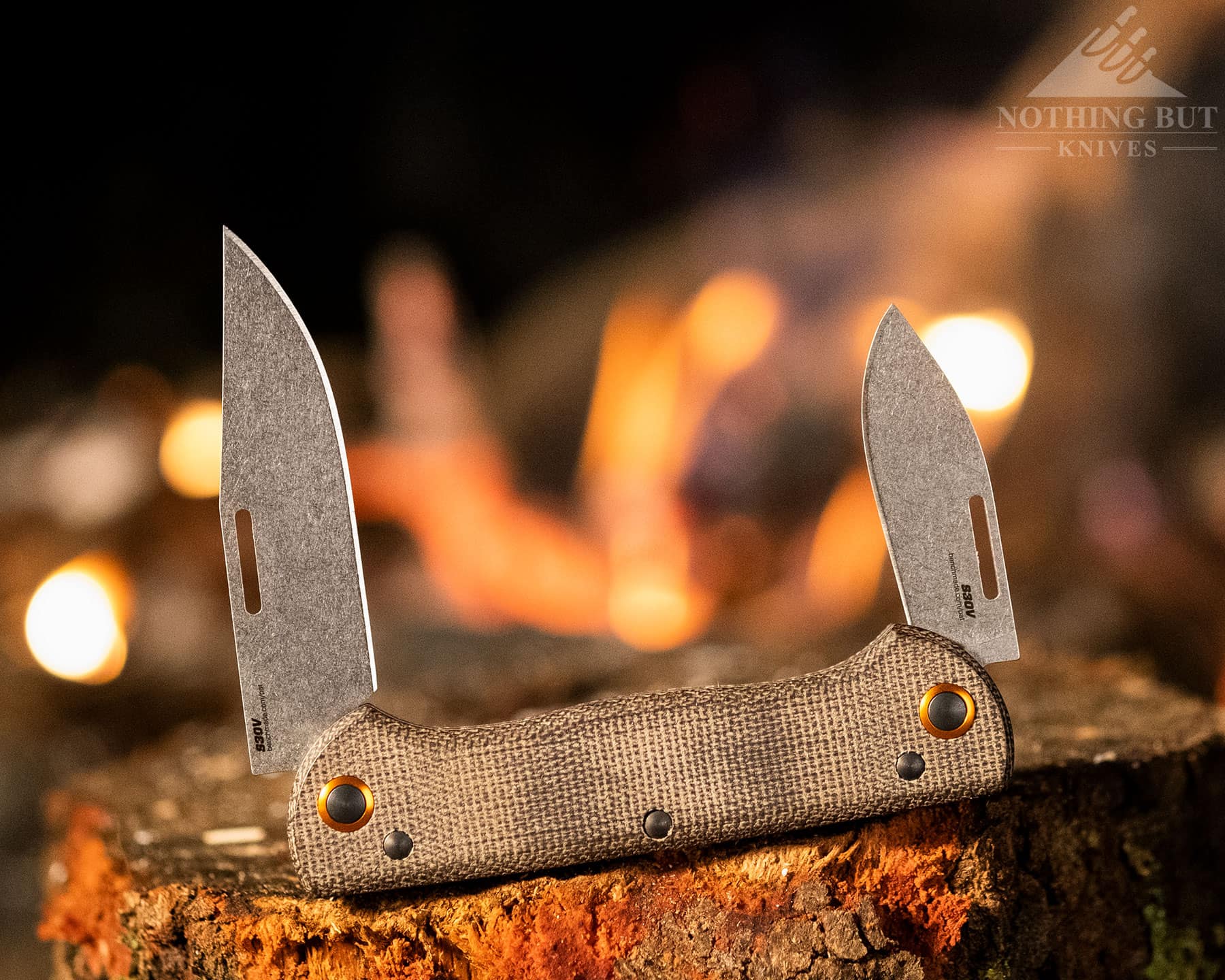 | | |
| --- | --- |
| Knife Type: | Multitool |
| What's it Made Of: | S30V / Micarta |
| How Big's the Blade: | 3.0" / 2.0" |
| Designer: | In house |
It's cool and all, but there are absolutely no practical carry options on the Weekender. And that's a problem, because it has a bottle opener. I mean it's called the Weekender. Benchmade isn't being coy about the use case for this design. We've made this joke before (because it's a recurring problem), but a tool that streamlines the drinking process feeds into its own demise, especially when it doesn't have a pocket clip or a carrying case.
Check out our full review of the Weekender here. It's amazing. You'll love it.
Best Knife Design Update – Off Grid Tracker X2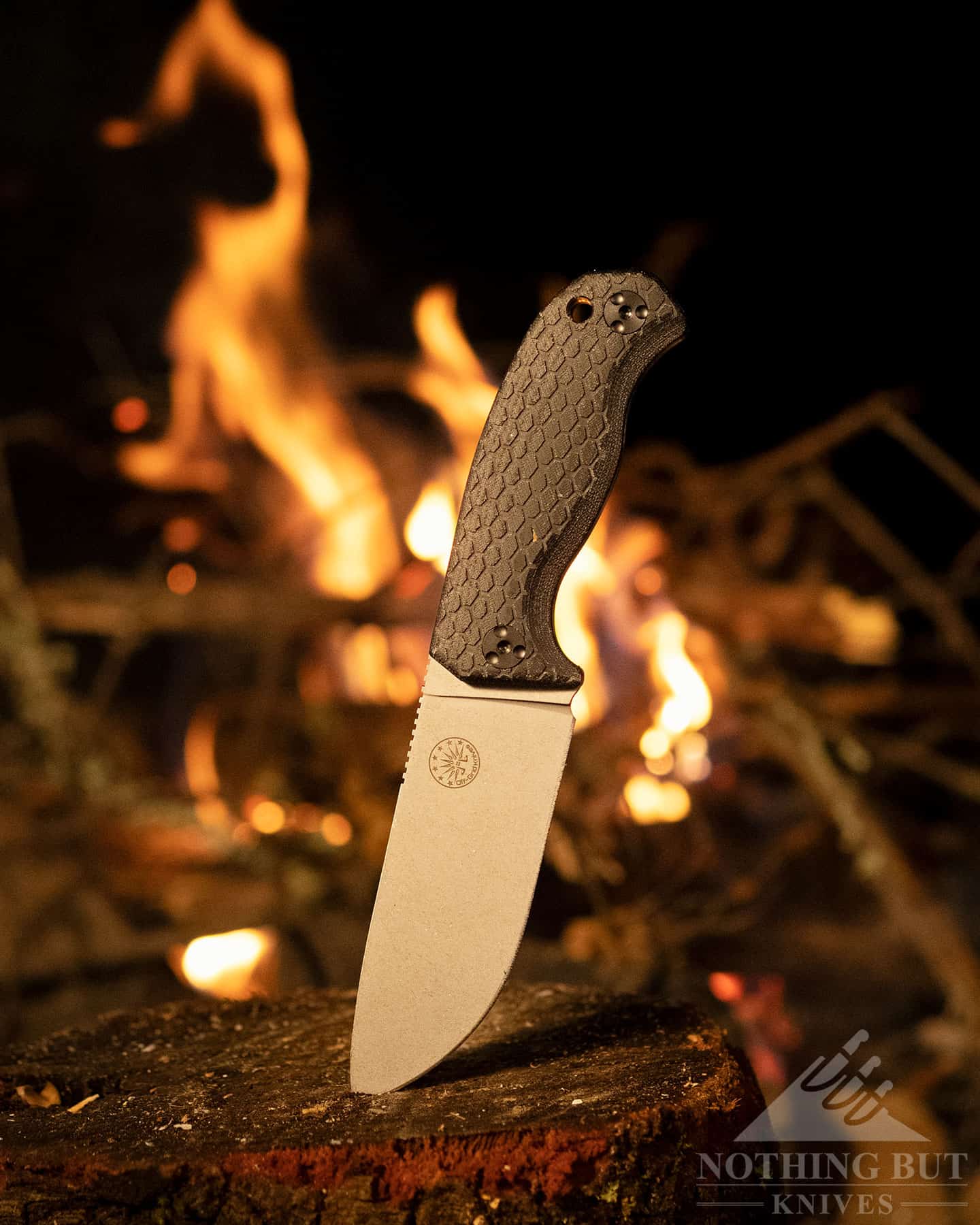 | | |
| --- | --- |
| Knife Type: | Fixed blade survival |
| What's it Made Of: | D2 / Micarta |
| How Big's the Blade: | 4.75" |
| Designer: | Carey Orefice |
The Tracker X was one of Off Grid's first designs and the beginning of our long string of heavily biased reviews of their work. As much as we liked the Tracker X back in the day, the handle was a little too big and blocky. Some of us, not gonna name names, may have used words like "Tonka toy" at the time.
But the owner and designer of Off Grid, Carey Orefice, is in a constant cycle of designing and updating, so it was only a matter of time before he addressed the Tonka toy handle situation. The Tracker-X2 is a damn work of art. It's like Carey sneaked into my house while I was sleeping and measured my hand. Which he has an open invitation to do. The tape measure is on the table next to the barrel we use as a whiskey cabinet. Glasses are out on the porch beneath the rain pipe so we don't have to wash them. The house key is over there somewhere too. Help yourself.
For the rest of you, check out our full review of the Off Grid Tracker X, but ignore all that stuff about our house key and where we keep our whiskey.
Best Tactical Fixed Blade that's Good for Other Stuff Too – Artisan Cutlery Wreckhart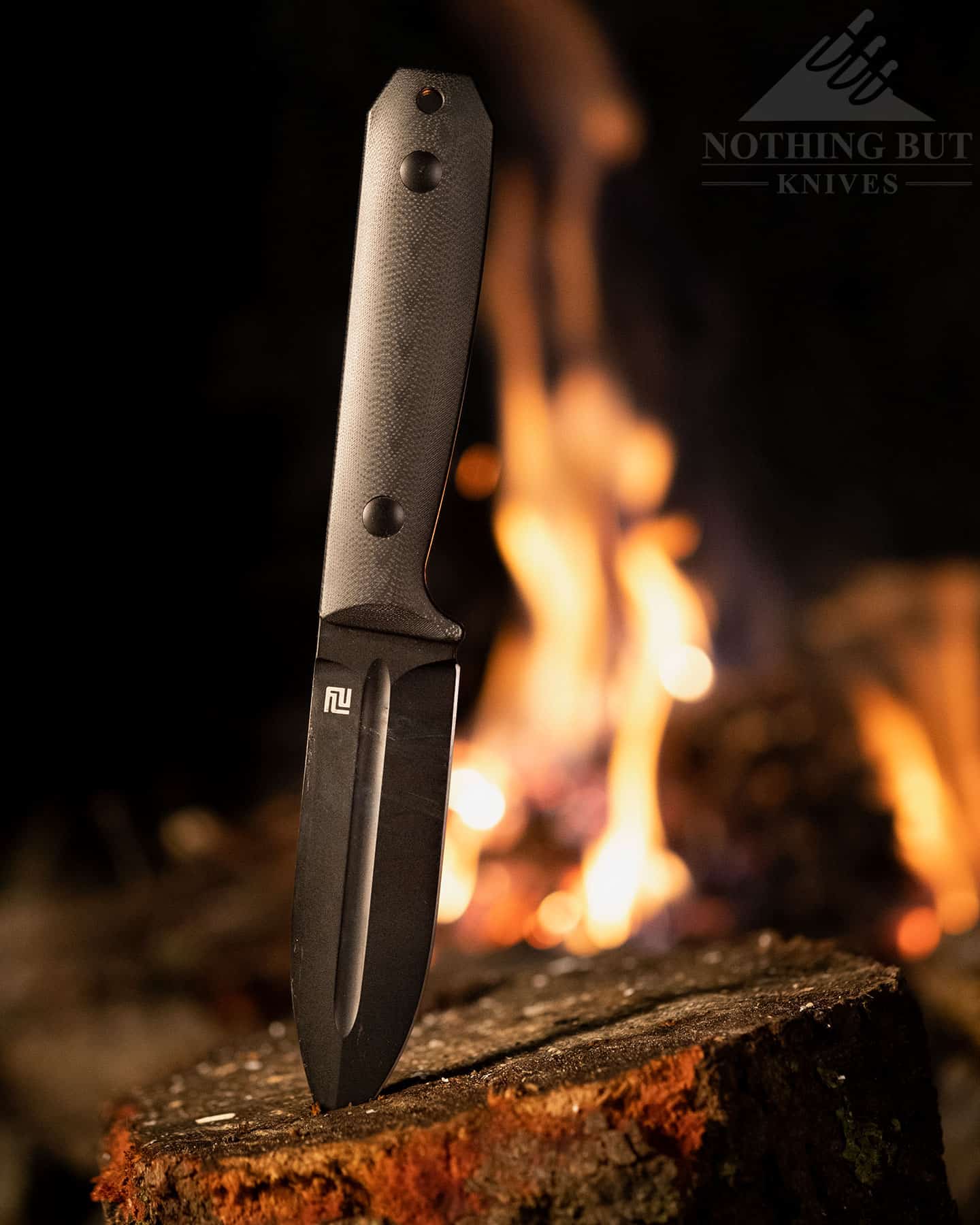 | | |
| --- | --- |
| Knife Type: | Tactical / Bushcraft |
| What's it Made Of: | AR-RPM9 / G10 |
| How Big's the Blade: | 4.43" |
| Designer: | Joe Flowers |
Honestly, we don't actually think this is a tactical knife, but Rex Applegate was part of the design inspiration for it. Horace Kephart is the other part, and Joe Flowers seems to be a lot more of the fun-camping type than the pondering-various-ways-to-stab-people type, but the apple can only fall so far from the gate.
Don't let that awesome joke distract you from the fact that this is a cool knife that's pretty good for wood carving and starting fires. You can read about it in our full review of the Wreckhart, assuming you're the type who reads.
Best Old School Knife Made Fancy – Ka Bar Ek Commando Short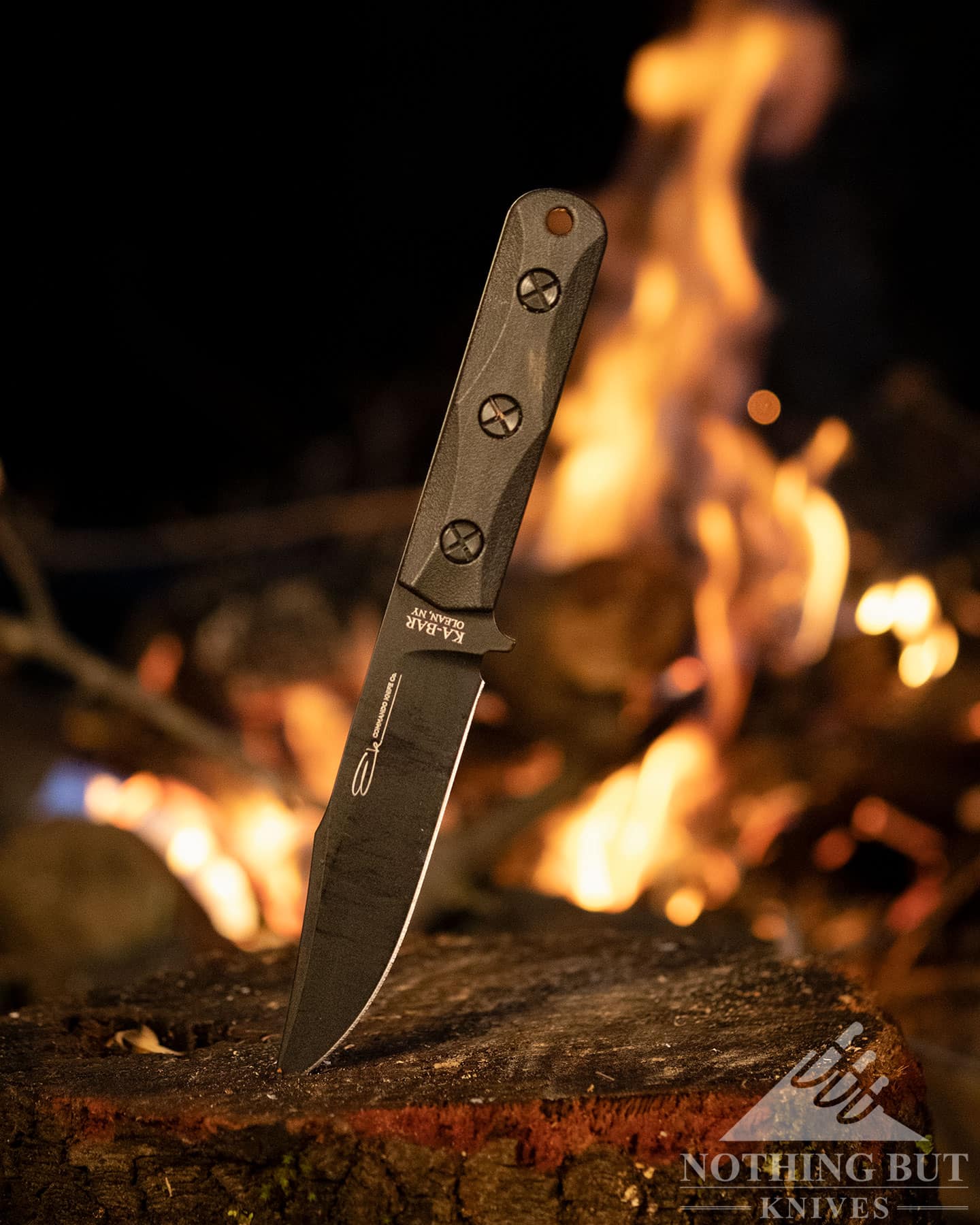 | | |
| --- | --- |
| Knife Type: | Tactical / Survival |
| What's it Made Of: | 1095 Cro-Van / Ultramid |
| How Big's the Blade: | 5.0" |
| Designer: | John Ek / Ka Bar in house |
It's a far cry from the original John Ek daggers, but you can see the wavy bits in the handle so you know the genetics are still strong in the line. It's kind of like seeing your grandpa's hook nose show up when your nephew hits puberty and then you get to tell him that he has maybe another four years with a full head of hair left.
The knife, though. The knife is good. It's a great example of a fighting knife transitioned into more general survival use. Not unlike the Artisan Wreckhart, actually, and you can bet we had a time deciding which one to put where before we just flipped a coin.
We lost that coin somewhere in the creek, so we didn't see if it landed heads or not. No idea how we made this decision. Anyway, check out our full review of the Ek Commando Short. It makes a lot more sense than this.
Best Survival Knife for Poor People – Kizer Begleiter Fixed Blade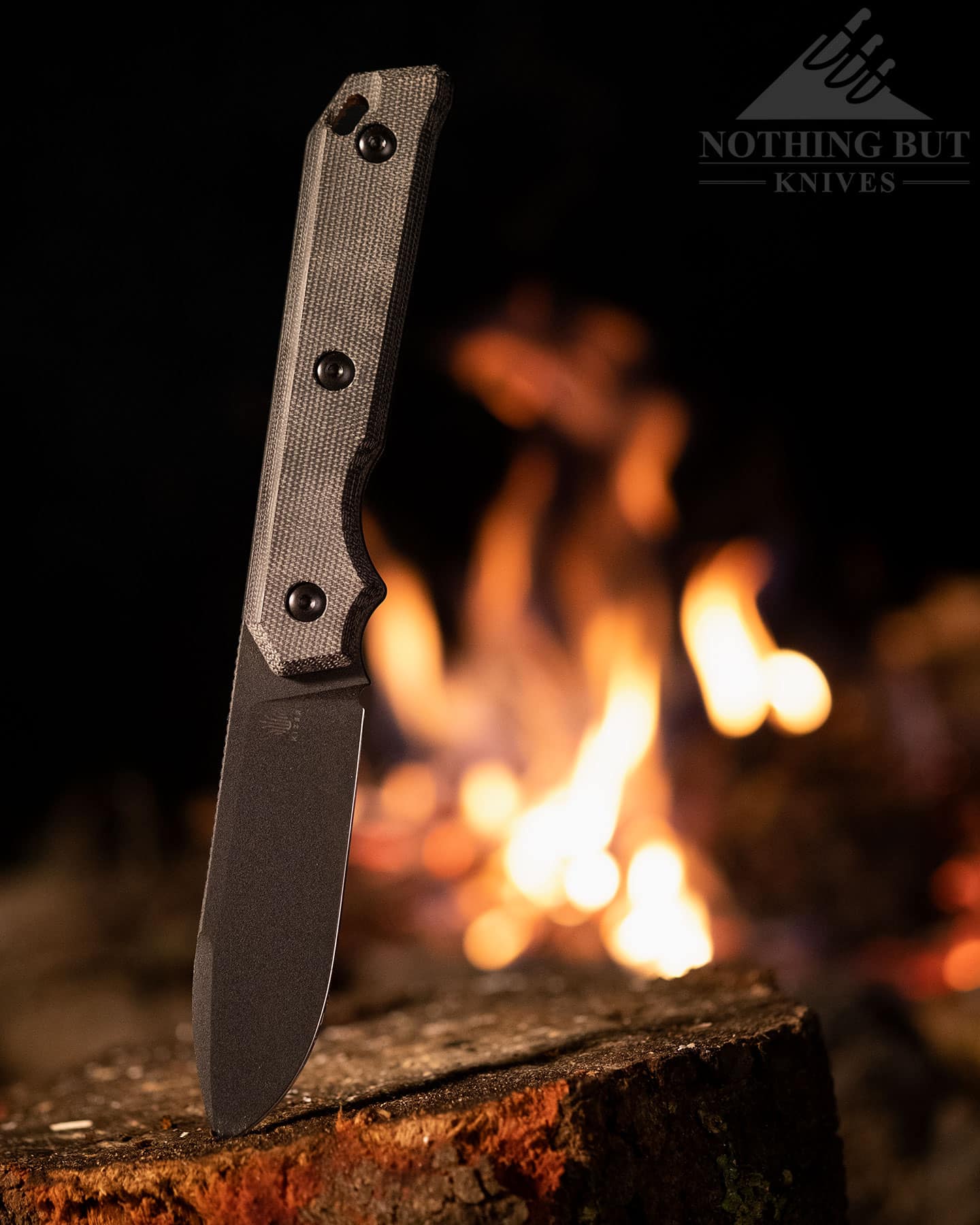 | | |
| --- | --- |
| Knife Type: | Fixed blade EDC |
| What's it Made Of: | D2 |
| How Big's the Blade: | 3.7" |
| Designer: | Azo Mai |
If you took Kizer's old Begleiter folder, gave it a weight set and a new perspective on life that revealed the beauty of nature and people so that it was at peace with itself and the world as a whole, it would become this fixed blade version of the Begleiter.
We haven't found many knives that we enjoy holding this much. Not even just to use, but just to sort of hang out and listen to its stories. Maybe whittle a stick for marshmallows while the sun sets, and then maybe you sing it a little birthday song, because you don't know when its birthday is, so it might as well be today, and then when the logs in the fire burn up and fall into a glowing bed of coals you lean back with it sitting quietly on a stump and you say "I think I love you, Kizer Begleiter Fixed Blade Knife". But come morning the knife is gone and there's a hole burned through the bottom of your boot because you were resting your feet on one of the rocks around the fire, and there's an angry old man standing next to a sheriff in front of you asking if you would get the hell off his property. But none of that is any of your business.
This knife is very good, and very reasonably priced. We hope to see it again someday.
Best Knife Name We Kept Getting Wrong – ESEE Pinhoti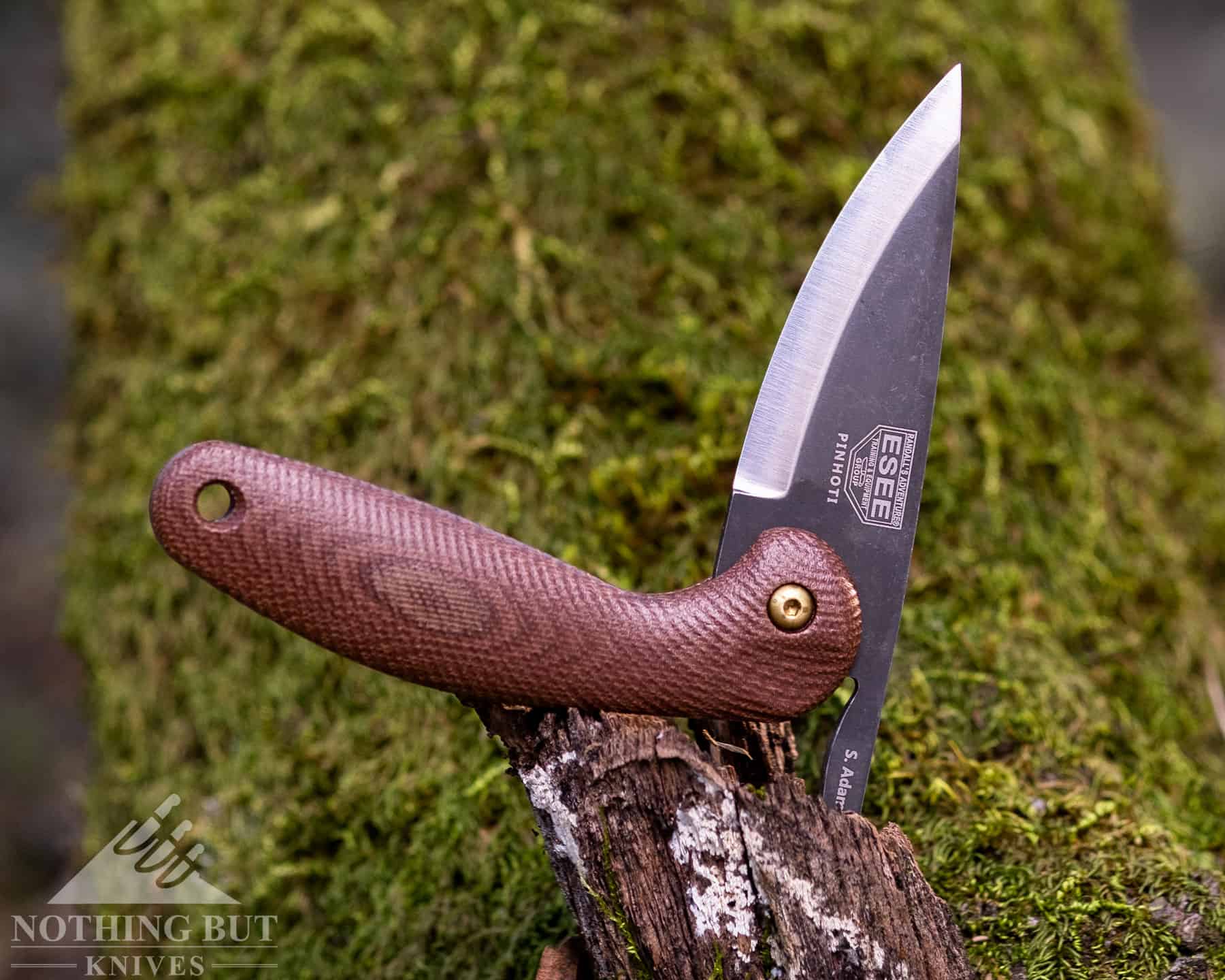 | | |
| --- | --- |
| Knife Type: | Friction folder |
| What's it Made Of: | 1095 |
| How Big's the Blade: | 3.25" |
| Designer: | Shane Adams |
First of all, we're hillbillies, but we're not Appalachian hillbillies, so we hope we can be forgiven for calling this knife about thirty different things, including the the Pin Hole, the Pigeon, the Pie Hole, and the Pirate before Pinhoti finally stuck in our heads.
Secondly, you might notice the picture is different here, so we'd like to remind you that these are the drunken hillbilly knife awards, so the fact that we made it this far into the list before getting to a knife that we forgot to shoot along with the others is pretty damn impressive. Jokes about our ability to hold our liquor and/or beer, or both simultaneously, aside, the fact that this article even happened at all is a credit to our ability to remain stable while standing between a creek and a fire.
We also don't want our hijinks to distract you from how cool the Pinhoti is. A big friction folder that comes in a nice leather sheath does a lot for guy's outfit. The fact that it can process fire wood and throw sparks on a ferro rod places it firmly in the rare "outdoor gentleman's carry" category. We're not giving an award for that; we just want you to be aware.
we dedicated a few more words and photos to this beast of a friction folder in our Esee Pinhoti Review.
That's It That's the Show
We hope you learned something in all this, even if that something is that our opinion can't be trusted in the context of a list made entirely while pairing knives with three different kinds of beers and whatever whiskey was left over from New Years. We can't stress enough that there are other lists out there somewhere, and that you should really see what those say. Hell, go look at whatever David C. Anderson is saying. We're not affiliated with Knife Center at all, but that guy knows his stuff.
If you're still here, though, we have to assume you want to be here when we do this again. There's a newsletter sign up around here somewhere. You should check that out. It'll change your life, probably.
Meanwhile, we've got fish to fry and knives to clean. Until next time.