A Fixed-blade Hunting Knife That You Don't Have To Be A Hunter To Appreciate
It is an old adage in economics that every choice (or business decision) you make comes at the price of forsaking the alternative.
This observation can, of course, be generalized and applied to all aspects of everyday life.
Its approximate significance can also be extended to the field of knifemaking and design: the more specific the design purpose (i.e. the more design-related choices at work), the more defined or circumscribed the function of the knife being built, the more likely the product of the maker's efforts is to
be able to do a few things exceedingly well;
and suck, more or less, at most other tasks.
Not because it's a bad knife, but as a direct consequence of the built-in limits of the design.
Conversely, if a general-enough design purpose ends up accurately translated to the language of steel, the resulting blade can be expected to
bring a good overall capability to the table;
but not offer stellar performance at any specific task.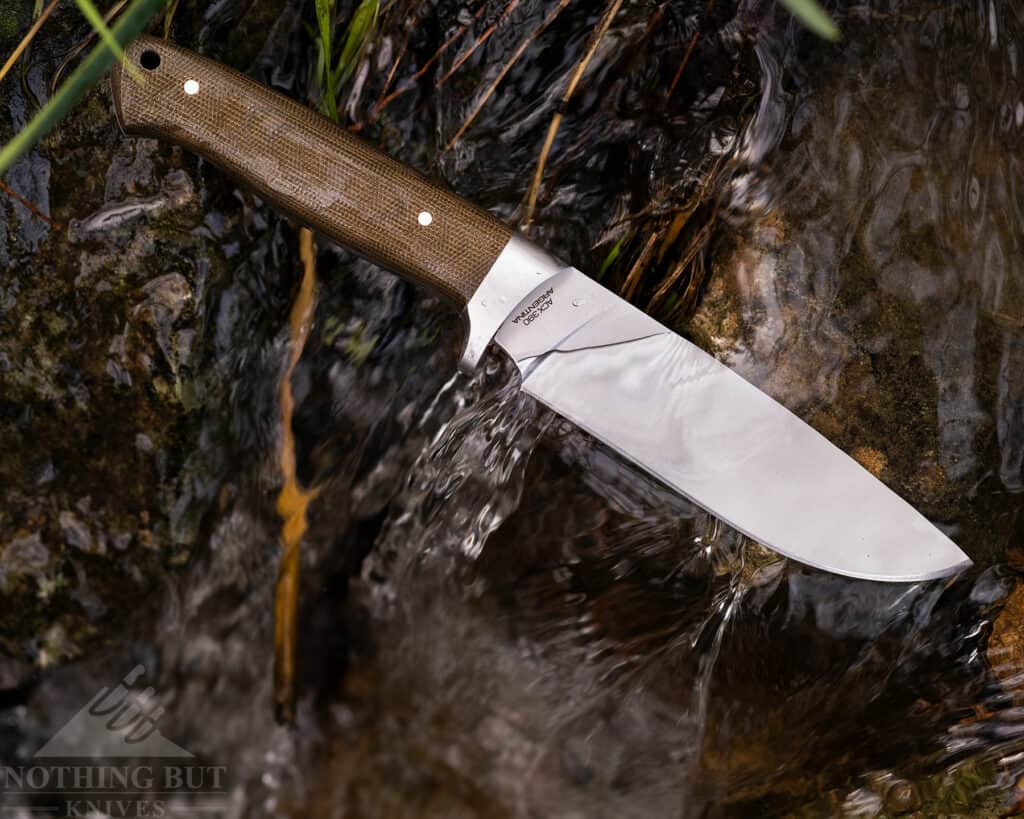 While not a practitioner of the discipline of hunting, I am keenly interested in certain related fields.
You could fairly describe me as a poor soul afflicted both by a congenital – and probably incurable – Wanderlust and a bone-deep appreciation of nature that runs in my family.
Said circumstances provide what look to me like sound moral/ideological foundations to build my habits of knife collecting upon.
Generally, though, I try to purchase only those knives that I am the most likely to get good use out of in the long run (considering my current lifestyle that, to my quiet contentment, involves spending time in the field on a daily basis). That is to say, I usually prefer to buy and use good, general-utility fixed-blade knives like the Cold Steel SRK or the Böker Plus Farkas Bushcraft. That said, sometimes it undeniably feels grand to leave your comfort zone and try something that, while not strictly falling into those categories of knives that you would normally choose from, may still end up finding its place somewhere in the overlapping areas of your own way of life and of various outdoor disciplines related thereto (like the CIVIVI Tamashii did).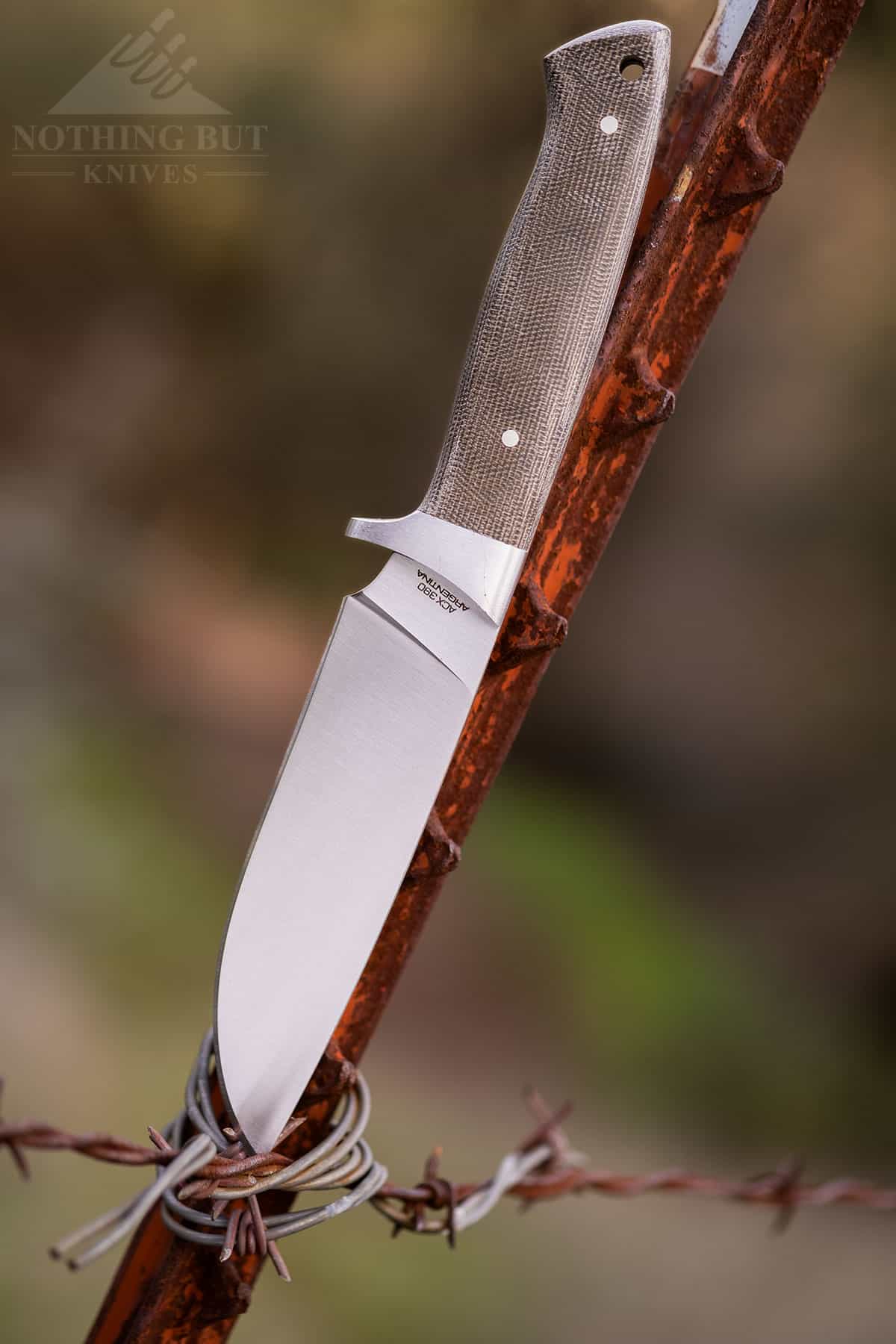 Such is the case with hunting knives: if you are a hiker or some other general-outdoors type, and assuming you can obtain one featuring a neutral-enough overall design, then there's a more-than-even chance that you'll find the knife you bought to be more-than-sufficiently capable as a general-utility field blade as well. I've had a similar (but not uniformly satisfactory) experience with the Böker Arbolito Bison (a harpoon-bladed hunting knife that the company recommends primarily for big-game hunters).
On the subject of the Hunter, I'll have to admit that it was not exactly a love at first sight – not the way the Tamashii was, anyway. Fit and finish are nowhere near as seamless, and the whole knife is so understated in its appearance that you have to make a conscious effort to find some personality lurking beneath the surface (it's there, I hasten to add, for those with eyes to see). In addition: at first glance, the Hunter bore – to me, at least – an uncanny resemblance to a hunting-themed kitchen knife, to the point that it took me a while to begin taking this knife seriously.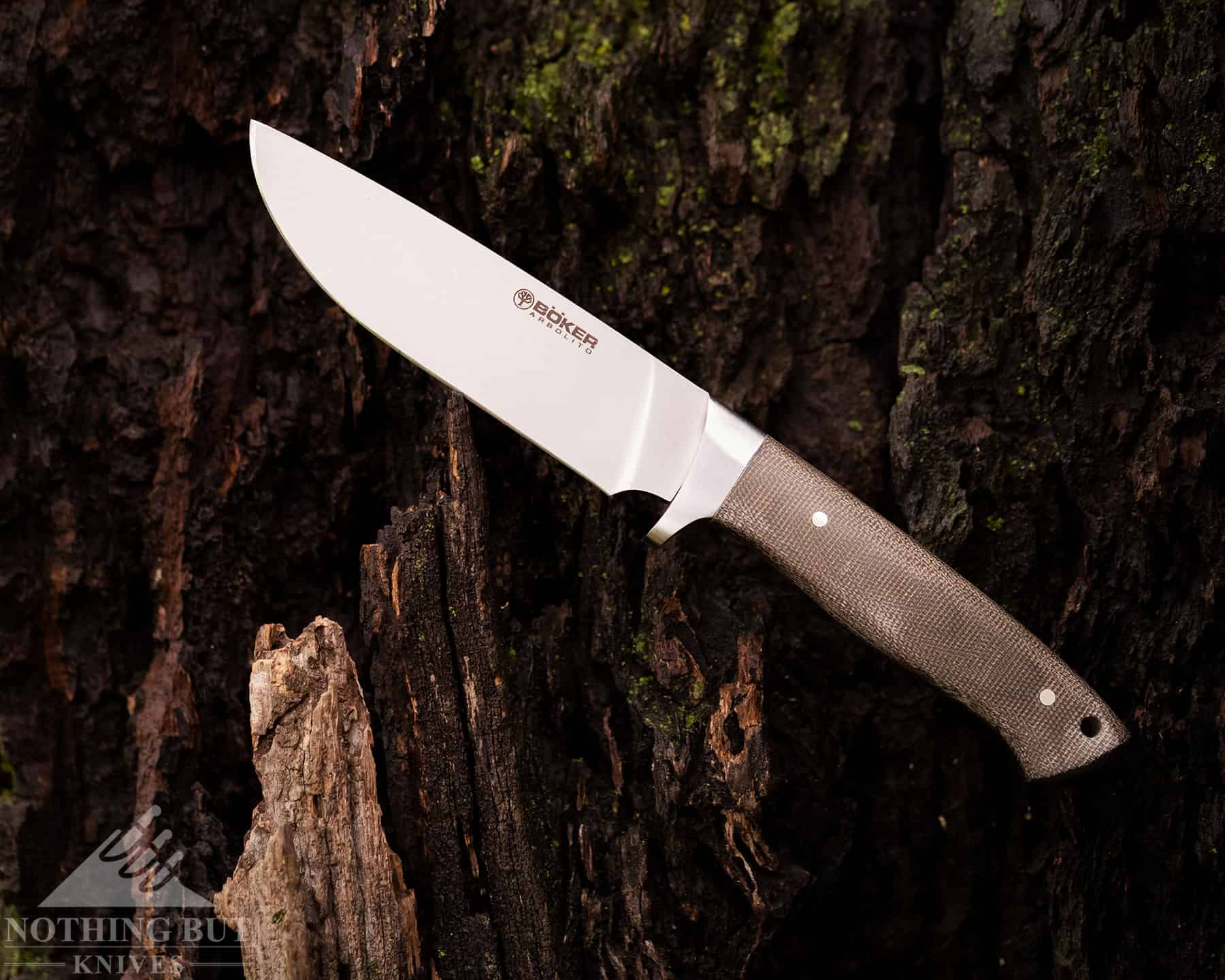 Once, though, I manned up and put all of that aside (deciding that if the Hunter is annoying enough to be interesting then it is, by extension, probably interesting enough to be put to use on a what's-the-worst-that-could-happen basis), that's right there when this blade started to reveal its true value as a general-utility field knife.
Specifications
| | |
| --- | --- |
| Overall Length: | 9.45 in (245 mm) |
| Blade Length: | 4.7″ (120 mm) |
| Handle Length: | 4.9″ (125 mm) |
| Blade Steel: | ACX 390 |
| Blade Grind: | Flat |
| Blade Thickness: | 0.18″ (4.6 mm) |
| Blade Style: | Drop Point |
| Handle Material: | Micarta |
| Knife Weight: | 7.23 oz |
| Weight w/ Sheath: | 9.5 oz |
| Sheath Material: | Leather |
Pros
An understated but capable hunting knife with a neutral-enough design to perform well as a hiking or outdoors (utility) blade.
Decent, if not flawless fit and finish and good materials.
Although not a design collaboration, this knife was clearly cooked up by someone with knowledge and appreciation of Bob Loveless designs.
Cons
The subpar packaging Böker Arbolito is notorious for will result in some premature welts and scratches on the sheath, blade and bolster.
The handle on this knife is not for everyone.
If you are not a hunter, there are better options (then again, way worse as well).
A NEW BLADE MATERIAL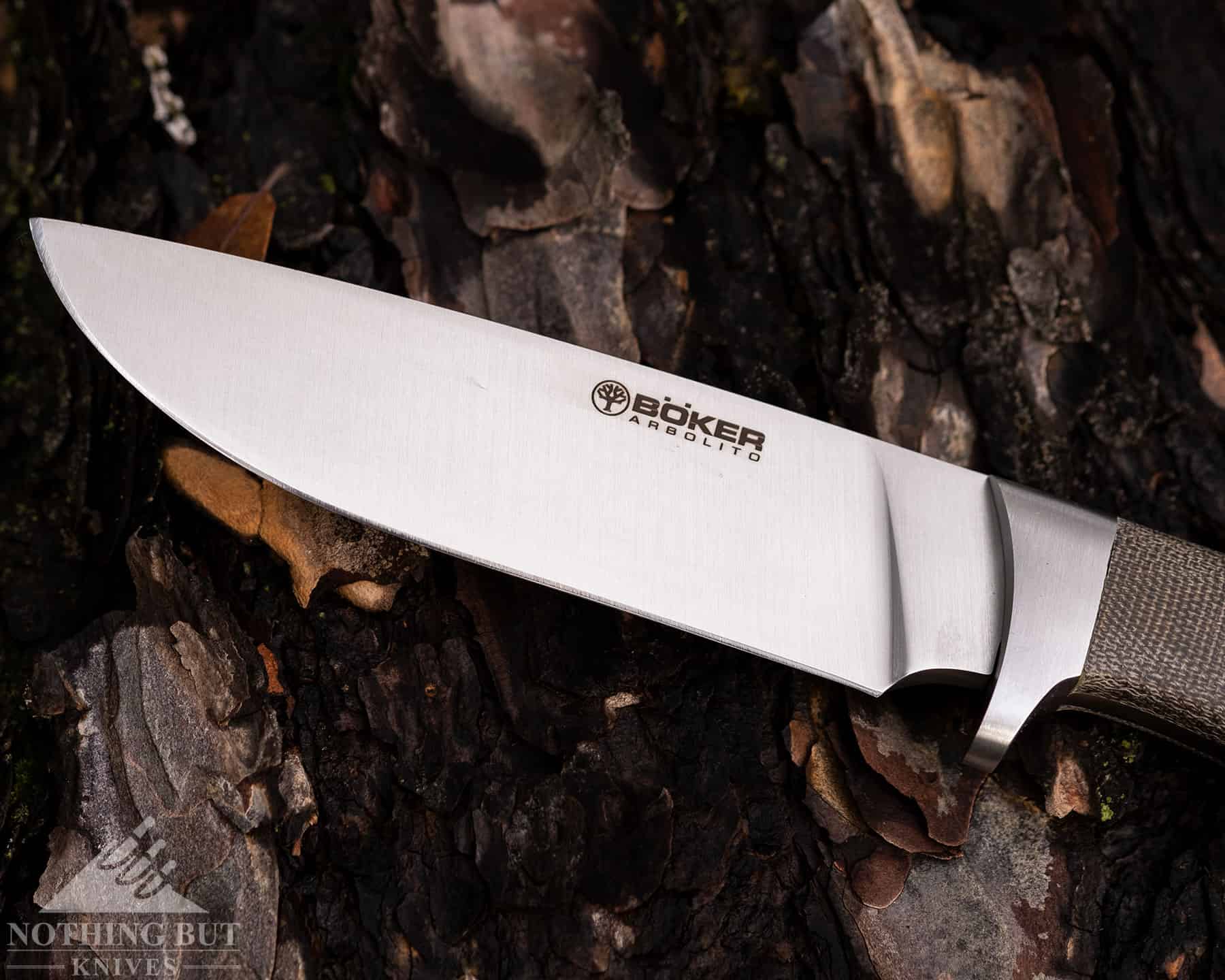 The Hunter being my first knife featuring the Spanish-made ACX 390 martensitic stainless steel (produced by the company ACERINOX S.A.), I wanted to read up a bit on this blade material; only to find that the manufacturer is not big on overwhelming either prospective buyers or the swinish multitude of amateur metallurgists with abundant information on its products.
The gist of what they do say is: "(…) Martensitic stainless steels exhibit an excellent combination of mechanical resistance and hardness by the suitable thermal treatment. Moreover, they are ductile and can be shaped. (…)". On the subject of the chemical composition of ACX 390, they supply the following data: Carbon: 0.36-0.42; Silicon: ≤0.75; Manganese: ≤1.00; Phosphorus: ≤0.040; Sulphur: ≤0.015; Chromium: 12.50-14.50; Nitrogen: 0.06-0.09.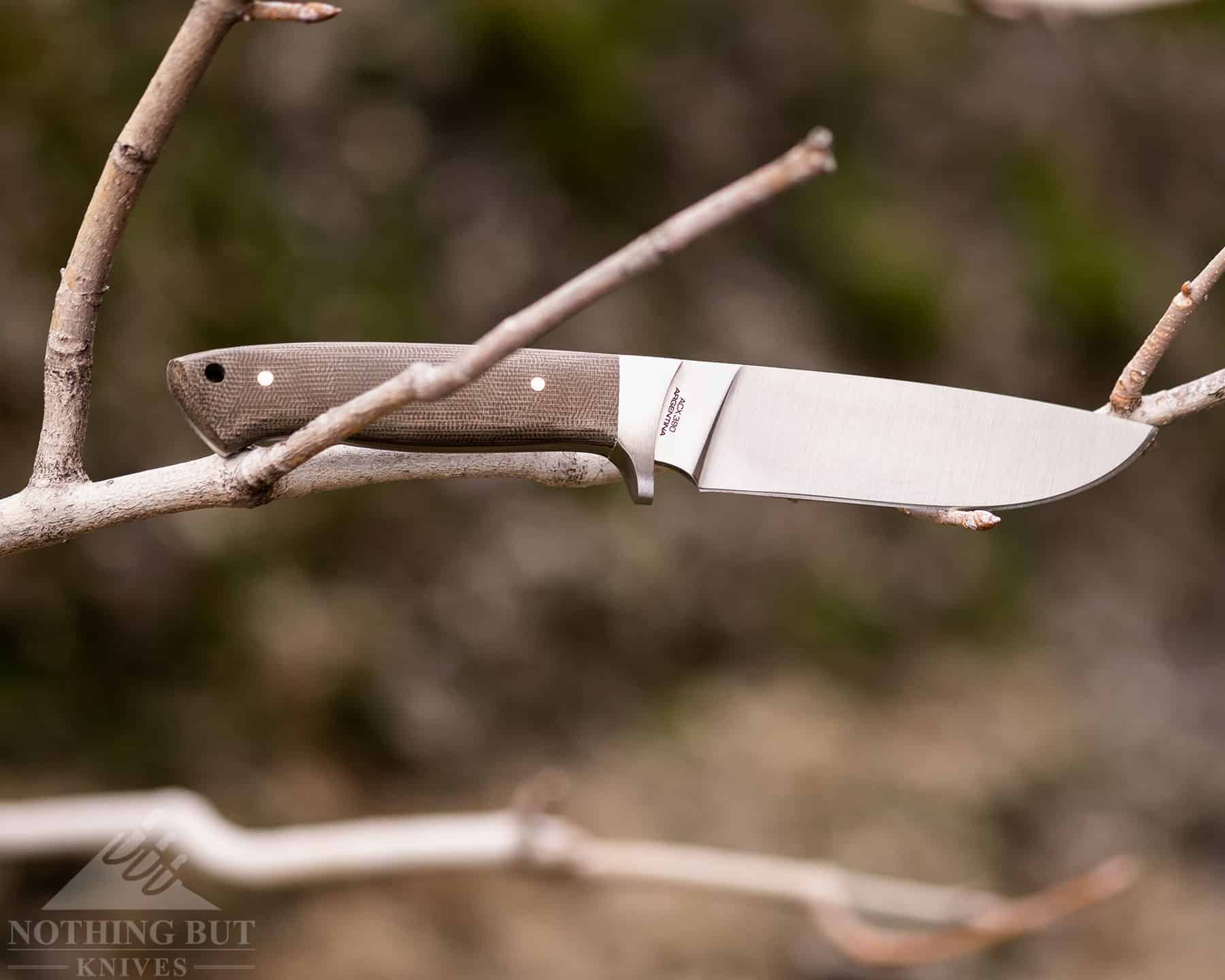 Once you get desperate enough to look for information on ACX 390 using its EN designation (1.4031), you'll find a more palatable description of its properties: "(…) The 1.4031-grade stainless steel is martensitic steel that can be used in quenched and tempered conditions. It can be used in several construction applications where moderate corrosion and abrasion resistance are required. (…) The 1.4031-grade stainless steel has the following properties: moderate corrosion resistance, very good mechanical properties, good machinability. (…)".
Perusal of the foregoing info gave me enough confidence in this new steel to go and give it a try in the field – as well as a great excuse to give up my fruitless efforts at seeking further enlightenment about this steel on the internet.
THE BLADE, THE HANDLE, AND THAT WEIRD LOVELESS EFFECT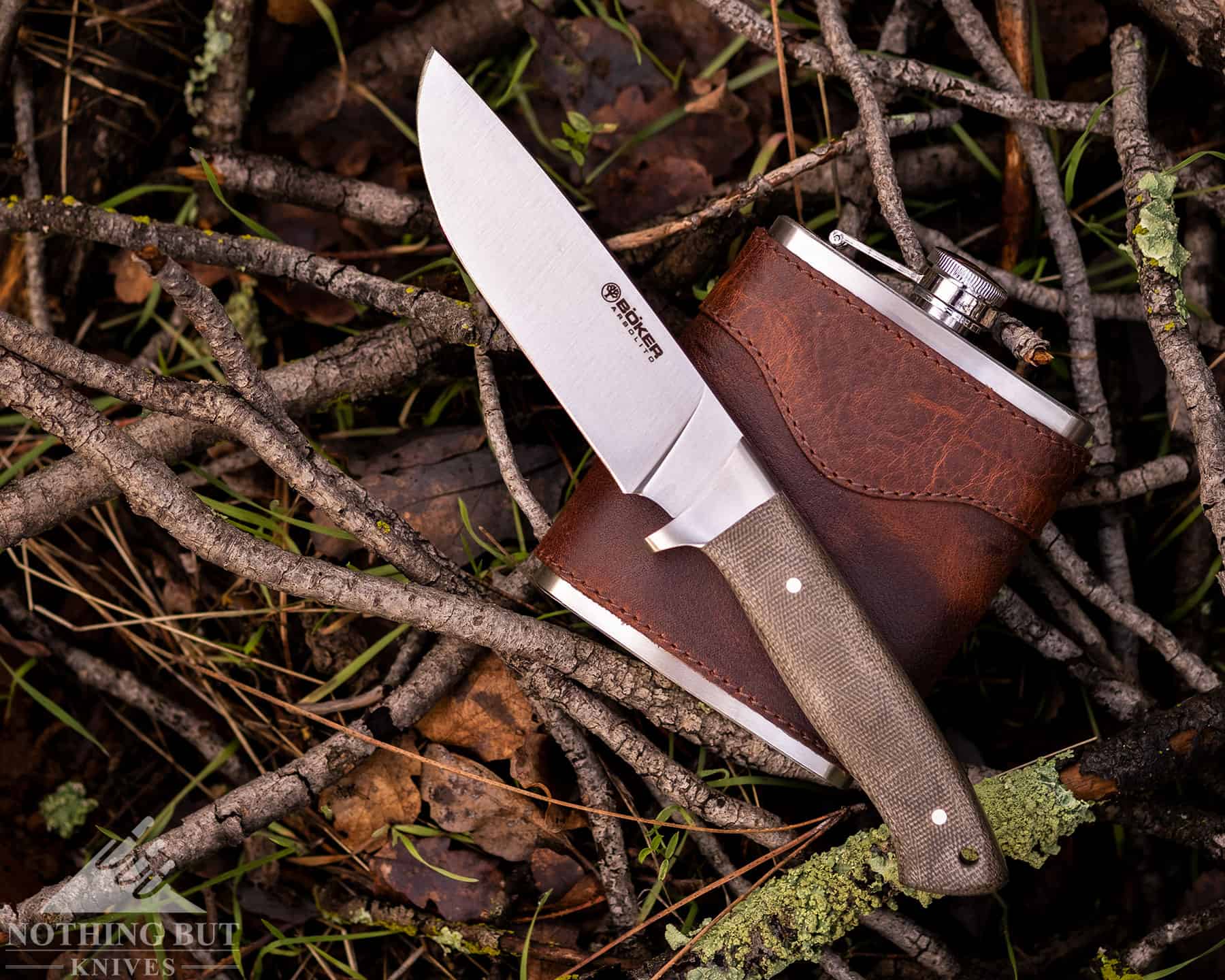 As I have mentioned earlier, fit and finish on the Hunter is not something that betrays a compulsive neatness and precision on the part of the manufacturer – now picture me doing my best Madonna/María Eva Duarte de Perón imitation, singing "Don't Cry To Me, It's Made In Argentina" –, this knife still brings very good manufacturing quality to the table in every respect that matters.
And to be fair, it's a hand-made and -fitted knife, so don't expect CNC-machined fit and finish.
A hunting knife is a knife used during hunting for preparing the game to be used as food: skinning the animal and cutting up the meat. It is different from the hunting dagger which was traditionally used to kill wild game.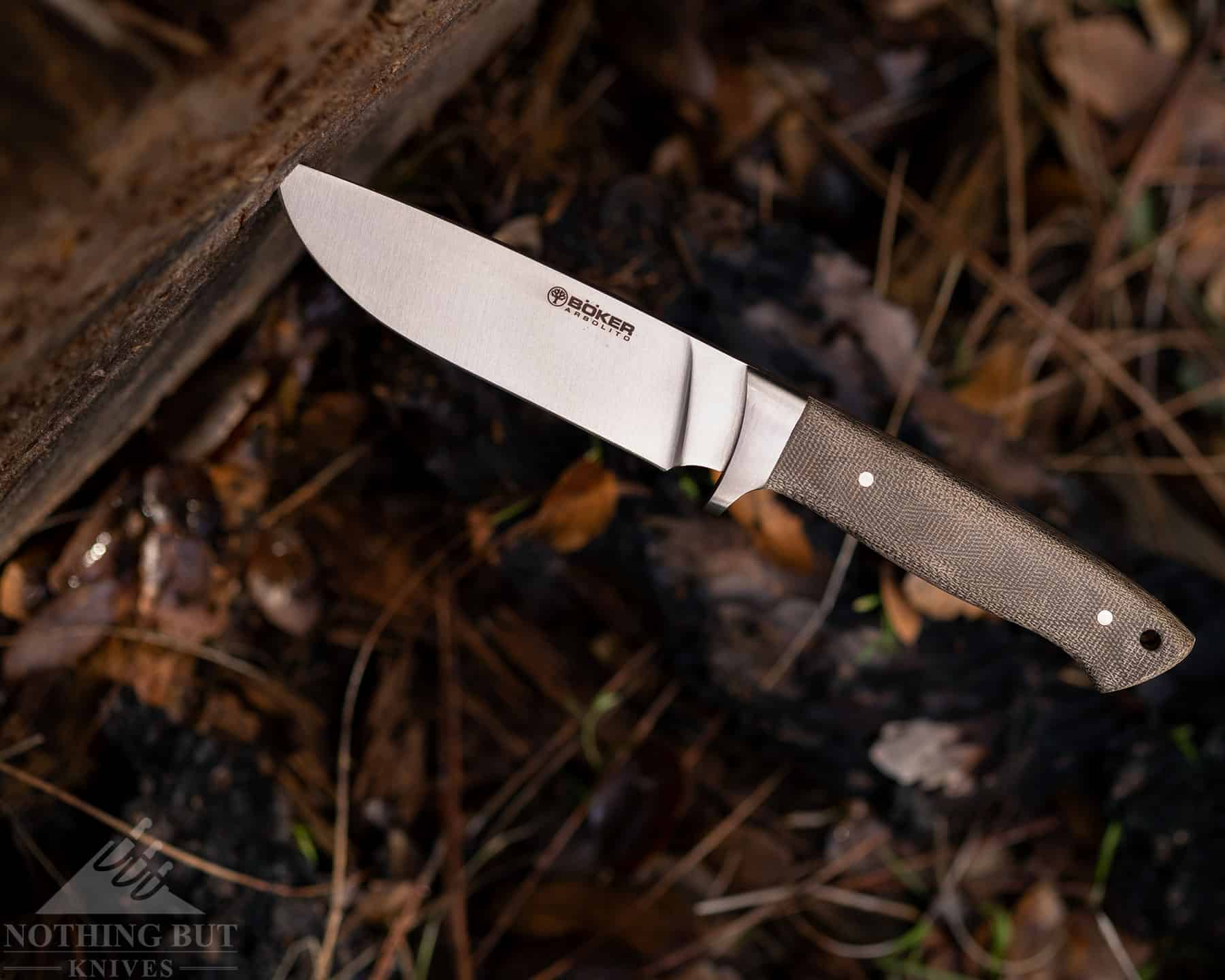 Hunting knives are traditionally designed for cutting rather than stabbing, and usually have a single sharpened edge. The blade is slightly curved on most models, and some hunting knives may have a blade that has both a curved portion for skinning, and a straight portion for cutting slices of meat. Some blades incorporate a gut-hook. Most hunting knives designed as "skinners" have a rounded point as to not damage the skin as it is being removed.
One of the bigger differences between a general-utility field knife and a hunting knife is that while the former is often the first-and-foremost tool that you take with you out to the field (or the only one, as the case may be, although that's rare), the latter is not the hunter's primary asset out there.
To put it bluntly, a hunting knife usually comes into play only after the main event – that is, when it comes to the arduous tasks of field-dressing and skinning. These activities require a blade shape that slightly differs from what's usually preferred on general-utility field knives.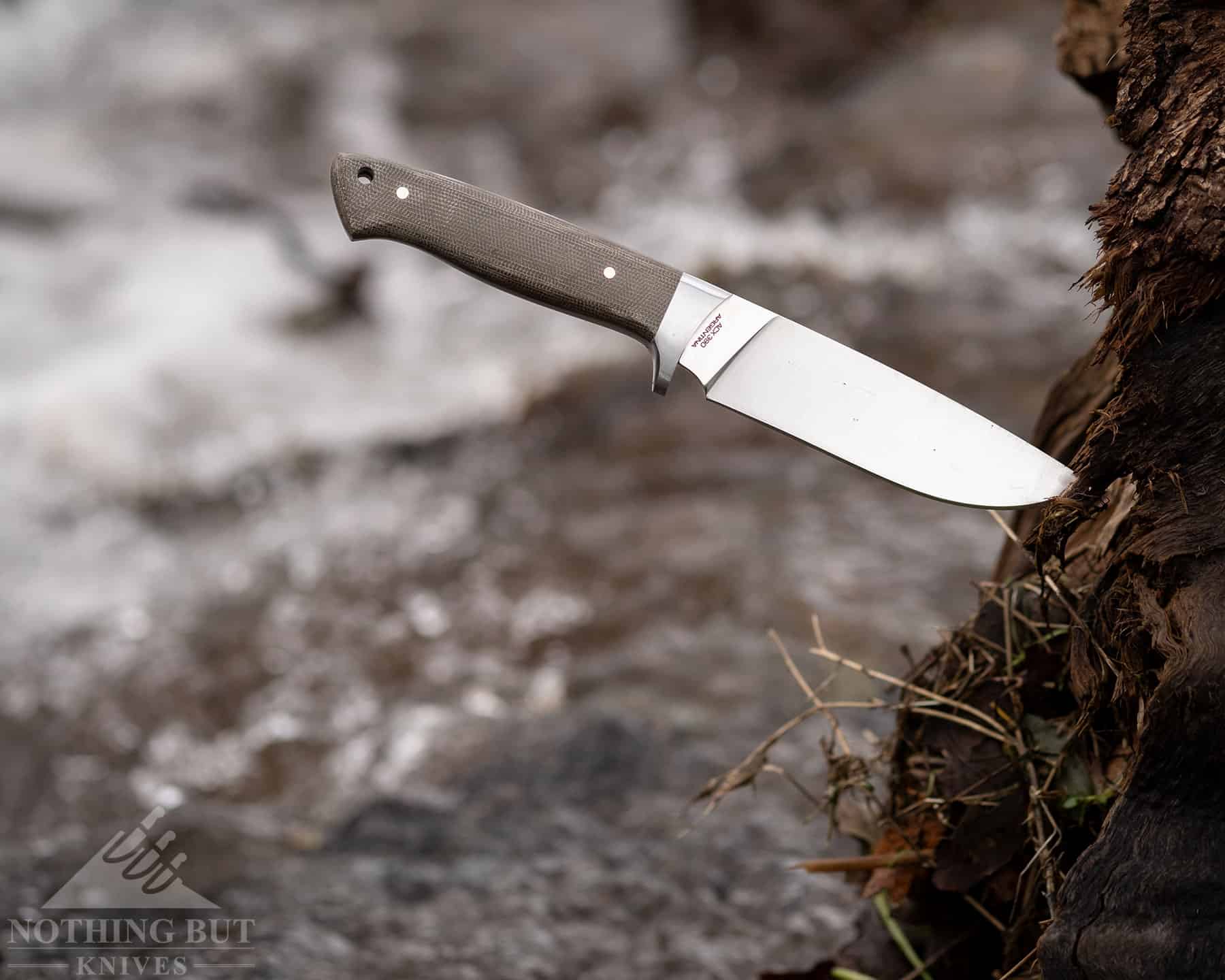 On hunting knives therefore, you'll probably want to see a less acute than robust tip that's able to penetrate hide and gristle but not prone to pierce entrails; a strong, durable spine, and a blade featuring as much belly as possible – the latter for detail work.
The flat-ground, slightly downturned drop point blade on the Hunter, while presumably also making it adept at breaking down a formerly animate object to its more basic constitution, also provides a good platform for this blade to serve you well as a field knife.
The manufacturer of the Hunter satisfied these requirements by going with a simple drop point design, where the edge section behind the belly stops just short of featuring a recurve. Think of a more elegant, somewhat elongated version of the Cold Steel Master Hunter (using different materials), and you'll get the picture.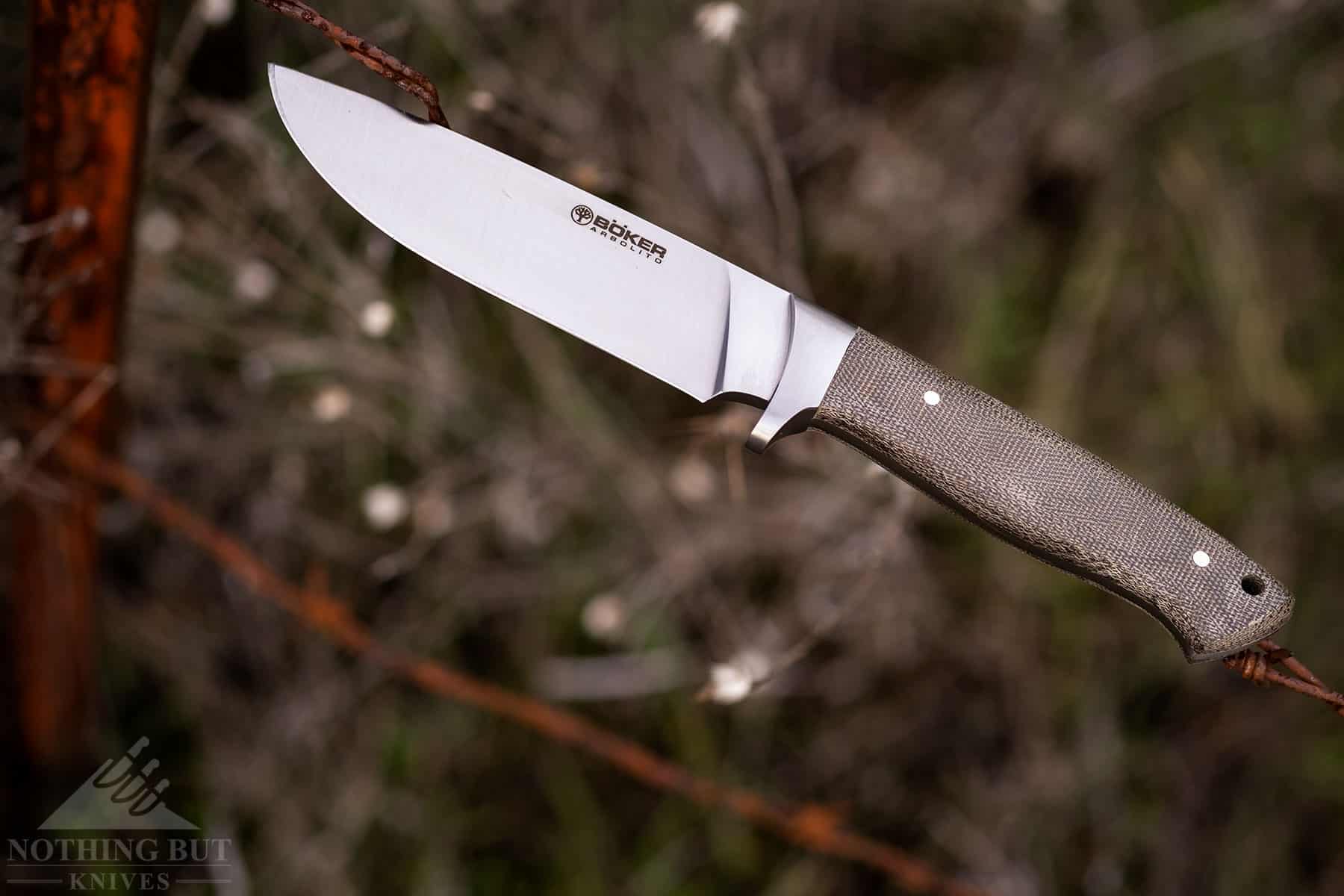 Add to the foregoing the necessity to include either a lower guard or a pronounced finger choil on the handle of a hunting knife, so as to prevent the user's fingers to slide forward onto the blade when working with gloved, wet and/or bloody hands.
Another way of going about meeting these blade-related requirements is what Böker Arbolito did when designing the Bison: that knife features a robust, harpoon-shaped blade with a lot of belly and a pronounced recurve, and a large finger choil machined into the handle. I bring that up because as much as I like the Bison for aesthetic reasons, the way its blade- and handle configuration locks my fingers into one or two grips at most keeps it from performing in the capacity of a general-utility blade as well as the Hunter does with its more neutral shape.
The flat-ground, slightly downturned drop point blade on the Hunter, while presumably also making it adept at breaking down a formerly animate object to its more basic constitution, also provides a good platform for this blade to serve you well as a field knife: you can use the part of the edge nearest the guard for wood-carving, if you have nothing else handy, although you should keep your expectations reasonable in this regard. This knife will also probably be a reasonably good camping knife. What I recommend you forget about right now is chopping with the Hunter; a bit more on that later.
Getting Used to the Handle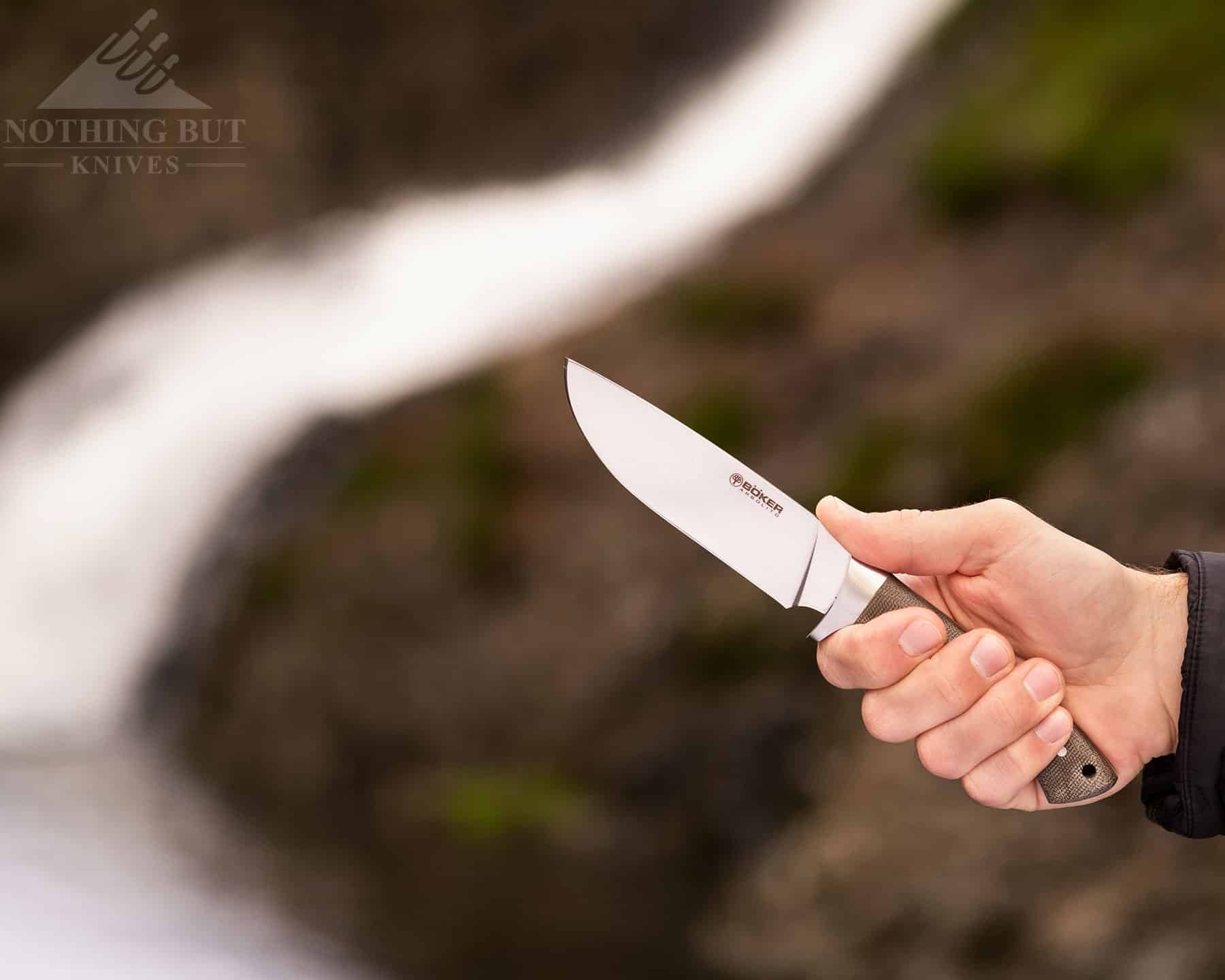 The handle of the Hunter is what I had the most trouble getting used to.
While I have hands so average-sized that if they were any more average-sized you wouldn't notice I have hands at all, my earliest experiences regarding gripping the Hunter were awash with frustration: it felt like either my mitts were oversized or the handle was too thin and short. No matter which hand I tried to grab the knife with (although I'm otherwise left-handed, I can use fixed blade knives with either hand), my little finger always fought for purchase on the thin pommel; so much so that whenever I drew the Hunter from its sheath, it took me an extra couple of seconds to adjust my grip on the knife to make it comfortable enough.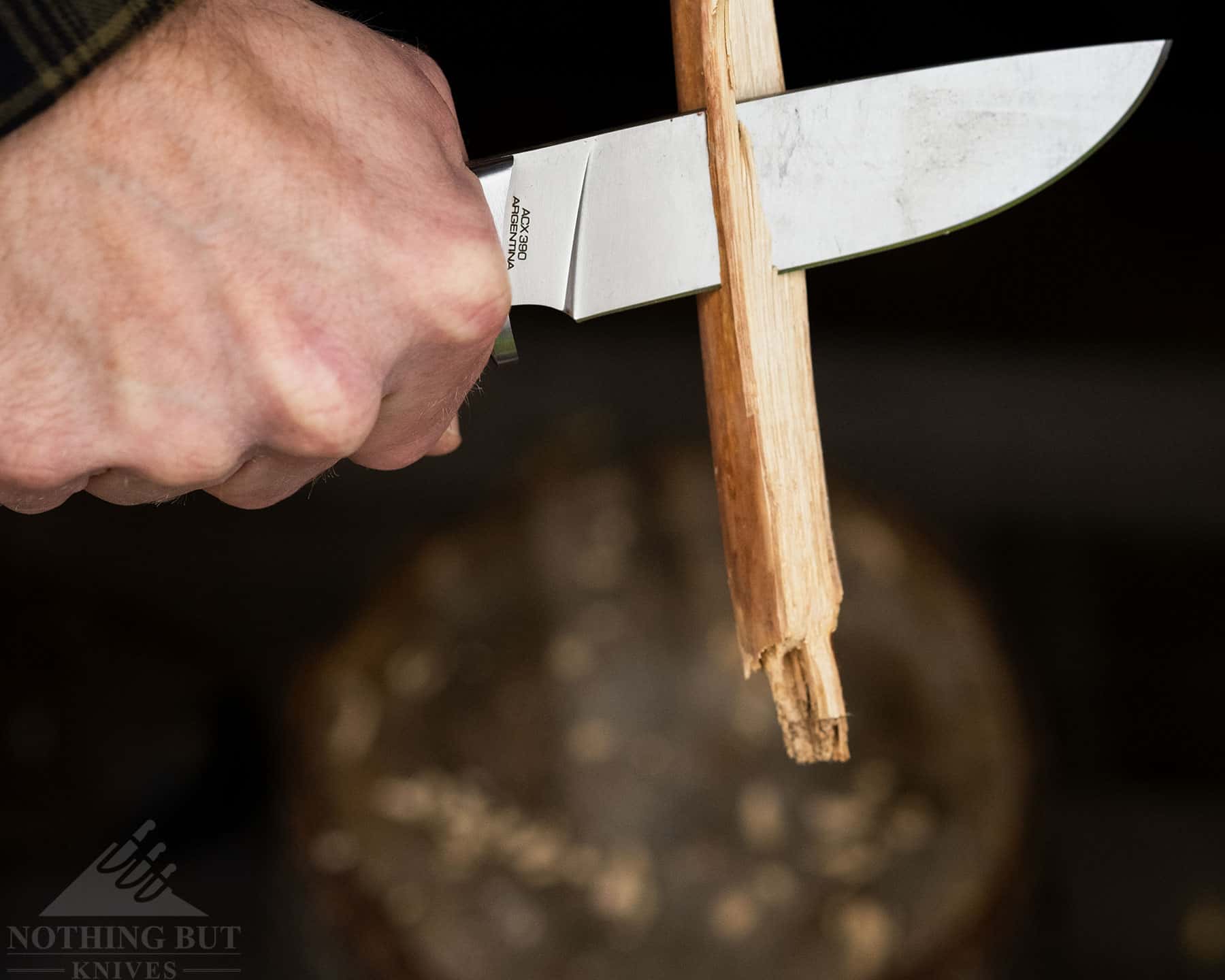 After a few hikes with the Hunter, though, I have gotten used to this knife enough that the handle feels much more comfortable now than it did at first.
To be entirely fair: the moment you hold the knife the way you would when doing skinning or field-dressing, the shape and size of the handle will begin to make perfect sense to you.
I still prefer knife handles of a more hand-filling configuration. In particular, I still wish they went with a thicker and longer handle on the Hunter, or at least put a flared-out pommel on it; but that said, I have to add that the more I use this knife, the more I like the weird-handled, ugly thing.
The Loveless Balance
Looking up the subject of the late Robert Waldorf "Bob" Loveless on the internet, you'll find – inter alia – that through his study of 19th-century techniques, Loveless developed the full-tapered-tang method of knife construction. This technique was formerly used to offset the weaknesses of steel in use prior to modern metallurgy. In Loveless' knives the entire piece of steel used to make the knife ran to the end of the butt as opposed to being cut to half the length of the handle and either pinned or glued in place. Loveless tapered the butt-end of the tang down to 1/16" the same way he tapered the point on the blade, placing the balance of the knife's weight in the center. The full-tapered-tang Hunter uses the exact same design solution: the result is a very nice balance point right behind the guard.
Reading on, you'll also learn that Loveless pioneered the use of Micarta as a handle material. I will not belabor the parallel with the Böker Arbolito Hunter, ah, Micarta. It was also Loveless who popularized the drop point hunting knife.
Allow me a quote from Loveless that (being germane to the subject) I find worth reciting here:
"When a man picks up a knife, there's an old memory from the collective unconscious that surfaces. A knife is an atavistic experience. It was man's first tool and weapon. Man was chipping flint into cutting edges before he invented the wheel. No matter how sophisticated we become, a knife takes us back to the cave."
THE HUNTER IN USE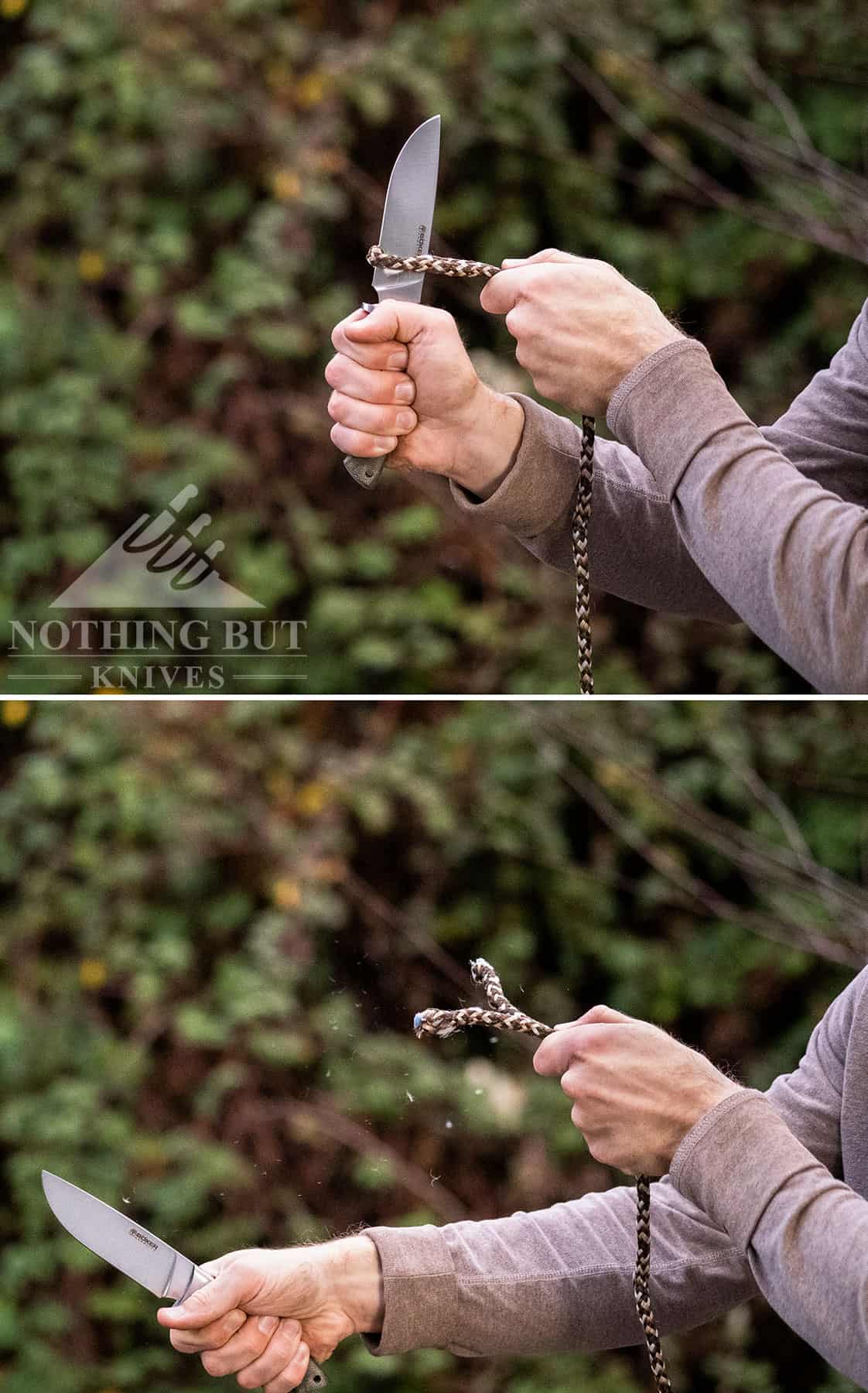 Even used as a field knife (like I do), the Hunter does its job well.
The blade has kept its edge well so far, and when touched up, it presented no difficulties in relation to sharpening. It works lovely in the kitchen – no surprise there, given the design purpose –, but up to this point, I've been reluctant to do much wood carving (never mind chopping) with it in the field.
And that, I'm afraid, brings me back to the handle. The latter is preceded by a bolster, and is itself made of micarta. While it's silky-smooth to the touch and looks great with its lizard-skin colour, unfortunately the analogy does not stop there. Gripping the handle – especially with dry, naked hands – feels a bit like grabbing a lizard and trying to hold on to it (minus the wriggling a live reptile would presumably do). But as I said earlier, the handle still works well at general tasks that are more akin to what a hunting knife would be subjected to. General woodwork is not out of the question, but I recommend you wear gloves for that. Trying to chop with the Hunter would amount to inviting accidents. But whatever you do with the Hunter, always be sure to get a good grip on that handle first.
(Editor's Note: We chopped and batoned with it on our end, because we're stupid monkey people, and can confirm the Hunter very much wants to fly out of your hand.)
CONCLUSION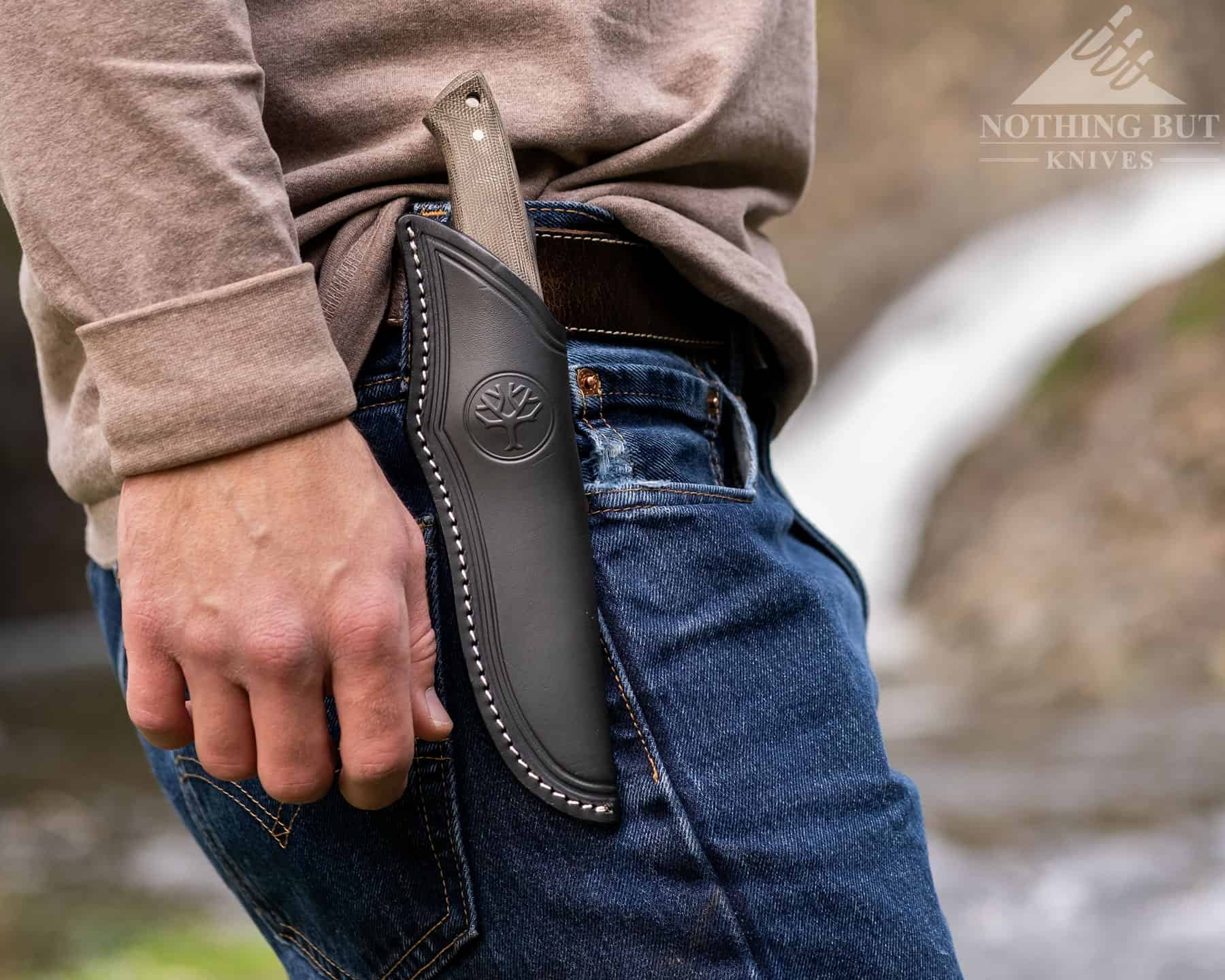 Any criticism of the Böker Arbolito Hunter Micarta aside, this is a good and likeable knife.
Mine has grown on me considerably in the course of the time spent with it, and for all its minor imperfections, I am happy to call one of these knives my own.
If you spend a fair amount of time outside and are not looking for a fixed-blade especially for woodwork (but rather for general outdoor tasks or hunting), then the Hunter is a fun knife worth giving a shot.