This Flashy Flipper Lives Up to Its Looks
This thing is a lot to look at. By all rights I should be calling it a gimmicky toy of a thing, made more for the agitated hand than for any particular job, and maybe there would be a little truth to that.
But I'll be damned if this isn't a remarkably good knife. It slices where it needs to, it pries from surprising places, and it has angles all throughout the design that make it very easy to hold onto in spite of the smooth (but snazzy) scales. It has a way of grabbing attention and holding it because the function of this thing holds up so well to the look.
Specifications
| | |
| --- | --- |
| Overall Length: | 8.2" |
| Blade Length: | 3.48" |
| Blade Steel: | CPM-S35VN |
| Hardness: | 60 +/-2 |
| Open System: | Front and back flipper / thumbhole |
| Blade Thickness: | 3.0 mm |
| Blade Shape: | Tanto |
| Blade Grind: | Hollow / harpoon |
| Handle Length: | 4.72" |
| Handle Material: | Topo G-10 |
| Lock Type: | Trek Lock button |
| Carry System: | Deep carry wire clip (tip-up, fully ambidextrous) |
| Weight: | 3.77 oz (107 g) |
| Designer: | Yue Dong (Dr. EDC) |
| Made in: | China |
Pros
Very comfortable
Fidget factor is at funhouse levels
Nice edge geometry on both grinds
Turns out to be a good camping knife
Cons
Button locks in general are a whole thing
Wire clip has a gentle grip
A Fidget Based Design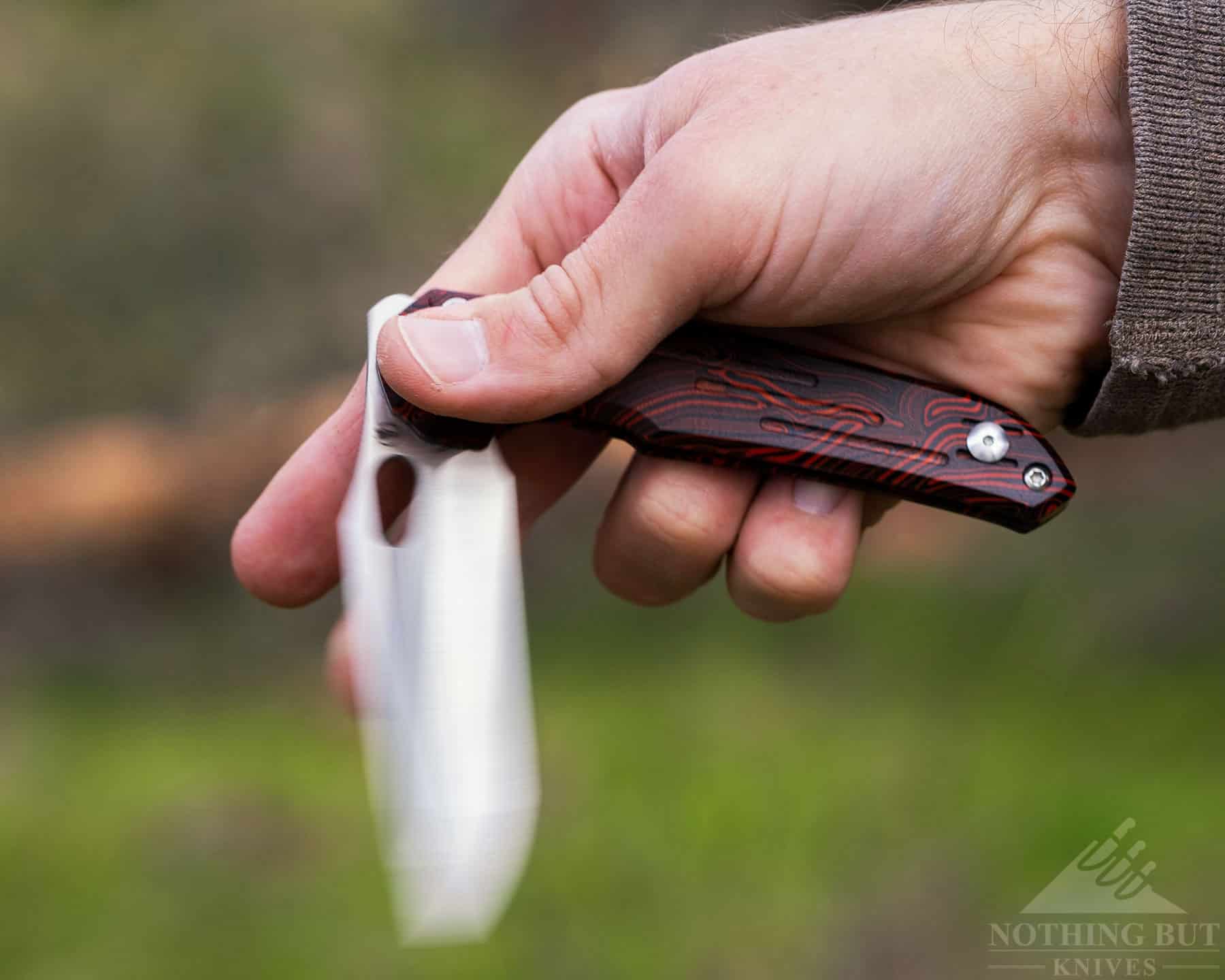 The story from Dr. EDC is that he used to fidget with knives in college as a form of stress relief. The Thunderbird was optimized for that activity. Vosteed did this by running the action on bearings and giving it four obvious ways of opening it, but over the course of testing it the last couple months I've come up with a couple more that are… inadvisable, to say the least, but something about the balance and weight makes it feel oddly fun to do things like flip it around, hold the spine of the blade, and flick the handle out.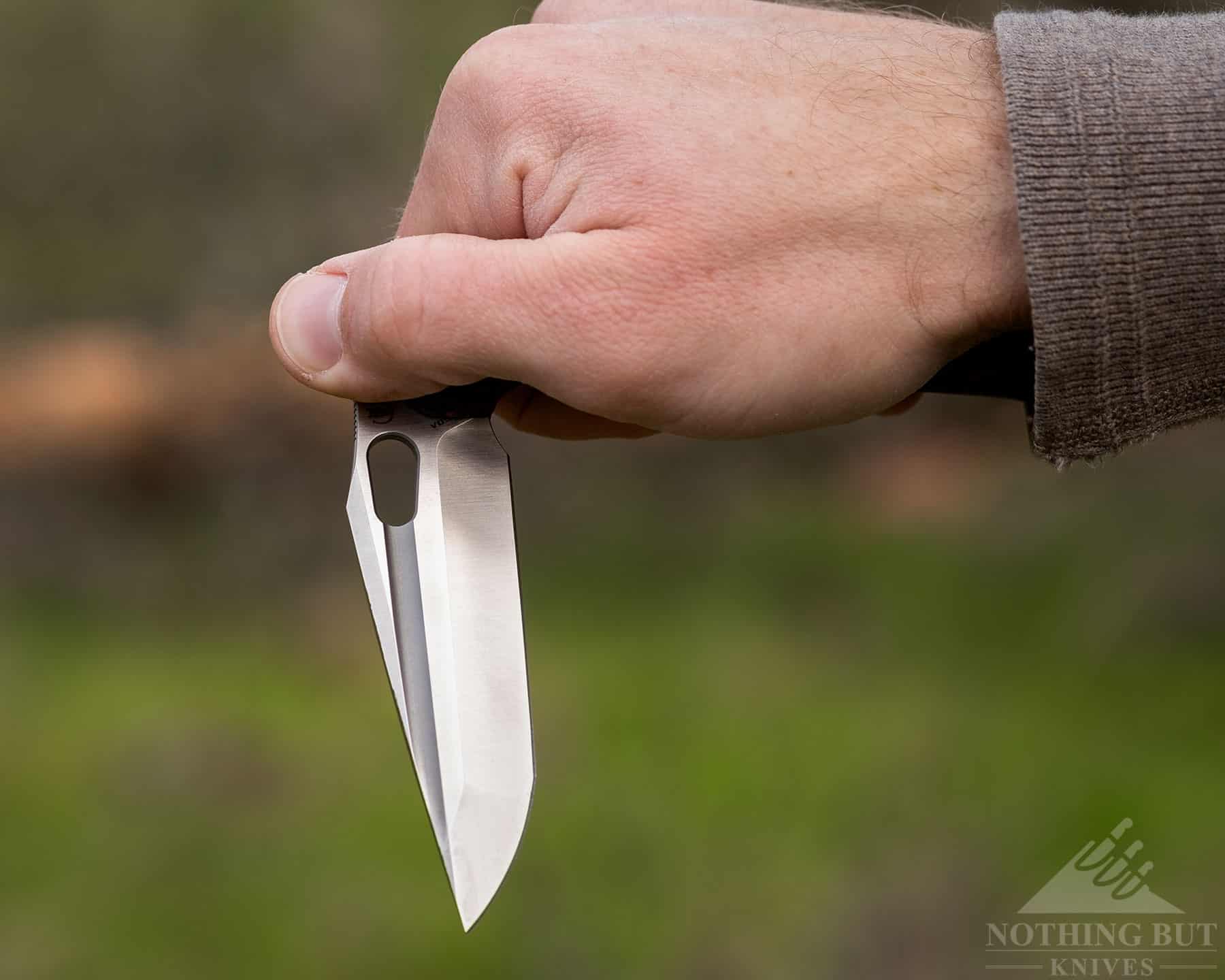 The important bit here is that the Thunderbird is both a front and back flipper with a thumbhole and a button lock. Even the fuller running from the thumb hole to the spine turns out to be a good spot for reverse flicking the blade open. There is no way to hold this knife that doesn't put something near your fingers to help you open it.
All the Clicking is Thunder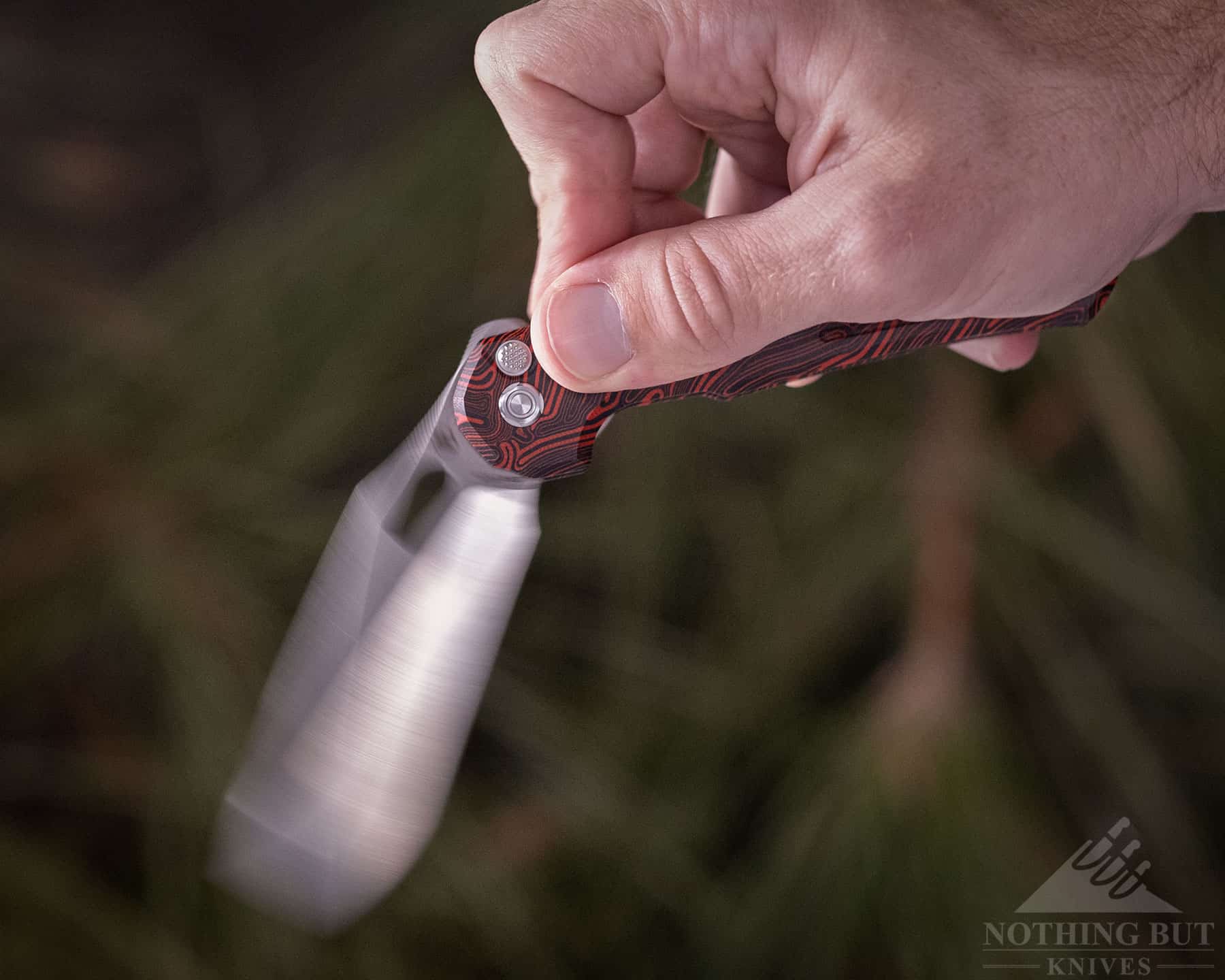 The other origin story here is that Dr. EDC lived near Lake Thunderbird during his time at Oklahoma State where he spent a lot of time doing fieldwork with the Cheyenne and Arapaho tribes. They showed him things like their traditional thunderbird moccasins, which would later serve as an inspirational basis for this knife design.
By all rights that should be a sobering story that makes me hold this knife with a little more veneration, but I seem to have taken it in for my own inspiration, because when my wife told me to stop playing with it I just yelled "I am the Thunderbird!" and cut a piece of paper in half, which, in retrospect, was not as cool of a thing to do as it seemed in the moment, and I've now learned the true value of investing in a good cot.
Point being, the story and the fluidity of this knife gets to you in a visceral way. Just be careful it doesn't make you take it too far.
My Personal Issues with Button Locks and How the Thunderbird Fixed Them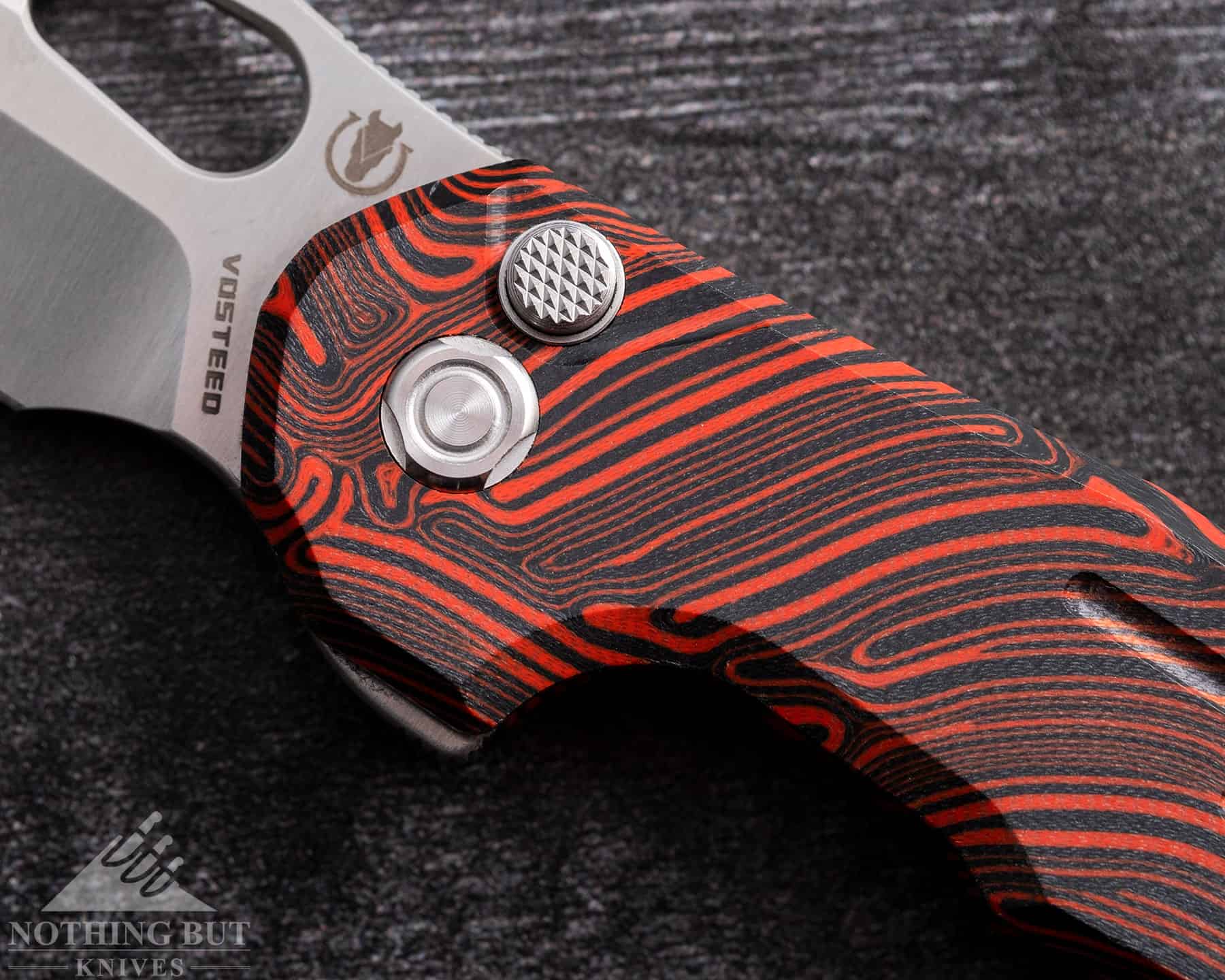 I was testing this alongside an early production model of the Vosteed Racoon, and one of the main (and only) issues I had was that the button lock was placed where it was too easy for the thumb to accidentally disengage in a gorilla grip.
The Thunderbird almost has the same issue, but a couple of key details save it: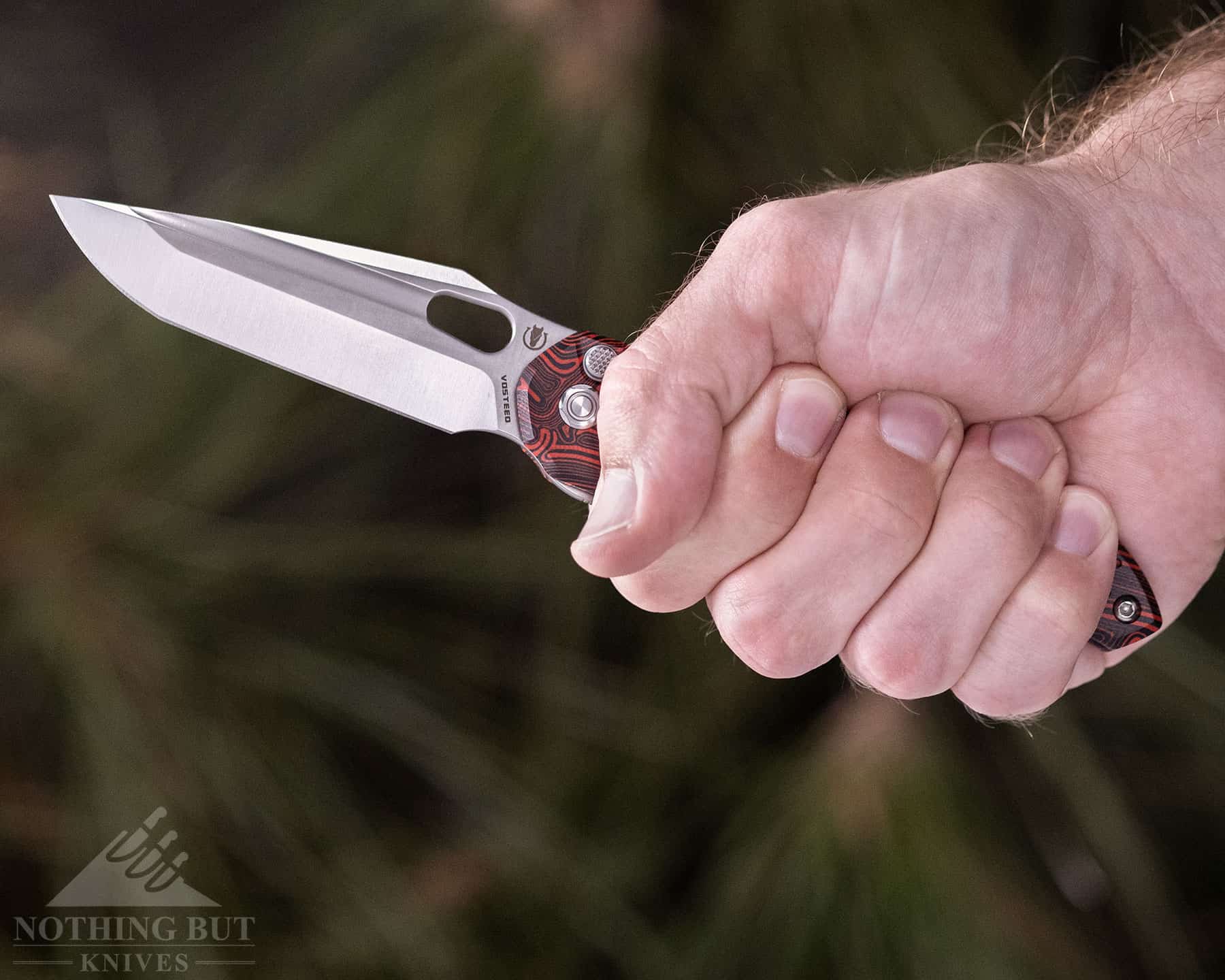 The first, and possibly most important, is that the button sits well above the indent for the index finger when it grips along the side. And even though my thumb does end up resting very near or even over the button in some grips, it has a way of falling around the natural arches of the digit.
The other is that the button is very pronounced so I'm able to feel where the button is. I haven't accidentally disengaged this lock because I can always feel the button long before I actually press down on it. That might be different if you're wearing some thick gloves, so that's worth keeping an eye on, but the spring on this button is pretty strong. I wouldn't expect much danger there unless you're choking the blade up hard.
The Sort-of Finger Guard Element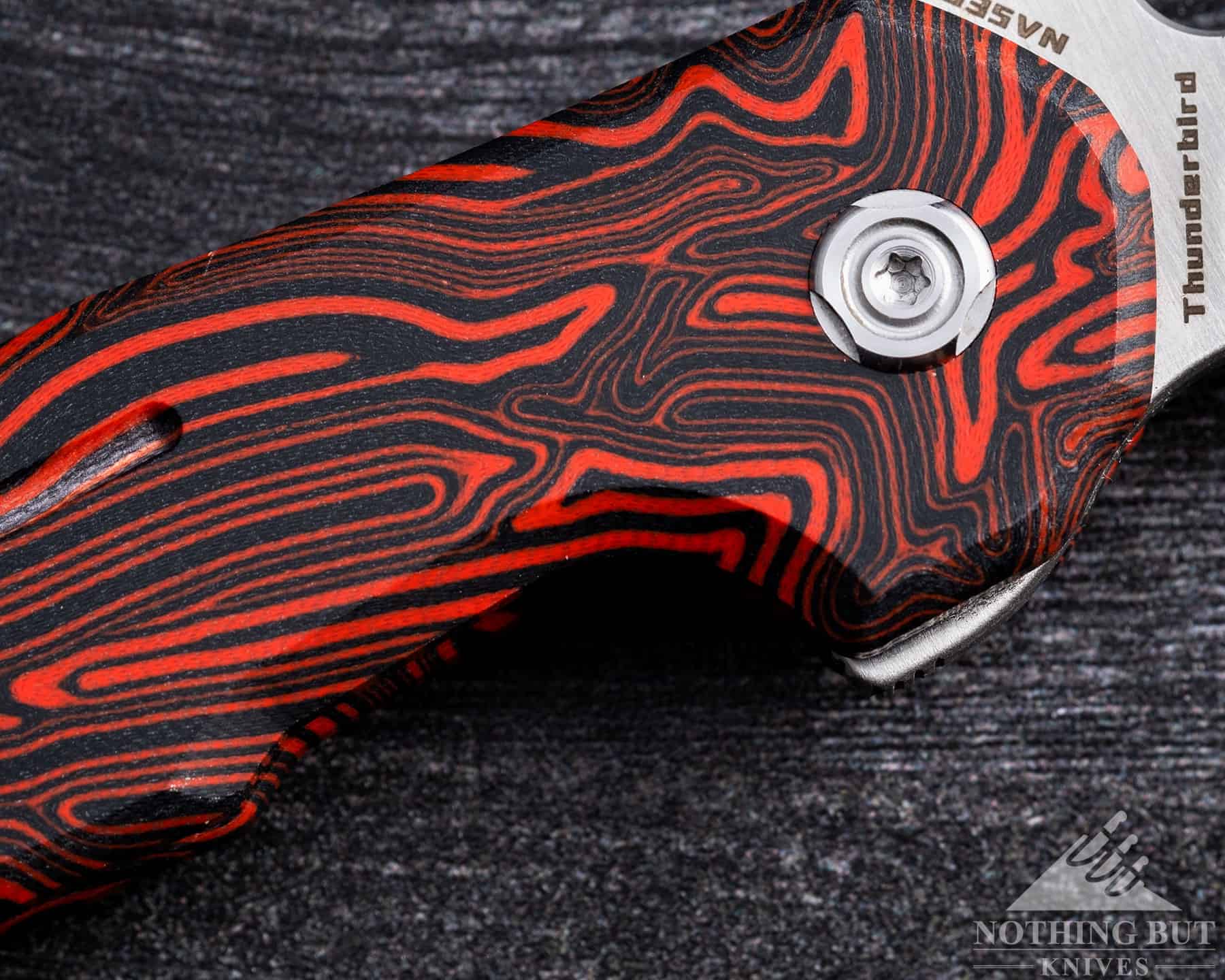 The flipper tab is the last key element. Since the tab becomes something of a textured finger guard when the blade is deployed, I can feel when the blade starts to move in a way it's not supposed to and stop whatever I'm doing before something bad happens. On top of that, the friction of my finger helps to keep the blade from chomping down on my hand with its drop-shut action. There isn't enough material there to stop the blade completely, but it's enough to give me a little more presence of mind.
But otherwise, the ergonomics work well enough on this design that I can actually enjoy the features of the button lock without any stress.
Button Screwing and Factory Updates
Early versions of all of Vosteed's button locks also had a slight problem with the button coming unscrewed. At first I thought it only happened because I was fidgeting with the knife wrong (or too much), but after enough people came up with the same issue (maybe we were all just fidgeting too much?) I've heard whispers that they're going to start using a semi-permanent loctite on the button threads from now on, so later models might not have this issue.
It sounds like a pretty good fix to me except it will also mean that part won't be changeable anymore. That's a hard hit for modders, but I understand the need to compromise somewhere. That's also not a set-in-stone thing as of this writing. I'll update this review as more models come out, or if someone reads this and tells me everything I said and did wrong.
In the meantime, you can avoid the unscrewing issue by just pressing down on the button and spinning your thumb to the right a little every now and then to tighten it. That's just become one of my fidgeting motions with this knife.
The Blade of a Couple Grinds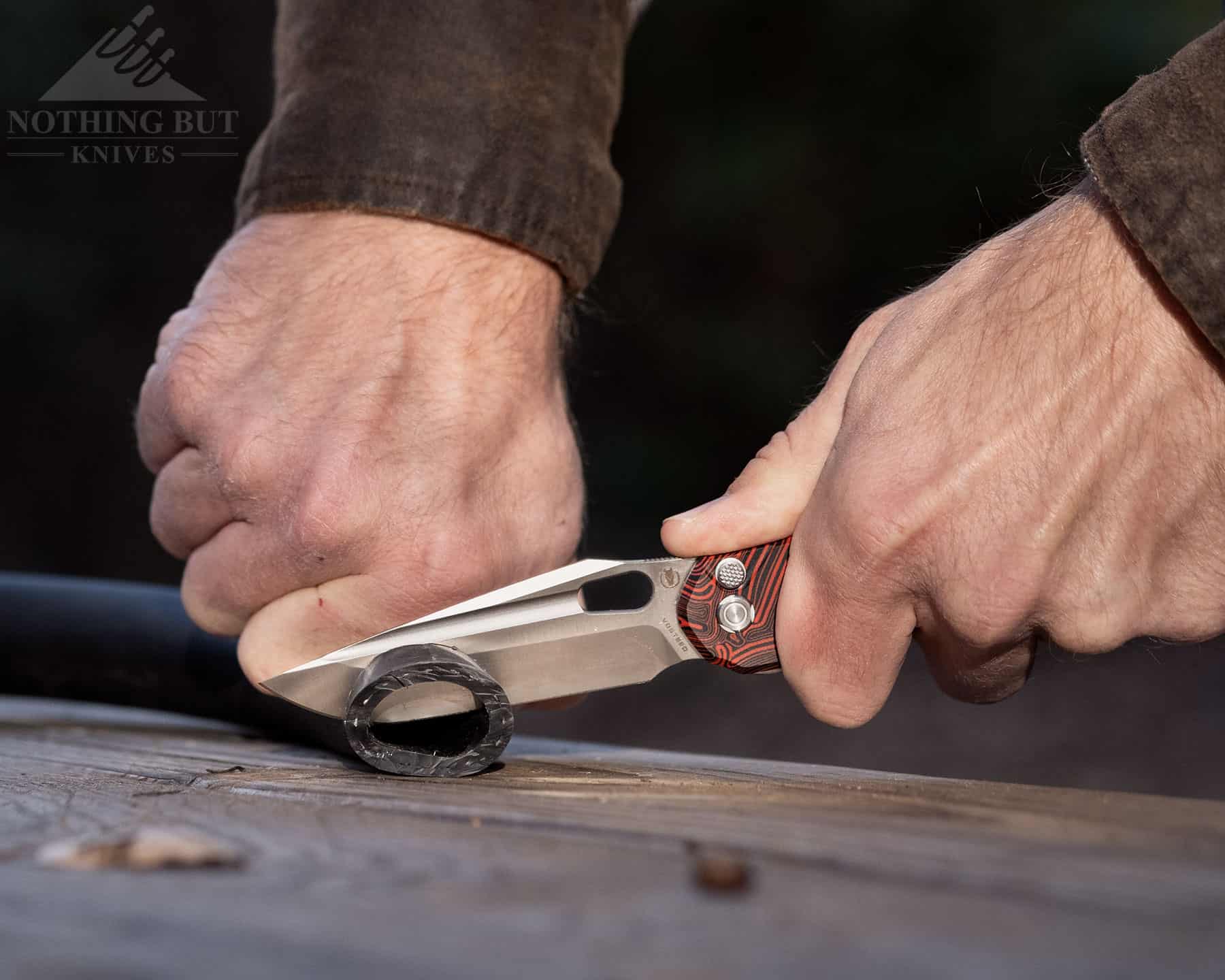 There's a lot going on with this blade, but it all comes together in the end. It's very much in the Bob Lum tanto style tradition with a hollow grind along the flat edge and a flat grind for the tip (it doesn't quite look apple-seed shaped to me). I've always been suspicious of these compound grinds. They look like they're trying to do too much at the risk of doing nothing well, sort of like the Tom Brown tracker design.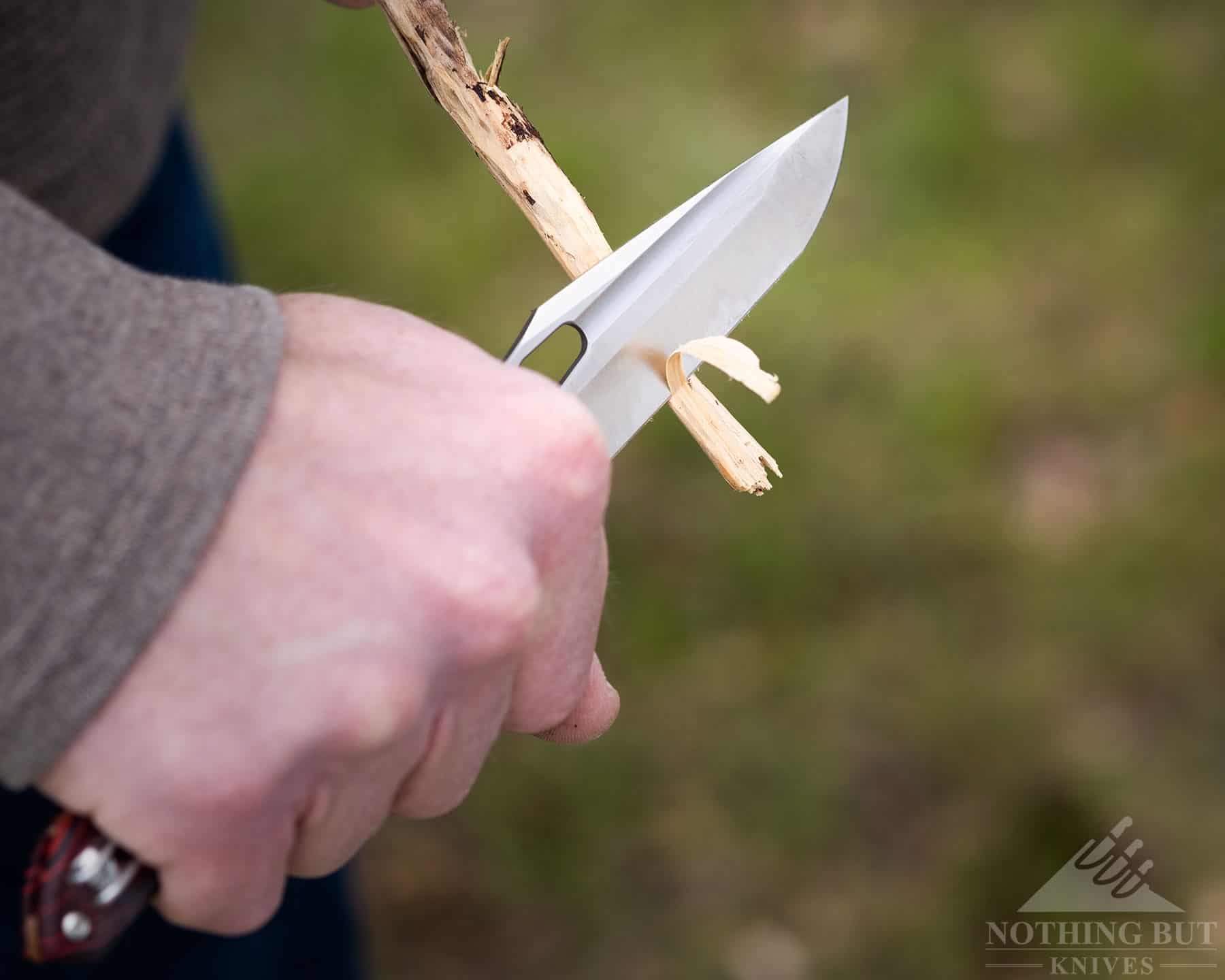 I guess the theory is that the hollow grind along the flat of the blade is for fine slicing while the thicker tanto portion is for puncturing or prying. I don't feel all that compelled to do either of the latter with a folder, much less one with a new lock design, but I have to admit this crazy shape seems to do all the things it's meant to do and more.
The hollow grind is pretty stellar at slicing. I was cutting curves into paper out of the box, and even though the geometry behind isn't incredibly thin, it feels very smooth through most materials (including but definitely not limited to cardboard boxes).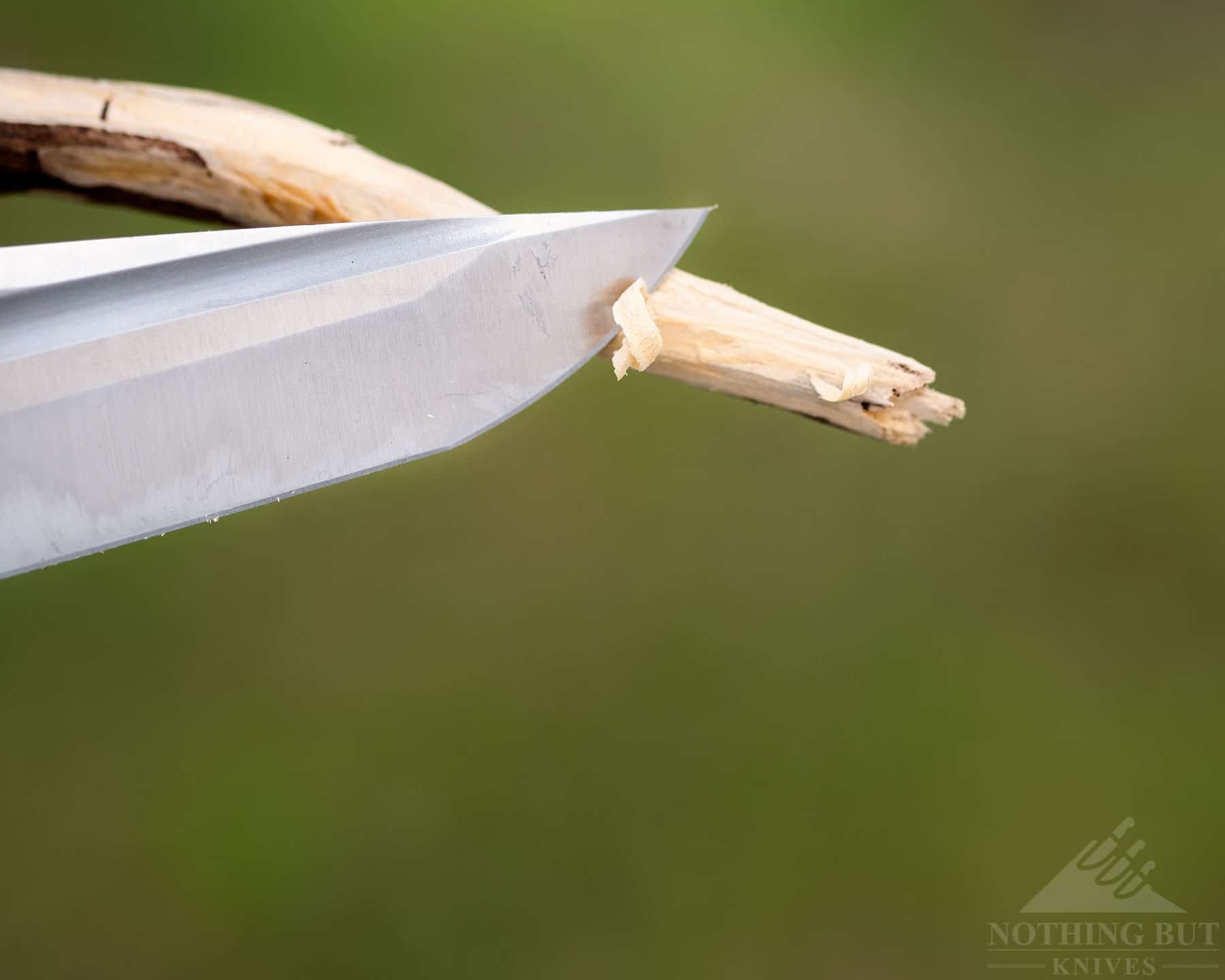 I also found I really liked using the tip for working with wood. That flat (but almost convex) grind has a really light touch that makes it easy to make little feather sticks and even do a bit of halfway decent carving (it would be all the way decent if I had any real skill at carving, though). This would be great for making notches and other fine-tooling shaping around the campsite in the hands of someone who actually know what the hell to do with a couple nice notches in a stick.
Surprising Utility
I came across a neat little extra tool in the fuller groove that cuts all the way to the spine of the blade. Or rather, Joe Flowers came across it shortly after I showed him what was in my pocket. He asked to see the Thunderbird then promptly struck the part where the fuller ends in the spine against his fire steel in a way that I would learn later is equivalent to a handshake for him. The Thunderbird threw spark like a champ, and ever since then I've played around with it as a great camping knife, and the Thunderbird tacks on another way it lives up to its name.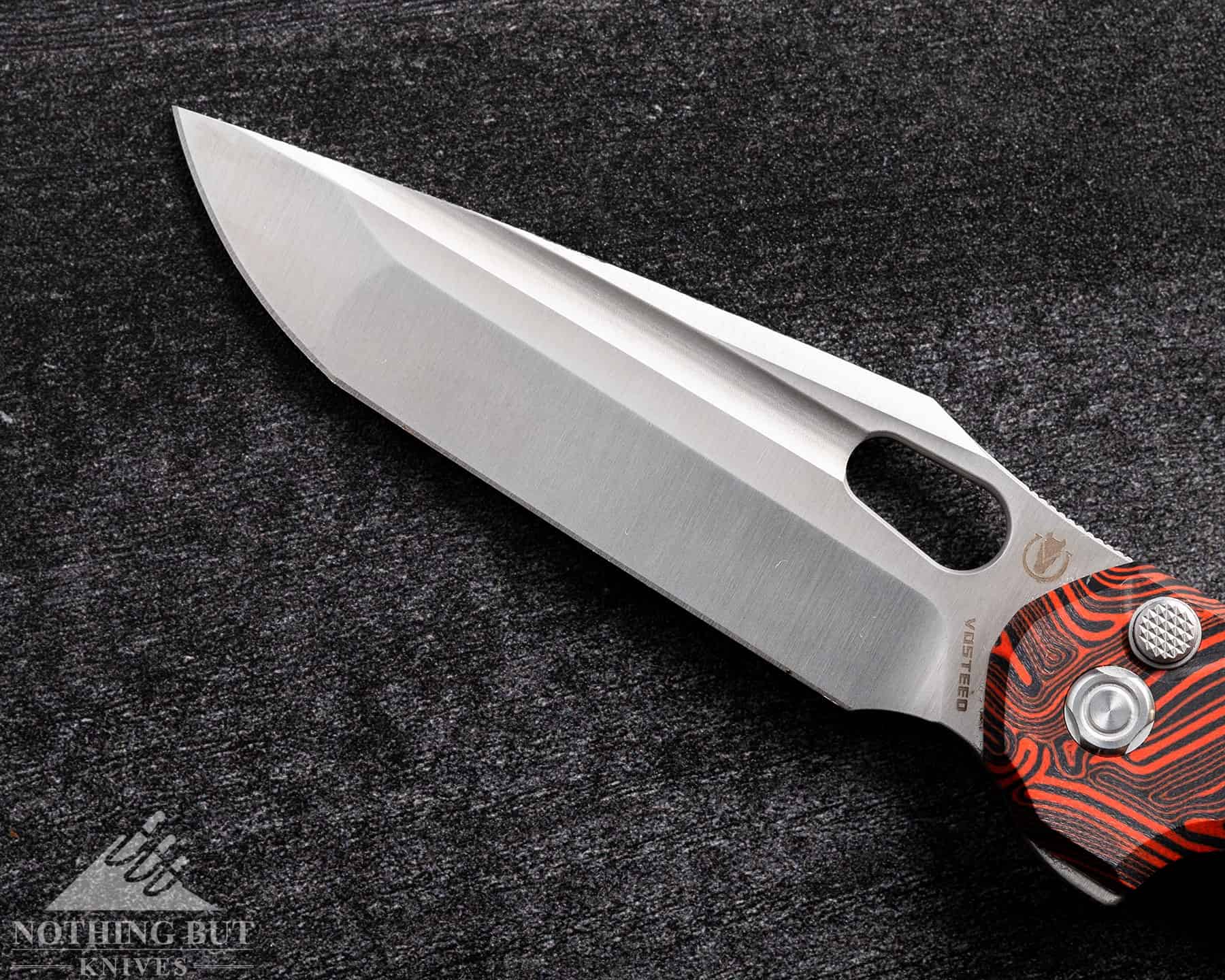 As for maintenance, S35VN steel is S35VN steel. If you know the stuff, it's fairly simple to touch up. If you aren't familiar with this steel, it's a little test of patience when you put it to a stone or sharpening system. But this has fairly thin geometry behind the edge, so sharpening shouldn't come up too often unless you're actually working this knife every day. You could probably get by with a ceramic honing rod for a while.
The Highly Detailed, Hard Working Handle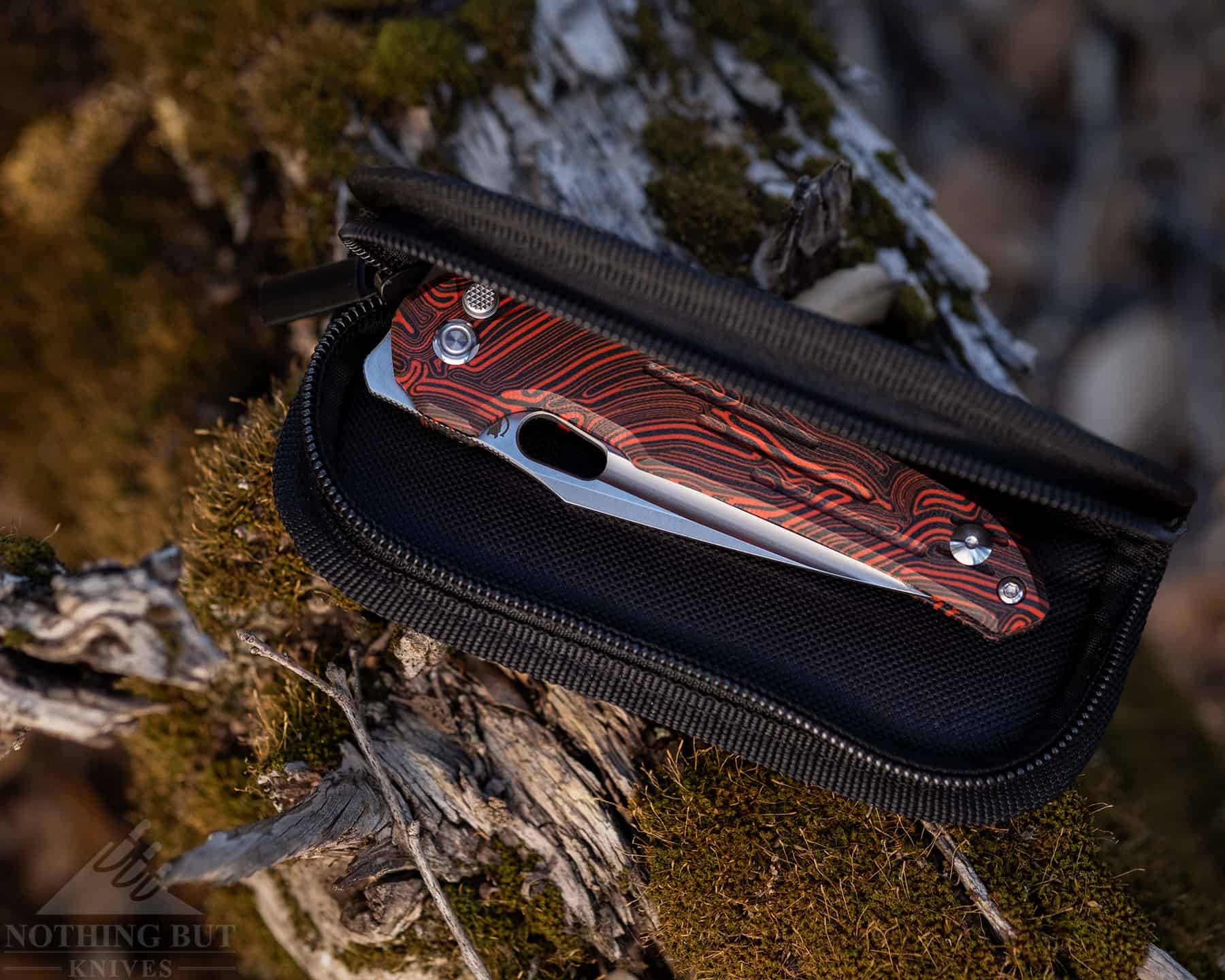 The busy motif continues with the handle, but all the dips and angles help the grip tremendously. In spite of all my regular, personal preferences for simple, rustic looking designs, I love the way this handle looks. It's fun without being garish.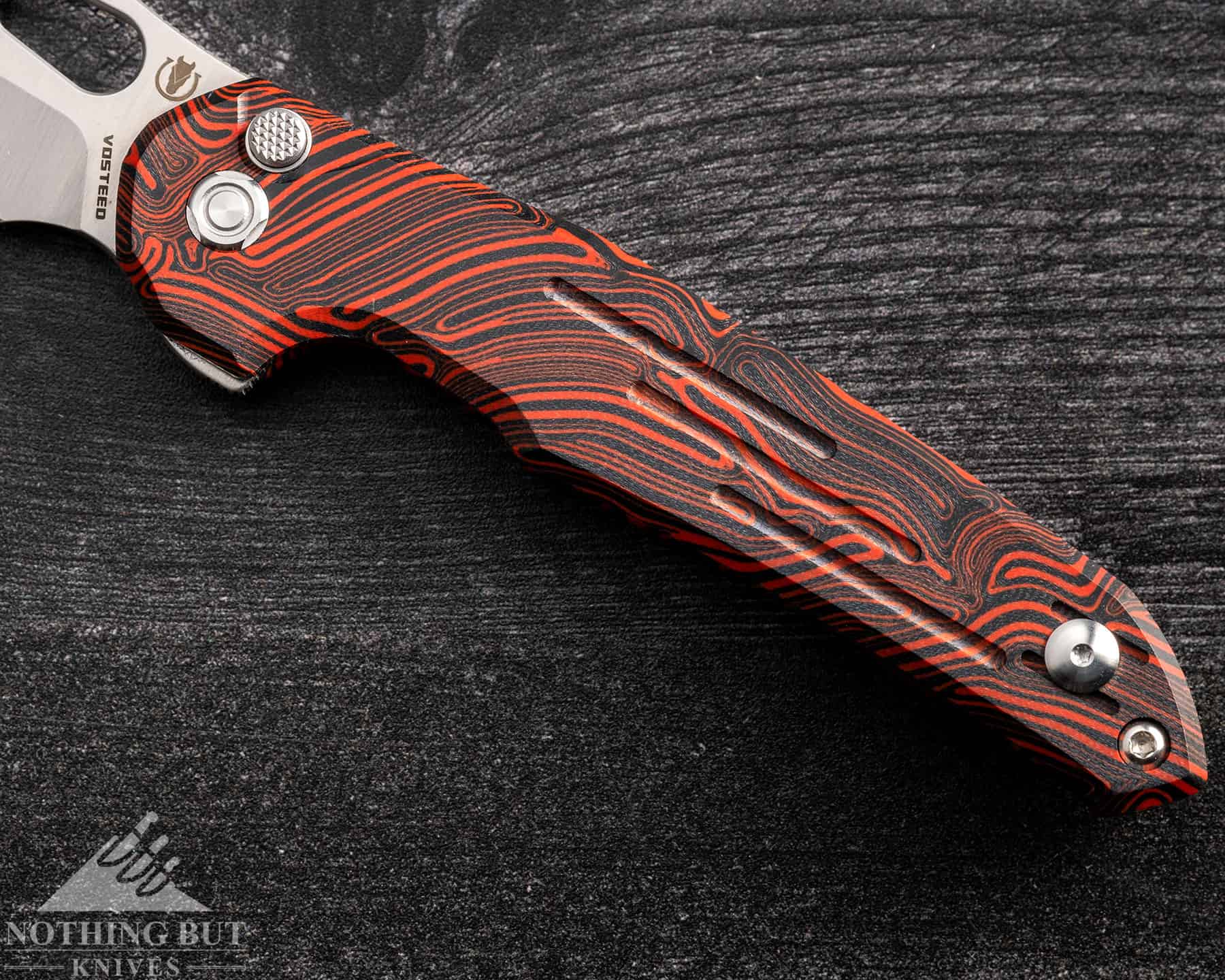 It helps a lot that the handle is brilliantly shaped and textured. Those three lines milled into scales on each side provide a lot more traction than I was expecting. The chamfering along the edges is angled so they allow for a comfortable grip without any hotspots but still aggressive enough to sort of grab onto the palm of the hand. Even the finger choil beneath the edge has some impressive detail work with a slight divot ground down a little to make it just that much more comfortable when I choke up the blade.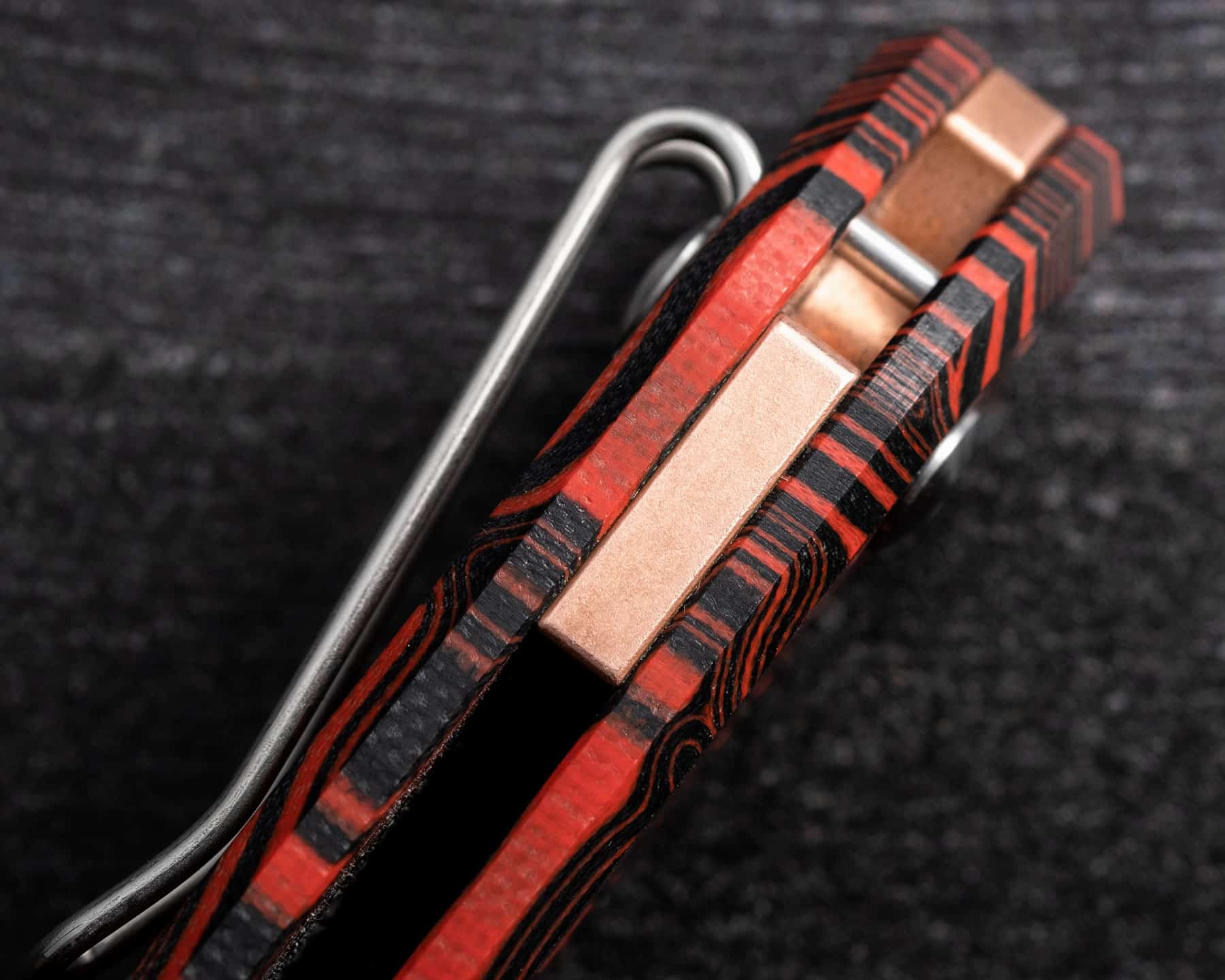 I also really like the balance brought by the weight of the backspacer. Copper and brass make pretty sweet looking accent pieces, but they definitely pose a huge compromise in weight. It feels like Vosteed handled the milling of the liners and everything else well enough to make the balance on the Thunderbird even out, though. They've kept the balance point right on the finger indent of the handle without letting the knife get to a bulky weight.
It's something you can spend a long time staring at and keep finding new little details that seem like aesthetic decisions at first, but as I've used the knife more and played with different grips I've realized almost every detail in the shaping and milling does something to either add texture to a grip or make it more comfortable.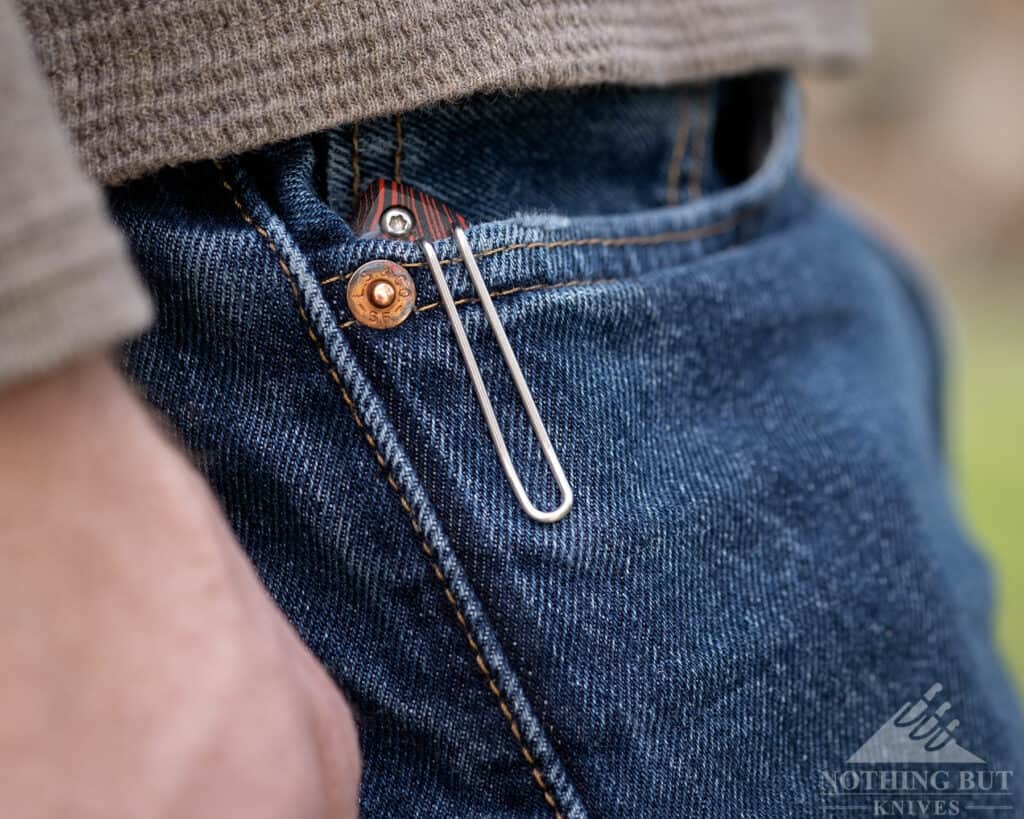 There might be a slight weak point with the pocket clip, but only because the retention isn't incredibly tight, and the wire clip is a little plain compared to the rest of the knife. But it also allows more of the handle to be seen, and there's milling work for it on both scales so it's fully ambidextrous. Plus it slips into the pocket really easily, and I haven't had any problems with it trying to slip out during the two months I was carrying it regularly.
Comparison and Alternatives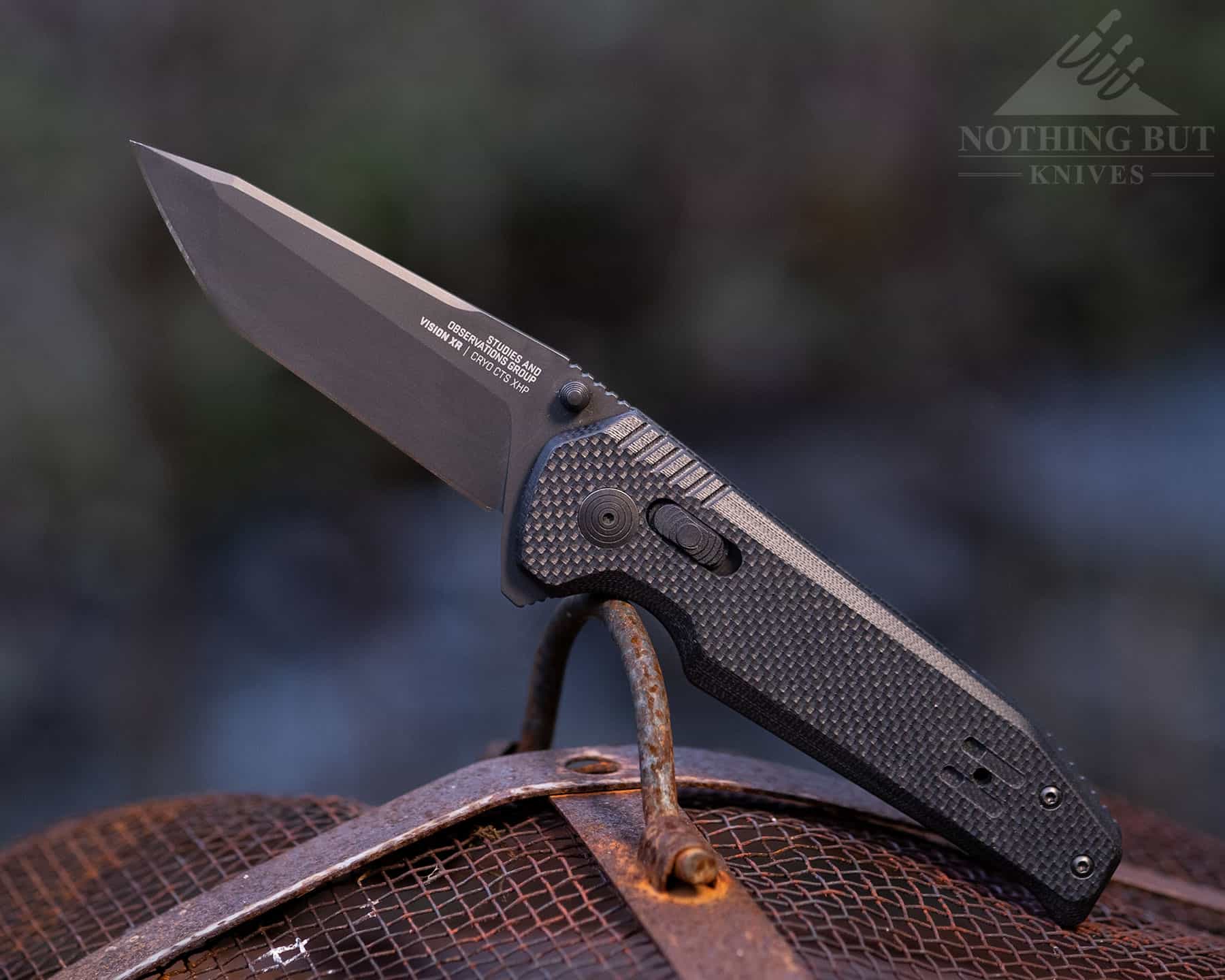 I don't have a ton of experience with compound-grind EDCs so I don't have much in the way of similar alternatives, but there are a few in the same size category that might offer a parallel experience.
It hurts a little to say this, because I didn't personally like this knife, but the SOG Vision XR has similar ergonomics. I don't like the tactile experience of it at all, but it has a decent steel and SOG did a decent job with the compound hollow / tanto grind. And SOG's slide lock has kind of the same ergonomic flow as Vosteed's Trek Lock. The Vision is fine if you want more of a high speed, low drag look.
If you are looking for a pocket knife that has multiple blade opening options like the Thunderbird, but is a little cheaper, check out the Vosteed Labrador.
The Artisan Cutlery Ahab is less fidget friendly than the Thunderbird, but it is another pocket knife that feels and performs well above its price tag.
The Ocaso Strategy is a similarly priced folder with a cool aesthetic and comparable price.
Conclusion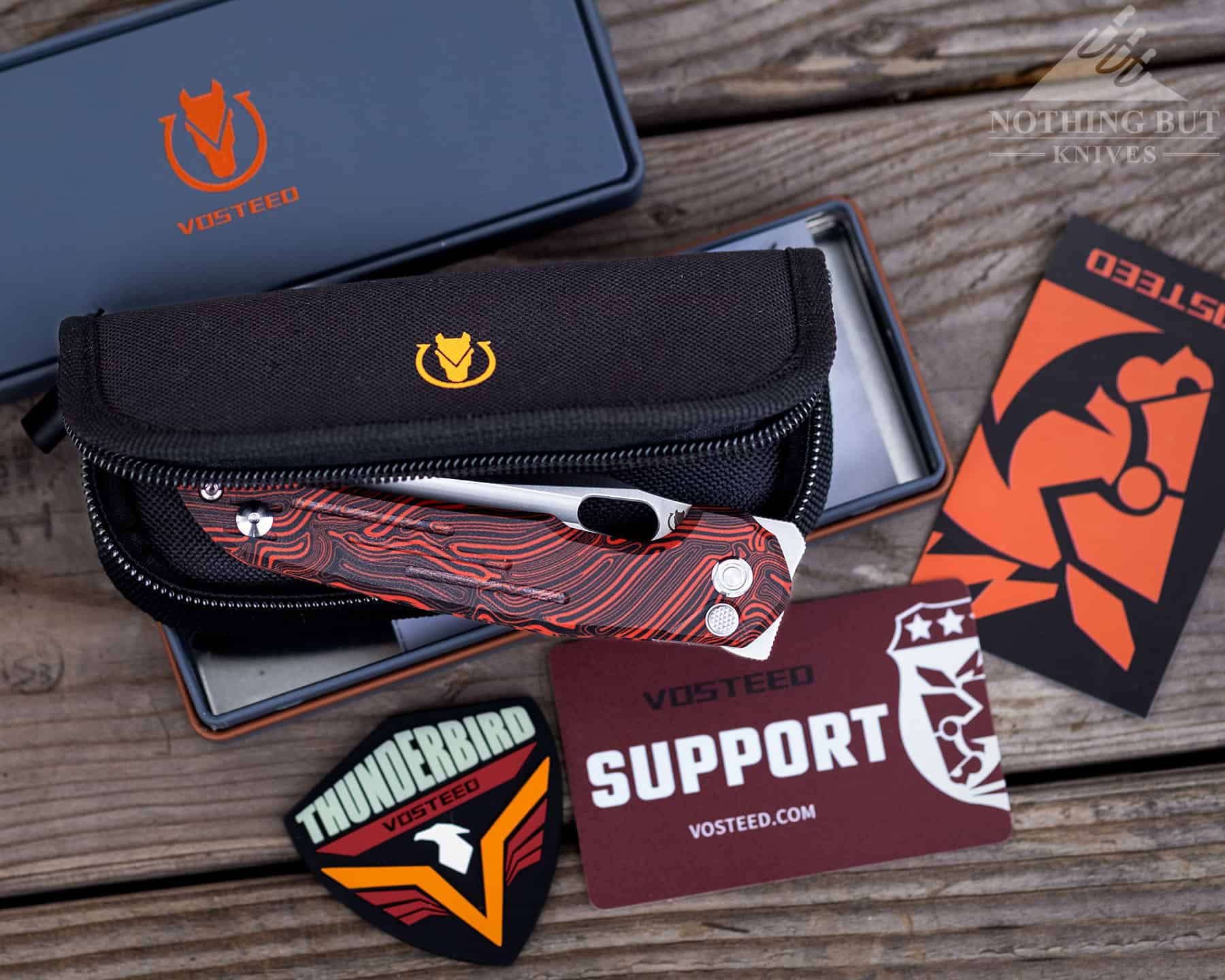 I've liked Vosteed as a rule ever since I picked up the Nightshade. I really shouldn't like this knife because I tend not to like busy designs so much, but the Thunderbird has a way of changing minds. It was pretty rare that I pulled this knife out to do something without it turning heads and garnering the "hey, can I see that?" request.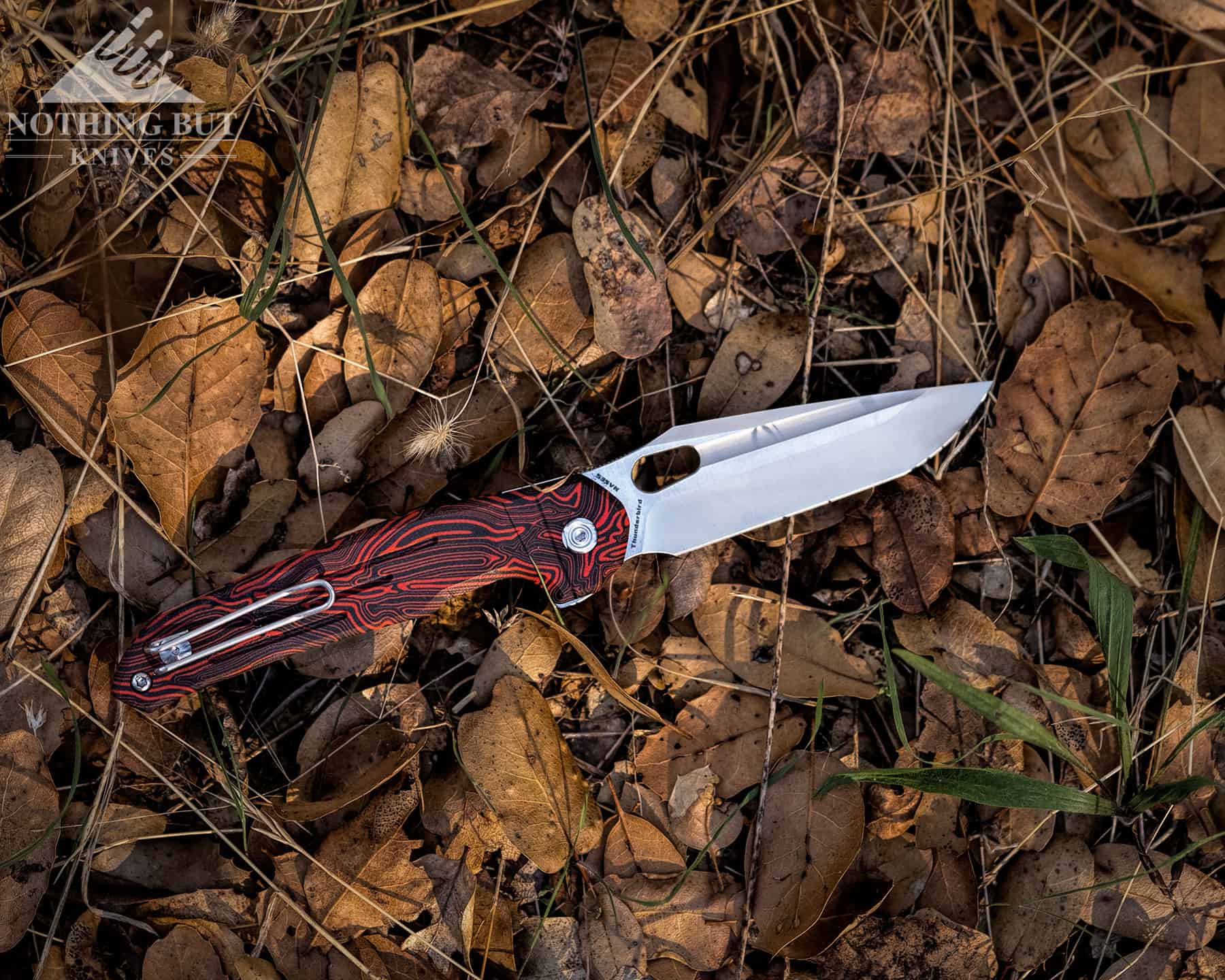 But it has a lot of genuine utility along with all that flash and spark. It has a mean edge that cuts a smooth line on paper and handles hard-use tasks like a champ. The only criticism I've managed to come up with is that it's a button lock, but even that element has been handled well enough that I don't mind it.
The Thunderbird looks good, it works great, it rides well in the pocket, it has a great story behind it, and it's fun to play with. I don't know what else to tell you. It's great. You should have it.