This Demko Designed Gentleman's Folder is as Much Fun to Play with as It is to Look at.
Ocaso Knives is a new company. Ric Valdez began the company just last year after a long tenure with Cold Steel. And the difference between Cold Steel and Ocaso can't be exaggerated. Ocaso is dedicated to a highly refined, very polished aesthetic and a commitment to style rather than the joyous and over-hyperbolic blades one might need for cinematic porcine dismemberment.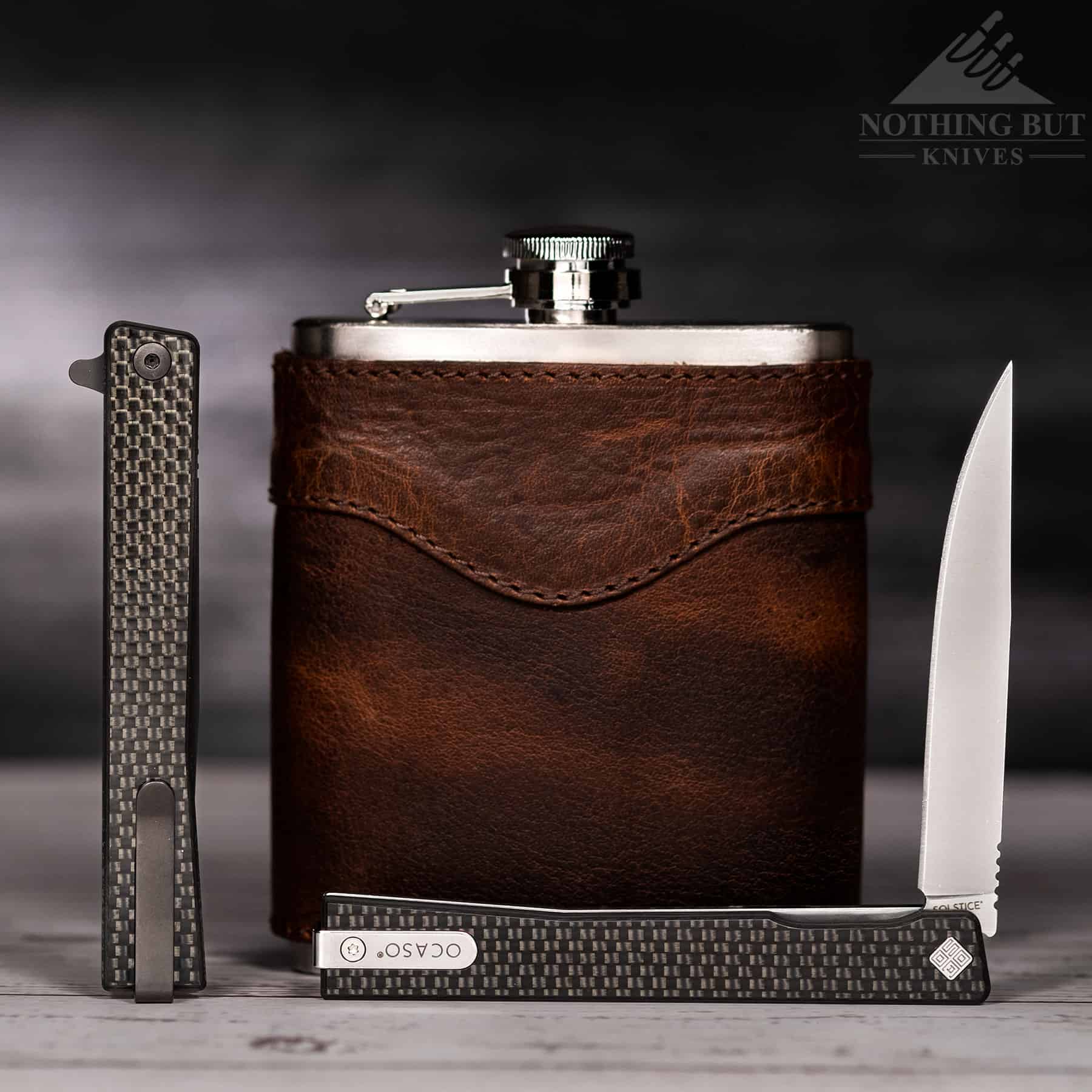 And the Solstice, designed by Andrew Demko, is highly reflective of this commitment to style. I've seen very few knives that are as svelte as this blade is, and even fewer that manage to build thin and maintain this level of strength. While the Solstice may look thin, it feels more nimble than fragile.
Despite being thin, Demko's vision is precisely machined, incredibly responsive, and as much fun to play with as it is to look at. The blade pops open so fast it is hard to see and closes with the same alacrity.
Specifications
| | |
| --- | --- |
| Blade Length: | 3.5″ / 8.9 cm |
| Blade Type: | Straight Back, Flat Grind |
| Blade Steel: | Crucible s35vn |
| Blade Finish: | Satin |
| Blade Thickness: | 0.17″ (4.32 mm) |
| Overall Length: | 7.8″ / 19.8 cm |
| Weight: | 1.7 oz / 48g (Carbon Fiber handle) |
| Weight: | 2.5 oz / 71g (Titanium handle) |
| Handle: | Carbon Fiber or Titanium |
| Pocket Clip: | Ambidextrous Fold-Over Deep Carry Clip |
| Lock Type: | Liner Lock |
| Blade Finish: | Satin Finish or Black PVD |
Pros
The Solstice is purposefully thin
Its action is fast
The blade will stay closed in the pocket
Cons
The Solstice is almost too light
If you want one EDC to do-it-all, that may be a stretch
The Solstice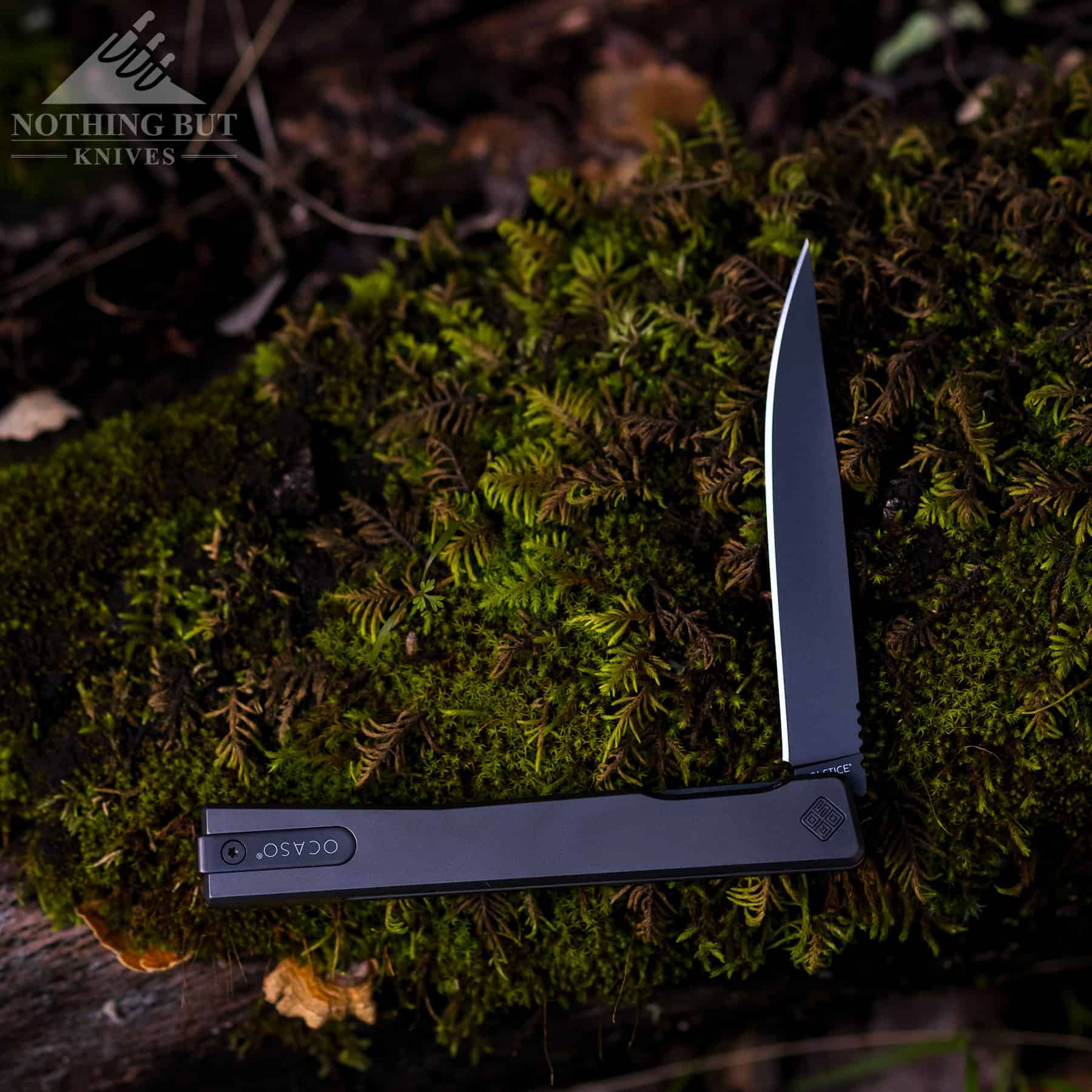 Let's begin with the love. This knife is a joy. I'm a sucker for an EDC design that doubles as a fidget toy, and I've been typing one-handed ever since I got the Solstice, because I can't put it down. The action, on opening, is incredible.
The Solstice, when closed, stays closed. The liner lock adds a bit of an impediment that has to be shifted, ever so slightly, to allow the blade out. I tend to put force on the flipper—more than I would think I'd need for a knife this size—before that hold is broken and the knife bounces open.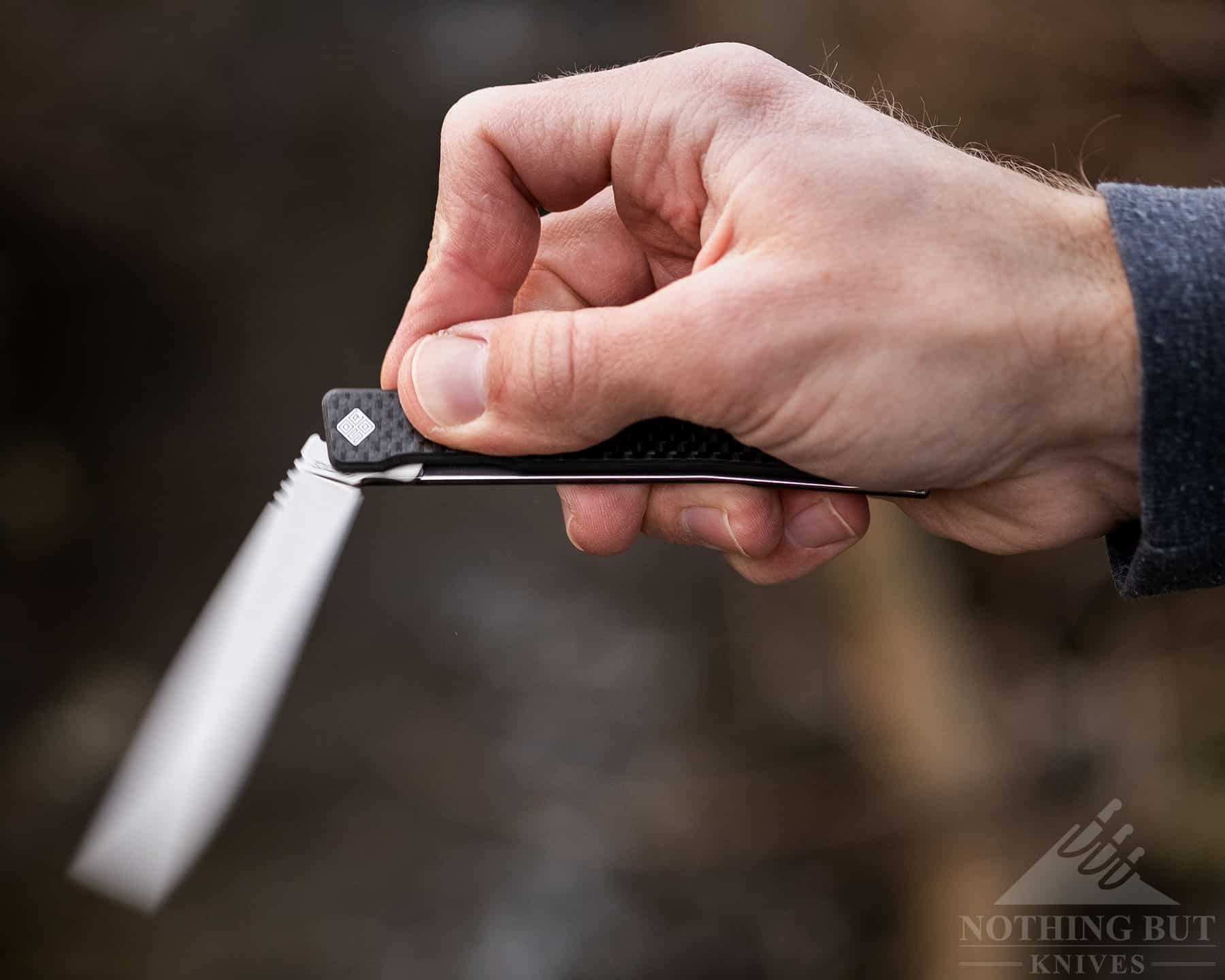 And that movement is fast, almost too fast to see. It can close equally fast, though when it does (on the one with carbon fiber handles, at least) it tends to bounce back up about half-an-inch. Then it snaps closed.
This motion, though, is hypnotizing. Open, close, open, close. There's hardly enough handle to hold onto, yet the blade is so light and thin that the momentum of the opening blade doesn't shift the knife from your half-open hand.
And once it is open, the blade is really a work of art.
The Solstice's blade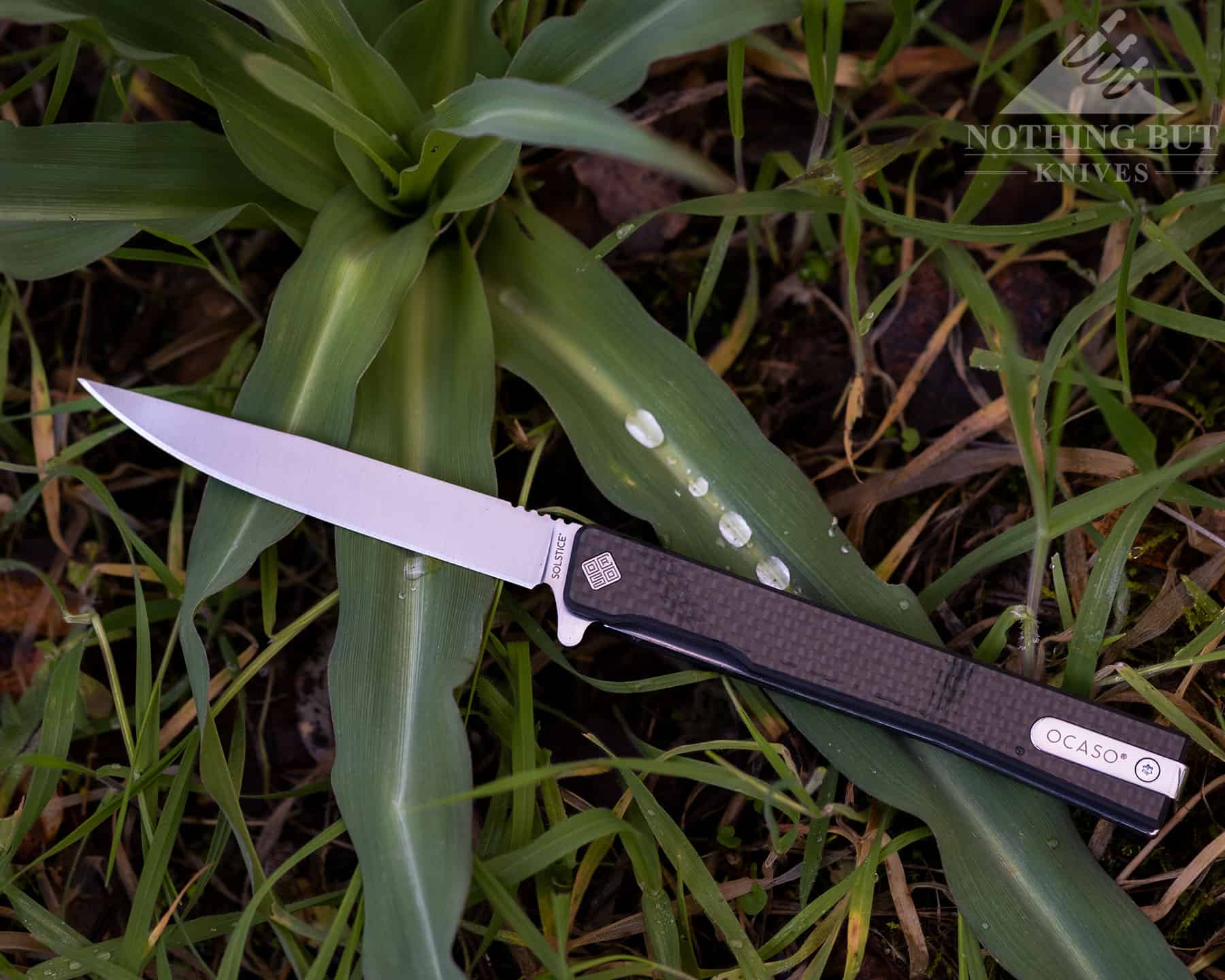 The Solstice has a very thin cutting edge. The whole blade is thin, but the flat grind down to the secondary bevel removes even more of the width that you'd find at the spine. And the thinning toward the point is gradual and precise.
Machining something this thin requires a strict adherence to tolerances. There's absolutely no room for error. And the symetery of the secondary grind speaks to the achievement.
The two that I have in for review are both built with Crucible S35VN. This provides durability, strong edge retention, yet high corrosion resistance. S35VN is known for its toughness—though I don't know how I'd test that, really, in a build like this.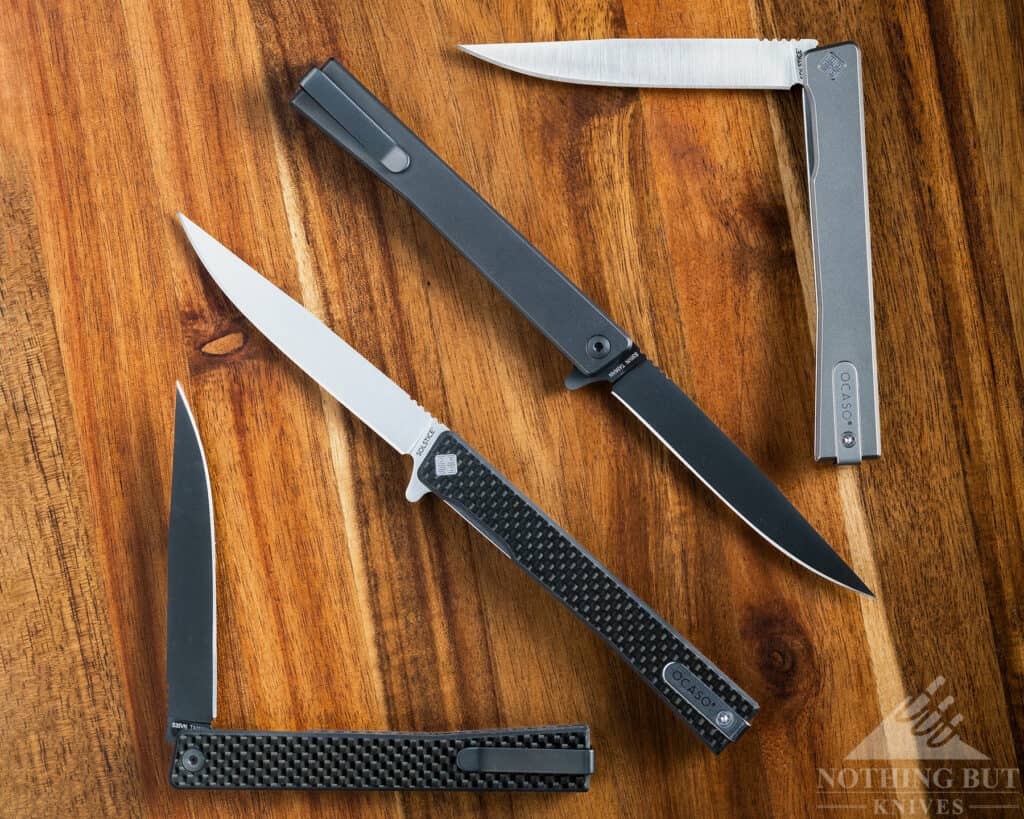 There are two blade finishes available—the satin and the black PVD (which would add another layer of both style and protection). And Ocaso offers Damascus blade options, too, if you need something even more visually stimulating.
The Solstice's Handles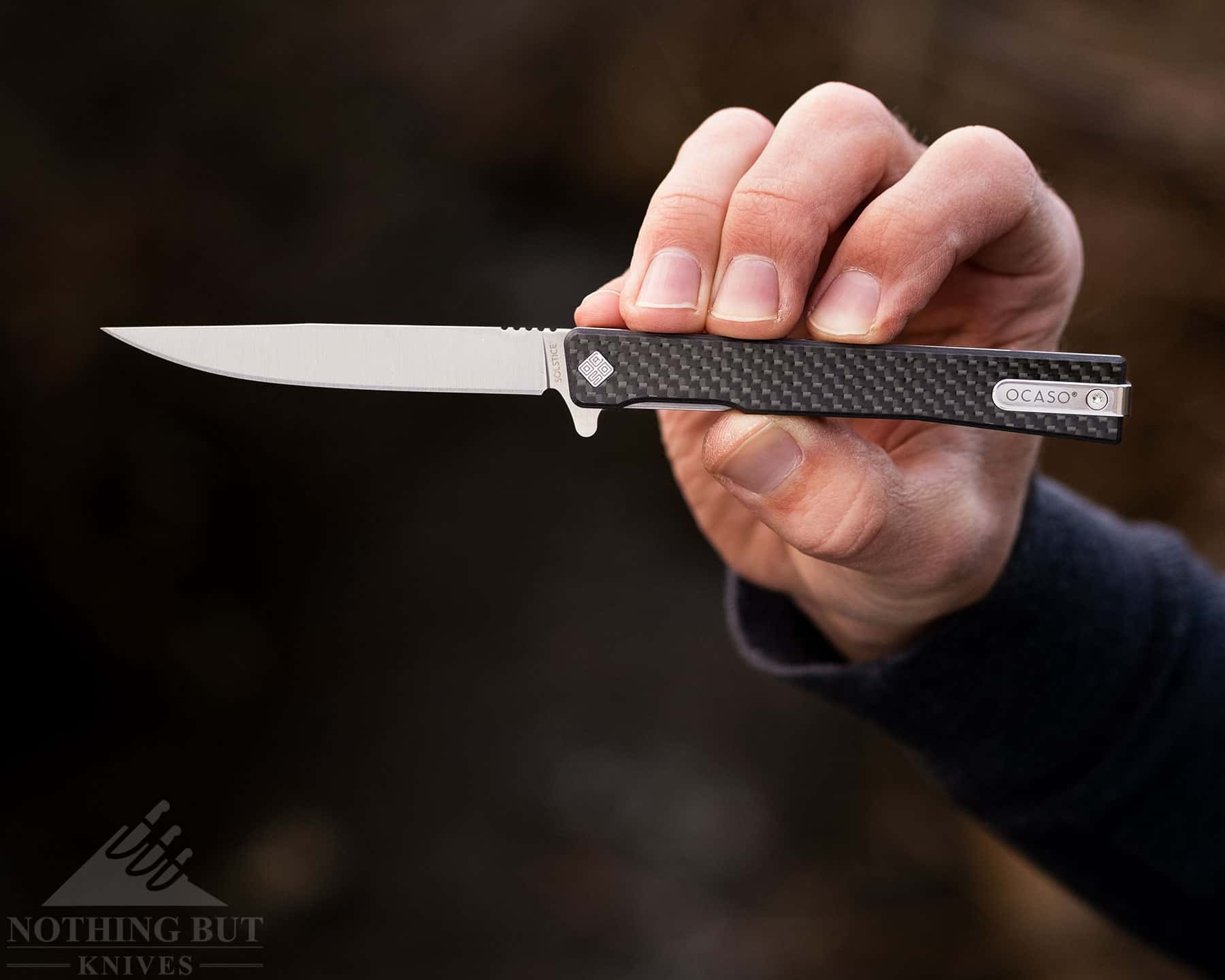 The carbon fiber, though, may be visually stimulating enough. The reflective sheen in the weave creates a shimmer and depth that is befitting a knife in this class. It is stylish and reduces the weight and doesn't compromise on the strength.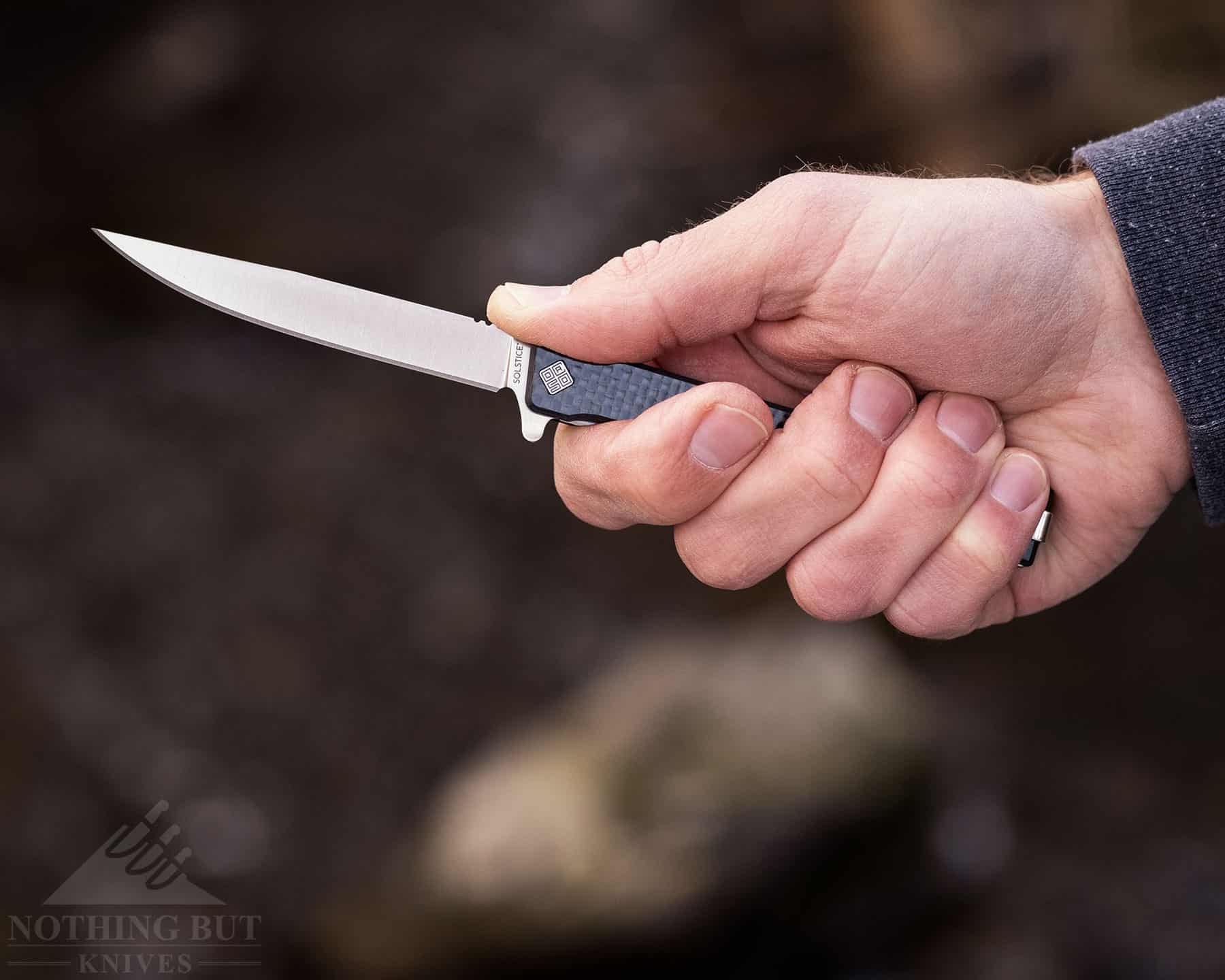 There's a slight swell at the base of the handle. This is so subtle that I didn't notice it the first several times I handled the knife. As insubstantial as it is, this forms an angle that is easy to grip while holding the knife.
I'm more inclined to carry the titanium version. There's something about brass, copper, aluminum, and titanium that feels solid and cold in the hand—things I have always valued in knife design. Titanium provides exceptional strength without the extra weight. While not as light as the carbon fiber version, this is still easy enough to forget about in the pocket.
And I'm willing to call that both a positive and a negative. I like the reminder provided by the weight of a knife. As someone who has been carrying a pocketknife for decades, I know how my mind works. When I'm moving around outside, in the woods, at the butcher shop, getting into and out of the car… I tend to reach for my pocket, just to check, unless I can feel the weight shift or pull.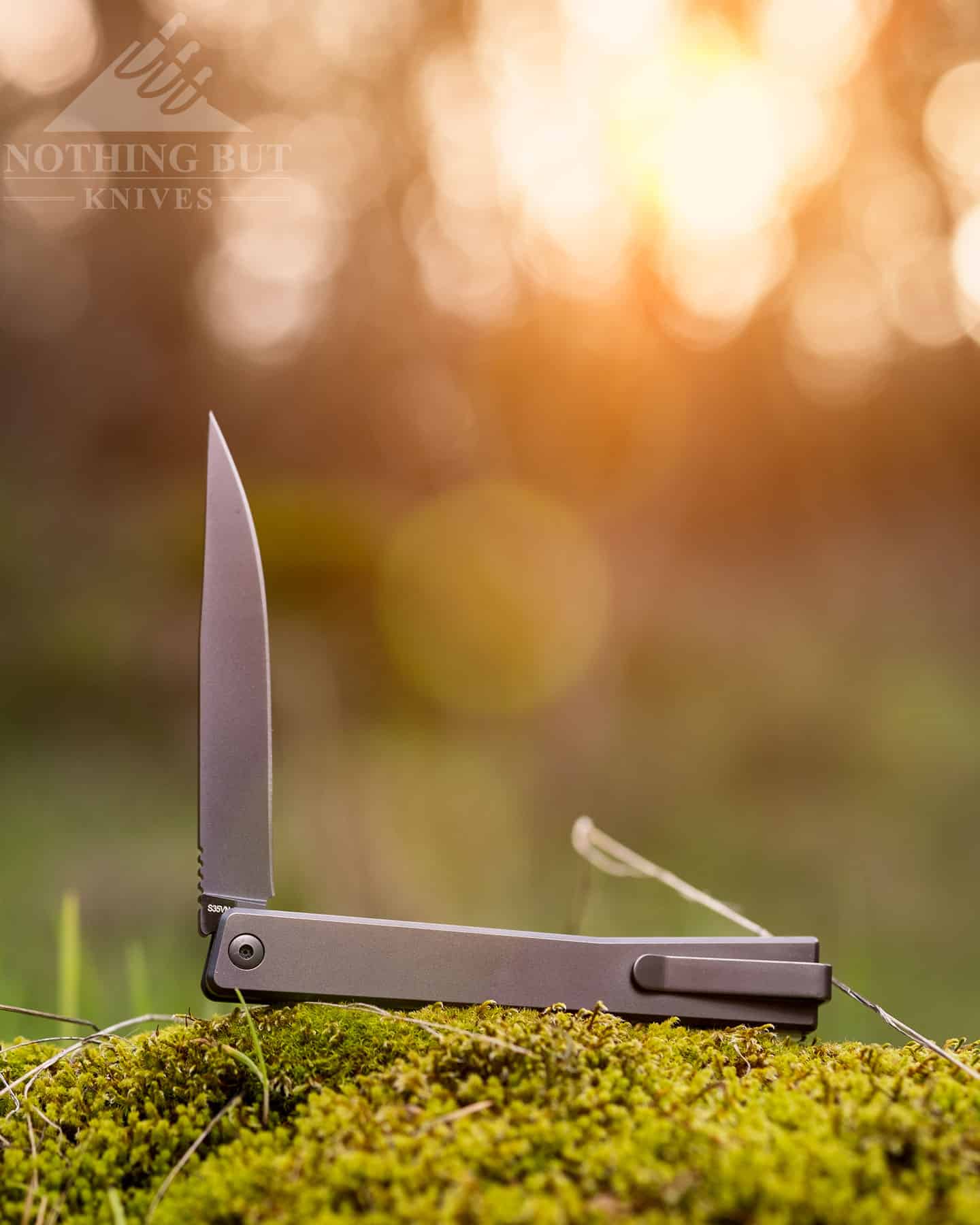 The Solstice is so thin. And maybe that's the origin of the name. The winter and summer solstices, both, are razor thin moments in the year when everything changes. There's a before and an after—all marked by a fleeting moment.
The Ocaso Solstice design is hardly fleeting. These materials place these knives in the permanent category where, even without much effort, they'll outlive all of us.
The Solstice's clip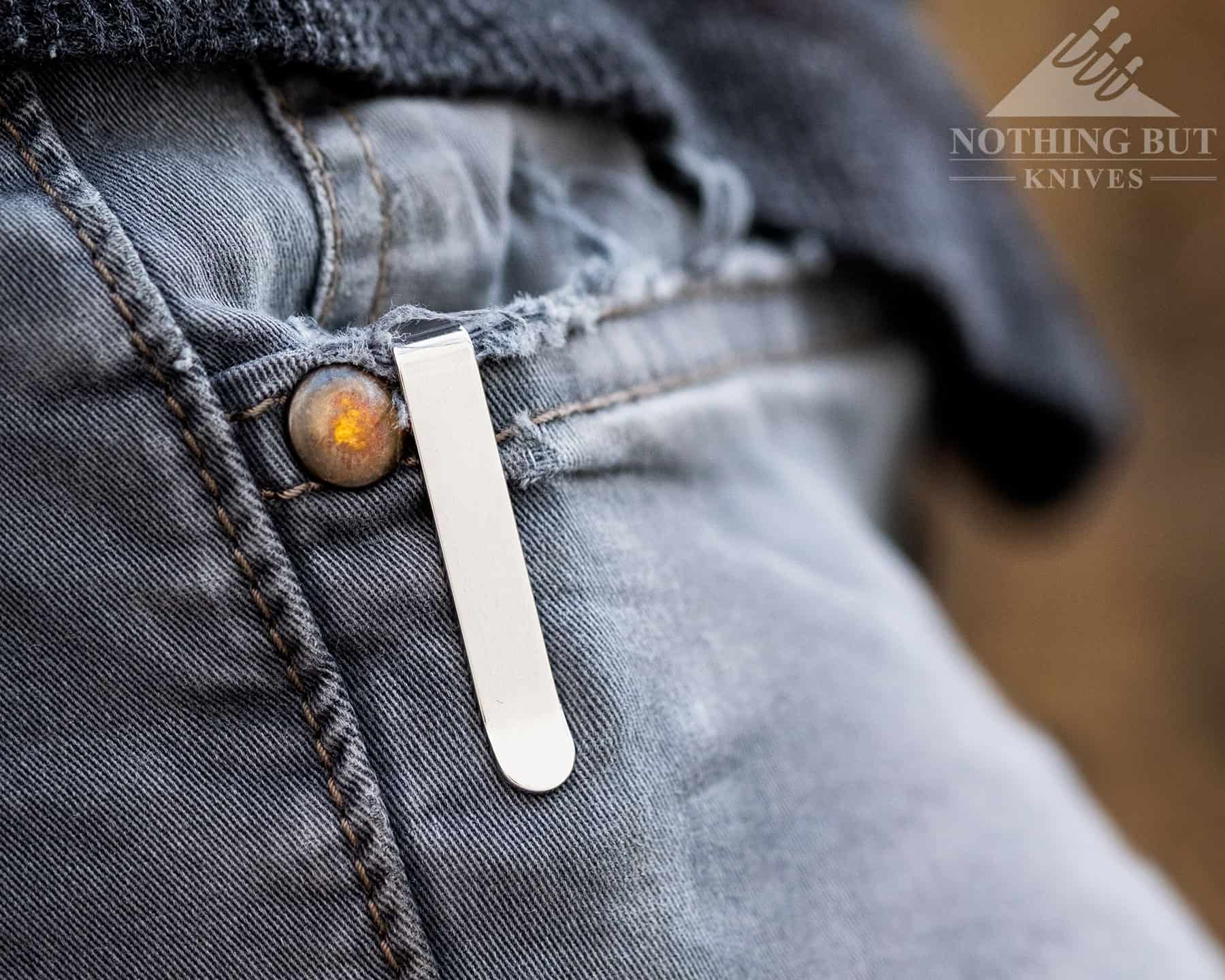 Again, elegance is an unstated goal of these designs. The clip is very clean. It matches the angles on the handle—linear, but hardly as long. The tension is ideal.
The best part is that these clips are ambidextrous without leaving visibly obnoxious holes in the handles that might otherwise detract from the sophistication of the design.
Where does the Solstice fit in?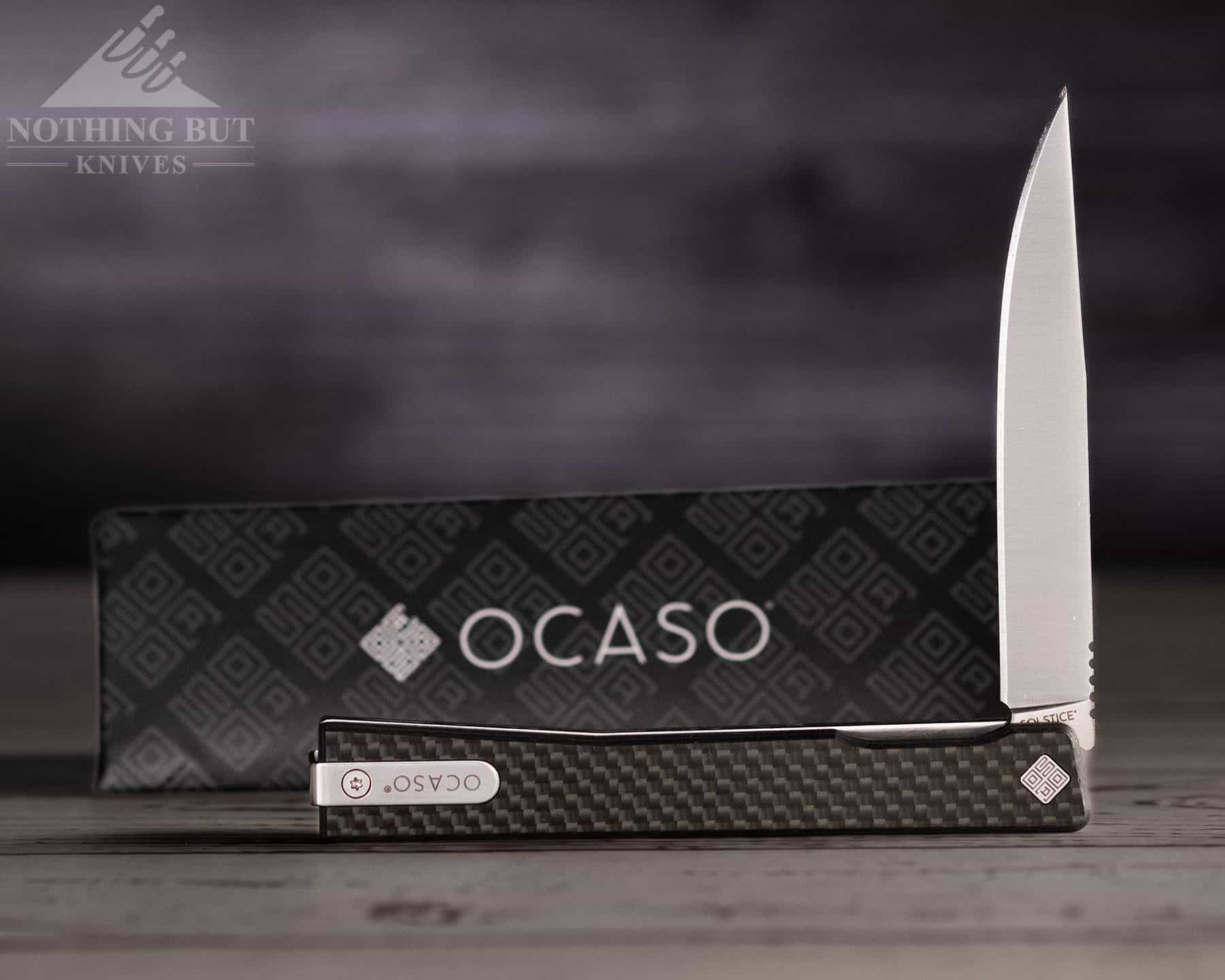 Ocaso clearly states that the company builds EDC knives that combine form and function into a tool that's as useful as it is stylish. The Solstice strikes that balance really well.
As an EDC blade, I see the Solstice as part of a complete, refined, purposeful pocket-dump collection. This is the type of pocketknife one might use to accessorize. Match it to your pen and your watch.
Those who look to their EDC blades to do everything from self-defense to prying off bottle caps may not look at EDC the way Ocaso does. Yet there's certainly potential for this to be a single knife in an EDC rig—one you would pair with a pocket tool to handle the dirty work.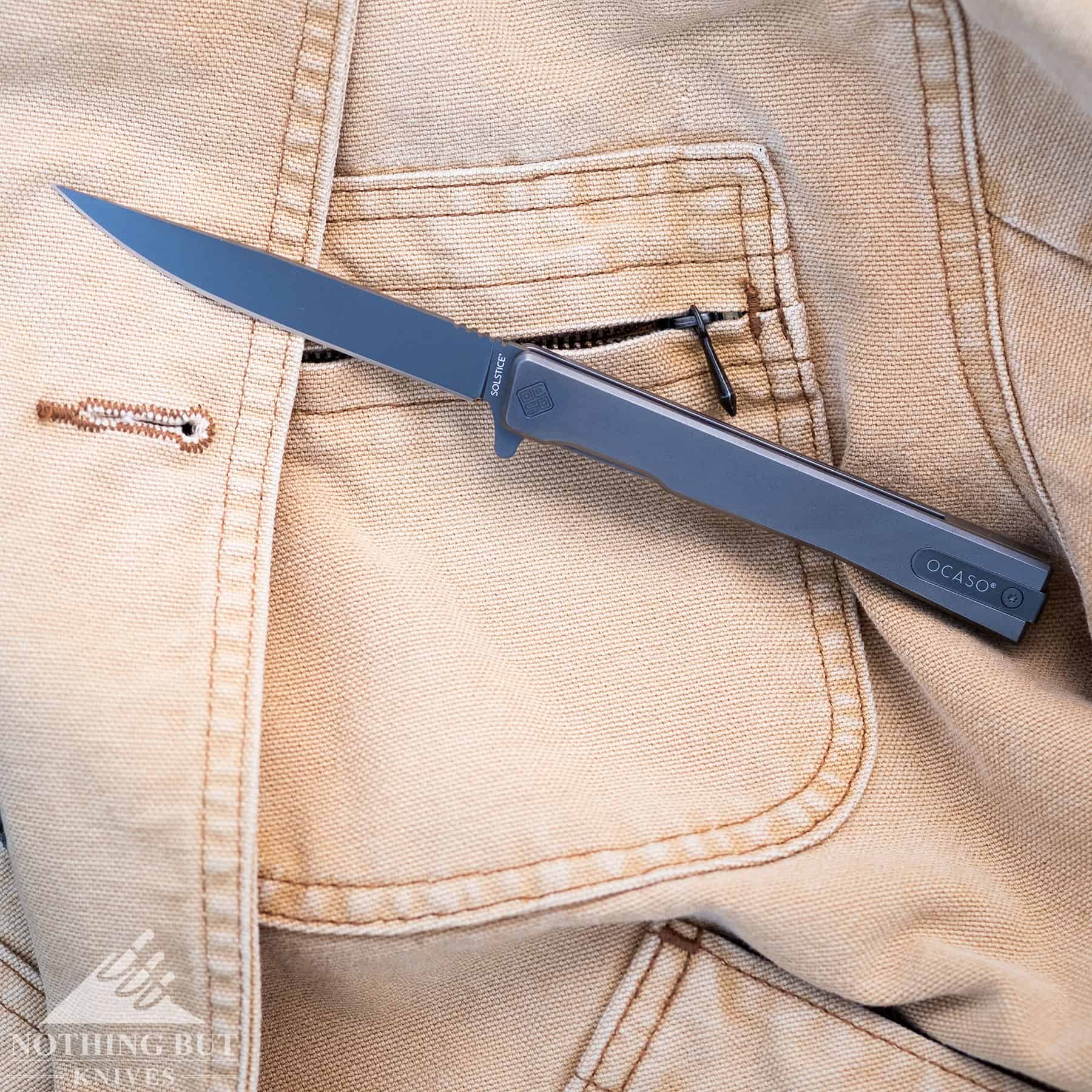 But odds are, this design is going to end up in your slacks more than your jeans. This is the type of knife you can brandish at work without scaring the sheep. In fact, the Solstice will do the opposite. This is a conversation starter that will attract positive attention.
And that feels intentional. You can't say that about all of Demko's designs, much less those he did in collaboration with Cold Steel.
The Solstice rises above. While it is hardly bigger than a single stick of a KitKat, the Solstice is exceptionally balanced on its caged stainless bearings, and moves with grace and a speed that can be intimidating.