ESEE Made a Bushcraft Friction Folder, and We Talked to Designer Shane Adams
I never thought I'd use that phrase, and I especially never thought I would like something that fell into such a category, but here we are.
ESEE released the Pinhoti around the end of 2022 and I was intrigued. Then I got to handle it at Shot Show while talking to designer Shane Adams, and had one of those helpless moments when you realize that you're going to buy a knife no matter what.
Before I ever had a thought about the practicality of the design, I loved the look of it. The brown Micarta handle with the thick leather sheath laced with paracord all give it the kind of look that makes me want to go climb around lost ruins. There are also some incredible details that make the Pinhoti a fantastic working knife in hand. It's comfortable with a mostly neutral shape that's easy for the hand to lock in for a couple of very key grips, which is especially important for a friction folder.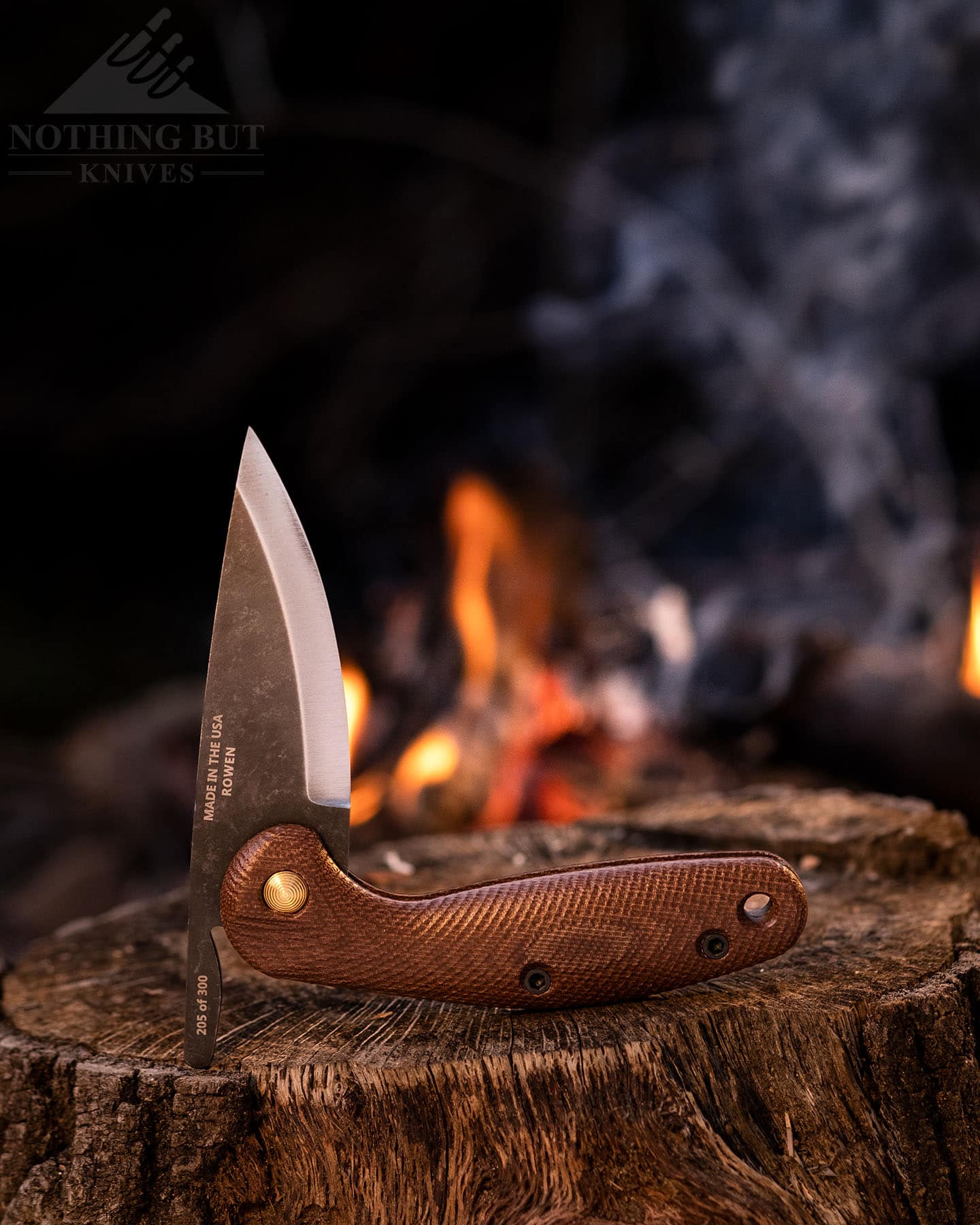 The only thing that gives me pause is the price. It's a big number for a friction folder, but talking to Adams about it really drove home just how much thought and workshopping went into the design, to the point that it's fair to say there is plenty of value here for those willing to pay the price.
Specifications
| | |
| --- | --- |
| Overall Length: | 8.25" |
| Blade Length: | 3.25" |
| Blade Steel: | 1095 |
| Open System: | Extended tang |
| Blade Thickness: | 0.12" |
| Blade Shape: | Drop point |
| Blade Grind: | Scandi |
| Handle Length: | 5.75" |
| Handle Material: | Micarta |
| Lock Type: | Friction and your sense of caution |
| Weight: | 3.8 oz |
| Designer: | Shane Adams |
| Made in: | USA |
Pros
Very comfortable and versatile ergos
Excellent camping knife
Scandi grind blade has a good, stable edge
High quality leather sheath rides well on the belt
Cons
A hard use friction folder is not for the lazy-handed
Might not be small-hand friendly
It might be worth the price, but the price is still high
Shane Adams: Designer and Utility Player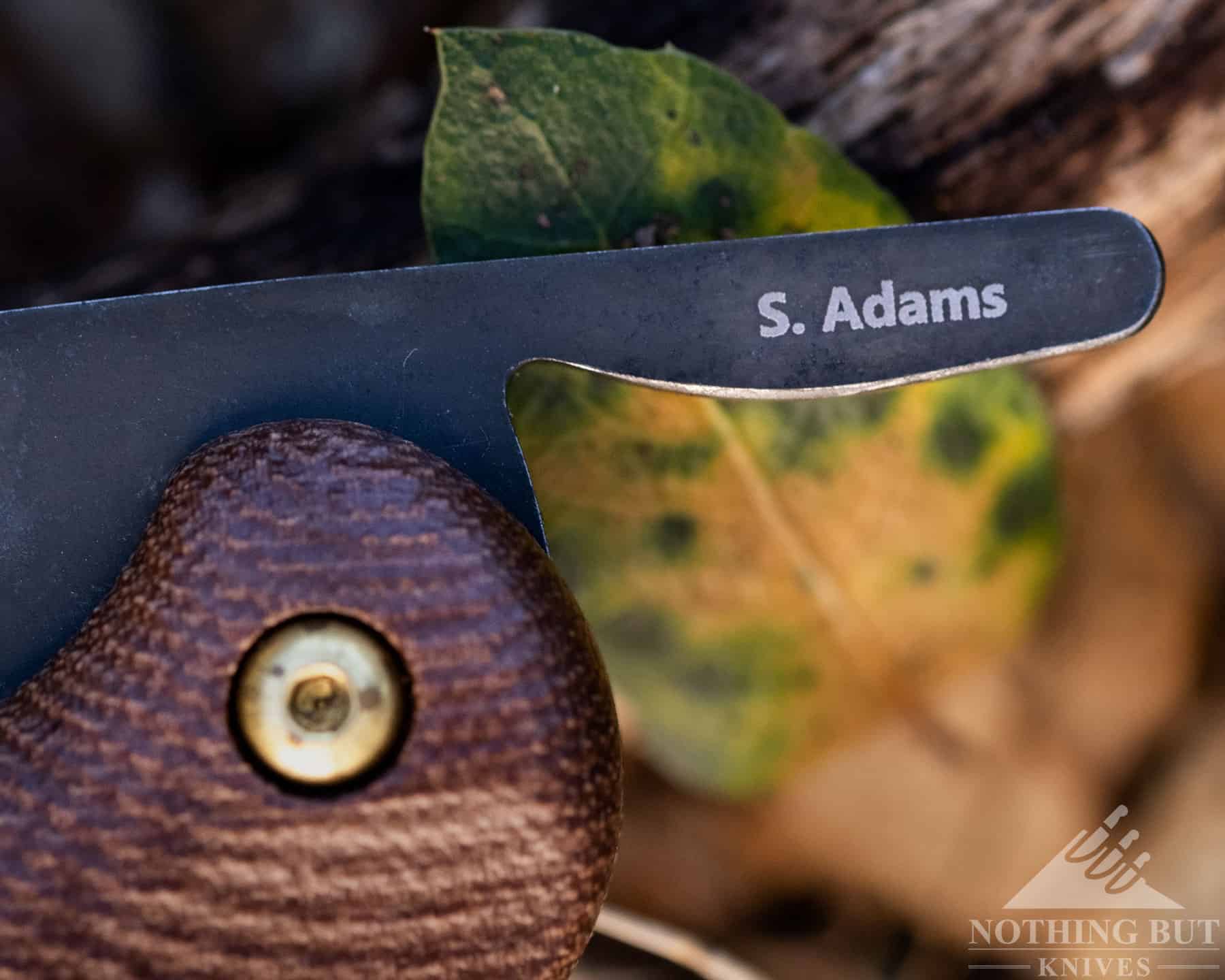 This is the first design from ESEE's own Shane Adams. We had a chance to talk to him for a while about the Pinhoti at Shot Show 2023 where we cornered him at the ESEE booth and wouldn't leave until he answered all our questions.
If you've ever interacted with them on Instagram or emailed a complaint about a knife failure, odds are you talked to him. He's ESEE's marketing manager / "utility player", as he describes it, which is maybe a step up from the "Owner / Janitor" title he gave himself when he was running his own bike shop before joining ESEE.
Regardless, he does a bit of everything and a lot of other things in the company, including going out in the field with them. He said he spent 150 days in the field last year. "And 170 before that," he added. "I don't own a desk".
The Scandinavian Survival Straight Razor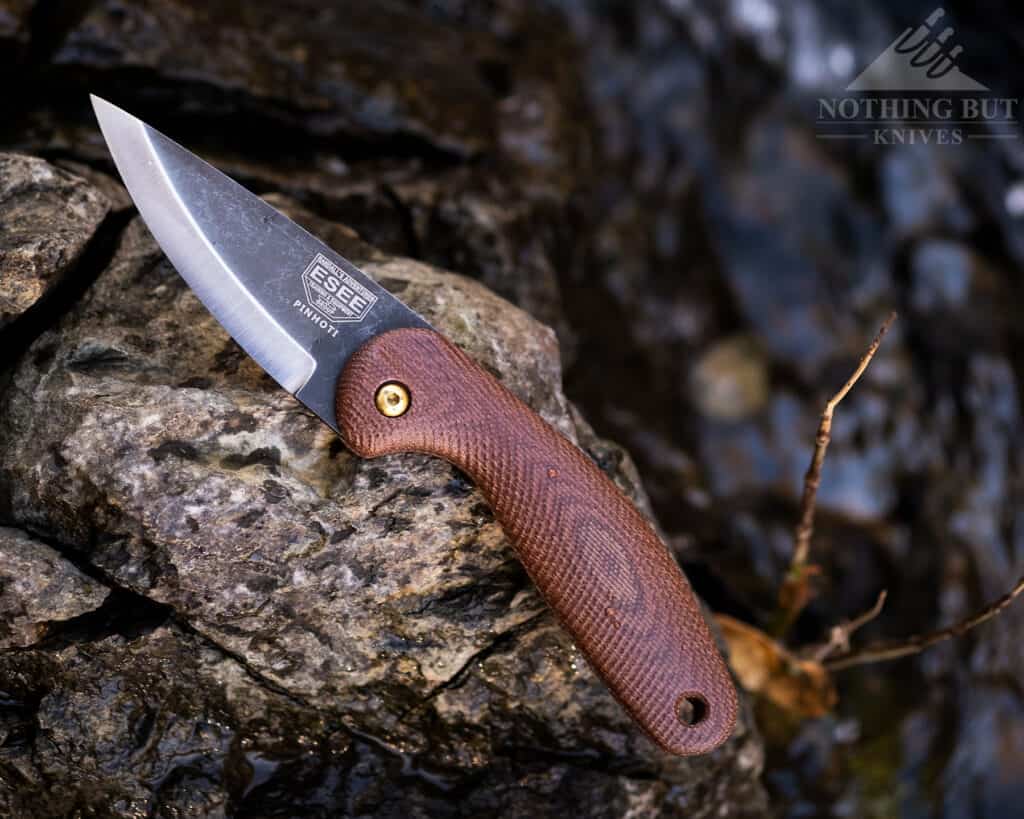 Adams told us that the idea of the knife was probably "implanted at a very early age". He recalls being on his grandfather's farm and seeing a straight razor for the first time. That started his fascination with friction folders, which was well fostered in a family that was "steeped in knife and gun culture".
Since then he's always wanted to make a friction folder, but he wanted it to be "something that would work. That would do work… " This fascination also probably butted into his love of traditional Scandinavian knives like the puukko (he didn't explicitly tell us the Pinhoti has that influence, but it's hard to ignore the scandi grind and almost-straight spine).
It's possible that the most important influence is knife's namesake, though. Adams has spent a large part of his life traveling the Pinhoti trail. With that wilderness forefront in his mind, it seems fair to call this an Appalachian knife.
Bushcraft Design Parameters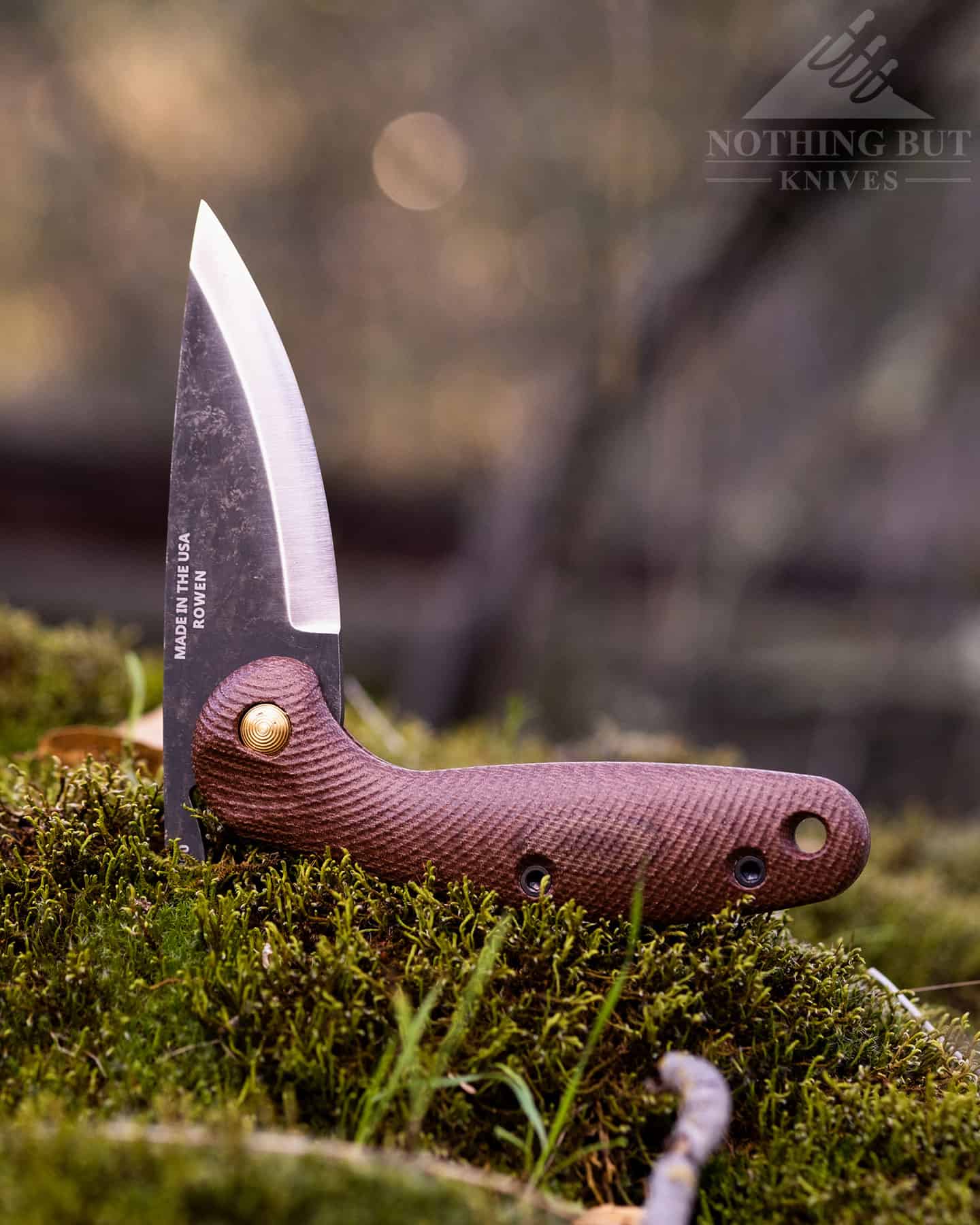 He went on to warn about "folks that don't understand the concept", explaining that "there's a lot of folks that think it's unsafe, and, for them… they're probably right, if they're not willing to work on the skills to get where they need to be. Some of the worst cuts I've ever gotten were from a screwdriver that I was using improperly… Like any knife, [the Pinhoti] has limitations. It also has a design parameter, so you try to use it within those means: a great bushcraft knife, camp knife, carving knife."
As far as those parameters go, I can say without question that it functions beautifully. Not just well for a friction folder, which is what I was expecting to say about it, but it genuinely excels, and even offers some unique handling options.
I had no expectation of it being safe. I've collected enough scars and had enough mishaps from friction folders and slip joints to understand the nuance of their existence. I've never used one so deliberately as a bushcraft knife, though, and it's made me appreciate the ergos of the tang of friction folders on a whole new level.
For one, the length of it isn't just good for keeping the blade in place, but for helping to index exactly where the blade is. That's really helpful, because the blade moved around a lot when I used it for carving wood and making feather sticks. Once I got used to it, I actually found it was more comfortable to have the knife in a more angled position with the tang hanging out a little and braced against my palm.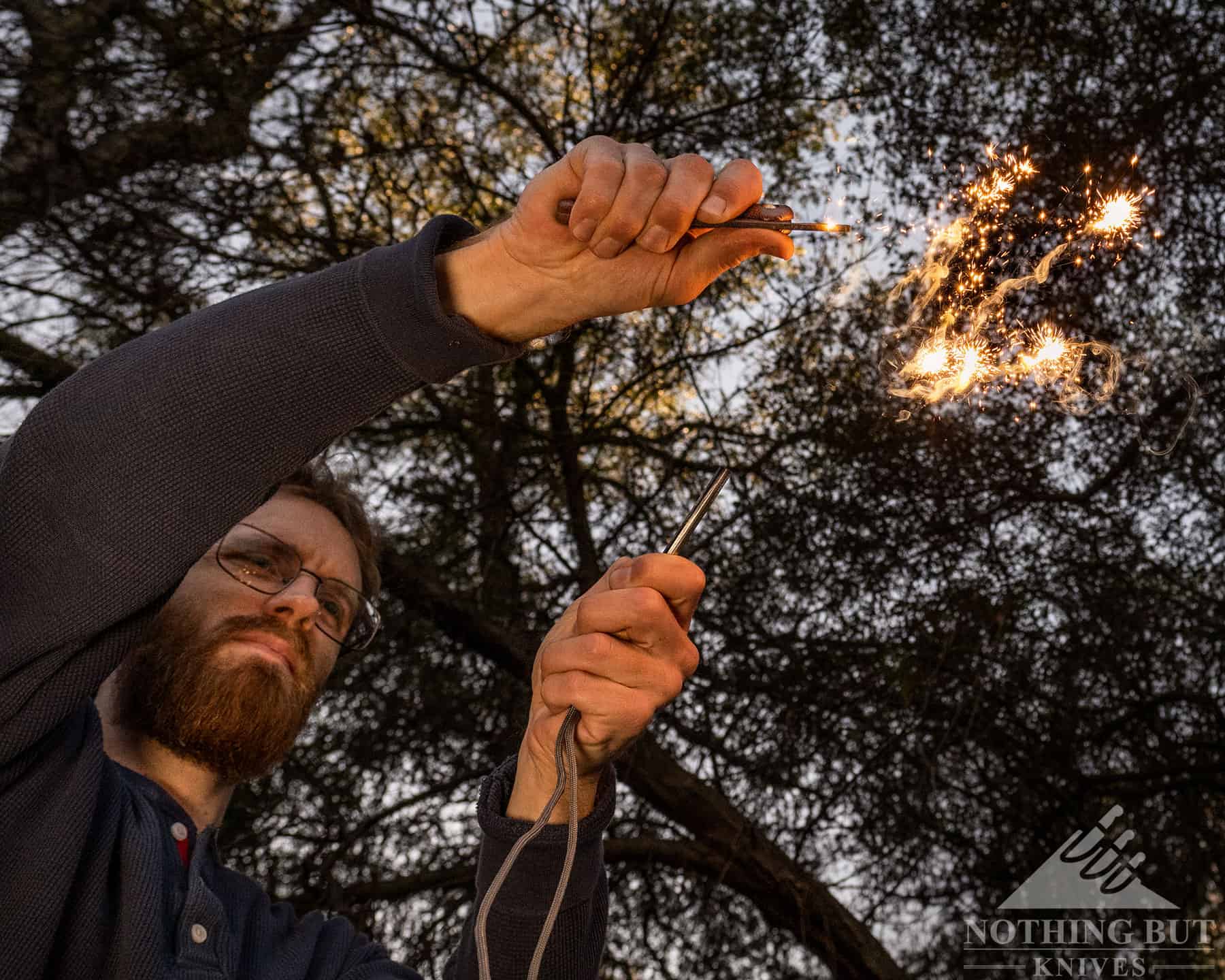 Besides the fact that the grind can make some nice feathers, the tang works double time as a great place to get sparks off a ferro rod. Actually, this is now one of my favorite knives for starting fires, because the shape of the Pinhoti when it's closed feels so much more natural than almost any other fire-starting tool in our pack (with the exception of the butane lighters).
The Process and Refinement
It turns out a lot more thought went into this design than the simple exterior might suggest. Adams told us he had "probably 8 or 9 3D-printed models" that he put together over the three year process it took to get the Pinhoti into its current form.
He sent off prototypes to friends and colleagues to get feedback. ESEE also released their 3D handles during that time, "and then it kinda morphed from the traditional flat scales to 3D scales".
That morphing went a long way toward making this an enormously comfortable handle. The smoothness of the handle combined with the lined texture almost make it feel like wood, and those 3D scales have an excellent, palm-fitting shape.
Grip Obsession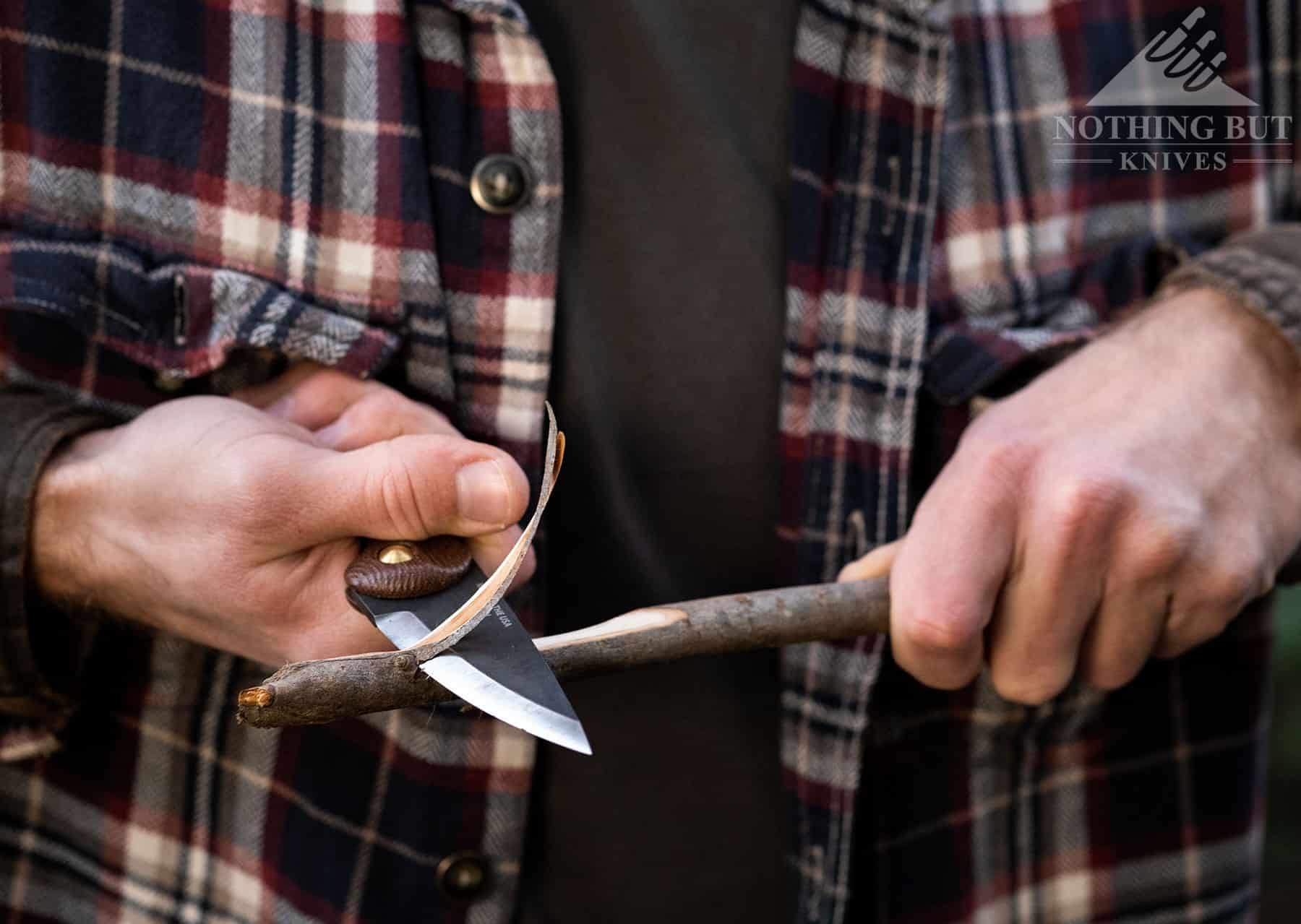 Grip was one of Adams' primary concerns. As an avid (and professional) camper, there are a couple of grips that are really important to him and he took pains to make sure the Pinhoti facilitated those grips as well as it could:
"So your primary grips are a monkey grip or fist grip, then a reverse chest lever, so it's got the scallop here for a high leverage cut so you can do reverse chest lever."
In practice, that scallop is pretty well lined up so the pad of the index finger can nestle into it while you grip around the ricasso for a chest lever, which results in a chest lever grip with no hotspots. Adams made this knife to match up with his hands, though. "I've got pretty big mitts," he explained. "I wanted it to work for me; I wanted it to be comfortable for prolonged use."
I didn't bother comparing hand sizes when we talked to him. I would hazard a guess mine are a little smaller. But the Pinhoti still feels incredibly natural for me to switch from a gorilla grip to a canted grip to a reverse chest lever.
That inward curve of the hand feels perfect for my hand to nestle into for chest levers, and the texture of of the Micarta works as a sort of jimping, although I can't help but think of places where they could have put some actual jimping to make some grips that much more firm.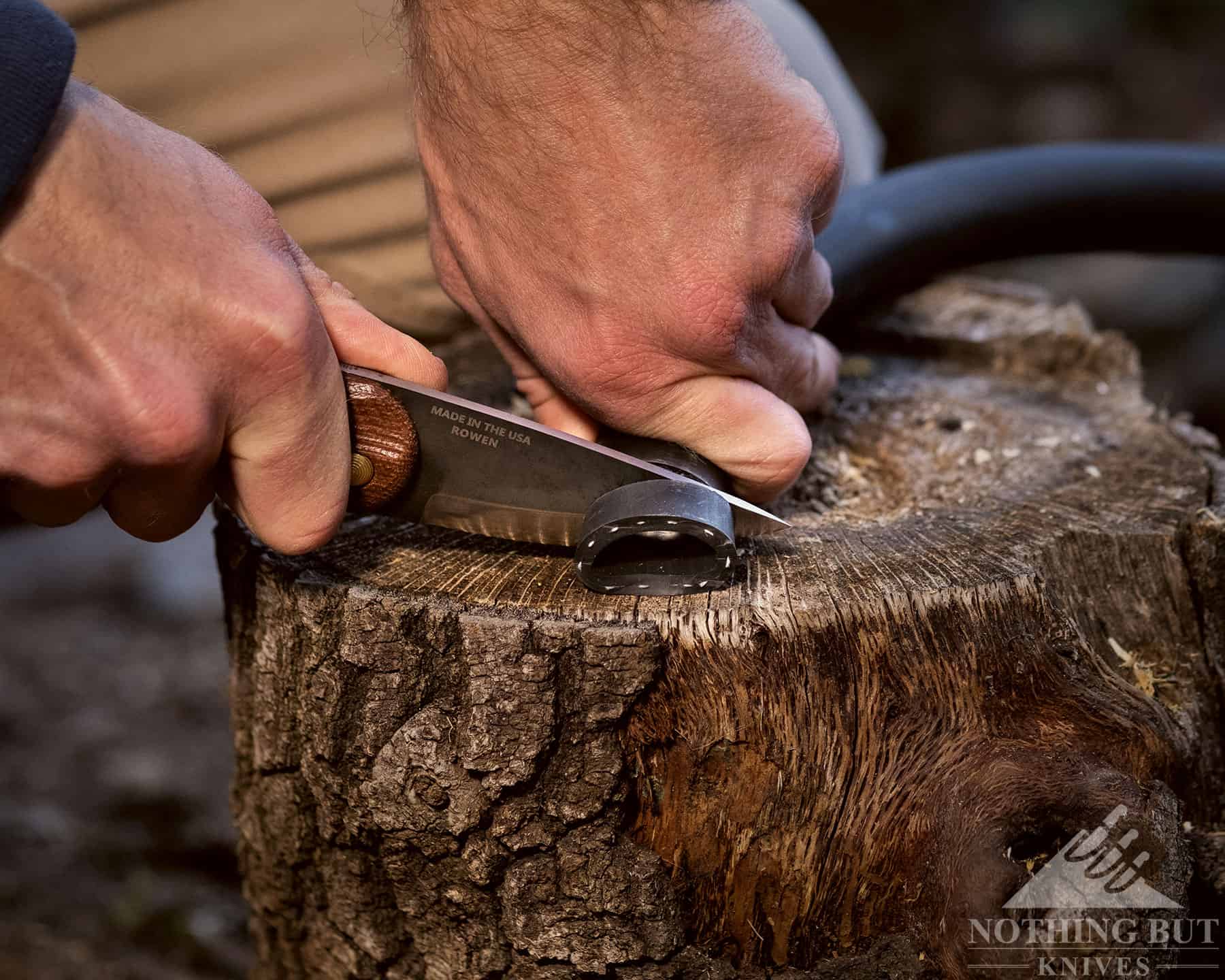 I spent a sunny hour cutting up a couple boxes roughly the size of starving cows, and not only did my hand never cramp up, but there was never a point where I felt like I didn't have the blade firmly under control. That deep curve in the handle facilitates a surprisingly strong canted grip where my index finger is gripping the bottom of the curve while my thumb rests along the spine, keeping the blade in place and pushing the knife along.
It's also pretty comfortable to pinch up the blade. There's plenty of height, and the tang gives me a lot of leverage when I let it rest in the palm. In fact, half the time I used the Pinhoti for anything remotely detailed, I was barely touching the actual handle.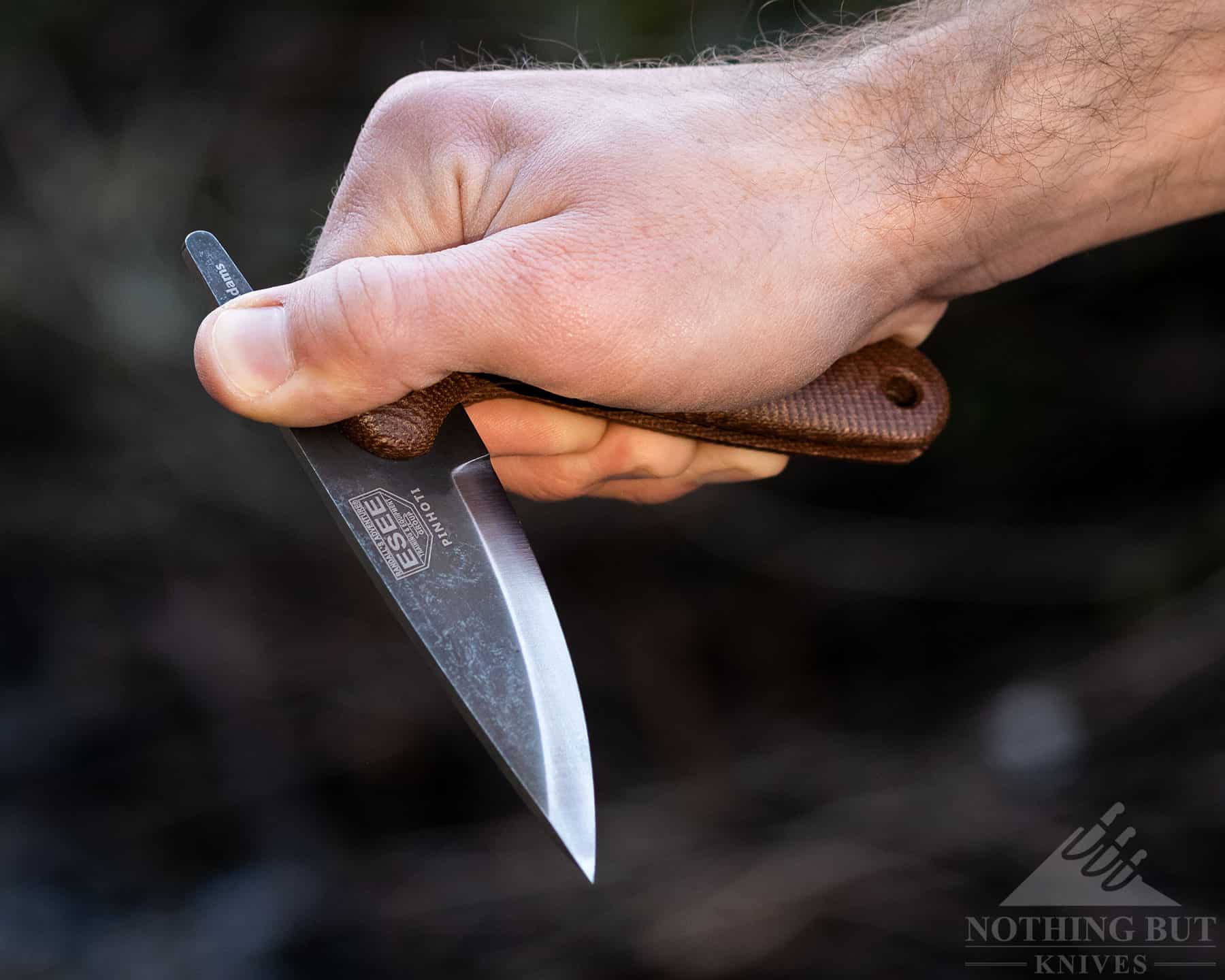 Opening it also feels very natural to me. It's easy for my thumb to reach the tang and move the blade all the way out. But the fact remains that this knife was designed with big hands in mind, so I suspect that the ergonomics will get trickier for people with smaller hands. Although there's enough clever curvature here that I don't think it would ever be completely uncomfortable for anyone.
Stop Pin Precision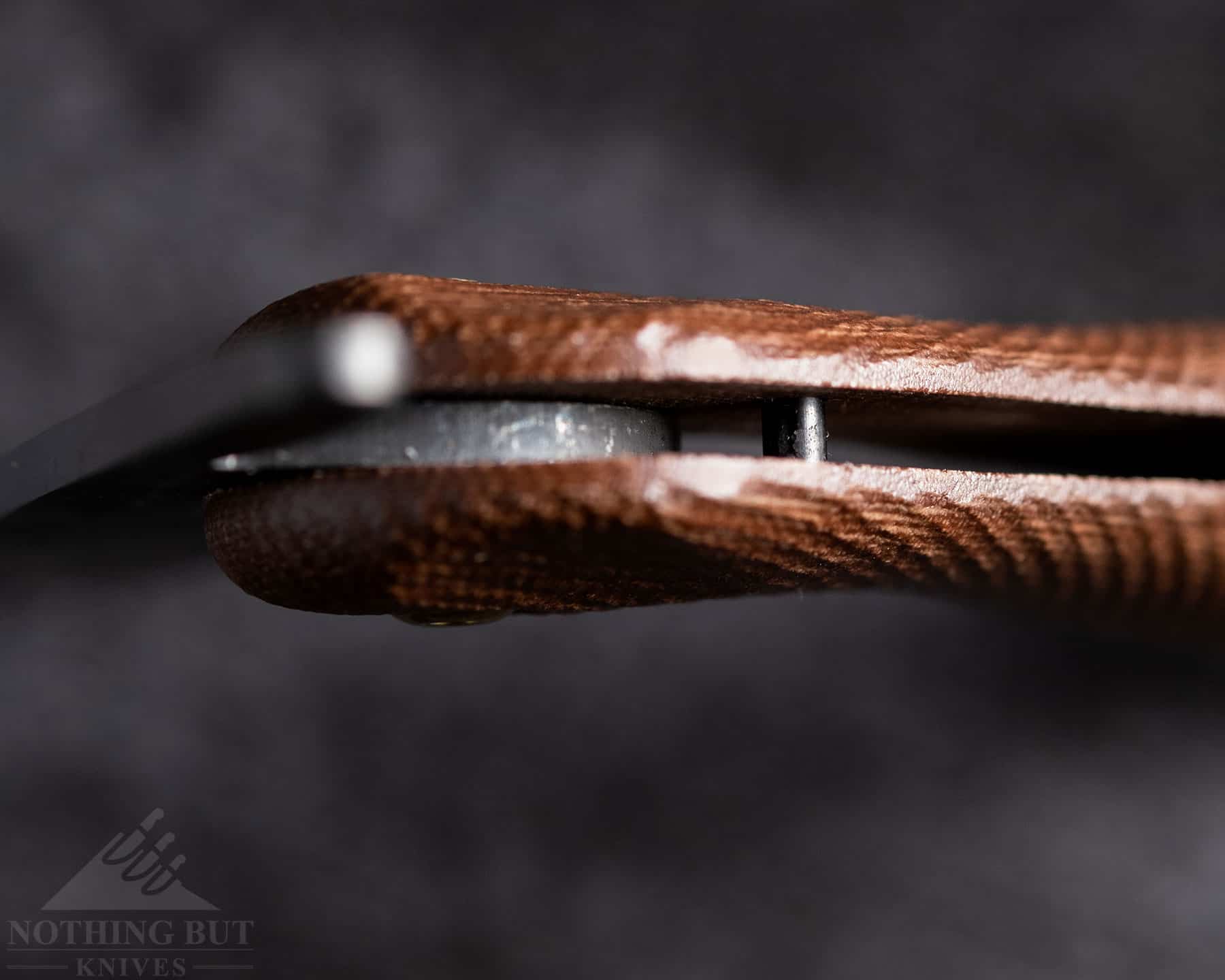 ESEE spent quite a bit of time getting the pin placement down to one stop pin. Adams showed us an early prototype that had two stop pins: one for the closed position and one for the open position, which is apparently the more common configuration for friction folders.
"If you see a lot of friction folders, they have like this steel wart that kinda sits up here so the blade doesn't invert. [The Pinhoti] is sitting on a pin that's on the inside so you get a nice clean top, a good grip up here so you're not getting a hotspot."
This isn't something we immediately picked up on (because we're not what you'd call friction folder experts here), but the stop pin in the Pinhoti is perfectly placed to keep the blade neatly aligned in both opened and closed positions. If you look at it closely as you move the blade around, you can see where the tang is shaped to fit around it in various positions. It's one of the best examples of a detail that appears incredibly simple, but has an enormous investment of time and thought behind it.
Brass and the Limits of Bushcraft Parameters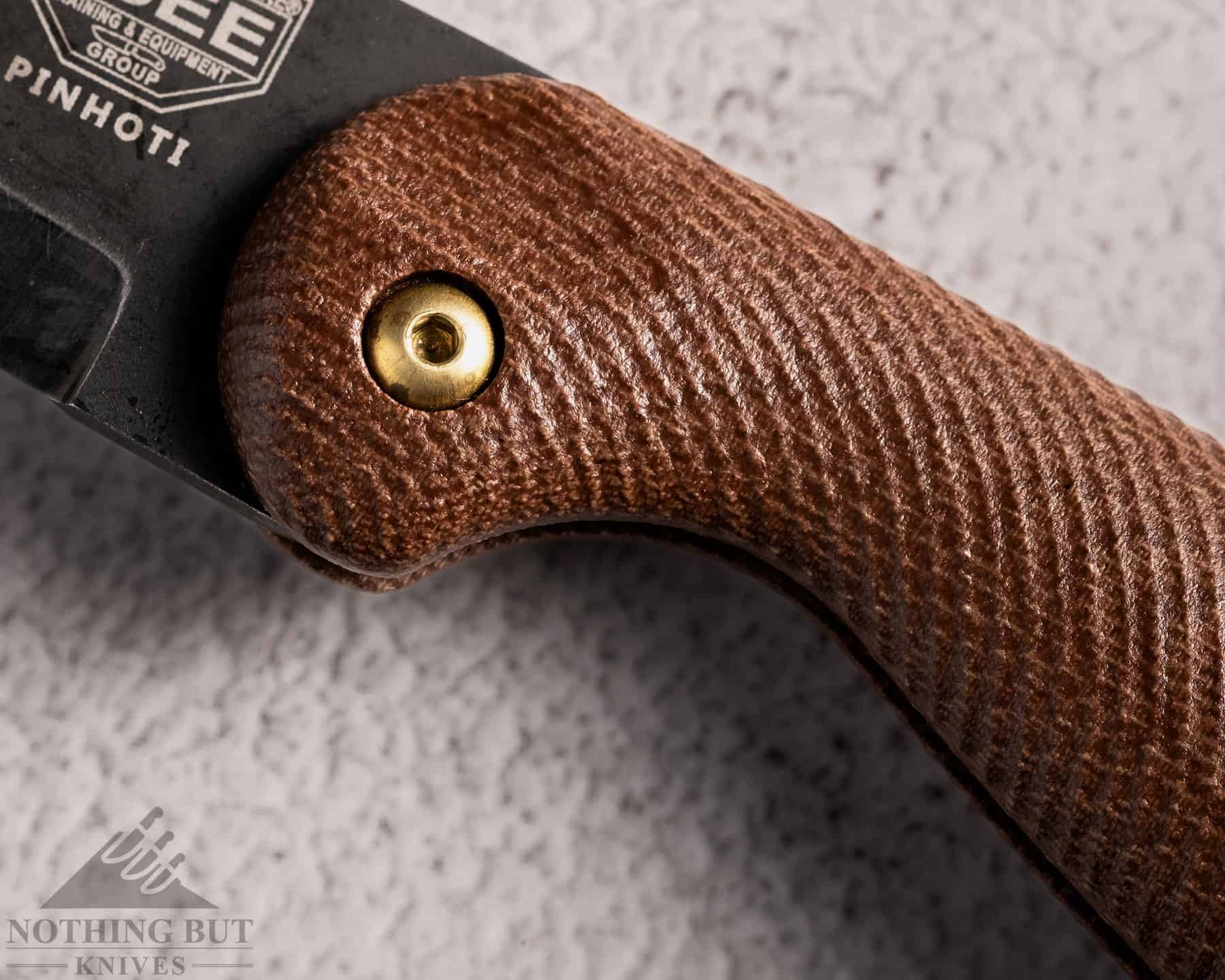 He also pointed out an interesting thought regarding the material, and second purpose of the stop pin:
"I wanted to use a brass pin. I like the look of the brass, and it's also kind of an engineered fail point. I would rather that brass pin break than the handle break. You really shouldn't be batoning with any folder, but people will do stuff like that. But you engineer that fail point in there to where I'd rather replace this brass pin than a whole handle." He then carefully added "but it's not what it's designed to do."
At this point, it might be worth mentioning that while we spoke to him at their Shot Show booth there was a wall full of mounted ESEE knives that were chipped, cracked, bent, and burnt by people doing stupid things they weren't supposed to do with any tool, much less a knife. 
These were knives that had been sent back to them for warranty. Every single one had a unique story to it, and he had to deal with all of them. Shane Adams is a man who has seen things, and apparently there are details put into the Pinhoti design with some of those things in mind.
The Pinhoti After Shot Show
We didn't talk much about the blade or the sheath with Adams, which was a serious oversight on our part, but there are some details there worth mentioning.
The Sheath and Stuff You Can Put on the Sheath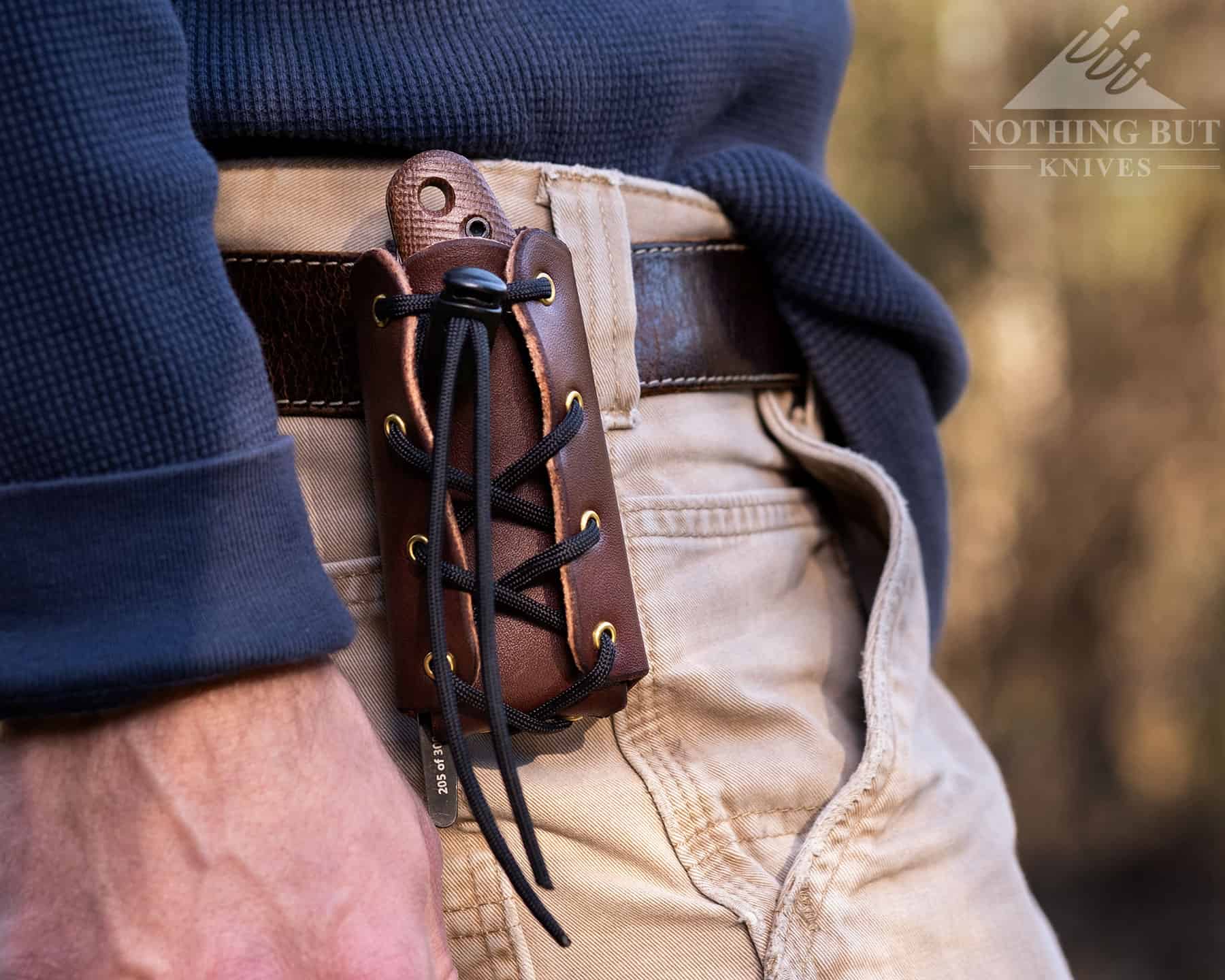 This is a big leather thing that risks feeling too bulky on the belt. But overall it feels light, and it makes drawing the knife feel very smooth. The paracord wrap also opens up a lot of options for packing some extra lightweight tools.
My first thought was to stick a little multi tool in there, but things like that seem to be a little too heavy without actually running the paracord through, which, of course, is a perfectly good option, it just adds some steps to getting the extra tool into your hand. A ferro rod seems like the next natural option. Most fire rods come wrapped in their own paracord, so it's a pretty easy transition to just slip on into the Pinhoti's wrapping.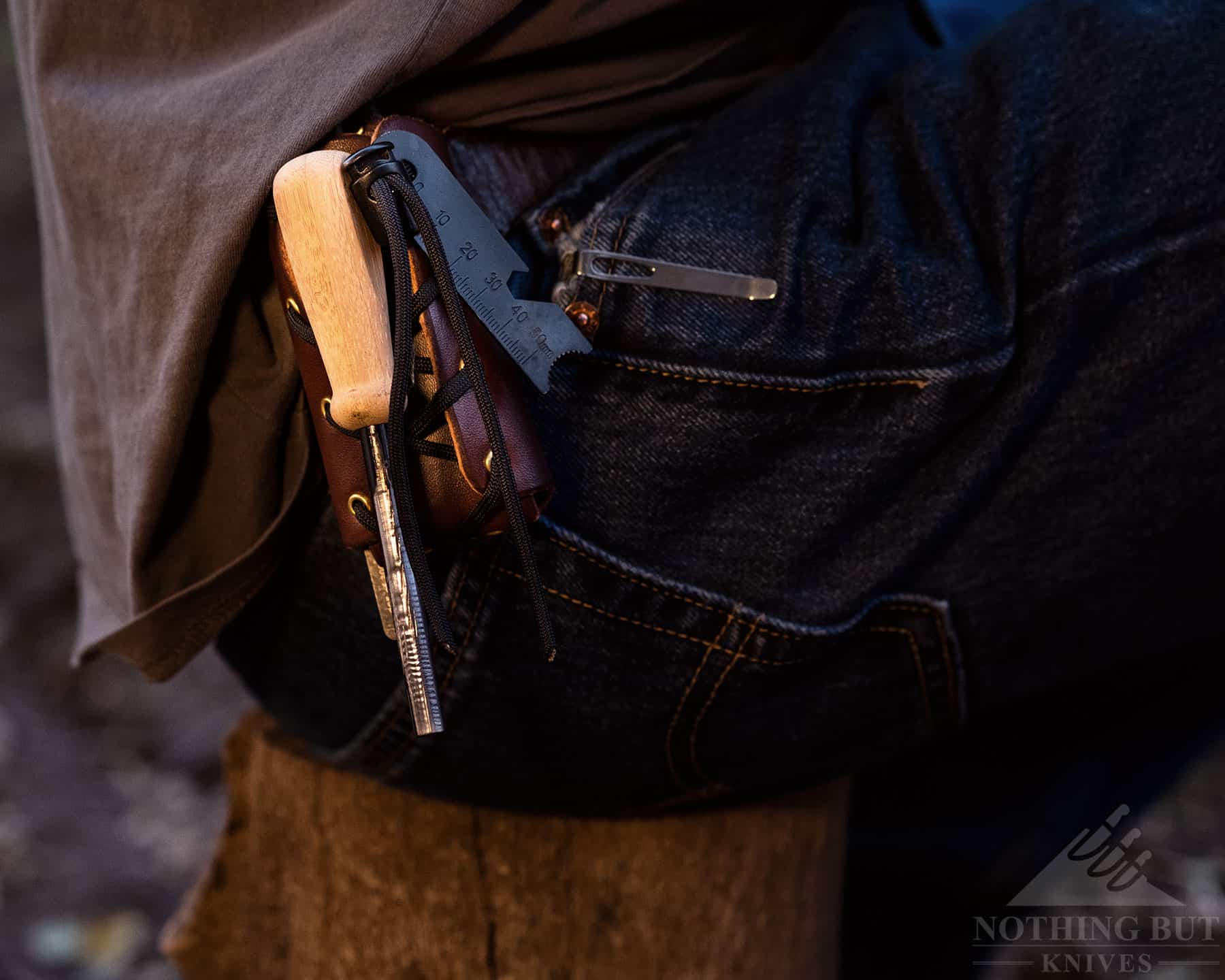 But it's one of those simple elements that has a lot of possible applications, which I think is what I love most. You could replace the cord with a bit of thin rope or a strap of leather, and dangle any number of things along it so long as you're prepared to deal with the increasing weight.
I found that I quite liked having a ferro rod and little multitool strung to the sheath while I was out hiking. It made my walk jangle a little more than usual, but it didn't feel awkward to walk around with the extra hardware on my hip, and it was nice to have it all sitting there when we stopped to make a fire. The only thing I'd like to add now is a little carabiner so I don't have to unstring the tools every time I want to use them.
The Scandi Grind and Good Ol' 1095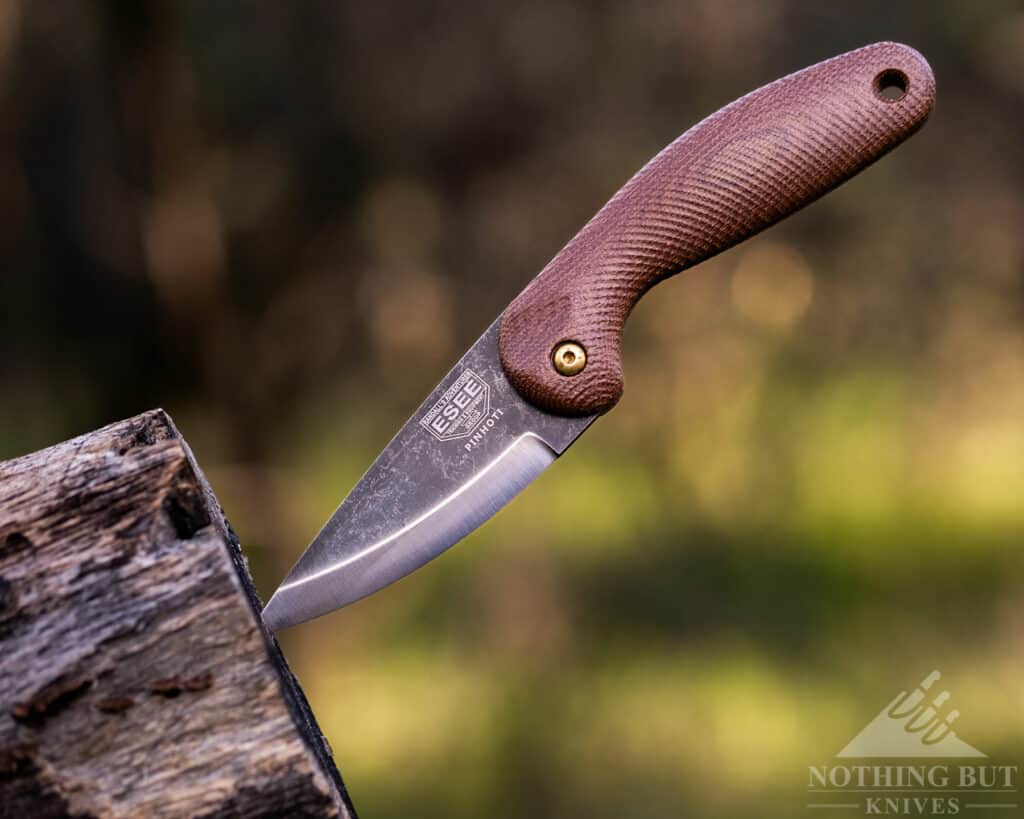 I sometimes forget how much I like a good 1095 steel blade. The Pinhoti still had a decent edge on it after our first day of mild campground testing where I made some feather sticks, carved a little wood into shapeless mounds, and threw a lot of spark. Afterward it still cut paper with respectable ease.
More importantly, I got it into push-cutting sharpness with a honing rod. Then I got it into a laser-ish polish with a dozen or so passes on a strop until I could almost get clean cuts on a paper towel. The thickness of the blade can slow it down in more mundane household tasks, by which I mean in cutting thick cardboard, but it otherwise floats right through with a little extra muscle.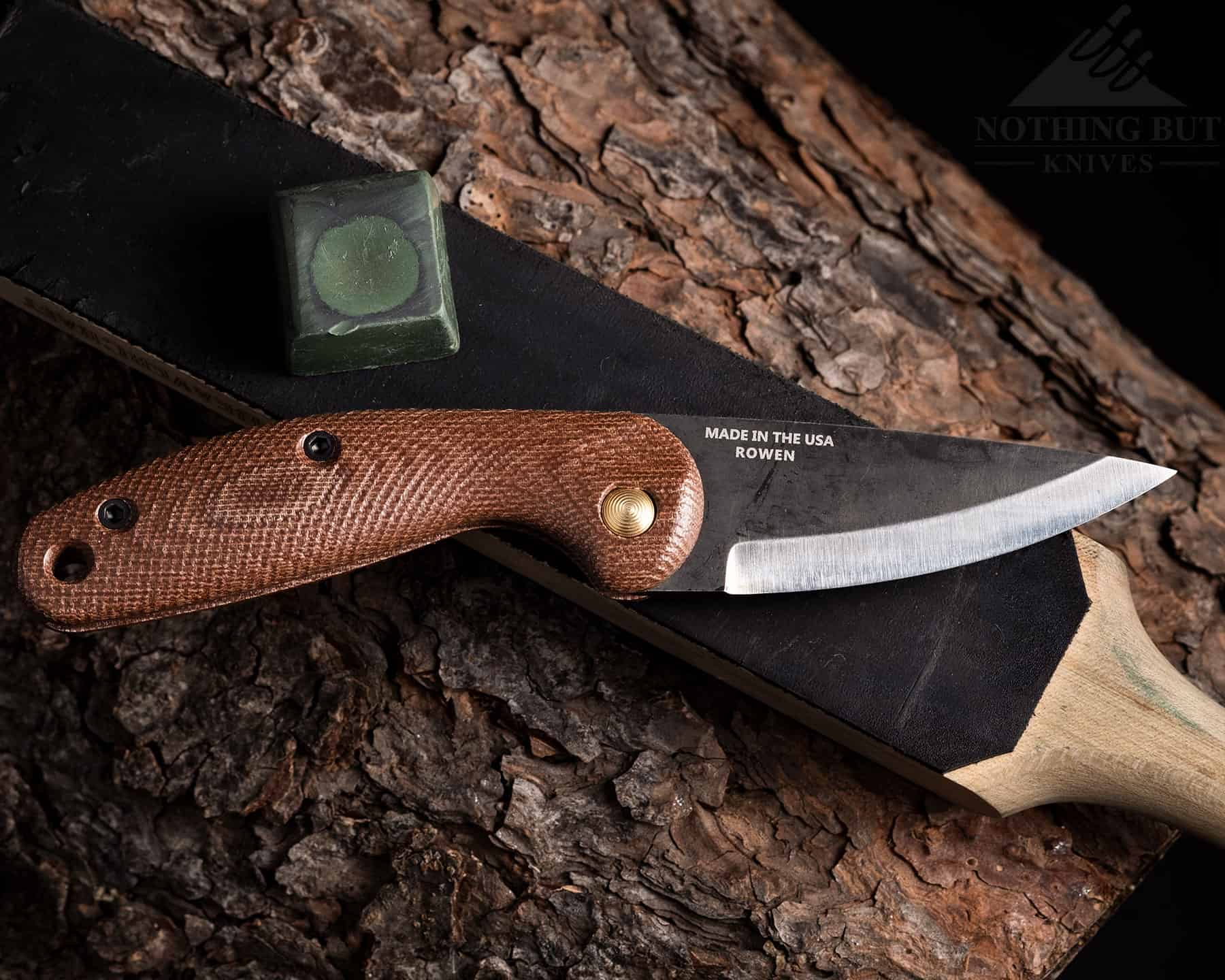 My only complaint about the blade is the lack of a sharpening choil. It's tricky to hone and sharpen the edge all the way to the bottom, but the steel is easy enough to work with that the bit of extra care required to fix up the bottom half inch of blade isn't that much of an investment in time. Also, I think a sharpening choil would have interfered with the chest lever grip, so it's possible that Adams actually tried and rejected the idea at some point in earlier designs.
Hopes for the Future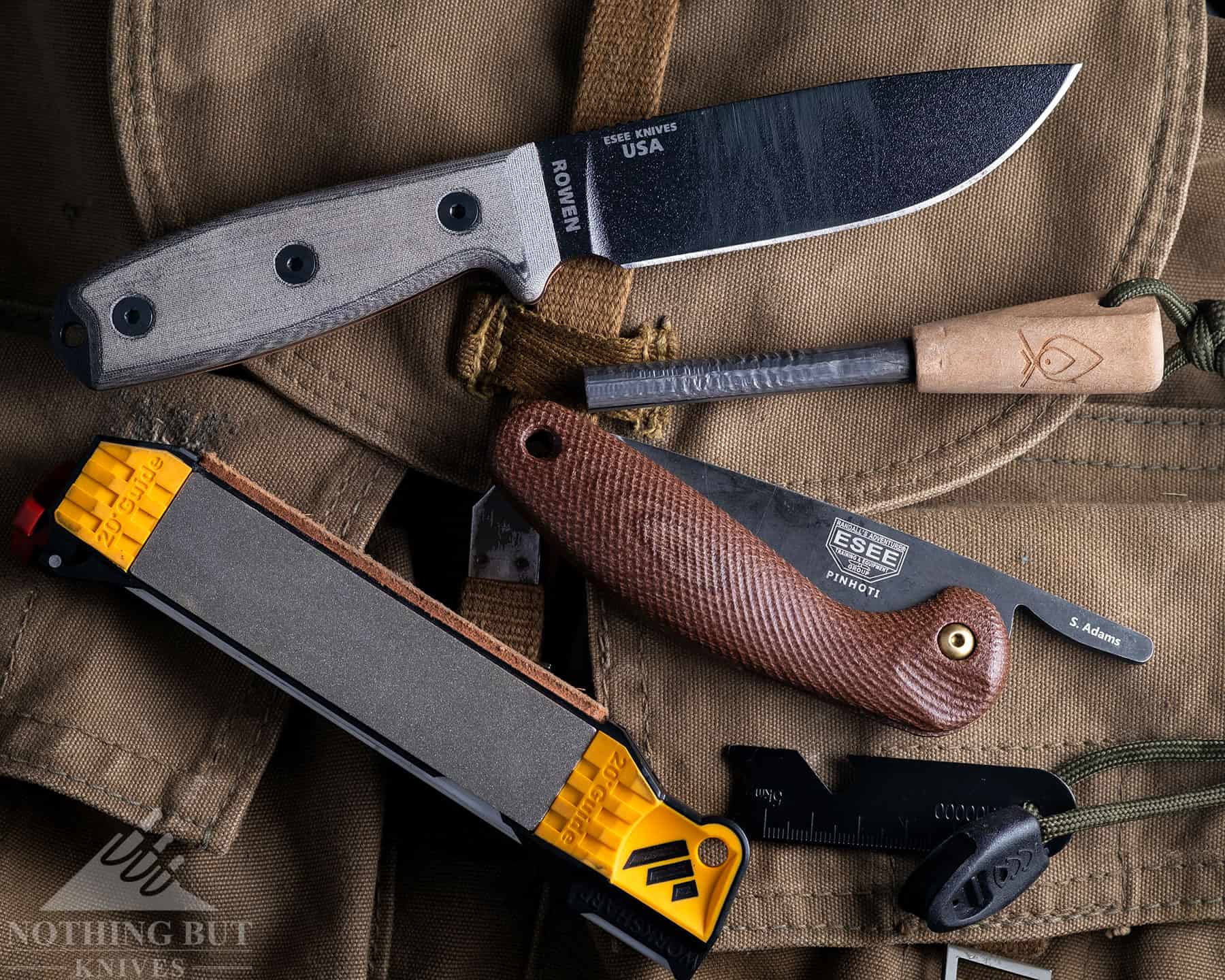 As much as I liked using the knife, I rarely took it out without thinking how much I would love the Pinhoti as a fixed blade.
There is some hope in that field, it turns out, because when we asked Adams if we're going to see more things like this from him, he mentioned he'd like to do a fixed blade version. He also said he'd like to do some kind of traditional puukko with their own bent to it since ESEE doesn't have one in their line up. And finally added "I got no shortage of what I'd like to do. I'm a knife guy; I always have been."
Comparison and Alternatives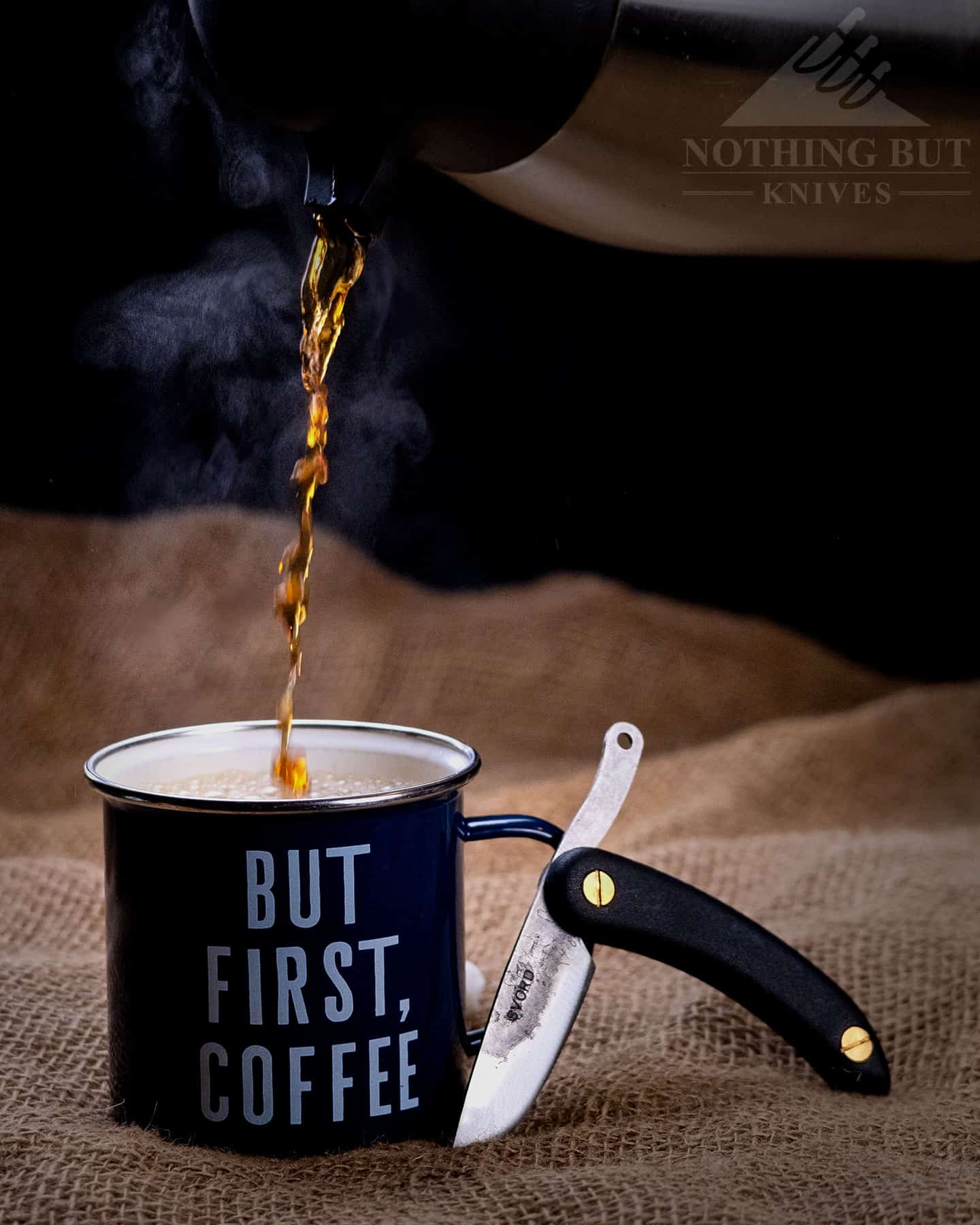 There is no shortage of friction folders to check out these days, but the Svord Peasant is the natural place to go if you want something similar but a lot cheaper (Adams actually brought this knife up as a good, but rare, example of a hard-working friction folder design). It's a little smaller and has a hook at the end of the tang that offers some unique options in terms of handling the knife, but overall it covers a similar range of tasks.
It doesn't come with a high quality leather sheath, though, and while it's a hell of a workhorse, it doesn't have anywhere near the same level of fit and finish.
Conclusion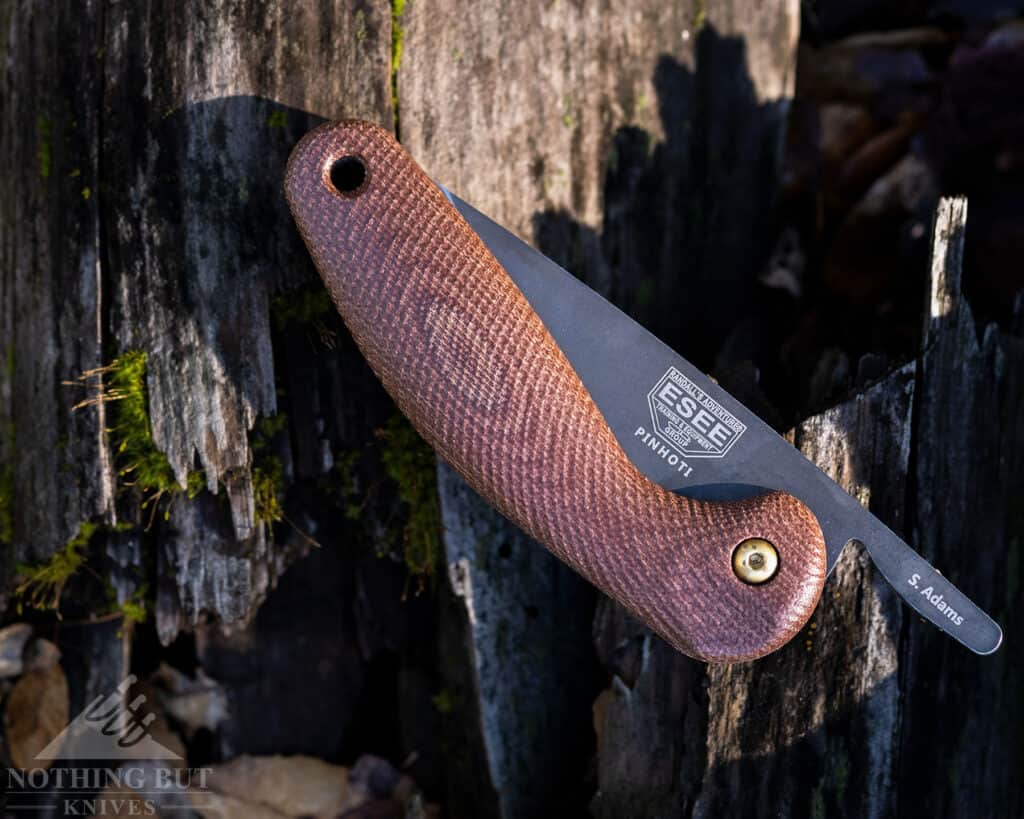 Adams was appropriately modest about this design. When he says he made it to do work, and to be comfortable, there is a certain flavor missing in the bare statement of fact: the Pinhoti is a damn pleasure to use.
It's not alone in its category. Every culture seems to have at least one workhorse friction folder that was widely used by farmers and workers, ranging from the Higo no Kami in Japan, to the Shilin cutter in Taiwan. Even the first seax knives were friction folders. But the Pinhoti is one of the only modern friction folders I'm aware of that was made specifically with camping and bushcraft in mind, and designed by someone with an enormous amount of experience in that area, both casually and professionally.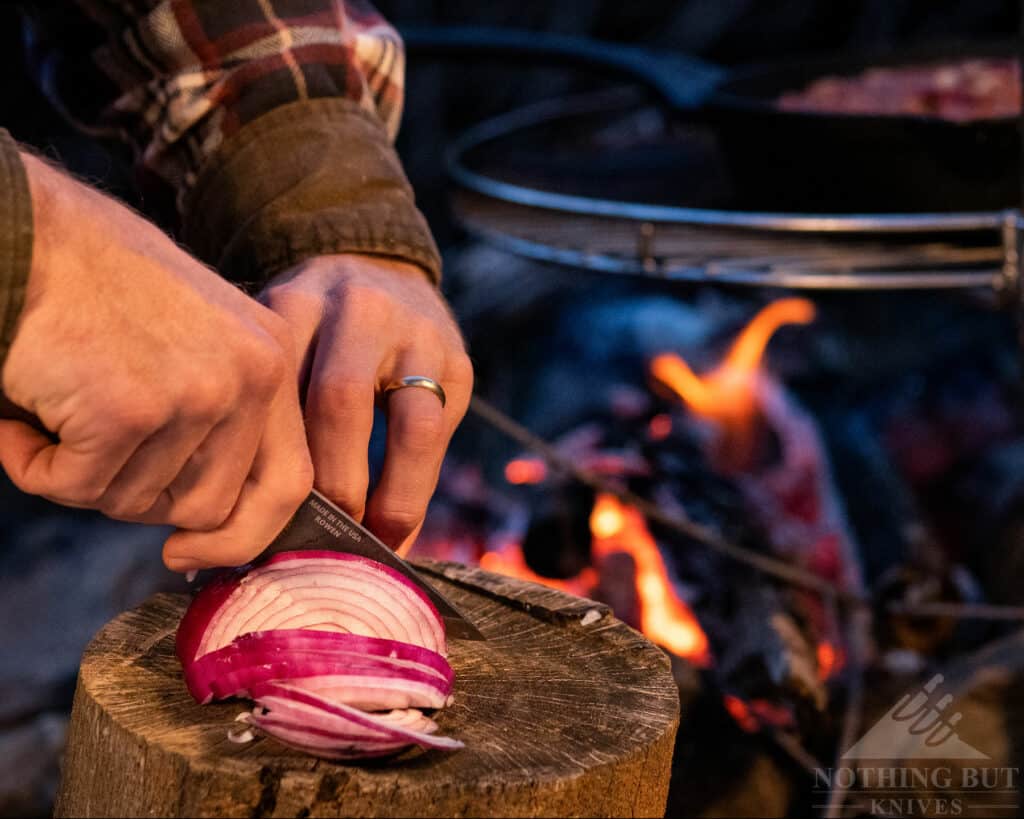 I can't help but think that, in a world full of great and interesting friction folders from different cultures, this is one we can point to as being the American addition. Which is a slightly longer way of saying the Pinhoti isn't just a knife that works, it's a design that will last.
The Esee Pinhoti is a 2022 Drunken Hillbilly Award winner.