ESEE's Functional Friction Folder and Revo's Unexpected Updates (one in the U.S.)
We looked at more things than we can properly remember this day, but one of the big things that stood out was how many of the companies we talked to are slotting new knives from US factories.
ESEE Knives
ESEE showed up with an offering of modest but strong designs. While none of it was exactly new, both of the "new" knives at their booth were exciting to see and play with.
Libretariat is Back and in the States
The Libertariat came out around 2017 as part of ESEE's Expat series, but they discontinued it sometime after. This year, they're bringing it back with a small US manufacturer. This 9" bladed cleaver will be back in semi-regular rotation in 2023.
Pinhoti Friction Folder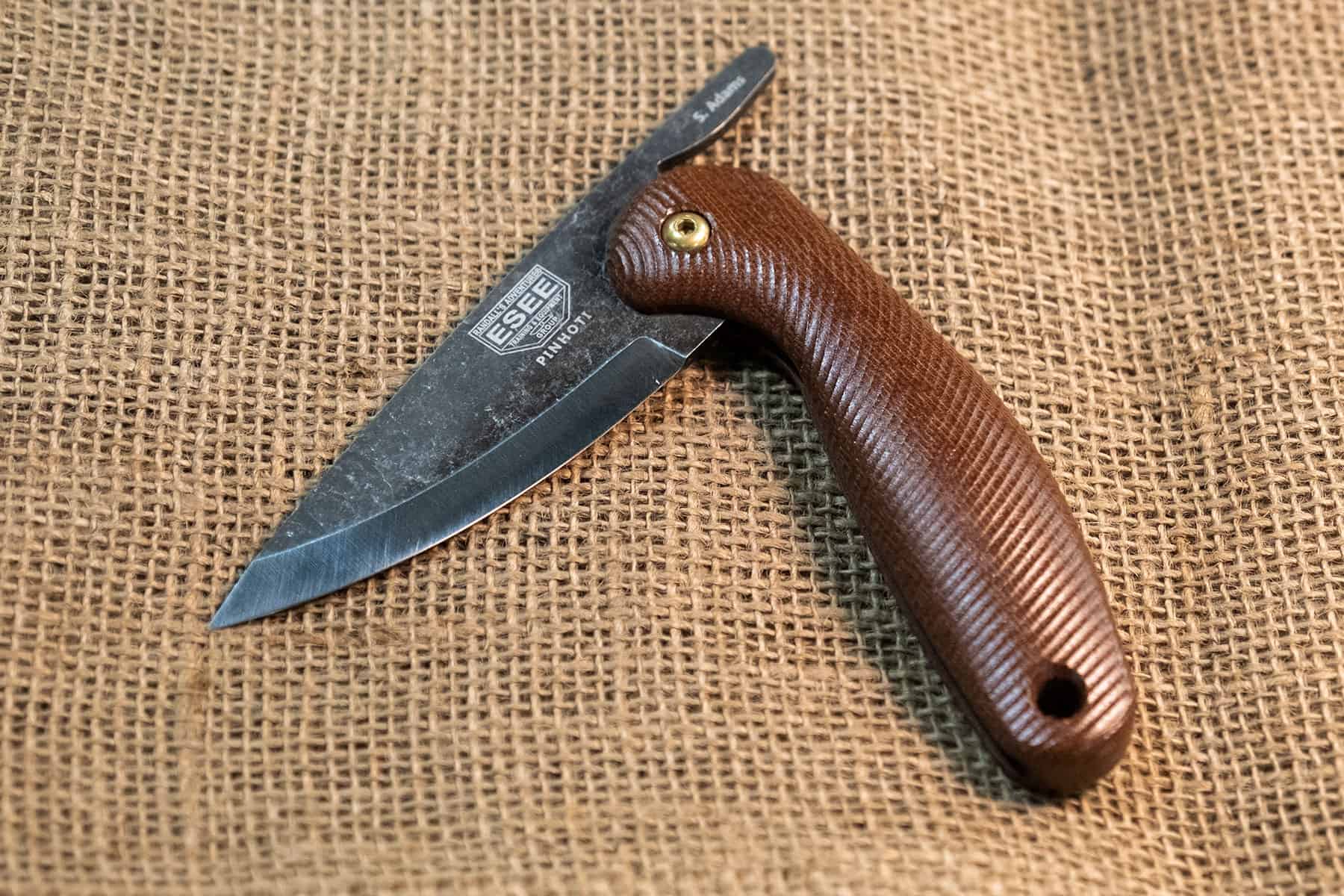 ESEE announced the Pinhoti in the later part of 2022, and released it into the wild on a limited run. But it should be hitting the shelves again soon in 2023 in larger numbers.
Coming from their old US-based partners at the Rowen factory, the Pinhoti is a deceptively simple looking little thing with a 3.25" blade and 3D G10 handles with a thick leather case to carry it around in.
We spoke at length with Shane Adams, the designer of the Pinhoti (as well as marketing director and general utility man at ESEE). He emphasized that he wanted the Pinhoti to be a "functional friction folder" with strong but neutral ergonomics.
He also low-key mentioned plans (or maybe just general desire) to make a fixed blade version of this design, but there's nothing firm on that yet. Which is fair. The folder isn't even available yet. We'll give them a little time before we start pestering them. In the meantime, keep a lookout for our review on this thing sometime in the near future.
Check out our Esee Pinhoti Review to learn more about this friction folder or to just see some photos of it in use.
Revo Knives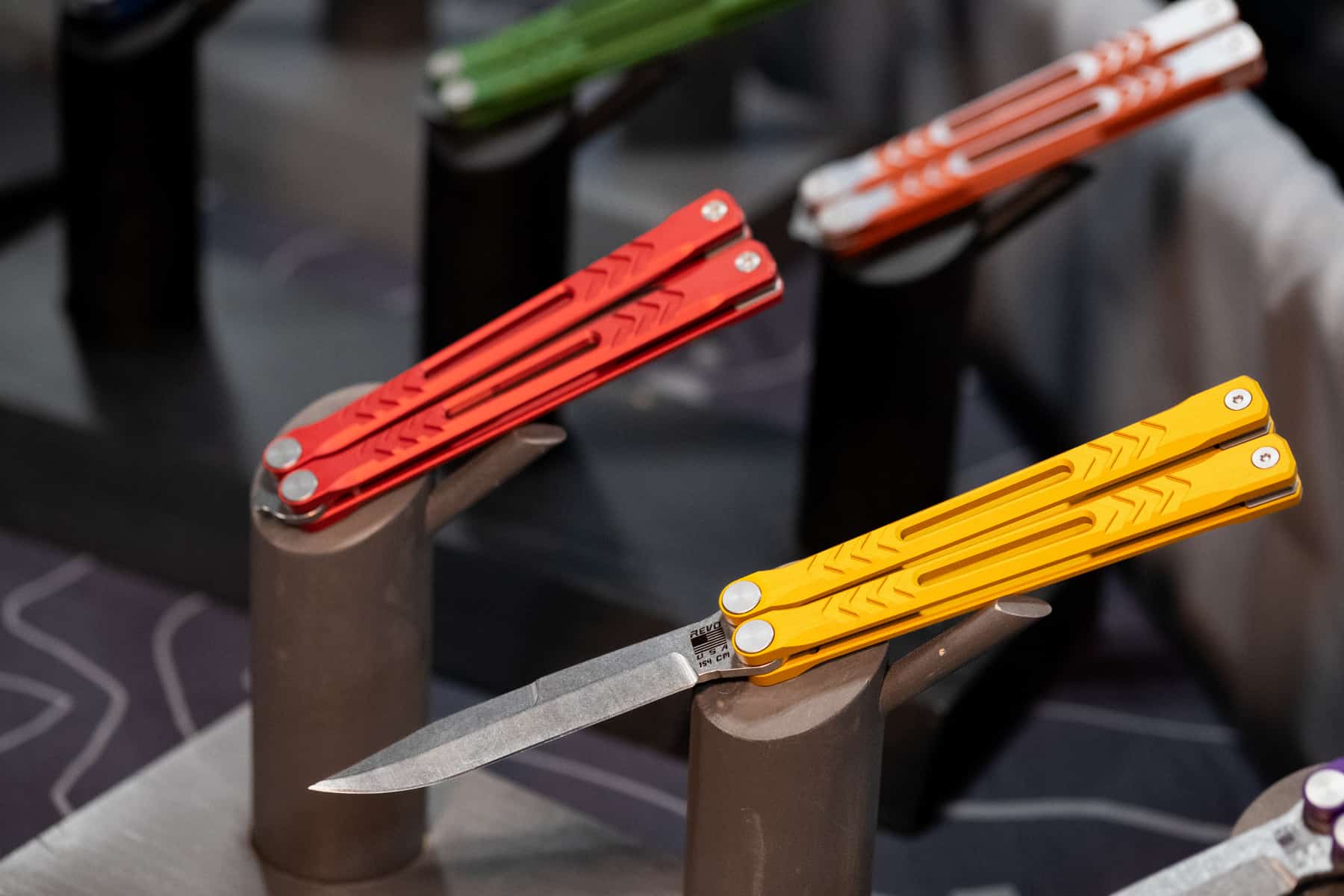 First off, the Revo Nexus butterfly knife is finally in stock in stores available (probably) wherever you like to buy knives (lookin' at you Knife Center and Blade HQ). So that was a cool to hear, but we're not really balisong people. We accidentally cut ourselves enough as it is.
The Revo Updates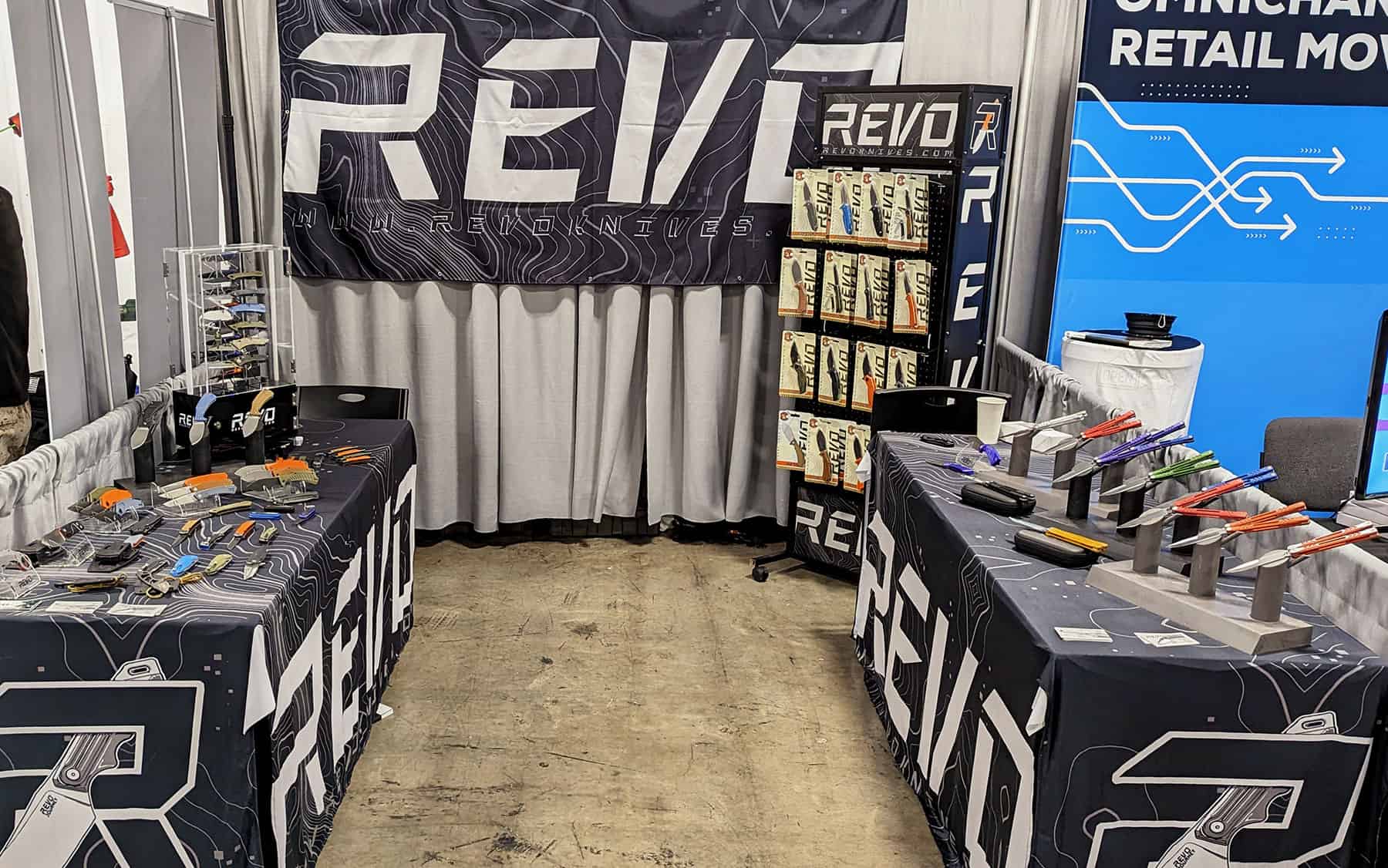 They've been busy adapting some of their older heavy hitting models with different materials and mechanisms.
First up is a manual version of the Warden with Micarta scales ((which was everything we could have asked for after reviewing the Warden V2 a while back).
Their flagship folder, Ness, is also getting the Micarta treatment in a few different colors along with a steel update (or just fresh change of pace, depending on your preference) to Sandvik 14C28N.
They also had a prototype of their Amuck design, which is the automatic version of the Ness with anodized aluminum scales coming out of their US factory in Mead, CO alongside the Nexus.
Revo's Really New Stuff
They had two knives on the table we'd never seen before.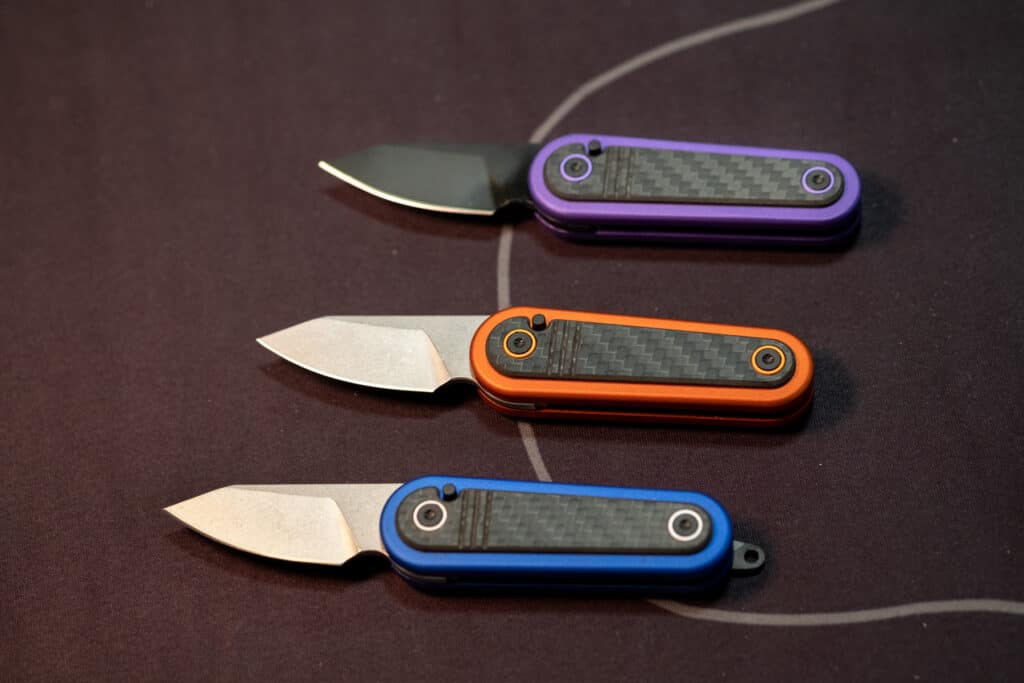 The first was the Spirit. A scrappy little thing made to carry in the smaller parts of jeans or in jeans that have nothing but smaller jeans. It's a sort-of button lock folder with a fold-lanyard hole at the butt. Designer Thomas Ward said he fell asleep with it in his pajama pocket and woke up the next day with it still safe and steady in that pocket, which seems like an unexpectedly reassuring test for a little design like this.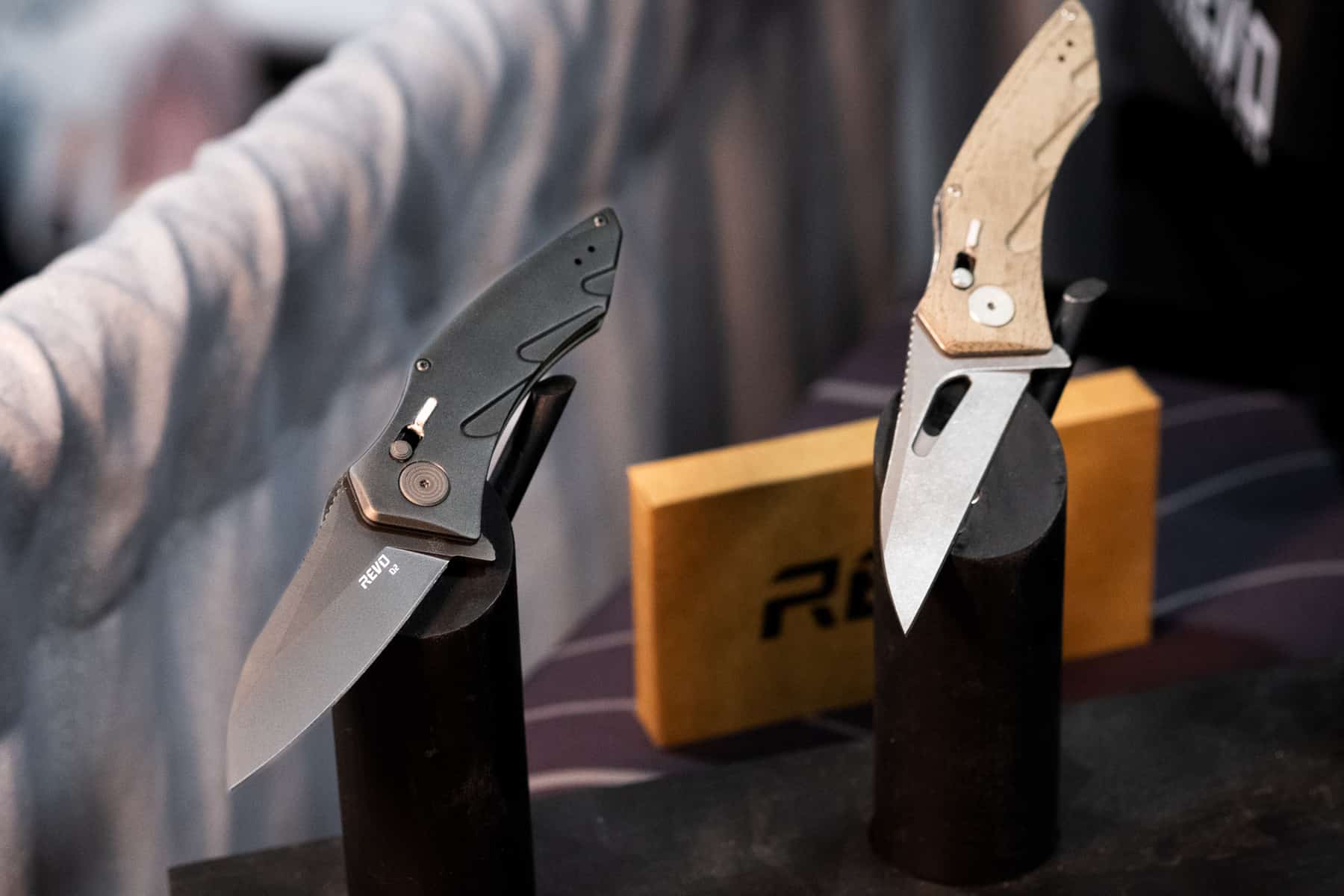 The Storm is a wild release in the other direction. A big EDC flipper with crazy angles in every direction. It's a wharncliffe blade in D2 steel with a properly flat edge angled back toward the spine. It also features a cross bar lock with a safety mechanism (which they said they're still workshopping). Between that and the thumb hole we counted at least three different ways to open this crazy thing. They had models of the Storm in G10 and Micarta on the table at the show, but frankly we forgot to ask which one is coming out first.
Both knives should be hitting shelves sometime this spring.