A Tough Assisted Open Flipper with some Blade Options
This is the flipper update of the REVO Warden. The main change here is that it has a flipper tab instead of a thumb stud. Since I never handled the first version, I can't tell you to what extent this knife is better or worse (I'm also not sure if the first Warden was an assisted design).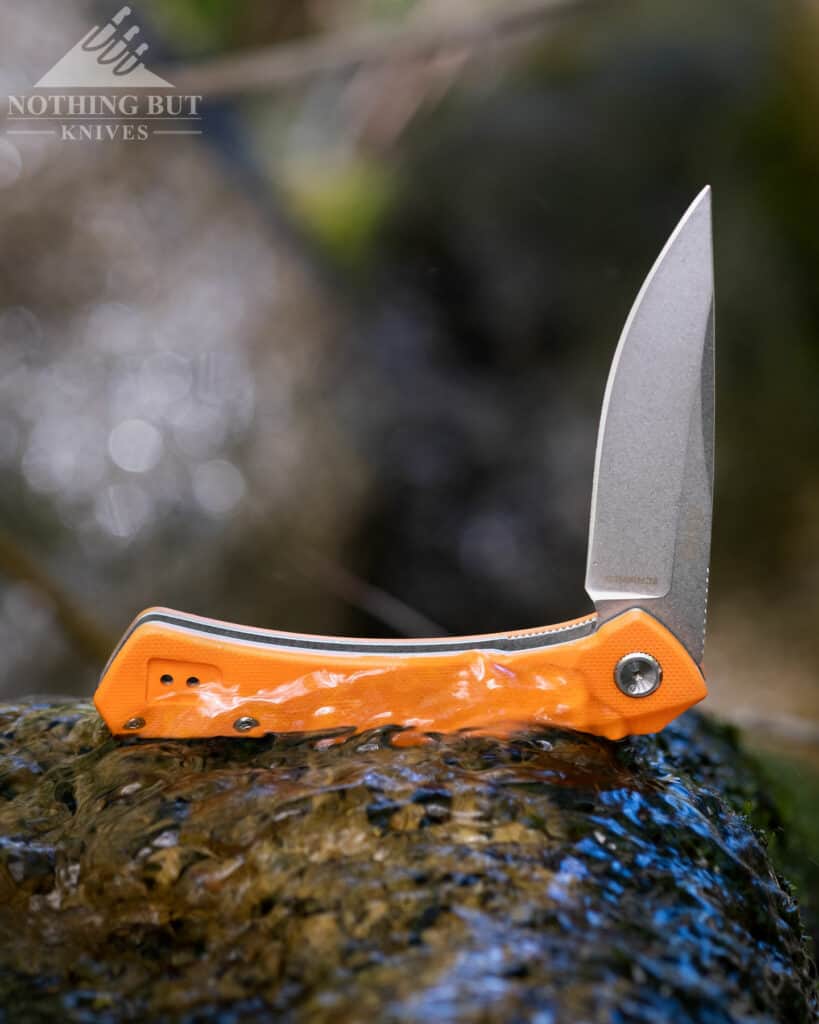 But I can tell you that this knife is incredibly sharp and comfortable, and surprisingly likable despite my bias against spring assisted knives. It just has a ton of upside for a knife in such a low price range. It didn't take long for it to enter into our hard-use knife rotation.
Specifications
| | |
| --- | --- |
| Overall Length: | 7.5" |
| Blade Length: | 3.25" |
| Blade Steel: | 9Cr18MoV |
| Open System: | Assisted flipper |
| Blade Thickness: | 0.11" |
| Blade Shape: | Drop point |
| Blade Grind: | Flat |
| Handle Length: | 4.45" |
| Handle Material: | G-10 |
| Lock Type: | Liner |
| Weight: | 3.0" |
| Made in: | China |
Pros
Great slicer
Good, big-handled ergos
Fully ambidextrous
Great hard use design in spite of AO mechanism
Cons
Hot spot from pocket clip
Doesn't have the best pocket space economy
Assisted Open feels way too strong
Our First Revo Knife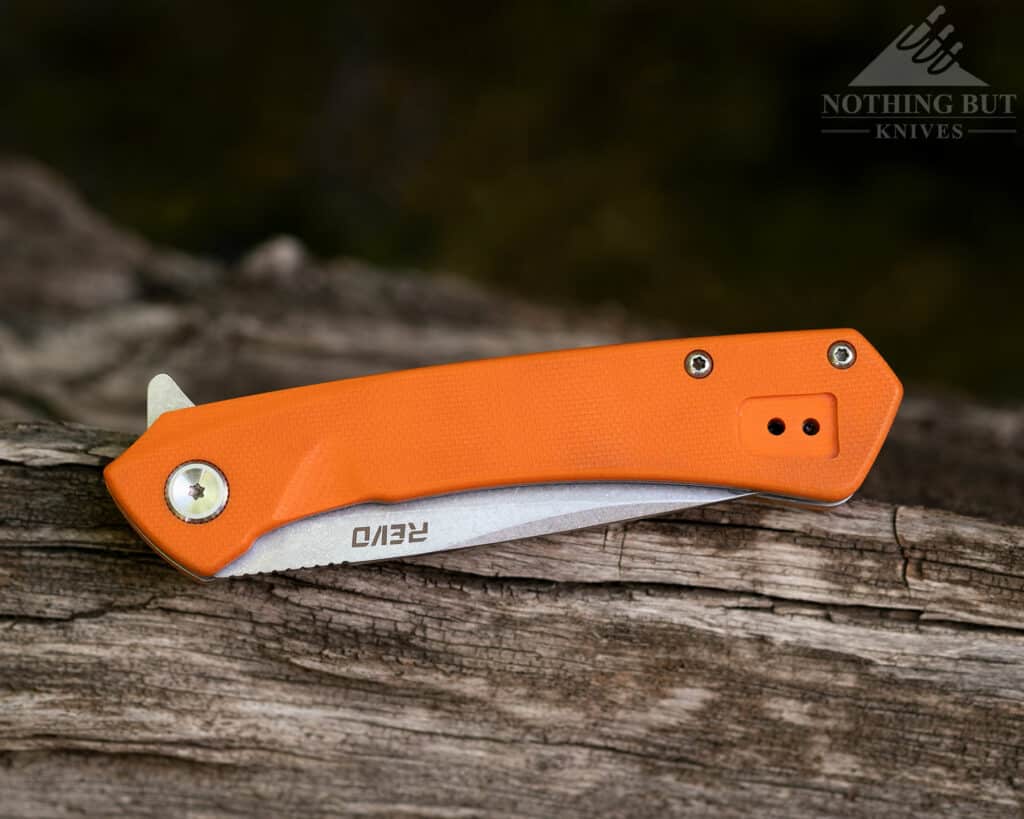 REVO Knives sent this knife along to us a while back. So in the interest of full disclosure, we received the Warden for free, after which point I put it in my pocket and forgot about the whole deal for a while because I spent a solid couple of months just writing about kitchen cutlery. This thing was my EDC through a lot of strenuous cooking. It opened up a lot of plastic packages in that time.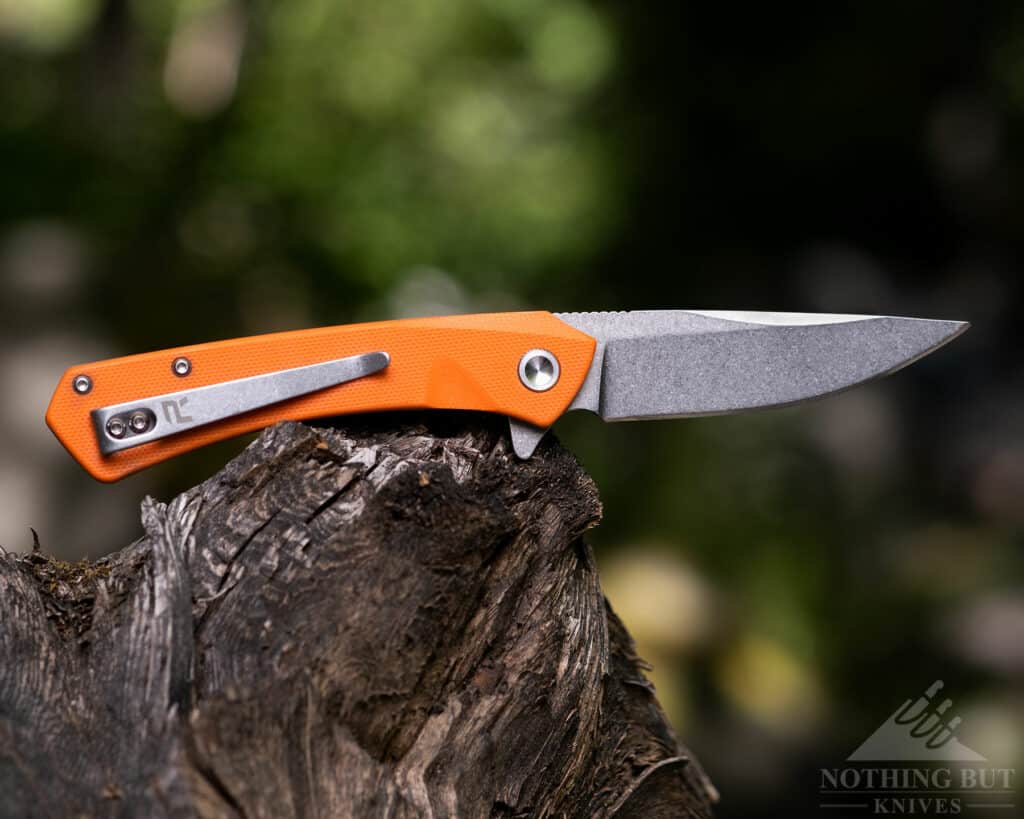 More to the point, REVO Knives is a new-ish company that seems mostly geared toward putting out good, unique designs with a budget price in mind. The guys running the show on this company have pretty impressive backgrounds ranging from work with Kershaw, Zero Tolerance, and Buck.
While they're based in Maine, they do most of their manufacturing in China (using what feels to me like the Bestech factory, but I don't know that for sure), but as I'm writing this, I've seen announcements for a US-made balisong. I'm guessing that's going through the same manufacturing as the stuff coming out of a little company called Bladerunners Systems, which was founded and run by two of the REVO owners.
Balisongs aren't really my thing; I just want to highlight that these people are clever designers who are clearly always on the move, and they seem to me to be moving in a good direction right now.
Blade and Geometry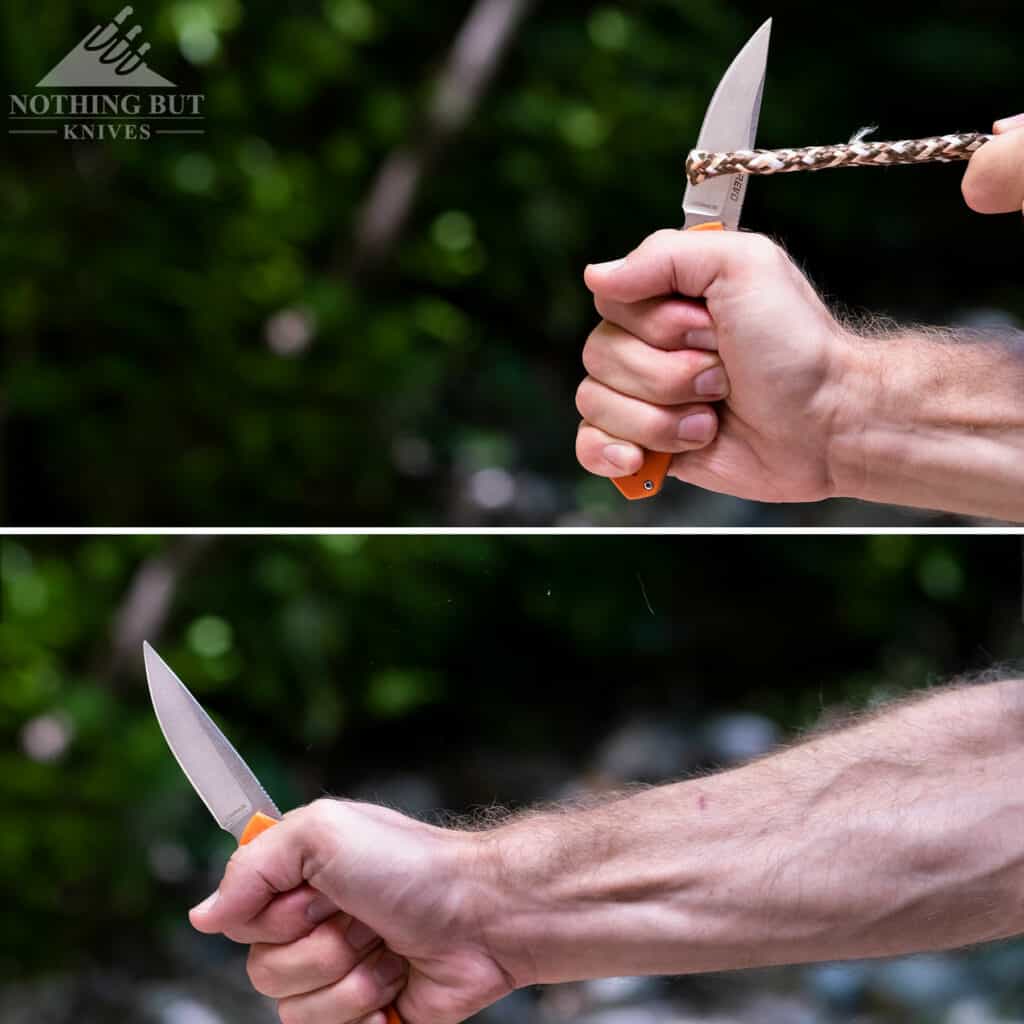 This came out of the box screamingly sharp. The blade stock is thick, but the secondary grind is pretty tall, so they've gotten away with an impressively smooth slicer on a very sturdy blade.
I put it through the paces on some rope and cardboard and was really pleased with the way it cut. It's smooth without feeling out of control. It was especially nice for breaking down cardboard (something that not all sharp knives are good at), and didn't seem to have any trouble moving from that to plastic bags or paper.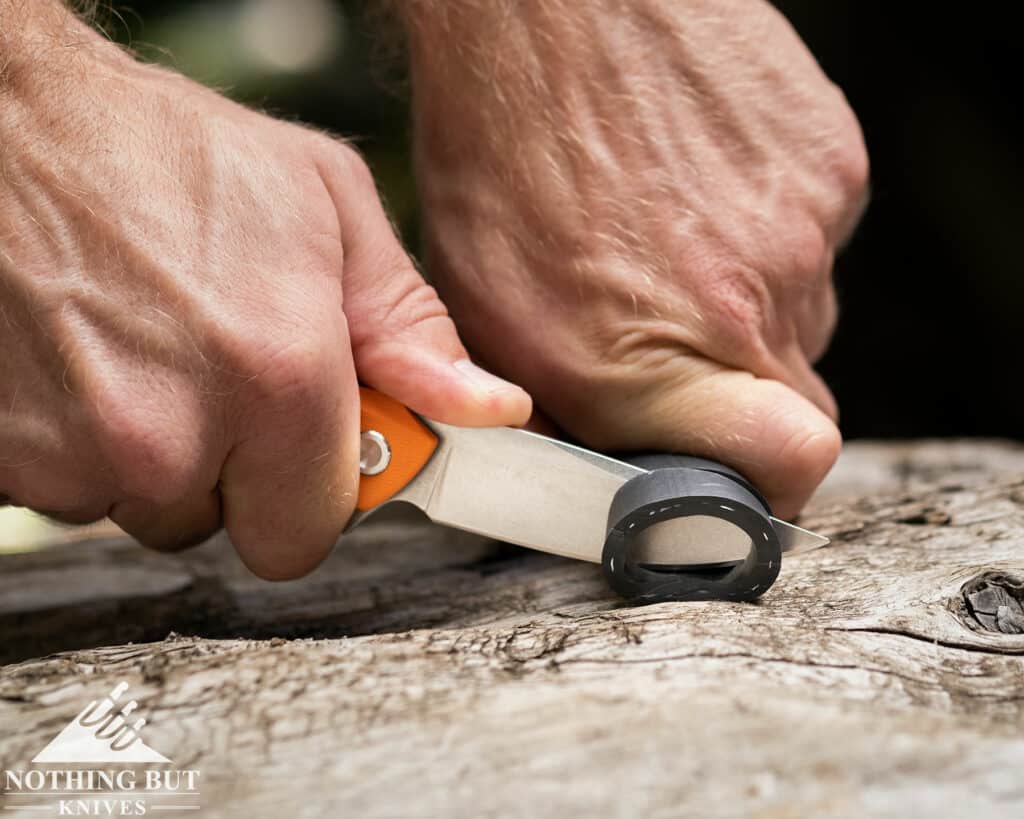 Beyond the practical cutting stuff, there are a lot of little details about the blade that I like. That bit of a swedge-like grind makes it look a little more dynamic (even if it doesn't seem to have much practical use beyond maybe a little balancing). The jimping on the spine doesn't seem to stand out much, but it definitely gives some great traction for my thumb.
They've also done a good job with sizing the choil. The top of it angles up into the cutting edge just enough so that I can rest my index finger on top of the flipper tab without getting nicked by the edge. I don't find myself wanting to do that often, but it's nice to have that option available without worrying about nicking my finger.
On the Budget Steel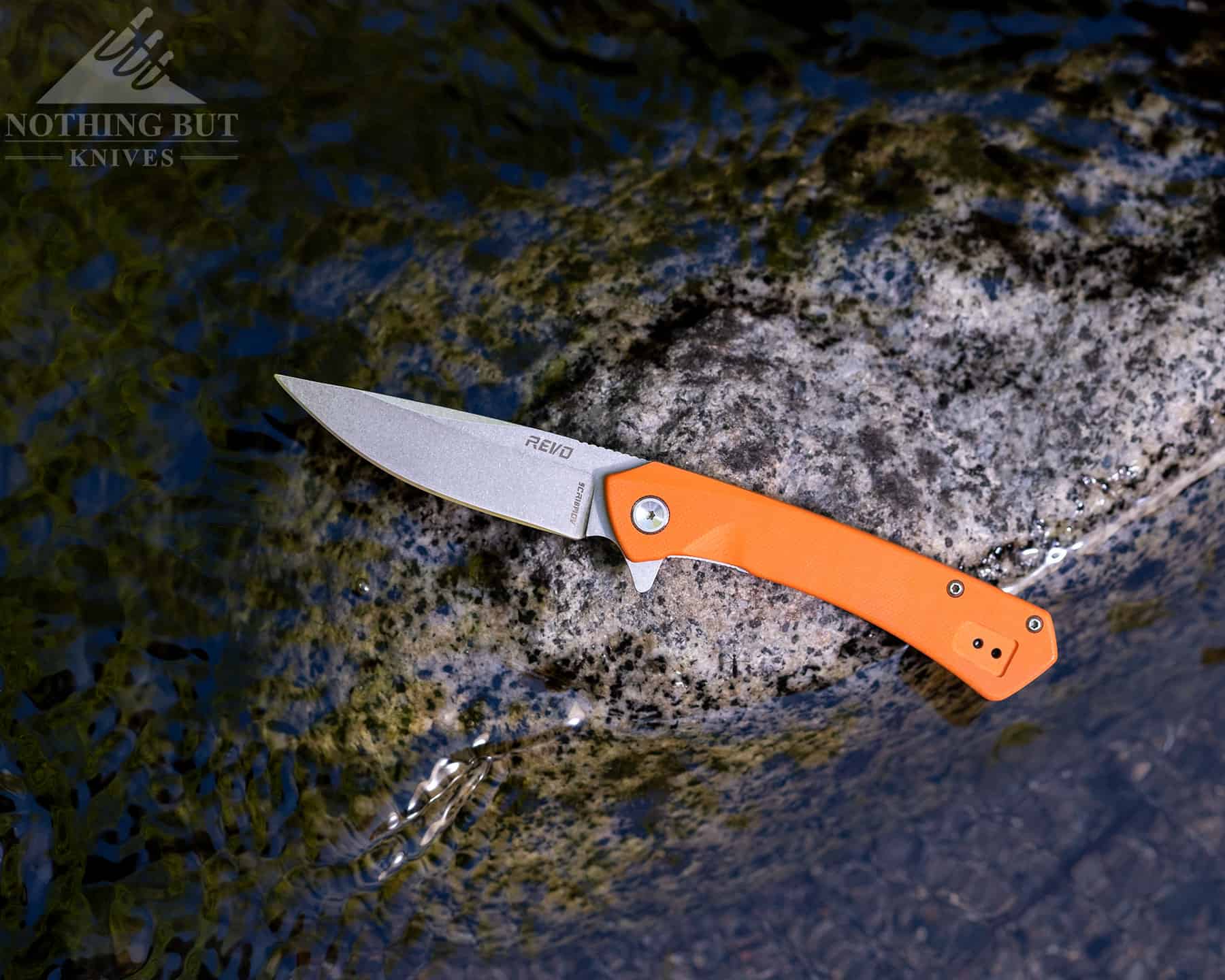 The Warden V2 is running with a steel that's basically a slight upgrade from the kind of budget steels we've been seeing for the last decade or so. 9Cr18MoV is similar to 8Cr13MoV and AUS-8, but with a little more chromium and carbon added.
In practice, it feels basically the same. The bit of extra carbon should make the blade a little harder, and down the road it might have a little more corrosion resistance. With that much chromium in something, though, a lot relies on the way the steel is heat treated in order to actually get any benefit out of that added carbon.
But if everything is done well, it's reasonable to expect this stuff to have better wear resistance the AUS-8, but a little less than 440C.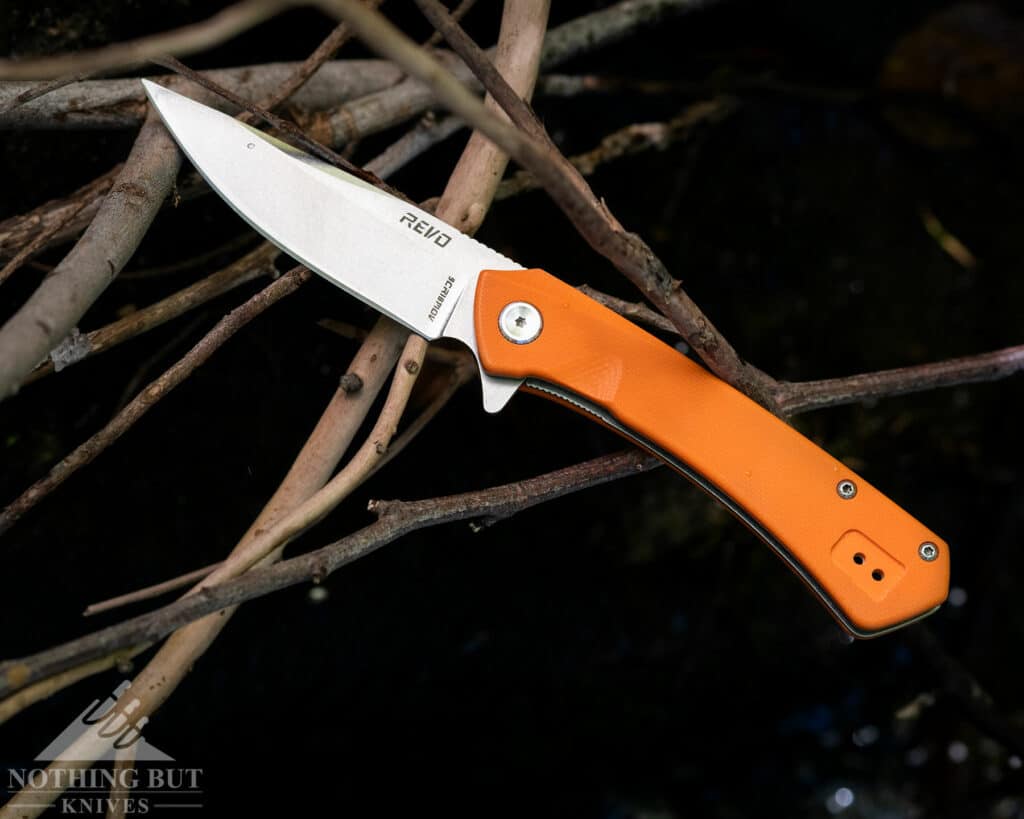 The important thing is that it feels like REVO is working hard to find the boundaries of what this stuff is capable of. They got it to a satisfying sharpness in the factory, and it's been pretty easy to maintain during my time carrying it. I've already messed around with the steel (or something similar) from other budget brands like Sencut Waxahachie and found I really like the way it takes an edge.
Edge retention is never ideal with any knife with this steel, but it's all about learning to compromise. The Warden V2 is tough, slicey, and has great corrosion resistance. It has more than adequate edge retention for a knife in this price range just from the blade geometry, so don't you worry yourself too much about how much carbon is in this thing.
The Blade Options
Revo also offers the Warden with a tanto blade that looks quite a bit stronger but might not be quite the same slicer. I've learned to have a begrudging respect for a well-done tanto blade over the years, and if Revo has done theirs right the thick tip and straight cutting edge will have a whole other world of utility.
They seem to have a good sense of sharpness and grindability, so I trust them to make a good tanto. I mostly wanted to point out that Revo had the foresight to provide some varied options with this design.
Handle and Ergonomics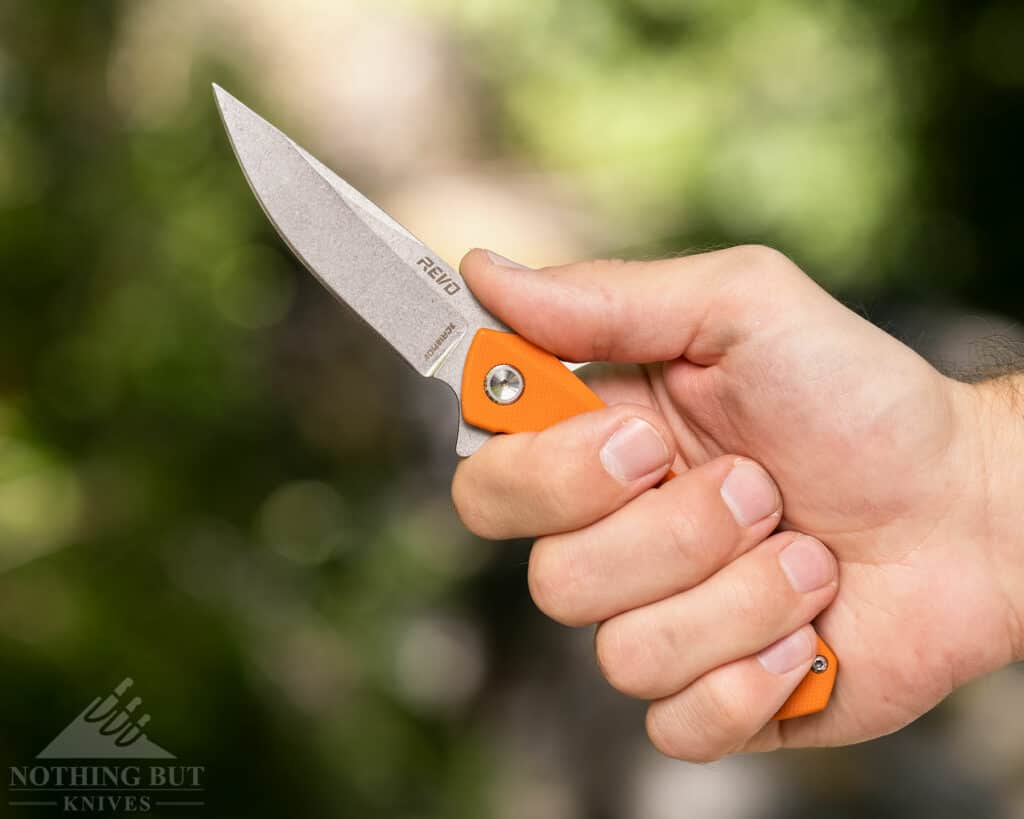 The handle is really grippy. It feels like it locks into the hand well, and the flipper tab is so prominent that it's easy to get a finger on even with a gloved hand.
Actual deployment can get tricky because the assisted open spring inside is very strong. Too strong for my tastes, but my tastes don't generally include assisted open knives anyway. The shaping of the handle is really nice. It's just long enough to fit my whole hand, and the inward curve adds a lot of security to the grip without being so aggressive that it bunches up my fingers.
The little divots at the top of the handle are a nice consideration for the index finger, but I'm still trying to decide if they actually improve the grip all that much.
The jimping on the thin liner does a great job of providing some texture for the thumb to grip onto when closing, but I can feel it biting into my finger sometimes when I'm using the knife in a full grip.
The Assisted Open Stuff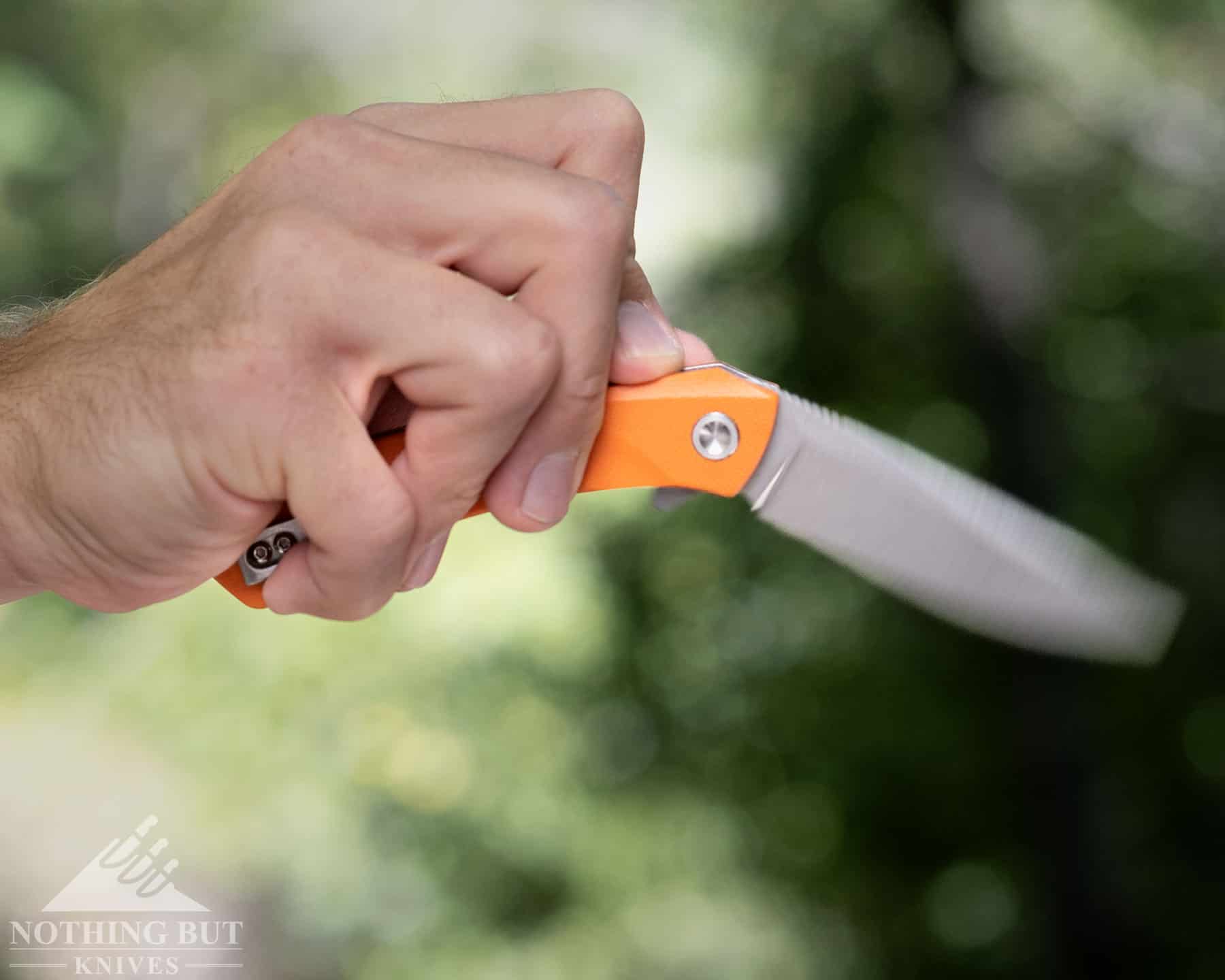 I'm not a fan of assisted open, and frankly this isn't the type of knife that changes my mind. The spring in this feels way too strong. When it opens, I can feel it in my wrist, and closing it is like a slight hand work out every time. I'll admit to feeling a bit of satisfaction at the way this knife flings itself into place, but at the end of the day it just seems way stronger than it needs to be.
This is coming from someone who just doesn't carry AO knives, though. My favorite assisted knife is the CRKT Facet because the spring has a very light touch. Beyond that design, I very rarely carry a spring assisted knife without thinking how much better it would be as full manual.
That's exactly what I think about the Warden V2. This is a perfectly respectable design that could be much improved if it ran on nothing but a pair of washers and my finger. But, again, this is coming from a place of deep, personal bias. Maybe assisted-open fanatics will love the spring on this. I don't know what those mongrels are into.
Pocket Stuff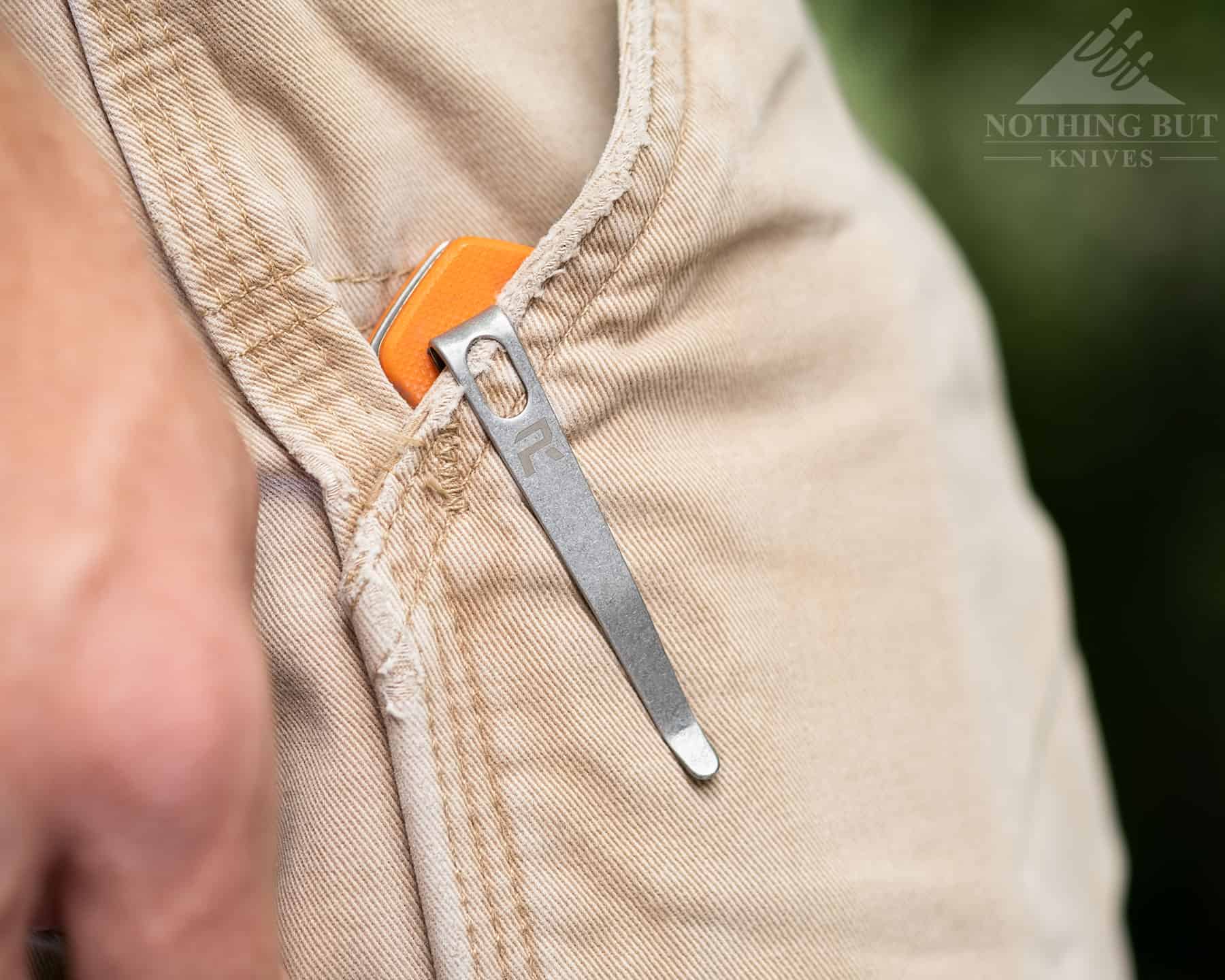 I get a pretty pronounced hot spot from the tip of the pocket clip, but otherwise, the Warden is really nice in the pocket.
The clip retention is good, and the knife as a whole slips onto the pocket pretty easily. They've also milled a recess for the clip on both scales, making this a properly ambidextrous knife outside of disengaging the liner lock.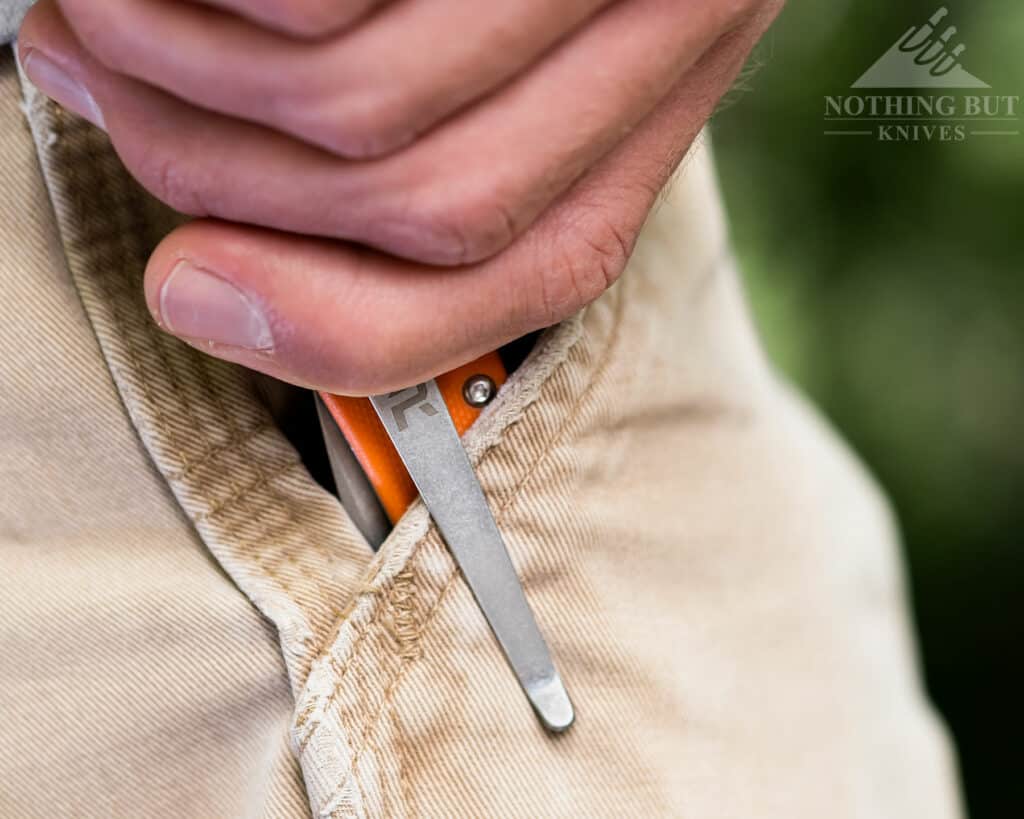 This knife does feel like it gets in the way of my hand when I'm reaching for my phone sometimes, though, and that flipper tab is so long that even though the handle curves inward enough to keep the tip of the tab in line with the back, it feels like something that really wants to jab at everything else in the pocket.
I've also noticed it trying to creep out of my pocket when I'm sitting down and getting fidgety. There have been two or three times I've gone to stand up or put my phone in my pocket only to find the Warden halfway up its clip. I'm pretty sure this happens when the flipper tab catches onto a fold in my jeans as I stand up or sit down. It hasn't come up a lot, and even when it does, the clip is so long that the knife has never worked itself up enough to actually fall out of my pocket. It's something to be aware of, though.
Conclusion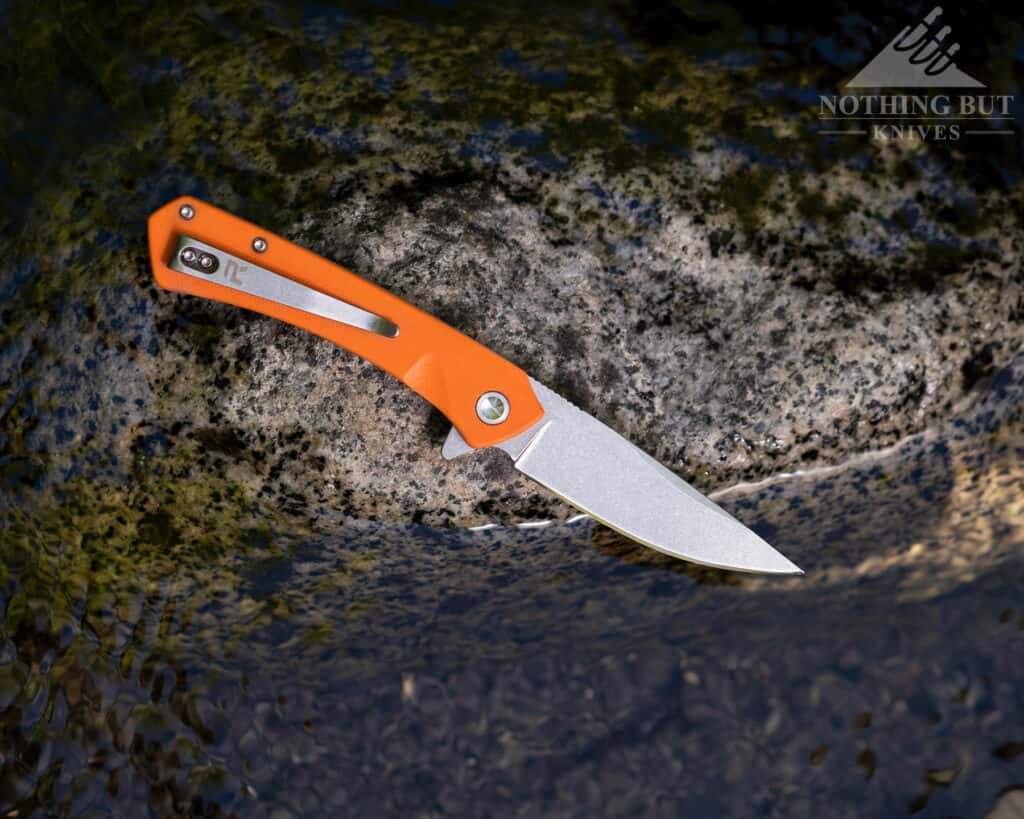 This is a good knife, and not just because of the price. If it cost twice as much I would probably still recommend it (although I would complain about the price). Just the way it cuts and handles made me like it in spite of the strong assisted open spring. It's comfortable, and the edge geometry plays really well with the steel to get as much edge retention as it can.
This is a great example of a knife that punches above its weight. REVO is showing the kind of economic designing and manufacturing that I'm more used to seeing from companies like Kershaw and Kizer. It enters into the category that lets me say things like "yeah, you could get that $150 Kershaw Launch… or you could take a look at these guys over at REVO".