Ka Bar and Spartan Basically Made a Small, Tactical Prybar
I don't mean that in a bad way, though. This little beater of a thing is handy to take pretty much everywhere. That's the whole intent of the design, from the lightweight build (in spite of the thick blade stock) to the retention straps on the sheath. Spartan Blades designed the Alala to carry well and securely above anything else.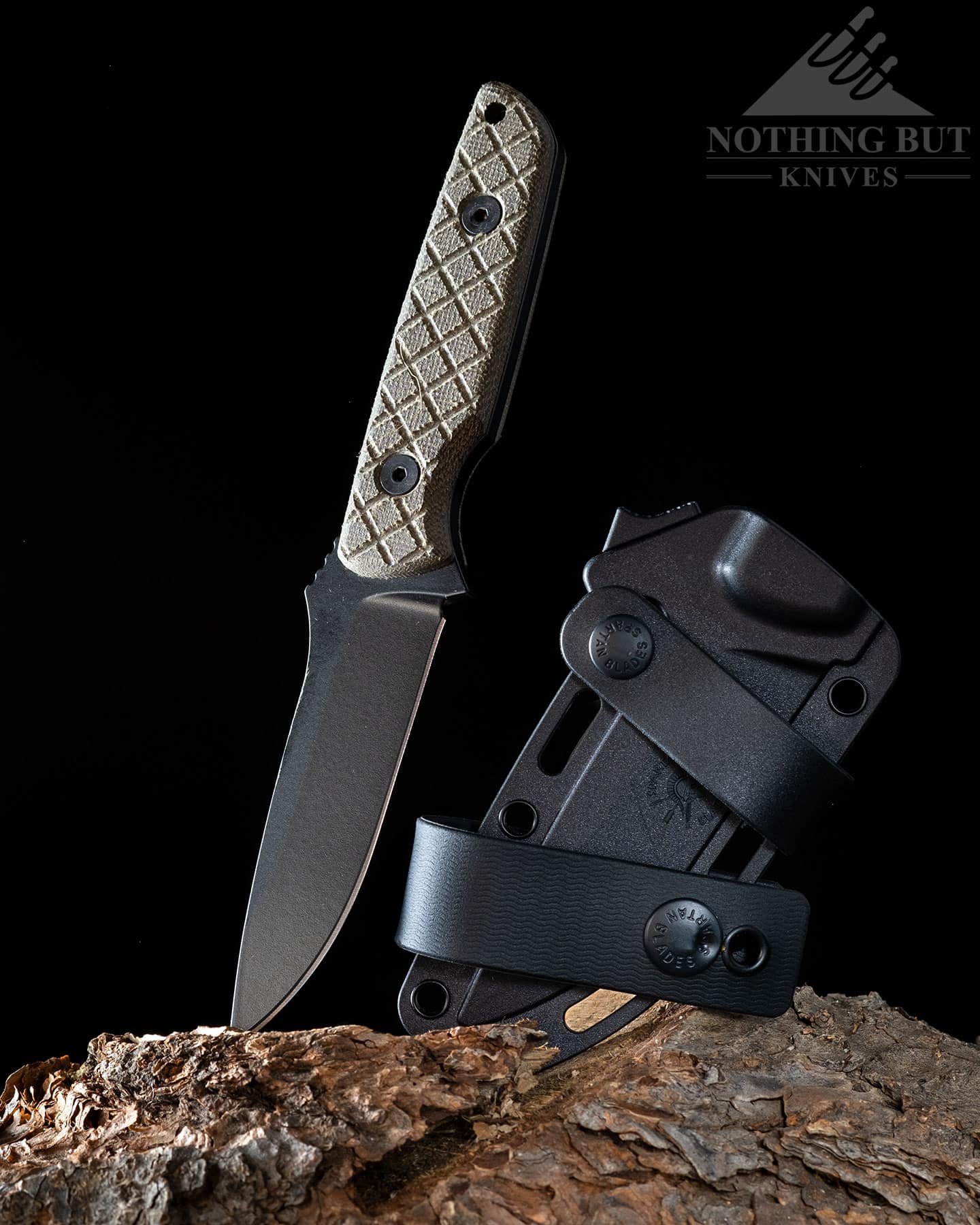 The secondary characteristics are enormously high toughness and a handle that manages to be comfortable within a small space. They also don't put much of a factory edge on this, so it basically ships as a prybar, but it's the kind of prybar you can carry through anything and make your own with a little bit of work.
Specifications
| | |
| --- | --- |
| Overall Length: | 7.875" |
| Blade Length: | 3.75" |
| Blade Steel: | 1095 Cro-Van |
| Hardness: | 56 – 58 HRc |
| Blade Thickness: | 0.19" |
| Blade Shape: | Drop point |
| Blade Grind: | Flat |
| Handle Length: | 4.0" |
| Handle Material: | Micarta |
| Sheath: | Polymer w/ retention lever and straps |
| Weight: | 4.74 oz. |
| Designer: | Curtis Iovito |
| Made in: | USA |
Pros
Super tough blade
Great sheath retention
Sheath is Tek Lok compatible
Minimal handle design feels good in a lot of grips
Cons
Substandard factory edge
Hard-baked Micarta feels pretty harsh
Strap for belt carry sits pretty loose
Spartan and Ka Bar Hanging Out with 1095 Cro-Van Steel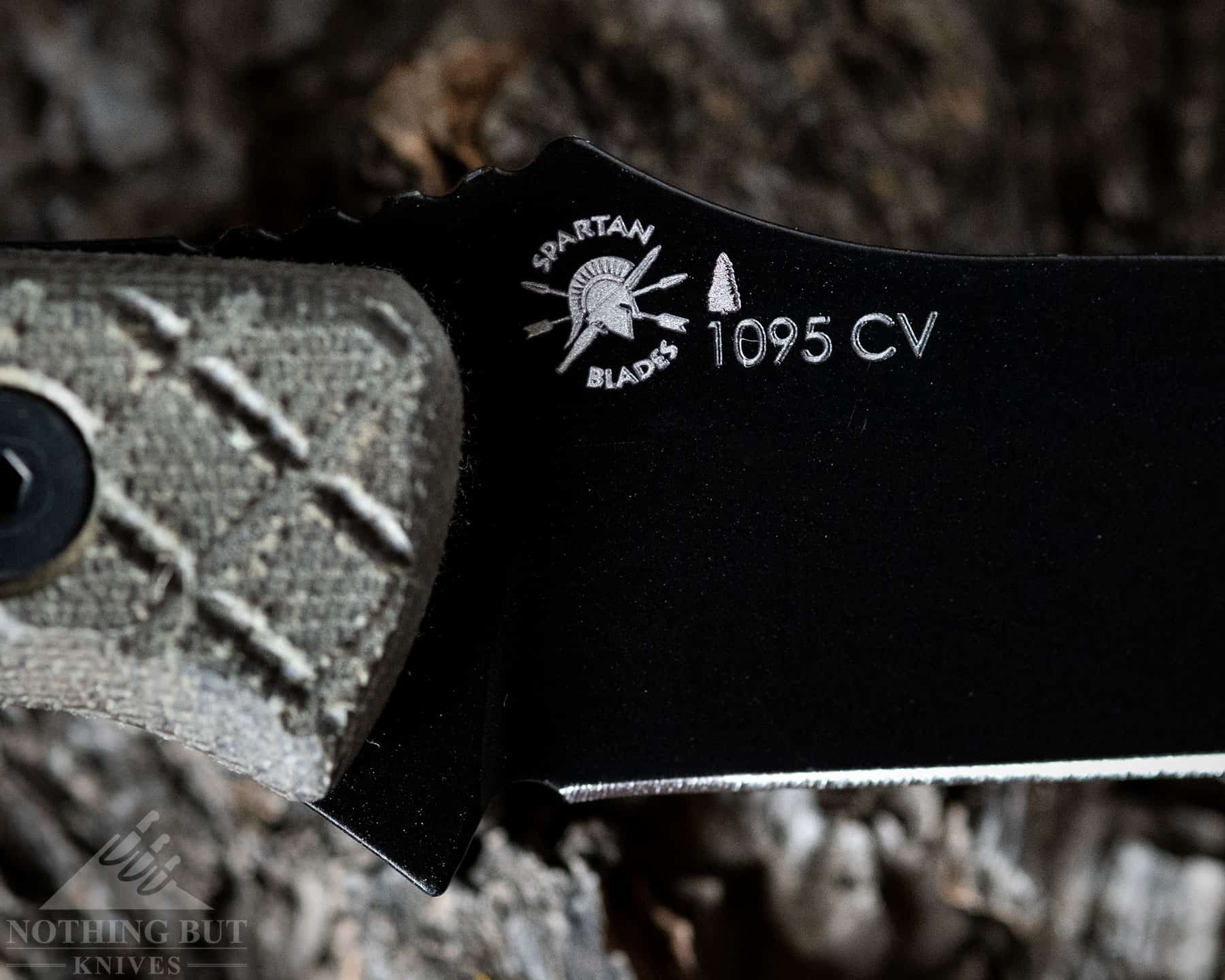 Back in 2020, Spartan Blades teamed up with Ka Bar along with the release of their Gold, Silver, and Bronze lines of knives, with Ka Bar slotted to manufacture the Silver Grade knives out of their Olean factory. The partnership opened up the door for Spartan Blades to start releasing models at lower prices, which is a big reason why we're finally reviewing one… two years later.
One of the means used to drop the price on the Silver Grade Spartans is the introduction of Ka Bar's favorite steel to the Spartan line up: 1095 Cro-Van. For the uninitiated, this is an update of 1095 with a mix of alloy steels thrown in to give it better edge retention and stain resistance. Ka Bar has been using this stuff for a long time, and we have enjoyed the hell out of it in knives like the BK18.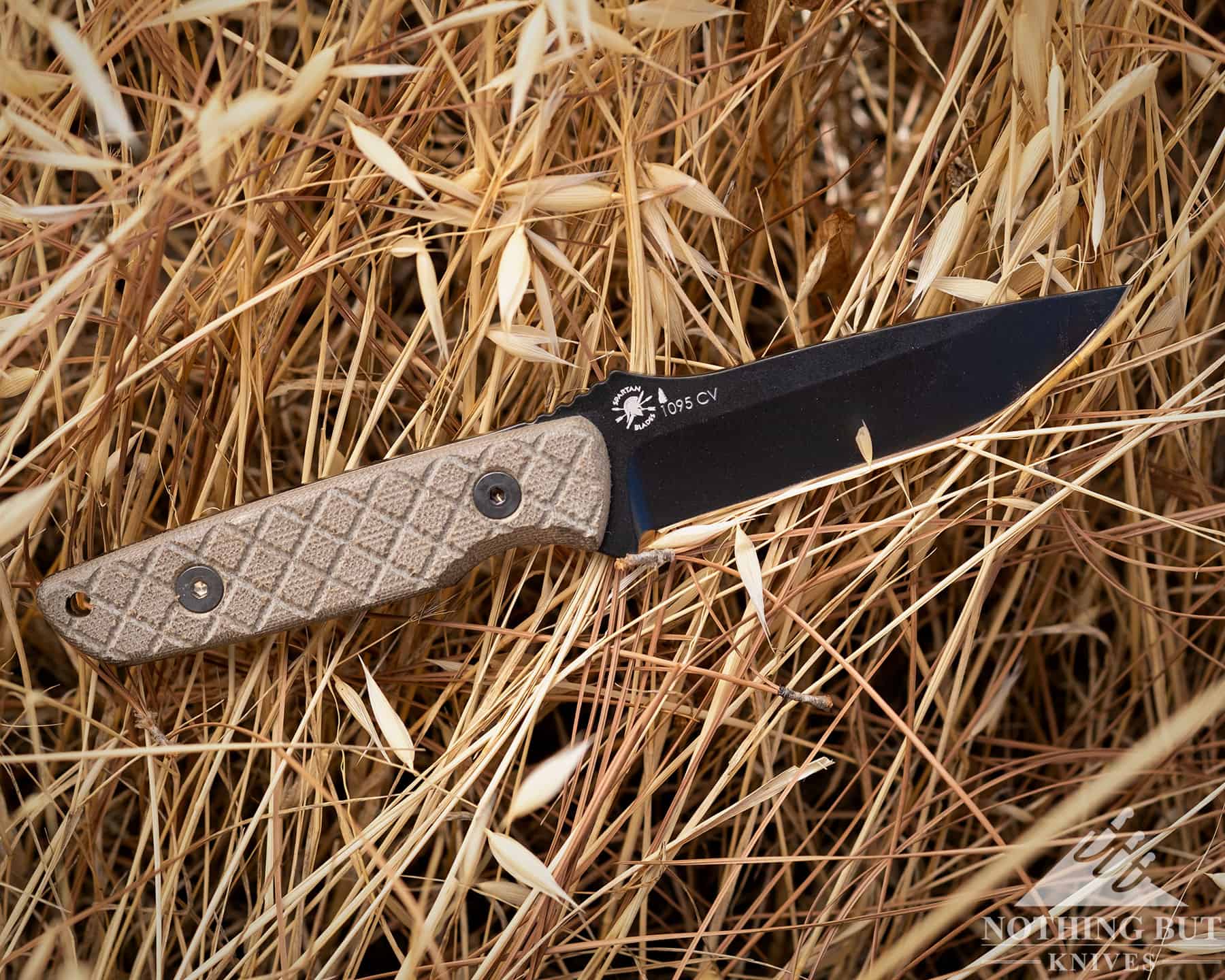 It's well established as a great, hard-use tool steel that will carry a design through decades of hard use provided you keep it dry most of the time. It has better wear resistance than most other tool steels I've used in other production knives, but it's still pretty easy to work with on a stone, which is an important characteristic to keep in mind through the rest of this review.
The Steel is Great, but the Edge Needs Work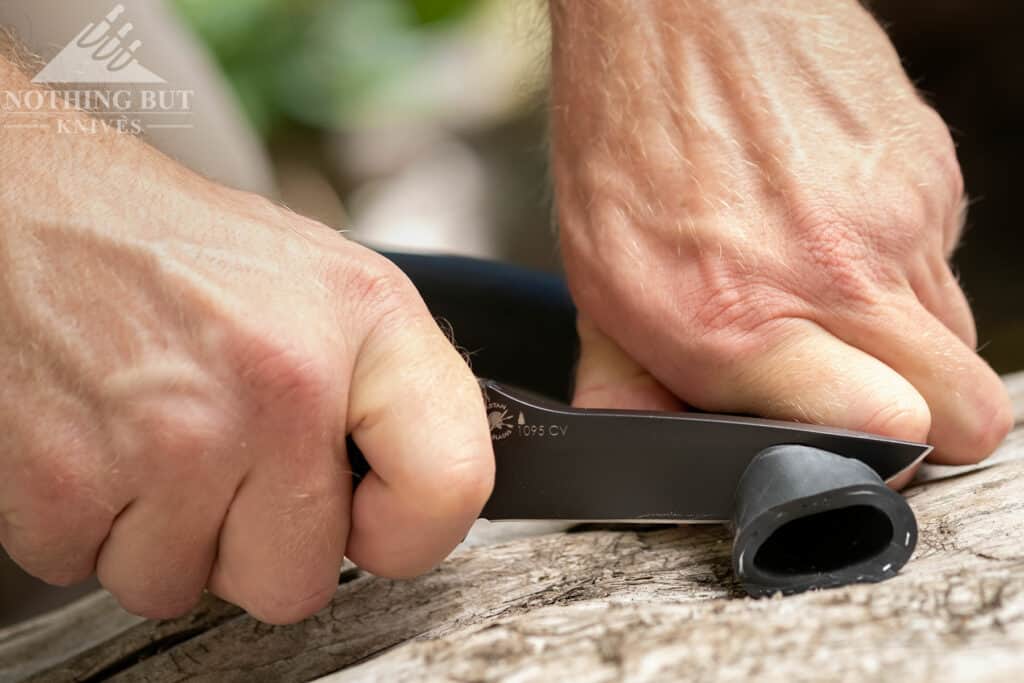 The Alala is thick and "tactically sharp". Which is to say, a clunky cutter no matter how sharp the cutting edge is. This comes from it being so thick behind the edge. It's a pretty common thing with tactical knives, so I don't want to point it out as a criticism here, exactly. It helps keep the edge from chipping, which is pretty important for tactical designs, it's just not as essential as everyone seems to think it is.
I spent a bit of time cutting up an old pair of jeans with it, and found that the tip and handle were more useful in getting them parsed down into rags than the edge. It punctured into the jean material no problem, and once the knife was in it could tear through the worn jeans easily enough, but when it got to the double-stitched seams I had to rely pretty heavily on the leverage I could get from the handle to pull through and finish a cut.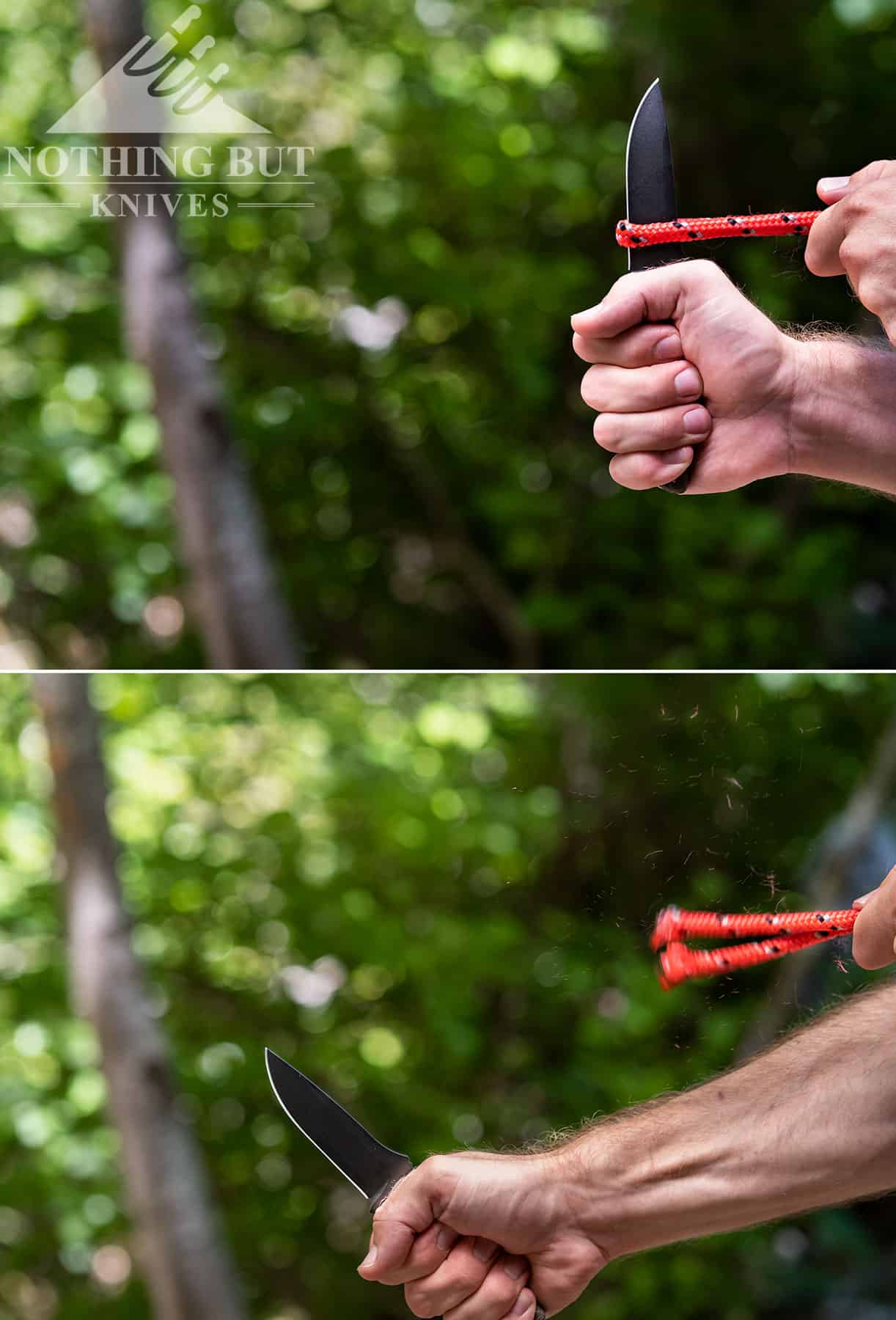 When it comes to cutting rope, I had to rely pretty heavily on raw leverage and elbow grease. It can get there, but it doesn't always feel great. When it comes to cutting paper… well it doesn't, really. Even after I stropped the edge it didn't really cut paper so much as crumple and tear.
So the bad news is the knife isn't sharp. The good news is everything else about this blade is great. Spend a little time putting your own edge on this and you'll have a great time with it.
That thick geometry is really nice for making feather sticks, batoning, and chopping so it's not a bad woodcraft knife (even though it won't spark on a ferro rod), and the point of the blade can pierce pretty easily, especially in combination with the handle flare at the top of the handle doubling as a sort of handguard.
A Compact Handle with a Secure Grip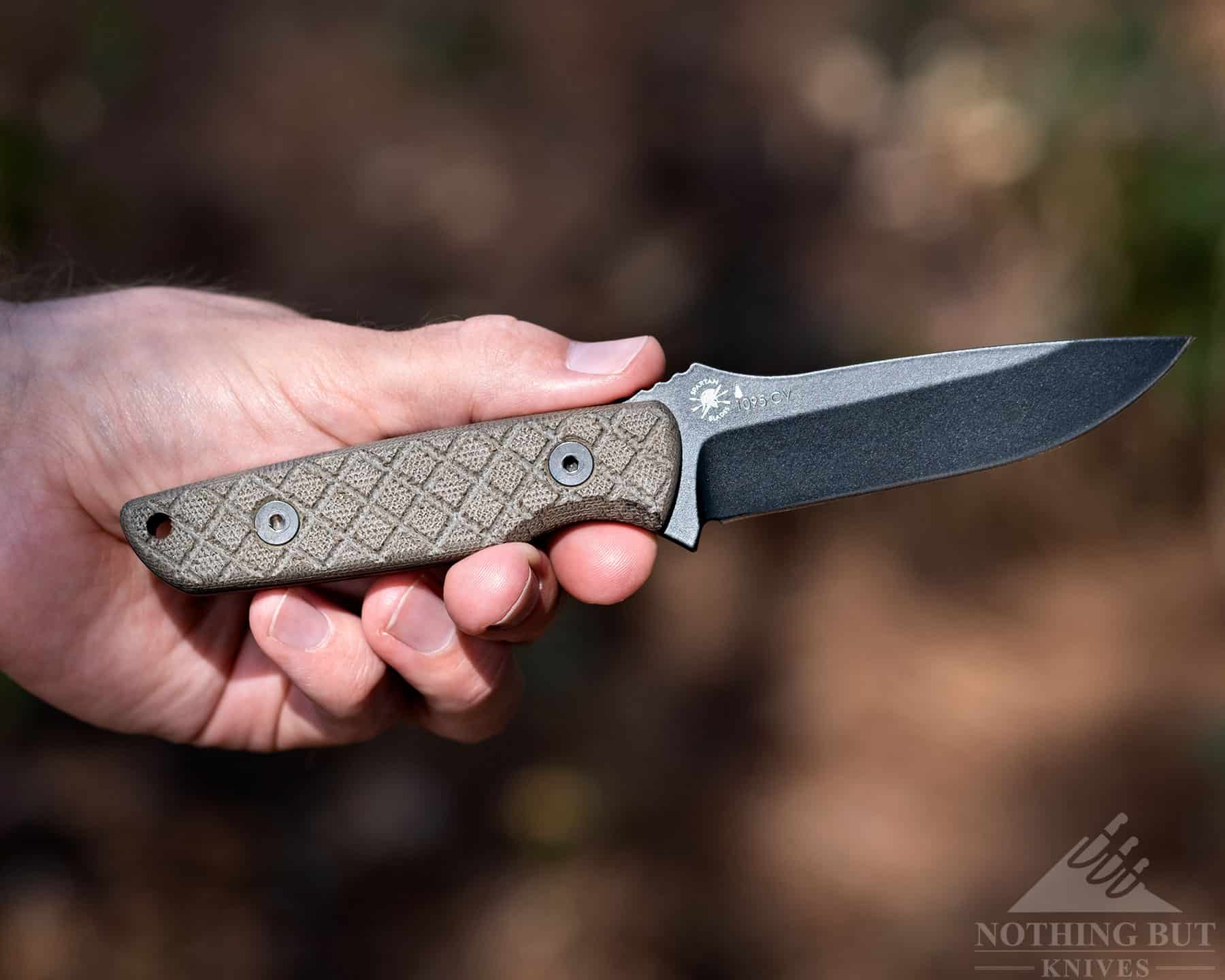 I love handle shapes like this. It's simple enough that it works in a lot of different grips (and I definitely found myself using different grips to work with the factory edge), but there's a little bit of contouring and jimping that provides some good grip and places for leverage.
I put it in the hands of a couple different people who didn't particularly like the way it tapers toward the butt, but I really like the way my hand fits it. Depending on my grip, the butt either seats securely into the ham of my hand, or it just sticks out below a full grip.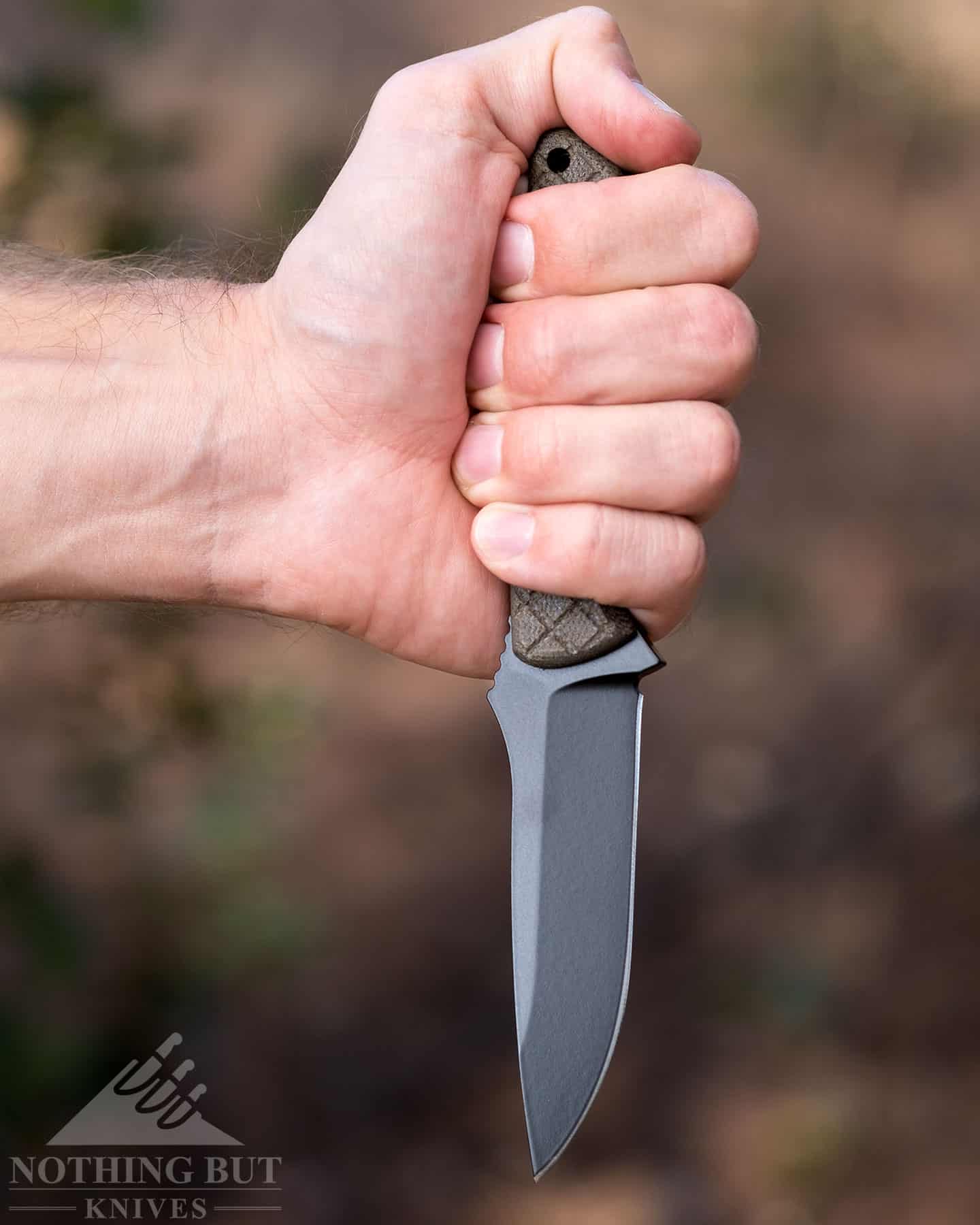 The only part that ever feels a little weird is the finger choil, but that's not really big enough to interfere with my grips. It just feels a little odd sometimes, especially in a reverse grip (which I had to use quite a bit to leverage the factory edge through rope, cloth, and wood).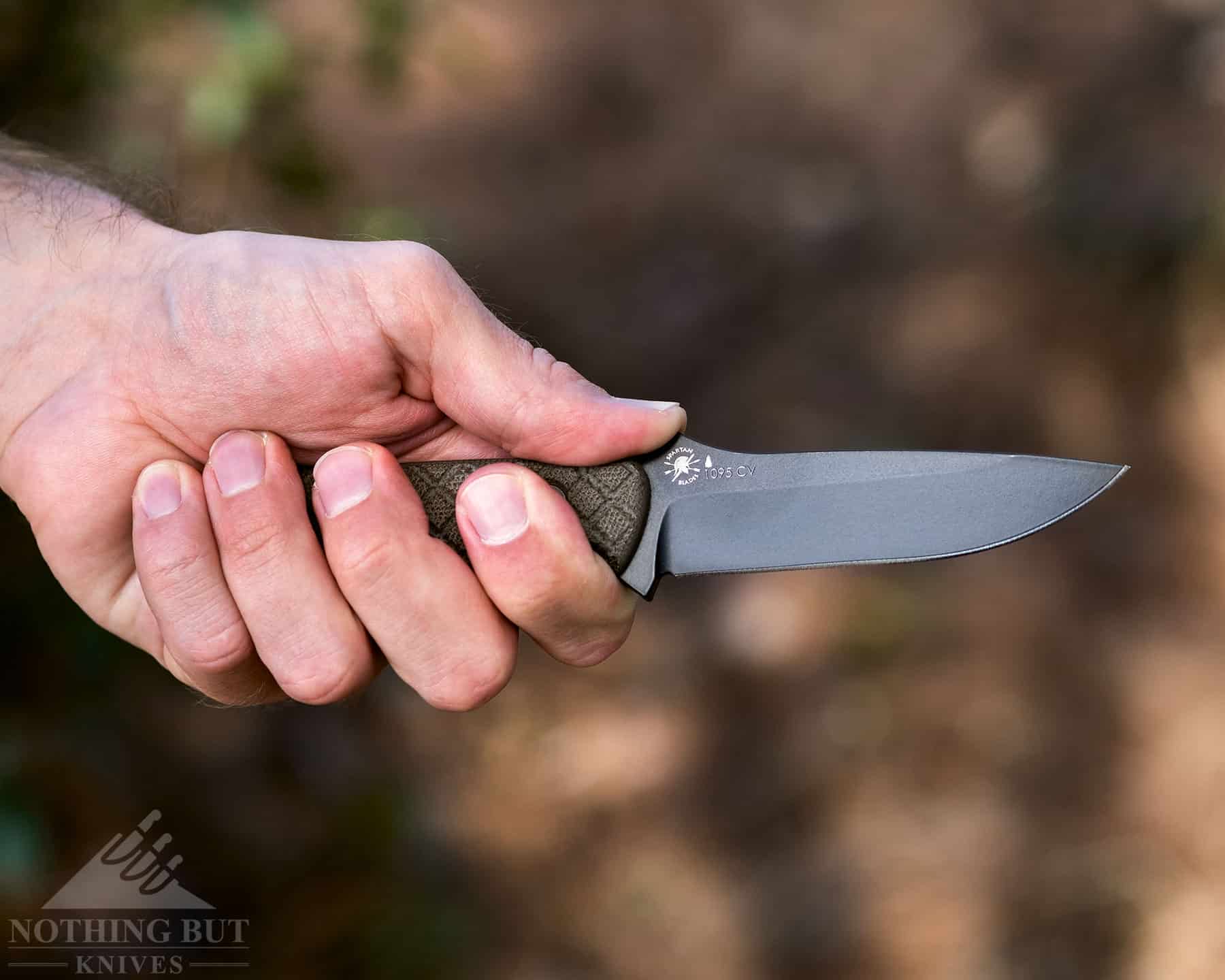 This has a really nice, secure grip, although it isn't always comfortable. They cooked the Micarta pretty hard, almost to the point that it feels like G-10. And the corners of the handle are pretty prominent as well. They're rounded, so they don't exactly bite into the hand, but I definitely feel them in my grip. The overall tactile feeling of the handle can be a little harsh, but I'm never worried about this turning in my hand when I'm cutting through something hard.
I like the way the handle fits in with the intent of the design more than anything, though. As a knife meant to be carried through brush, mud, and jungle, and sit on your chest while you jump out of planes, the handle has to be smaller. Otherwise it would pose a big risk of snagging and poking into your ribs or armpit or stomach (depending on your carry preference).
The Alala handle manages to be compact and useful, though. It doesn't matter how you carry this, it'll be out of the way until you need it.
The High Retention Sheath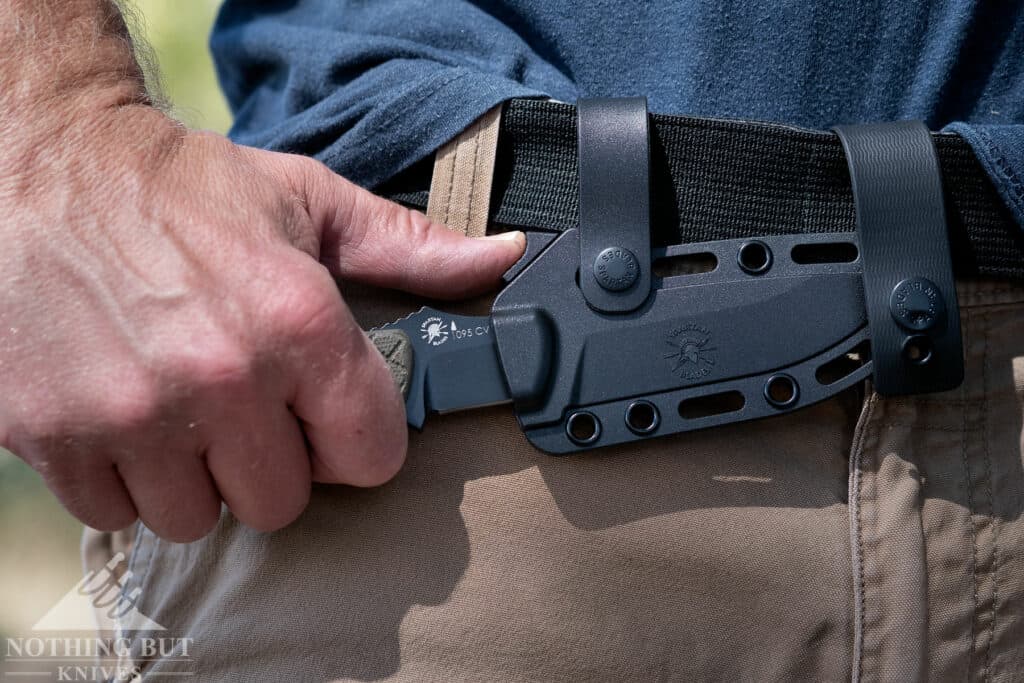 The Alala comes in a sturdy, light polymer sheath that's Tek Lok compatible (although it doesn't ship with one). On its own, the sheath is really nice and geared heavily toward keeping the knife inside no matter what you're doing.
One of the features added to this to make that happen is the retention lever at the mouth of the sheath. Every time you draw the knife, you have to push that lever up to release the knife from an inner tab that interacts with the jimping on the spine. If that sounds too complicated, trust me when I say that drawing this knife is a lot quicker and smoother than my ability to describe how it works.
Designer Curtis Iovito said they got the idea from having to carry sidearms with various kinds of buttons or levers securing the pistol that needed to be actuated before drawing. They decided something similar would be a good way to make a knife sheath more secure. Thankfully the system they came up with for knives works a lot quicker and smoother than what's on secured holsters.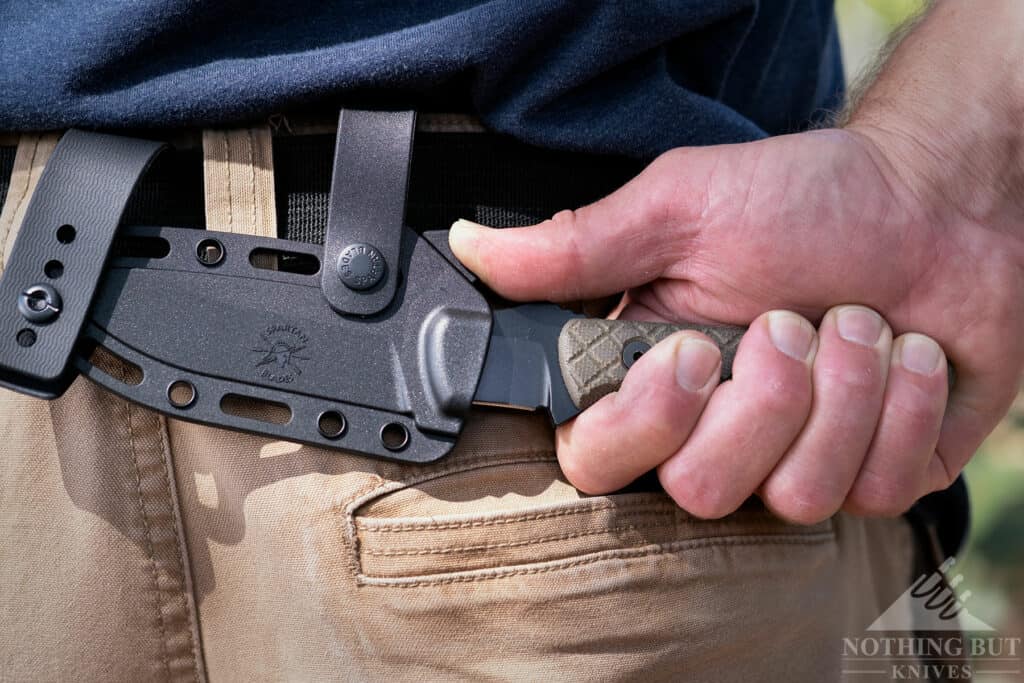 I also haven't found the amount of force required to tear the knife out without pushing the lever. Although I have tugged on the thing pretty hard before remembering what I was carrying. Initial testing has shown the system can stand up to a bit of stupidity.
Fun Times with Confusing Button Straps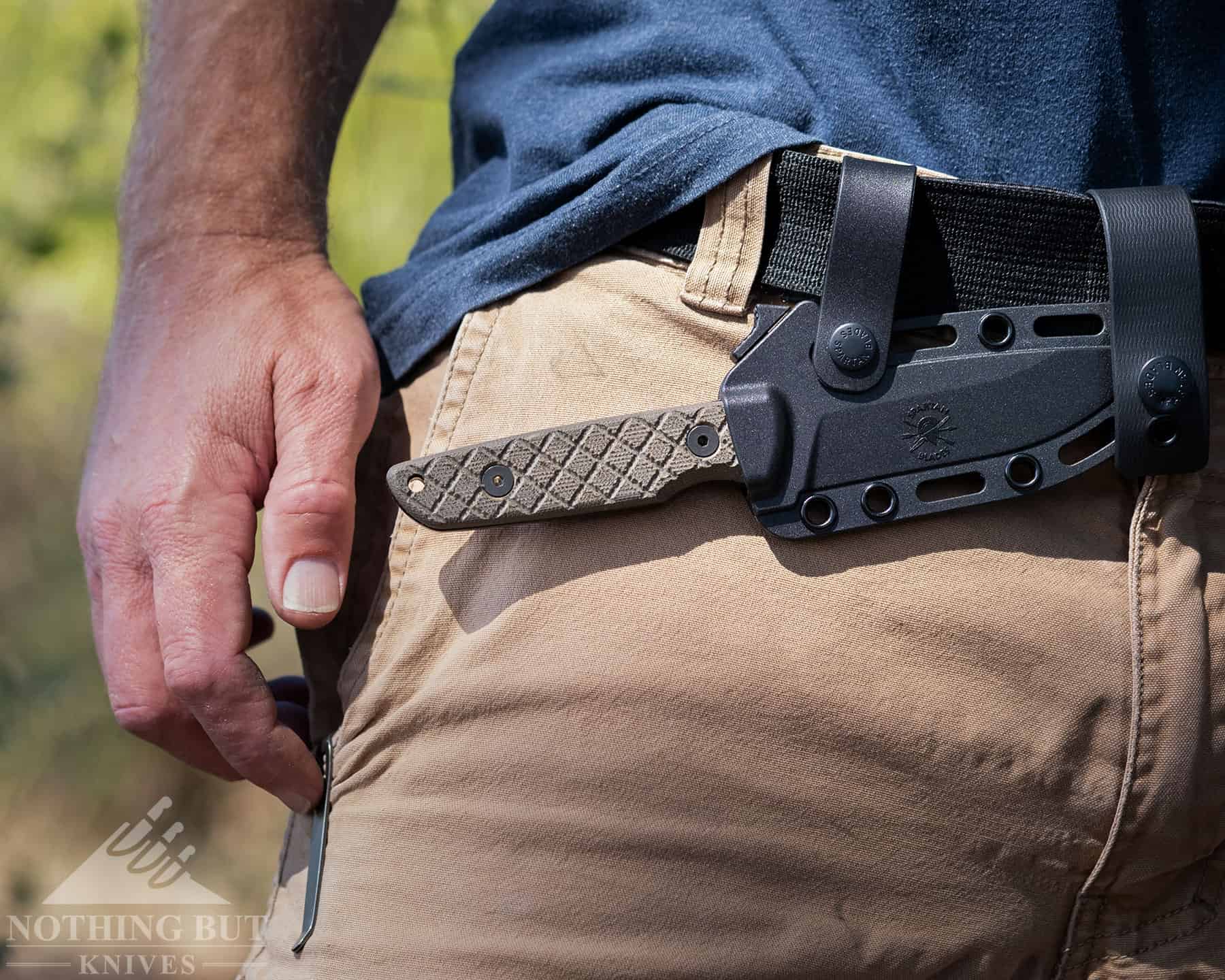 The only thing that threw me off with the sheath was the retention strap and the extra button strap that came with the Alala.
Now, we are often not the most clever people when it comes to adjusting sheaths. We have lost more screws and put on more knives upside down and backwards more times than we care to count (although you could probably get close to the number by sifting through many of the pictures on this site). So when the Alala showed up with two button straps, we assumed these were both belt loops.
In fact, we hiked around a while with the knife hanging off our belts by the straps, and it wasn't all that bad. The only problem with carrying it that way – besides the canted, floppiness – is that the buttons are liable to get snagged loose if you come at a reaching branch the wrong way.
It turns out the small strap that comes bolted in the sheath is actually for additional sheath retention, not for wrapping around a belt. Button it up, then pull it up over the corner of the sheath so it settles into the bottom where the finger choil sits against the sheath and you've got a knife that's not popping out for anything.
While this doesn't exactly make the knife great for fast deployment, it does make it safer to carry in any position you can think of. The second, longer strap, on the other hand, is intended to be a waistband carry solution, but that sits a little too loose for me to like carrying all the time, and it feels like the buttons are losing some of their grip the more I play with the thing.
I actually ended up just throwing the thing in my back pocket most of the time, but if you get a Tek Lok on it or just run some paracord through the holes, the world opens up for this knife.
Comparison and Alternatives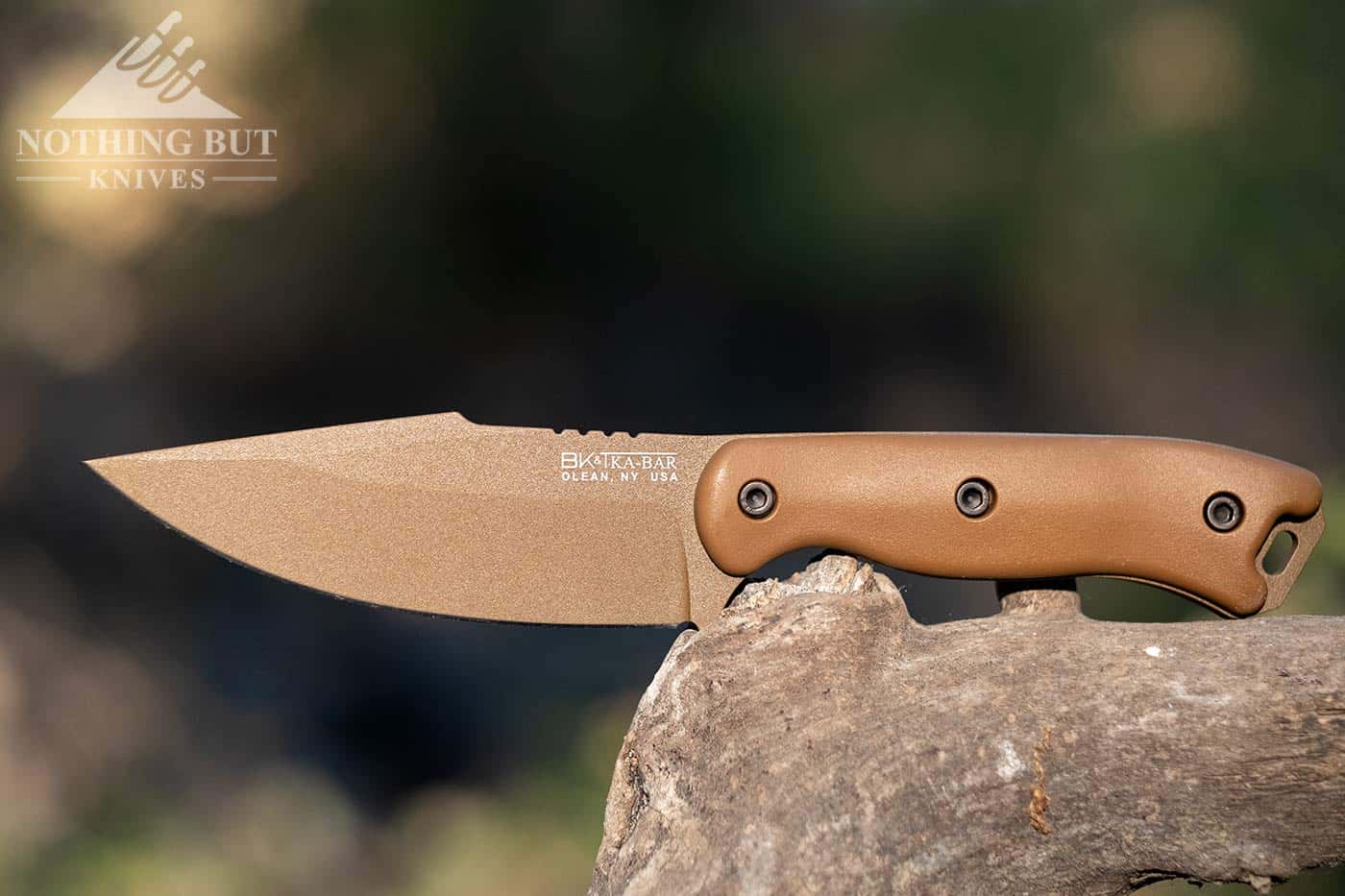 Since this is coming out of the Ka Bar factory with 1095 Cro-Van steel, I would be a big idiot not to bring up the BK-18 Harpoon. It's a lot more blade for a bit less money, but that is not a different way of saying it's a better deal. The BK-18's rounder handle is a totally different ergonomic experience. There's a little more danger of the blade turning in your grip, but it's more comfortable and easier to swing around. The Harpoon design is meant to be purely tactical, but we thought it was a great camping knife so it might be a little more diverse than the Alala. It just won't carry as easily.
On the other end of the spectrum, the Alala feels a lot like the tactical alternative to the Guardian 3. The Guardian ships a hell of a lot sharper. It's thinner overall, so it's always going to be the better cutter of the two. The handle shape also goes the opposite direction. The butt flares out, leaving a two finger grip just under the blade, so it's geared more toward detail work. Between the two, the Guardian is the carver. The Alala is a pointy baseball bat.
Conclusion
This thing is cool and kind of harsh. It's in that class of knives that's fun to have and do stupid things with because it's lightweight, feels great in the hand, and it's damn near impossible to damage.
That rugged toughness with a military aesthetic comes along with the usual suspects, though. The handle has some hard-edge ergonomics with its secure grip, and the blade isn't going to cut anything very easily without some time on a sharpening system. All of that is fine at the current price point. I'd be happier if we were talking about a $100 knife here, but for a Spartan Blades knife the Alala is a good deal.
Just put an edge on the thing, throw it in your backpack, shove it in your boots or down your pants, keep it dry, and it'll serve as a great back up knife for a long time.