Sometimes You Need a Good Bottle Opener more than a Good Knife
Probably the second most used function of a knife past opening packages is opening beers. At least it is in my life, and the fact that my knife collection is inversely proportional to both the size of my liver and my bank account makes me qualified to impart some wisdom when it comes to using knives to get drunk.
The first wisdom is that any knife is potentially a bottle opener if you are persistent enough, or dumb enough.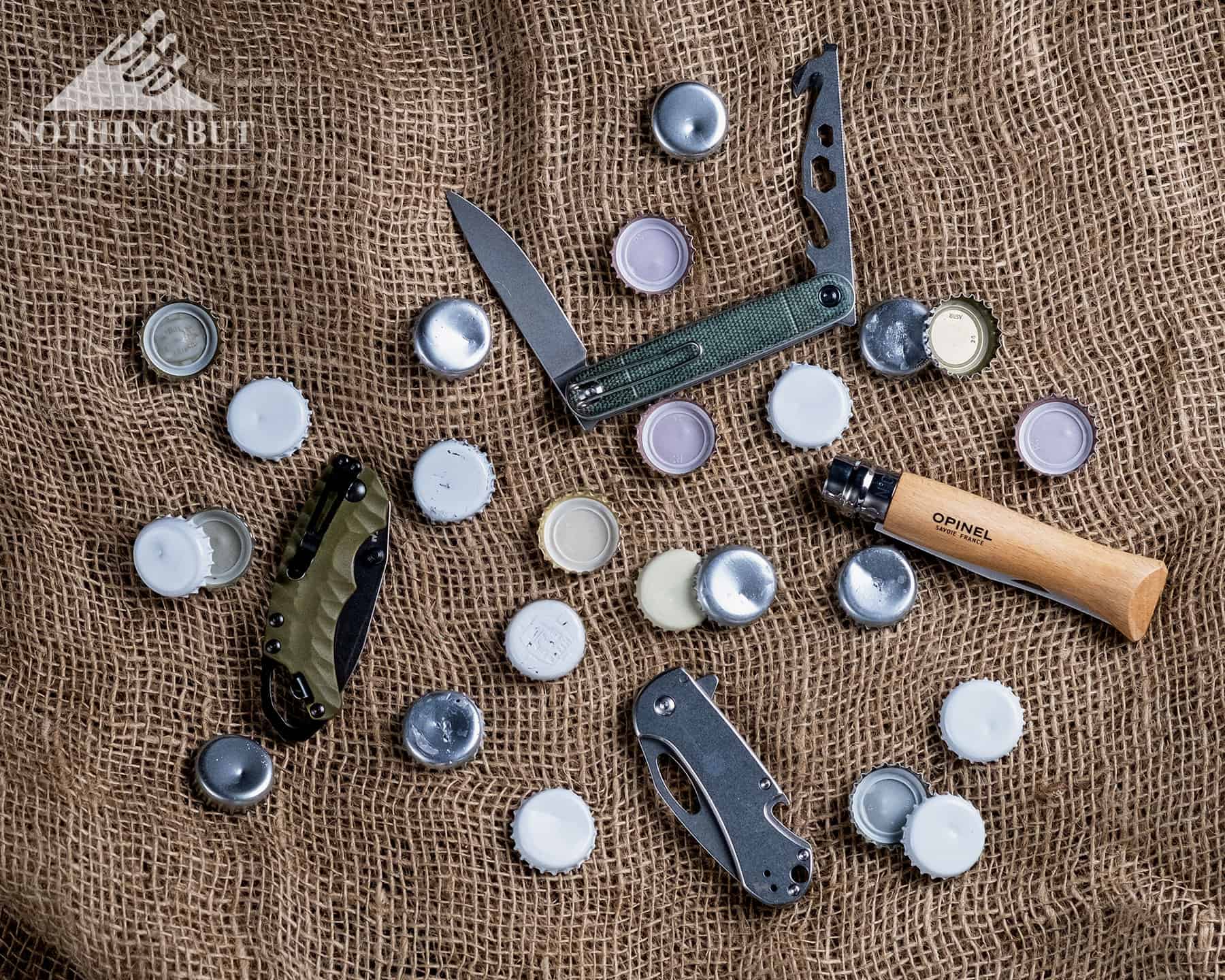 The second wisdom is that it's easier if you just get a knife with the feature built in, because there are enough designs like that out there. The knife industry is nothing if not alcohol friendly, probably because anyone who makes a hobby of playing with sharp objects has learned to be at peace with the idea of doing constant, minor damage to the body.
Folding Knives for Opening Beer Bottles
Most multitools have bottle openers in them, so I've opted not to include many in here (although I've heard it said that any knife is a multitool once it has a bottle opener on it, but I'll need several more open bottles before I'm ready to argue those semantics).
Point being, I've tried to keep the selections here to knives that carry well in the pocket. If you're the kind of person who walks around with a multitool pouch on your belt, I don't even know why you're still reading this. I have to assume that you don't have any friends, and you're just killing time until another human being calls you for help fixing their car.
Civivi Crit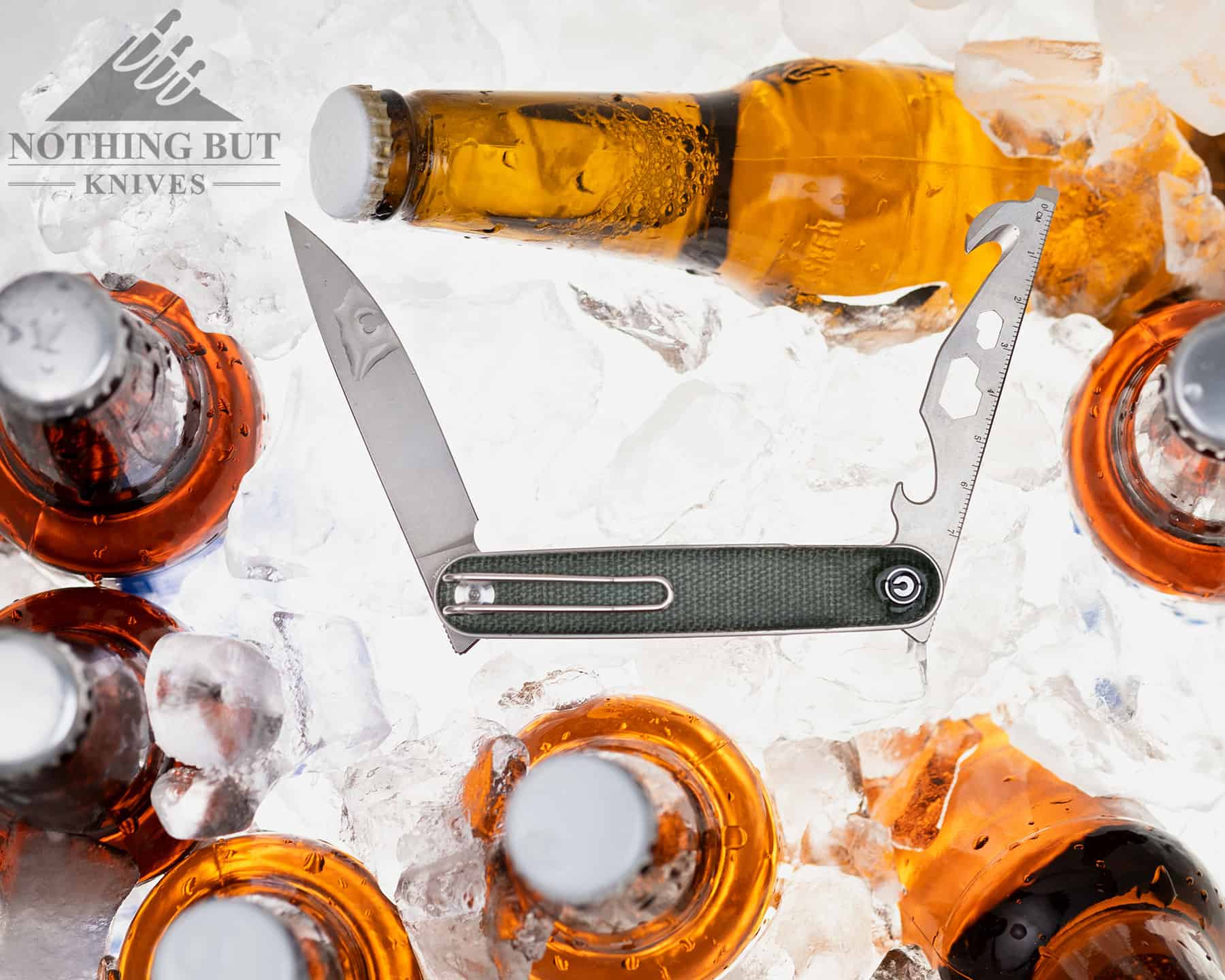 | | |
| --- | --- |
| Overall Length: | 10.5" |
| Blade Length: | 3.18" |
| Steel: | Nitro-V / 9Cr18MoV |
| Handle Length: | 4.0" |
| Handle Material: | Linen Micarta |
| Lock Mechanism: | Liner |
| Carry System: | Wire clip |
| Bottle Opener: | On tool bar |
As far as knife bottle openers go, the Crit feels like the safety vest of the bunch. It's on a separate tool bar and placed well enough that this is probably the easiest of all my knives to use for cap popping.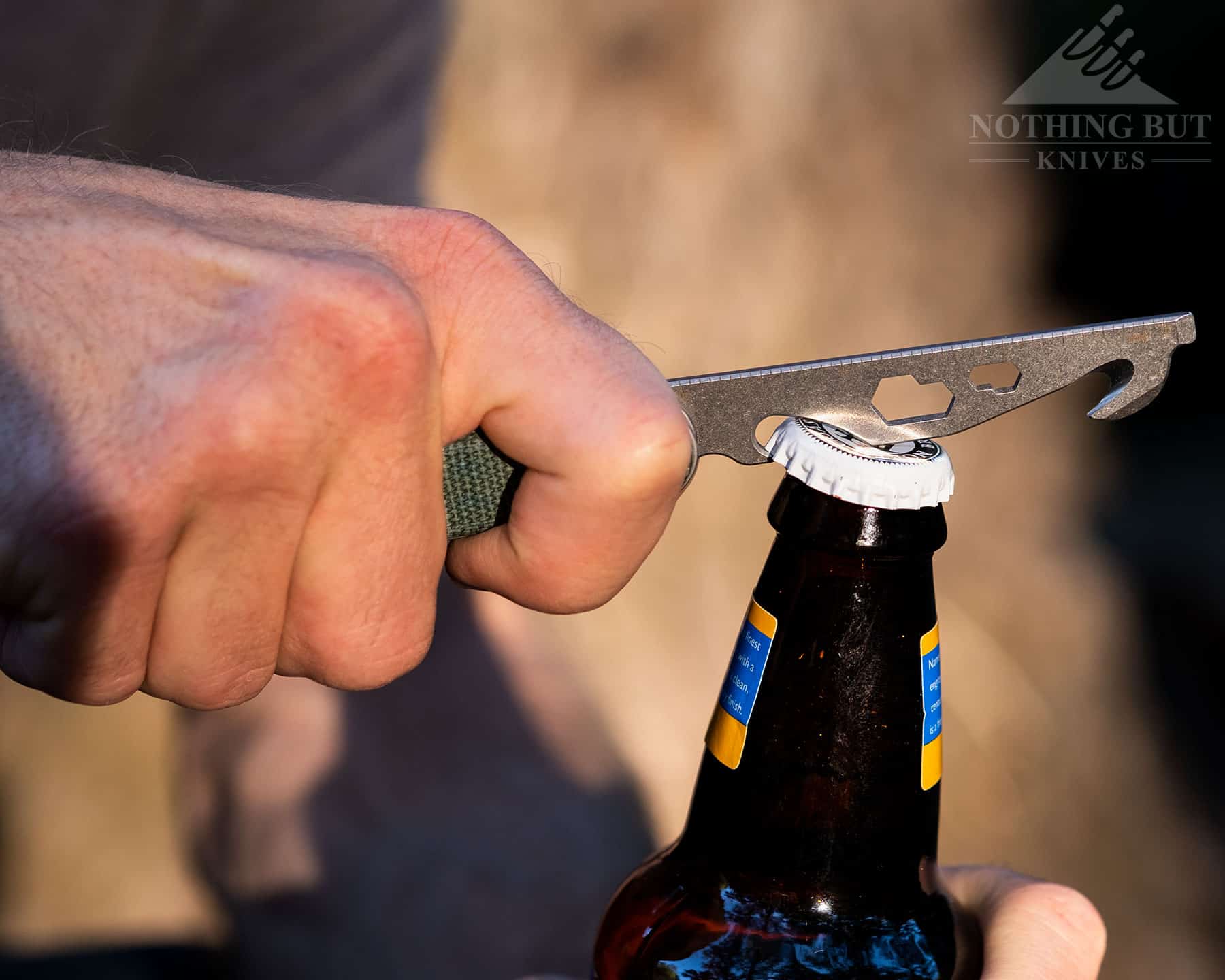 I know I don't look as cool when I use it. It probably looks like I'm trying to tighten a bolt on the bottle, but there's a lot to be said for something this easy to use for an occasion that makes your vision get blurry as the sun goes down. I think the main detractor of this design is that it's a front flipper and has a weird configuration that always seems to trick first-time users into trying to open the blade into their palm. I'll also admit to having spun this knife around multiple times before remembering which side the tool bar is on.
I'm just saying you should practice at home with bandaids nearby before you go out drinking with this knife. If you want to read more words about it, here's our review of the Crit.
Benchmade Weekender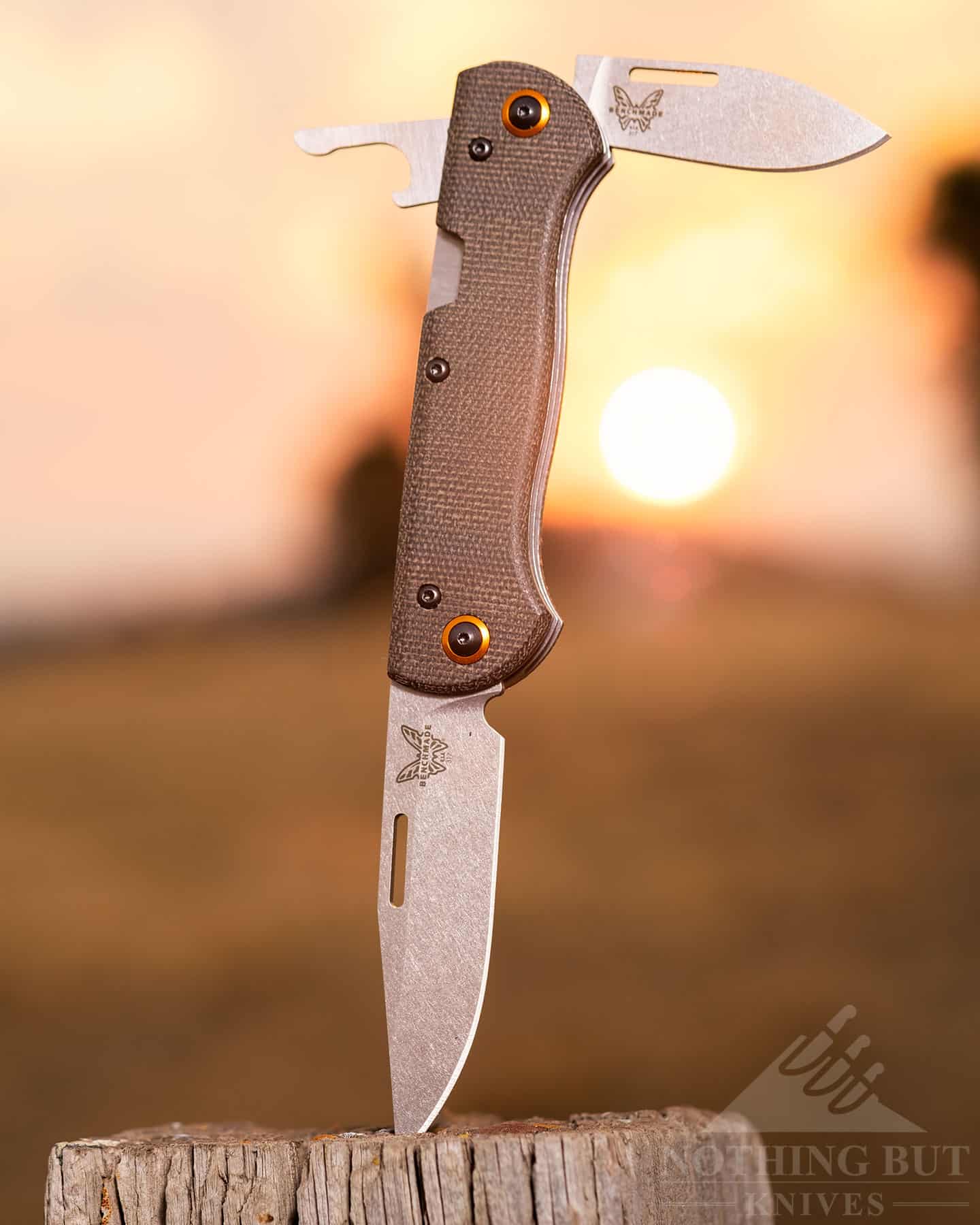 | | |
| --- | --- |
| Overall Length: | 7.0" / 6.1" |
| Blade Length: | 3.0" / 2.0" |
| Steel: | CPM S30V |
| Handle Length: | 4.0" |
| Handle Material: | Micarta |
| Lock Mechanism: | Slip joint |
| Carry System: | None |
| Bottle Opener: | Tool in handle |
This chunk of knife is a surprisingly rugged two-blade slip joint with good fat-hand ergonomics, and a sliver of a bottle opener tucked along the spine of the handle.
A lot of things surprised me about this knife, the first being that I actually liked a Benchmade, and the second that the bottle opener works really well despite having no lock outside of a little detent ball. It's a little tricky at first, because the bottle opener is thin. Sometimes it takes a couple tries to get it to latch onto a cap, but once it gets there the angle it locks into is damn near perfect for prying off caps.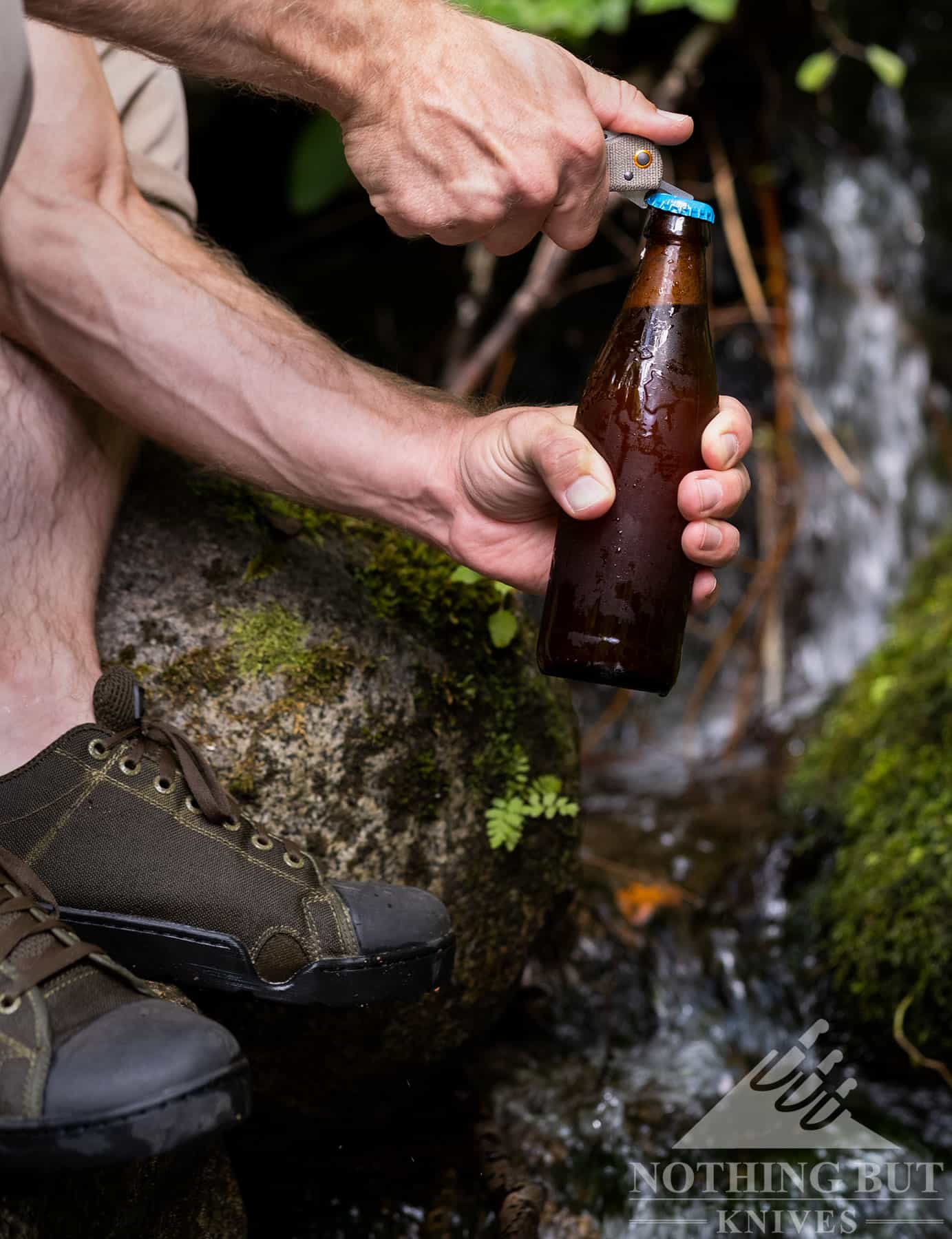 I should also mention that the Weekender ranges the edge of my easy-to-carry rule for the folder section of this blog. It rides in the pocket well enough (although people with small pockets won't have room for much else), but without a pocket clip or any kind of sheath or lanyard hole, the odds of losing track of this knife goes up quickly. Especially if you have the OD Green Micarta version that is weirdly hard to see on any kind of wood, rock, bench, or remotely natural-colored surface.
You might think the bright orange pivot rings on both sides of the knife would make it stand out, and that anyone who can't see it sitting right there on top of the table in plain sight must be a blind idiot. To which I might respond "what table?" in between yeast-enriched burps.
Kershaw Shuffle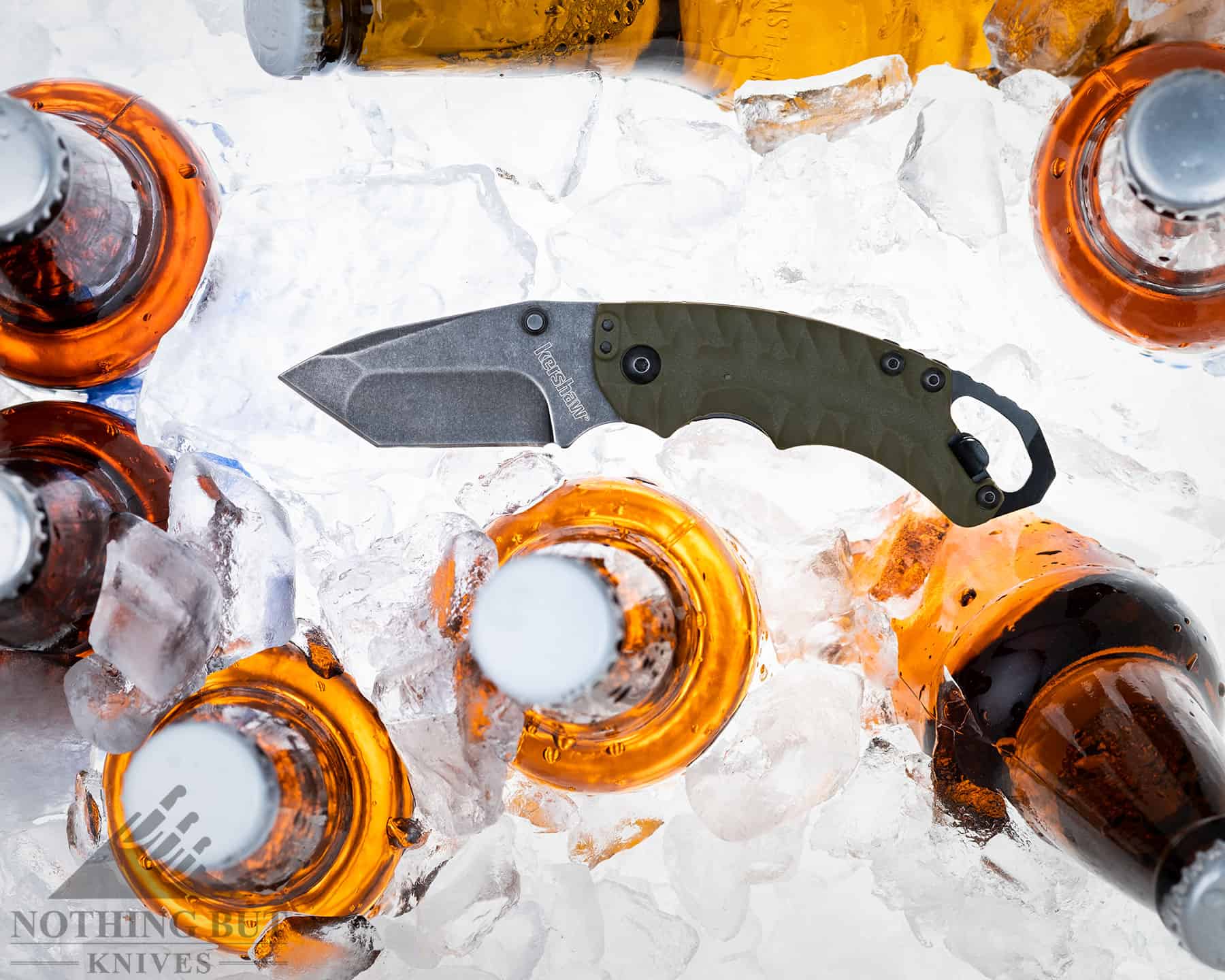 | | |
| --- | --- |
| Overall Length: | 6.25" |
| Blade Length: | 2.5" |
| Steel: | 8Cr13MoV |
| Handle Length: | 4.0" |
| Handle Material: | GFN |
| Lock Mechanism: | Liner |
| Carry System: | Tip-up clip , reversible |
| Bottle Opener: | Butt of the handle |
The Shuffle series has a strong "little engine that could" vibe. It's small, and made up of mostly cheap material. It's light, but the texture is rough on the pocket, the action feels kind of gummy, and even the bottle opener has a way of bending the cap before it actually removes it. It's more comfortable in the hand than you might think, but every time I use the Shuffle 2 on anything I get the impression that there's a chance it might not make it.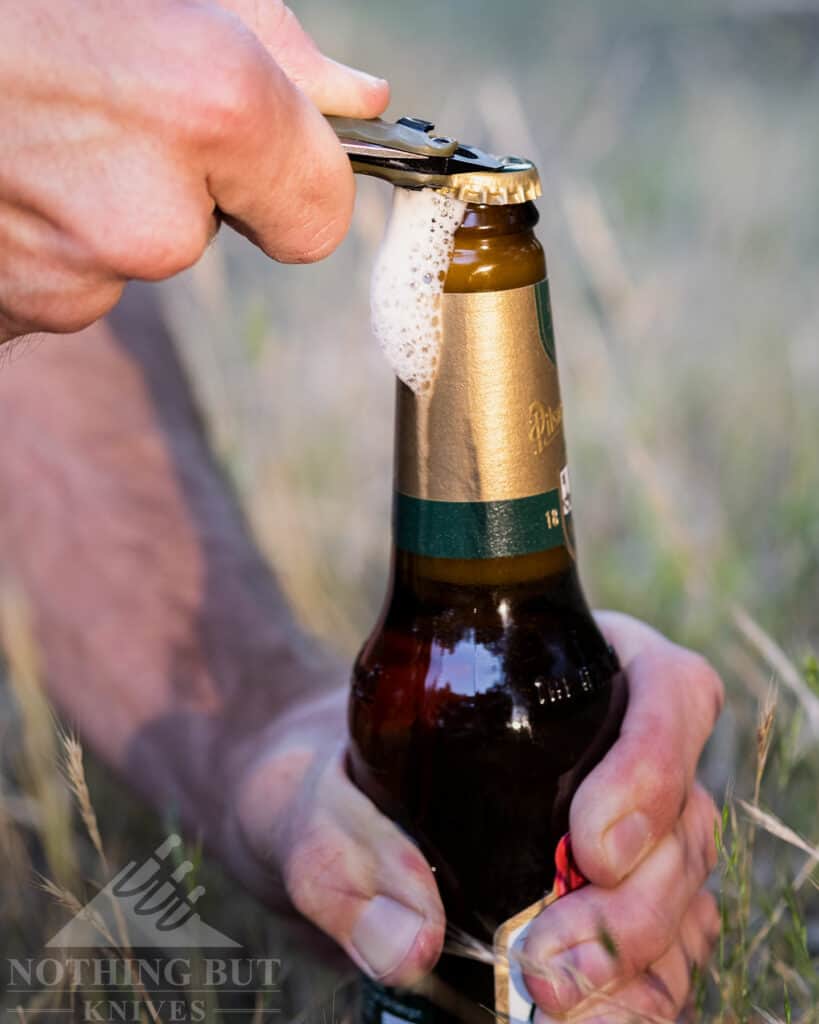 But it always does, and I'll be damned if I don't love this awkward little knife. It's tough and cheap and scrappy. I've thrown it in my bag and pocket for a hundred different trips, and even when I have a nicer knife in my pocket, somehow getting drunk in the middle of a field isn't the same without it.
CRKT Bev-Edge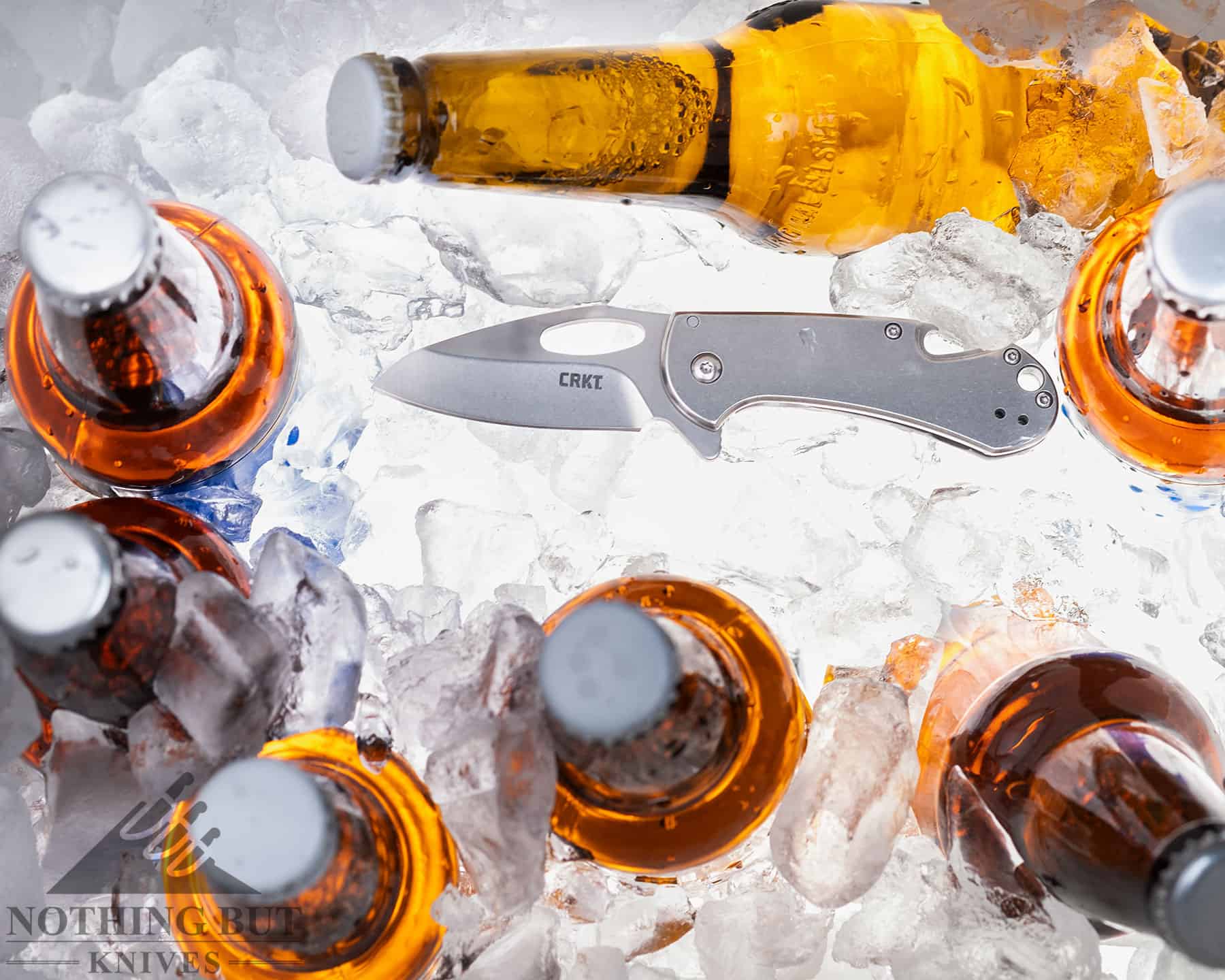 | | |
| --- | --- |
| Overall Length: | 6.0" |
| Blade Length: | 2.5" |
| Steel: | 8Cr13MoV |
| Handle Length: | 3.5" |
| Handle Material: | Steel |
| Lock Mechanism: | Frame |
| Carry System: | Deep carry clip |
| Bottle Opener: | Butt of the handle |
I think CRKT was trying to move in on Kershaw Shuffle territory with this design, but I'm actually not sure which came first. I know I got the Shuffle first so I've used it a lot more, but the Bev-Edge works off the same principle: you can open bottles with the butt. The Shuffle 2 also has a vaguely flathead screwdriver shaped piece of metal on top of its bottle opener, though, so it's all about how many shapes you really want your butt to have.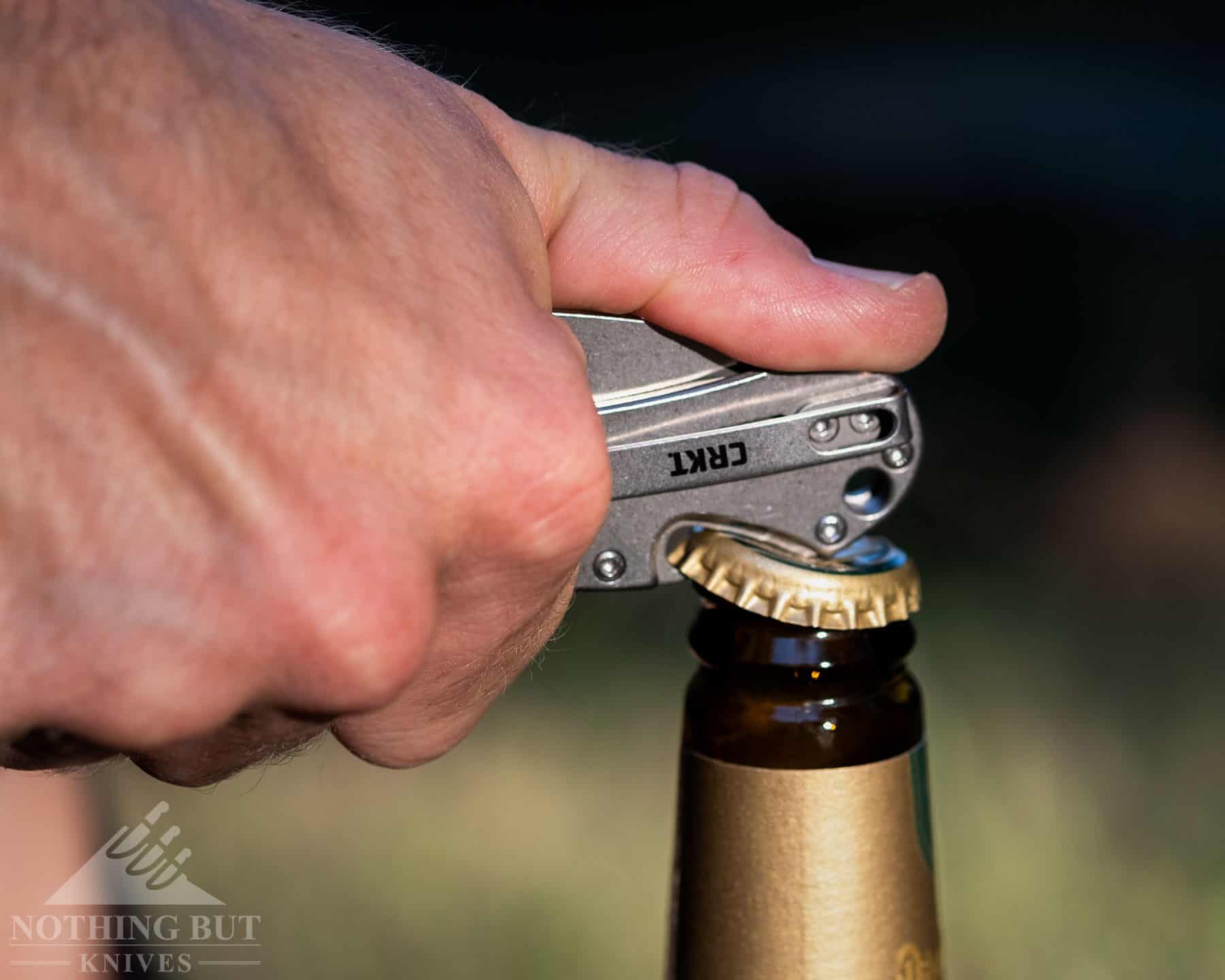 The other notable difference is that the Bev-Edge is a frame lock so arguably a stronger design overall. Also the bottle opener shape is better because it's more likely to actually pop the cap rather than bend it off like the Shuffle 2. There's also the sheepsfoot blade with a hollow grind to consider. It's a nice little combo that makes it a pretty good EDC even if it didn't have the bottle opener.
Opinel No. 9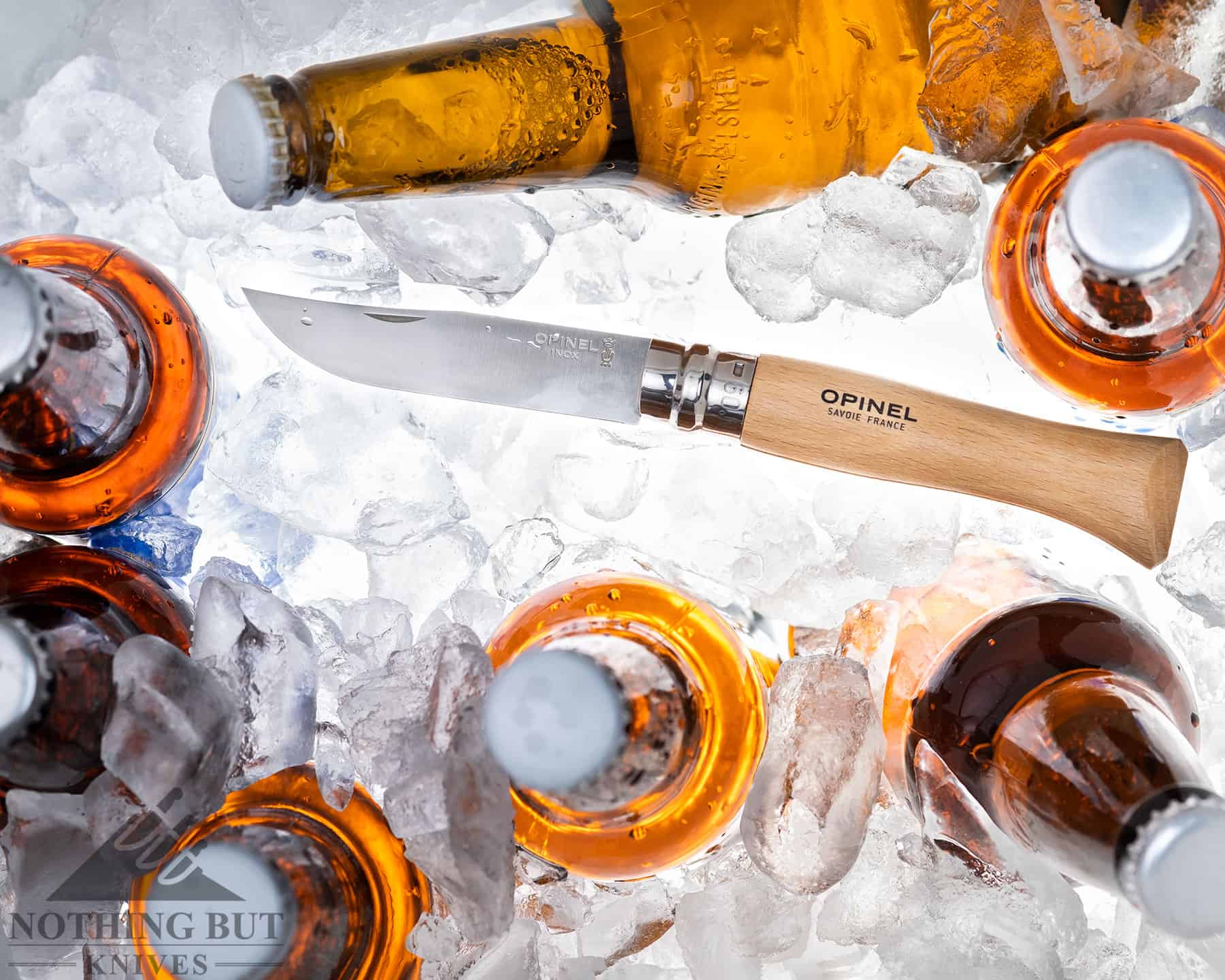 | | |
| --- | --- |
| Overall Length: | 8.15" |
| Blade Length: | 3.5" |
| Steel: | Stainless |
| Handle Length: | 4.65" |
| Handle Material: | Beech wood |
| Lock Mechanism: | Ring |
| Carry System: | Pocket or wherever |
| Bottle Opener: | Blade spine |
Technically the method used for opening bottles with an Opinel could be executed with a lot of different folding knives, but I think there's something about the particular dimensions of a mid-sized Opinel that makes it optimized for this kind of thing. The spine of the blade tends to stick out just the right amount, and the round wood handle offers a good grip to get the kind of easy leverage needed.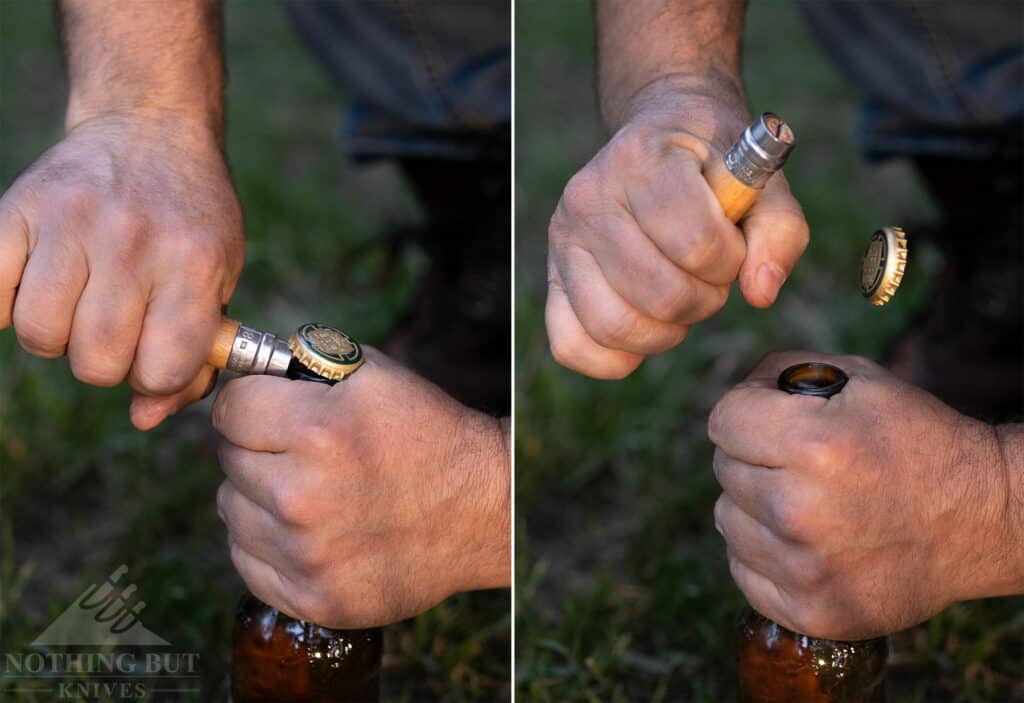 Also this has the kind of classic status that makes opening bottles seem less dysfunctional. It's one thing when you take out your Emerson to pry a beer open. That gets you weird looks, but nobody bats an eye if you take out the French-friendly Opinel. You might as well be taking out a corkscrew at that point.
Fixed Blade Knives for Opening Bottles
Opening a bottle with a survival knife feels like an unnecessary power move sometimes, but if I'm being completely honest, I've been in more situations where I was more desperate to open a beer in order to survive than I was desperate to eat or get warm, so in that sense, this task is well within the reasonable bounds of survival fixed-blade use.
Off Grid All Day Fixie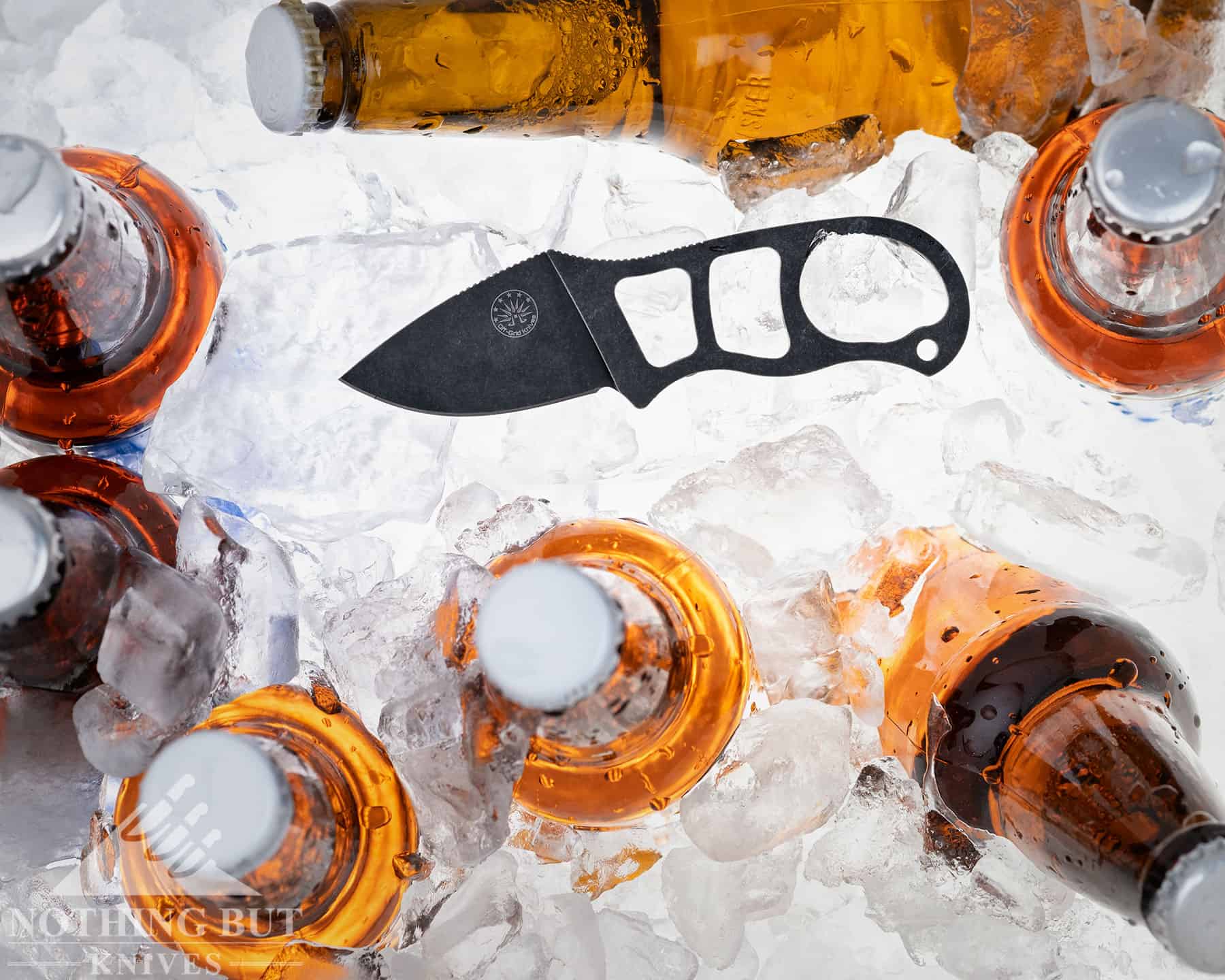 | | |
| --- | --- |
| Overall Length: | 4.25" |
| Blade Length: | 1.25" |
| Steel: | Cryo D2 |
| Handle Length: | 3.0" |
| Handle Material: | Steel |
| Carry System: | Belt clip or paracord |
| Bottle Opener: | Skeletonized handle |
This was built to be a lightweight, innocuous neck knife. The blade is super sharp, it can be carried on the belt in any direction or around the neck, and the skeletonized handles keep it in the ballpark weight of one-and-a-half ounces.
The skeletonized handle also happens to make it an incredible bottle opener.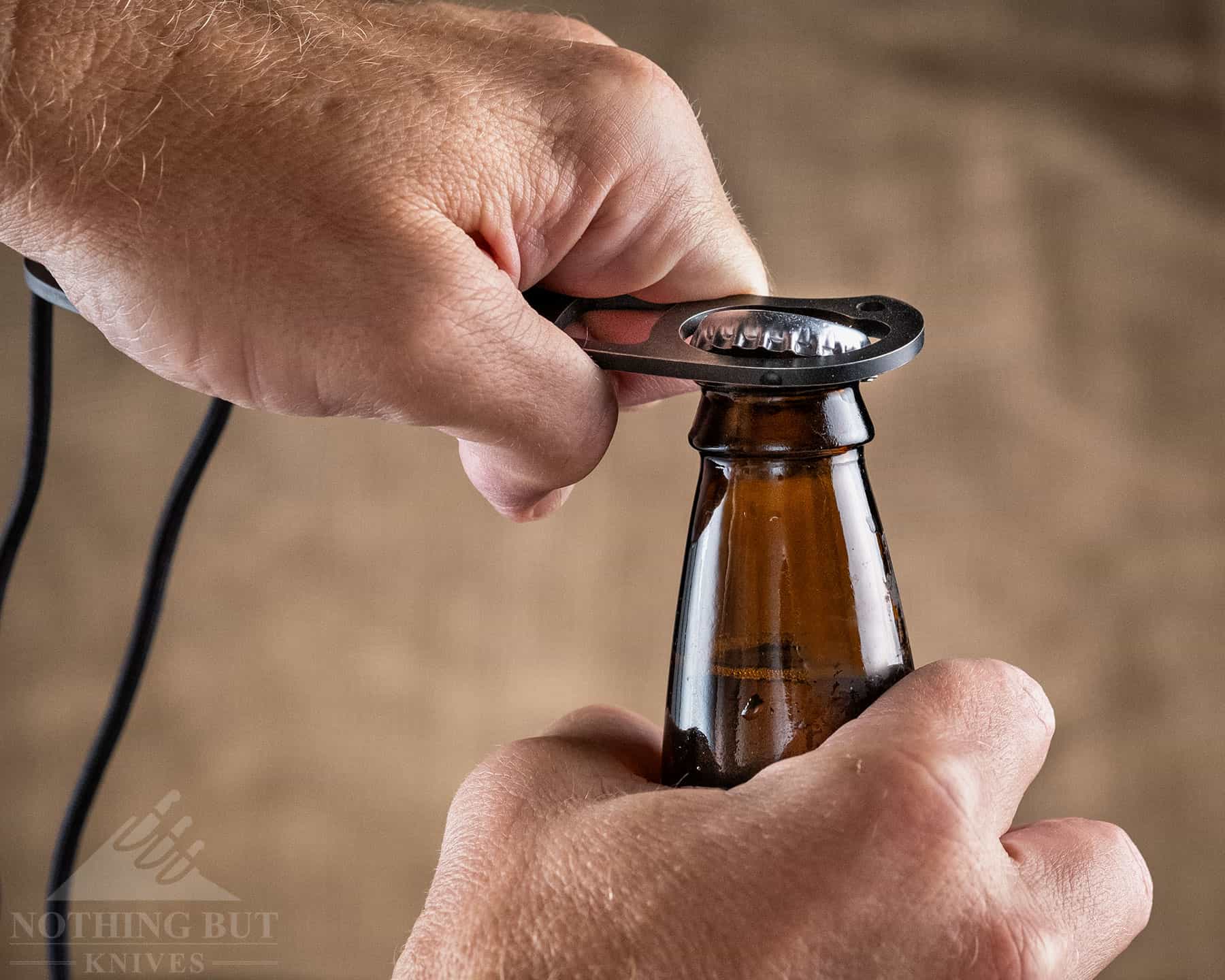 I don't know if this was purposely built into the design, or if it's just a happy accident of our drunk experimentation, but if you'll direct your attention to the funny shape of the hole at the butt of the handle, you might notice that it's not actually round so much as ovular with a couple lips and a funny angle along the top. It turns out that particular funny shape is damn near perfect for getting under the lip of a bottle cap and prying. Of all the knives on this list, the All Day Fixie is one of the easiest to use.
A couple of caveats come along with this one though. The first is that you should really make a point to keep the knife in the sheath when you use it this way. The other is that there might be some caps that just don't seem to gel with that skeletonized handle. We mostly noticed it with Sierra Nevada beers, and we have no idea if it has to do with the height or width of the cap, or if we just need to try it more sober sometime.
TOPS Bartender Defender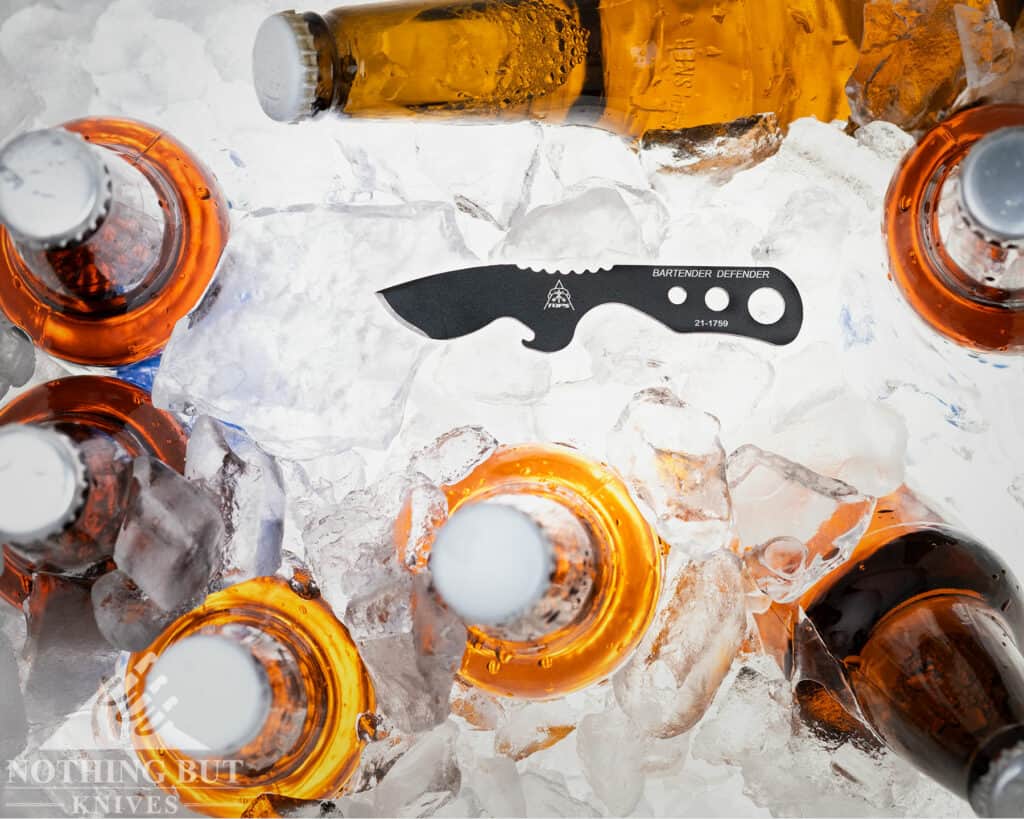 | | |
| --- | --- |
| Overall Length: | 4.25" |
| Blade Length: | 0.75" |
| Steel: | 1095 |
| Handle Length: | 2.1" |
| Handle Material: | Also 1095 |
| Carry System: | Kydex sheath on chain |
| Bottle Opener: | Front side beneath blade |
Before anyone mistakes this for a tactical knife because of the name, I want to emphasize that this thing is not optimized for self defense in any way. I can get behind the philosophy of the name, though.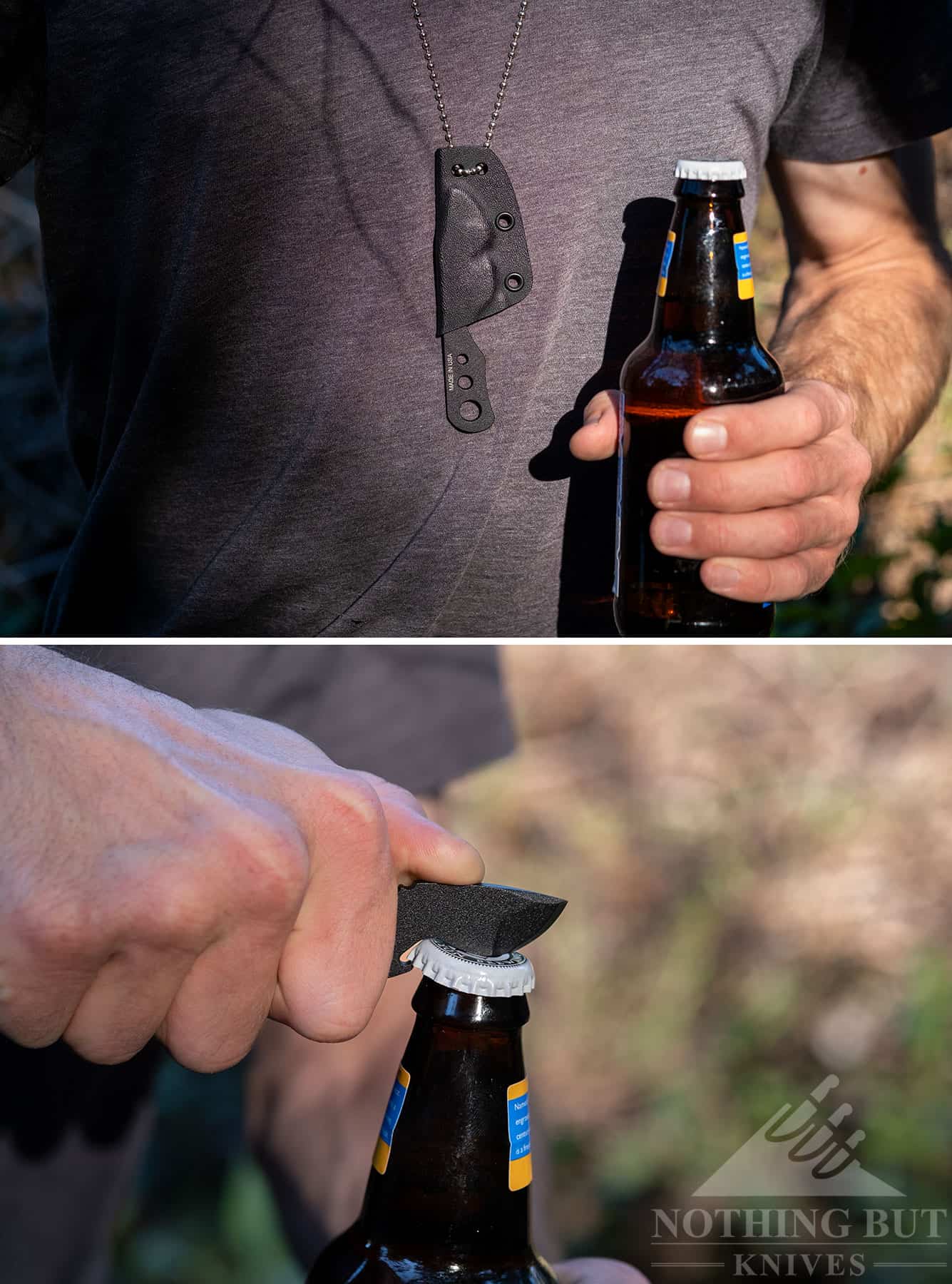 TOPS went very minimal with the blade on this knife. You get a little under an inch of proper cutting edge at the top of the tool, which is enough to open up a package or cut the top of your hand while opening a beer because you're already a few in and your muscle memory is no longer reliable. That danger aside, the ergonomics for bottle opening are actually pretty good on this little neck knife. Between the jimping on the spine and the curvature of the handle and finger groove it has a surprising amount of leverage potential for something that's under 5 inches.
Also, since it hangs around your neck, it's a quick move to busying yourself with another drink so you can pretend to ignore whatever jackass is trying to make a joke out of the phrases "under 5 inches" and "leverage potential".
Condor Bush Slicer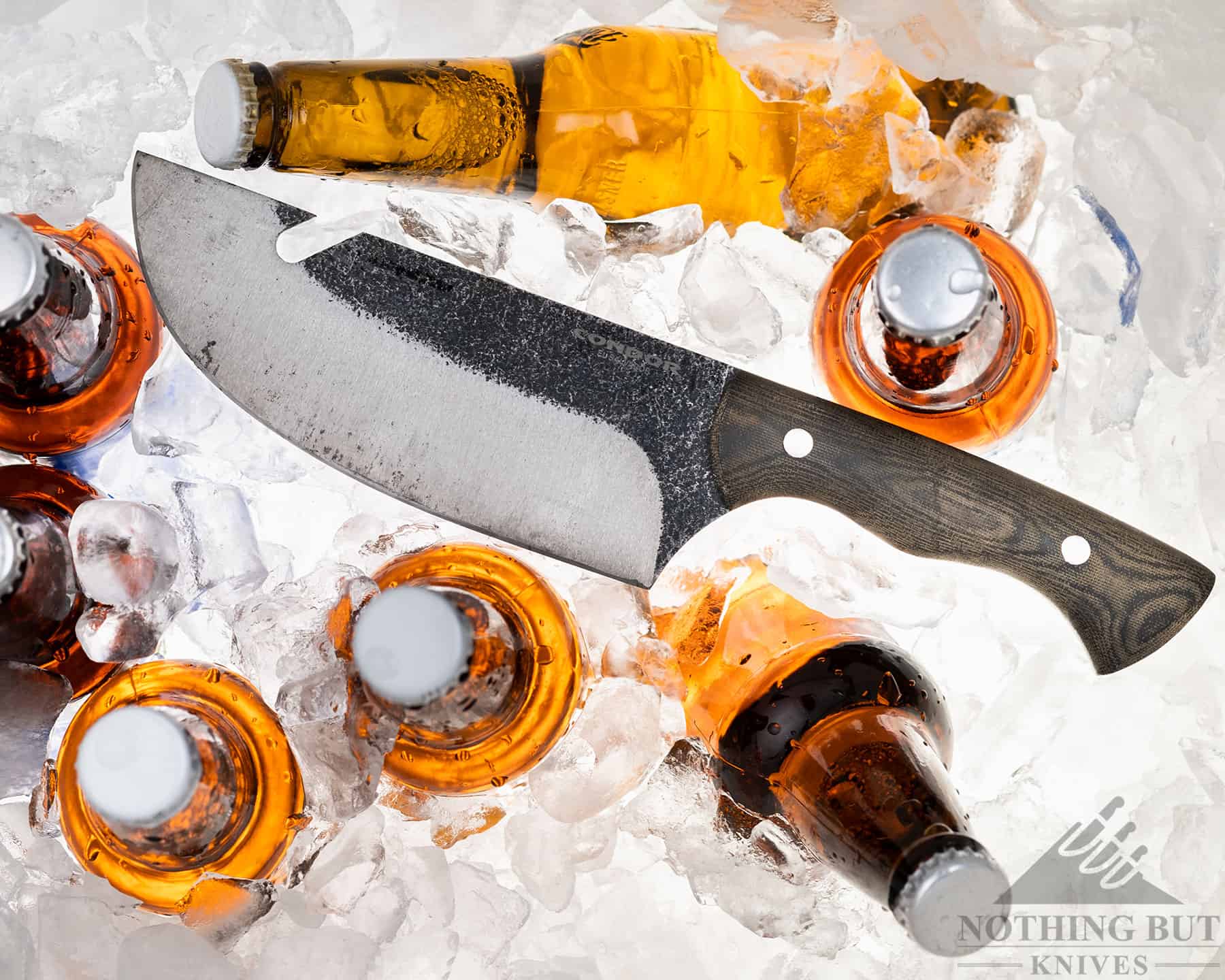 | | |
| --- | --- |
| Overall Length: | 11.8" |
| Blade Length: | 6.4" |
| Steel: | 1095 |
| Handle Length: | 5.4" |
| Handle Material: | Micarta |
| Carry System: | Kydex sheath w/ leather straps |
| Bottle Opener: | Lid notch |
This is probably my favorite knife I've ever used to open beers with, because if I'm using the Bush Slicer to get drunk it means I've made a number of decisions that have led me to being far away from anyone who's going to stop in the middle of complaining about traffic or boring office problems to stare and ask if I'm compensating for something when I open a bottle with a slab of metal that is larger than the bottle itself.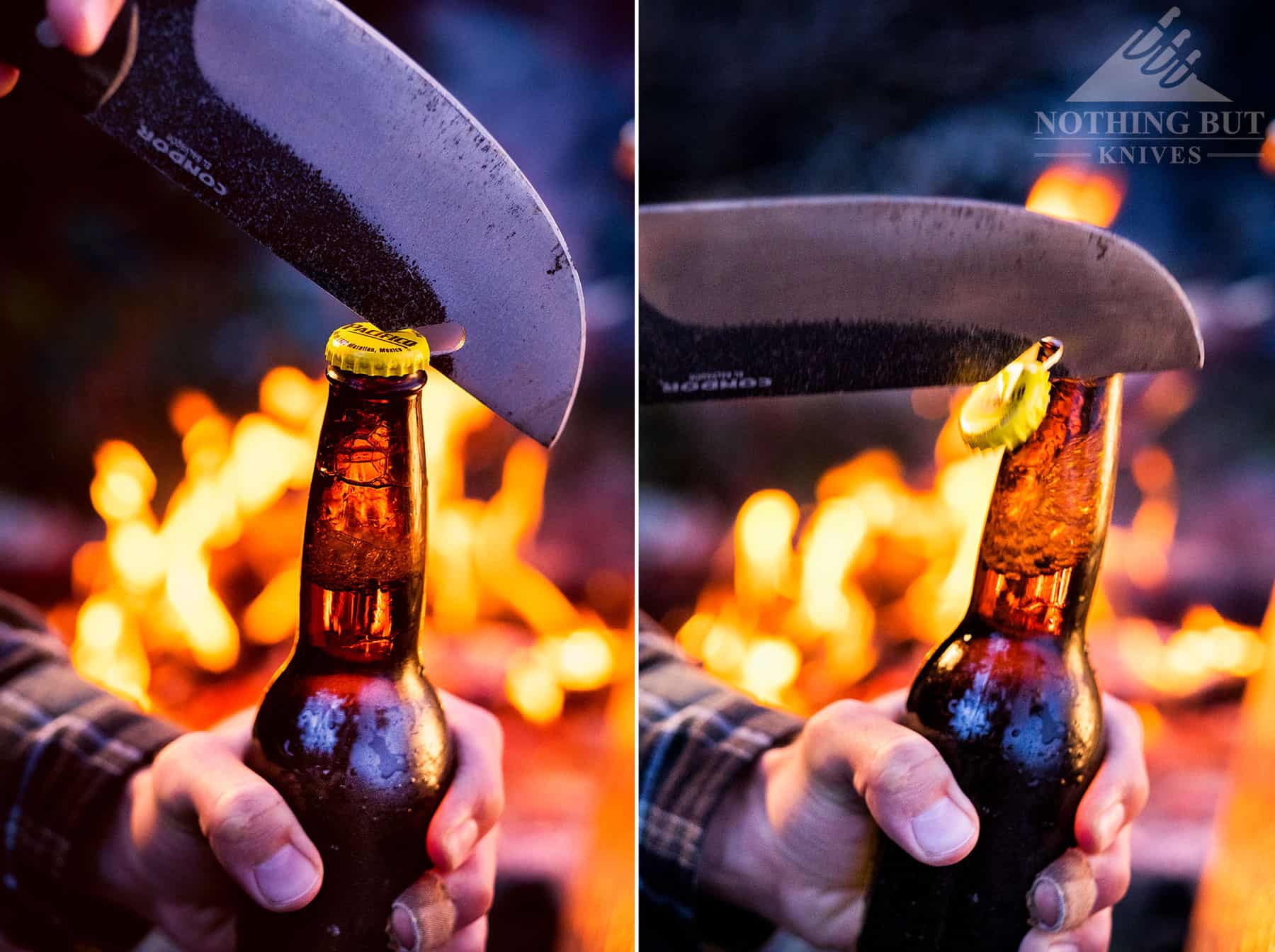 The truth is I am compensating with the Bush Slicer. I had a deficiency of 1095 steel with a convex grind before this beautiful thing came into my life, and I spend much of my time wondering when I'll once again get to stumble on top of a pile of newly processed wood and poorly cut pieces of burning steak in the middle of a forest, reeking of pine sap and whiskey, slam the Bush Slicer into a stump, and apologize to the park ranger who's asking if I have a permit to build a fire.
If you want to learn more about this versatile camping fixed blade check out our in-depth Condor Bush Slicer Review.