This Bushcraft Chef Knife Hybrid May Be The Ultimate Option For Survival Food Prep Or Just A Really Practical Camping Knife
The Bush Slicer is a fixed blade Swiss Army knife. It is tough versatile and fun. Initially I despised the blade notch, and I would still probably prefer a version without it. But it is growing on me. We do a lot of camp site cooking here at Nothing But Knives, so we jumped on the Bush Slicer the minute it became available. Shortly after that the knife disappeared from retailers, and it was tough to get any info about the Bush Slicer.
I assume that has something to do with the supply chain issues of 2020. Fortunately it is now pretty easy to buy the knife, but not so easy to find a lot of information about it. Condor does a good job of making knives, but they are a little less proficient at getting the word out about their knives.
The Bush Slicer is the type of knife a lot of knife reviewers would call ridiculous from the comfort of their dining room kitchen. I have noticed a lot of large knives receive "ridiculous" or "silly" moniker from folks who rarely leave the house or use knives for anything other than cutting open Amazon boxes.
This knife may be ridiculous for normal people but for drunken hillbilly blog writers like us it has been a great combination of function and fun. We have used it to chop wood, start a fire and prep food. No we don't always wash it before we use it for food prep, but we do drink whiskey when we eat, so it all works out.
Specifications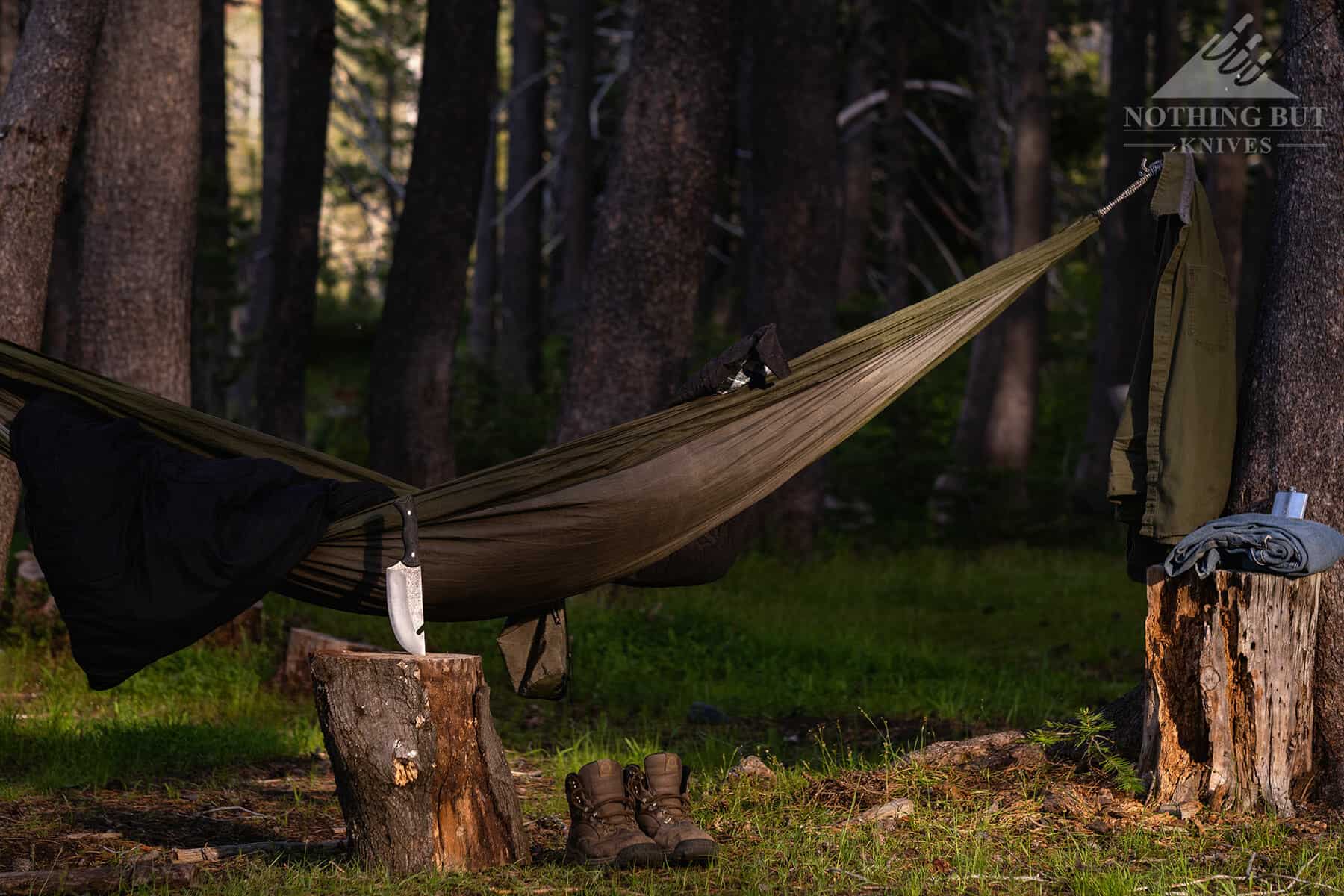 | | |
| --- | --- |
| Overall Length: | 11.8″ |
| Blade Length: | 6.4″ |
| Handle Length: | 5.4″ |
| Blade Thickness: | 3 mm |
| Blade Steel: | 1095 |
| Blade Grind: | Convex |
| Blade Style: | Drop Point |
| Handle Material: | Micarta |
| Knife Weight: | 9.8 oz |
| Weight w/ sheath | 19.7oz |
| Sheath Material: | Kydex and leather combo |
| Made In: | El Salvador |
| Price Range: | $110 – $120 |
| Designer: | Julio Diez |
Pros
Great bushcraft / chef knife combo
Versatile sheath
Tough – It can take a beating
Comfortable handle
Cons
Blade notch unless you need one
Factory edge could have been sharper
The Blade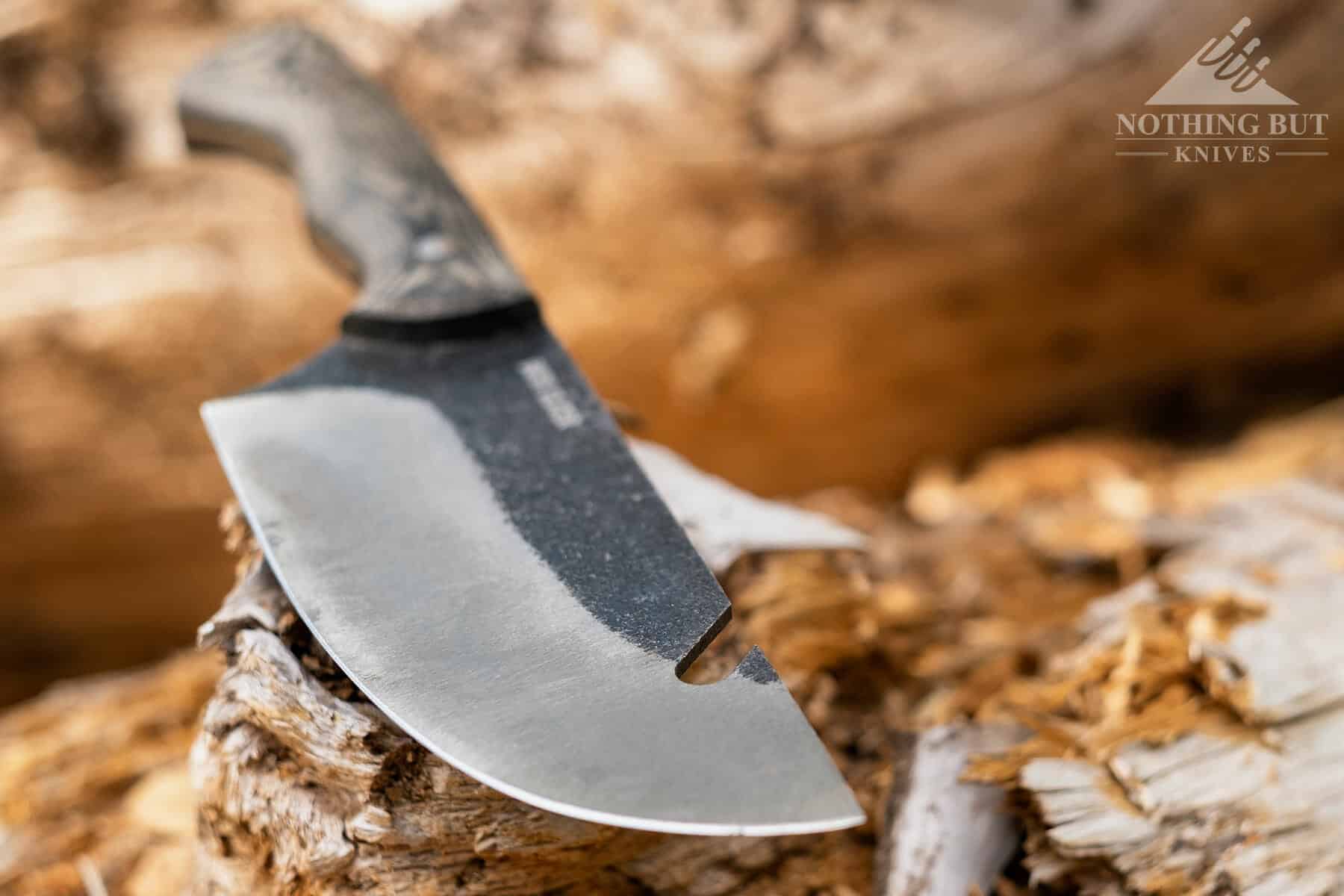 The Bush Slicer has a convex grind which is more common in kitchen cutlery than survival or bushcraft knives. Initially I assumed that this grind would hold it back when performing non-food prep tasks, but it chopped, batoned and made feather sticks quite well. Normally I prefer a flat or scandi for these tasks, but I think a convex grind was the perfect choice for this type of hybrid knife. At 6.4 inches the blade is longer than most bushcraft knives and shorter than most chef knives, which makes it a nice compromise.
The blade is tall enough to look a bit like a cleaver, and it can do many of the jobs you would use a cleaver for thanks to its relatively wide spine, gradual taper, and tough steel. Despite it's size and weight, the bush slicer handles relatively delicate tasks like coring fruit and vegetables fairly well thanks to its great balance and comfortable and versatile handle. Obviously it is not as good as these tasks as a lighter chef knife or paring knife, but it does well for a knife that is also capable of chopping down a tree.
Condor chose 1095 high carbon steel for the blade of this knife. I think that is a great choice as it is relatively tough, holds a good edge and costs less than some of the super steels getting all the attention these days. Condor has many years of experience with 1095, so their heat treatment should be pretty dialed. The main downside of 1095 is that it is prone to rusting if it is not dried after use and oiled semi regularly.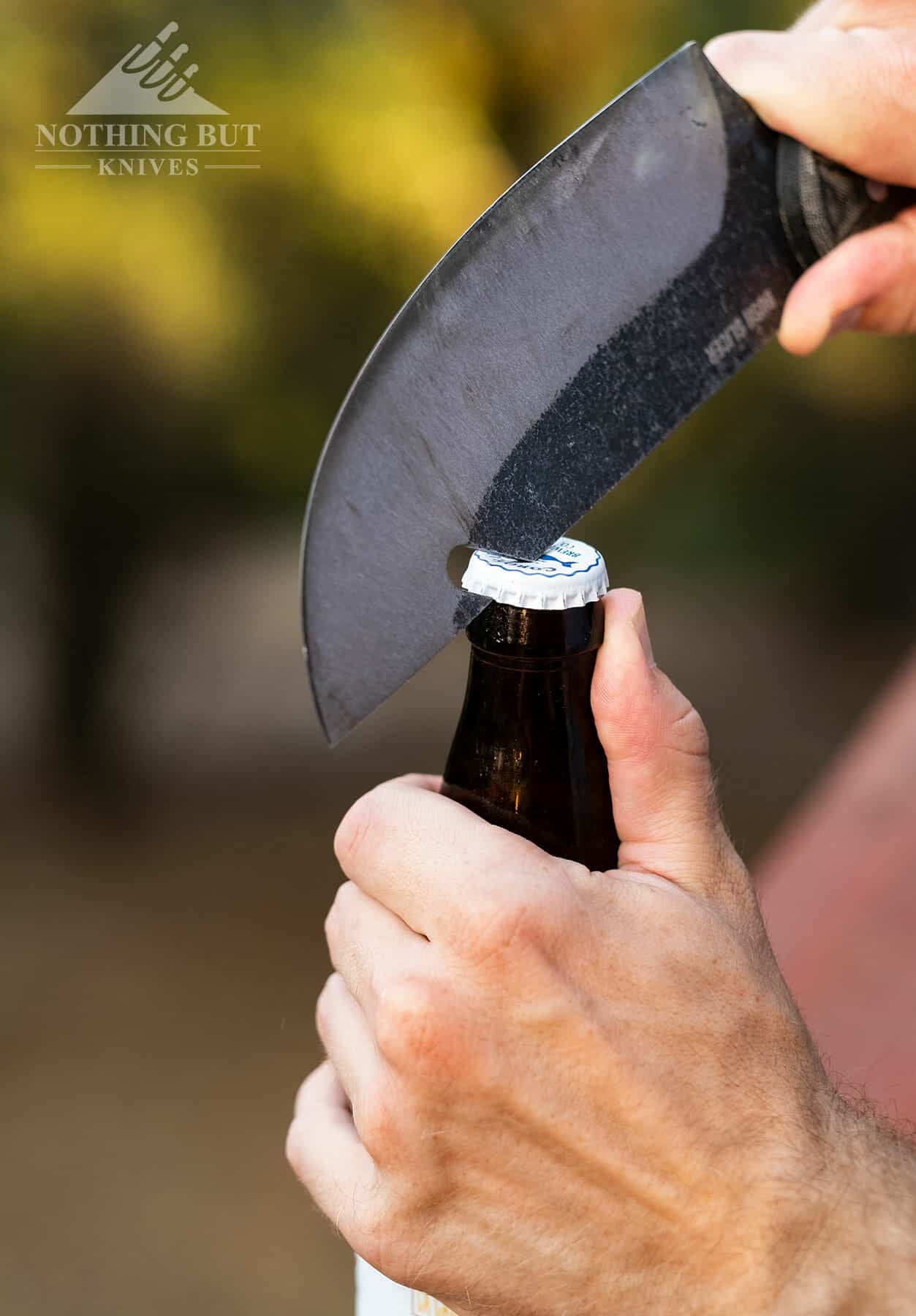 My main complaint about this blade is the ridiculous blade notch. The purpose of the notch is to hook the handles of pots on an open fire. This might be handy for those that actually cook on pots outdoors, but I pretty much just put food on a sharp stick and roast it. When I go into the mountains, pots stay at home where they belong.
Obviously your needs may be different. You may think this is the best feature added to a knife since a handle. If so, good for Condor for looking out for people like you. My main concern with the notch is that it must compromise the overall strength of the blade to some extent. My relatively limited knowledge of blade geometry and the math behind it prevent me from stating this as fact, though.
I did find at least one task the blade notch was perfect for. While I am not a fan of the blade notch, I am a fan of beer, and it turns out the notch does a pretty good job of removing bottle caps. That is a true knife redemption story if there ever was one. However, if you don't drink beer or cook with pots over camp fires the notch is totally useless.
The Handle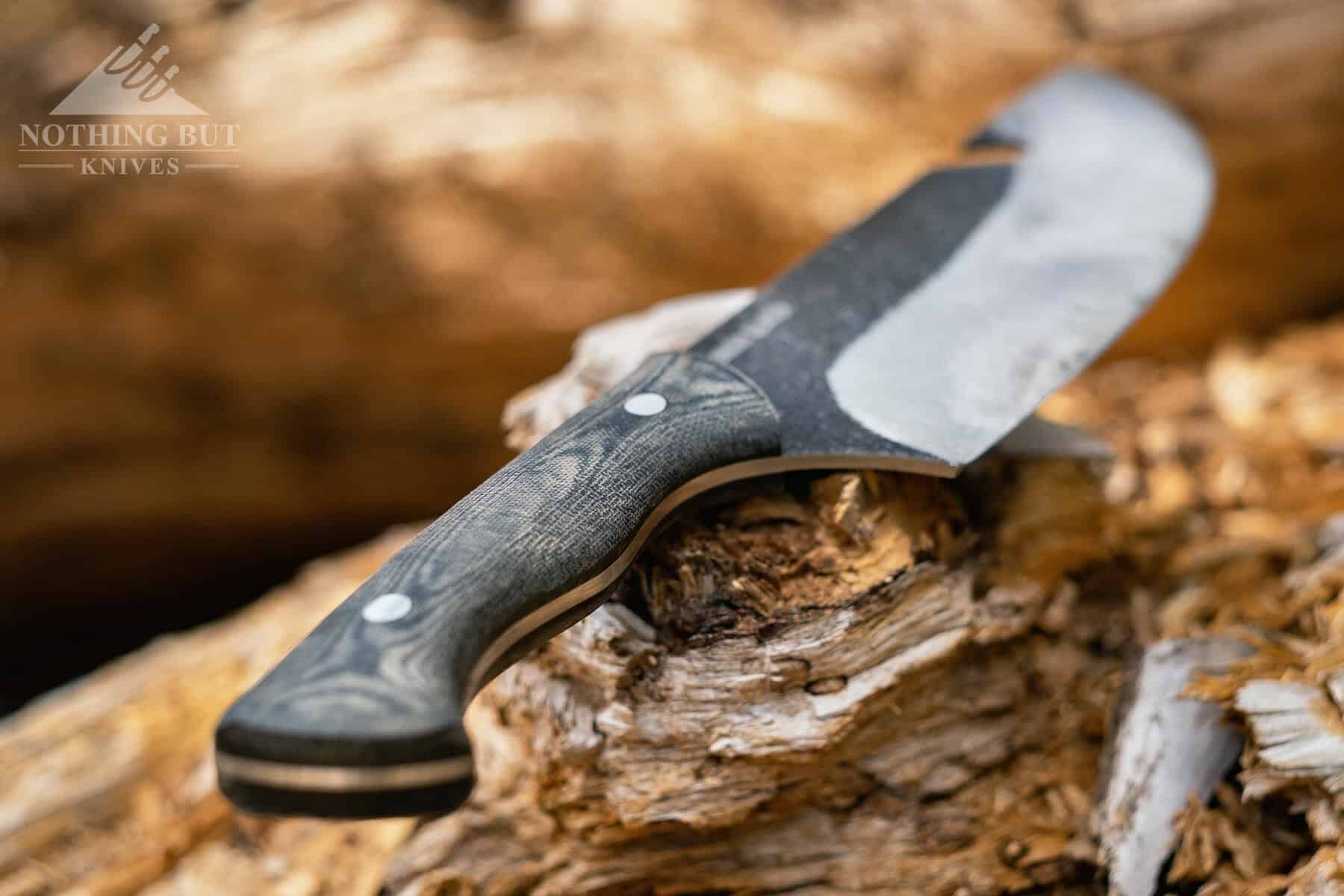 The handle of the Bush Slicer is ergonomic, durable and versatile. We did not find any hot spots even when we chopped wood. The Micarta scales are more grippy than the smooth TPE scales found on most kitchen knives. The handle is really similar to the handle found on the Condor SBK, which is not surprising since both knives were designed by Julio Diez. Where the Bush Slicer differs a bit from the SBK is that is has a bigger pommel with a steeper downturn. This makes it easier to grip when chopping wood.
My only complaint about the Bush Slicer handle is the lack of a taper at the front of the handle which would make a pinch grip more comfortable. Condor did this before with the Jo Flower's-designed Swamp Romper. It seems weird that this feature would be added to a dedicated bushcraft knife and not a bushcraft/chef knife hybrid.
The Sheath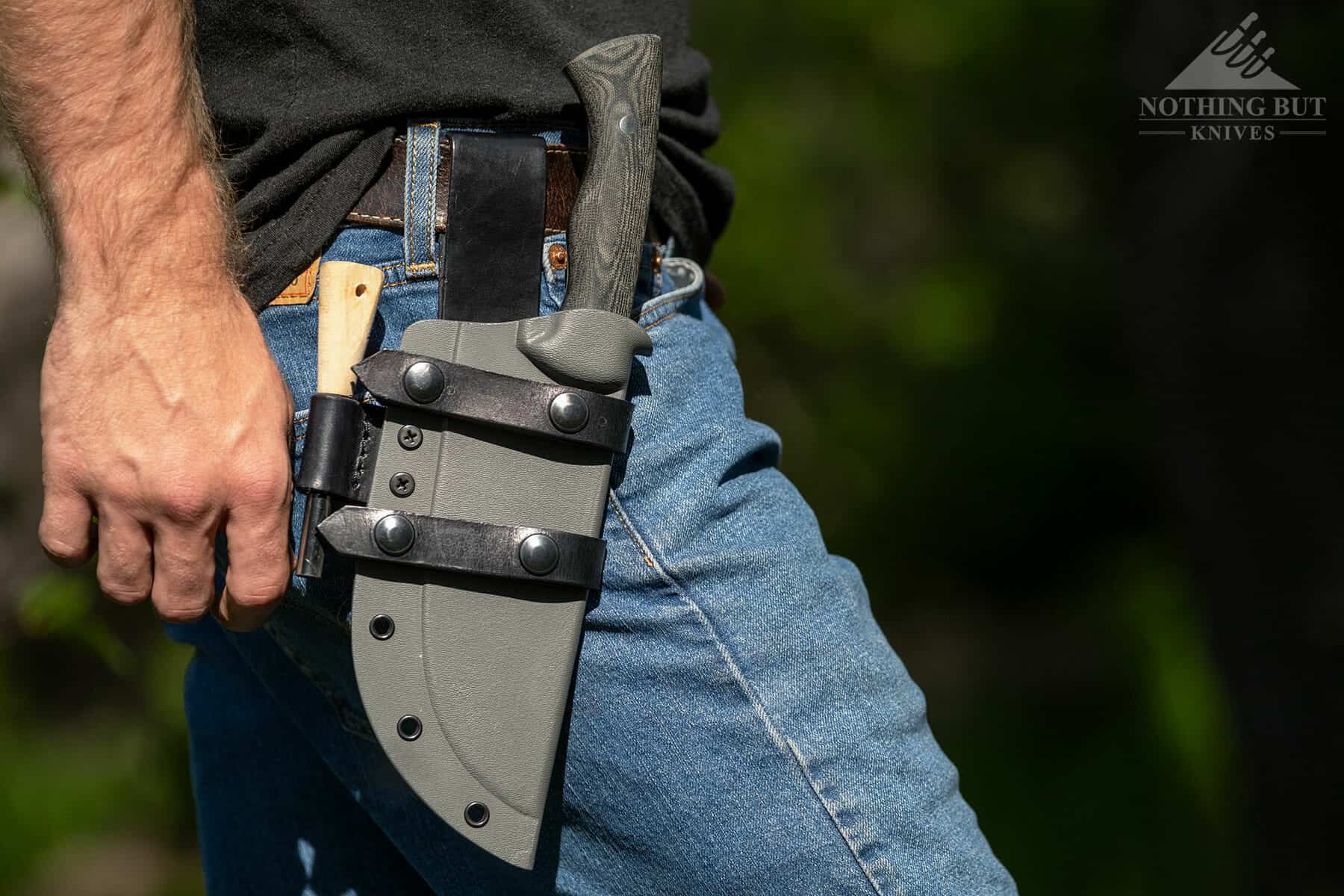 There is a lot to like about the knife itself, but the sheath that ships with the Bush Slicer may be its best feature. It is a bigger version of the sheath that Julio Diez designed for the Condor SBK minus the dongle. The missing dongle makes sense, because the Bush Slicer is a bit bigger and heavier than the SBK, so wearing it with a dongle would be annoying and uncomfortable while hiking.
The sheath is made of kydex and it sports MOLLE compatible leather straps for horizontal carry and a leather loop for vertical carry, and it seems to work well for both right and left handed draw in both positions. It is very quick and easy to switch between vertical and horizontal carry, and I greatly appreciate the fact that the transition can be made without a screwdriver. Almost every other knife with a kydex sheath that can be worn horizontally and vertically uses little black screws that are easy to drop and hard to find.
The sheath also ships with a ferro rod loop that's wide enough to accommodate a fairly thick ferro rod. The one pictured above is the Texas Bushcraft Fire Starter which fit perfectly.
The Bush Slicer can be worn in the Scout carry position, but it is a little big to be worn that way for hiking. Depending on your waist size it could easily catch on trees or bushes on a narrow trail, but the knife sits tightly in the sheath and doesn't rattle. The relatively large thumb ramp makes drawing and even sheathing a lot easier.
I wish more manufacturers would add them to their kydex sheaths. My only complaints about the Bush Slicer sheath are the lack of a drainage hole and leg tie downs, but even with those drawbacks this is easily one of the most versatile and practical sheaths I have ever used.
Food Prep Capability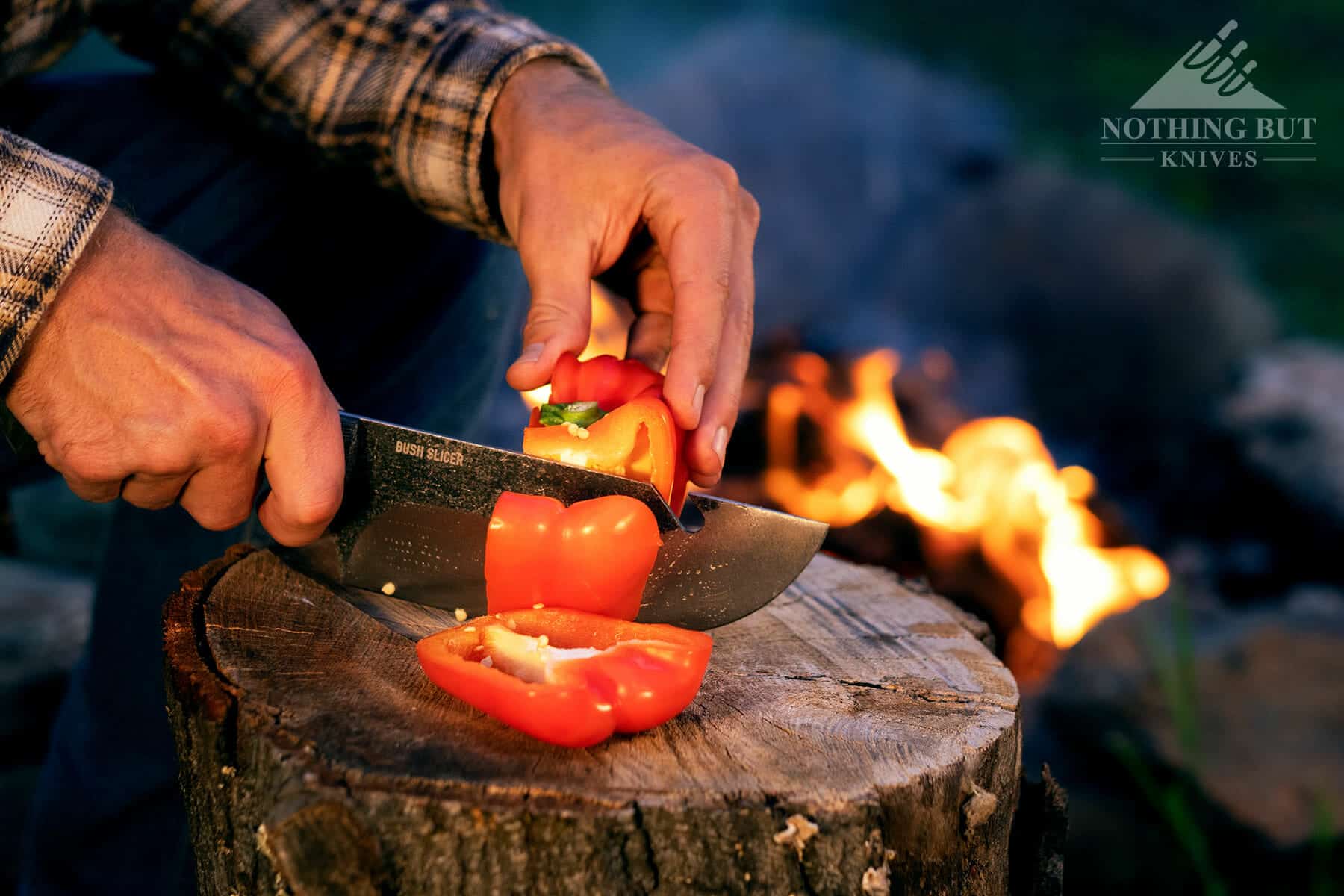 Camp fire food prep is where the Bush Slicer really shines. In the kitchen I prefer an 8″ or 10″ chef knife mostly because they can cut through large piles of green onions or other vegetables faster. However camp fire cooking often offers less surface space for cutting, so a 6″ blade makes more sense.
The tall blade of the Bush Slicer makes slicing through taller items like the bell pepper above a little more awkward than a more conventional chef knife, but it still gets the job done. The lack of a pointed tip is something to consider before pulling the trigger on this knife.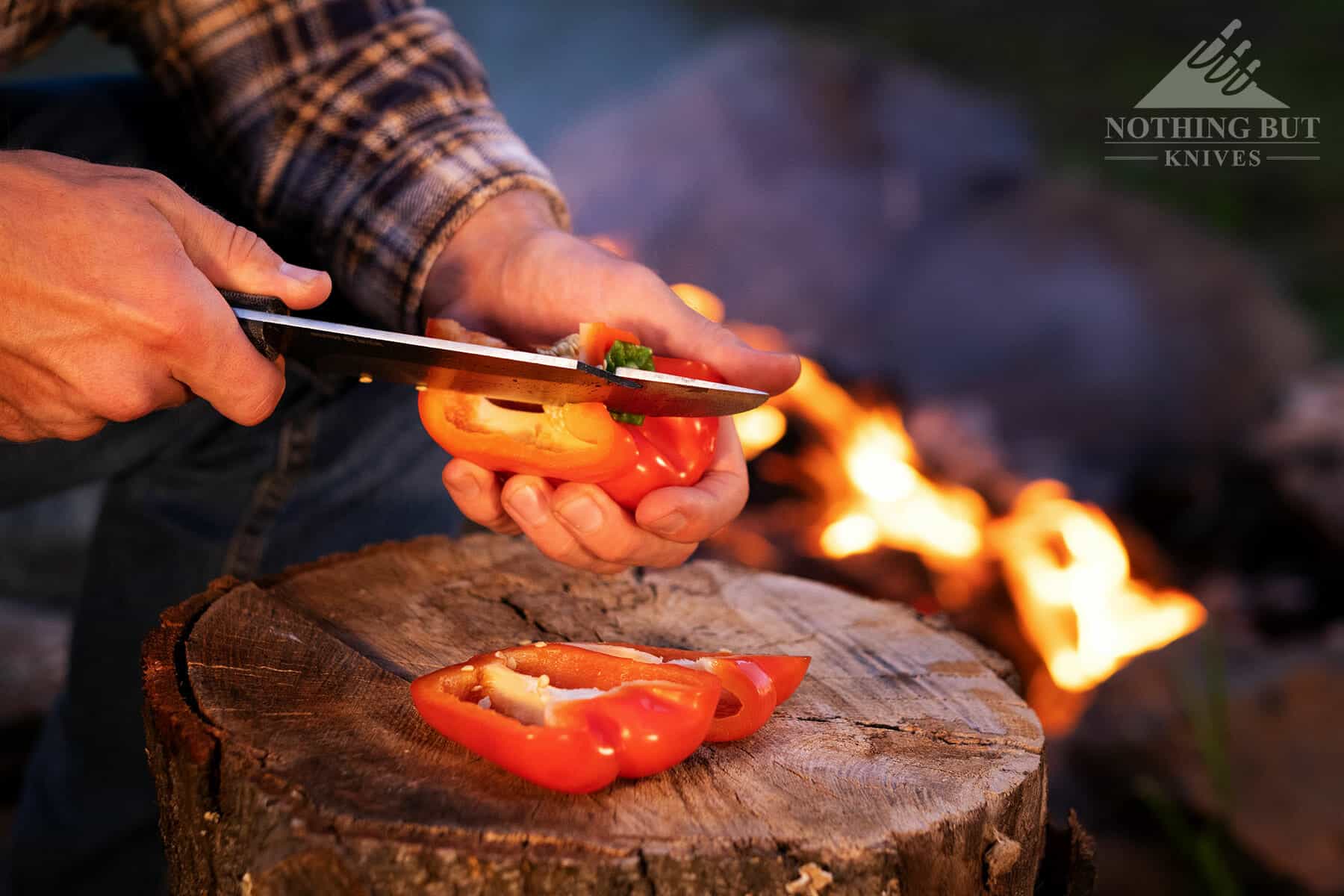 As I mentioned earlier, more detail oriented cuts like coring are also a little more difficult with this tall bladed knife, but it is still doable, and becomes fairly seamless with a little practice. Still, a small paring knife wouldn't be a bad companion to the Bush Slicer if you are not trying to travel super light.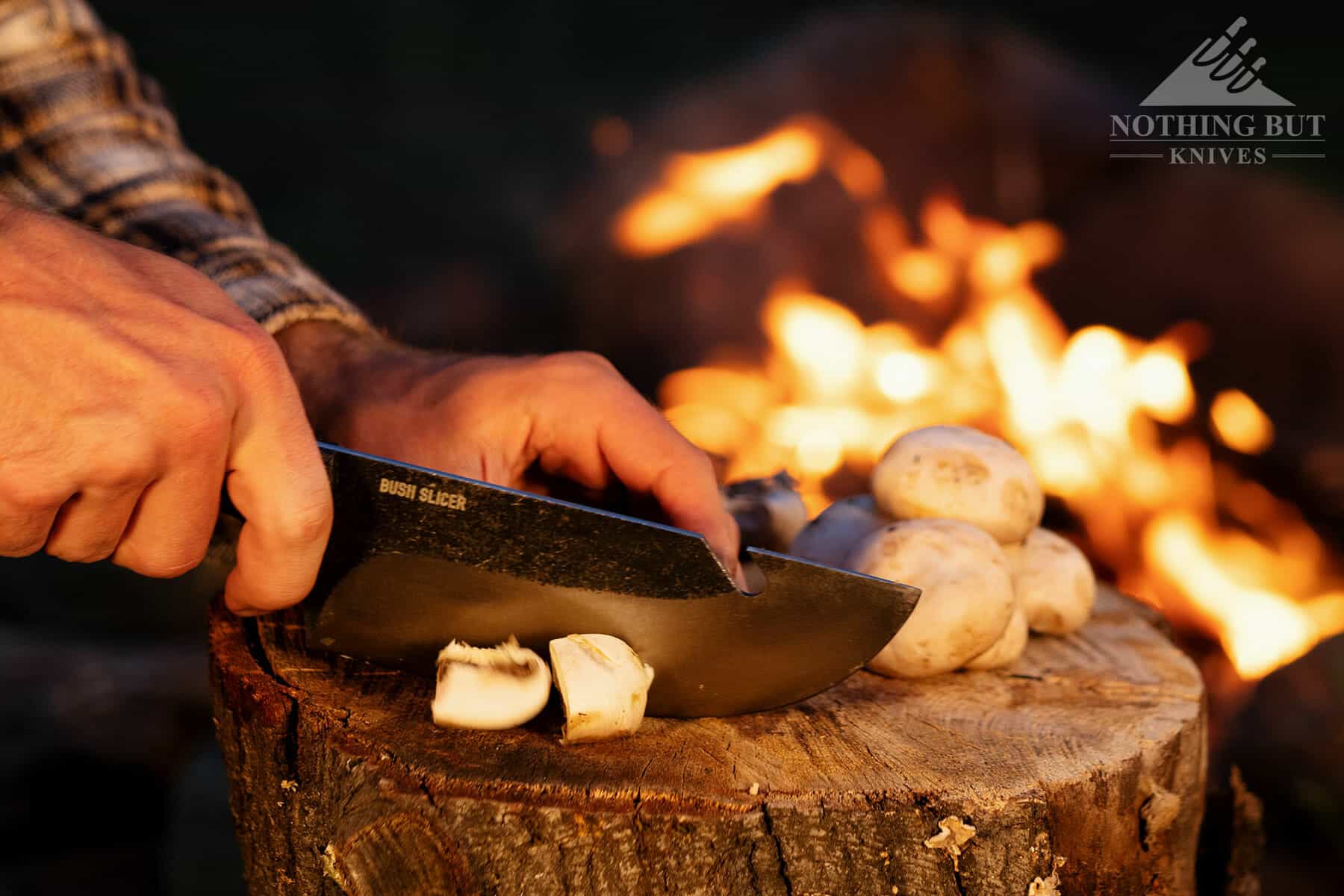 The Bush Slicer really shined when cutting smaller items. It rock chopped like a beast, and the tall blade was perfect for scooping up chopped fruits or vegetables from the cutting surface. The tall blade is also great for cutting large melons, because it is easier to keep straight.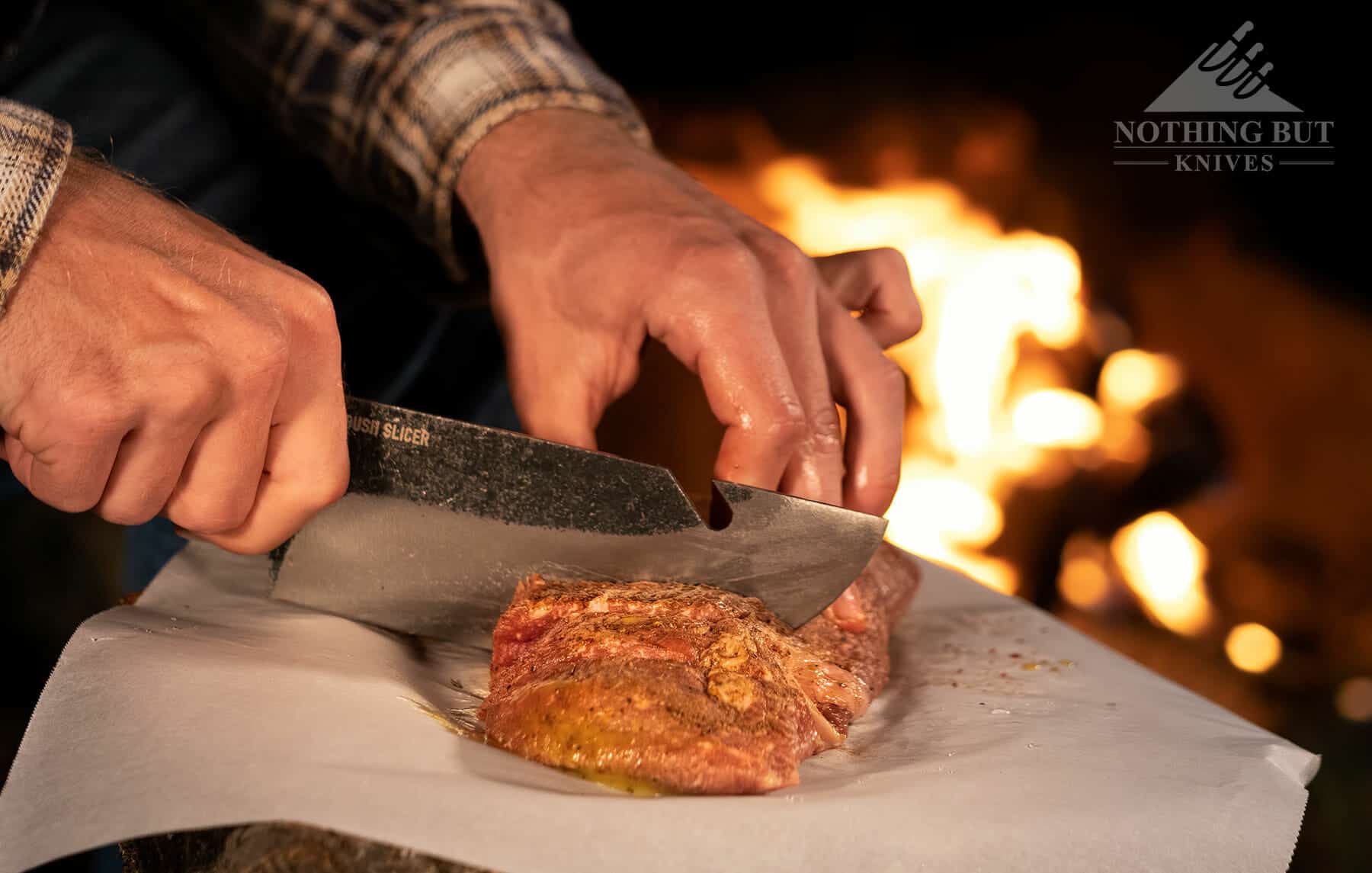 The sharp convex grind and great balance of the Bush Slicer allow it to cut cleanly and easily through meat, and we were able to get fairly even slices. Even though Condor calls the Bush Slicer a chef knife it performs more like a cleaver due to it's weight and tall blade. So if you are comfortable with a cleaver in the kitchen you should adapt to the Bush Slicer fairly quickly. I personally do not use a cleaver a lot, so there was an adjustment period for me. It took some practice to develop a decent technique.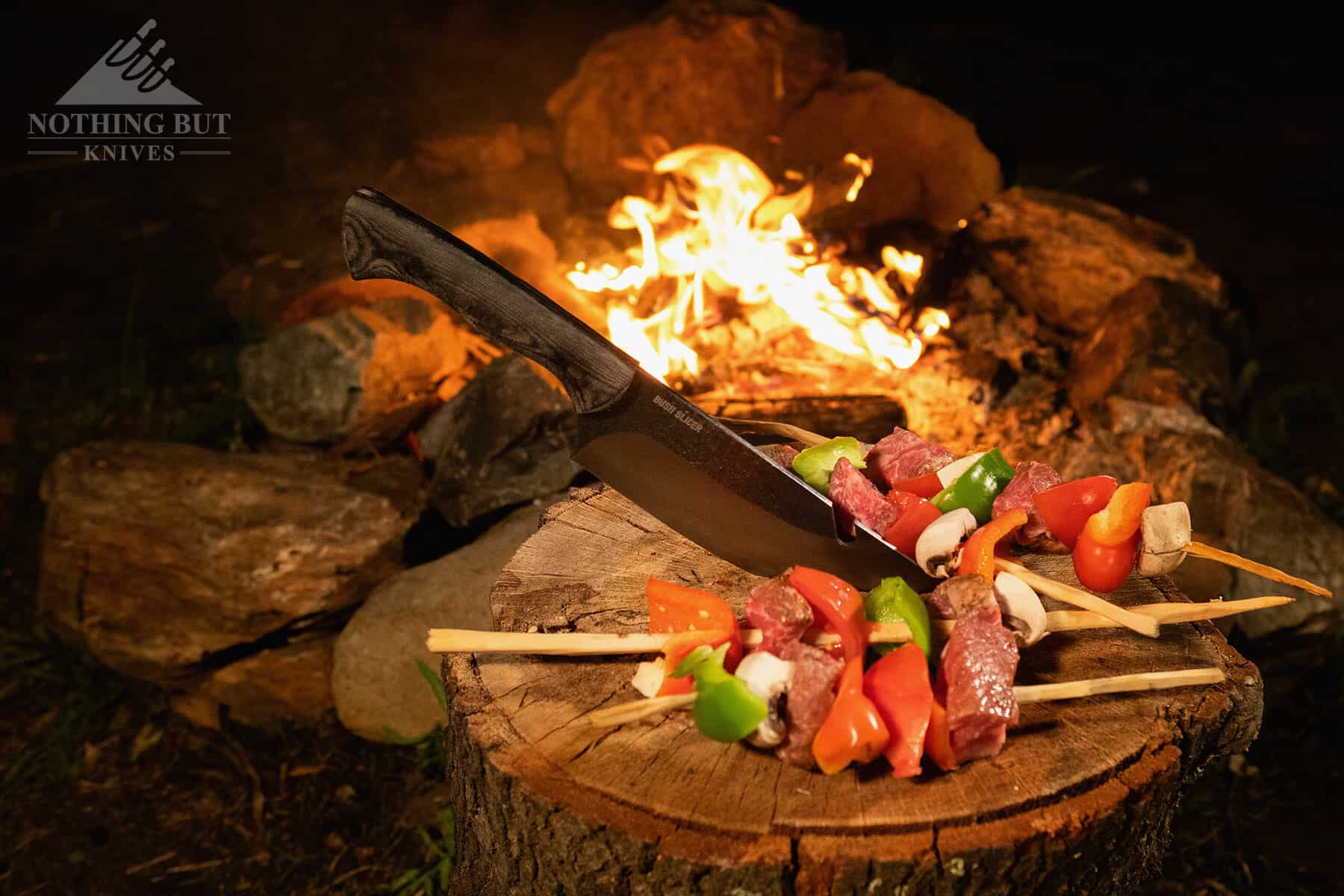 Overall the Bush Slicer performed quite well as a camp fire food prep knife. It certainly would have been possible to prepare the above meal with most of our regular bushcraft knives, but it was much easier and faster to slice, dice and chop with the Bush Slicer than any bushcraft or survival knife we own.
While the Bush Slicer is absolutely a capable campfire food prep knife it can't quite hang with more food prep centric outdoor chef knives like the Messermeister Overland.
Bushcraft Capability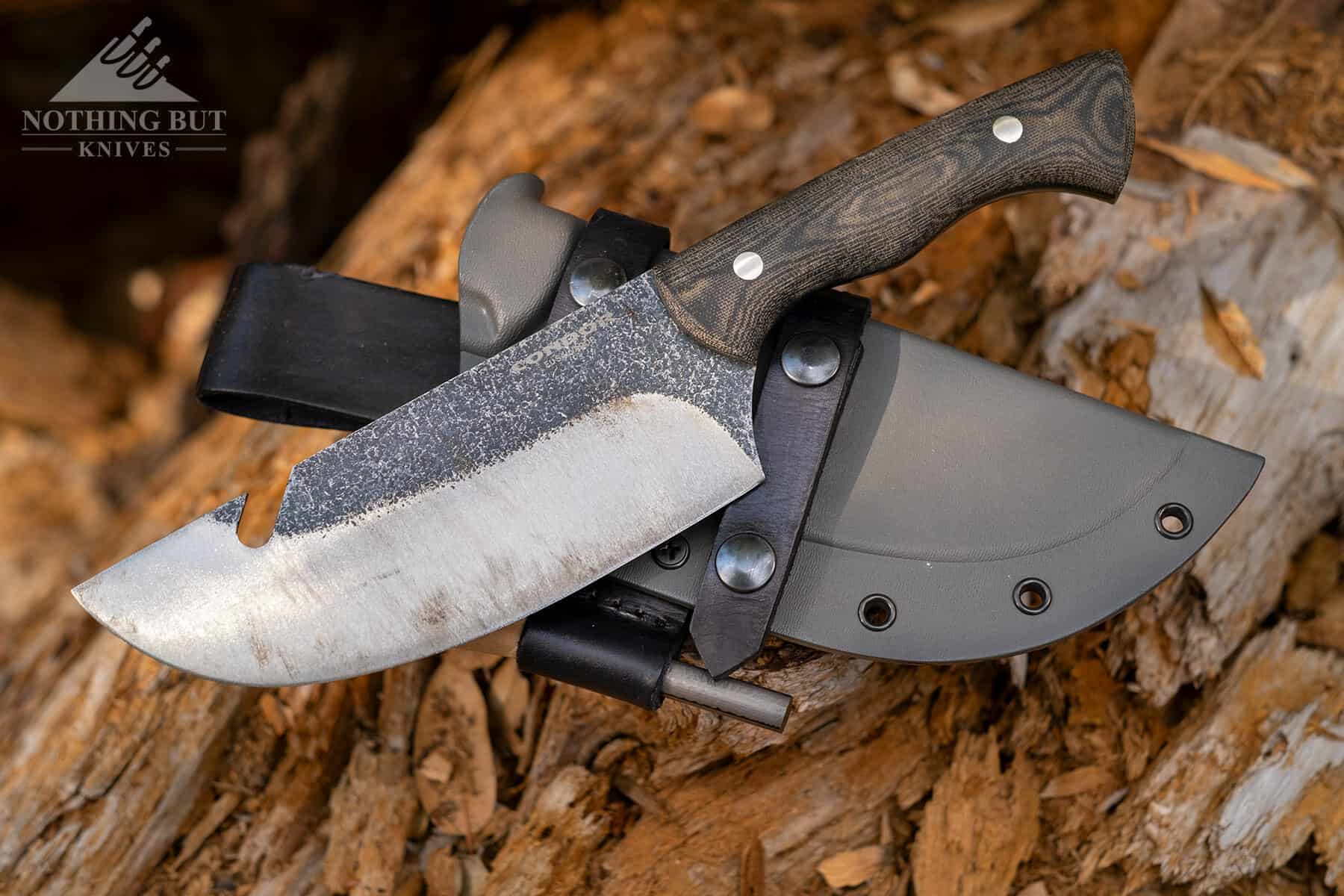 I expected the Bush Slicer to do well at food prep, but prior to using it I was somewhat skeptical of it's bushcraft capabilities. However, this knife proved to be more than capable of most bushcraft tasks and exceptional at a few.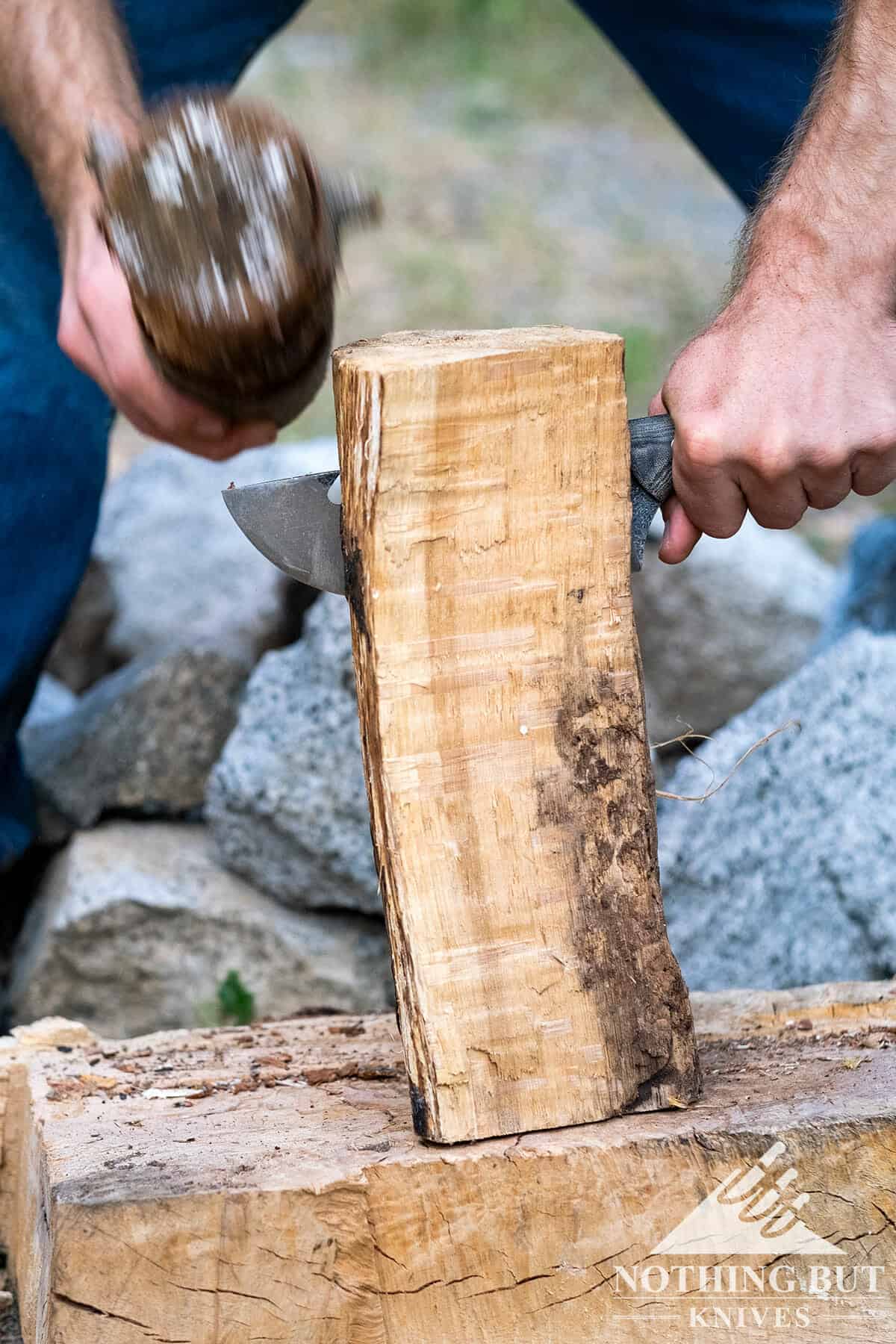 I was a little nervous about batoning with the Bush Slicer, and I am pretty sure Condor would not list this task as one the knife was designed for. My trepidation proved to be unwarranted.
The Bush Slicer pushed through hard and soft would relatively effortlessly. We did not have any trouble with chipping or rolling, but at some point we did ding the edge of the blade. It was a very small ding that was fairly easy to get rid of with a honing rod and a strop, but in the future I will baton softer woods like Pine.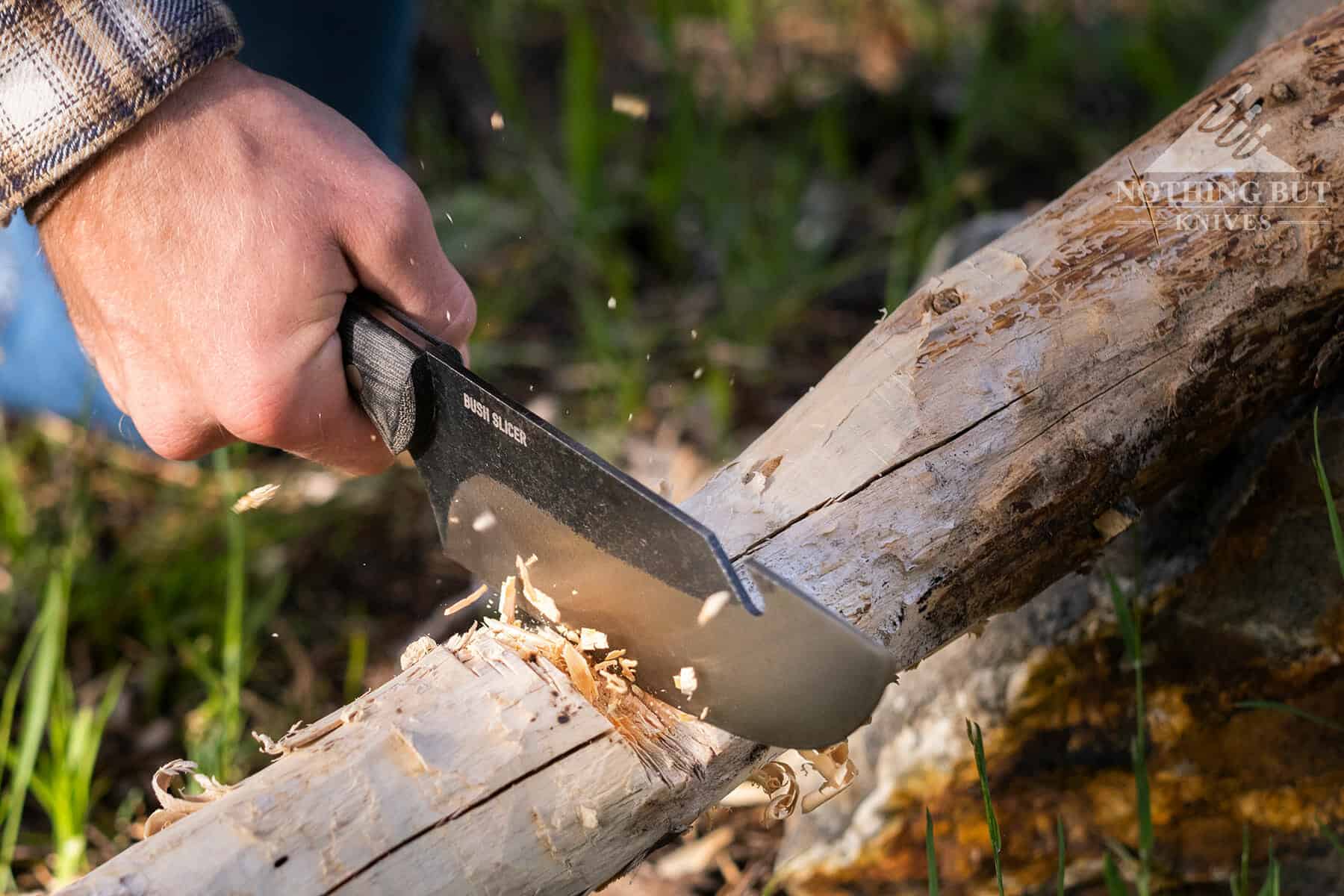 The weight of the Bush Slicer combined with it's convex grind make it great for wood chopping. It doesn't bite into the wood quite as aggressively as a scandi grind would, but it is less likely to get wedged or stuck than a hollow grind or v grind knife would be. It is also much less likely to get chipped than a hollow grind knife.
Since this review we have tested a few other Julio Diez designed knives, and most of them are great choppers – especially the Condor Plan A Bowie.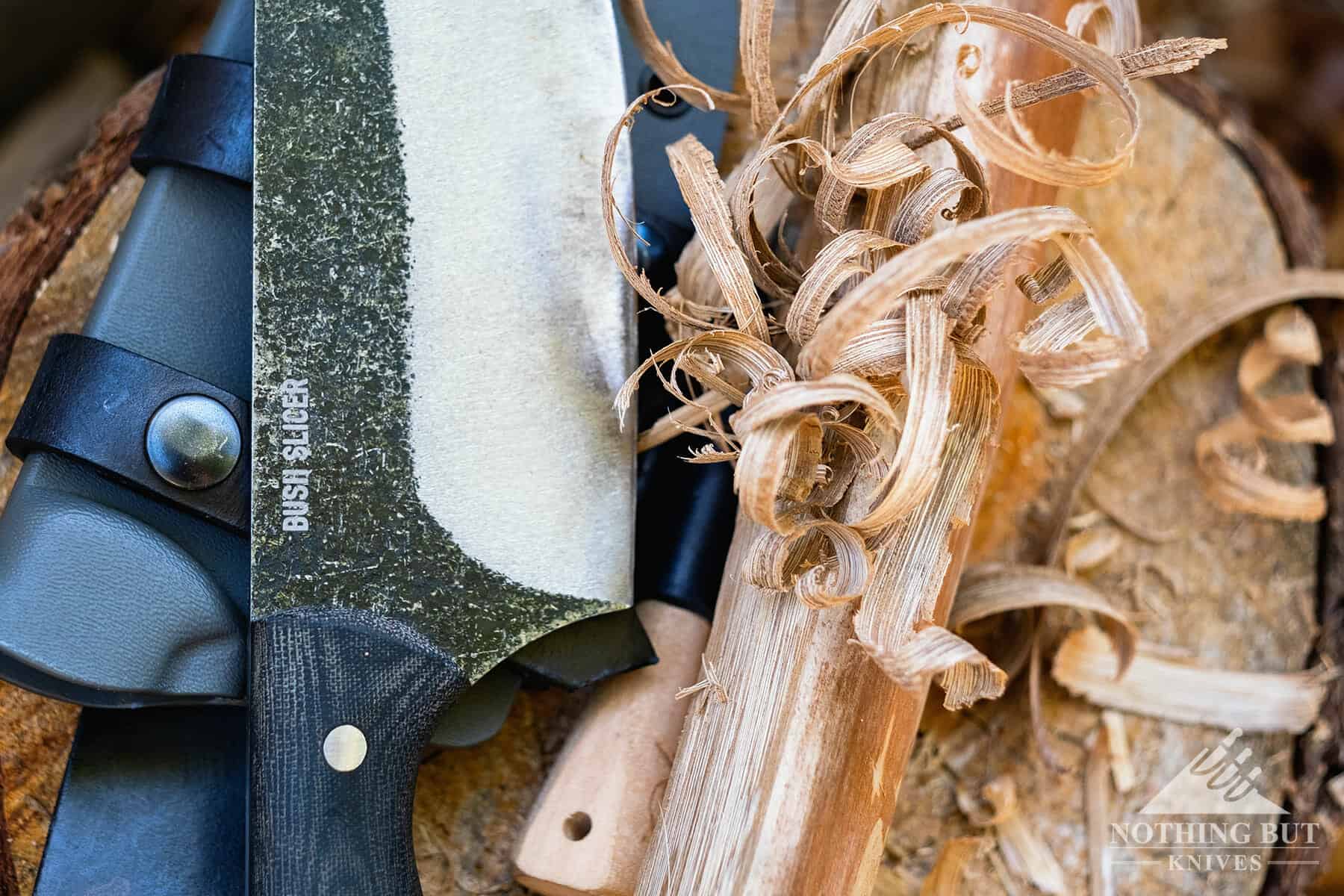 Making feather sticks is where the Bush Slicer really excelled. This is fitting for a knife that was designed to be the ultimate camp fire knife. If you prefer to just make shavings or curls the Bush Slicer is great at that on hard and soft wood.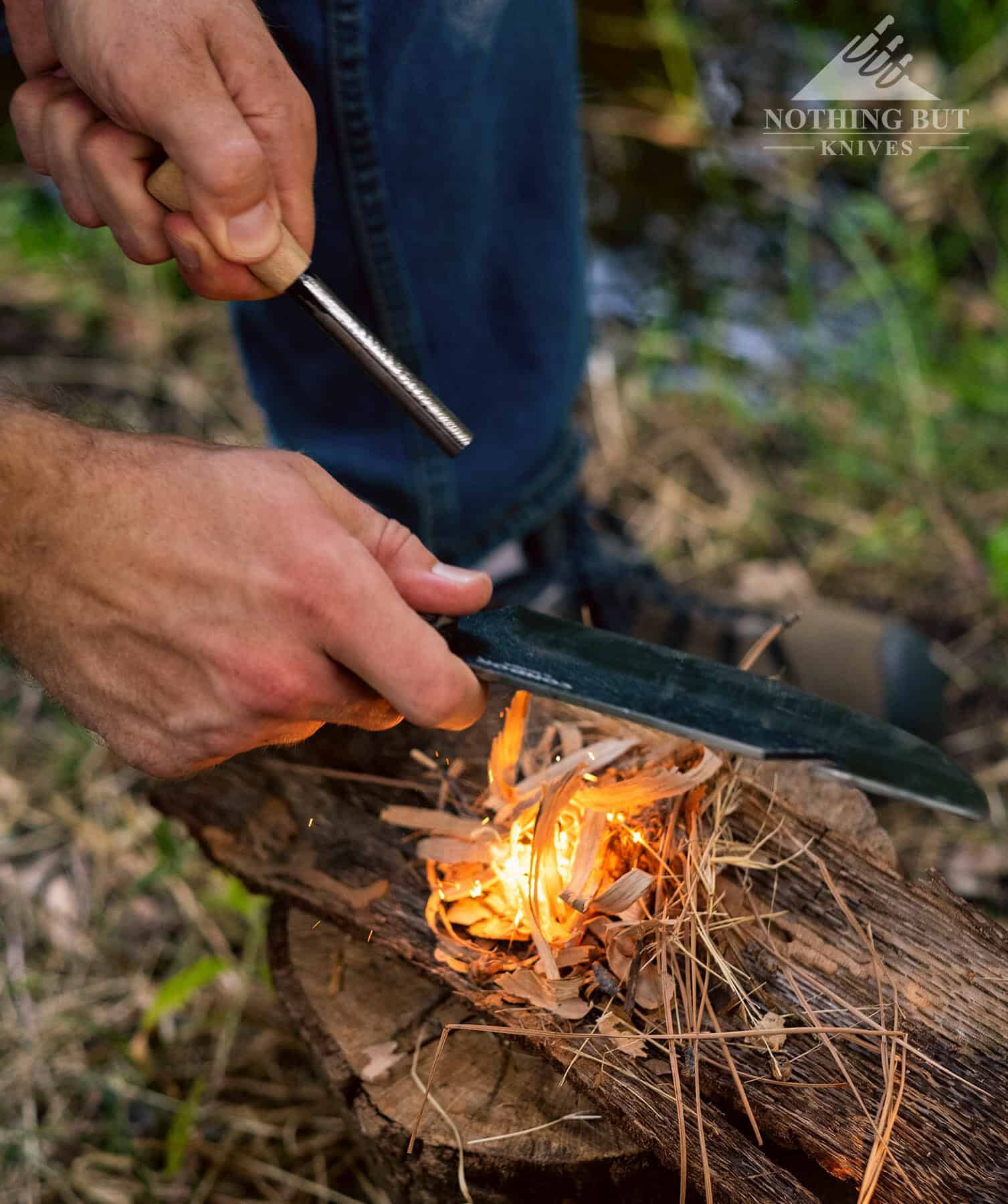 At first we were pretty disappointed in this knife's spark throwing ability. We tried sparking a ferro rod with the spine of the knife, but the results were pathetic. It seemed weird that this camp fire cooking knife wouldn't be able to throw sparks well, so we began testing other parts of the blade.
We thought maybe the notch would result in some good sparks, but it did nothing. Finally we tested the back of the blade between the heel and the bottom of the handle and fire rained down. It was a little awkward at first, but with a little practice we adjusted and got it dialed.
Conclusion
The Bush Slicer seems to have been designed to be the ultimate campfire food prep tool that can double as a bushcraft knife. If you are looking for a campfire food prep knife that is designed primarily for outdoor food prep, but not bushcraft tasks, check out our article on the best camping chef knives.
If this was the goal of the designer, I would say he accomplished it. The Bush Slicer excels at camp fire food prep, and does a decent job at bushcraft tasks. The sheath is one of the best sheaths I have used, and I hope to see more Condor knives ship with a version of this sheath in the future.
My biggest complaints about this knife are the lack of a taper on the front of the handle to make pinch grip more comfortable and the ridiculous blade notch. Obviously my negative opinion of the blade notch is primarily due to the fact that I don't use pots on a camp fire, so if you do this it may be a welcome feature. Ultimately this is one of my all time favorite knives, and I plan to use it on many future camping trips. It's versatility makes it a must for my dusty bug-out bag. Overall it is an excellent knife if you can find one.