This Versatile Bushcraft Knife Solidifies Gerber's Dominance in Sheath Designs
The Principle checks a lot of boxes for being a good bushcraft knife:
It has a scandi grind, a tough steel with good corrosion resistance, a simple handle made out of a tough, grippy material, and a sheath made to carry a hundred different ways. It provides a lot of features without becoming a gimmick, and it proved capable of handling a lot of abuse during our tests.
I thought the cheap materials Gerber opted to use on this thing would hold it back, but they've actually done a pretty incredible job of making the 420HC steel and plastic lining work well to create a reasonably priced knife that you can beat up. The rubber scales do present at least one potential problem down the road if you're a stupid monkey man who hits things with logs like me, but we'll get into that later.
I also take issue with some of the ergonomics in the sheath. It's a pretty remarkable example of simple engineering solutions and I love it, but it can present a couple of ergonomic issues depending on how you carry it.
That's all beside the bottom line, though. Gerber has made something genuinely extraordinary with the Principle. I would go so far as to say it's almost perfect in terms of their intent in designing it. Overall, its problems are an almost inevitable part of making it affordable.
Specifications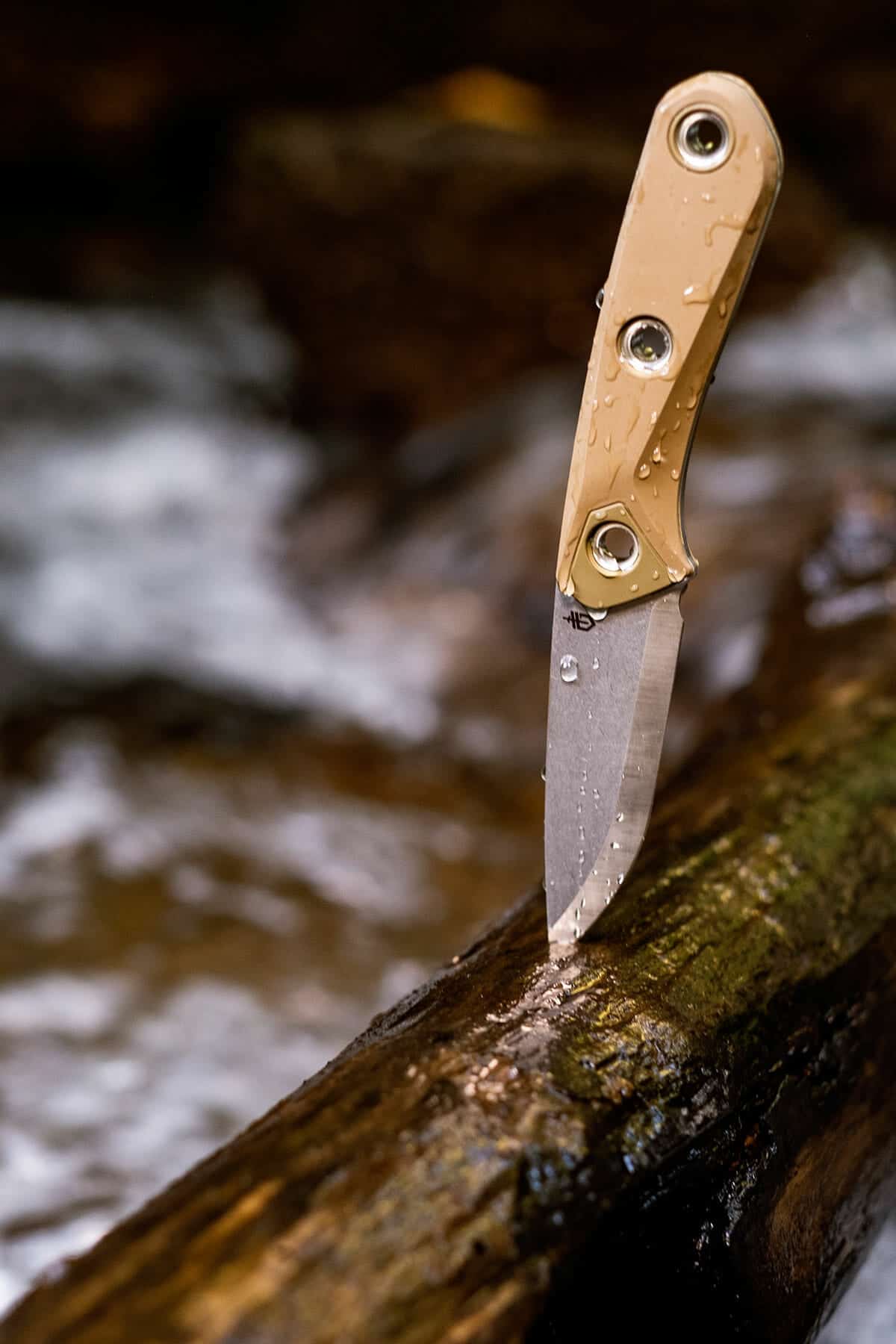 | | |
| --- | --- |
| Overall Length: | 6.813″ |
| Blade Length: | 2.9″ |
| Handle Length: | 4.375″ |
| Blade Steel: | 420HC |
| Blade Grind: | Scandi |
| Blade Style: | Drop point |
| Handle Material: | Rubber w/ polymer inserts |
| Knife Weight: | 3.8 oz |
| Weight w/ Sheath: | 6.0 oz |
| Sheath: | Polymer |
| Made in: | USA |
| Price Range: | $60 |
Pros
All around excellent bushcraft knife
Great price point
Tough steel with a scandi grind
Highly adaptive MOLLE carry system
Cons
Sheath can make deployment tricky
Corners of rubber scales might come loose
The Handle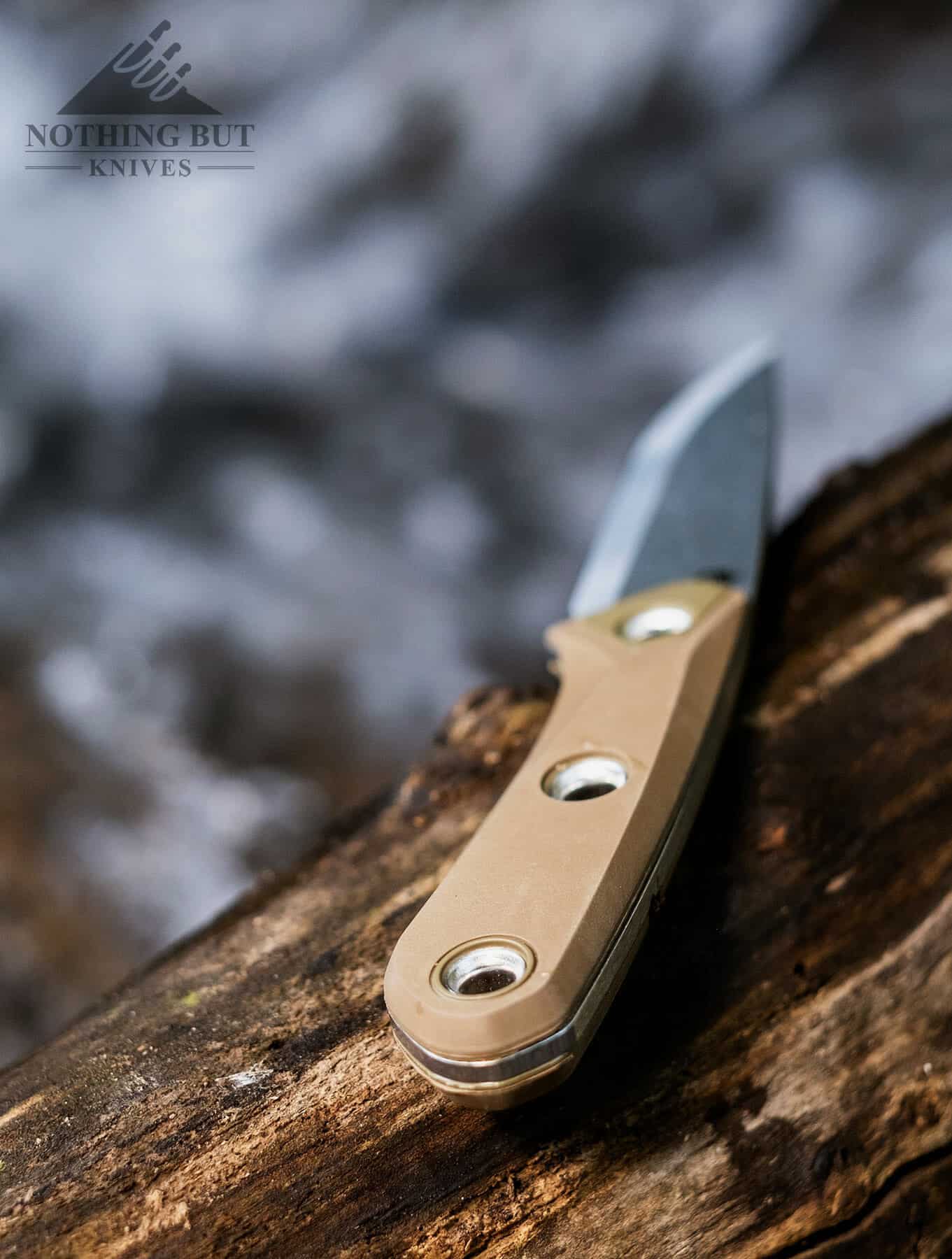 Before you start giving me some sass about how the handle and blade lengths we put up don't match up with the overall length, take a look at that generous dip of polymer going over the base of the handle. Normally I wouldn't count a bit of handle overlap like that as handle length, but in this case that piece is a functional part of the handle that provides a nice ramp for a pinch grip.
Gripping Ergos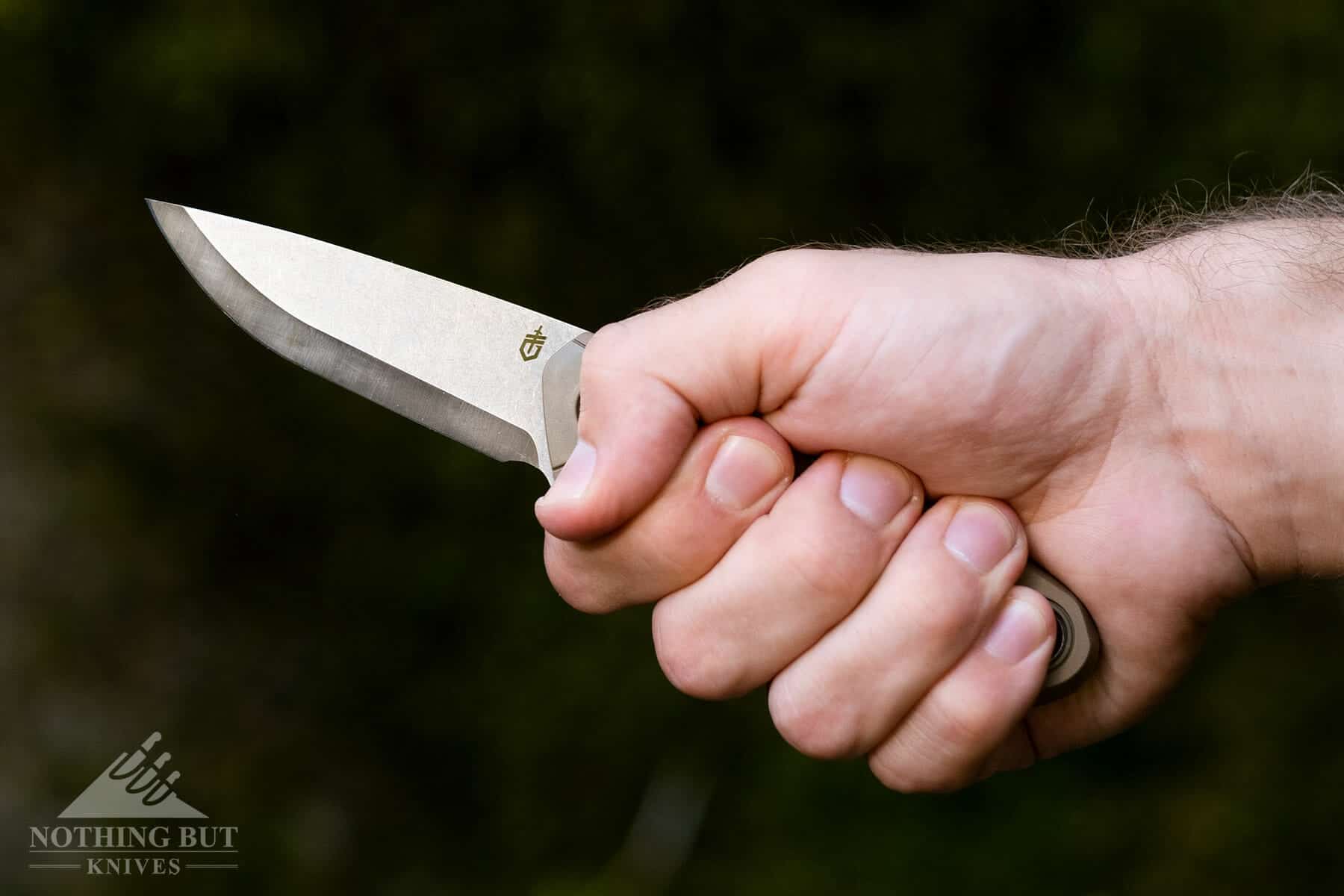 It turns out Gerber did their research on this. Before completing the design they hung out with some bushcrafters. They came back with a lot of feedback that led to them making a knife that felt comfortable in three main grips:
Baseball (or full grip),
Precision (basically a pinch grip),
And chest lever.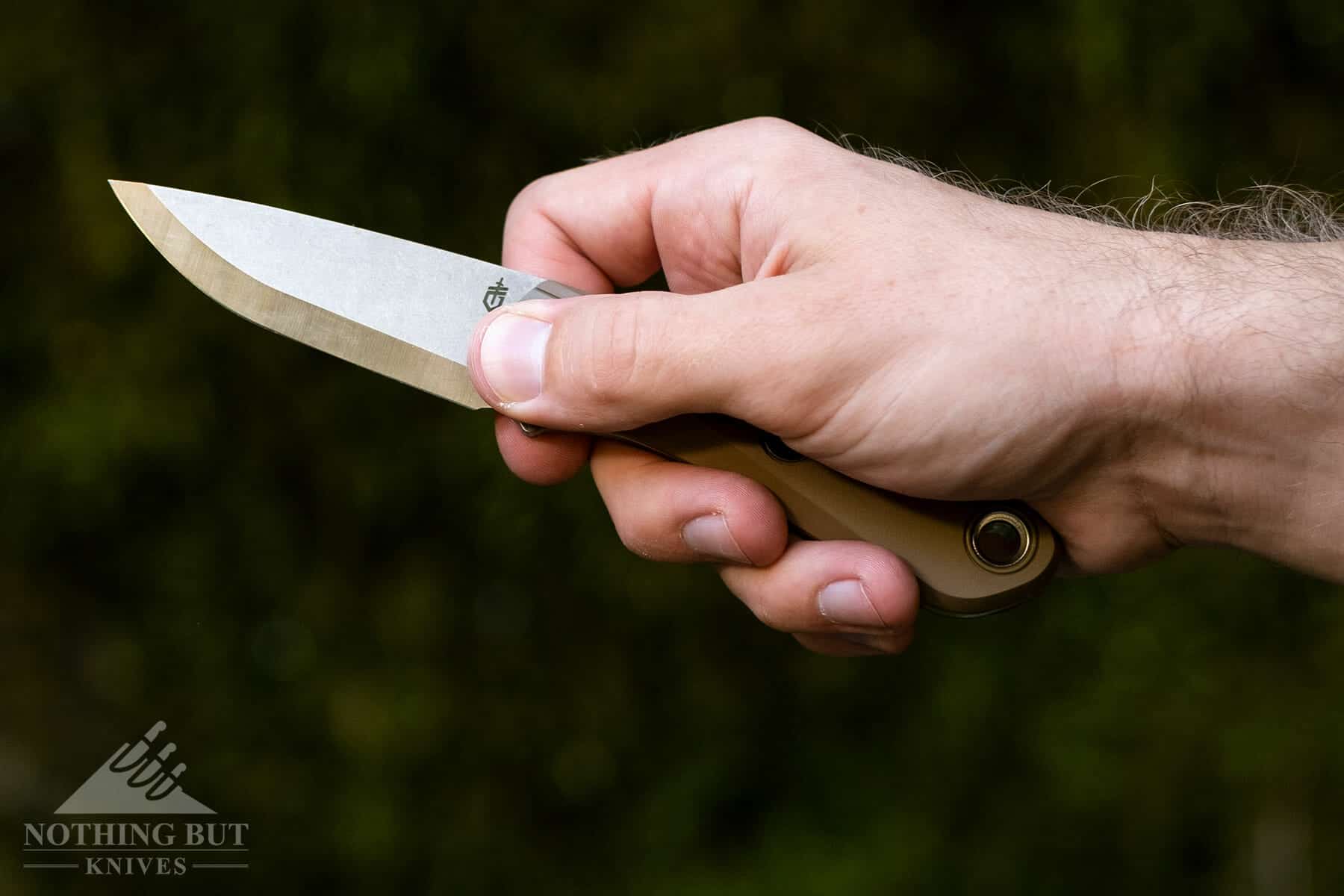 They hit all those points really well. There is no functional way of holding this knife that feels awkward. This is good grippy material with some nice beveling to make it comfortable, and just enough curve and swelling at the bottom to secure the grip. This is definitely one of my favorite handles on a mid-tier knife that I've ever picked up.
My one criticism is that it doesn't take well to getting hit with a big log, which isn't so much a criticism of the handle as it is my own methods of testing.
Rubber Scales and Collateral Damage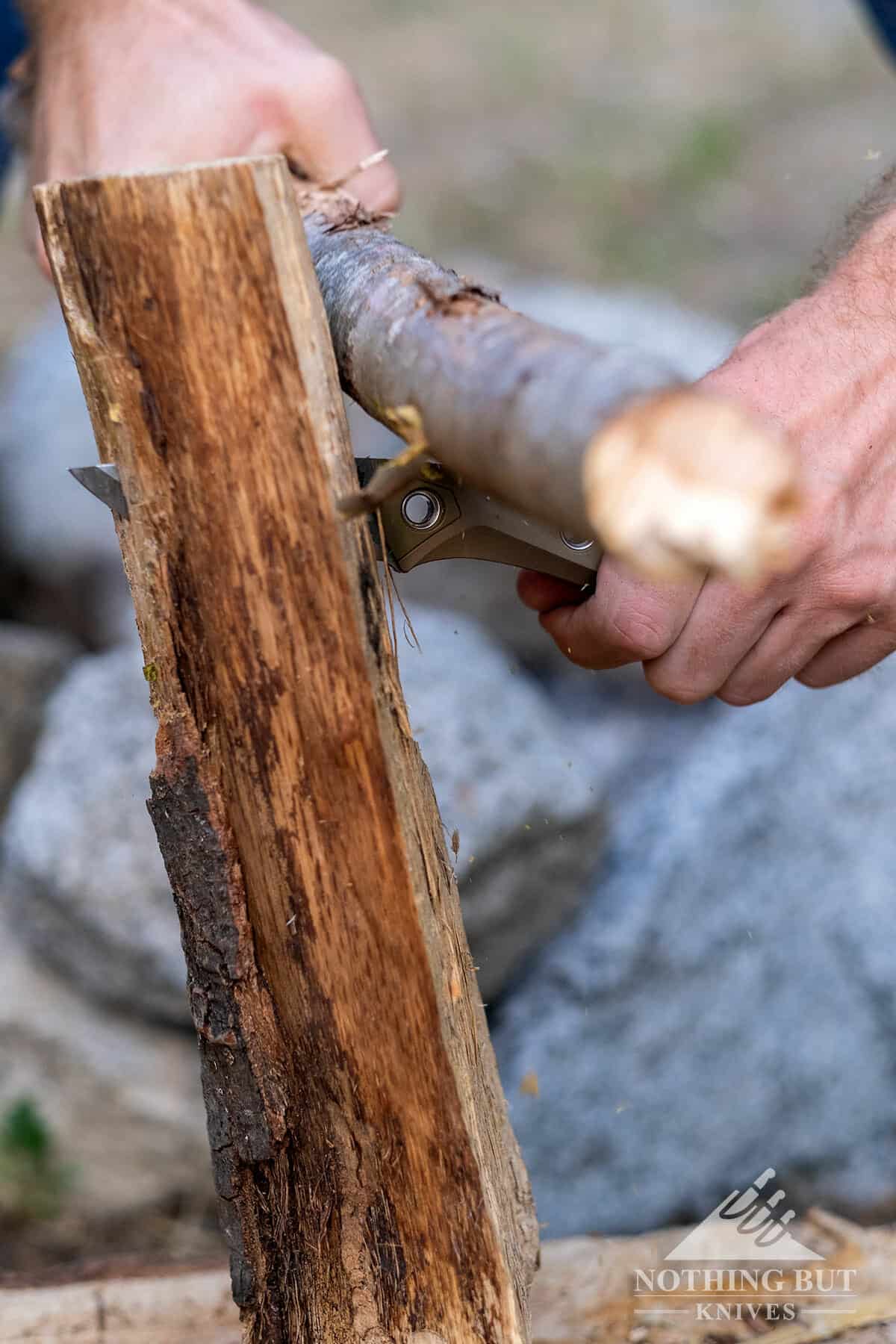 It took a day of heavy, ill-advised batoning for the edges of the rubber scales to start showing signs of wear. That wasn't really a surprise. We set out to see how much damage the Principle could take.
One good thing about the rubber getting torn up is it drew my attention to the layers of construction in this knife. If you look close, you can see that the plastic of the bolster, which is the material you'll mostly be feeling when you hold this in a precision grip, extends all along the tang to serve as a liner.
All the nice grippy rubber on this handle seems to be attached by a combination of the hollow rivets and some fitted grooves between the plastic and the rubber.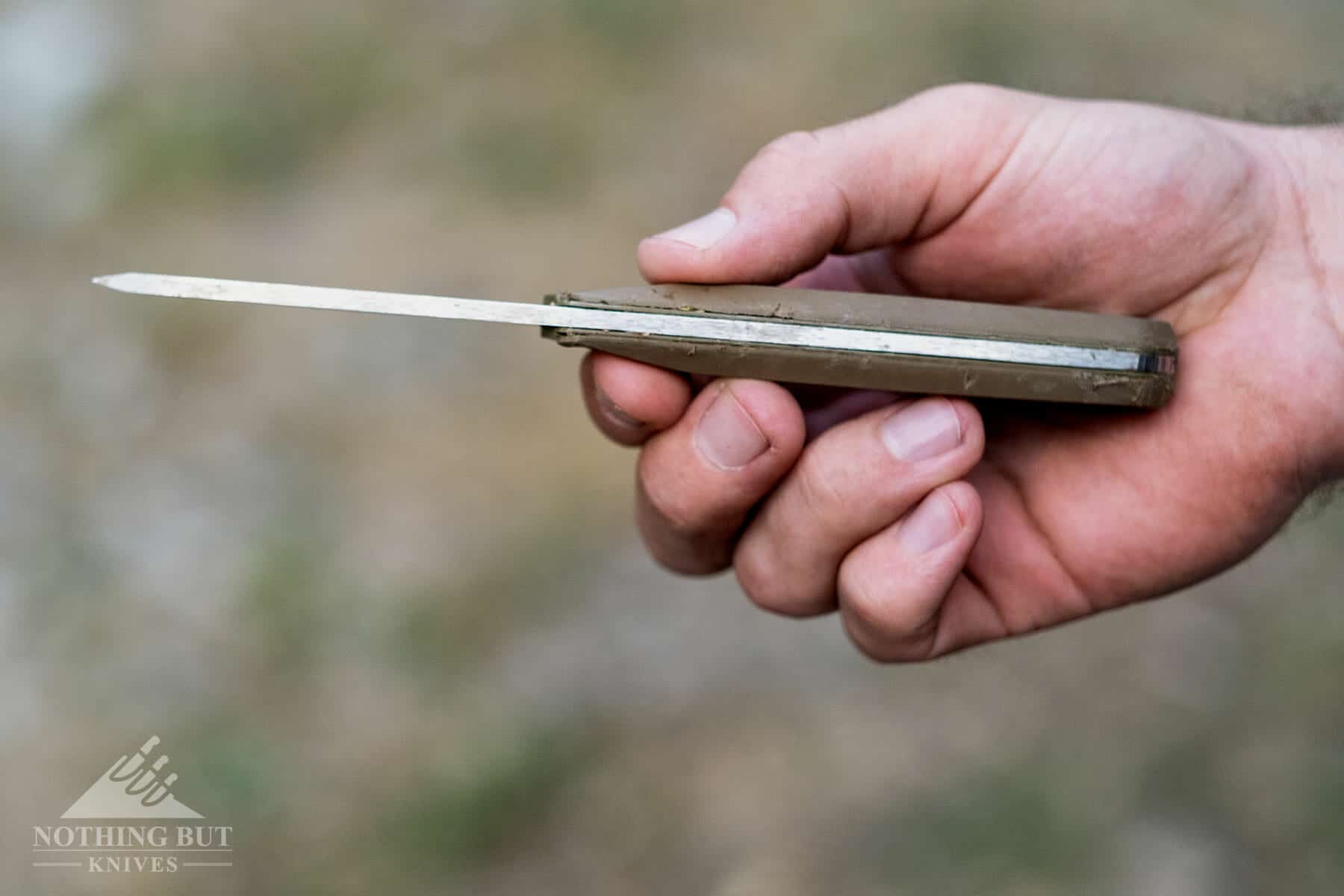 I can't really think of a better way to get all these materials to stick together, but if this knife ends up having a shorter lifespan than other bushcraft knives on the market, this will be the reason why.
Even if I hadn't spent ten minutes smashing this poor thing with a piece of firewood, I think some sections of the rubber would start peeling anyway. They've left very thin corners near the top that just don't have a lot of support. One way or another, if you use this knife a lot, you're probably going to lose a little bit of handle.
I'd like to see that plastic bolster extend all the way across the top of the handle to eliminate those thin rubber corners. It could also use a bit of texturing on the top part where you would hold it in a pinch grip. I'm willing to put up with whatever polymer they use for this part, but it is a little slippery and a little bit of texturing would go a long way to securing the grip.
The Blade and Edge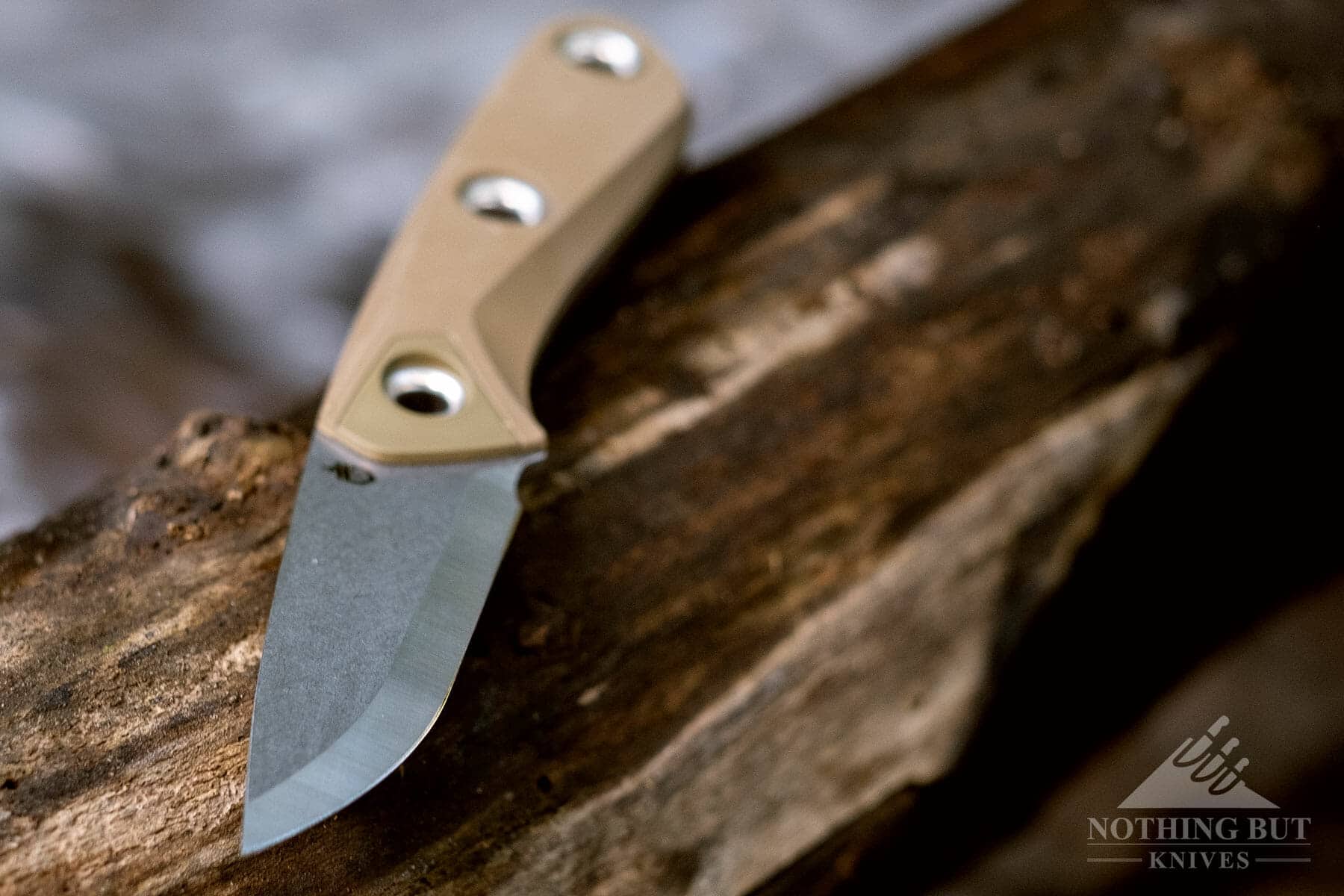 This scandi grind does a lot of work. It feather sticks pretty well, and it batons well enough. Although it's held back by its size somewhat on that front. It is never fun to baton a full or even half log with a three inch blade. But you can also get some great sparks off the ferro rod with the 90 degree spine, so this is a great firestarter.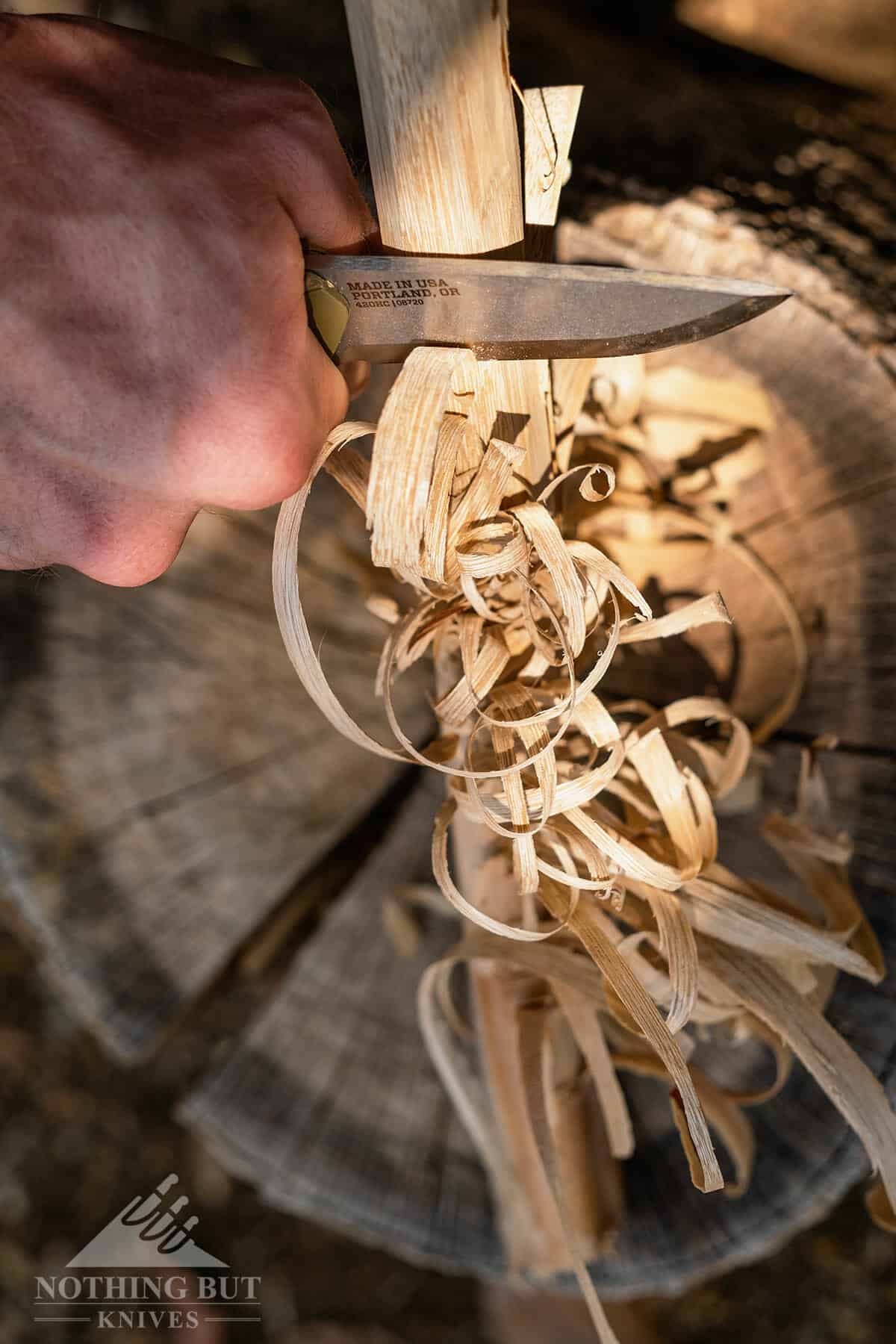 Toughness is really the biggest virtue of this blade, though. I beat all hell from this thing trying to punch it through the indestructible wood we picked up for testing, and the part that suffered the most was the rubber handle.
Cheap Steel, Good Construction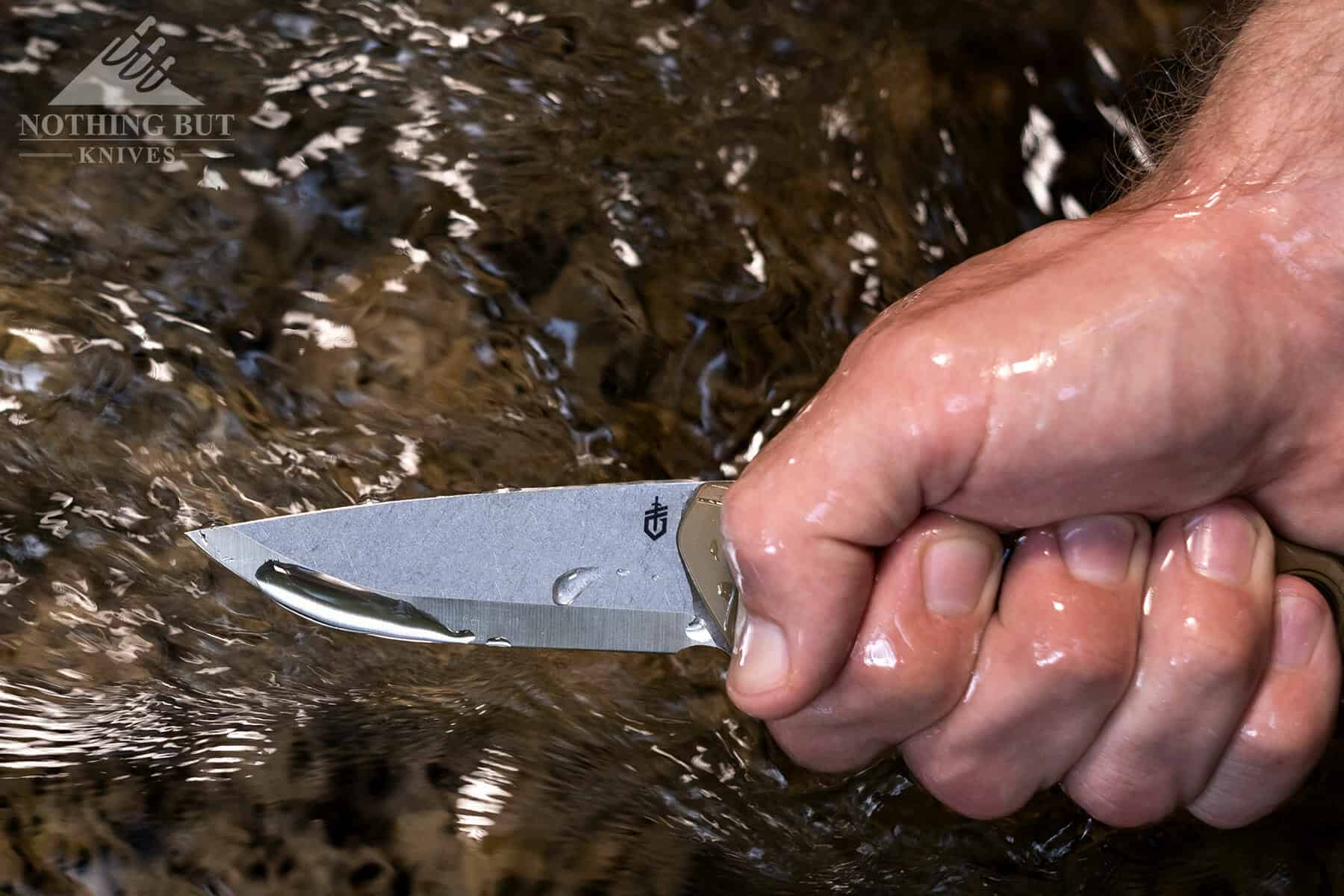 I was all ready to lecture Gerber about putting 420HC steel on such a great design. That kind of material might be good enough for their prybar Ghostrike design, or for the Selkirk when it's been treated by Buck, but this knife needs to slice and chop and come away ready for a second round.
I've been humbled somewhat in that intention.
I forgot to do a paper test before we beat the hell out of the knife, so I don't know what the factory edge is like. But I did one afterwards without fixing up the edge at all and it did surprisingly well. Well enough that I didn't actually feel like I had to strop or hone the blade. There were no knicks or rolls in the edge. At least, not enough to interfere much with cutting performance. The thing was still pretty consistently sharp along the whole edge.
So the steel snobs can say whatever they want about 420HC. Clearly Gerber has nailed the edge geometry on this thing. And they've done it on a thick blade stock so it manages to be as slicey as it needs to be while also being able to handle a lot of impact.
A Good Example of Why we Don't Need Supersteels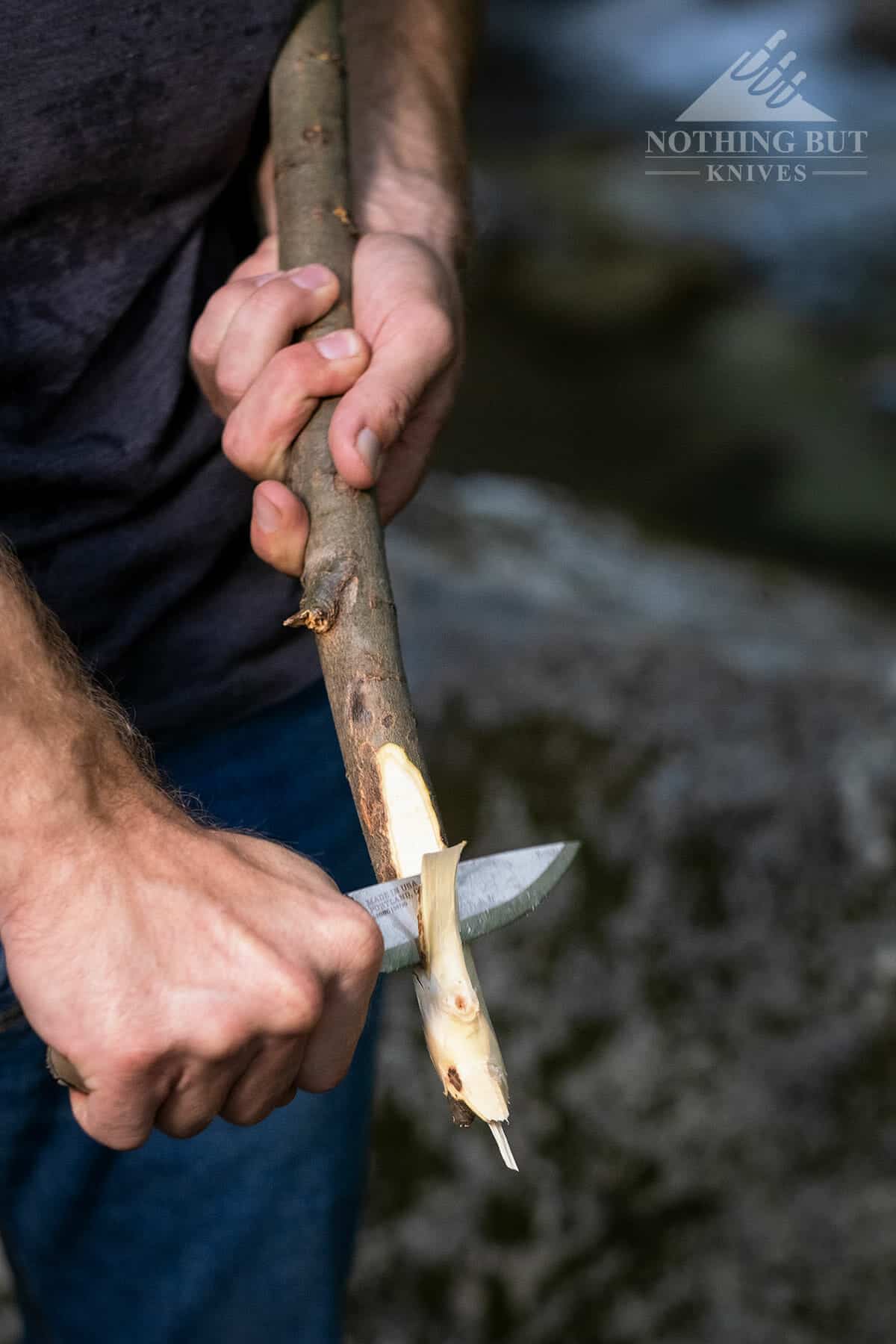 This is heartening to see for a lot of reasons. Mainly, Gerber has found a way to put low-cost material together with good craftsmanship to bring us a $60 knife that performs better than some $120 knives.
But it also drives the point home that a well done grind and heat treatment are a lot more important than the steel. In an industry where expensive super steels keep finding their ways into mediocre designs with dubious outcomes and increasingly prohibitive price tags, it's refreshing to see a focus on the execution over the materials.
That's not to say I don't want to see Gerber make a version with 154CM, or 1095, or D2, or even S30V. But that's not because I think those steels would actually make the design better (anymore), I'm just a stupid knife nerd who likes to see companies ruin perfectly good designs with different steels.
2021 Update: Gerber has released a larger version of this knife with S30V steel called the Terracraft. I haven't used that personally, but it does look like it has a couple changes that potentially answer some of my problems with the Terracraft.
The Great Sheath that's Almost Too Clever for its Own Good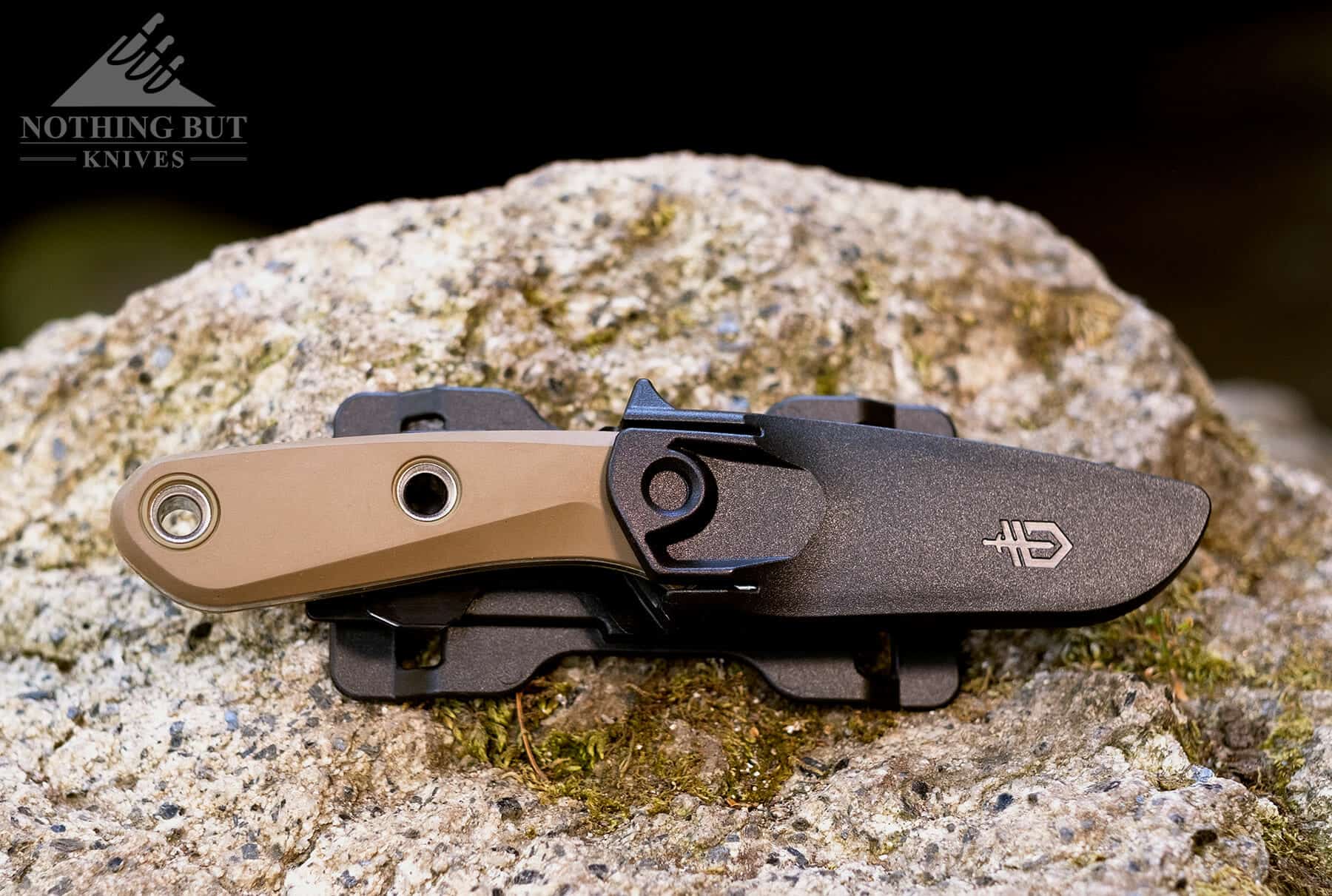 Why the hell don't more companies make sheaths like this?
I've never used a more adaptable carry system except for maybe the Ghostrike, which, no surprise, is also a Gerber design. The Principle's sheath can switch between vertical or horizontal carry easily, or you can leave the attachments off altogether and just strap it to a MOLLE bag.
It does have a couple of problems for me, though. The first being that the whole thing is plastic. I haven't had any breaking problems yet, but it feels like material that's going to dry out and crack eventually. Time will tell, of course, but I don't hold out a lot of hope that all the tabs and slots on this thing will hold up over decades.
The Clever Tab Design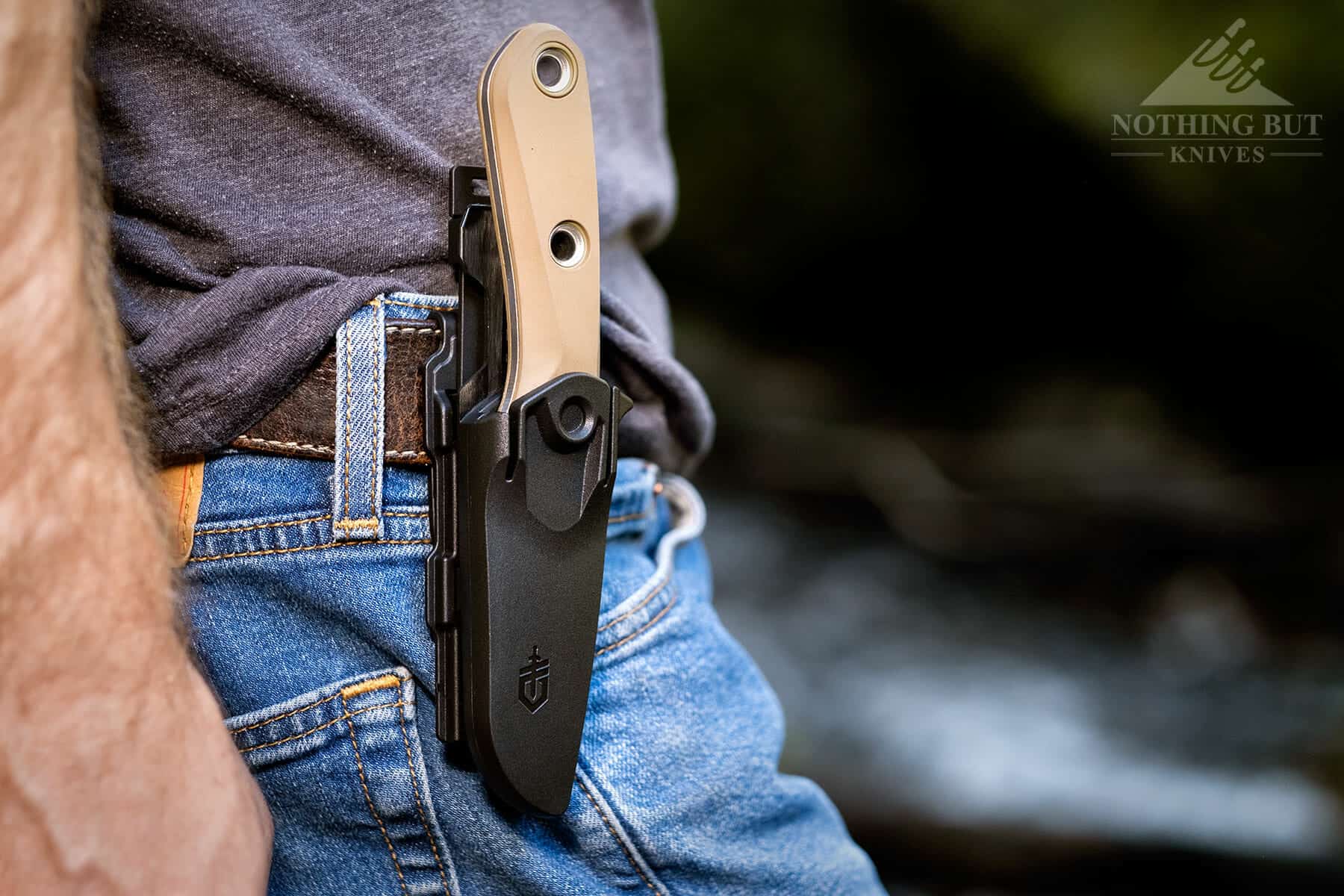 The whole system uses a long plastic tab that runs through the slots on the back of the sheath. It comes with a vertical and a horizontal plate made to be placed over those slots and locked in place with the tab.
This is a pretty ingenious design that actually works well in practice. When we go out and test knives we're always switching them between vertical and horizontal for different pictures, and this is by far the easiest time we've had of it.
There are no tiny screws to deal with, no fidgeting with a tool. You just squeeze the tab and pull, then slip it on whatever you want.
The Right and Left Hand Carry Problem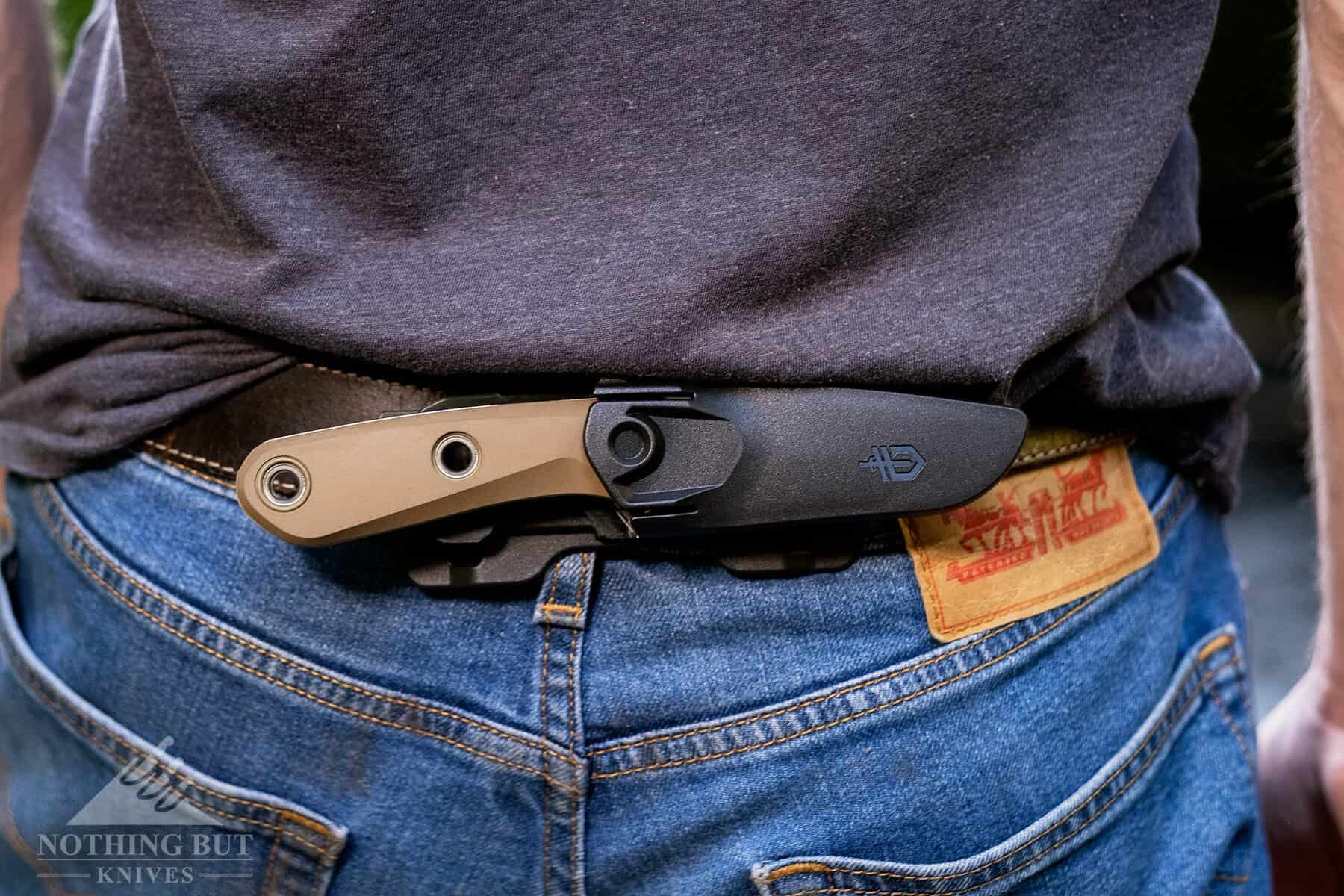 The most pressing issues involve actually deploying the knife and the dominant hand of whoever wants to carry this.
One of the first things I noticed was that once I switch this to horizontal carry and slap it on scout style, it can only really sit with the handle facing to my left. I can flip it around, but that would put it blade up. Not only does that make the thumb ramp completely unusable, it makes the knife as a whole harder and more dangerous to deploy. Meanwhile, if you want to carry this vertically, the thumb ramp is only usable on your right side.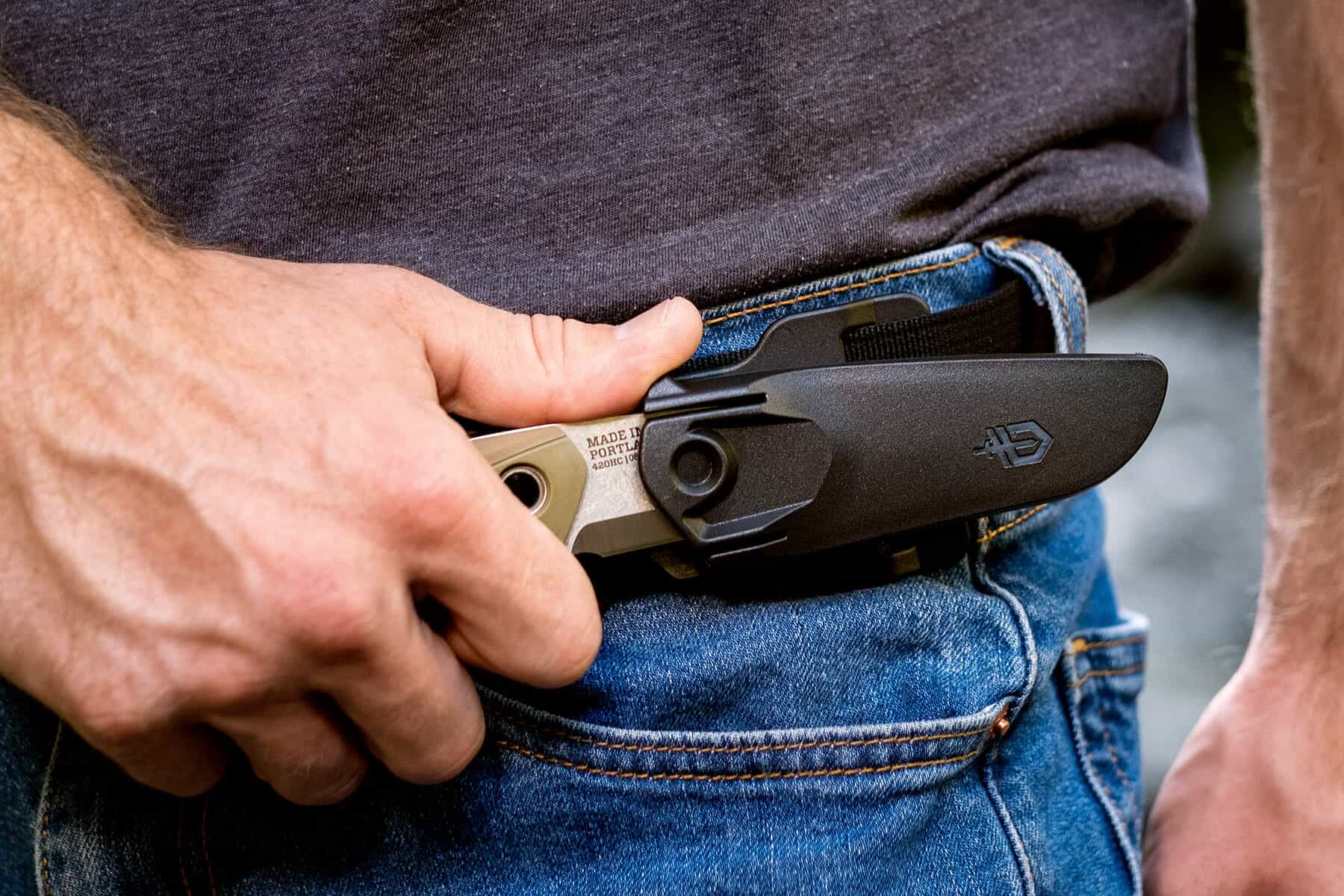 This does work really well as a cross draw if you're right handed, but it seems like Gerber could have done what they did with the Ghostrike and made a sheath that could fit the blade in either direction.
The last real issue is that the vertical carry attachment doesn't leave a lot of handle to grab. This is a problem I encounter with a lot of fixed-blade knives though, so I really can't ride Gerber too hard about it. It's one of those problems that's hard to work around, and I can't say that I have any ideas for fixing it here. It's just annoying is all.
Comparison and Alternatives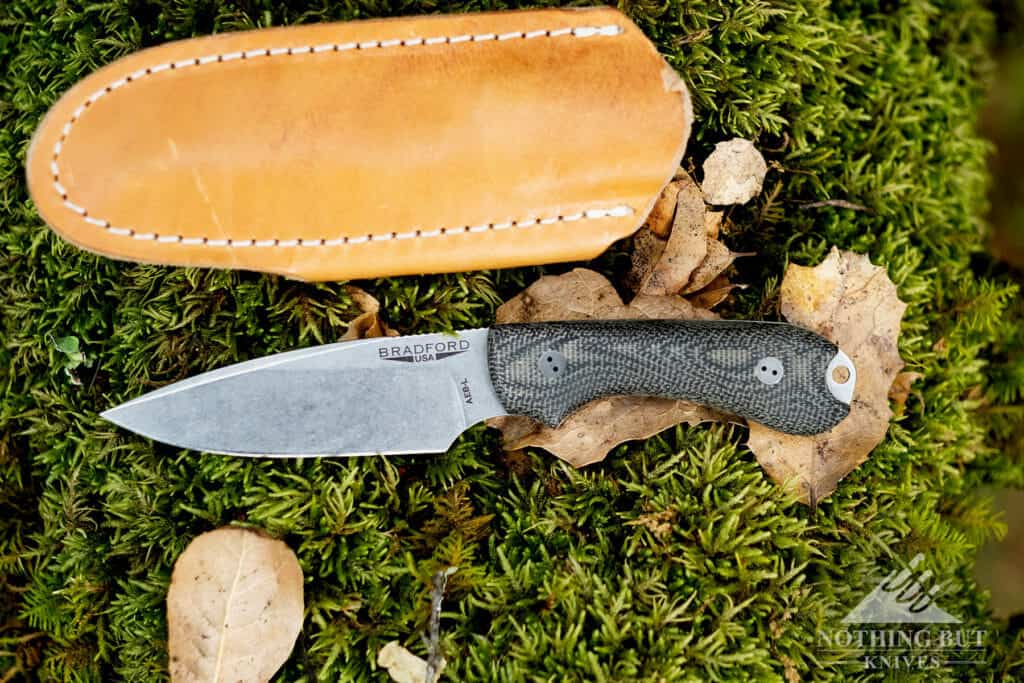 The Principle makes itself highly competitive with that $60 price tag. You can find knives better than it, but a lot of them are at least $40 more expensive, and a lot of them don't perform that much better.
The first thing I thought of was the Bradford Guardian 3. A knife which I love, but is held back by its inability to spark on a ferro rod. Besides that, you have better steel, a nicer (if less versatile) sheath, a handle material with better longevity, and all around more comfortable ergonomics. But it's also double the price of the Principle, so it's really hard to recommend the Guardian over it, as much as I would like to.
You can check out our in depth review of the Bradford Guardian 3 if you are trying to decide if it is worth the extra money.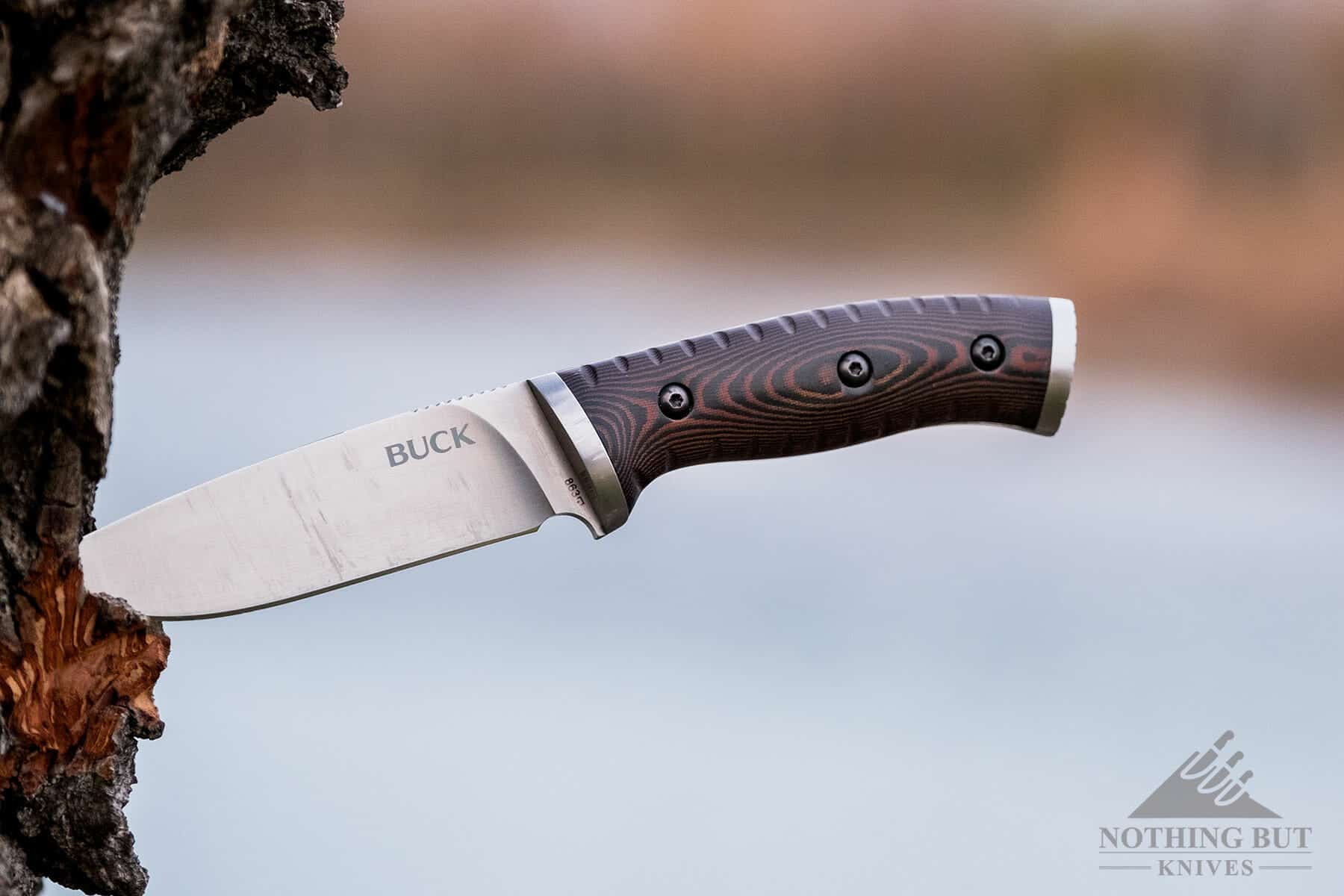 The Buck Selkirk is always our standard when we're talking about bushcraft and camping knives. It's a fair bit bigger than the principle, but it has the same steel, a sheath that's almost as versatile, and about the same price point. The handle is going to last a lot longer, and it's pretty comfortable, but nowhere near as grippy. Also the Selkirk is still made overseas, so this is actually a tricky one. It comes down to this: Do you want a longer thin blade with a flat grind, or a shorter, thick blade with a scandi grind?
I'm still a little partial to the Selkirk, but the Principle makes a strong argument for itself. Check out our Buck Selkirk review if you want to learn more about this knife.
I'm going on second hand knowledge with The Mora Companion HD, but it might be the one alternative that could beat the Principle in both function and price. The blade's a little longer, but besides that you have basically the same make up: The Companion HD has tough steel in a scandi grind with a grippy handle material.
A couple smaller differences that might come up are that the Mora doesn't have a sharpening choil, and it might not be as comfortable to hold in a pinch grip. And of course there's the sheath. The Principle carries vertical, horizontal, and on MOLLE straps while you're pretty much down to throwing the Mora in your pocket or bag unless you get some add-ons.
Conclusion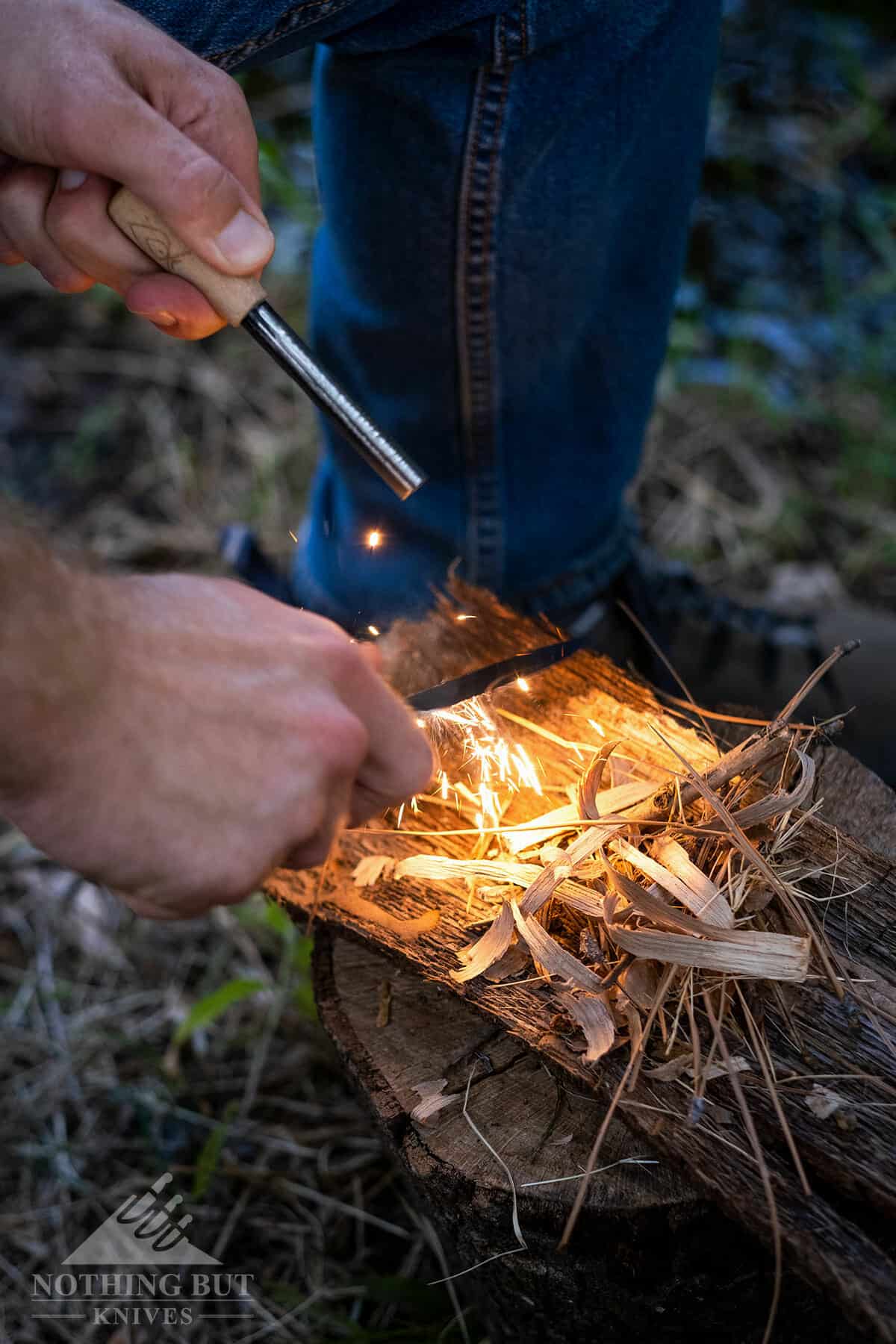 This is an absolutely fantastic design that just needs a few small tweaks to make it a dynasty knife.
If they did something about those little rubber corners that are so prone to peeling off, it would go a long way to making this the best bushcraft and hunting option to come out this year.
I'd also like to see them rework the sheath so we can scout carry this thing right handed. Besides those two things, it's hard to find any legitimate fault in the Principle. It's comfortable, it carries easy, and carves, cuts, and sparks like a dream. Plus the combination of steel and grind is pretty close to a goldilocks zone of toughness and edge retention for a hard-use knife.
Obviously I would like to see the $100 version of this knife with Micarta scales and maybe 154CM steel, but that's just greedy dreaming. This is easily the best fixed-blade to come out of Gerber in the last couple of years.