This is a Decent Survival Knife that Tries Too Hard to Look Good
I've wanted a Boker Arbolito knife for a while. From afar they look like the fashionable version of Condor: they're made in South America but owned by reputable German companies based in Solingen, they have a polished if old-fashioned aesthetic, and their designs are all survival-centric.
It hits all my favorite points of looking cool and being fun to play with. My expectations may have been a bit too high on this one, though. I'm a little disappointed with the overall quality and performance of the knife as it didn't come with a very sharp edge, and there are a lot of painful ergonomic issues.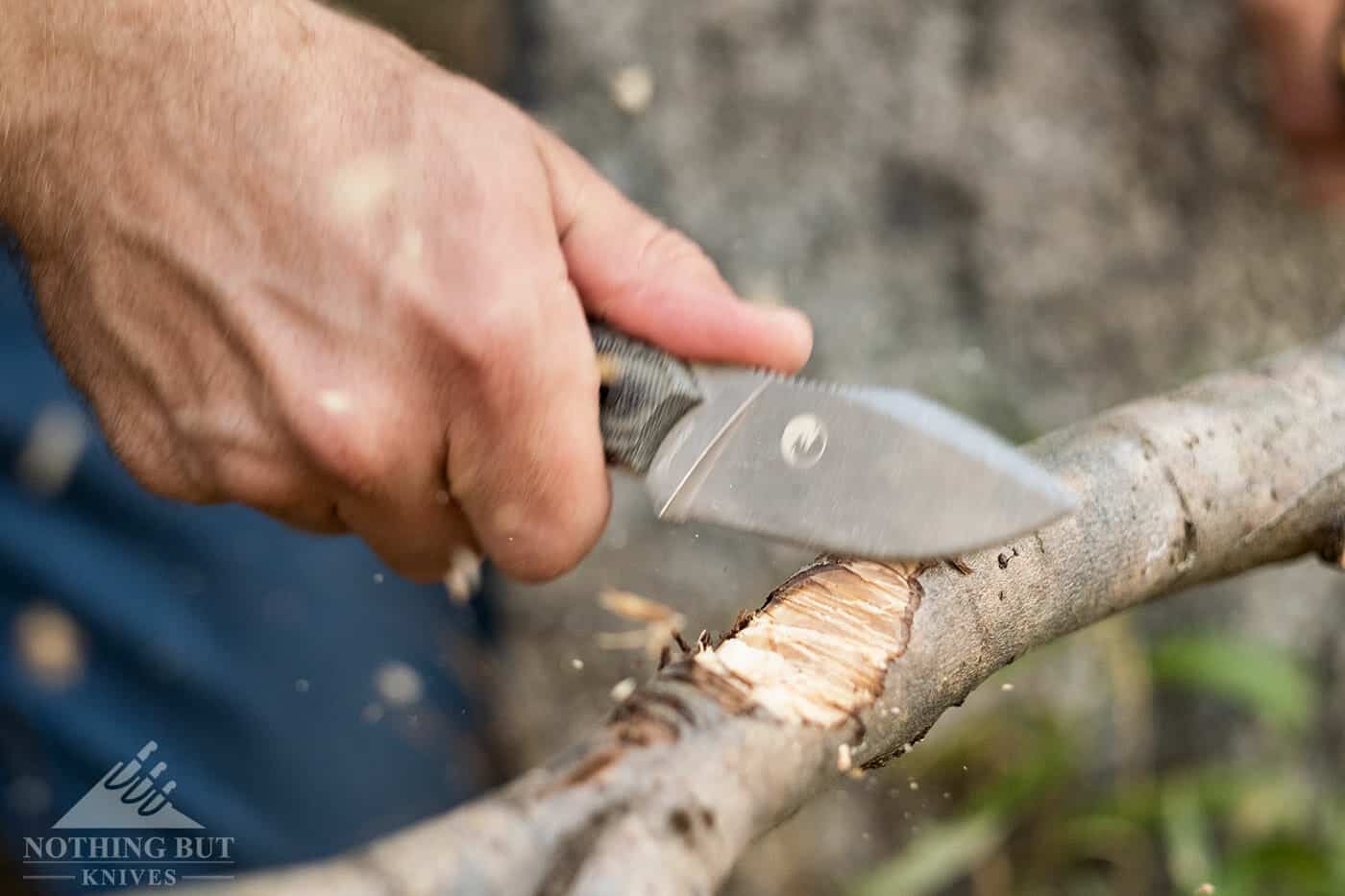 To be clear, El Heroe performs well. It's tough and mostly comfortable, and you can get it to do some bushcraft chores fairly well. But I saw it as good competition to the Bradford Guardian 3, especially since the designer, Peter Farkas, seems to specialize in making small bushcraft knives. It actually ended up being like the Guardian 3's ugly cousin: not as clean cutting or good looking, but reliable enough when some brute force is needed.
A lot of its problems come from what seems to be a focus on aesthetics. This knife tries harder to look nice than it does to work well. And while it manages to do both of those well enough, there are some aggravating details that could have been worked out if they'd just let the thing get a little bit uglier.
Specifications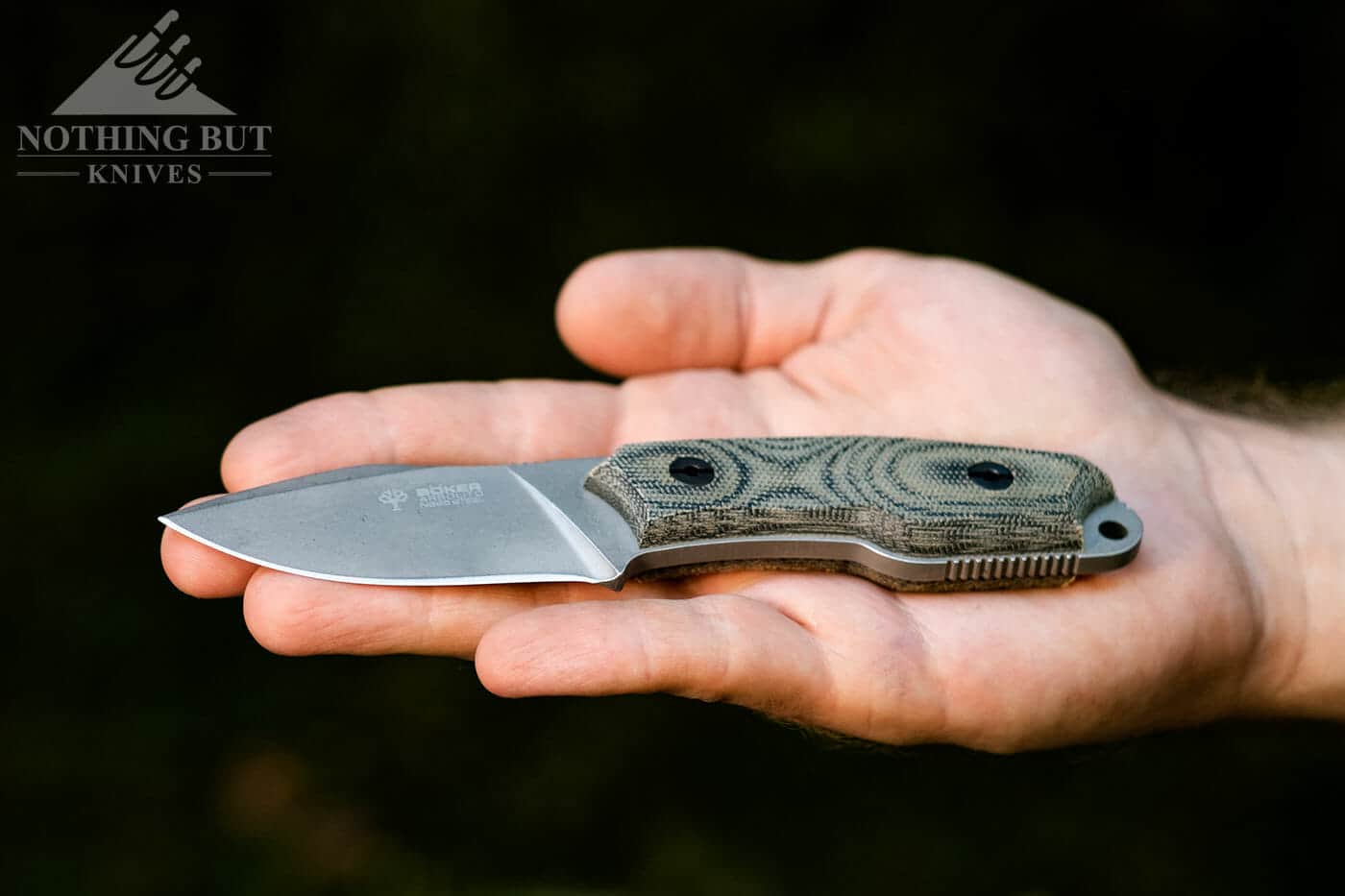 | | |
| --- | --- |
| Overall Length: | 6.0″ |
| Blade Length: | 2.5″ |
| Handle Length: | 3.5″ |
| Blade Steel: | Bohler N695 |
| Blade Grind: | Flat |
| Blade Style: | Drop point |
| Handle Material: | Micarta |
| Knife Weight: | 4.875 oz |
| Weight w/ Sheath: | 7.135 oz |
| Sheath: | Leather |
| Made in: | Argentina |
| Price Range: | $100 – 190 |
Pros
Batons well for its size
Feather sticks well (but it'll be even better after you sharpen it)
Tough and compact
Good steel and handle material
Cons
Weird sheath design
Ergonomics can get painful with hard use
Sub par factory edge
Hard to spark on a ferro rod
The Blade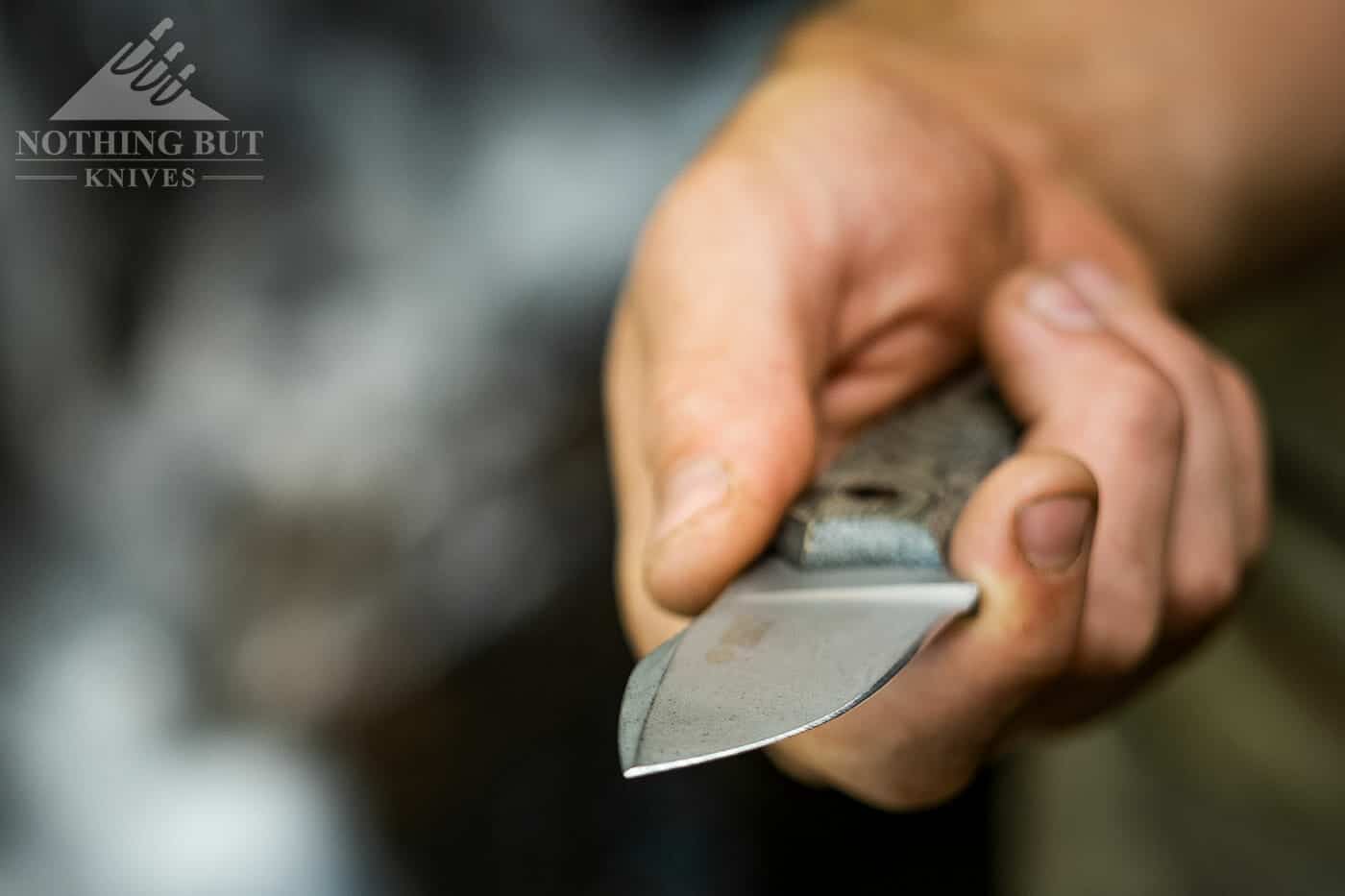 The shape strikes me as a good hunting shape. It has a strong drop point shape that you can use to start your cut and the tip is definitely strong enough to handle separating joints. But you might want to do some of your own sharpening on this before you head out. The factory edge is not exactly spectacular.
But it's incredibly tough, and for such a small knife, it batons surprisingly well. It doesn't have a scandi grind, but it still has a good wedge shape so most of the time if I can get the knife close to halfway down a log it will split enough for me to tear apart.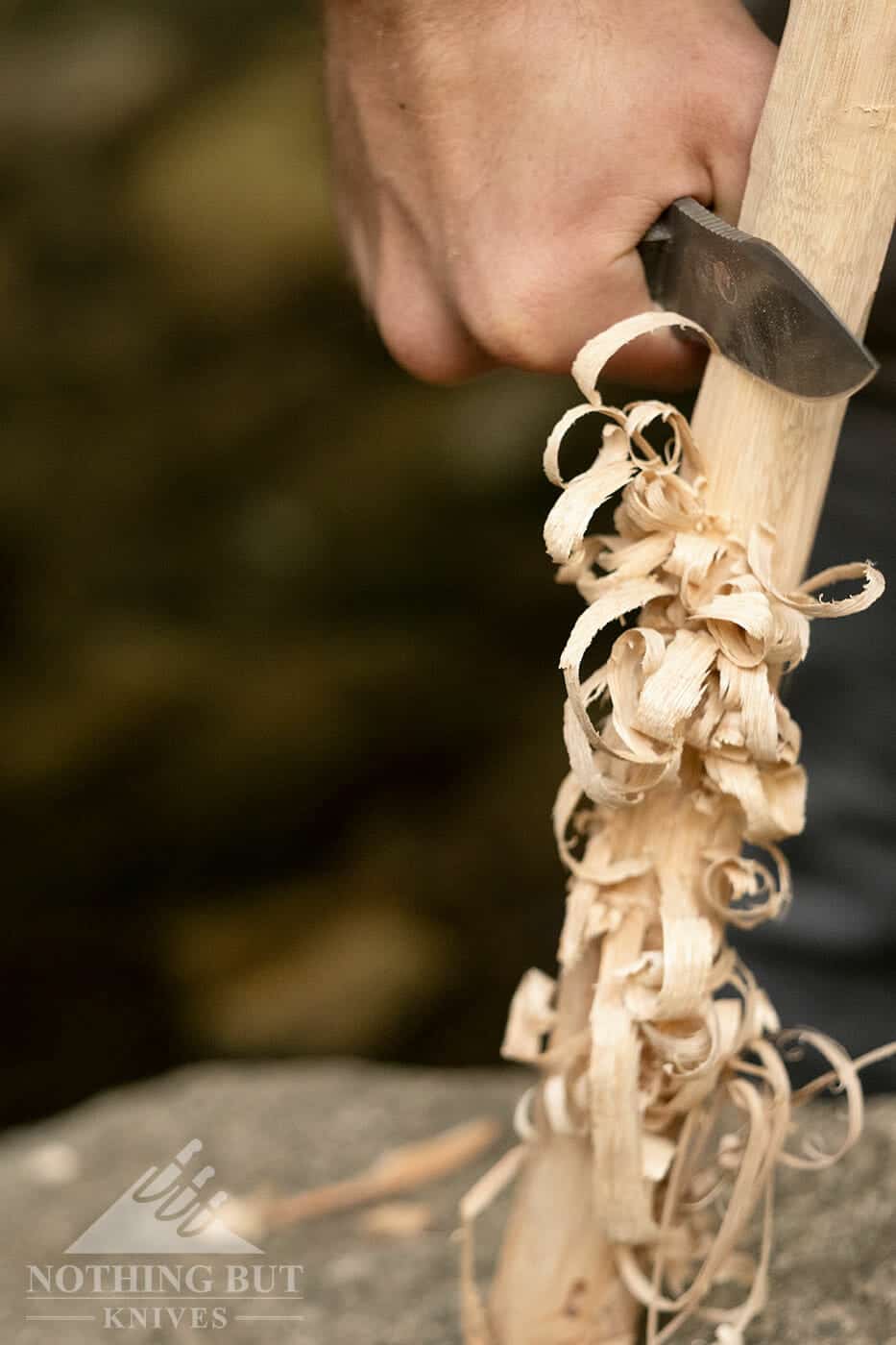 One very frustrating thing about the blade design is that the bolster gets in the way of a follow-through push cut near the bottom of the edge. The line the bolster follows at the bottom makes a sort of sweeping line at an upward angle. This might look cool, but if you're trying to push the blade all the way through something, that line can interrupt the motion of the cut in a really annoying way. You can cut around it, but it really just shouldn't be there.
It's the same with the false edge. It looks cool, but the knife would better if they had just left the upper part of the spine flat so it could throw sparks and provide a good space for the thumb to push down on when you need some extra pressure. As it is, the thing gets kind of painful to feather stick with.
On the topic of feather sticking, though, I was really surprised that it did this well. It's takes some elbow grease, but it makes some great fuzz for starting fires. With a slightly better edge, this knife will be a nice wood carver.
The Sheath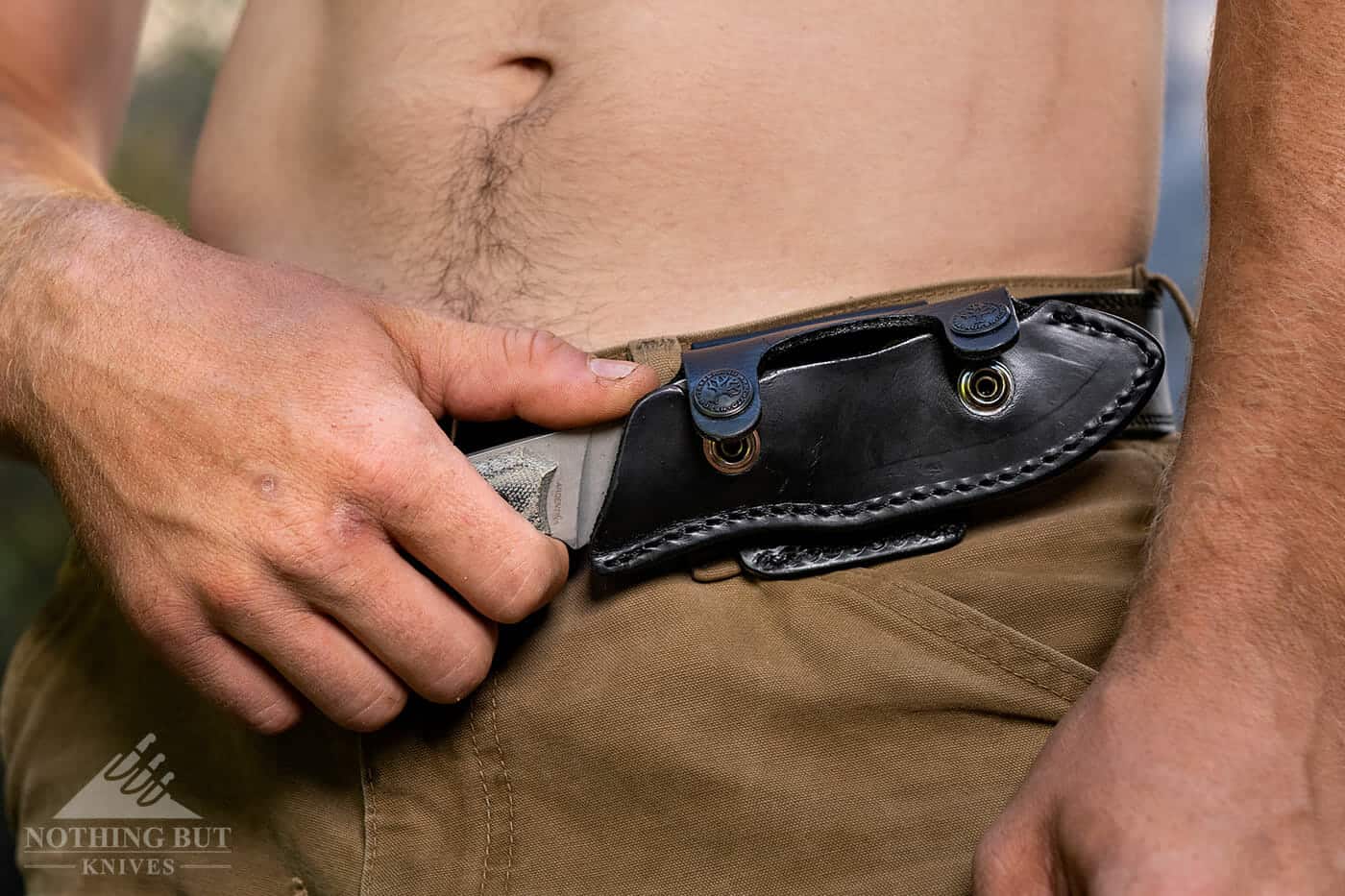 I appreciate the apparent originality of the sheath, but in practice it feels kind of dumb, and some of the stitching started coming out about a week after we tested the knife.
It's possible I've been harder on the sheath than I think I have. We tend to hike through brush, and crawl around on rocks when we go out to test bushcraft knives, so this thing could have easily gotten caught on branches and scraped on sharp rocks without me realizing it. But I don't think that excuses it coming unraveled now.
This is supposed to be a hard use survival knife, so the sheath should be designed to hold up to some tough hiking. It probably needs to be at least double stitched with thicker thread.
But it's not, so now there's a growing corner near the button straps that's come loose. If I keep using the knife without doing something about that I suspect the whole back of the sheath will pull off one day.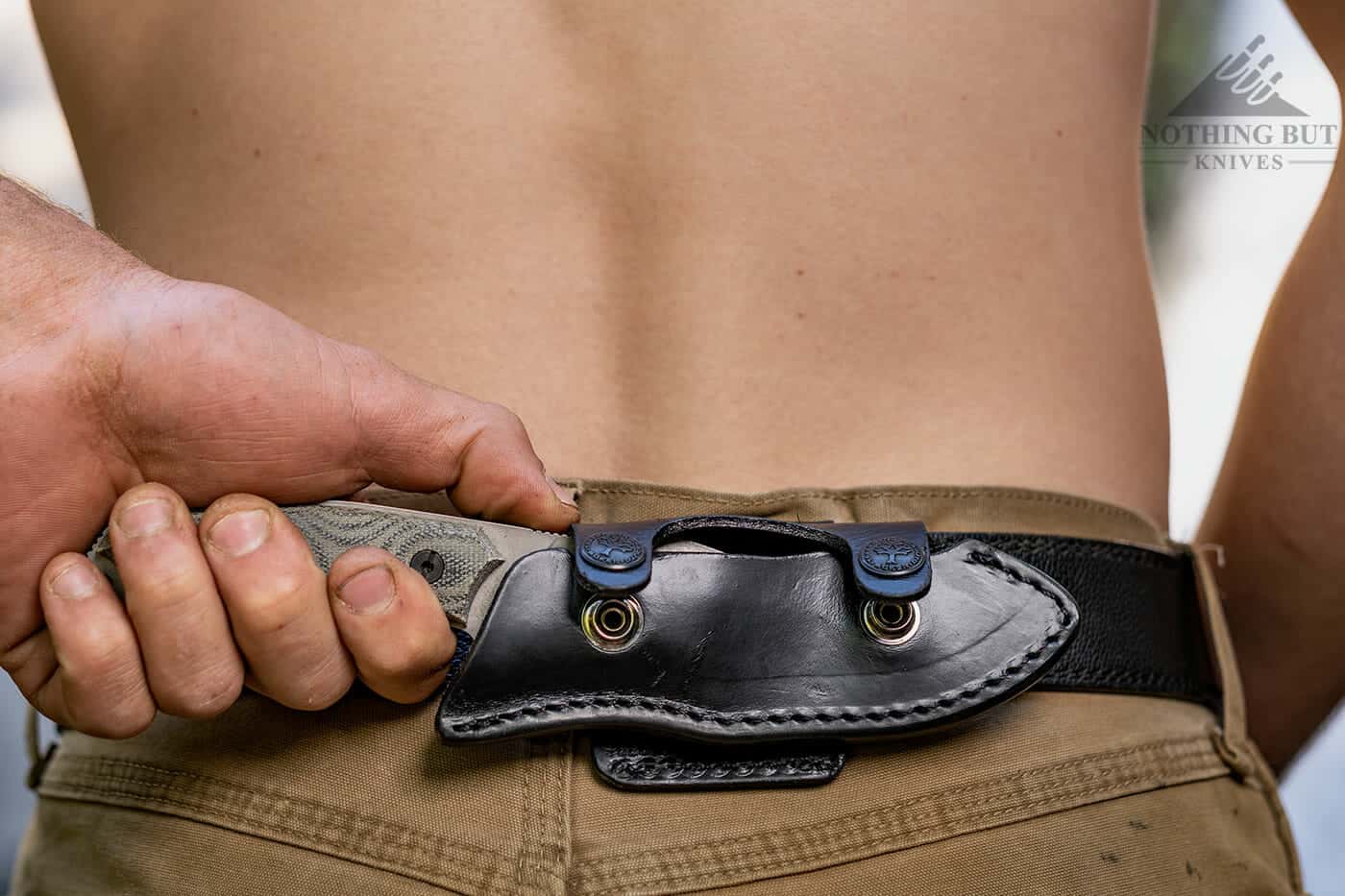 Ignoring that glaring problem, though, the concept of the sheath isn't bad, I'm just not sure I personally like it. It keeps the knife very secure, and it actually feels really comfortable when I'm hiking. I'd feel a lot more comfortable climbing around in trees or boulders with this sheath than most other leather sheaths I've dealt with.
That security comes at a cost of time, though. Deploying this knife is not a one-motion activity, because there are two buttons to undo, and they're pretty strong. And the way the knife comes out of the back of the sheath still feels awkward to me.
If I timed it, it would probably come out to be no more than ten seconds for the knife to go from the sheath and into my hand in a usable state, but that's a lot more time than the one second it takes with almost every other fixed blade knife I own.
That's not to say I would argue with someone who stormed up to me and declared their love for this kind of sheath. The design is doing its job, and if you're never in a hurry with your knife it doesn't pose that much of a problem. And God knows the sheath element of the knife industry can always use some creative solutions, so I'd honestly like to see someone take this design and workshop it into something a little more streamlined.
Ergonomics are Hot and Cold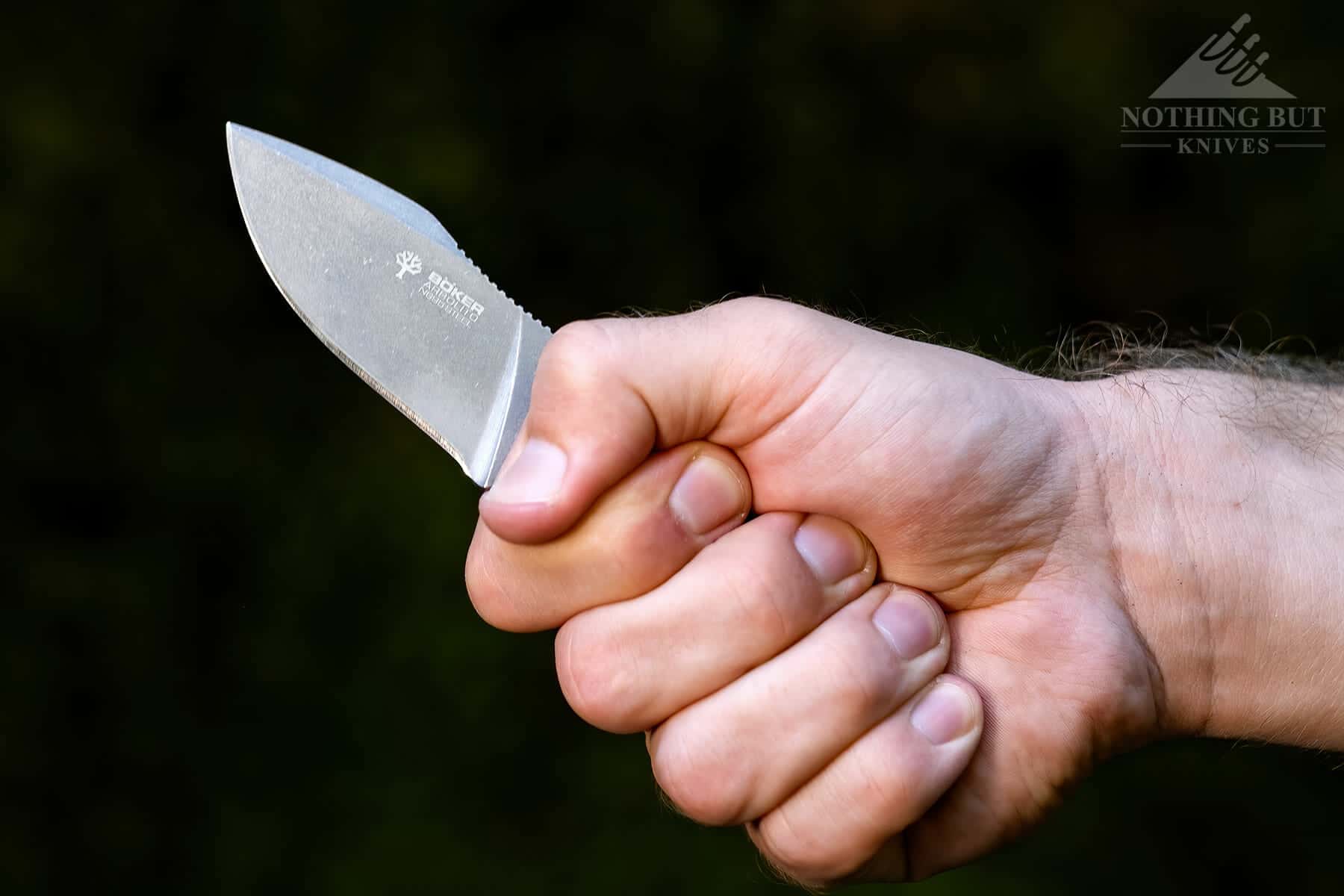 There are some nice similarities to how this and the Guardian 3 fit in your hand. The thumb rests comfortably along the spine, the handle fills the hand pretty well and provides plenty of extra material at the bottom to keep it in the hand when you're swinging.
It's a lot blockier though. For all the smooth jet fighter lines on the blade, the handle has a surprising amount of sharp edges that can become hotspots during a lot of different tasks.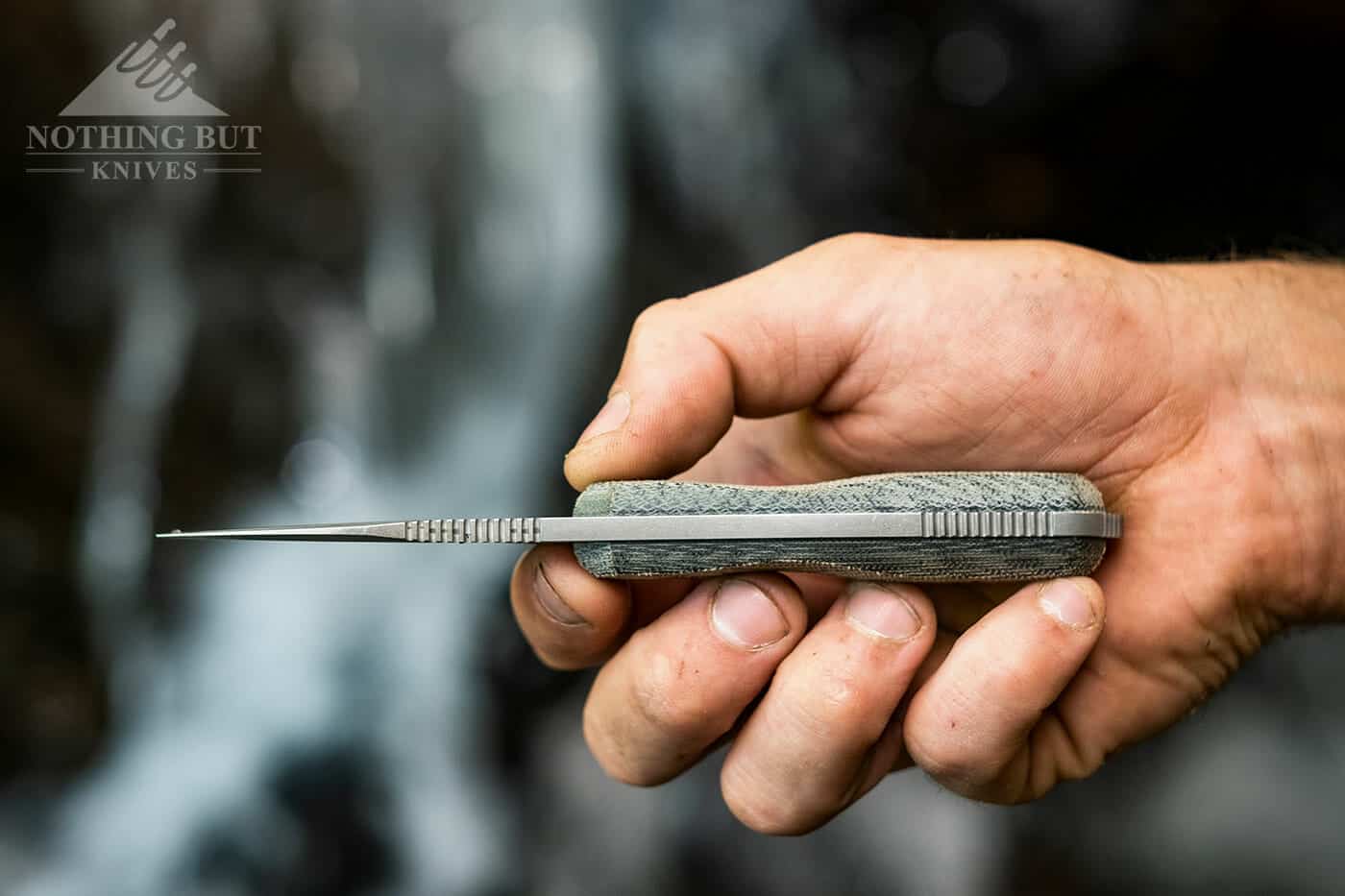 The main culprit of these hotspots is the exposed tang of the handle.
This is a great element when you want to slam the knife around with a stick. And considering the wide spine, Boker clearly meant for this to be abused like that. It makes carving a little uncomfortable, though.
The whole back of the knife tends to dig into my hands while I'm feather sticking, and the proportions of the knife keep that leverage up when I'm using the high part of the blade on a piece of wood. I wish they had at least ground the edges down a bit if not just put on scales that were flush with the spine.
Farkas must have been going for something when he chose this backwards scale-to-tang ratio, but whatever it was, I don't think I get it.
Comparison and Alternatives
It's actually a surprisingly well priced knife considering what it's made out of. Even with the subpar factory edge and poorly stitched sheath, $90 is not at all too much to ask for a Bohler N695 steel blade and a well-made pair of Micarta scales.
That said, I'm partial to the Guardian 3, which is the obvious alternative. The price on most of the Guardian 3 variations is a good $30 higher, but the ergonomics of the sheath and handle and its overall cutting ability justify that price. The only reason you should get Boker's El Heroe is if you want a small beater knife, because as well made as the Guardian is, I've never been comfortable smashing logs into it. Also if you have larger hands, El Heroe might cause a little less strain.
You could also just pick up an ESEE Izula II if looks aren't too big of a concern for you. There's less style involved, but there's also a lot less weight. Where Boker's El Heroe treads the line of style over function, the Izula II is a bullet train to pragmatism.
Conclusion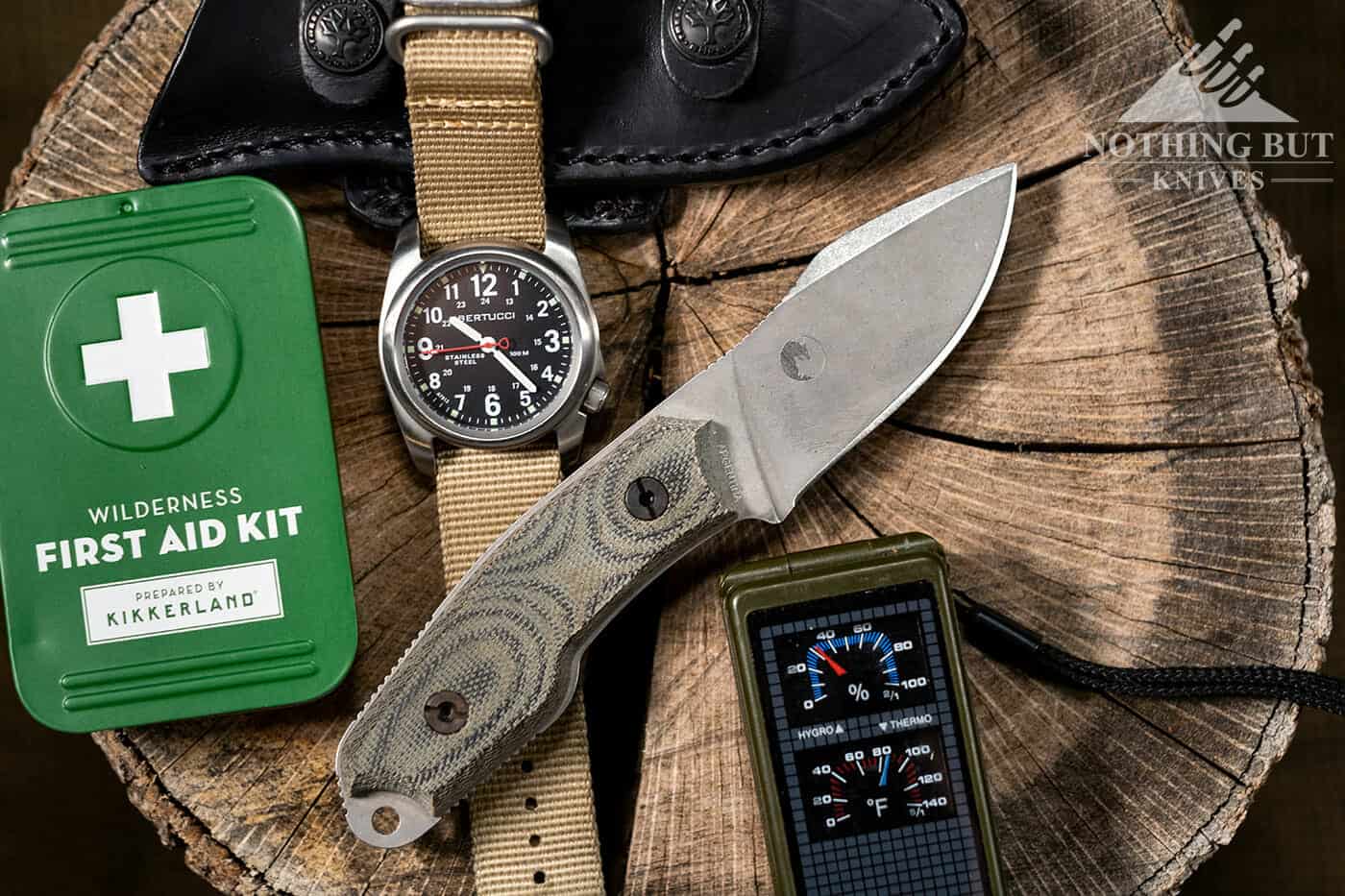 This knife disappointed me at first and then started surprising me, and I don't appreciate that roller coaster. Maybe it's my fault for expecting the thing to show up sharp.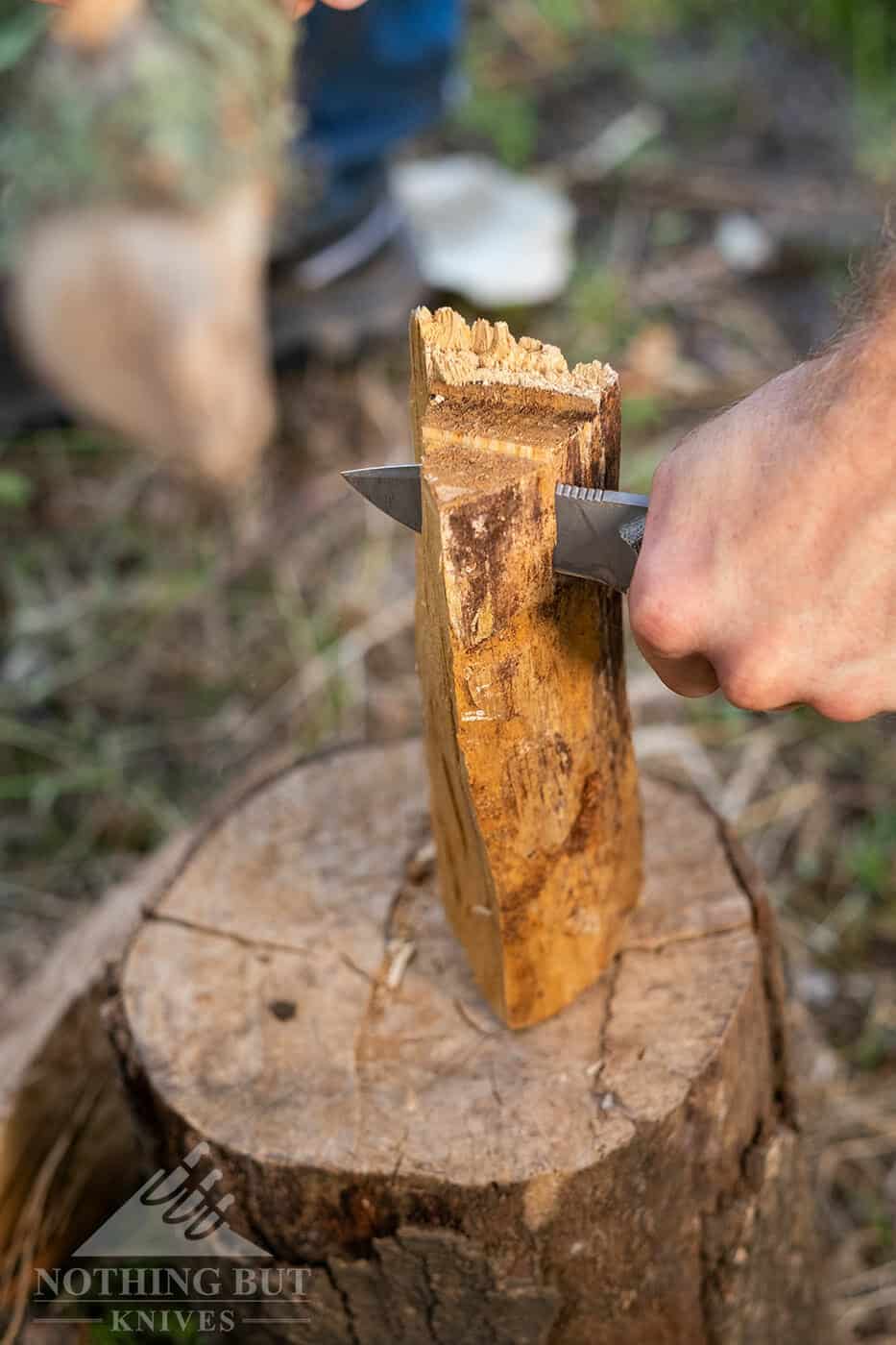 This is a good knife for batoning kindling, and some wood carving once you get it sharpened up. But I have trouble recommending it with this sheath. It's a neat innovation, and you probably won't see anything else like out in the survival knife world. It even works pretty well for carrying the knife on your belt comfortably. It just gets awkward when you need to take the knife out.
I'd be willing to say it's a matter of preference. Maybe some campers out there like carrying a knife like a fanny pack. But with the stitching being so weak I can't tell anyone to get this knife without also suggesting that they immediately start thinking about getting a custom sheath for it.