The Okayest Customizable Camping and Survival Knife
Time has been kind to the ESEE 4. That has a lot to do with ESEE's move to make their knives easy to modify, and offer a dozen different handle, blade, and sheath options for all their designs. The ability to customize an ESEE 4 pushes it from being a $120 pry bar to something that's actually pretty fun to own.
But as long as we're just talking about the original, flat-scaled, 1095 tool steel ESEE 4, there are some problems to be found for a knife in this price range:
If this is supposed to be a survival knife, it's a nice knife with a couple issues and an ambitious price tag. If it's a hunting knife, it's a decent option that needs some DIY touch ups.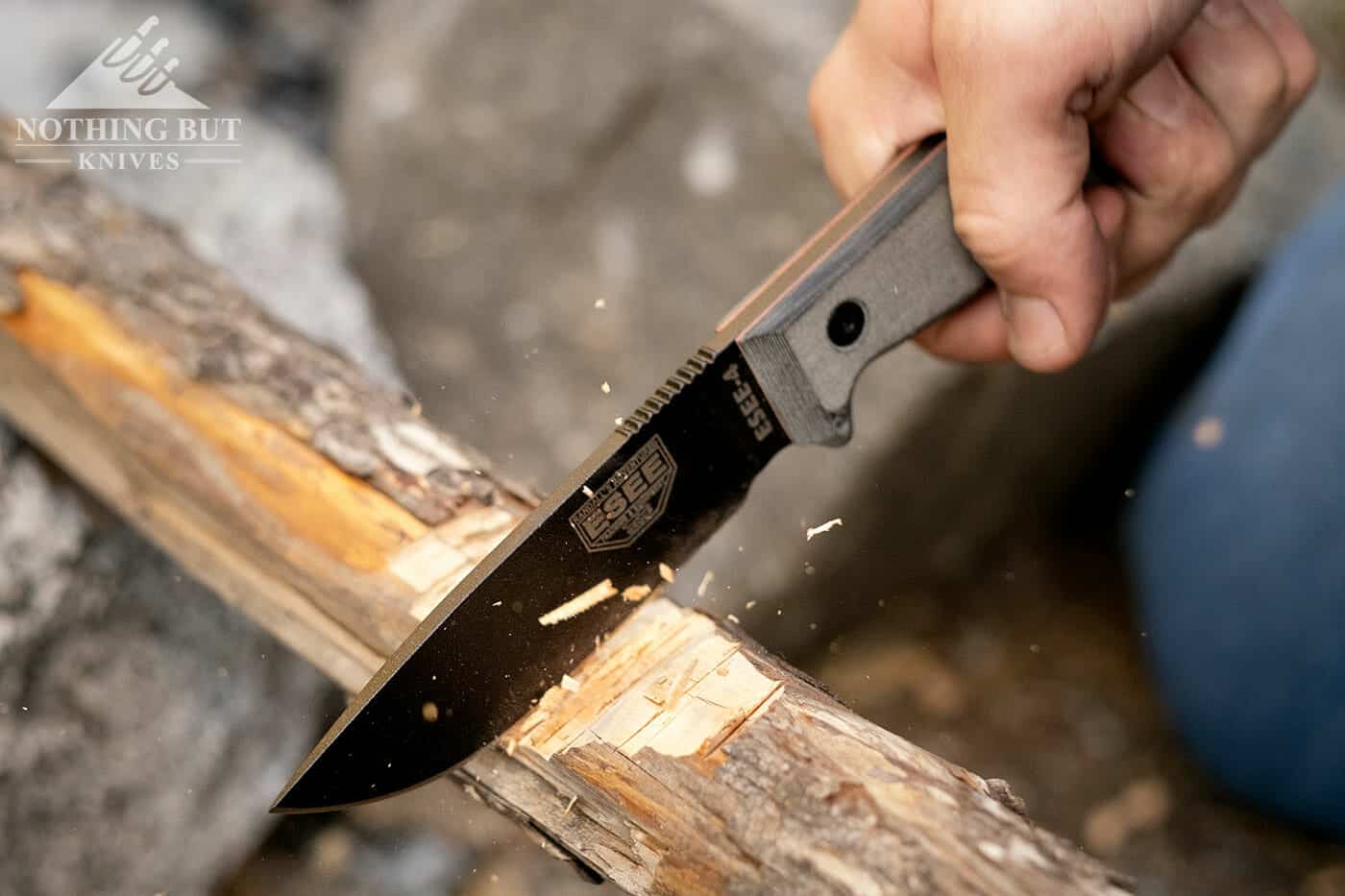 If it's just a beater knife to take out into the wild and smash into the untamed walls of unsuspecting nature, it's pretty good, but you might want to change out the handle.
This is the larger brother of the ESEE 3, which gets carried as a tactical knife and a camping knife, and a step brother of the OKC Rat 3 which is generally carried as a lightweight survival knife. With that in mind I have to give the ESEE 4 credit for managing to be as versatile as it is considering the size and thickness of it. As a larger variation of an already decent knife, it's maybe a couple steps in the wrong direction, but it's still a good knife and I love the company who makes it.
It just doesn't quite justify its price for me.
Specifications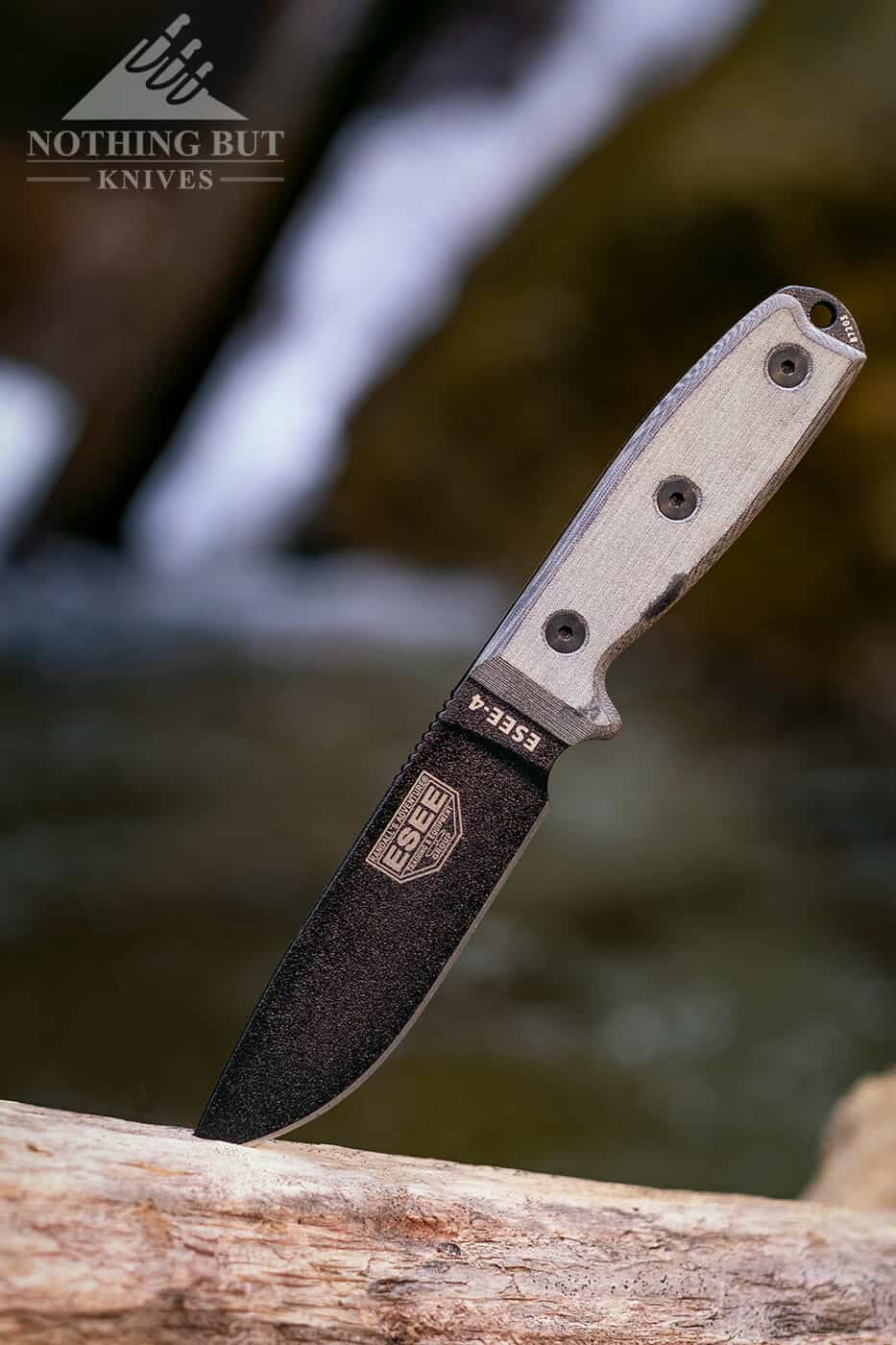 | | |
| --- | --- |
| Overall Length: | 9.0″ |
| Blade Length: | 4.5″ |
| Handle Length: | 4.5″ |
| Blade Steel: | 1095 |
| Blade Grind: | Flat |
| Blade Style: | Drop point |
| Handle Material: | Micarta |
| Knife Weight: | 7.5 oz |
| Weight w/ Sheath: | 12.25 oz |
| Sheath: | Polymer w/ Cordura MOLLE back |
| Made in: | USA |
| Price Range: | $110 – 130 |
Pros
All around tough and good for batoning
Tons of carry options
Great fit and finish
ESEE has a forever warranty on all their knives
Cons
Price point at the high end for a tool steel
Not the best factory edge
Blade coating prevents sparking
Okay at everything, not great at anything
The Idiot Disclosure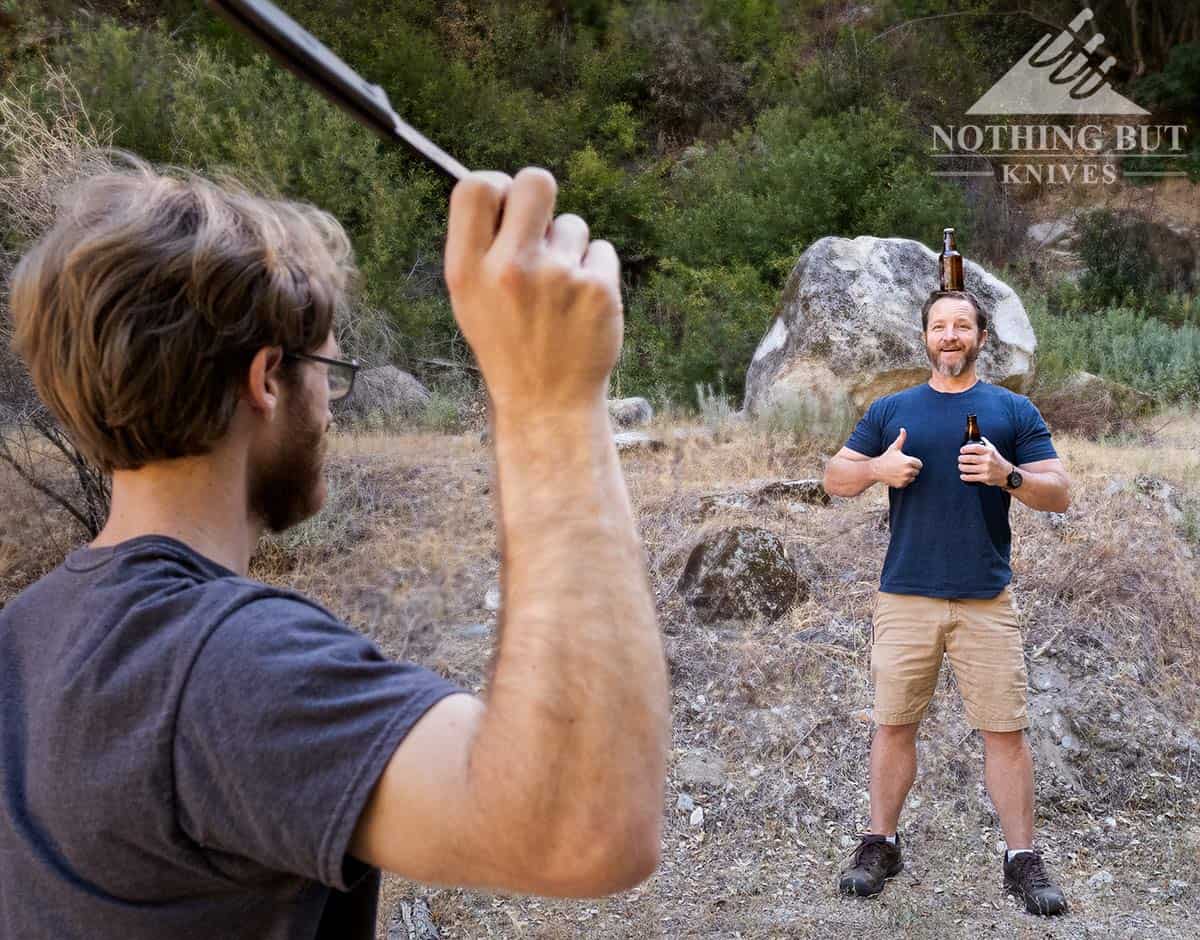 Here's the thing that throws me:
This knife has flaws, but ESEE seems to be aware of those flaws. The fit and finish on this knife are perfect. They clearly have the manufacturing dialed in on their designs. They cook their 1095 steel to around 55 – 57 HRC intentionally. They want it to be soft, and they make their edges wide intentionally.
When the factory edge isn't razor sharp, and the edge retention isn't great, they damn well know it. It's probably unfair of me to say the price is too high for a knife with 1095 steel, because clearly some of that price is represented in the overall skill that went into executing the knife design.
So knowing all that, and knowing that the people who design these knives spend a lot more time in the wilderness than I do, I have to assume I'm not using this knife to its full extent. I go camping and bust open a lot of wood. Jeff Randall lives in jungles for weeks at a time.
I'm about to criticize the hell out of this knife, but I have to do it recognizing that there's maybe something I'm not getting here.
The Blade and Overall Performance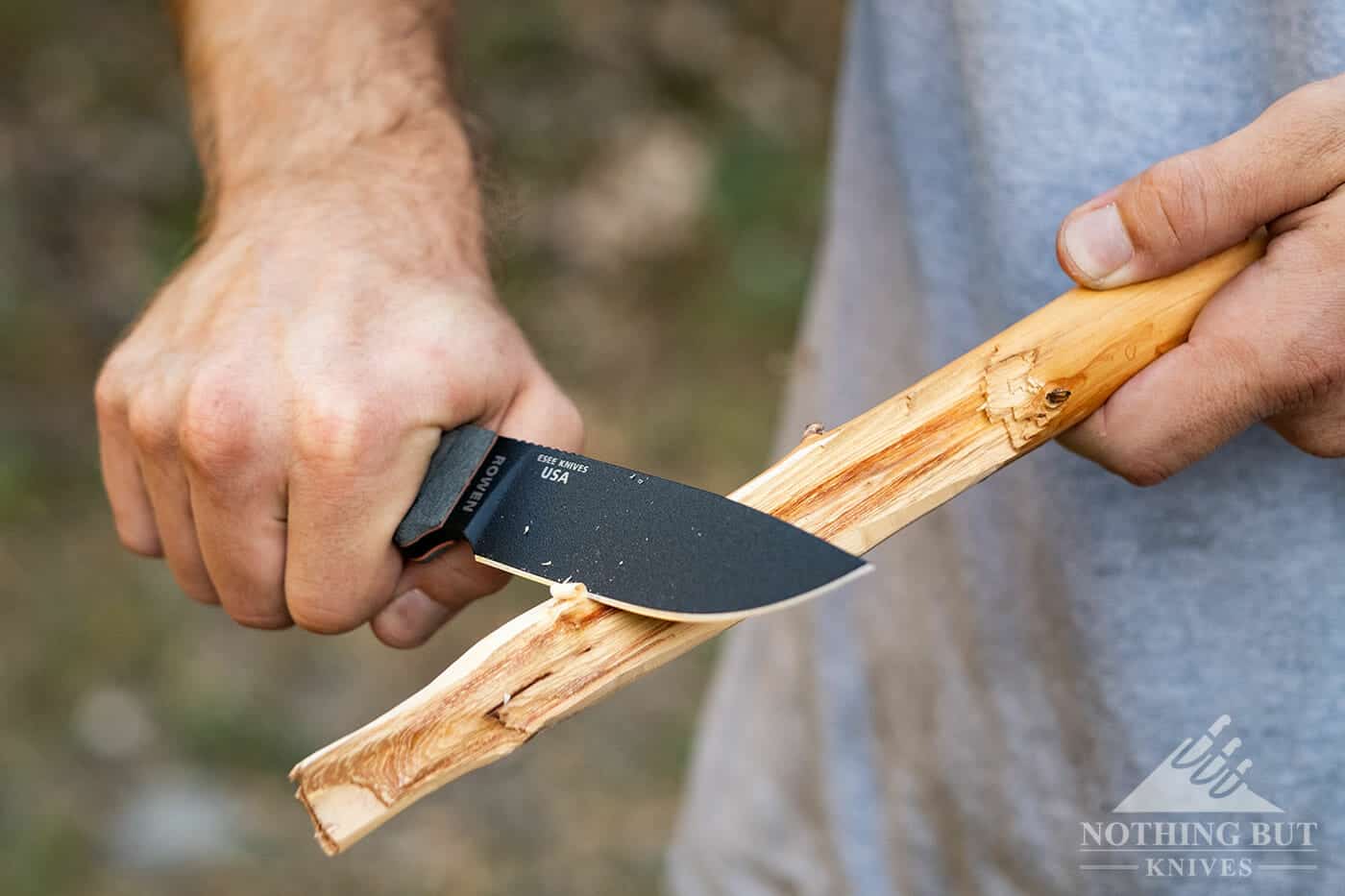 It's tough. That's the reigning quality. That and it's soft enough to sharpen in the field.
There are just a couple problems.
It Has Durability at the Cost of Slicing Ability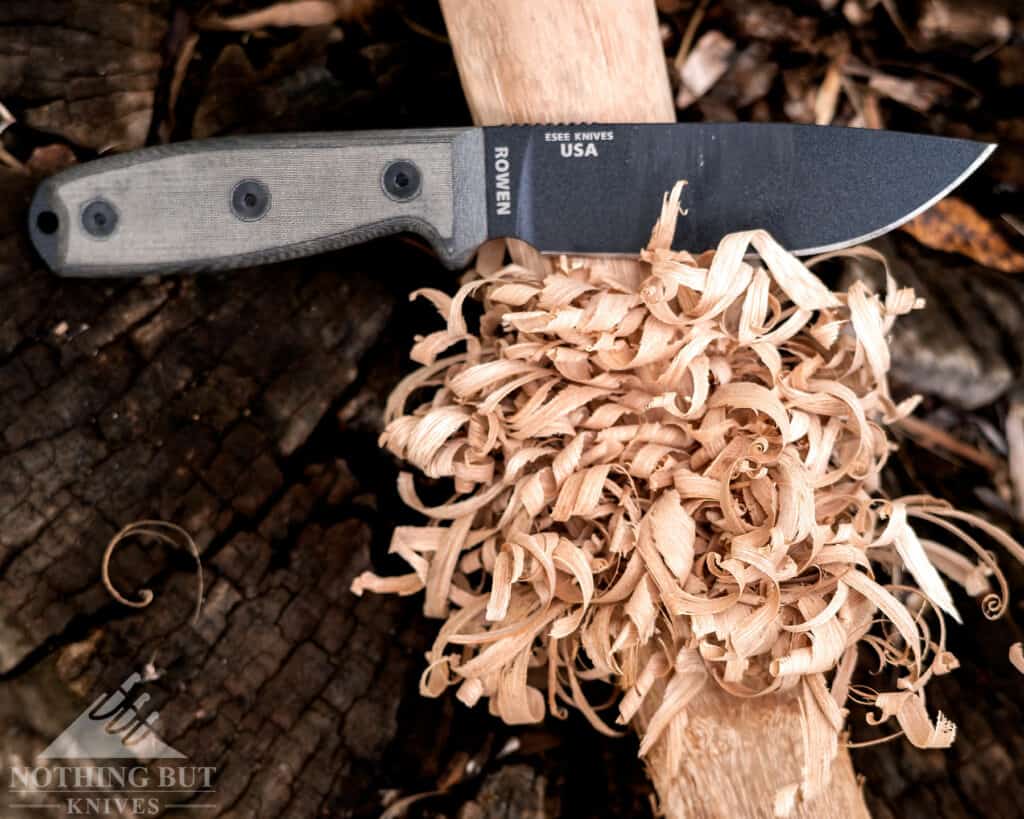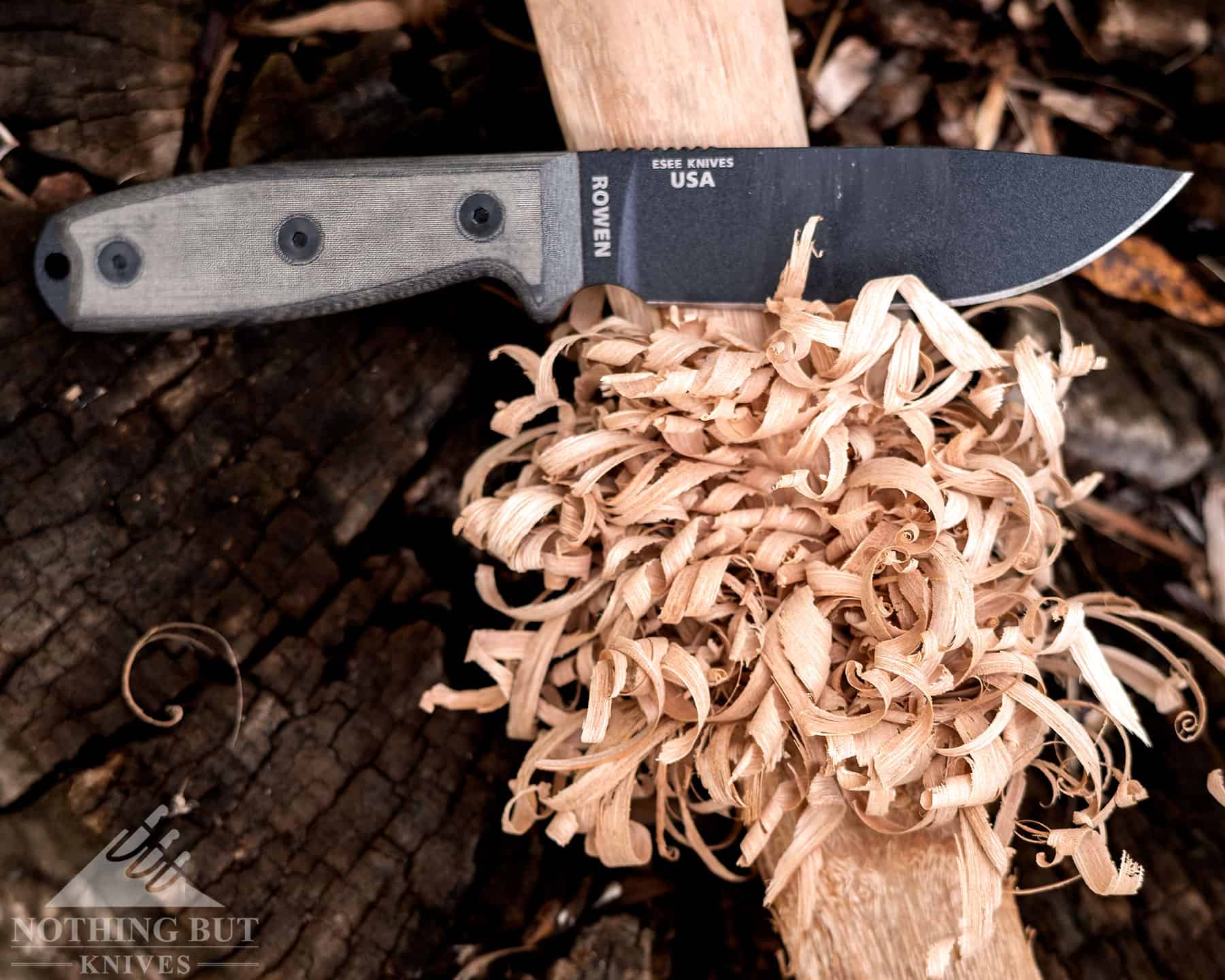 The factory edge isn't great, but like I said the steel is soft so that's easy enough to fix. Even after you sharpen it, though, it's not a great slicer because the blade stock is so wide. It will do some passable feather sticking, but it tends to make the shavings too thick. With a little trial and error the Esee 4 will make decent feather sticks, but it is not as effortless as some of the convex grind bushcraft knives we have tested. It's fine with softer wood, but I don't think you'll get much in the way of usable tinder if all you have access to is something like hard oak.
I have seen people skin game with this knife, so at the very least it functions well enough in a lot of different tasks. With a bit of work, you can dress game, start a fire, and cook your meal all with this knife. It's going to be a long bit of work, though.
It's never going to do a good paper test. At least, not without doing some major blade reshaping on your own. I guess this is where it's important to remember that this knife is designed to be easier to sharpen in the field. If you're using the ESEE 4 with any regularity (especially if you're using it for the survival tasks it was designed for), you're going to spend a lot of time taking care of that edge.
It's Not Much of a Fire Starter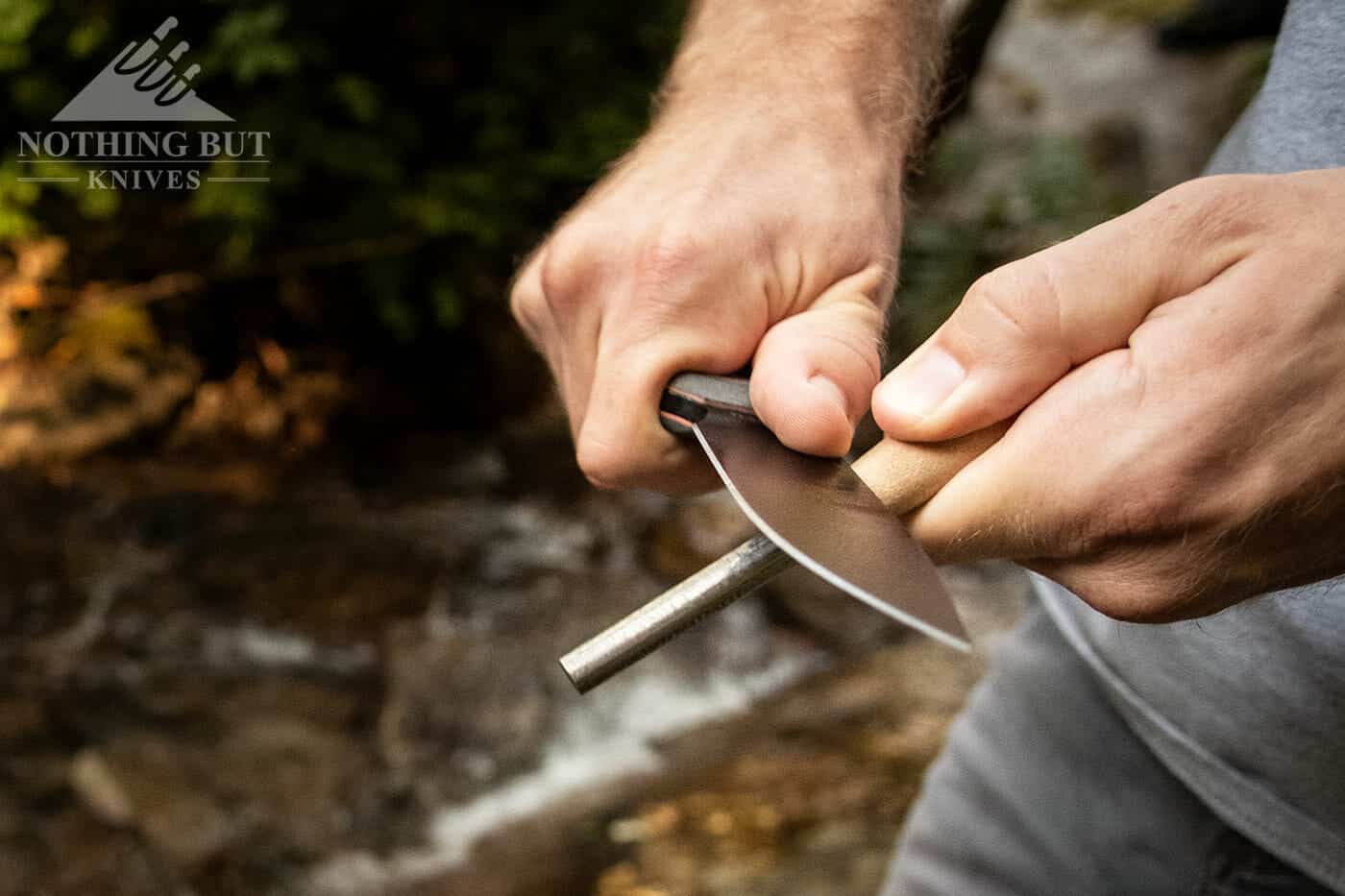 What's a lot more concerning is that it doesn't throw sparks off a ferro rod. That's because of the coating they've caked on to keep the tool steel from rusting. This is pretty perplexing because I know for a fact there are coatings out there that can spark just fine. The Buck Compadre is a good example of that.
The only thing I can think is that there used to be a lot of complaints about the coating coming off after hard use. This stuff hasn't come off for me no matter how hard I hit it, so it could be they switched to something that would bind with the blade better and just accepted a trade off with sparking.
Maybe they figure not that many people start fires with knives. They would be right, but as a semi-professional tester of knives, it's a frustrating thing to encounter in the context of survival knives as a whole.
Fortunately there are a couple of solutions to this. One is to take the coating off. There's a whole world of people out there that do that to knives for fun, either to put their own coatings on, or just to play god with the microcosm of their knife collection in the hopes of gaining some sense of control over their lives.
The other is to just buy an ESEE without a coating. I'll talk about this more later, but ESEE has started making their stuff in a dozen different variations, including naked steel.
The Grind is Versatile, but not Specialized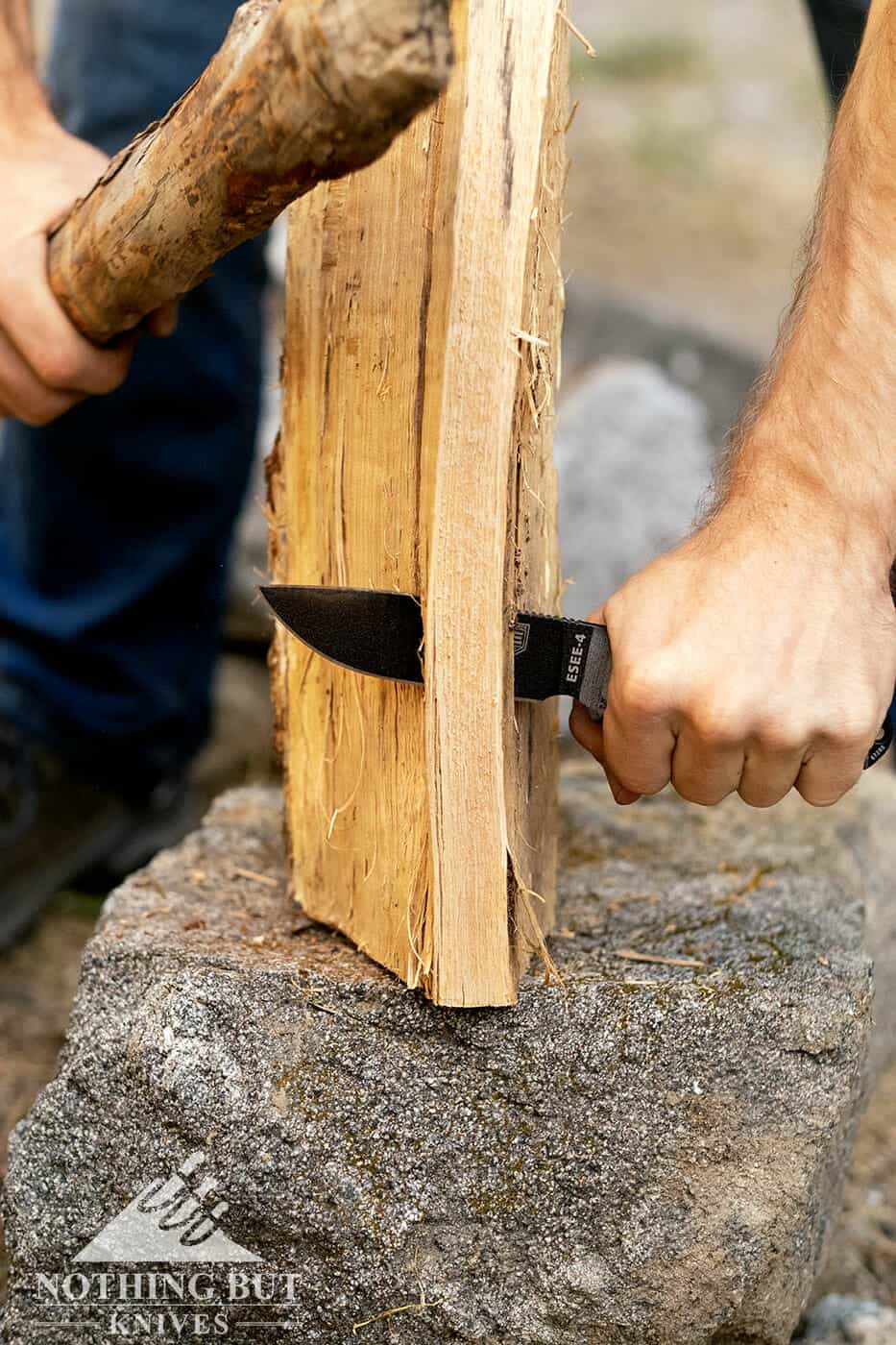 This is a good, tough knife. If you took this camping with the intention of hunting, carving tools, batoning wood for kindling, and general mischief, you'll get along just fine with the ESEE 4. It can do a little bit of everything, and so long as you don't leave it in the mud for a couple days, it can last you decades.
I can't really say that there's any one thing this knife excels at, though. The grind is good but it still loses its edge fast because of the soft heat treatment. The only thing I'd really say the knife itself shines at is batoning. The thick spine makes it a good candidate for getting smacked around with a log, and the flat grind goes a long way toward splitting a log quicker than something like the Buck Compadre's thin hollow grind. Past that, it's just another knife.
The Handle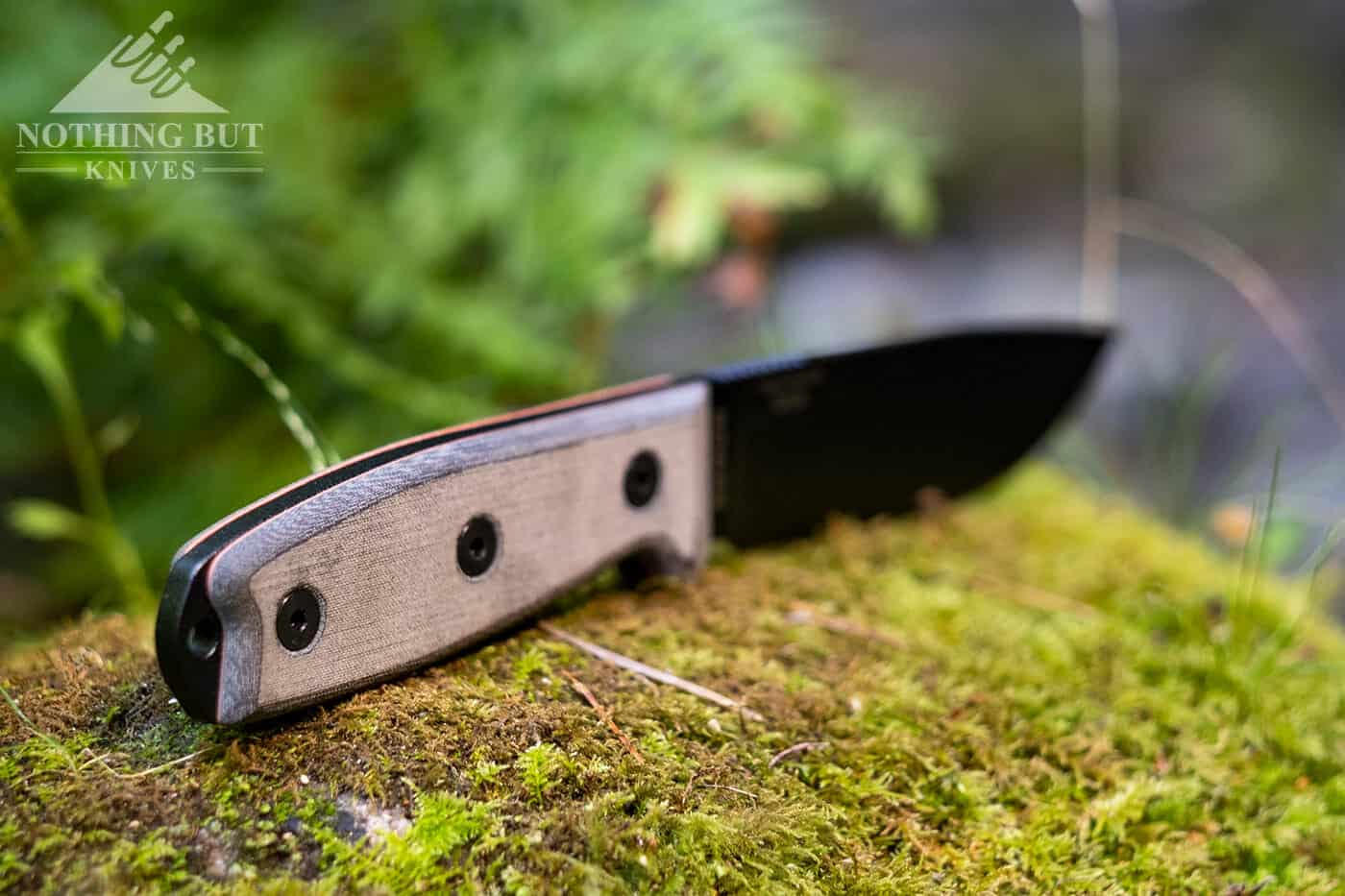 I love the feel of this handle. The texture of the Micarta is a good compromise between textured grippiness and smooth comfort for me.
I've seen a few complaints about the Micarta-scale version being too thin unless you're wearing gloves, so there's clearly some personal preference at work here. It takes some getting used to, but the fact that ESEE is making all their knives with 3D scales now tells me that enough loud people really didn't like the original handle.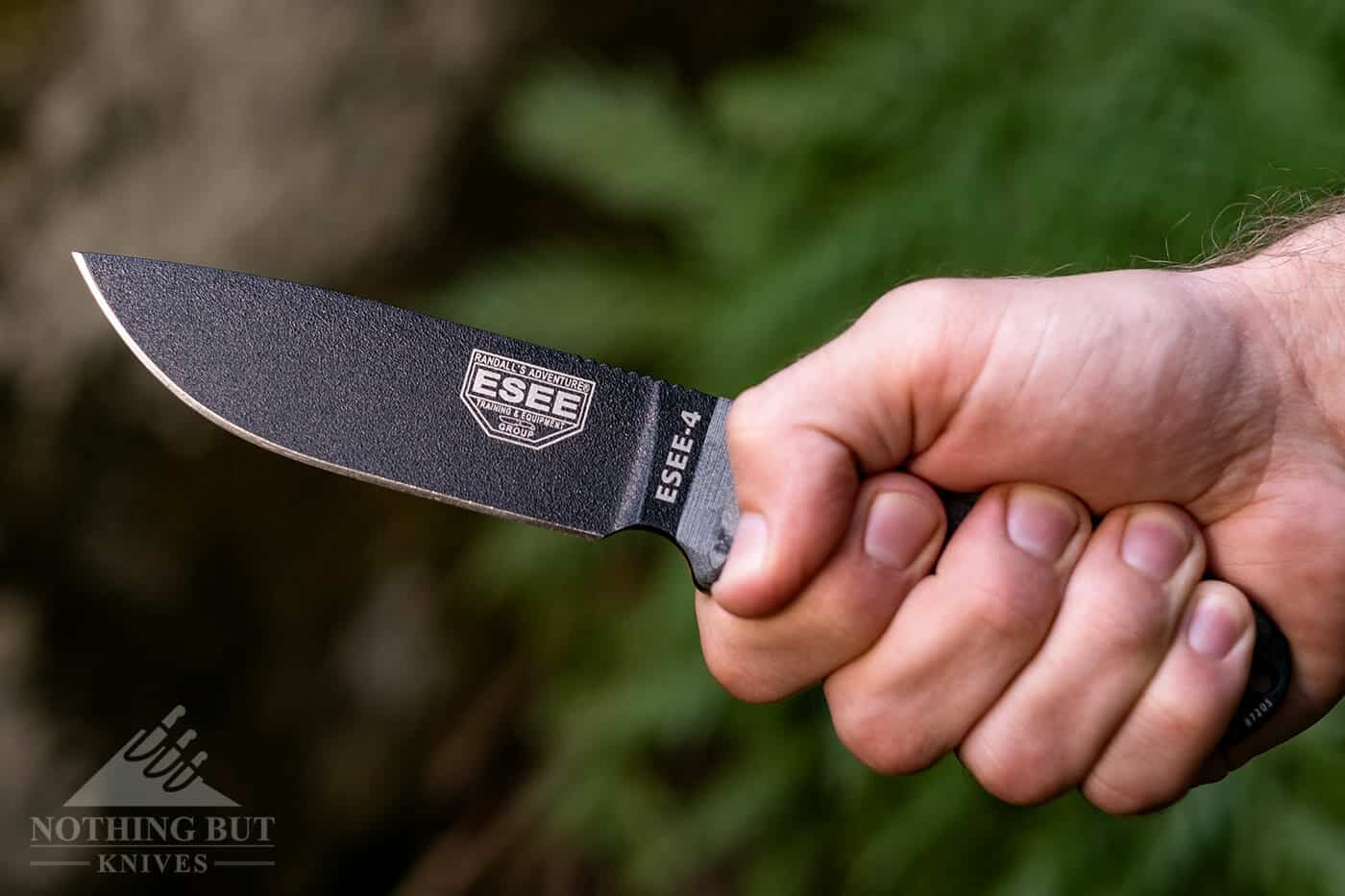 I'll admit the handle isn't great for chopping. The shape doesn't do much to stay in your hand when you get a lot of momentum, so you have to grip it pretty hard to keep it in your hand when you're swinging hard. Aside from that, the contouring feels good to me.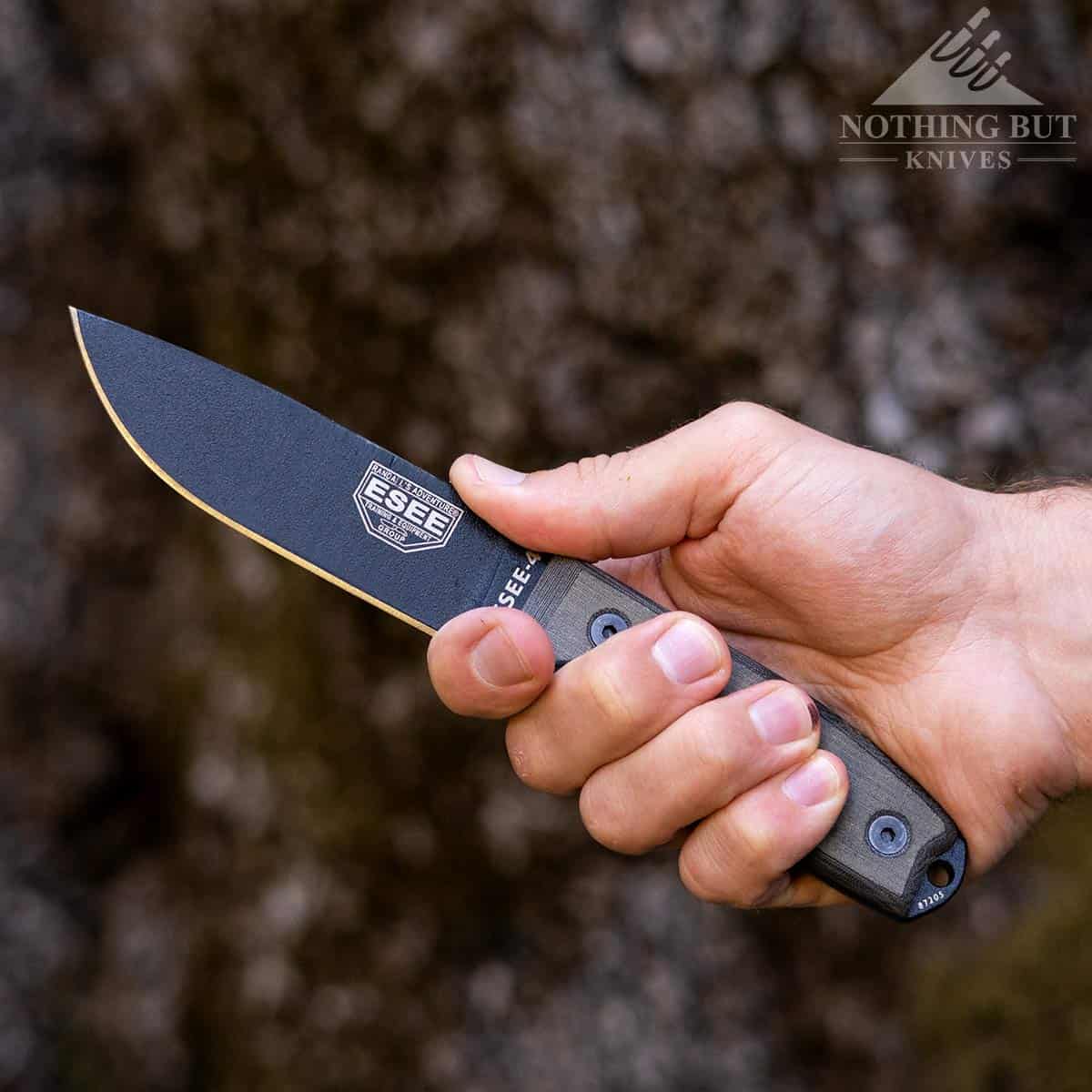 It leaves plenty of space to choke up and feels pretty comfortable in a chest lever which makes this is pretty decent carving tool once you get the edge to a decent sharpness. It's a little awkward in a pinch grip but not so much that I feel like it interferes when any cutting I'd be able to do with the edge anyway.
Plus, if I really didn't like the handle, the screws are so prominent that it's really easy to take the scales off and switch them out with something else. As far as I'm concerned, ESEE nailed it in this area.
The Sheath and MOLLE System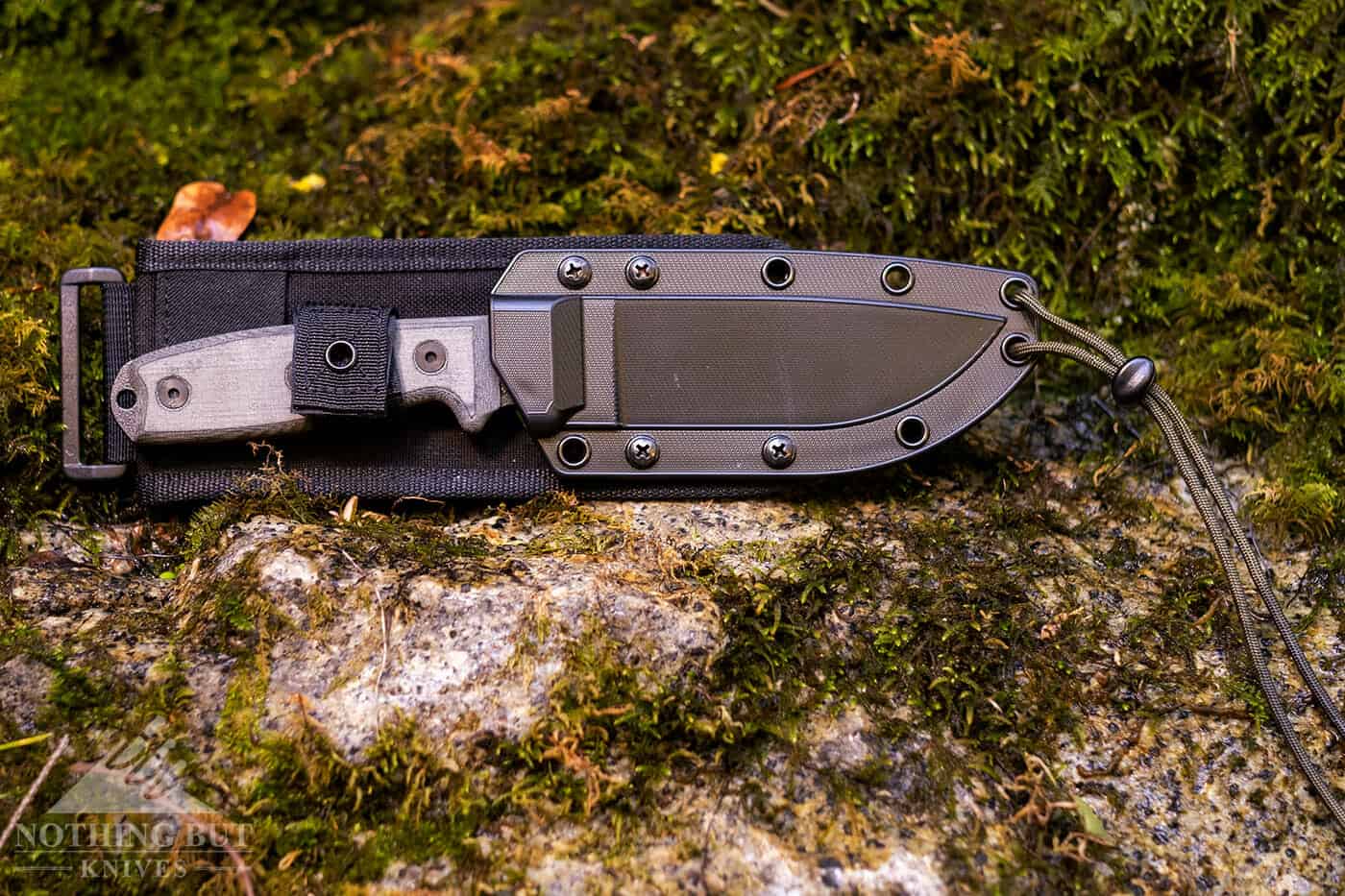 I'm on the fence about this nylon sheath. It's nice but tricky to work with if you aren't using a MOLLE pack. Which, most of the time, I'm not. Fixed blades usually just go on my old leather belt. I can get this to sit on my leather belt, but it takes some strenuous weaving of the leather through the tight straps. The bright side is once it's on, there's no danger of it ever being anything other than firmly on my belt.
I'd still recommend using a nylon belt if you want to wear this somewhere on your waistline, though.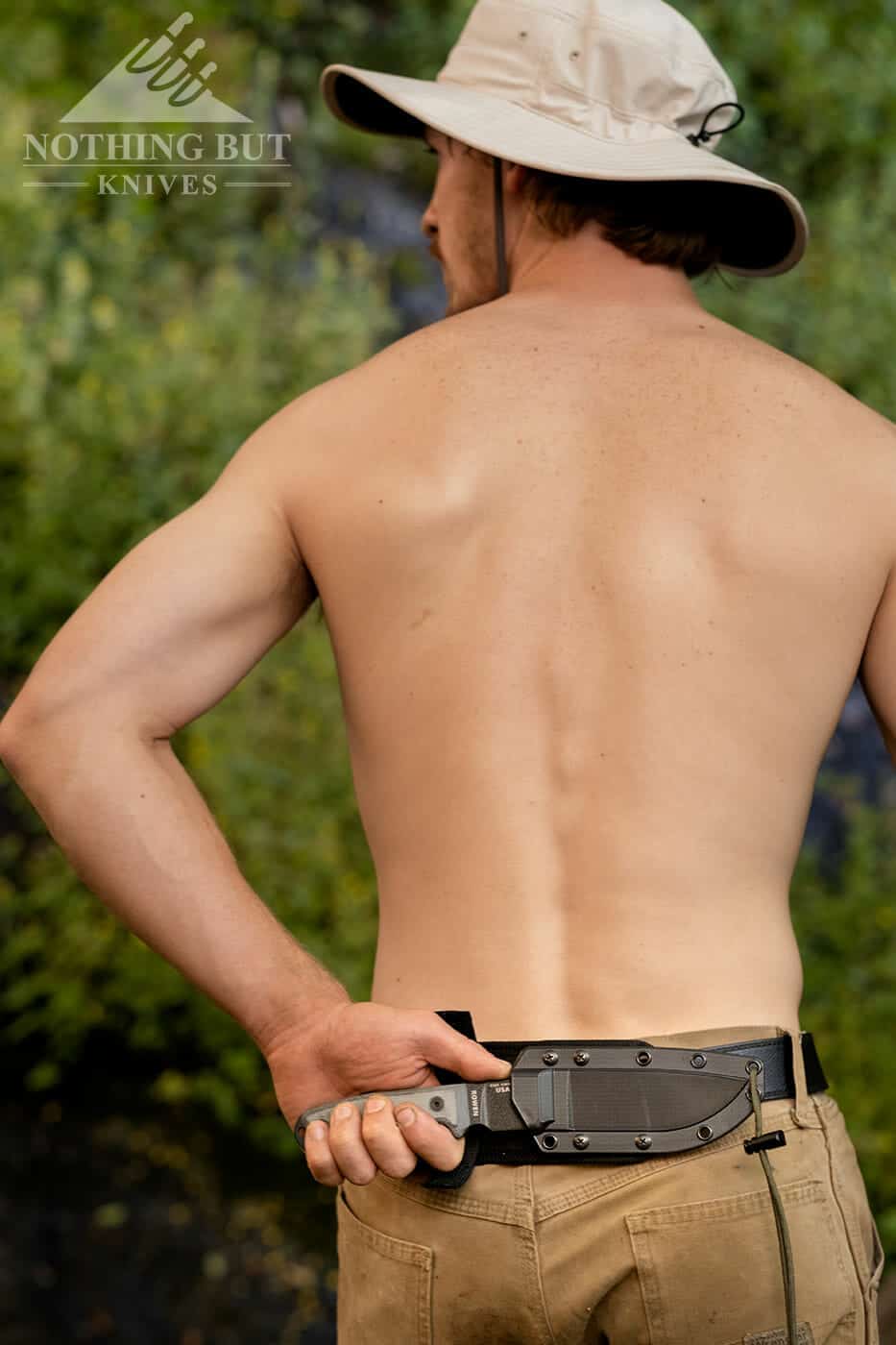 Past that, there are a lot of other options. If you run the button strap through the loops you can use it to wear the knife vertically, although it will sit pretty high if you do that. If you're good with paracord you could also tie it around your leg.
If all else fails, just take the polymer sheath off the MOLLE back entirely and slap a Tek Lok on it. The plastic part is well made. It's tough with a snappy retention, and removing the nylon will make deploying the knife a lot easier.
If we're being honest, though, it really feels like this shines on a MOLLE pack. So if you have one of those, just do that.
ESEE Customizing Options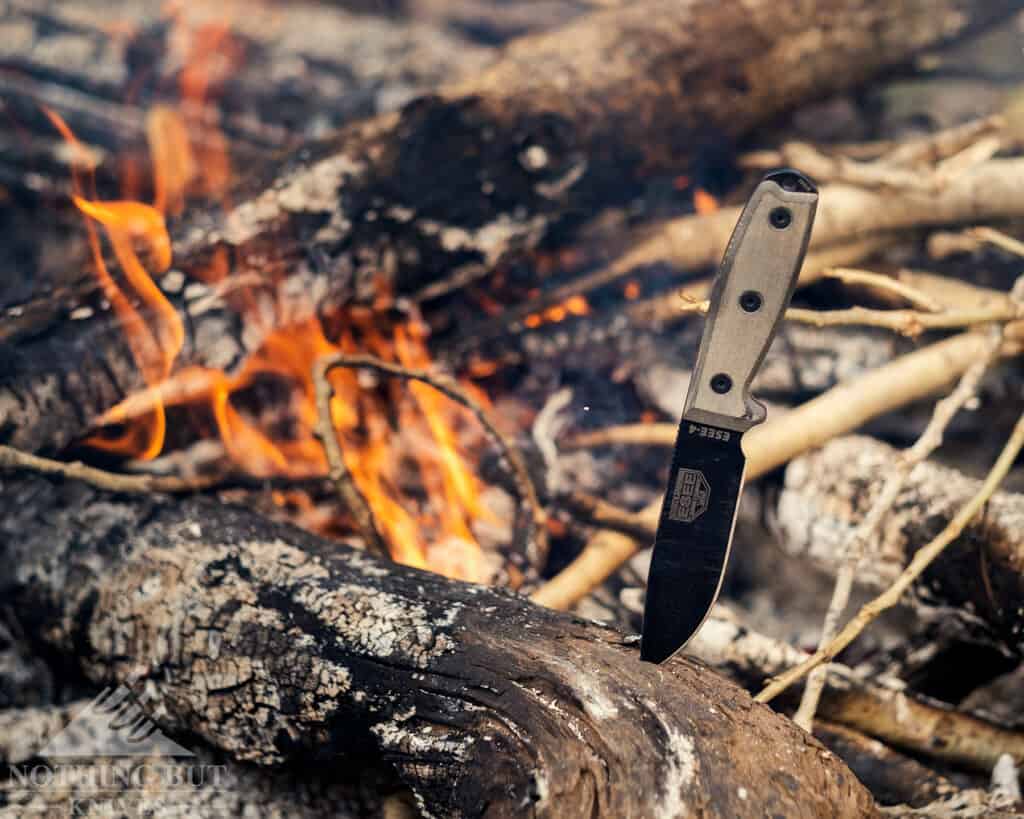 Designers at ESEE always seem to be open to criticism, and by the looks of what they've come out with recently they take feedback into account.
I've mentioned the new wave of scales in the ESEE line up, but they extend that adaptability to every element of their knives.
For people who weren't too keen on the 1095 tool steel, ESEE slapped 440C and S30V steel on a bunch of their designs. And whatever combination of sheath system you might want you can probably find coming stock with most of their knives, from a simple polymer sheath with a paracord tie to a full MOLLE back set up. They've even gone so far as to make a version of the ESEE 4 without a finger choil or a hand guard.
Ignoring arguments about whether it should still even be called an ESEE 4 at that point, that is a fantastic range of options.
In that sense, it's hard to stand firm on any criticism I make about this knife. Whatever I don't like about it, there's a version I can get that answers that. Which is a huge point in ESEE's favor, and it's something I wish more companies did.
Comparison and Alternatives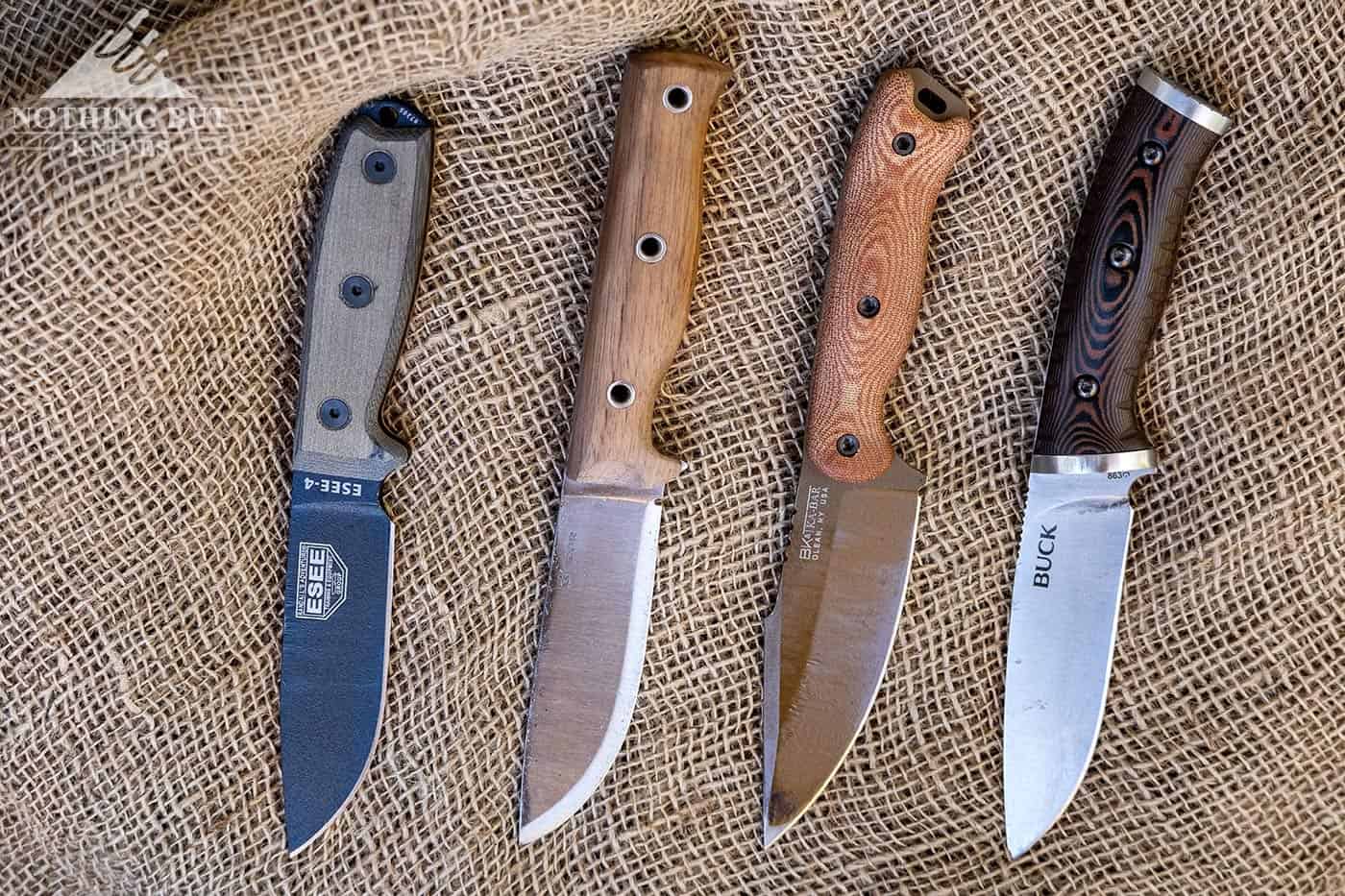 For general survival and bushcraft, it's actually kind of hard to beat the ESEE 4. There are knives that perform better at certain tasks, but not many that are okay at all tasks while boasting the kind of fit, finish, and overall well crafted attention to detail that this knife has. Good alternatives come up when you have a specific task in mind, but even then the range of sheath options you get with any ESEE knife make it a strong option.
The Buck Compadre can do a lot of the same things the ESEE 4 can do, but it's more comfortable, has a lower price, and it has a better edge for slicing. I'd recommend the Compadre over the ESEE mostly if you're planning a hunting trip specifically. The Compadre is a good camp knife, but the design clearly has some hunting ambitions built into it. Since it doesn't have the variety of carry options that ESEE's have, it can't really become a viable tactical carry, and it might be more awkward on a backpacking trip.
If we're talking about other bushcraft options, you should definitely consider the Condor Swamp Romper. It's thinner, but still tough enough to beat up. It has a similar steel, but a better blade profile for carving. The sheath, once again, is where the choice gets tricky. The drop-leg system on the Swamp Romper's leather sheath looks cool but feels pretty awkward on a hike. The only thing I can say in defense of that is the Swamp Romper is half the price, so maybe you could use your left over $60 to get a custom sheath for it.
There's also, even though I'm almost tired of recommending it, the Buck Selkirk. It's easily half the price, has a tough stainless steel, and does basically everything you would want a survival knife or hunting knife to do. It doesn't have a MOLLE back, but it does have a versatile carry system that works really well once you get it in place.
For a more tactical-style alternative, we're big fans of the Ka Bar BK-18 Harpoon. They're both the same size and they both use 1095, but the edge on the Harpoon is a bit thinner and a lot easier to work with. The big difference is in the handles, though. The BK-18 ships with Zytel handles with a plasticy feel. They work fine, but the knife really shines with Micarta scales. If you shell out for that custom update, these two knives end up in the same price range.
The Demko FreeReign is a good alternative to the Esee 4. It is slightly more expensive, but it has a truly innovative sheath and an incredibly comfortable handle.
Conclusion
I actually have a hard time recommending this knife at its current price. This isn't an original sentiment, but the ESEE 4 doesn't make a great argument for its $120 price tag when there are knives half the price that perform better for bushcraft, or knives the same price that perform better with better materials.
That's hard to say, because I always want to recommend ESEE as a company. They put a lot of effort into making these designs, they make everything in the States, and offer a great warranty on their products. They're also clearly sensitive to opinions from people who actually use their knives because I see them respond either by explaining a design detail or by coming out with a variation that answers a problem.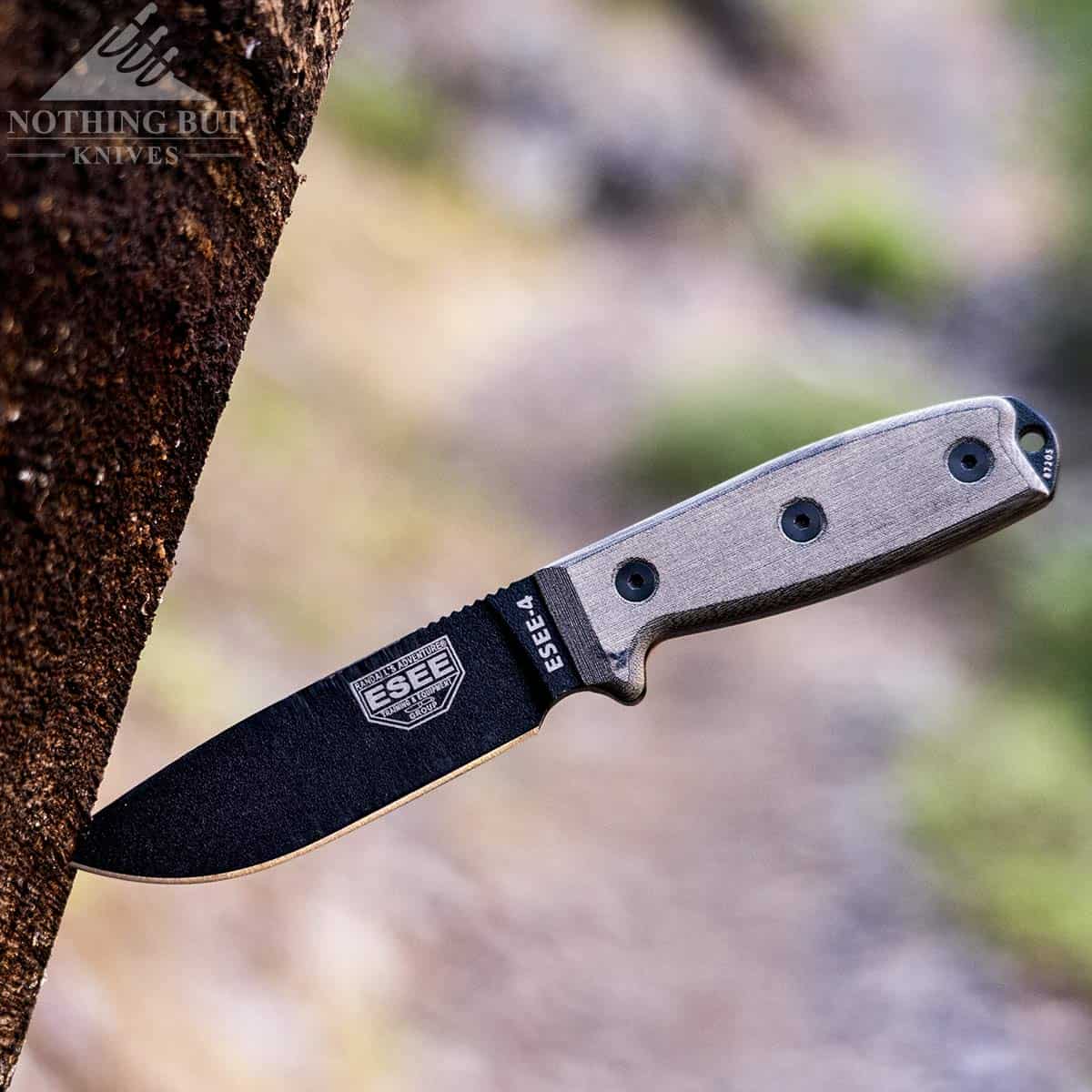 I think the issue is that they aren't making high performance sports cars; they're making trucks.
The ESEE 4 isn't meant to slice 0-60 through paper in half a second. It's meant to break down a load of wood. You could get a lot of mileage out of it so long as you keep the rust off. It can do a little bit of everything on a camping trip or a hunting trip. It's a bit of a pry bar with the tool steel baked to a low hardness and a mediocre factory edge, but sometimes even that's something you need out in the field.
I would be a lot more comfortable suggesting someone get the $100 version of the ESEE 4 without the coating, because that should spark on a ferro rod pretty well. Or the $130 version with 440C steel and 3D scales because that will be both more comfortable for most people, have better corrosion resistance, and you won't need to sharpen it on a river stone after every use.
I haven't used either of those versions, though. I just have this pry bar in a sweet nylon sheath that I'm probably not going to take outside again anytime soon.