A Classic Looking Survival Knife with an Incredible Sheath
Demko showed up at Blade Show in early 2022 with the FreeReign. At the time he was calling it the AD15F because it's essentially the same handle and blade, just fixed and a little longer.
There are a couple of other key differences (besides being a fixed blade) that make the FreeReign a lot more secure in the hand, but when we take the knife by itself, there's no end of comparisons we could make to other designs out there.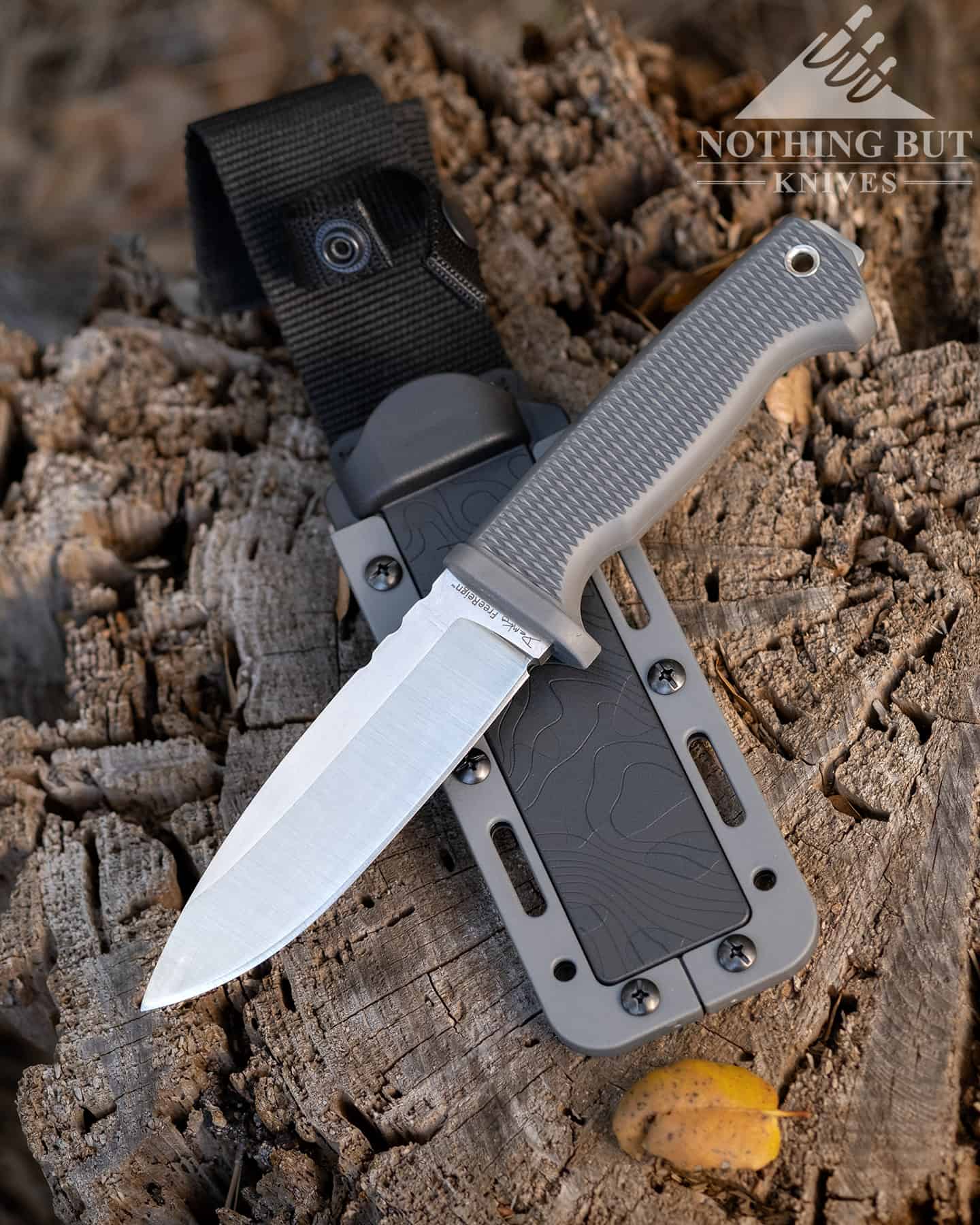 Which is what makes me suspect Demko actually made the FreeReign because he just wanted a quick, reliable knife to put in the cool sheath he made. I haven't seen an official name given to this sheath design yet, but it's a pretty ingenious thing that you can take completely apart and clean out. There are a lot of details that make it gentle on the knife and adaptable. The whole set up is a great show of practical innovation, and the result is an excellent camping and survival knife.
Specifications
| | |
| --- | --- |
| Overall Length: | 9.875" |
| Blade Length: | 5.0" |
| Blade Steel: | AUS-10A |
| Blade Thickness: | 0.187" (a little under 5mm) |
| Blade Shape: | Drop point |
| Blade Grind: | Flat |
| Handle Length: | 4.875" |
| Handle Material: | Injection-molded rubber |
| Weight: | 7.2 oz |
| Designer: | Andrew Demko |
| Made in: | Taiwan |
Pros
Super comfortable, secure grip
Great for processing wood for fire
Shaves hair out of the box
Good edge stability
Solid sheath compatible with after-market solutions
Cons
We've all seen this design before
A little tricky for making feather sticks
Sheath keeps a death grip on the knife
A Solid Blade with a Scary Edge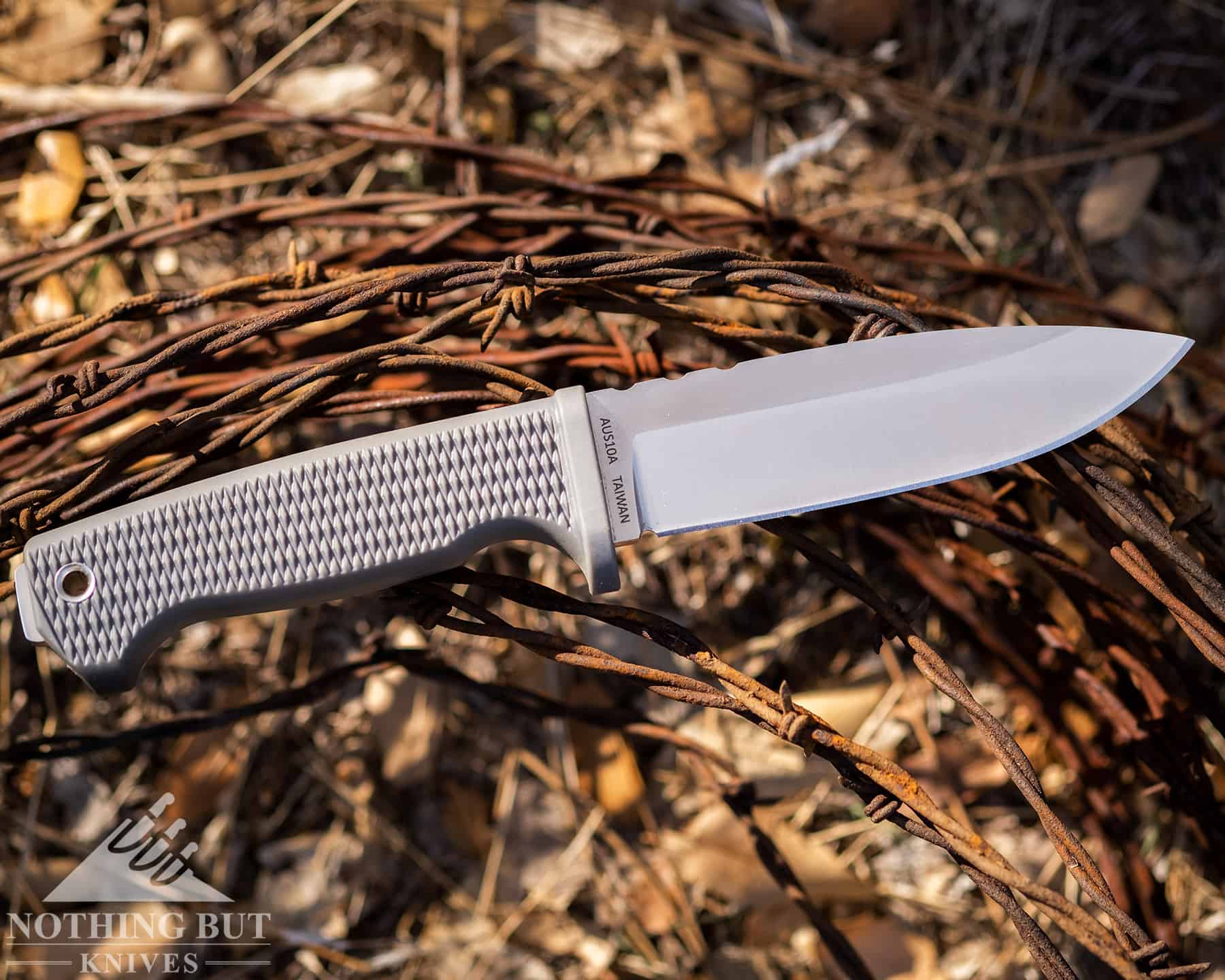 This big, fat blade has a toothy edge that glides through paper out of the box. It's thick, but it has a nice high flat grind that chops and carves like a champ, and still cuts a decent strip of paper afterwards.
The high grind on a blade stock that's almost 5 millimeters is a good recipe for a lot of different outdoor tasks so long as the grind and heat treatment have been done well, and whatever Taiwanese factory Demko is using clearly has those elements down well. The AUS10A steel held up great to chopping, carving, and batoning. I didn't see any chipping, and no edge rolls that mattered after our first day of testing.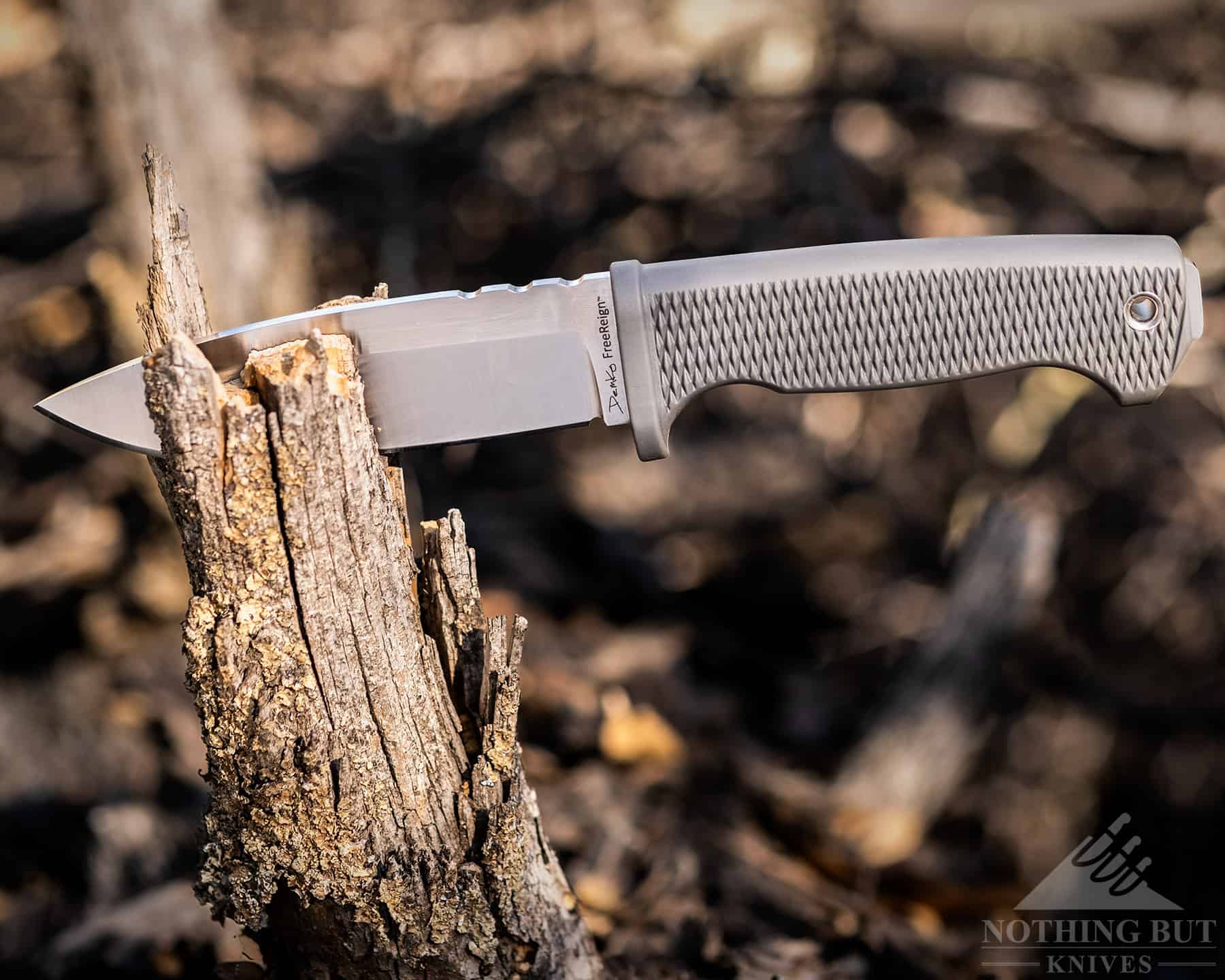 When Demko brought the FreeReign to Blade Show he said he'd be releasing it with D2 as well. Honestly, I'm not sure I'd want D2 in a blade this big. AUS10A feels like the perfect match for this design, but I trust Demko and his OEM enough to be curious to see how the FreeReign would perform with D2.
Hopefully I'll get a chance to test it out one of these days.
An Even More Solid Handle with a Death Grip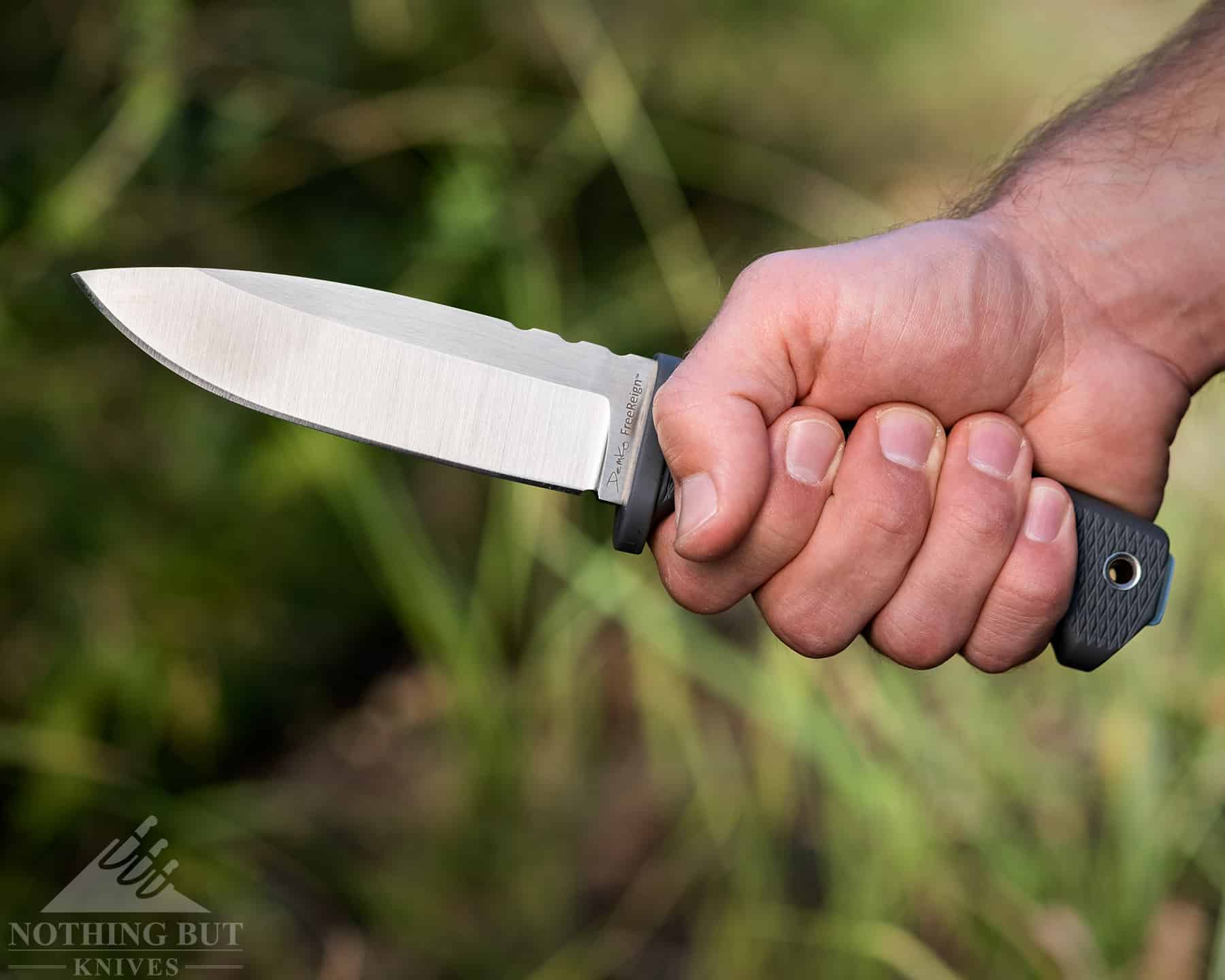 This is an excellent example of effective handle contouring. There's not a lot of obvious shaping outside of the finger indents, but it really feels like my hand locks into place when I grip it. Those finger indents for my index and pinky go a long way toward creating a secure grip, but the handle is still roomy and neutral enough that my hand doesn't feel trapped or squeezed into a specific position.
That neutrality makes it really nice in other positions as well so it feels easy and comfortable to use a reverse grip or do chest levers, and it's easy to hold it from the bottom with two or three fingers when I want to get a little more momentum for chopping.
The handle material feels just soft and grippy enough so that I have a lot of traction in my palm, but it doesn't feel gummy. It sticks to me when I want it to, but I can let go when I need to, if that makes sense. Although, I did notice after an hour or so of working hard with this knife that the handle starts to feel a little tacky from the heat of my hand. It feels a little weird, but it didn't make the knife harder to grip.
The Deconstructable Sheath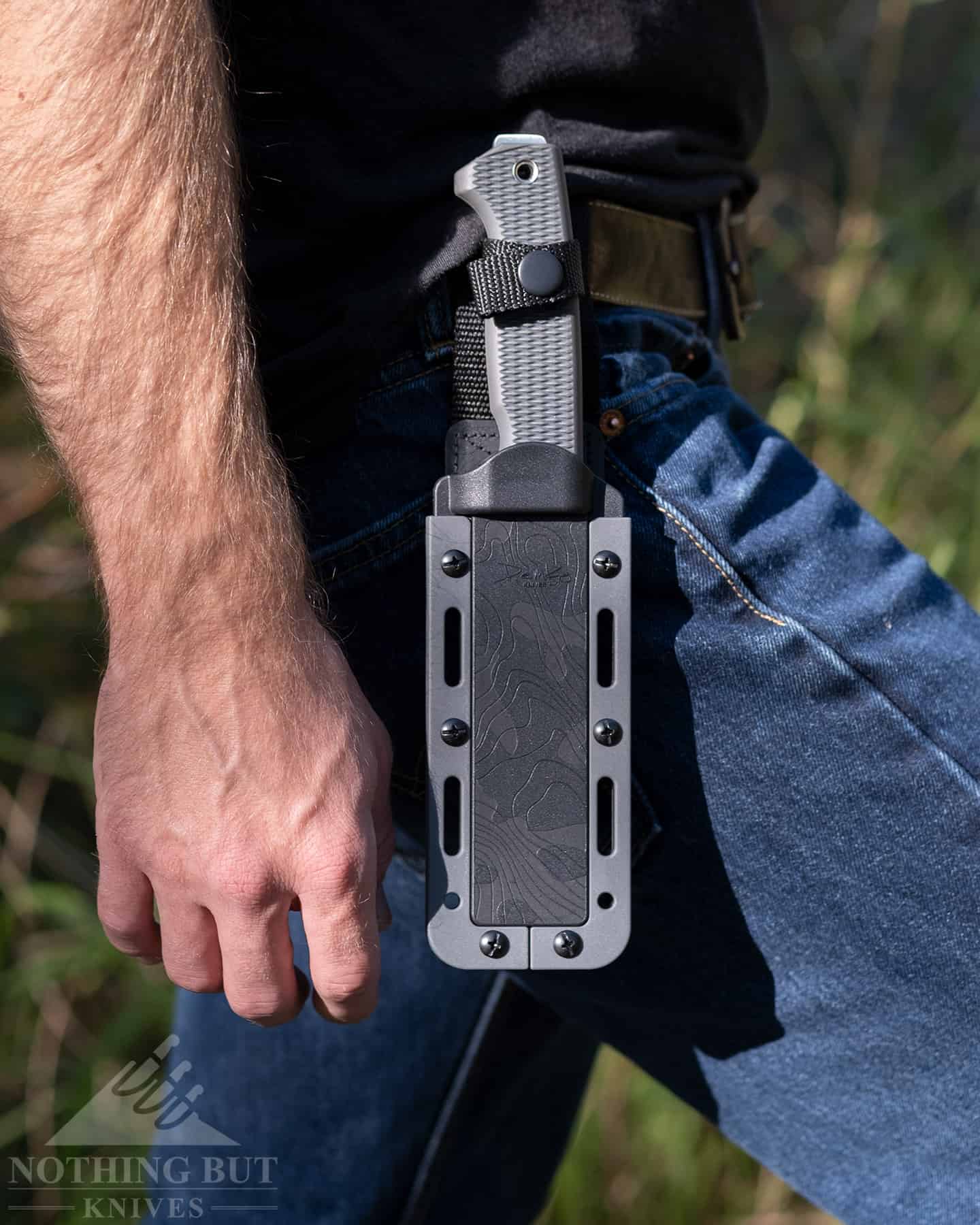 Demko made this sheath to be three things: easy on the knife's edge, easy to clean, and compatible with other carry options.
This has a nylon core instead of FRN or Kydex in order to keep the blade from dulling itself on the sheath every time you draw or sheath it. Nylon doesn't have great rigidity on its own, though, so Demko set the sheath in glass-filled nylon frames. The sheath portion is held in place by three sets of screws that can be removed with either a flathead or phillips screwdriver. When you get all the screws off, the nylon core splits in two pieces that you can easily wipe off to get all the debris out and make sure it's completely dry before you put it all back together and slide the knife back in.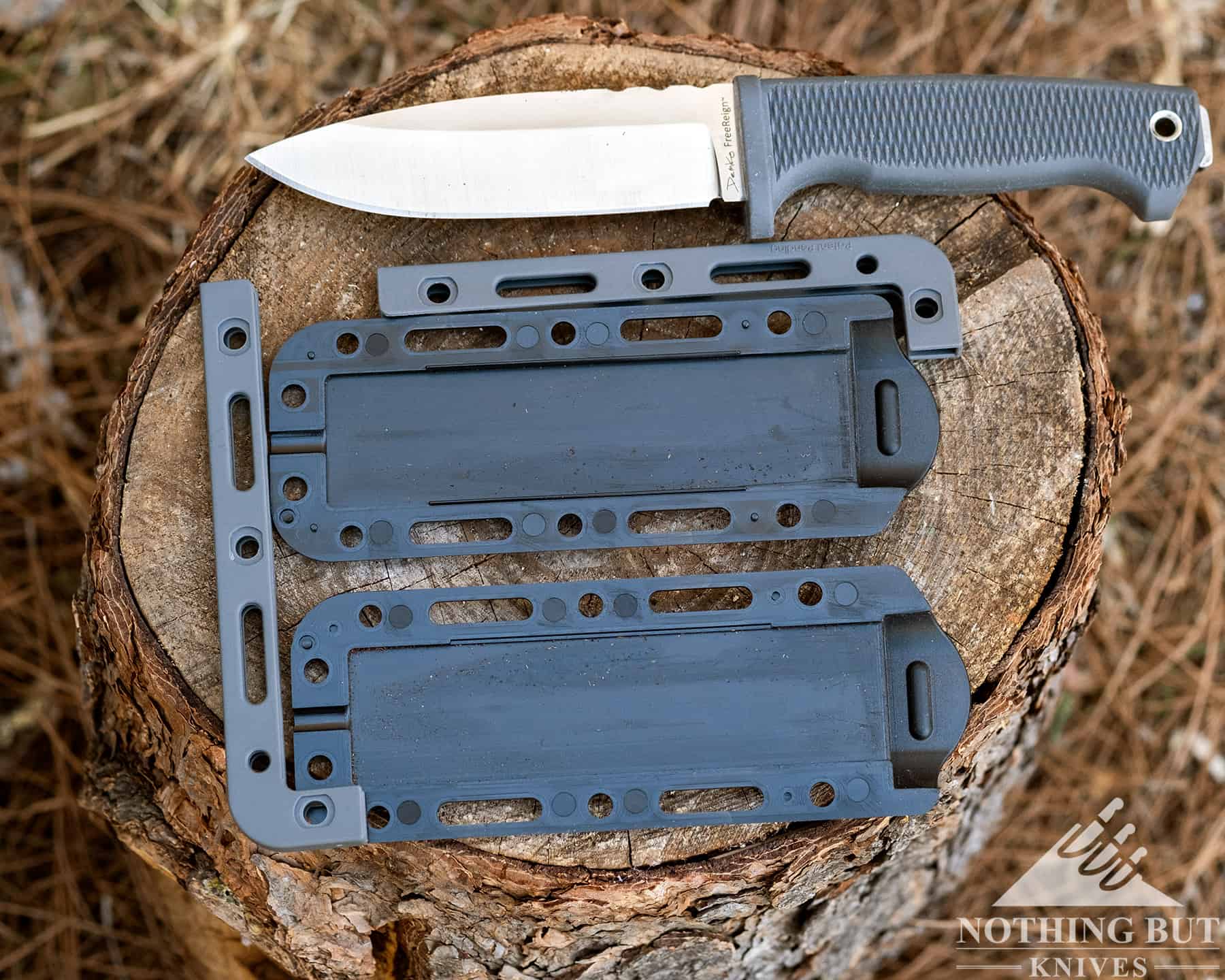 The slots in the frame are also spaced to be compatible with a lot of different aftermarket carry solutions like Tek Lok and whatever your favorite MOLLE system is. I'm surprised by how nice the stock belt loop is for this, though. It's pretty comfortable as vertical carries go when it's screwed into the top slots. It wasn't riding into my side, and I didn't feel too much in the way of leg slapping when I was hiking with it.
If there's anything wrong with the sheath, it's that the retention is really aggressive. On the whole, that's a great thing, but it takes a while to adapt to the kind of force needed to pull it out smoothly. It's not like a kydex sheath where you just have to get it past a single point of molded contact because the nylon grips around the whole guard. It feels more like pulling rubber out of rubber.
So the retention is fantastic, but it's far from being a fast-deploying knife.
The FreeReign in the Field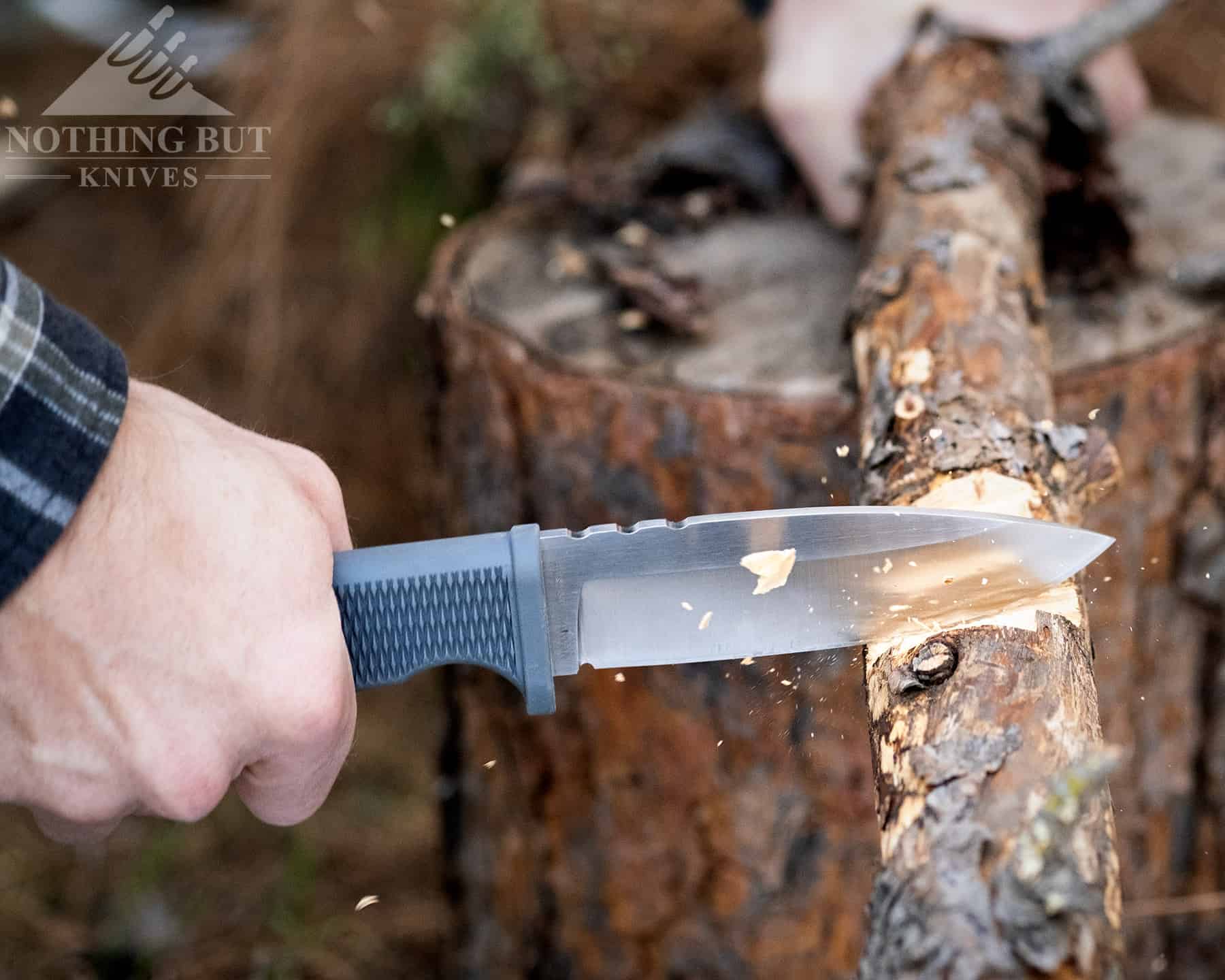 Put all those elements together, and you get a massively useful survival knife. Or, in my case, a fun camping knife.
It's one of my favorite chopping knives now, because the blade not only has a good shape for taking out chunks on a good swing, but the handle is so secure I can swing a lot faster with it and I never have to stop to readjust the knife. Plus the edge ends up lined up with my knuckles very naturally, so it's a lot easier to strike where I want to and make a nice wedge in the wood.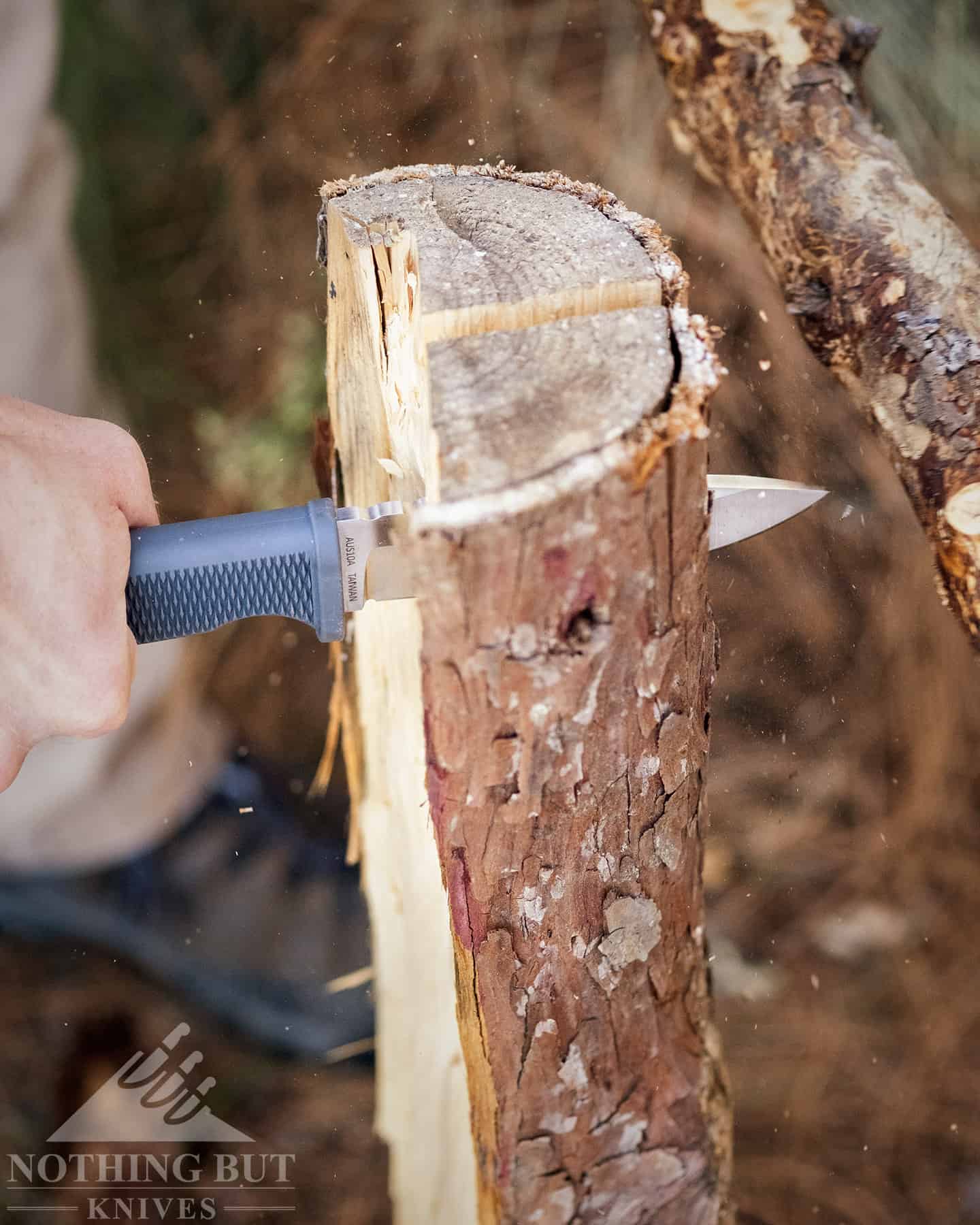 It's really good for batoning for similar reasons. The high flat grind and the thick blade stock are quick to make a split down a log, but the handle also helps me keep the knife even through the log when I'm hammering it because the rubber absorbs so much shock.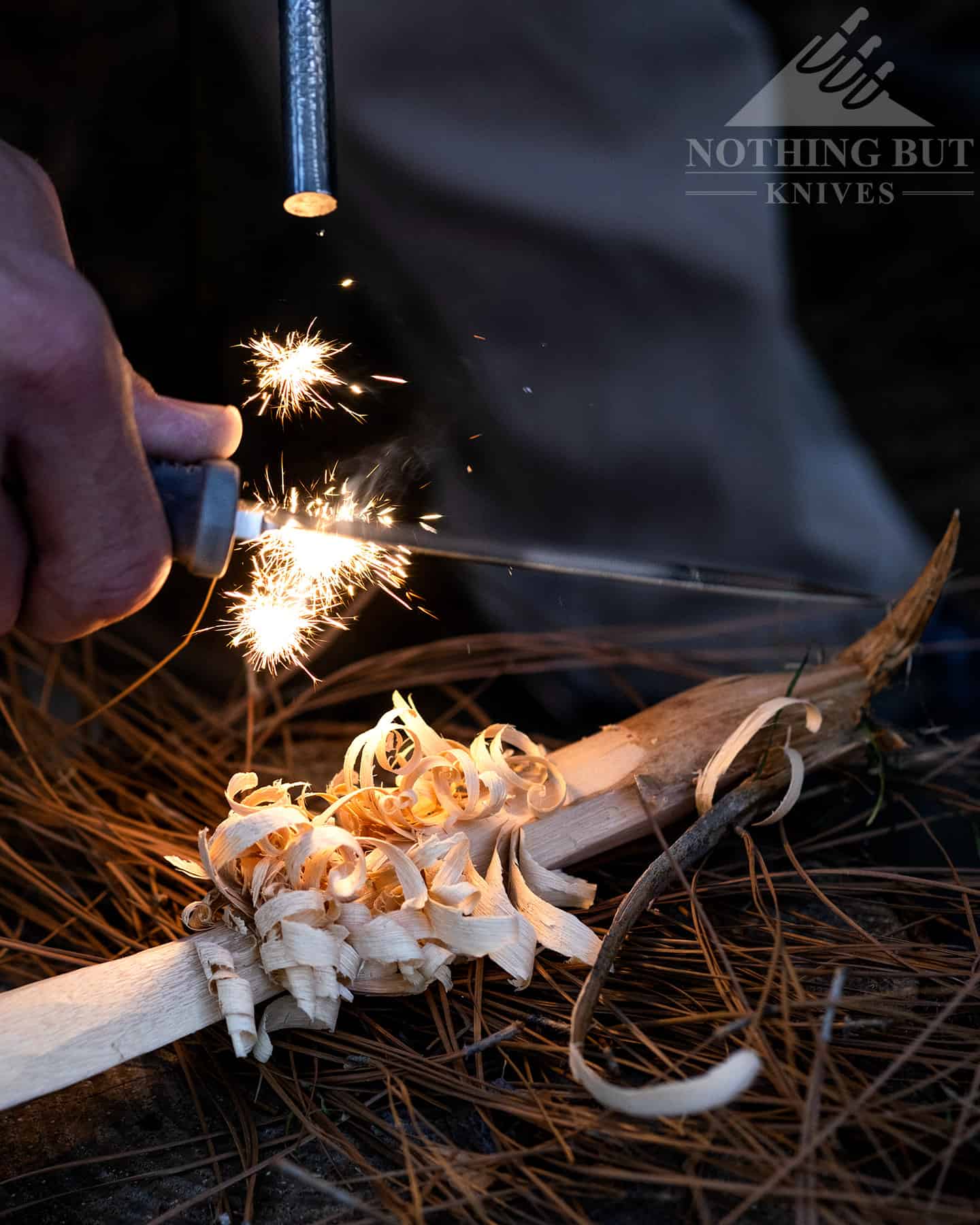 It's pretty good with a fire steel. The spine is sharp, especially around the jimping, and the handle gives me a lot of control and leverage so it's easy to contain the direction of the sparks.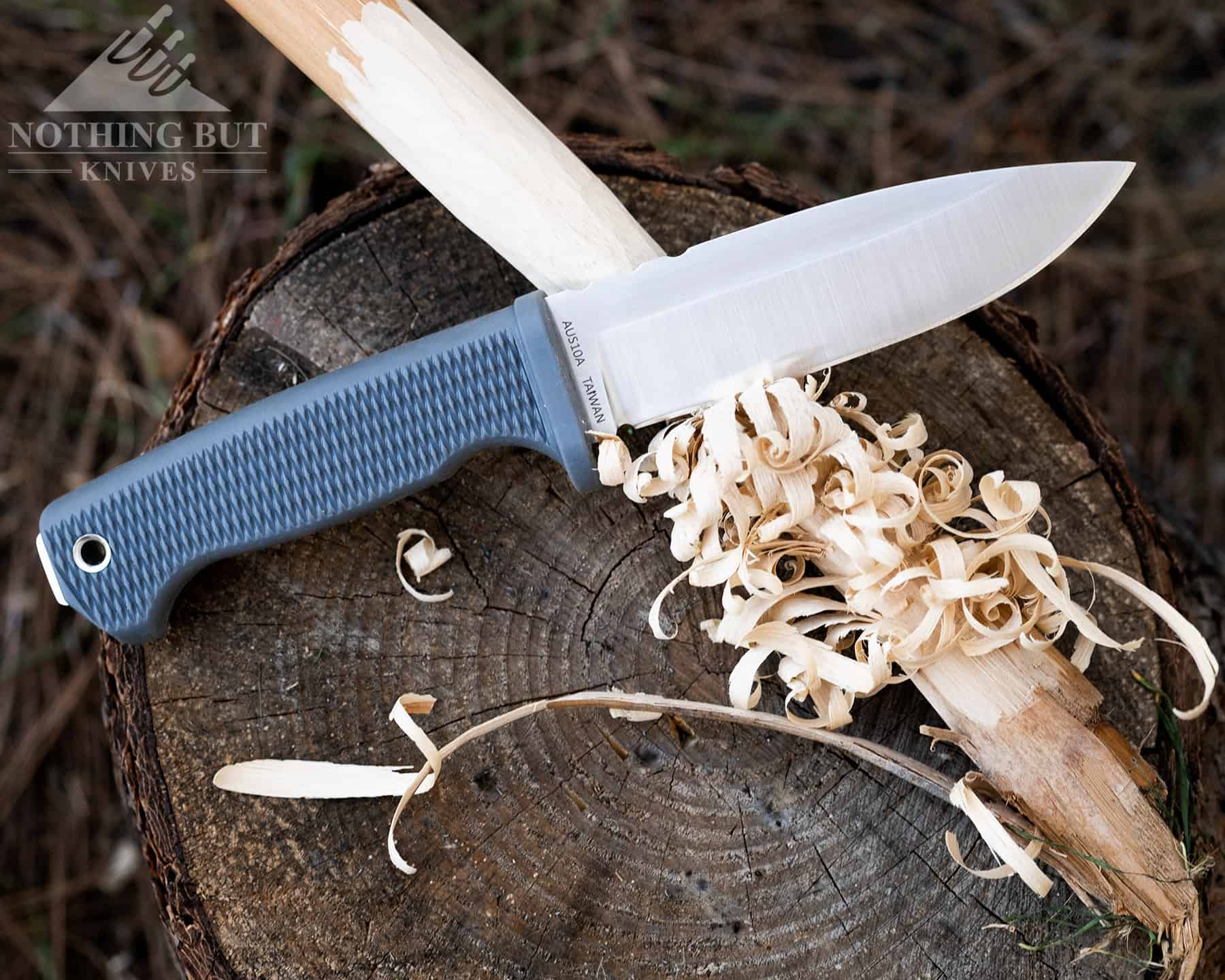 The only thing the FreeReign didn't really impress me on was making feather sticks. It isn't terrible for that, but it likes to bite and break, so it's hard to keep the feathers and the stick intact. It'll make tinder just fine, but I ended up making curls over a tarp so I could gather up all the pieces that broke off the wood.
Comparison and Alternatives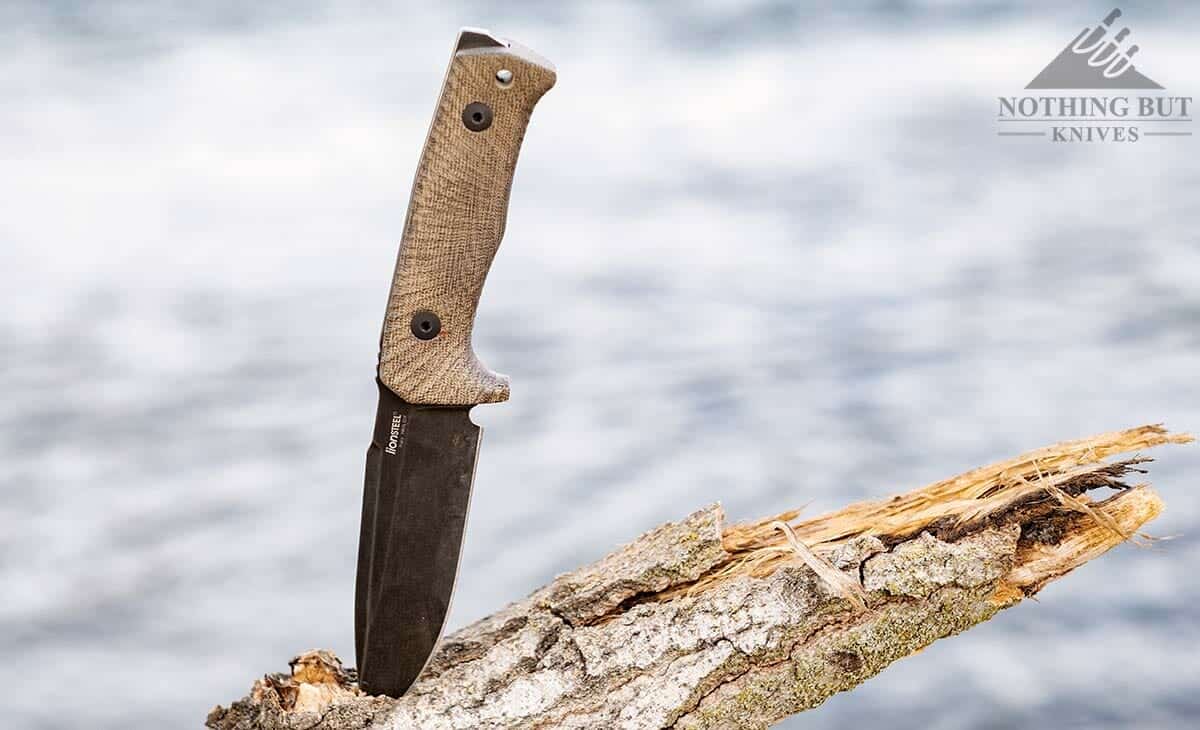 David C Anderson compared the FreeRiegn to the Falkniven S1. Going by looks I'd say that's fair, but I haven't handled the S1 personally. The thing is, the knife itself isn't all that unique in the bushcraft and survival world, so there are a lot of knives you could say it takes after.
The first that came to mind from my own experience was the LionSteel T5, or (by extension) the White River Ursus. Of those three, the Demko FreeReign is definitely the cheapest option, and the second most comfortable (the Ursus would be the most comfortable by far), and probably has the coolest sheath.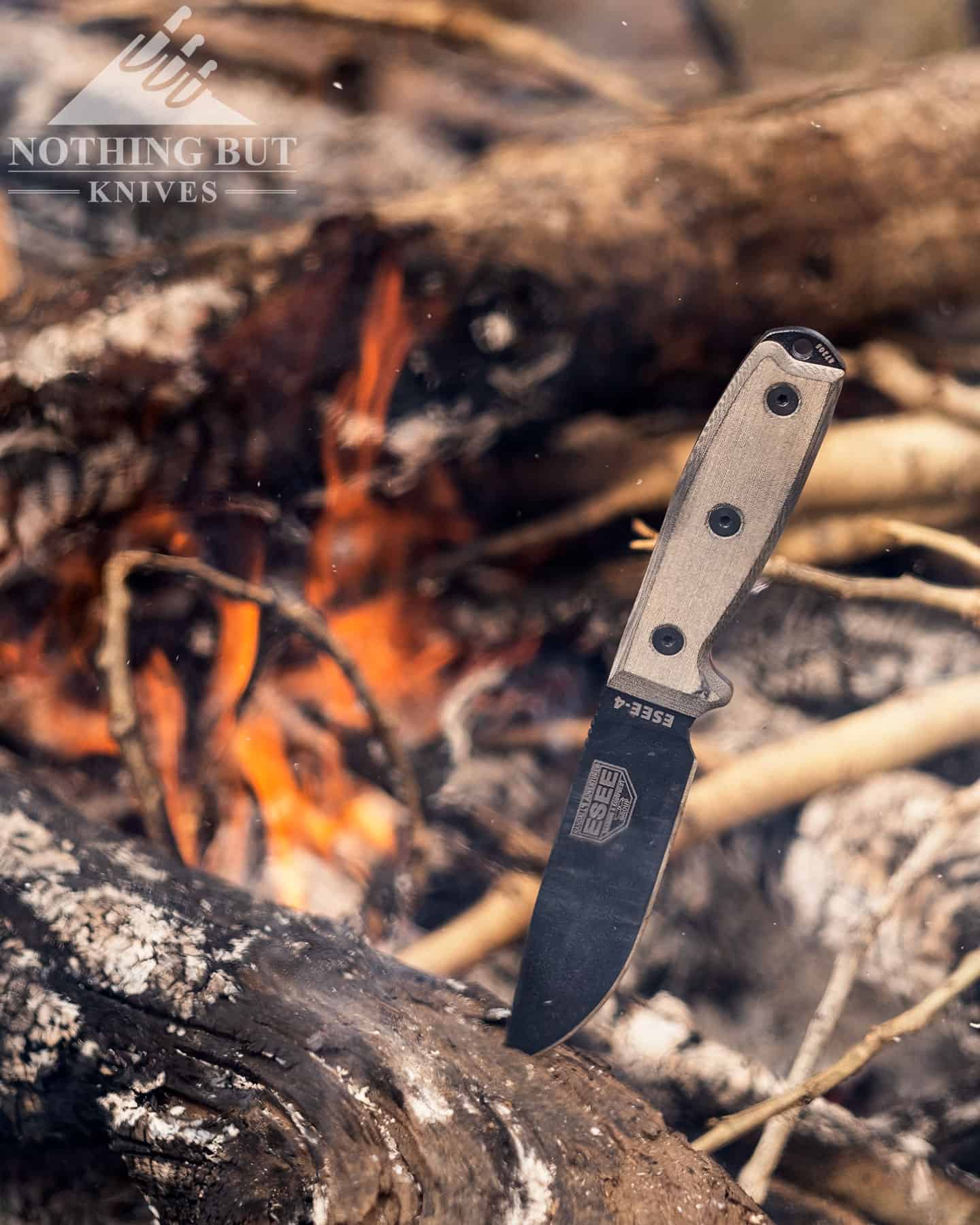 The ESEE 4 is worth a look too if you'd prefer thinner Micarta scales or the option to switch the scales out for 3D G10. I don't like the standard ESEE 4 handle as much, and the factory edge isn't as sharp (at least, it wasn't back when we picked up our first one many years ago). But it's lighter and the 1095 steel should be easier on the sharpening stone.
Between the ESEE 4, the LionSteel T5, and the FreeReign, they all carve wood roughly the same, but the Freereign by far has the grippiest handle and seemed to me to be the best at batoning.
The Cold Steel AD15 should also be thrown in for consideration if you want a folding version of the FreeReign. Besides being a folder the AD15 has a bit of a finger choil beneath the edge and thinner handles, so it's a little easier to choke up. It won't be as comfortable overall, but if you want a rugged folding EDC, it's hard to get tougher than that thing.
The Ka-Bar Ek Commando is also worth a look if you want a bushcraft capable knife with more of a tactical design. Check out our Best Survival Knives article to find a few more alternatives to the Freereign.
Conclusion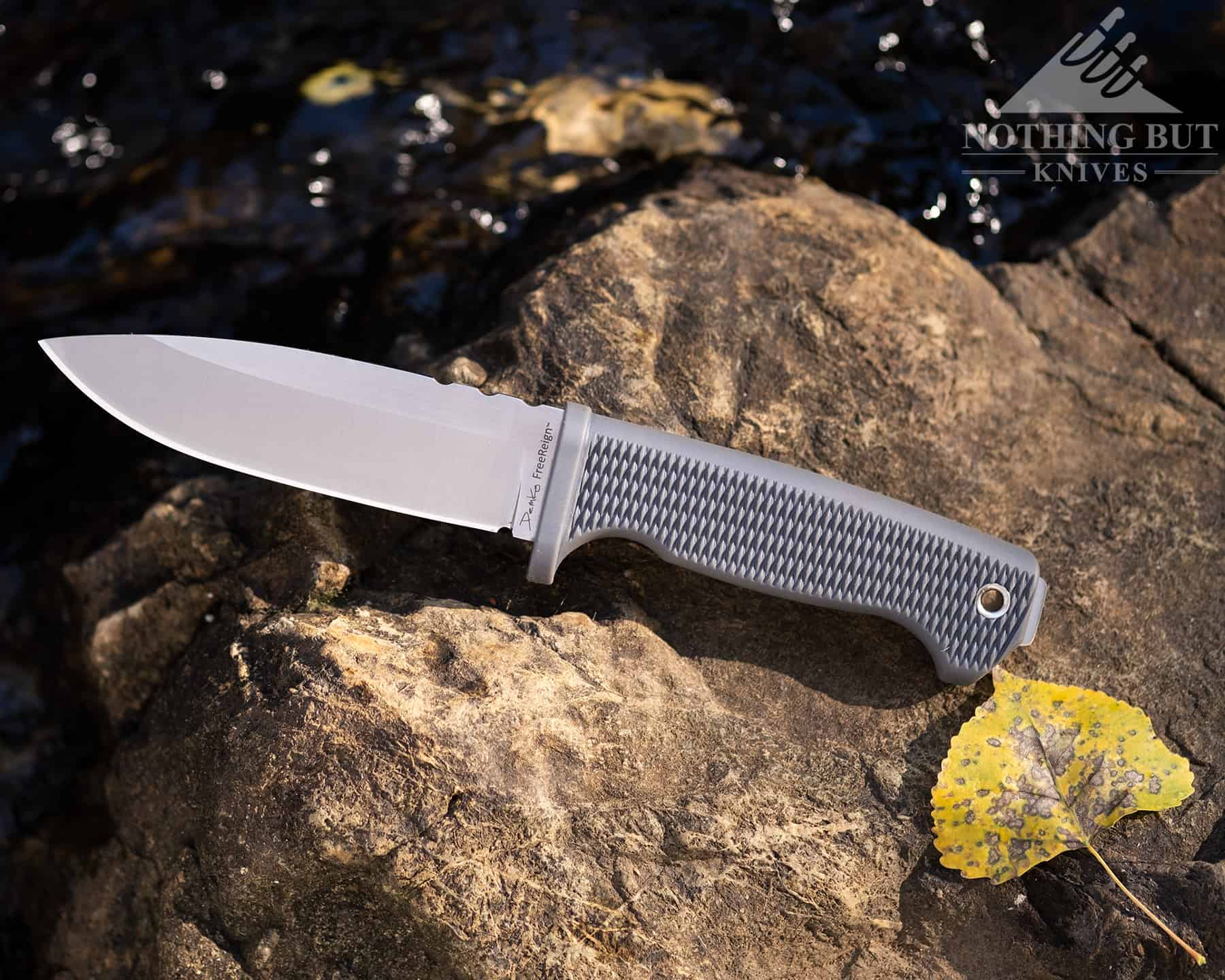 The FreeReign is a basic, tried and true shape of a knife. It's simple and sturdy enough to be used at home as a tactical, survival, or bushcraft knife. It does wonders when it comes to splitting wood and has one of the most secure grips I've ever felt.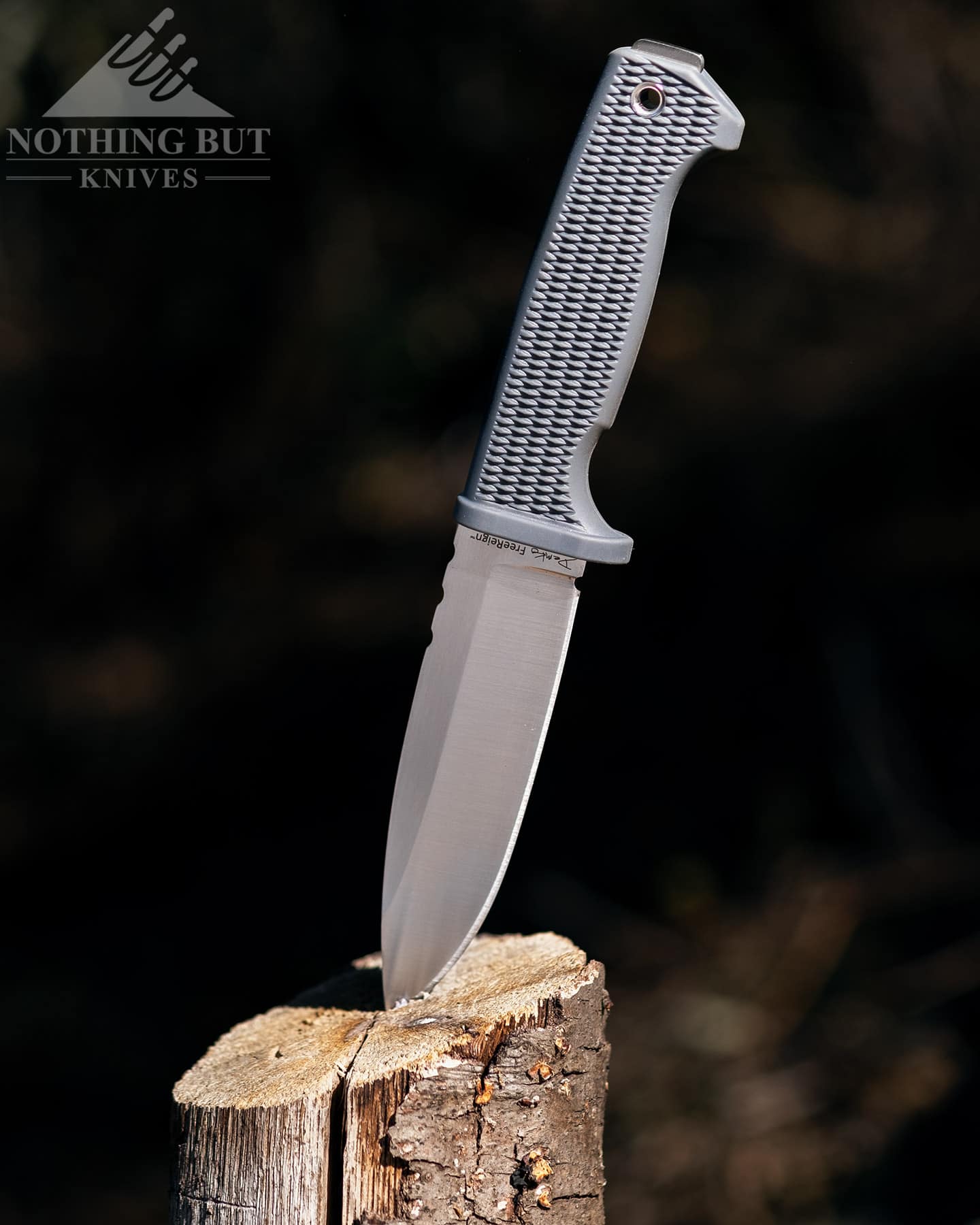 If it were only a great survival and bushcraft knife I would say it was a bit overpriced. As many will no doubt be quick to point out, any Morakniv is a great bushcraft knife and most of those are a fraction of the price. But I think the FreeReign's sheath brings this whole design up another tier. It adds a lot of longevity to the blade and reduces the amount of upkeep, plus it's aftermarket-friendly. So for anyone who's actually out in the wilderness getting their knives wet and dirty, the FreeReign is now probably one of the best full tang options below the $200 mark right now.