New Lock, New Look, New Ownership, But Everything About This Knife Screams Cold Steel.
I have mostly ignored Cold Steel since the company sold to GSM Outdoors almost two years ago. This reaction is not justified, and I certainly don't have any particular issue with GSM Outdoors. It was mostly just due to my general dislike of change. I have had enough conversations with other knife enthusiasts about the sale to know I was not alone in my disappointment.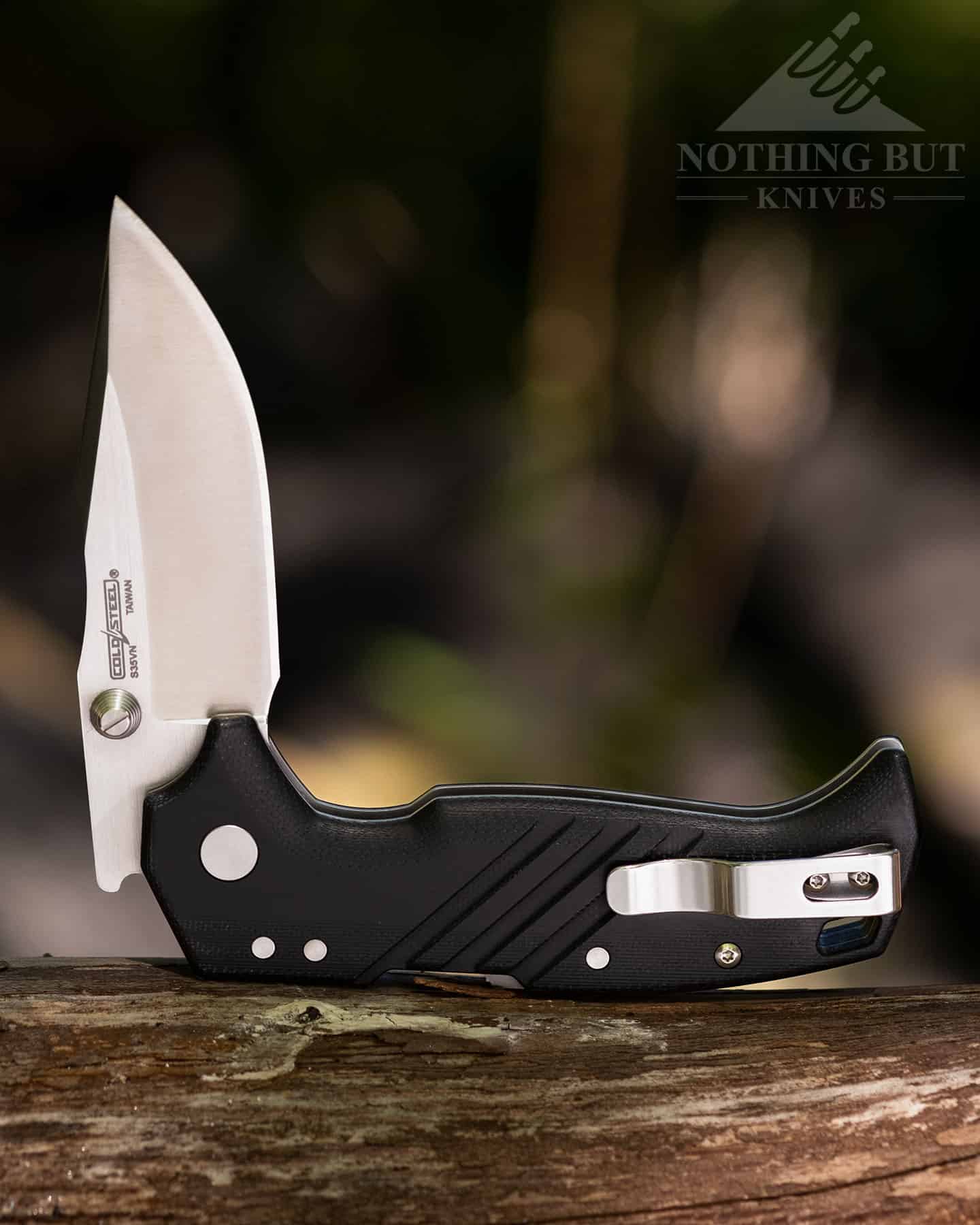 The idea of this iconic brand continuing without the colorful and charismatic Lynne Thompson who founded the company over forty years ago was only slightly more unsettling than the news that Cold Steel's most innovative designer, Andrew Demko, would be leaving as well.
When Cold Steel's new ad agency reached out to me about reviewing their latest release, I grudgingly complied in an effort to appear less petty than I actually am. I expected this knife to signal the impending decline of a once great company that has lost its soul to the corporate world. I was wrong.
The Engage is tough, relatively nimble and more versatile than most large folders I have tested. There may be Cold Steel knife release in the future that I can latch onto, and scream at the top of my lungs that the end is near, but the Engage is not that knife.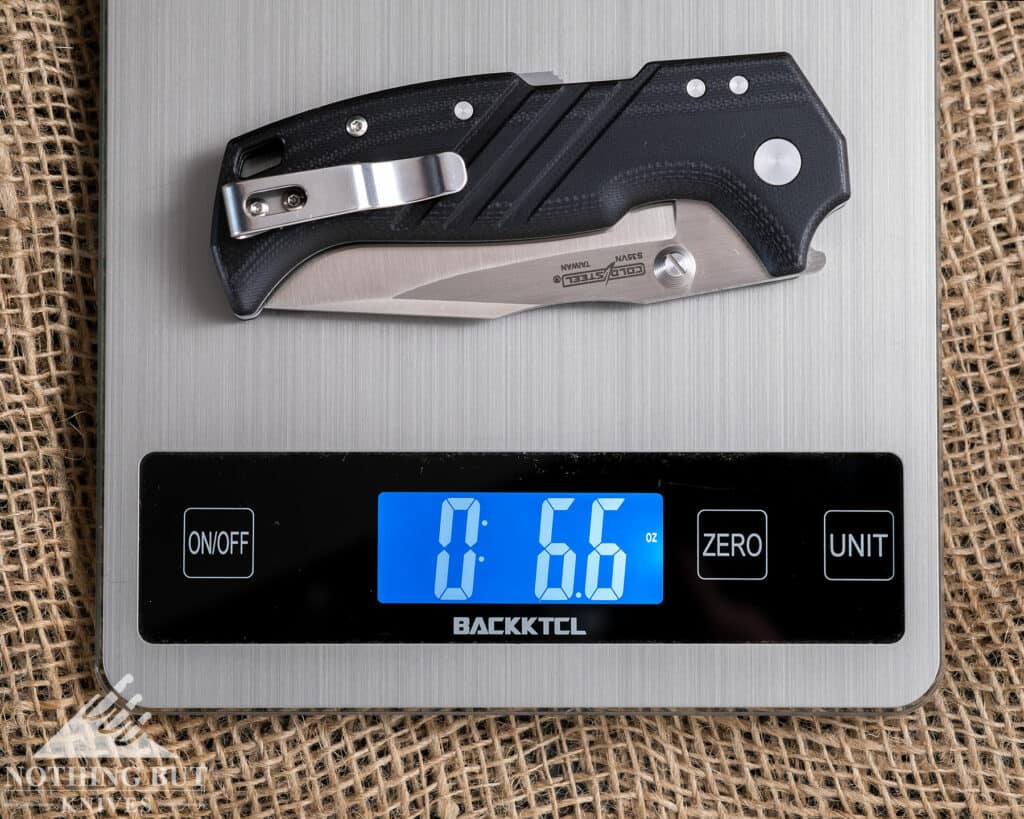 Specifications
| | |
| --- | --- |
| Overall Length: | 8.5″ |
| Blade Length: | 3.5″ |
| Handle Length: | 5″ |
| Blade Steel: | S35VN |
| Handle Material: | G-10 |
| Open System: | Thumb Stud |
| Blade Thickness: | 3.8mm |
| Blade Shape: | Clip Point |
| Blade Grind: | Flat |
| Lock Type: | Atlas |
| Weight: | 6.6 oz |
Pros
Great slicer for a big folder
Excellent action running on washers
Easy to maintain
Pleasant Ergos
Cons
The Atlas lock release switch edges need to be chamfered
T6 body screws seem a bit small for a beefy knife
The Atlas lock placement is a little awkward
Fit & Finish & Blade Deployment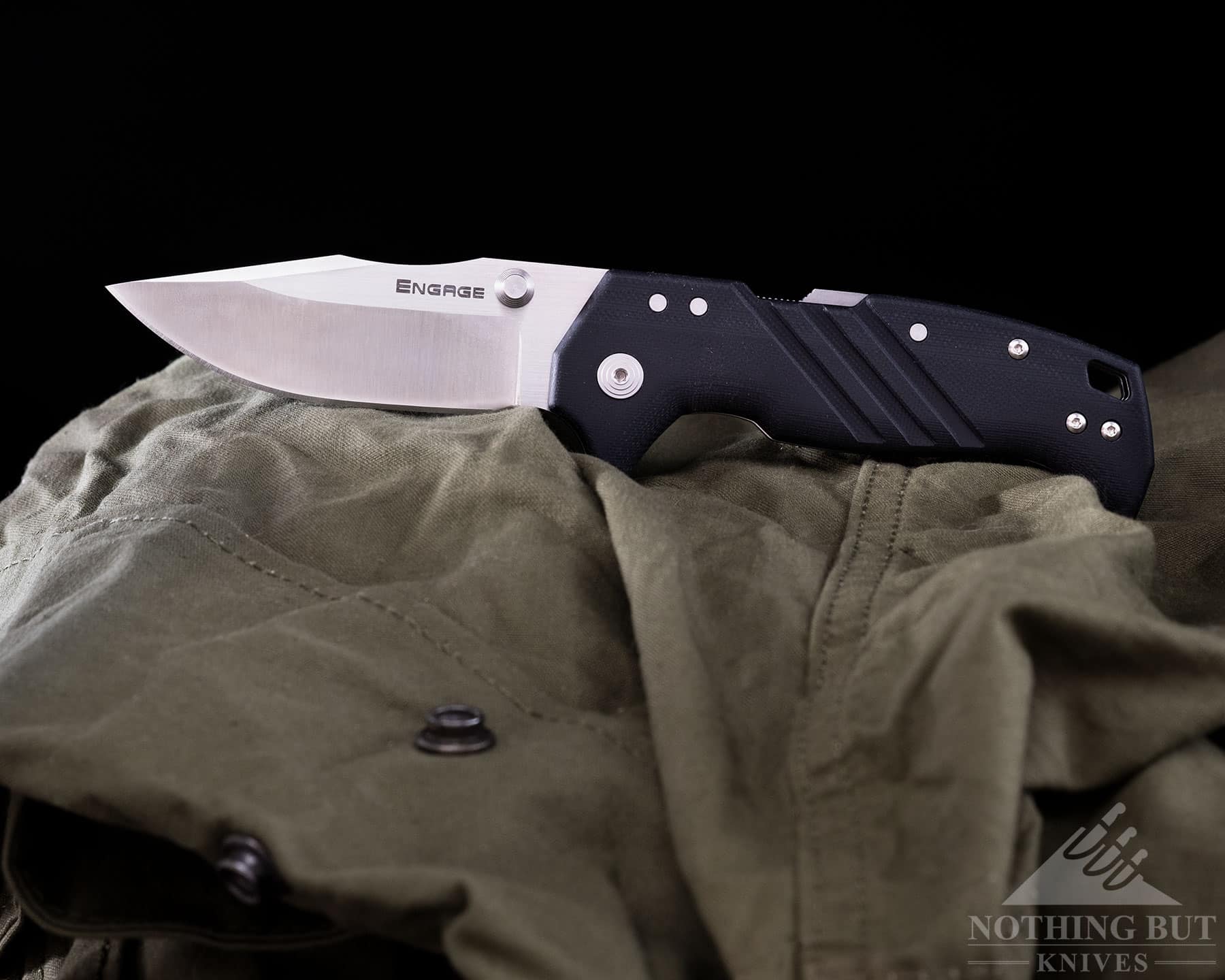 Cold Steel fans will not be surprised by the fit and finish of the Engage. It was manufactured with the same attention to detail as the premium Cold Steel folders of the past. The evenly chamfered handle scales are flush with the liners, the body screws are recessed, and there were no burs to be found in any cracks or crevices.
I am going to nitpick a little, because that is my job, and point out that the pocket clip screws are not recessed and the body screws are only T6 instead of T8. These are surprising oversights for a hard use style knife at this price point. Hopefully these shortcomings will be rectified in the future, but they certainly wouldn't keep me from making this as my primary work knife or go to EDC.
The Engage has a buttery smooth action for a knife that utilizes washers in the pivot rather than ball bearings. In fact, I assumed it was running on ball bearings before I was educated by Cold Steel's website.
The blade snaps open smoothly with minimal effort. This is a welcome capability for those of us with small to medium size hands. Sometimes thumb stud opening is awkward on larger knives like the Cold Steel Voyager series or even the Buck 110 Hunter Sport.
The ease with which the blades open is due partially to the relatively weak detent. This is to be expected on any type of folder with a slide lock. The Engage is no exception. That is not to say that the detent is weak enough to be dangerous. I never had any accidental pocket openings, but the blade does bounce around a bit in the closed position when the knife is dropped. In the open position the blade is perfectly centered with no wiggle.
The Blade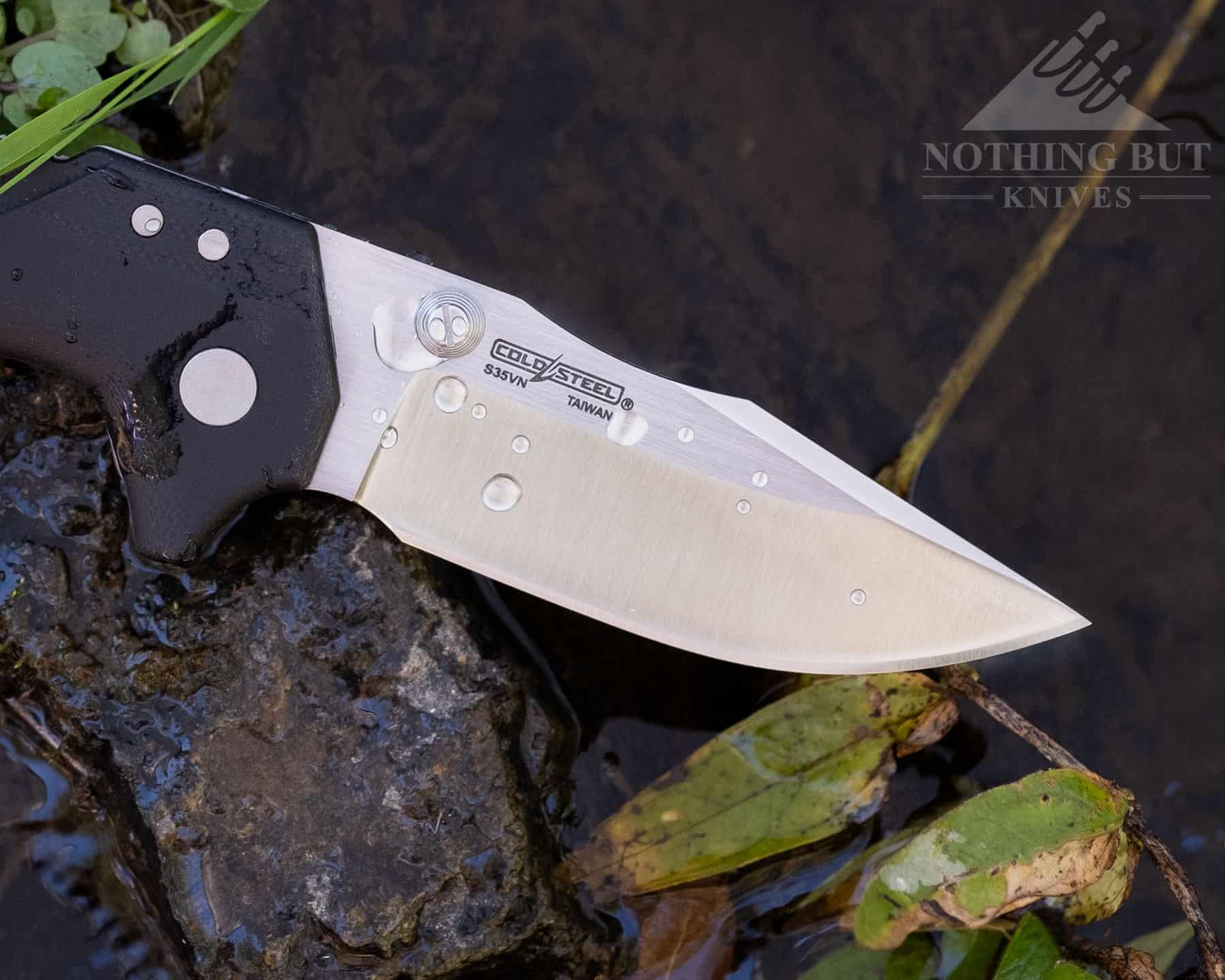 The blade of the Engage is the primary feature of this knife that will result in it being recommend by me on a regular basis to anyone looking for a capable outdoor recreation folder. The blade is big enough to handle most tough outdoor tasks, but it feels like a smaller knife when it is being used to carve. The large finger choil and harpoon-like recessed area on the blade's spine provide great control for carving tent stakes or spoons or most other necessary camping items that are easy to forget.
The tall flat grind of the Engage is nice for food prep as well. It is thinner behind the edge than many of Cold Steel's other large folders, but not thin enough that I worried about chipping or even rolling the blade when performing normal knife tasks.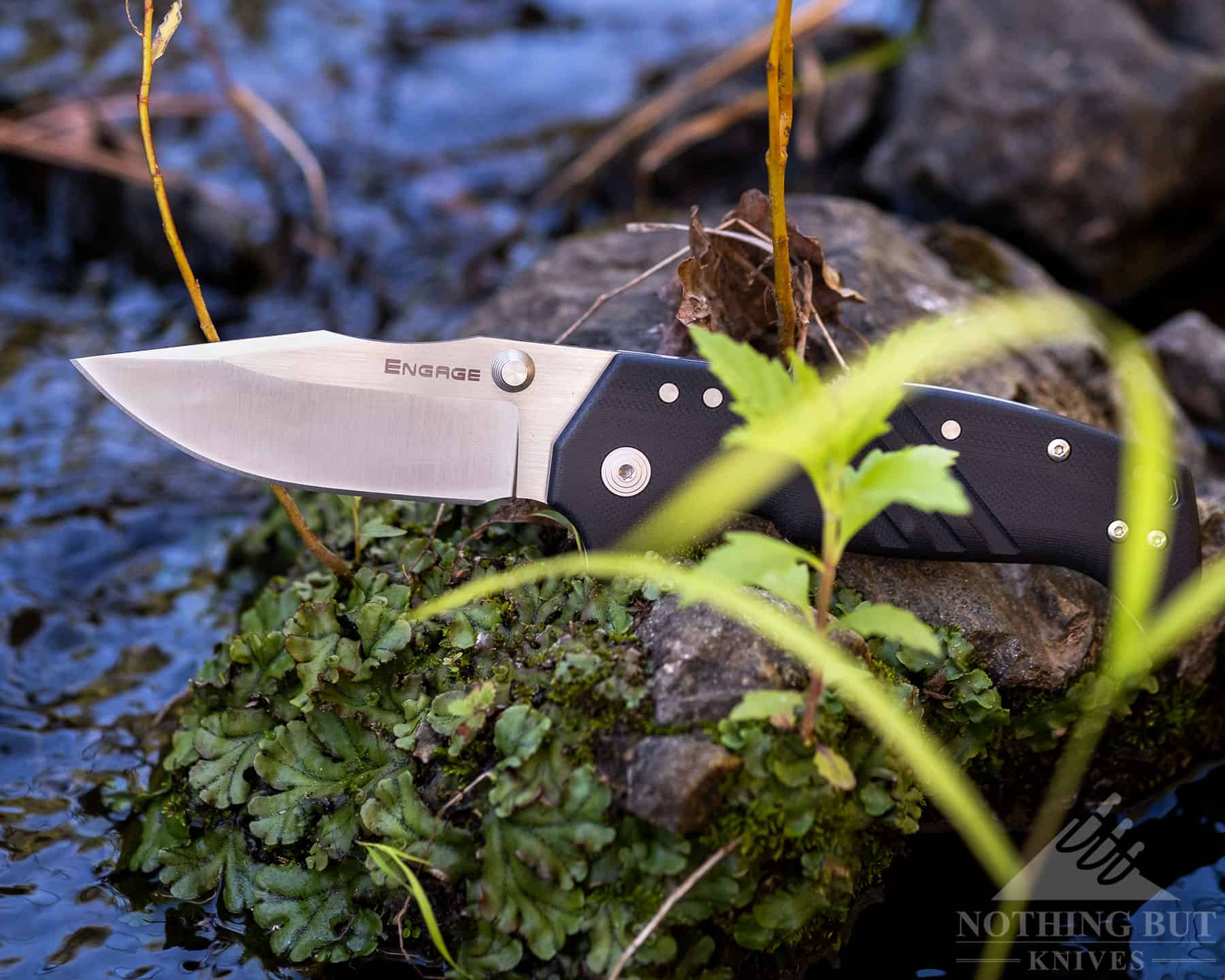 The blade is made of S35VN steel. That would not be my first choice for a hard use folder, because S35VN does have more of a tendency to chip than softer steels like AUS10A or Sandvik 14C28N. However, those who hate sharpening will appreciate the improved edge retention S35VN steel offers and those who hate oiling their knife blades will appreciate S35VN's corrosion resistance.
I couldn't find any information on the Rockwell hardness of the Engage's blade, but the fact that it never chipped in the month or so that I spent subjecting it to punishment makes me suspect Cold Steel cooked this on the softer side. This is great for those of us that tend be be pretty hard on their pocket knives.
My only complaint about the Engage's blade is the satin finish – also known as a fingerprint magnet. Obviously this does not affect performance, but it does make the knife more difficult to photograph.
In The Hand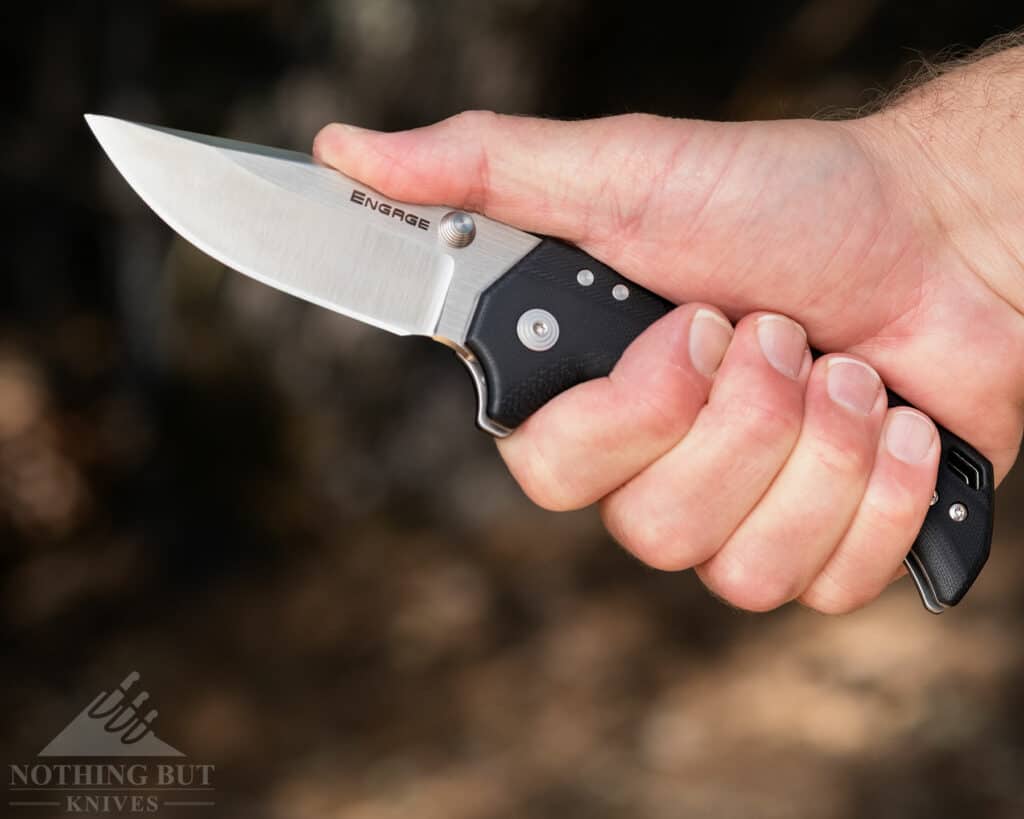 It is tough to find anything to fault when it comes to the ergos of the Engage's handle. I really appreciated the generous chamfer used on the edges of the G10 handle scales. This is a big part of why there are almost no hot spots when bearing down hard with this knife. I say almost no hot spots, because the lack of chamfer on the slide lock makes it the one feature on this knife handle that interferes with total hand comfort. It doesn't cause pain or even discomfort, but it is noticeable.
My hand fit nicely within the confines of the Engage's handle. However, a person with really large hands may find their hand feeling a little cramped between the front finger guard and the curved pommel.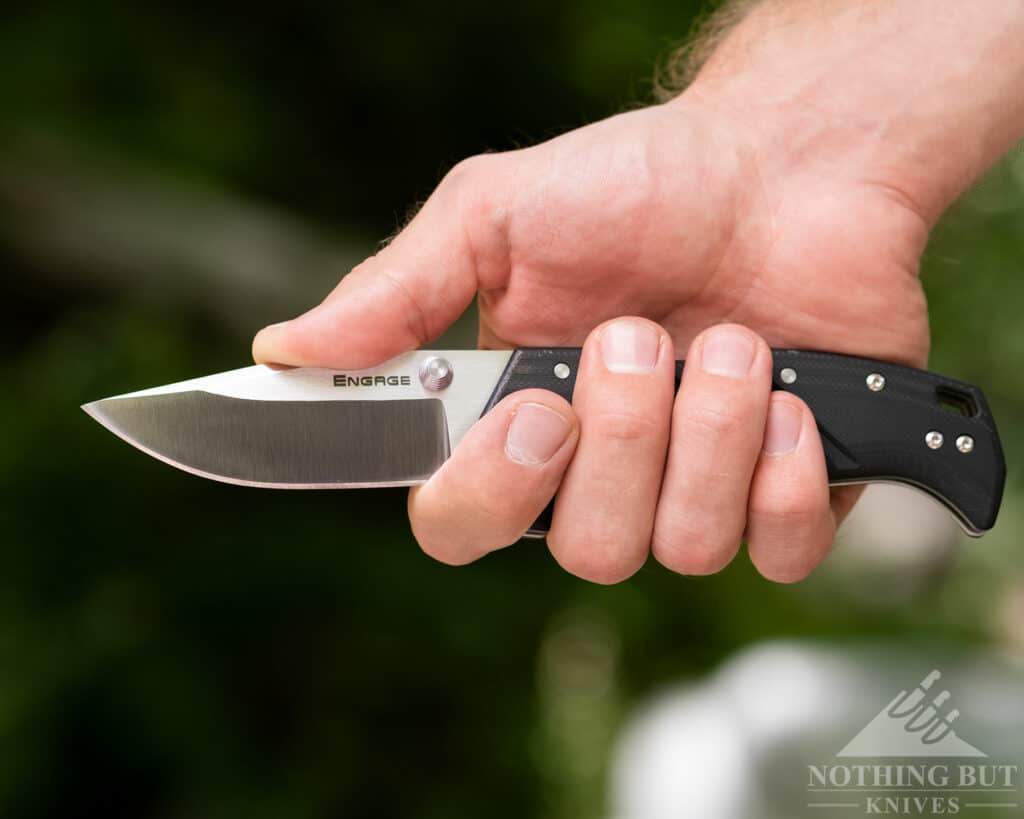 The Engage felt especially nice when my hand was choked up on the knife utilizing the finger choil. I know there are those who say blade finger choils are unnecessary, but they can piss right off. I mean I politely disagree. This forward grip really made carving easier by giving more control from certain angles.
In The Field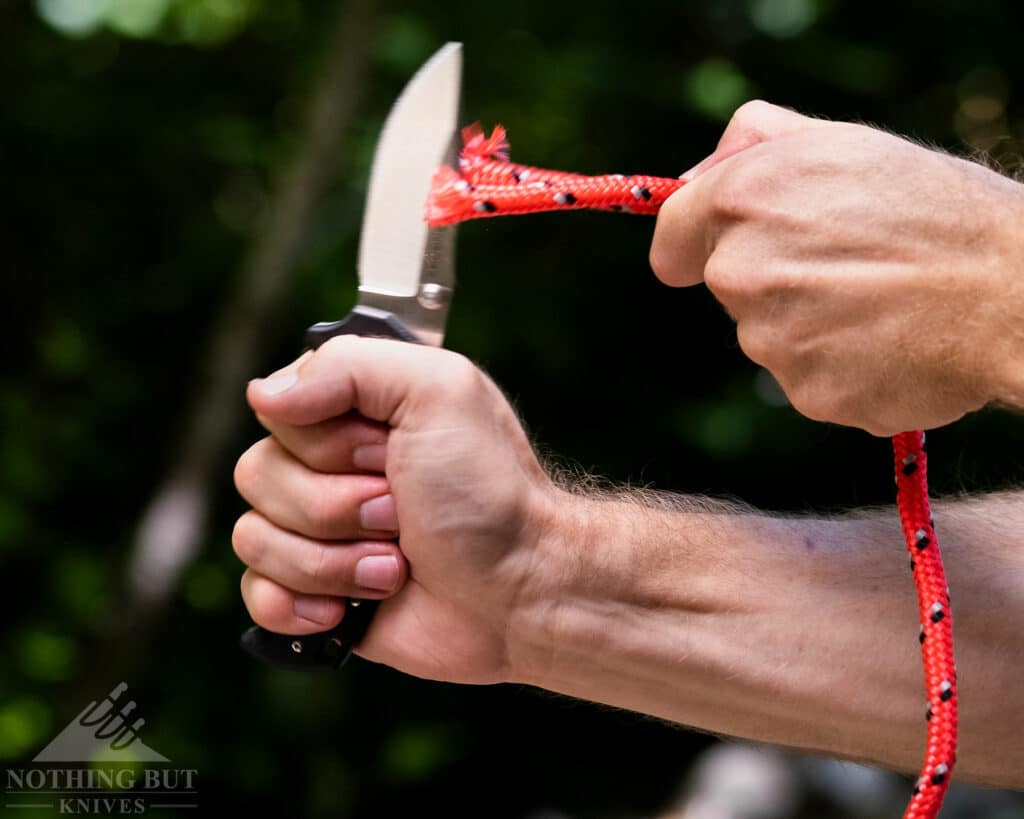 The Engage slices quickly and effortlessly. It out slices the Cold Steel 4 MAX Scout and even the Voyager. At 3.8mm the spine of the Engage is relatively wide, but it tapers to a much thinner edge than many of Cold Steel's other large overbuilt pocket knives. The thinner edge does compromise durability a bit, but it certainly improves performance.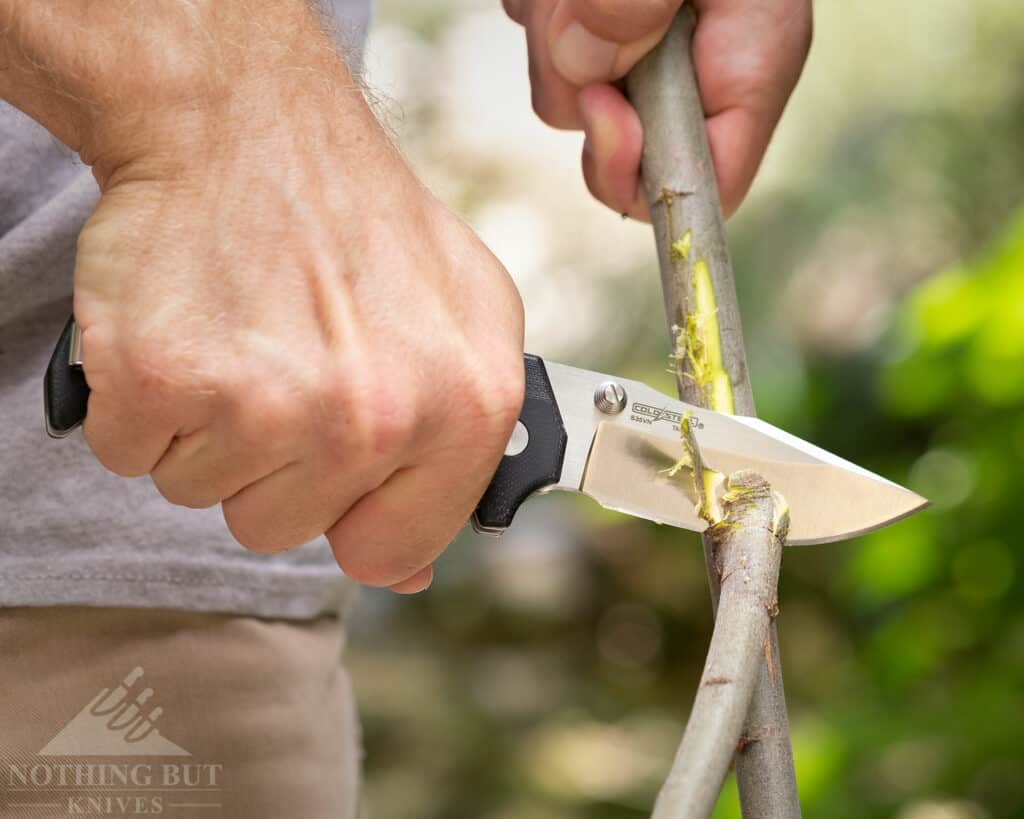 The Engage handled every camping task we threw at it with flying colors. It cleaned branches quickly, and the large handle makes adjusting my grip easy.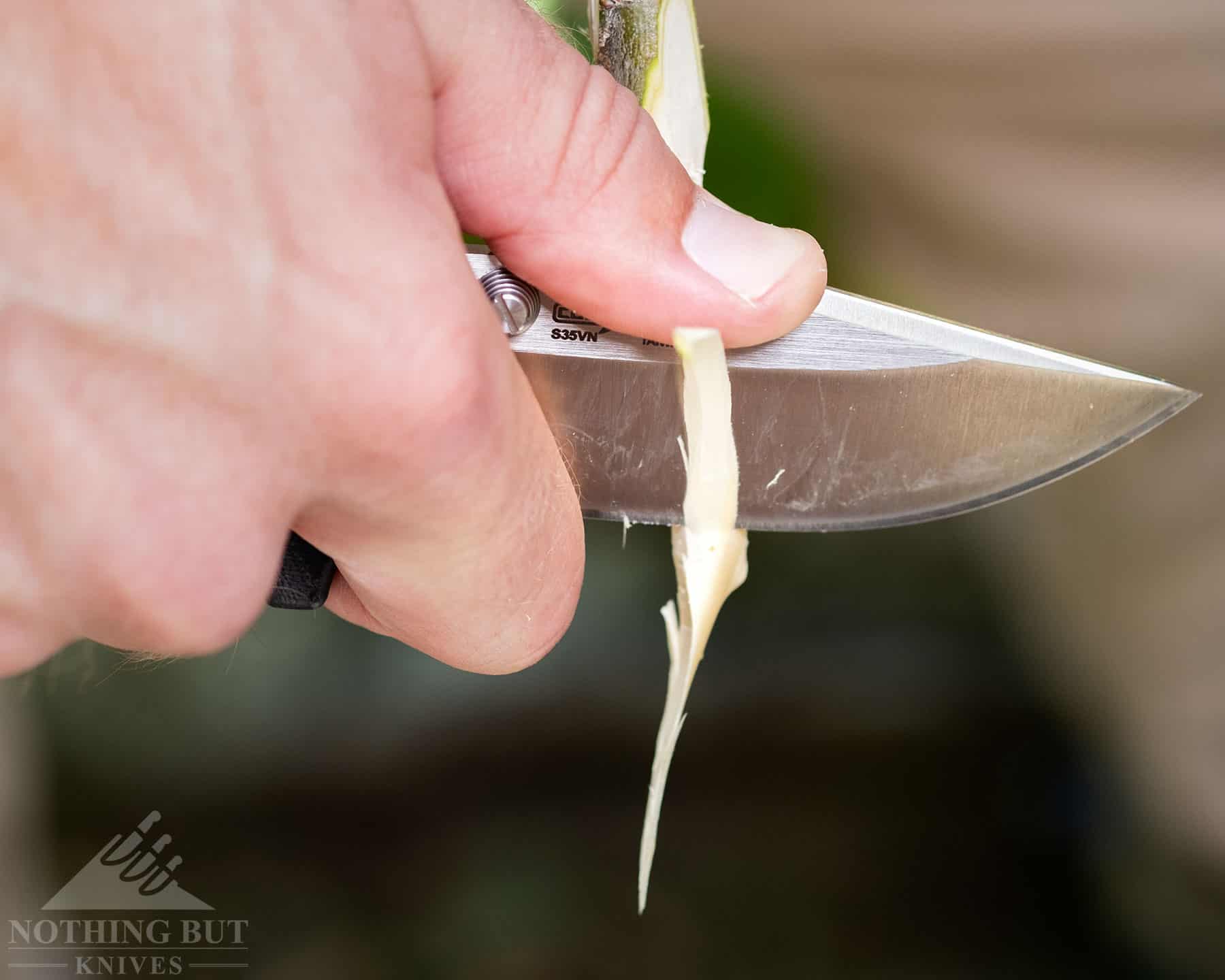 Most knives can handle sharpening a hot dog roasting stick well, but the Engage really made short work of it. The extra control the spine dip provided was not really needed for sharpening a stick, but it was nice for more detail oriented carving tasks like making a tent stake or a slightly nicer hot dog stick.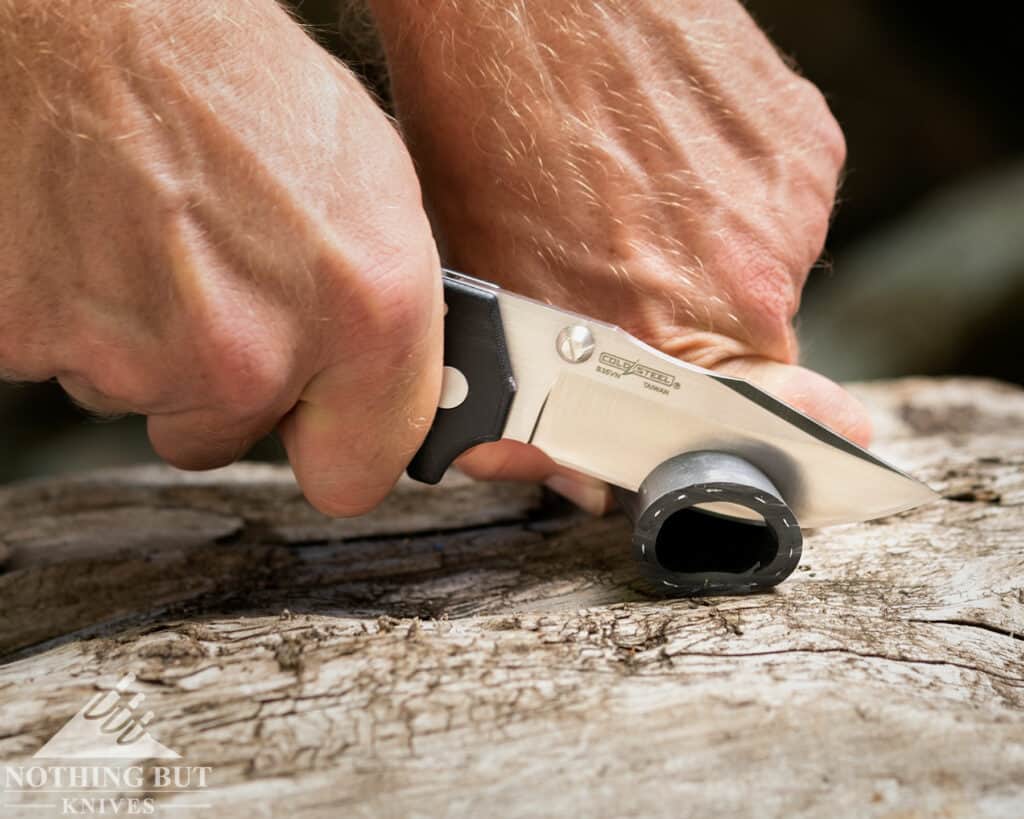 When it came to actual hard use type work, the Engage chugged right along. Most pocket knives we test on hard rubber tubing get wedged to one degree or another, but the Engage slid through effortlessly. The tall blade and gradual grind play a big part in this. It would be an even better slicer if it had a full flat grind rather than a saber grind, but that would compromise durability.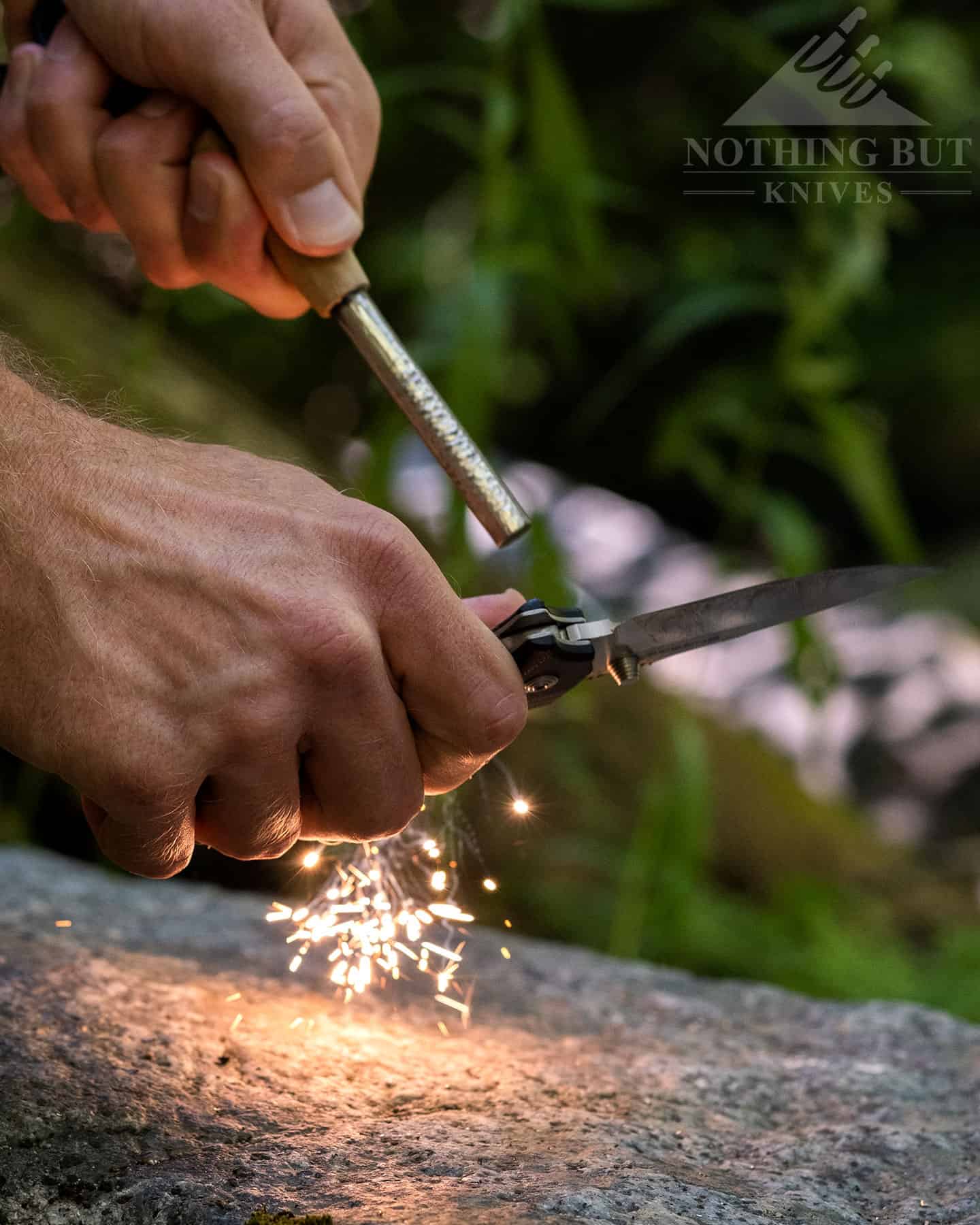 The Engage's spark throwing ability combined with its other strengths really cemented it as one of the top folding knives I will be recommending to anyone who asks for a camping folder in the near future. The 90 degree spine dug right into the ferro rod and rained down sparks without any of the weird trial and error angle adjustments required to spark a ferro rod with a lot of other knives.
In The Pocket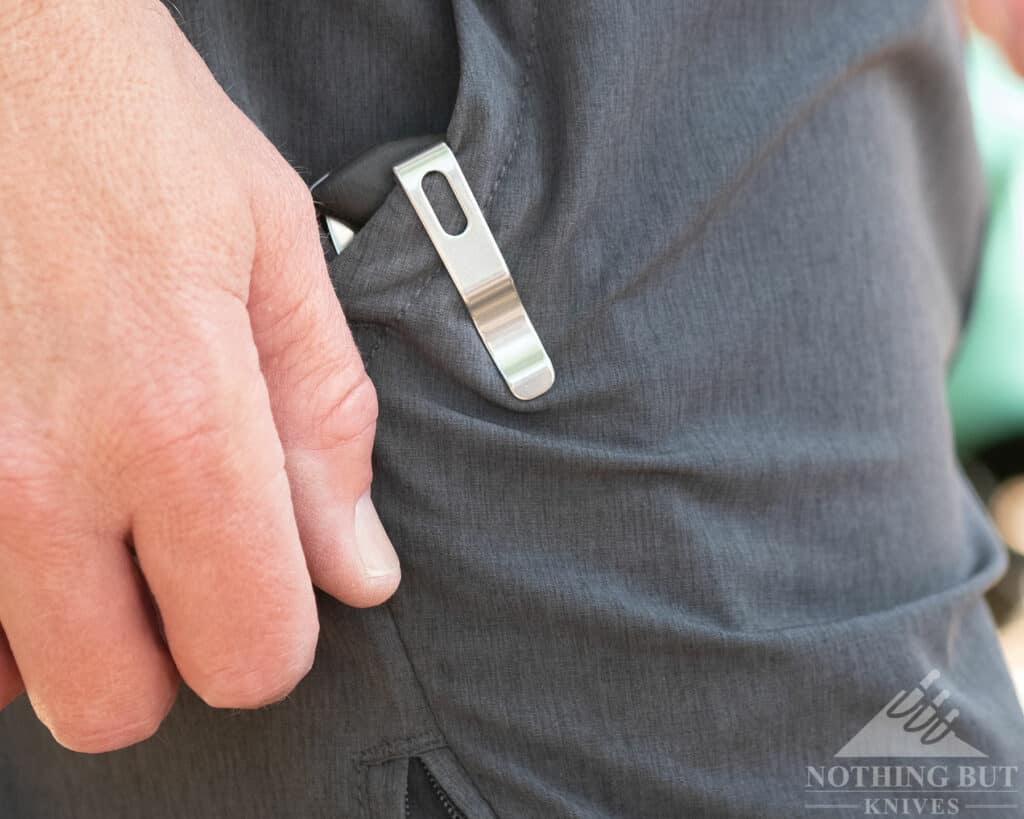 The Engage is a bit of a pocket hog, but if you have read this far you probably have other large Cold Steel knives, so pocket space may not be a big issue. It is slimmer than the Cold Steel Bush Ranger series and shorter than the Cold Steel Voyager XL series, but it still may not be the best choice if you are looking for a knife that will maximize pocket space.
The engage is what I like to call deep-carry adjacent. It doesn't totally disappear in the pocket, but it sits much lower than most of the other Cold Steel pocket knives on the market.
The Atlas Lock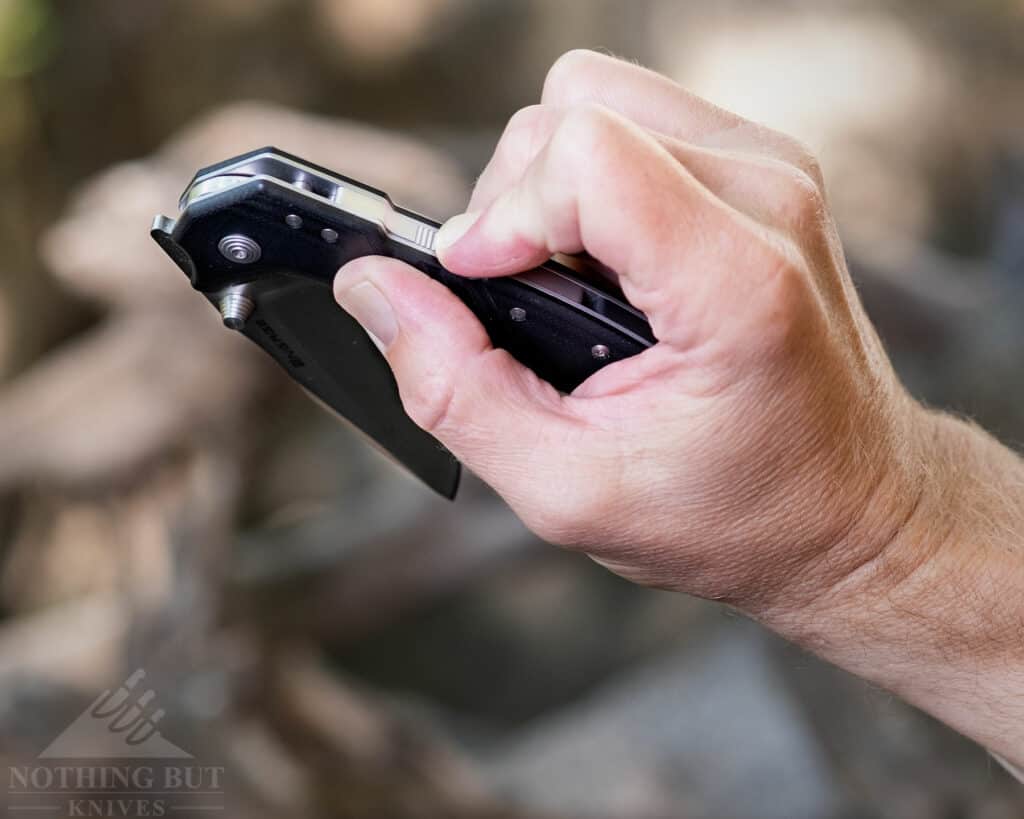 The Atlas lock sits a ways back on the handle which takes some adjustment for those of us who are used to the Demko Shark Lock or the Benchmade-style slide locks. I adjusted with minimal practice, and one handed opening became fairly effortless. I still prefer the Shark Lock from a usability standpoint, but the Atlas lock is easier to use than a back lock.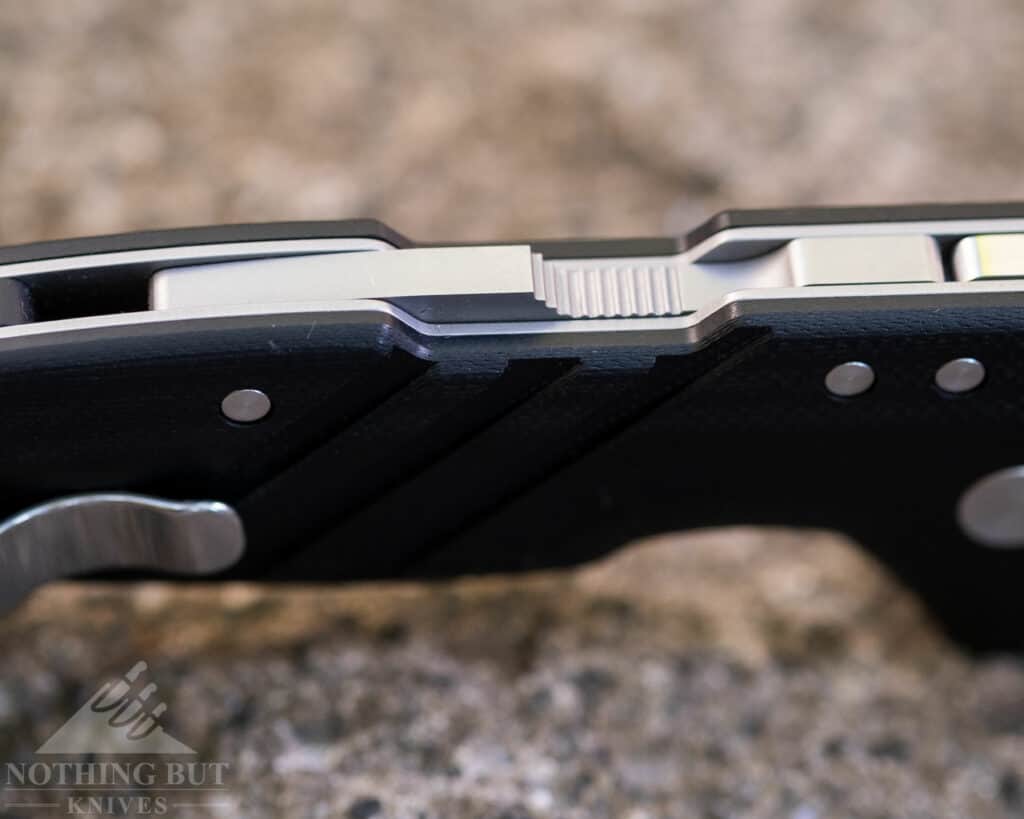 The Atlas lock works well. It is not as bomb proof as the Tri-Ad lock, but it is more secure than a liner lock. I didn't do any crazy head to head tests, because this YouTube reviewer already did. I was personally more interested in how the lock held up to repetitive dirty hard use and no maintenance or cleaning.
I made this knife my EDC for six weeks straight in the middle of summer. I wore it and used it while swimming, paddle boarding, hiking, tubing, camping and doing yard work. During this time I neglected to clean it or oil it or speak nicely to it. On the seventh week it turned into a fixed blade. It turns out pocket lint, dirt, and water had all collected on the interior of the knife around the slide lock and froze it up after I opened it.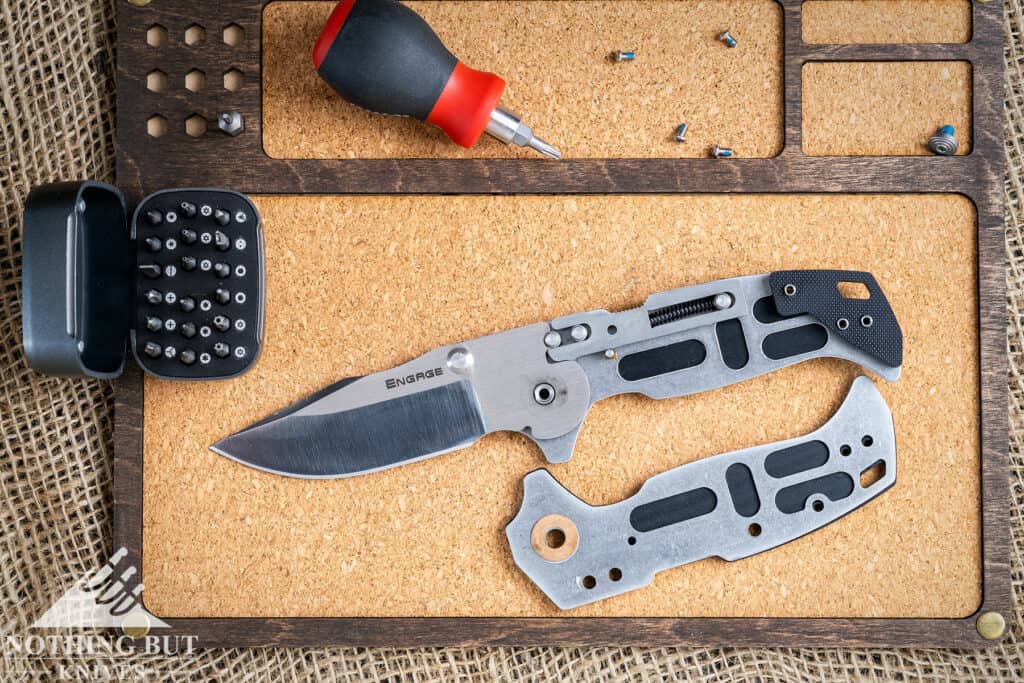 I had been mistreating the Engage hoping it would malfunction, so I had an excuse to disassemble the knife and attempt to fix it. This is when I became a big fan of the Atlas lock. It was surprisingly easy to disassemble, clean and reassemble. I found the whole process to be faster and easier than performing a similar operation on a knife with standard back lock or the Cold Steel Tri-Ad lock.
It is worth mentioning that I fully expected to find some pretty serious corrosion on the inside of this knife due to my poor treatment and lack of maintenance, but it was totally rust free. This was probably helped by the fact that it was well over 100° here in Northern California most of the time I carried it, so it dried quickly.
The only problem I had with the whole process was the flying spring. The spring that operates the slide lock will go flying once the liner is removed, and it is difficult to find once it flies away.
Possible Alternatives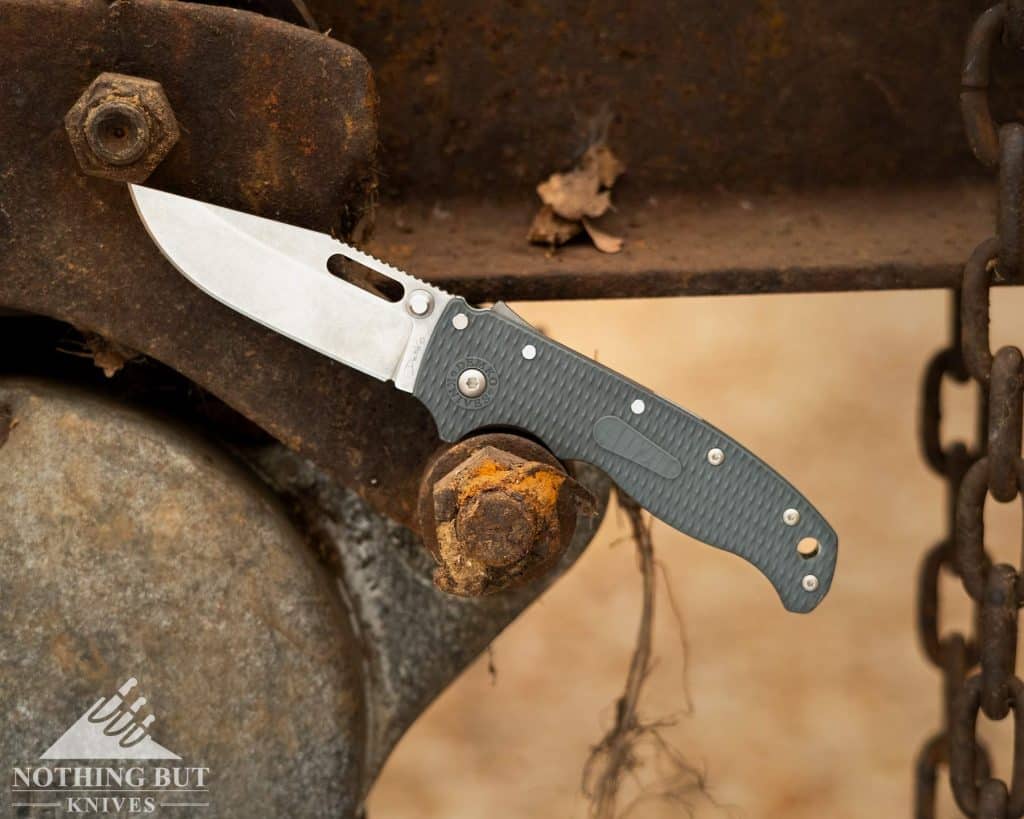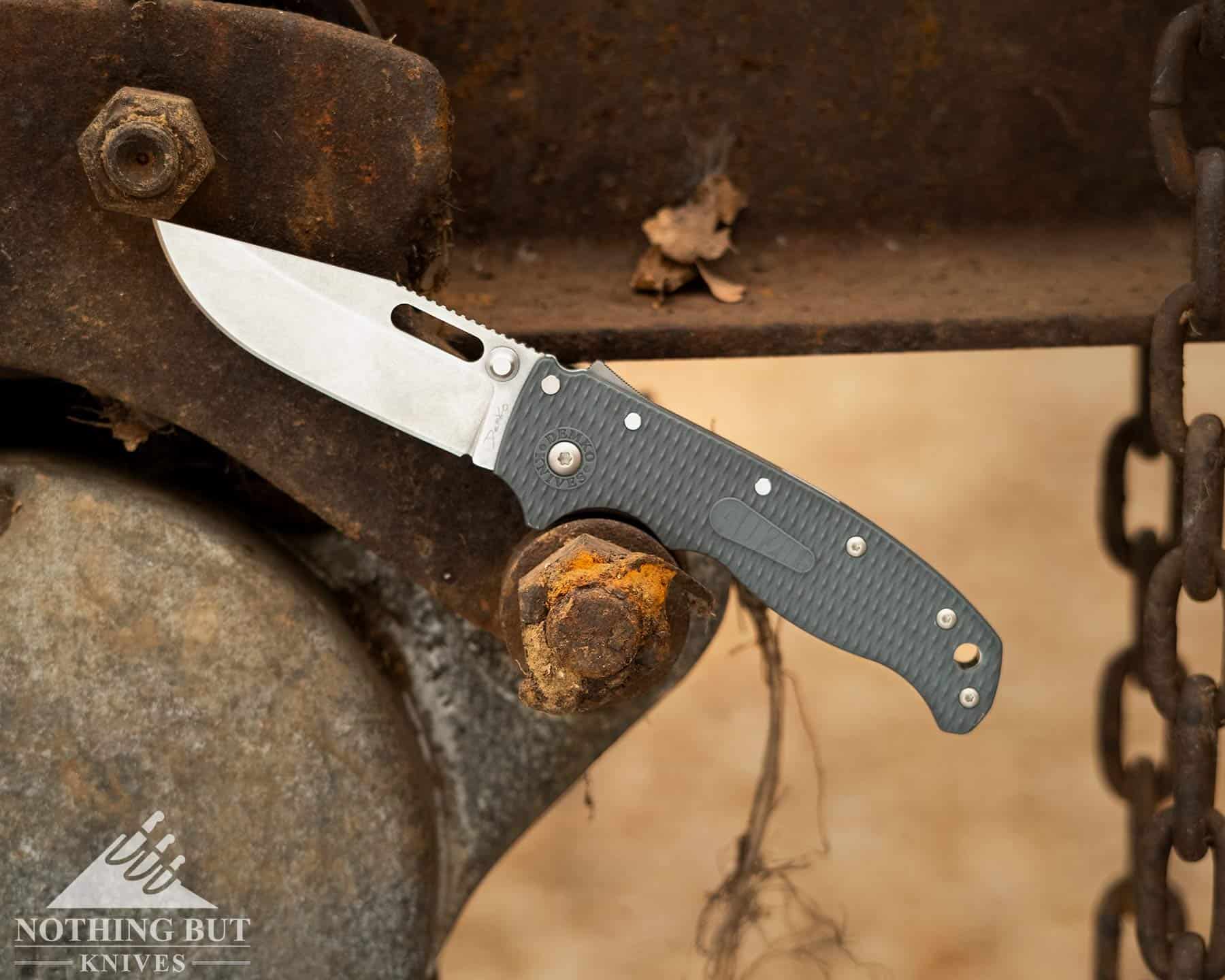 The number one alternative to the Engage is obviously the Demko AD 20.5. This is no surprise, because even though Demko has left Cold Steel, the Engage smells like him. His imprint on the DNA of the company has survived the ownership change, and that is a good thing.
Overall I prefer the AD20.5 for hard use tasks like yard work or home improvement projects, and I prefer the Engage for camping and food prep. I would probably choose the Engage over the AD20.5 for hunting due to its better edge retention and easy maintenance. The AD 20.5 is the way to go if you need some extra pocket space, but the Engage sits a little deeper in the pocket. They are both good knives, and I expect them to be two of our most recommended knives here at NBK over the course of the next few years.
The Off-Grid Viper V2 is also good alternative to the Engage for anyone who is looking for a big, tough pocket folder with a more conventional locking system.
Conclusion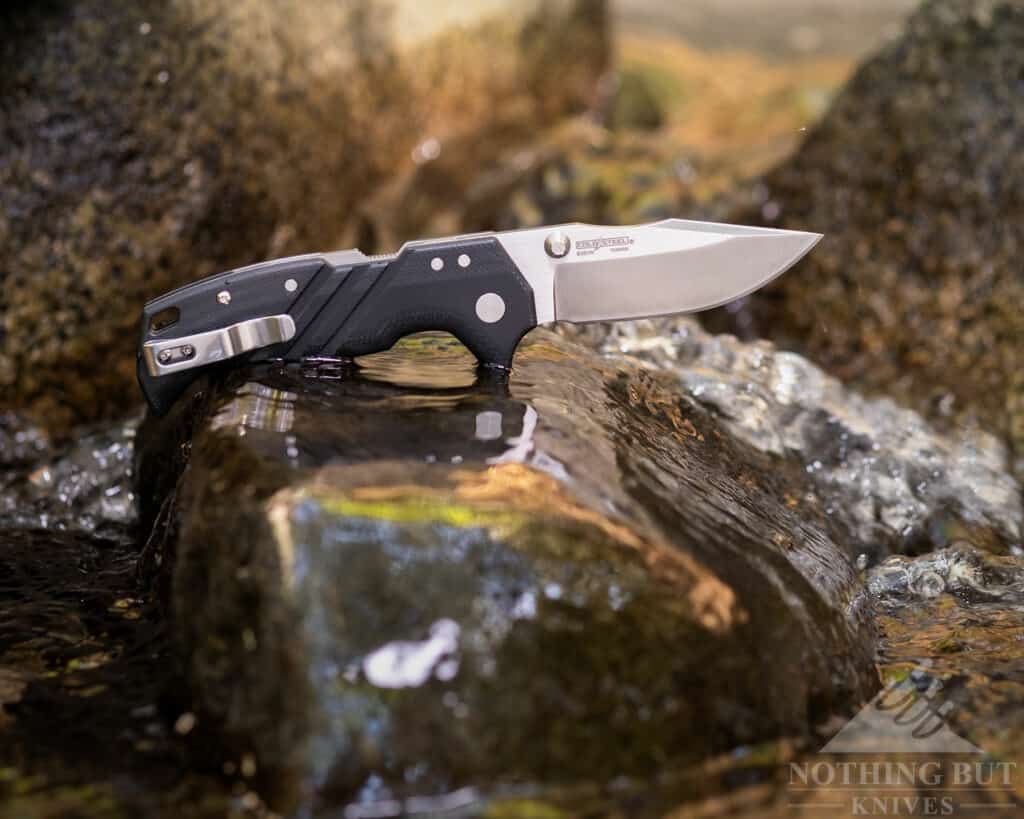 I spent a lot of time with the Engage as my primary EDC. In fact, I carried it longer than any pocket knife I have ever reviewed. This is partially due to the fact that I am lazy. I know that as long as I am carrying a knife and taking notes I don't have to sit down and write an actual review. But I also really liked this knife, and I didn't want to stop carrying it.
The Engage has its issues. I wish it had bigger body screws and recessed pocket clip screws. I wish the slide lock on the handle spine was chamfered so it wouldn't sig into my soft princess hands. I also wish the finish was stonewashed rather than satin. But these few shortcomings do not change the fact that the Engage is just plain useful. The thumb stud is behind the cutting edge, one handed open and closing is seamless, the forward finger choil and spine dip give great control when carving, and it is a great slicer.
I think that even the biggest Cold Steel alarmists will have to admit that the Engage is a good knife that fills a gap in Cold Steel's product line well.