Andrew Demko's Flagship Knife is the Hard Use Tool We All Expected It to Be
This knife doesn't hold any surprises for anyone who's used a Demko knife before. Especially for people who already own the Cold Steel AD20.
This is basically the same thick-bladed slicer with robust edge geometry and a grippy handle. It's just smaller and has the Demko name stamped on the blade now.
As one of many who already have a lot of his designs in their collection, I was predisposed to like the Demko 20.5. And since there was no critical failure as I was testing it, of course I'm going to say this is a purebred working knife with snappy action, a firm pocket clip, and a build that can stand decades of heavy use. I already knew this was a good design. It just needed to pass the factory QC test, and it did that no problem.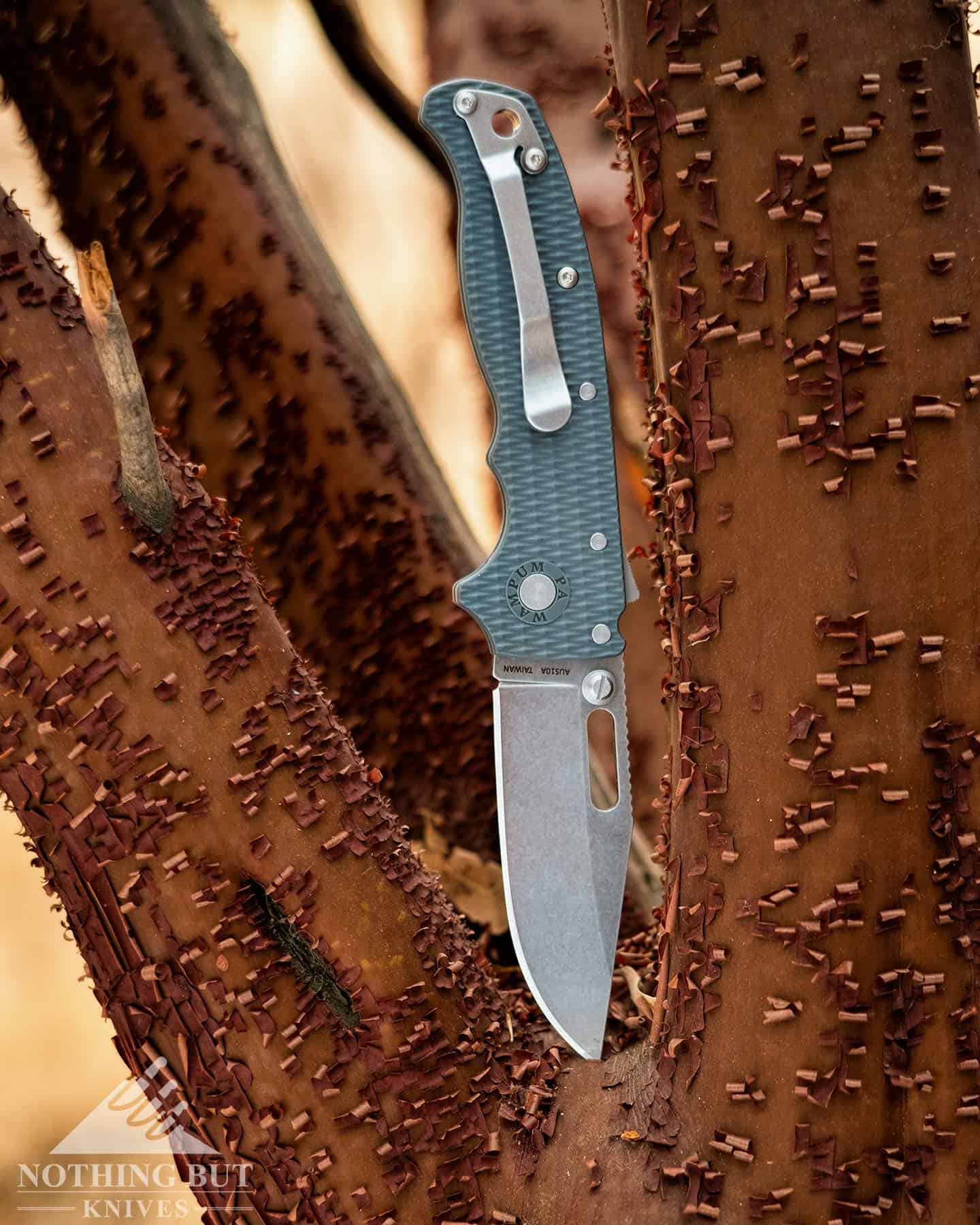 There are a couple little issues like the pocket clip being a little tight, and the scales being hard on pocket linings, but overall the new Demko brand is off to a great start.
2022 Update: About half a year after we reviewed this knife, Demko released the 20.5 in CPM 3V steel, which is a lot tougher and grindable than AUS-10. We haven't tested that version yet and there are a growing number of variations, but we'll update this review as we get our hands on different versions.
Also, as someone very helpfully commented below, the aftermarket around this knife is booming. You can make your 20.5 a deep carry or a little thicker or get scales in a whole mess of different colors. It's looking to be a busy year for torx screwdrivers.
Specifications
| | |
| --- | --- |
| Overall Length: | 7.625" |
| Blade Length: | 3.25" |
| Blade Steel: | AUS10A |
| Blade Thickness: | 0.125" |
| Blade Shape: | Clip point |
| Blade Grind: | Flat |
| Handle Length: | 4.5" |
| Handle Material: | FRN |
| Lock Type: | Shark Lock |
| Weight: | 3.55 oz |
Pros
Grippy handle with good ergonomics
Rides light in the pocket
Slicey edge for such a thick blade
Great edge retention
Comes with right and left handed pocket clips
Tons of aftermarket customization options for it
Cons
Aggressive scales are pocket chewers
The edge is good, but it's still a fat blade
Maybe a little Pricey for a Hard Use Knife
The Blade and Performance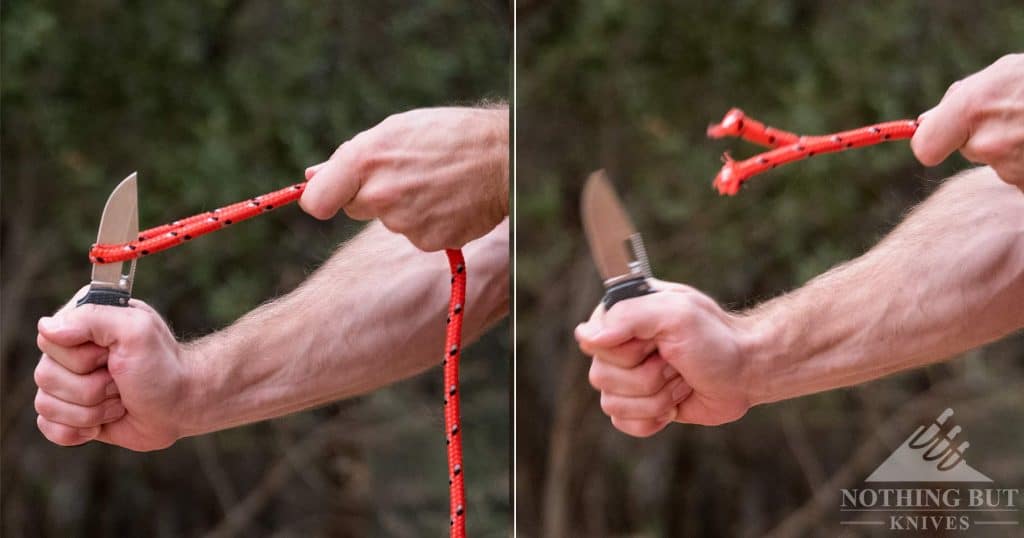 This blade has the kind of thickness that makes you think it couldn't possibly cut smoothly. I've had that thought before about other Demko knives, though, and I'm always proven wrong. Some things don't change.
Don't get me wrong. This still cuts like a fat knife, but it's a sharp fat knife. It's smooth on a paper test, but it won't quite shave hair on factory sharpness. This doesn't have a biting edge, so it has a little trouble on a straight push cut, but as long as you're actually slicing with this knife the blade does a good job breaking down boxes, cutting threads, and carving wood.
The Edge Retention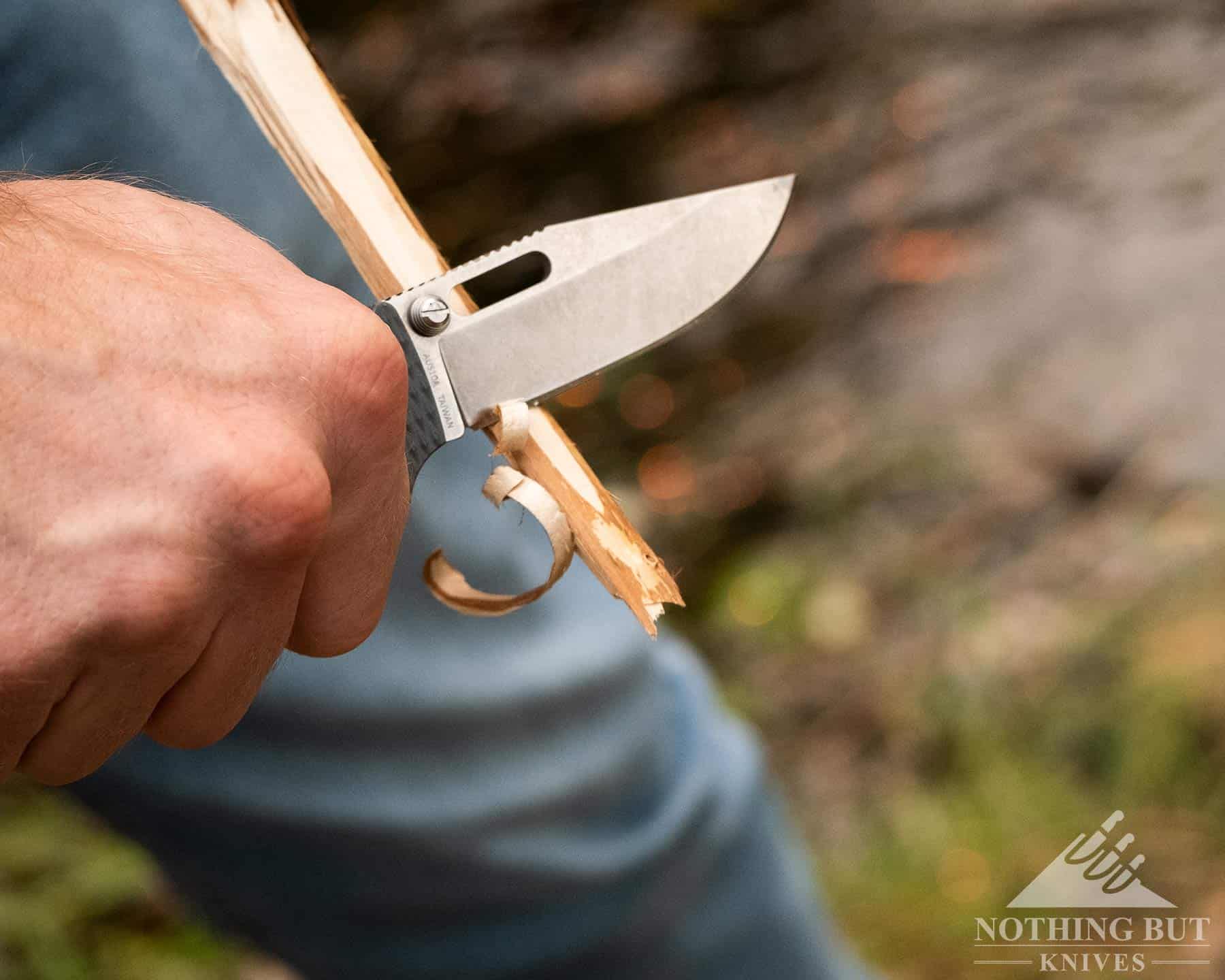 The Demko 20.5 holds a pretty decent edge.
I didn't notice much change if any in a paper test after the first round of wood shaving and cutting rope and cardboard. I had to actually sit down and cut about 15 sections off a hard rope before the edge started having any trouble on paper, and even then the edge was still plenty usable.
Between that edge retention and the thick blade stock, this blade easily hits the benchmark for all-day hard use for me. It's been fine cutting through most things I should be using it on outside, and the edge and blade stock are thick enough that I feel a lot less guilty when I start using this knife for stuff it wasn't designed to do like prying and chopping.
The Handle and Ergonomics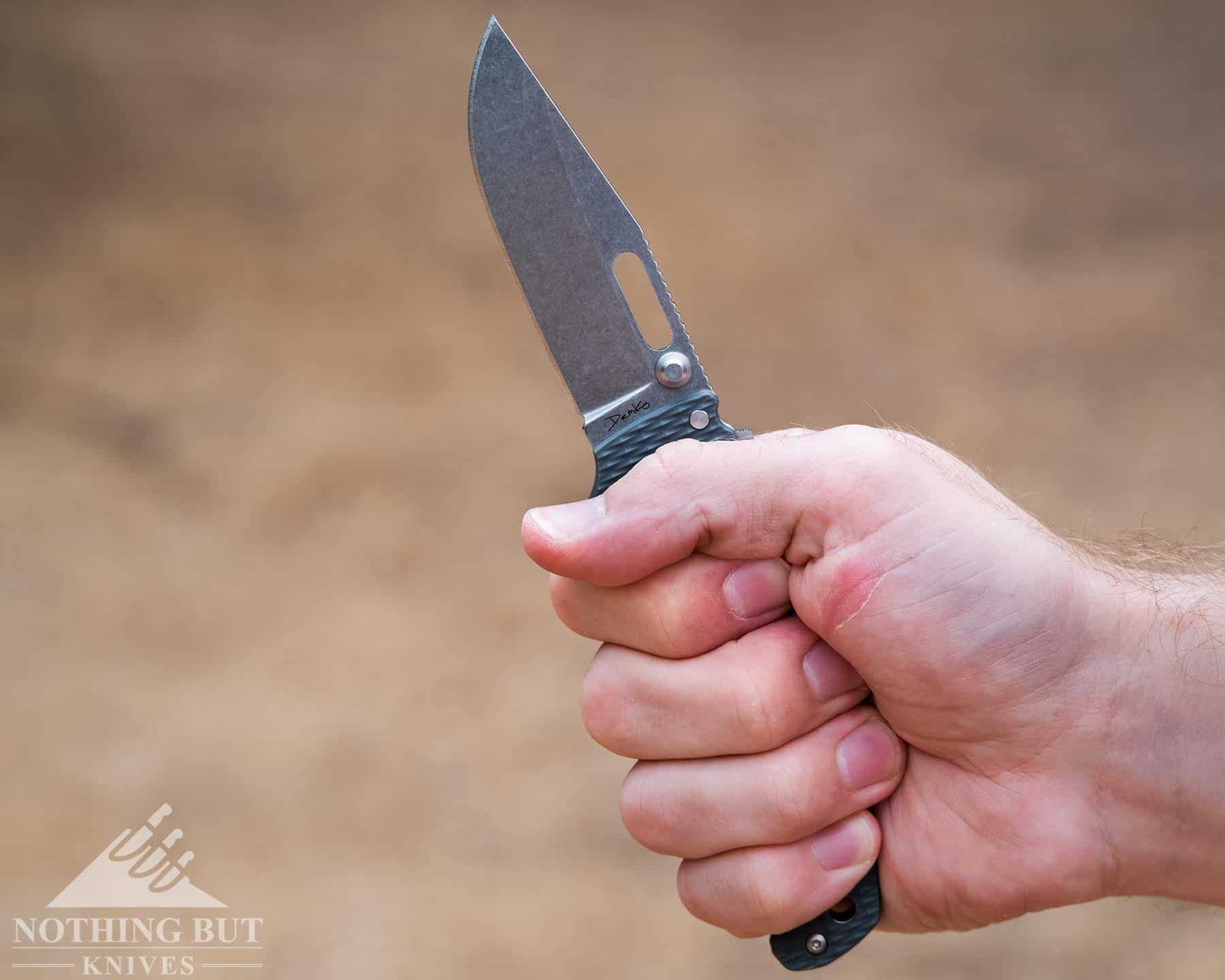 The overall shape here is really good. I like that the handle is spaced so that the index and middle finger are indented, although I'm not a fan of the two-finger groove. This is really easy to control and pretty comfortable to hold for how thin the handle is.
The Shark Lock is also really well placed to stay out of the way in a full grip or a sabre grip, but it's still in easy access if I want to brace my thumb on it.
Demko has made a few good choices for balance and weight loss here as well. The main one being in the blade where they've milled out a long oval piece above the thumb stud. This little feature has turned out to be really useful for me as I always seem to shift my thumb part way onto it for a little more traction. And it's actually pretty comfortable to use on its own to open the blade.
Speaking of Opening the Blade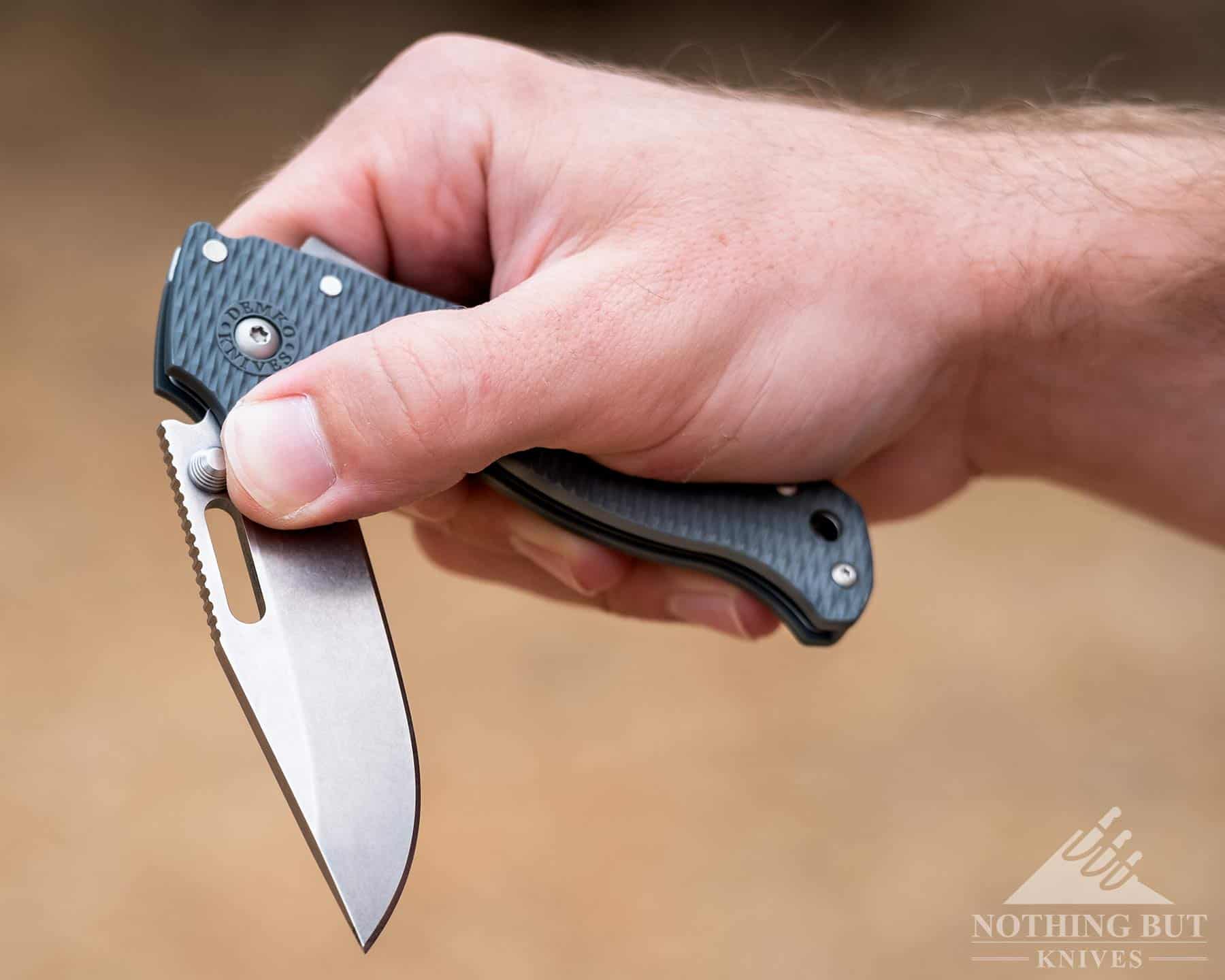 This action on this Demko is super smooth. Since it's running on caged ball bearings, that isn't a big surprise. The only thing that felt funny at first was the way the spring inside the Shark Lock gives a little resistance before the blade gets about halfway open.
It actually feels like an assisted open in that sense, just without the part where the spring pushes the blade open the rest of the way.
Beyond that, the thumb stud, thumb hole, and the Shark Lock all feel really natural to use to flip the knife open. There have actually been a few times that I've felt the rise of the Shark Lock and tried to open this like a flipper out of instinct.
Turns out you could almost open the 20.5 like that. If the spine of the blade is facing down it'll come open almost half way just from the lock being pulled.
That's how I realized it was also possible to flip it open just by flicking the hand, so fair warning to those of you in cities with stricter definitions: this would probably be considered a gravity knife in some places. Even for those who don't, you might want to tighten up on the pivot screw just a little if you don't like quick-fidget action.
The important part here for me, though, is that I can be holding this knife in any position and be able to open it pretty easily, which makes it a really nice one-hand-open carry.
The High Rise Pocket Clip and the Option for Left Handed Carry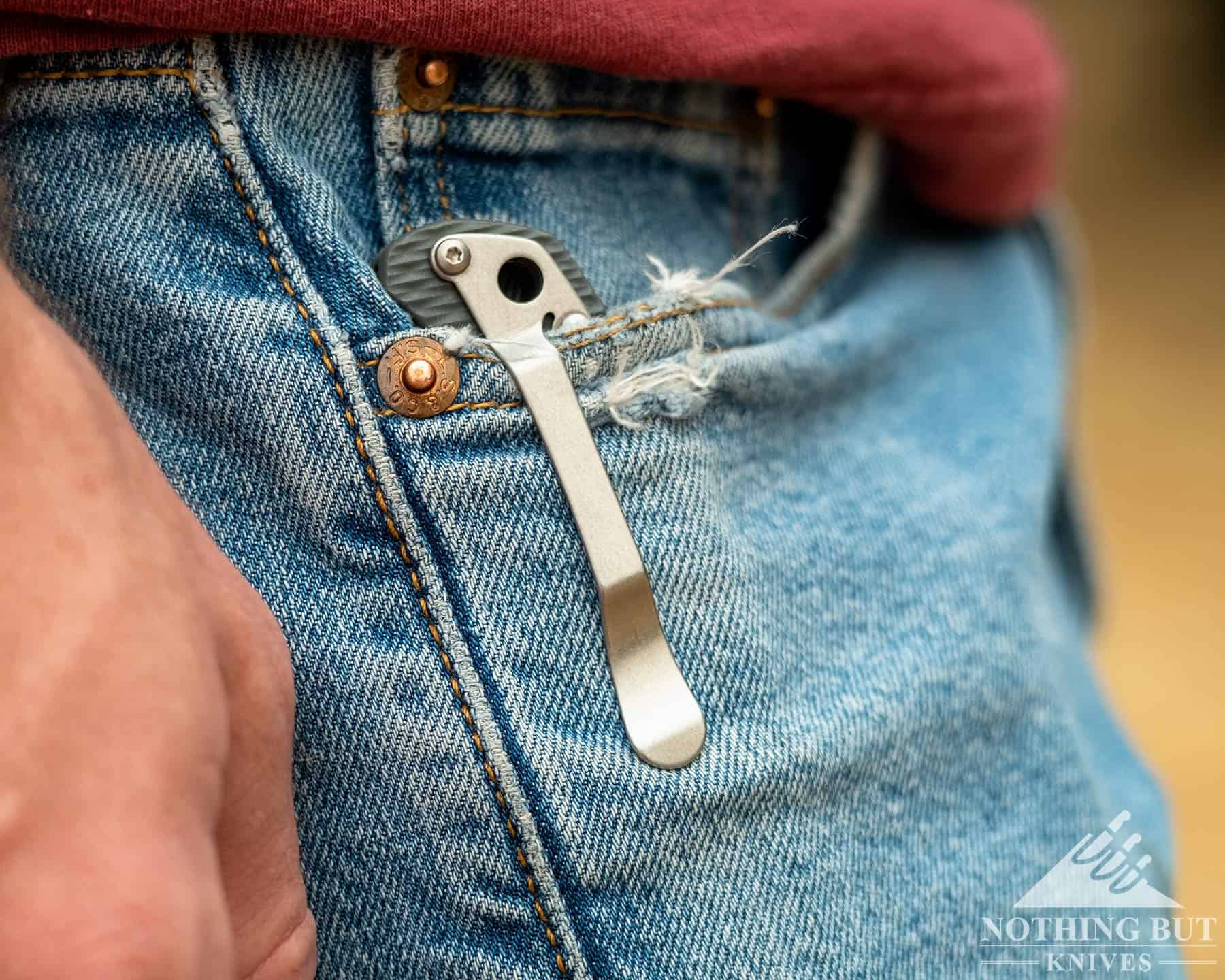 Idiot Update: A clever reader pointed out that the AD20.5 does, in fact, come with a left-handed pocket clip. It was hidden inside the pocket of the case, which means two things. Andrew Demko thought of everything, and we are not very observant people. So big points to the Demkos. They've brought us a fully ambidextrous hard use knife through the rare wonder of extra hardware.
I have left the part where I complained about not having a left-handed option below as an ashamed apology for missing this feature the first time around.
End of Idiot Update
I thought this knife could be switched to left-hand carry when I first held it, because they have identical smoothed out sections on both scales. The clip itself isn't designed for that though.
The screws don't match up on the other side because they sit at an angle to contour with the handle, so this knife needs a separate, left-hand specific clip which, as far I can know, Demko isn't offering right now.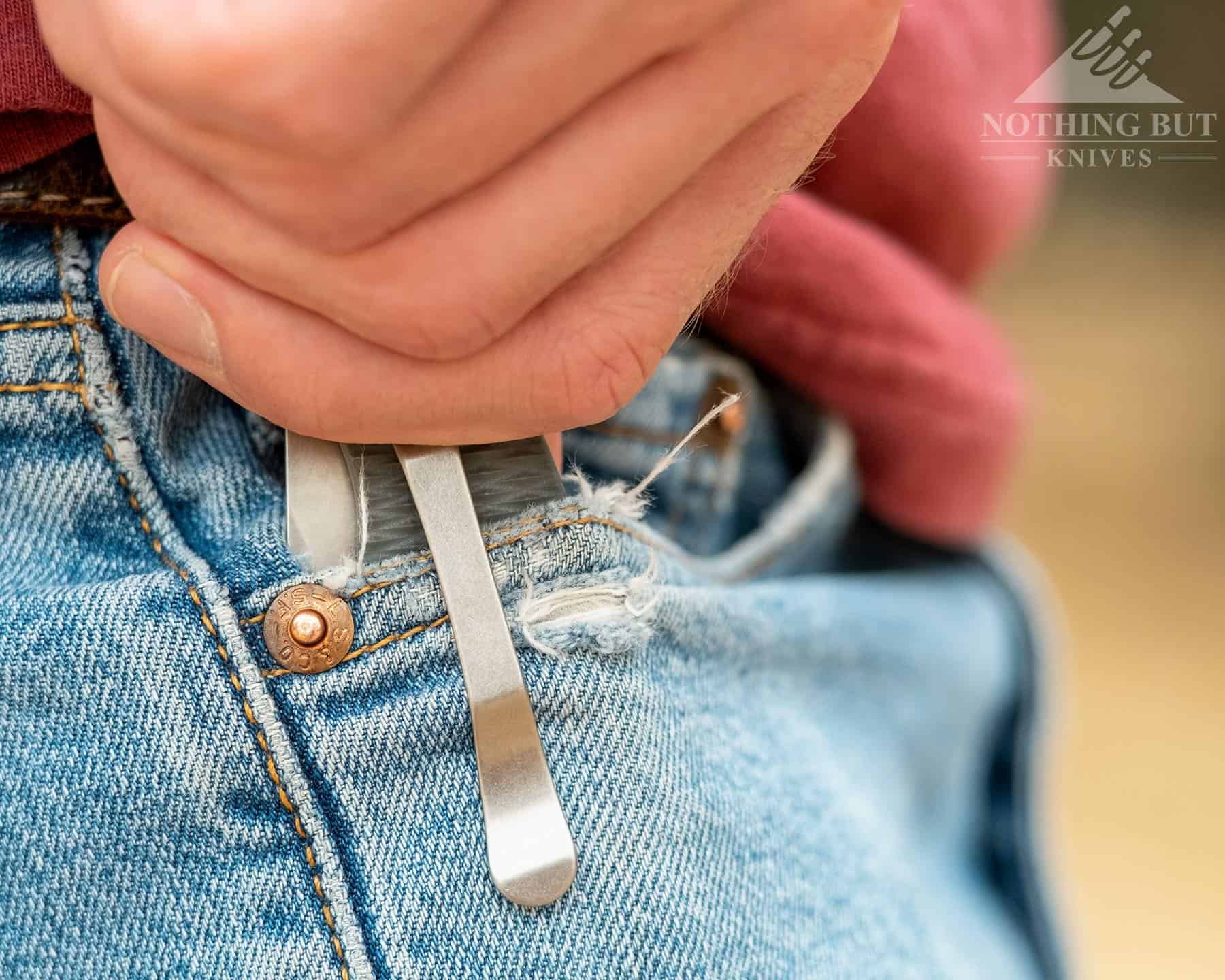 This is also not a deep carry knife. It's almost aggressively not a deep carry. The butt probably sticks out above the pocket a little over half an inch.
This isn't really a problem so much as an issue of personal preference. When I'm wearing gloves, the little bit sticking out of the pocket is really helpful, but it can also dig into my hip when I crouch or climb something.
The bigger issue with the clip is that it's really tight. That's great once it's already in the pocket. Between the tight-gripped clip and how low it rises off the handle, the Demko 20.5 has very little chance of coming out of the pocket accidentally. Which for me is kind of an essential hard-use feature. I've lost a lot of knives in fields and trees because the pocket clip had an arthritic grip.
I have to fight to get this thing into my pocket sometimes, though. So much so that it's kind of hard to put it in the pocket one handed. It's worse when I'm wearing thicker pants. Then I have to actually pry the clip up a bit to get it down, which is enough trouble that I just started using alternative pockets or hanging it on my shirt until I have both hands free.
The Toothy Scales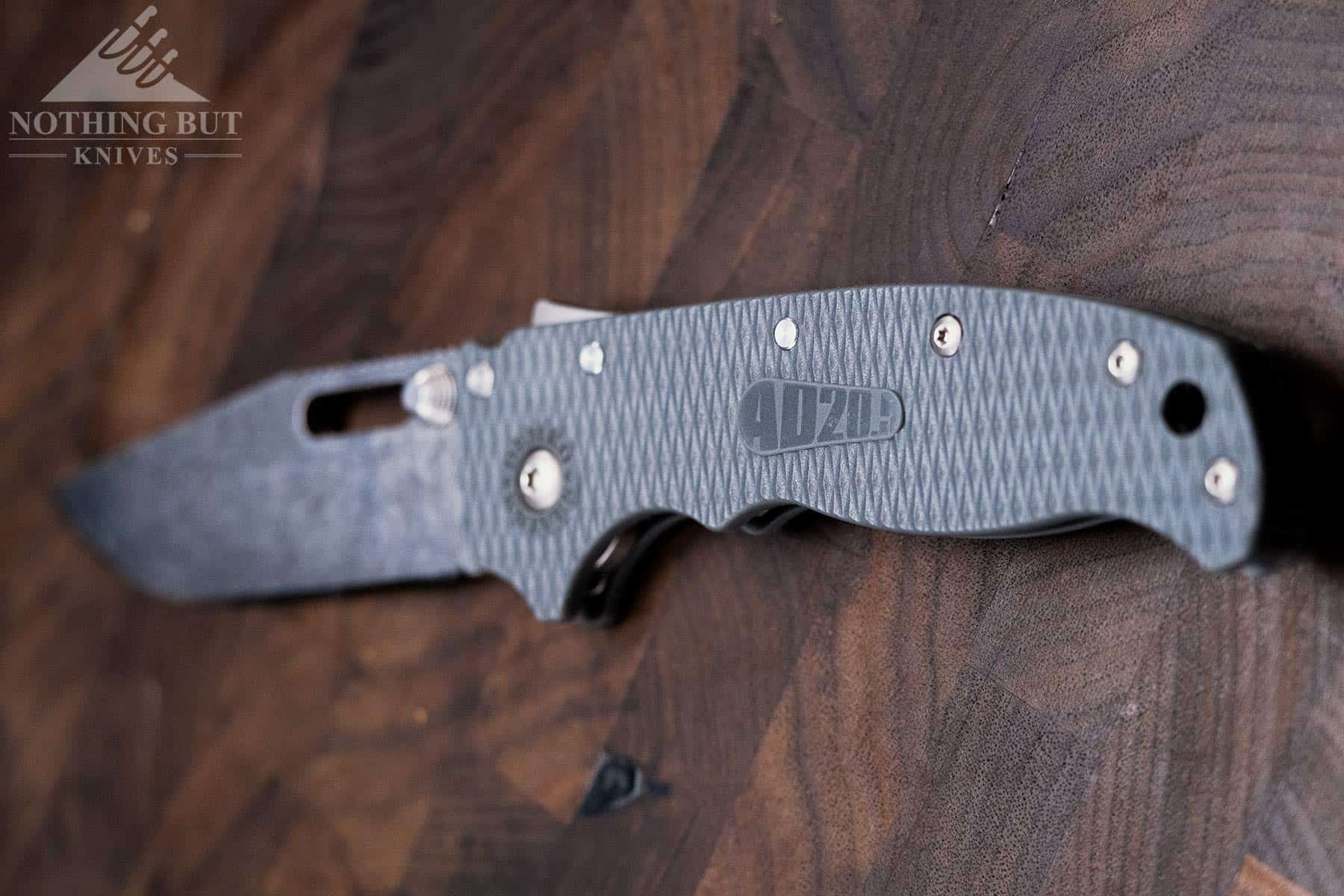 To add to the issue, these scales are aggressive. Again, this is really helpful when I'm holding the knife, especially when my hands are gloved and muddy. I'm never worried about dropping this knife, but I am worried about my pockets.
Even with the smoothed section of the scales, I can feel the texturing pulling at the fabric of my already torn pants. So I'd recommend getting a penny under the clip for about a day just loosen it up a little. That should take care of most of the problem.
The Shark Lock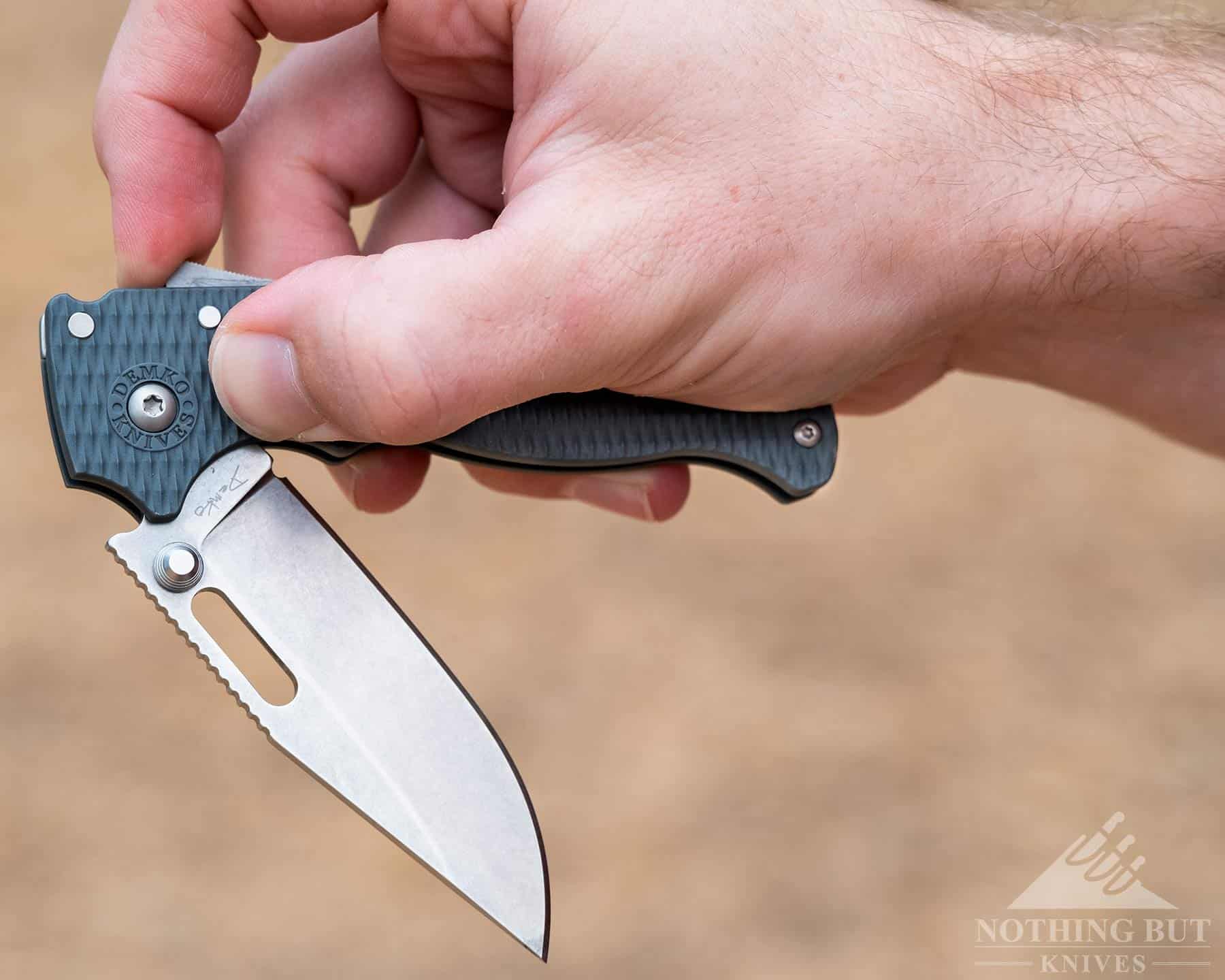 Externally, the Shark lock actually feels pretty similar to a slide lock, but with the added benefit of doubling as a thumb ramp.
You can open and close the knife by pulling the lock down, and a lot of the same motions you can use with Benchmade's Axis lock or SOG's XR lock translate well to the Demko 20.5.
Internally, this is almost more like a back lock in terms of where the knife is braced by the tang.
Now, God knows there are about to be a million blogs and videos explaining the internals of the Shark lock now, but it's cool and I want to talk about it too. Feel free to skip down to the next section if you already heard this:
Basically what we have inside this thing is a piece of metal with a spring inside that's constantly pushing the bar upwards along the back of the handle. As the knife opens, you can actually see how the lock is shifting along the tang before it settles into place behind the tang once the blade is full out.
At this point, that bar is pushed up past a little bump on the tang and held between the spring and a pin, keeping the blade from disengaging.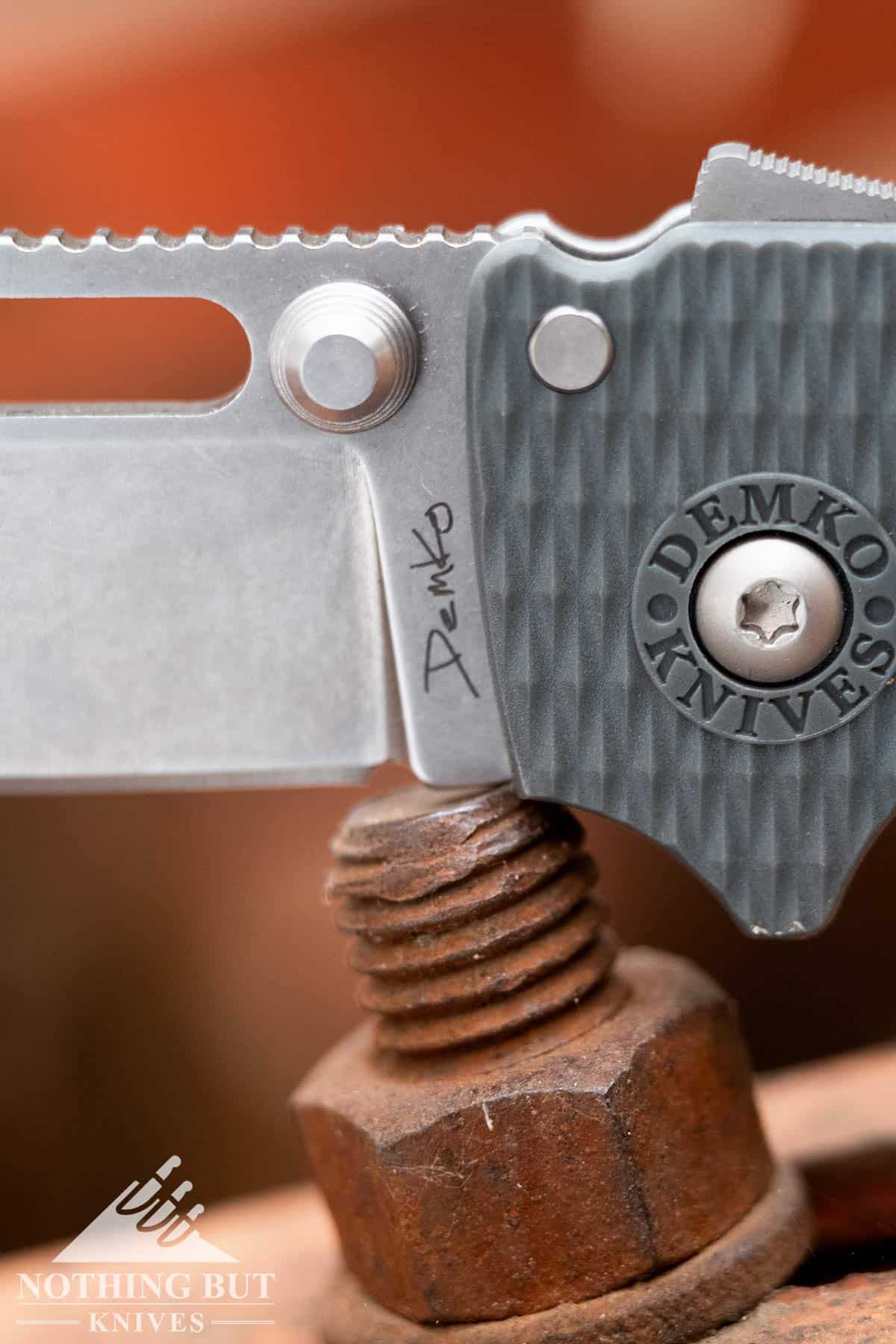 The only way for a critical failure to occur on this system that I can see is if the pin breaks or the spring slips out of place, neither of which seem very likely to happen at all.
In the long term, the spring will probably wear out. But this thing is pretty heavy duty, and I don't see it happening in less than a decade unless you're really slapping away at this 24/7.
The only downside of the Sharklock for me is that it makes it a little trickier to take apart and clean. The spring in this is strong, and it really wants to jump out as soon as you get the plate off the back brace it's nested in. I'm already prone to losing tiny screws and bits because I'm a clumsy drunk, so this seems like a doomed situation for me.
Beyond that, this thing is great.
The Demkos as a Knife Company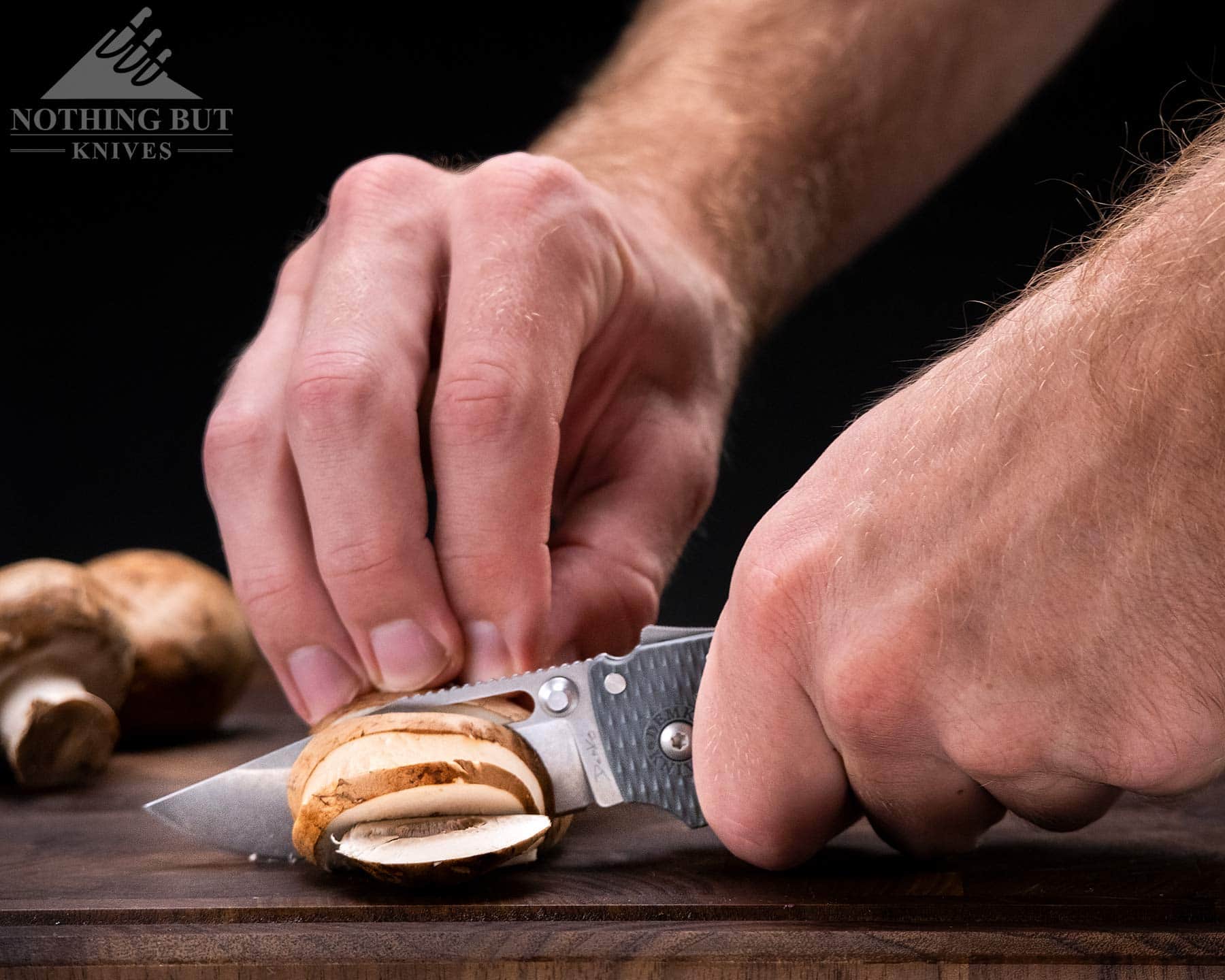 Just in case you're somehow not familiar with the Demkos already, Andrew and John Demko are knife designers who have done a lot of work with Cold Steel in the past. When Cold Steel changed ownership they decided to part ways with the company and operate entirely under their own name.
They decided to debut with a smaller version of the AD 20, which was clearly a stroke of genius, but also a design that I think everyone was waiting for anyway.
The Demko brothers operating on their own feels like getting all the good parts of Cold Steel knives without the mall ninja vibe that comes with the rest of Cold Steel's line up, but I can't help but feel a little concerned that the overall availability of Demko designs is about to drop in a very dramatic way.
They've been in the game long enough to know their way around the manufacturing world, but even long established companies are having supply chain problems right now. The fact that the AD 20.5 sold out within minutes of releasing on BladeHQ isn't just a sign of how badly we've all been slobbering after it; the Demkos are doing things in small batches. So now I'm sitting here refreshing the product pages, wondering how big the batch on the MG AD 20 will be, and if they'll ever get around to recording another episode of their podcast.
None of this is criticism. I'm just worried about them is all. And also I want to see the AD20.5 offered in different colors someday.
Update: As of Blade Show 2022 there are a hell of a lot more handle colors and materials available. More on that later.
The Presentation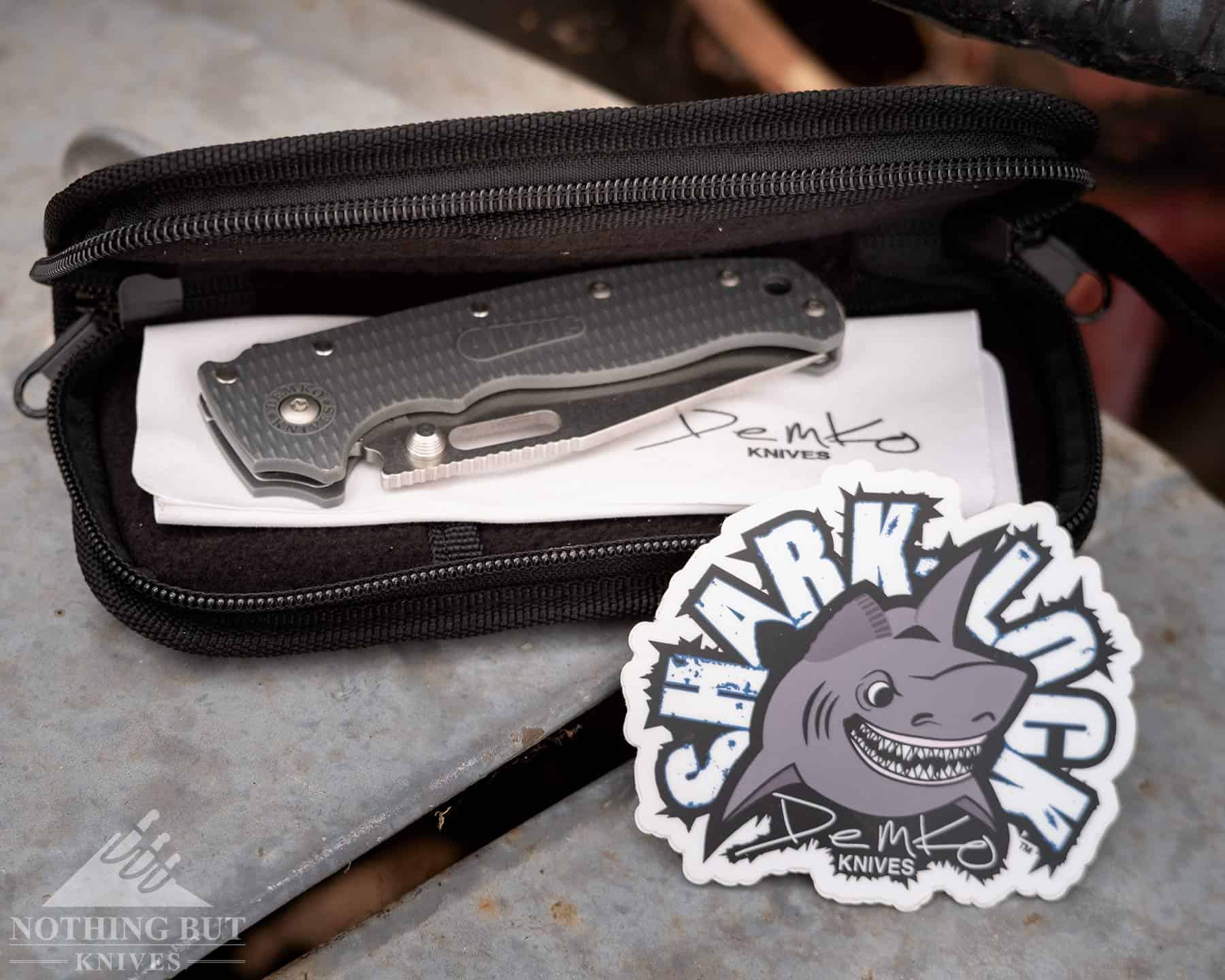 Manufacturing concerns aside, Demko did a great job with the packaging of the AD 20.5. The knife itself might be a dull, economical gray, but the Demkos are going all out when they ship these things out.
The knife comes in a thick zipper pouch lined with pockets. There's a pretty high quality Shark Lock sticker in there along with a decent microfiber cloth. Plus that logo patched onto the front of the pouch is velcroed on so you can slap that on your flannel sheets if you wanted.
You'll probably see most of this as standard fare if you've ever ordered anything from Civivi or WE (especially through BladeHQ), but the quality of the extras in the Demko box feels like an order of magnitude above what I generally see.
The Fit and Finish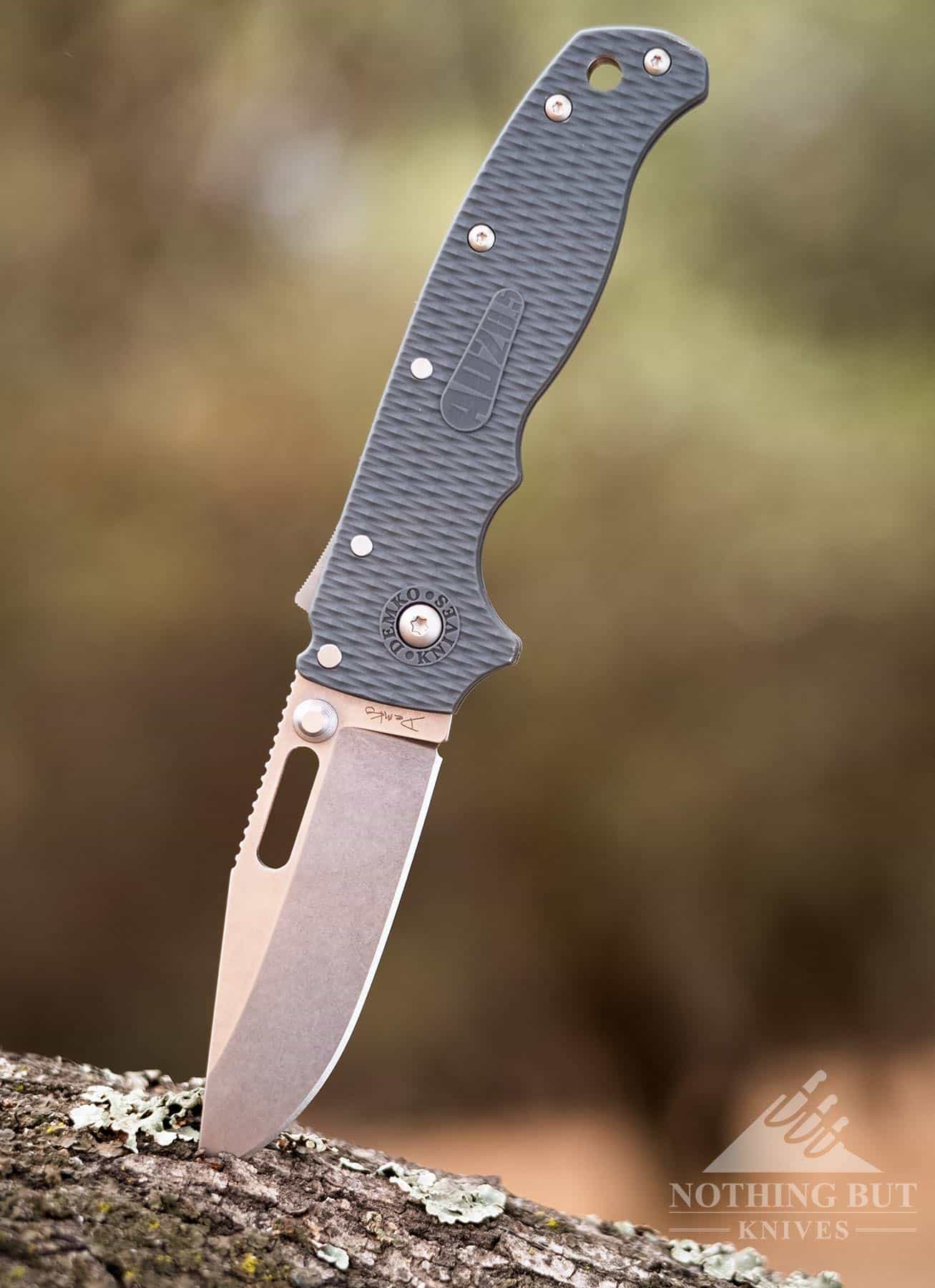 This is all around a well made product. The grind is straight, there are no gaps where there shouldn't be, there's no blade play, and the lock is super smooth. Everything is exactly where it should be here.
I think the only problem is in the big gap between the bottom of the blade and the handle swell at the top when the knife is closed. I haven't had any mishaps yet, but the gap is big enough for my finger to squeeze into. It just seems like the kind of thing that's begging to latch onto a stray cord or strap.
I'm not really sure what they could do with the design to fill that gap. I guess they could lower the stop pin in the handle and extend the blade's spine farther down to match, but that looks like it would start to interfere with the Shark lock before it completely fixed the gap issue.
It's not a deal breaking thing. I only bring it up because I'm the kind of person who gets caught on cords and straps all the time. There's a graveyard of bent pocket clips in one of my drawers, so things like that little gap feel like a very specific red flag for me and idiots like me.
The Price and Upgrade Parts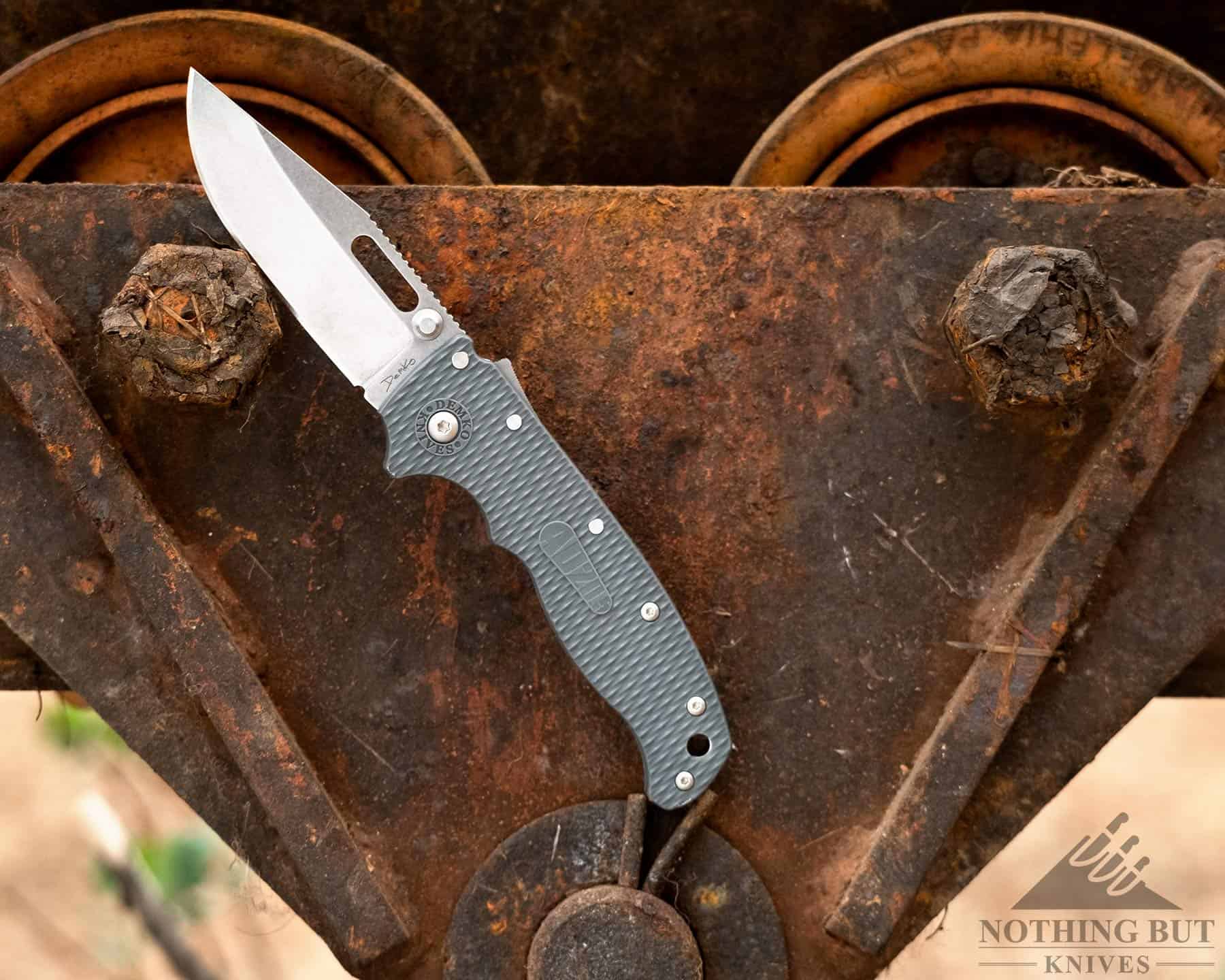 I also have to wonder if this knife isn't a little too pricey.
The AUS10A steel is good, and the Shark Lock is a nifty innovation. Those two things are probably where the bulk of the price is coming from, and I'm more than willing to pay for them. But in terms of function, there are a lot of hard use knives that can perform almost as well for nearly half the price. I know because some of them were designed by Demko, and I've used the crap out of them.
Hell, the Cold Steel Voyager is half the price and at least three times the blade (in terms of size). But it's worth remembering that this is Demko on his own. Cold Steel has levels of production high enough to offset their costs, but Demko is running his own operation now.
That's a good thing. I have every faith that he's going to pump out some great designs with this new venture, but it also probably means that we should expect to pay more for those designs. Although, to Demko's credit, he did say the reason he makes the 20.5 in Taiwan instead of his US shop is because he "can't make this knife better than it's made in Taiwan, [he] can only make it more expensive". So he has taken steps to lower the cost.
The Steel Update and the Sort of Aftermarket Parts
Demko now offers upgrade and replacement parts that you can buy separately from most of your favorite vendors. The headline item is probably the carbon fiber scales, but you can get as detailed as titanium barrel spacers and replacement springs for the Shark lock. Also they're making the 20.5 in CPM 3V, which is bound to be a lot tougher, but have a lot less corrosion resistance.
Point being that you have a lot of options within the bounds of the 20.5 design before we even get into actual alternative designs.
| Steel Options | Blade Shape | Handle Options | Other Parts |
| --- | --- | --- | --- |
| D2 | Drop point | Grivory scales (multiple colors) | Stainless steel stand off |
| AUS-10 | Sharkfoot | G-10 scales (multiple colors) | Titanium stand offs |
| CPM 3V | | Carbon fiber scales (gray) | Back spacer (multiple colors) |
| | | Titanium | |
Comparison and Alternatives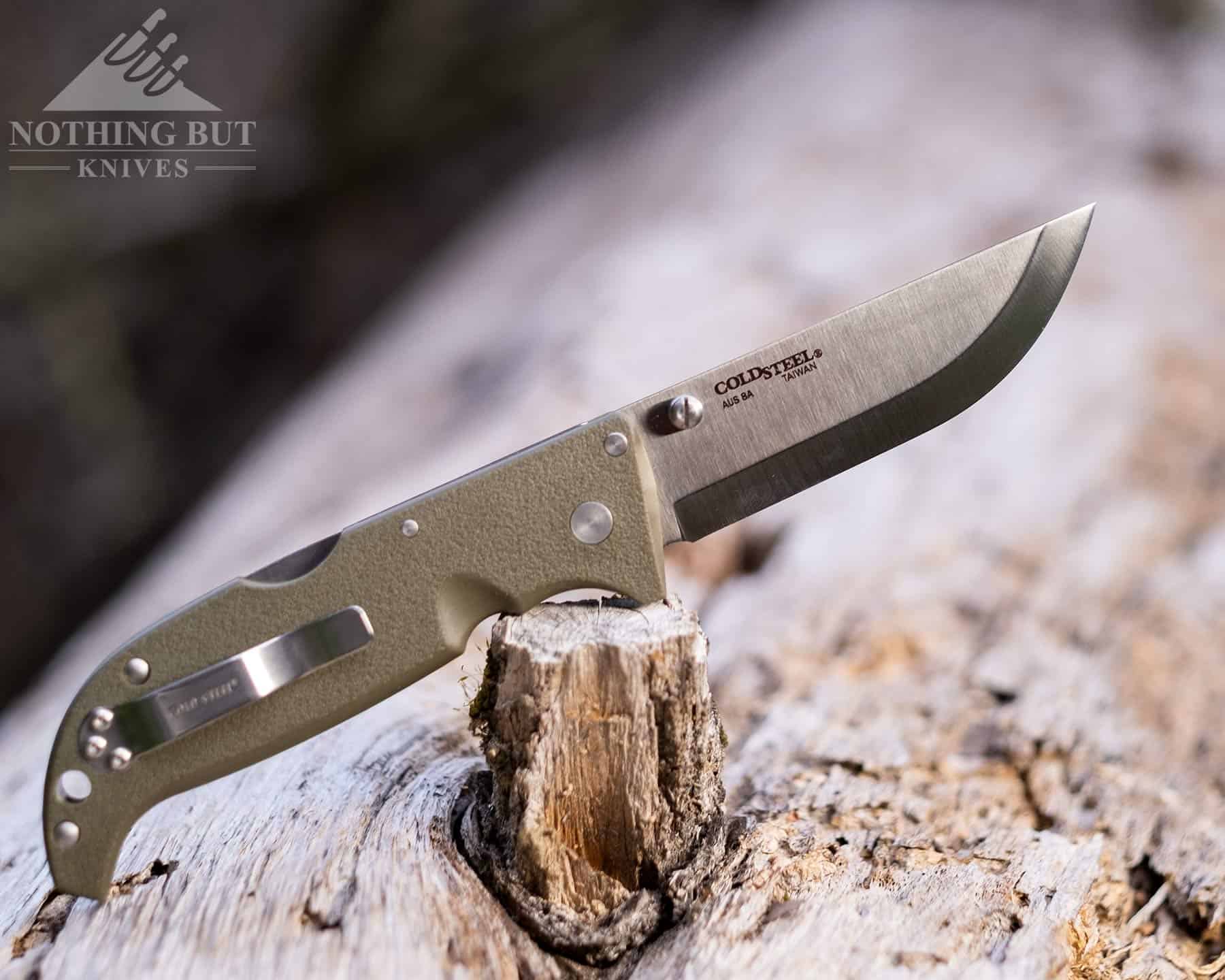 The Cold Steel Finn Wolf was the first comparison I thought of when I clicked the 20.5 open. That's partly because it's also a Demko design, but the Finn Wolf has a similar firm feeling when it locks up, and even handles in a similar way because of the thick blade inside a light handle. It is a much cheaper knife, though, and it feels like it in hand. I'd say if you like the AD 20.5 but aren't ready for the mid-range price tag, the Finn Wolf makes for a great alternative.
They also make the AD 20.5 with a Sheepsfoot blade that's a little bit shorter. I haven't tested that one, but my experience with other sheepsfoot blades says it will be generally better at push cuts at the cost of a bit of puncturing ability.
In terms of equitable price, though, the Demko 20.5 is sitting next to the Benchmade Bugout. They're in the same price range with 3.25" blades, although they have a couple marked differences in heft. The Demko has a much thicker blade, weighs almost twice as much, and has a thinner, taller handle. The Bugout looks arguably more streamlined with a harder steel on thinner stock, with a more rounded handle.
I won't get into arguments about which is better (that's probably something that should be its own blog), but I will say that it feels like these two knives offer choices for opposite personalities in the same category.
If you are looking for something with a thicker blade and a slide lock the SOG Vision XR may be a good fit.
The recently released Benchmade Redoubt is a slightly more expensive alternative. It also has a super secure lock and hard-use capability.
Conclusion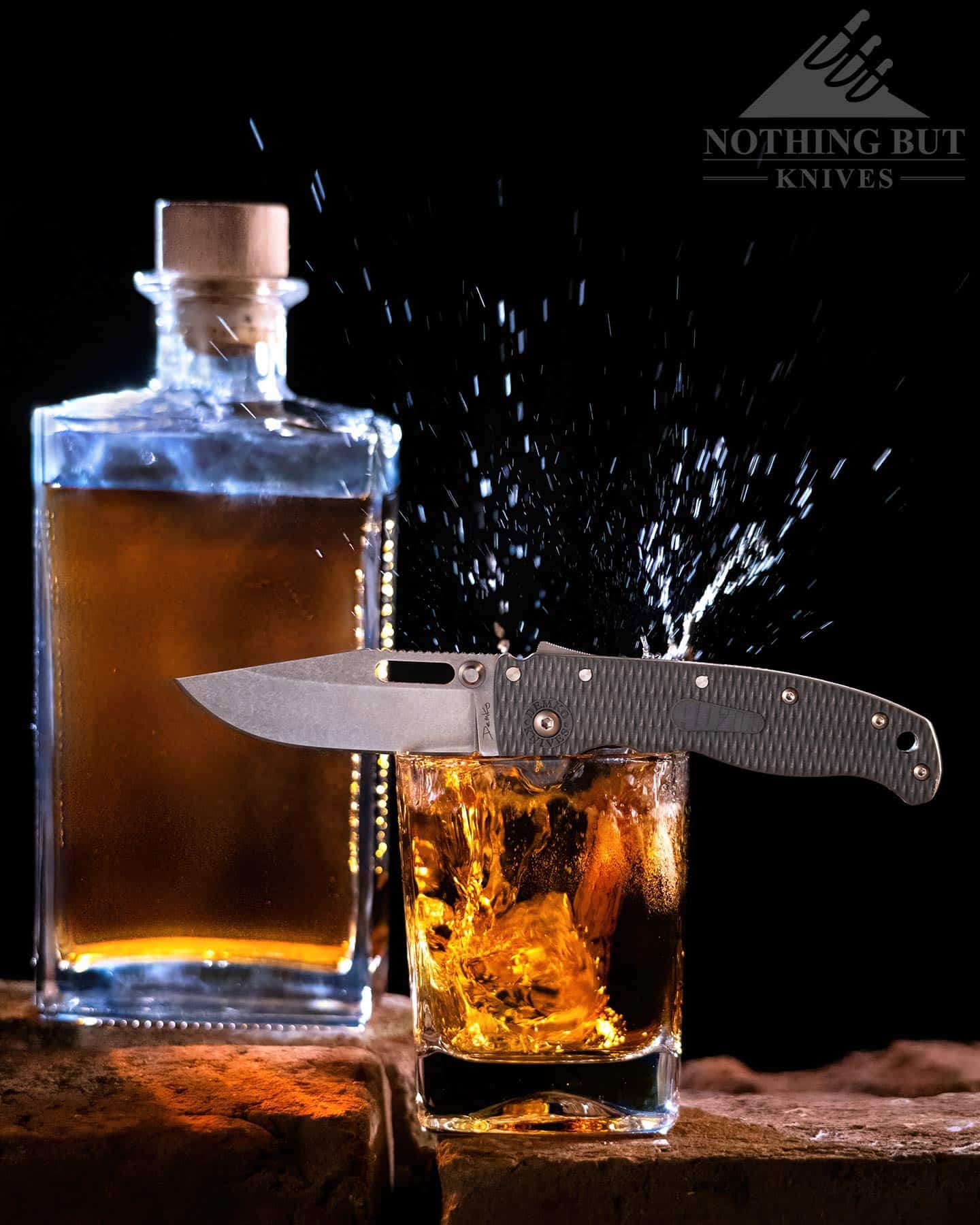 Yeah, this knife is cool. Of course I think it's cool. I've loved everything Demko has designed. He's the reason I ever started liking Cold Steel in the first place. This is sturdy and sharp and comfortable and endlessly useful. It's the kind of knife that makes me want to use my knife more, even when I shouldn't.
But when I strain to look past my own hype, I have to admit that I'd like to see the clip carry in the pocket just a little lower, and they could probably stand to make the scales a little smoother. The edge could also be a bit sharper out of the box, but all these are problems of increments. There's no major issue with the knife. It's just a few little things that could stand to be inched more one way or the other.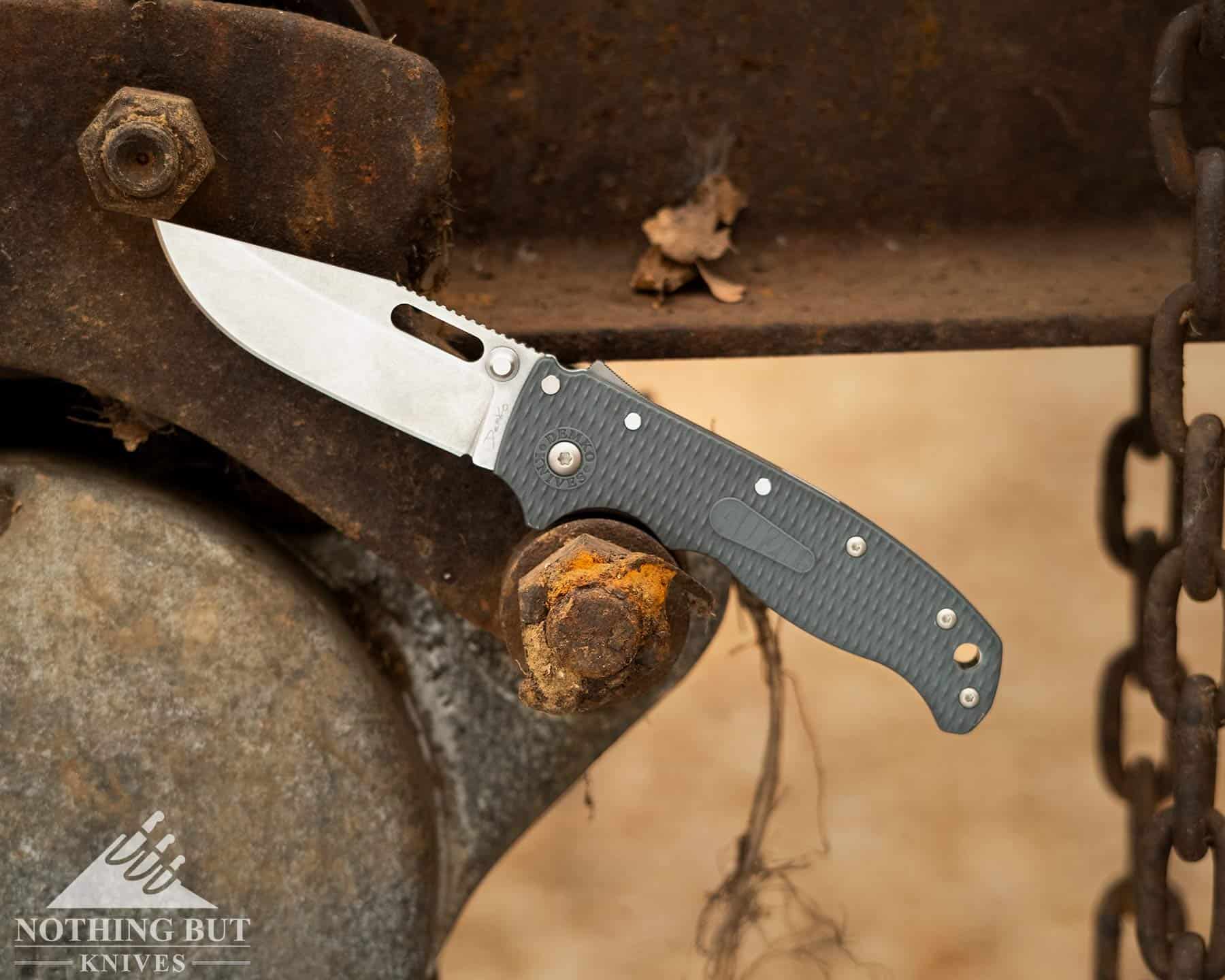 I think the only major issue I could take with it is the price, which only seems high when you compare it to the huge range of tough knives with economy steel and a standard frame lock. This is a tough knife that stands out mechanically from a lot of other options, with a steel that you just don't see much in the EDC world despite the fact that Demko has shown it can stand a lot of hard work.
If you're into knives, you should be into this knife. And if you're just in the market for a good mid-range work knife, the Demko 20.5 should be one of your top considerations.