So Now There's a Good 8 Inch Chef Knife that Cuts like a Good Skinning Knife
I don't think anyone was on the edge of their seats for Buck to start making kitchen cutlery, but they did it anyway, and they actually did a pretty chef knife.
There are a lot of things different about the Buck 931, because of course Buck isn't going to make a normal chef knife:
It's lighter and uses a grind and steel that you aren't likely to find anywhere else in the kitchen cutlery world. The handle and balance throw some wrenches into the ergonomics if you're used to using a pinch grip, but on the whole I've been surprised by just how functional this knife is compared to a lot of the more traditional chef knives I've used.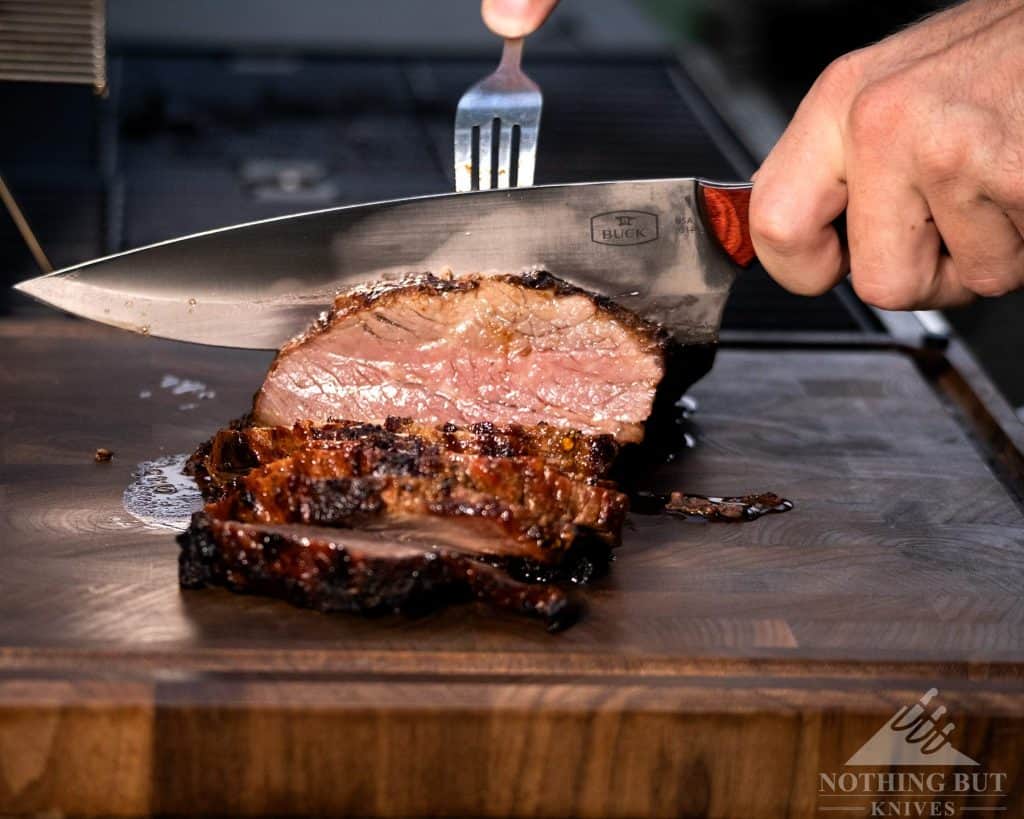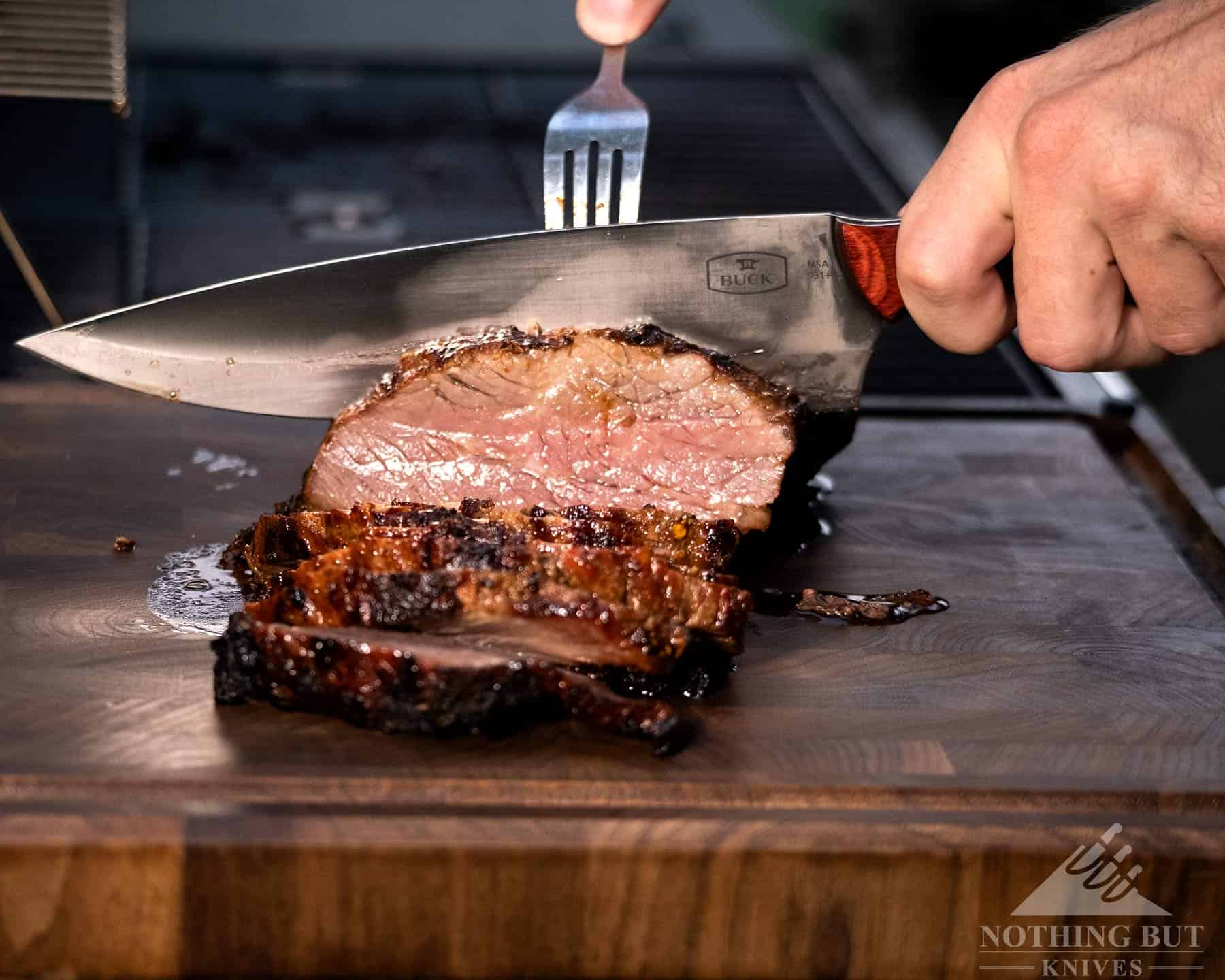 I love this knife, but I am biased as a desperate knife reviewer who latches onto anything remotely different about a knife for word count fodder, and this thing has given me a lot to talk about.
Specifications
| | |
| --- | --- |
| Overall Length: | 13.0″ |
| Blade Length: | 8.0″ |
| Style: | Western chef |
| Handle Length: | 5.0″ |
| Blade Steel: | 420HC |
| Blade Grind: | Hollow |
| Handle Material: | Rosewood Dymalux |
| HRC Rating: | 58 |
| Weight: | 7.0 oz |
Pros
Very sharp with decent edge retention
Lightweight
The grind helps push off food trimmings
Easy to maintain and hone
Cons
A little awkward in a pinch grip
Thin edge rolls easily
Packaging is a low key game of Russian roulette with your fingers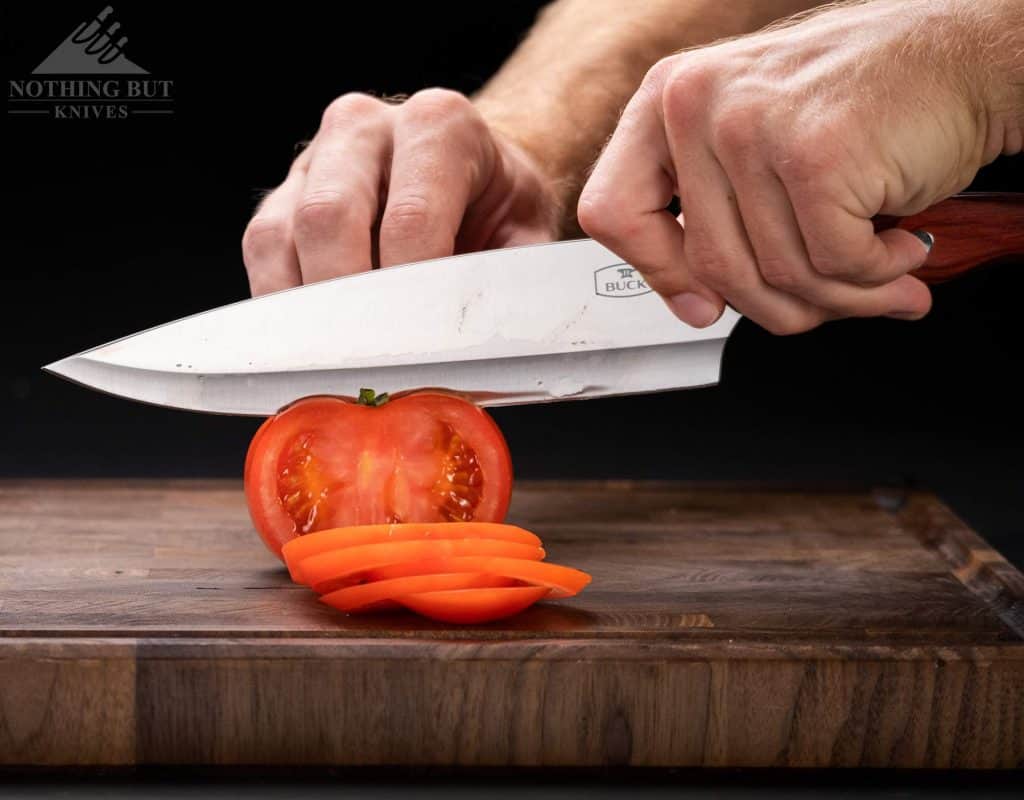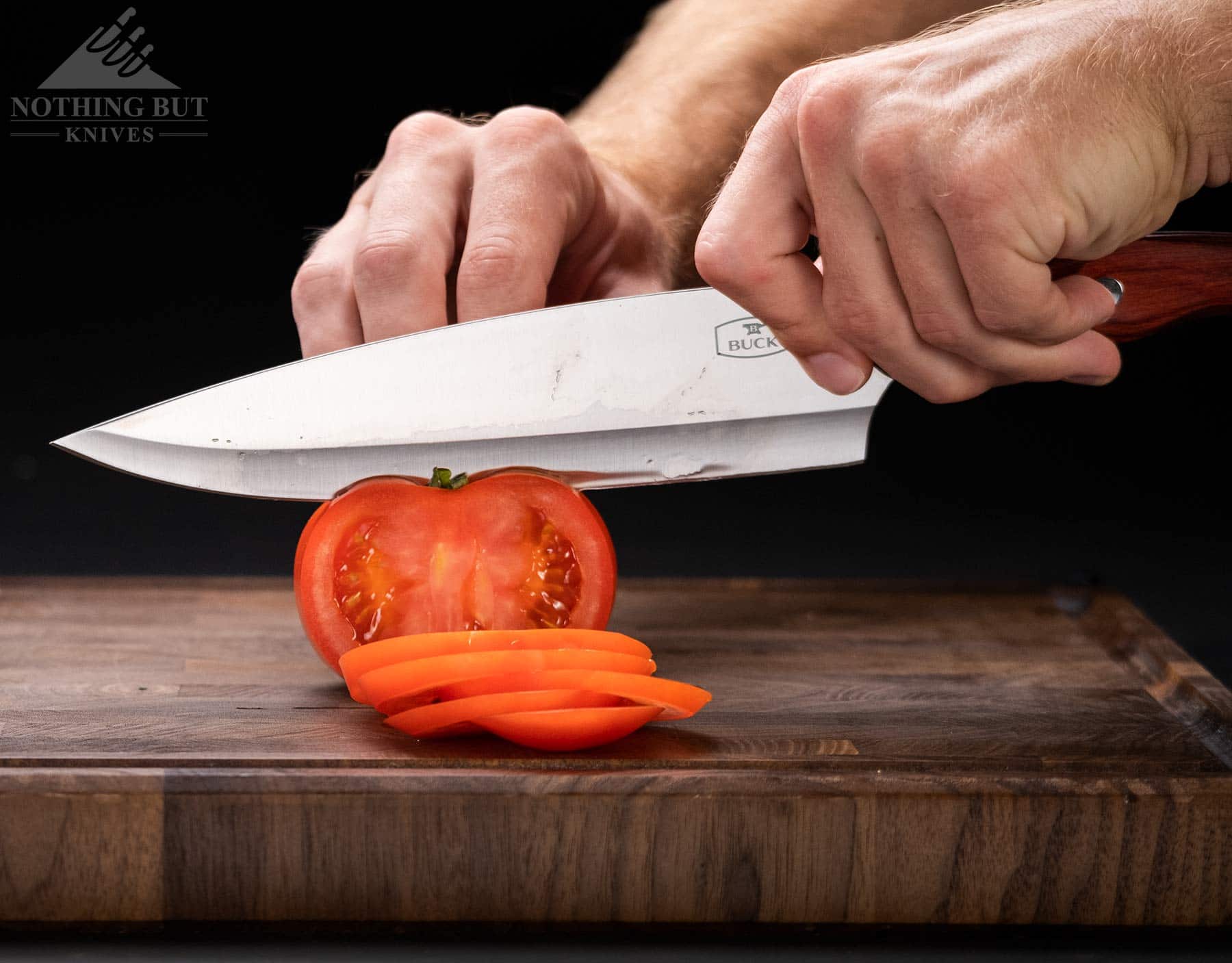 I had a strange moment when I first used this knife, cut a half dozen slices off a tomato without a single one sticking to the side, looked at the hollow grind and wondered if something was wrong with me or if every other kitchen knife company in the world needs to make a chef knife like this.
The short hollow grind on this blade might not stand out to you much if you aren't the type to go around testing dozens of knives every month, but it definitely stands out to me.
The Grind and Cutting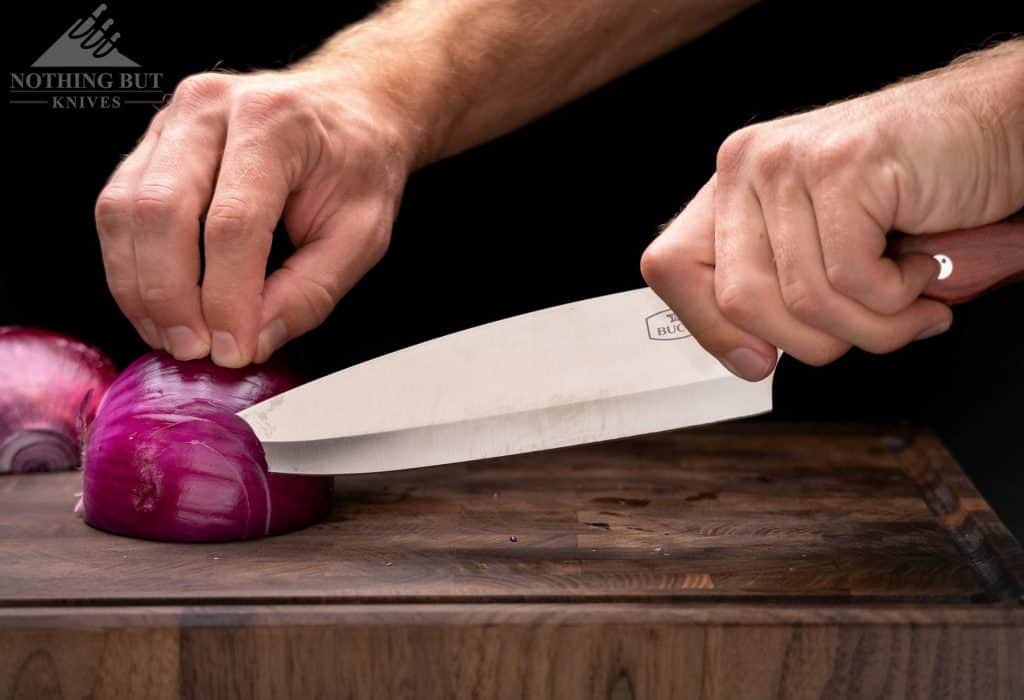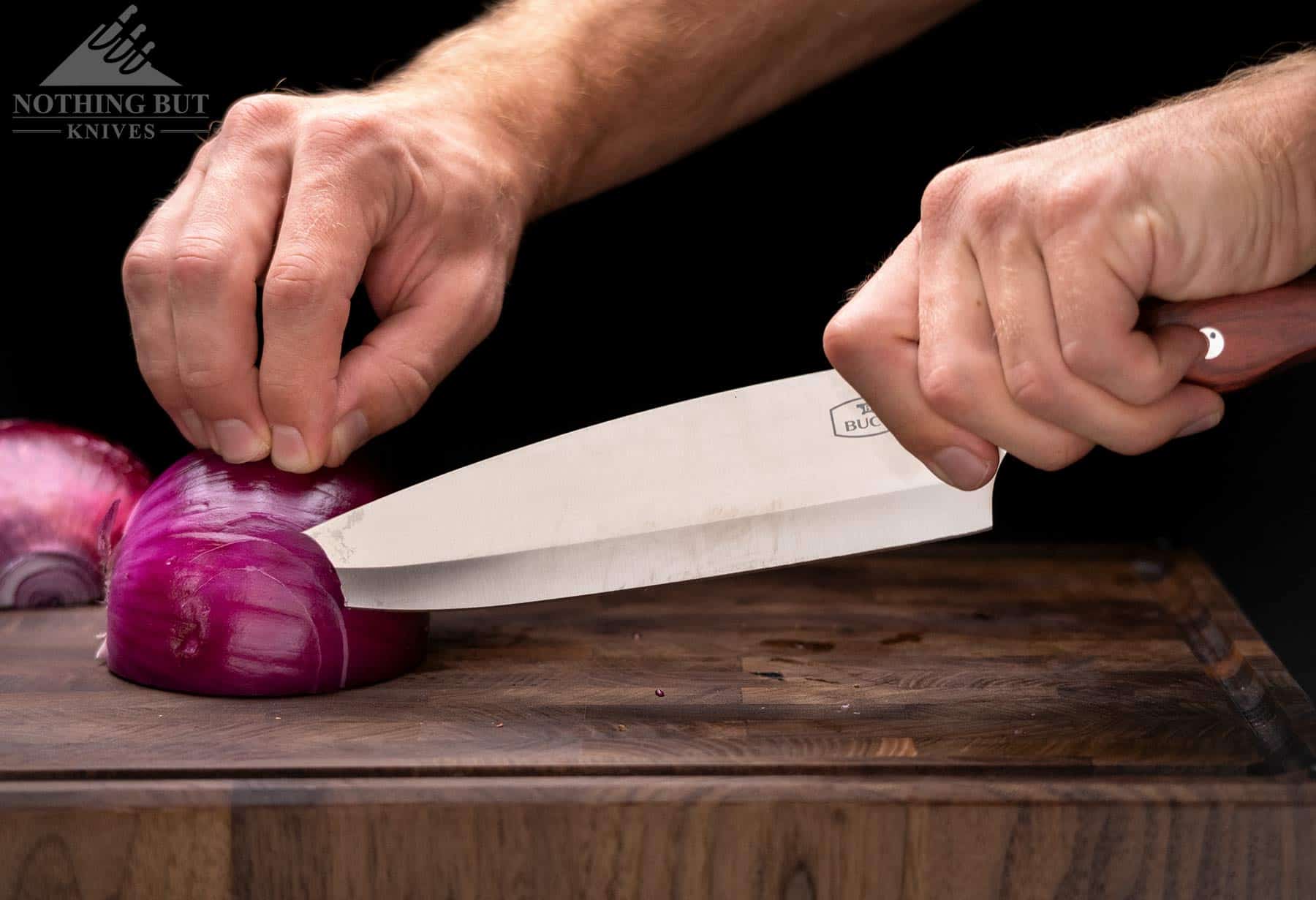 Just so we're all on the same page, most chef knives have a full flat grind, meaning the blade grind rises in a straight line all the way back to the spine, making the whole side of the blade completely flat. This type of grind gives a knife a ton of versatility, which is a pretty important thing to have with a chef's knife.
The grind on Buck's chef knife has a steep curve that ends about a fourth of the way up the blade before going flat to the spine. This is the kind of thing you'll typically see on pocket knives, so it makes sense to see this from Buck. You can certainly bet that Wusthof never would have even thought of doing this to one of their knives.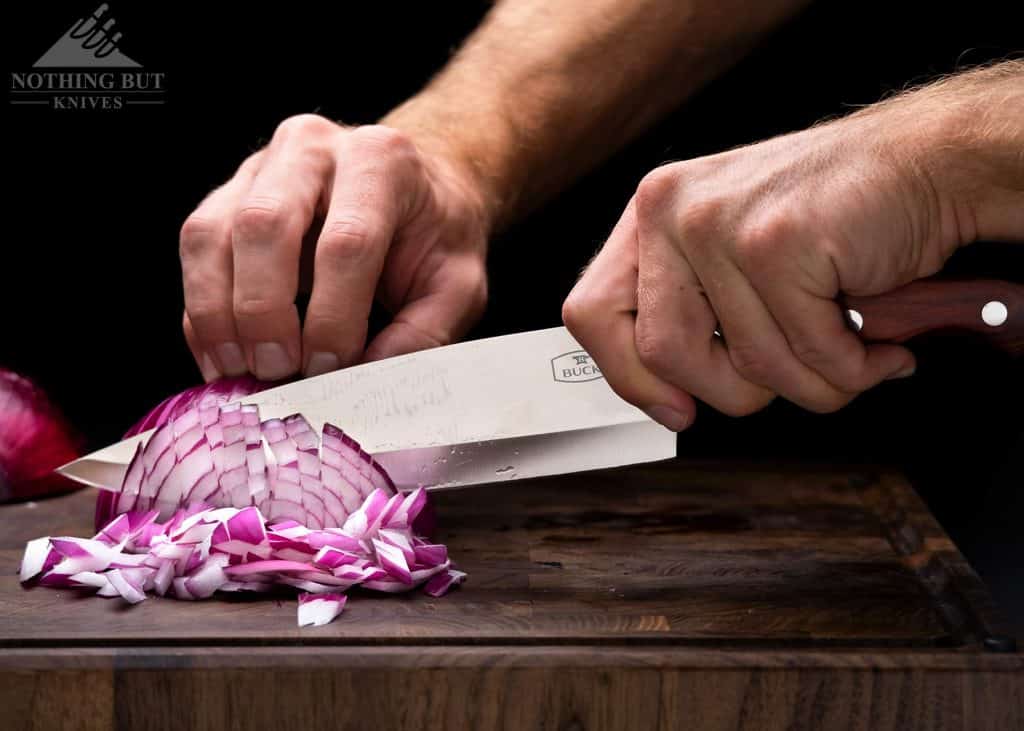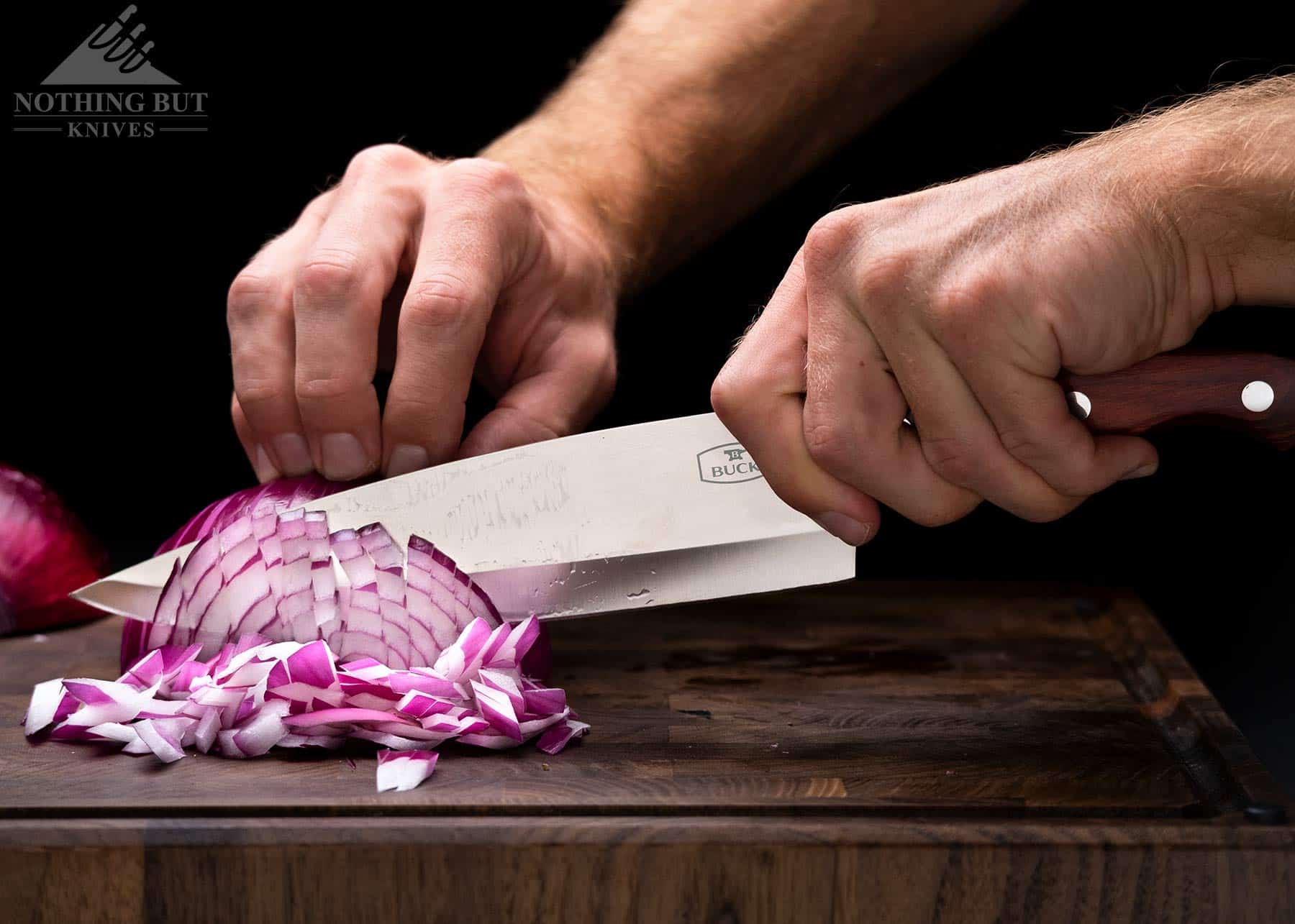 The result of this is a blade that bites hard and helps push food trimmings off the side. It seems to me like a more efficient form of the hammer finish some kitchen knife companies put on their blade in order to make air pockets to do the same thing. The science is the same on the 931, it just happens more consistently because you just have one long indent along the whole length of the blade.
I still end up with the odd pile up of zucchini or onion climbing up the blade, but it's significantly reduced compared to pretty much every other chef knife I've ever used, including the ones with graton edges.
It also has a really aggressive bite that can start into a tomato skin without much effort. You do have to push and slice a little because this knife is so light, but it'll sail right through whatever's on your counter.
The other benefit is that the edge is thinner for a longer space behind the edge, which means it will stay sharper longer than normal, despite the somewhat softer than average steel. I usually expect a kitchen knife to feel like it's slowing down after a day of heavy use, which for me is maybe an hour of thorough chopping and dicing. After a week of cutting tomatoes, onions, cilantro, carrots, and meat it felt like the 931 was cutting pretty much the same as when I started.
With one caveat.
The Hollow Grind Has One Weakness, Sort Of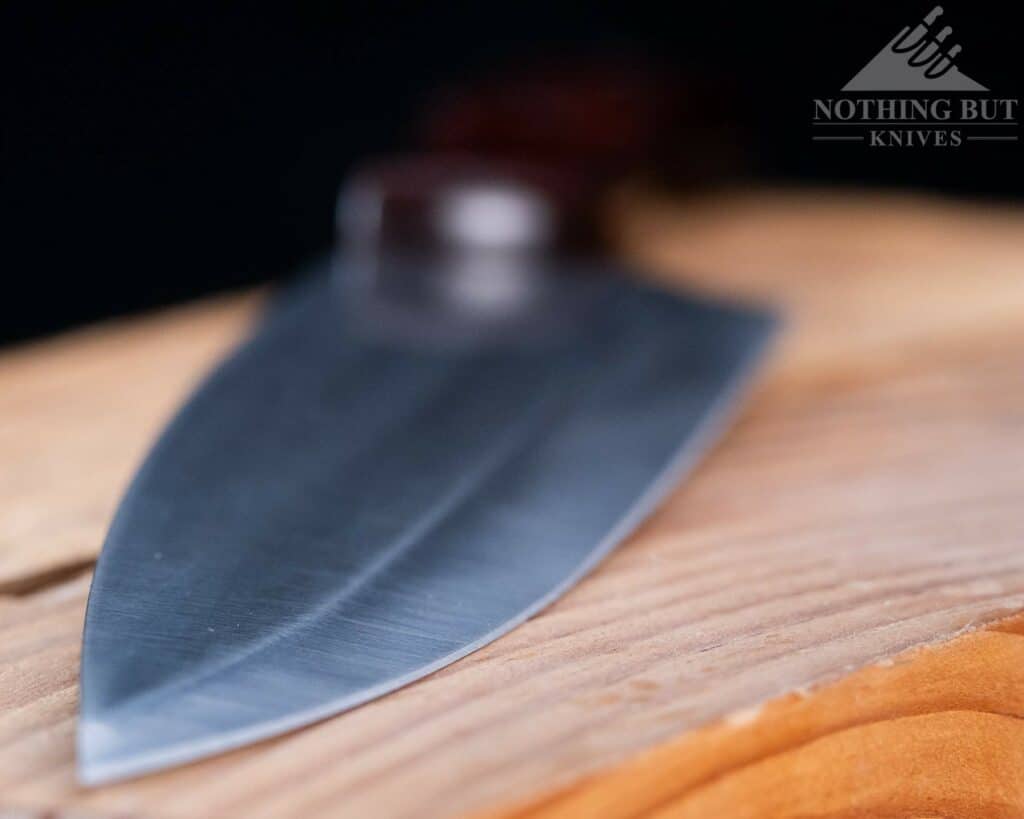 A thin grind on 420HC is a good recipe for a rolled edge.
After my initial half hour test making salsa and cutting a beef chuck off the bone, there were a couple imperfections left on the blade. They weren't severe rolls, just little reflections showing the edge was a little bit out of alignment. But I could feel it in a couple spots where it was having trouble starting cuts.
Thankfully, 420HC responds well to a honing rod, and the hollow grind makes it really easy to angle the blade properly for that. Most chef knives should be honed after a day of heavy use anyway, so it's not all that bad of a con.
The Handle is an Issue of Extremes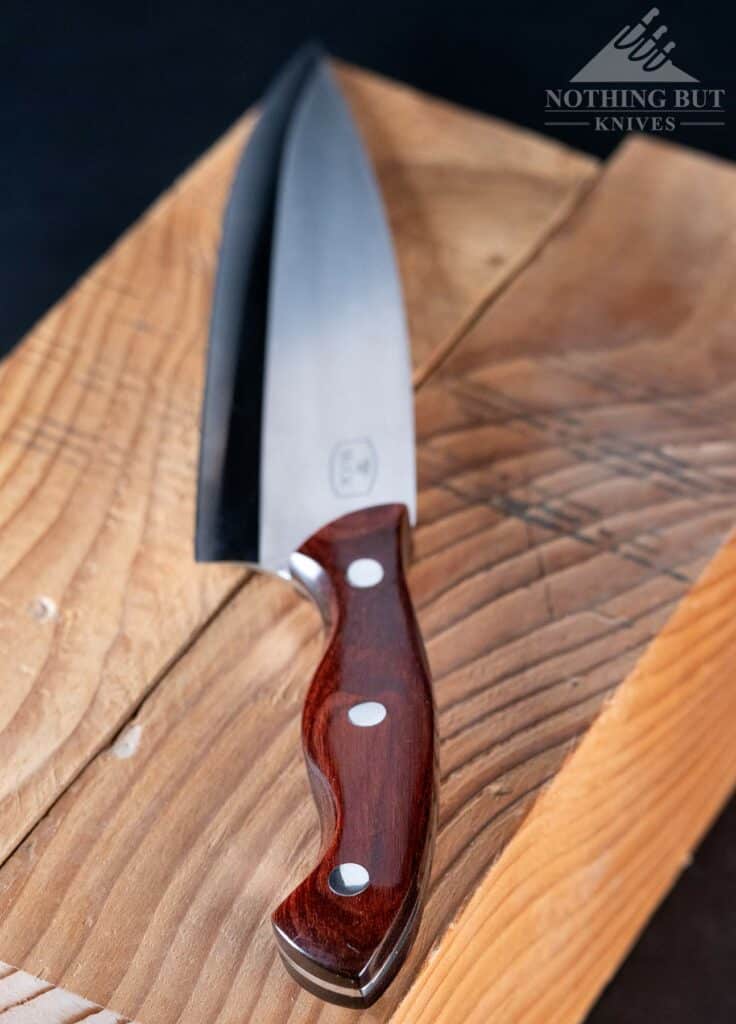 Continuing down the list of things I'm not used to seeing on a kitchen knife, this handle on the Buck 931 has some wildly extreme curves. A little too extreme for my taste, but still surprisingly nice in the hand.
Good in a Full Grip, but Awkward in a Pinch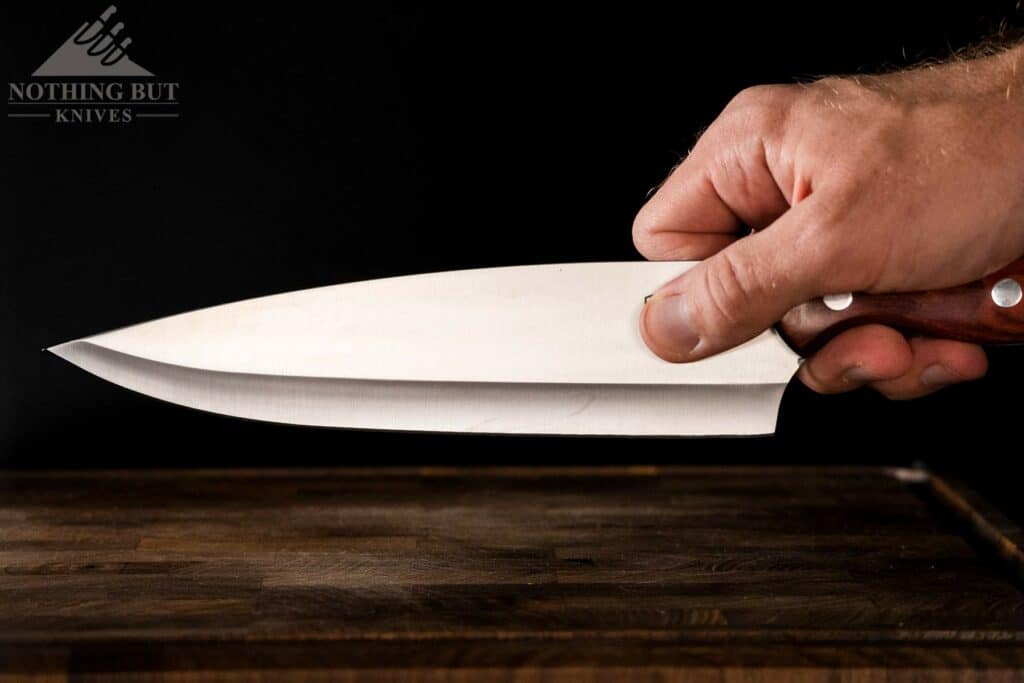 It's a little weird to adapt to. The top of the handle isn't ground to a slope for the fingers, but there also isn't a full bolster, so if you try a pinch grip with this knife it's going to feel a lot different.
Personally, I don't mind the feel of it too much, but I can see this being frustrating for a cook who needs to move fast on a long day. At speed, the tall curve of the handle at the top will probably get in the way, but for cutting up a couple tomatoes and onions along with a few slices off a steak for dinner, this is actually pretty nice.
The awkwardness of the pinch grip with this does make the hand cramp after a while, but that might be just a matter of adapting to holding this a different way. Because of the way the scales on this round up into the blade I have to pinch it a little higher than I'm used to. Where the bolster on most chef knives puts your thumb and index finger either right where the edge of the blade starts or just below it, the Buck 931 puts them a few centimeters above the start of the edge.
While that doesn't sound like much on paper, it definitely feels weird when you start cutting.
Buck has compensated for this pretty well with the way they've shaped the handle. The curvature feels nice in a full grip, although the swell is a little too pronounced for my taste. They've put a very subtle, but very effective indent for the thumb to rest on the back of the handle, though. That provides a really firm feeling of control that almost makes up for the weird pinch grip ergonomics.
It's still not ideal. A lot of home cooks probably use their knives in a gorilla grip anyway, so I can understand why Buck might have landed on this handle design, but if they could just grind a slope at the top of the handle it would go a long way to making this knife that much more versatile and comfortable.
The Handle Material Options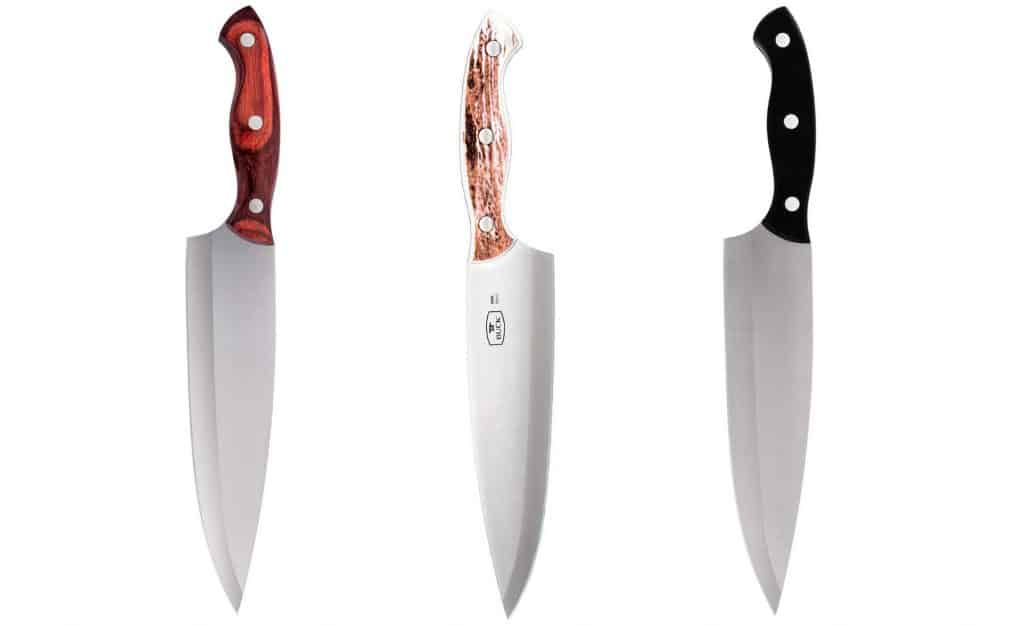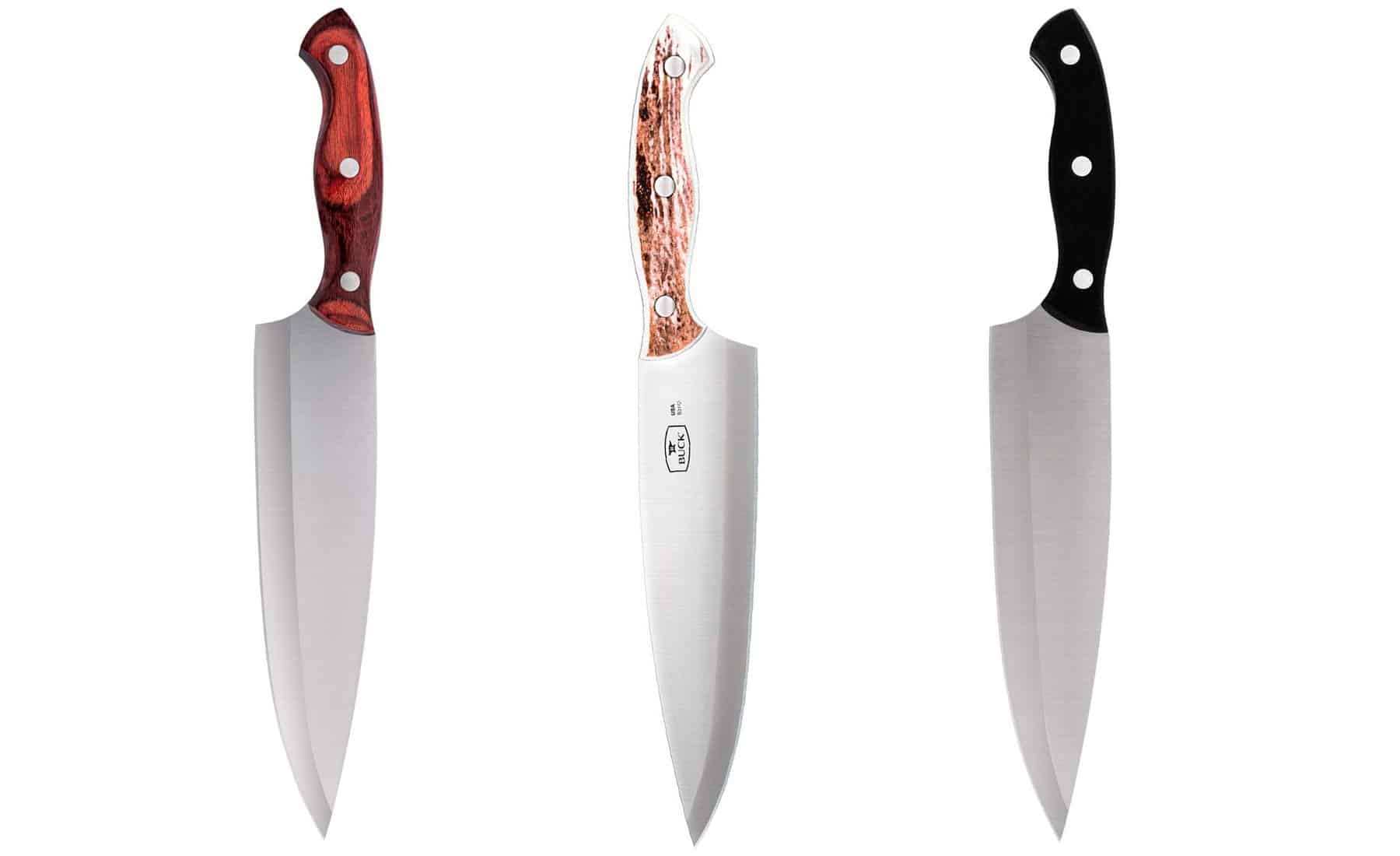 It's possible they've picked this shape for the scales because of the different materials they offer for the handle:
There's Rosewood Dymalux, which is a wood-based resin material, Slate Paperstone, which is a paper-based resin material, And elk antler, which is elk antler.
The two resin materials are usually easy to grind. I don't think Buck would have a problem integrating finger grooves that thin into the blade for a good finger grip. Antler, on the other hand, gets really finicky the more you grind it. It's the type of stuff that likes to crack when you grind it too hard or too thin.
So I guess Buck made the decision to sacrifice professional ergonomics in order to offer a nifty handle material. That's frustrating at first, but if you look at how hard it is to find a decent chef knife with a bone handle from a large production company for this price, you might soften your view on it.
I don't care for bone handles, so I'm still annoyed about all this, but maybe you won't be.
It's worth noting that the elk antler version of the 931 is a little pricier, generally takes longer to ship, and isn't dishwasher safe (not that you should put any of these versions in the dishwasher). It turns out it's harder to consistently get ahold of bone for mass production than resin wood or paper. Who knew.
Looks and Packaging
The knife itself looks pretty unique where kitchen knives are concerned. Unique in a good way. The shape is different and comfortable, and like I said before you would be hard pressed to find a chef knife this good for this price that's available with a stag bone handle. It's great for anyone with a hunting-lodge aesthetic.
The packaging is unique in a less good way. In fact it borders on dangerous.
It ships in a box that looks like it belongs on a construction site. Maybe that's a plus for some people, and that's fine. The real problem is in how they store the knife inside the box.
Most kitchen knife companies send their knives with a sleeve on the blade, and the whole knife nestled into a form fitted piece of cardboard so everything stays exactly where it should when you open the package up.
Buck's strategy for storage seems to be to toss the knife into a box and wish us luck.
They do put the knife in a sleeve, and they even throw a piece of foam over the top to keep the tip from stabbing through something. Aside from that, this knife is basically free floating in the box.
To top that off, the sleeve isn't very snug, and the foam piece attached to the sleeve is a little too big for the box. So you end up with the cardboard sleeve getting held inside the box, but not the knife. In fact, the knife is ready to burst out like a jack in the box if you aren't careful with how you open the package. The odds are pretty good that when you grab the handle to take it out, you're going to pull out a naked blade.
All that to say is Buck really needs to improve the packaging for their kitchen knives. In the meantime, you should be careful and open this box while it's sitting on an even surface.
Comparison and Alternatives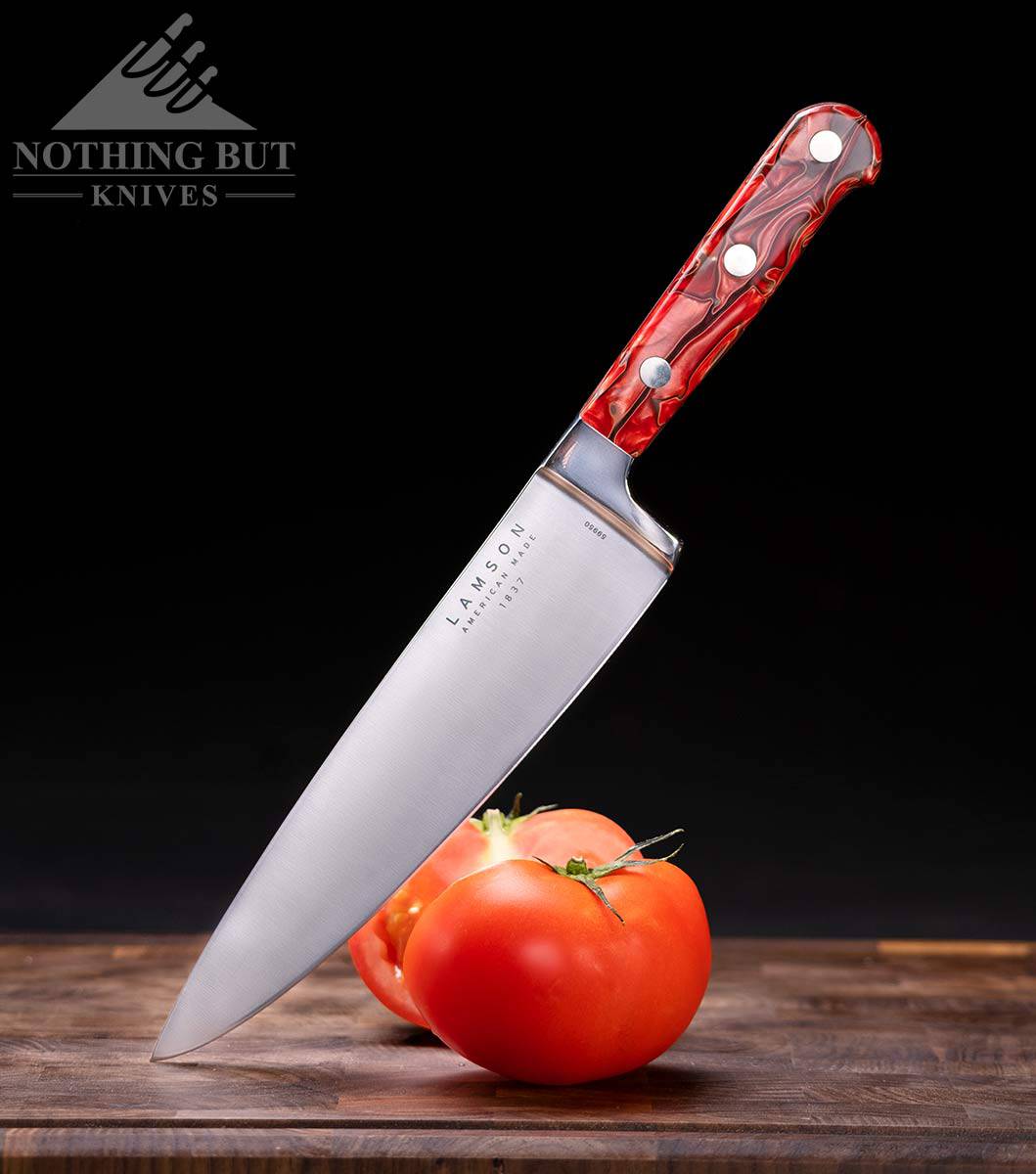 I don't think anyone else is making a chef knife quite like this but it's worth bringing up a few others if you want something a little more traditional.
The Victorinox Fibrox Pro seems like the best alternative to me. It's in about the same price range, comes from a company that also makes a lot of EDC knives, and it's used pretty widely by professional cooks around the world. The handle is very different, though, and looks pretty boring by comparison.
I also like the Lamson Premiere chef knife. It's a lot heavier but it's also made by an American company, and it has one of my favorite handles I've felt on a western chef knife. Also their knives tend to look a lot more interesting.
It might also be worth looking at something from the Old Hickory set. Either the slicing knife or the butcher knife. They don't offer anything like the same functionality (there's no Old Hickory chef knife that I'm aware of), but if you're trying to find food-purposed knives with a rustic aesthetic from an established outdoor knife company, the Old Hickory stuff has a similar vibe. Also the Old Hickory knives are a lot cheaper.
The Mattia Borrani Bowie chef knife may also be work looking at if you think a Bowie style kitchen knife may be what you are looking for.
Conclusion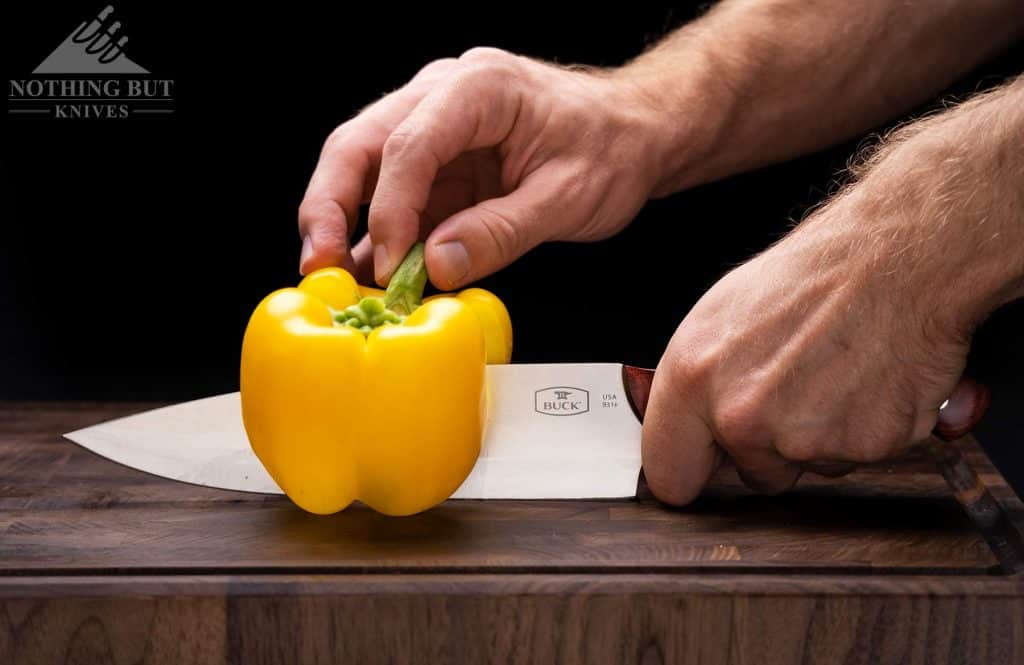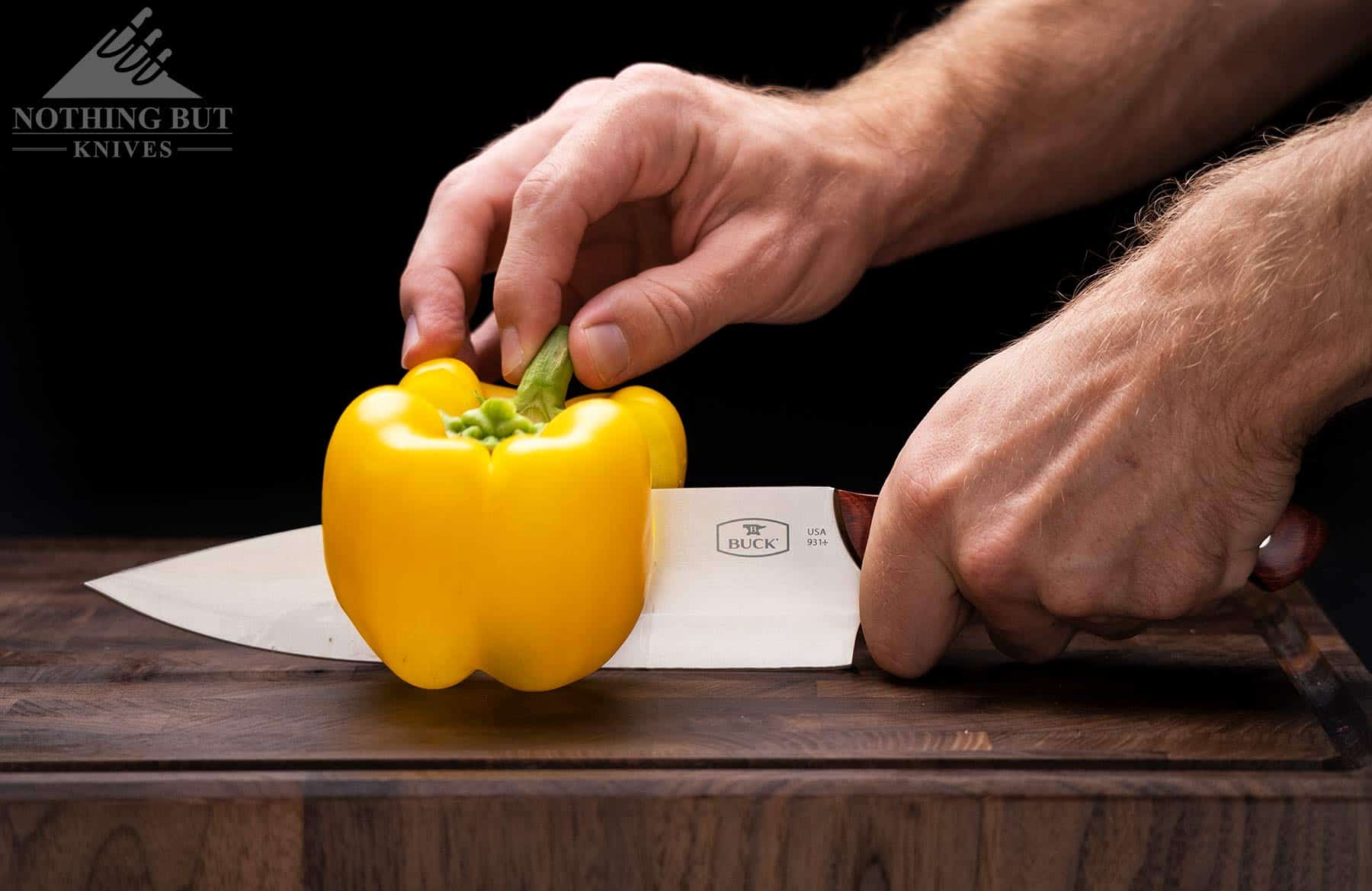 If you're a fan of Buck knives anyway, you will probably love this knife. It has a lot of elements from their folders and outdoor knives that should make cutting with this pretty familiar to anyone who has used the Buck 110 or 119 a lot.
It's probably not the best option for a professional cook even though the edge on this thing could probably keep up with most other knives being used in restaurant kitchens. I think the handle might be too different to move easily into that world.
But that gets at the heart of it. The only thing I want to change about this knife is the slope of the handle at the top, and maybe while we're at it make the handle a little a little fatter. I'm into everything else about it from the way it looks to the way it cuts. It's a good fit for someone who occasionally gets a heavy workload in the kitchen at home.