This Knife is the Only Good Pocket Bowie Out Right Now
The Caiman is the kind of brilliant but simple design that makes you wonder why no one has made this a hundred times before.
Not to say there aren't folding knives with vague allusions to a bowie style, but I've never held a well made pocket knife, much less a flipper, that really looked and felt unambiguously like a bowie knife the way the Caiman does.
It's not just a novelty design, though. It hits just the right spots in ergonomics, grippy texturing, a blade grind that's easy to sharpen, and materials that make up a tough knife without creating an outlandish price point. It also has the unfailing snappy action of everything else that comes out of the Bestech factory, so it's been pretty hard to bring myself to criticize anything about this knife.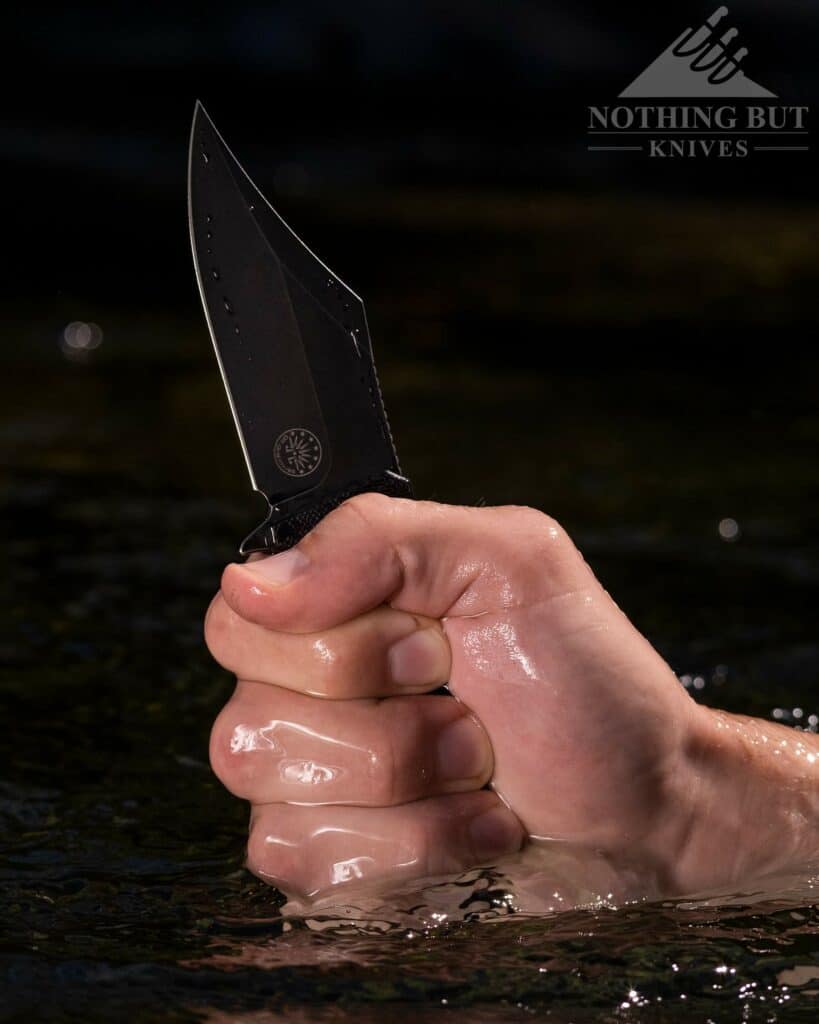 There are a couple small things with the way the factory edge cuts, and either the pocket clip has a slight snagging issue or I'm a gigantic idiot (my money's on the latter). The edge retention also fell a little below my expectations. Not because it's bad, but because Off Grid set the bar pretty high for themselves with knives like the Rhino and the Tracker X.
Overall, this has turned out to be a personal favorite EDC.
The Free Knife Disclaimer
Yes, I got this knife for free, and yes I say a lot of good things about it and very few bad things about it. The Off Grid Caiman is awesome, but you should probably take this review with a grain of salt.
Specifications
| | |
| --- | --- |
| Overall Length: | 7.6" |
| Blade Length: | 3.5" |
| Blade Steel: | D2 |
| Blade Thickness: | 3.1 mm |
| Blade Shape: | Clip point |
| Blade Grind: | Flat |
| Handle Length: | 4.1" |
| Handle Material: | G-10 |
| Lock Type: | Liner |
| Weight: | 4.8 oz |
Pros
Super comfortable, full-grip handle
Bowie-style point is really useful on an EDC
Sharp edge with a sturdy grind
Fully ambidextrous
Cons
Sharp but not slicey
Pocket clip poses a minor catching risk
Edge retention not quite on par with other Off Grid knives
Off Grid doesn't sell extra hardware yet
Tough and Toothy Blade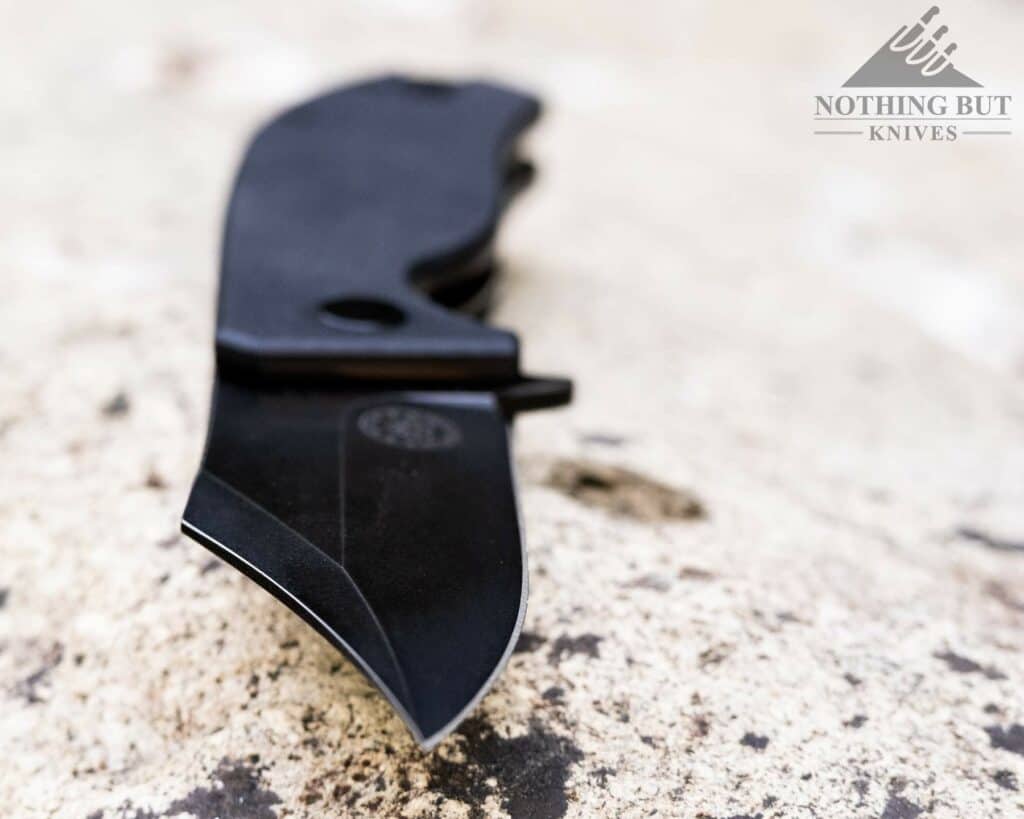 There are a lot of knives out there with clip point blades, but none of them clip like the Caiman.
It's almost mystifying how this blade manages to have such a long, thin tip coming off such a tall blade within the breadth of three and a half inches.
The shape alone is enough to win me over, because the aggressive point sitting at the end of an edge with a good ratio of flat and curved real estate has endless uses to me. But the point on this is vicious, which has come in pretty handy for cutting up boxes and cloth.
This punctures really easily, it's thin enough to work in between materials, and it's thick enough to do a little bit of prying. This really feels like a tool for every occasion, so long as the edge stays decently sharp.
And as to that.
Sharpness and Edge Retention
This has the typical hard-use folder problem of being a little thick behind the edge. It's plenty sharp out of the box. You could cut yourself easy enough with it, but it doesn't have a biting edge.
It has a sturdy edge, which is a common feature with Off Grid, and the edge geometry lends itself to a pretty smooth cutting action. But the grind on this is fairly shallow compared to other Off Grid folders, so the angle on the secondary bevel rises pretty quick.
It did an okay paper test when I first opened it up, and then I did a number on the edge by breaking down a hefty cardboard box that a TV had come in, which is a tall order. It's the kind of thing that would dull almost any knife, but the Caiman felt a little flatter than I was expecting based on my experience with the Off Grid Rhino or the Black Mamba, both of which keep an edge like magic.
The Caiman broke the box down like a champ, no question. It just got rough on the paper test afterwards. The good news is that this grind is incredibly easy to sharpen, even with D2 steel. I did some quick and dirty touching up with a Worksharp on the area of the edge that was having trouble. I didn't go super high in grit or even strop it, but it was back into paper-cutting shape within a few minutes.
Swims Well and Cleans Easy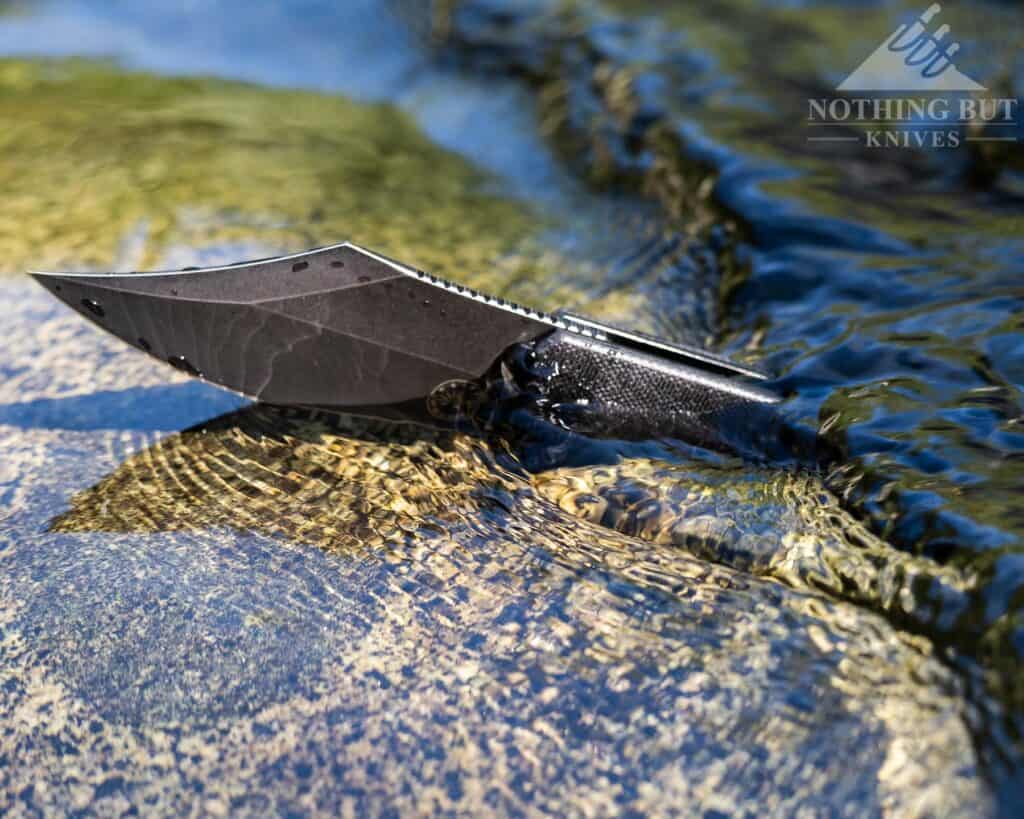 Since this is called the Caiman it seemed reasonable to spend half a day swimming up a creek.
I was actually a little worried about doing this since the blade is D2 steel, and it's all black so the odds of this falling out my hand and rusting away at the bottom of a dark river bed seemed high.
The more time I spent in the water, though, the less I worried about that. I'll get more into the handle stuff later, but this thing does not lose any of its grip when it's wet.
As to the high carbon steel and issues of corrosion, I didn't notice any signs of rust after letting it sit overnight. I dried the blade off the same day as my swimming excursion, but I didn't do a full disassembly and touch up until the next day. And for what it's worth, this is really easy to take apart and get back together. The action is just as snappy and the steel is just as rust-free as the day I got it, which I think is a credit to Off Grid's black finish.
So use the hell out of this thing. It can take the abuse, the angle is easy enough to find on it that sharpening is pretty pleasant, and it could likely stand being out in the elements for at least a week before any signs of corrosion started showing up.
Ergonomics and My Favorite G-10 Handle So Far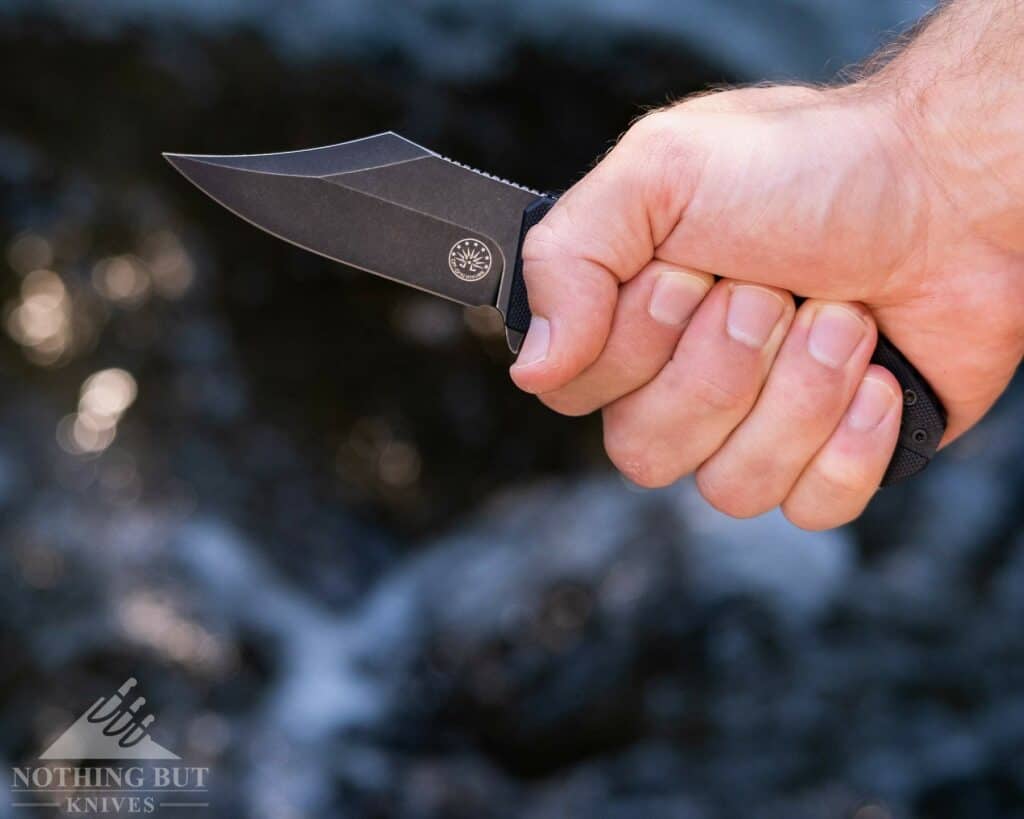 For all the functionality the blade shape brings, the real reason this knife is good for everything is because it feels comfortable and secure in the hand doing everything.
It fills the hand in a full grip, and the pocket clip doesn't even create a hotspot, which is basically an all-ten performance in the world of pocket knives. But there are a lot of little things around the handle that add to that comfort: the texturing on this G10 feels really grippy and fairly soft, the liner lock is chamfered but still prominent enough to push easily, and the height of the handle just makes it feel good to tighten up on.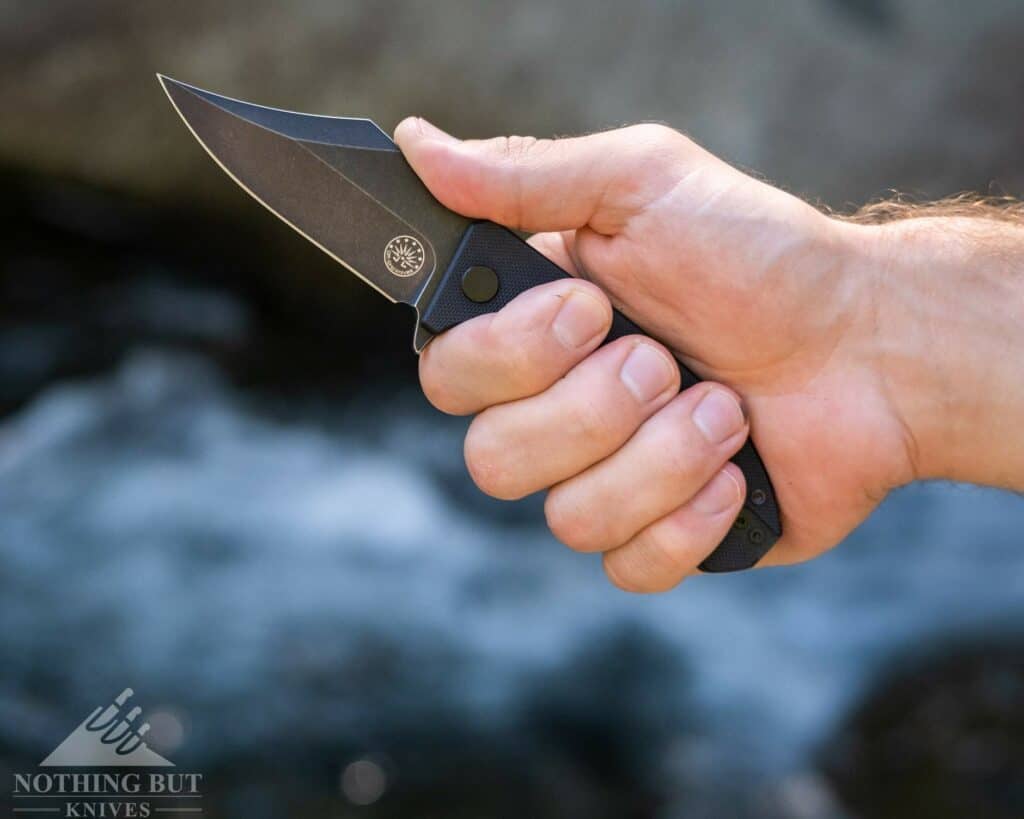 I also appreciate the combination of the jimping around the butt of the handle with the flipper tab doubling as a generous hand guard. These feel like essential features on a knife that has such a prominent tip. I still wouldn't want to stab to hard with the knife. I'll never feel comfortable trusting a folder like that, even with one of Off Grid's locks, but this folder is a lot more secure in the hand than most for using the tip of the blade.
My only complaint about the handle is that the well for the index finger feels a little too deep, and it might be nice to have a bit of jimping near the top of the handle, because the jimping on the spine of the blade comes flush with the handle and doesn't really do anything for creating traction for the thumb until the handle gives way.
Those are just minor complaints about a handle that's really good enough to not have to bare the nitpicking of vulture knife reviewers.
The Pocket Clip and Hardware
The pocket clip on the Caiman comes off with a T7 torx driver. I know that really well because I've had to take it off in order to bend the clip back into place twice.
I'm not really sure if it's my fault or Off Grid's, so this isn't exactly a criticism so much as a warning to other clumsy idiots like me.
Basically, somehow, the clip on my Caiman got turned to a ninety degree angle, and I didn't even notice until I left a mark on one of my brother's wood dining room chairs. It took a full day in a vice to get back to something like its factory shape. Then one day when I walked through a doorway I walked a little too close to the side and the clip snagged a corner and ended up at a 45 degree angle.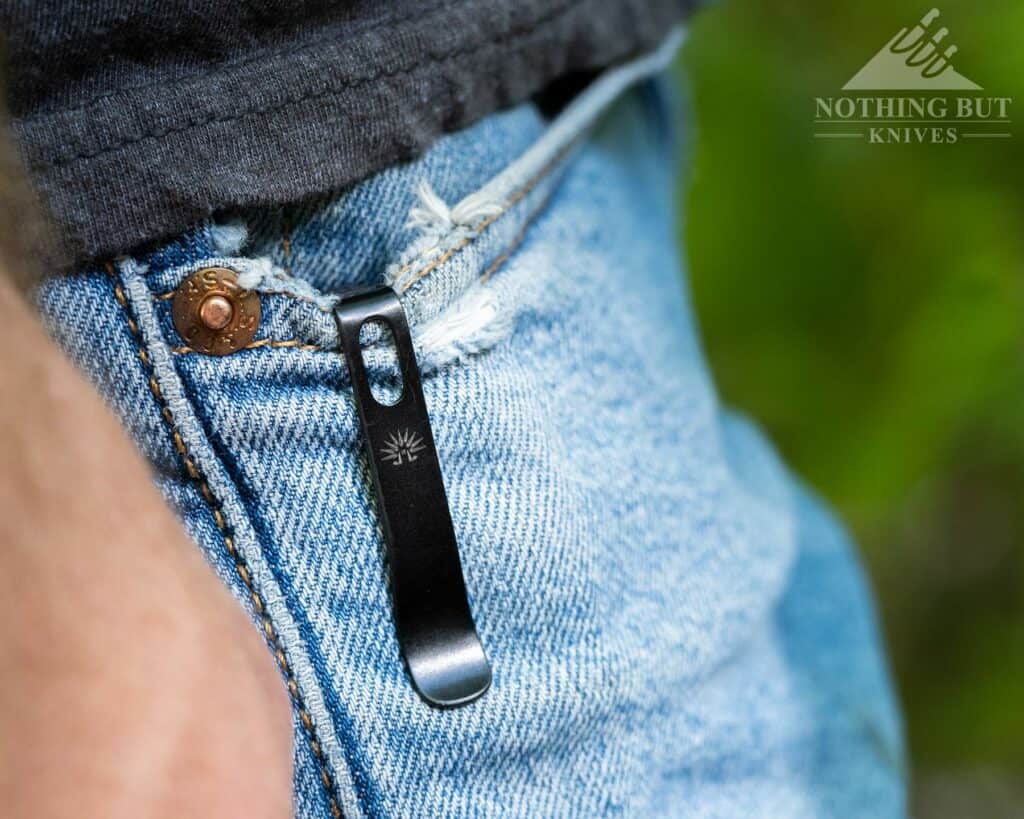 So same thing again, only then I noticed the malformation was inside the bend where the clip attaches to the scales, so the second time I jammed a screwdriver into the fold, then squeezed down on the rest of the clip with a pair of pliers and got it more or less back into the shape it's supposed to be. It still sits a little loose, though.
Now, the odds are good that the clip bent the first time because of something stupid I did. I just don't remember what it was. But when I really look the knife over, the clip does have a fairly pronounced flare at the bottom that could catch onto a seat belt or strap if the idiot wearing it isn't paying attention.
I've pulled a couple of conclusions from that experience, though:
The clip on the Caiman might bend out just a little too much
The retention before I destroyed the clip with just fine,
And I really need to look down at my hip more often.
It Would Be Super Cool if Off Grid Sold Separate Hardware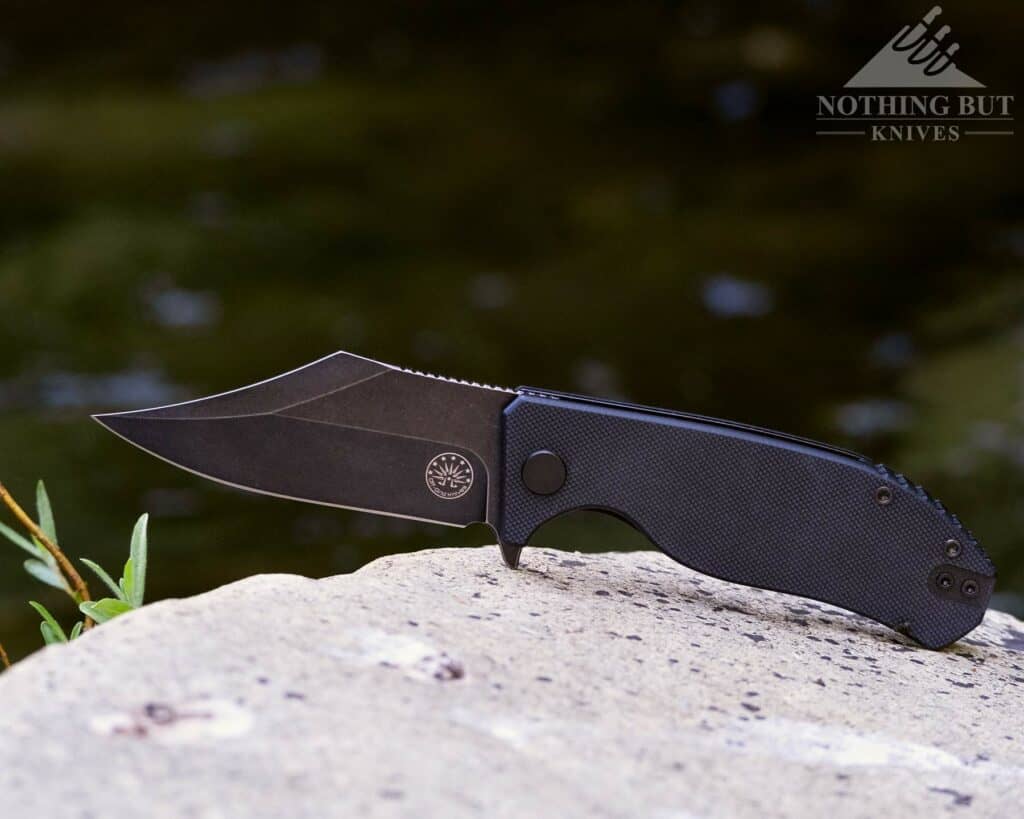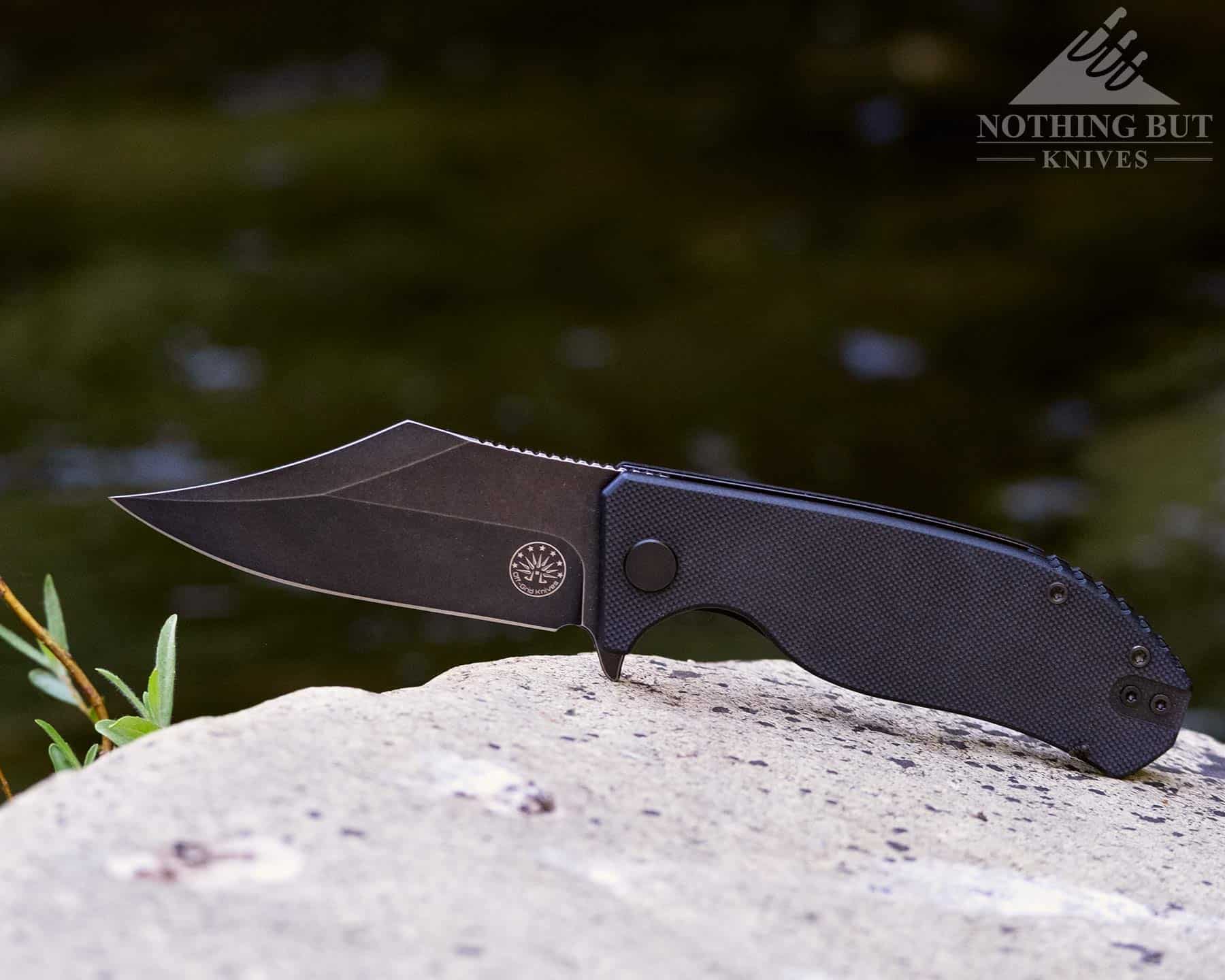 This did bring up an issue with Off Grid that never really occurred to me before, though. They don't sell hardware separately. On the whole that's not really a big deal. This is the first time I've actually damaged one of their pocket clips, and I'm pretty sure it's extenuating circumstances. But since almost everything they sell is built for hard use, it seems like it's only a matter of time before more idiots like me go slinking around on their site for extra clips or scales.
I suspect this is a tough thing for smaller knife companies to offer. Especially right now with the entire world struggling with supply chain issues. But I do think it's worth knowing that, for now at least, replacement hardware isn't a thing with them.
I did make another discovery while packing this knife around without a pocket clip, though: this already very comfortable handle feels so much better sans the clip. Which, of course, brought me to another thought.
The Caiman would be an Incredible Fixed Blade Design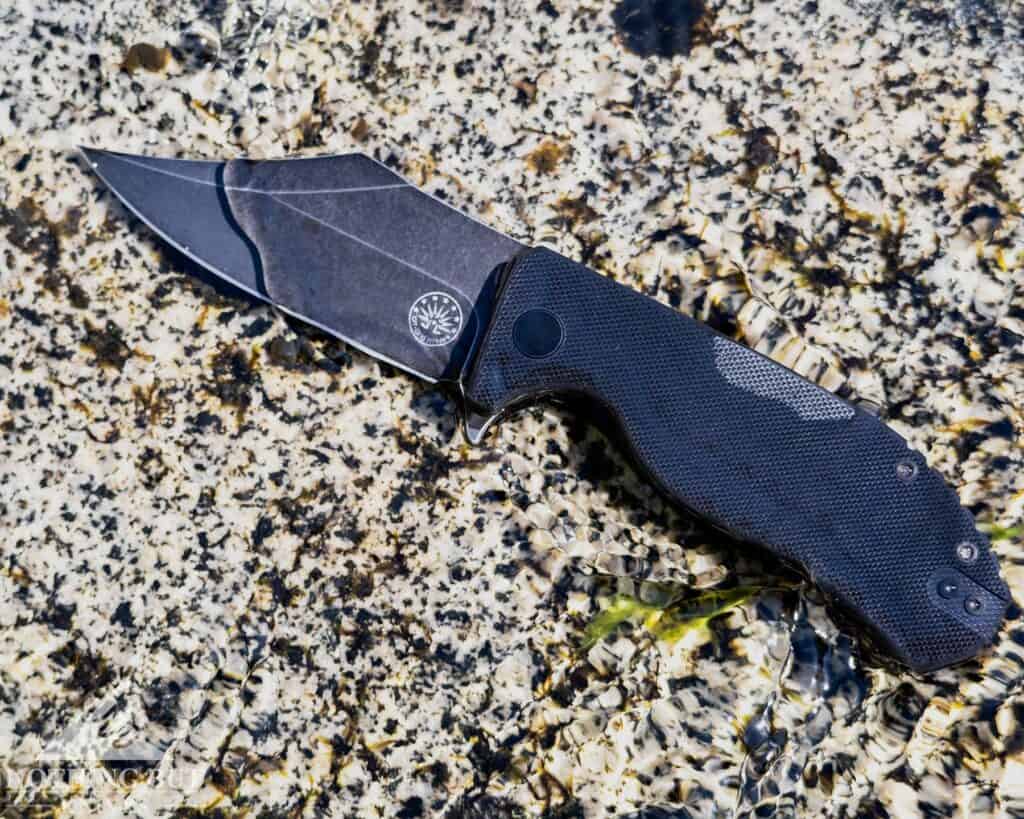 This is an insane thing to say, because one of the first things I loved about the Caiman design was that it was taking a blade shape traditionally seen on big fixed blade survival knives and putting it into a pocket knife shape.
I still love that aspect.
But the more I use this, the more I want to have it riding in a horizontal sheath on my hip like I do with the Braford Guardian. It has such a good shape for outdoor tasks and I think the size would ride really well for climbing trees and hiking through heavy brush.
Comparison and Alternatives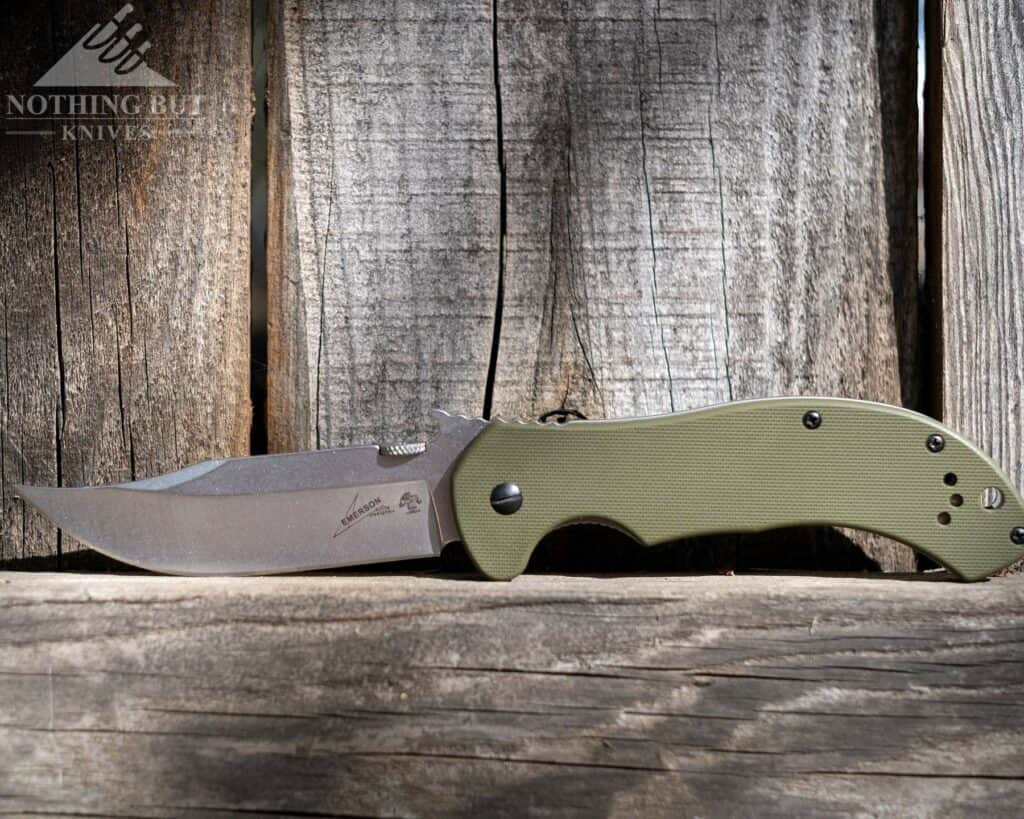 The real attraction of this knife comes out in trying to find a good alternative to it, because I don't know of another folder with a Bowie-style blade like this one.
The Civivi Sinisys has a similar price point and similar look to the Caiman. It is a little longer and a little thinner, but its Bowie design lines are undeniable.
There's the Spyderco Schemp Bowie, which is huge and about 4 times the price of the Caiman. The Buck 110 kind of counts, but the overall feel and function of it is so different it doesn't really feel like an appropriate comparison.
The Boker Kalashinkov looks like a potential contender, but since that's largely made as an automatic in a size that reaches far outside the bounds of the laws in the area I live in, I can't really speak to how it measures up.
The Cold Steel Voyager does come in a clip point version that has a bit of bowie feeling to it. I would actually recommend it as a really useful pocket bowie, but it's a massive jump in size.
The closest comparison I can find is a Kershaw Emerson CQC 10K with a clip point. In terms of price and function, that makes for steep competition, but even that doesn't really capture the look and feel of a bowie knife the way the Caiman does.
So the Caiman kind of sits in a category of its own. With that in mind, I would still suggest an Emerson CQC or first as an alternative, either from Kershaw if you want to go a little cheaper and put up with softer steel, or straight from Emerson if you're willing to drop $200 for an upgrade in materials and the right to brag about having a real Emerson.
The cop-out answer to this, of course, is the Off Grid Rhino. But it feels rude at this point to bring up the Rhino. It's the Empire Strikes Back of Off Grid's line up. At any point you could watch a different Star Wars movie, but Empire will always be there in the background standing tall as the benchmark of quality.
If you like the style but not the blade of the Caiman, get the Rhino. They have pretty similar ergonomics, and the Rhino has a stouter tip and a taller blade.
Conclusion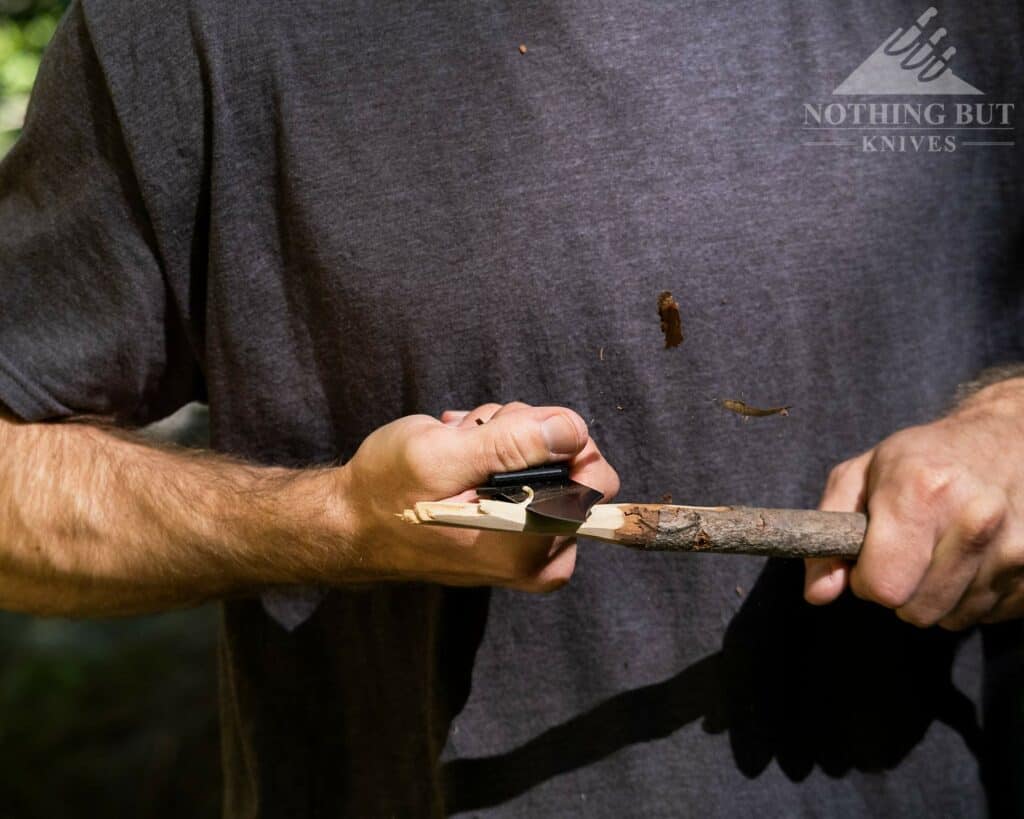 The Off Grid Caiman perfectly hits the intersection of the "really cool" and "really functional" venn diagram.
I liked the look of the design before I held it, but when I actually got it in hand, snapped it open, and used it in a full grip I had one of those shining light moments that told me I had just found another staple in my EDC rotation. This thing fits so seamlessly into the way I use and carry knives (pocket clip mishaps aside) that it almost feels like this knife was designed for me.
It looks like a knife people want to use, and it feels like the kind of knife that makes you want to keep using it. It's super comfortable, and manages to have a tough blade despite having a large portion of it made up of an extreme clip. It's easy to clean and maintain, it's fun to play with, and it's just big enough to not be too big for a pocket knife.
So yes, this knife is worth having. Take it camping. Go fishing with it. Play around with it in the living room while you're waiting for a giant package to arrive so you can savage the box with the brutal point.
Get the Caiman then go out and have fun with it.