Dalstrong's Sort of Japanese Style Western Chef Knife Is A Good Option For Home Cooks
There's a lot of flash in this knife: It has a fancy looking pin in the handle, the Damascus blade has a mirror polish and a hammer finish, there's a big Dalstrong logo etched into the butt of the handle, and it ships with a metal pin in the box with about 30 lbs of promotional material.
Like all Dalstrong products, the Shogun X has the kind of fanfare that makes its actual function highly suspect. So it's almost irritating that this is actually a pretty good knife. It cuts great, the edge retention is good, and it feels super light (although that can be a downside if you prefer the weight of normal western knives).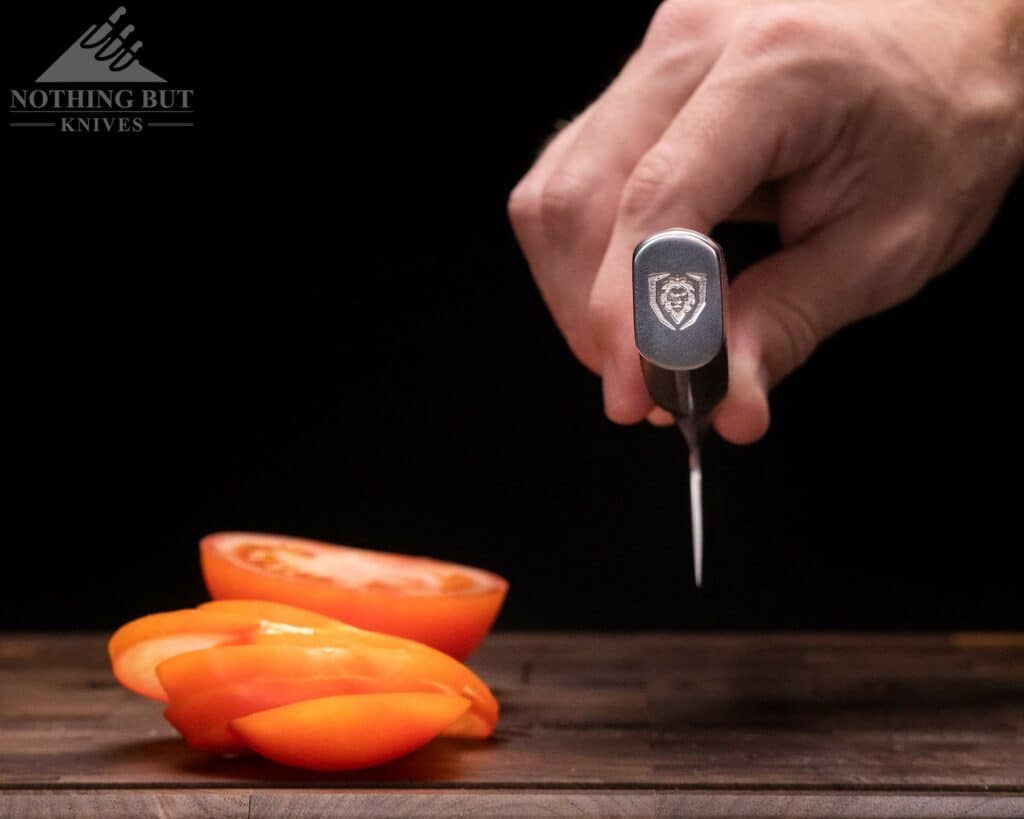 I found myself really liking this knife at first, then slowly enjoying it less as time went on. Not because of anything functional. It held up to weeks of use just fine. It's just that after the glitter falls off your eyes, this is the kind of knife you either love or don't, and I'm just not the kind of person who clicks with something this loud.
Specifications
| | |
| --- | --- |
| Overall Length: | 13.12" |
| Blade Length: | 8.0" |
| Style: | Western chef knife |
| Handle Length: | 5.12" |
| Blade Steel: | 67-layer Damascus w/ AUS-10V core and SUS410 cladding |
| Blade Grind: | Flat |
| Edge Angle: | 8 – 12 degree double bevel |
| Handle Material: | G-10 |
| HRC Rating: | 62+ Rockwell |
| Weight: | 9.475 oz |
Pros
Super sharp
Feels light
Hammer finish reduces food stick pretty well
Good fit and finish
Cons
The balance feels kinda funny
The edge is pretty frail
A little too thick behind the edge
The Design is a Little Odd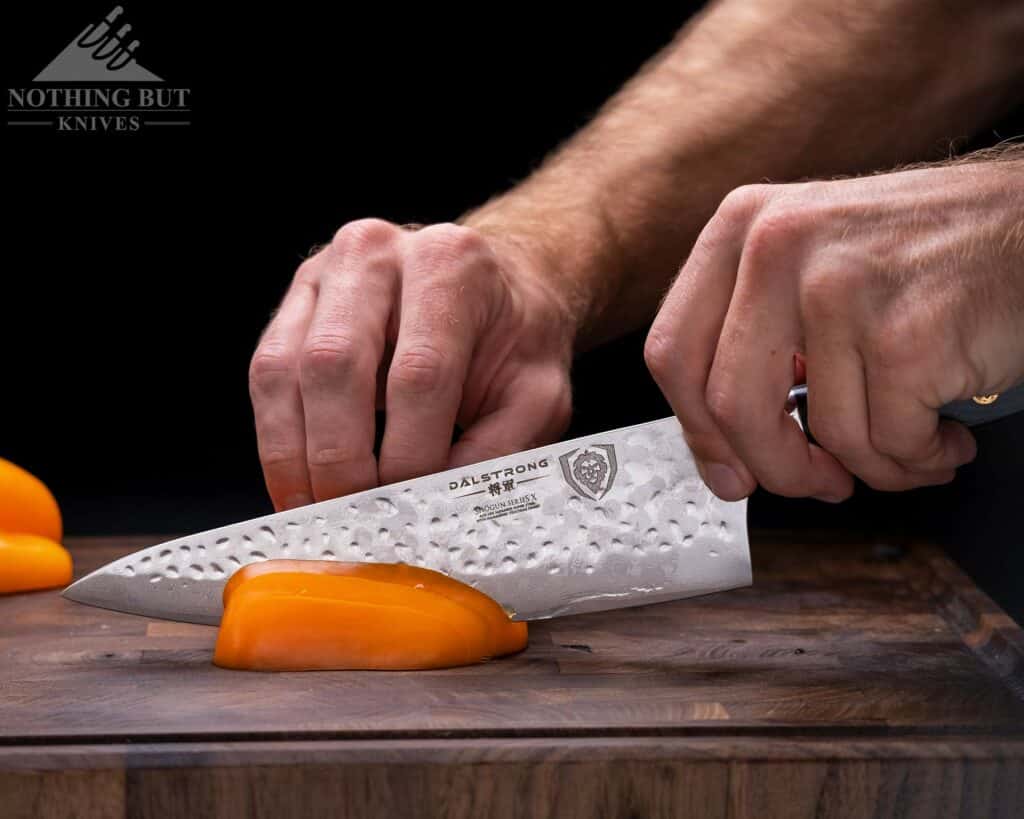 This Shogun X chef knife has kind of a confusing mix of elements. It has the overall shape of a western chef knife, and the grind and hardness more commonly seen in Japanese knives.
These elements don't conflict with each other for the most part, though. I wouldn't say they synergize, but they do result in a good knife that looks impressive, and stands out from most other options in either the western or Japanese range.
It performs very well as a home kitchen knife, and once you get used to thinking of this as a very light western chef knife rather than a heavy Japanese knife with the balance a little off, this actually becomes a really pleasant knife to use. It's a fantastic knife to use if you have no preference either way, because then it's just a fun-looking knife that cuts great.
It gets a little sketchier if you put it against the more popular knives that are traditionally used by professionals, but I think this was meant to be a high end knife for the home kitchen rather than an optimized blade for 8 hours of daily use. I think the retention and build on this is good enough to handle a cook's work week. I just don't think most professionals would actually like the way this feels.
The Blade and Performance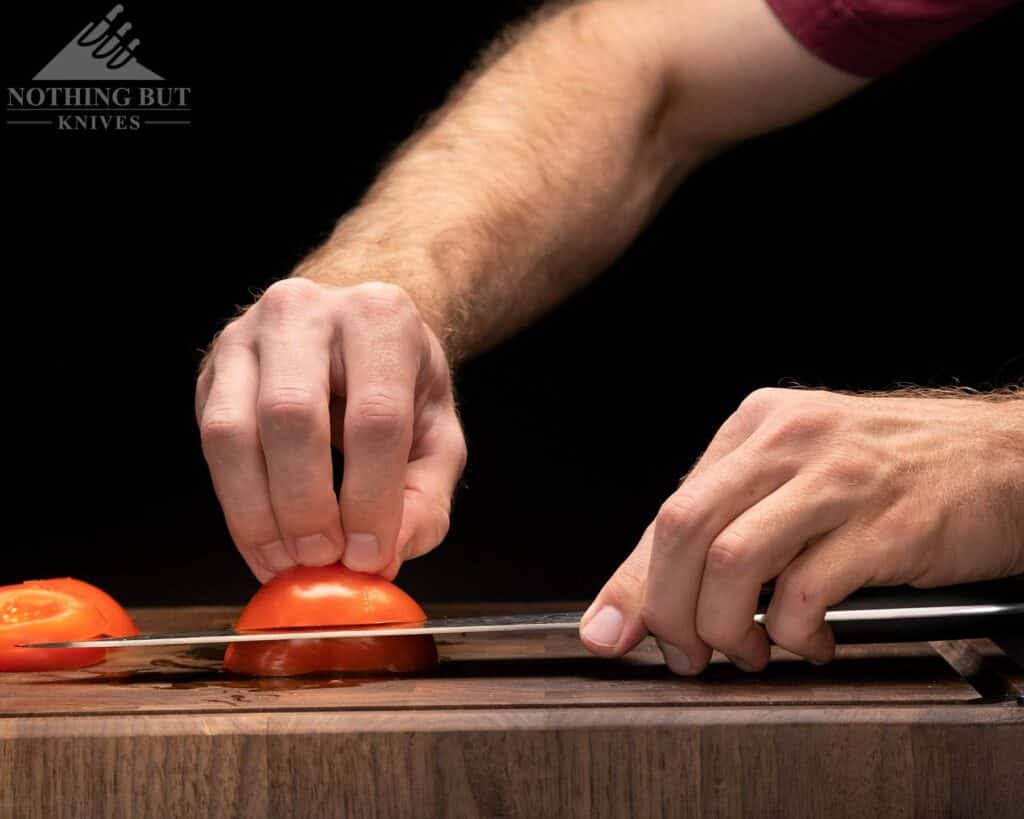 This is a sharp knife. That's something I've discovered I can pretty much always count on from Dalstrong. It eases into tomato skin no problem, onions feel smooth with it for the most part, and it'll even mince garlic pretty well.
This has a 12 degree edge on the blade, though, so I was expecting it to have a good bite. It's the follow through I was worried about because the common criticism I hear a about Dalstrong knives from people who are used to super high end chef knives is that they tend to wedge, because the blade grind is too thick behind the edge.
It turns out that's a fair criticism, but it depends on where you're looking at it from.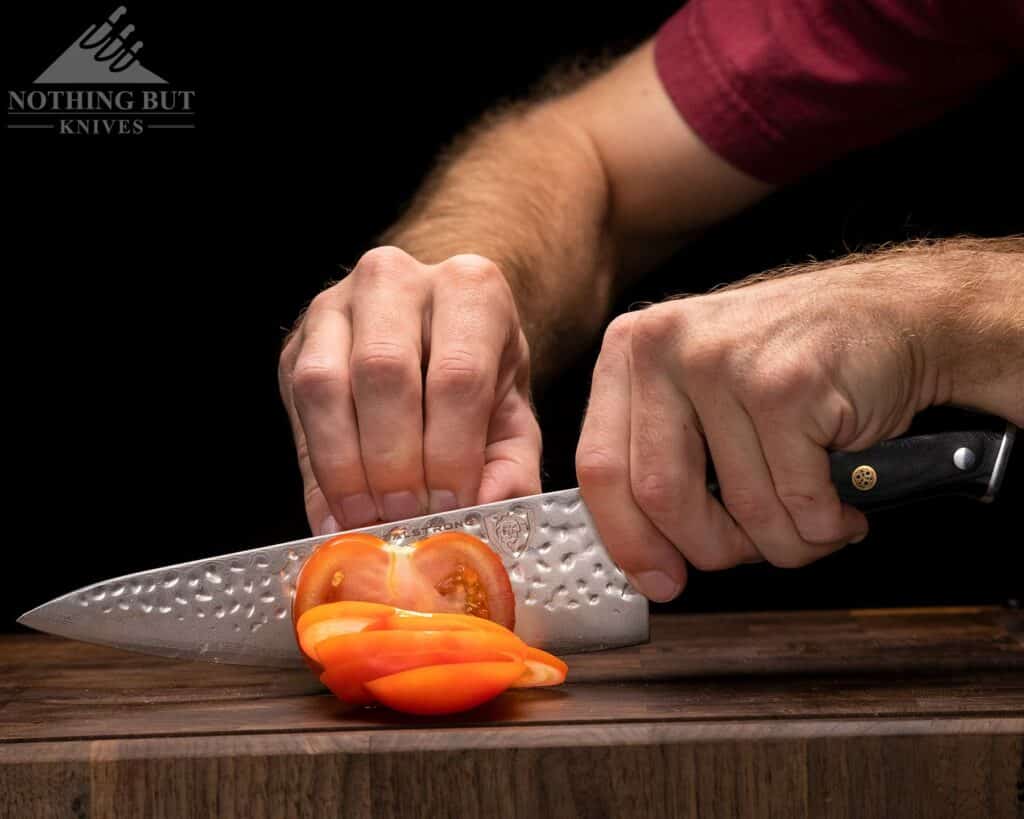 The Shogun X feels a little thick when I'm cutting through a whole tomato, and it feels a bit more pronounced when dicing an onion, but it still cuts fine. Where it gets tricky is if you compare it to professional-grade knives like the Wusthof Ikon.
Look at both 8-inch knives from the bottom and you'll see that even though the Shogun X has a thinner primary bevel (the edge), it's been ground in such a way that it fattens out quicker than the Wusthof Ikon, which has a fairly even flat grind all the way back from its (roughly) 15 degree edge.
If you're coming from something like a Cuisinart knife or some kind of Amazon Basics nonsense, this will feel like a dream. This type of thing seems to come up a lot with really popular knives, though, so it seems reasonable to me to classify these knives as different things.
The Shogun X has something I've started thinking of as a good consumer edge. Chef's and steel snobs will say terrible things about it because they're used to very finely tuned tools made for hours of daily use.
I think it's fair to say the Shogun X was made to be used in the home and to look impressive in a block.
The "Mostly Western Style Except Not" Part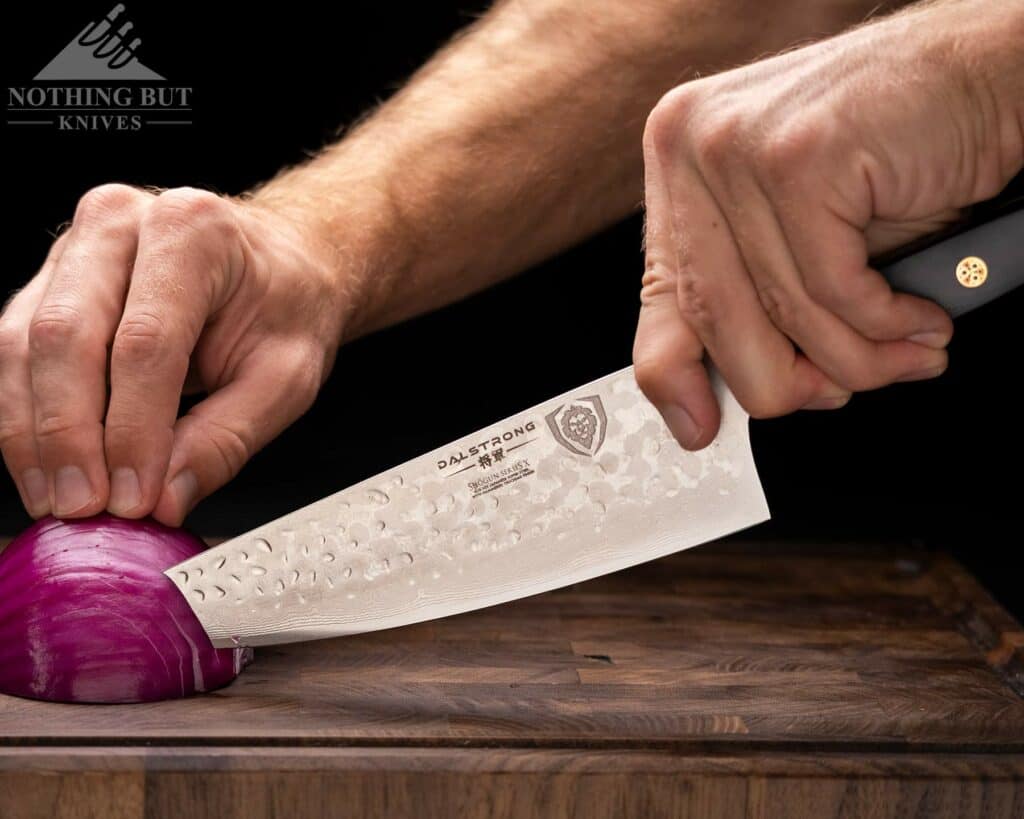 The blade and handle have all the makings of a respectable Western chef knife, except for a couple little details:
First, the tip is angled down just a bit in a way that's pretty similar to a gyuto.
For the most part, this doesn't affect the function of the knife. You probably won't notice it until you go to separate meat from a bone. Since the tip is angled more or less downward instead of straight by just a few degrees, it gives you a little more leverage for cutting just beneath the tip, but it can kind of complicate your movements if you need to puncture something.
The other odd element is the thin edge. Dalstrong put a 12 degree edge on this knife, which is the kind of thinness you don't generally see (or want) in a western chef knife. They're normally meant to be robust blades that hold up to a little more lateral motion thanks to a 20 degree edge. Not so here.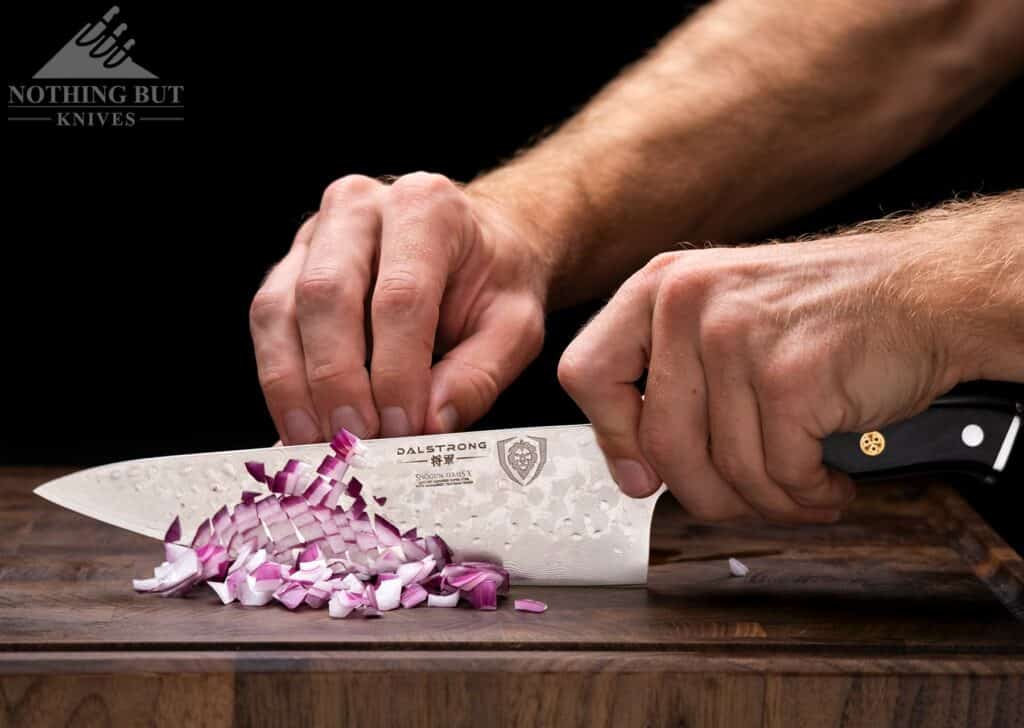 The Shogun is ground to be a precision blade. You need to cut straight and gently with this thing. The thing is with most Japanese knives you'll get a mostly straight edge with that thin grind, which makes for a really good shape for cutting vegetables and thin cuts of meat.
A big belly like this is for rock chopping, though, and the Shogun's profile has a more extreme slope to it than even most western knives thanks to having a blade that's over two inches tall (most western chef knife blades are about 1.75 – 2.0 inches).
That's a style that doesn't exactly need a thin edge because it tends to have more back and forth motion, utilizing more length of the edge to start and finish cuts.
I've seen this feature show up in a lot of Dalstrong series. The Gladiator chef knife is the same way, for example. It's a little thing for most people. Even chefs mostly use the bottom two thirds of the blade at the most.
But I think it's worth noting here because it kind of adds to that odd sense of fusion brought on by the Japanese aesthetics on a non-standard western chef knife.
Balance and Ergonomics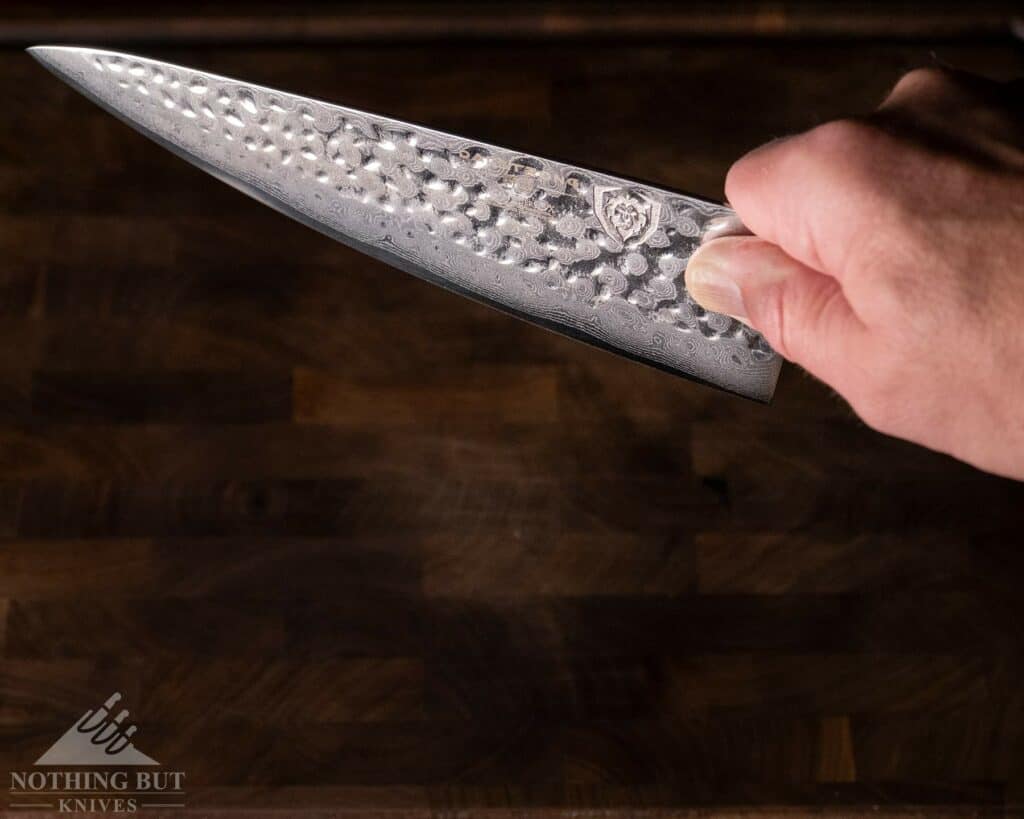 The Shogun weighs about average where western chef knives are concerned. It's a little heavier than the Zwilling Pro S, and about the same as the Messermeister Meridian Elite chef knife. It's also only a little heavier than the Wusthof Ikon chef knife.
All of these are your typical big-bellied western chef knives.
And yet the Dalstrong Shogun somehow feels like the most awkwardly balanced.
I feel hypocritical saying this, because I'm normally pining for a balance that puts the weight in my hand on a pinch grip. Knives like the Wusthof Classic Ikon purposely weight the handle so it's always pulling back, which has always felt like too much to me. And the Messermeister Meridian Elite almost favors the blade side, and I like the balance of that knife.
The Buck chef knife (as weird as it is to bring that up here) is balanced pretty much right in the pinch grip, and I love the way that feels. But it's also lighter. So maybe I've learned a lesson here. A weight balanced right in the scope of a pinch grip starts to feel weird if it gets too heavy.
Just Give Me the Damn Knife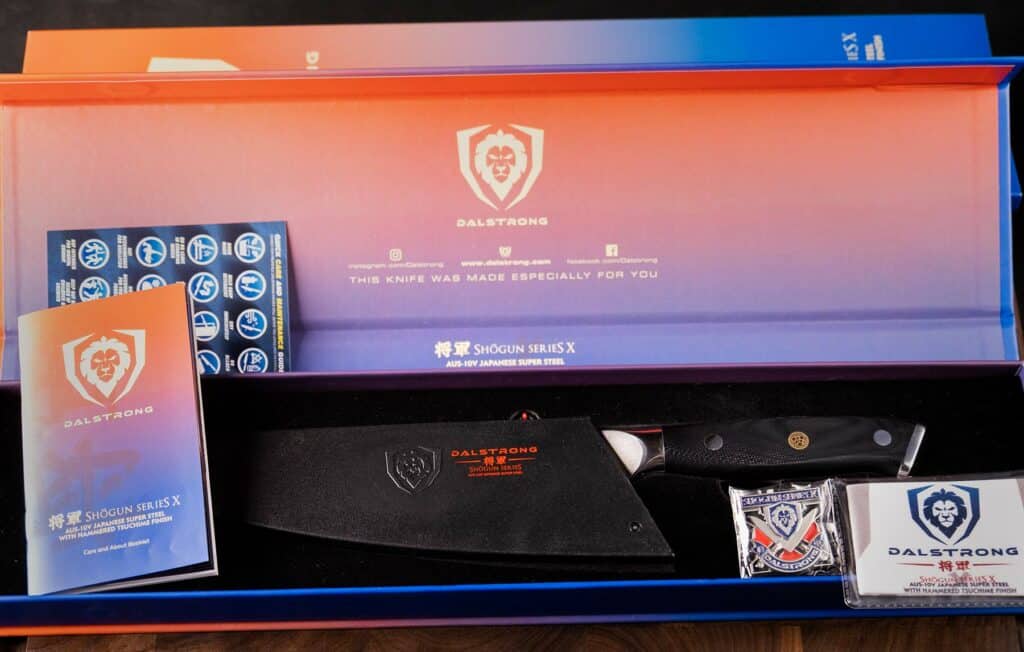 Dalstrong is pretty slick with their packaging. They have a special box design with a different pin, VIP invitation, and instruction pamphlet for each series they make.
Knives in the Shogun series also come in "traditional" saya sheath with a pin attached by a string. If you're like me, the pin won't stand out to you right away and you'll tug on the knife handle a couple times before you realize it's not coming out of the sheath before you pull the pin out.
So there's a lot of manufactured ceremony around this thing that makes it impressive, and exciting, and annoying.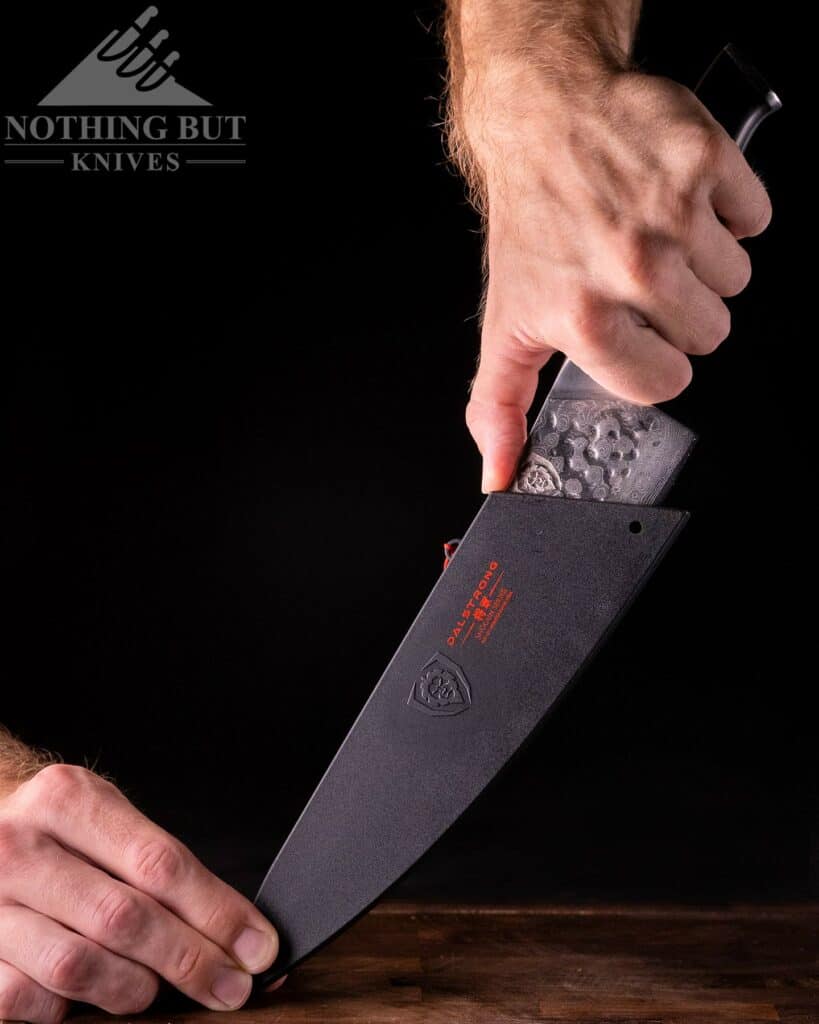 I understand the need for customer engagement here. That's something Dalstrong is really good at. But I really don't want to wade through a ball pit of promotional material to get to the knife. I get enough of that from pop up windows on the internet.
This is obviously a personal thing. The pin is probably cool for some people, but the whole thing is too gaudy for my tastes. The only legitimate criticism I can place here is that all this extra decoration has got to be padding the cost by at least $10. It's one of many things that drives home the fact that Dalstrong might be a lot of things, but it's not economical. However, the packaging and included accessories does help make the Shogun series knives a great gift option.
Comparison and Alternatives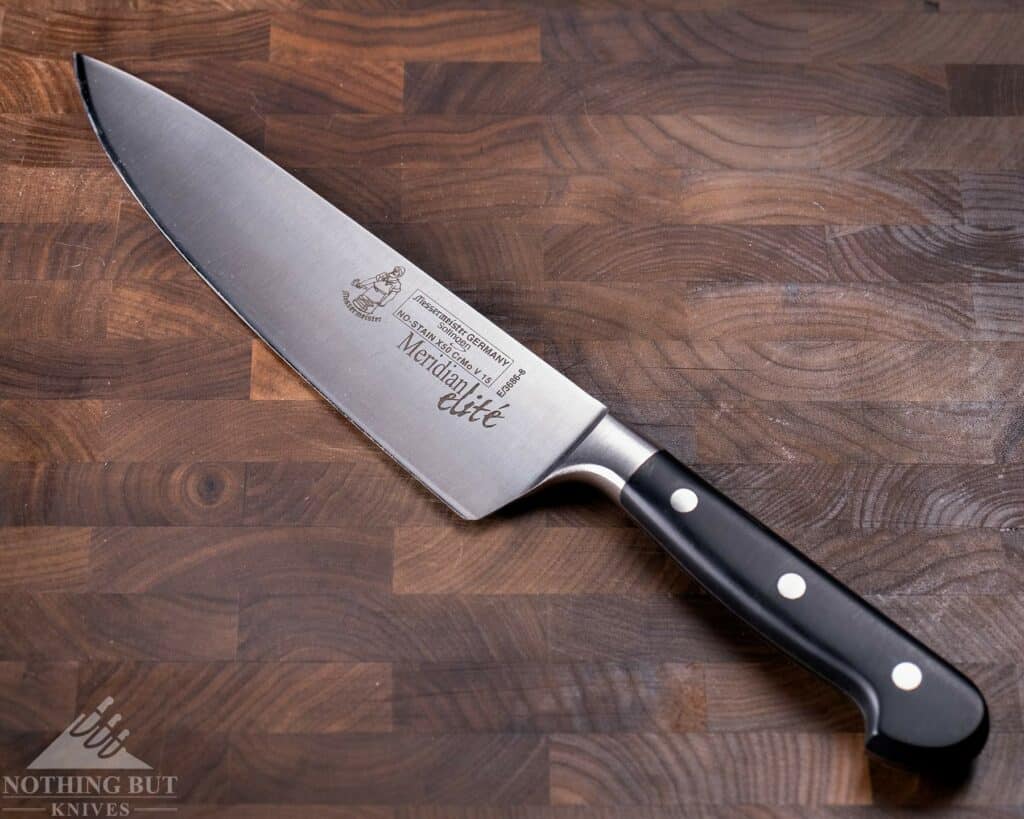 This is where things really get awkward when trying to recommend this knife, because it's good, but if all you want is a good knife there are a handful of options.
The first fair comparison I can make, I think, is the Yaxell Tsuchimon. They have similar steels and looks, but the Tsuchimon might look a little more dressed down by comparison. I've used the Yaxell Mon, which is the plain blade version of the Tsuchimon, and I'd say they cut roughly the same, although the Shogun X might have a slightly more aggressive bite.
The next step in performance would be the Shun Classic chef knife. It's more expensive, but my experience with the Classic Santoku implies the chef knife will have a smoother bite and follow through than the Shogun X.
For something with a more traditional western handle in a similar price range, though, I'd probably recommend the Messermeister Meridian Elite chef knife. It has a similar balance and weight, but it has the kind of feel of heft that you'd typically expect from a western knife.
The Xin Cutlery XinCraft 8.4″ Chef Knife is another slightly more expensive alternative to the Shogun. It is a Japanese and Western hybrid that performs well, and it has a unique aesthetic that sets it apart from most other chef knives.
The Cangshan Thomas Keller Signature Collection chef knife is a good upgrade to the Dalstrong Shogun if you don't mind spending a little more.
If quality and perfomrance are far more important to you than price, check out the Artisan Revere Chef Knife.
Conclusion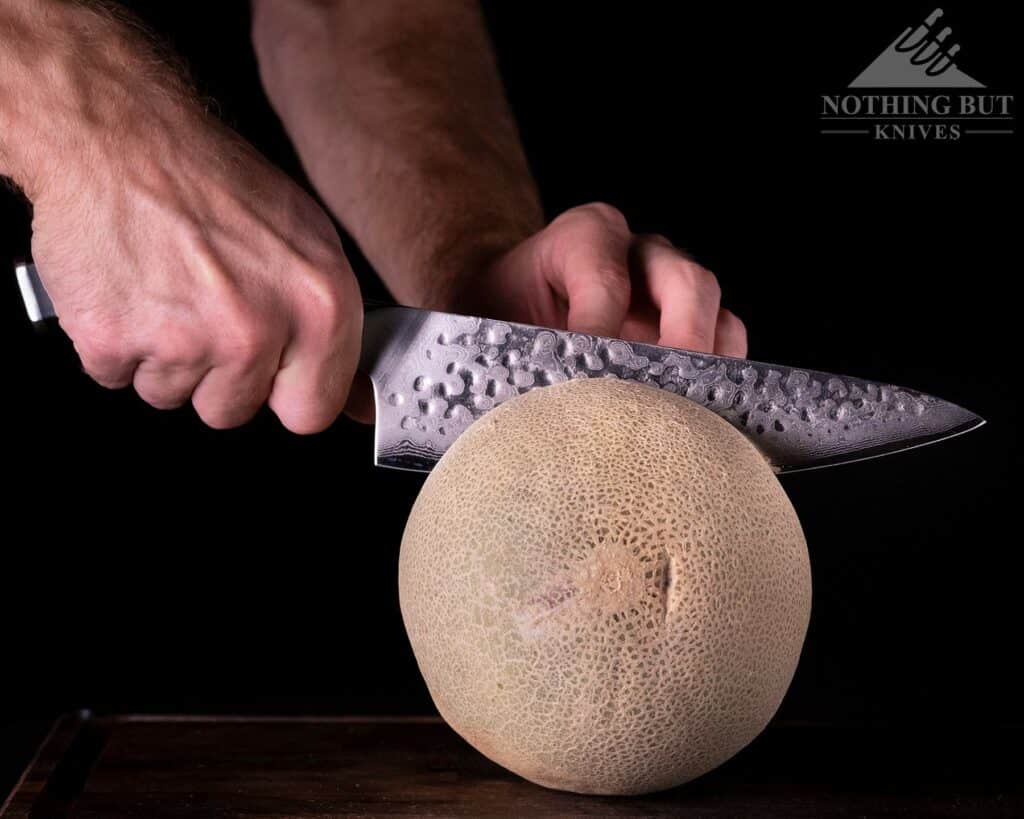 Here's the thing: The Dalstrong Shogun X is a good knife. It cuts fine, it handles well, the edge stays pretty sharp over time, and it looks good if this is the kind of thing you like to look at.
The issue is that, going by pure functionality, this isn't exactly $130 good. This is a dressed up tool that probably functions about as well as other kitchen knives that are $30 – 50 cheaper.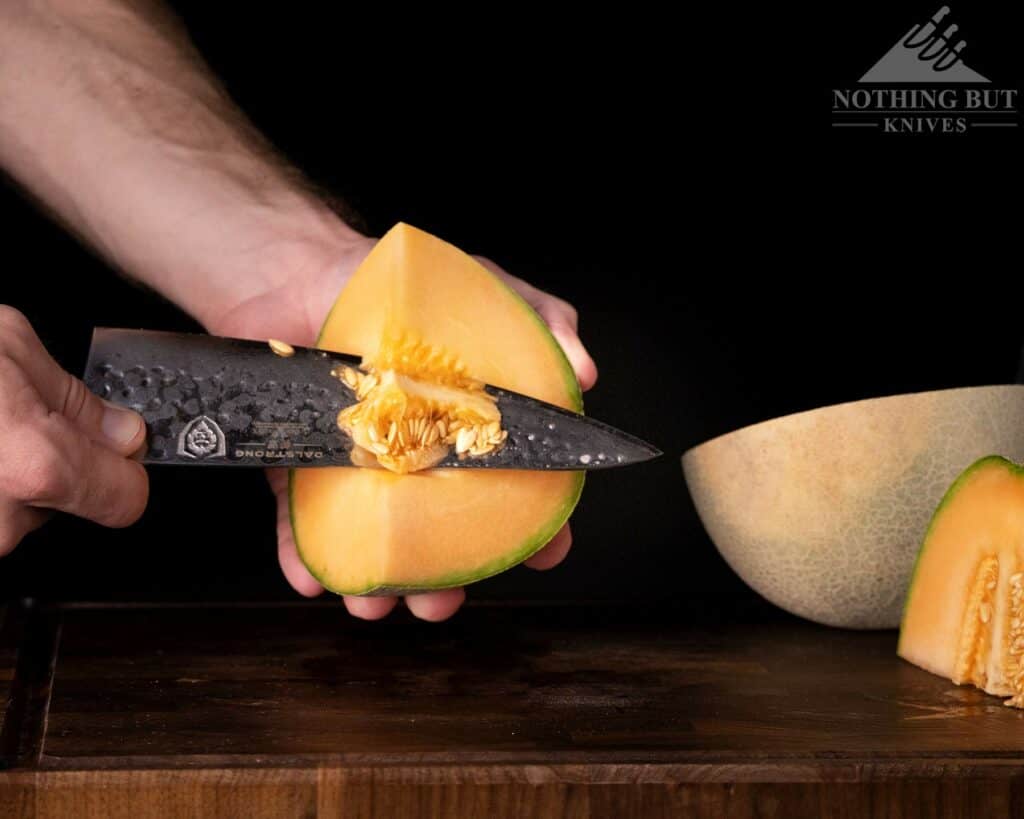 The other side of that is this knife isn't really for people who are just looking for pure function. The Shogun X chef knife is a showpiece that cuts well enough for people who aren't used to knives that cut well for a long time. In that sense it's actually not that different from most Shun knives. It's just a little gaudier.
So here's my take: This is a really good knife if you've ever only used cheap knives. If you want to upgrade to something that cuts well and looks good so you can show off your kitchen, your standard options are probably the Yaxell Tscuchimon, the Shun Classic, or the Dalstrong Shogun X.
All those work fine. Knife snobs can rail against this knife all day, and most of what they say is probably true. But at the end of the day, these are intended for home use. In that capacity, you don't need something that will stay sharp for 100 hours with a super thin grind. You just need something you'll enjoy having in your kitchen.