A Surprisingly Good Fixed Blade Camp Knife from a Folding Knife Company
It's weird to see a knife this big come from the same company that makes the Elementum, but here we are.
Civivi made a big camp knife, and it oddly looks and feels exactly like you would expect a big, fixed-blade Civivi knife to look and feel like:
It's highly functional, nice to look at, fun to use, and streamlined almost to the point of having no personality left. I should step carefully saying that, because the designer Maciej Torbé has a big line up of knives with a lot of personality, and the number of gigantic outdoor designs he has under his belt makes me think he could probably throw me across a room. I'll qualify that by saying Civivi has a way of taking interesting designs and almost making them boring.
But nice stuff on the table, the Kepler turned out to be a solid camping knife. The hefty blade can break wood up without a problem, and even though it's tough enough to do a lot of irresponsible things, the edge is surprisingly slicey. Even the steel surprised me on this knife. It kept up on the paper test after a fair amount of wood chopping and brush clearing, although I did eventually manage to chew the edge up.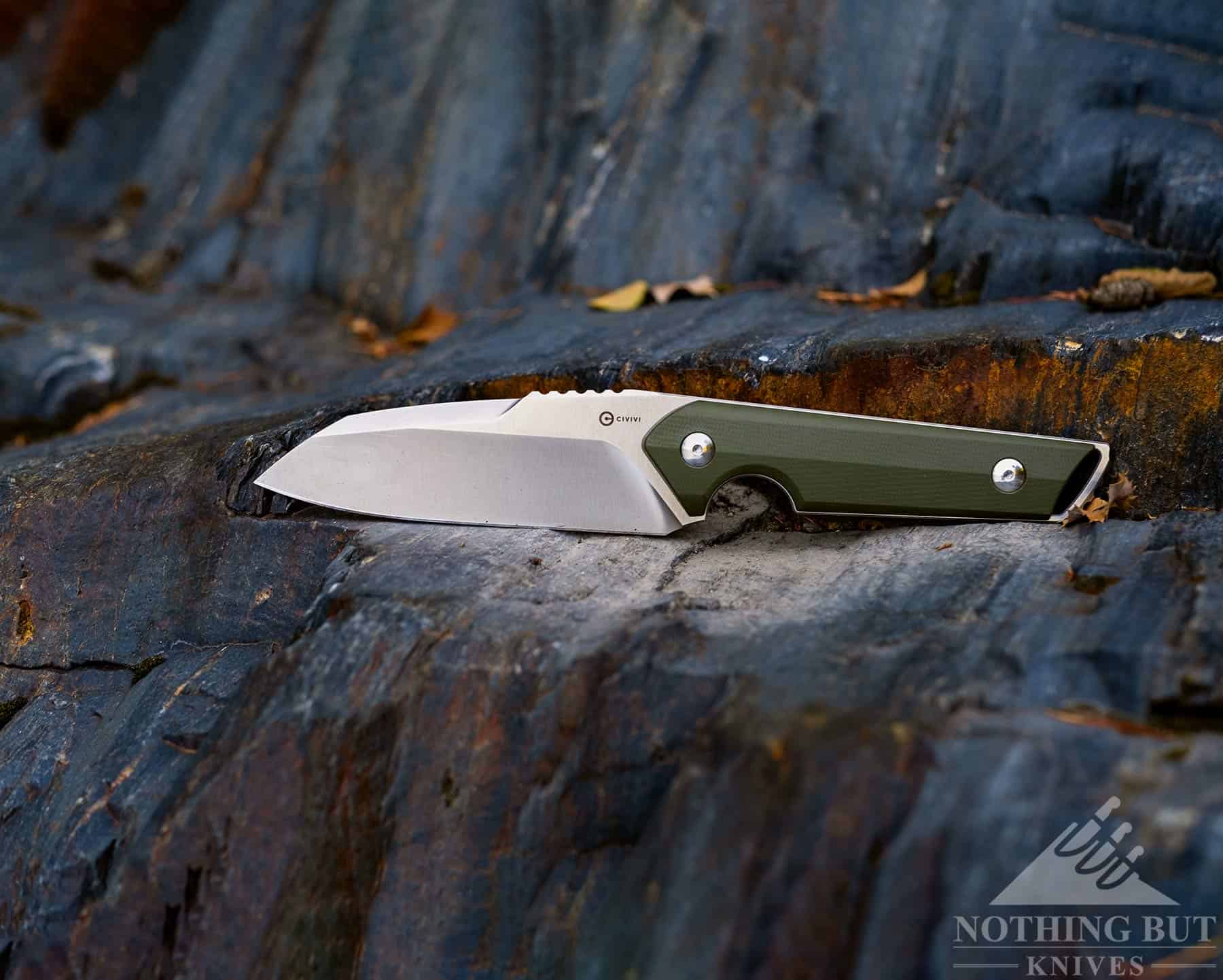 My main complaints about the Kepler are that the handle is too smooth and the knife rides too high to carry comfortably on a belt in the vertical carry position. I actually contacted Torbe to ask about a few the issues I was having, and he had a pretty reasonable answer for everything, so there's a lot of personal preference at work here for me.
Over all, Civivi has made an impressive jump into the big fixed blade world.
Specifications
| | |
| --- | --- |
| Overall Length: | 10.0" |
| Blade Length: | 4.5" |
| Handle Length: | 5.5" |
| Blade Steel: | 9Cr18MoV |
| Blade Hardness: | 58 – 60 HRC |
| Blade Grind: | Compound Flat |
| Blade Thickness: | 0.16" |
| Blade Style: | Wharncliffe |
| Handle Material: | G-10 |
| Knife Weight: | 7.7 oz |
| Weight w/ Sheath: | 11.23 oz |
| Sheath: | Kydex |
| Designer: | Maciej Torbé |
Pros
Tough blade with great edge geometry
Great at camping tasks like making tinder and starting fires
Nice weight and balance for the size
All around fun to use
Cons
The thin handle can get slippery with heavy work
Too long to carry easily on the belt
The braid Civivi puts on this is pretty useless
A Big Blade Designer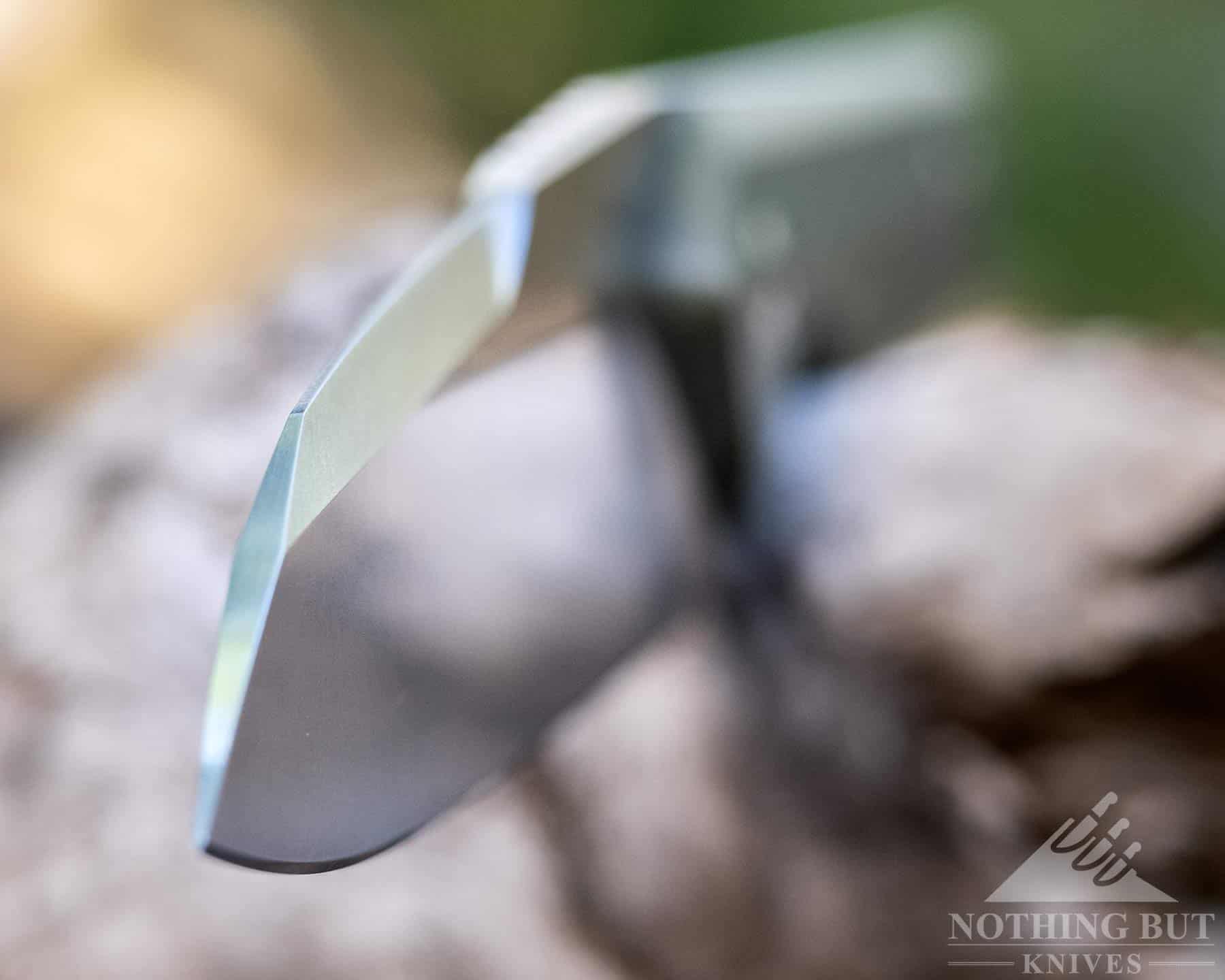 Torbe isn't a huge name in the knife world (at least not big like Voxnae or Anso or Emerson). He's done a few production collaborations with Civivi and Real Steel, though, and looking at his other designs he clearly likes to play with tall blades and compound geometry.
Most of his stuff leans toward heavy outdoor use, but there's usually something remarkable about the knives, whether it's a giant fuller or a well-angled handle, that makes his knives stand out in a really fun way.
He seems to be a good match for bringing hefty, hard-use designs into a company that has an obsession with thin EDC folders. I'm currently writing this in anticipation of the Planck neck knife, which he also designed for Civivi, and it looks so far outside of the kind of thing that company has been putting out that it makes me doubly interested in the continued collaboration with this designer.
If you like the look of the Kepler, I'd highly recommend looking at Torbe's other designs.
The Handle is more Comfortable than it Looks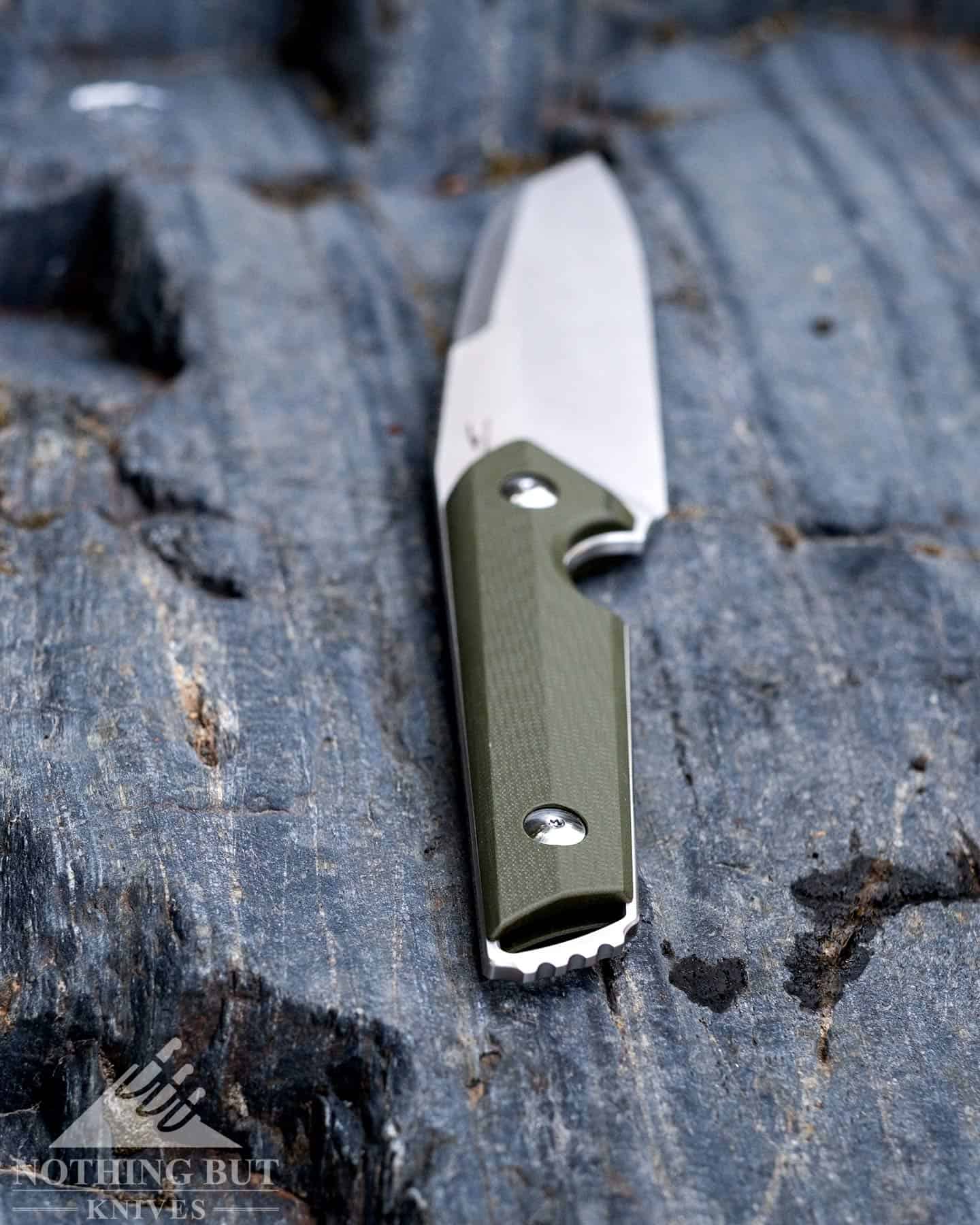 I like the look of the handle, and it has a lot of ergonomic upside with the finger choil placed well to give a kind of choking up feeling that's helpful when I'm creating feather sticks.
I fully expected to hate doing anything with the Kepler because thin scales on an exposed tang are usually a recipe for blistered hands. There's a lot of subtle shaping here that keeps that from happening, though. The tang is rounded and transitions pretty well into the vaulted angle of the handle, so a grip feels pretty natural. There are only hard angles where they need to be: the jimping on the spine and the cutting edge.
I don't feel anything biting into my hand whether I'm tightening my grip to carve into a stick or swinging the Kepler into a log. Somehow this thing manages to cradle the hand in a pleasant way for most reasonable tasks.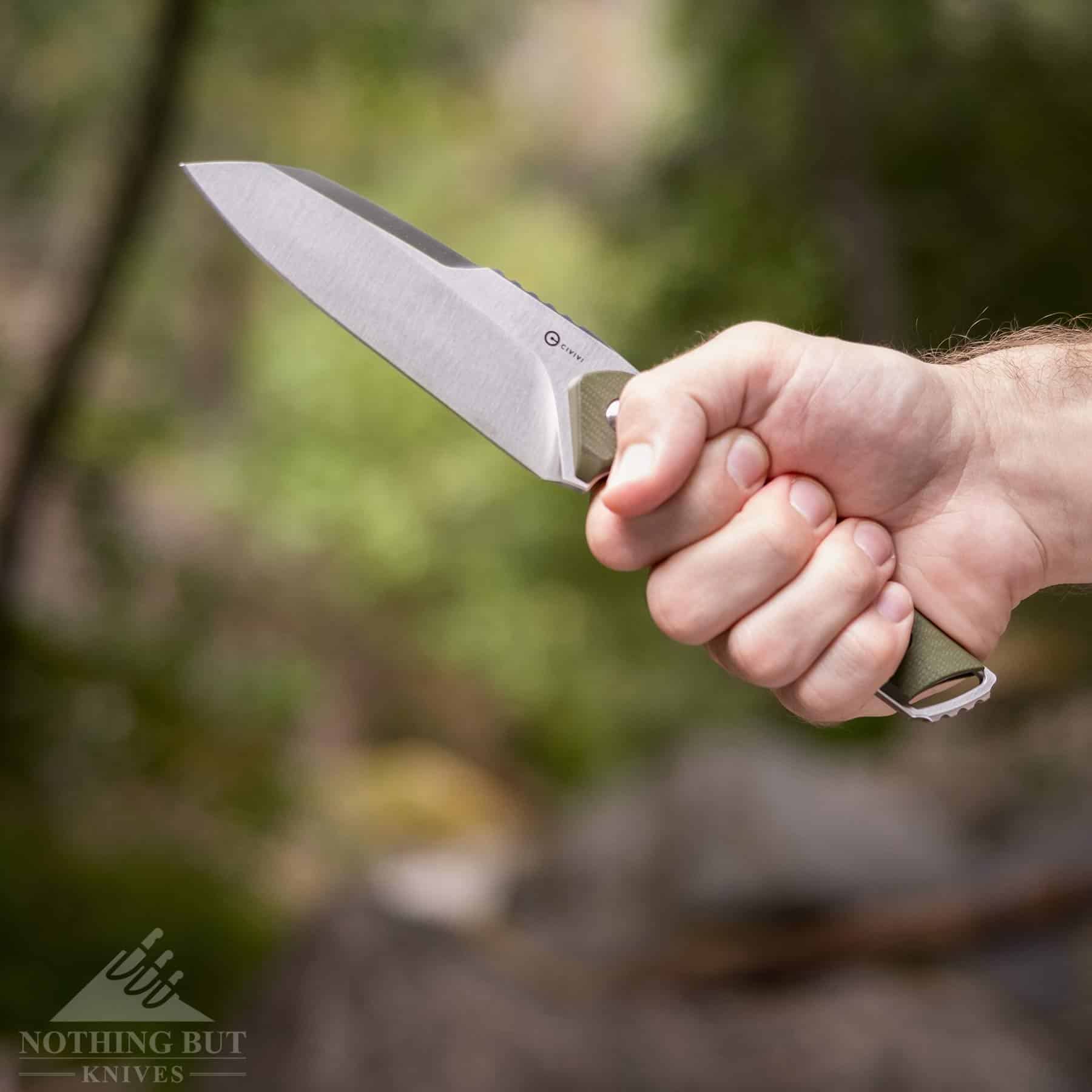 There are some issues that I suspected were stemming from either Civivi or Torbe prioritizing looks in a few elements. Things like the smooth scales and the braided lanyard that comes wrapped to the butt seem like the suspect choices here.
In fact, starting with the braid, there's no functional use that I can find with it. I'll bring this up again when I talk about how well the Kepler chops, but this pretty shoelace nonsense that comes stock with the knife only ever got in my way. I took it off pretty quickly after I started using the Kepler in earnest.
The Scales are Where Things Get Too Smooth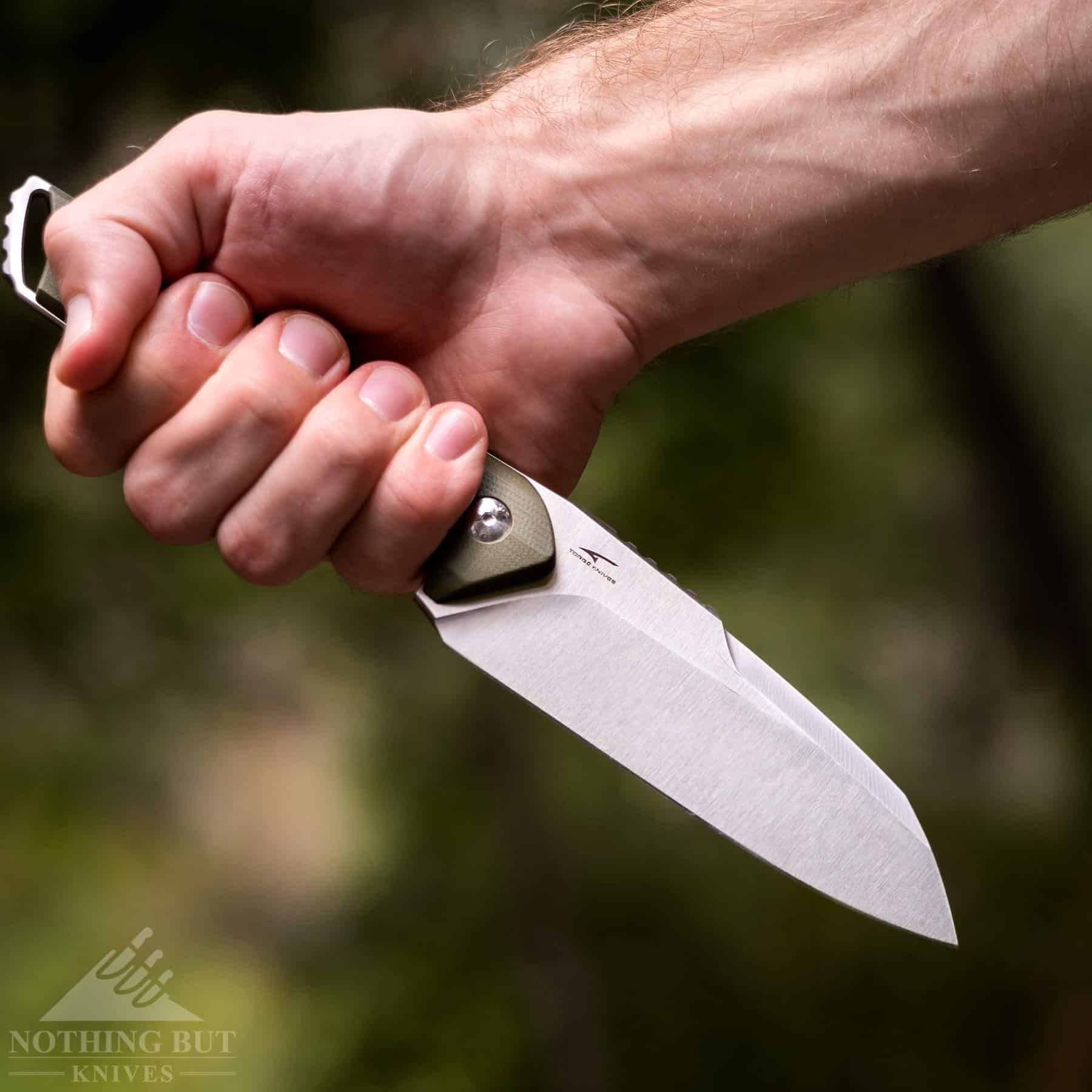 I can live happily with the thin handle, because they've shaped the scales well on the Kepler. That pointed fold that rises in the center of each side provides a lot of much needed grip for the hand, and actually gives a bit of a filled out feeling in the palm.
The smoothness of the handle becomes an issue for me after a bit of work, though. The scales could definitely use some texturing because it turns into a slippery devil when I start swinging wild.
It's not so bad when I have it choked up with my hand around the finger choil. But this is a big, long knife. I don't always want to just use it from the finger choil. And as long as this is going to have a long handle, I want to be able to make use of all of it. I want to be a jackass and hold it from the bottom so I can feel the full momentum that this long, heavy knife is capable of, but the lack of texturing on the scales makes that tricky to do.
Torbe said he actually prefers smooth scales on knives that are going to be used bare handed, because scales can start to grate on skin after heavy use. I had never thought of it that way, but I've definitely used knives with G-10 scales where the texturing was too harsh, so I can see where he's coming from. The motion of this knife does feel pretty good as long as I'm holding it by the finger choil.
All that to say, the smoothness of the scales is not a design flaw. It's an intentional feature that, I'm realizing now, might actually be better for some people.
The Handle-to-Blade Overreach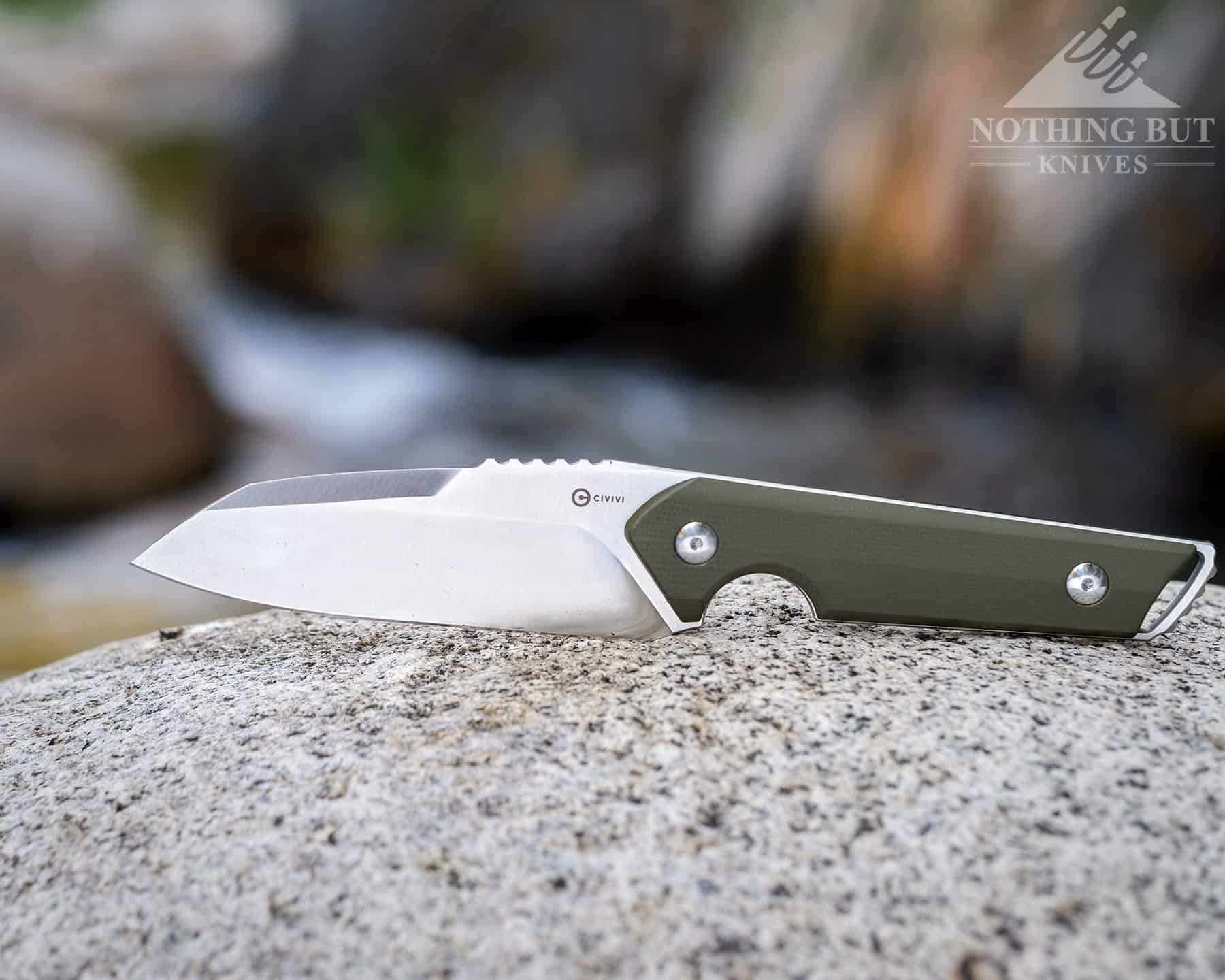 I originally thought there was an issue with the scales spreading a little too far up the blade. That bump at the top of the handle is right in the cutting line of the bottom quarter inch or so of the cutting edge and the scales rise up enough that at first it feels like they'll get in the way of a honing rod.
In practice this was only a slight issue when I was making feather sticks, but it was easy enough to adjust around the bump for that. When I put the blade to a honing rod and it kept running into the scales for the bottom half inch of the blade, I thought I had found a more critical issue. The ergonomics of the knife make using that bottom segment of the edge really comfortable, and this steel needs pretty regular maintenance if you're using it heavily, so not being able to properly hone the bottom edge would be incredibly inconvenient.
Turns out I was the idiot here. When I asked Torbe about this little design decision he assured me the scales are thin enough to allow most sharpening systems to work at 25 degrees (which is the angle he recommends). And if I wanted to thin out the angle geometry I just had to take the scales off to rework it. All of which makes a lot of sense.
I double checked my own angles and, sure enough, I had been trying to hone the edge at too low of an angle. So this actually turned into a good learning experience about the knife. The scales can act as a sort of guide. If your stone or honing rod is hitting scales, you're too low.
At this point, the only halfway legitimate complaint I can make about this little scale overreach is that it gets in the way of a pinch grip, which I actually like using on this knife, because the blade shape has a bit of a santoku style, making this pretty decent for camping food prep. The scales also lower the highest point where the belt clip would sit, which is a larger issue with the sheath that I'll talk about later.
But in the end, the overall shape of the scales on the Kepler are doing a lot more good than harm.
The Blade Shape is Great; the Steel is Good Enough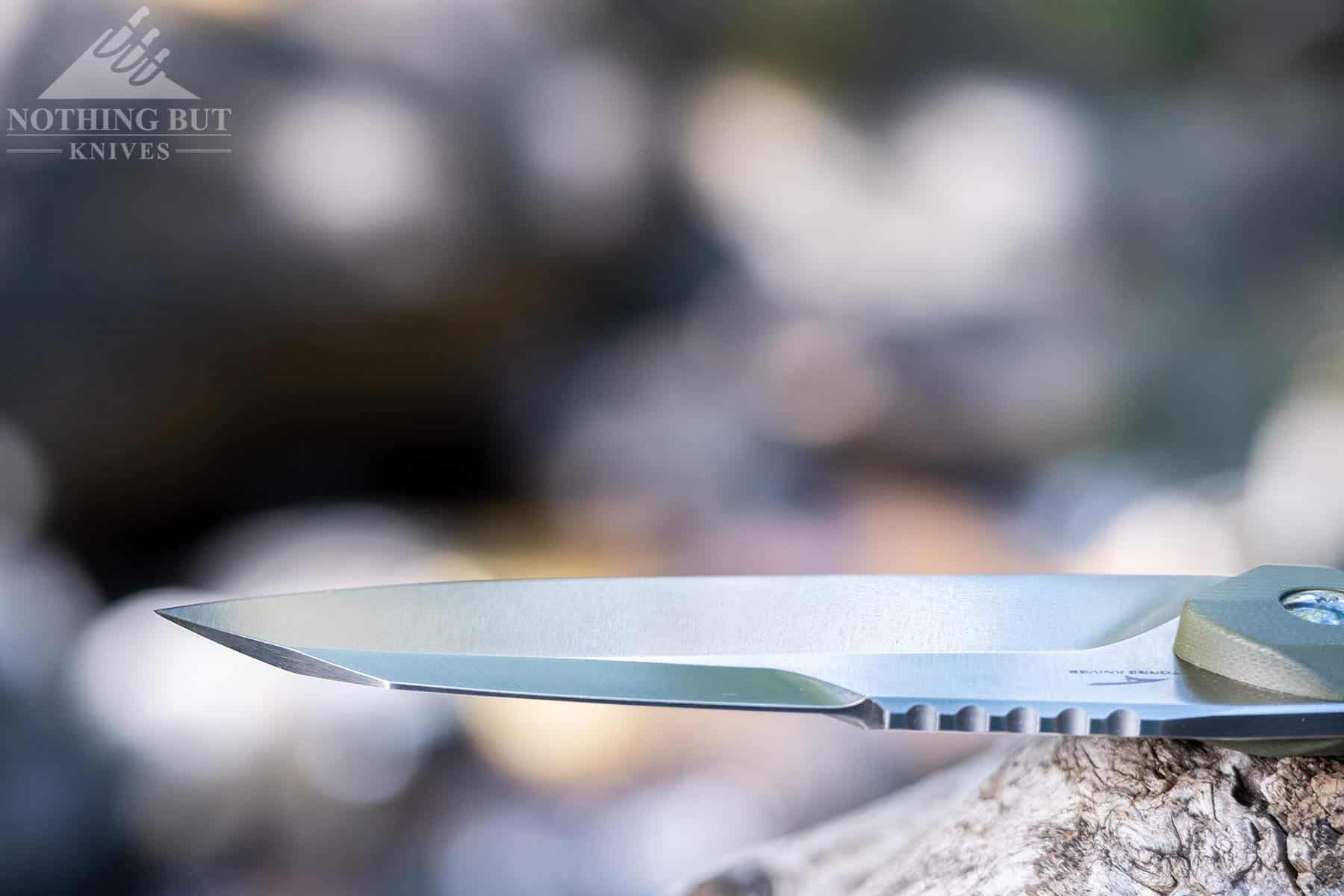 The bottom line on this is going to be that the steel is good, but I did end up chipping the blade after a long day of heavy yard work.
I was skeptical of the steel in this when we first got it. The long-winded "9Cr18MoV" has none of the flash or reputation that vanadium-obsessed knife enthusiasts crave, and my experience with the Elementum Damascus that uses this as its core steel didn't leave me super impressed with the potential for edge retention.
The Kepler has changed my opinion somewhat. 9Cr18MoV is a middling steel at best, but it has a fairly small grain structure that I think has been utilized very well in the Kepler's geometry.
The Wharncliffe Shape Does Well on Big Knives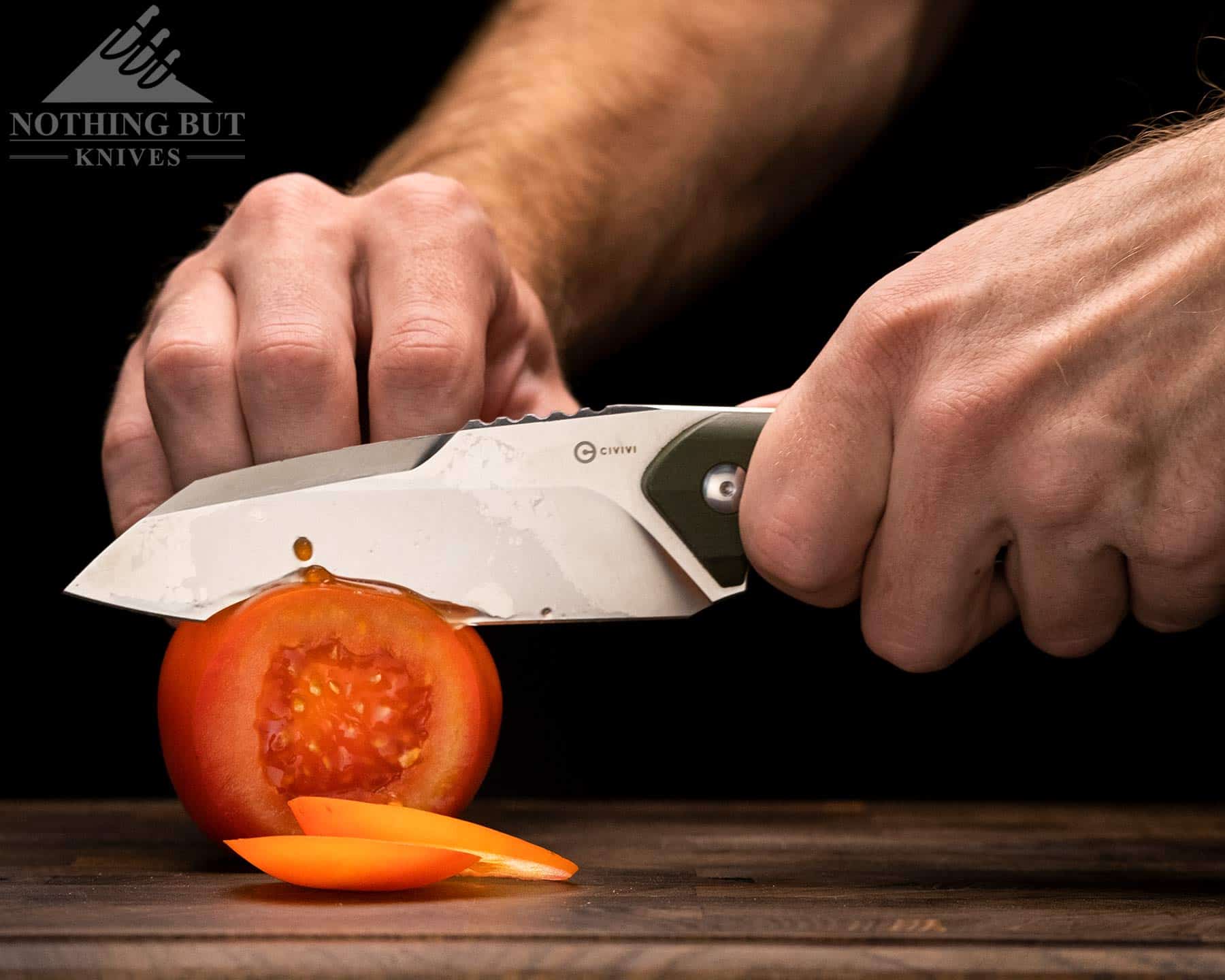 The common benefits of a wharncliffe blade are that they allow for a strong tip and a long, straight edge. You get both those things on the Kepler, but exaggerated thanks to the length of the knife overall. It ends up being a good combination chopper and food-prep tool.
Since the handle makes it pretty easy to index the edge, you can get a lot of work done with the top inch of the blade. I found that to be incredibly useful both for cutting away small pieces of brush at difficult angles, and for doing some crude cuts on food for stir fries and sandwiches.
The jimping also helps here, because it provides a good purchase for the thumb to press into. I can apply about the same amount of pressure along the whole four and a half inches of cutting edge on this blade, so this is great for long push cuts through tougher materials.
The Hard Steel and the Chipping that was Probably My Fault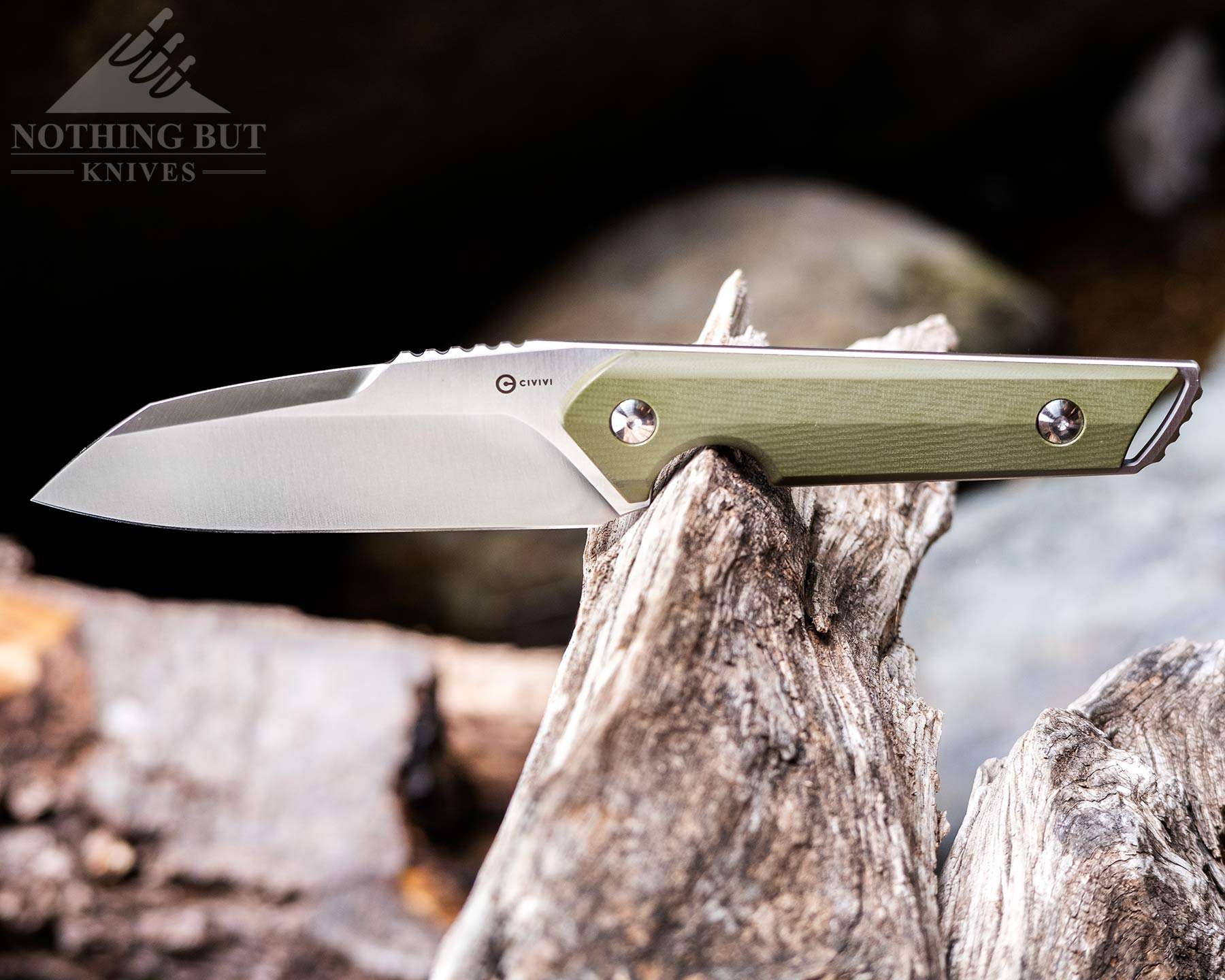 As far as edge retention with the Kepler goes, this stuff is doing fine. I didn't notice much change in a paper test after chopping into two branches for a few minutes, and one of those branches was oak. I didn't see any rolling or chipping either, which is impressive.
It wasn't until I spent a good hour clearing vines off my fence that the edge started getting chewed up. I got a small chip in the middle, and a group of them near the top. But this was after doing a lot of work in the dirt and near concrete, so it's possible I hit a few hard rocks without noticing.
Slight chipping aside, the knife held up well. The way it stood up to an oak branch alone is enough of an argument in its favor. It also responds pretty well to a honing rod. Although, I think the fact that I noticed more chipping than rolling is a sign that Civivi could stand to cook this steel a little softer. I wouldn't look down on them for making it 56-58 HRC. But if I'm being honest, the amount of abuse I put this through would have done some kind of damage to just about any knife.
The Thing about Chinese Steel Bias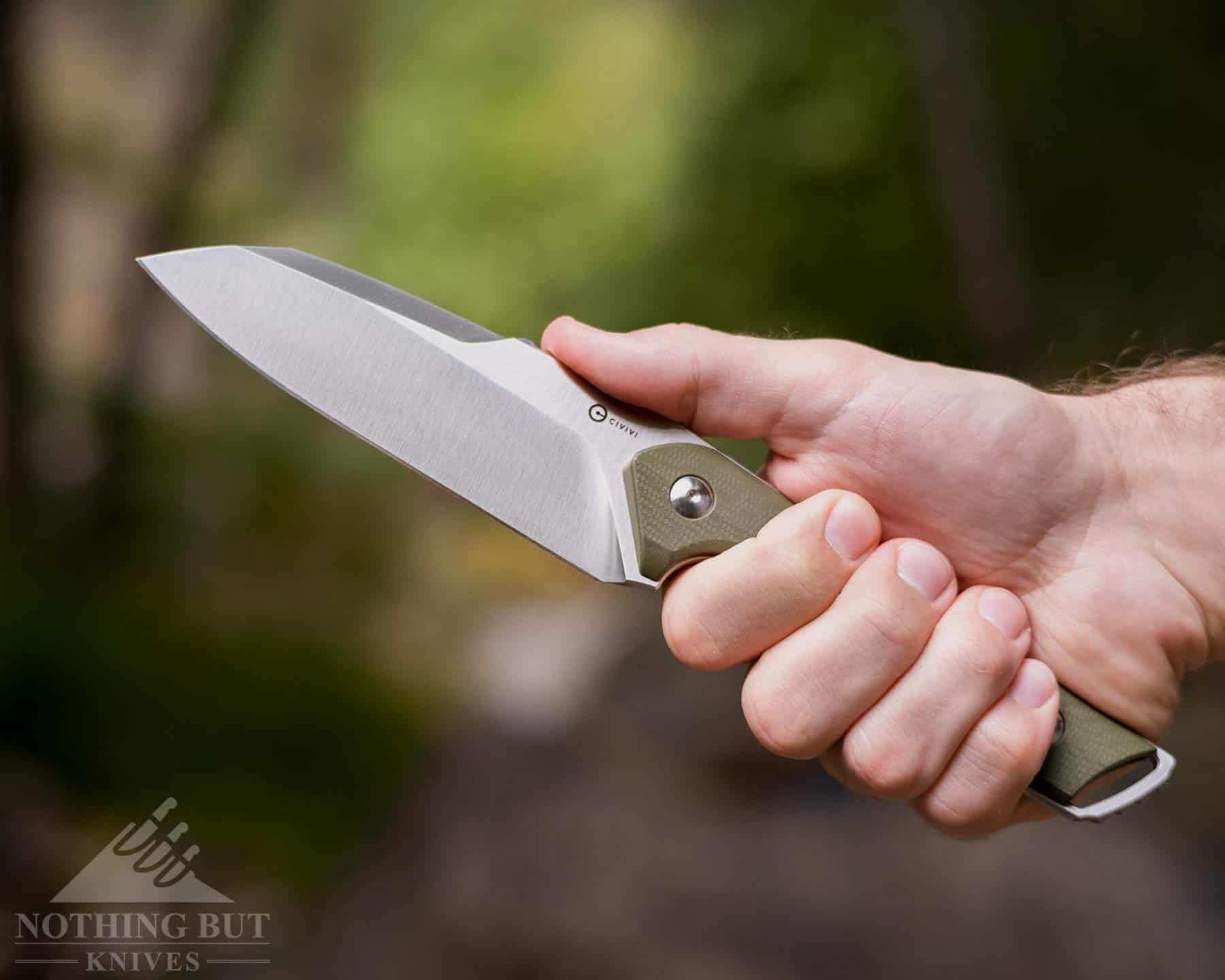 It's hard to admit that anything that starts with the combination "9Cr" is good on a camp knife, especially when I've spent so much time using and praising knives with honest tool steels like D2 and 1095. But, damn it, Civivi has done something special with this stuff. It's proven to be tough enough to slam into hard wood without chipping (for a little while, at least), and hard enough to cut paper afterwards.
It's actually close to showing the kind of performance I generally expect to get from 440C. These days 440C isn't exactly a glowing comparison, but it's still a perfectly serviceable knife steel to me, and I can't really complain in good conscience about a knife in this size and price point exhibiting similar qualities.
It just goes to prove the long argued point that the steel itself is never as important as the heat treatment and edge geometry. And at the end of the day Civivi is a Chinese company. It's only fair that they use Chinese steels every now and then.
… That said, just imagine how cool this knife would be with AEB-L steel.
Performance: Fun with Fire and Chopping
This is a great camping knife in practice. The blade is thick enough to baton without any danger to the knife, the edge works well for a dozen different tasks, and the point is thick and tough enough to do some prying with. It was made to be abused and that's exactly what I did, and I had a blast doing it.
Chopping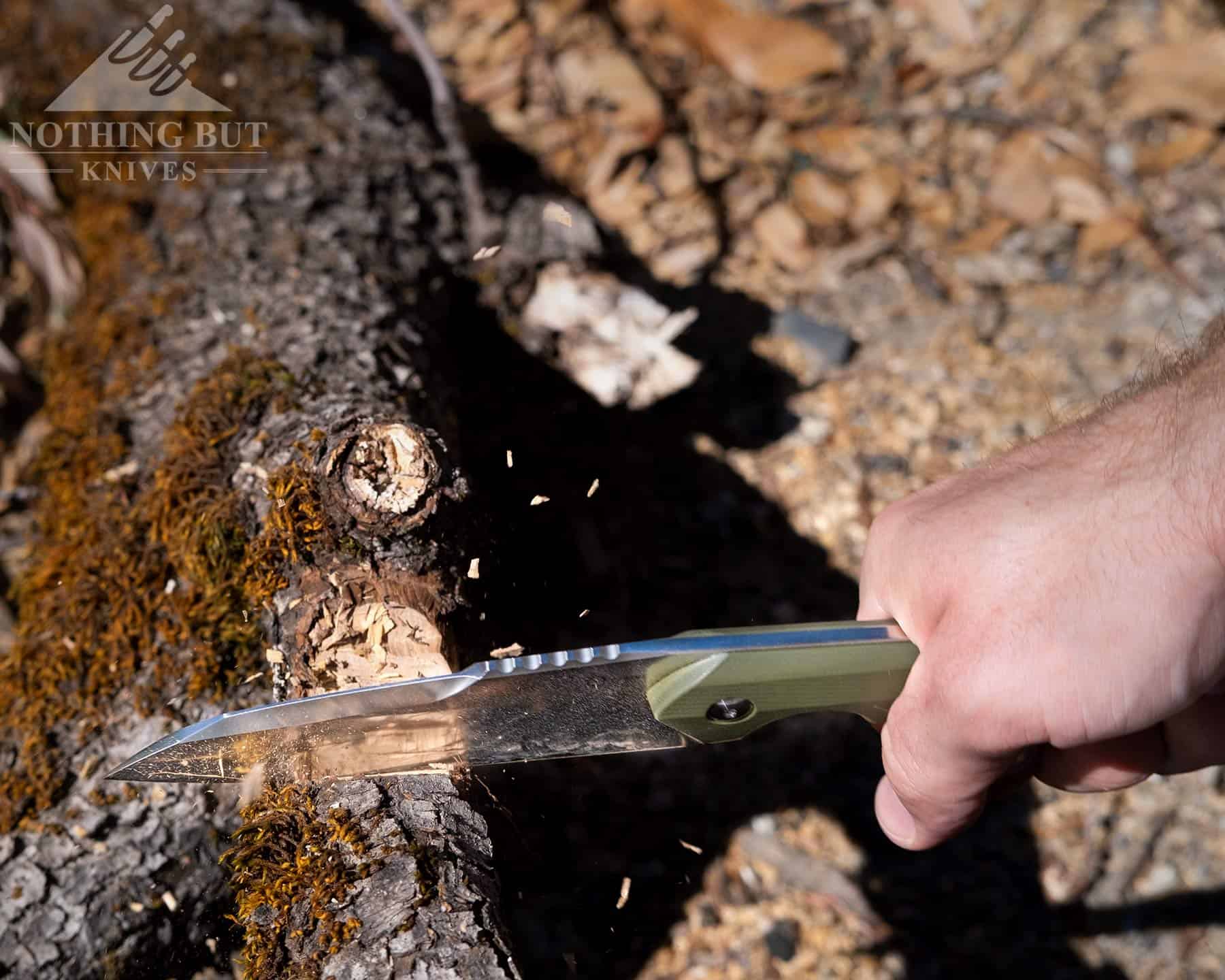 This chops very well aside from the slipping issue caused by the smooth scales. I had to keep stopping to readjust my grip.
You can avoid that by holding the knife by the indent, but you lose a lot of power doing that, and it feels like you're missing out on something when you aren't getting the full momentum possible by swinging from the bottom of the handle.
This is the kind of thing you can fix pretty easily by tying a cord to the lanyard hole, and Civivi almost nipped this issue with the lanyard braid that comes wrapped on the knife. The only thing is they don't tie the braid with enough slack for most adult hands to fit through.
Even if you were to undo the braid and retie it so your hand could fit through, I'm not sure I'd trust the shoelace material of it with a knife this size. It just has too much of a thin decorative vibe.
So my advice here is to take the braid off, throw it in your drawer with all the stickers and other promotional knife-box materials you don't know what to do with, and tie a leather thong onto the Kepler, because one thing I'm very certain of is that the lanyard hole on this thing can handle any amount of abuse.
All that said, I will admit that the smoothness of the handle wasn't an issue when I was using it to clear vines. The edge was good enough that I didn't have to swing all that hard to get good clean cuts. I could hold it in a normal grip and rely on the length of the blade and the natural indexing provided by the shape of the handle.
I also didn't have any blisters on the my hands at the end of the day, which leaves me in an awkward place of having to admit that Torbe is onto something in leaving the scales smooth. The smoothness dies feel nice and doesn't get that slippery if you're using this knife like a normal person.
I'd still like to see more texturing on the handle, but I'm starting to feel like I might be the minority.
Sparks and Feathers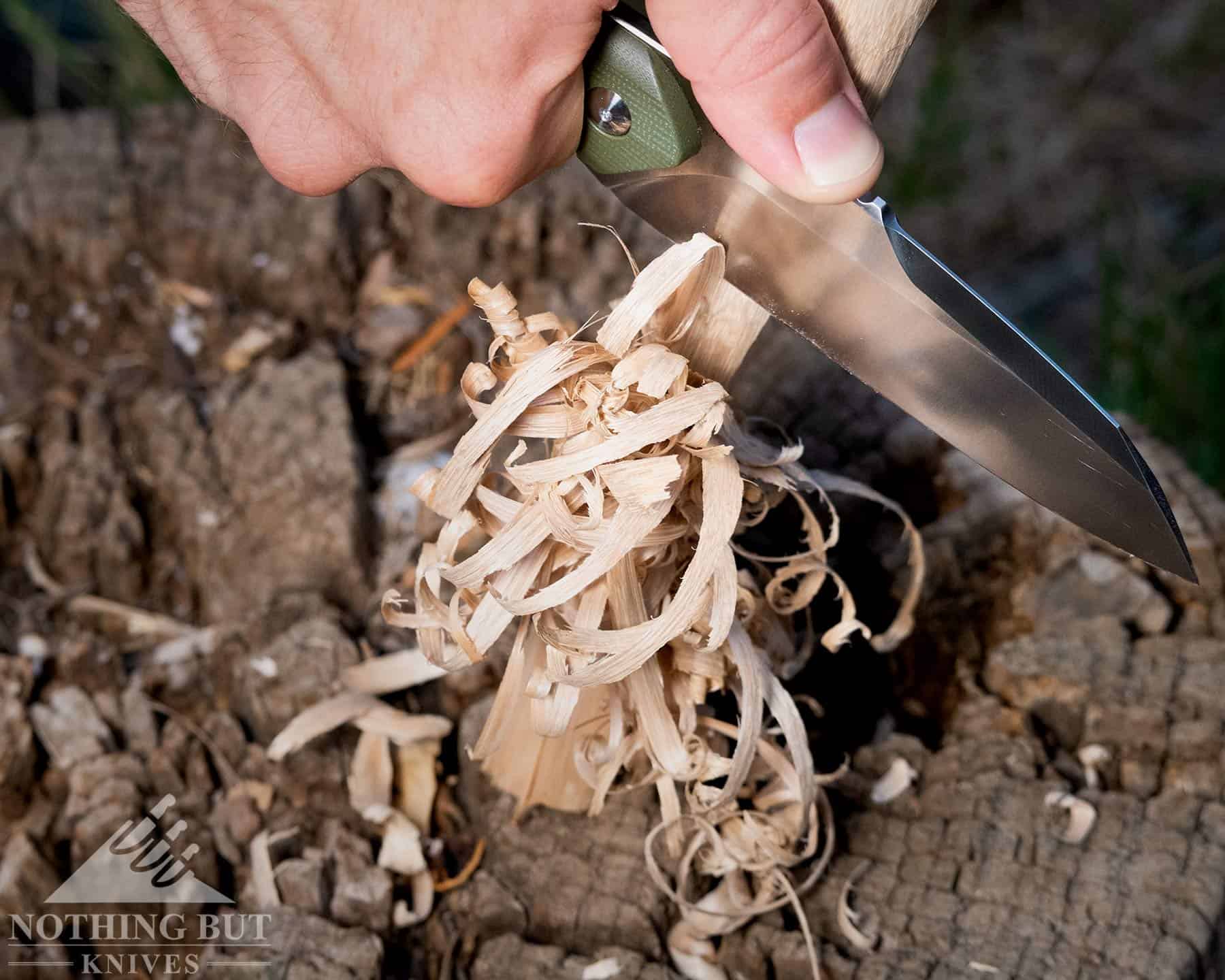 This is fantastic at creating feather sticks. The edge angle gives you a lot of control over how thin you make the shavings without biting too hard.
I did find I needed to be careful about pushing hard, because the edge will bite deep if you aren't careful. I'd say it's more forgiving than the Spyderco Bill Moran or the Buck Compadre, but not quite as good as the Buck Selkirk, Off Grid Tracker X, or Mora Bushcraft. It's not too far off from those, though.
What's more is I didn't feel the handle biting my hand anywhere near as much as I was expecting. I already gushed about this in the handle section, but it's worth pointing out again: The chamfering on the edges of the exposed tang and the jimping is really well done.
It still starts to feel harsh just by virtue of the thinness, but I never reached a point where it felt like too much to keep going.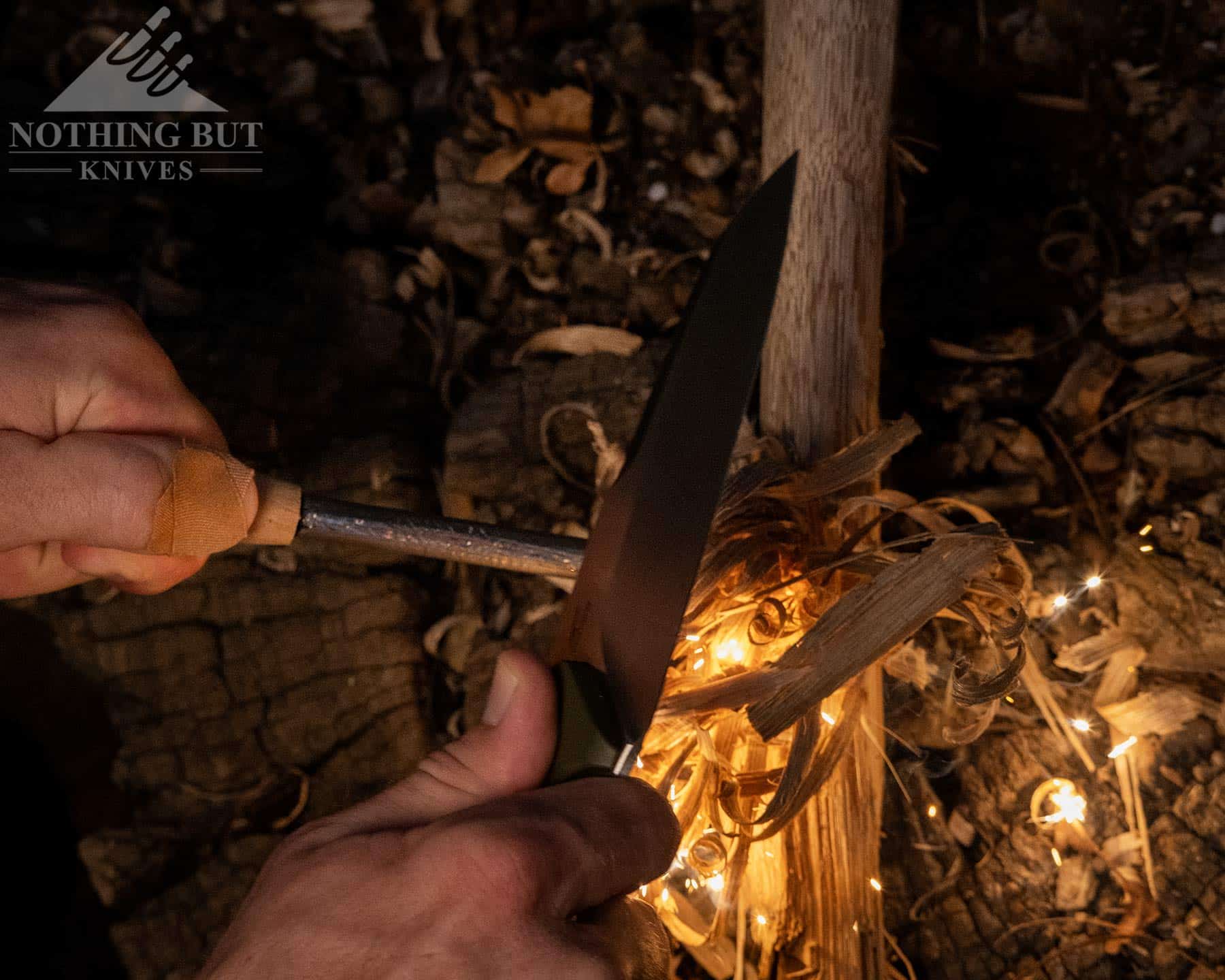 Fortunately there are plenty of edges hard enough on the jimping to work wonders with a ferro rod. Usually I have to play with a knife a little before I can get a consistent spark, but I was shooting fireballs right away with this thing. Not just a couple sparks, either. The Kepler makes showers of spark so you get a really nice spread over all your tinder with it.
The only thing that kind of holds it back with fire making is the size of the blade. Since it's so long and tall it's harder to get it down really close into the feather sticks without knocking everything over. I didn't have any trouble getting stuff to catch pulling spark holding the knife a few inches above my setup, though.
It's a big green check mark on making fires with the Kepler.
The Sheath and Civivi's T-Clip
One of the things I was the most curious about when I first saw this knife was how well Civivi's T-Clip worked. This is basically their proprietary version of a Tek Lok, designed by Bob Terzuola.
It turns out it works pretty much exactly like a Tek Lok in practice. You pop it open by squeezing the locks on the sides, you can switch the screws around with a phillips screwdriver, and it clamps over material so you don't have to take your belt off to put a knife on.
The main difference I've noticed is that the bar for resizing the clip to different belt sizes is in a long, open slot so you can change this for big or small belts on a sliding scale. I haven't really tested the durability of this set up, but so far it feels like one little benefit over the Tek Loks which are more restrictive because they have to be resized within the confines of how the slots that the belt shims are pushed into.
The High Riding Sheath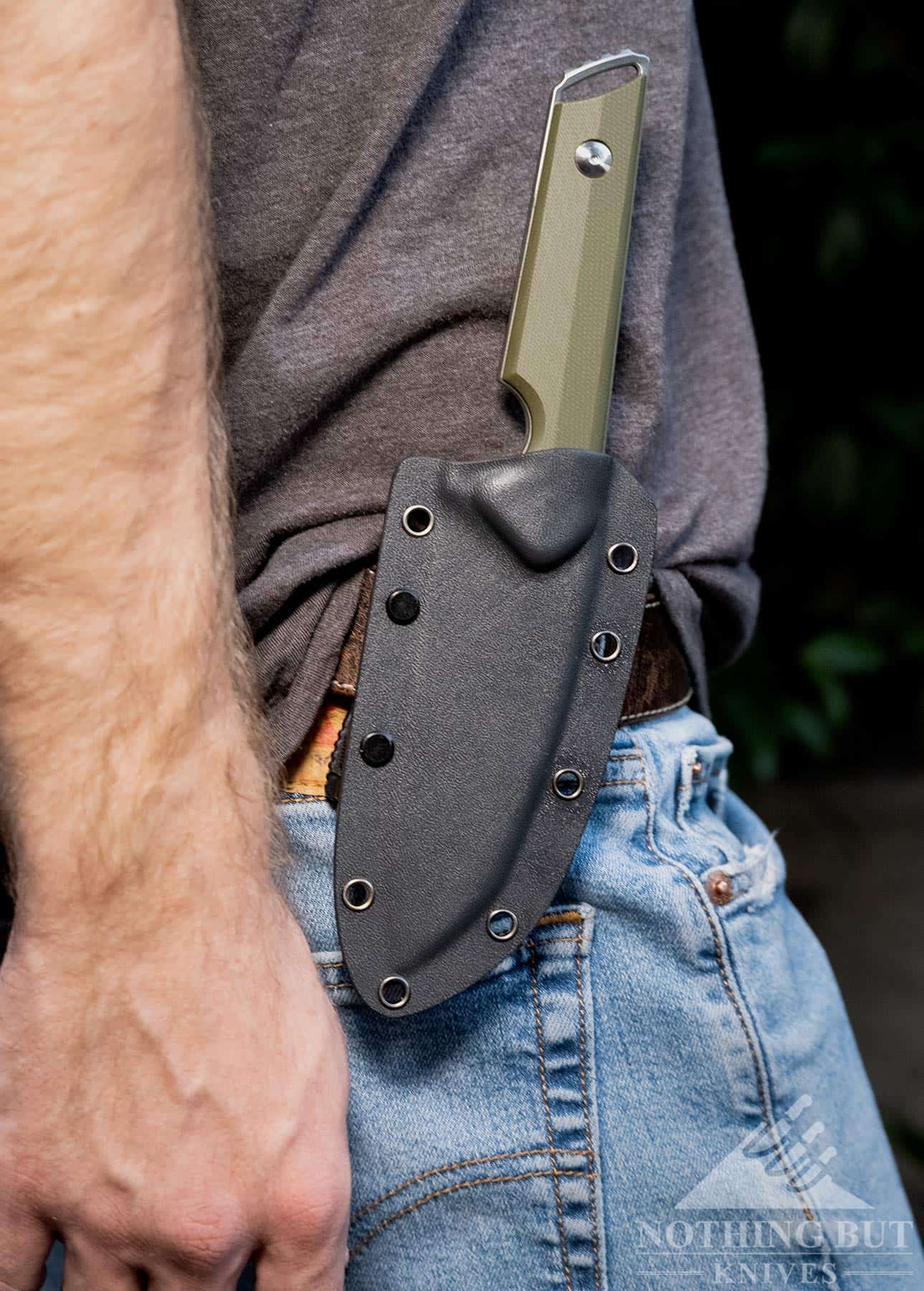 The sheath itself is great in theory. It's sturdy, and has good retention on the knife. Civivi's T-Clip mechanism works at least as well as your average Tek Lok and is just as easy to adjust.
This can also be carried left handed just as easily as right handed. All the pieces separately are great.
But if you're a scrawny bastard like me, the knife is too long for its own good.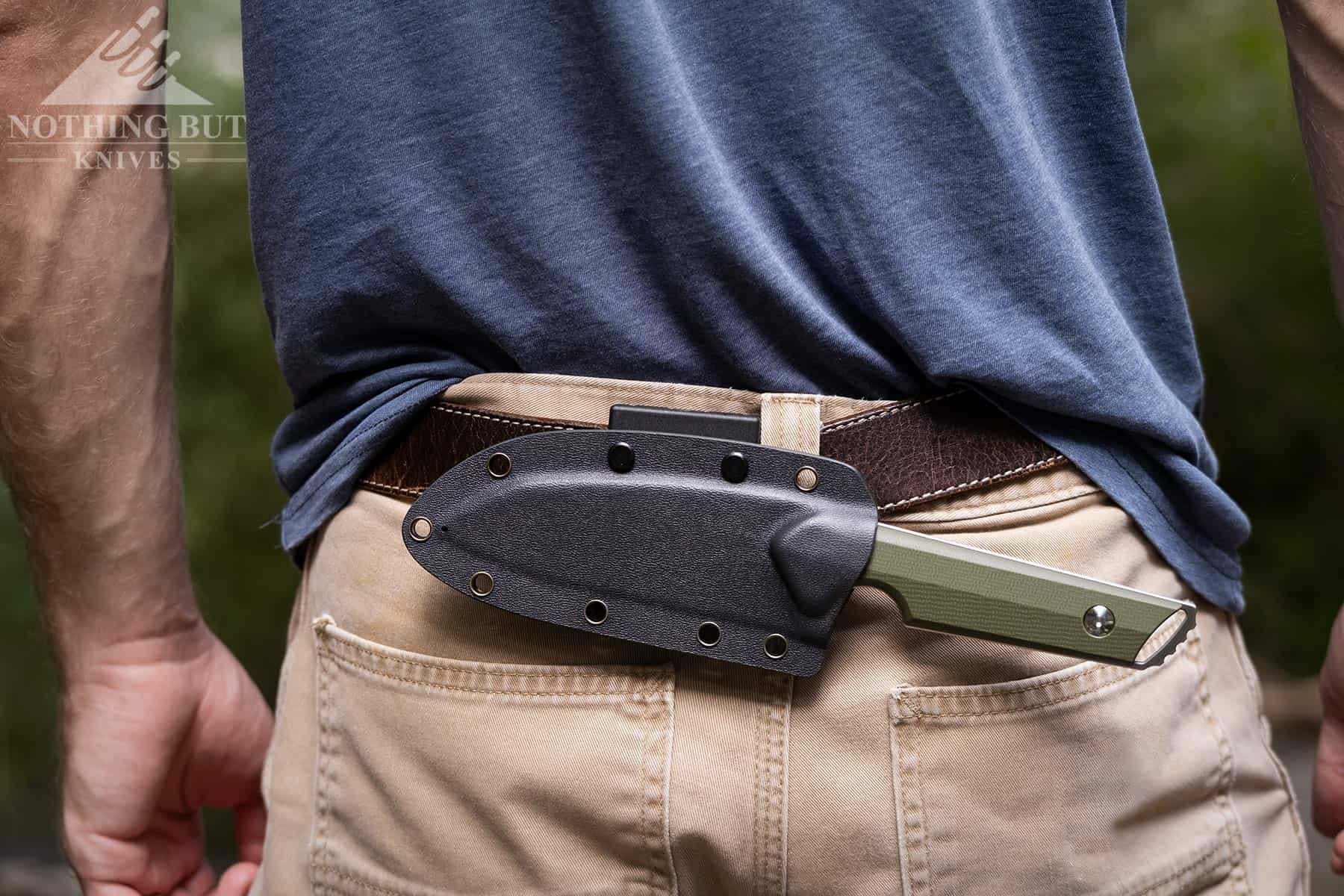 If I wear the Keplar horizontally, the handle sticks out from my waist and tries to snag on every branch, vine, and rock that I push past. If I wear it vertically, it rides so high that the top of the handle is constantly threatening to punch me in the ribs every time I lean just a little too much to my right.
I don't think there's much they could do with the sheath design to fix this. It goes back to that top bump from the scales spreading onto the blade. If the scales were flatter on top, the Kepler could sit deeper in the sheath and the T-Clip could be fitted to the top screw holes and the whole set up would be at least an inch shorter on the belt.
But, again, I'm not a big person. This probably won't be an issue for someone who has a waist big enough to wear big boy pants. On the spectrum of small to big knives for horizontal carry, I tend to stick to the 3-inch range. For better reference, the Kepler carries a bit like the Off Grid Tracker X or the Spyderco Ronin 2 if it were about 2 oz heavier.
Torbe recommended that I carry the knife upside down, which feels sketchy to me, but that's apparently his favorite method of carrying for some fixed blades. The retention on the sheath certainly feels good enough to hold it that way, and it does get the handle out of my ribs, and even makes it a little easier to sheath and deploy.
But I'd have to carry it for a while like that before I could walk more than three steps without looking down to make sure the knife was still there. It's an idea worth keeping in mind, though.
Comparison and Alternatives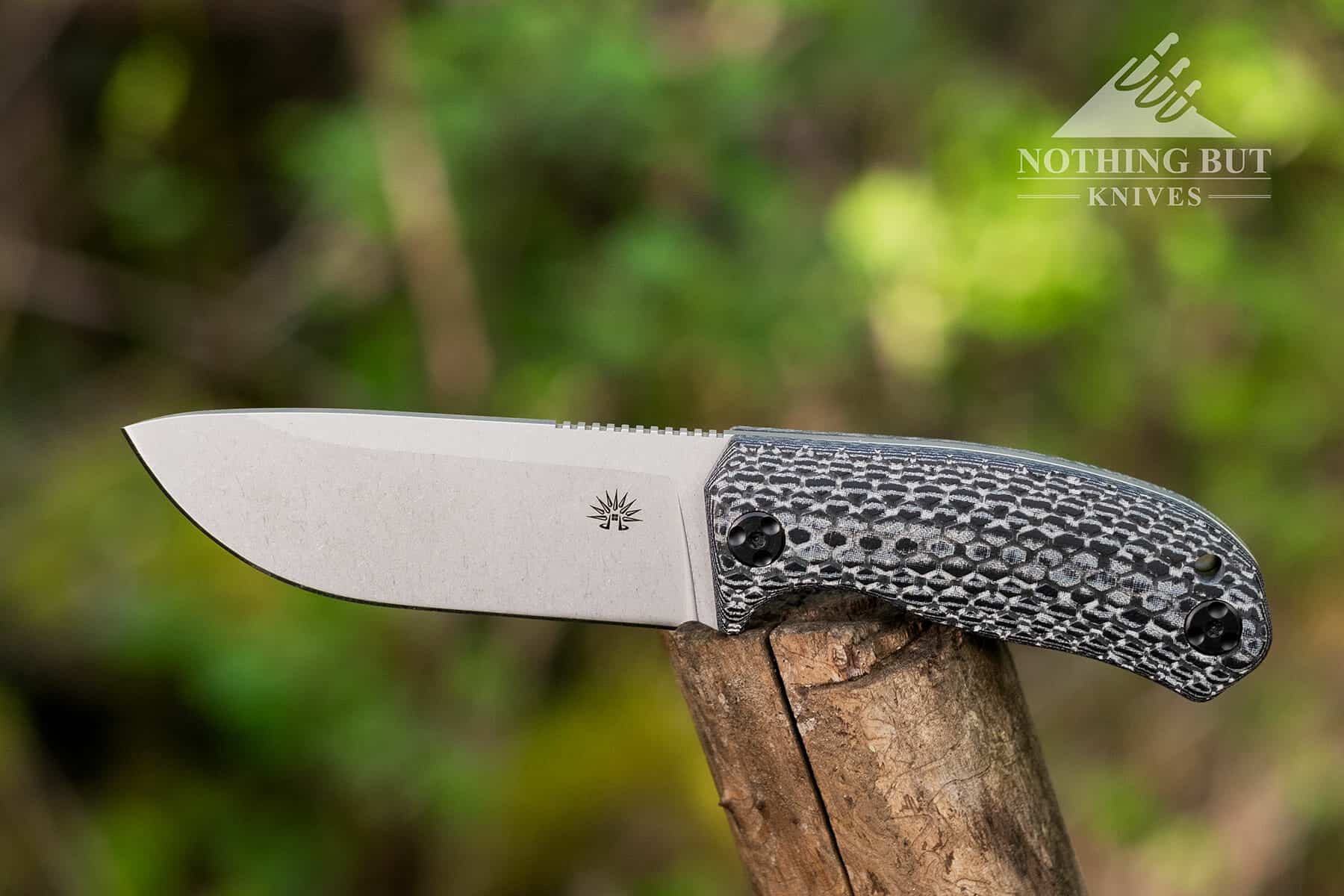 I could go on for many thousands of words about the other big camping knives out there available in the $100 range. I've managed to contain myself to just three suggestions, through.
The Condor Bushslicer is, I think, the best comparison we've dealt with personally. It chops better and it's a little more geared toward outdoor food prep. The handle is a lot more comfortable, and it even carries on the belt better. But it's bigger and bulkier and the steel is significantly less stainless.
The Off Grid Tracker X is more similar in how it chops and carves, but here again the handle fills the hand better, and it's a little more comfortable on the belt. But the steel is also harder and less stain resistant, and will almost certainly be more difficult to sharpen.
The weird thing here is that the most similar knife I've dealt with in terms of overall shape is the Spyderco Ronin 2, which is not a camping knife. It's completely different in terms of intended use, but they both have wharncliffe blades and thin handles. Their blades are even similar in size, but they stand at complete opposite sides of the spectrum with edge geometry. The Ronin 2 has a thin hollow grind that you could use to cut a floating ribbon in half, but you probably shouldn't slam it into a log the way you can with the Kepler. They both have a similar feel in terms of indexing the edge and using the higher parts of the blade, though.
If you are a fan of Civivi knives, but you want something a little smaller, check out the award winning Civivi Tamashii.
Conclusion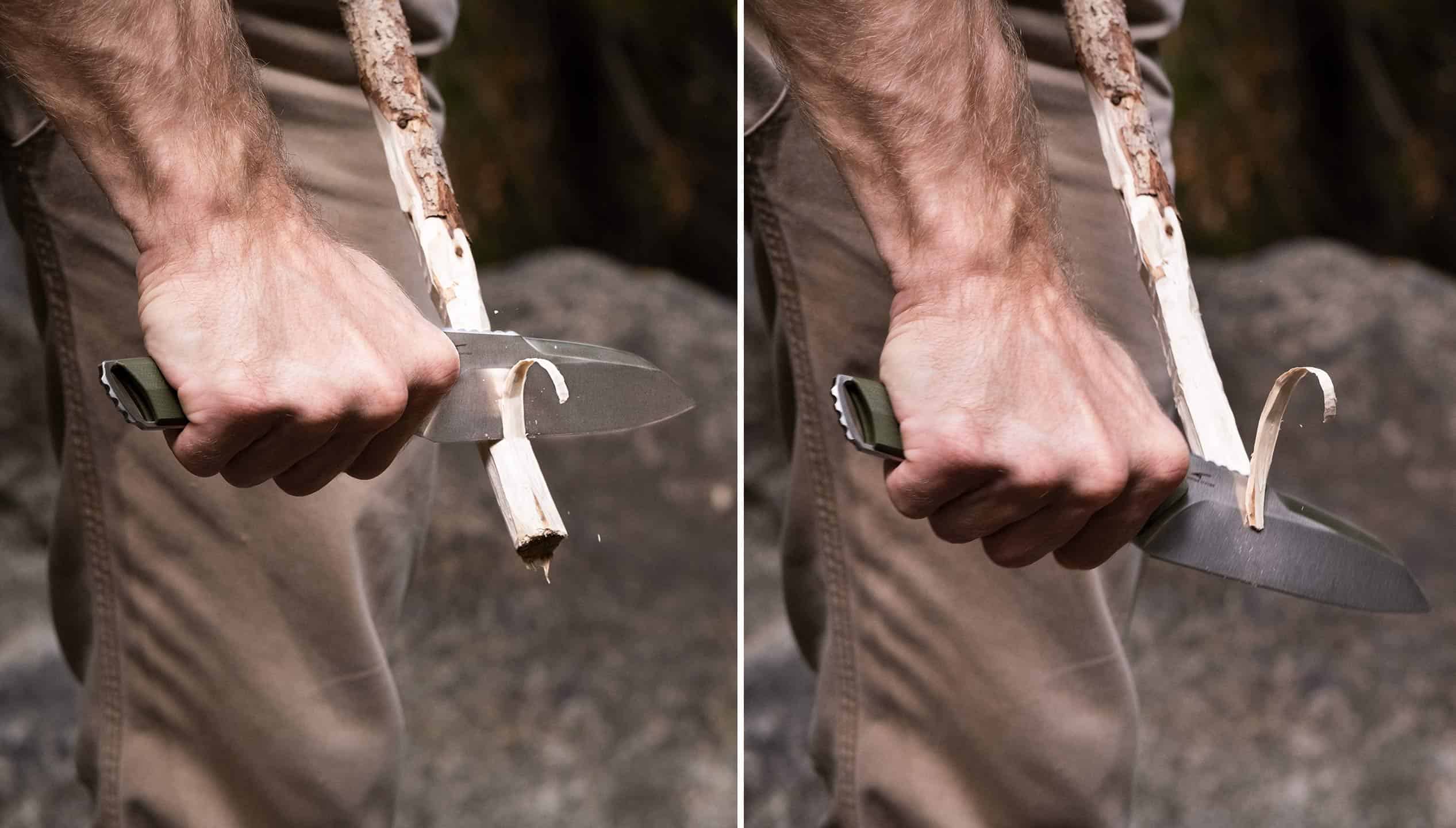 I've really enjoyed using this knife. It's big without being unwieldy, it's sharp (enough) without being frail, and it's just fun all around to use and look at. I like having it around the campsite.
I just don't like walking around with it on the belt.
I'm smaller than the average belt-knife carrier, so this is probably only at deal-breaking levels for me, but there just aren't many ways for me to comfortably carry the Keplar on my person. I like it enough that I would pack it up for a camping trip, but it wouldn't come with me on any hiking trips. I would probably keep it around my tent to act as a back-up hatchet, fire starter, and food prepper. And also to pass the time, because everything I do with it becomes fun.
If they could get it to ride shorter on the belt and made the scales grippier I would take this knife to the end of the world. It's versatile and tough and lightweight. It has all the features you would want for a long trip into the woods. It just wasn't built for little people to carry on the belt. Inspite of this drawback we like this knife enough to give it a 2021 Drunken Hillbilly Knife Award.