A Capable EDC Knife With High End Steel And A Low End Price.
Call me crazy, but I try to balance quality with affordability as much as possible; I want as much for my buck as I can get. I don't always need the latest and greatest tech or materials, but I want the things I own to work well and last as long as I need them to. It's through this mindset that I found Civivi knives, first falling in love with the Elementum, and now tackling a Civivi Nox review.
The question is, will the Nox meet my standards and measure up to my love for the affordable yet capable Elementum? And what exactly are my standards?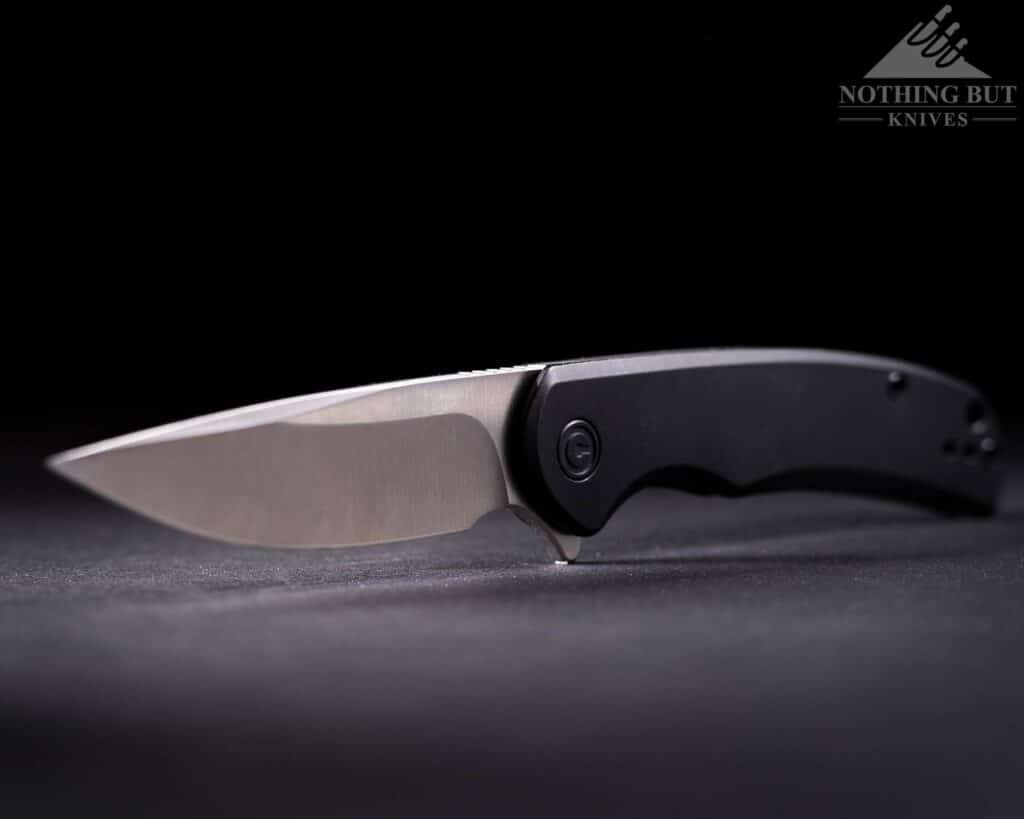 I'm not a complicated guy. We've already established that a knife doesn't need to feature the latest and greatest materials or most high-tech action. Essentially, I just need it to work well, look good, and not be overpriced. Does the Civivi Nox hit those marks? Let's find out. 
Specifications
| | |
| --- | --- |
| Overall Length: | 6.8" |
| Blade Length: | 2.97" |
| Blade Thickness: | 0.12" |
| Blade Steel: | Nitro V |
| Handle Length: | 3.83" |
| Blade Shape: | Drop Point |
| Blade Grind: | Flat Grind |
| Handle Material: | Black Stainless Steel |
| Lock Type: | Frame Lock |
| Weight: | 3.09 oz |
Pros
Attractive styling
Uses Nitro-V Steel
Action is just as smooth as other Civivis
Sturdy knife in a small package (and I can forgive the weight)
The price
Cons
Frame lock is good, but a bit clunky
I strongly dislike Civivi pocket clips
Might not be overly exciting
The Civivi Nox Review: The Pros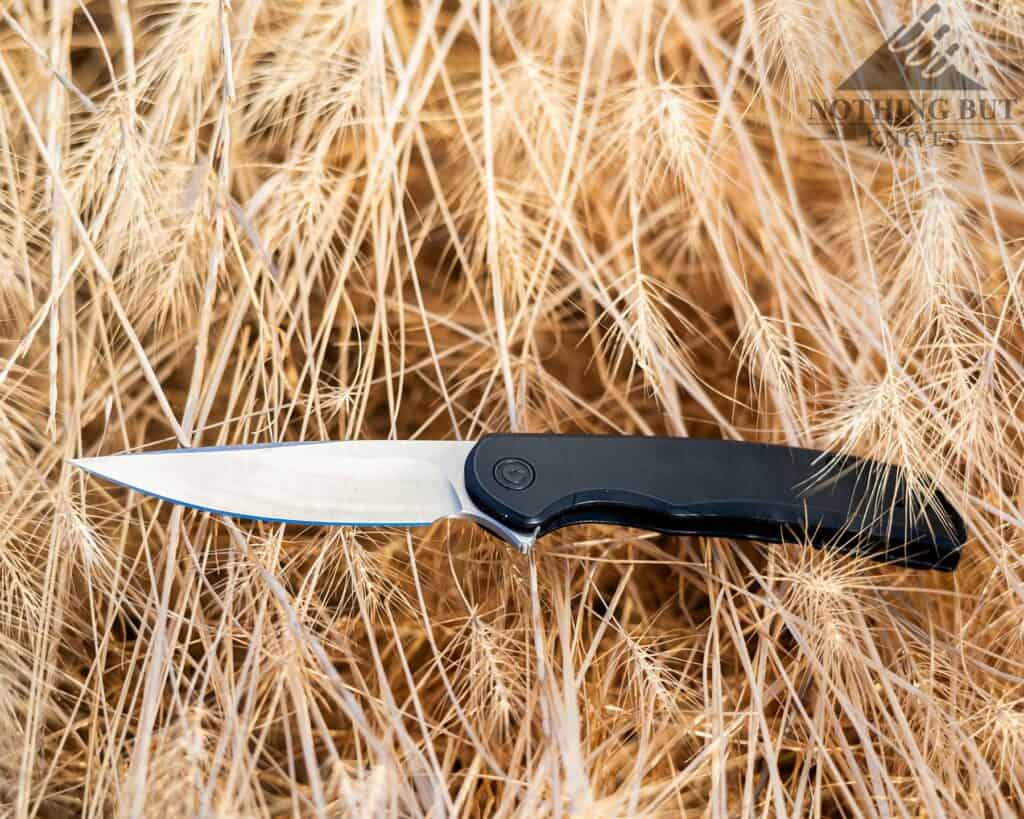 The Nox is far from the perfect knife. But from the second it showed up at my door, I kept describing it as "a little sweetheart of a knife." If you think that's weird, I get it. But once you start carrying this compact folder, I think it'll make sense. It's just a well-designed, compact knife that does what it's supposed to fairly well.
Attractive Styling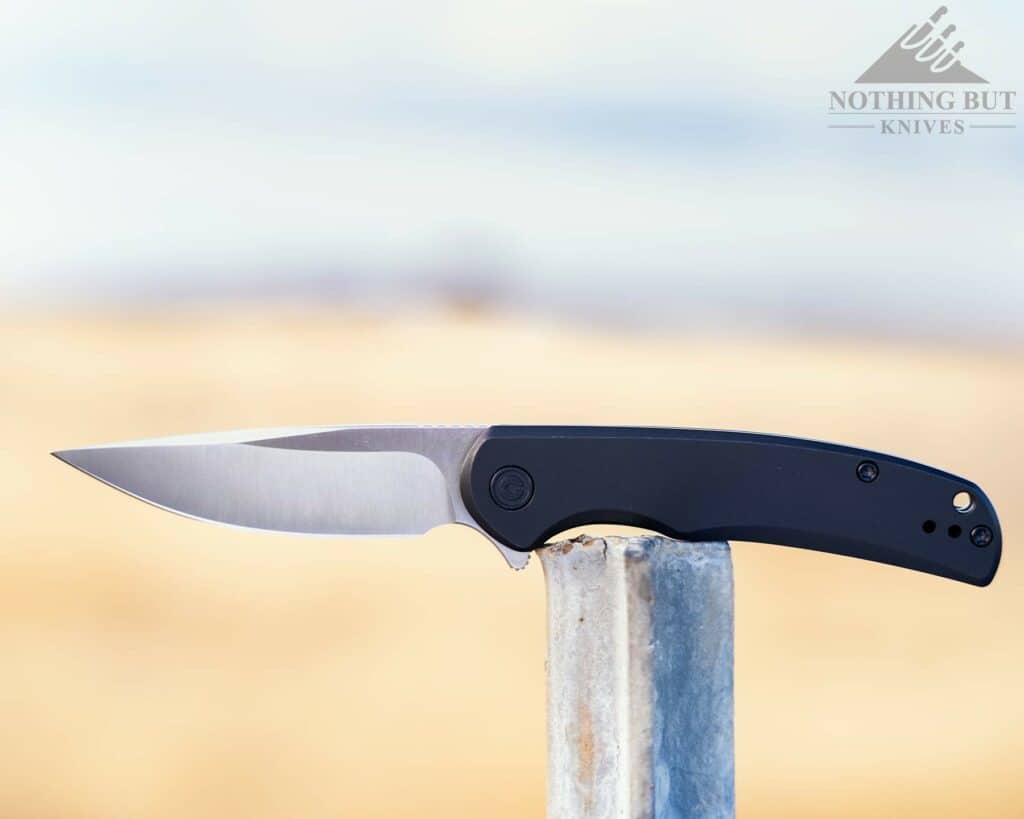 I've been testing some unique-looking knives lately, and none of them have wowed me from a design standpoint. I was excited to get a more traditional knife to review.
I really like the look of the Nox. The satin black handle has an almost stonewashed look to it, and it's the only knife in my collection like it. Sure, I have black-handled knives, but nothing with the same type of contrast created on the Nox.
The Nox also has some pretty slick lines. The consistent, sweeping curve along the back of the handle and the spine looks classy and well planned, despite the bit of jimping that breaks it up ever so slightly. Even the frame lock looks good, and frame locks are my least favorite style. And yes, it's a drop point, but the blade shape is much thinner and more graceful than the Elementum.
Nitro-V Steel is Pretty Cool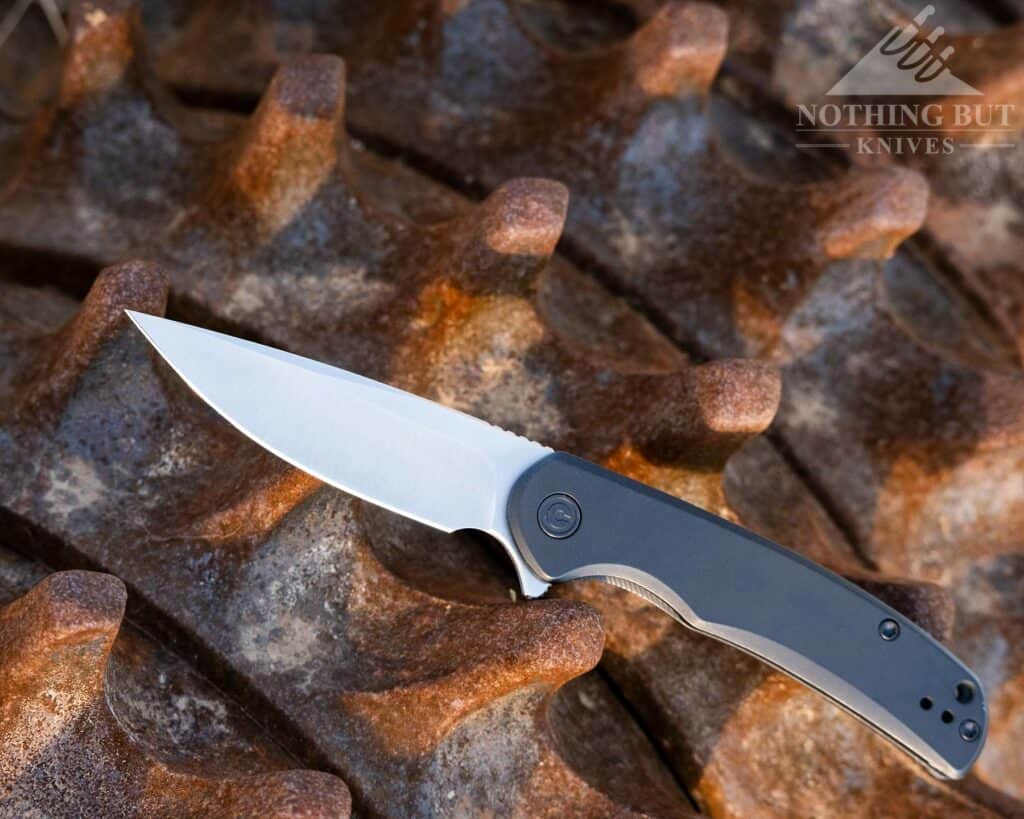 In the introduction, I mentioned not needing the latest and greatest materials, but the steel used for the Civivi Nox blade is relatively new on the scene. Nitro-V is only a few years old, and it's an interesting material manufactured by New Jersey Steel Baron.
I won't pretend to be a blade steel know-it-all, but I can tell you that Nitro-V is basically AEB-L, which was already pretty good steel. New Jersey Steel Baron then added nitrogen and vanadium to improve the edge retention and corrosion resistance. So you end up with a blade the sharpens well, retains its edge, and resists oxidation. What's not to like?
Smooth Civivi Action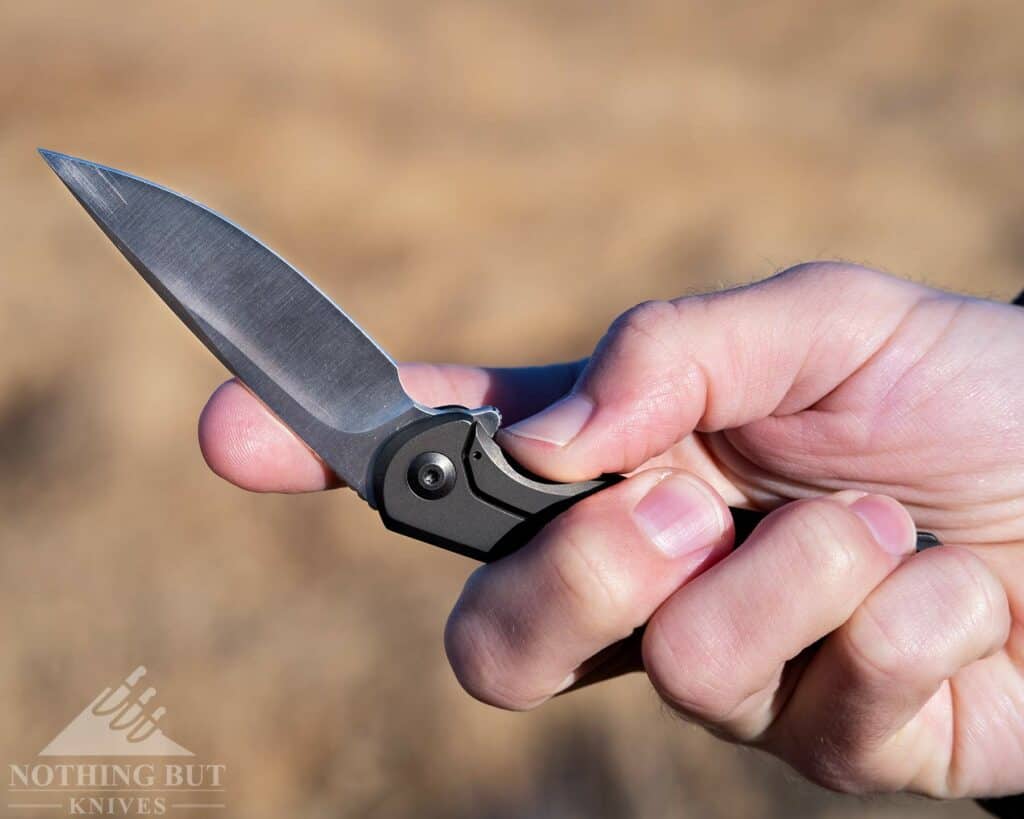 Like you might expect, the Civivi Nox utilizes caged ceramic ball bearings and a perfectly machined detent with the ball on the inside of the frame lock. Those bearings and the detent combined with a thumb flipper make for a smooth blade throw with a positive lock.
While the detent is of a different design, this might be a better, smoother action than the Elementum's.
It's Sturdy for a Compact Knife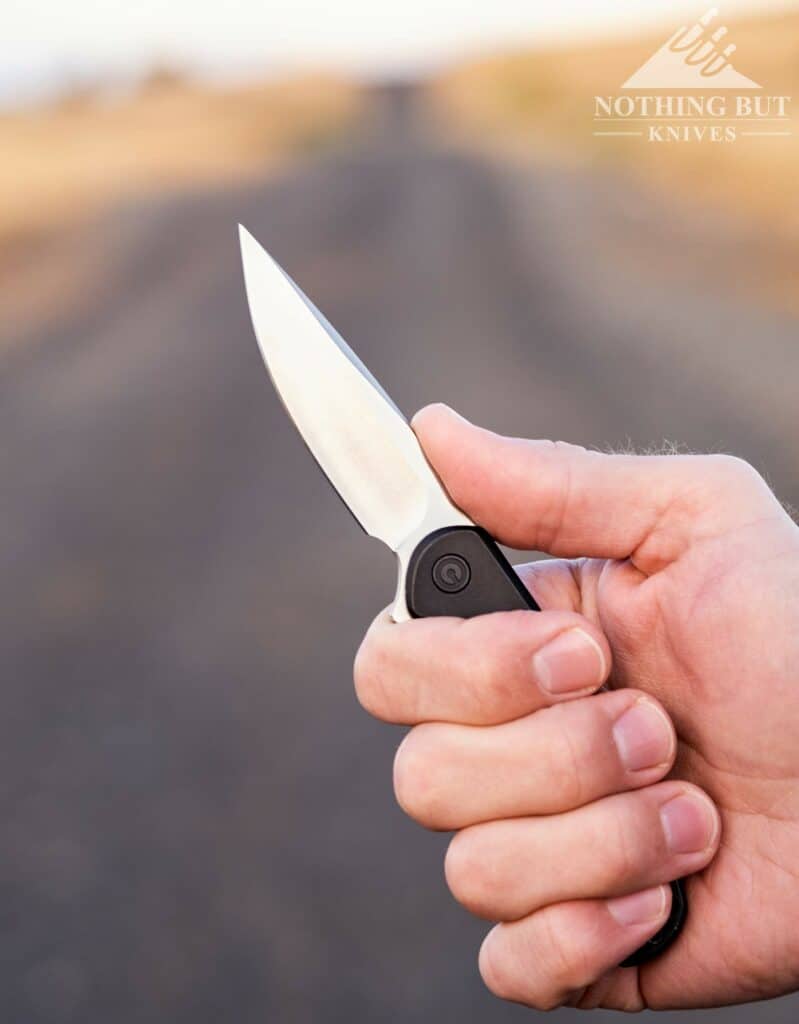 The Civivi Nox is on the smaller side, but it's a tough little knife. The solid stainless steel handle feels robust in hand, and there isn't any play or noticeable slop in the action. The long taper of the blade makes it appear thin but it's plenty strong enough for most EDC needs.
I will acknowledge that it is a little heavy for a compact knife, but it's totally excusable when you consider the durability that stainless steel offers. In fact, I had to rely on my Civivi Nox to get out of a jam recently, and I'll share the abbreviated story:
My honeybee hive's stand broke, and the boxes fell backward, leaning up against a woodpile. By the time I noticed, the rains from Hurricane Ida were inbound later that night and would've killed the hive. It was dark, and as I was fixing the hive, some of the boxes were stuck together and immovable. The Nox was in my pocket, and I used it to separate a few of the boxes so I could set them up again before the rain.
In a way, you could say the Nox saved 60,000 lives that night. How's that for a knife review?
It's Affordable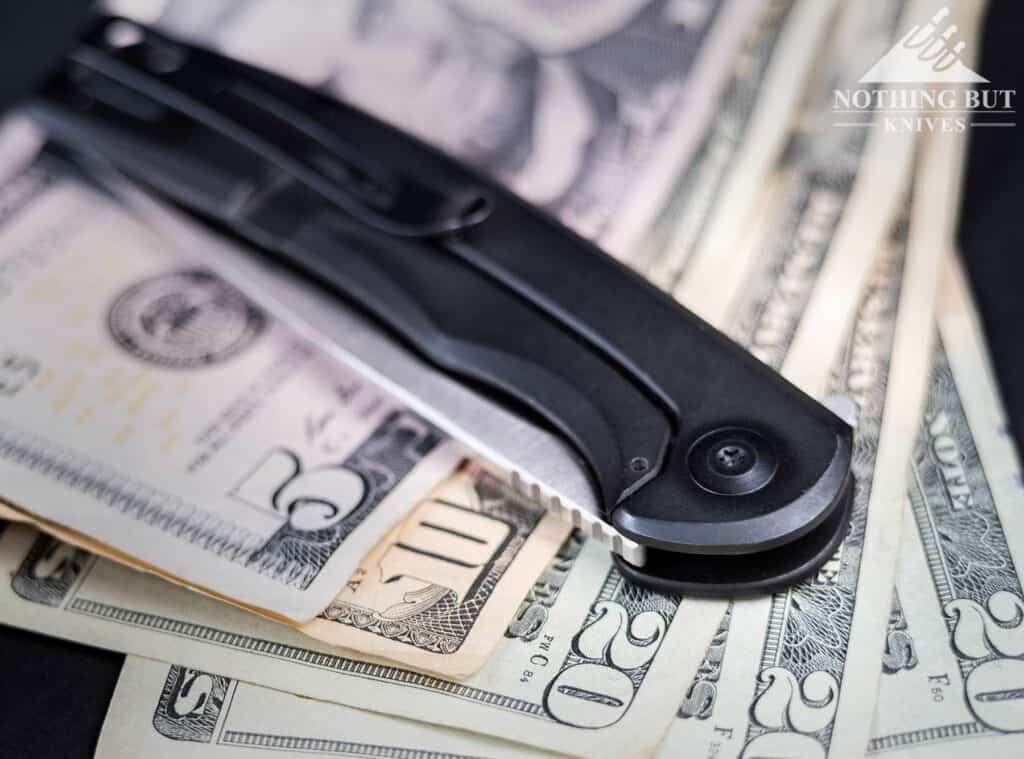 Okay, it's on the upper end of "affordable," but it's still affordable. This knife retails for right around $75, and I can tell you from experience that you can pay a lot more for an imported knife and get a lot less quality, design, and sturdiness.
Is it a one-knife collection? Definitely not, but it leaves enough room in the budget for adding a workhorse-type knife while reserving the Nox for casual EDC.
The Civivi Nox Review: The Cons
The Civivi Nox has a lot to like about it, but it's not the perfect knife. There are a few things that I would change about it if I could, none of which are complete deal-breakers.
The Frame Lock is a Little Clunky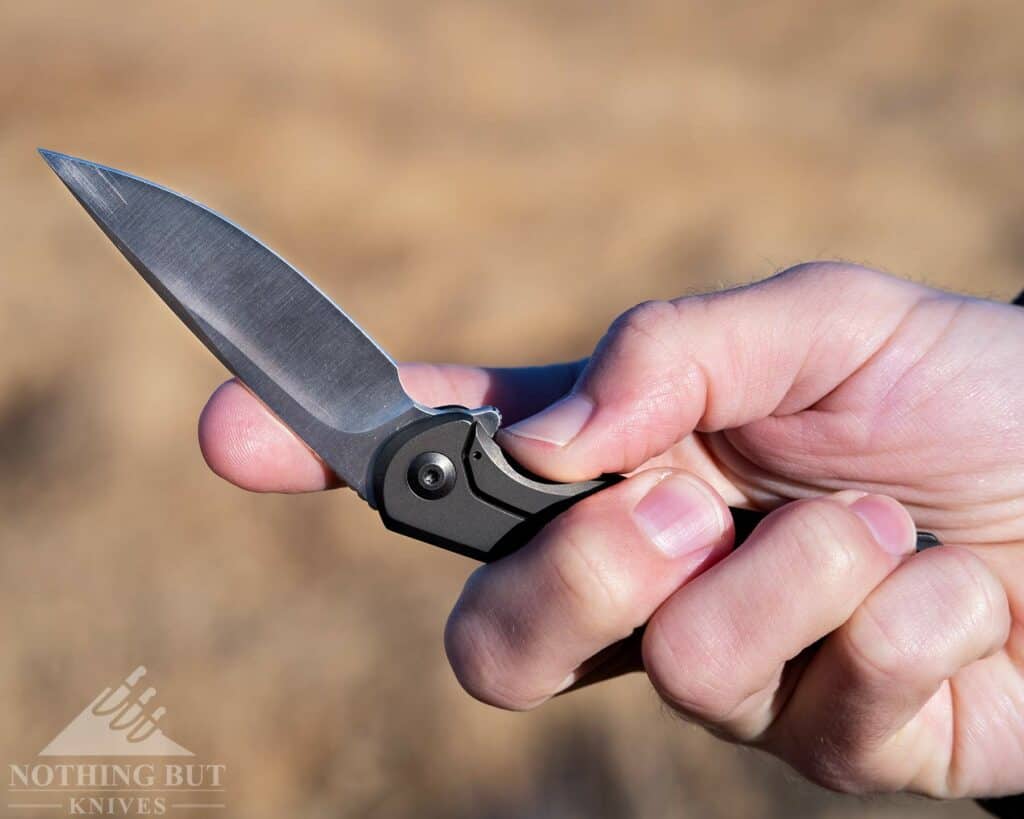 I don't like frame locks, and it's not a functionality issue. I just happen to think they're ugly. The Nox's frame lock isn't ugly at all, but I still have an issue with it.
Earlier, I mentioned that the ball for the detent is on the inside of the frame lock, and that's both good and bad. It throws open so well because the frame lock puts quite a bit of tension on the detent. But the ball then gets in the way when closing the blade. At first, I thought the Nox needed breaking-in, but once I noticed the detent design, I knew the clunky closing mechanism was there to stay.
And that's really what it is: Clunky. When you push the frame lock aside, the blade will start to close until the flipper hits the ball. At that point, the blade hangs up a bit. An extra push on the frame lock or the blade will close the knife, but it's not nearly as smooth as it could be.
The Pocket Clip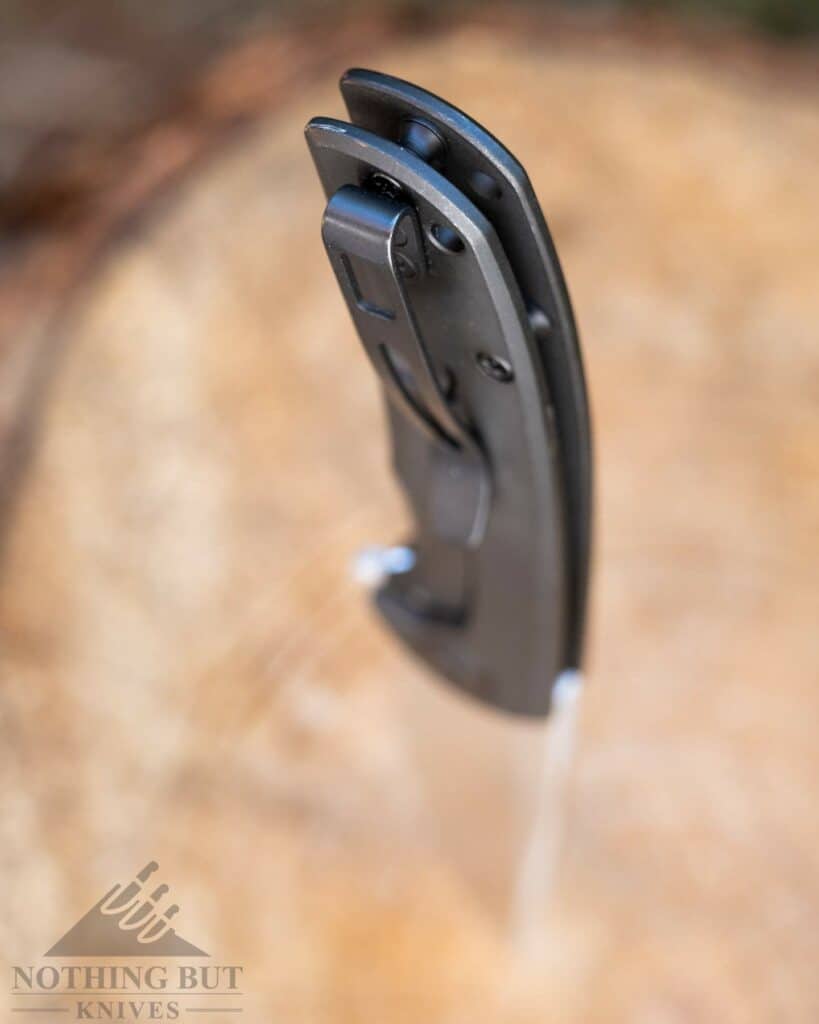 I've never been a fan of Civivi's pocket clips. I do like that they're typically multi-positional, and they're usually just stiff enough. But in an effort to provide a deep-carry clip, Civivi uses a looped pocket clip design that creates a raised lip where the clip fastens to the knife.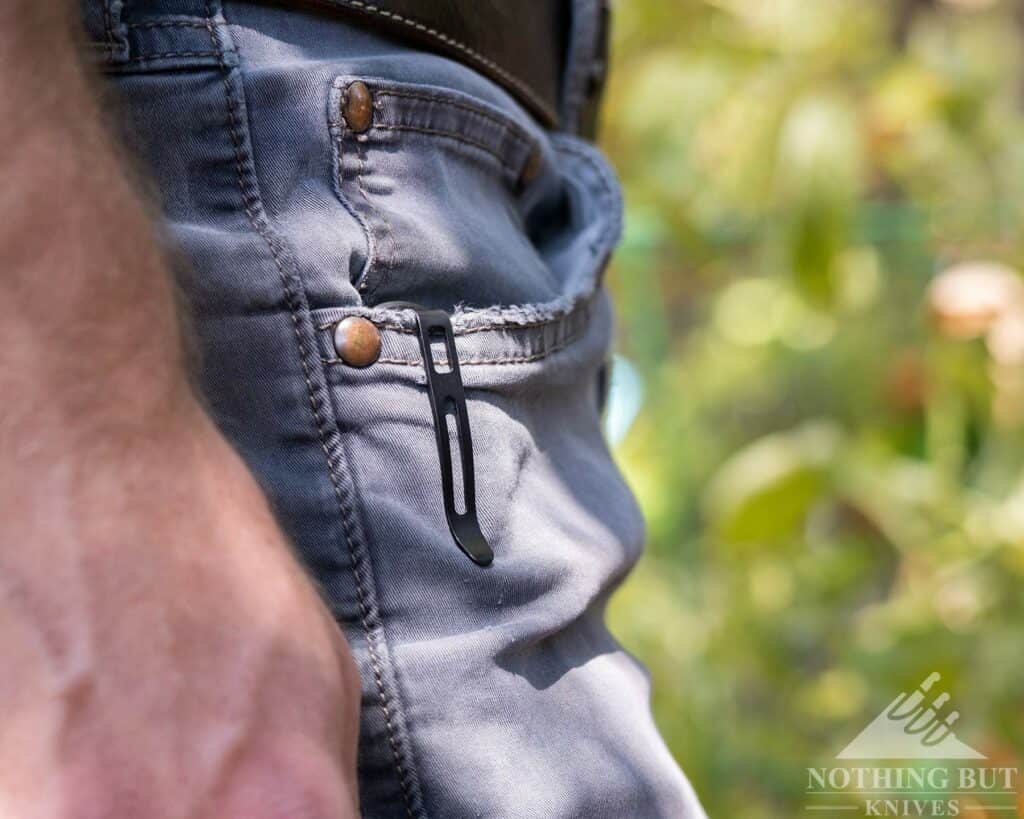 It's that lip that I can't stand. It hangs up on jean pockets, jacket pockets, and anything else it clips to. I'll say that the Nox clip hangs up a little less than the Elementum's, but it still happens and can prevent the knife from sitting as deeply as possible. I've learned to adapt, but a small recess in the handle would solve the issue altogether.
Maybe It's Not Ultra-Exciting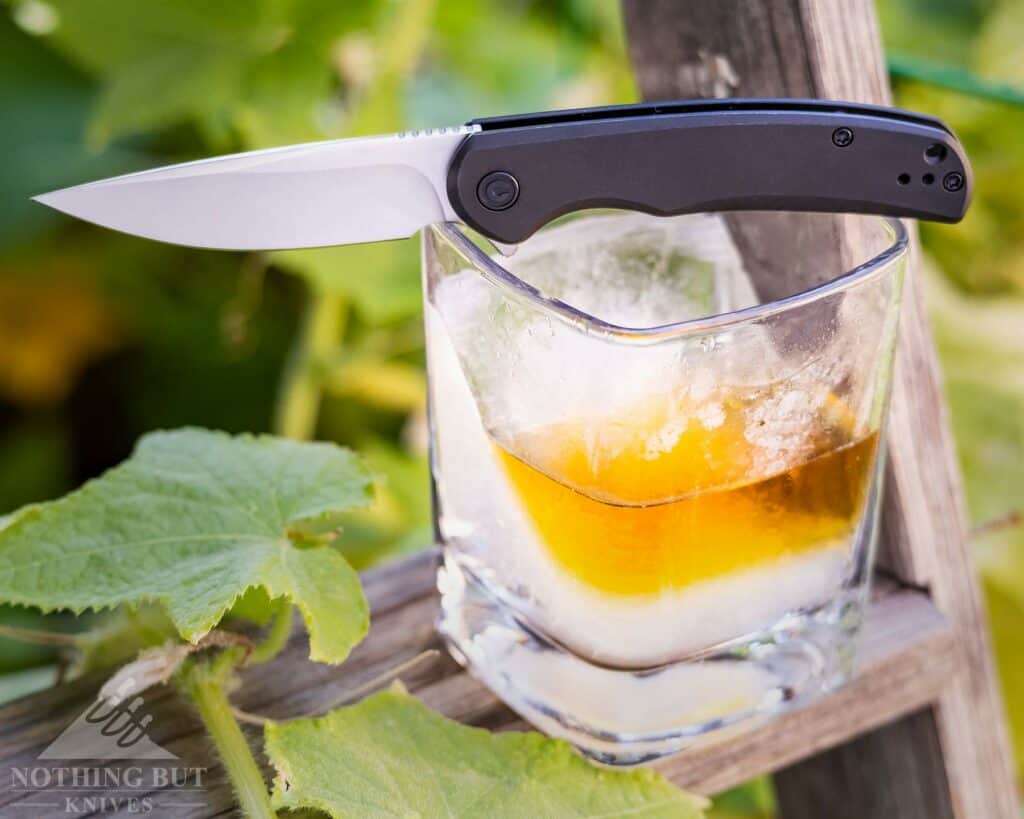 The Civivi Nox might not be an incredibly exciting knife, and that might be its biggest issue. The lines are great, and the materials are terrific for the price. The fit and finish are spot on, and the movement is smooth as butter. But casual knife owners might not find it particularly thrilling to look at or handle.
Despite the black satin handle, there isn't anything tactical about this knife. And it isn't overly classy like a gentleman's folder might be. The most exciting things about the Nox are its steel and its action. That's probably plenty for true EDC enthusiasts, but I doubt on-lookers will fawn over it the way they would a Benchmade or Microtech.
So who is the Civivi Nox for?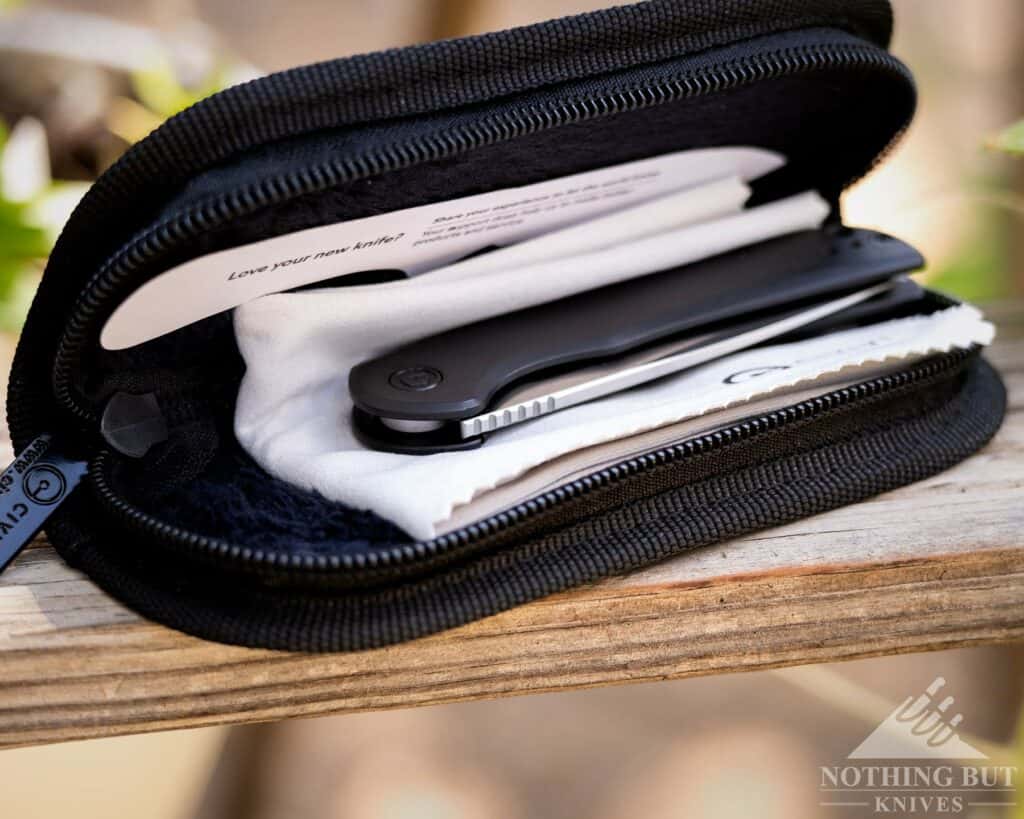 At the relatively affordable price of $75, I'll bet a lot of you are on the fence about the Nox, looking for the slightest of reasons to pull the trigger. Hold your horses; It's not for everyone, and I want to make sure you spend your money wisely.
If you're the type of person who prefers a large, meaty knife, you'll have to keep shopping. The Nox is compact and low-profile, despite its heft. Perhaps the Spyderco Para 3 might be a better fit. Also, the Nox might be a little short on class, something a knife like the Boker Plus Bonfire has for days. If either of those scenarios describes you, the Civivi Nox is not for you; keep it moving.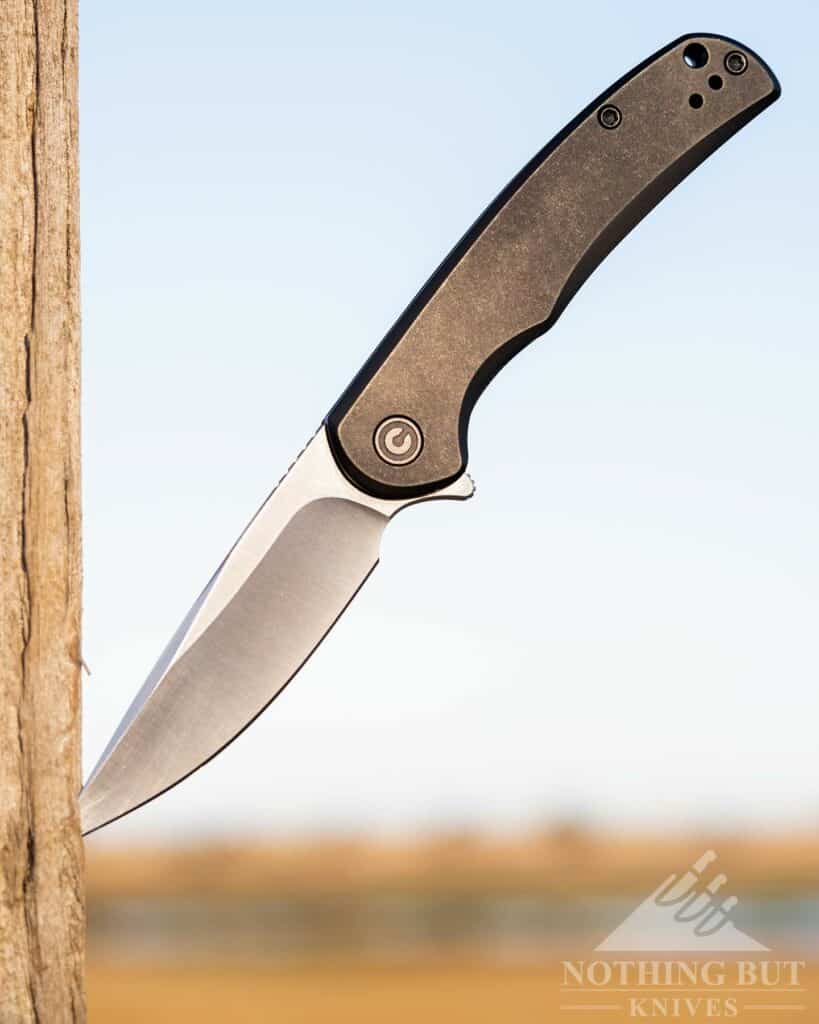 However, if you're looking for a compact-sized, all-around capable EDC knife with some quality steel, I think the Nox will fit the bill. Other than its clunky closing action and my personal disdain for Civivi pocket clips, it's well-designed and capable. It's small enough to take to the office while being hefty enough to tackle most light-duty tasks. If that's the type of knife you're looking for, the Nox might actually be ideal.
It's rugged but low-profile, acting as a trusty companion without drawing too much attention to itself. Just what I look for in a sweetheart of a knife.