3V Gear's First Knife Offers A Lot Of Options
The 3V Gear React was announced in early 2021. It is 3V Gear's first foray into the world of knife manufacturing. I assume the React will be followed by more models if this one is successful.
While there is nothing groundbreaking about the React from a design or raw materials standpoint, the online shopping process is fun and sets the React apart as a great gift knife. And from a practical view, it has the makings of a decent fishing knife, even if the overall design is a bit plain.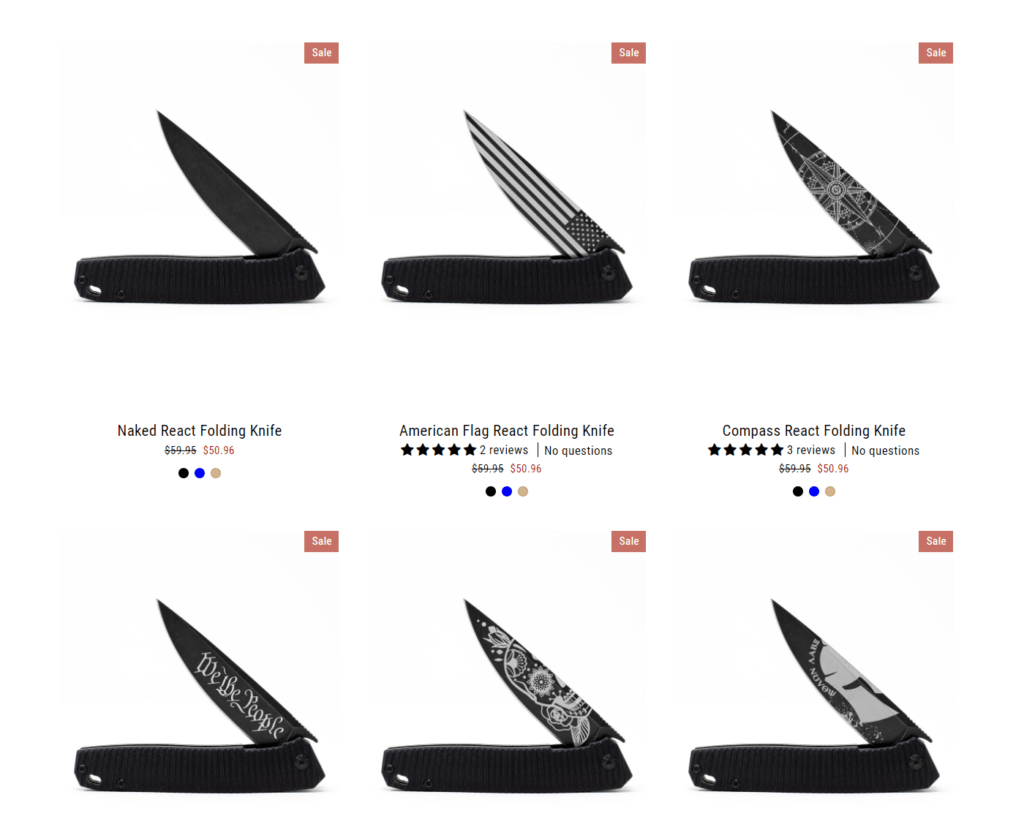 3V Gear spent quit a bit of time getting their online shopping cart dialed before officially releasing the React. The end result is a pretty seamless and easy to use process that makes it fun to choose a gift knife that is the perfect fit for a friend, family member or even yourself.
They offer three different handle color options and two different handle finishes. The blade can be selected with 15 different images or plain if that is your preference. (Editor's Note: I won't change it, but what he really means is "if you're boring").
Specifications
| | |
| --- | --- |
| Overall Length: | 6.5″ |
| Blade Length: | 3″ |
| Handle Length: | 3.5″ |
| Blade Steel: | 8Cr14MoV |
| Blade Hardness: | 59HRC |
| Blade Shape: | Wharncliffe |
| Blade Grind: | Hollow |
| Handle Material: | G-10 |
| Lock Type: | Liner Lock |
Pros
Lots of blade and handle options
Grippy G-10 handle
Snappy action
Sharp blade
Cons
One hand closing is awkward
Relatively soft steel
Overall quality falls below other knives at this price point
Blade Design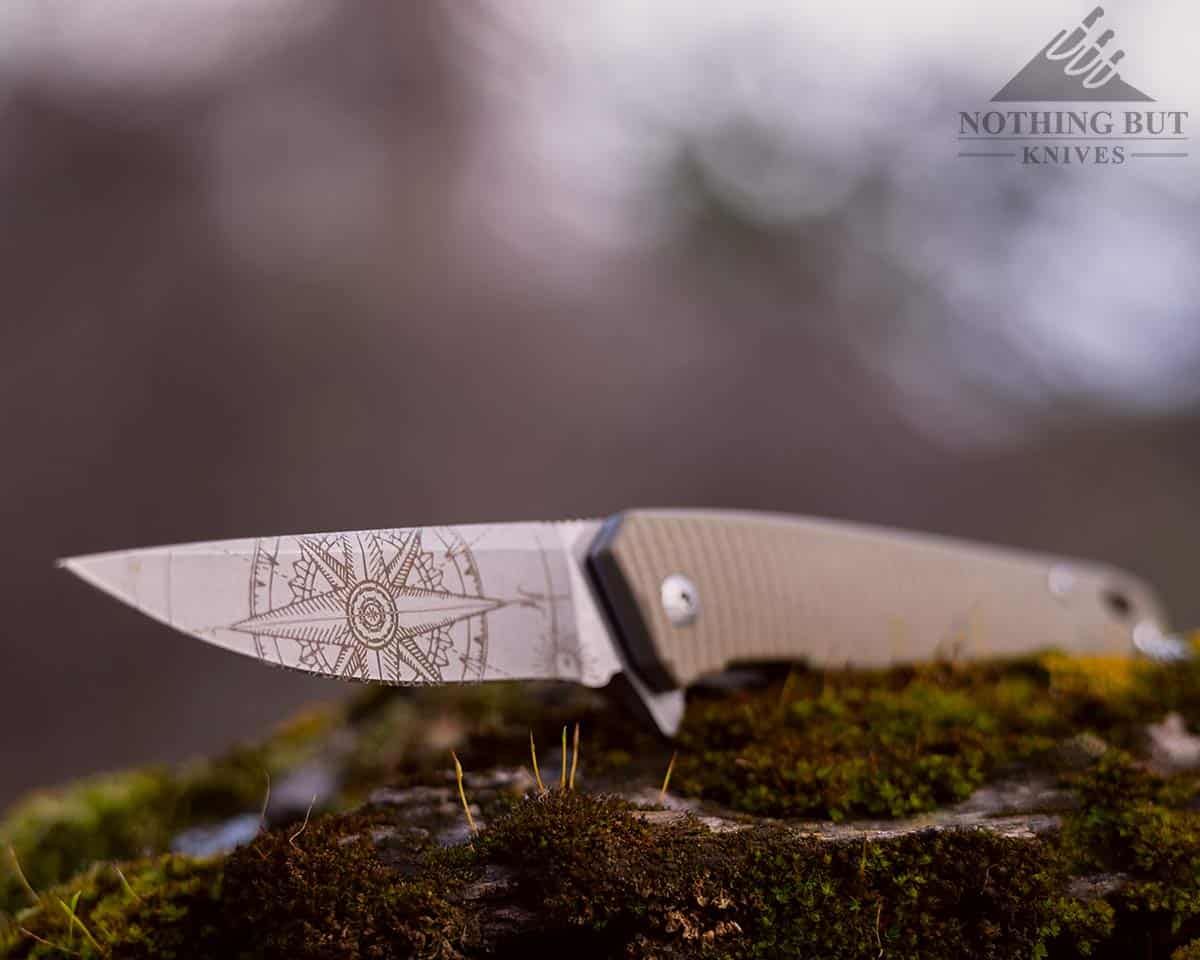 The blade of the React is a versatile and practical design that lends itself well to a smaller knife. The double bevel flat grind handled a variety of tasks from cutting rope to sharpening hot dog sticks quite well. The edge retention was better than other knives 8Cr14MoV steel blades I have tested, so 3V Gear's heat treatment is decent. The size and shape of the blade is about the perfect size for trout fishing, so this may be a great option if you or someone you know is an avid trout fisherman.
3V Gear offers the React with three different blade coatings: black powder coated, stonewashed and Ti (Titanium Nitride) coating. 8Cr14MoV steel offers pretty good corrosion resistance on its own, so the addition of any of the above coatings help make this knife a good choice for humid environments. It is one more reason I think the React is a good option for trout fishing. It can handle moisture pretty well.
In The Hand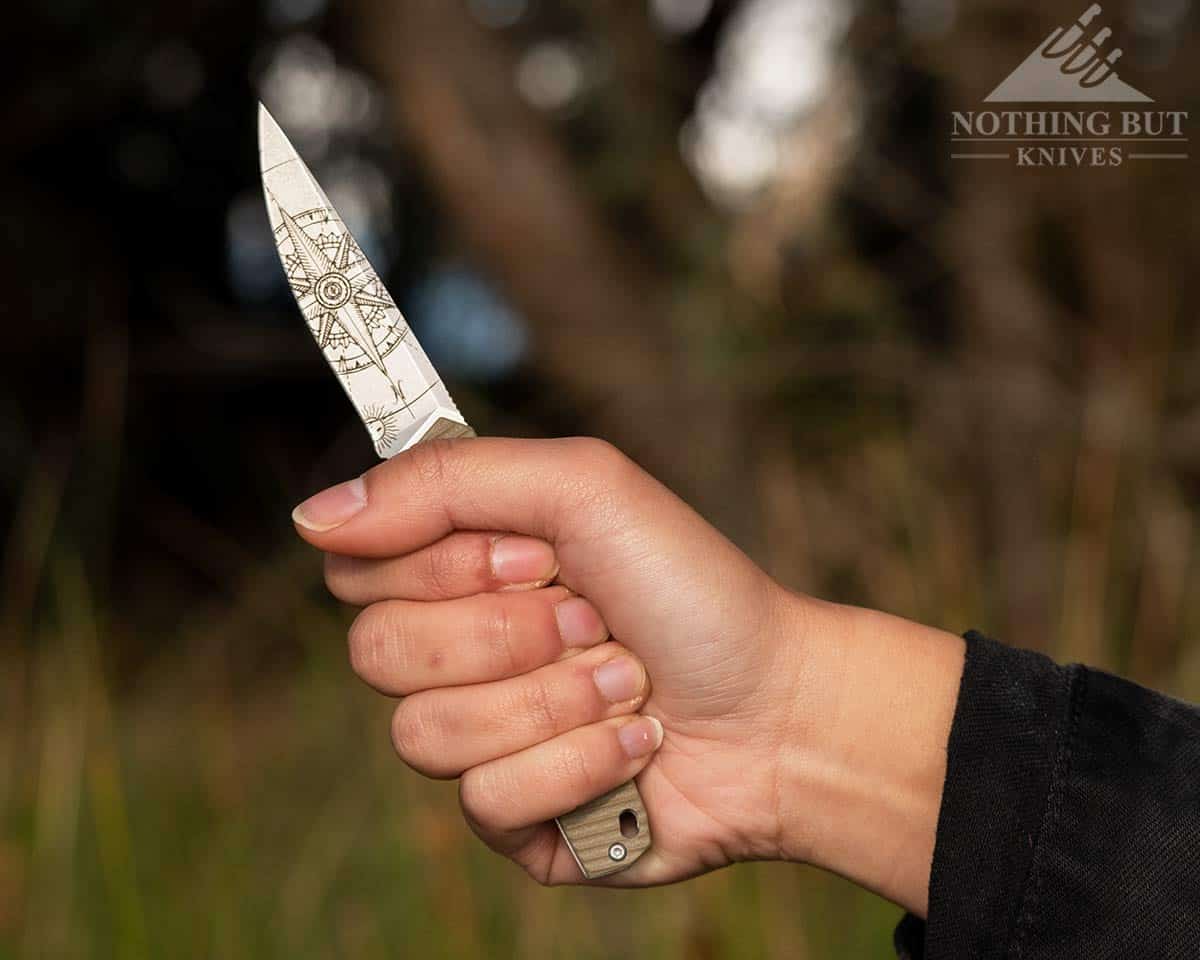 The React comes in two handle options – grooved or plain. Both handle types are made of G-10, but I chose the grooved for this review, because I prefer my handles to have a bit of grippy texture. (Editor's Note: All the help we can get to keep from dropping something, because we drop shit all the time).
The grooved handle did not disappoint. It was super grippy even when wet. This is something that is surprisingly hard to find on smaller flippers like the React. For some reason most knife makers usually use smooth handle scales on small knives. Kudos to 3V Gear for offering that option right out of the gate.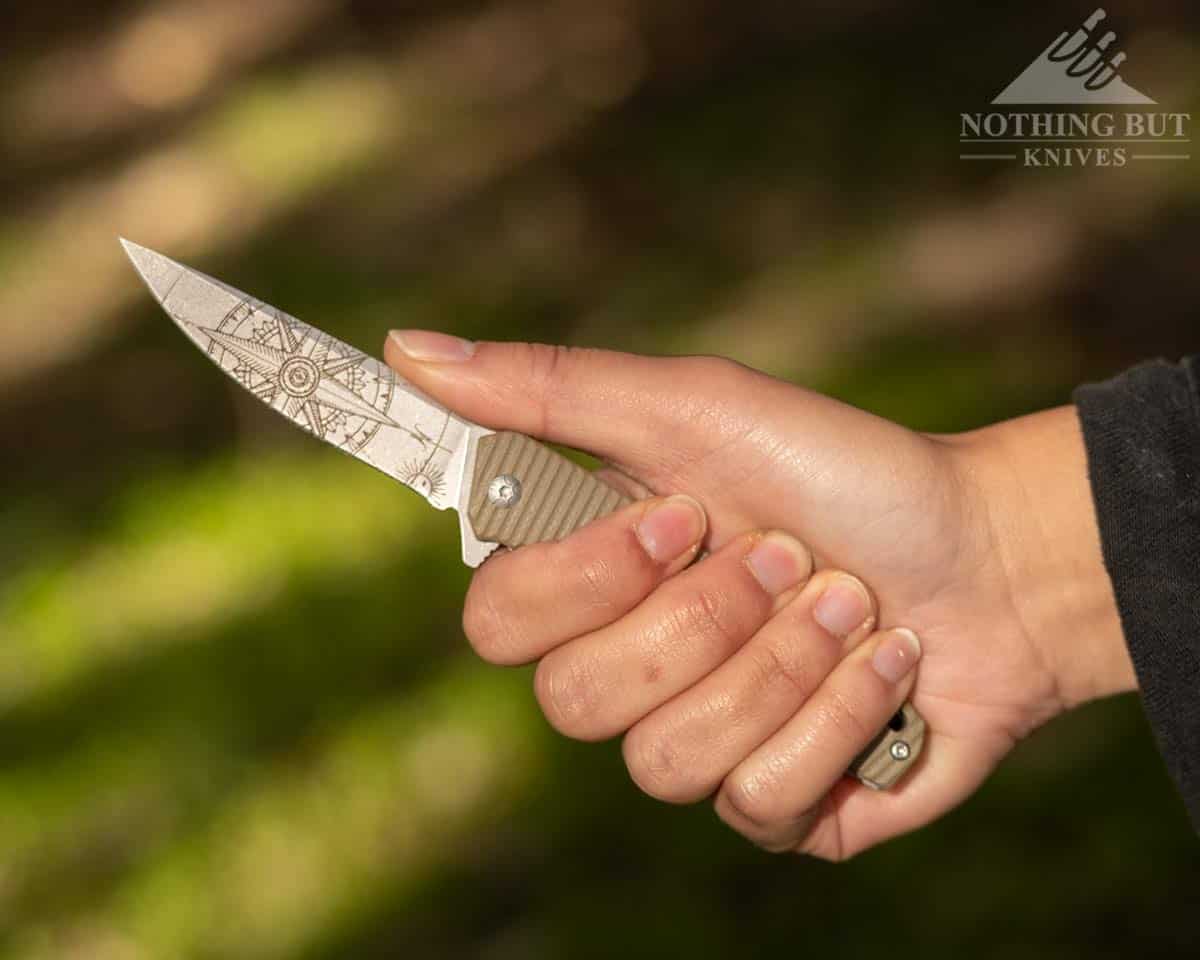 The tapered handle of the React offers a comfortable hand hold for those with small hands, but it is also pretty comfortable for those with large hands even though the pinky finger and part of the ring finger will close behind the handle. Those with larger hands will find that their pinky and most of the ring finger does not fit on the handle, but it still feels secure when cutting or slicing tougher material.
The pocket clip is noticeable when the knife is held in a hammer grip, but it is not uncomfortable or painful in anyway even when a firm grip is required.
In The Field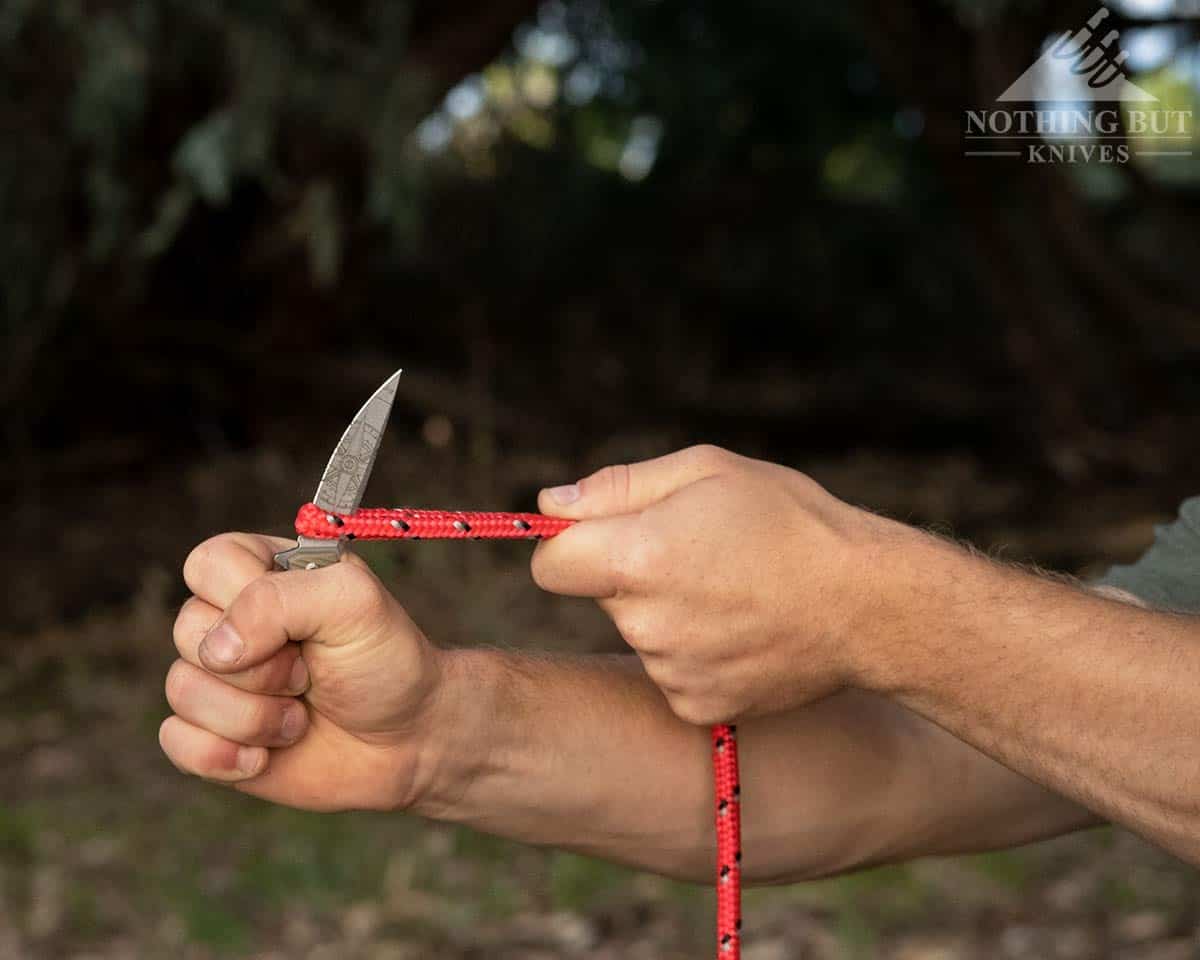 The edge of the React blade arrived incredibly sharp. This is not always the case with new or old knife companies. We get a lot of knives shipped to us with edges that need a bit of sharpening before they can be especially useful, so it is always nice when we receive a knife that doesn't have to be stropped or sharpened right out of the box.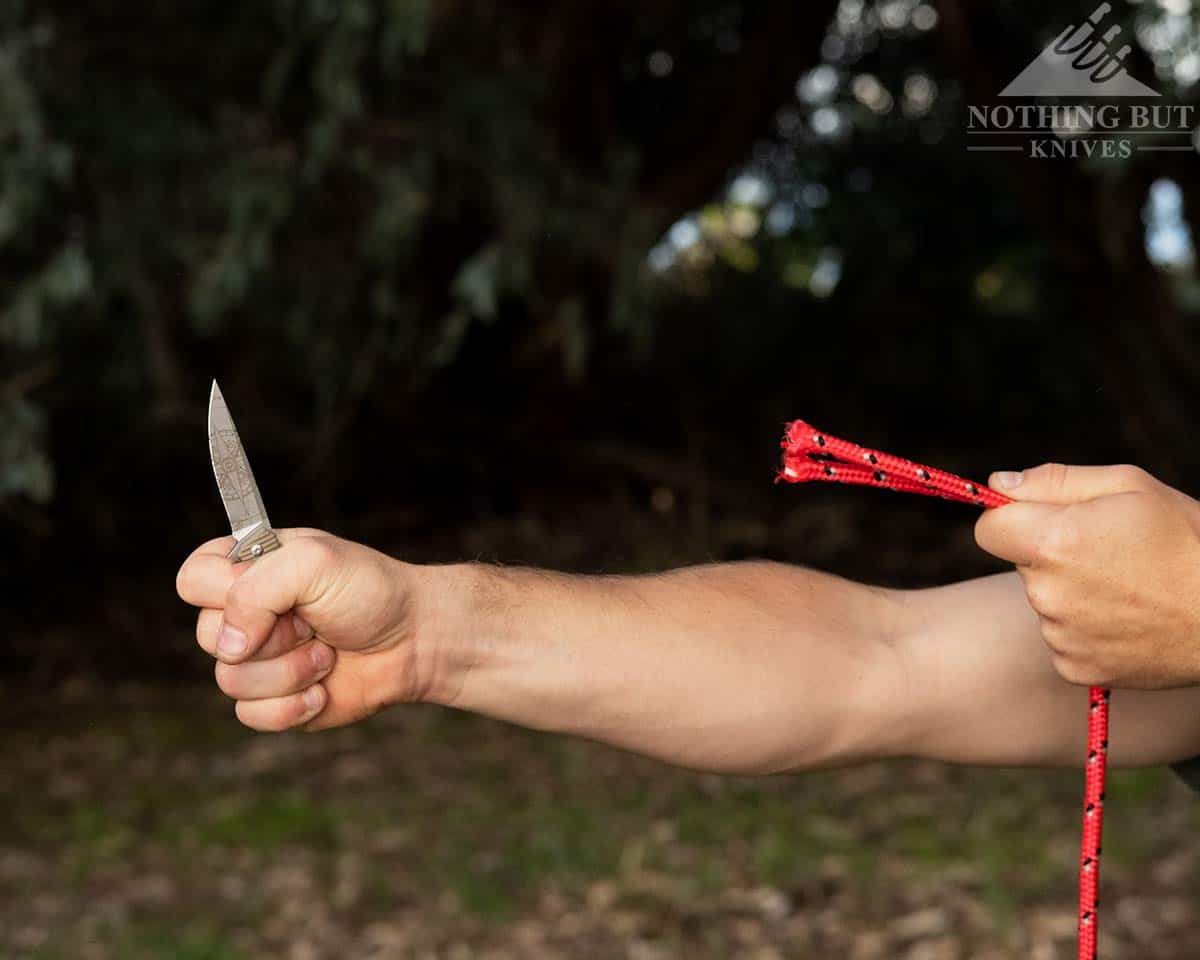 The React is tough enough for regular knife tasks like cutting rope, cardboard or opening Amazon boxes, but I would not categorize it as a hard use knife. It definitely should not be used as a prybar.
In The Pocket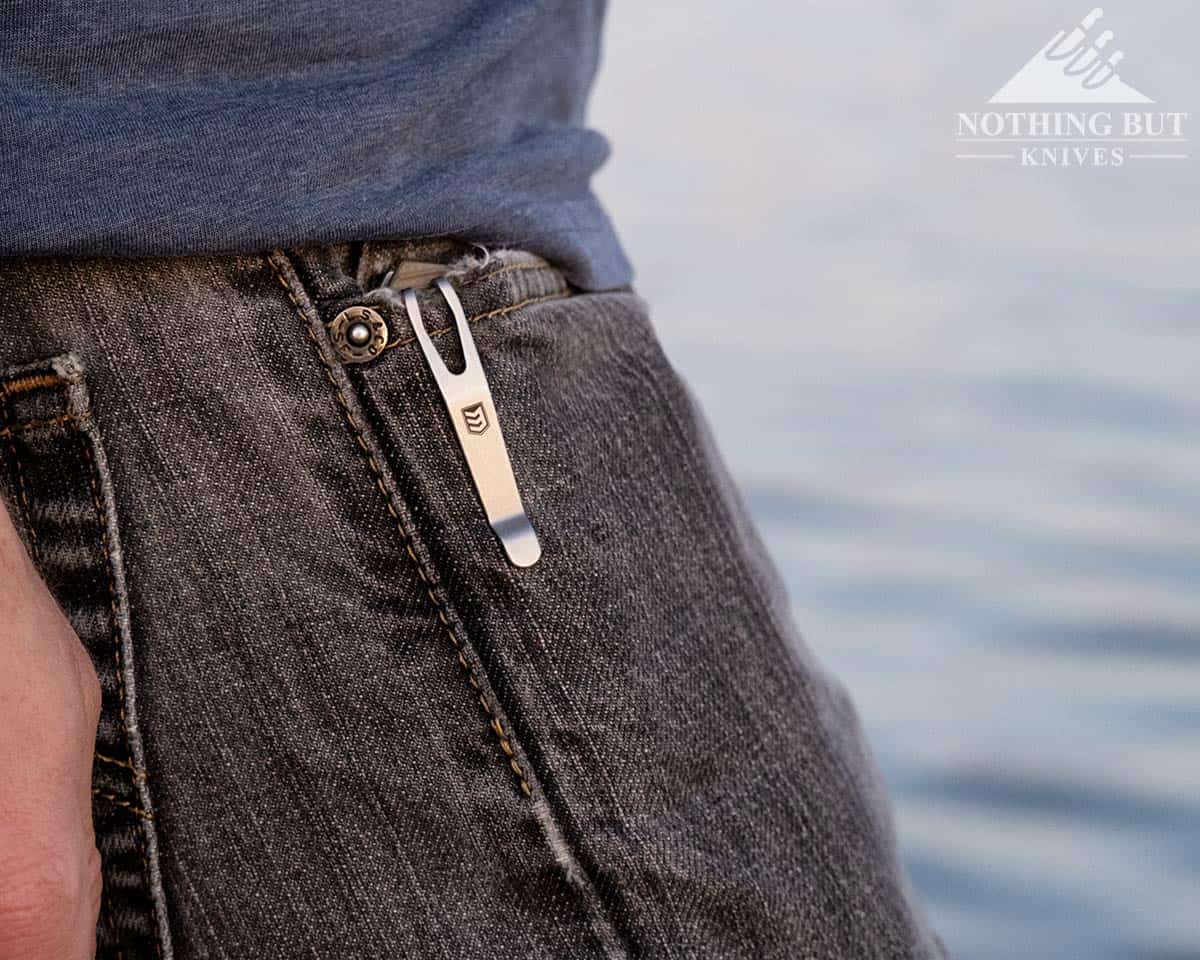 The React is a tip down pocket knife which is my least favorite way for the tip to point. It means it take a bit more effort and time to deploy the blade. It is fairly deep carry in the pocket as you can see above. This is nice for those who don't like to let their knife show.
The clip holds the knife securely in the pocket, but not so securely that it tears up your jeans. However, the grooved handle will cause a bit of fraying to the jeans after extended use. This could also be a sign that you need more pairs of pants. (Editor's Note: They're still perfectly good pants, damn it. I'll buy new ones when these can't hold a knife anymore).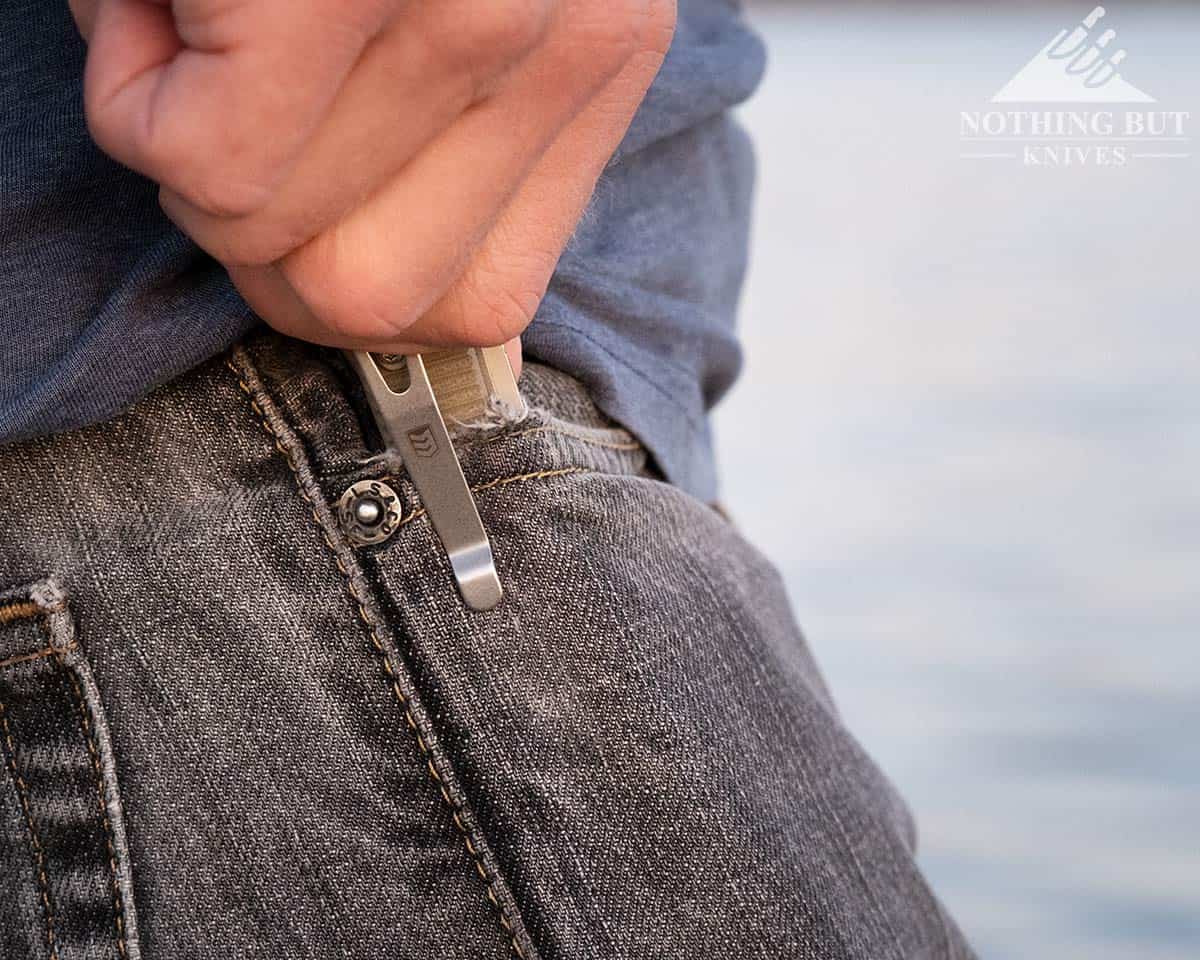 Even though the pocket clip is fairly tight, I never had any trouble removing the React quickly. 3V Gear really did get the pocket clip tension dialed perfectly on this knife. The grooved handle also helped a lot with with grip when removing the knife from the pocket. I never had any problems with my hand slipping off.
The Action and The One Handed Closing Problem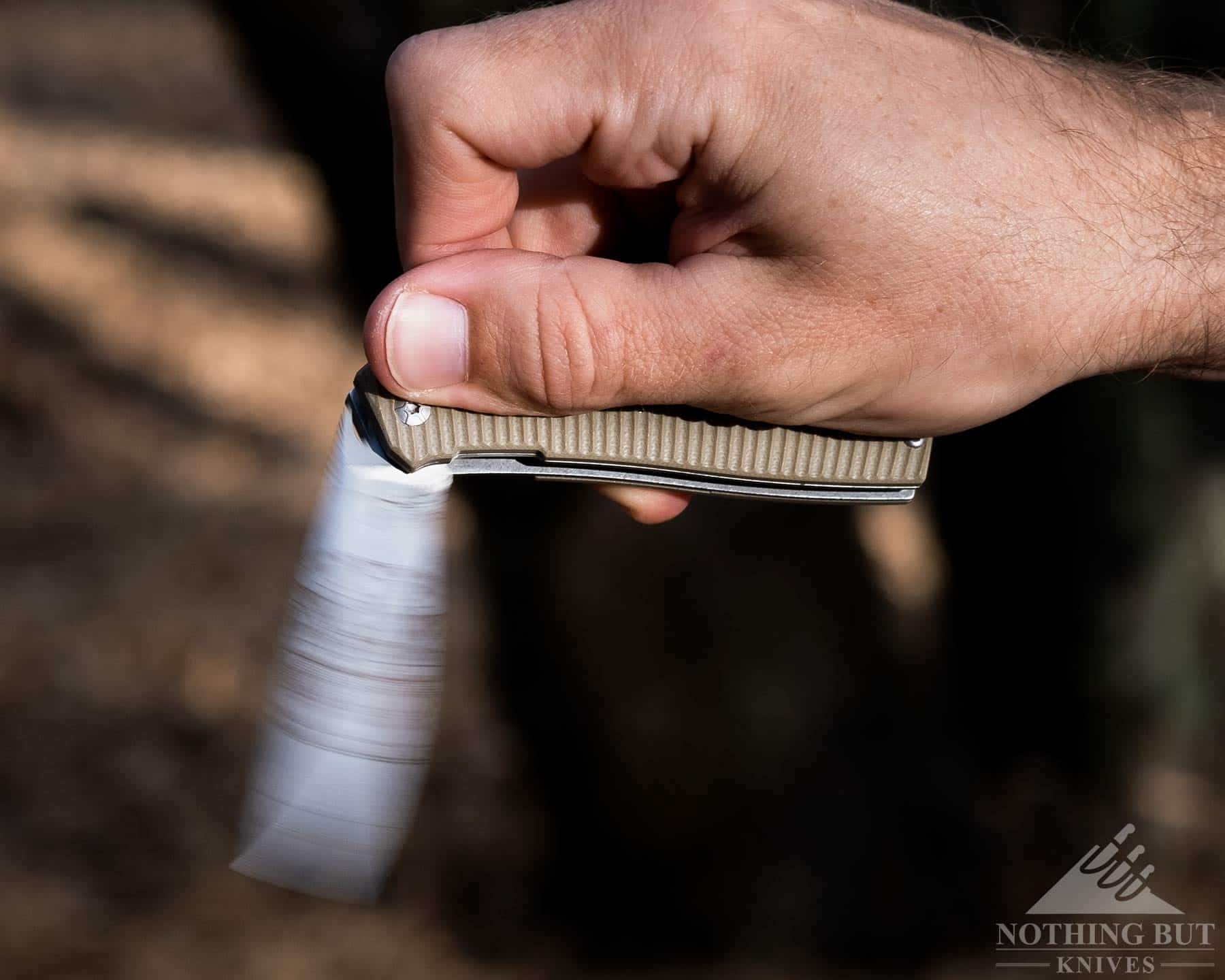 The action is snappy, but it does require a bit more effort than some of the other popular flippers in this price range. It doesn't have that buttery smooth feeling you get when flipping the Civivi Elementum or CJRB Agave which are two similarly priced liner locks. The stainless steel ball bearings get the job done, and that is all the majority of the non knife nerd populace needs.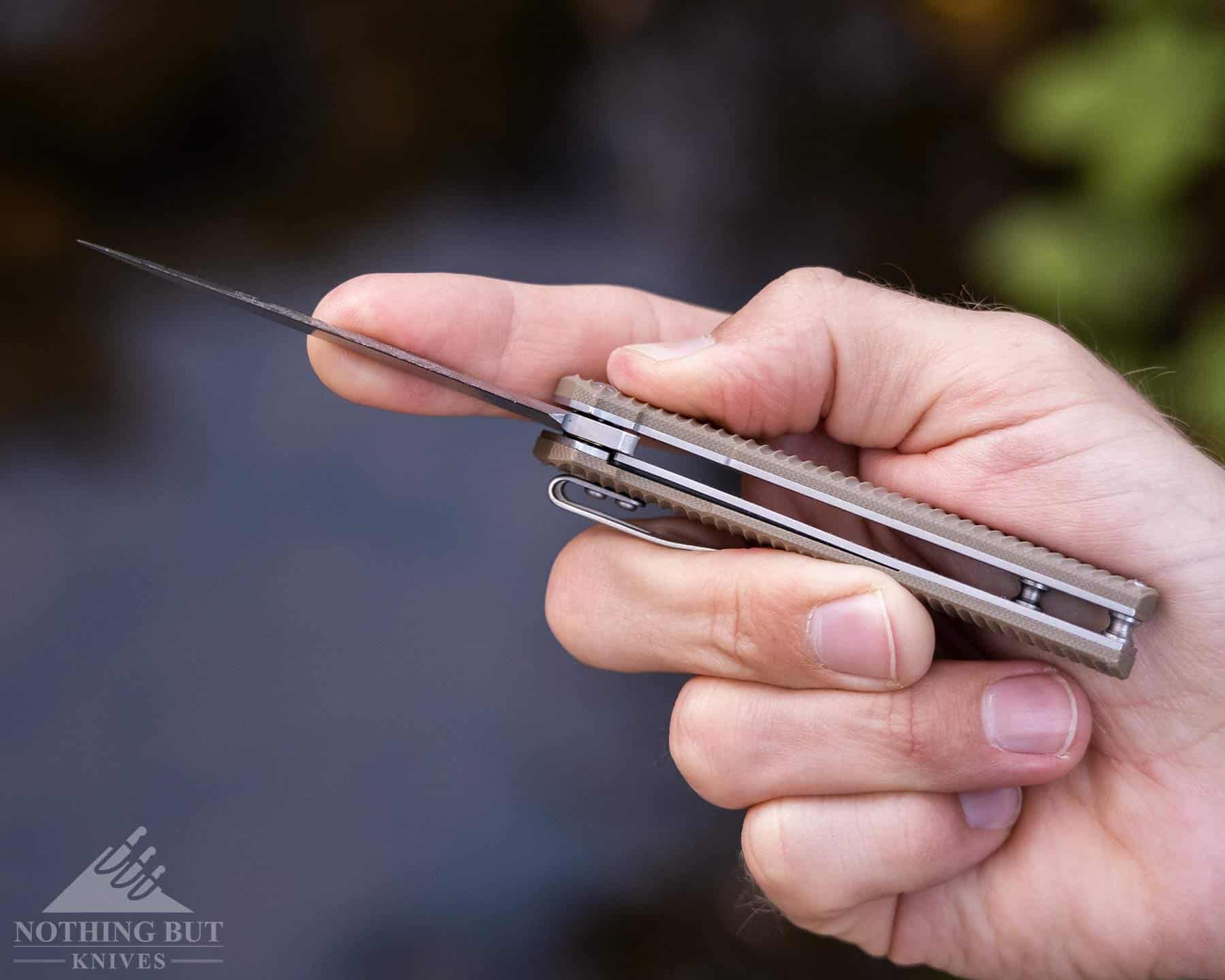 The real problem with the React is that the detent catches on the liner lock when the knife is being closed. This makes one handed closing a bit cumbersome.
The React is definitely not the only liner lock that has this problem. It is fairly common in flippers at this price point. However, companies like Civivi, Ruike and CJRB have have raised the bar considerably over the course of the last few years in the budget knife category. As a result these sorts of issues don't quite get the pass they used to even at this price point.
Conclusion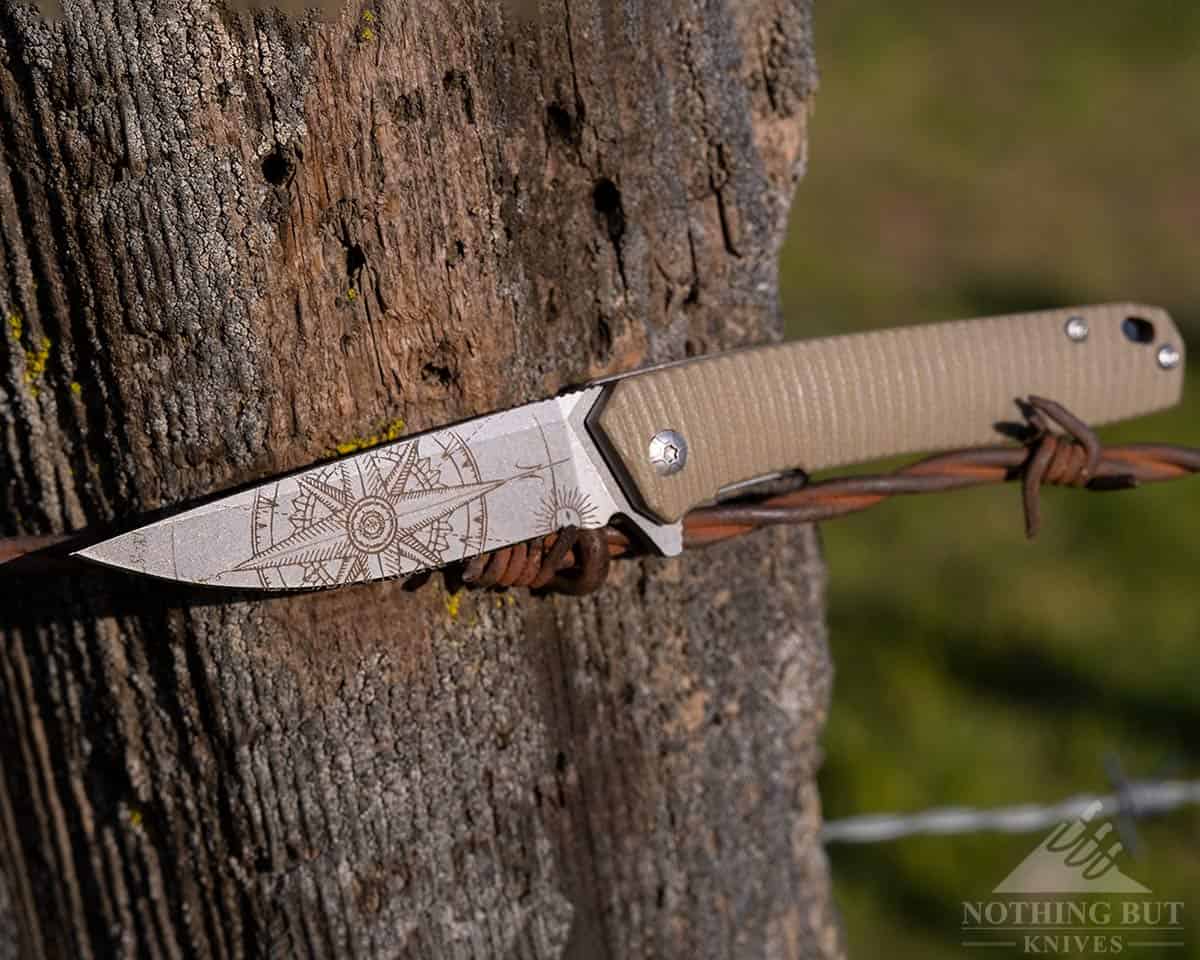 The 3V Gear React is a serviceable flipper with a design that works well for its size. It is tough enough for most knife related tasks and the grooved handle version is one of the grippiest folding knife handles I have tested. The biggest problem the React has is really just the recent competition in its price range.
Several companies are releasing folders with excellent fit and finish, smooth actions and higher quality steel blades steels. This makes it a little harder to overlook some of the React's shortcomings. Five years ago I would have said that the React's flaws are to be expected in this price range, but that is no longer the case.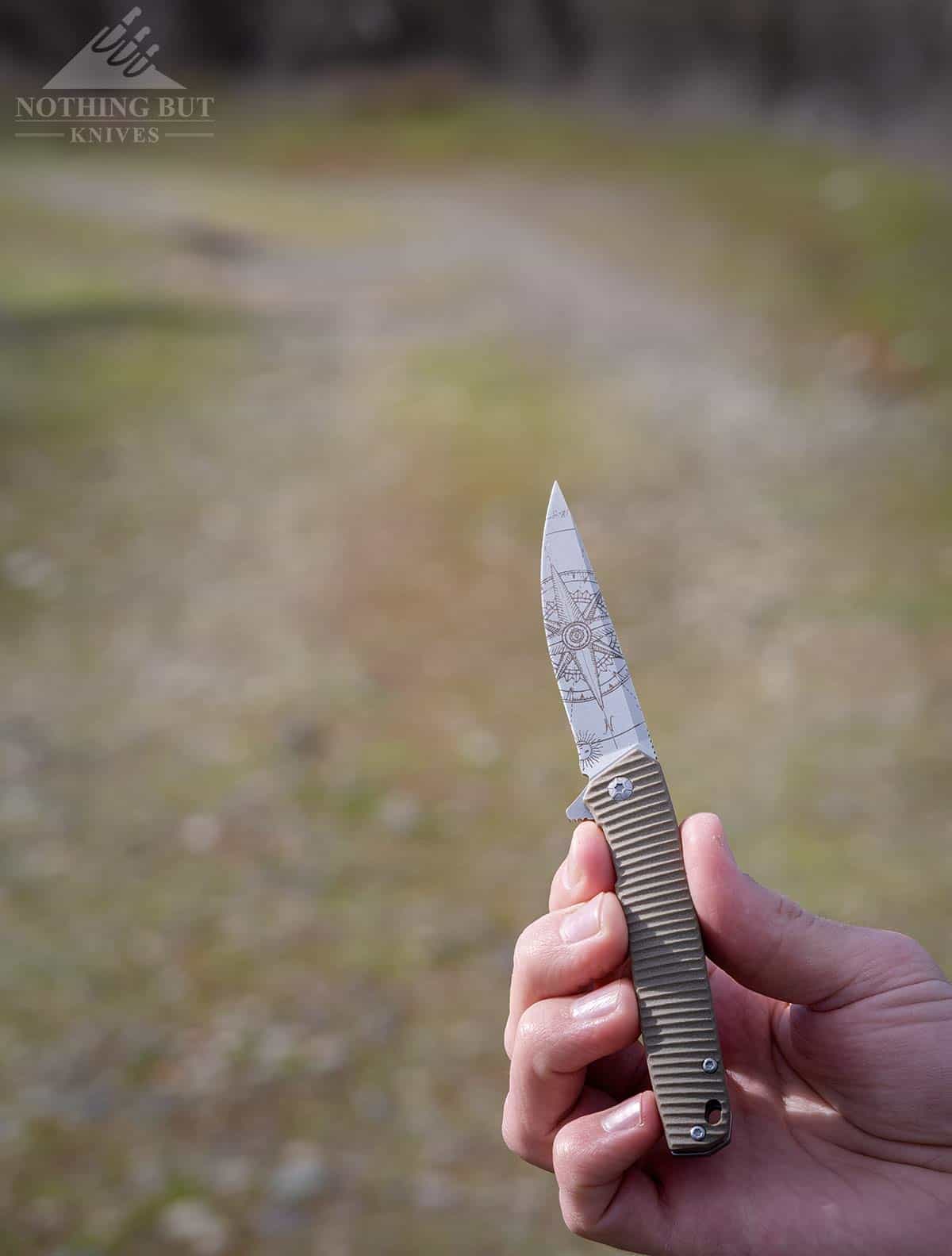 In spite of its issues the React is a welcome addition to the folding knife world due in large part to the surprising range of variations right out of the gate. The number of artistic blade options 3V Gear offers on their first knife is impressive.
3V Gear has consistently offered well designed and innovative outdoor at affordable prices for many years. I assume their knife line will follow suit if sales of the React justify future manufacturing costs.