This Modern Gentleman Folder is as Soulless as Most Modern Gentleman
I have to be careful and start by saying the Civivi Elementum functions well. I haven't really found anything bad to say about the design. I knit pick some finer points, but it's so simple and well done that it kind of defies the existence of major flaws. I probably wouldn't have done this so much with the cheaper D2 version, but the Elementum is kind of an annoying knife in carbon fiber.
It just strikes me as a knife that, if it were a person, would be the type to make a show of opening the door for you, then clear its throat if you walked in without thanking it. Aside from that weird vibe, though, this is a really solid little folder.
Specifications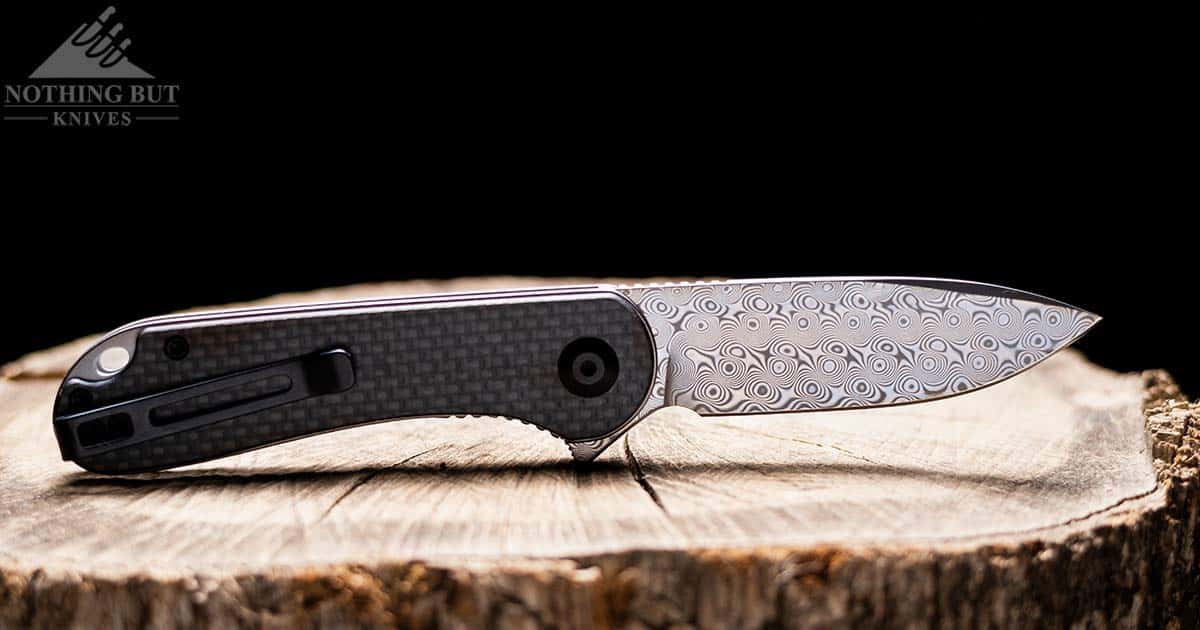 | | |
| --- | --- |
| Overall Length: | 6.8″ |
| Blade Length: | 2.9″ |
| Blade Thickness: | 0.12″ |
| Blade Steel: | Civivi Damascus |
| Handle Length: | 3.9″ |
| Blade Shape: | Drop point |
| Blade Grind: | Hollow |
| Handle Material: | Carbon fiber |
| Lock Type: | Liner |
| Weight: | 2.86 oz |
Pros
Comfortable handle for a small knife
Decent edge with a little bite
True deep carry that rides super light
Edge is easy to maintain
Cons
Carbon fiber scales give no traction
Pocket clip takes a little pushing to seat completely
Sharpening choil is larger than it needs to be
The Damascus steel is difficult to clean
Civivi's Presentation and Execution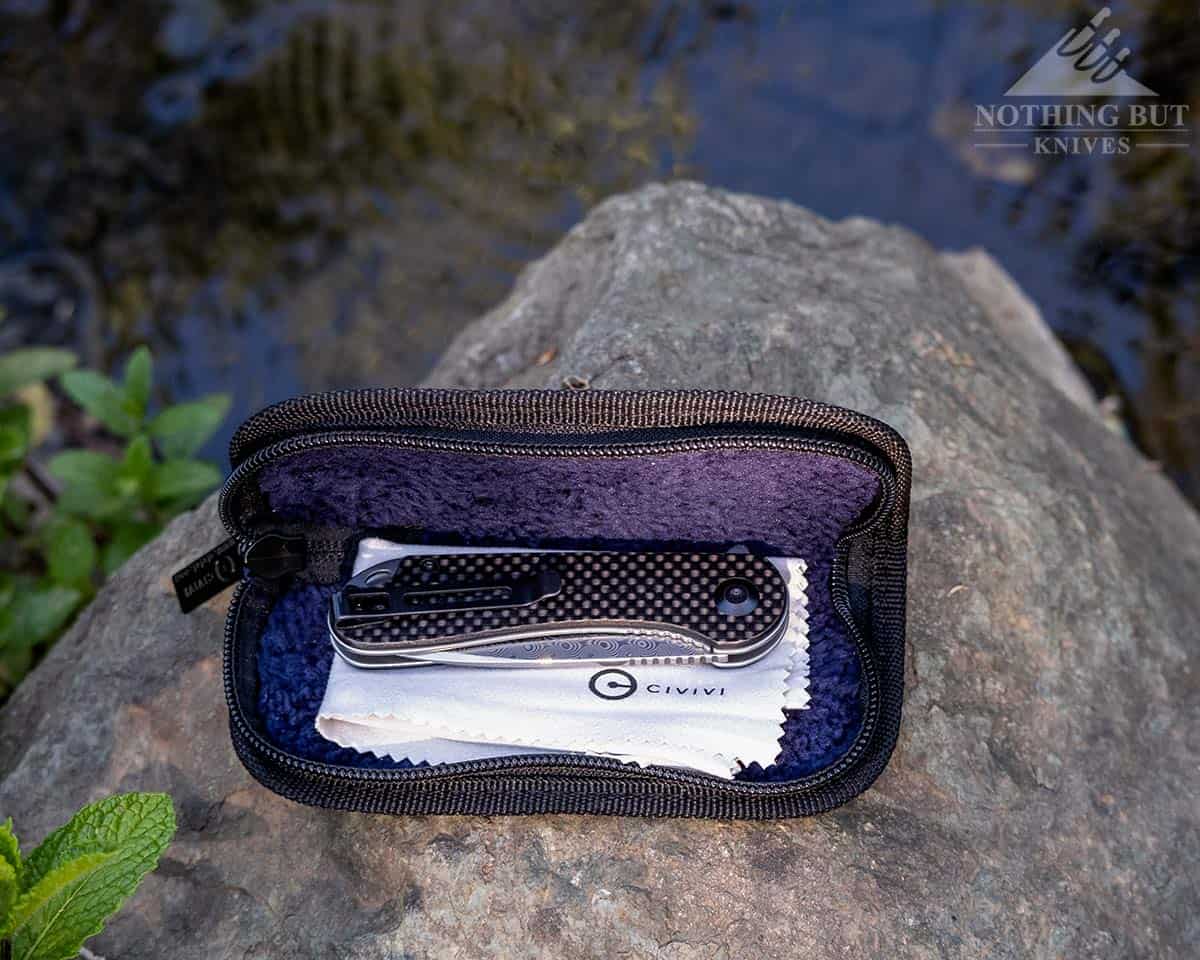 Civivi is the budget line of WE Knife Company, and both are among a handful of well-oiled Chinese companies that should be making larger knife manufacturers around the world sweat a little. They're also the kind of company that is a nightmare for knife reviewers because they put out so many designs all the time, and have such good execution and quality control that trying to pick one or two out to review becomes a practice in closing your eyes and pointing, then ignoring the tidal wave of other decent knives you will probably never have time to write about.
In this case, we picked up the Damascus Elementum specifically to try out Civivi's Damascus. It seems like they set out to turn the Elementum into some kind of budget gentleman's carry with this, and I think they succeeded, they just didn't succeed in a way that I personally like.
The knife looks and feels good, when I really push myself to be objective. It also comes in a zipper pouch with a cloth, and even though this adds to the whole put-together-rich-kid vibe that I don't like about the knife, I do actually like the pouch. I'll probably use it to pack a handful of other folders when we go out on longer testing shoots. The pouch also makes the Elementum Damascus a good option for a gift which is one reason we added it to our 2021 knife gift guide, despite all the horrible names I'm about to call it.
It's also probably worth mentioning here that Civivi has come out with a few dozen versions of this knife in different materials and constructions, including a fixed blade and a mini. I compiled all the different things they offer on this design just so you can have an idea of all the other options you have besides the Damascus and carbon fiber model that I simultaneously mock and grudgingly praise in this review.
Other Stuff You Can Get on the Civivi Elementum
| Knife Types | Steels | Handle Material | Lock Types | Blade Finishes | Blade Styles |
| --- | --- | --- | --- | --- | --- |
| Flipper | D2 | Brass | Liner | Black | Drop point |
| Fixed blade | Damascus | Carbon fiber | Frame (only Mini) | Black stonewash | Tanto |
| Mini | CPM-S35NV | Copper | Button | Damascus | |
| | Sandvik 14C28N | Ebony | | Gray | |
| | 10Cr15MoVCoMoV | G-10 | | Satin | |
| | | Micarta | | Stonewash | |
| | | Wood | | | |
The Blade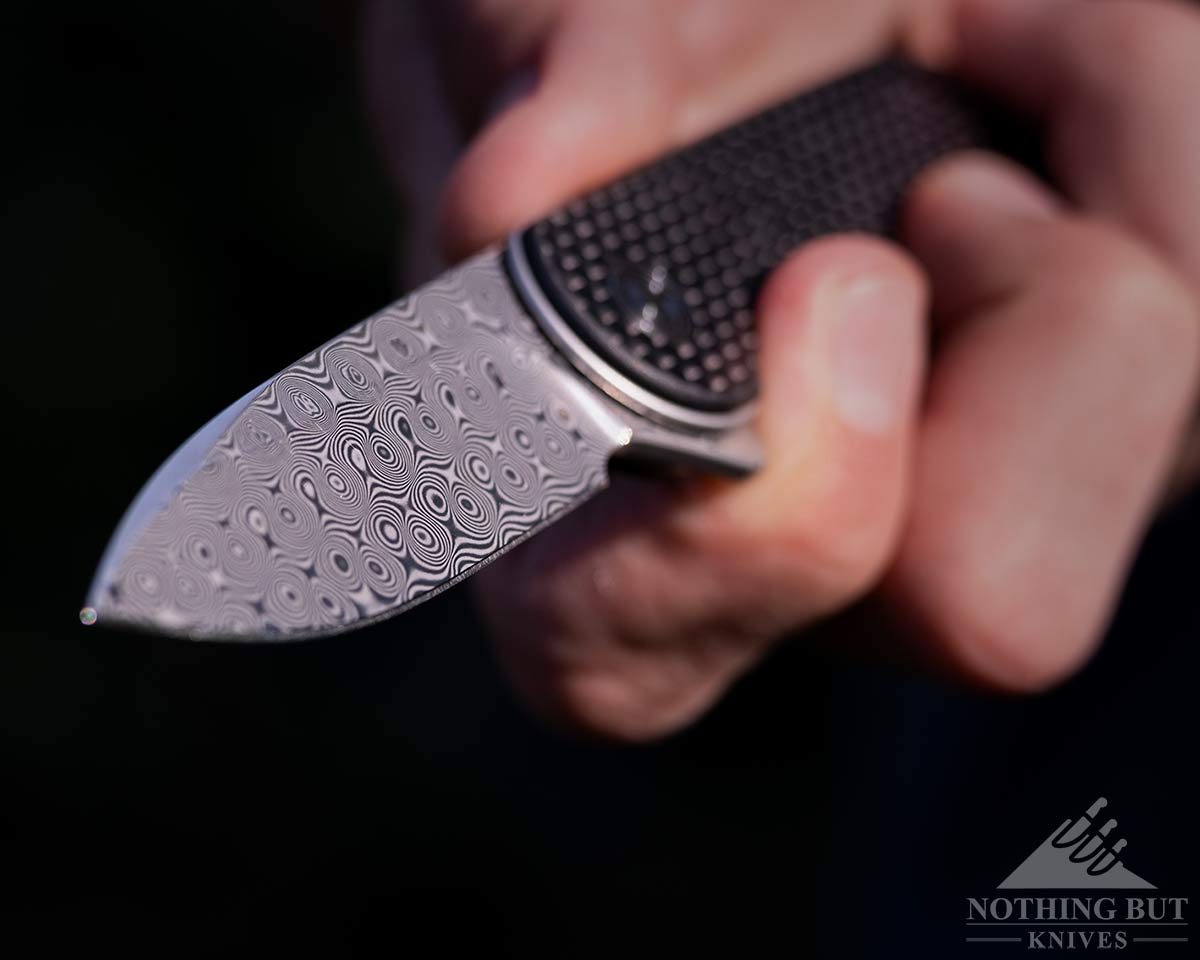 This knife cuts the way the overall look makes you think it does. It's pretty clean and smooth, but not razor sharp. The edge doesn't bite all that much, but it cuts smooth on paper. The jimping on the back looks almost too streamlined, but it does actually provide some good traction.
They've gone a little overboard on the choil. This will come up later when I talk about the overall design, but it's worth saying now that if they just made the choil a couple millimeters long instead of a quarter of an inch, they could've either shortened the blade overall to get it properly under the 3-inch park, or given us a little more cutting edge. That would put a bit more sharp edge under the thumb to make push cuts a little easier.
Edge Geometry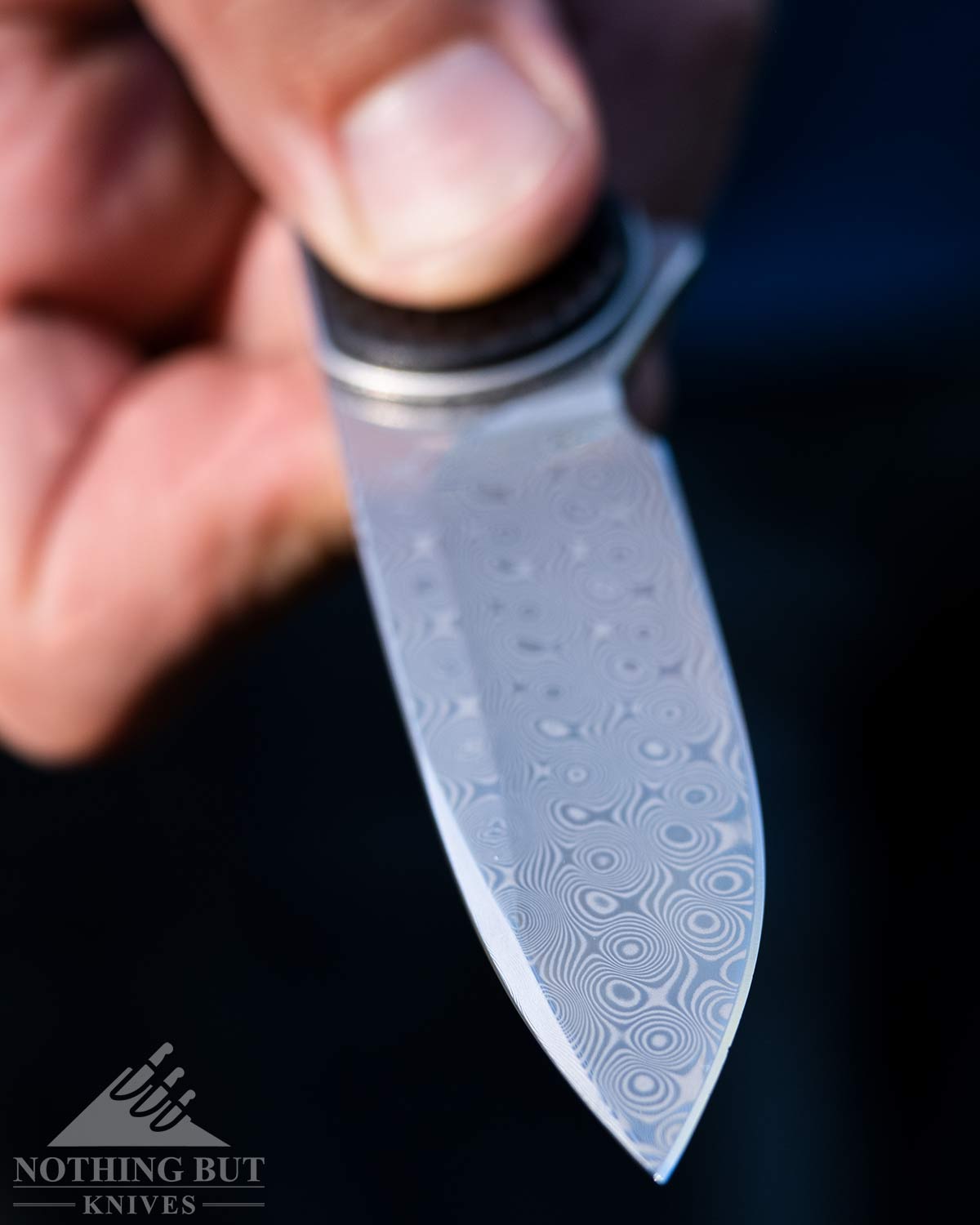 While the hollow grind does make this blade slicey, I was still feeling a bit more resistance than I would have thought for a knife this thin. I think the problem is that even though the grind goes fairly high, the plunge line is pretty dramatic near the spine. It's not a massive slope, but it's enough to make it a little more difficult to cut all the way down a box corner. I end up using the top a lot more because the plunge line disappears in the top inch of the blade.
Put this against an edge on something like the CRKT Bona Fide (the 1.4116 version with the full flat grind) and you'll probably notice a huge difference in smoothness even though they have about the same thickness at the spine. The Bona Fide's flat grind parts things more smoothly, where the hollow on the Elementum gives just a little more push back once you bite past the height of the grind.
It's not such a huge problem in a small folder. It works great if you just need to pop out some loose string or cut fishing line, because the edge does have a bit of bite. Since this knife isn't designed for any kind of hard use, though, I think they could have risked going just a little thinner at the spine.
The Damascus Steel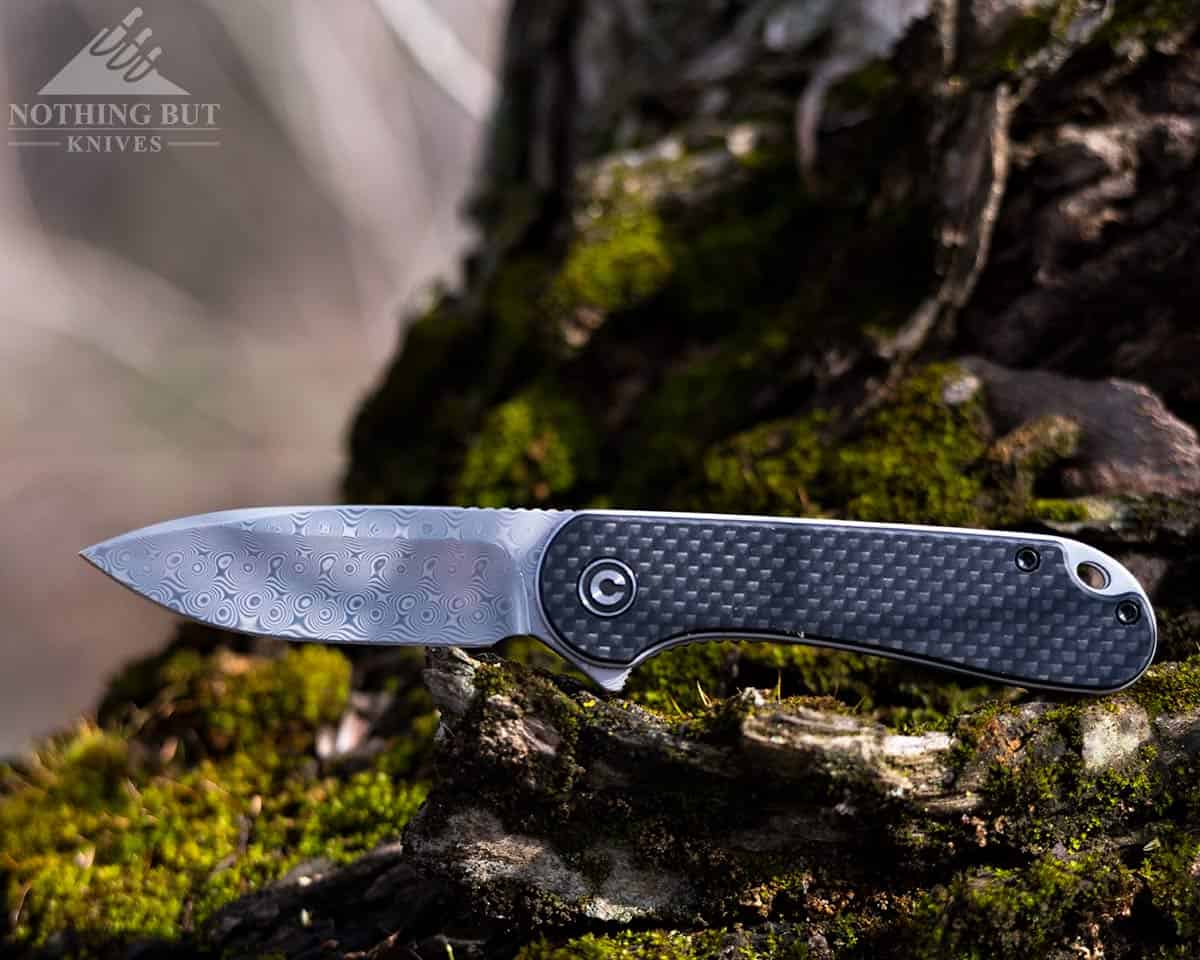 I've read that Civivi's Damascus composition has some kind of 9Cr18MoV core along with the claim that it performs like 440C steel. Since I don't see much evidence in the pattern that they use more than two steels, I'm gonna make a semi-educated guess that the other steel is 15N20 or something similarly high in nickel.
With that loose bit of knowledge I can predict that this blade should have good corrosion resistance. I haven't tested this aspect specifically, and have no intention of going out of my way to do so. But I will update this blog if it turns out this thing starts rusting in a way I think it shouldn't have. That does give this version one edge over the D2 Elementum, though, since that tool steel will definitely rust quicker than this Damascus steel
The pattern on this particular model looks kind of gaudy to me, but I do appreciate the execution of the raindrop pattern. It doesn't look like Civivi is pushing their blades out with a ridiculous number of layers, but it looks like a respectable amount, and certainly enough to make a fairly intricate pattern.
Edge Retention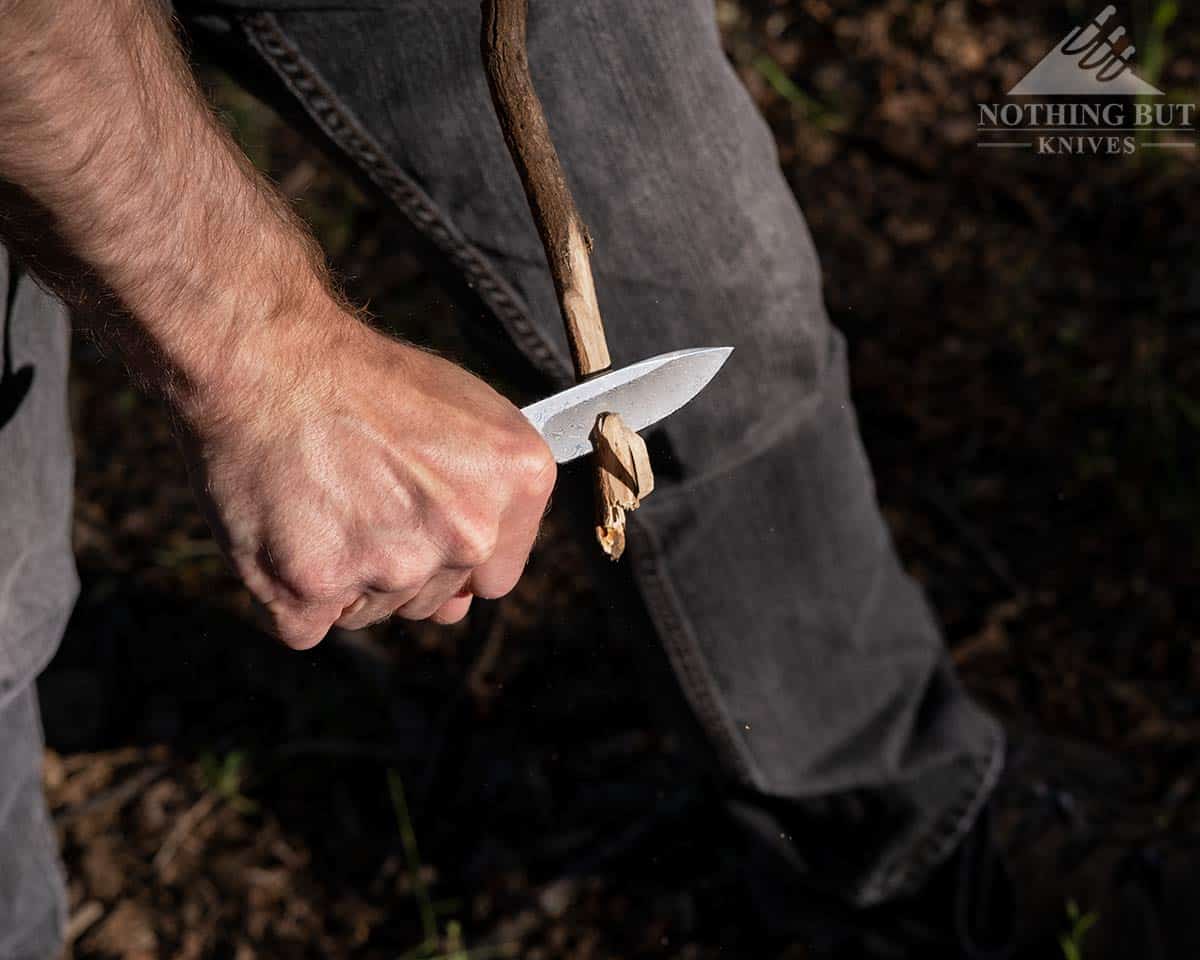 As far as its performance, I've already talked about how well it cuts, and in the family of budget something-Cr-something-something-MoV steels, this 9Cr stuff is supposed to have a small grain structure and good toughness. So not only does it come with a good edge, but it's pretty easy to reshape and play with the geometry a bit, should you have the desire to do so (Of course there's only so much you can play with on a thin blade with a hollow grind).
The steel does appear to be fairly soft, though, with adequate edge retention. Paper cuts got a little more rough after about ten minutes of cutting cardboard. While I was at it I also tapped some concrete by accident and rolled the edge, but it turns out this steel responds pretty well to a honing rod. That's pretty much all I've been using to maintain the edge, and it seems like that's all it will need for a while, which is a point in the Damascus Elementum's favor.
The Handle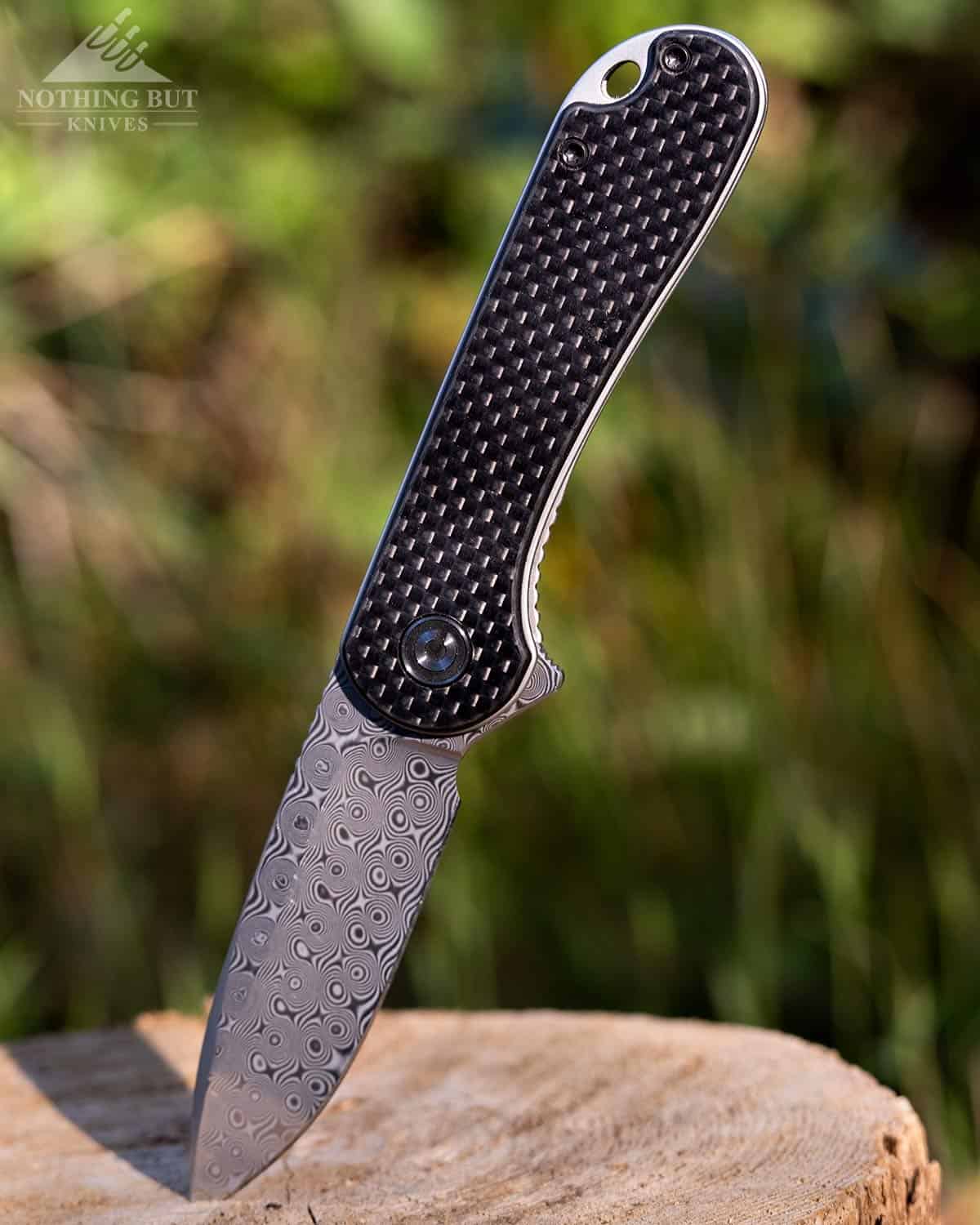 The big upside of this handle is that there are no hotspots. Not even from the pocket clip. And it really leaves me wondering why so many designs seem to fail to some extent here when the Elementum design pulls off a pocket clip shape so effortlessly.
I also really like the minimal lines on this handle. There are no finger swells, and the bit of swelling the handle does have fits in my hand really well. It seats comfortably into my palm, and the flipper tab creates a good groove for my index finger.
This Knife is Too Damn Sleek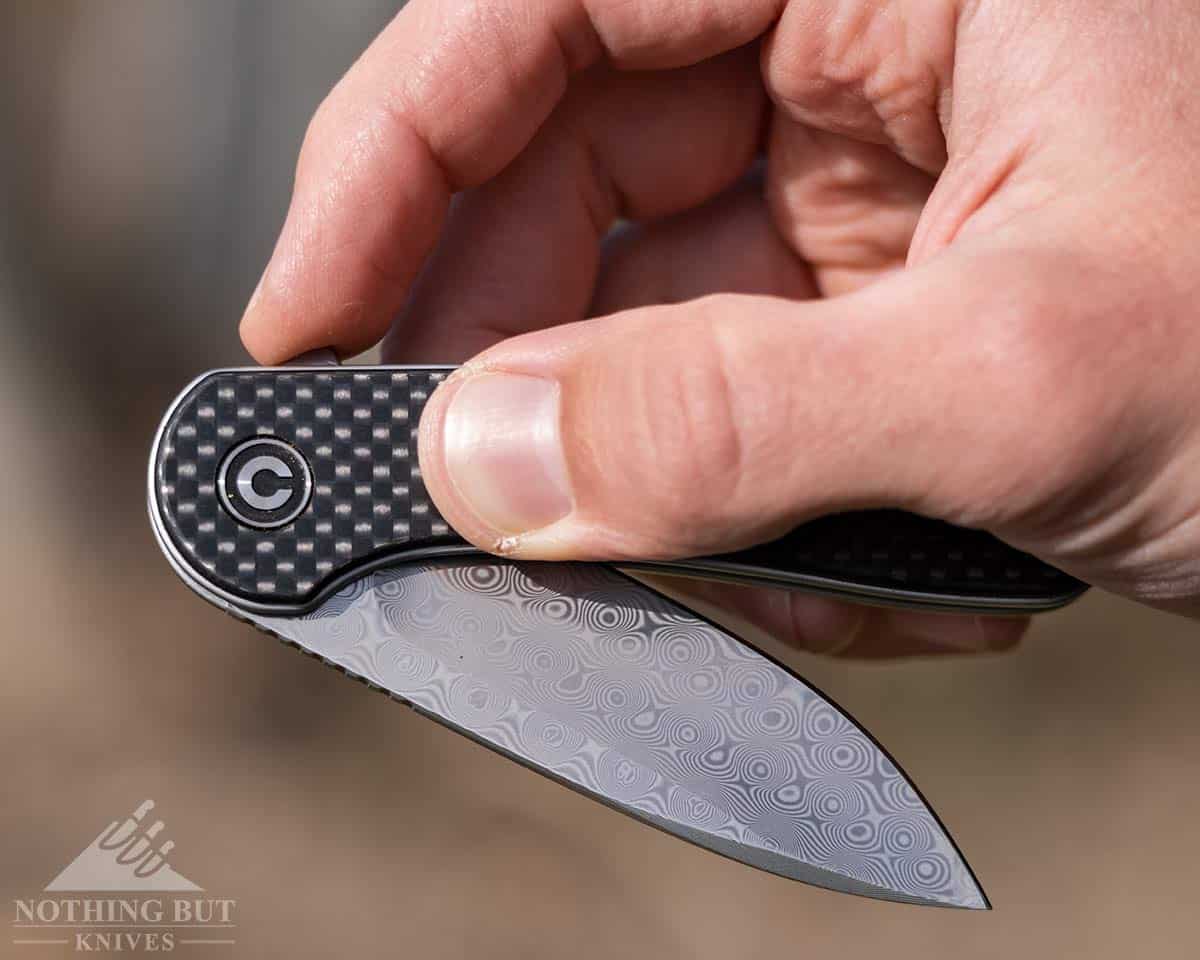 What I really don't like about the handle, though, is the scales. I've never been a fan of carbon fiber. I know it's supposed to be super tough and versatile, but I don't like the way it feels. I want traction and grit. I want wood or texturing that will stick to my fingers.
The Elementum can get away with the super smooth scales a little because it's so small and light. It's only ever really been a problem when my hands are really cold, but it's still more sleek than I think a knife should be.
It's for Nicer Hands than Mine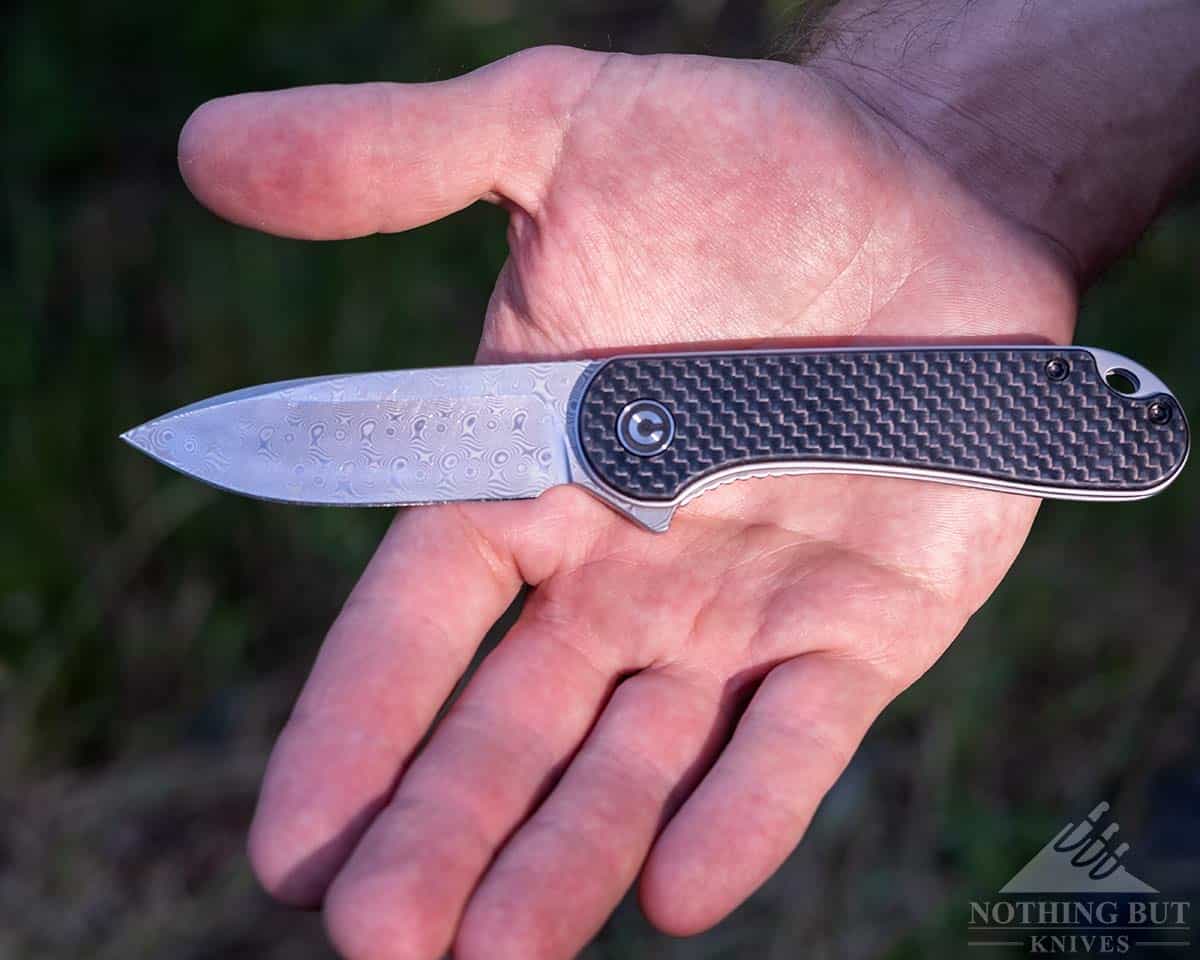 To carry on the problem with lack of texturing, I found myself wanting some jimping on the handle. A lot of the time my thumb naturally rests on the back of the handle just below where the blade jimping ends. Then when I start gripping the knife tight and my thumb starts slipping.
Keeping in mind this is not a hard-use knife, I should check myself about doing any kind of task that requires a tight grip. This particular version of the Elementum was apparently meant to be held delicately.
But I don't have delicate hands. I have stumpy ham hands that drop stuff all the time. And maybe that's at the heart of why I don't like this knife: it clearly was not made with the ham-handed population of the world in mind.
Overall Design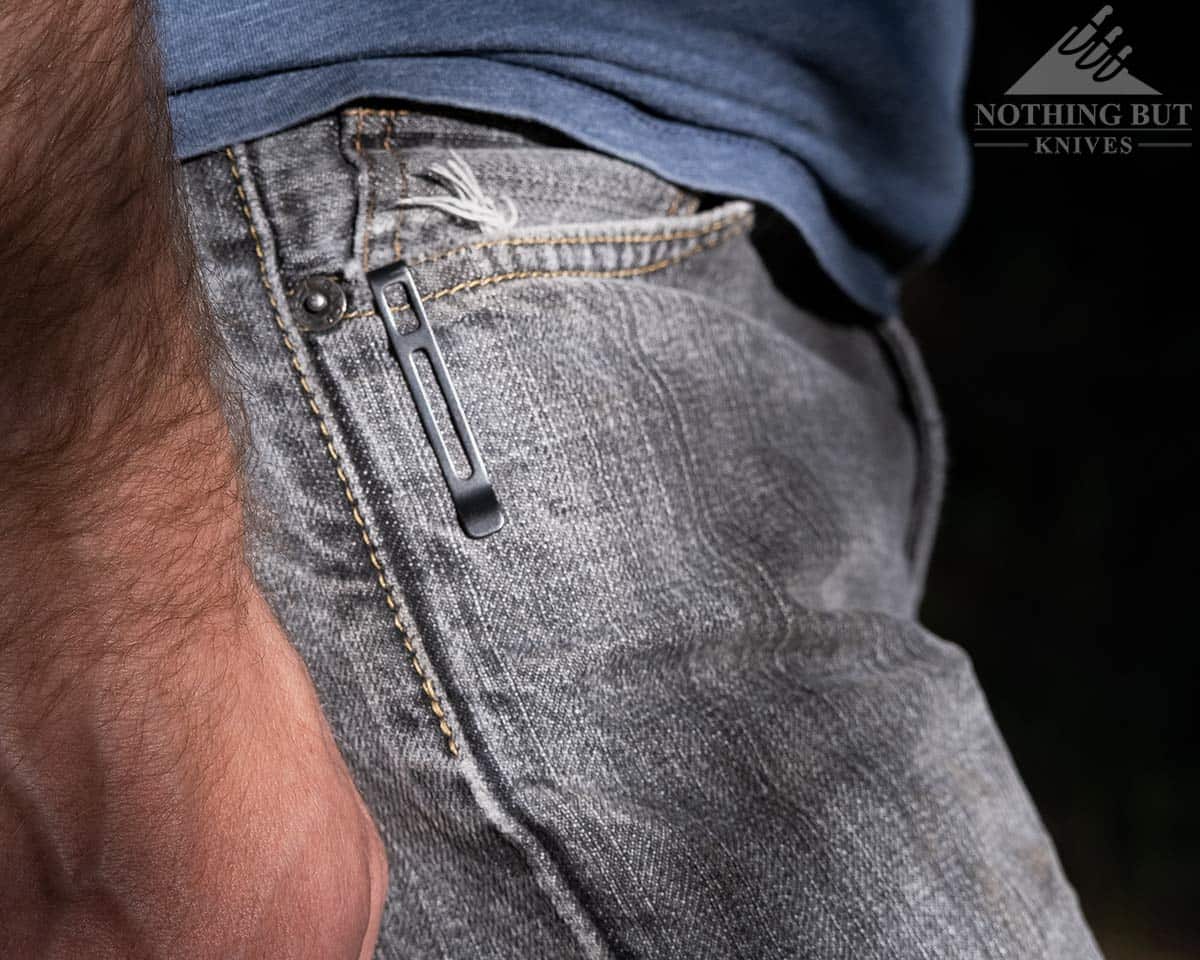 The Damascus Elementum plays the role of the gentleman's carry well. It's practically invisible in the pocket, and the one thing the scales do well is make it really smooth to take out of the pocket. There's very little on this knife that shouldn't be here, and that annoys me because I want so badly to criticize it.
Which is why I decided to take issue with the size of the sharpening choil.
The Luxuriously Spaced Sharpening Choil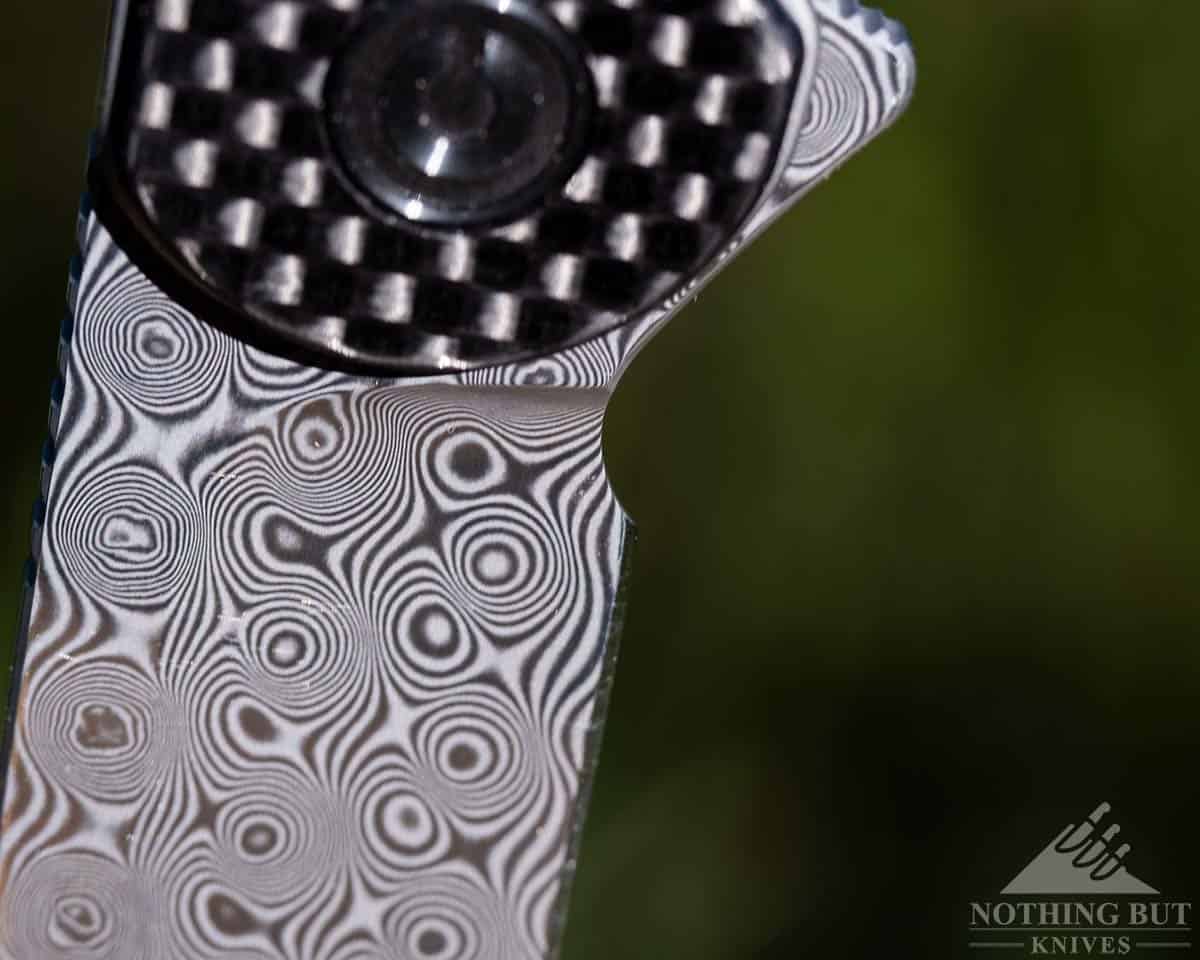 There's quite a bit of distance from where the hand grip ends to where the cutting edge starts. Even when you rest your thumb on the spine, you really only have the top half of your thumb pushing directly behind any kind of cutting edge. Like I said in the blade portion of the review, they could have gotten more cutting edge out of this if they had been more economical with the choil.
I think the idea was to create a space for the index finger to go above the flipper tab, because I can actually hold the knife with my finger there pretty comfortably. The thing is I have never felt the need or desire to actually cut with the knife holding it like that. It's like when Toyota makes luxury versions of the Camry. I don't know enough people that I'll ever need a wider, comfier back seat, Toyota. Just keep the bastard small, because I'd rather have better gas mileage than friends.
Easy Blade Maintenance but the Finish is Delicate
Something I genuinely (and grudgingly) like about this knife is that you only need to take out three screws, including the pivot, to get it apart, and all of them take the same T8 torx screwdriver. It took me maybe seven minutes to take it apart, clean it, oil it, center the blade, and get everything tightened back up and put together. And that was going at a pretty leisurely, coffee-in-the-morning pace.
I mentioned before that I've only been using a honing rod to maintain the edge, and the hollow grind I was complaining about before makes that pretty easy to do. The biggest maintenance issue I've had so far is cleaning the blade. I'm not sure if it's the steel or the finish, but it seems to pick up scratches fairly easily, and I had a hell of a time getting all the tape gunk off of it after the long box cutting session. A bit of mild detergent, some scrubbing, and a dab of oil later and it was mostly back to new, but it has picked up quite a few little scratches that I can see when I get direct light on it.
Comparison and Alternatives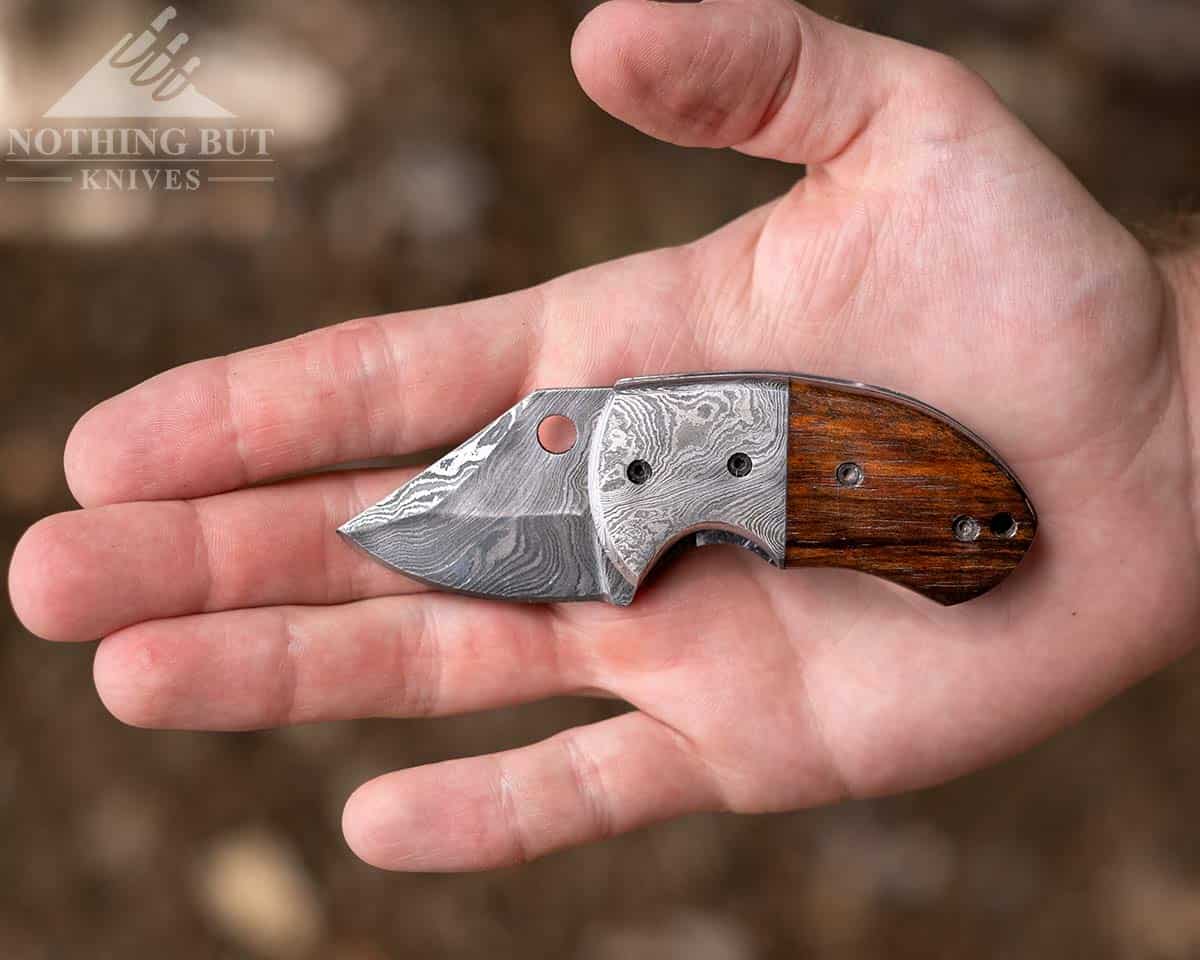 The Damascus version of the Elementum comes in around $90 (as of this writing). That's quite a bit more than the regular D2 version with G-10 scales, so my first suggestion is that you should just get the D2 Elementum if you like this knife. We're big fans of D2 around here, and I know from first hand experience that the WE Knife factory can put out some great D2 blades.
On that note, the fixed-blade version of the Elementum is surprisingly good (surprising to me. Everyone else knew it would be good). It has all the efficient simplicity of the Elementum design, just in a bigger package and stuffed into a sheath. It might be a little trickier for some people to actually carry, but overall it's a successful adaptation of a decent folder into a decent fixed blade.
The only other Damascus steel knife I can recommend, though, is the Forseti Lightoller. It's a different experience altogether, costing a little more and giving less blade, but the blade is fantastic, and the knife overall has the added bonus of actually being interesting to talk about.
If you just want a little gentleman's folder with a blade under three inches, I'd recommend the Boker Plus HEA Hunter as a decent non-Damascus steel alternative. It is similarly priced, but it's a lot more interesting, and has a much sturdier build. It doesn't ride as easily in the pocket, but I personally enjoyed using that one a lot more.
Conclusion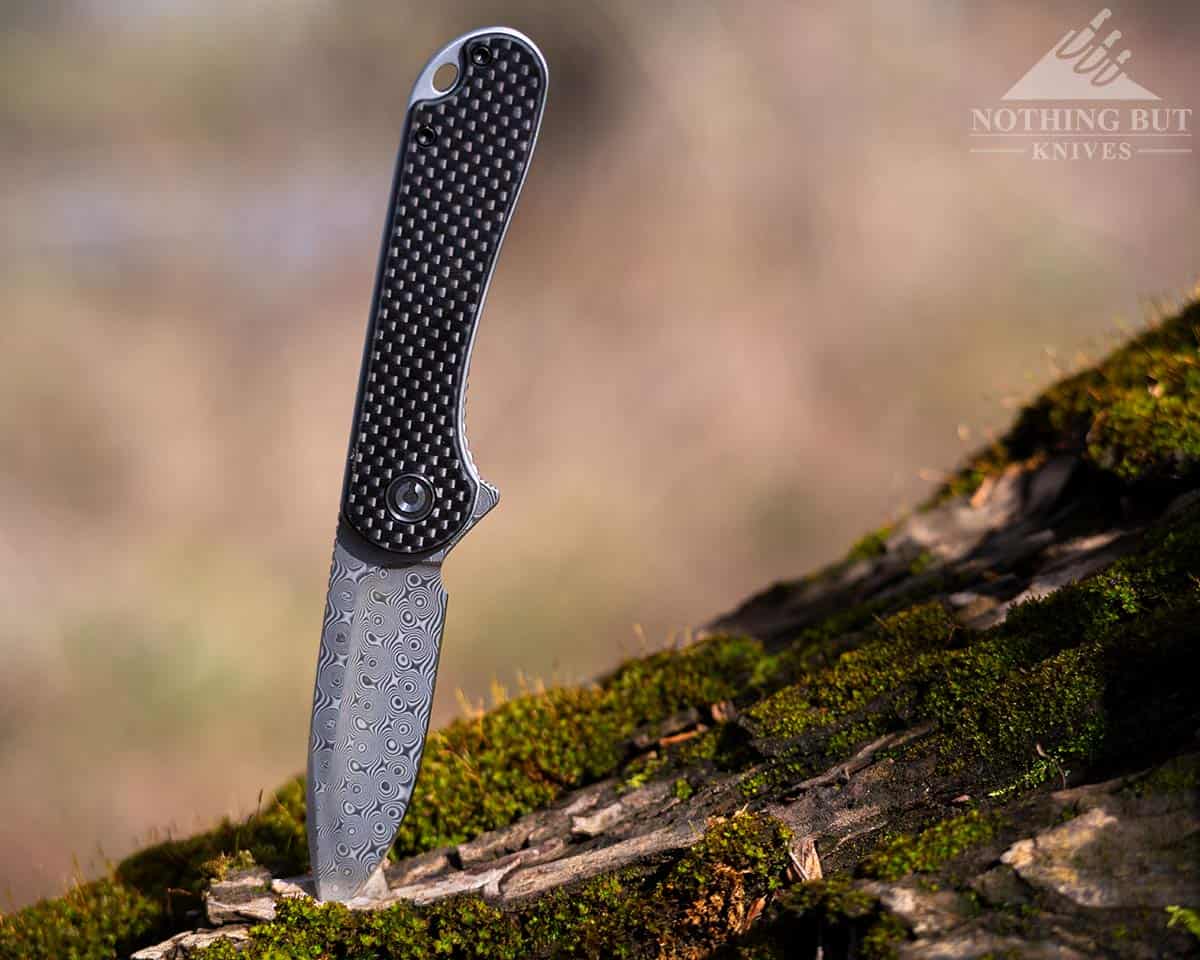 The Damascus Elementum has all the pieces of a good knife. It's sharp, the action is fine, it carries light, the ergos are great, and it looks nice. It's a really clean design with all the makings of a respectable gentleman's carry that you could use to pop open packages in a three piece suit with your head held high.
It's a good knife. I get why people love this knife. I just don't enjoy using it, because I, personally, don't like its stupid face. But don't let that stop you from enjoying it.
Just because the black carbon fiber scales give off the same finger-gun dressing ritual vibe as a Wall Street frat boy doesn't mean you're a bad person for wanting to buy it.
And it's not your fault that the Damascus pattern is a little too gaudy, and that the kind of person who prefers the way it looks also probably wears running shoes to church.
I'm not saying you're boring for liking this knife, or that I would only recommend it to someone who asked me specifically "what's a really good knife for basic bitches".
I'm just saying I don't like its stupid face.